VoIP and UCaaS are two of today's most popular business communication systems, offering remote and in-house teams mobility, scalable solutions, and advanced features.
Trying to decide between UCaaS vs VoIP?
Read on to learn which communication technology meets your business needs, your budget, and your workflow.
Quick Links:
An Overview of UCaaS vs VoIP
UCaaS
VoIP
Communication Channels
– VoIP voice calling

– Video conferencing

– SMS texting

– Virtual faxing

– Email

– Social media integration

– Chat messaging

– Voice Calling

– Limited SMS texting (not offered by all VoIP providers)

Monthly Cost
$25.00-$60.00+/user/month
$15.00-$30.00+/user/month
Essential Features
– Omnichannel communication

– User presence

– Collaboration tools (whiteboard, screen share, team chat, etc.)

– Visual Voicemail

– Call Recording and Transcription

– IVR and ACD
What is UCaaS?
UCaaS (Unified Communications as a Service) is a cloud communications and collaboration tool combining multiple channels (voice, and video calling, SMS text messages, team chat, email) into one streamlined interface.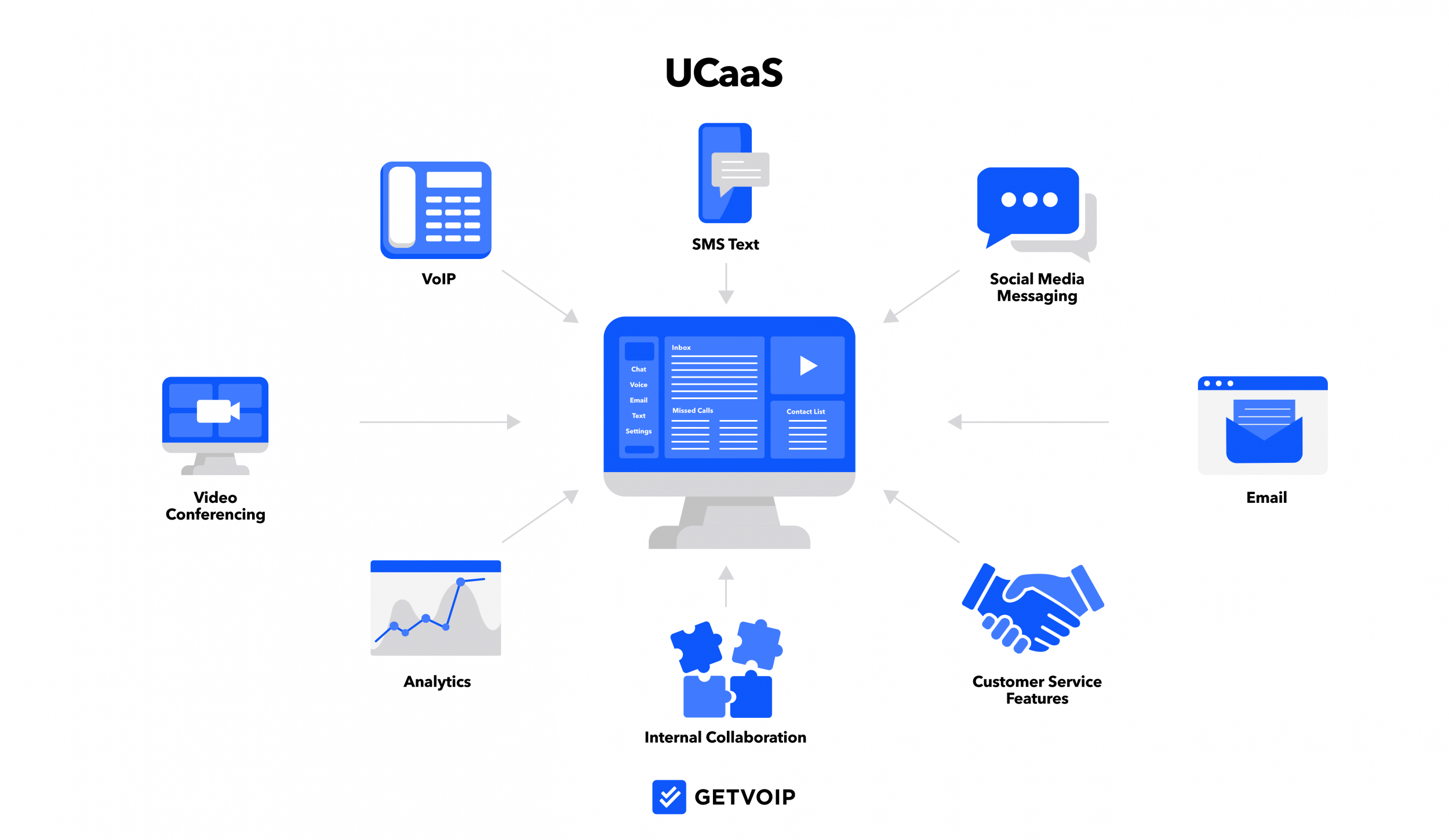 The UCaaS service provider manages, updates, monitors, and hosts the software on off-site servers, so end users can easily scale their services as needed.
Real-time omnichannel syncing allows users to instantly switch between multiple channels–and devices–over the course of a conversation, continuing the discussion without missing a beat.
In addition to this flexibility, UCaaS solutions improve internal team collaboration through features like:
Ad hoc and scheduled video meetings
In-meet chat messaging with user tagging, public/private channels, polling, Q&A
File sharing and co-editing
User presence and status updates
Desktop and mobile phone push notifications
Project and task management
Integration with third-party business software
Helpdesk and contact center capabilities
Real-time and historical analytics
What is VoIP?
VoIP (Voice over Internet Protocol) is a voice communication channel that lets end users make inbound and outbound phone calls over the Internet instead of the wired PSTN.

It works by breaking up voice audio into tiny data packets that travel to the recipient's device via broadband Internet connection, reassembling them once they reach their destination.
With virtual cloud PBX telephony, users can make and receive calls from any location, on any device, with an Internet connection.
VoIP softphones let employees communicate on desktop computers and tablets, while corresponding mobile apps for iOS and Android allow for on-the-go calling. Some desk phone (hard phone) models integrate with VoIP software for a more traditional business telephone experience.
Not only is VoIP service much cheaper than traditional business phone systems, it also offers advanced call management features like:
Virtual phone numbers (toll-free, local, international, vanity, number porting)
Visual voicemail
Call recording and transcription
Audio conferencing/conference calls
Call transfer
Call park, call flip
Hot desking
Shared phone line status
Desktop and mobile device access
Call monitoring, call barge, call whisper
User activity and call logs
Interactive Voice Response (IVR) for customer self-service
What is the Difference Between UCaaS and VoIP?
The main difference between UCaaS vs VoIP is that VoIP provides one communication channel (voice telephone calling) while UCaaS streamlines multiple communication channels, including but not limited to VoIP calling, into one dashboard.
While all UCaaS solutions include VoIP calling, VoIP software is limited to voice calling–and occasionally, limited SMS capabilities–only.
VoIP provides a business phone system with additional phone numbers or calling features available as paid add-ons.Teams needing multichannel communication tools and more advanced calling functionality will need to upgrade to a new type of business software like UCaaS, CPaaS, or CCaaS.
UCaaS creates an omnichannel communication and collaboration hub with high-level customization and scalability, improving both the agent and customer experience.
VoIP and UCaaS both:
Are cloud-based
Require little hardware/integrate with existing hardware (handsets, speakers, desk phones, smartphones, headsets, etc.)
Need a strong Internet connection
Have a short, simple installation/setup process
Include business phone numbers/call management features
Provide scalability
Offer third-party integrations
Cut operating costs
Have month-to-month/pay-as-you-go billing cycles or annual contracts
The Benefits of UCaaS Over VoIP
While VoIP certainly has major benefits when compared to a traditional landline phone, there's no question that UCaaS offers far more–especially for growing businesses.
Cost-Effective Communication Solution
UCaaS provides a cost-effective communication solution by offering bundled monthly or annual plans that provide unlimited communication across multiple channels.
In addition to unlimited local and long-distance VoIP calling, businesses save on hardware and maintenance costs, and avoid paying for features they don't need by gradually scaling their service plans. Because UCaaS provides so many opportunities for automation and self-service, there's no need to hire additional agents to manage peak contact times.
Increased Team Collaboration and Productivity
Access to new team collaboration capabilities keeps teams focused and increases productivity.
User presence lets employees set custom or pre-set statuses (some of which automatically sync with calendar apps) so their coworkers always know who's available, in a meeting, off for the day, or taking a call.
Especially when teams need to collaborate on remote work, features like real-time file sharing, co-editing, document commenting, and user tagging are incredibly valuable.
Not only does UCaaS provide version control (preventing employees from working on outdated drafts) it also allows for real-time brainstorming with whiteboards and screen sharing. Project management features help teams prioritize and delegate tasks while instant messaging makes getting answers to quick questions that don't require a meeting or email easy.
Improved Customer Experience
UCaaS improves the customer experience, generating more sales and increasing brand loyalty, in a variety of ways.
First, tools like real-time agent assist and CRM features provide detailed customer data like order history, account status, open order updates, and even notes from other agents.
Not only does this lead to more personalized communication, but it also allows multiple agents to assist the same customer without forcing them to repeat themselves.
Customer callbacks and call routing strategies based on agent skill, availability, idle time, and even customer relationships lower call hold times and get customers the best possible help–increasing the first contact resolution rate, too.
Multiple Communication Channels 
Customers always prefer–and expect to be able– to reach companies on multiple communication channels. But letting consumers connect on their preferred channel doesn't just benefit them.
These channels allow for increased automation and self-service thanks to tools like chatbots, IVR, email auto-responses, and more recently, Conversational AI.
Plus, insights from UCaaS platforms make it easier to tailor offers to specific channels and to understand more about your market as a whole.
When to Use VoIP
VoIP is best for SMBs or entrepreneurs looking for advanced call management features and a level of flexibility traditional business phones can't offer.
VoIP phone systems are popular with telemarketing and customer support call centers, but they also offer new and micro businesses increased credibility. A toll-free number makes businesses seem more established than they might be currently, and adds an air of legitimacy and trust.
Local VoIP numbers create a familiarity that makes customers more likely to answer the phone, while also giving business owners and employees privacy. Though they can help blended and remote teams, VoIP solutions are more popular among in-house teams.
Though VoIP platforms are most helpful to in-house employees, mobile sales teams and remote workers will appreciate being able to manage business calls from anywhere. Consumers will enjoy increased customer self-service opportunities with IVR and ACD features.
VoIP features like call forwarding, ring groups, and automated callbacks decrease call wait times, dramatically increasing customer satisfaction rates.
When to Use UCaaS
UCaaS' diverse feature set and numerous communication channels translate to a wide variety of use cases across industries, business size, and remote, in-house, or blended teams.
Healthcare providers use UCaaS for virtual appointments, scheduling, billing and insurance payments, to streamline communication among internal care staff, and to share and review key patient files.
Marketing teams can brainstorm new ideas on virtual whiteboards, assign each other tasks and monitor projects, meet with one click, tag each other for quick answers in chat messages, and host client presentations.
Customer service and support teams can automate easier customer requests, access client data from third-party CRM software integrations, and provide personalized assistance on the customer's preferred communication channel.
No matter your business's goals or your target market, UCaaS can help you optimize agents, workflows, and customer communication.
Top UCaaS Providers
Considering upgrading your VoIP phone service to a UCaaS system?
Consider the top UCaaS providers below.
Provider
Pricing
Key Features
Integrations
Zoom
– 1 Free Plan

– 4 Paid Plans: $15.99-$25.00+/user/month

– Zoom Meetings

– Zoom Phone

– Zoom Whiteboard

Slack, Salesforce, Asana, Microsoft Teams, G Suite, Office 365
Nextiva
– 3 Paid Plans: -$18.95-$32.95/user/month
– Native CRM with call pops

– Team collaboration rooms

-247 phone, email, chat support

– Zendesk, Hubspot, Salesforce, SugarCRM, ServiceNow, Microsoft Dynamics
RingCentral
3 Paid Plans: $20-$35/user/month
– Always-on Team Huddle

– NLP/AI-powered IVR

– Native task management tools

Slack, G Suite, Office 365, JIRA, Hubspot
Dialpad
3 Paid Plans: $15 and $25+/user/month
– Agent speed coaching

–  Real-time call transcriptions

– AI-powered post-call summaries

– Okta, G Suite, Salesforce, Azure, Microsoft Teams, Zapier
GoTo Connect
2 Paid Plans: $24 and $29/user/month
– Drag-and-drop Dial Plan Editor

– Smart call routing

– Unlimited ring groups, dial plans, and call queues

– G Suite, Salesforce, Zoho CRM, Okta, Zapier Slack
VoIP vs. UCaaS FAQs
Below, we've answered the top VoIP vs UCaaS FAQs.