Whether you're onboarding a fresh recruit, having a one-on-one with a colleague, or participating in a company-wide video meeting, screen sharing apps dramatically simplify remote communication.
Sharing your screen with teammates streamlines collaborative projects, cuts down on miscommunications, and ensures everyone is working on the same file version.
But quality screen sharing apps do more than just let you share your screen or take remote control over a colleague's. Real-time annotation and co-editing, whiteboarding, and team-wide notetaking are supplementary features of top screen sharing platforms.
You'll need to decide if your team is best served by a collaboration tool with screen sharing capabilities, or a standalone mobile or desktop screen sharing app. To choose the best option, we've created this roundup of the top free screen sharing apps.
Best Apps to Share Screen for Free
There is no shortage of freemium or completely free screen sharing apps. Let's take a look at the best free screen sharing tools below.
→ Around
→ AnyDesk
→ Mikogo
→ Zoom
Google Docs
While you might be surprised to see a word processor starting off the list of screen sharing apps, this is actually a result of a pretty clever play from Google.
Leveraging the popularity of its Workspace apps, Google recently made a few Meet features available directly within Google Docs.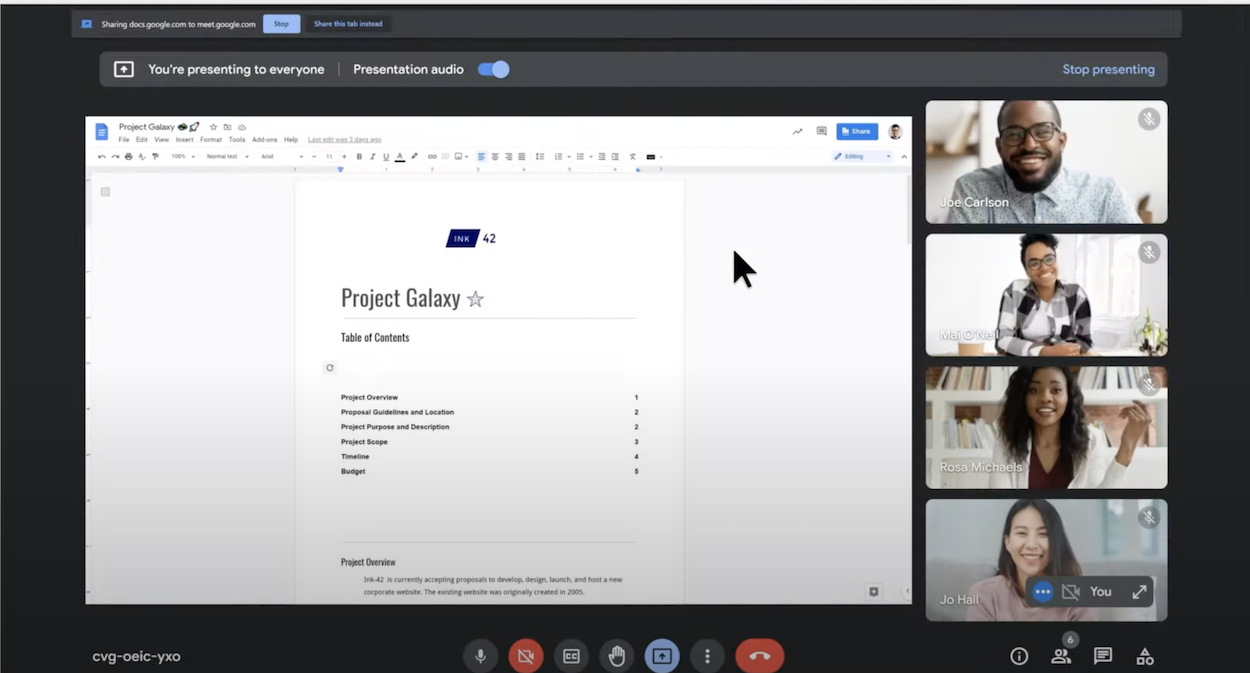 The new Google Meet widget allows users to make a call within Docs by clicking the button on the top right corner of the Docs UI, as shown in the image below. This makes it easy to connect with co-editors and other teammates in real-time simple, and eliminates the frustrating process of app switching.
Google Meet lets you invite up to 100 participants to each call, even on the free plan. The only thing to be wary of is the 1-hour time limit, but this only applies to meetings with three or more participants.
Considering Google Meet already has over 100 million active participants every day, using it with Google Docs simplifies collaboration for everyone. Plus, it doesn't force teams to sign up for a new conferencing solution with an unfamiliar interface.
Best For: Existing Google Docs users or teams that already use Google Workspace for collaboration.
Around
Founded in May 2020, Around is the perfect example of software developers swooping in to create solutions as the needs of the market change.
At first glance, Around may look like yet another web-based conferencing tool, but it has a few tricks up its sleeve to optimize both meetings and general team collaboration. First and foremost, you don't have to give out credit card information, sign up for an account, or download a single file to get started.
It's as simple as clicking a meeting link, choosing your guest name, and joining the call with your peripherals of choice. The host will need to create an account, but everyone else can just use the host's meeting link to join – no account creation required.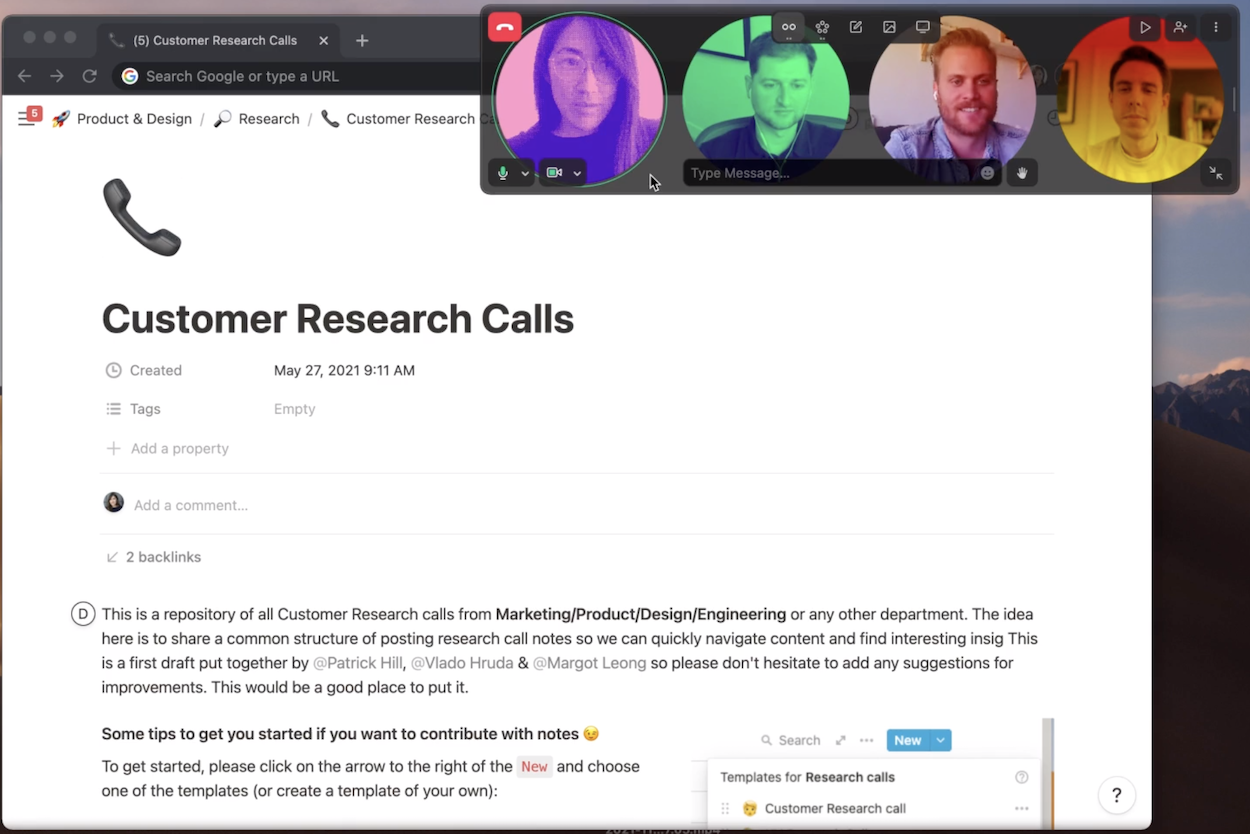 While most users we've heard from use Around in their web browser, there are also native apps for Windows, macOS, and mobile devices – meaning you can use Around to collaborate with colleagues while on the go.
One particularly cool feature is Around's AI-powered inclusive interface. Each user has their own video feed, displayed as one bubble in a circular pattern of other bubbles (shown below.). Around automatically centers on the user, ensuring they're never out of frame.
Lastly, Around also enables participants to use a wide variety of emoji reactions, a quick and fun way to gauge team member interest and attention.
Best For: Small teams who need a low-friction and quick-to-launch screen sharing tool that encourages everyone to participate during meetings.
AnyDesk
AnyDesk is a popular remote desktop solution with top-notch cross-platform compatibility, working with desktop and mobile devices on the Windows, Mac, iOS, and Android Operating Systems.
While AnyDesk's free version is quite limited, if all you need is a standard screen sharing function, it will probably suffice. Their paid plans are worth considering since the additional features they unlock add flexibility to collaboration sessions.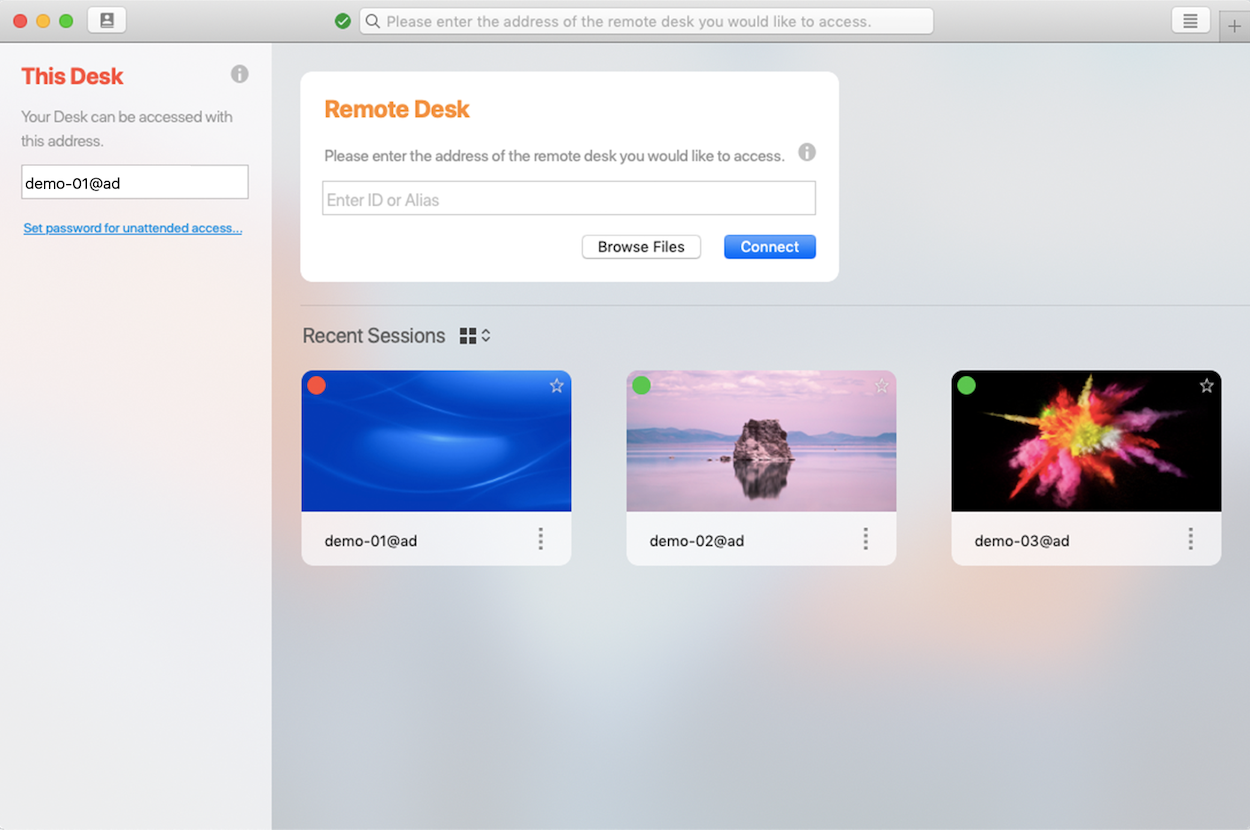 One of these features is the unattended access option, which grants remote access to whitelisted users even while away from their desks. This is a lifesaver when the IT department needs to deal with a sudden in-house software problem.
Instead of requesting access to a device to work on the issue, the device's owner simply leaves the unattended access feature on when out of the office, eliminating the need for whitelisted users to wait for their approval.
This feature also assists remote teams with time-sensitive, high-urgency sales or customer service tasks.
For instance, sales representatives that deal with enterprise clients may not have the necessary documentation to close deals from their home computer – but the unattended access feature means that key company files or support documentation are always available.
Despite its many screen sharing features, the AnyDesk UI never feels cluttered thanks to its drop-down menu, which allows for both instant feature access and a clean interface.
Other AnyDesk benefits include low latency, high frame rates, and easy low-bandwidth connections. Furthermore, it saves a list of past connected devices to speed up future access. Finally, every AnyDesk connection allows for granular permissions, meaning you can grant or deny access to your mouse, keyboard, or audio depending on the task at hand.
Other top features include:
Remote printing
File sharing and transfer
End-to-end encryption
Automatic updates
Personalized usernames
Clipboard content syncing
Auto-discovery of users on the same network
Session screen recording
Chat messenger tools
Supports keyboard shortcuts in desktop sharing
Mobile to desktop connections
Best For: Businesses that need a low-latency screen sharing solution and/or plan to upgrade to a paid subscription in the future as their feature requirements become more complex.
Screenleap
Screenleap is a no-frills screen-sharing solution available for mobile and desktop devices. The entire tool focuses on screen sharing, so you won't see many other team collaboration features present on the platform.
However, this simplicity makes Screenleap much easier to use, and there's virtually no learning curve.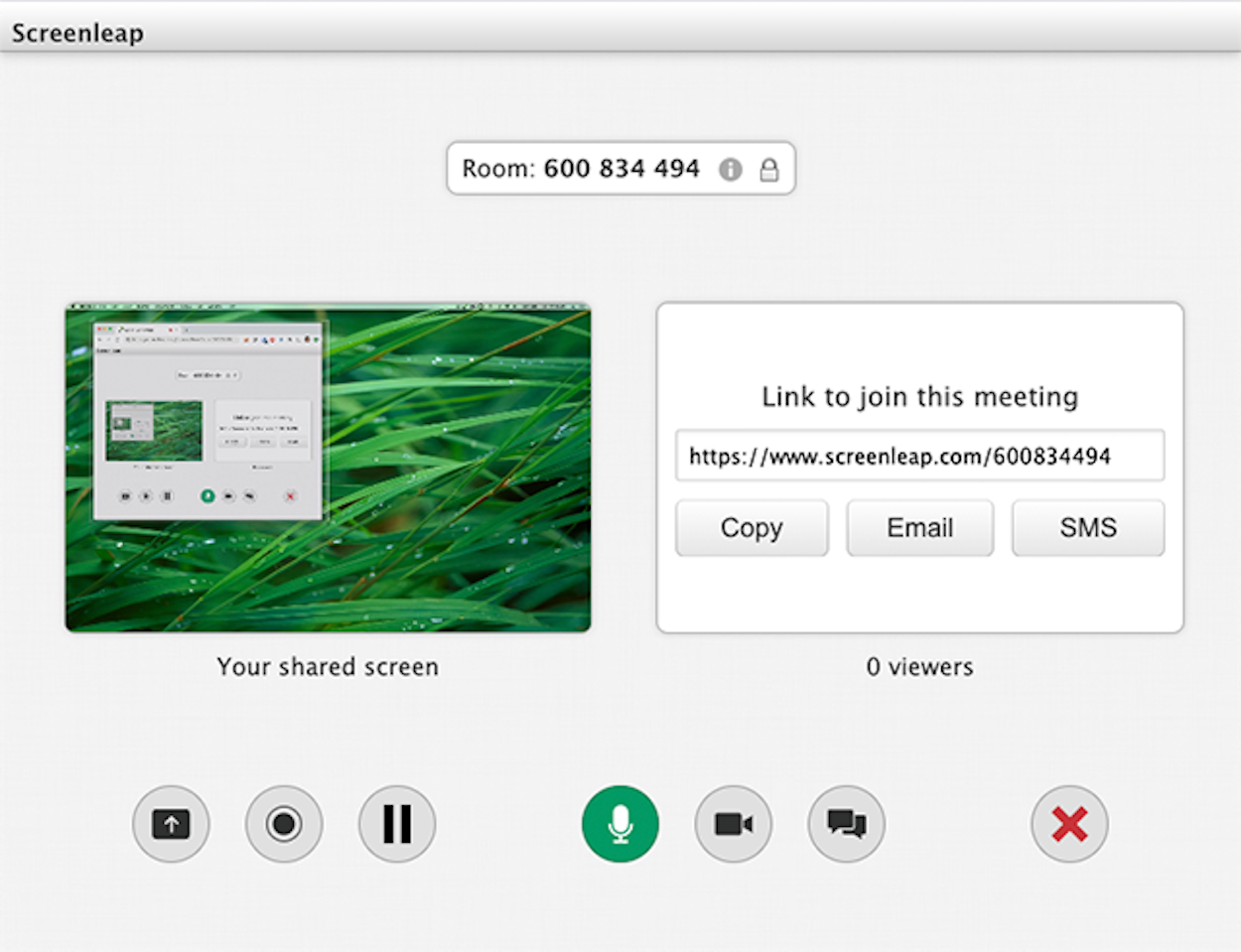 To access another user's screen, just enter their share code (even if you don't install Screenleap on your own device.) Screenleap is compatible with Windows, Mac, Chrome, iOS, and Android, so there shouldn't be any OS hindrance.
On the free plan, you can meet with up to eight users for a maximum of 40 minutes per day. Free users can connect to devices, but can't grant others remote access to their device. This, coupled with the daily limit*, make Screenleap unattractive unless you're willing to pay.
*Unlike Zoom, you cannot simply create a new meeting with Screenleap when the time limit is reached.
Best For: Small businesses who only need remote access for a single computer and/or want other users to have view-only access to the screen being controlled.
Chrome Remote Desktop
Chrome Remote Desktop is a free app for Windows, Mac, Linux, and Android offering both screen sharing and remote control.
The only caveat is that it's a Chrome extension, meaning it's only compatible with Google Chrome or a Chromium browser like Microsoft Edge.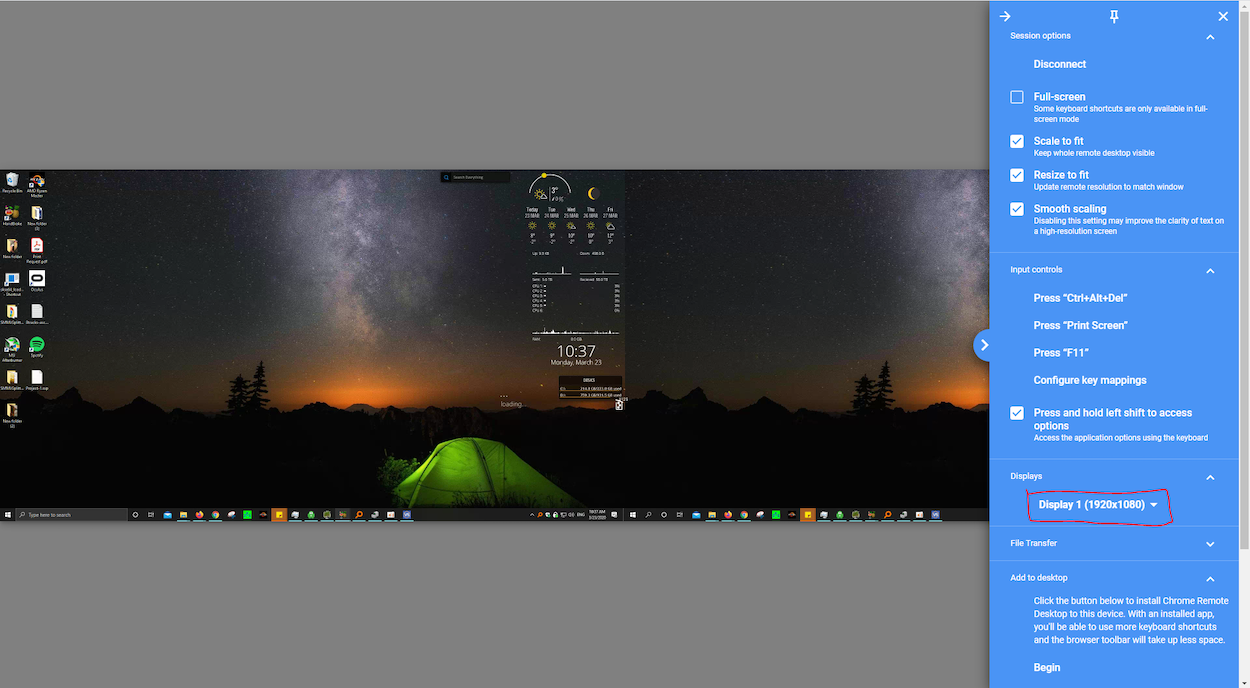 Features include audio sharing, clipboard syncing, and unattended access — though remote printing is notably missing from the list. In terms of security, users will need to set a six-digit pin to enable remote access. Afterward, they can generate one-time pins (OTPs) to let others see or remotely control their screen.
Like AnyDesk, Chrome Remote Desktop keeps a list of previously connected devices to simplify future reconnections. help you reconnect to them in the future. Unlike Anydesk, however, there have been many complaints of audio or video latency – not to mention difficulty establishing a stable connection.
Best For: Businesses looking for a Chrome extension that can launch at a moment's notice and don't mind latency issues.
GoToMeeting
GoToMeeting, part of LogMeIn's GoTo app family, is a web conferencing software with various team collaboration tools in addition to screen sharing.
It is compatible with both desktop and mobile devices, and participants can have audio or video calls with colleagues.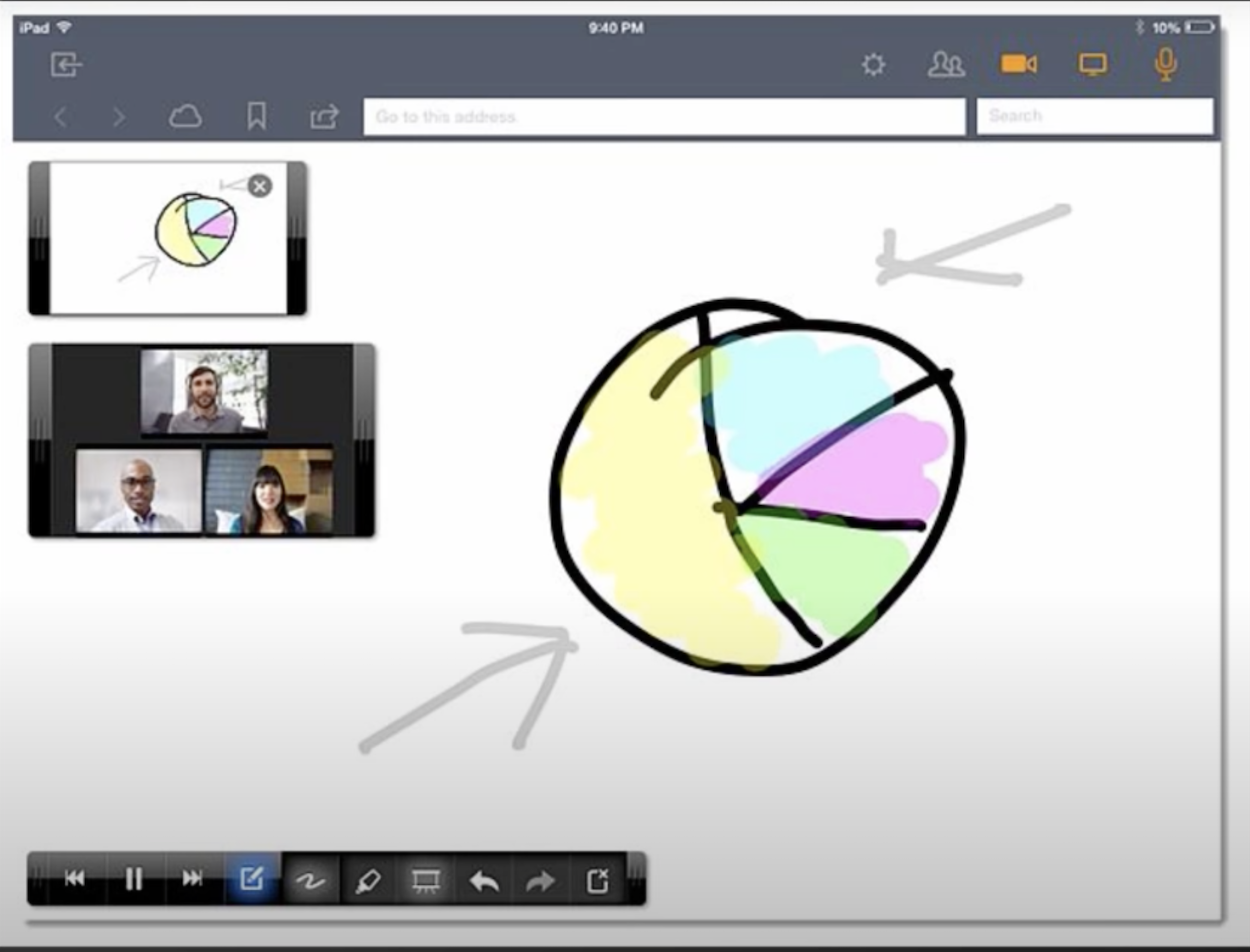 The biggest downside is that GoToMeeting does not offer a free screen sharing tool.
They do have a 14-day free trial but after that, you'll have to select one of their three paid plans starting at $12.00/month per user. On the entry-level Professional plan, users can host up to 150 participants per meeting, or up to 250 participants on the upgraded Business or Enterprise plans. This makes it a solid choice for large teams.
Other features include breakout rooms, dozens of integrations, and unlimited cloud recording on the Business plan or higher. In addition to all these features, the GoToMeeting platform also offers:
Live bandwidth adjustment
HD video
Pass presenter feature
Mobile to desktop transition
Laser pointer and drawing tools
Shared screen annotation
Best For: Large companies that need high-capacity meetings at an affordable price.
TeamViewer
TeamViewer is a remote access tool for desktop and mobile devices, with a focus on IoT device control and desktop monitoring.
While its screen sharing is robust, its rapid file transfer capabilities are equally praised by users.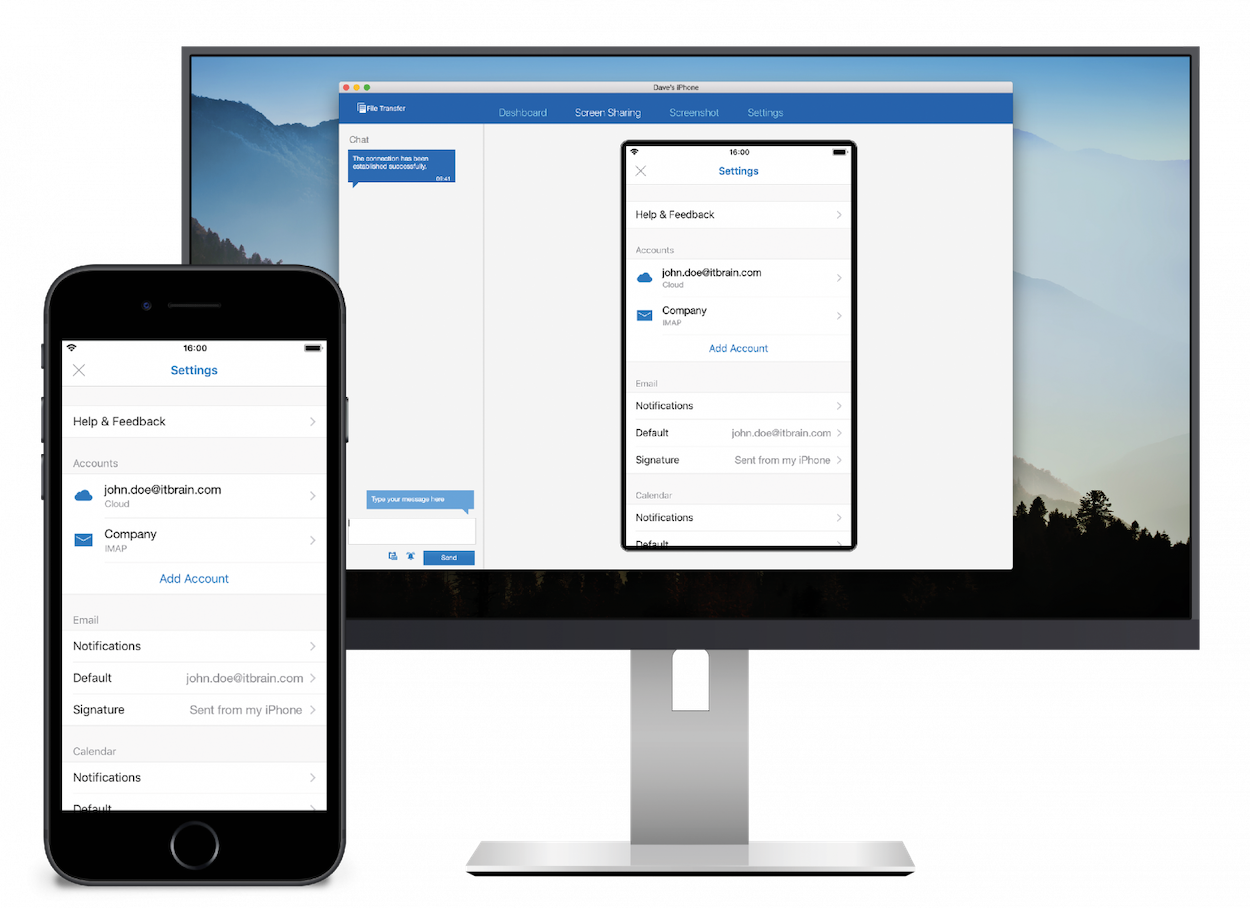 TeamViewer can distinguish between file types to optimize the transfer process and ensure all data is compatible cross-platform. While TeamViewer is free for personal use, you'll need to get the paid add-on if you plan on using screen sharing or remote access.
Despite that, TeamViewer is still a flexible piece of software with favorably-reviewed apps on both mobile operating systems. Other features helpful to remote teams, educators, and medical professionals include:
Video conferencing
Instant messaging
Whiteboard feature
Door-lock meeting security
Two-factor authentication
HIPAA/HITECH compliance
GDPR compliance
File transfer
Unattended access
Remote printing
Native VPN between two computers
Best For: IT or customer service representatives who need seamless access to client/employee devices and industry-compliant software to stay in line with privacy regulations.
Cisco Webex
Cisco Webex is a team collaboration platform with  screen sharing, video conferencing, HIPAA compliance, and quite a few popular integrations to choose from (though each account is limited to 20 integrations, which is rather annoying.)
Users on Webex Suite Basic (the free version) can host up to 50-minute meetings with a maximum of 100 participants. However, access to cloud recording, transcriptions, or Webex assistant requires an upgrade to a paid plan.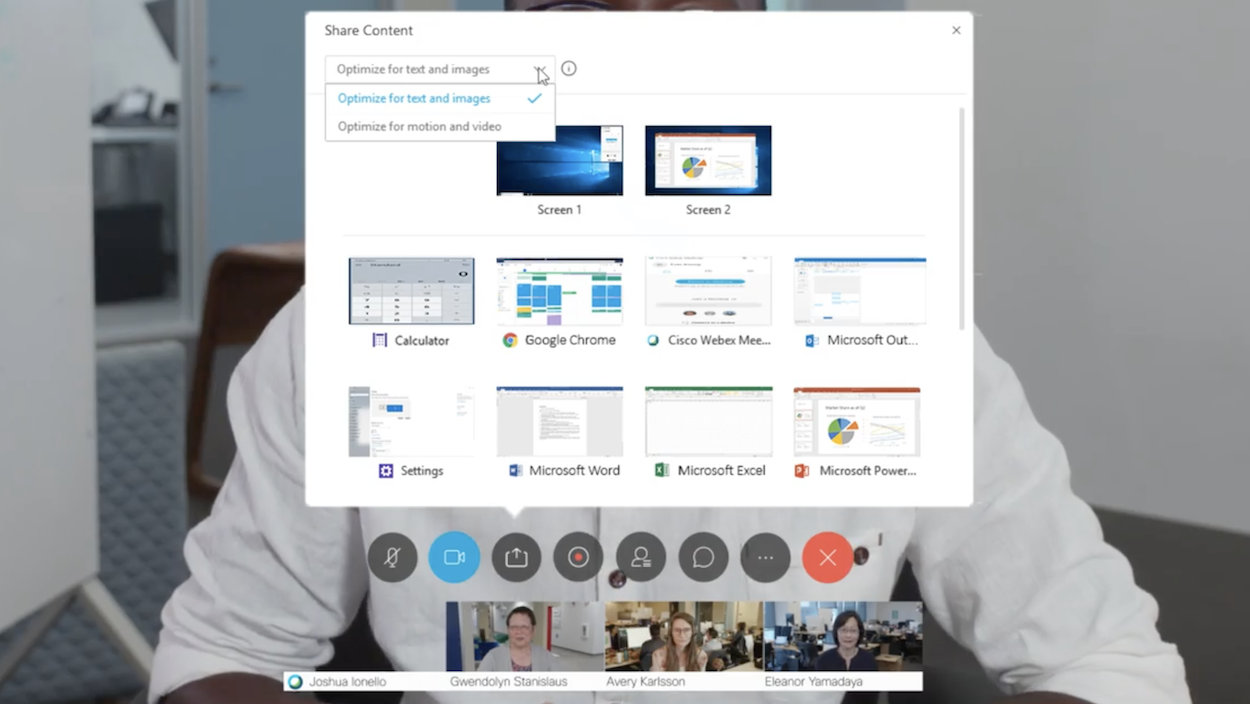 There are still a few noteworthy benefits, though. Cisco is the largest enterprise cybersecurity corporation in the world, so you know your data is extra secure.
Speed is another area where Webex excels.
Despite showing the HD video feeds of up to 25 participants at once, we haven't noticed any stuttering or latency issues while using Webex. Its fast conference bridge connection speed is also nearly instant which stands in stark contrast to other collaboration suites.
On the mobile front, the Webex apps are pretty easy to use, allowing users to join meetings with a single tap. However, the mobile version isn't as fast and has fewer features than the browser or desktop versions.
Best For: Large teams who want fast connections, impeccable conference quality, industry-leading security, and other features on the paid plans.
Mikogo
Mikogo is a free cross-platform screen sharing and remote control app. Meeting participants will be able to join via web browser on desktop or mobile devices. However, those who want to share their screen will need to install the app (unlike alternatives such as Around.)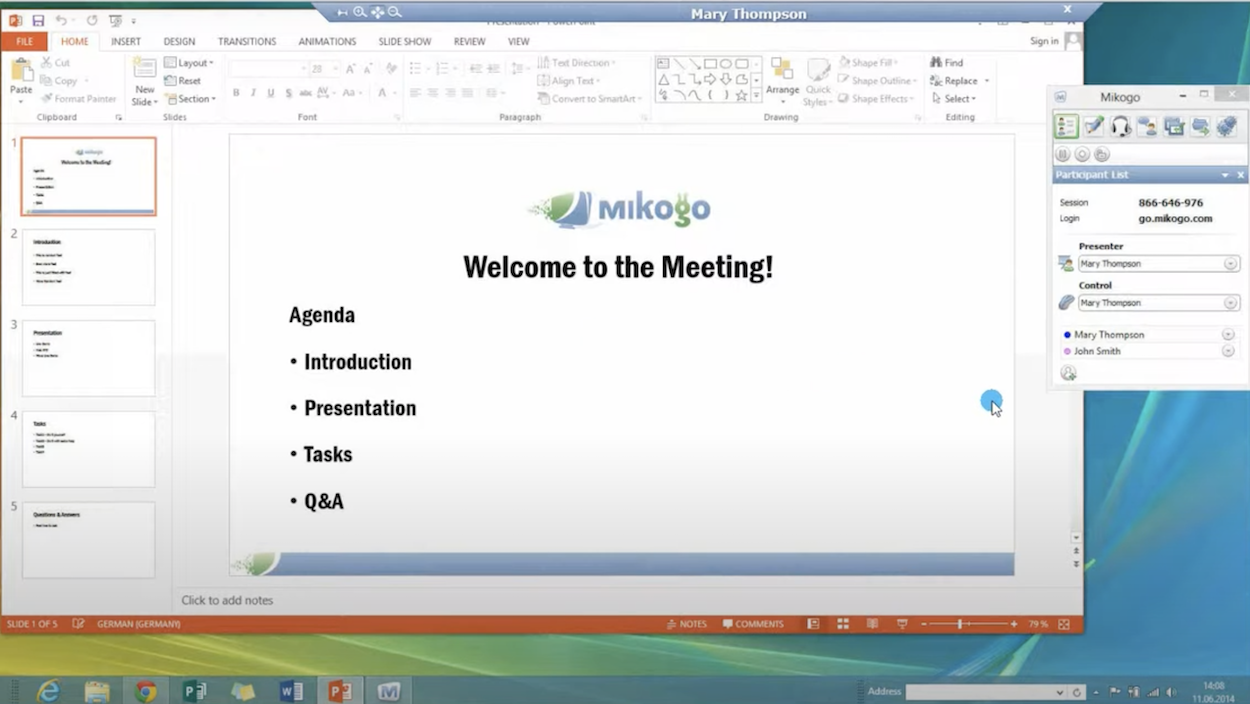 Free version users are limited to one-on-one audio/video calls, so this isn't the ideal platform for larger teams. However, the 14-day free trial can help you decide whether you want to pay €15/month for each user.
Those who choose to upgrade can host meetings for up to 25 people (less than the 100-participant part set by most solutions.) Mikogo also saves information from past sessions like duration, date, and participants –  something rarely seen from competitors.
Additional features include:
Automatic language detection
256-bit AES encryption and SSL security
Mac and Windows accessibility
Pass presenter features
Mouse and keyboard control
Voice conferencing
Video/Audio call screen recording
File transfer
Chat messenger
Session scheduler
Whiteboard tool
 Annotation tool
Best For: 1-on-1 calling or teams who are willing to upgrade to get increased participant capacity and historical meeting data.
Zoom
Finally, no screen-sharing list would be complete without Zoom.
In addition to its wide usage and easy screen sharing, Zoom offers various collaboration features like whiteboarding, remote control, annotation, and over 1,000 integrations. Users can opt to share their entire screen or just a single application, like PowerPoint or Slack.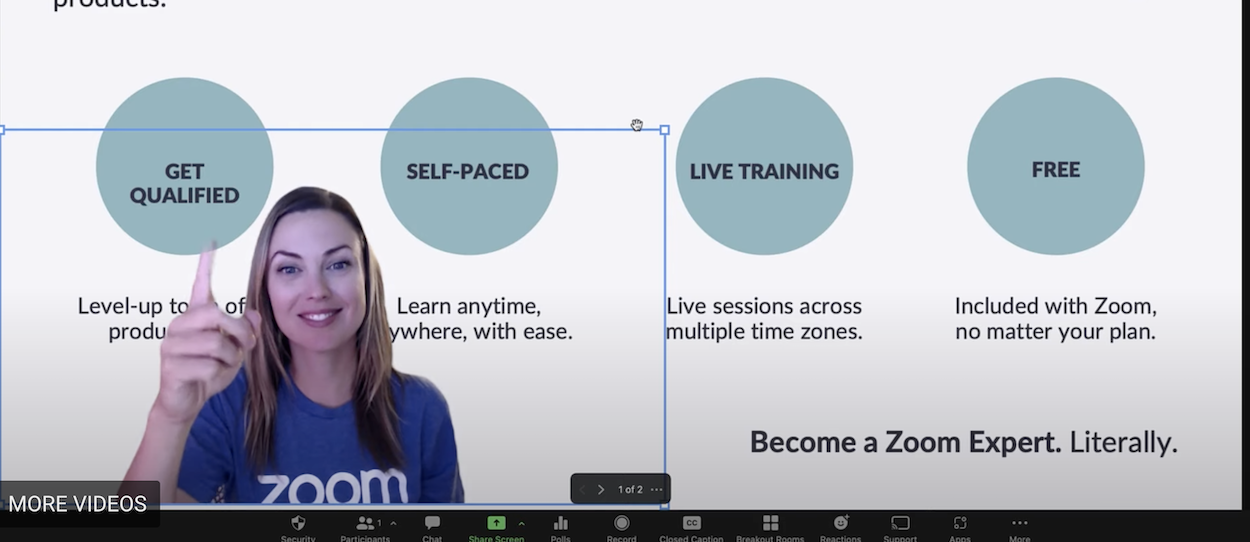 Zoom for educators is a popular choice; other users include remote teams, and medical professionals since the platform is HIPAA-compliant (as long as you adhere to the HIPAA Minimum Necessary Standard.)
However, despite being one of the most popular free solutions, there are a few notable drawbacks to consider before signing up – especially the 40-minute meeting time limit for free users.
Sure, you could just create a new meeting after your time is up, but doing so interrupts the flow of conversation, making it difficult to refocus team members.
That said, those willing to upgrade to the Pro plan get their money's worth, since it only costs $14.99/month per user.
The Pro Plan increases the meeting time limit to 30 hours, allows for up to 100 participants, unlocks the whiteboard feature, and provides 1 GB (per license) worth of cloud storage for recordings.
If remote access is your main priority, know that free users can control a colleague's mouse and keyboard on the free plan. All in all, Zoom is a solid –  but not especially exceptional – choice.
Best For: Teams with short meetings or companies willing to subscribe to the paid plans.
Is Screen Sharing Safe?
While issues like webinar and online meeting "Zoombombing" were common at the start of the COVID-19 pandemic, most video conferencing solutions have now upgraded their security standards.
For instance, Zoom rolled out end-to-end encryption in the last quarter of 2020, reporting it as the first of four E2EE phases. Other platforms like RingCentral were ahead of the curve, having already implemented end-to-end encryption and third-party security audits before the pandemic.
Regardless of which provider you use, there are a few proactive measures you should take to avoid any data breaches during screen sharing sessions.
First of all, choose a tool that has both end-to-end encryption and two-factor authentication for video meetings.
Always create a password for permanent and one-off meeting rooms, and use host controls to prevent guests from sharing their screens without permission. This is especially effective at avoiding incidents where intruders attempt to display inappropriate or disruptive media.
Lastly, be sure to factor in any privacy compliance rules or regulatory standards, like HIPAA and HITECH certification.
What is the Best Free Screen Sharing App for Desktop?
When it comes to determining the best free screen sharing app for desktops, there's no one-size-fits-all answer.
However, Around is the app we recommend to the average user. It's very easy to use, doesn't require downloads or account creations, and has plenty of collaboration features (call recording, timers, high-resolution image sharing, and live reactions.)
If features are more important to you than ease-of-use/ease-of-access, then AnyDesk and TeamViewer are both viable options, especially for teams that need remote access.
Teams looking for a well-rounded solution should consider Webex, as its free plan allows users to host unlimited HD meetings with a 100-participant capacity, use whiteboard features, and record video conferences.
What is the Best Free Screen Sharing Mobile App?
Determining the best mobile screen sharing app means a few more factors to consider.
Battery consumption is the most critical. After all, even the best screen-sharing app won't do you any good if it drops your charge to 0% halfway through the meeting.
For this reason, we recommend Mikogo for 1-on-1 calls, as it offers audio conferencing in addition to video calls.
By excluding the faces of other attendants, Mikogi ensures that you'll be able to view the screen being shared for much longer, without your battery dying.
It's also compatible with both iOS iPhone, iPads, and Android devices. That said, it performs much better on the iOS App Store with a rating of 4.7, compared to only 3.2 on the Google Play Store. As such, Android users could consider using Zoom, Google Meet, or TeamViewer instead.
For group meetings, Mikogo, GoToMeeting, and Zoom all have drawbacks that lead us to recommend Google Meet or TeamViewer — with the latter getting extra points if your team already uses Google Workspace.
Are Free Screen Sharing Apps Better Than Team Collaboration Software?
If your true end goal is to be able to collaborate with your team members on a wide variety of tasks, relying on a screen-sharing app alone may not get you very far. Instead, choosing a dedicated team collaboration or video conferencing tool with screen sharing software is the better long-term solution.
You could also try choosing a UCaaS platform that focuses on communication while implementing native project management features. RingCentral and Nextiva are the most prominent examples of this type of platform.
At the end of the day, it all comes down to your needs, budget, and the features you value most.