Zoom One is Zoom's multichannel unified communications solution, facilitating team collaboration with video meetings, team chat, VoIP telephony, and SMS–plus routing features, analytics, automations, and more.
This article outlines Zoom One, including its communication features, integrations, pricing plans, and benefits.
Jump to↓
What is Zoom One?
Zoom One is Zoom's unified communication and collaboration platform that combines VoIP phone service, team chat, SMS texting, and video conferencing.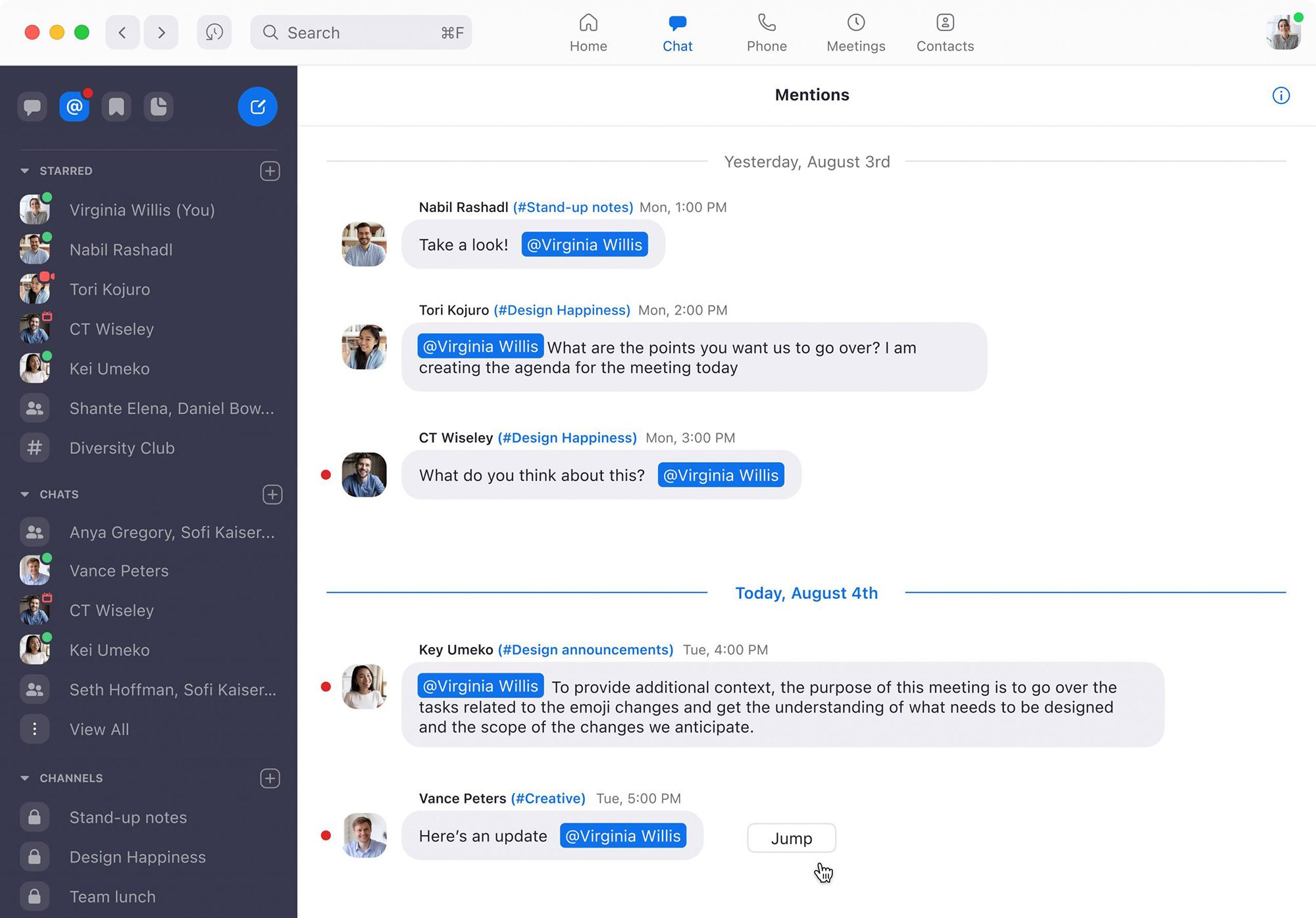 The Zoom One app is accessible on desktop, browser, and mobile, allowing agents to engage customers across channels and devices, transfer and manage calls, collaborate in meetings and team chats, share and co-edit documents, and record audio.
Administrative tools let administrators customize call routing, set up call queues, and access advanced real-time and historical analytics.
Zoom One Unified Communications Features
Here we've listed Zoom One's top UCaaS tools and features:
Virtual meetings
Team chat
Conversation intelligence
Virtual Meetings
Zoom One video meetings last up to 30 hours, with up to 1000 participants and 49 videos on screen. Meetings include host controls, collaboration tools, and participant-engagement features.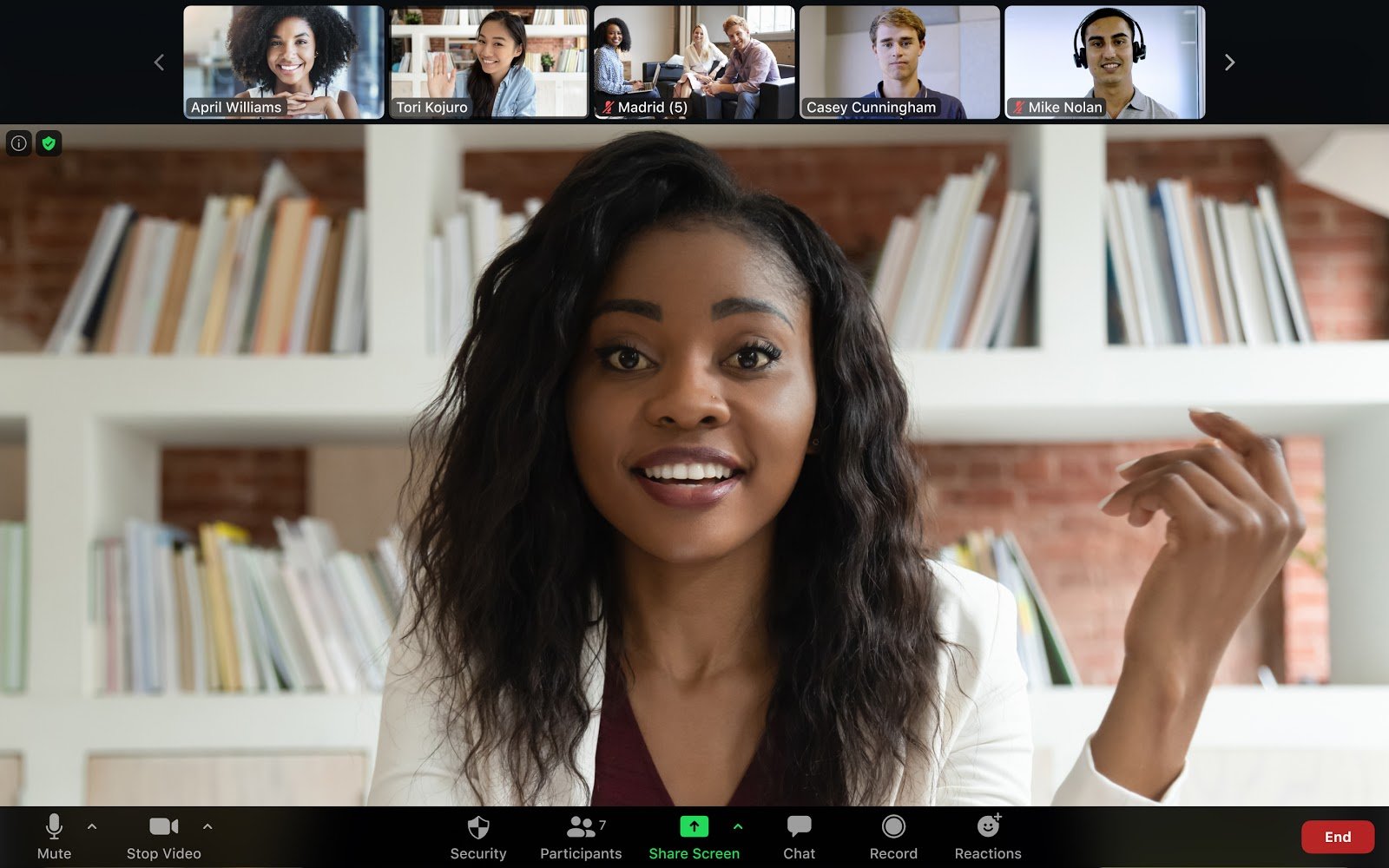 Zoom One HD audio and video meetings are easy to create, schedule, start, and join. The app syncs with third-party calendar software like Outlook, Gmail, or iCalendar for users to create, schedule, and invite participants. Join meetings from any device, including mobile, with access to collaboration features.
Hosts can schedule meetings ahead of time or start meetings instantly. Teams can jump directly into meeting rooms from collaborative channels, or agents can escalate calls and messaging conversations to video with a few clicks.
Meetings utilize automated presentation tools like appearance touch-up, lighting adjustments, and background noise suppression, plus live recording.
Zoom One Video Features:
Screen sharing: Multiple participants can simultaneously share their screens from any device
Breakout rooms: Separate the meeting into up to 50 smaller sessions–with random or custom
Host controls: Mute, invite to unmute, pin participant videos, remove from meeting, and more
Co-annotation on screen share: Illustrate shared screens with annotation tools
Waiting room: Send new attendants to a waiting room, with notification before permitting them to join the meeting
Filters: Decorative animal filters and stickers
Polling: Create polls live or before the meeting starts, gathering live data from participants during the meeting. Choose multiple-choice or short-answer format.
Streaming: Stream videos live to third-party sources like Facebook, Youtube, or another 3rd party app
Live transcription: Automated captions in English for Basic, Pro, and Business plans. Business Plus and Enterprise plans offer translated captions.
Branding: Customized meeting join page and email invite template
Collaborative whiteboards: A blank canvas where dozens of team members can simultaneously use illustration tools like drawing, paint, shapes, post-it notes, text, and more. Access whiteboards in meetings or team chat.
In-meeting chat
Team Chat
All Zoom One plans offer instant messaging via 1:1 and team chat, built-in alongside other communication channels. Agents can share files, voice messages, video messages, code snippets, emojis, and screenshots–or format messages with tools like bolding and fonts, bulleted and numbered lists, tables, and more. Team members can collaborate on whiteboards, store and co-edit files such as Microsoft Office docs, and jump into a phone call or video conference. Conversation histories are searchable.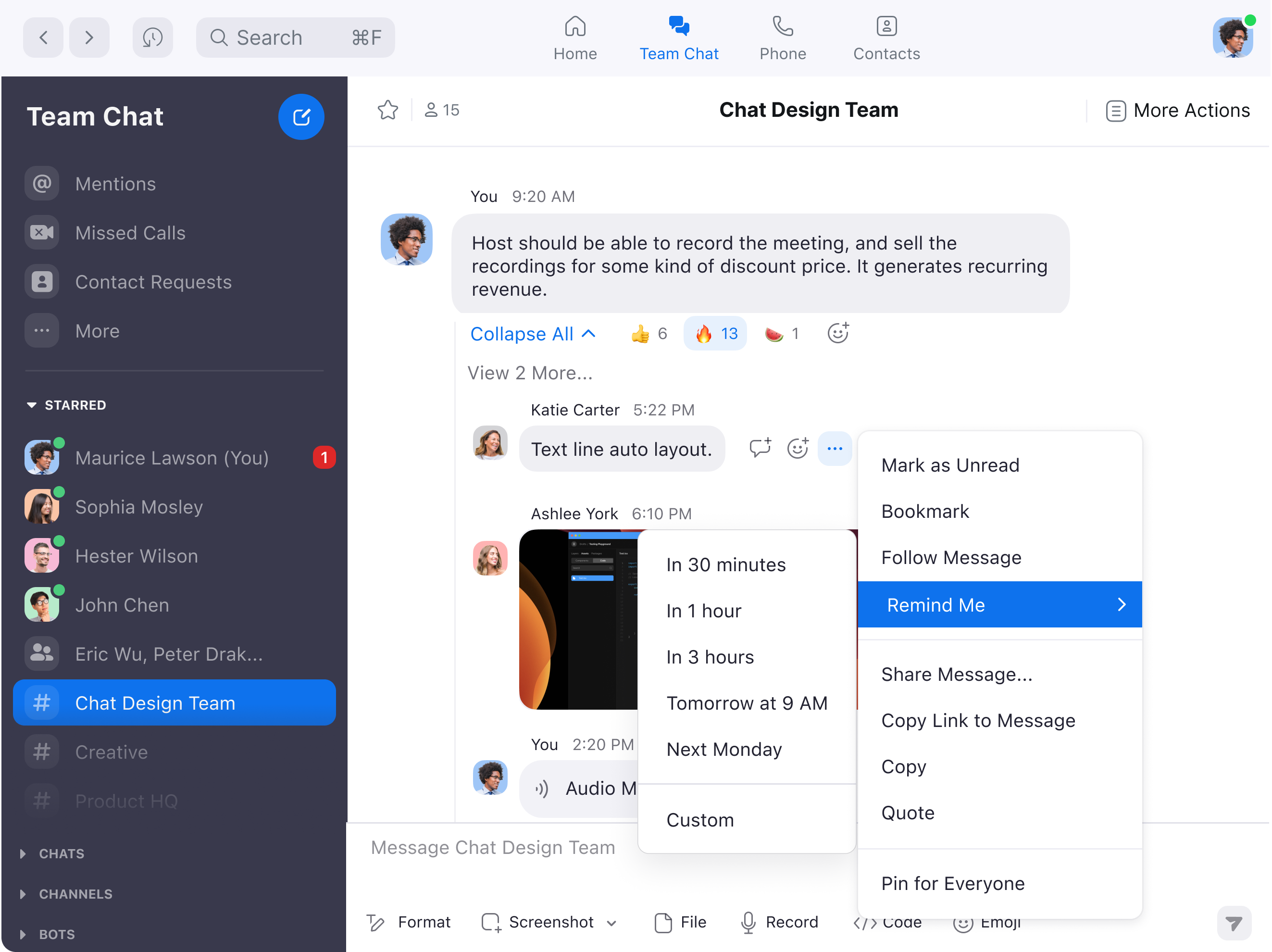 Left-hand-menu contacts and team channels display availability status. New activity pings keep users up-to-date on all conversations.
Zoom One Team Chat Features:
Whiteboard sharing: Share and collaborate on whiteboards within any chat channel
Search bar: Search for contacts, messages, chats, and files using the built-in search bar
File sharing and storage: Share, store, and organize files and documents
File collaboration: Collaborate on files and documents live–such as from Microsoft Word, Excel, PowerPoint, and OneNote–directly from the Zoom One app
Interoperability: Use Zoom Chat to communicate with people on other apps, like Microsoft Teams, WebEx, or Slack
Threads: In addition to the primary team chat, participants can start sub-conversations–or threads–underneath conversation items
Online Collaborative Whiteboard
Zoom's virtual whiteboard is an infinite digital canvas with drawing, design, and ideation tools.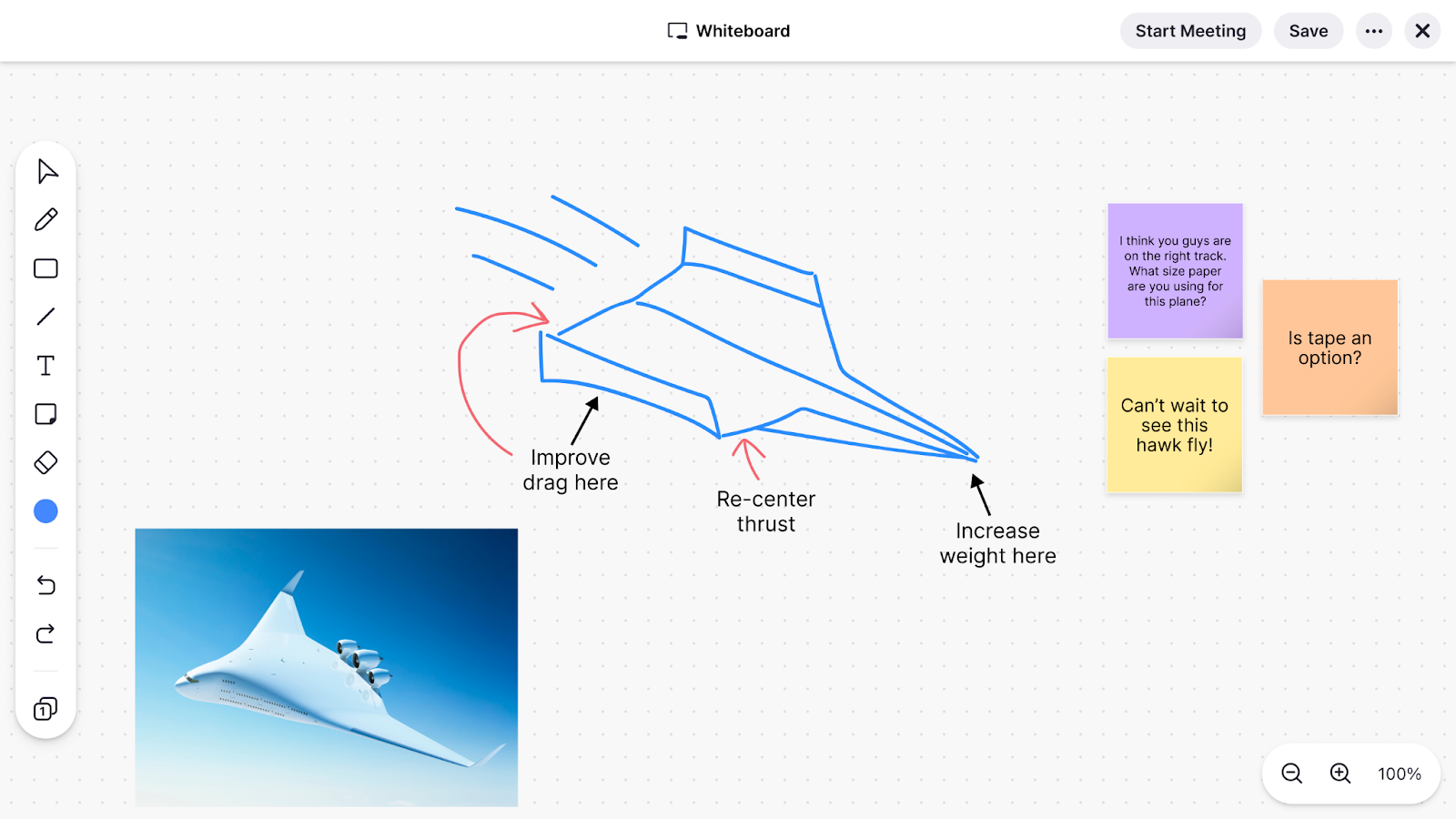 Teams can work together on a whiteboard anytime–during video meetings, in a team chat, or asynchronously–with autosave. The Zoom One Basic and Zoom One Pro plans offer 3 concurrent whiteboards, while higher-tier plans offer unlimited whiteboards.
Zoom Whiteboard improves hybrid work, as it connects to interactive display on tablets and wallboards–mimicking a physical whiteboard, but unifying live and remote users. Whiteboards meet many business needs: team collaboration, education and teaching, training, project management and roadmaps, presentations, meetings, and workshops.
Whiteboard Drag-and-Drop Tools:
Templates: Outlines and graphic organizers to help frame brainstorming. Examples include tables, journey maps, venn diagrams, and thought webs.
Infinite canvas: Build out ideas as widely as possible, with an expandable canvas
Chat: Add chat notes and comments right beside illustrations
Tool types: Geometric shapes, smart connectors, paintbrushes, fill tools, lines, sticky notes, text, and images
Virtual Phone System
Zoom One Business Plus and Enterprise plans include a cloud-based phone system with VoIP calling and SMS texting to 47 countries worldwide. Choose between unlimited domestic calling or a metered pay-per-minute plan. Zoom offers toll-free and local business phone numbers from area codes globally, plus the option to port in pre-existing numbers.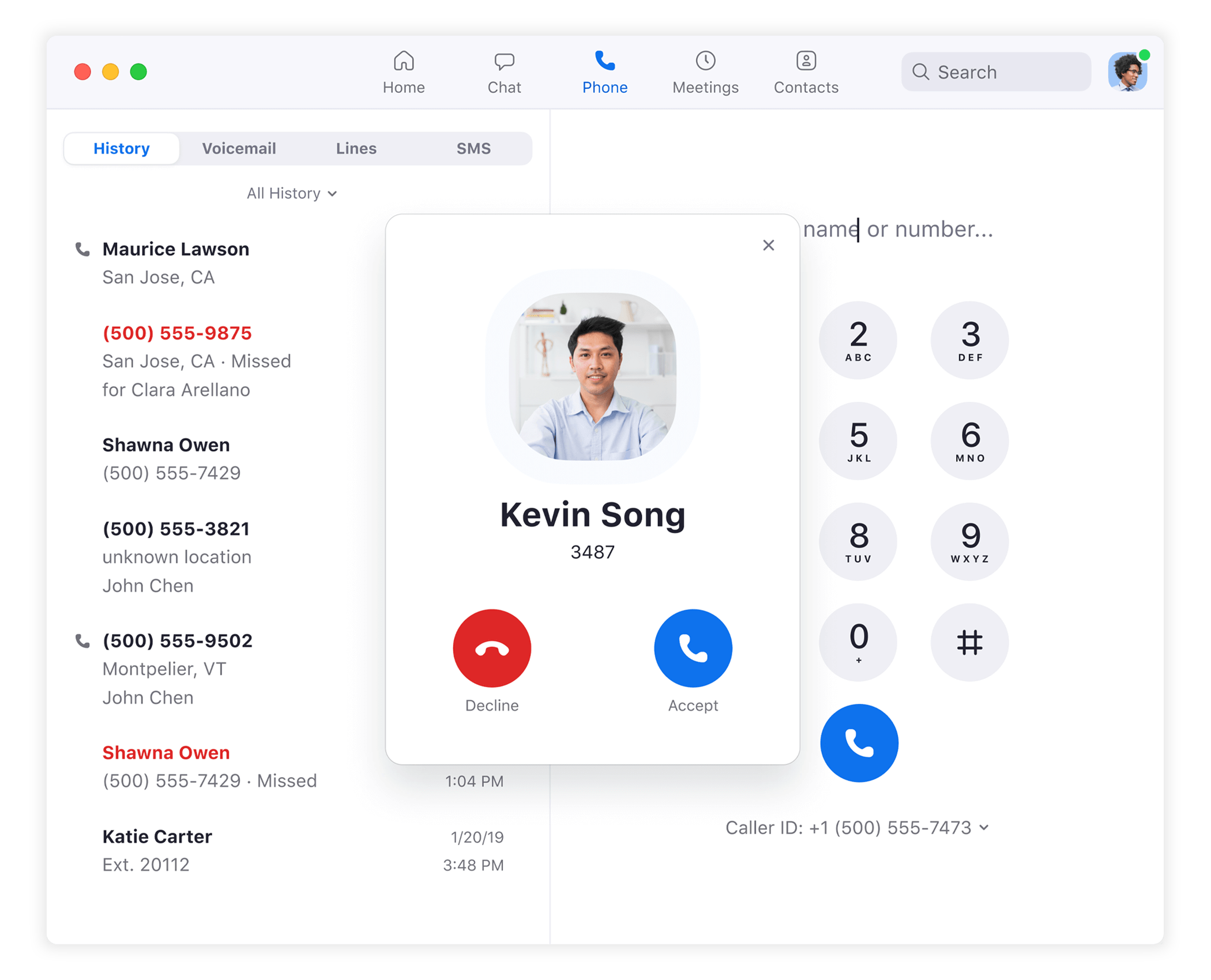 Send texts and make HD-audio calls directly from the Zoom One desktop, browser, or mobile app, with softphone capabilities. Call handoff allows agents to seamlessly switch devices without disrupting calls.
Agent tools include a dial pad, contact list, voicemail with transcription, call management controls like park and transfer, and call logs that embed alongside all other Zoom channels. The phone system features queuing and routing capabilities, call center monitoring tools, and more.
Zoom Phone Features:
Auto attendants: Create a self-service IVR menu that routes customers to a submenu, announcement, user, or voicemail within the company network. Create menu options and announcements using type-to-talk or recorded audio.
Business hours: Set up custom business hours, with routing and voicemail options that vary if customers call inside or outside business hours.
Voicemail transcription: Voicemails are automatically transcribed and logged in the user's voicemail inbox, plus voicemail-to-email forwarding.
Ad hoc conference calling: With up to 3 users at once
Call recording: Set up automatic or manual call recording, plus transcriptions
Automatic call distribution (ACD) groups with queueing: Organize agents into call groups that share responsibility for inbound calls. Choose simultaneous, round-robin, or custom order. Hold queues keep customers organized, while agents can monitor and select calls from within their queue.
Call park: A communal call transfer tool, where agents can place calls for many available teammates to retrieve
Barge/Monitor/Whisper/Takeover: A call center monitoring tool for supervisors to listen in quietly on live-agent calls, offer private live guidance to the agent, join the conversation, or take it over entirely
Bring Your Own Carrier 
While Zoom's native phone service uses cloud PBX, they also offer bring-your-own-carrier (BYOC) services for companies that already have a phone service provider–whether it's a cloud-based or an on-premises landline PBX system. A BYOC option enables you to enjoy Zoom One's features and app without switching carriers.
Conversation Intelligence Add-On
Zoom IQ for Sales is conversational intelligence AI that analyzes call and video transcripts to provide agent feedback, real-time coaching and suggestions, sales pipeline insights, live analytics, and marketing strategy information.
Intended for sales and marketing, Zoom IQ is available as an add-on to any plan.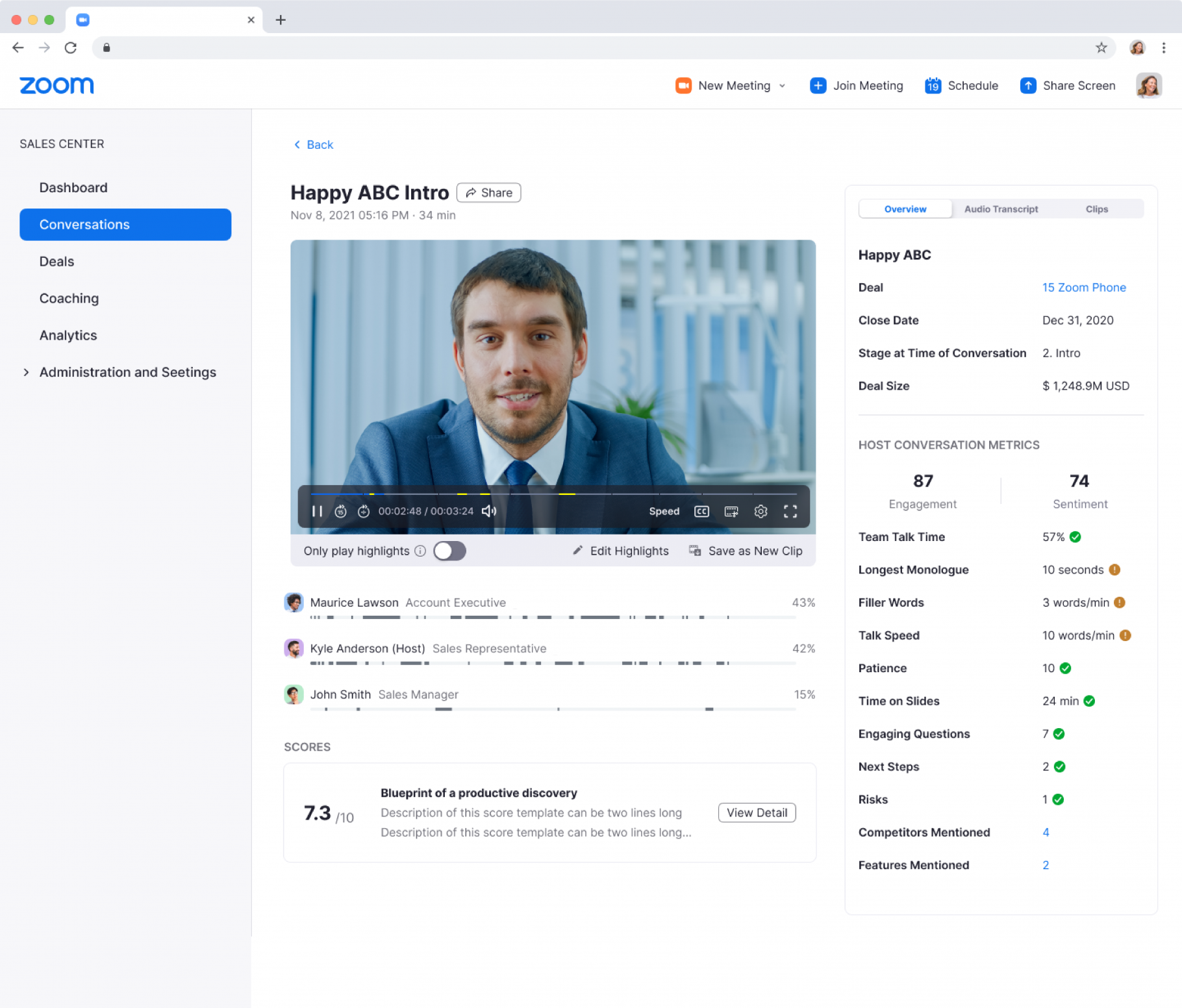 Zoom IQ for Sales Features:
Agent performance metrics: Customer engagement and sentiment score, agent filler-word usage, talk time and longest spiel, talk speed, patience score, and more
Conversation overview: Post-call and post-meeting summaries including highlights, curated snippets, action items, and next steps
CRM integrations: Conversation insights and summaries are automatically documented in your CRM system, notifying agents of follow-up actions for all active prospects and customers
Competitive analysis: Insights about how frequently competitors are mentioned, and the sentiments connected with them
Zoom Mail and Calendar Client
Connect Zoom One with your existing email and calendar system, like Gmail and Microsoft 365, embedding these tools within Zoom's other features–phone, team chat, whiteboards, and video meetings.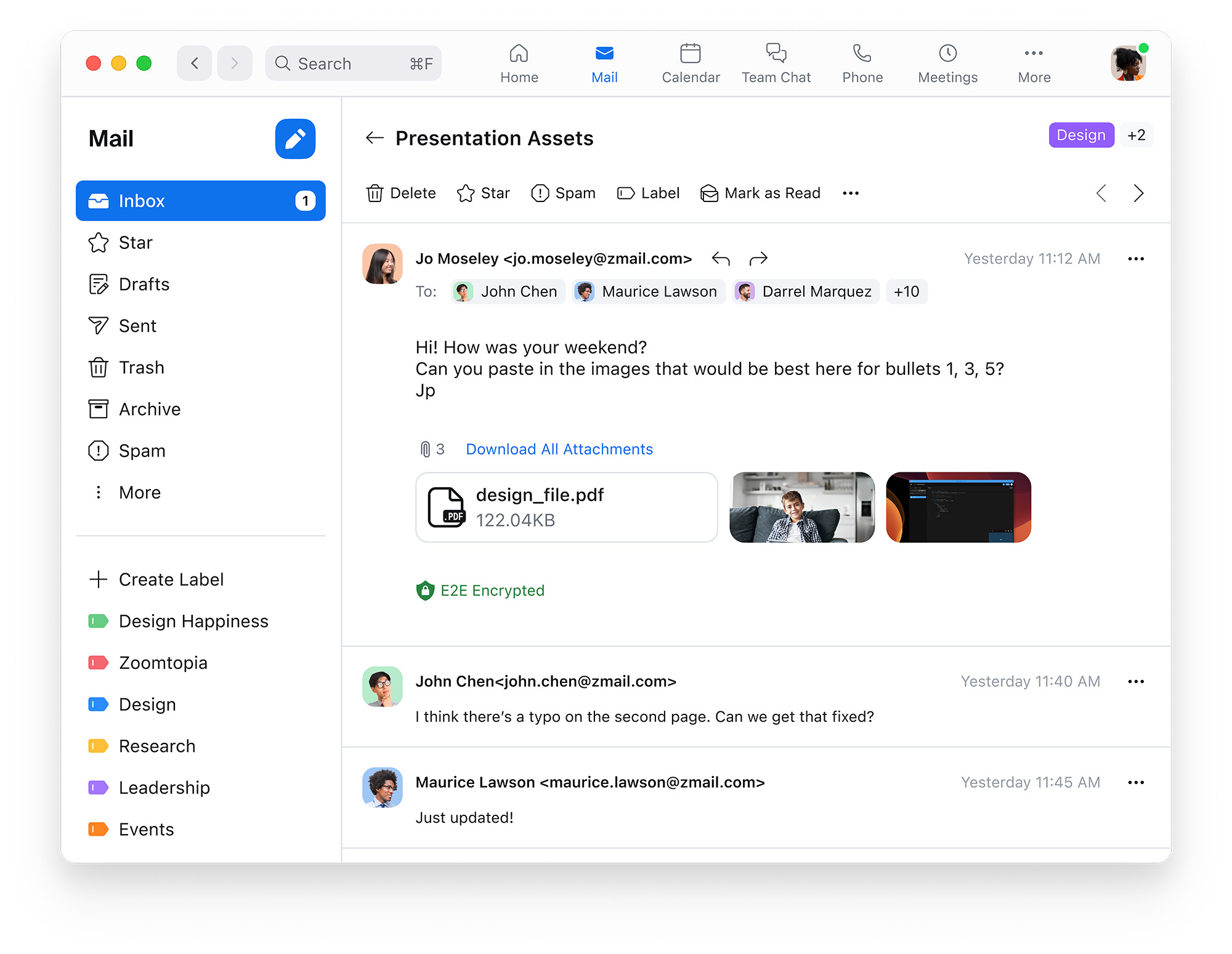 Zoom Mail and Calendar Use Cases:
Schedule, invite, and join meetings across applications
Send an email copy to a team chat with one click
Schedule phone calls
Zoom One Integrations
Zoom offers integrations with over 2200 apps–far more options than most competitors offer. Integrated apps span all Zoom tools and channels–including options for analytics, streaming, CRM systems, collaboration, note-taking, presentations, productivity, surveys, and workflow automation.
Popular Zoom integrations include
HubSpot
Microsoft Teams
Salesforce
Okta
Gong
Jira, and more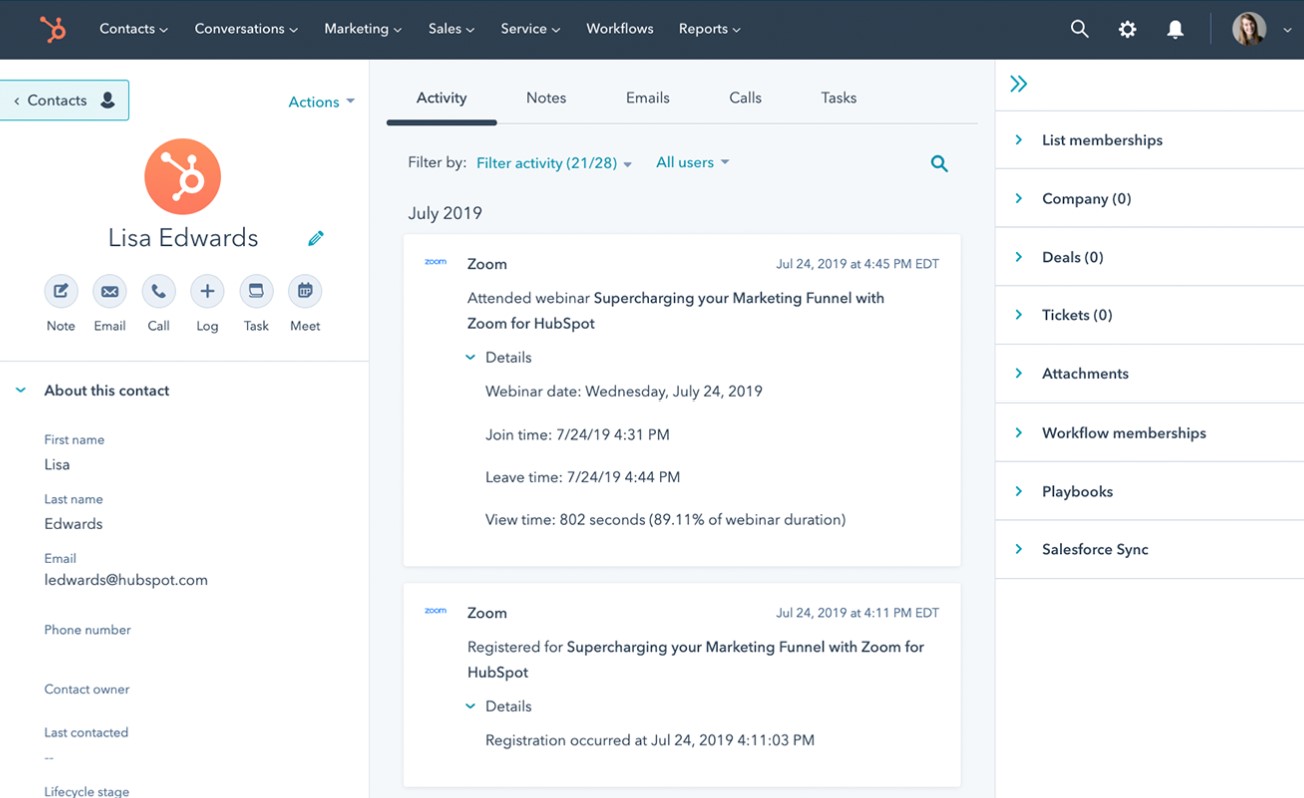 Zoom One Pricing and Plans
Zoom One offers five plans, ranging from free to $25 monthly per user:
Basic (free): Meetings with 100 attendees up to 40 minutes, team chat, 3 concurrent whiteboards, and limited video-collaboration features
Pro ($14.99 monthly per user): 30-hour meeting time limit and all meeting collaboration features
Business ($19.99 monthly per user): 300 meeting attendees, unlimited whiteboards
Business Plus ($25 monthly per user): Adds Zoom Phone and SMS
Enterprise (custom pricing): 1000 meeting attendees, plus hybrid and webinar options through Zoom Rooms and Zoom Webinars–but not Zoom Events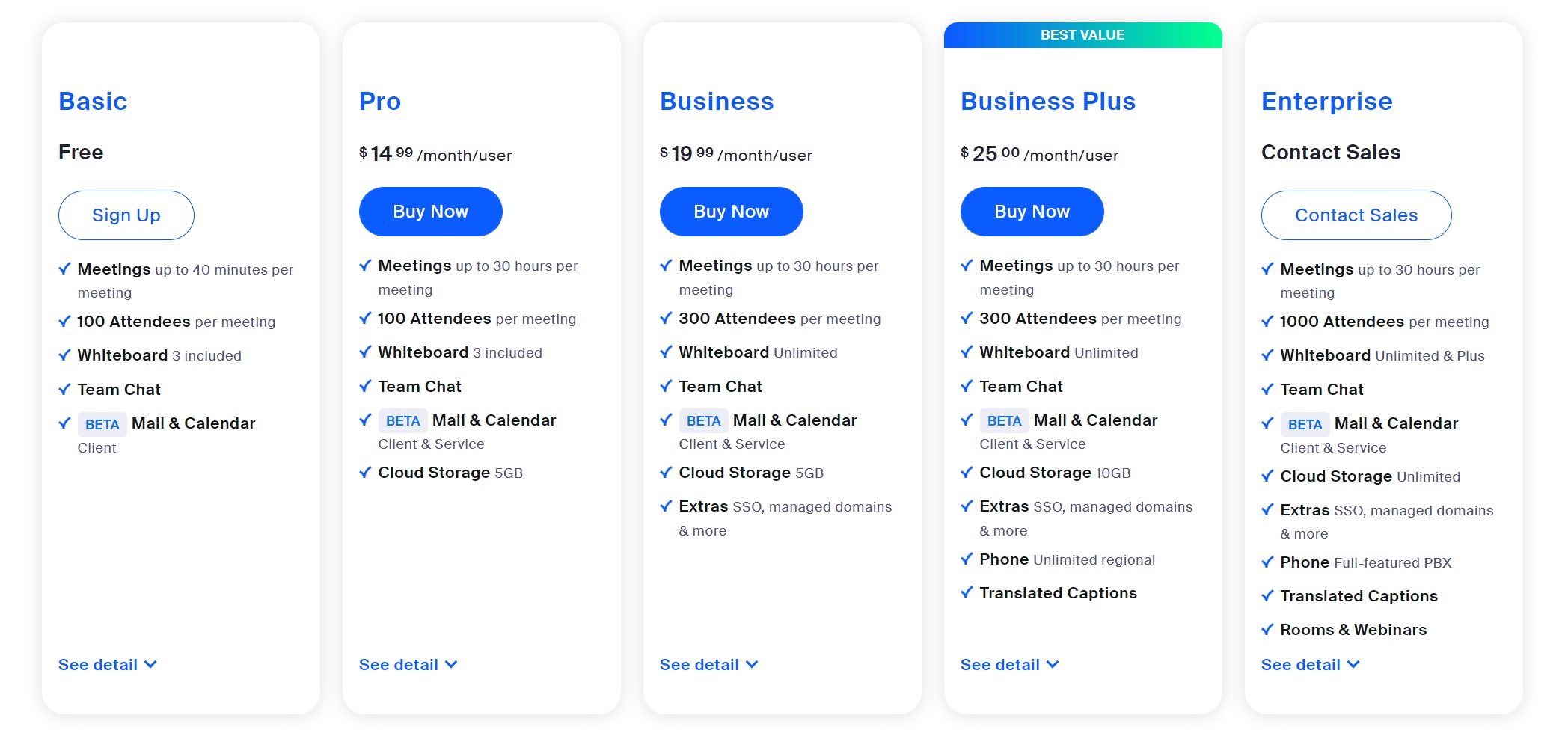 Benefits of Zoom One
Compared to alternative UCaaS and collaboration platforms, Zoom One offers these benefits:
Advanced meeting collaboration features
Options for UCaaS without telephony
Collaborative chat features
1. Advanced Meeting Collaboration Features
Zoom video communications support more participants and include a wider variety of collaboration features than most competitors.
Whereas some alternative unified communications providers limit meetings to 100 participants, Zoom's platform supports 300 on the Business Plus plan. Further, Zoom Meetings include a ton of collaboration features and host controls: dynamic whiteboards, filters, surveys, breakout rooms, waiting rooms, noise and camera touch-ups, and more.
These options set Zoom One in a league above competitors, many of whom offer no collaboration features.
2. Options for UCaaS Without Telephony
Zoom One is unique in that its lower-tier pricing plans offer a collaboration platform without phone service. Companies that already have a phone system–or those who simply want chat and video–will appreciate this, especially since many UCaaS competitors offer VoIP built-in to all plans automatically.
This option spares companies from having to pay a higher UCaaS price for VoIP service they won't use, leading to the budget prices that Zoom offers in lower-tier plans.
3. Collaborative Team Chat Features
Zoom One's collaborative chat features are more advanced than most other UCaaS options.
Tools like live co-authoring, whiteboard sharing, and file organization make Zoom One's team chat a true collaboration solution, rather than merely a communication platform. By comparison, many competitors only offer basic team chat without further file-sharing or collaboration options.
Who is Zoom One For?
Zoom One makes a great option for companies seeking to prioritize video- and chat-based collaboration in their UCaaS platform. When it comes to having a variety of advanced collaboration features, very few competitors match what Zoom One offers: whiteboards, breakout rooms, Microsoft Office doc co-authoring, surveys, and much more. Further, companies seeking to add only video and chat–such as those who already have a phone system–will be hard-pressed to find a better value than Zoom One.