We research, test, rank, and determine the best business communication solutions. To do this, we combine our own hands-on testing and the latest research from industry experts and actual users.
To determine the best small business phone systems, we looked closely at voice quality, video calling, messaging, and other important VoIP features that make customer experience better and the team more productive.
Our research shows Nextiva and RingCentral are the best small business phone systems in 2023.
This post will show the business phone systems we like most (plus their drawbacks) based on their pricing and plans, standout features, and customer experience.
Small business phone systems as low as
$10/mo
What is a Business Phone System?
A business phone system is a VoIP-powered phone solution that provides unlimited calling, business texting, call recording, conference calls, and flexible internal and external business communications.
Cloud-based business phone systems include unlimited extensions, call flow options, and call management features that make it easy for customers to reach multiple departments, agents, or IVR menus via the same telephone number (though multiple business phone numbers are also available.)
Best Small Business Phone Systems
Below is the list of best phone systems for small businesses with our scores based on pricing, available features, things that set these providers apart, and their drawbacks.
1. Nextiva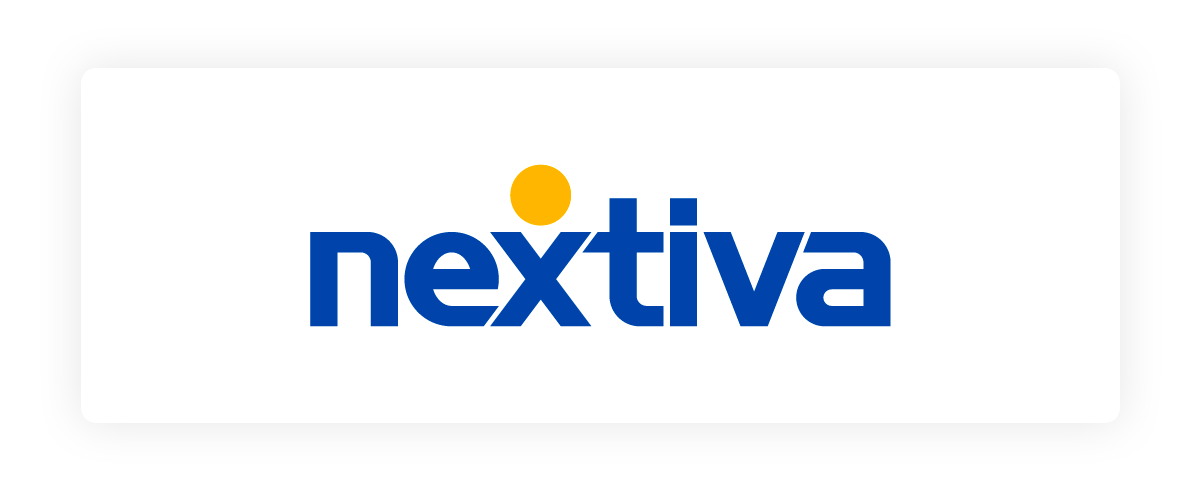 Nextiva is a unified communications solution with a business phone system, team collaboration, live chat, customer service tools, and more in the NextivaONE platform, which you can download on desktop, mobile, and tablets.
Unlike other business phone service providers, Nextiva includes a built-in CRM and help desk, which removes the need to switch between different systems, providing an all-in-one voice, video, and collaboration system. Nextiva users can access features like thread conversations, messaging/chat, text and fax, meeting rooms, and Nextiva Call Pops, which instantly display important customer information before, and during calls.
You can use NextivaONE as a unified application for file sharing and editing, real-time chat messaging, texting, unlimited voice calling, email management, conferencing, sales management, integrations, and video calling.
How Much Does Nextiva Cost?
Nextiva offers a 30-day free trial and three paid plans that are available on a month-to-month or annual subscription basis. Nextiva's Business Communication plans range from $17.95 to $31.95 per line per month.
Essential plan ($18.95 monthly): Includes VoIP, team chat with collaboration features, 45-minute video calling with 2 participants, a toll-free and a local number, basic auto attendant, and 1500 toll-free minutes
Professional plan ($22.95 monthly): Adds conference calls and video conferencing with 40 users, 1000 SMS per user, multi-level auto attendants, video-collaboration features like screen sharing, and CRM integrations
Enterprise plan ($32.95 monthly): Expands video meeting capacity to 250 participants and text allowance to 2000 texts per user, adds call recording, voicemail transcription, enterprise integrations, and 12,500 toll-free minutes
For more information, check out our review of Nextiva pricing, features, and plans.
What Sets Nextiva Apart
Nextiva offers one of the most well-rounded business phone systems on this list, with a variety of multichannel and UCaaS functionality and international VoIP calling. The affordable Essential plan includes 1:1 video calling, SMS, unlimited team messaging, and 3 team-collaboration rooms.
Unlike other phone system providers, Nextiva offers a free local and toll-free number with each account sign up–plus 1,500 toll-free minutes. Nextiva video meetings include a built-in calendaring system plus integrations with popular calendars like Google and Microsoft Outlook.
Nextiva's Collaboration rooms support UCaaS features like file sharing and storage, plus a team huddle link where room members can pop in anytime
Why We Picked It
24/7 support is available to all users, not just those with the most expensive plan
Includes a 99.999% guaranteed uptime with 24/7 network monitoring, eight global points of presence, and HIPAA, HITECH, SOC2, and PCI compliance
Nextiva's threaded conversations make it easy to communicate in various channels while keeping it into a single interconnected thread
Easy to use and user-friendly drag-and-drop call flow builder and agent setup
A superior desktop app that offers a unified user experience
Nextiva Drawbacks 
Not enough integrations: While Nextiva offers 100+ system features, its integrations with third-party software are limited compared to others. This can make it challenging for business owners that want to incorporate Nextiva into existing software you may already be using. Be sure to check if integrations are available for your needs.
Mobile App Needs work: Nextiva's mobile is not as comprehensive nor as feature-rich. It tends to be glitchy with notifications. We've also experienced login issues.
Our Score for Nextiva: 9/10
Nextiva is our #1 choice for small businesses that are customer-centric. Nextiva has superior customer service and offers many system features at a competitive price, making it easy for users to manage all communication methods.
Nextiva's desktop app performs well and is easy to use and understand, with a one-click video launch, chat, SMS, email, and collaboration in one threaded and continuous view
Nextiva is less suitable for businesses or individuals relying heavily on third-party integrations. It's important to weigh the pros and cons and consider your specific needs before choosing any communication software.
Learn more about
Nextiva pricing & plans
2. RingCentral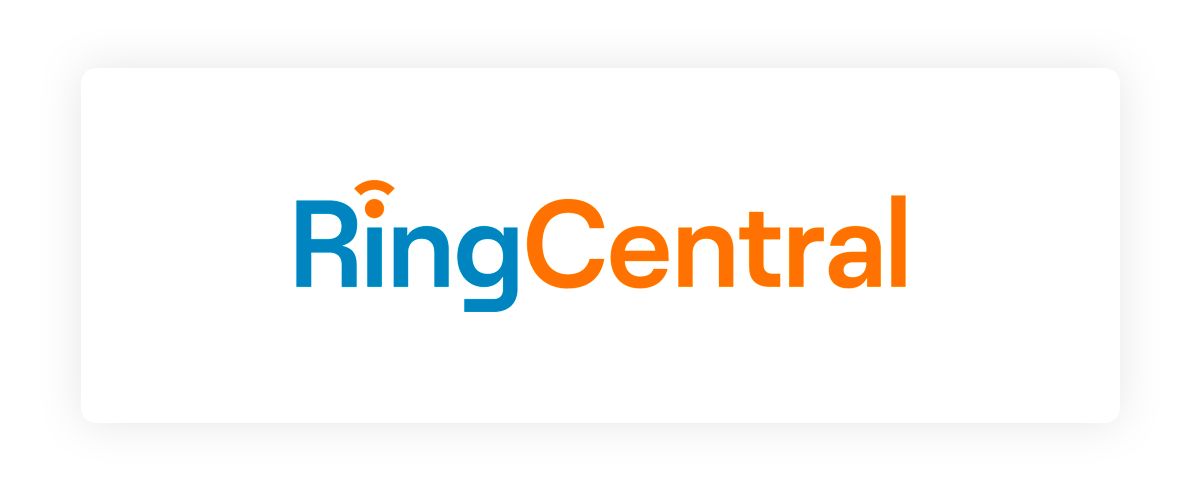 RingCentral MVP is a cloud Messaging, Video communications, and Phone system designed to simplify and streamline workflows while increasing productivity across communication channels.
Admins can use pre-made reporting templates that automatically monitor over 35 KPIs relating to call quality, hold times, resolution rates, agent performance, team meetings, quality of service, and more. Real-time alerts instantly notify managers when performance standards fall below pre-set thresholds.
Small businesses relying on self-service to manage most customer support requests will appreciate that RingCentral allows up to 250 customizable IVR menus and submenus. Allowing businesses to cater to each caller's individual needs.
How Much Does RingCentral Cost?
RingCentral MVP offers a free 14-day trial and 3 plans, with costs starting at $20/mo per user and up to $35/mo for their Ultra plan.
Core plan ($20 monthly): Includes VoIP, video conferencing with 100 participants, team chat and collaboration features, 25 SMS texts per user, on-demand call recording, multi-level IVR, basic call queues, 100 toll-free minutes, and limited file storage
Advanced plan ($25 monthly): Adds adoption analytics and business analytics essentials, advanced queues and routing rules, automatic call recording, call monitoring with whisper and barge, 100 texts per user, and 1000 toll-free minutes
Ultra plan ($35 monthly):  Adds unlimited enterprise-grade video quality and collaboration features, enhanced business analytics, customizable business insights, unlimited file sharing, 200 SMS texts per user, and 10,000 monthly toll-free minutes
Further details are available on our RingCentral Pricing overview.
What Sets RingCentral Apart
RingCentral is celebrated for its advanced–and highly customizable–real-time call analytics
Admins can edit phone call flow paths at any time with RingCentral's drag-and-drop Visual Dial Plan Editor, take advantage of numerous call routing strategies, and rely on NLP and AI to automatically evaluate and respond to customer requests
All RingCentral plans include video conferencing, supporting at least 100 participants, and lasting up to 24 hours. While some competitors restrict video collaboration tools to higher-tier plans, RingCentral offers whiteboards, notes, AI insights, and live transcription on all their plans. Further, all RingCentral plans include unlimited team-messaging rooms with file sharing and task management, a collaboration tool few competitors offer.
Why We Picked It
RingCentral offers over 330 integrations to third-party apps–a number few competitors can beat
RingCentral offers 24/7 live chat and phone support, upgraded paid support options like dedicated account managers, priority support, and personalized implementation and team training via RingCentral Professional Services
RingCentral University's free online training program provides a high level of customer self-support that is vastly superior to competitor knowledge bases
RingCentral offers b security and consistently high call quality, 

99.999% guaranteed uptime

, seven layers of network security, end-to-end encryption, multi-factor authentication, and fraud mitigation tools
The RingCentral App for desktops is intuitive and easy to use, especially compared to other VoIP providers
RingCentral Drawbacks
Pricing: RingCentral is more expensive than other business phone systems, which is especially an issue for smaller businesses with tighter budgets
Poor customer service:  We've experienced excessive hold times with RingCentral's customer support, reaching over 10 minutes on hold. Reaching the right department typically required a transfer to another rep and more hold times.
Time-consuming learning curve: We find RingCentral's interface and setup process more challenging to learn than other communication and collaboration platforms
Our Score for RingCentral: 8/10
RingCentral is our #2 choice for a small business phone system
RingCentral has a powerful mobile app that seamlessly combines all the communication channels most small businesses need
RingCentral pushes hundreds of new system features and advancements per year. Most recently, they introduced swipe to call feature right from the softphone.
Highly customizable analytics provide insight that provides businesses with actionable data to improve workflow and identify key issues as early as possible
Learn more about
RingCentral pricing & plans
3. Zoom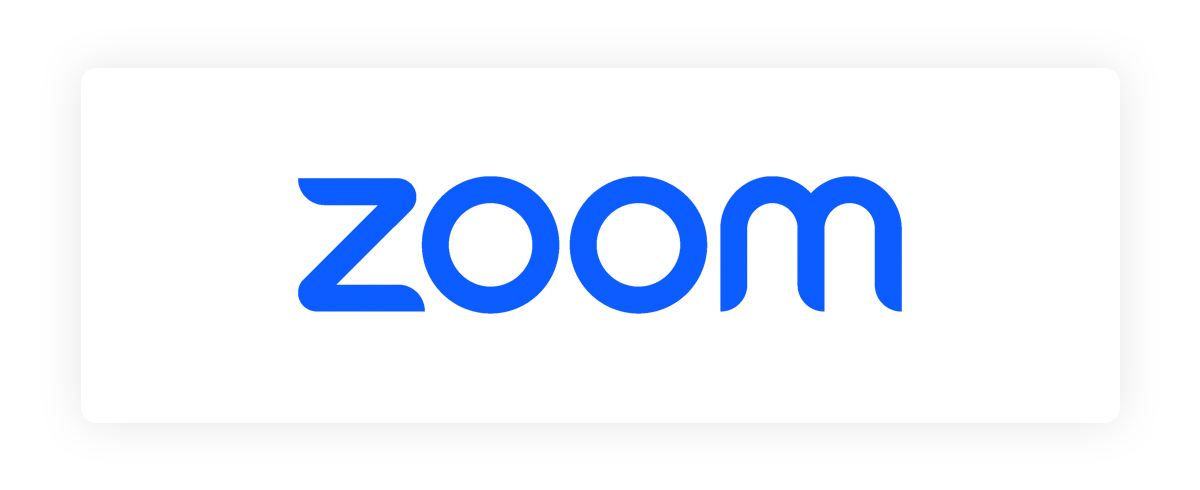 Zoom is an all-in-one communication and collaboration tool combining Zoom Phone, video meetings, team chat messaging, whiteboard, email, and collaboration tools in one system. Though a Free Plan is available, it doesn't offer voice calling features and focuses primarily on video calling.
Most Zoom users typically switch to the unified communications plan from Zoom Meetings because they need more advanced business phone system capabilities. Therefore, the team collaboration features Zoom offers are generally the biggest draw.
Zoom One offers unlimited whiteboards, unlimited calling, 10 GB of cloud storage, and meeting capacities of up to 1,000 participants.
Even though Zoom Phone itself is a bit more basic than most options in this piece, it can integrate with virtually any CRM, project management, marketing, or workforce management tool, making it one of the most customizable business phone systems on the market today.
How Much Does Zoom Cost?
Zoom One Pro is available month-to-month starting at $15.99 per user or annually at $149.90 per user per license, representing up to 21% in savings.
Basic (Free): The free basic plan includes 40-minute video meetings with 100 attendees, 3 whiteboards, team chat, and some collaboration features like breakout rooms and automated captions
Pro ($15.99 monthly): Expands meeting time limit to 30 hours, supports 9 licenses, includes 5 GB of meeting recording per license, adds polling and co-hosting capabilities
Business ($19.99 monthly): Expands meeting capacity to 300 participants, provides unlimited whiteboards, supports 99 licenses, adds admin portal recording transcripts, meeting branding, and live language interpretation
Business Plus  ($25 monthly): Adds Zoom Phone features like VoIP, toll-free numbers, voicemail transcription, IVR, queueing, and call monitoring
Enterprise (custom pricing): Includes unlimited cloud storage, 500 to 1000-participant meeting capacity, webinar capabilities, and supports over 250 licenses
Check out our complete review of Zoom One pricing plans, which provides more pricing information.
What Sets Zoom Apart
Zoom is unique in its channel flexibility and pricing, since it offers Zoom Phone and Zoom One as separate products
Zoom Phone offers a business phone system with just VoIP and SMS, costing just $10 monthly, including a US or Canada-based number, which is ideal for small businesses
All Zoom Phone plans include auto attendants, call queueing, recording, and call center monitoring–features that some competitors reserve for advanced plans
Zoom One complements Zoom Phone well, as Zoom One offers a free version with team chat, whiteboards, document co-editing and video meetings hosting up to 100 attendees for 40 minutes
Why We Picked It
Zoom Customer Support is excellent. They offer all users 24/7 chat with a live agent. Though 24/7 phone support is available only for top-level plans, Zoom's extensive online knowledge base and thriving user community allow ample self-service.
Large number of third-party integrations and APIs, plus frequent additions due to Zoom's overall popularity
Advanced video calling features streamline remote team collaboration within a familiar, intuitive interface
Zoom Phone and Zoom One are great for companies that want an advanced business phone system with some multichannel collaboration features–at a budget price
Zoom Drawbacks:
Limited customization options: Zoom Phone's interface is fixed, with limited options for customization. This can make it challenging for businesses with unique requirements to customize the plans to their needs.
Mobile app issues: We experienced a hard time connecting our Zoom phone calls to Airpods. The app had difficulty recognizing/transferring the audio to the already connected headset.
Zoom Phone requires a Zoom Video account: Zoom phone isn't available as a standalone product, and you must have a Video account to add the Phone system
Time-consuming signup and setup process: In our attempt to set up a brand Zoom Phone account, receiving a quote via email took about two days, while with other competitors, we got a quote and phone number on our initial setup call in under an hour
Our Score for Zoom: 7.5/10
Most Zoom users typically switch to the unified communications plan from Zoom Meetings because they need more advanced business phone system capabilities. Therefore, the team collaboration features Zoom offers are generally the biggest draw.
Zoom does offer its phone system as low as $10/mo. However, it is a metered plan and does not offer unlimited calling.
Zoom is a no-brainer if you already use and love Zoom for video conferencing
Zoom offers many AI features and third party-integrations
Learn more about
Zoom One
4. GoTo Connect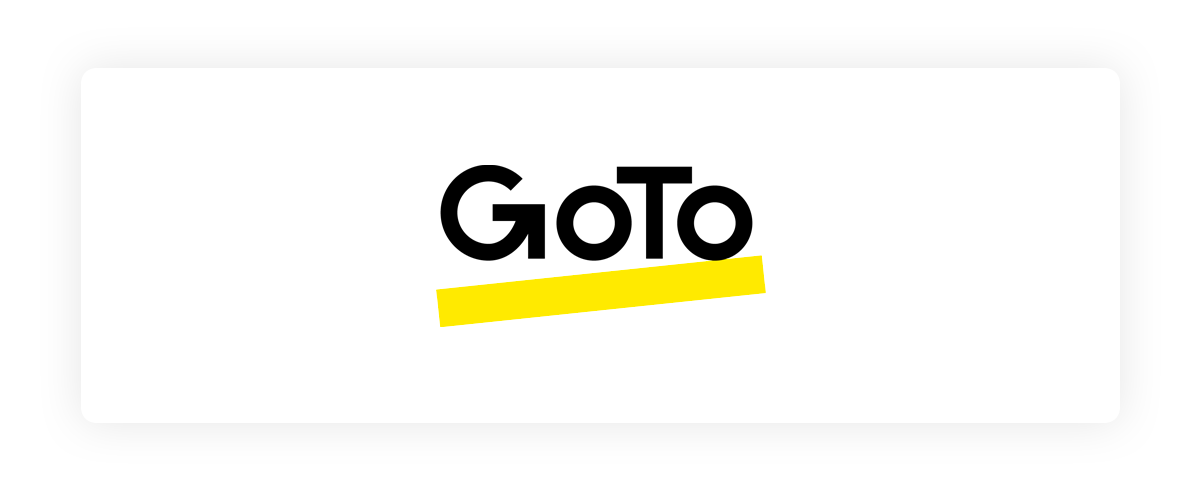 GoTo Connect is a small business phone system with a cloud-based voice, video, and chat messaging app designed especially for IT teams requiring do-it-yourself scalable solutions.
GoTo Connect is best known for its Dial Plan Editor, popular for its overall ease of use and the advanced call routing and call flow strategies that can be set up in minutes.
System administrators can create "utility nodes" according to agent schedules, preferred language, caller ID, call groups, etc. These nodes automatically shift according to call volume and agent availability, reducing missed calls and callbacks.
GoTo Connect also includes call filtering tools that let users whitelist high-priority numbers so VIP clients avoid waiting on hold. These filters also automatically forward VIP calls to specific preset dial plans or extensions and reject blacklisted numbers.
How Much Does GoTo Connect Cost?
GoTo Connect offers two plans: the Basic plan costs $22 monthly per user, and the Standard plan costs $26 per user.
Basic plan ($24 monthly): Supports up to 20 users with VoIP calling, unlimited calls in the US and Canada, 40 monthly SMS credits per seat, video conferencing for 40 minutes with up to 4 participants, smart call routing, and 1 of each phone feature: auto attendant, dial plan, ring group, call queue
Standard plan ($29 monthly): Expands the unlimited calling area to 50+ countries and meeting capacity to 150 participants with no time limit, adds unlimited access to all phone features like call queues and ring groups
GoTo Connect cost breakdown provides additional information.
What Sets GoTo Connect Apart
GoTo Connect's phone system is great for companies with high international call volumes because the Standard plan supports unlimited calling to over 50 countries–a larger unlimited calling area than any competitor
GoTo offers local, toll-free, and vanity numbers around the world
While the Basic plan only includes one call queue, auto attendant, and ring group, the Standard plan includes unlimited access to these features–making GoTo's Standard plan the best option for call centers with a global presence
Why We Picked It
GoToMeeting video conferencing is included with every plan
Compatible with 180+ desk phones lets small businesses keep existing equipment
Offers native IT help desk ticketing solutions that seamlessly tie into the Voice and Video system
GoTo Connect Drawbacks
Expensive plans: GoTo Connect's Basic plan costs $24 monthly per user–almost twice the cost of some alternatives' cheapest plan
Limited Basic plan: GoTo's Basic plan limits several key features–video meetings have a 4-participant capacity and 40-minute time limit, and the phone system only supports 1 auto attendant, ring group, and call queue. This forces larger teams to purchase the Standard plan, which is a pricy $29 monthly.
No live AI capabilities: While GoTo offers robust real-time analytics, it lacks some advanced AI-support tools competitors offer–like live transcription and speech support
SMS credit: Each plan offers a preset number of SMS credit per user, capping how many texts a user can send without having to pay extra
Our Score for GoTo Connect: 7.2/10
GoTo Connect's Standard plan offers an unlimited calling area with over 50 countries–a number that outperforms all competitors–making it a clear choice for companies with high international call volumes
The Basic plan is only suitable for small teams, since it caps video meetings at 40 minutes and 4 participants. This plan one offers 1 concurrent usage of key phone features, like an auto attendant and call queue.
The credit-based SMS structure makes GoTo a poor fit for teams that send a lot of texts, since some alternatives offer unlimited texting
Discover
GoTo Connect pricing
5. 8×8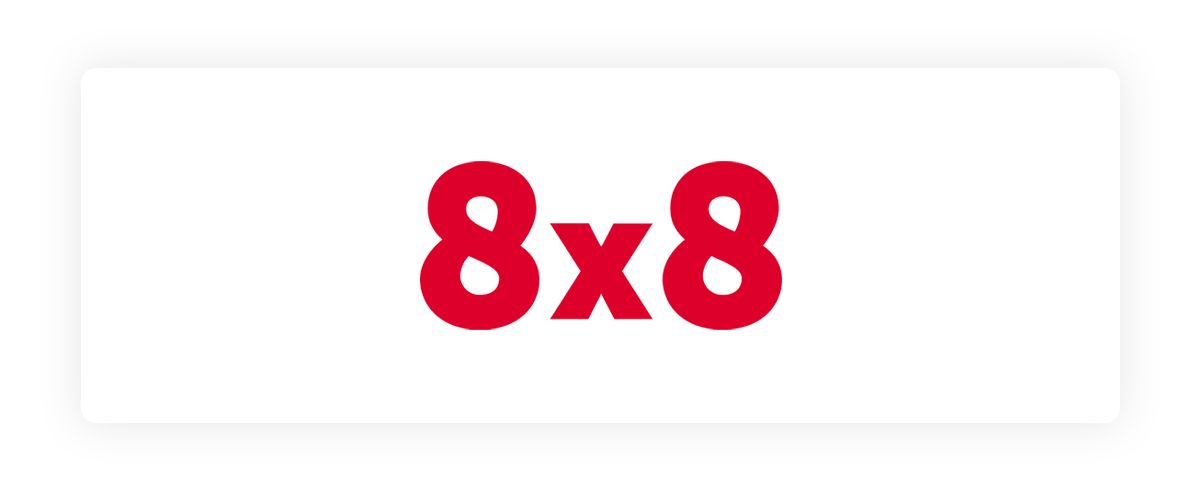 8×8 is a complete cloud PBX phone system offering unlimited local and global calling in 48 countries and SMS, MMS, team chat, Contact Center, and video meetings.
One of 8×8's top features is its post-call survey tool, which includes IVR-powered questions that allow you to collect quick–but still valuable–feedback regarding agent performance.
These surveys can pose simple yes/no questions, ask for ratings on a scale of 1-10, and allow willing customers to leave more detailed voice recordings of feedback. Teams needing more conversation-based feedback can automatically transfer customers to dedicated post-call survey voice channels or call queues.
8×8 also includes a variety of programmable ring patterns, including round robin, sequential, simultaneous ring, and more. Ring group members can be re-ordered via a drag-and-drop menu, and admins can set the time before a call is forwarded to the next member.
How Much Does 8×8 Cost?
8×8 plans start at $28/user/mo on their X2 plan. This plan gives access to unlimited voice calling to 14 countries, HD audio and video conferencing, integrations, and more. 8×8 also offers a free 30-day trial, so you can test their phone system before committing to long-term contracts.
X2 plan ($24 monthly): Includes unlimited VoIP calling to 14 countries, team messaging and file sharing, call queues, multi-level auto attendant, video conferencing with 500 participants, live speech analytics, interactive meeting features like polls and hand raising, youtube live streaming
X4 plan ($44 monthly): Expands unlimited calling to 48 countries, adds advanced analytics and call monitoring with barge and takeover
What Sets 8×8 Apart
8×8 offers a compromise between low-priced plans and international communication. The X2 plan includes a 14-country unlimited calling area, plus unlimited queues, multi-level auto attendants, live AI speech support, and call analytics.
While competitors like GoTo Connect offer a wider unlimited international calling area, 8×8 supports collaboration with up to 500 video-meeting participants, whereas GoTo only supports four participants on their Basic plan
8×8 makes a good option for large teams, seeking collaboration tools on a budget, that make international calls within 8×8's unlimited area
Why We Picked It
Advanced, AI-powered analytics, including Active Call monitoring, Company Summary, and Call Detail Records
Wide variety of Global calling options
8×8 offers a 99.999% guaranteed uptime and has GDPR, HIPAA, CPNI, FISMA compliance, and TLS and SRTP encryption. The provider also has 35 global points of presence to keep the network running smoothly.
Extension-level call recording, on-demand or automatic call recordings and transcriptions
8×8 Drawbacks
International calling limitations: While 8×8 does offer wide international calling areas on both plans–14 and 48 countries, respectively–some of these countries exclude mobile numbers, a major downside. Companies should verify that their 8×8 plan supports mobile in the countries they call frequently.
Pricy plans: Like GoTo, 8×8's cheapest plan is $24 monthly per user–double the cost of some alternative providers
Setup hassle: Many users have reported that the 8×8 app's setup process feels unintuitive and lacks the ability to personalize the user dashboard
Our Score for 8×8: 7/10
While 8×8's lowest-tier X2 plan costs more than alternatives, it works great for large teams because it has no user limit. X2 includes unlimited call queues and auto attendants.
8×8 offers strong UCaaS collaboration with file-sharing in team chat, plus video meetings that include unique capabilities like instant polls and breakout rooms
Companies that host webinars, workshops, and demonstrations should favor 8×8 since it supports live streaming to YouTube for larger audiences
Learn more about
8x8 plans and pricing
6. Dialpad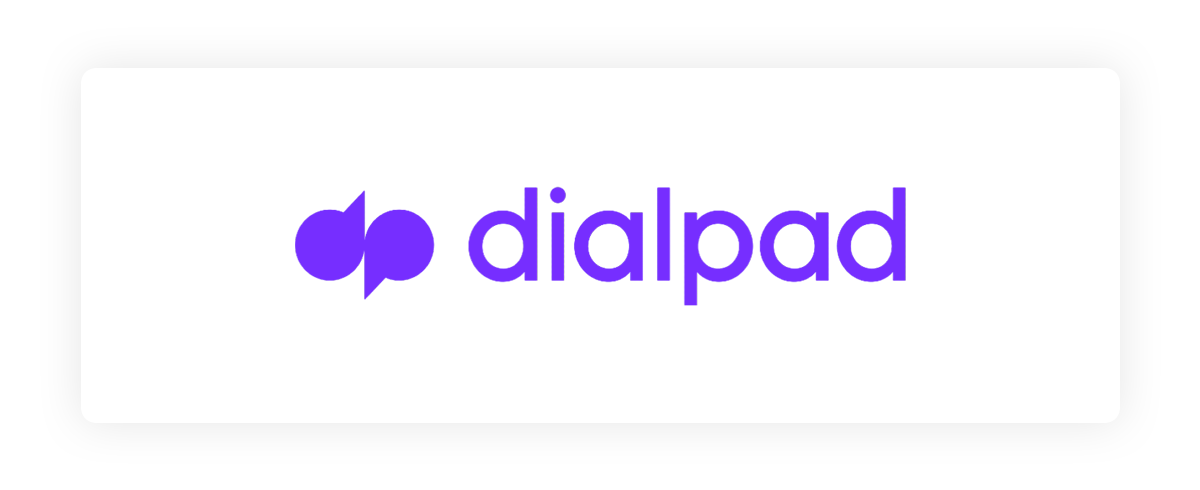 Dialpad's business phone system provides excellent value to businesses with high call volumes, specifically on mobile devices. It includes voice and video calling, team chat, virtual faxing, and SMS texting.
One of Dialpad's top features is its AI-powered in-call voice assistance, Vi (short for "Voice Intelligence.")
Vi offers real-time agent coaching, picking up potential action items and caller sentiment according to trigger keywords and phrases. When Vi "recognizes" something a customer says, it pulls up relevant information from the internal knowledge base, displaying vital information on the agent's screen. This prevents agents from putting callers on hold, and increases first call resolution rates.
Users can also create Dialpad Departments, essentially more advanced ring groups. Departments are groups of agents that receive specific customer calls based on preset criteria. Each Department can contain up to 30 phone numbers.
How Much Does Dialpad Cost?
Dialpad offers a free 14-day trial. Annual subscriptions for the unified communications platform range from $15 to $25 per monthly user.
Standard plan ($15 monthly): VoIP with unlimited calling in the US and Canada, SMS, team chat with file sharing, video meetings with 10 participants and collaborative features like chat and virtual backgrounds, team chat with file sharing, AI-powered call and voicemail transcriptions, real-time analytics
Pro plan ($25 monthly): Adds local number availability in 70+ countries, 25 ring groups, CRM integrations, and supports multiple phone numbers per account
Our Dialpad cost breakdown offers further details.
What Sets Dialpad Apart
Dialpad offers an affordable multichannel communication platform for small companies seeking AI support and collaboration tools
Although video meetings are capped at 10 participants, they last 5 hours with a host of advanced features: chat, waiting rooms, whiteboards, and virtual backgrounds. All Dialpad plans include call recording, live speech coaching, real-time transcription, and automated summaries.
Why We Picked It
Dialpad offers a 99.9% uptime guarantee to all customers except those on the Enterprise plan, who have a 100% guaranteed uptime
With built-in network redundancy, number failovers, and automated data backups, Dialpad offers high reliability
Automated post-call notes and speech coaching help agents understand where to improve
Each plan includes call recording, call transcriptions, and custom routing options usually reserved for top-tier plans
Dialpad Drawbacks
Small video capacity: Dialpad meetings are full of dynamic features like chat, recording, and waiting rooms–but each plan only supports 10 participants per meeting. This limits productivity for large teams.
Limited integrations: Dialpad only supports integrations with 11 external applications. While these include popular software–like Microsoft Teams, HubSpot, and Salesforce–most UCaaS competitors offer many more options. Further, Dialpad's lowest-tier Standard plan only features one integration–Google Workspace.
No international numbers on Standard plan: Users on Dialpad's Standard plan can only purchase DID numbers in the US and Canada. To purchase international numbers, users must subscribe to the Pro or Enterprise plan.
Our Score for Dialpad: 6.5/10
Dialpad's Standard plan offers great UCaaS value at $15 since it includes all core communication channels–voice, SMS, chat, video–with advanced features like file sharing, live call transcriptions, and AI support. Many competitors reserved these features for much higher price points.
While Dialpad provides great value for small teams, large teams may want another option because Dialpad meetings support only 10 participants, and the Standard-plan phone system only supports 3 separate ring groups
Teams seeking international business numbers will have to purchase the Pro plan
Discover
Dialpad's pricing
for business communications
7. Vonage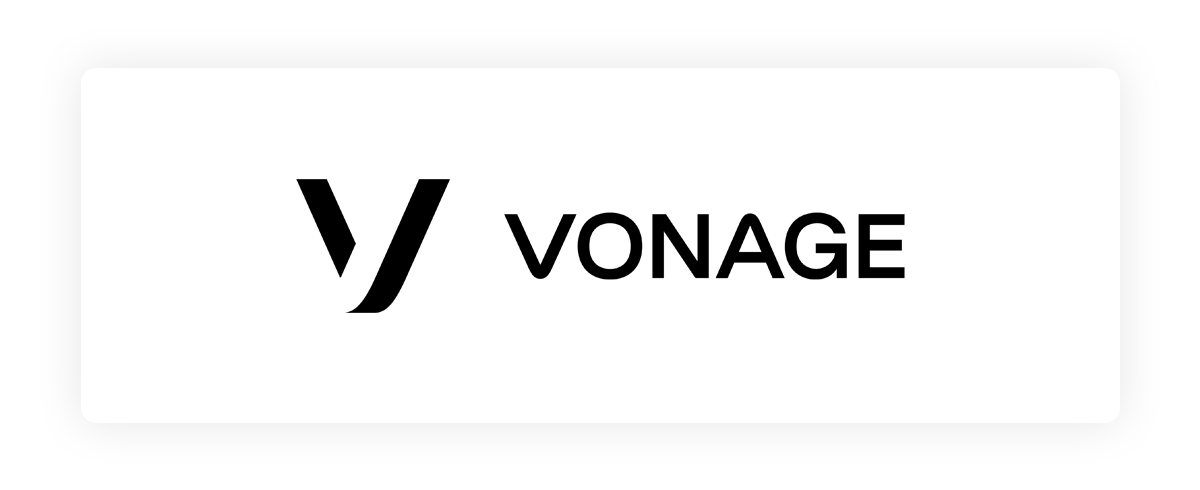 Vonage offers two small business phone systems options: the unified Vonage Business Communication (VBC) suite or the basic mobile and desktop-only app that allows users to connect on the go.
Vonage's Call Announce feature automatically plays customers' responses to IVR prompts to agents before they connect to the customer. It prevents repetition and ensures the agent has the information to assist the caller.
Call tags, summaries of the customer's issue, contact information, and more are played, allowing the agent to transfer the call to an agent with a more appropriate skill set. If an agent chooses not to accept the call, they can send calls to voicemail or reject it outright.
Vonage's Conversation Analyzer is an AI-powered tool that uses NLP and Speech Analytics to transcribe conversations automatically, offering insight into support quality, call resolution speed, and customer satisfaction. Vonage users can search transcriptions by keywords and connect them to their third-party CRM for additional data analysis.
How Much Does Vonage Business Cost?
As of this writing, Vonage does not offer a free trial. Vonage Business Communication pricing for 1-30 users ranges from $14.99 to $39.99 per user per month.
Mobile plan ($19.99 monthly): VoIP with unlimited calling in the US, Mexico, and Canada, SMS, team chat, call queues, basic auto attendant
Premium plan ($29.99 monthly): Adds unlimited video meetings for up to 100 users with collaboration features like whiteboards and screen sharing, multi-level auto attendant, CRM integrations
Advanced plan ($39.99 monthly): Adds 15 hours of call recording, ring groups, and video voicemail with transcription
Our extensive review of Vonage Pricing offers more details.
What Sets Vonage Apart
Vonage's Mobile plan offers a well-rounded VoIP phone system for companies that don't want video–just voice, SMS, and internal team chat in an easy-to-use desktop and mobile app. For those who do want video, Vonage's Premium and Advanced plans support up to 100 meeting participants.
Vonage offers a few unique add-ons, most notably their Business Inbox feature that combines all of an agent's messaging channels into one cohesive list. Agents can respond to customers across digital channels with a few clicks, keeping it all organized in one place.
Why We Picked It
Vonage is HIPAA, PCI, and GDPR compliant and uses AES 256-bit encryption. It has a 99.999% guaranteed uptime.
On-demand, company-wide, and automatic call recording rules store up to 15 hours of audio/video per extension and allows admins to email recordings or play them directly in the Admin Portal
High scalability thanks to add-ons like Visual Voicemail, Call Queuing, Call Recording, Call Monitoring, Call Groups, and more
Offers a mobile-only plan starting at $10/mo
Vonage Drawbacks
Lacks advanced features: Vonage Unified Communications only includes basic business phone system features, like auto attendants and call queues. It lacks tools like file sharing, AI support, call monitoring, and analytics.
Call recording as an add-on: While many alternatives include automatic call recording as a built-in feature, Vonage offers recording as an add-on at $4.99 monthly per user
Key features are overpriced: Video meetings and multi-level auto attendants are only included with the Premium plan, costing $29.99 monthly per user. Many competitors include these features in their basic plan for half Vonage's price.
Our Score for Vonage Business: 6/10
Vonage Unified Communications does include basic UCaaS features, but many of them require the $29 Premium plan which is overpriced compared with other platforms
Vonage video meetings offer engaging features like whiteboards and chat, but they are limited to 100 users and lack advanced collaboration tools that competitors offer–like polls and breakout rooms
The phone system includes call queueing on all plans, which is a useful feature some competitors don't have
Learn more about
Vonage pricing & plans
Business Phone System Essential Features
Though there are over 100 VoIP phone system features, we've highlighted the most important features for small businesses below:
Call Routing
Call Routing is a business phone system feature that automatically distributes calls to specific agents, ring groups, departments, or voicemail boxes according to preset rules and/or responses to IVR prompts–without putting the customer on hold or forcing them to hang up call another number.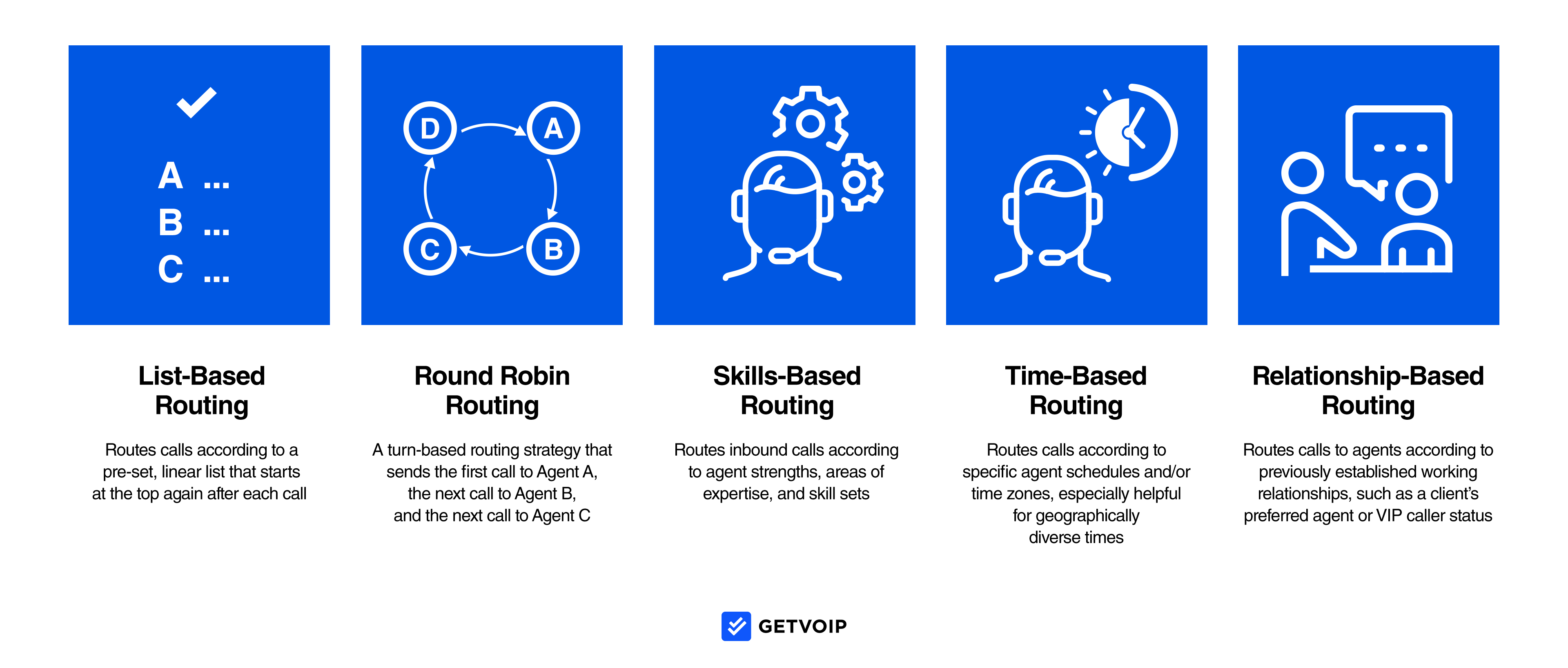 Popular call routing strategies include list-based routing, skills-based routing, VIP/relationship-based routing, time-based routing, most idle routing, and round-robin routing.
Call Forwarding
Call Forwarding automatically sends (forwards) unanswered calls to additional business telephone numbers instead of sending them to voicemail, ending the calls, or making customers call additional phone numbers themselves.
For example, if you miss a call at your desk phone, call forwarding will instantly forward the call to your mobile phone. If you don't answer on your cell, the call is forwarded to your home phone, your voicemail box, another agent, or the main menu. Call forwarding settings can be customized and edited at any time, and admins can set the number of rings before the call is forwarded to the next number on the list.
Omnichannel Communication
Omnichannel customer service and communication combine all your business communication channels (video, calling, SMS, etc.) into one unified, automatically-synced interface.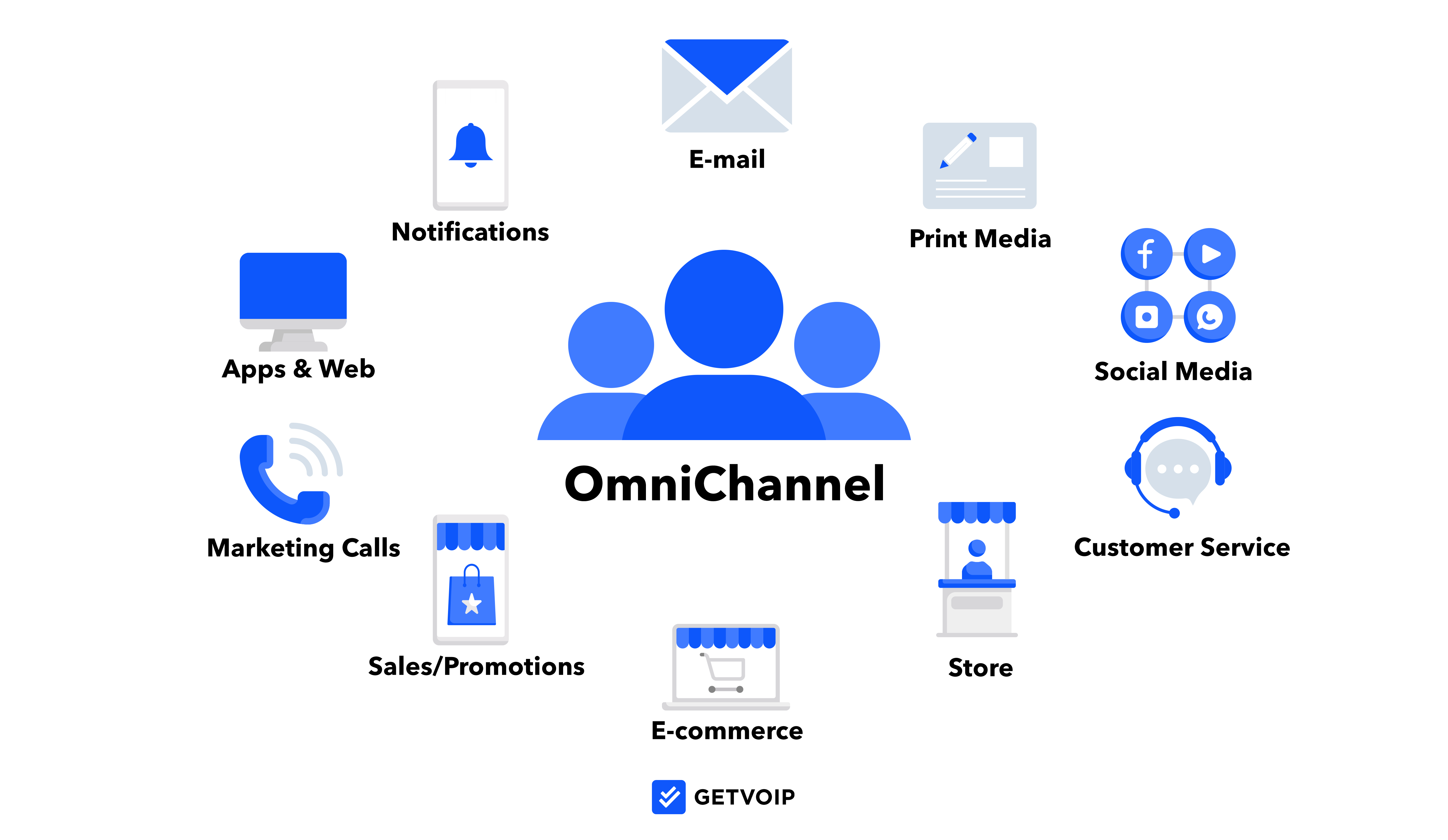 Customers and employees can easily switch between channels during a single conversation or support interaction without missing a beat. For example, a customer could start a customer support interaction with a phone call and end that interaction on a video conference with screen sharing for better assistance.
Omnichannel communication not only cuts down on app switching, it also lets customers choose their preferred way to connect with your company. Plus, it makes it easy for multiple reps to work on the same support ticket without the customer needing to repeat themselves each time they speak to a different agent.
Visual Voicemail
Visual Voicemail automatically transcribes voicemail messages, then sends these transcriptions to agents as emails, text messages, or displays the text directly in the softphone interface.
This way, agents don't lose time listening to longer messages, can better prioritize callbacks, or send reply texts to callers they've missed with relevant information.
Automated Callbacks
Automated Callbacks (also called Customer Callbacks) let customers select their preferred date and time to receive a callback from a business, allowing them to avoid waiting on hold for extended periods or having to call back multiple times until they reach an agent.
Once the customer schedules their callback, the call is automatically placed in a relevant agent's call queue, speeding up the resolution process and keeping customer satisfaction rates high by reducing hold times.
Integrations
Third-party integrations allow small businesses to connect existing software and other applications they're currently using to their business phone system, eliminating the need to switch between windows to access multiple tools.
Integrations make it easy for teams to access additional features that the VoIP provider may not offer, while APIs let IT teams customize their own features and apps to integrate with their phone system.
Common third-party integrations include marketing tools like MailChimp, chat apps like Slack, project management apps like Asana, CRM software like Salesforce, and industry-specific apps like Canva, Curve Dental, or Shopify.
Interactive Voice Response (IVR) 
IVR is an interactive call menu that automatically plays when a customer dials your business phone number, providing prompts and information that allows for a higher level of customer self-service.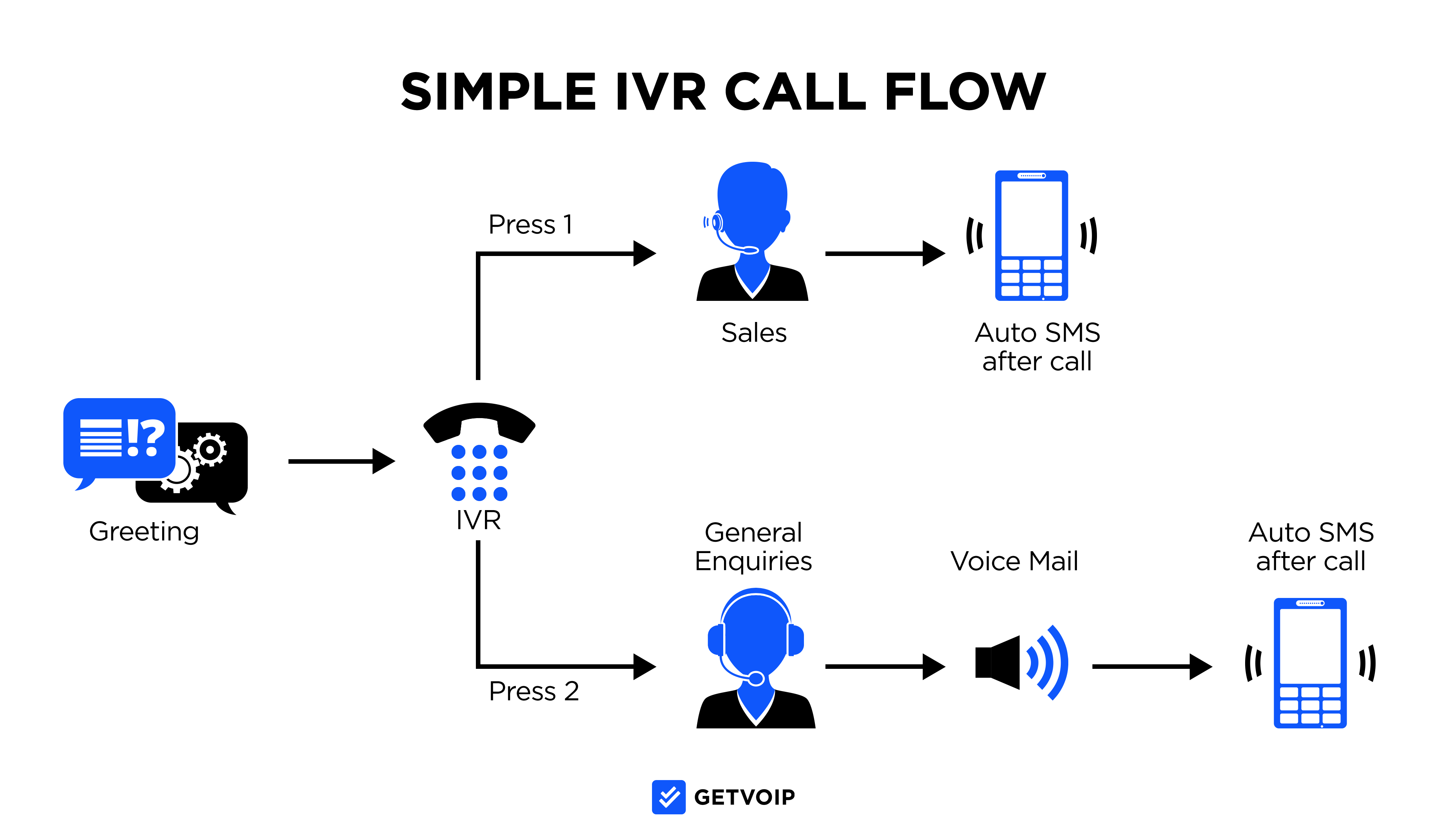 Callers can enter their responses to IVR system prompts via dial pad touch-tone or speak their responses into the phone directly. NLP (Natural Language Processing) and editable call flow paths analyze the customer's response, sending calls to relevant agents and departments or playing helpful pre-recorded information.
Call Recording and Call Monitoring
Call recording records all business calls automatically or on-demand, saving these recordings in a searchable database that lets managers conduct quality assessments, review call histories, and protect themselves in the event of a false accusation by a client. Many recording tools allow agents and admins to pause and restart recordings during conversations, protecting clients' most sensitive information.
Most call recordings are also transcribed, allowing faster call reviews and letting managers search for specific words/phrases or review detailed voice analytics.
Call monitoring lets managers listen to agent conversations with clients in real-time, while call whisper lets managers advise agents during live conversations (without the caller hearing.) Call barge (call takeover) lets managers immediately take control of any customer-client call that needs a higher-up's intervention.
Call Reporting and Analytics
Small business phone systems offer customizable and pre-made reporting templates that offer insight into customer and agent behavior, call center and contact center activity, and even AI-powered analysis.
These reports can be generated automatically or manually and shared and exported to other team members.
Common metrics to track include:
Daily/weekly/monthly call volume (total number of business calls, calls per department, calls per agent, calls within a specific date range, etc.)
Outbound Calls: Incoming Calls ratio
Percentage of missed calls transferred calls, and calls that went to voicemail.
Call Abandonment Rate
Cost per Call
Average call length
Customer Satisfaction Rating (CSAT)
First Call Resolution Rate (FCR)
Types of Business Phone Systems
Here, we'll explain the available types of business phone systems, focusing especially on the differences between premise-based and cloud-based solutions.
Premise-Based Phone Systems 
An On-Premise (Premises-Based) business phone system means all necessary telephony equipment and hardware (servers, handsets, wiring, etc.) are physically located on the business or office premises.
It also means the end user (AKA, your company) is responsible for managing business phone system installation, upgrades, maintenance, and security–not the phone system provider themselves.
Traditional Phone and Landline Phone Systems 
Though standard landline telephones operating via the PSTN are still available as premises-based office phone system solutions, most companies have made the switch to on-premise PBX systems.
Why?
Because not only do old-school landlines and cordless phones lack the features of cloud-based VoIP phone systems, but they're also incredibly expensive to operate and don't cater to the business needs of most companies. Above all, standard phone systems are on their way to becoming entirely obsolete–with most experts estimating they'll be mostly gone by 2025.
Traditional PBX Systems 
Like landlines, Traditional PBX (Private Branch Exchange) also uses the PSTN to manage inbound and outbound business phone calls.
However, an on-premise PBX essentially provides your business with its own private telephone data network, meaning you'll cut down on the costs of additional phone lines.
Although this offers your company greater control, note that a standard PBX phone system is fixed to a single location (within your office building, where the hardware is located.
It's also accessible only to connected devices, like IP phones–so agents can only use their business telephones when they're physically at the office. Finally, the sheer expense of an on-premise PBX system, which can easily run up to $20,000 to install, means it's just not an option for small businesses.
Cloud-Based Phone Systems 
A cloud-based phone system uses Internet-powered VoIP (Voice over Internet Protocol) to offer provider-managed business telephone communications hosted offsite, within the virtual cloud.
Cloud business phone systems are much more affordable than on-premise systems. They can work with existing equipment, don't require in-house IT teams since the provider manages maintenance and upgrades, and offer scalable month-to-month bundled payment plans. Most companies switching from landlines to virtual phone systems save at least 50% on business communications costs.
VoIP  
Because VoIP (sometimes called virtual telephony or IP telephony) isn't connected to the wired PSTN, your business phone system is accessible anywhere and on any device with an Internet connection. This means agents can take calls on their desktop computers via a softphone interface, on mobile phones via iOS or Android mobile apps, or on tablets.
VoIP phone systems offer flexibility, scalability, and the incalculable benefit of numerous advanced VoIP service features–all for a fraction of the cost of premises-based systems.
Cloud PBX Systems
Cloud PBX (Hosted PBX or Virtual PBX) phone systems also provide businesses with their private phone system. However, unlike on-premise PBX, cloud PBX is hosted in an offsite data center and managed by the third-party PBX provider, not the end user.
This means businesses avoid the expenses of purchasing hardware, in-house IT teams, and maintenance. Hosted PBX makes it much easier to scale phone lines up or down, as it doesn't require the installation of physical wiring and cabling.
Best of all, Cloud PBX systems give users access to VoIP business phone systems' mobility and advanced features. Our overview of Virtual PBX phone systems provides additional details.
SIP Trunking
SIP Trunking is a gateway that establishes a connection between your existing premise-based PBX system and VoIP virtual telephony, allowing you to simultaneously keep your on-site PBX equipment and get the benefits of VoIP.
The below diagram offers a visual explanation of the differences between hosted PBX and SIP Trunking: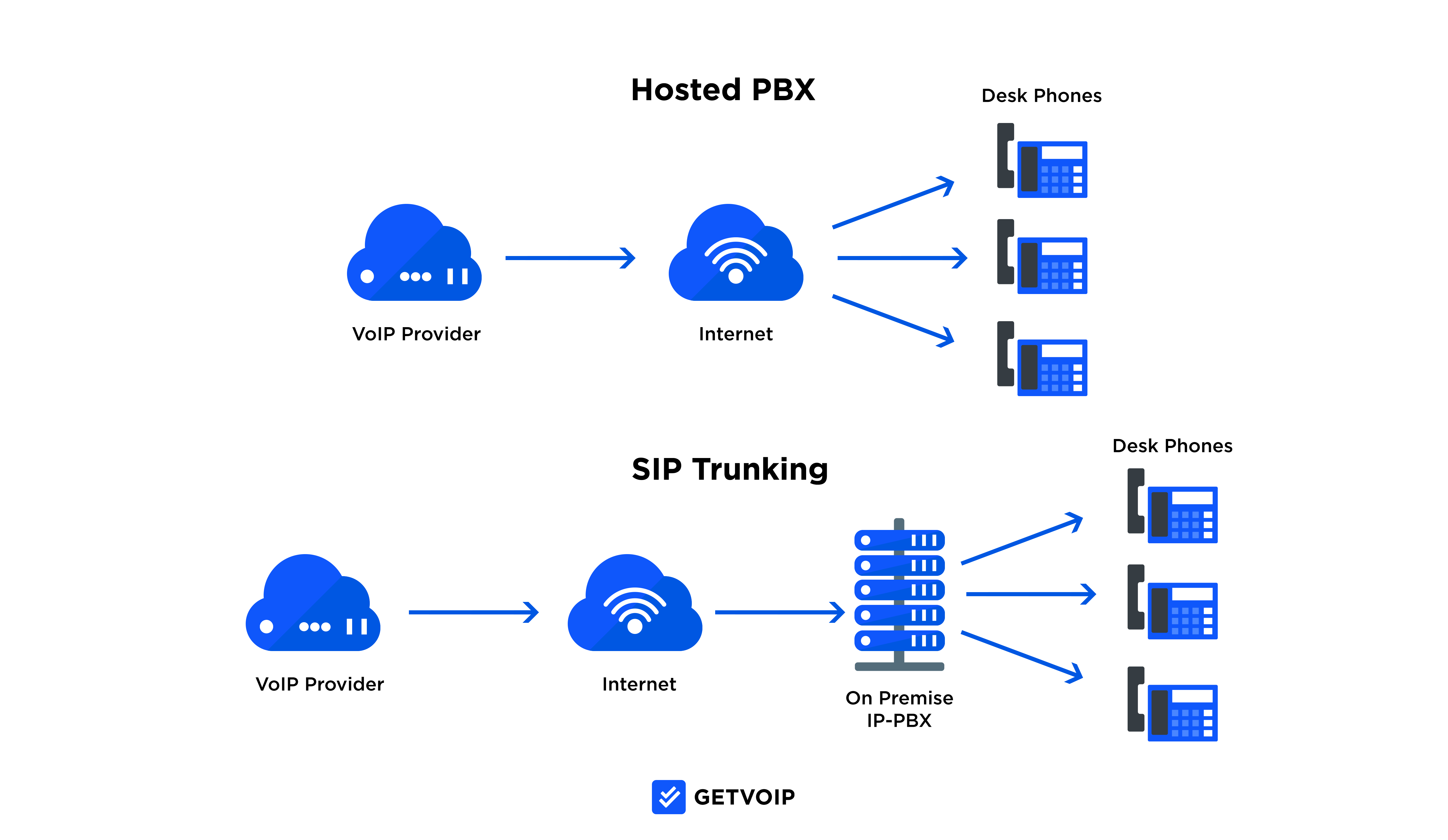 SIP Trunk users are still responsible for purchasing and maintaining their own PBX equipment. However, SIP Trunking creates a virtual connection to the PSTN that makes adding virtually unlimited phone lines and communication channels much easier–while combining all telephony solutions in one structure.
Choosing a Phone System for Your Business
Finding the right business phone system shouldn't just be about pricing and available features. Here are some points to keep in mind:
Consider smaller details like contract lengths, guaranteed uptime, support channels and availability, and overall ease of use
Think about how long your team will take to adapt to and learn to use the potential phone system provider and whether or not on-demand video or in-person user training is offered.
Remember to ensure that the platform is compatible with any hardware/equipment you plan to continue using, as well as with your preferred third-party software.
Above all, do your research and don't rush into a decision. Once you've narrowed your list, check our head-to-head comparisons on the business phone systems mentioned in this article for more information.
FAQs
Below, we've answered some of the top FAQs related to business phone systems.
A business phone system works by facilitating VoIP communication, which breaks up voice audio into smaller data packets that travel to their destination via the Internet, where they then reassemble. VoIP phone systems make it easy to add new phone numbers and extensions, as no physical copper wiring is required. VoIP telephony means scalable, mobile calling anywhere with Internet access.
Most business phone systems require little installation and work with your existing hardware (desktop computers, smartphones, etc.) You'll need a strong Internet connection, a router, a modem, and a few other key pieces of VoIP equipment. The setup process of the system itself usually entails developing call flow paths, recording IVR systems, assigning agents to extensions and call groups, and more.
Top business phone system benefits include:
Cost savings of between 50-70% compared to landline phone systems

Additional communication channels

Advanced VoIP features like visual voicemail, IVR, and automated callbacks

More detailed real-time and historical analytics

Improved internal collaboration

Higher first call resolution rates
The two main types of business phone systems are on-premise and cloud-based, with the latter being the most popular. The most common cloud phone types are: - VoIP - SIP Trunking - Hosted PBX