In this mega guide, we break down the best business phone systems and everything you need to know to make an informed decision.
Full of helpful information, this guide cuts through all the noise. We want you to get straight to the best small business phone systems in the industry.
The goal is to find a reliable business VoIP provider that adds real value to your business, employees, and customers in one unified communication system.
Best Business Phone Systems
Whether you're searching for a small business phone system or for a large enterprise, you should be communicating with your customers and employees on a higher level. This includes features like video conferencing, team collaboration, messaging, visual voicemail, and IVRs.
Below are the best small business phone systems offering advanced phone system features that will enhance your business communication and customer service experiences.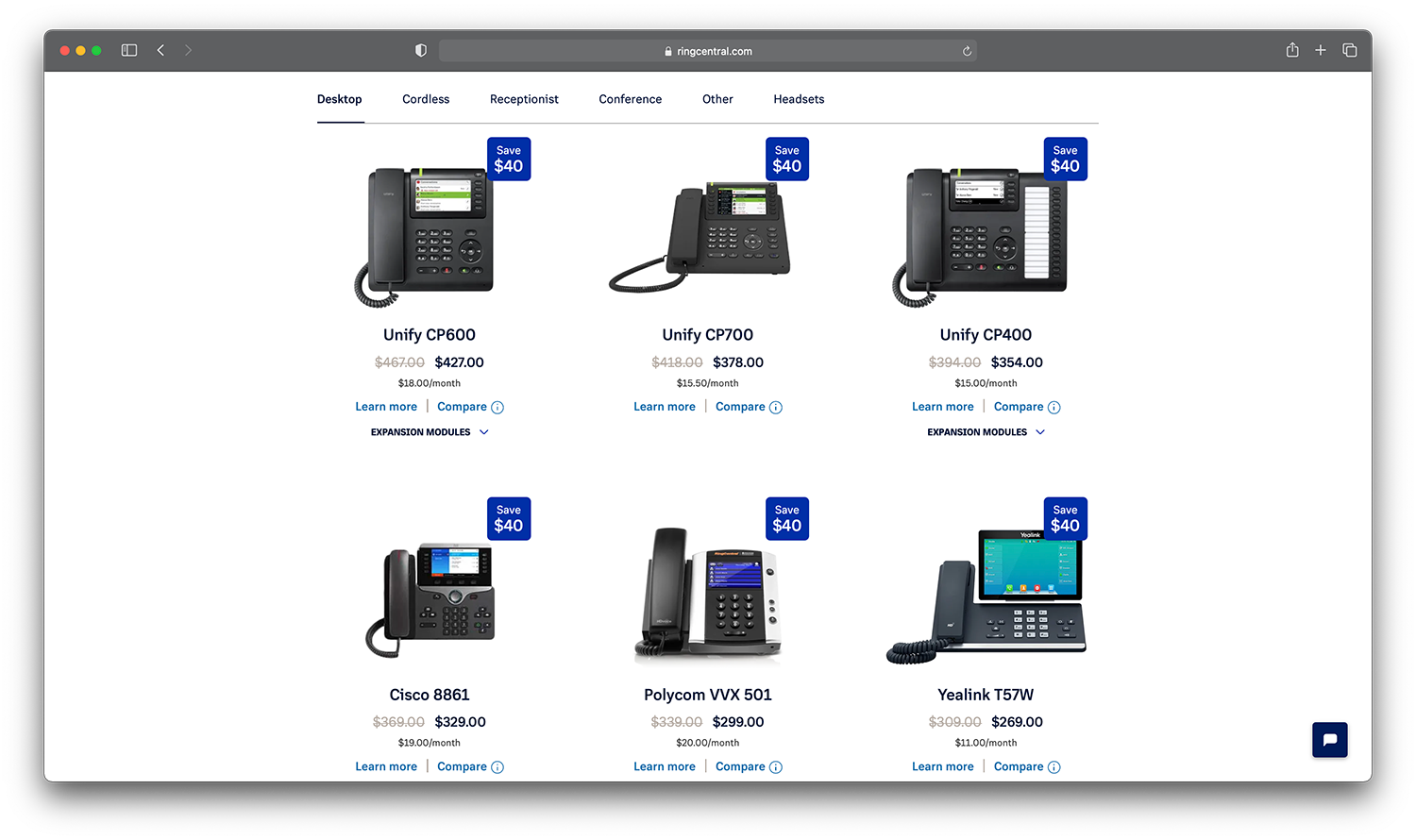 RingCentral's business phone system combines voice, video, conferencing, collaboration, faxing, and messaging into one unified and seamless communication system called RingCentral MVP.
One of the first companies to enter the VoIP space, RingCentral is known for its innovative and cutting-edge technology which is integrated into a secure, one-stop, cloud-hosted unified communication platform.
RingCentral's team collaboration suite offers chat, video calling, screen sharing, and file sharing allowing users to communicate and collaborate with customers and employees all within one mobile or desktop app, which means greater productivity and efficiency.
RingCentral also offers top-of-the-line international video conferencing across 70+ countries, which allows a global workforce to collaborate and conduct video meetings (with screen sharing) from any device.
RingCentral pricing starts at $19.99 monthly per user for their "Essentials" plan which allows for up to 20 users.  For more than 20 users you can choose from their "Standard" plan at $27.99 monthly per user or their "Premium" or "Ultimate" plans which offer advanced features such as automatic call recording, single sign-on, and CRM integrations. Learn more about RingCentral's plans and pricing here.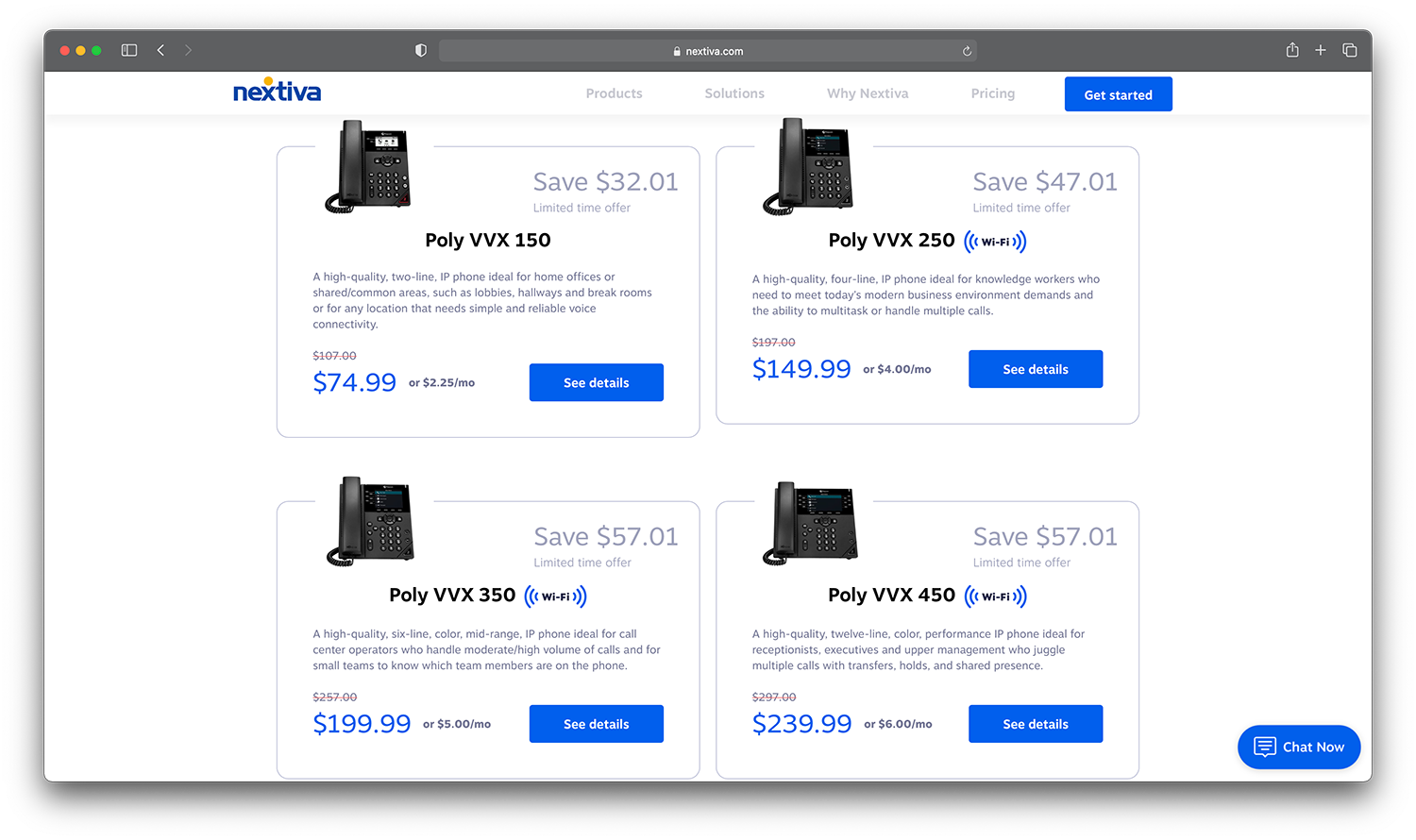 The Nextiva platform unifies your entire business communication stack. Its business phone system includes features that help you manage all customer communications and interactions in one system, and turns prospects into loyal customers.
Nextiva equips your team with the right real-time data and business tools to keep employees productive, and customers satisfied. With uniquely built-in features like CRM, helpdesk ticketing, surveys, team collaboration, drag and drop call flow builder, hold music, video-conferencing, and various calling features, Nextiva empowers businesses to build strong customer relationships and user experiences.
Everything you need in a business phone is included like call logs, call waiting, hold music, customer callbacks, voicemail transcription, and a toll-free phone number at no additional charge.
The price of Nextiva's small business phone system starts from $18.95 per user every month. When you add more users, the better deal you will receive. Nextiva gives you options to expand your office phone system and save money. Learn more about Nextiva telephony plans here.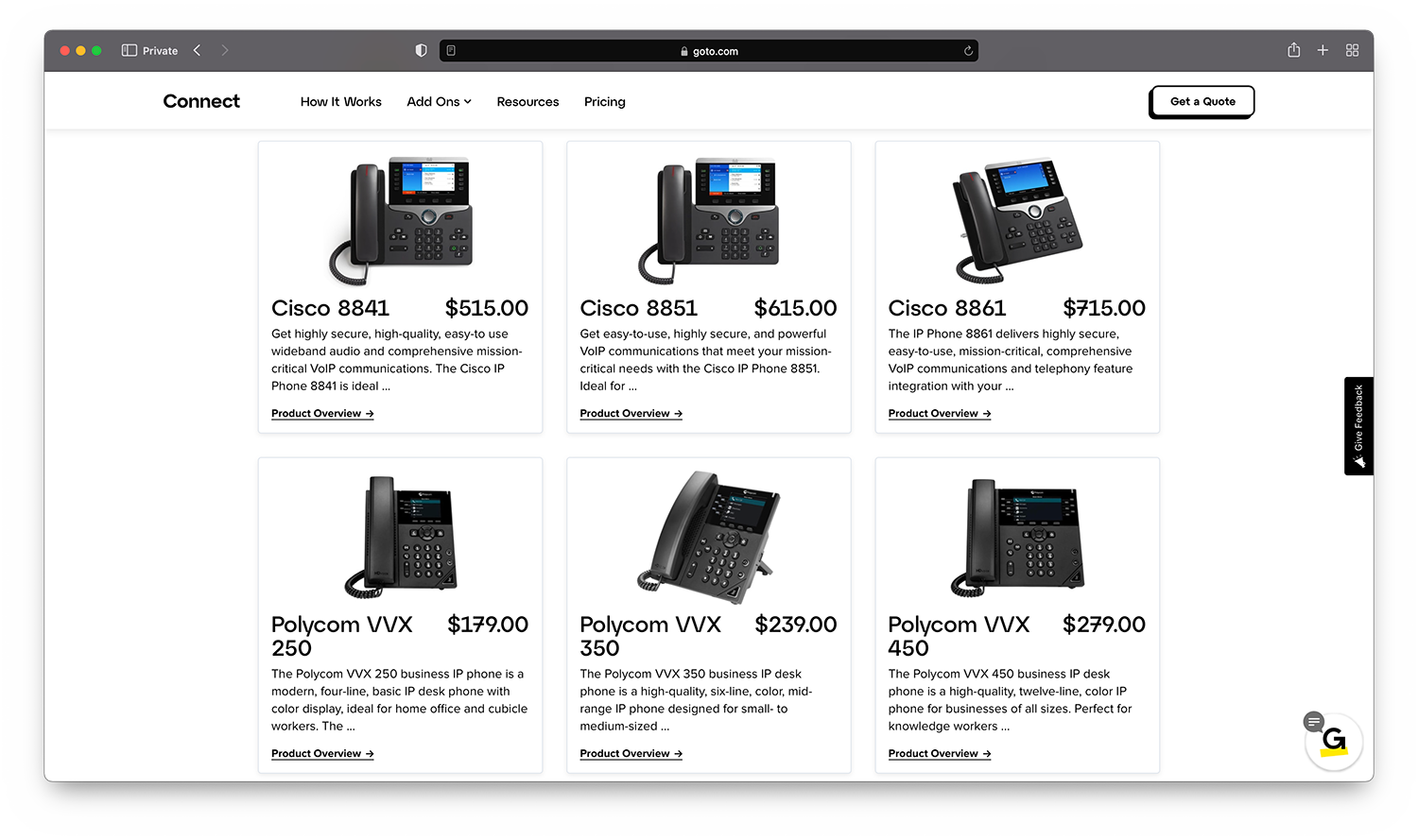 GoToConnect aims to simplify phone line management, call monitoring, and conferencing calling.
It helps with improving communication and collaboration with teams, employees, and customers making it one of the best business phone systems out there.
GoToConnect offers your business the ability to combine voice and video, as well as mobility right from your web browser.
You can download GoToConnect's mobile app to stay connected to work while on the go from any device.
The price of the GoToConnect VoIP phone system starts from $19 per month per user. After that, price plans change with every additional group of users. GoToConnect plans use a tier method.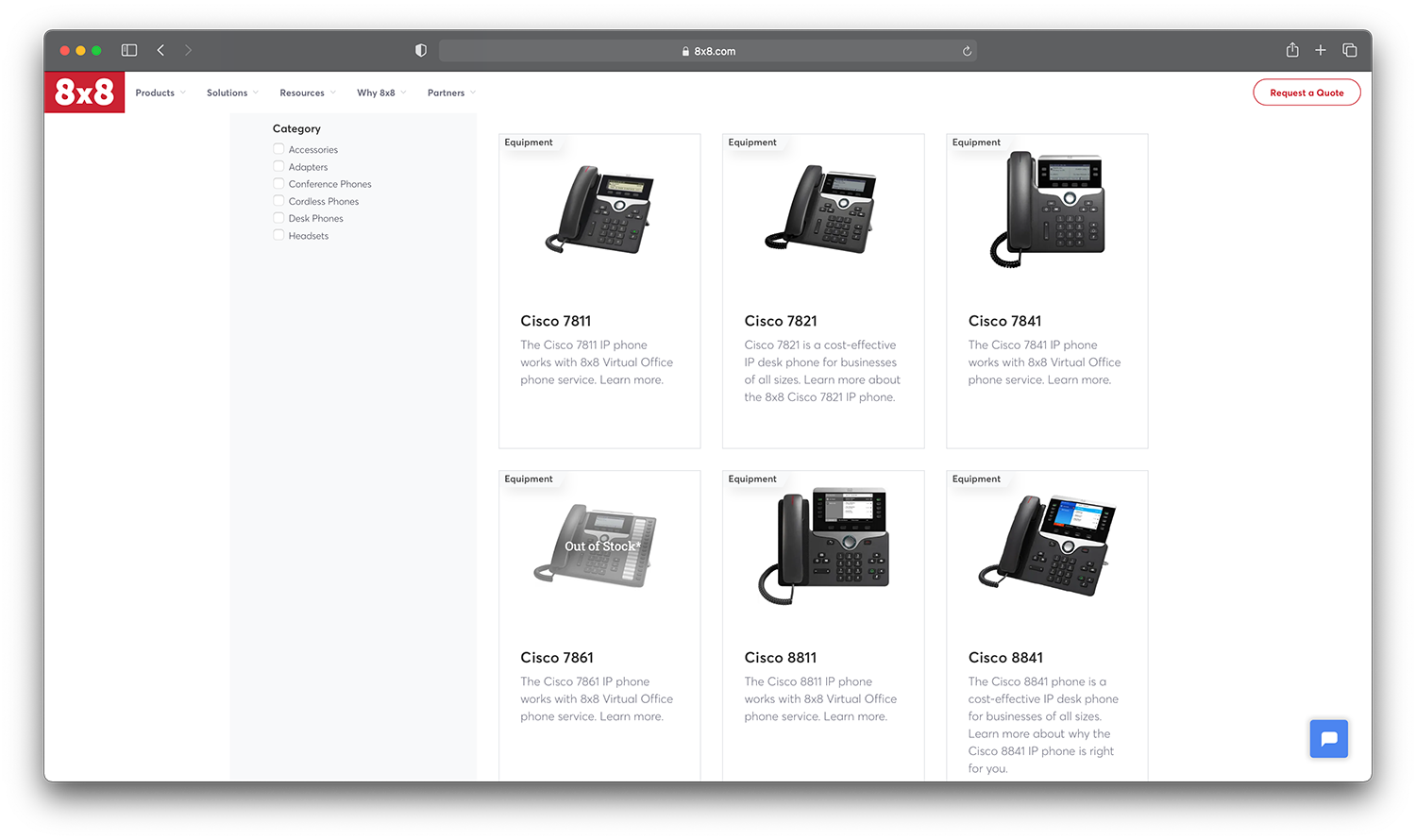 8×8 places its efforts on ensuring they have a truly unified cloud-based communication system that works simply and seamlessly with your business.
They pride themselves on their innovative thinking to provide reliable and crafty solutions. 8×8 wants to keep you connected to your customers from any device anywhere in the world.
Your business miscommunication issues will immediately lessen with the 8×8 business phone system. You can make better relationships by ensuring the delivery of messages is no longer getting in the way.
The price of 8×8's phone system starts at $15 per month, per user for their Express plan. After that, the price goes up to $24 per month, per user, for the X2 plan which is their most popular plan. You have several available options to choose from for your business. Learn more about 8×8 plans here.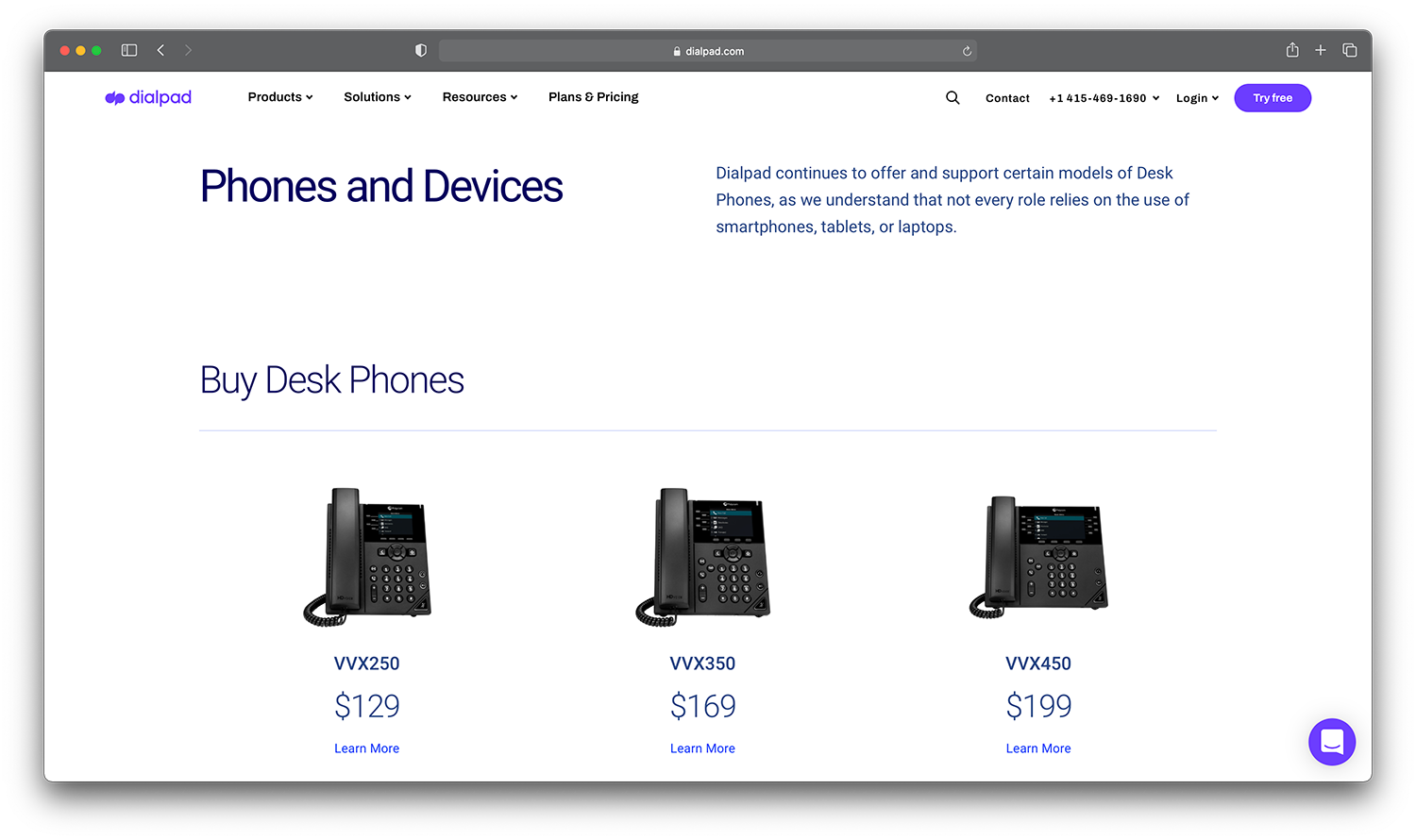 Dialpad makes your business calls better. It works by offering flexible and scalable ways to connect your team with your customers.
Gain a variety of contact center tools and features with one of the best office phone systems for your business. Opportunities for gaining more customer connections are bound to happen as a result.
Dialpad powers your business communication in multiple ways: voice, video, messages, AI, softphones, power dialers, and meetings across your existing devices.
Dialpad pricing starts from $15 per month, per user. They also offer a Pro and Enterprise option at different prices, as well as a special offer for startups just getting started. Learn more about Dialpad phone plans here.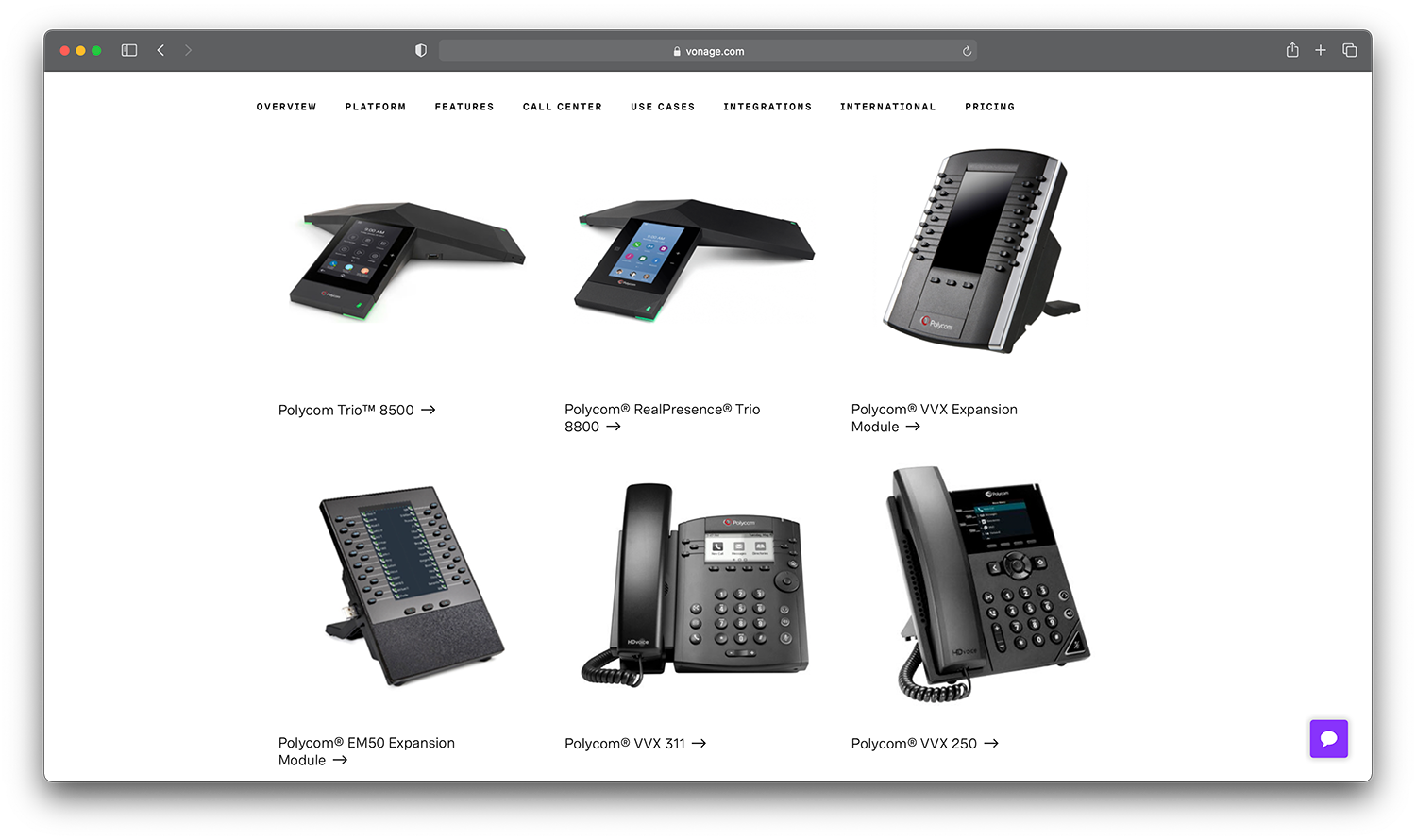 The Vonage Business phone system is entirely cloud-based and is available as a mobile-only system. Additionally, Vonage CPaaS allows you to connect additional communication layers to your phone system easily without additional infrastructure or costs so that you can easily scale as your business grows.
The Vonage API allows businesses to greatly improve customer experiences with omnichannel capabilities. It uses the very latest technology to connect businesses with consumers in real-time, in whichever channel the consumer prefers.
This could be voice, email, chat, in-app messaging, or social media.  Additionally, embedded communications create contextually relevant interactions to keep customers engaged, improve sales and streamline customer service.
Vonage plans go down in the price per line the more phone lines you have. For example, for 1-4 lines, plans start at $19.99 monthly per line. For 5-19 lines, plans start at $17.99 monthly per line. For 20-99 lines, plans start at $14.99 monthly per line. Learn more about Vonage's Business Cloud plans and pricing here.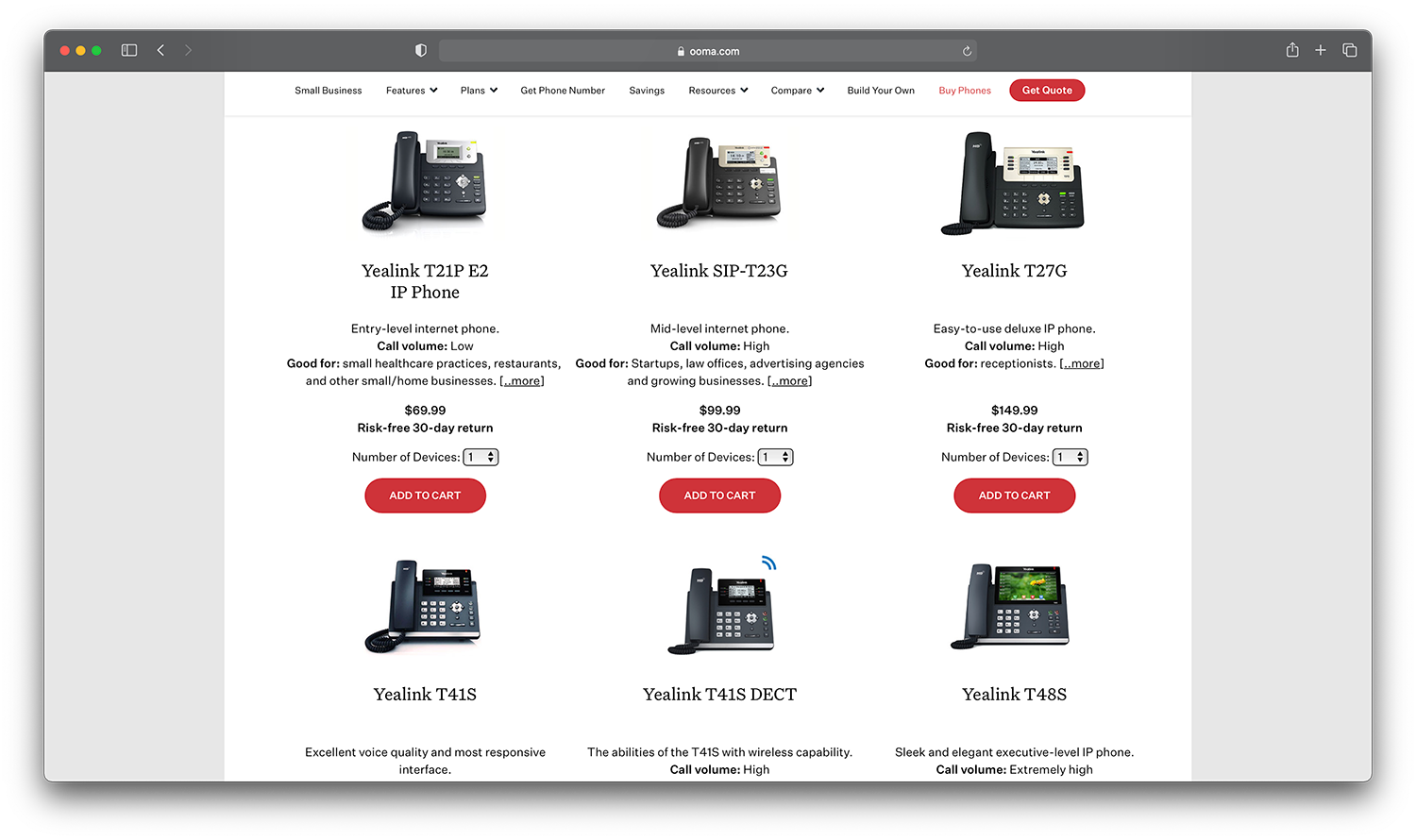 Ooma offers technology to assure every customer call coming in or going out from your business is crystal clear.
It delivers voice quality even under extreme conditions. By using a collection of advanced technologies, Ooma works to keep the conversation flowing.
The business phone system you choose needs to be reliable, dependable, and supportive, both for you and your customers. When you replace your landline with a Ooma's VoIP phone system, you will feel the difference. Not only does it enhance employee commitment to service, but it delivers ease.
The price of Ooma phone system starts from $19.00 per month, per user. Learn more about Ooma Pricing and plans.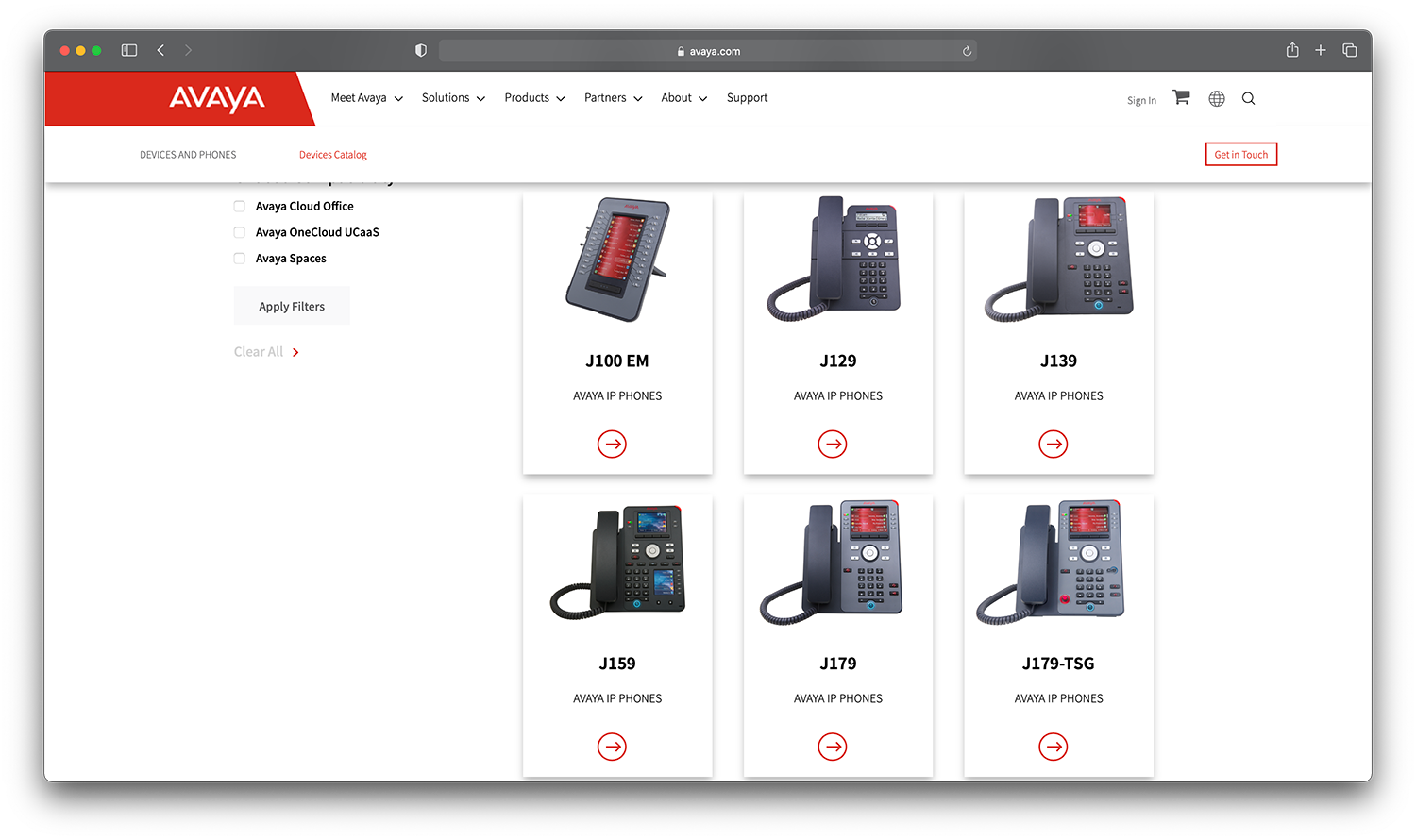 Avaya offers a small business phone system that lets its users call, chat, meet, and collaborate with employees and customers all on one platform. Their system is designed to offer personalized, intelligent, and effortless interactions for all Avaya users.
Avaya Cloud Office was designed to give its users an all-in-one experience that specifically fits the way you work. You can get in touch with customers or coworkers through the platform's voice or SMS messaging using your desktop or mobile device. Avaya Cloud Office also offers a video meeting solution for up to 200 participants. Users can also leverage Avaya's analytics offering to see how effective your business's communications are.
Avaya Cloud Office has four different pricing plans available, with each individual price based on the number of licenses you need for the software. Companies with less than 20 users can take advantage of the Essentials plan, starting at $19.99/user/month. The remaining pricing plans are available to organizations with 20+ users. The Standard plan starts at $24.99/user/month, Premium begins at $34.99/user/month, and Ultimate starts at $49.99/user/month.
What is VoIP?
VoIP (Voice over Internet Protocol) is a digital phone system that lets users make and receive phone calls over the Internet instead of the traditional landline phone. It offers more communication functionality and mobile options for your business to use. It gives you the flexibility to conduct your work from anywhere, and on any device.
No longer will you need to stay close to your analog desk phone to receive customer calls, or communicate with a colleague. You have the freedom to roam.  As long as you have a working internet connection, you can communicate with customers. VoIP phone systems allow you to take business calls from your smartphone when you're on the go.
Use your mobile devices and VoIP to transform your workplace. You can make it a virtual office when using a VoIP solution.
Business Phone System Benefits
As customer expectations are high, you need to deliver what they need, and business phone systems can help you.
There are a variety of common qualities necessary to provide excellent service. The traditional ways no longer work because your customers want more. They crave a premium experience from businesses they patronize. With a modern business phone system, you can serve them even better.
To address customer needs, you must incorporate the following into the buyer's journey. (See below)
Strong communication connections
Rapid responses to voicemail messages
Quick retrieval of customer information
A willingness to help and support
Provide convenience, features, and options
Ability to chat with a human online or onsite
Multiple customer service channels
These are only a few of the ways your business can meet the standards of today's customers. For your business to gain happy customers, you have to have a system that will help you. Even small businesses can increase their experience by using a high-quality business phone system.
Customers want comfortable, quick, useful, and seamless experiences.
Each customer has a picture of what exceptional service looks like in their minds. If you do not have an understanding of what this entails for each customer, it will cause frustration. Customers are only moments away from a fiery tweet because they typically call in from their mobile phones.
How you communicate with customers is vital to the survival of your business. Choose a reliable VoIP phone system for your business, so your customers can always reach you. In the event of inclement weather, you can route calls to your cell phone, too.
How VoIP Phone Systems Impact Your Bottom Line
The business phone system you choose impacts customer satisfaction and buying decisions.
Unfortunately, some businesses fail to realize just how much each interaction matters.
It is the build-up of customer interactions that create experiences. Moreover, it is all the small interactions that consist of  "daily details."
As your team interacts with customers every day, the methods they use need to run smoothly. The tools they use to communicate cannot be the reason poor service occurs. Even if your office has a PBX, you can equip it with a reliable cloud phone system, too.
Whether you're using popular tools from Microsoft or Google, be sure to always take into account if these tools are useful, such as messaging platforms, SMS, emails, and phone system capabilities.
Consider their quality and if the tools you use are performing at a top-notch level. Interactions and tools affect the customer's overall experience with your business.
Popular IP PBX systems can be retrofitted with high-performance VoIP phone systems, especially if it's Avaya, Cisco, or Polycom. SIP Trunks provide the backbone of cloud PBX voice communication.
If your current business phone system does not serve you, it's time for a switch.
You need a system that supports the experiences you provide, and the service you expect. Your business needs VoIP.
What Are Customer Interactions & How to Deliver Them
Customer interactions consist of two things. One, providing "daily details" and two, the methods you use to deliver them. These are essential in any of the best phone systems for small businesses and major enterprises.
What Are "Daily Details?"
The phrase "daily details" is how I sum up what needs to happen during every interaction. It consists of the following:
Unified Communication: Everyone in the office communicates with customers using one fully integrated phone system. This also includes CRM software, text messaging, helpdesk, and call center functions.
Quality of Service: This includes uptime, internet connection, availability, user experience, security, and customer support.
Business Contact Options: Local number, call recording, call forwarding, mobile app, cell phone, visits in-person, website, toll-free number, and easy to find on search engines like Google.
Product Details: high-quality items, in-stock, buying options, affordability, and advanced features.
How to Deliver "Daily Details"
Another essential factor in creating positive interactions is the communication channel and method you use. The methods to deliver "daily details," include:
Phone Calls
Text Messages
Face-to-Face
Emails
Voicemail
Faxing
Social Media
Contact Center
Advertising
You can also deliver daily details using free help desk software.  Every interaction you have with customers is critical. Pay attention to what you provide and how you deliver it.
The phone system provider you choose matters too. Not only will it affect the customer experience, but employee ones too.
These are your business' most important relationships. You must have an office phone that supports both of them.
Choose a Business Phone System that Meets Employee Needs
You have employees because you need them for your business. They, too, have needs that go beyond receiving a paycheck.
Meeting employee needs ensures better customer interactions, which leads to more sales.
By using a business phone service, you equip employees with the right tools. It makes it easier to deliver "daily details" during every interaction. As a result, you will see success.
As a business owner, you are responsible for meeting employee needs. They rely on you to supply them with supportive methods. What do employees want from employers?
Access to capable equipment and features
Ability to work on their phones with a mobile app
Remote work options – temporary or permanent
Task management and organization
Clear and concise customer management tools
Serve customers across multiple channels, beyond the phone
High-quality products and services to sell
A reliable and trustworthy phone system
Your VoIP system needs to include methods that enable you to meet your employee needs.
Your small business phone system handles more than outgoing and incoming calls. Your employees, along with your customers, need more.
Happy employees mean happy customers.
Methods to Meet Employee Needs
Video conferencing
Caller ID
Auto Attendant
High-speed internet connection
Mobile Device Features for iOS and Android
Softphone
Handset
Headset
Cordless Phone
Call Center Management Software
Automatic call recording
Information Management Platform
Make Employee Connections With Conference Calling
When you equip employees with features that promote connectivity, you take your business to the next level.
Employees want to collaborate and make connections with team members.
Incorporating tools like conference calling and web conferencing software can unlock new levels of productivity for your small business.
Phone system alone can only take your business so far. Landlines have too many restrictions for you to go where you want to go.
Enabling your employees to converse, meet, and discuss projects live is what you need to grow your business. Your business phone system is your competitive advantage.
If the virtual phone system your business uses does not keep employees connecting, soon this will be reflective in the service you provide. The trickling in of unhappy customers will begin.
Your employee experiences dramatically impact the outcome of your customer experiences.
You can no longer have a lousy phone system that lacks compelling features. Modern phone systems offer redundancy to direct calls to cell phones in the unlikely event of an internet connection outage. Whether you're selling the best office phone for a small business or international enterprise, a modern VoIP solution is within reach.
Upgrading Your Business Phone System is Essential
Upgrading your small business phone system is not just about updating your actual phone to the latest Polycom or Yealink phone. Evaluate your needs today and in the future – 2-3 years would be a good idea. Hop like a grasshopper to using VoIP and don't delay in your migration to implement your new phone system.
Make sure you have a high-performance internet connection. All the best business phone systems in the modern era use VoIP, requiring a stable and speedy internet connection. Be sure to consider feature comparisons and reviews.
Your office phone can be the best technology investment you've ever made because it affects sales, marketing, operations, and customer service. Check out our latest guide to ensure that you get the best office phone system features available.
Small Business Phone System FAQs
Below, we've answered a few common questions about business phone systems.
A small business phone system is a Voice Over Internet Protocol (VoIP) telephony communication platform that uses the Internet, not the standard PSTN network, to make/receive phone calls. VoIP phones offer advanced features like visual voicemail, call recording, and call routing not available on traditional desk phones.
Note that most small business phone systems today include additional communication channels and team collaboration solutions, such as video calling, instant chat messaging, SMS texting, and file sharing. 
Though the specific features you need will depend on the nature of your business, you should look for a small business phone system that offers: 
At least a 99.9% guaranteed uptime
Scalable pricing/plans, whether all-in-one feature bundles or features that can be purchased a la carte
Mobile applications for Apple and Android devices 
Integrations with existing third-party communication and client management software (CRM systems, video calling tools, project management apps, etc.) 
Unlimited calling in the United States and Canada
Local, toll-free, and/or vanity business phone numbers
Standard VoIP features like call routing, call forwarding, call recording, call transfer, call queueing, IVR, etc. See more standard VoIP features here
One of the biggest reasons for the popularity of VoIP phone systems is that they require very little equipment and hardware to operate.
The most important thing you'll need is a stable Internet connection from your ISP with a bandwidth of at least 100kpbs/second. Note that the VoIP provider is not responsible for the cost/management of your Internet. 
You'll also need a router and modem. 
Since VoIP phones offer softphone capabilities and mobile applications via BYOD, you aren't required to purchase any new phones or computers.  
The majority of VoIP users opt for a cloud-based solution, which means the provider is responsible for hosting the data server. Some businesses opt for on-premises VoIP service, which requires additional equipment (and professional setup/installation.) 
Common, but optional, equipment also includes headsets, speakers, analog phones, microphones, and even professionally installed conference rooms with things like digital whiteboard screens. 
Yes, you can use analog phones (traditional desk phones) with your VoIP service. 
This will require the purchase of an analog telephone adaptor (ATA) that connects your desk phone to the VoIP system. 
Many VoIP providers offer compatible analog phones on their websites that can be rented or purchased outright.
BYOD, or Bring Your Own Device, allows users to connect existing devices (smartphones, tablets, analog phones, desktop computers) to their business phone system, adding portability and eliminating the need to purchase an excessive amount of new equipment. 
Businesses taking advantage of BYOD capabilities will usually set monitoring/security/data ownership and access policies to protect sensitive business data if/when these devices are taken out of the standard office environment. 
The setup process of a standard business phone system is refreshingly simple. 
Depending on the specific provider you choose, you may be able to set up a basic phone system online in about 10 minutes. 
The main steps to take are to check network compatibility, choose a business phone number, determine the number of users, and then download the softphone/mobile VoIP app. 
If you've chosen a completely cloud-based solution, you won't need to connect a physical PBX box to your phone system. If you have an on-premises solution, use an Ethernet cable to connect your PBX box to your desk phones/computers. 
Note that providers have a step-by-step installation guide in their online knowledge base if you want to manage the process on your own. 
However, for more complex systems, you'll likely need personalized installation and setup support. Most VoIP providers offer custom onboarding programs, user training webinars or custom courses, and onsite installation/setup.