RingCentral is a VoIP, UCaaS, and CCaaS provider with nearly half a million customers worldwide. It offers a variety of scalable business phone systems, video calling capabilities, and superior team collaboration features.
In this post, we outline everything you need to know about RingCentral-compatible phones, including BYOD compatibility, the best phones for sale the RingCentral website, and RingCentral App OS requirements.
Learn more about
RingCentral
Understanding RingCentral Device Compatibility
RingCentral software is accessible via:
RingCentral's BYOD (Bring Your Own Device) capabilities let users connect existing personal smartphones, desktop computers, tablets, and other devices to their RingCentral business phone system–avoiding the purchase of additional hardware.
RingCentral Phones are sold directly on the RingCentral website and pre-provisioned for plug-and-play connectivity. They offer the highest level of service and maximum RingCentral compatibility. RingCentral devices can be purchased outright, rented for a monthly fee, or rented as part of a DaaS subscription. RingCentral devices include partner phones from Avaya, Poly, Mitel, Yealink, and more.
RingCentral DaaS (Device as a Service) bundles RingCentral software and hardware services into one monthly plan. DaaS gives users cost-effective access to a selection of RingCentral-provisioned devices from partners like Logitech, Poly, Yealink, and Jabra.
The RingCentral softphone app is accessible on existing desktop and mobile devices and therefore does not require the purchase of a hard phone/desk phone. This is a popular solution for remote and blended teams, as well as businesses that don't need in-office phones and conference room equipment.
The RingCentral Softphone App
The RingCentral softphone app is the easiest and cheapest way to access your RingCentral products. It integrates with desktop and mobile devices and works anywhere with an Internet connection. Team members can use their preferred personal or business devices to connect with coworkers and clients on the go, and even flip between devices during active voice/video calls.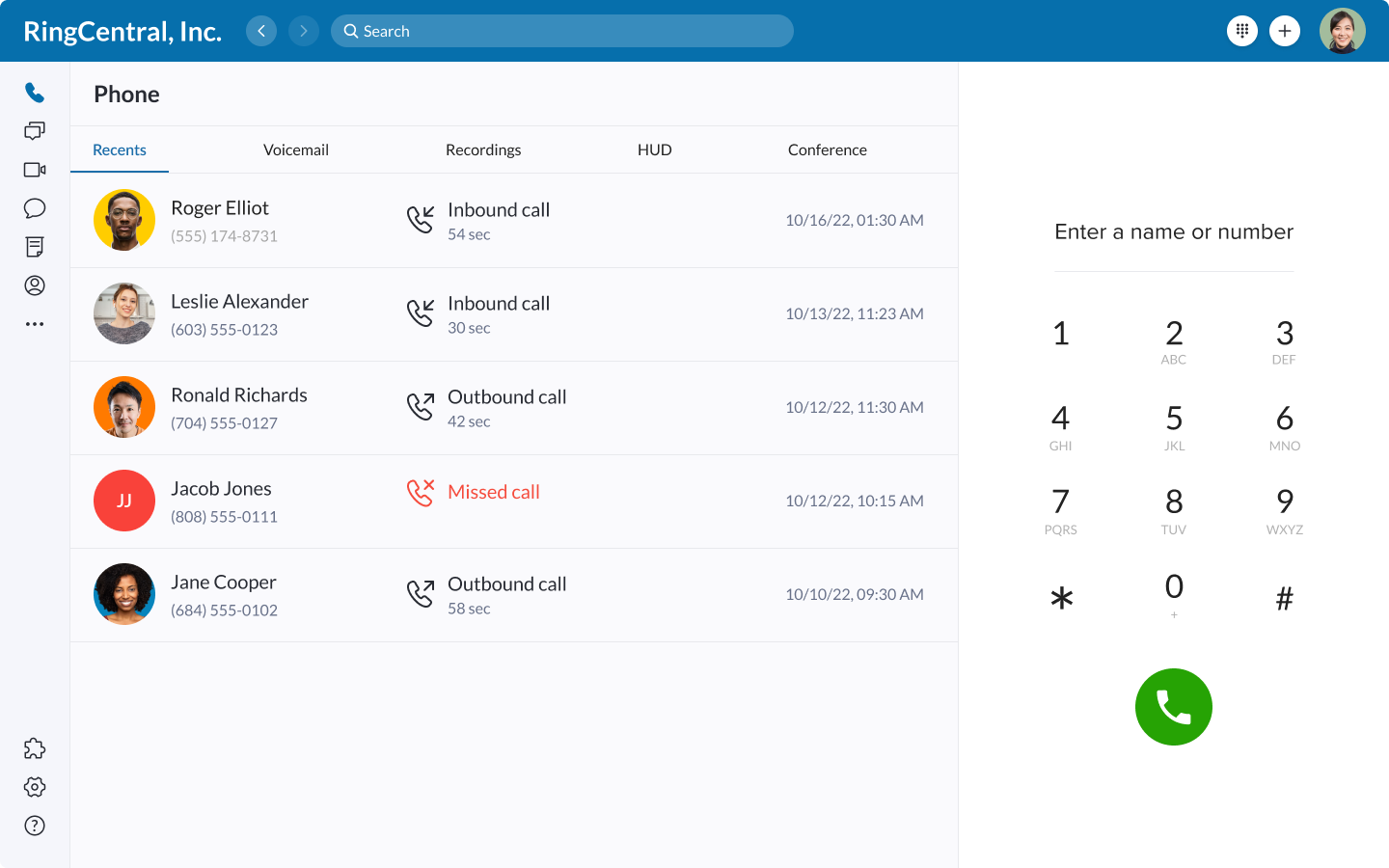 If you decide to purchase a RingCentral phone or connect a BYOD device, you'll still be able to access the RingCentral desktop/mobile app. All RingCentral software comes with instant access to the RingCentral App, and includes VoIP and UCaaS features like voice calling, team chat messaging, SMS/MMS, video calling, call routing, IVR, and more.
RingCentral App System Requirements
Users can access their business phone systems via the RingCentral app for desktop and mobile devices. The app is available for download and accessible in-browser.
RingCentral App system requirements are:
Mobile Devices: Android 8.0 or later, Apple iOS 14 or later
Desktop Devices: Windows 8.1 or later, macOS 10.13 High Sierra or later, Intel Skylake-class 6th Gen or later (all desktop devices must also have at least 8GB of RAM and a minimum bandwidth of 2MBps download/upload)
Web Browsers: Chrome (Version 44 and above), Firefox (Version 52 and above), Safari (Version 11.1 and above), Microsoft Edge (Version 18 and above), Chromium-based Edge (Version 79 and above)
RingCentral Phone App Requirements: Windows 10 and later, MacOS 11 Big Sur and later (at least 500 MB free storage space and 8 GB RAM)
Buying Phones Directly From RingCentral 
Devices from RingCentral hardware partners can be purchased or rented for a monthly fee on the RingCentral website. Users can purchase or rent these devices as part of a DaaS plan, or individually a la carte. RingCentral partner-provisioned devices provide the highest level of compatibility and service, and include desk phones, conference room equipment, headsets, and more. They are sold with necessary VoIP equipment like network and power cords, handsets and handset cables, and phone bases for easy DIY setup.
RingCentral Desk Phones
RingCentral sells and rents over 30 pre-provisioned, plug-and-play IP desktop phones from top providers like Mitel, Yealink, Polycom, and Avaya. Rental prices range from $4.50-$26.50/month, and purchase prices range from $103-$636.
Cheapest RingCentral Desk Phone — Cisco 6821: Users needing an affordable RingCentral DaaS desk phone should pick the Cisco 6821 ($103 purchase price, $4.50/month rental price). The Cisco 6821 includes two lines, Opus HD voice, 2 line keys, PoE support, and a built-in speakerphone and microphone. It has a small monochrome display and is ideal for cubicles, shared offices, and break rooms.
Mid-Price RingCentral DeskPhone — Yealink T57W: The Yealink T57W ($283 to purchase, $12/month to rent) is a high-value RingCentral DaaS desk phone with 29 touch keys, 9 call park locations, HD Voice with Yealink Acoustic Shield Technology, and a 7" color touchscreen. It also comes with built-in Bluetooth and 5G Wi-Fi, integrated PoE, and a Gigabit-2 port Ethernet switch to simultaneously connect the deskphone and your PC.
Best RingCentral Desk Phone — Poly CCX 700: Though pricey ($636 to purchase and $26.50/month to rent) the Poly CCX 700 comes with a 7" color touchscreen with video calling capabilities, Poly Acoustic Fence and NoiseBlockAI for background noise suppression, and a built-in camera with autofocus. Additional features include Bluetooth, USB, and RJN port connectivity, a multilingual interface, an onscreen virtual keyboard, and integrated WiFi. The Poly CCX 700 desk phone is a great option for enterprise-level RingCentral MVP/Contact Center customers with daily in-office video meetings.
RingCentral Cordless Desk Phones
RingCentral offers 4 cordless desk phones from Poly and Yealink, with purchase prices between $179-$729 and rental prices between $7-$30/month.
Poly Rove 40 DECT ($30/month to rent, $729 to purchase): Microban antimicrobial protection, dedicated emergency key, 18 hours talk time, 300 hours standby time, background noise suppression
Poly Rove 30 DECT ($25/month to rent, $599 to purchase): 18 hours talk time, 300 hours standby time, background noise suppression, water resistant, drop proof, dust-tight
Yealink W79P ($11/month DaaS subscription, $12/month rental, $289 to purchase): DECT cordless technology, 28 hours talk time, 360 hours standby time, expansion models available
Yealink W76P ($7/month DaaS subscription or rental, $179 to purchase): 30 hours talk time, 400 hours standby time, up to 4 handsets provisioned per base, expansion models available
RingCentral Receptionist IP Phones
RingCentral offers 10+ receptionist phones from $11-$30/month to rent and from $273-$574.16 to buy.
Cheapest RingCentral Receptionist Phone — Yealink T43U: The Yealink T34U is the most affordable RingCentral receptionist phone ($273 to purchase, $11/month to rent.) It includes a small monochrome screen, Yealink Optima HD voice, up to 21 programmable keys, and expansion modules. Built-in directory features include phonebook search, smart dialing, advanced call history, and a local phonebook with up to 1000 contacts. It's ideal for conference calling and managing high inbound call volumes.
Mid-Price RingCentral Receptionist Phone — Cisco 8851: The Cisco 8851 ($478 to buy, $20.50/month to rent) includes 10 line keys with user presence monitoring for 8-64 agents, the GIgabit 2-port Ethernet switch to power your phone and computer with one connection, and context-based softkeys. It's ideal for teams that want to gradually scale user presence monitoring and hardware-based call management features like call waiting, redialing, and call timers.
Best RingCentral Receptionist Phone — Unify CP700: With a purchase price of $574.16 and a monthly rental price of $30, the Unify CP700's 5-way navigation key, 7 fixed function keys, and notification LED lights make it well worth the investment. It also includes Bluetooth support for 2 simultaneous audio streams, hands-free talking, a 6-inch color display, and 3 audio keys.  It's best for enterprises needing presence monitoring, interoperability, and advanced security features.
RingCentral Conference Phones
RingCentral offers 6 VoIP conference phones from $548-$1242 to purchase and from $24.50-$52/month to rent.
Cheapest RingCentral Conference Phone — PolyTrio 8300: The PolyTrio 8300 conference phone ($548 to purchase, $23.50/month to rent) is perfect for smaller in-office meeting rooms and blended teams. It has a 12-foot range, a one-touch meeting join button, and simultaneous connections to premise-based and cloud platforms.It also includes local five-way audio-only conferencing, Do Not Disturb, Poly NoiseBlock, call handling features, and Bluetooth connectivity.
Mid-Price RingCentral Conference Phone — Mitel 6970: The Mitel 6970 IP conference phone ($808 to purchase, $34/month to rent) optimizes audio conferences with features like 12 programmable keys with up to 48 functions, USB mobile charging, and a microphone with 360-degree pickups and a 16-foot range. It also includes a 7-inch color touchscreen, built-in Bluetooth, and a MobileLink that lets users pair the conference phone with their mobile devices. It even comes with 6 context-sensitive softkeys
Best RingCentral Conference Phone — Poly Trio C60: The Poly Tri C60 ($1242 to purchase, $52/month to rent) is a smart conference phone with a 5" color display, built-in cable management, and WiFi audio calling. It comes with an energy-saving Proximity Sensor that puts the phone in sleep mode, waking it up when someone comes within the proximity area. It has a 20-foot pickup range, a lightweight base, an onscreen virtual keyword, Bluetooth integration, and three 360-degree microphones.
RingCentral-Compatible BYOD Desk Phones
While RingCentral cannot configure or provide support for third-party BYOD devices, it does offer assisted provisioning for limited devices that RingCentral used to sell, but no longer does. However, most RingCentral-compatible BYOD devices will require manual provisioning–even when purchasing used RingCentral devices. Note that third-party BYOD devices may offer a lower quality of service than out-of-the-box RingCentral devices.
The below BYOD third-party deskphones are certified by the provider as RingCentral-compatible, but are not sold on the RingCentral website. Third-party devices may offer a lower quality of service than out-of-the-box RingCentral phones.
Desk Phones compatible with RingCentral include:
Alcatel: ALE8028S, ALE8078S
Avaya: J169, J189, J189A
Cisco: CP-8841-3PCC, SPA (122, 303, 504G, 508G, 509G, 514G 525G, 525G2)
Mitel: 6920, 6930, 6940, 6863I, 685I, 687I, 6873I, IP480, IP480G, IP485G
Poly: EDGE E300, EDGE E500, EDGE B10, EDGE B30, SPIP331-SPIP7000, VVX101-VVX600
Snom: SNOM715, SNOMD717, SNOM D725, SNOMD735, SNOMD765, SNOMD785
Unify: CP110, CP210
Yealink: CP920, CP935WB, T21P, T31P, T40P, T58WPRO, W56P
Deskphones incompatible with and unsupported by RingCentral include: 
Any non-SIP compliant deskphones
Any proprietary desk phones that only work with the manufacturer's system/software (Shoretel, 3Com, NEC, Nortel, Altigen, XBlue)
Most retired desk phones
Poly Lync CX series, Cisco 79xx-Cisco 99xx Series, and Panasonic KX-DT desk phones
Choosing the Right RingCentral Product
Now that you know more about RingCentral-compatible phones and partner devices, it's time to find out which of RingCentral's business communications software suits your business needs–and more about the RingCentral app.
Our RingCentral pricing post gives you a quick overview of RingCentral's best products, while our RingCentral review page offers detailed insight into the RingCentral user experience.