RingCentral and Nextiva have long been two of the biggest names in the Unified Communications world. If you're trying to choose the right provider for your business but can't decide which of these options offers the best value then read on!
RingCentral vs Nextiva: At a Glance
Nextiva focuses on companies that want an affordable, user-friendly journey with the capabilities to manage all customer communication channels and customer relationships through a single platform.
RingCentral prices itself above the competition to attract companies who want every bell and whistle in the book. The extra money you'll be paying each month is mostly due to features that you may or may not use.
Comparing the key differences between RingCentral and Nextiva might help you make a decision:
| | | |
| --- | --- | --- |
| | RingCentral » | Nextiva » |
| Price | $20 to $50/month per user | $12 to $66/month per user |
| Communication Channels | Calling, business SMS, instant messaging, video conferencing, and faxing | Calling, business SMS, instant messaging, video conferencing, CRM, helpdesk ticketing, IVAs, and faxing |
| Call Analytics | Yes – included in all plans | Yes – included in all plans |
| Features | Video conferencing, integrations, analytics, mobile app, and team collaboration | Video conferencing, integrations, analytics, mobile app, and team collaboration |
| Team Collaboration | Yes – fully-featured | Yes – limited options |
| Scalability | Unlimited | Unlimited |
| First-Party Hardware | Yes | Yes |
| Customer Support | Phone + Live Chat | Phone + Live Chat |
| Best For | Businesses looking for extra features and advanced analytics but don't mind paying more | Businesses looking for a reliable platform with sufficient native functionality to unify communications |
| Reviews | RingCentral User Reviews | Nextiva User Reviews |
So, just at a glance, we can see exactly how similar Nextiva and RingCentral truly are: they both offer hosted VoIP, Cloud Contact Center solutions, Chat, Paperless Faxing, and Call Analytics.
RingCentral vs Nextiva: Evaluation Criteria
To help you make an informed buying decision, we looked at the most impactful criteria. These are:
Calling:

 we looked at core calling functionality and related features to see which platform provides a better experience.
Auto-Attendant:

 we analyzed the value of the auto-attendants from both providers.
Integrations:

 we looked at each platform's integration catalog to see which option offered the most flexibility.
Analytics:

 we compared the analytics capabilities of RingCentral and Nextiva to see which provided better insights.
Collaboration:

 we used the collaboration tools on each platform to compare them.
Scalability:

 we looked at the user capacity and pricing to determine which service provider made it easier for their customers to scale up.
Alternative Communication Channels:

 we compared which provider had better cohesion with other communication channels.
Cross-Platform Compatibility:

 we tested out both mobile apps to see which one offered the better on-the-go experience.
Ease of Use:

 we tested both platforms to see which one was easier to set up and familiarize ourselves with.
Customer Support:

 we reached out to the customer support team of each provider to see which one provided superior service.
Pricing:

 we compared every plan to determine which platform is more affordable and cost-effective in terms of value provided
RingCentral vs Nextiva: Direct Comparison
VoIP Calling
To kick off our direct comparison, let's focus on the core function of VoIP which is calling. 
Both providers offer unlimited calling within the US and Canada on all their plans. Nextiva's calling features include anonymous call rejection, push-to-talk intercom capabilities, and a voicemail-to-text that sends transcripts directly to your mobile phone.
RingCentral justifies its slightly more expensive plans with real-time analytics, unlimited recording storage, and quality-of-service reports that track recurring customer issues. Multiple features can be found on either platform such as call screening, recording, forwarding, and more.
Winner: both platforms qualify as full feature suites so it's an objective tie but the tide may turn depending on which features you need most.
Auto-Attendant
The Nextiva auto-attendant is available on all phone service plans without any extra charges and you can tweak call flows through the admin portal at any time. Nextiva has extensive customization features that you can use to create the perfect auto-attendant.
You'll be able to set a custom caller ID, specify its time zone, and even restrict auto-attendants to specific locations/enterprises/departments to ensure that every service area receives an appropriate support experience.
RingCentral's virtual assistant lets you customize your virtual answering service to route calls to any inbox, extension, department, or device worldwide. If one of your employees has their device set to "do not disturb" then the call will be automatically rerouted.
Callers can also reach individual employees through the dial-by-name directory function that the RingCentral auto-attendant has. Lastly, you can also set custom greetings or use RingCentral's professional recording service to commission one.
Both auto-attendants provide value to your company and customers so you'll be receiving value either way. Being able to serve customers outside standard operating hours can ensure that your company's reputation stays pristine 24/7.
Winner: both solutions come with an auto-attendant but Nextiva includes it free of charge so it wins this round.
Integrations
Nextiva has an extensive integration catalog including the likes of HubSpot, Google Workspace, Microsoft Teams, Salesforce, Zendesk, Zoho, and more.
RingCentral has its own fair share of integrations like Dropbox, Slack, Microsoft Outlook, Google Drive, and others.
A few integrations are available on both platforms but, despite the overlap, it's worth noting that you'll be paying more on RingCentral plans that support third-party tools.
Winner: RingCentral gets a marginal victory for offering more impressive third-party apps and integrations, and greater compatibility with MS Teams and Google Chrome.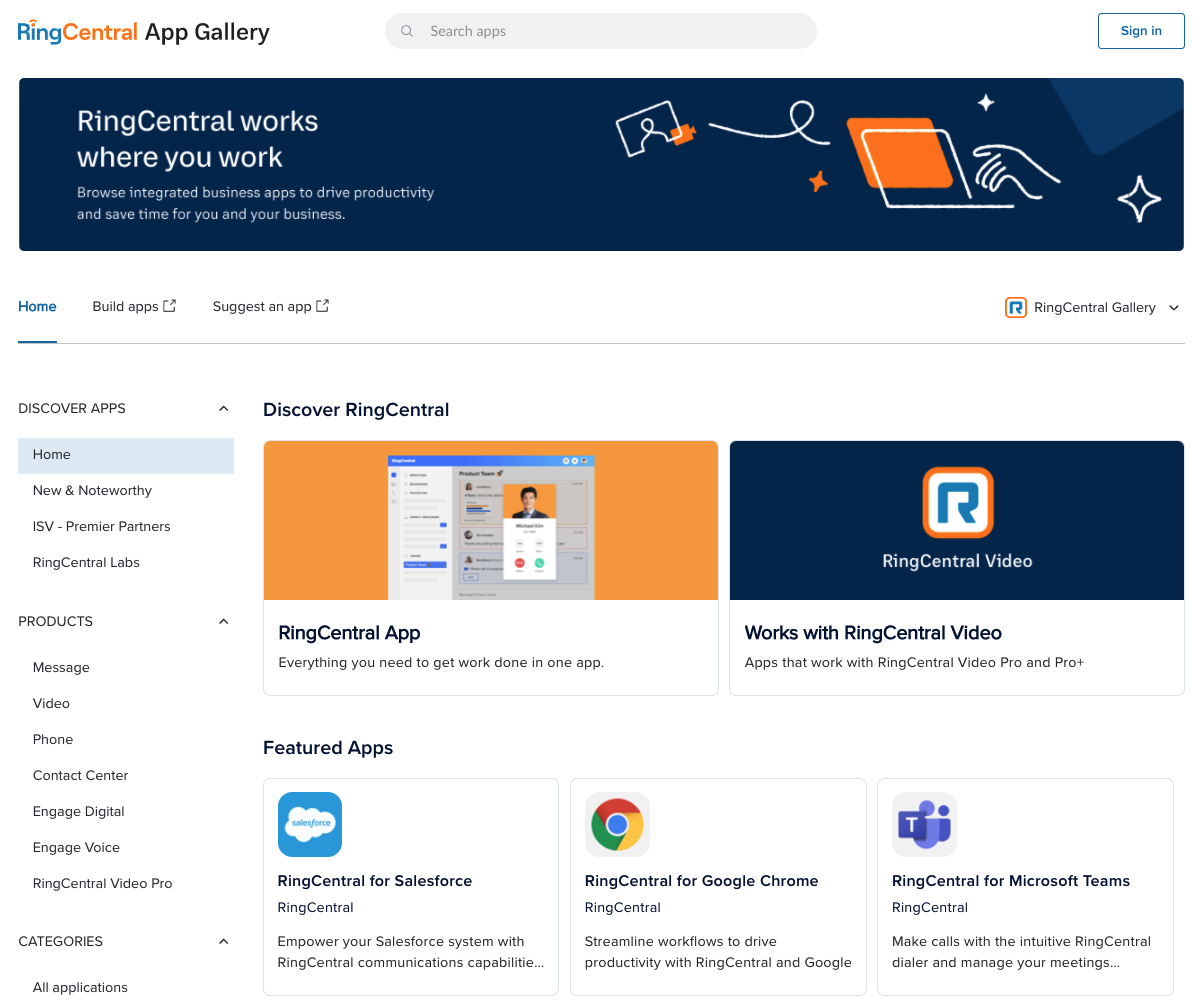 Analytics
Both providers let you generate reports tracking these KPIs and other relevant metrics. Nextiva lets you customize every report while RingCentral has over a dozen templates to help you generate reports quicker.
Nextiva tracks metrics like:
Call time

Handle time

Speed of answer

Number of outgoing calls

Number of incoming calls

Agent availability

Call dispositions

Abandonment
Premade RingCentral report topics include:
Percentage of calls answered vs. sent to voicemail

Performance reports with predictive analytics and KPI trends

Live reports of user activity with more than 30 metrics

Quality of service and user escalation

Adoption and usage (how your team uses the RingCentral platform)
Winner: RingCentral wins the analytics battle since pre-made report templates can save time.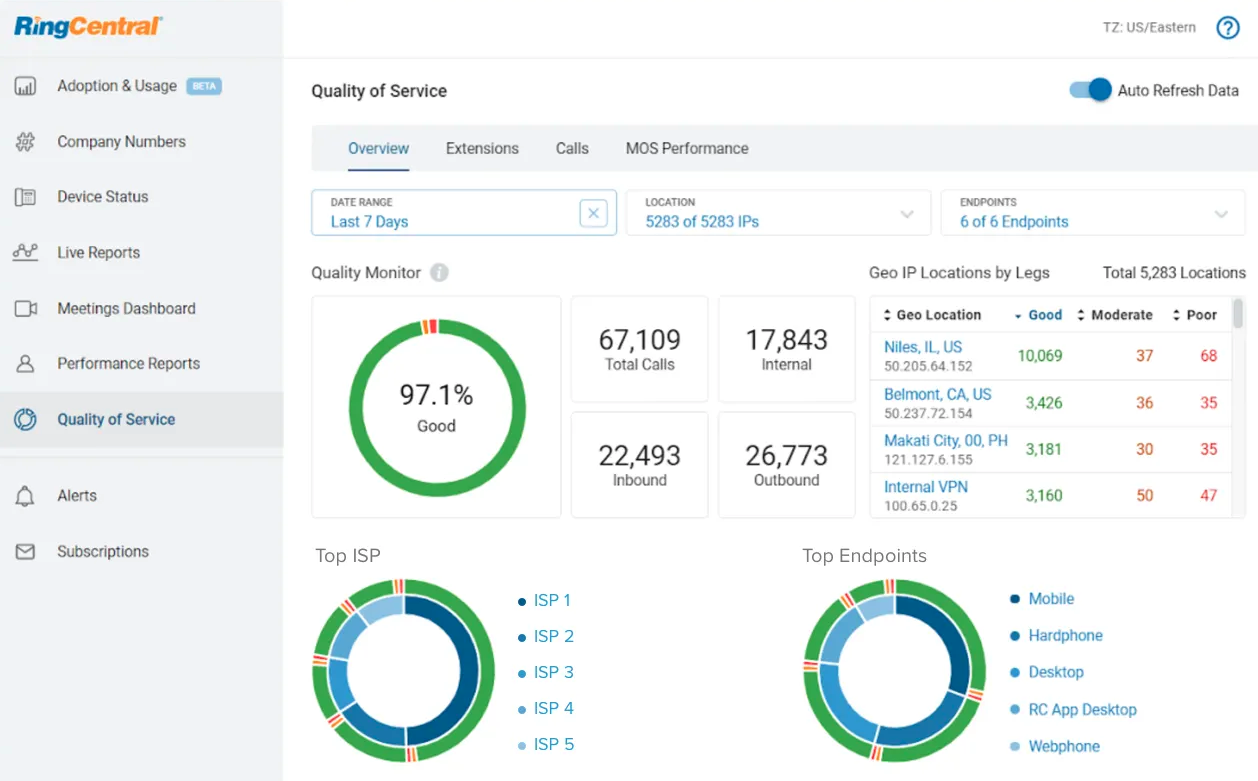 Collaboration
RingCentral's collaboration features include task management, team segmentation, and integrations with popular tools like Monday or Asana. You can also pull documents directly from Google Drive and then index them on RingCentral.
Nextiva's Cospace has functions such as a team calendar, company directory, polls, and unlimited group chat. The main advantage of using Cospace would be its dedicated mobile app. This means you can ignore all the calling features when you need to collaborate and vice-versa.
Winner: the dedicated team collaboration mobile app facing off against the third-party integrations makes this category a gridlocked tie.
Scalability
Nextiva, being the more affordable provider, seems like a clear favorite in terms of scalability. Their Professional plan lets you host video conferences with 250 participants compared to the 100-participant limit with the pricier RingCentral Standard plan.
If you upgrade to Enterprise (which is still cheaper than RingCentral's Premium) then you'll be able to host unlimited participants on voice and video conferences alike. If you need capacity exceeding 200 people then Nextiva is definitely the way to go.
Winner: Nextiva gets a decisive win here since it's cheaper, offers more capacity at the lower tiers, and has unlimited participant capability for Enterprise plans or higher.
Alternative Communication Channels
Both service providers offer business SMS, instant messaging, video conferencing, and faxing.
The main difference is that RingCentral has the ability to integrate with Zoom. This may not be a big deal for most companies but if your business already relies on Zoom to run video conferences then this could save you the time it would take to migrate.
In contrast, Nextiva relies on its native Nextiva Video solution to serve customers. It has screen sharing, file sharing, and webinar capabilities so there's nothing lacking about Nextiva's native functionality but compatibility with other video conferencing tools would've been a nice touch.
Winner: RingCentral gets the win here for being partnered with Zoom and providing cross-compatibility.
Cross-Platform Compatibility
Nextiva's mobile app is available for iOS and Android devices. Through the app, you'll be able to send business SMS, chat, and use the dialer as if you were on a first-party Nextiva phone. The Nextiva mobile app also lets you set your presence so people know if you're on your mobile, away, or busy. 
RingCentral also has a mobile app available for iOS and Android. The app comes with business SMS, syncs changes across all your logged-in devices, and lets you track account activity while on the go.
Winner: tie, both apps are functionally sound but feel free to download them and compare UIs to see which one you prefer.
Ease of Use
The secret to Nextiva's ease of use is all in the interface. The UI is extremely intuitive which makes it easy to set up complex rules like call flows, user management, and voicemail changes.
In addition to flattening the learning curve, the NextOS portal also hastens the setup process. You can create a new line for users in under five minutes and then tweak its settings at any time just as fast.
RingCentral emphasizes seamless navigation across all its apps both desktop and mobile. The main features can be accessed through large buttons and you can broadcast a message to every employee in a department in just a couple of taps.
The changes you make on your desktop will be synced to other devices to ensure the user experience remains consistent across all platforms. This also saves you from having to tweak the same settings multiple times for each device.
Winner: tie, both platforms provide easy setup and implementation so it comes down to which interface you prefer.
Customer Support
RingCentral has 24/7 phone support for all its users. If you're not a subscriber yet, you can reach out to their hotline at (800) 574 5290 for US calls or (925) 301 8209 for international. Operating hours are 5 AM to 6 PM PT Monday-Friday or 9 AM to 6 PM CET for non-English.
Nextiva can be reached between 5 AM to 6 PM MST on weekdays through (800) 285 7995. The schedule starts an hour later on the weekends, making it 6 AM to 6 PM. Both providers also have live chat support.
Winner: Nextiva wins this round thanks to its sub-minute hold times.
RingCentral vs Nextiva: Pricing & Plans
While pricing isn't everything, it's a good benchmark to weigh value against so let's take a closer look at the respective costs of both platforms:
| | | | | |
| --- | --- | --- | --- | --- |
| | Essentials | Standard | Premium | Ultimate |
| Price billed per month | $30/month for each user | $35/month for each user | $45/month for each user | $60/month for each user |
| Price billed per year | $20/month for each user | $25/month for each user | $35/month for each user | $50/month for each user |
| Maximum users | 20 | Unlimited | Unlimited | Unlimited |
| Toll-free minutes per month | 100 | 1,000 | 2,500 | 10,000 |
| | | | |
| --- | --- | --- | --- |
| | Essentials | Professional | Enterprise |
| Price billed per month | $26/month for each user | $31/month for each user | $41/month for each user |
| Price billed per year | $19/month for each user | $23/month for each user | $33/month for each user |
| Maximum users | Unlimited | Unlimited | Unlimited |
| Toll-free minutes per month | 1,500 | 3,000 | 12,500 |
Nextiva will usually be the cheaper choice unless you're planning on getting the ultimate plan from one of these providers. When it comes to toll-free minutes, it's clear that Nextiva completely outperforms RingCentral.
Winner: Nextiva is cheaper at most price points and is a magnitude above RingCentral in terms of how many toll-free minutes are provided.
Which One is Right For Your Business?
While both platforms have their own sets of pros and cons as well as distinct feature sets, there are certain use cases where one provider makes more sense over the other.
RingCentral makes sense for your business if:
You're not afraid to pay more for extra features, your video conferences don't usually have too many participants, and you'd like to be able to use Zoom with your VoIP provider.
Nextiva makes sense for your business if:
You want the most bang for your buck, favor native functionality over third-party compatibility, and are looking to scale up in the future.
Conclusion
As you can see, both RingCentral and Nextiva are solid options for any business looking for a phone system. They both contain more than enough VoIP features to cover the needs of most companies.
At the end of the day, it comes down to your budget, your specific needs, and which aspects of the platform truly matter to you.