Our verdict: RingCentral is better for businesses that want a UCaaS system with advanced queueing and collaboration features, while Nextiva is better for companies seeking a cost-effective phone system for toll-free and domestic calls.
Both providers offer UCaaS plans with VoIP, video, SMS, and team chat. RingCentral MVP includes more video and team-chat features alongside advanced analytics and call queueing options. However, Nextiva's business communication plans are slightly cheaper and offer more monthly SMS and toll-free minutes.
RingCentral vs. Nextiva: Summary
Below, we've compared RingCentral vs. Nextiva across 8 key UCaaS categories.
Category
Winner
Price 
Nextiva

Nextiva's plans are overall cheaper than RingCentral's, though both providers offer strong value

Channel flexibility
Tie

RingCentral offers more channels on all plans, but Nextiva supports more SMS texts per user

User experience
Nextiva

NextivaONE is highly user-friendly, with intuitive voicemail and built-in calendaring

Phone system
RingCentral

RingCentral offers more advanced calling features, like call monitoring and call queues

Team messaging
Tie

RingCentral supports more concurrent team-chat rooms and built-in task management, but Nextiva has contact notes and higher SMS limits

Video conferencing
RingCentral

RingCentral video has more advanced features like breakout rooms, live transcription, and AI summaries

Analytics and reporting 
RingCentral

RingCentral includes business analytics on each plan, while Nextiva only includes analytics as an add-on

Integrations
RingCentral

RingCentral MVP includes over 300 integrated apps, while Nextiva supports 19
We Recommend RingCentral if You Need:
International business numbers: RingCentral provides local phone numbers from area codes in over 70 countries
Collaboration: MVP's team chat includes task-assignment functionality and video meetings include advanced features like breakout rooms, whiteboards, and AI-generated insights
Queueing and routing: Higher-tier plans include advanced queueing and intelligent call routing rules
We Recommend Nextiva if You Need:
Cost-effective unified communications: Nextiva's cheapest plan costs roughly $1 less per user per month compared with RingCentral
High-volume texting and toll-free calling: Nextiva offers much higher limits on monthly SMS texts and toll-free calls
Built-in scheduling: NextivaONE includes a built-in calendar and scheduling system for video meetings
Get started with
RingCentral
Jump to ↓
What is RingCentral?
RingCentral MVP is a business communications platform that combines VoIP calling, team messaging, SMS text messaging, and 200-participant video conferencing.
The app is available on desktop, browser, and mobile. The business phone system includes local and toll-free numbers around the globe, intelligent routing, queueing, business analytics, and call monitoring. Create team chat rooms with file-sharing and task assignment. AI-enhanced video conferencing utilizes advanced features like breakout rooms and whiteboards.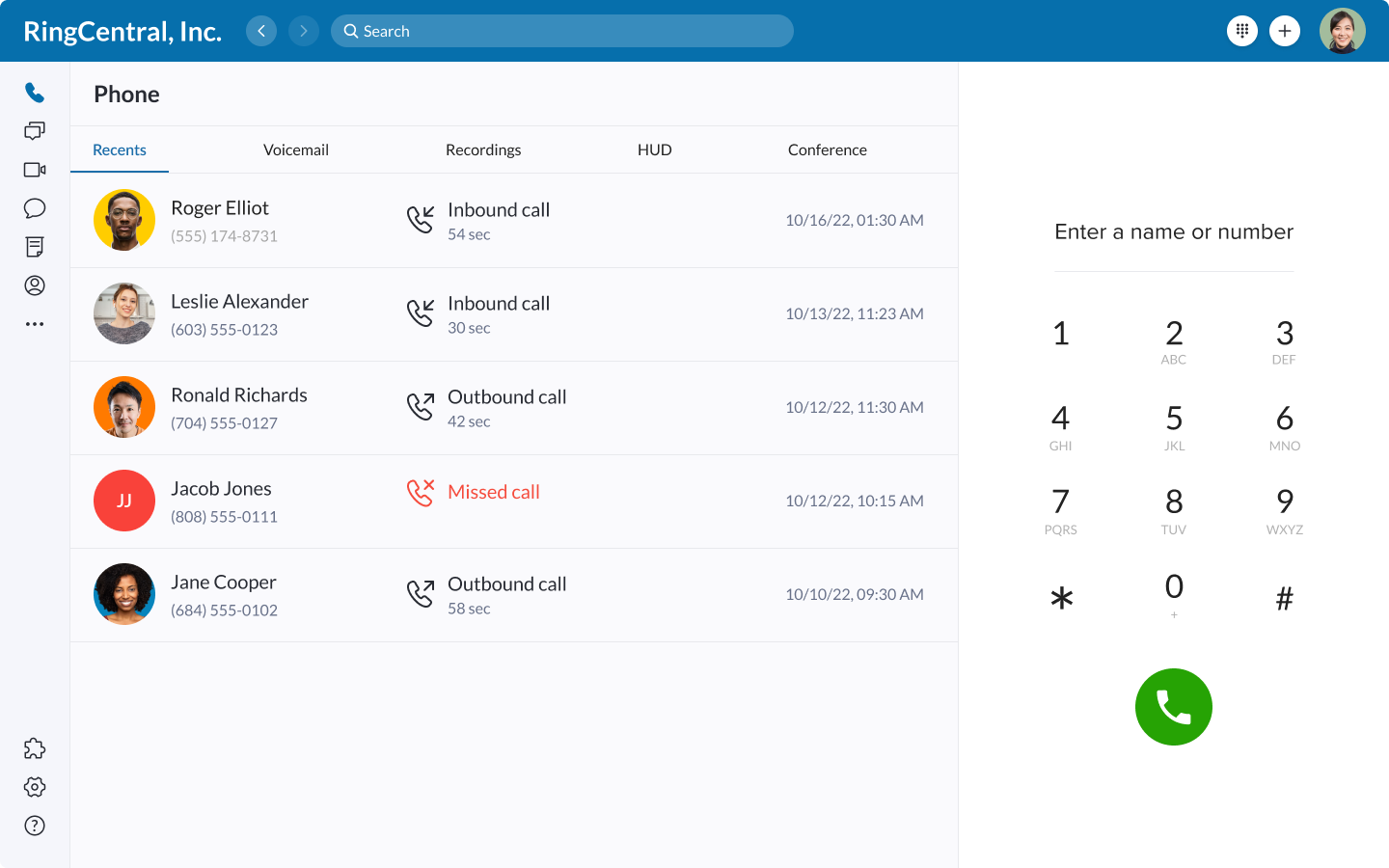 What is Nextiva?
Nextiva is a unified communications system with VoIP, SMS, team chat, and 250-participant video meetings.
The NextivaONE app, available on desktop, browser, and mobile, includes an auto attendant, call logs, and voicemail transcription. Each plan includes a local or toll-free number. NextivaONE supports unlimited 1:1 and group chat, team chat rooms, and video conferencing with screen sharing and chat.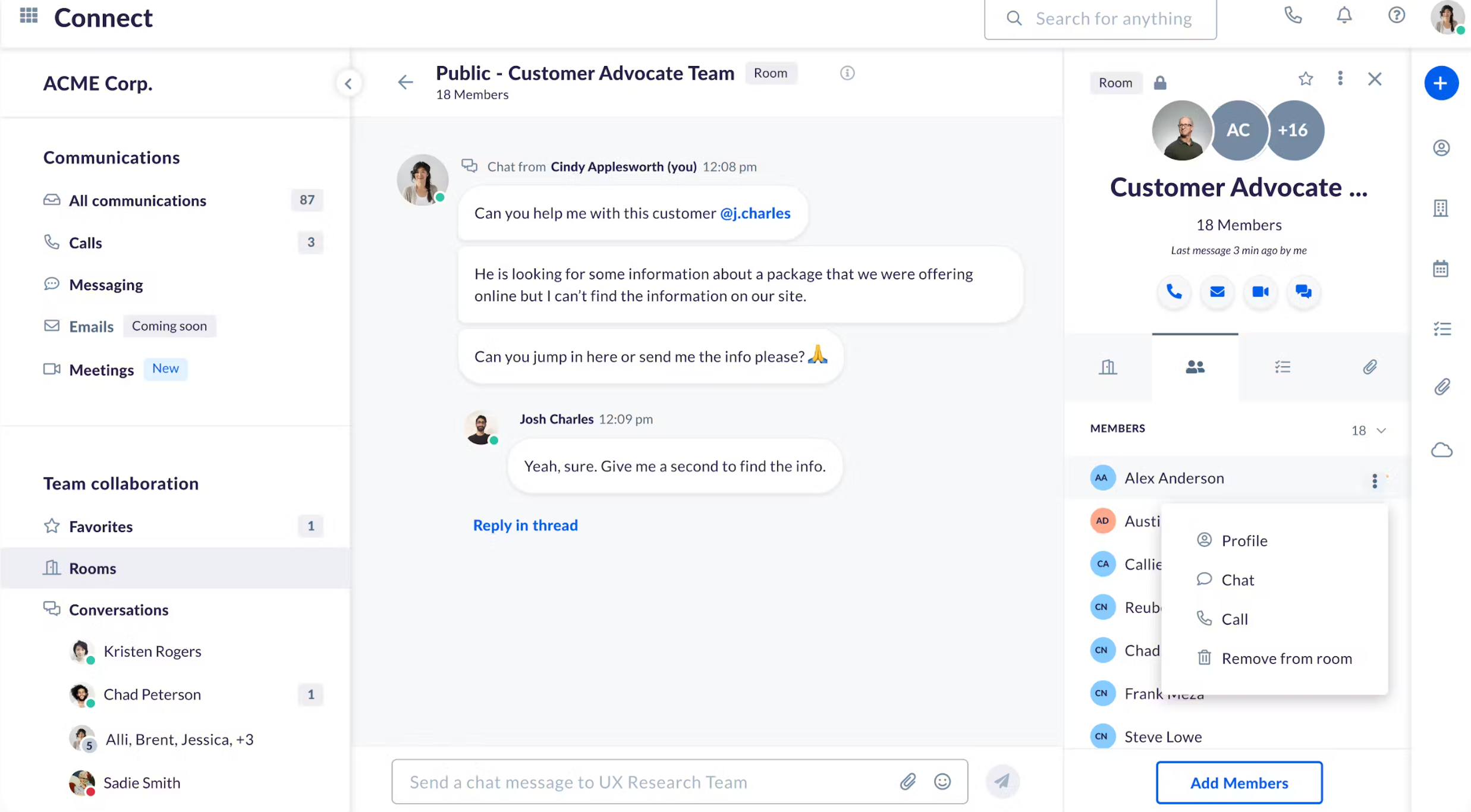 RingCentral vs. Nextiva: Pricing Overview
RingCentral MVP offers three plans, ranging from $20 to $35 monthly per user. Each plan includes core communication channels–voice, video, SMS, and chat.
Core plan ($20 monthly per user): Includes all RingCentral's basic channels and phone-system features, although some features have limited access. It offers unlimited multi-level IVR, on-demand call recording, and basic call queues. Core video meetings have a 100-participant maximum, and the analytics include call logs.
Advanced ($25 monthly per user): Adds intelligent call distribution and queueing rules, automatic call recording, and the full analytics suite. It also includes RingCentral's full integration set and allows administrators to customize user roles and permissions.
Ultra ($35 monthly per user): Includes enterprise-grade HD video meetings with AI-powered meeting tools, like summaries and live transcription. It also includes enhanced analytics like custom dashboards, weekly report subscriptions, and wallboard views. Intended for large companies, this plan also includes unlimited file sharing.
Nextiva also offers three plans, ranging from $18.95 to $32.95 monthly per user. Each plan includes a local and toll-free DID number:
Essential plan ($17.95 monthly per user): Includes voice, team chat, and video meetings for 100 users–but not SMS. It adds basic auto attendants, built-in calendars, 3 collaborative team rooms, and the NextivaONE app on any device. The plan has call groups, call logs, and 1,500 toll-free minutes.
Professional plan ($22.95 monthly per user): Adds desktop-and mobile-based SMS, conference calling with up to 40 participants, a multi-level auto attendant, plus screen sharing in video meetings and collaboration rooms. It includes Salesforce and HubSpot integrations.
Enterprise plan ($32.95 monthly per user): Expands video-meeting capacity to 200 participants, supports unlimited users on conference calls, and adds voicemail transcription. It also adds unlimited call recording and video conference recording.
RingCentral vs. Nextiva: Feature Comparison
Here, we've compared the top features of RingCentral vs. Nextiva:
Phone System Features
Summary: Both RingCentral and Nextiva offer basic features like voicemail, multi-level IVR, call logs, and business phone numbers across the US. However, RingCentral provides more advanced features like queueing, analytics, call monitoring, and international phone numbers. Nextiva includes more monthly toll-free minutes.
Shared Features
Cloud-based app: The RingCentral MVP and NextivaONE apps are both accessible via desktop, browser, and mobile
Contact lists: Store contacts, update contact info, integrate contact lists with third-party CRM application
Unlimited calling: RingCentral and Nextiva both support unlimited VoIP calling in the US and Canada
Toll-free and local numbers: Both providers offer toll-free and local numbers from across the US, including one number with each plan signup
Multi-level IVR: A self-service dial-tone menu that routes customers to the best-suited agent or queue
Ring groups: Group agents together to share inbound call responsibility and voicemail boxes. Choose if you want agents to receive calls in a custom order, or simultaneously until one answers.
Voicemail: A virtual voicemail inbox, with voicemail-to-email and voicemail-to-SMS forwarding. RingCentral includes voicemail transcription on all plans, while Nextiva reserves it for the Enterprise plan.
Call logs: A detailed and searchable call history record, with each call's date and time, user info, and click-to-call options
Call recording: RingCentral offers on-demand call recording on the Core plan and automatic call recording on higher-tier plans, while Nextiva offers either option on the Enterprise plan only
Conference calling: Create a conference call where hundreds of users can dial in. Nextiva supports unlimited conference-call participants, and RingCentral supports up to 1000.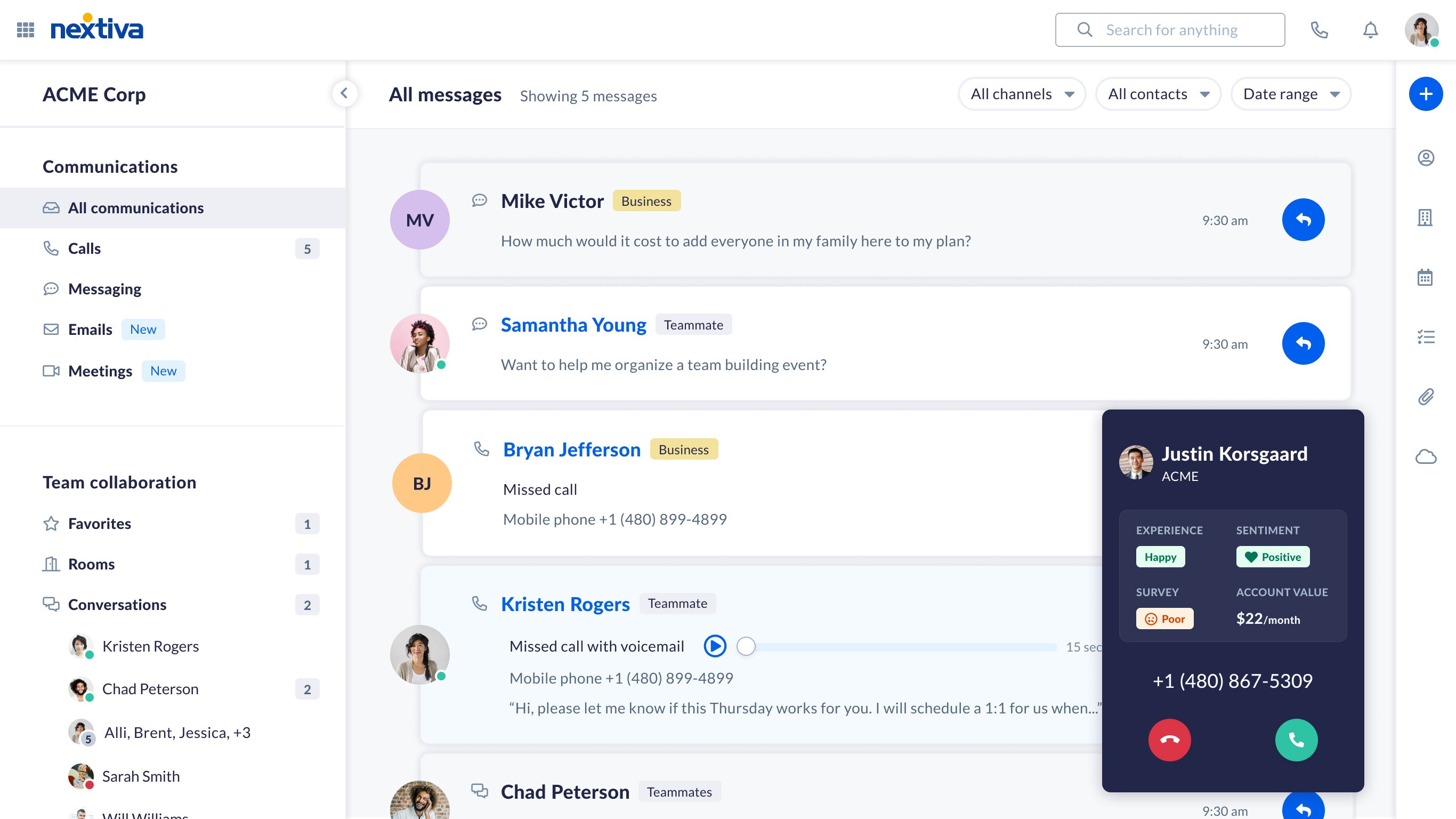 Differences
Toll-free minutes: Each plan includes a monthly toll-free minutes limit. RingCentral plans limit toll-free minutes to 100 (Core), 1000 (Advanced), and 10,000 (Ultra) per account. Nextiva offers higher limits with 1500 (Essential), 3000 (Professional), and 12,500 minutes per account.
International business numbers: While Nextiva only offers DID numbers from area codes within the US, RingCentral offers business numbers from over 80 countries
Call analytics: RingCentral's Advanced and Core plans include business analytics, with customizable KPIs and metrics for user activity, call volume, and channel usage. Nextiva includes call logs, but reserved advanced analytics as an add-on.
Call monitoring: RingCentral includes call center monitoring, with a live dashboard that enables supervisors to quietly listen in on calls, whisper private guidance to agents, join a call live, or take over a call entirely
Call flow builder: Nextiva enables users to build an auto attendant menu with a drag-and-drop IVR call flow builder, while RingCentral's builder has a traditional dropdown menu interface
Call pops: Nextiva's app includes call pops, customer information that automatically pops up on an agent's screen to provide context for inbound calls
Team Messaging and SMS Features
Summary: RingCentral and Nextiva both offer SMS texting, 1:1 chat messaging, group messaging, and team chat channels with file sharing and one-click video conferencing. RingCentral supports unlimited team chats and project-management tools, while Nextiva offers higher monthly SMS limits and shared contact notes.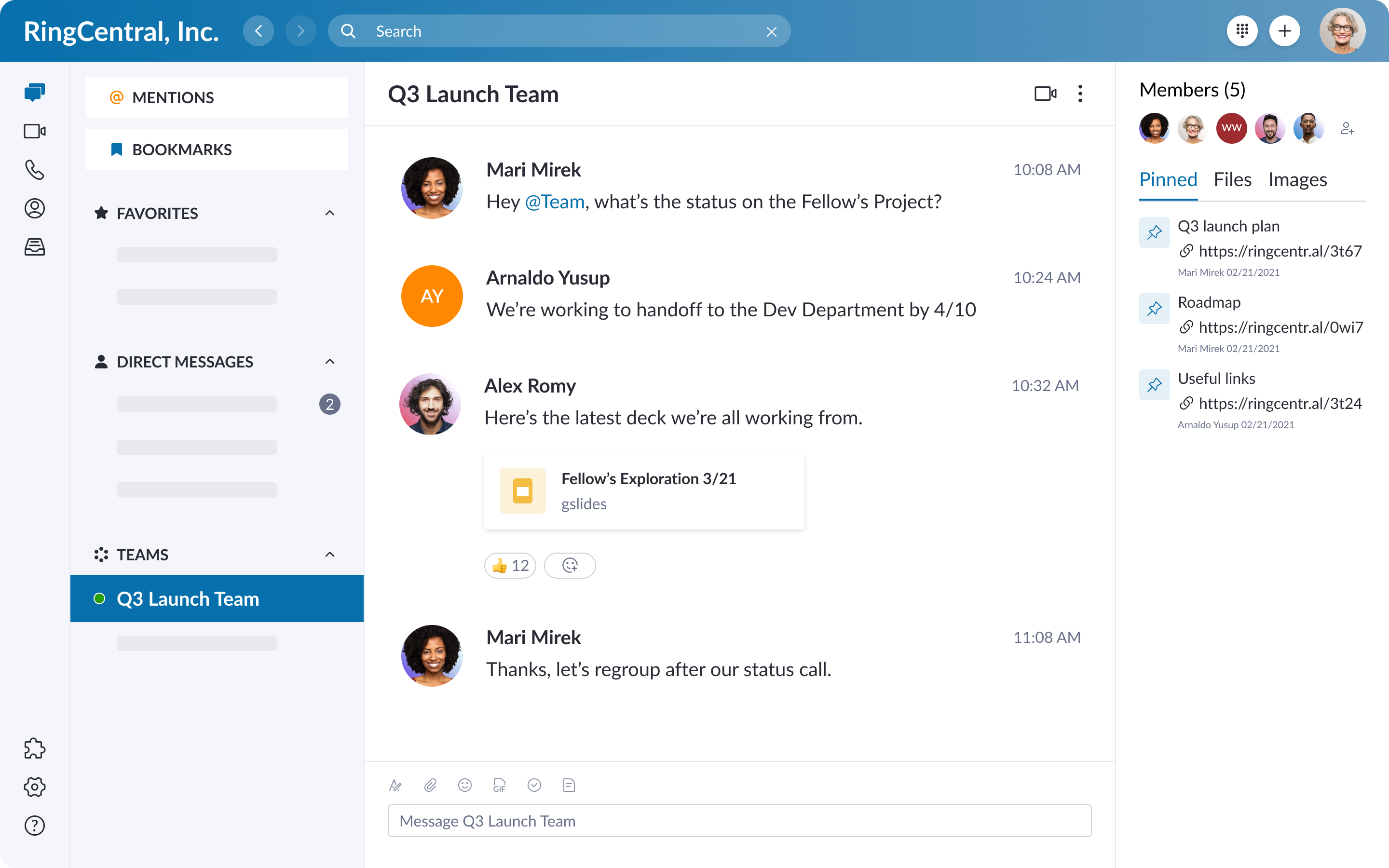 Shared Features
1:1 and group messaging: Send unlimited 1:1 and group chat messages from the UCaaS app on any device. Teammate availability and chat channels are displayed in the left-hand menu, with notifications for new activity.
SMS texting: Both phone systems support SMS texting, from computer or mobile
Team chat channels: Both apps support team chat channels with collaborative features–threads, emoji responses, shared and stored files, one-click buttons for video meetings and conference calls
File sharing: Use messaging to share files and documents, which you can search and organize into folders
Event sharing: Share event links and calendar invites in team chat, such as for video meetings. Created events sync with calendar apps like Google Calendar or Microsoft Outlook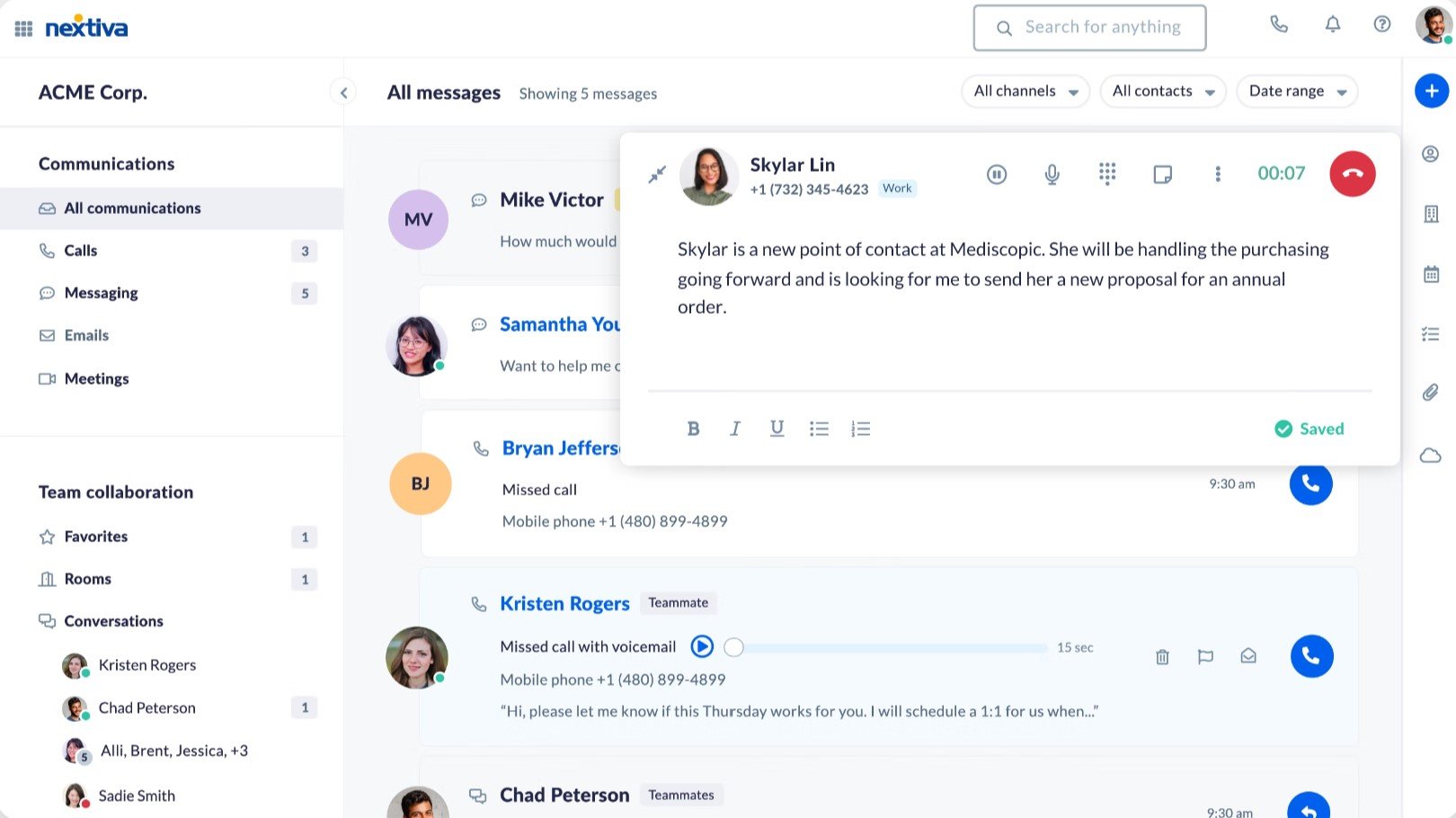 Differences
Task management: RingCentral embeds task management features into team chat. Assign and color code projects, track deadlines, and tag involved team members
"All Communications" inbox: Nextiva's interface includes an "All Communications" inbox that compiles all of a user's relevant notifications–across messaging, phone, voicemail, and video
Team channel limits: RingCentral teams can create unlimited channels, while Nextiva only supports three concurrent team-chat channels
SMS limitations: Both apps limit a user's monthly SMS allowance. RingCentral limits texting to 25 (Core), 100 (Advanced), or 200 (Ultra) monthly SMS per user. Nextiva does not include texting on the Essential plan but limits users' monthly texts to 1000 on the Professional plan and 2000 on the Enterprise plan.
Contact notes: Nextiva enables users to leave shared notes on contact profiles, helping teammates collaborate
Video Conferencing Features
Summary: RingCentral and Nextiva support HD-video meetings with built-in scheduling and screen sharing. Nextiva's Essential plan only supports 1:1 meetings, but the Enterprise plan holds unlimited participants–with a 45-minute cap. RingCentral meetings hold up to 200 participants for 24 hours, plus collaborative features like breakout rooms, AI support, and whiteboards.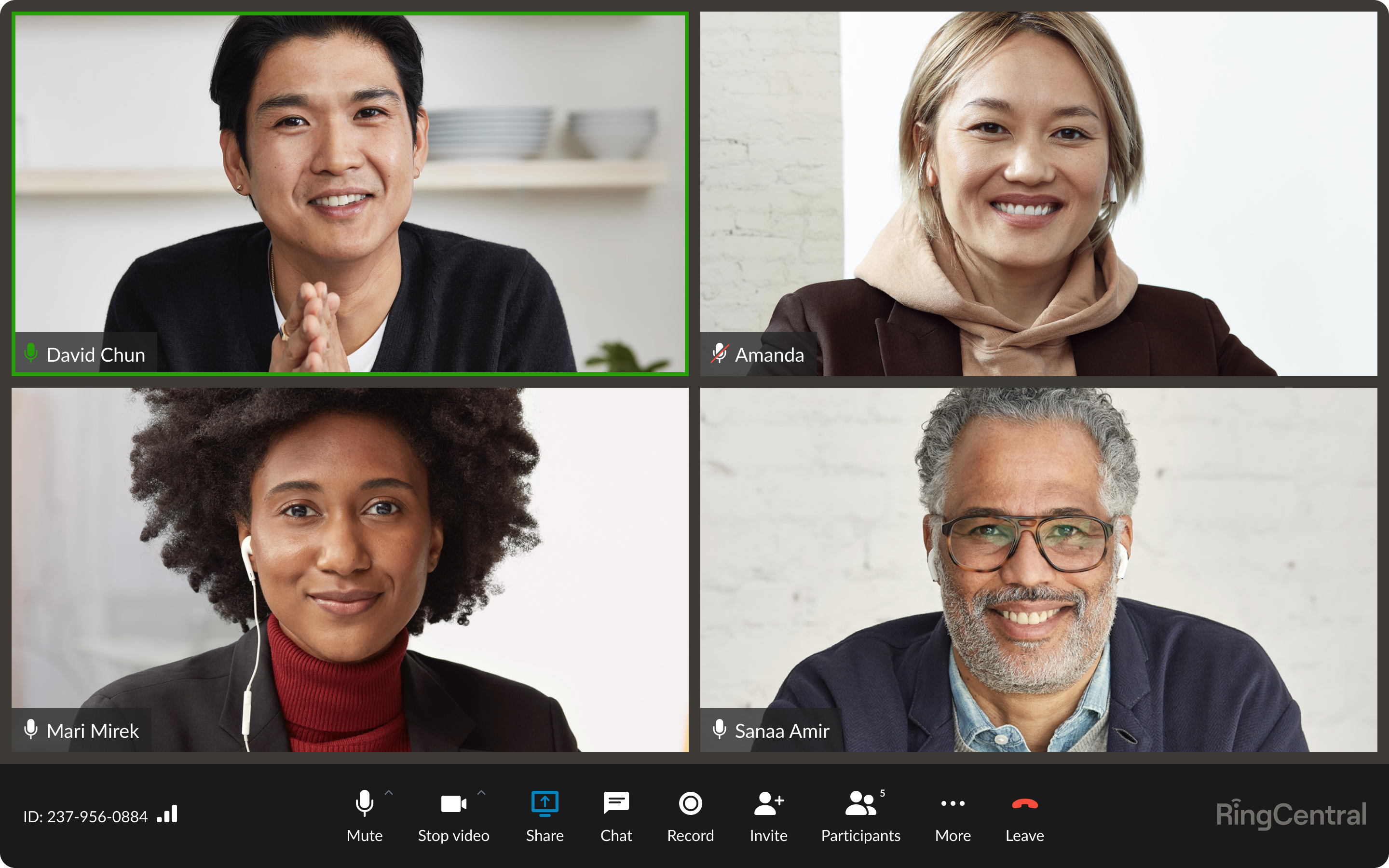 Shared Features
No-download access and invites: Create video meetings and generate invite links, which you can send to users and customers via email or text. Participants can join from any device–mobile or computer–with no download required
Built-in scheduling and calendaring: Schedule meetings and sync them in calendar apps, from within the UCaaS platform. Nextiva has a built-in calendar, and both apps sync with popular calendar software, like Google and Microsoft Outlook
HD video: Meetings have high-definition audio and video
Host controls: Hosts can mute and unmute participants and kick attendees from the meeting
Screen sharing: Any participant can share their screen with the group
Chat: Each meeting has a running chat, where participants can share files and emojis
Custom views: Sort panel views to focus on the speaker or see up to 25 participants at once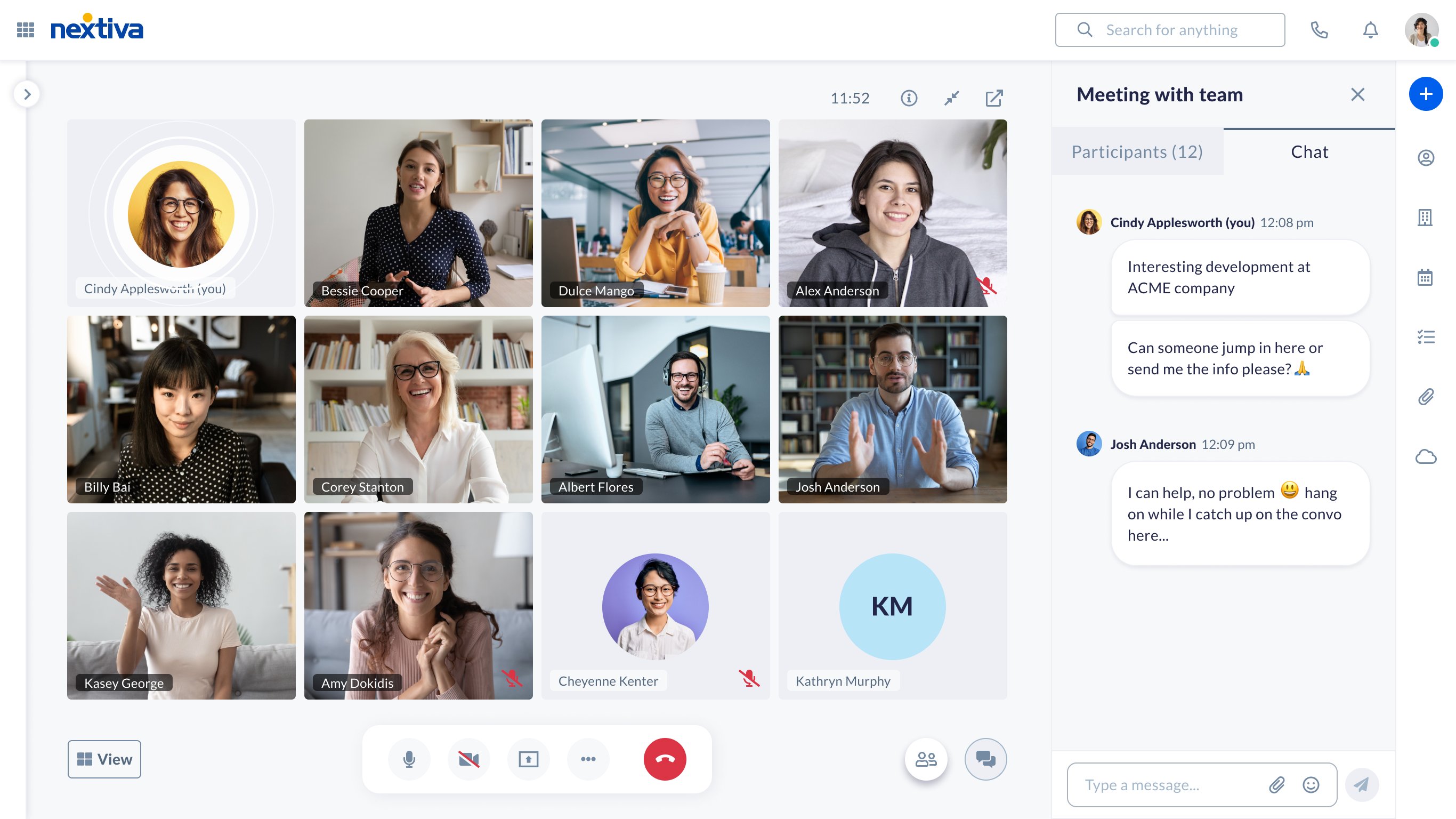 Differences
AI features: RingCentral meetings include advanced AI features–live transcription and auto-generated summaries with highlight reels, clips and topic lists
Whiteboard: RingCentral video has a built-in whiteboard where participants can collaborate to draw, add images, and post sticky notes
Breakout rooms: RingCentral hosts can split the larger meeting into "breakout rooms" for small-group discussion
Participant capacity: Nextiva's Essential plan supports only 1:1 meetings, the Professional plan supports 40, and the Enterprise plan holds unlimited participants. RingCentral's Core and Advanced plans support 100 participants, and the Ultra holds 200.
Meeting length: RingCentral meetings last up to 24 hours, while Nextiva's last just 45 minutes
Live streaming: Nextiva supports live streaming to third-party apps like YouTube and Facebook Live, while RingCentral only offers this functionality with the webinar add-on
Analytics & Reporting Features
Summary: Both RingCentral and Nextiva include call logs, but only RingCentral offers built-in business analytics with customizable KPIs and metrics for different channels. Nextiva includes advanced analytics as an add-on.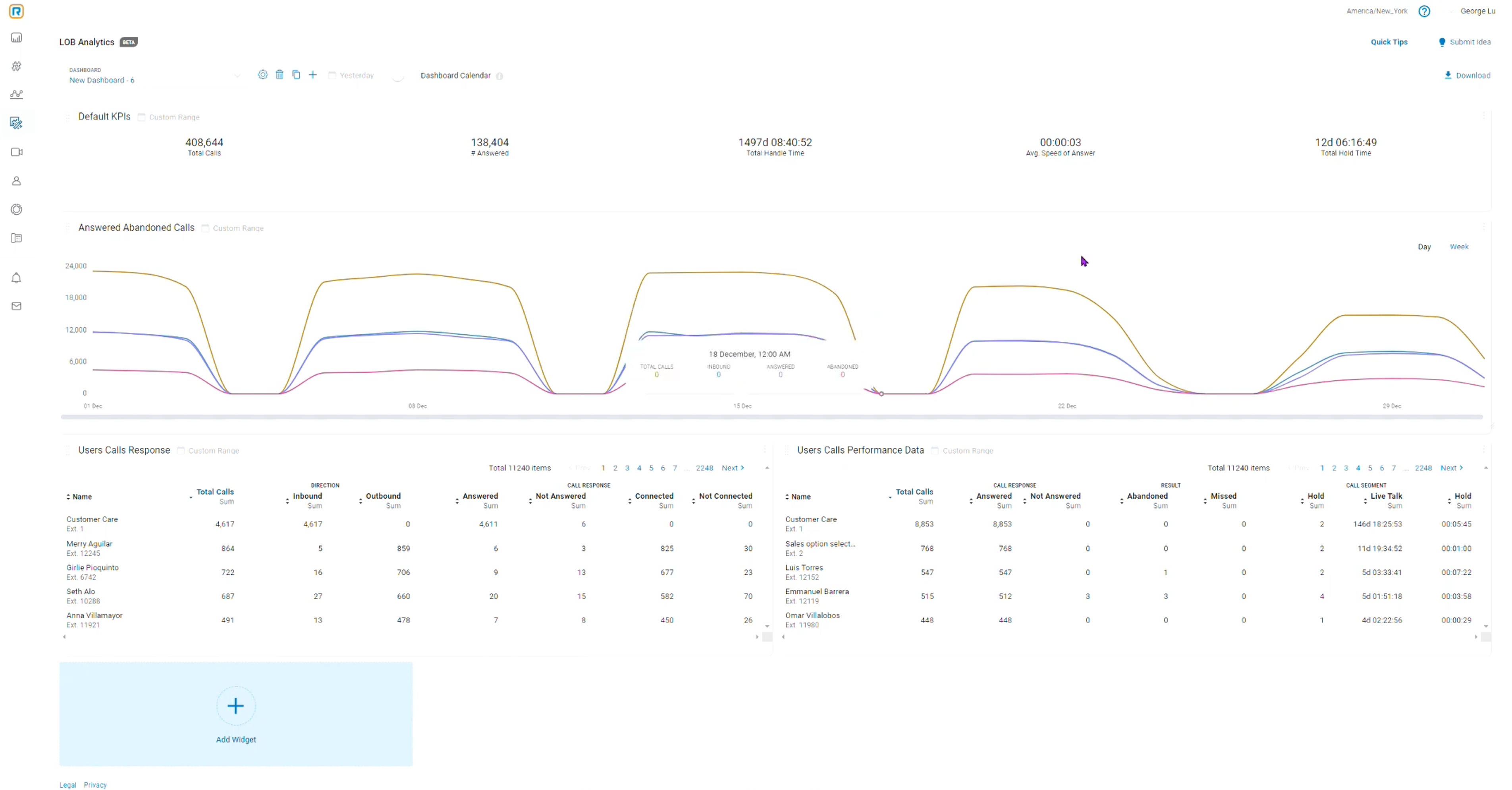 Shared Features
Call logs: Both apps include built-in call history. View a full record of recent calls and video conferences, including date and time, participants, and call length. Return calls with one click
Administrative dashboard: Administrators have their own portal to manage user roles and statuses, or add new users
System status alerts: Admin can view statuses for system and device connection quality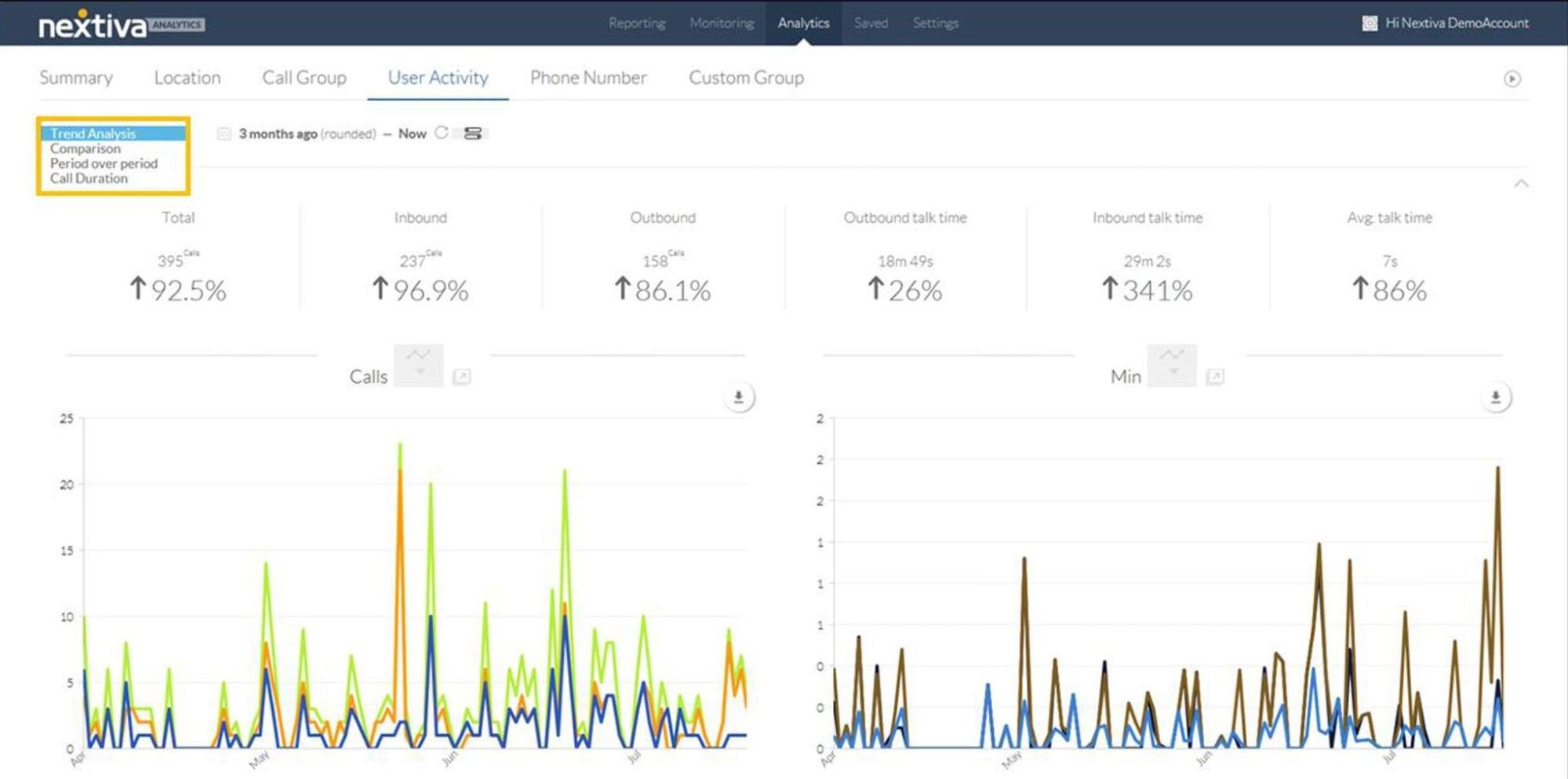 Differences
RingCentral's built-in Business Analytics: RingCentral offers business analytics as a built-in feature on Advanced and Ultra plans. These include historical metrics and KPIs for call volume, video and channel usage, and agent activity. You can customize graphs and data for comparative metrics and trends across users and timeframes.
Nextiva's add-on Call Analytics: Nextiva offers advanced call analytics as an add-on, with metrics like inbound vs. outbound calls, call types, and talk time. Sort per user and view in various visual displays, including wallboards and different graph types.
Integrations
Summary: Both RingCentral and Nextiva support integrations with the most popular CRM systems, ticketing software, and collaboration apps. RingCentral supports over 300 integrations, while Nextiva has 19. RingCentral includes all 300 integrations with Advanced and Ultra plans, while Nextiva reserves CRM integrations for the Enterprise plan.
Shared Integrations
CRM platforms: Sync contact profiles, import lead lists for outbound calling campaigns, and link agent activity across apps. Integrations include Salesforce, HubSpot, Zoho CRM, Bullhorn, and SugarCRM
Ticketing solutions: Automatically populate and tag tickets on ticketing platforms–Zendesk and ServiceNow
Communication platforms: Sync messaging across communication apps like Google Workspace and Microsoft Teams
Differences
Availability: RingCentral offers all 300 integrations on the Advanced and Ultra plans, while Nextiva reserves their CRM apps for the Enterprise plan.
APIs: RingCentral offers APIs to integrate voice, messaging, and video functionality with applications and websites your company already uses. Nextiva does not offer APIs for their UCaaS functionality.
RingCentral Pros & Cons
RingCentral Pros
Unlimited team-chat rooms: RingCentral's team chat rooms include versatile collaboration features, and users can create as many as they like
More integrated apps than competitors: At over 300 integrated apps, RingCentral outmatches nearly all alternatives
Advanced video features: RingCentral meetings have a generous time limit and standout features like breakout rooms, whiteboards, live transcription, and AI-generated summaries
RingCentral Cons
Monthly SMS limits: Each RingCentral plan places a restrictive limit on a user's monthly SMS–25 on the Core plan, 100 on Advanced, and 200 on Ultra.
Monthly toll-free limits: Similar to the SMS limits, each RingCentral plan places a limit on the account's monthly toll-free minutes–100 (Core), 1000 (Advanced), and 10,000 (Ultra).
Audio sometimes lags or echoes: Some users have reported occasional lag or echo with RingCentral audio
Nextiva Pros & Cons
Nextiva Pros
Call pops: Customer profile pop-ups, a unique feature, are a convenient way for agents to prepare for an inbound call
Ease of use: NextivaONE is intuitive to use across all devices
Collaboration rooms: With one-click video and call conferencing, plus file sharing, Nextiva collaboration are powerful for remote teams
Nextiva Cons
No SMS on Essential plan: Many competitors offer SMS in their lowest-tier plan, but Nextiva does not include it on theirs
Only 3 concurrent chat rooms: While collaboration rooms are highly useful, NextivaONE limits teams to 3 rooms at once
Limited video collaboration: Nextiva's Essential plan only supports 1:1 video meetings, and their video meeting features are more basic than many competitors
Picking the Right Phone System for Your Business
Both RingCentral and Nextiva offer cloud-based phone systems with routing capabilities, collaboration tools, video conferencing, and team chat. However, the best software for your business depends on your business needs, calling area, budget, and the apps you already use.