Today's top phone system providers offer more than just calling. In addition to VoIP telephony, they offer multiple communication channels–like video, team chat, and SMS–routing features, analytics, and more.
Nextiva and RingCentral are two such market leaders, offering suites of useful collaboration features that blur the line between a business VoIP system and unified communications solution.
This article will compare Nextiva vs RingCentral MVP, outlining each solution's key features, pricing, pros, and cons.
Jump to ↓
RingCentral vs Nextiva at a Glance
The main difference between RingCentral MVP and Nextiva is that RingCentral offers a greater variety of analytics and collaborative video features, while Nextiva offers all core communication channels on each plan, plus a drag-and-drop call flow editor.
RingCentral MVP includes video meetings with whiteboards and breakout rooms, and users can create unlimited team-messaging channels that support task management, whiteboarding, and file collaboration. These collaborative features outmatch many competitors.
On the other hand, each of Nextiva's plans includes all 3 main communication channels–voice calling, video, and team chat. By comparison, many alternative VoIP providers only offer some of these channels on their starter plan. As a bonus, Nextiva's cheapest plan is slightly more affordable than RingCentral's.
RingCentral »

Nextiva »

Pricing
4 plans from $19.99 to $49.99 monthly per user
3 plans from $18.95 to $32.95 monthly per user
Key Features

Real-time analytics
Collaborative video features
Unlimited team chat rooms
Call recording

Call pop
Drag-and-drop call flow editor
Calendar and meeting scheduling
Call recording

Available Communication Channels
Integrations
Over 300 integrations, including:

HubSpot
Slack
ServiceNow
Twitter
Google Workspace

19 integrations, including:

Salesforce
Microsoft Dynamics 365
Zendesk
ServiceNow
HubSpot

Customer Support Options
24/7 phone, email, and chat support, plus a community forum
24/7 email, chat, and phone support, plus a knowledge base
Best For
Companies that already use many other apps, or who plan to use video conferencing for collaboration
Companies seeking basic video, phone, and calling on a budget
What is RingCentral?
RingCentral MVP is a cloud-based phone system and business communications platform that combines VoIP calling, team messaging, SMS text messaging, and video conferencing into one solution.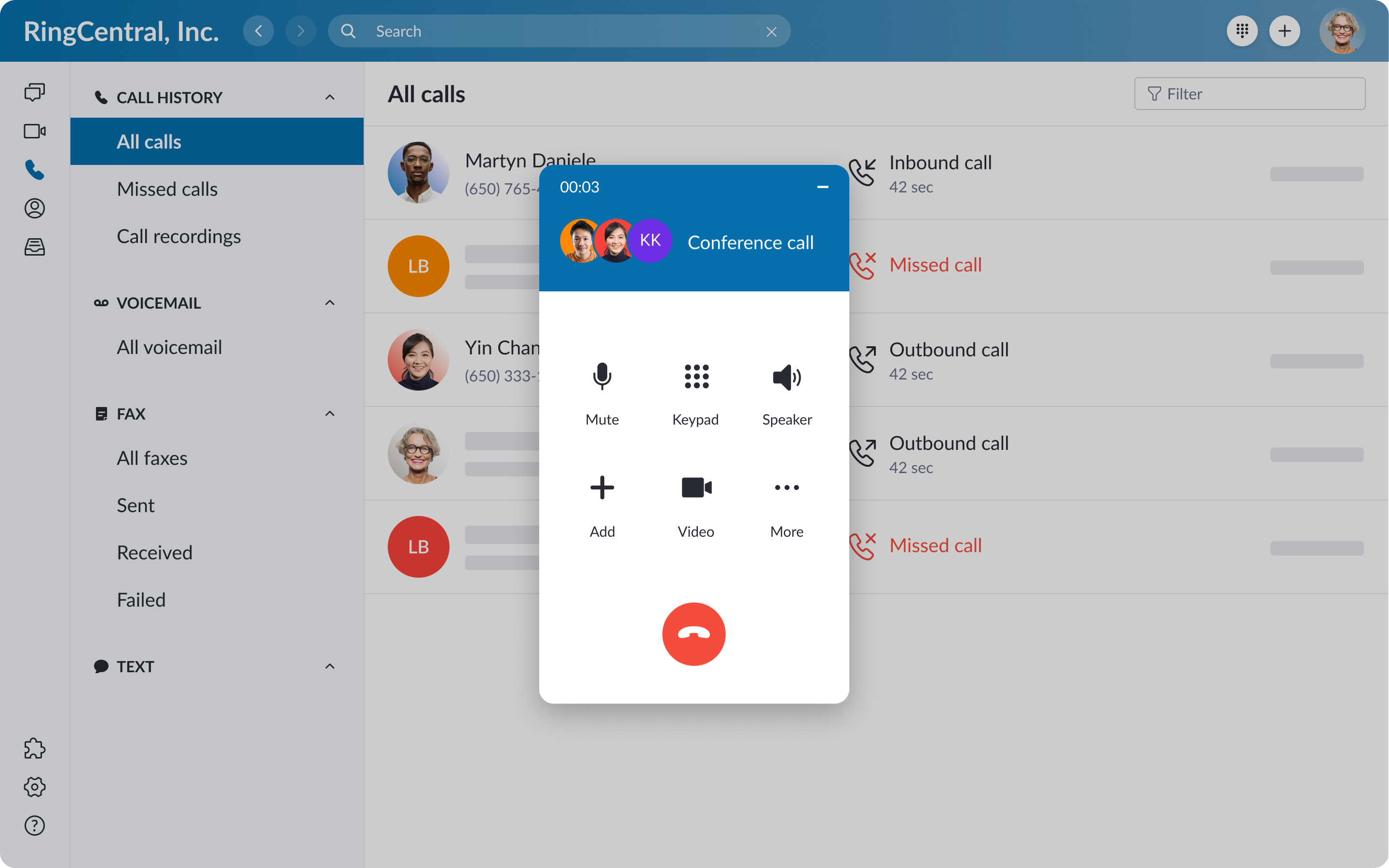 The user-friendly app is available on desktop, browser, and mobile. It includes advanced features for routing, call management, AI agent support, and analytics.
A scalable communication system, RingCentral offers virtual phone numbers, including local, toll-free, and vanity numbers around the world. Add and manage user phone numbers with just a few clicks, connecting team members and customers in over 45 countries with 99.999% uptime.
Integrate your VoIP phone service with over 300 ready-to-use apps, including Google, Microsoft, and CRM integrations like Salesforce.
Learn more about
RingCentral
What is Nextiva?
Nextiva is a virtual communications software program and phone system unifying VoIP telephony, team chat, SMS, and video conferencing.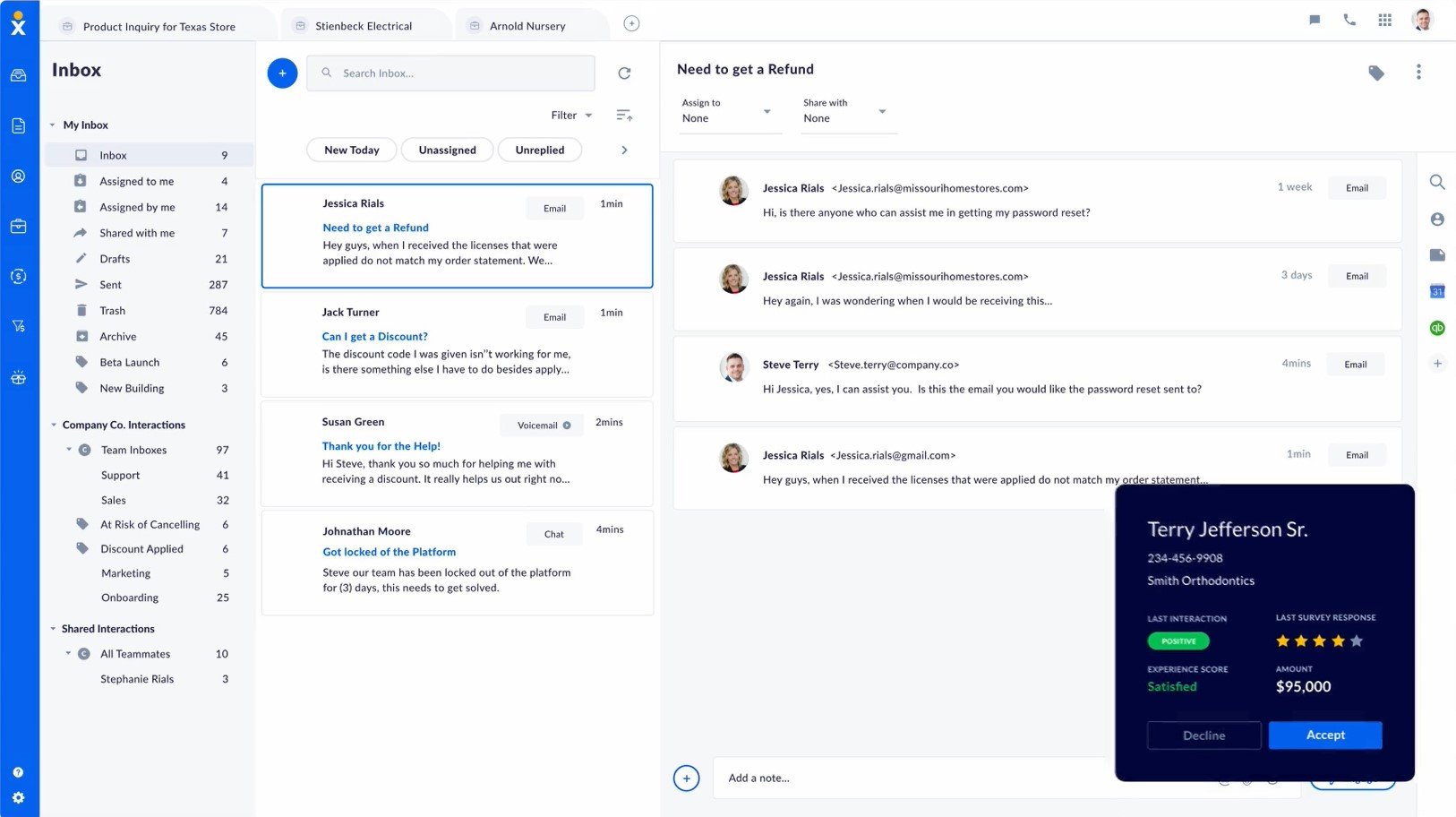 Like RingCentral, Nextiva unifies these channels into a desktop, browser, and mobile app. It features calendar and meeting scheduling, auto attendants, AI automations, shared customer information, plus a free local and toll-free number for each user.
Nextiva's business phone system offers unlimited calling within the US and Canada with 99.999% uptime, making it a great option for domestic scaling. It offers 19 integrations with popular apps like HubSpot and Microsoft Teams.
RingCentral vs Nextiva: Feature Comparison
Here, we've compared the top features of RingCentral vs Nextiva.
RingCentral Voice Calling
RingCentral Phone offers toll-free, local, and vanity numbers around the world–plus number porting. Each user receives a dedicated phone number upon sign-up, enabling VoIP calling with softphone optionality.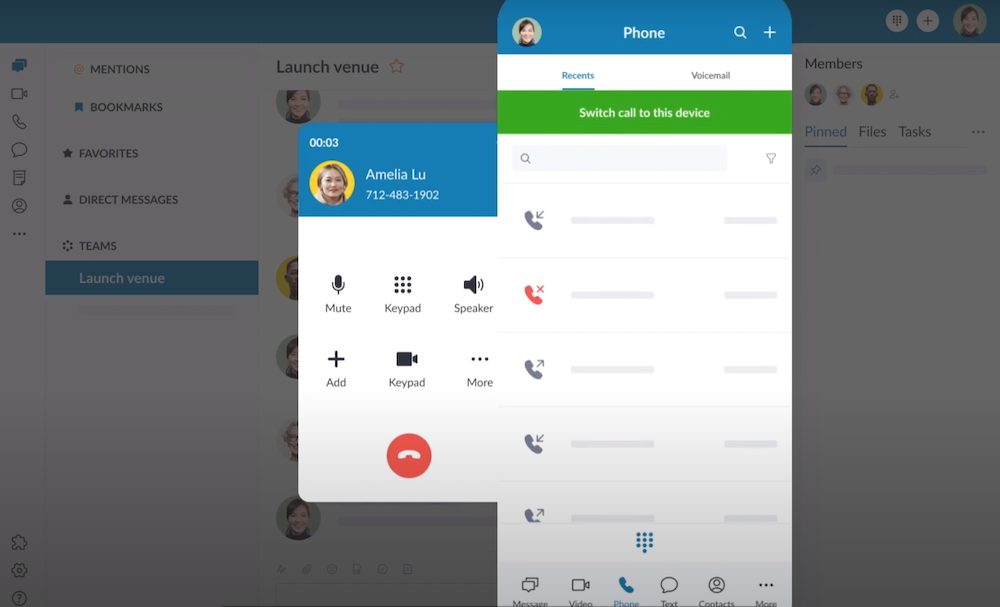 All RingCentral plans include unlimited calling within the US and Canada, but RingCentral does not support unlimited international calling.
Agents have tools like SMS and fax, plus customizable voicemail, routing, and call management capabilities. Use click-to-call or the in-app dial pad, and access contact profiles and history.
Administrators can set up new phone numbers and remote users in minutes, with settings in 18 languages. Set up IVR menus, customize call queues, and keep tabs on analytics and KPIs.
Highlighted RingCentral Phone Features:
Call management options: Call forwarding, transfer, parking, screening, flipping between devices, answering rules and presence availability.
Virtual voicemail: Transcribed voicemail logs, searchable by keyword or caller. Voicemail-to-email enables voicemail checking across devices.
Toll-free minutes: Pooled for the whole account, the amount varied by tier.
Unlimited audio conferencing: With up to 1000 participants per conference call.
Multi-level auto attendant: A customer self-service routing menu, attached to a company phone number. Customize your IVR with extensions, voicemails, recorded messages, submenus, or a human operator. IVRs can utilize functionality like call recording, call handling rules, queues, and company business hours.
Call listen, whisper, barge, takeover: Supervisors can monitor calls, offer private guidance to agents, join a call, or take it over entirely.
Call recording
Call queues
Nextiva Voice Calling
Nextiva's cloud-based VoIP service provides unlimited calling, faxing, and texting within the US and Canada on all plans, plus a local and toll-free number for each user. Migrate all pre-existing numbers into your Nextiva account at no charge.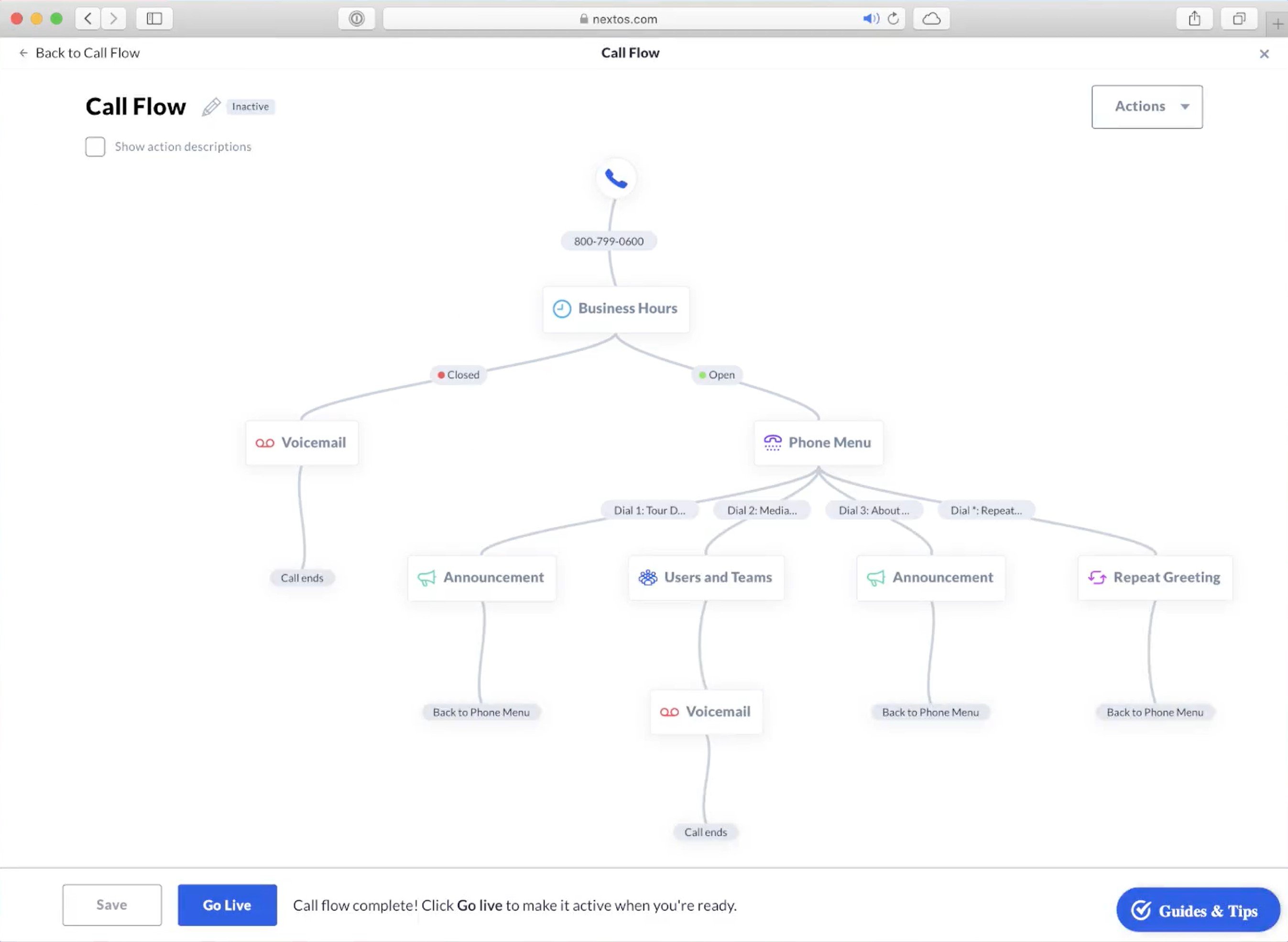 Users can make HD-voice calls on any device via softphone, and access virtual voicemail and call management features.
Nextiva offers unlimited audio conferencing, dynamic routing features, real-time AI agent assistance, and information-rich customer profiles so agents always have full context.
Nextiva's administrator portal offers an easy-to-use menu to set up users, customize call handling and routing rules, and create call flows with a drag-and-drop designer.
Highlighted Nextiva Phone Features:
Virtual voicemail: Searchable logs with voicemail transcription, voicemail to email, and voicemail to text.
Toll-free minutes: Up to 12,500, depending on the plan.
Call flow designer: A drag-and-drop editor to create self-service, automated multi-level IVR call flows. Combine phone menus, users, business hours, voicemail, call transferring, and visual flow links.
Call groups: Group agents together to share inbound call responsibility. Customize ring style: simultaneous, round robin, or longest idle.
Call pop: An instant pop-up window that populates an agent's screen upon customer contact. The window displays key customer information–name, number, company, recent sentiment score, survey responses, and account value.
Call recording
500 company-wide shared contacts
RingCentral Messaging
The RingCentral MVP Messaging tab provides a hub for team chat, file and document sharing, calendar sharing and scheduling, project management, and video meetings.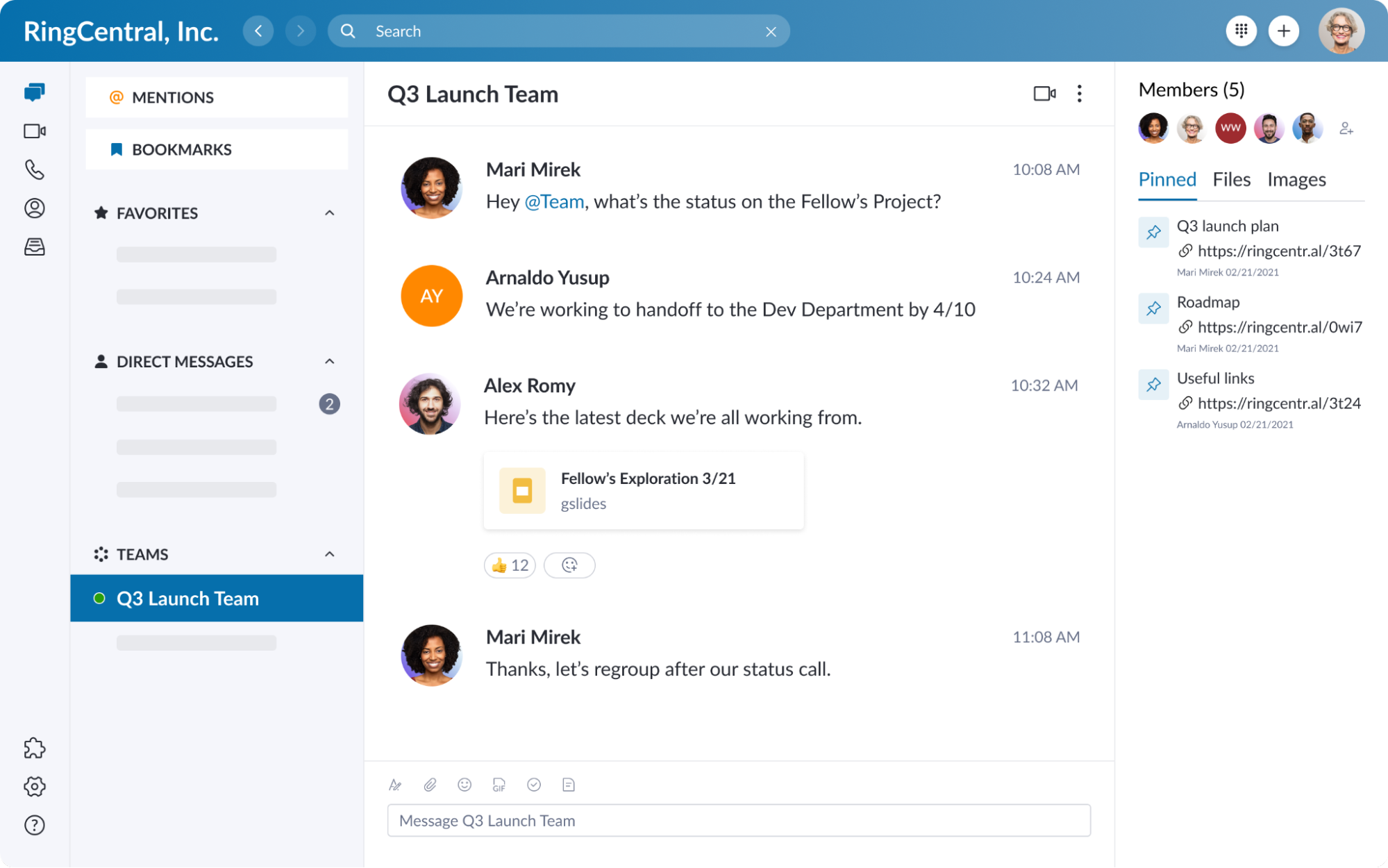 Users can initiate unlimited 1:1 chats and dedicated group channels, containing threads with tagging options so users receive notifications only when relevant.
RingCentral Messaging Features:
Workflow management: Assign tasks, due dates, and to-do lists. Check off items to keep all parties updated, and color-code assignments.
External contacts: Add any user by email, even those not in the organization.
Team huddle: An always-on video room generated within each chat, for ad hoc video meetings.
Instant calling: Initiate 1:1 or conference calls with one click from a chat.
Searchable: Search chats by keyword or user.
Organization: Dedicated folders and threads for documents, teams, and projects.
Nextiva Messaging
The NextivaONE app multichannel inbox allows agents to manage all conversations across chat, email, text, and phone. Agents simply click on a conversation to pull up the full history, with file sharing and quick response via any channel. Agents can search their inbox by keyword or user.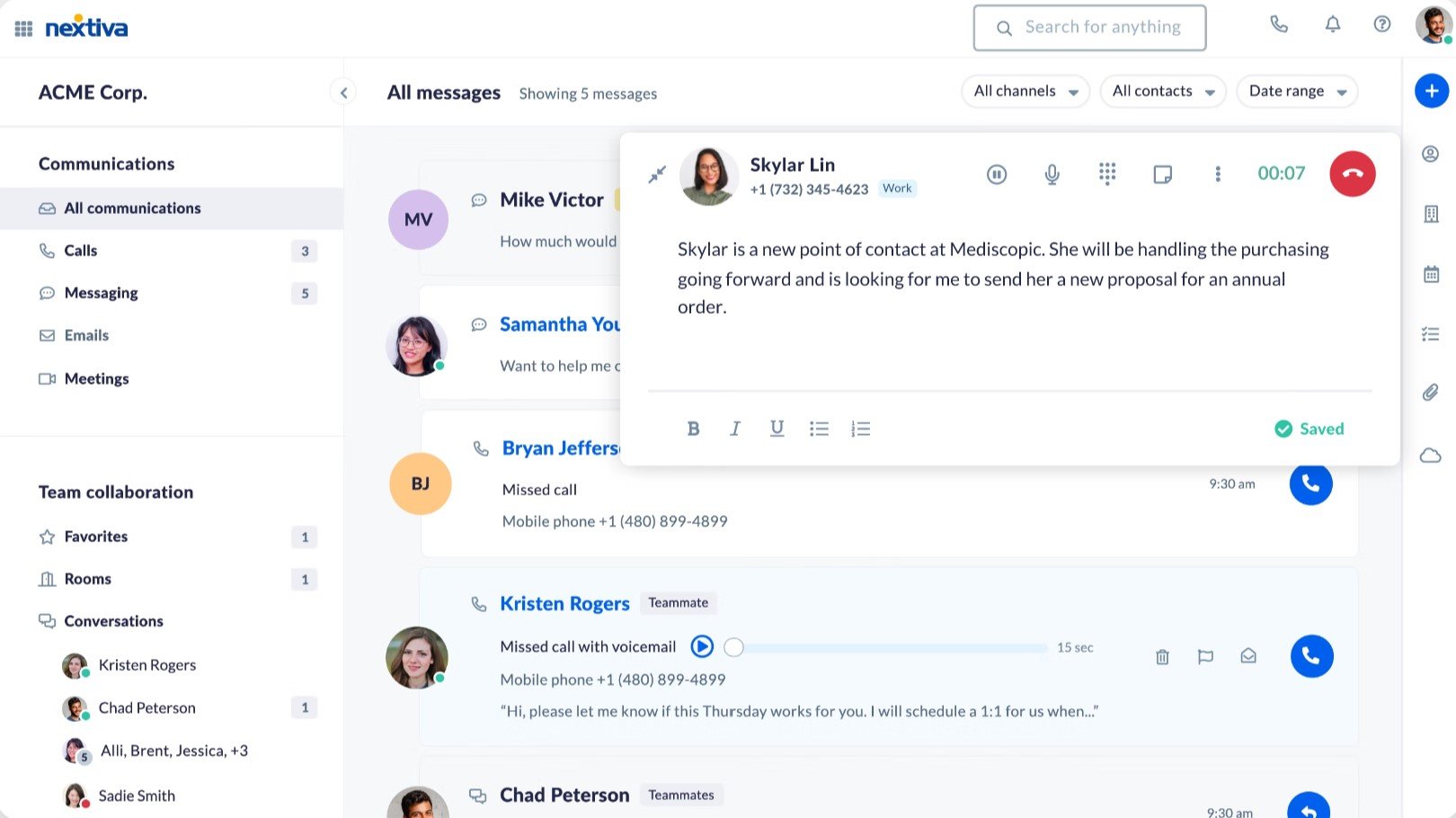 In the Messaging tab, agents can create 1:1 instant messaging conversations and group-chat hubs called "Rooms". Nextiva Rooms connect teams and departments to collaborate on specific projects, with threads, file sharing, emoji responses, and more. Nextiva supports 3 ongoing rooms at once.
Nextiva Messaging and Rooms Features:
Instant videos and calls: Every conversation includes buttons for one-click 1:1 calls, conference calls, and video meetings.
Member information and status: Users display their availability status and can click on a teammate's profile to contact or view their information.
Add anyone: Invite users by email.
Task tracking: Assign to-do lists that contributors can check off as work is completed.
Calendar and event sharing: Schedule video meetings and events, share links, and synchronize calendars.
File sharing
RingCentral Video Conferencing
RingCentral HD video meetings are accessible across mobile, desktop, and browser apps. Meetings host 200 participants and last up to 24 hours. Customize and schedule meetings directly within the app, generating a custom invite link for any user to join with no download.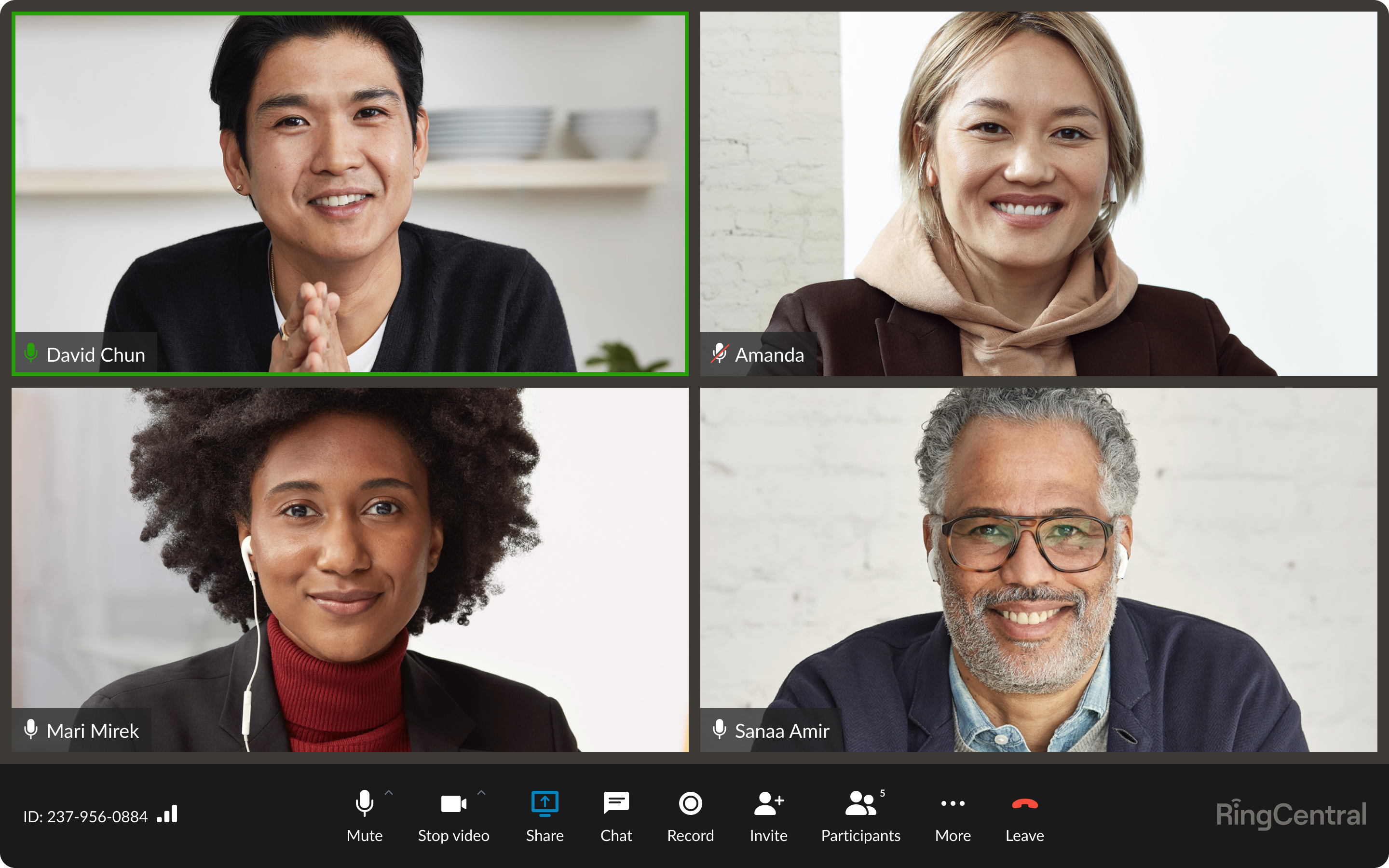 Team huddles in chat rooms provide an ongoing video meeting for anytime drop-ins.
RingCentral Video Meetings Features:
Live transcription: Live meeting captions, which identify speakers' separate voices. Transcripts are stored in the cloud and viewable afterward.
Auto follow: A setting where the camera automatically keeps the participant in the frame, even when they move.
Appearance adjustments: Skin touch-up and low-light adaptation.
Device switching: Switch between laptop and mobile seamlessly, without leaving the meeting.
AI-generated Insights: Video recordings include meeting summaries, key topics, curated highlights, mentioned keywords, and video transcripts.
Noise reduction: AI automatically filters out background noises for distraction-free audio.
Whiteboards: Collaborative canvases with tools for text, drawing, and geometrical shape design.
Participant emoji reactions
Virtual backgrounds
Nextiva Video Conferencing
Nextiva HD video conferences host 250 participants and last up to 45 minutes. Users can also make 1:1 video calls to any teammate or customer.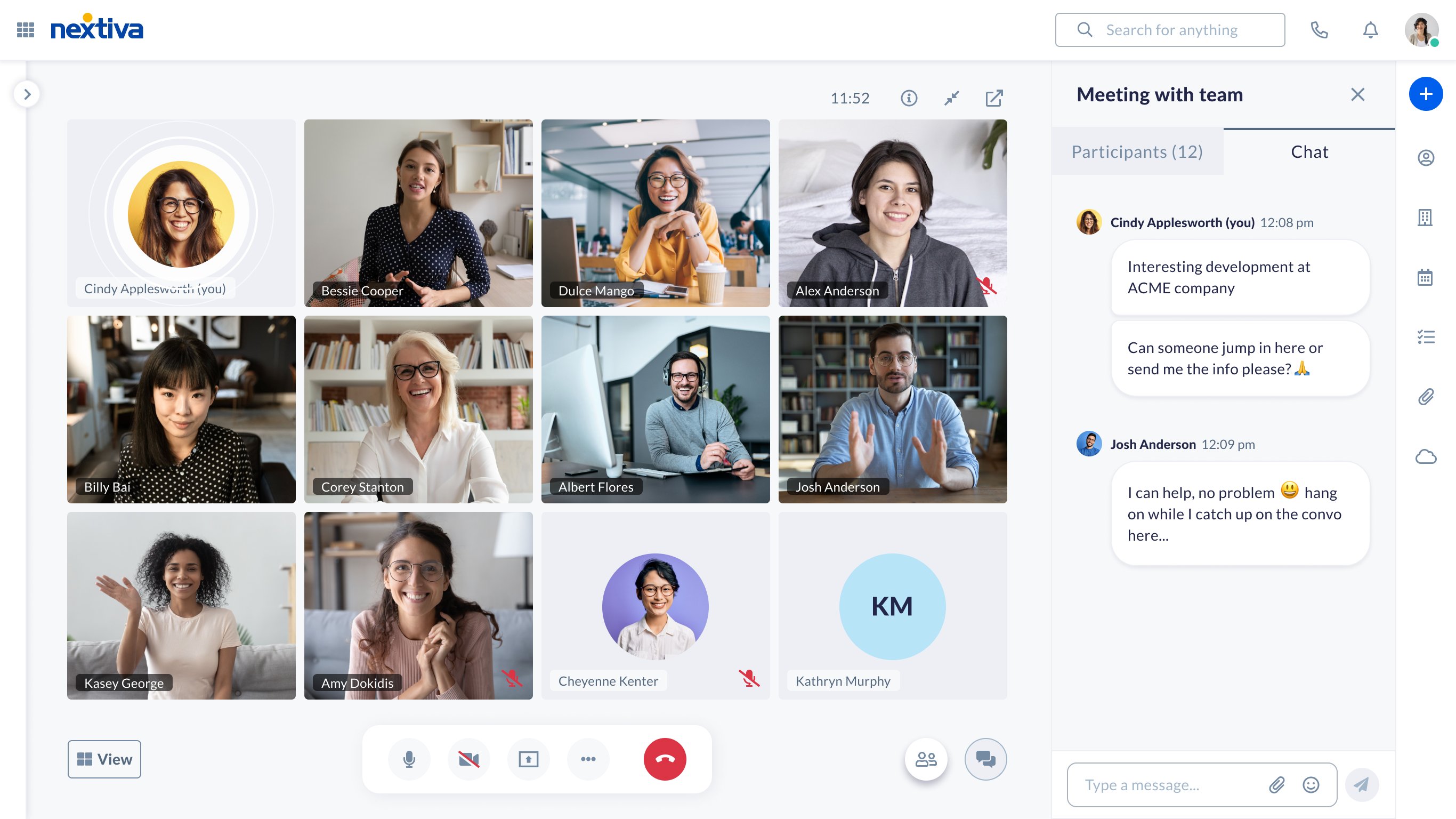 Schedule meetings within the Nextiva app on any device, and synchronize calendars for all users within a network. The Meetings tab displays all of a user's upcoming video meetings for easy management and organization.
Nextiva video supports live streaming and webinars.
Nextiva Video Meeting Features:
File sharing
Video chat
Live streaming and webinars
RingCentral Analytics & Reporting
RingCentral Analytics offers KPIs, visuals, and insights about your virtual communications performance, trends, and quality. View metrics for all departments, users, devices, and channels.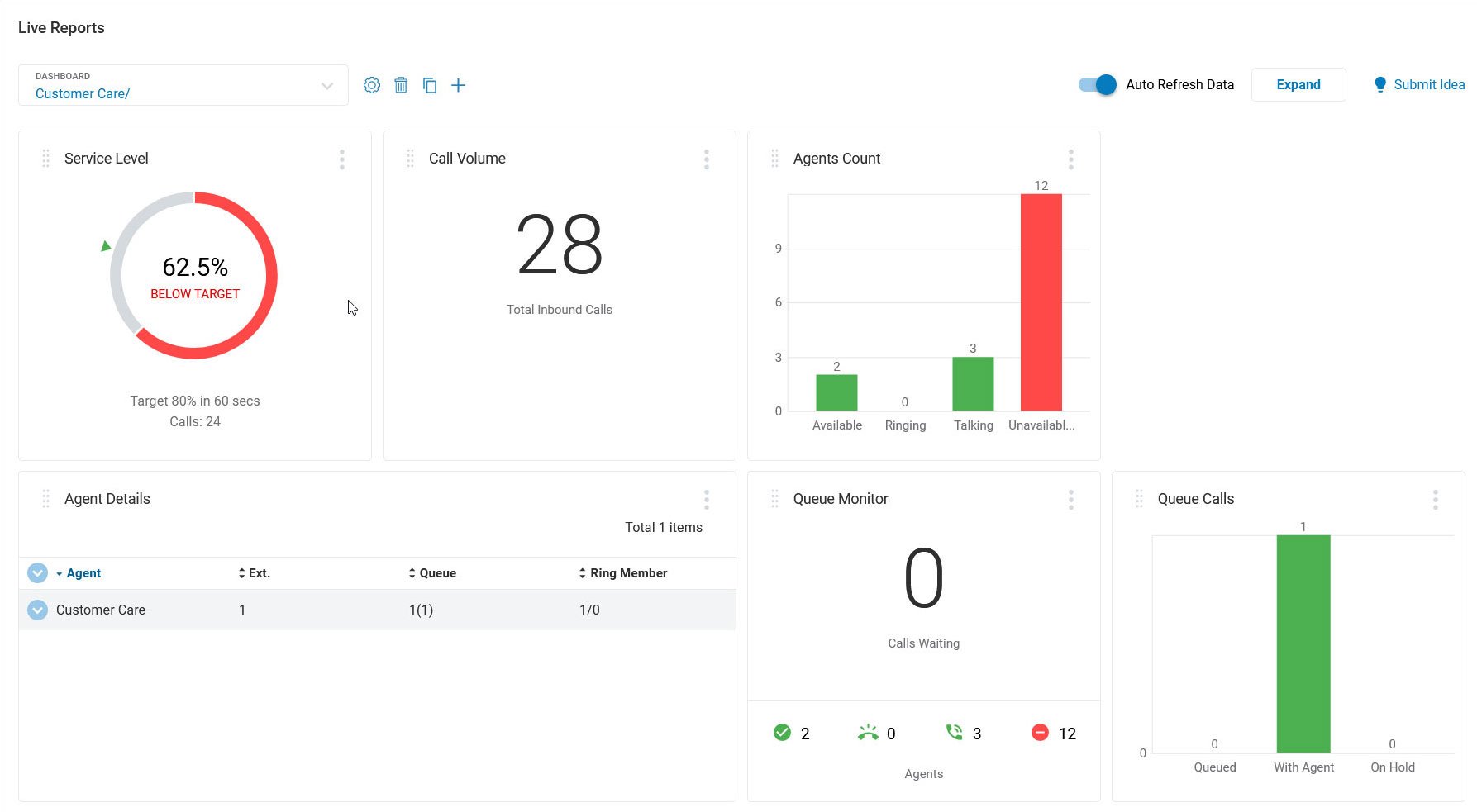 RingCentral Analytics and Reporting Features:
Real-time queue dashboards: Total call volume, inbound vs outbound calls, percentage of calls answered, missed calls, total handle time, average speed of answer, and more. View these KPIs for the whole contact center or individual agents.
Historical reports: View queue statistics over custom timeframes.
Customizable dashboards: Start with a pre-built template or blank dashboard, adding your own KPIs, tables, and trend graphs. Mix in particular users, departments, queues and channels.
Design-your-own graphs: Choose the x and y axis to design custom graphs, which you can overlay to compare metrics over time.
Quality-of-service reports: Real-time view of call quality and MOS score for the whole contact center, or individual devices and extensions.
Nextiva Analytics and Reporting
Nextiva's regular pricing plans include only call history and call logs. However, the solution's Analytics add-on offers robust analytics features for call center monitoring.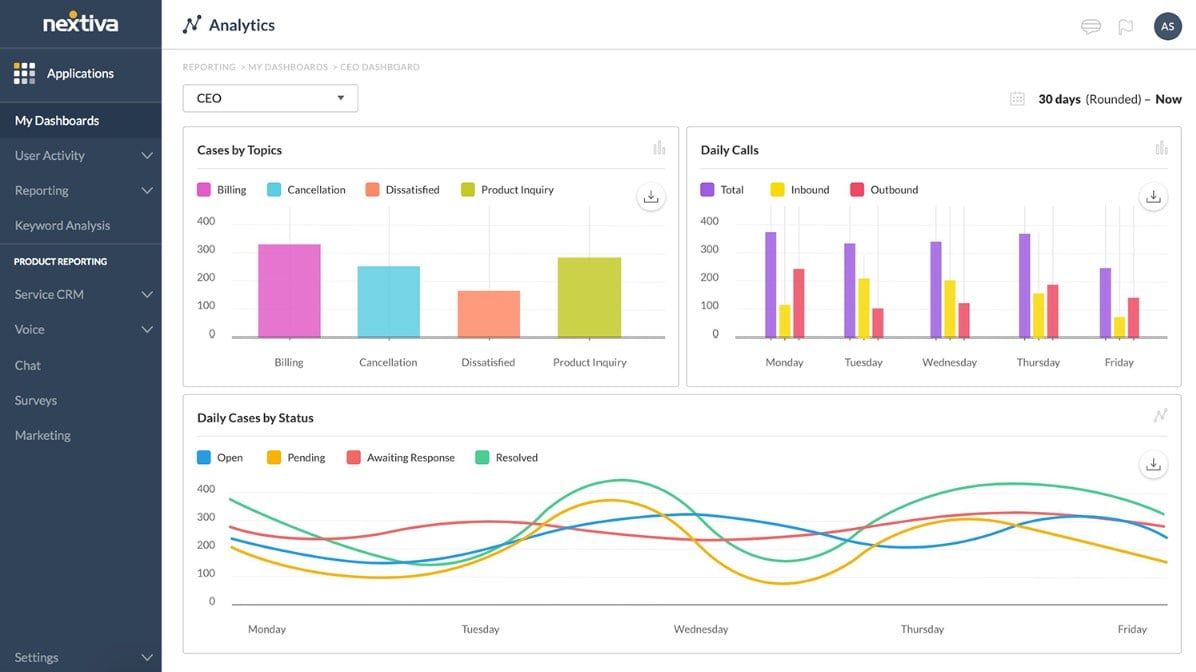 Nextiva's Analytics Add-On Features:
Scheduled reports: Customize reports, choosing which KPIs, users, and channels each report contains, which users receive the report via automated email, and how often.
Live queue performance: Graphs, charts, and trends for key real-time and historical queue metrics. KPIs include total calls, total talk time, missed calls, and more.
Agent performance: View and compare live or historical performance metrics for each agent.
Custom wallboards: Create color-coded wallboards that display live statistics for selected queue KPIs.
Gamification: Leaderboards and competitive statistics to motivate agent performance and provide feedback.
Visuals: View metrics in the form of bar graphs, line graphs, leaderboards, geographical maps, time-based charts, and more.
RingCentral Integrations
RingCentral MVP integrates with over 300 applications, including CRM systems, bots, calendaring apps, productivity apps, industry-specific apps, and more.
RingCentral APIs integrate RingCentral functionality into your own software.
RingCentral integrations include:
Salesforce
Microsoft Teams
Canvas
Zapier
Google Workspace
Nextiva Integrations
Nextiva's business communications platform integrates with 19 popular apps, including:
Salesforce
Zoho
HubSpot
Zendesk
Microsoft Teams
Google Workspace
RingCentral vs Nextiva: Pricing Overview
RingCentral's Essentials plan omits video but includes unlimited US and Canada calls, SMS, and team messaging. It has a 20-user maximum, best for small businesses. The Standard plan removes the user limit and adds video meetings with up to 100 users. The Premium plan expands video meetings to 200 participants, adding APIs and real-time analytics.  The Ultimate plan, best for Enterprise-size companies, offers unlimited storage.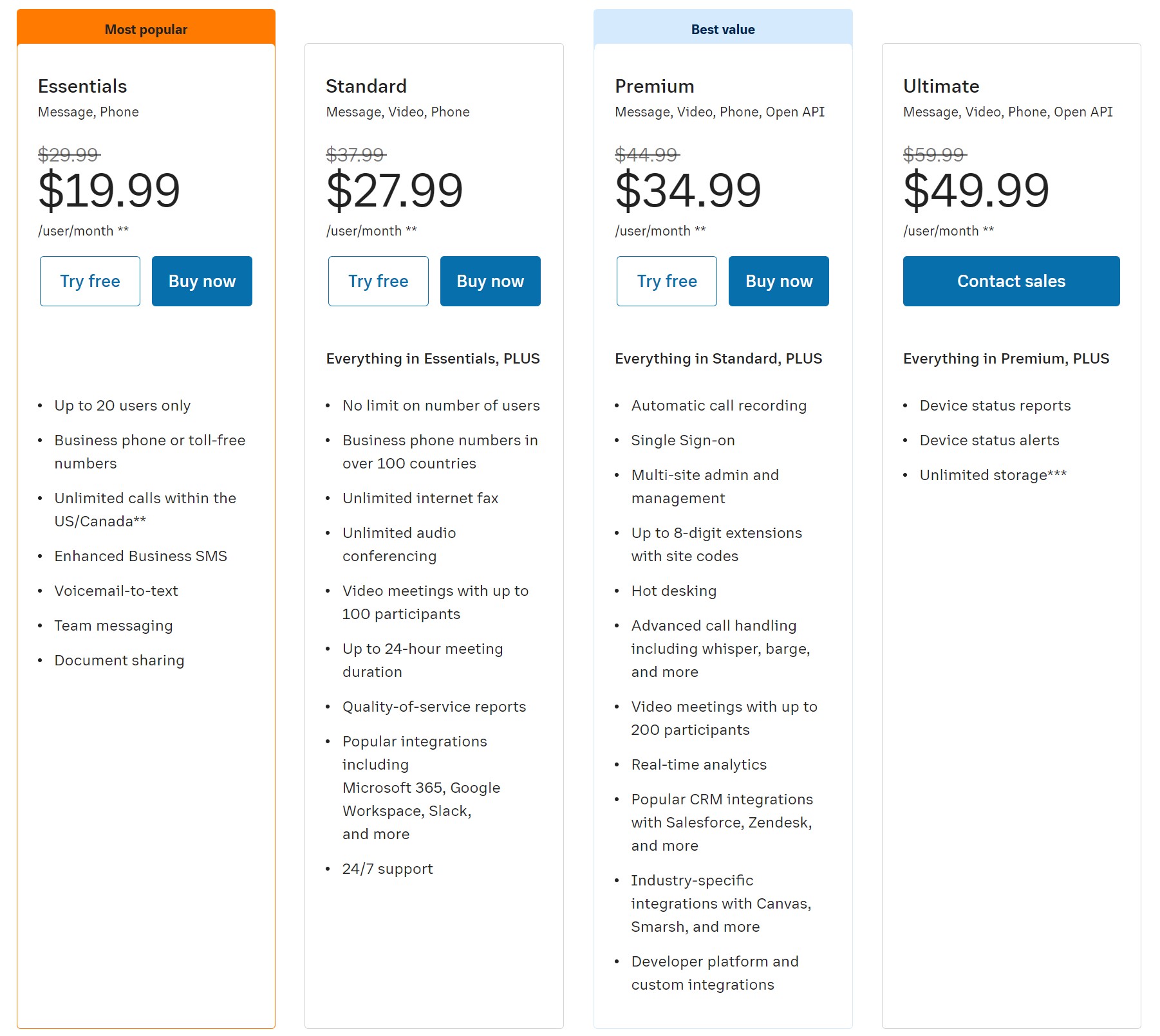 Nextiva's plans each include video, unlimited calling in the US and Canada, and team messaging. The Essential plan omits SMS but has no user limit, with 250-participant video meetings. The Professional plan adds a multi-level auto attendant, SMS, and popular integrations. The Enterprise plan offers call recording and advanced AI features, like live customer-sentiment analysis, call recording, and all integrations.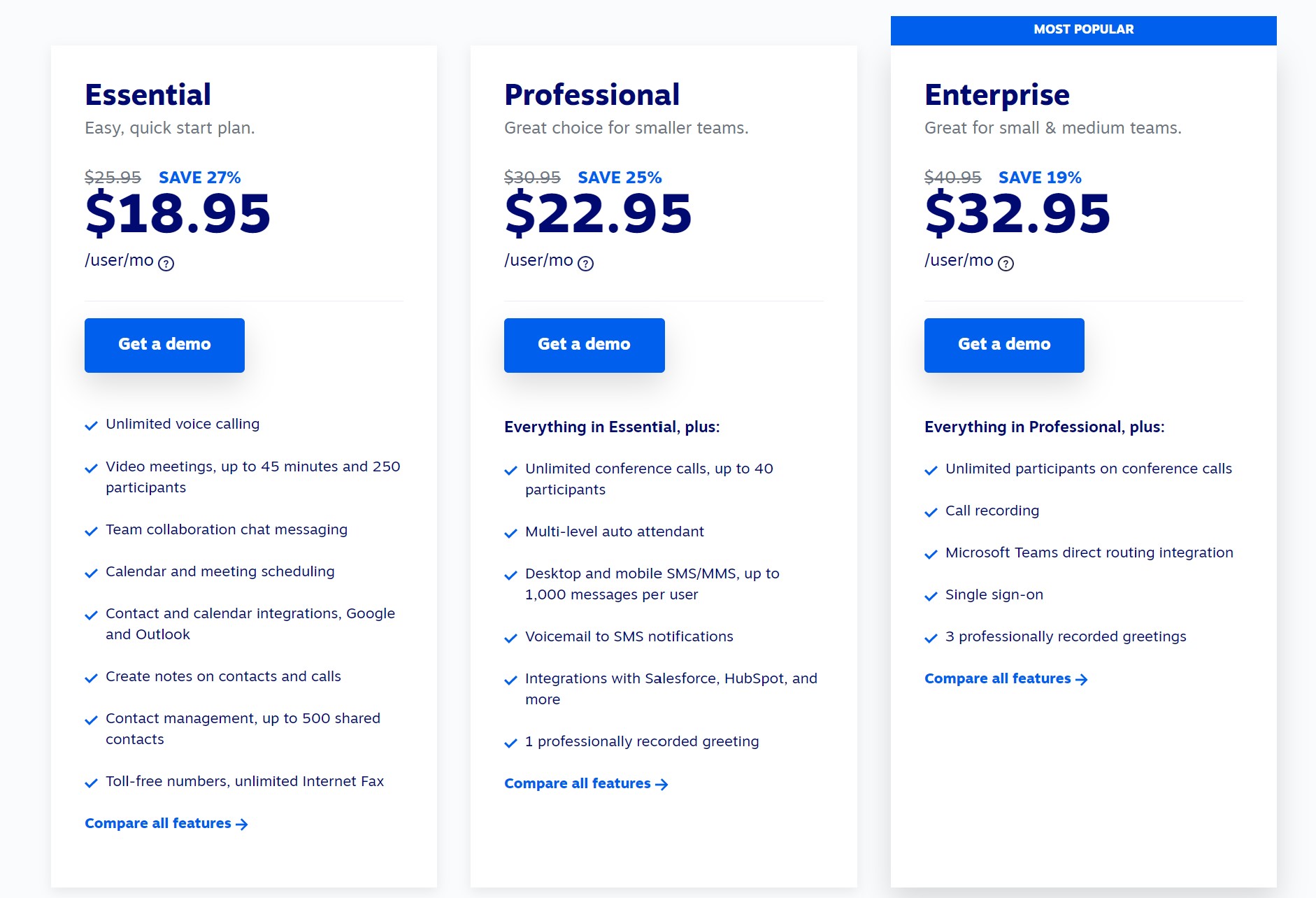 RingCentral Pros & Cons
| | |
| --- | --- |
| RingCentral Pros | RingCentral Cons |
| Unlimited collaborative chat channels | Plans are pricier than most competitors |
| More integrated apps than any competitor | No video in Essentials plan |
| Highly collaborative whiteboards | Sometimes audio lags or echoes |
Nextiva Pros and Cons
| | |
| --- | --- |
| Nextiva Pros | Nextiva Cons |
| One-click escalation to voice and video from any chat | Only 3 group chat rooms open at once |
| Video conferencing has large participant capacity | Limited video collaboration features |
| Drag-and-drop routing options increase ease of use | No opus codec for top-quality HD voice |
Which Phone System Should You Choose?
The best phone system for your company depends on your staff size, the channels and features you want, and your budget.
If you already rely on multiple apps, RingCentral makes a good choice because of its massive integration library. Further, since RingCentral's video meetings offer collaboration tools like breakout rooms and whiteboards, they make a stronger option if your team plans to use video meetings for ideation and brainstorming.
On the other hand, if your company simply wants to add all three critical communication channels–phone, video, and chat–Nextiva covers the basics at an affordable rate. Further, if you plan to host video meetings with large participant sizes, Nextiva makes a great option because even their cheapest plan supports a whopping 250 users.