Grasshopper, owned by LogMeIn, is a popular VoIP business phone service ideal for both in-house and remote teams needing to make a clearer distinction between personal and business phones.
Grasshopper allows newer and smaller businesses to look more professional and provides advanced virtual telephony features that prevent miscommunications, increase first call resolution rates, and help to improve the overall customer experience.
Read on to learn more about available Grasshopper pricing and plans, features, user experience, and more.
Quick links:
Grasshopper Pricing and Plans Overview
Unlike other providers, Grasshopper provides advanced features to meet the business needs of staff consisting of one or 1,000. This is because the Grasshopper pricing structure varies based on how many phone lines and extensions are needed by the organization.
Each Grasshopper Plan includes:
Call Forwarding
Virtual Fax
Custom Greetings
Mobile and Desktop Grasshopper App
Simultaneous Call Handling
Standard Voicemail and Voicemail Transcription
Basic Reporting
| | | | |
| --- | --- | --- | --- |
| Plans | Solo | Partner | Small Business |
| Price billed per month | $29 per month | $49 per month | $89 per month |
| Price billed per year | $26 per month | $44 per month | $80 per month |
| Numbers and Extensions | One number/Three Extensions | Three numbers/Six Extensions | Five numbers/Unlimited Extensions |
How Does Grasshopper Business Phone Work?
Grasshopper is a business VoIP system that provides companies with a virtual phone number, custom greeting, and call answering rules that make it easy to forward calls to other devices.
It allows small businesses to stay competitive without investing in an expensive business phone system or hardware, as Grasshopper hosts all the data and hardware themselves. Plus, Grasshopper's virtual phone system has an easy installation process, so it will only take a few minutes to set up on a desktop computer or mobile device.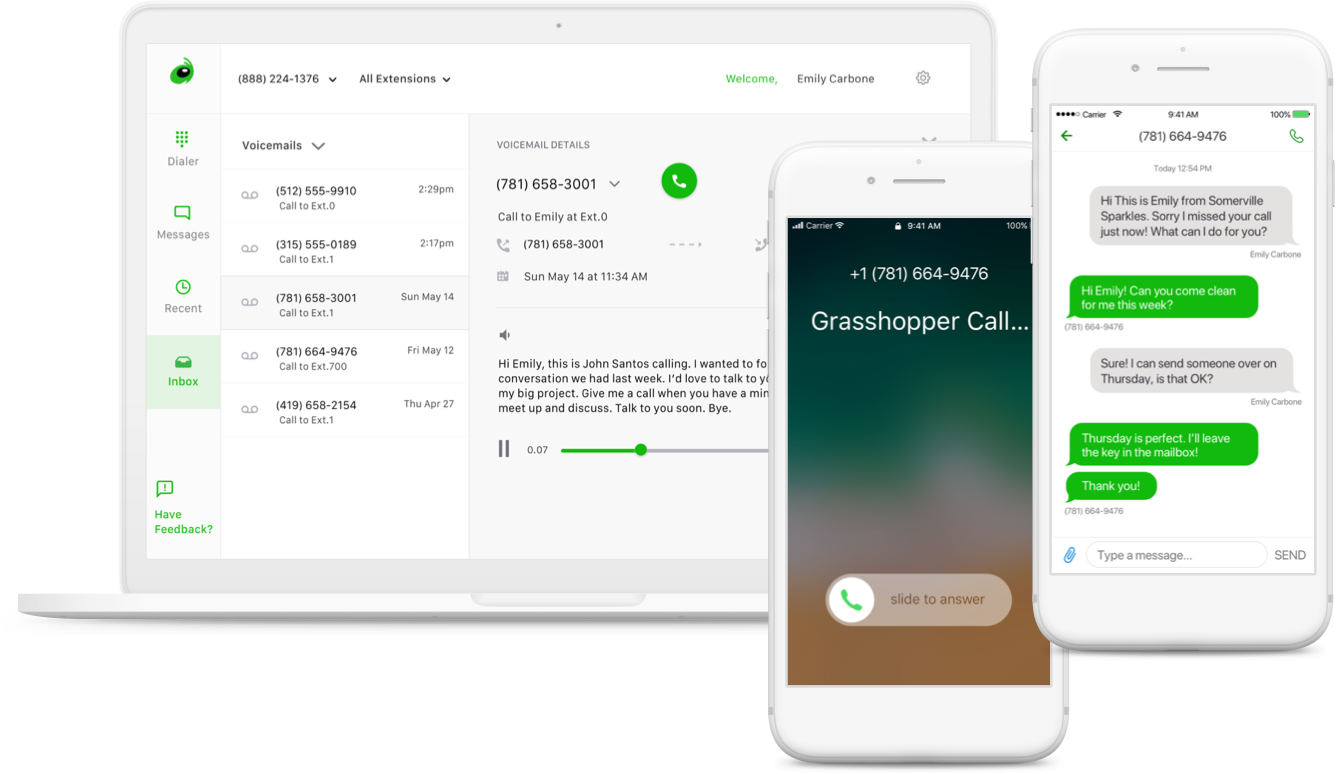 When customers dial a company's business phone number, Grasshopper routes the call to the user's preferred device — whether that's their personal cell phone, tablet, or office desktop computer. Customers don't need to dial additional phone numbers, and they no longer have to give out their personal phone numbers.
Best of all, calls to your Grasshopper phone number are marked as business calls, so users always know if they're getting a business call or a personal one.
Grasshopper is a popular small business RingCentral alternative or Nextiva alternative.
Grasshopper pricing offers four reasonably-priced plans, so entrepreneurs with tight budgets can set up a dedicated avenue of communications with their customers.
Enterprise Cloud-Based Reliability
Grasshopper is entirely cloud-based, so users will only need to connect to an existing internet connection to use it.
This means that organizations have the option of either cellular data or Wi-Fi to reach out and make phone calls.
Grasshopper promises a 99.999% uptime, and a review of the Grasshopper System Status page reveals only minor occasional service outages. Since Grasshopper is based in the cloud, instances of lack of service are rare because there are backup servers in multiple geographic locations (redundancy.) Grasshopper provides dialing without reliance on traditional public switch telephone networks (PSTN), which are copper line-based, allowing for excellent call quality.
Compared to other virtual phone systems, Grasshopper is much more affordable.
Unified Desktop or Mobile Interface
In the past, Grasshopper relied on its Connect app to combine all of its products and communications into a unified interface.
However, as of January 7, 2021, Grasshopper Connect migrated completely to the Grasshopper App, available as both a desktop app and a mobile app for iOS and Android.
The Grasshopper App offers a high level of flexibility, allowing users to access the software from anywhere — or any device — with an Internet connection.
Like its predecessor, the Grasshopper App provides a unified communications interface that lets users send/receive SMS text messages inbound/outbound voice calls.
Here's what the desktop app looks like: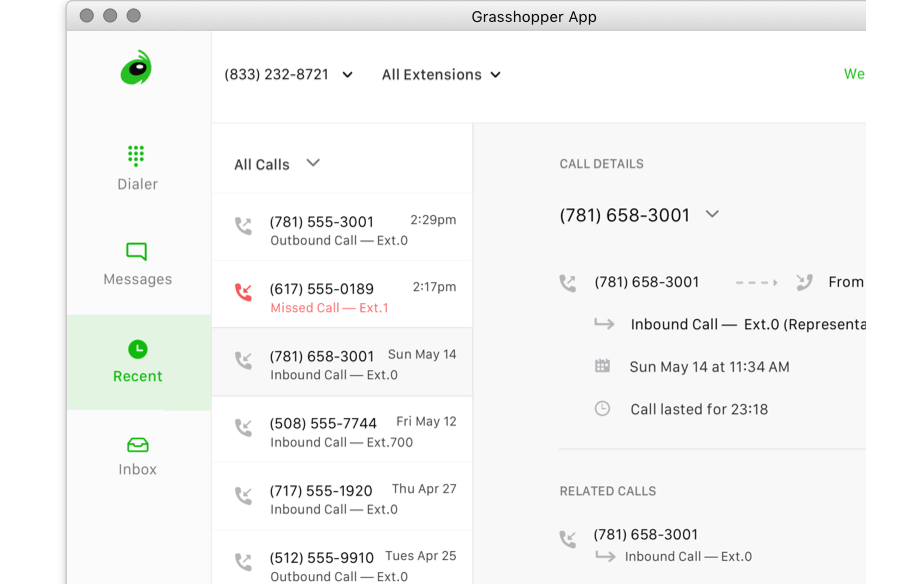 Users can access voicemail transcriptions, send/receive virtual faxes, view call and SMS text messaging history, and see and return missed calls. All data is searchable and categorizable, helping small businesses to stay organized.
The Grasshopper App enables complete separation between business and personal phones, since the app functions independently of the data present on a smartphone.
Here's what the mobile app looks like: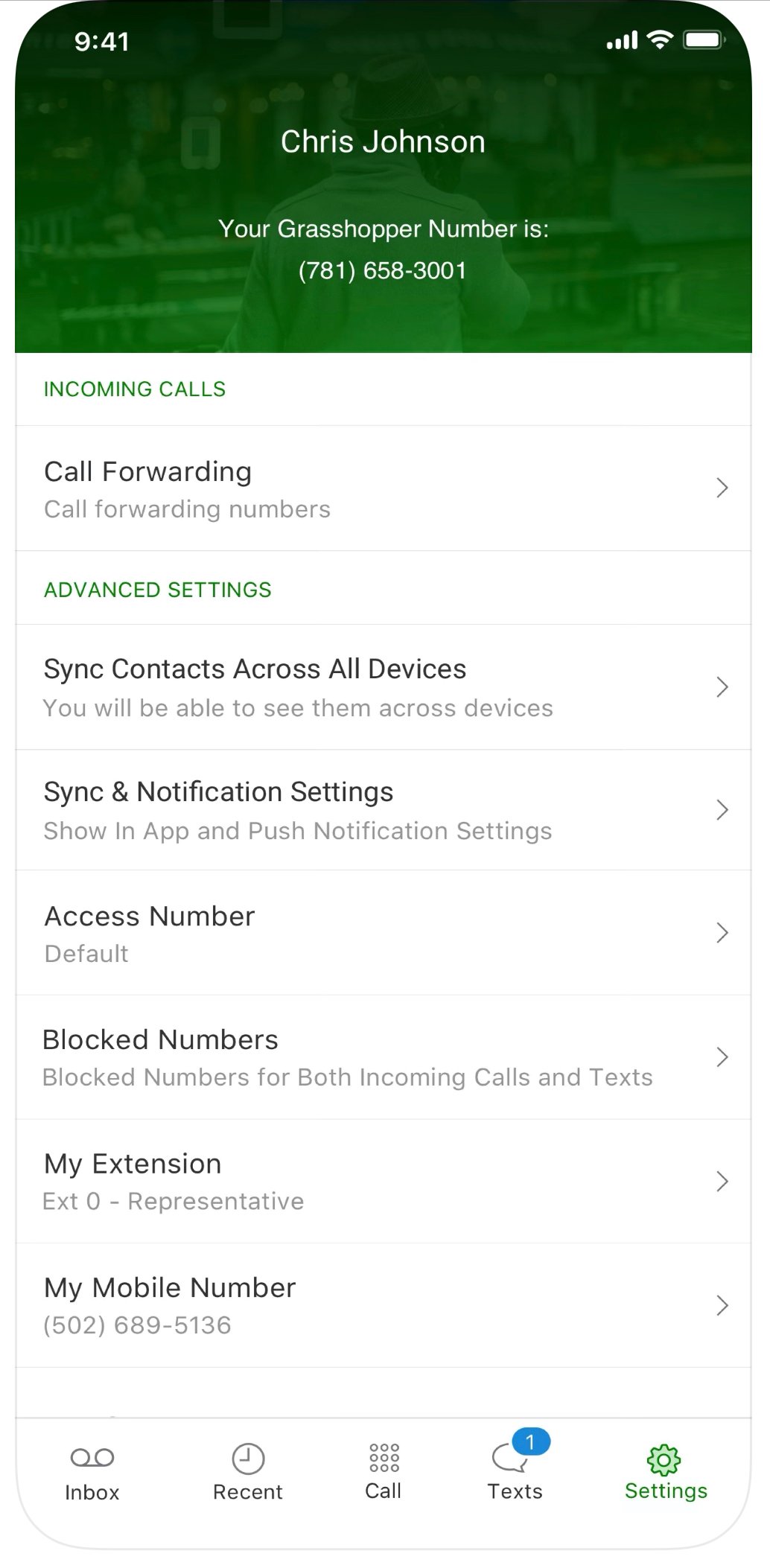 Effectively, there will be two sets of contacts, completely partitioned emails, and a solution that will keep clients and customers neatly organized.
Affordable VoIP for Small Businesses
Grasshopper VoIP is priced so even freelancers or solopreneurs can use the service to project the image of an established business.
For example, the Solo plan, which provides one business phone line and 3 extensions, only costs about $26 per month.
For this fairly negligible price point, users get a bevy of tools like virtual faxing, call forwarding, and incoming call control.
All plans include and desktop app support, so going from the office to the road gives teams unlimited minutes on a business number from anywhere.
Not sure if it's an option for your business?
Grasshopper offers a seven-day free trial. This is pretty brief compared to providers like Dialpad, which provides a 14-day trial, or Ooma, which lets potential users try their software for two months.
What are the Top Grasshopper Business Phone Features?
Below, we'll give a brief overview of the top Grasshopper features.
Basic Calling Features
In addition to unlimited calling in the US and Canada and international calling, Grasshopper also offers excellent voice calling features like:
Calling Card feature shows the Grasshopper phone number, not the user's personal number,  on the recipient's caller ID when making outbound calls via smartphone or landline
Call transfer
Make business calls over Wi-Fi
Hold music
Multi-extension support
Number blocking
Instant response to automatically send an SMS text to new callers when unable to answer their phone call
Anonymous call blocking
Simultaneous call handling
Custom user schedules for receiving calls
Grasshopper's features, which are available on all plans, will help small businesses work on a level that's typically reserved for their larger competitors.
For example, Grasshopper's mobile VoIP app has the same functionality available from the desktop-based application, enabling remote workers to manage clients and make calls from just about anywhere.
Here are a few other features that will be critical for a Grasshopper subscriber.
Custom Phone Numbers
Grasshopper offers vanity, toll-free, or local numbers, so users can build their brands and ensure customers remember their numbers.
Vanity Numbers:  Vanity numbers make businesses more memorable by allowing them to include a word/phrase in their business phone numbers. (1-800-FLOWERS, for example) Vanity letters can be used for any digit after the area code in both toll-free or local numbers.
Toll-Free Numbers: When a business wants to appear to be more established, toll-free numbers can make them seem like a national enterprise rather than a local organization. National presence through a toll-free business number adds legitimacy to brands in the eyes of the customers. Toll-free number prefixes include 800, 888, 877, etc.
Local Numbers: Grasshopper also provides the ability to create local numbers, which give a business a local presence. Some customers prefer to support local businesses, and with a local number, the business doesn't have to be physically present in the geographical location to make and receive calls from a local area code.
Grasshopper also offers number porting for existing numbers. The time frame for a number port will vary based on the previous provider. In many cases, it takes just a week for a full port of an existing number to Grasshopper.
Grasshopper Virtual Receptionist
One of Grasshopper's best features is its virtual receptionist.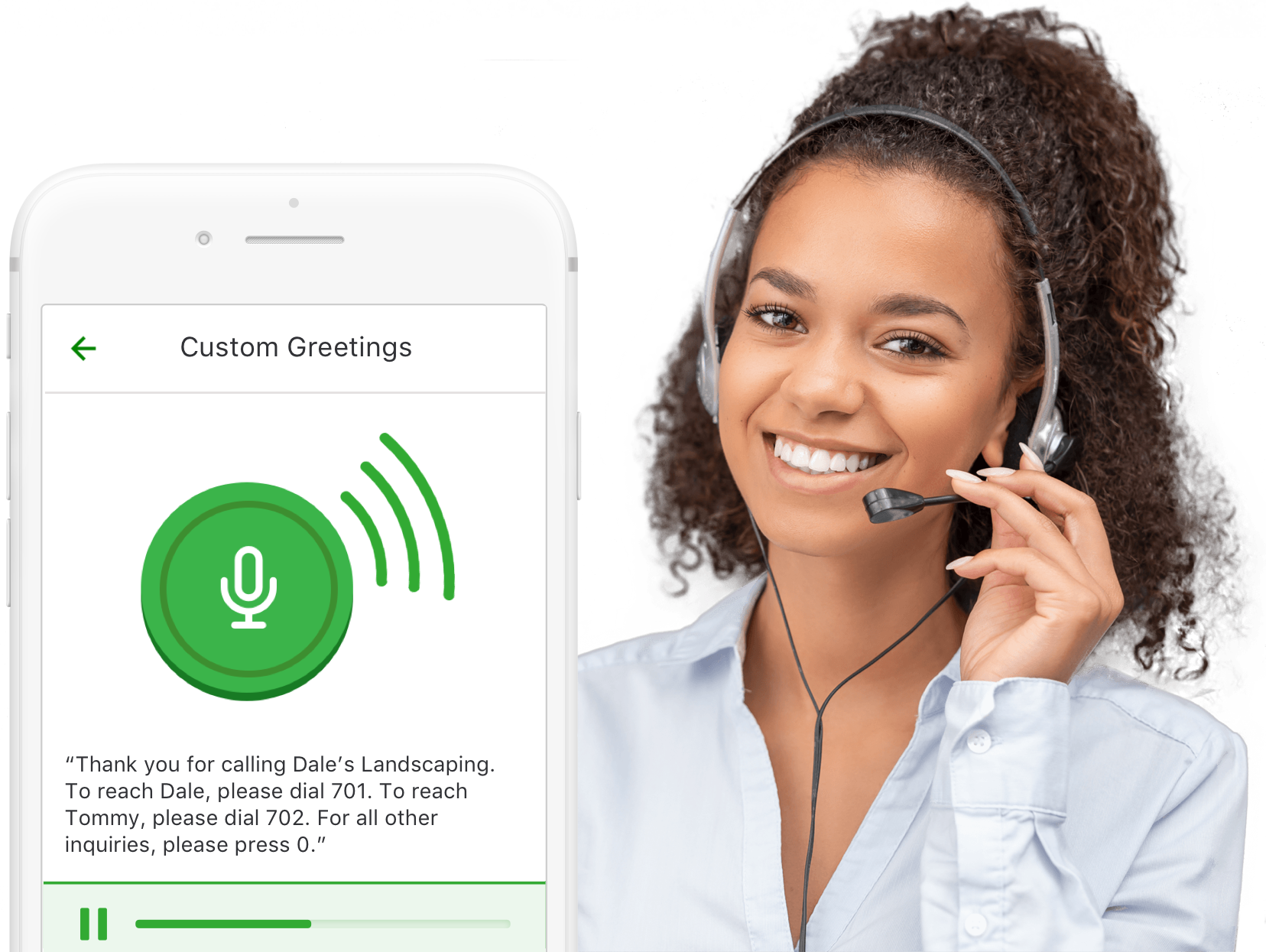 In addition to automated responses, users can benefit from Grasshopper's partnership with Ruby. This means they can link their business phone numbers to a "real person," a live receptionist who can answer basic questions, make and reschedule appointments, and even help with payment issues.
This saves small businesses the cost of having to hire an extra employee or having to lose half of their workday responding to missed calls and voicemails.
Integrations
As of this writing, Grasshopper does not integrate with any third-party software, which is one of the reasons why it's primarily designed for micro-businesses and small businesses with a moderate to small daily contact volume.
However, CRM systems can be connected via APIs.
Business Texting
All Grasshopper plans include business texting.
Colleagues on the same Grasshopper plan can send text messages to each other at no extra charge, and they can also use it as a multichannel outbound and inbound method of communication with customers. The feature also allows users to check their business texts on desktop devices.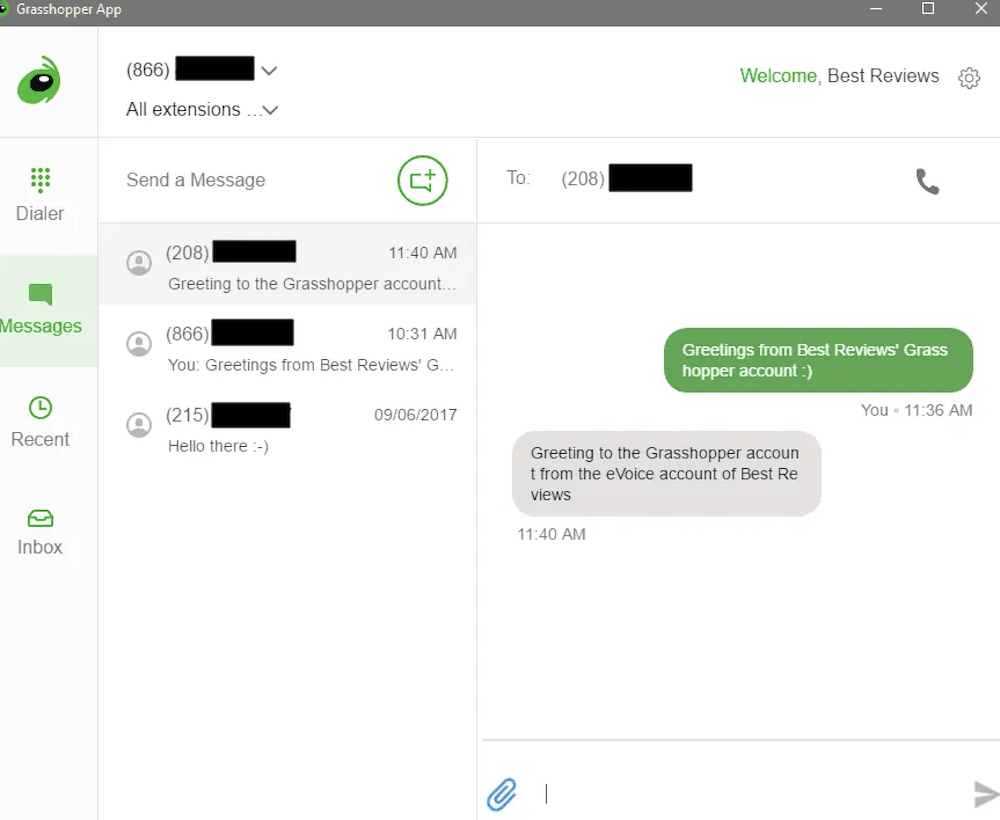 An increasingly high number of people would prefer a text-based form of contact with a brand, and this Grasshopper feature opens up this channel.
Note that the Grasshopper business texting feature is completely independent of the built-in texting apps on smartphones.
Voicemail Transcription
While Grasshopper does not offer call recording, it does have visual voicemail.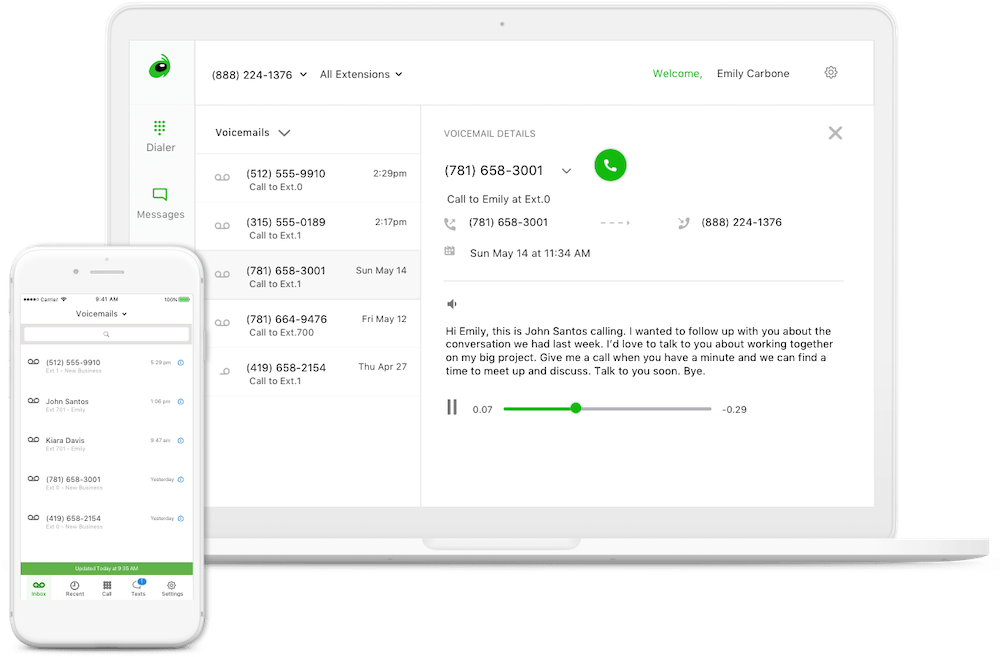 Voicemail transcription uses voice recognition technology to decipher voicemails and send these transcripts to a user's email inbox, text message inbox, or Grasshopper App interface.
This allows users to quickly scan through voicemails and make decisions without having to take the time to listen to them, a time saver for any business owner.
Automated Greetings
Though Grasshopper allows its customers to record their own IVR audio greetings and messages, they also have a  professional voice studio that can provide a more effective and engaging greeting.
An IVR recording through Grasshopper has several potential configurations. One example states, "Thank you for calling <business name>. If you are a current client, please press one. For new inquiries, please press two."
The IVR recordings from the voice studio are crystal-clear and professional-sounding. The auto attendants and automated messaging of Grasshopper help customers perceive a business as having a national presence with a higher level of credibility.
Grasshopper Support
Grasshopper VoIP service has 24/7 phone support and a dedicated support center on their website, along with live chat support.
The site has troubleshooting tips and how-to tutorials that will help most users get set up and resolve minor issues.
When calling in, Grasshopper customer support is very helpful – the support team walks customers through the features of the applications and is very patient with customer queries.
Support is also pretty quick with responses, which is important for businesses that may need help immediately with call quality issues and service needs. The reps will follow up with emails after the call to be sure any issues were resolved appropriately.
Overall Grasshopper Customer Experience
Grasshopper is a business phone service for small companies that need a solid unified communications experience.
It has multiple features that are useful for entrepreneurs, 24/7 support, and a plan structure that allows for scalability and customization. UC isn't just for the large enterprise-level clients, and Grasshopper proves this, while still being part of the GoTo Suite, which includes services like Jive and GoToMeeting.
With simple integration with the rest of the GoTo suite, conferencing calling and web conferencing are a breeze.
Grasshopper still has a few noteworthy weaknesses.
It starts to falter a bit with larger organizations, as even its top-tier plan is designed for five numbers with unlimited extensions. There's also no real contact center support with Grasshopper, which is a feature common to many top-end UC solutions.
The lack of a need for existing hardware is a common rallying point for hosted PBX solutions, but Grasshopper takes this to a new level. There's no provisioning for existing PBX or SIP trunks with Grasshopper, so businesses with these systems won't find much use for a provider like this.
Additionally, any hardware that's used for Grasshopper will have to be pre-existing.  Most businesses will have their agents and salespeople utilize personal smartphones.
If a business wants a complex IVR system that will route their customers to various departments, this business might find Grasshopper somewhat lacking. Grasshopper doesn't allow for complex call routing of more than a few options.
Grasshopper Unified Communications is for SMBs
Though Grasshopper may lack features like CRM integrations and call recording, these weaknesses are minor when taking the intended audience of Grasshopper into account: small businesses, startups, solopreneurs, freelancers, and "side hustles."
As your company grows, you may seek out Grasshopper alternatives, but when first starting out, this is a solution that will help evolve and streamline your organization's communications.
Just like any other cloud phone system, Grasshopper has its pros and cons, but it's worth the due diligence to decide whether it's a great fit for your business. Grasshopper is one of the top business VoIP providers, and a solution like this will make a difference when you're trying to broaden the professionalism and reach of your small business.
Grasshopper FAQs
Below, we've answered some of the most common Grasshopper FAQs.
Grasshopper offers several add-on features which are not included in standard plans.
They include: 
Call Blasting
Voice Studio
Ruby Receptionist 
Additional Numbers and Extensions
Grasshopper offers a 7-day free trial.

Given that Grasshopper's setup process is so simple, you may find you don't need much onboarding support. That said, users needing assistance can dial the 24/7 support line or access Grasshopper's video onboarding tutorials. Note that paid onboarding support and training are not available.