Call recording in call centers provides managers with insight into customer service quality, common support issues, and gaps in agent training materials.
While it offers legal protection, call center call recording also comes with its own set of laws and regulations.
The right call center software comes with advanced features and benefits that improve the customer experience and optimize–while ensuring you and your team remain compliant.
Here, we outline all details you need to know about call recording in call centers, as well as top call recording providers, their key capabilities, and more.
Compare call center software
from top providers
Jump to ↓
What is Call Recording in a Call Center?
Call center call recording is the process of recording some or all of the inbound calls, outbound calls, and internal phone calls within your business.
Most VoIP call recording software also includes recording transcription services, which automatically create a written transcript of each call recording.
There are two main types of call recording: on-demand and automatic.
On-demand call recording lets agents/managers manually turn on the recording option prior to the start of each individual phone call.
On-demand recording is ideal for:
Customer privacy
Businesses working with sensitive information
Conducting random performance reviews
Teams that want to record specific calls only
An automatic call recording system automatically records all inbound and outbound business phone calls, eliminating manual call recording.
Automatic call recording is ideal for:
Training purposes and monitoring new call center agents
Ensuring heavy-regulated industries remain compliant (finance, government, etc.)
Small businesses and startups with a lower call volume
Teams wanting the most accurate AI insights/analytics
Both automatic and on-demand call center recording will play a brief tone or announcement at the start of each call to inform all parties the call is being recorded.
Admins can also create custom call recording rules according to: 
Department
Customer name or Caller ID
Individual agent
Performance metrics
Business hours or time of day
Any other preference
Benefits of Recording Calls in Call Centers
The top benefits of call recording software include:
Improved Call Scripts and Training Materials 
Call center call recordings are an ideal way to evaluate the current quality of both call scripts and employee training materials.
If you notice several agents struggle with the same customer questions or support topics, your current training processes are likely insufficient.
On the other hand, call recordings provide an excellent opportunity to create "playlists" of successful customer interactions to make training materials and serve as examples to other agents.
The same goes for refining scripts, internal knowledge base materials, and even auto-attendant options.
Review customer interactions with pre-recorded prompts to identify points of confusion and frustration, then revise them to ensure a more efficient process in the future.
Dispute Resolution and Legal Protection
Having a recorded (and, if transcribed, written) record of customer-agent telephone conversations is an essential part of the dispute resolution process–especially if the issue has escalated to a lawsuit.
Call recordings also help businesses protect customers from identity theft and fraudulent purchases.
Even if the problem is a more minor miscommunication between a customer and an agent, call recordings ensure you can verify what was and was not said on a call.
Some industries, like the financial, telemarketing, and retail sectors, require call recording and storage as a part of their compliance process.
Agent Performance Evaluation
If you're training new hires, conducting quality assurance, or trying to understand recent changes in essential metrics, call recordings are an excellent form of agent performance evaluation.
Managers can use call recordings to gauge an agent's:
Understanding of the product, services, and provided training materials
Communication skills and other soft skills like listening, empathy, etc.
Ability to implement previous feedback
Strengths, weaknesses, and overall skill set
Overall care and enthusiasm for the job
Current workload (preventing burnout and ensuring agents have equal opportunities)
Access to AI-Powered Insights
In addition to standard call center metrics and KPIs, AI-powered call and contact center management software uses call recordings and transcriptions to provide high-level insight into all business phone communication and agent activity.
For example, AI call analytics use speech recognition and machine learning to create word clouds of common customer and agent keywords and topics, allowing managers to identify common issues and popular products.
These tools can also create automatic call summaries, evaluate CSAT scores and customer survey results, and even conduct caller disposition and sentiment analysis.
If real-time transcription is enabled, some AI platforms can immediately notify managers of high-priority issues, allowing them to coach the agent through a difficult interaction or take over the call themselves.
A Better Customer Experience
Call recording improves the overall customer experience by:
Offering detailed insights into customer pain points, interests, preferred products/services, ideas for improvement, demographics, and more
Allowing managers to optimize agent training materials and the customer service process as a whole, increasing first call resolution and customer satisfaction
Optimizing pre-recorded IVR menus
Understanding which agents are best suited to provide high-level customer service and support, as well as identifying the ideal department/product for each agent to specialize in
Identifying common customer journey roadblocks
The Legal Side of Call Recording
Call recording laws can feel intimidating, confusing, and overly complicated.
The best rule of thumb to ensure a legal call recording process is to always inform everyone on the call that they are being recorded, then give them the time to ask questions or end the call if desired.
Recording laws vary by state, depending on if there is a one-party consent or two-party consent law in place.
One-party consent states require that only one person on the call is aware of and consents to the call recording–even if that person is the agent making and recording the call. One-party consent states include New York, Maine, Colorado,  Tennessee, and North Carolina.
Two-party consent states require that both parties (or all parties if over two participants) are aware that the call is being recorded, and that all have given their consent to be recorded. Two-party consent states include California, Florida, Illinois, and Maryland.
Though our Ultimate Guide to Call Recording Laws offers more detailed insight into the legalities of call recording, general FCC regulations and best practices for recording business phone calls include:
Always obtain all-party consent for all call recordings to avoid violating both federal and international recording laws
Play a greeting or sound before beginning each call to notify all parties you are recording
Ensure your business can prove appropriate storage and security measures regarding stored call recordings and transcriptions
Conduct frequent risk analysis and security audits
Follow industry-specific retention period regulations
Invest in high-quality microphones and equipment to ensure clear recordings
Understand that you are not legally required to provide customers with a copy of a call recording/transcripted when requested, unless you have been subpoenaed
Penalties for violating United States call recording laws and/or the Federal Wiretap Act can include:
Loss of business license
Felony or misdemeanor charges/conviction
Lawsuits
Civil penalties up to three times the amount of damage done or $5000/violation
Up to five years in prison
A maximum fine of $250,000
How to Choose Call Recording Software
In addition to offering both on-demand and automatic recording, quality call center call recording solutions should include:
Call Recording Storage: Local and cloud-based recording and transcript storage, add-on storage space, recording storage dashboard with ability to search, download, delete, share/export, add comments to, tag, and categorize recordings
Pause-Resume Recording: Ability to pause call recordings in real-time to protect sensitive customer information/conversation details, then resume recording
Recording Retention Policies: The amount of time provider stores a call recording before automatically deleting it, users should have the ability to set custom retention policies
Audio, Video, and Screen Recording: Ability to record and transcribe voice calls and video meetings with screen recordings, automatically sends recordings to all meeting or call attendees post-session, set recording access control
Call Transcription: Automated real-time and/or post-call recording transcription, ability to distinguish between speakers, edit/download/share call transcripts, translation services
AI Analytics: Natural Language Processing (NLP), automated word clouds, SLA notifications, sentiment analysis, customer disposition, performance monitoring,
Security and Compliance Standards: FedRAMP, HIPAA, HITECH, FINRA, GDPR, PCI (credit card protection), password-protected recordings, end-to-end encryption, 24/7 network monitoring, access control
Custom Playlists: Admins create custom playlists of selected call recordings to illustrate successful customer calls, common mistakes, highlight miscommunications, create new training materials, etc.
Post-Call Summaries: AI-powered feature that automatically identifies action items, keywords, speakers, etc. to create a shareable post-call summary, eliminates need to listen to entire recordings
Available Integrations: Ability to integrate with existing third-party business tools or build Custom APIs
Customer Support: Available customer support channels, hours, add-on priority support, etc.
Top Call Recording Software for Call Centers
Below, we've outlined the top call recording software providers, their pricing and plans, standout features, and ideal user base.
Talkdesk
Talkdesk is an omnichannel CCaaS (Contact Center as a Service) provider focused on AI-powered customer self-service, automation, and workforce optimization.
Talkdesk offers incoming call and outbound calling on-demand, custom, and automatic call recording alongside pause-resume recording.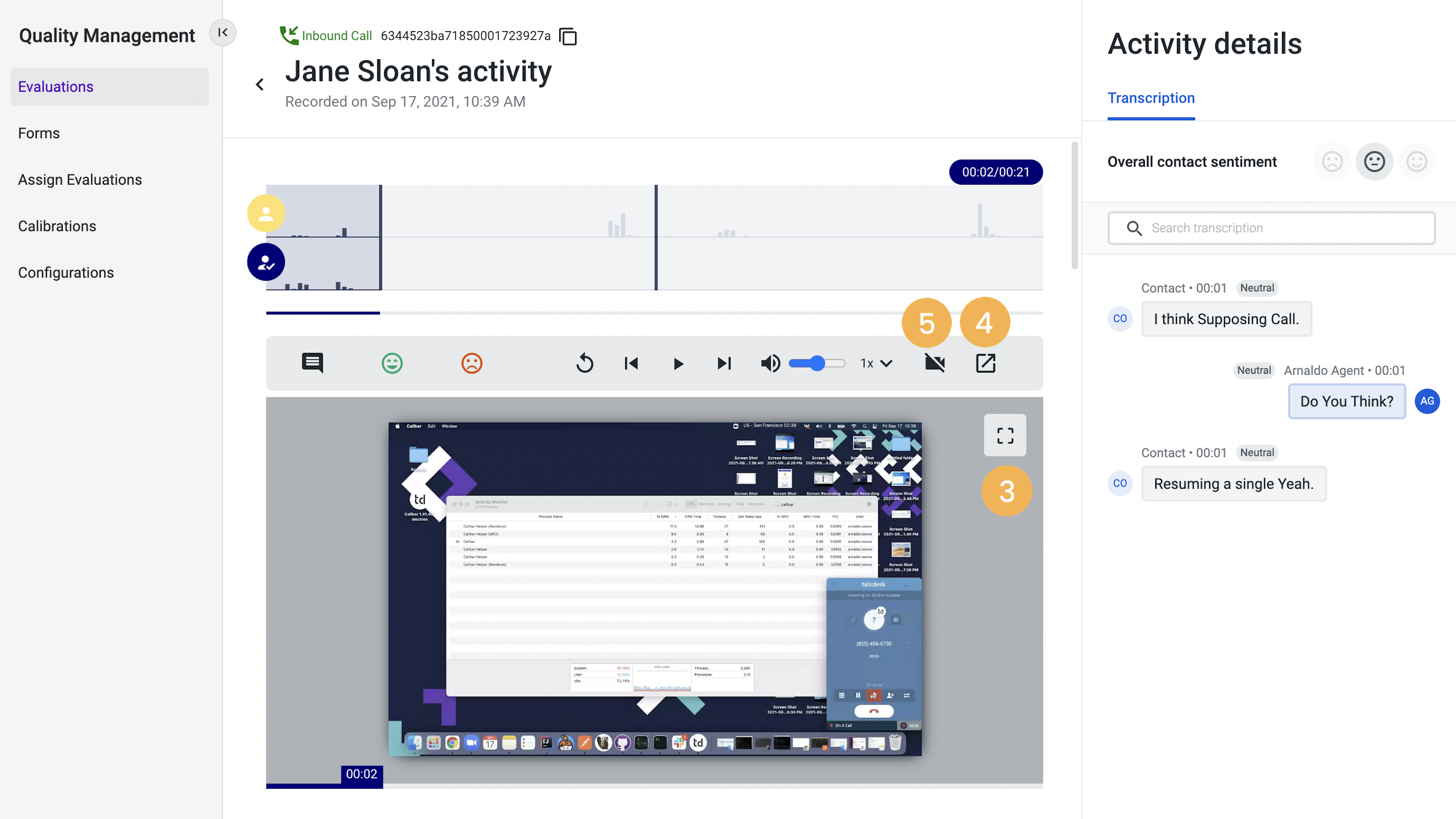 Talkdesk claims its AI-powered recording services provide some of the most accurate transcriptions in the industry thanks to machine learning and 4 billion prior minutes of voice and digital transcription.
Users have access to real-time call transcription for 1:1 and conference phone calls, agent screen recording, video recording and transcription, and voicemail transcription.
Transcriptions are automatically shown on agent screens during live calls to decrease miscommunications.
Standout Recording Features
Screen Recording: Live, in-interaction of agent desktop activity across channels, automatic mouse/movement detection, managers can provide feedback/comments on screen and call recordings
Dual Channel Recording: Creates two separate audio channels (one for agent, one for customer) in call recordings so managers can isolate speakers by separate tracks, ideal for QA and playlist creation
Customer Experience and Interaction Analytics: Omnichannel keyword search and sensors, customer intent and sentiment analysis, Utterance Audio player automatically detects key conversation moments, in-call coaching, live customer feedback analysis
Pricing
Talkdesk offers 4 plans from $75-$125+/user/month. A free interactive demo is available on their website.
Talkdesk pricing plans are outlined below:
CX Cloud Essentials ($75/user/month): Voice Engagement with unlimited call recording storage, Integrations/APIs, Automation and Workspace Designer, Agent Assist, CX Analytics, and Guardian Starter Versions, IVR Talkdesk Studio, Virtual Agent, AI Trainer, Knowledge Management
CX Cloud Elevate ($95/user/month): Includes Digital Engagement chat, email, SMS, and phone channels, Quality Management, Customer Feedback, automated notifications, Talkdesk Conversations mobile app
CX Cloud Elite ($125/user/month): 90+ custom live reporting metrics, Talkdesk Guardian, Performance Management tools with personalized agent coaching and data visualizations plus your choice of 1 of the 4 add-ons: Agent Assist, Workforce Management, Customer Experience Analytics, and Proactive Outbound Engagement
Experience Clouds (Quote-Based): Custom packages for Financial Services for Banking and Insurance, Retail, and and Healthcare
Best For
Talkdesk is best for:
Enterprise call and contact centers heavily reliant on customer self-service
Businesses reliant on high-level omnichannel analytics to provide real-time agent performance alerts and historical workforce optimization insights
Teams with 10 or more third-party tools requiring CCaaS solutions with out-of-the-box integrations and APIs
NICE CXone
NICE CXone is an omnichannel cloud contact center leveraging the power of AI to offer high-level customer self-service, workforce optimization, and advanced analytics with insights to optimize the customer journey.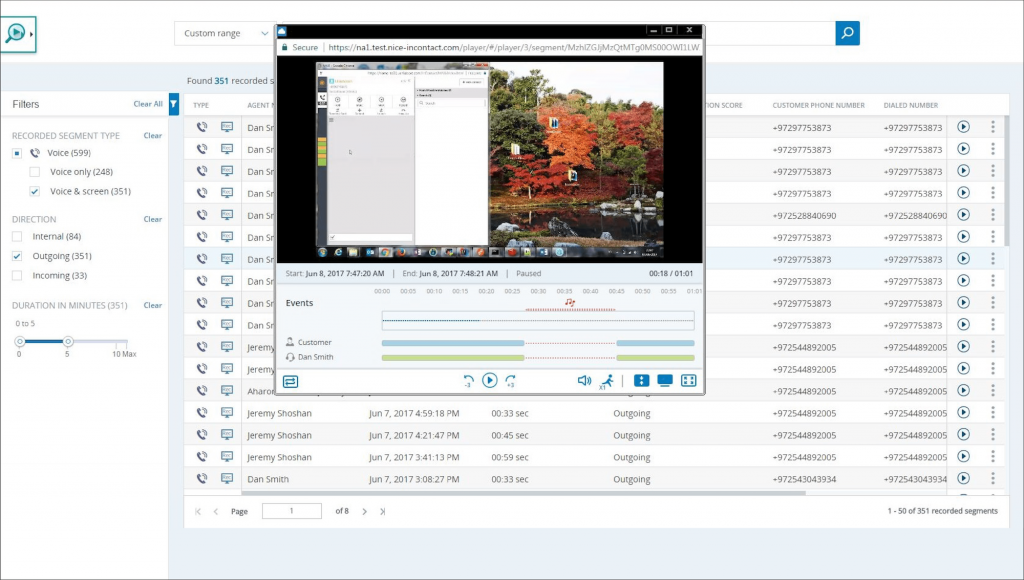 NICE CXone offers some of the top call recording features in the CCaaS space, including omnichannel voice, interaction, and agent screen recording, custom recording rules, and user permissions to protect customer privacy.
It offers automatic and on-demand recording, as well as pause-resume recording capabilities.
Standout Recording Features
Omnichannel Recording: Encrypted audio and screen recording by stereo and mono, dual channel recording, recording screen masking, automatic Recording Activity Reports allow admins to view which interactions have been recorded and view recordings by skill, team, reason, or alerts
Advanced Recording Management: Bring Your Own storage, recording lifecycle management, search, annotate, add sticky notes to, tag, and filter recordings, create recording playlists, export/share recordings, agents can review own recordings with attached evaluations
Enlighten AI: Measures 100% of customer interactions in real-time, offering predictive analytics, instant access to live coaching and feedback, soft skill scoring, complaint management
Pricing
NICE CXone offers a 60-day free trial and has 4 highly scalable, quote-based plans outlined below:
Customer Engagement Package (Digital, Voice, or Omnichannel, all quote-based):

Digital-Only Version: Digital business communication channels only, ACD digital agent, 90+ reporting templates, unified agent desktop, no audio or screen recording
Voice-Only Version: Voice communication channels only, ACD voice agent, self-service IVR, 90+ reporting templates, unified agent desktop, 5GB storage, standard audio recording
Omnichannel Version: All Voice+Digital channels/features plus advanced audio recording

Essentials Plan (Omnichannel, quote-based): All Voice+Digital channels/features plus screen recording and quality management
Core Plan (Omnichannel, quote-based): All Voice+Digital channels/features plus screen recording, quality management, and workforce management
Complete Plan (Omnichannel, quote-based): All Voice+Digital channels/features plus Customer Interaction and Feedback Analytics, Performance Management reporting
Best For
NICE CXone is best for:
Large/enterprise-level teams needing a complete omnichannel contact center solution, not just a business phone system with UCaaS capabilities
Businesses wanting to leverage insights from AI conversation analytics, call recordings, and omnichannel communication transcripts to create a more efficient workflow management strategy
Companies requiring call recording compliance with specific industry standards like HIPAA, GDPR, and PCI
Dialpad
Dialpad Business Communications is a cloud-based voice, meeting, and messaging platform with advanced call recording and transcription services.
It is best known for its AI-powered analytics, which include automated post-call summaries, real-time call transcription, and live predictive CSAT scores.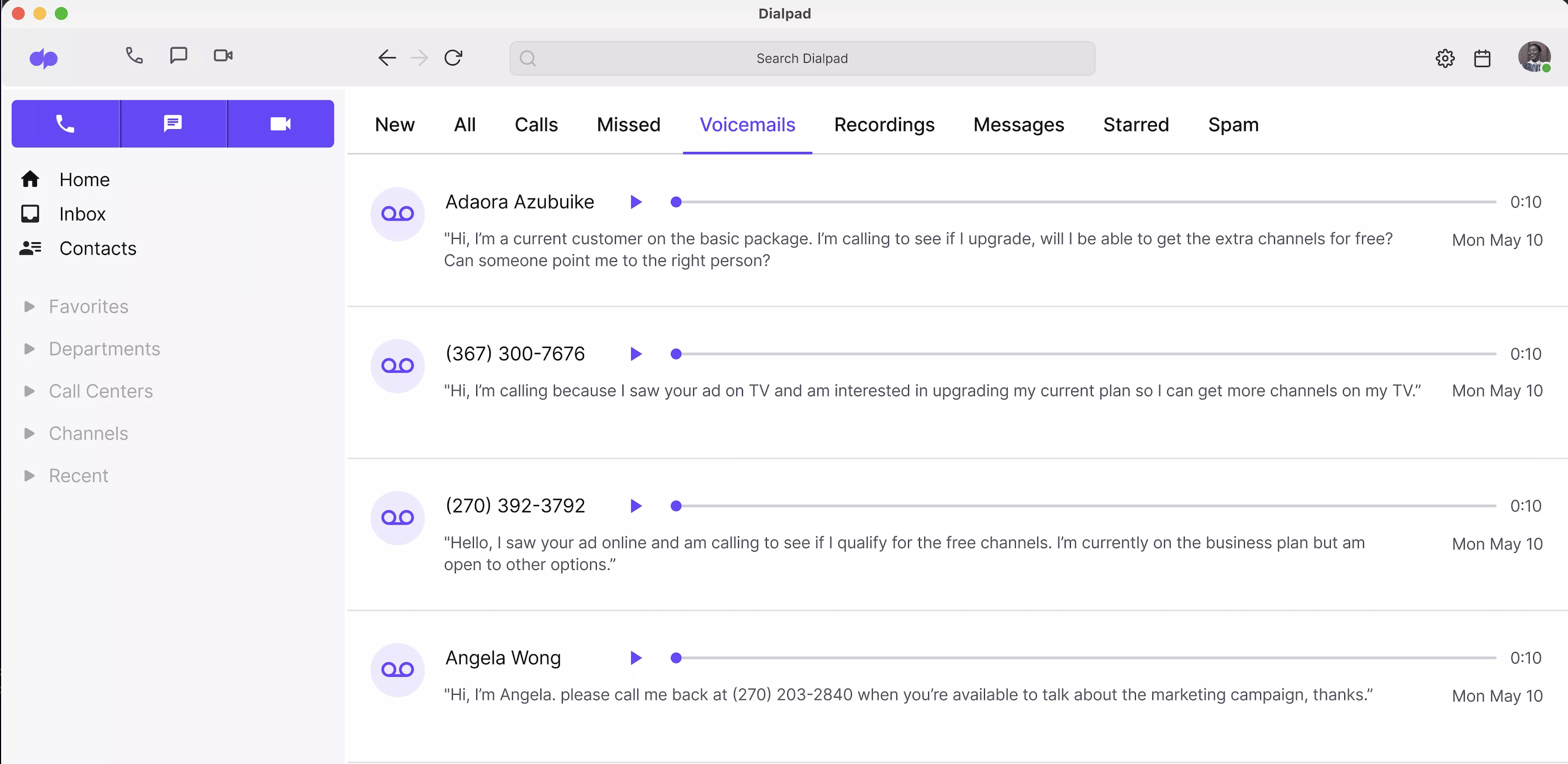 All Dialpad plans include 1:1 and conference call automatic, one-click on-demand, and pause-resume recording as well as custom recording rules.
Standout Call Recording Features
Dialpad Inbox: Call recordings and transcriptions visible as MP3 files in call log dashboard, calls labeled/searchable by caller's name/call duration, create objection-handling playlists, add custom call recording greetings
Conversation Analytics: Real-time transcription, sentiment analysis, call monitoring and coaching, automated agent support pop–ups with keyword triggers, Custom Moments post-call analytics for long-term keyword/phrase tracking,
Recording with Dialpad Ai Meetings: Audio, video, and shared screen recordings, automatic recording alerts to meeting participants, download, review, and share meeting recordings, review real-time meeting transcripts and post-meeting summaries
Pricing
Dialpad Business Communications offers 3 paid plans from $15-$25+/user/month. A 14-day free trial is available.
In addition to the Business Communications solution, Dialpad also offers add-on Ai Meetings capabilities for $15/user/month, quote-based Ai Contact Center software, and a quote-based Ai Sales Center solution.
Dialpad Business Communications plans are outlined below:
Standard Plan ($15/user/month): Includes unlimited HD voice calling, call recording, visual voicemail, live call transcriptions, automated post-call summaries, live speech coaching, real-time analytics, team chat and file sharing, SMS/MMS, video meetings for up to 10 users with unlimited audio recordings (video and screen activity recording requires a paid Ai Meetings account), Google Workspace integration, 24/5 web and chat support
Pro Plan ($25/user/month): Includes up to 25 ring groups, call hold queues, International SMS, 24/7 phone/chat/web support, high-level integrations with Slack, Salesforce, Microsoft Teams, Zapier, Zendesk, HubSpot, etc.
Enterprise Plan (Quote-based): Includes extensions, unlimited ring groups, SSO, priority support routing and dedicated support number, Service Level Agreement (SLA)
Best For
Dialpad is best for businesses looking for:
A highly scalable business phone system
Advanced AI and automation features offering insight into customer/agent behavior
The ability to monitor/coach/take over calls in real-time
RingCentral
RingCentral is a UCaaS and business communications platform with automatic, on-demand, and pause-resume call recording functionality on desktop and mobile devices within the RingCentral App.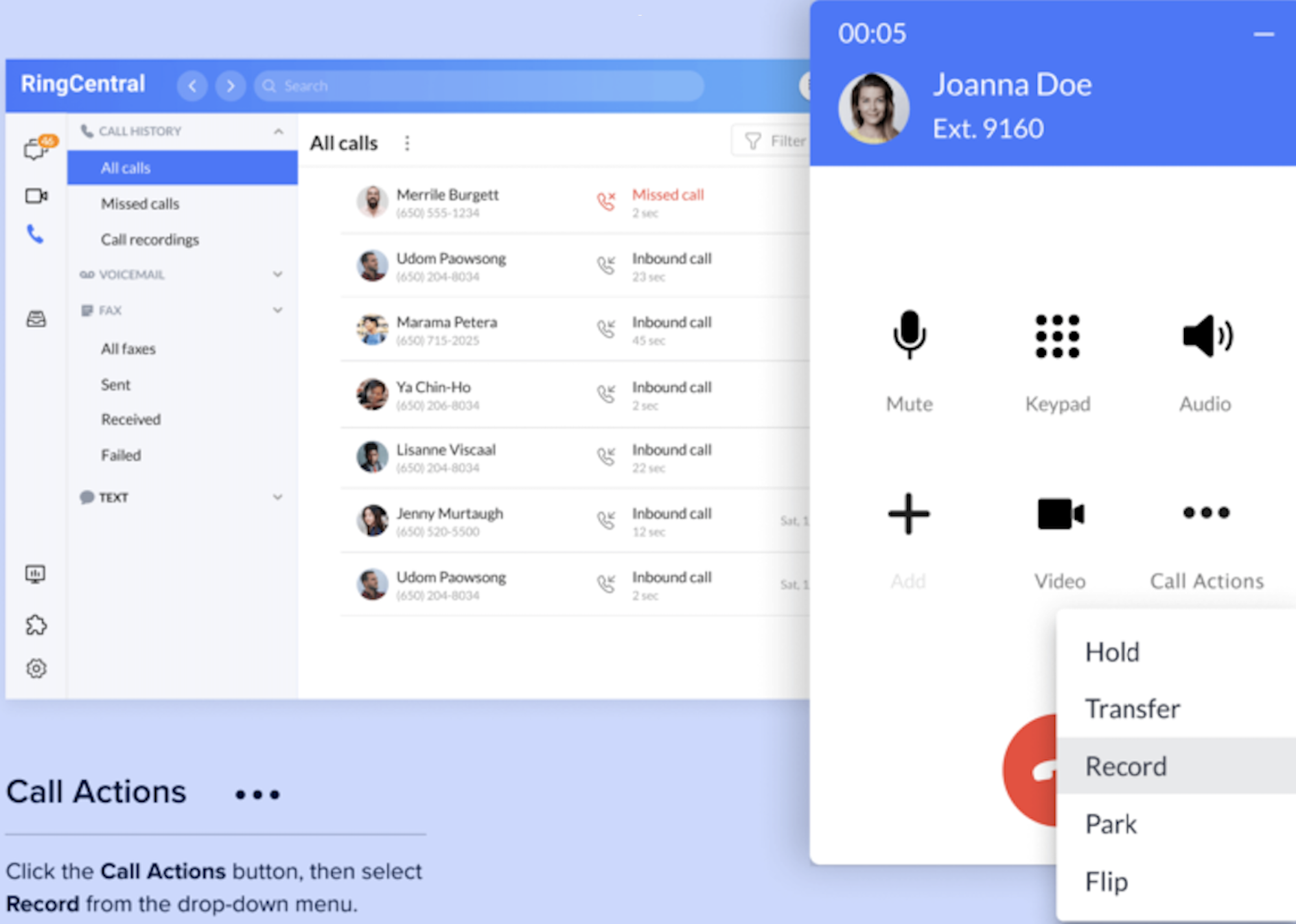 In addition to the default 90-day call recording retention period, RingCentral users can extend the retention period to up to 1 year, download audio recordings or upgrade to the Ultra plan to access unlimited cloud recording storage.
Note that call recording transcripts are not available with RingCentral MVP, and are only accessible by upgrading to the Standard RingCentral Contact Center plan and above.
Standout Recording Features
RingSense Conversation Intelligence for Sales: Add-on feature for all MVP plans, omnichannel and CRM-integrated, automatic call summaries, notes, suggested next steps, key moments
RingCentral App Recording Storage: Accessible in the call recording dashboard, users can listen, rewind/fast forward, delete, download/share recordings, filter by name/phone number, automatically send recording notification emails, record on desktop/mobile devices
Custom Call Recording Announcement: Admins can record a personal recording notification announcement, upload/import it, and edit it at any time
Pricing
RingCentral MVP has 3 paid plans from $20-$35/user/month, and a free 14-day trial is available.
In addition to MVP, RingCentral offers a Contact Center solution with 4 tier-based plans, a video conferencing and webinar platform, and an AI-powered Conversation Intelligence add-on.
RingCentral MVP Business Communication pricing is outlined below:
Core Plan ($20/user/month): Includes on-demand call recording only, HD voice unlimited US/Canada calling, AI noise cancellation, voicemail transcription and voicemail to email, video conferencing for 100 participants with unlimited video recording/1 year of cloud recording retention, collaborative notes, AI Meeting Insights/Live Transcription, screen sharing, basic call queues, team messaging and file sharing, whiteboarding, unlimited audio conferencing, real-time call queue management add-on option
Advanced Plan ($25/user/month): Includes automatic and on-demand call recording, advanced call monitoring with barge and whisper, unlimited online faxing, Business Analytics Essentials, CRM and industry-specific integrations like Canvas, Salesforce, Zendesk, Smarsh
Ultra Plan ($35/user/month): Includes unlimited file and recording storage, Business Analytics Pro, video conferencing for 200 participants, custom insights
Best For
RingCentral is best for businesses:
Needing unlimited cloud call recording storage/extended recording retention periods
That don't require real-time or post-call call transcriptions
Requiring a UCaaS platform with advanced team collaboration tools across chat and video
Call Center Call Recording FAQs
Below, we've answered  the top call recording FAQs.
While you can request a customer service call recording copy, companies are only required to provide you with a copy for the purposes of litigation. Many companies will provide you with a copy of the recording upon request, but simply asking for one does not guarantee you will receive it.

Call recording is important in a call center because it offers legal protection, simplifies the dispute resolution process, allows managers to monitor and optimize agent performance, provides more effective training materials, and gives high-level insight into business processes and overall customer experience. 

Call recording retention periods vary according to the law, the state, the specific industry regulations, and/or custom retention periods set by call center software administrators. Average call recording retention periods range from 30 days to 6 months, at which point they are downloaded/transferred or deleted.  

Call recording is important in a call center because it offers legal protection, simplifies the dispute resolution process, allows managers to monitor and optimize agent performance, provides more effective training materials, and gives high-level insight into business processes and overall customer experience.