Call centers have a lot going on at once: multiple agents and departments on calls, customer queues, bandwidth issues, dropped calls, self-service and IVR, automations, and workflows–all fluctuating throughout the day, week, and month.
Call center monitoring tools enable administrators to manage and sort through this information by providing insights, metrics, and statistics that lead to informed adjustments and improved call center performance.
This article will outline call center monitoring, including what it is, how it impacts the customer experience, best practices, and key company roles.
Read on to find out:  
What is Call Center Monitoring? 
Call center monitoring is the process of observing and evaluating call center performance, analyzing call center KPIs and trends, then providing agents with feedback and making adjustments to improve overall performance and customer experience.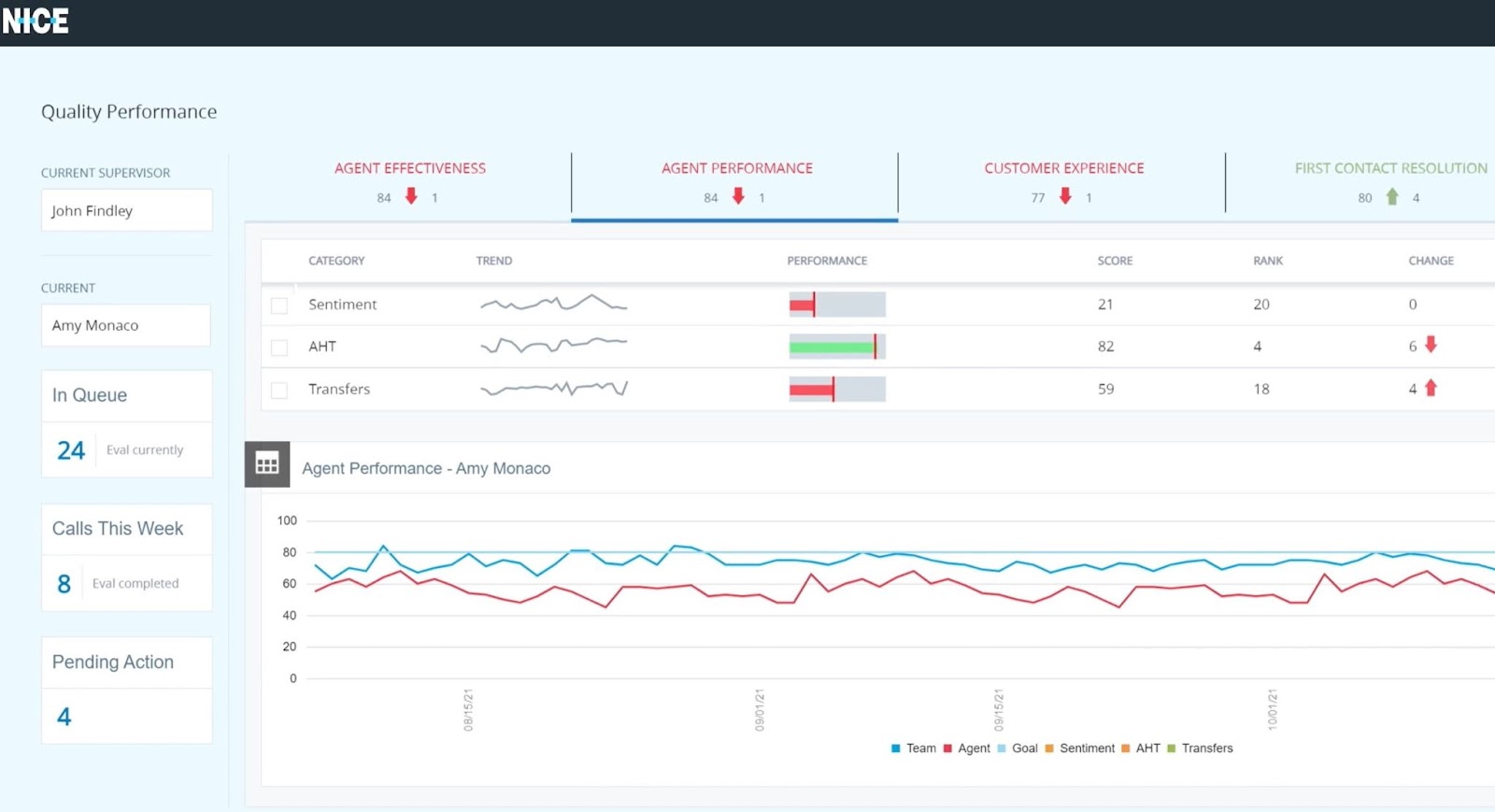 The 4 general steps of call center monitoring:
Observe and Evaluate Call Center Performance: Listen in on call center sessions and calls, review real-time queue and call data, and examine customer sentiment scores to evaluate agent performance, customer pain points, and call quality
Analyze Historical KPIs: Analyze historical KPIs and analytics data in call quality reports, activity reports with each agent's statistics, customer-focused reports like customer satisfaction (CSAT), and trend reports that evaluate call center activity over time
Provide Agent Feedback: Meet with agents, review relevant KPIs and session reports or transcripts, and suggest ideas for improvement
Adjust Call Center Tools: Adjust staffing, department sizes, agent schedules, channel availability, self-service menus, triggers and automations, or routing options to eliminate bottlenecks and customer pain points
How Call Center Monitoring Impacts the Customer Experience
Call center monitoring observes, measures, and seeks to improve every facet of call center performance–leading to quicker, more helpful customer issue resolution.
Here's how call center monitoring improves the customer experience:
Better Call Quality
Shorter Wait Times
Improved Agent Support
Better Call Quality
Call performance monitoring leads to better call quality and happier customers.
VoIP calling utilizes a high bandwidth volume, requiring a strong internet connection on both the caller's and receiver's end. Insufficient bandwidth or poor internet connection can compromise call quality, leading to dropped calls, fuzzy and blurry audio quality, and frustrated customers.
Call quality reports provide call performance insights for each location, channel, device, and call within your call center:
Voice quality score
Call quality trends
Call quality details
Upload and download bandwidth
Signal strength
Memory usage
Jitter and packet loss scores
This information helps administrators target and fix the issues causing poor audio quality.
Shorter Wait Times
Queue reports identify queue length and customer wait time across agents, channels, and departments.
This information, viewable both in real-time and historical reports, can help adjust automation and routing rules to alleviate overworked staff, add staffing to departments with long queue times, or adjust ring groups and automatic call distribution (ACD) to balance the workload among agents.
Queue reports offer queue insights about agents, departments, and channels:
Total number of calls
Average wait time
Average talk time
Abandoned calls
Average answer speed
Profiles for calls entering ACD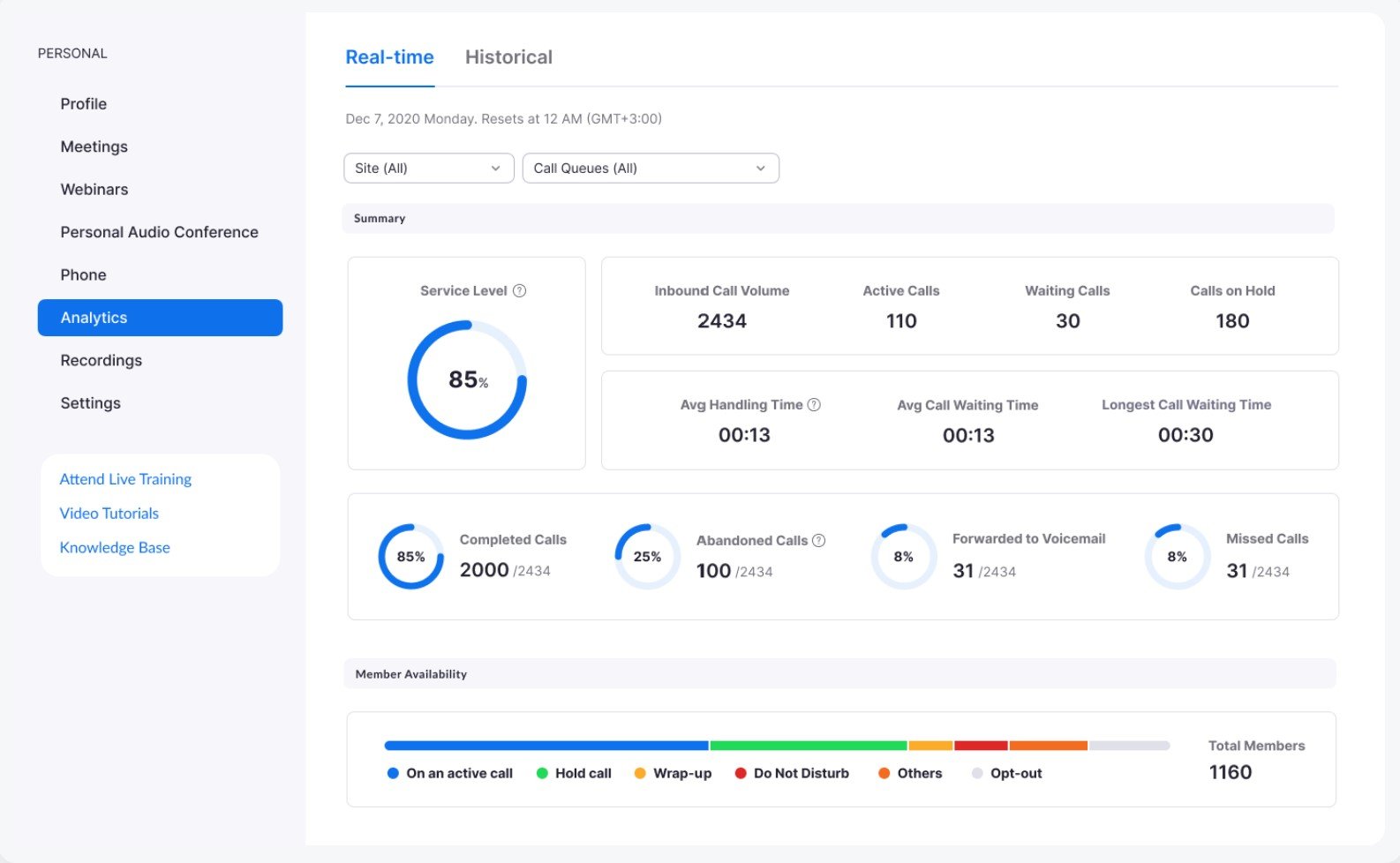 Real-time call center activity metrics help administrators maximize available agents, routing live calls to available agents based on volume and queue length.
Real-time call center metrics:
Agent activity status (on call, available)
Calls in queue
Average talk time
Call resolution percentage
Improved Agent Support
Call Center AI analyzes call recordings and transcripts in real-time to provide live agent-support insights. Administrators and agents can both see this data, so administrators can step in or offer feedback later, and agents can make adjustments during the conversation.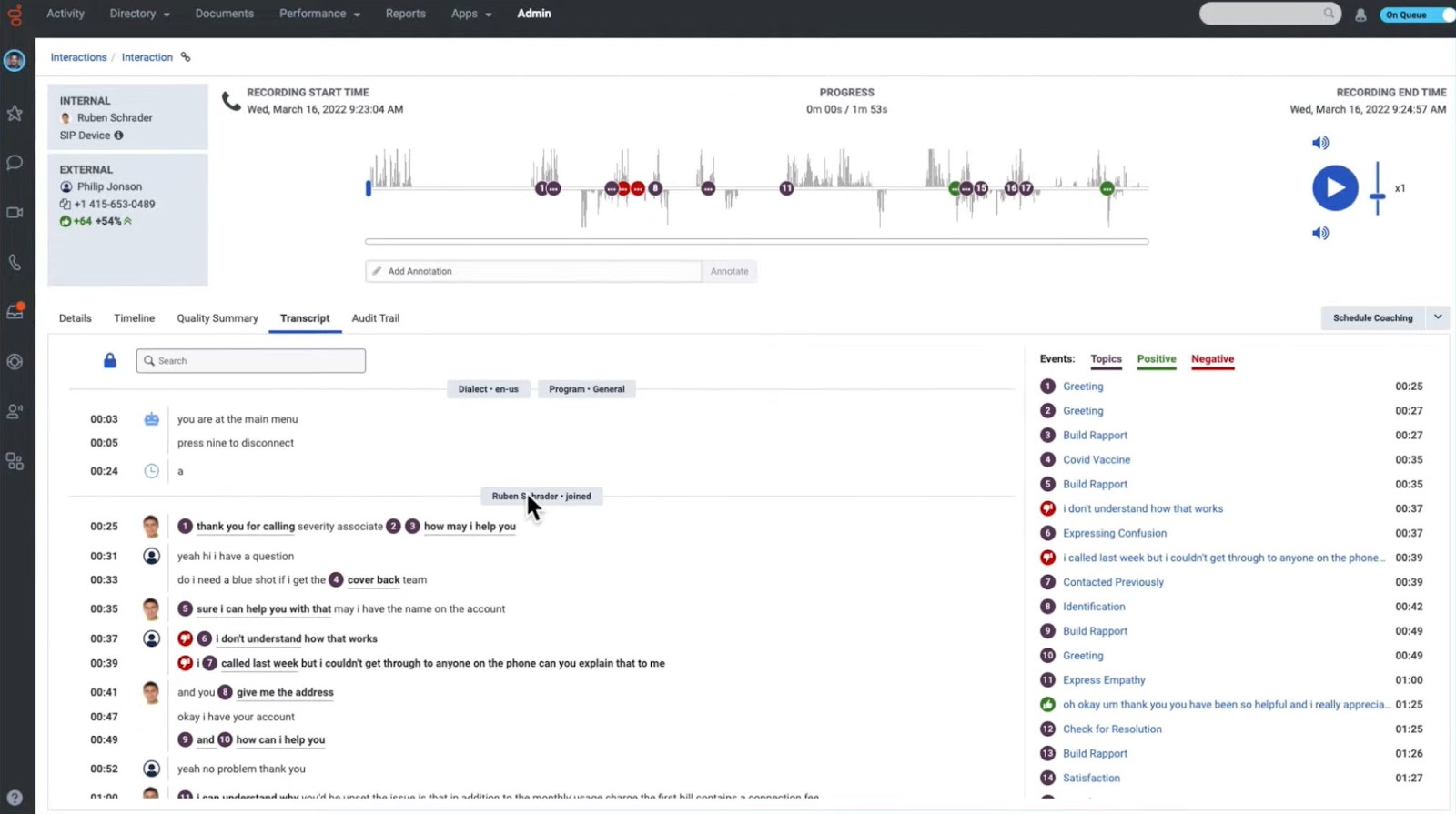 Real-time session analytics include:
Customer sentiment
Agent vs customer talk time
Silence vs talk time
Commonly used words
Call Center Monitoring Best Practices
A recent Metrigy research study, commissioned by GoTo, noted the two largest concerns of call center leaders: inefficient use of agents' time (44.9%) and poor transparency on KPI/agent metrics (39.7%).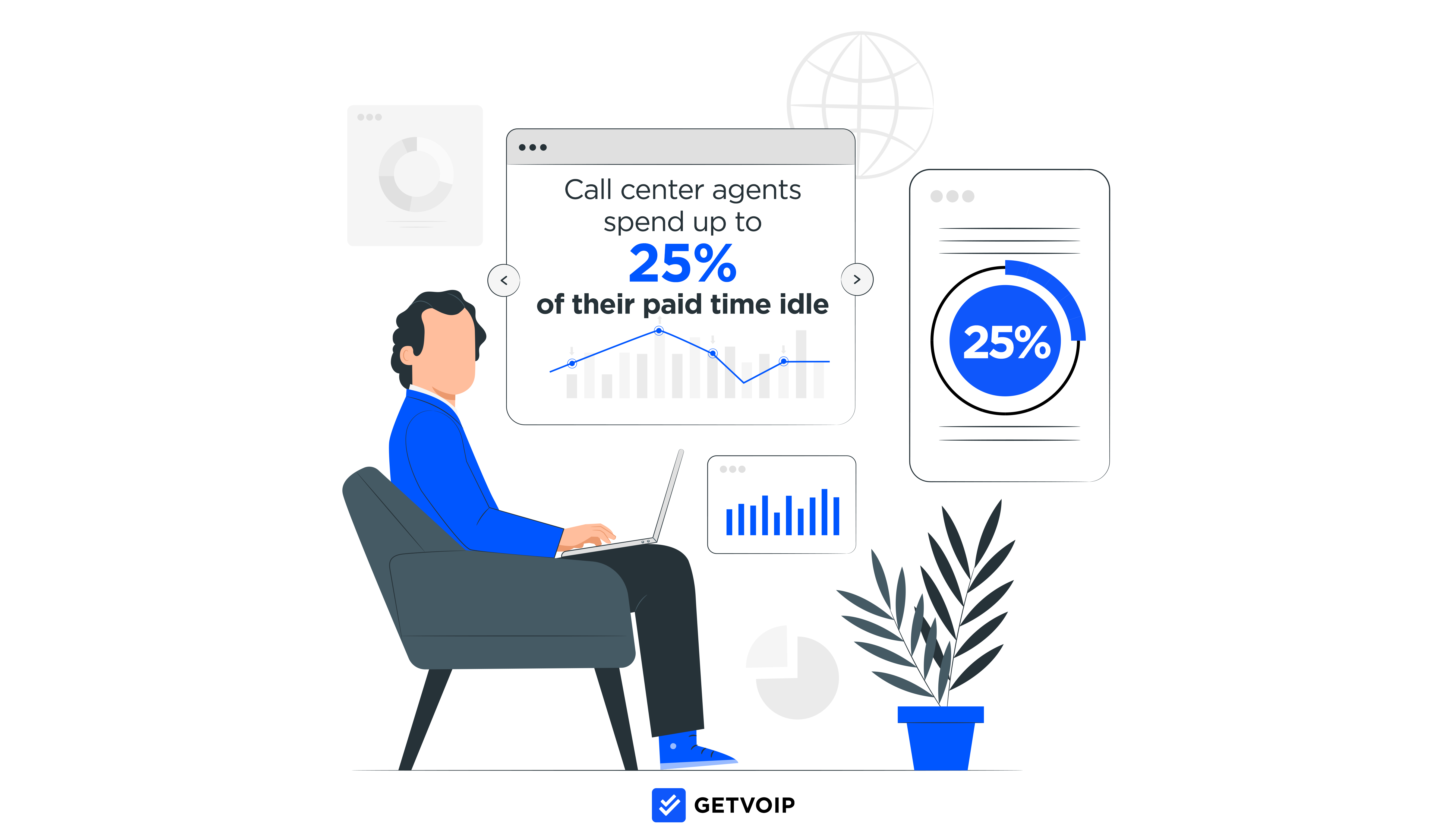 Following these best practices should keep you on the path to progress:
Set Clear KPIs and Standards for Call Quality
Key-performance indicators (KPIs) and call-quality standards are essential to effective call center monitoring. Because every business has unique customer service metrics and call-quality standards, the only way to discover yours is to start monitoring and measuring, creating both agent and department-wide scorecards.
These are some of the data points call center monitoring software can track: 
| | |
| --- | --- |
| Data for Managers | Data for Agents |
| Total calls over a set time (daily, weekly, monthly, etc.) | Average Handle Time (AHT) |
| Call center abandonment rate | Average talk time |
| Average call duration | Total talk time |
| Average caller time in queue | Total call volume trends |
| Average cost per call | |
The best call center monitoring solutions help you recognize trends, identify top performers, and establish baselines for KPIs and call quality.
If you need help, talk to your call center technology vendor. Their experts have years of in-the-trenches experience and can discuss the key features your software needs.
Analyze 100% of Calls
The larger your dataset, the better your chances of generating actionable insights.
Monitoring every call means a deeper, more accurate understanding of call center operations, agent activity, the effectiveness of current sales strategies, and rep customer service skills.
Plus, you'll be able to identify the most effective way to respond to all types of calls.
Provide Feedback to Agents Based on Your Findings
Agents need to know how they are doing—good, bad, or somewhere in the middle.
There's little point in agent monitoring your call center if you don't use the data to identify top performers and provide guidance to those needing additional training, coaching sessions, and support.
Let Agents Listen to Their Own Calls
High-quality call monitoring technology keeps extensive recordings of agents' calls.
Agents hear how they sound and can identify vocal tics they'd like to fix and take note of bad (and good) habits.
Show Agents Examples of Good Customer Interactions
Monitoring data will identify and empower your top performers and can be used for employee training purposes.
You can create transcripts of voice recordings to show the kinds of words that customers like to hear. You can also offer examples of how successful agents deal with difficult customers, handle conflicts, and go the extra mile to keep customer retention rates high.
Pick the Right Call Center Monitoring Software
The best cloud-based contact center technologies include sophisticated monitoring tools to help managers develop a deeper understanding of call center operations and a strong quality monitoring process.
Quality call center software should be economical, easy to install, and intuitive for non-technical users. If you're running a small or medium-sized business, look for software designed specifically for the scope of your operations.
What works for the global enterprise is likely to be overkill for smaller companies.
Key Roles for Effective Call Center Monitoring
There are three key roles in effective call center monitoring:
Call Center Manager
Call Center Supervisor
Call Center Agents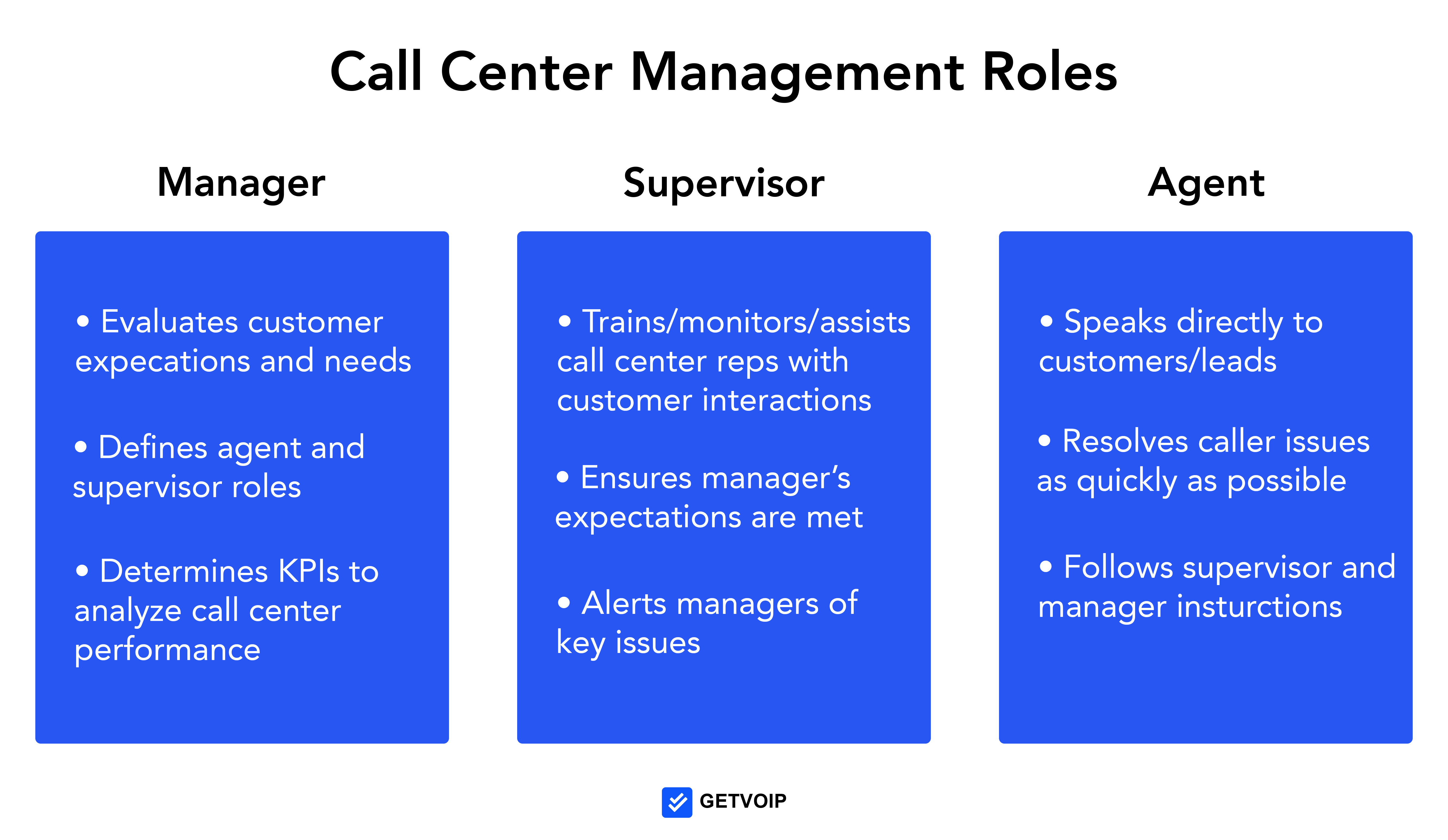 Call Center Manager
The call center manager creates the strategic vision for the call center. Monitoring data helps the manager identify long-term trends and deal with short-term issues like seasonal staffing.
The manager's decisions help the company enforce brand guidelines, identify the root causes of common call center problems, and design seamless customer experiences.
Call Center Supervisor
The supervisor implements the manager's strategy and provides call center quality assurance.
Monitoring data tells the supervisor which individual agents and sales reps are the most productive. Data also helps with scheduling and motivating agents to boost individual and overall call center performance.
Supervisors can use data to route calls to agents who have the best skills and knowledge to solve specific customer issues.
Call Center Agent
The agent faces a constant tension between serving current customers and reducing the wait times of people on hold.
Real-time data monitoring can help them move things along in current live calls and help clear long call center queues, improving overall workflows while providing more effective quality management strategies.
Measure and Monitor Your Way to Call Center Excellence
The best call center tools leave customers grateful for the experience. They repay the gratitude with repeat business and recommend you to their friends, family, and co-workers in person and on social media.
In short, call center software can transform your business, leading to more sales and customer loyalty.
Call center quality monitoring gives you the tools to keep customers and agents happy in the long-term–while also identifying current areas needing improvement.
Use these insights to reward your best employees and inspire the up-and-comers to keep productivity rates high.
Best of all, you'll have real-time insight on calls that helps you build your brand and widen your competitive advantage.
Call Center Monitoring FAQs
Below, we'll answer some of the top call center monitoring FAQs.
Call center monitoring is important because it produces data and insights that managers and agents use to improve the customer experience, boost sales, and keep employee retention rates high.
Ideally, all calls should be monitored to ensure no critical data slips through the cracks.
To improve your call center's effectiveness, partner with a vendor that has robust call-monitoring software. Use monitoring data to bolster a strategic vision and encourage tactics that help supervisors and agents improve performance day in and day out.