Being put on hold: it's a customer service problem that most of us are unfortunately all too familiar with.
Whether you're trying to reschedule a canceled flight, attempting to connect with a support agent for computer help, or trying to schedule a doctor's appointment, no one likes hearing the dreaded, "All agents are busy at the moment, please hold" message.
A study from Harvard Business Review found that the average person spends 13 hours a year on hold — but customers aren't the only ones losing. Long hold times cost businesses roughly $38 billion in annual lost revenue.
Customer Callback software is a call center technology that eliminates the need for customers to stay on the line while waiting for an agent to become available.
Learn more about what it does, the benefits it offers, and top providers below.
Top contact center software offering
customer callback
Quick links:
What is Customer Callback?
Customer callback, sometimes referred to as "virtual hold," lets customers avoid waiting on hold for long (or simply unknown) periods of time by calling customers back once an agent is available to speak with them.
In other words?
Customers can hang up the phone instead of sitting around waiting for a representative to take their call — without losing their place in the virtual queue. Customers will still be called back in the order in which they called, even after they hang up the phone.

Your callers can choose to be called back by the first available agent, or they can schedule a callback for a later time that works best for them.
Admins can choose an estimated hold time (for example, 20 minutes) for when to begin to offer the callback option, or simply provide the current estimated hold time and let customers decide if they'd rather wait on hold or choose a set time to be called.
Expected wait times are calculated by queuing predictive algorithms (since, for example, your customer service department's wait time may be much longer than the hold time for your billing department.)
What if the customer doesn't pick up the first time they are called back? The software will try at least one more time before removing them from the queue.
The Consequences of Long Wait Times and The Benefits of Customer Callback
The biggest benefit of the callback feature is that it eliminates the business consequences of keeping people on hold for too long, improving both customer service and customer retention rates as a result.
Below, we'll share some of our top research findings regarding the negative impact of long hold times.
In addition to helping companies avoid losing business to customer impatience and frustration, these tools offer even more benefits, which we'll explore below.
Increased First Call Resolution Rates and Lower Call Abandonment Rates
The above statistics showed that most callers that hang up after being kept on hold for too long will never bother to call your company back.
High call abandonment rates mean lost business and lots of wasted time for your agents.
When customers have a clear understanding of how long they should expect to stay on hold, they're much less likely to hang up. In fact, studies show that callback solutions decrease abandoned calls by over 30%.
But if you make it even easier for them by calling them back as opposed to making them wait?
Then they'll certainly be more likely to pick up the phone.
Plus, these solutions are a much more cost-effective way to decrease abandonment rates than hiring new agents.
The software also increases your first call resolution rate, which is how often issues can be entirely resolved within the first call. A high FCR rating is an excellent overall indicator of both customer satisfaction and agent efficiency.
No one likes constant back-and-forth phone calls, and they also take up valuable agent time. End the telephone tag games and ensure that agents are fully prepared for the customer call when they are ready to call the client back through CRM integration.
Higher Overall Customer Satisfaction and Business Reputation
The best way to understand just how much these tools will improve your customer experience?
Just imagine how much happier you'd be knowing you didn't have to spend an hour of your day waiting on hold, listening to the same incessant hold music and pre-recorded messages.
When customers see that you value their time as much as you do their own, they're far more likely to not just continue to do business with you, but also to recommend your company to their friends. This leads to an improved business reputation, which in turn leads to more sales, more money, and more opportunities.
Remember — it's easier than ever for today's consumers to blast your company's poor customer service all over the Internet, doing some serious reputational damage to your brand. Anything you can do to negate that is a smart move.
Agents, too, will benefit from the service.
Angry customers that have been kept on hold for forever are far more likely to explode and yell at agents than those who have been able to avoid being put on hold.
Decreased Operational Costs
Especially now, businesses are looking for ways to cut operational costs without sacrificing the quality of their customer service.
One easy way to do this?
Implement a callback solution.
Your company pays for each minute that a customer waits on hold. Especially if your call center has a high daily call volume, this can get expensive very quickly. Not to mention the additional cost of having to hire more agents to deal with peak times and longer overall calls.
Since having the option to call people back offers shorter call durations and eliminates the need for customers to stay on the line, you'll see savings within the first month.
Increased Conversion Rates
In addition to cutting down on your operational costs, you'll also see higher conversion rates — AKA more sales.
Lower call abandonment rates mean more opportunities to close deals, and happier customers are likely to place recurring orders and bring you more business.
Plus, your agents will have time to make more outbound sales calls and collect more leads.
Improved High Call Volume and Peak Time Management
Whether you have a few "busy hours" every workday, or if one season of the year is always much more hectic than others, callback systems will help you to better manage your peak times.
When you have better control over peak times, agents will be able to take their time with customers instead of rushing through inbound calls to get to the next one as soon as possible.
This software makes peak times much less hectic and stressful without the need to hire additional agents.
Remember that you have complete control over the time of day and specific seasons that you do want to offer customers the chance to be called back.
This means you can shut it off during your quieter seasons and immediately handle the fewer incoming calls, or remove the callback option once your office has closed for the day so agents don't get into the office with a long list of calls to return.
Increased Agent Productivity
These tools make your agents much more productive in addition to boosting employee morale.
When agents are prepared for calls and clients don't need to vent their frustration, achieving a shorter call duration is possible.
Plus, since the software automatically stores the caller's contact information, agents won't accidentally dial the wrong number or lose time looking for a client's phone number. The same goes for lengthy voicemails.
It also provides more effective agent scheduling.
Your team members can opt to handle all of their callbacks during lull times as opposed to peak ones, especially if admins only allow for callbacks during a set part of the day. If needed, agents can even reschedule their return calls or pass them off to another agent who is available.
Top Customer Callback Providers
Not only do callbacks offer all the benefits mentioned above, but studies also show that over 60% of customers actually prefer them to having to wait on hold.
It's clear that these solutions are a smart investment, but which platforms are the most effective?
Callback functionality is offered as both a feature of call center software and as a standalone tool. The providers below include call center solutions as well as standalone providers.
They are:
Genesys Callback
AVOXI Queue Callback
Zendesk Talk Customer Callback
Five9 Contact Center Web Callback
Genesys Callback
Genesys Callback, a feature of the Genesys Cloud Contact Center, helps reduce call abandonment rates by up to 40% and can lower call center operational costs by up to 25%.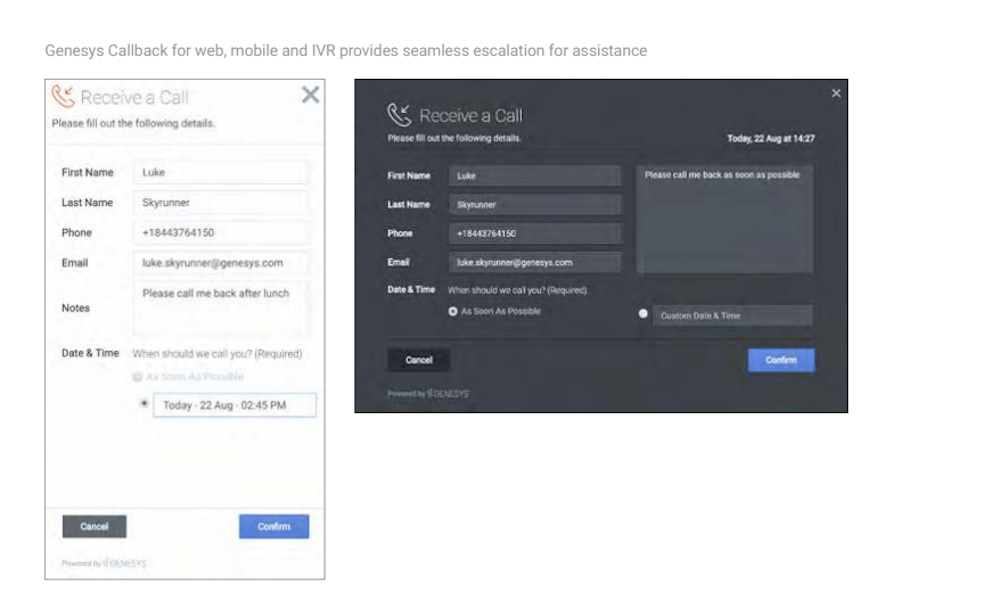 Its RESTful API works for mobile devices, websites, and IVR. It integrates with both Genesys Workspace or existing business communication tools like Salesforce, Zoom Phone, Zoho CRM, and Zendesk.
Customers can choose to be called back by the first available agent or schedule one within a specified time-frame.  If a caller selects the "first available" option, their place in line will be held even after they hang up. If using the Genesys call center or an integrated CRM platform, agents can review complete or simply the most recent contact history. They can also preview, reschedule, or even cancel callbacks.
Genesys intelligent skills-based call routing automatically sends callback requests to the best available agent and automatically moves callbacks to non-peak hours based on call volume data.
Admins can select both the callback for the web or IVR. Customers can choose to be called back on their Android or Apple iOS smartphones, receiving a push notification when the agent is about to call them back.
The pricing for the standalone Callback tool is quote-based and not available on the Genesys website. However, the Cloud Contact solution has three plans ranging in price from $75.00/month to $140.00/month.
AVOXI Queue Callback
The AVOXI Queue Callback feature is a part of AVOXI's cloud call center solution's Enterprise Plan, available from $39.99/user per month.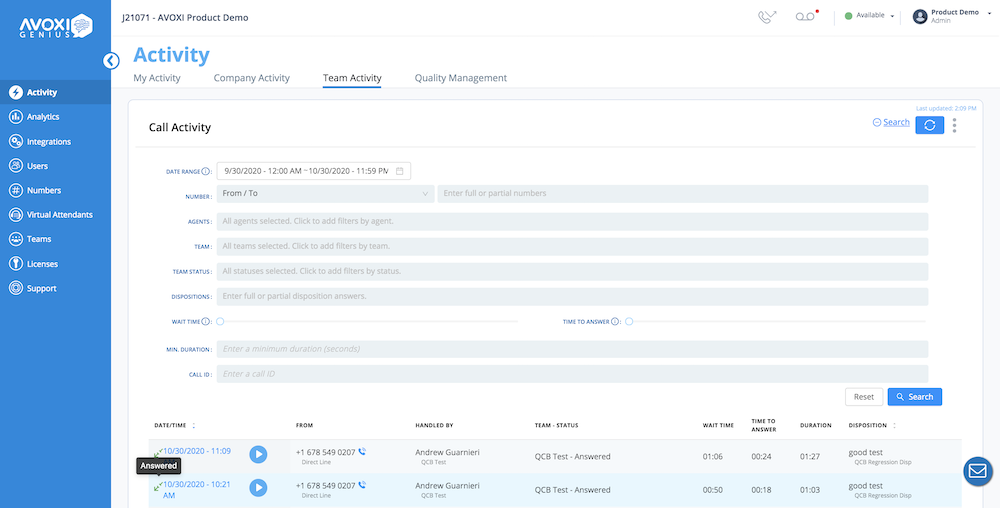 It also offers advanced call queue management features, showing live data regarding the current number of agents on call, the number of callers waiting, average wait time, and how many agents are available.
Customers can opt to receive an automatic return call (at this time, they cannot schedule their preferred times) without losing their place in the queue. When it's time for the call, an automated, customizable script letting the customers know that they are about to be connected to an agent based on a callback request will play.
AVOXI's Genius feature automatically collects a customer's contact information before they end their initial call, before placing them into the queue for return calls.
CRM integrations with AVOXI provide CTI screen pops when agents connect with callers. Admins can also view which agents have been assigned to which callback queues and make changes if necessary.
AVOXI integrates with tools like SugarCRM, Zendesk, Shopify, Freshdesk, and Bitrix24. It can also make international callbacks.
Zendesk Talk Customer Callback
Zendesk Talk is a VoIP calling platform that can integrate with your current call center software or with an existing Zendesk Support Suite plan.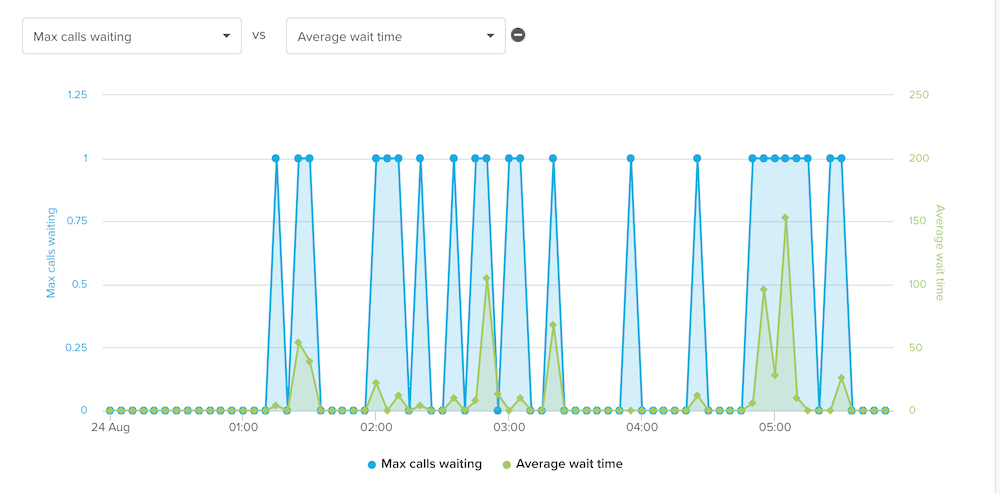 Its callback feature lets customers choose if they want to remain on hold or be automatically called back once an agent becomes available. Zendesk lets callers select if they'd like to be called back on the current phone number or another one.
If the call hasn't been returned within 60 minutes, it is automatically removed from the callback queue and transferred into a support ticket.
As of this writing, Zendesk Talk does not appear to allow customers to schedule a specific time to be called back.
Zendesk Talk offers 4 plans, including a free option. Note, however, that the Callback tool is available only on the Professional Plan ($49.00/user per month) and Enterprise Plan ($89.00/user per month.)
For a more detailed review and breakdowns of additional features, read our Guide to Zendesk Talk.
Five9 Contact Center Web Callback
Five9 is a cloud-based omnichannel contact center for inbound, outbound, and blended calling.
Its IVR features allow for a high level of customer self-service and let callers know their current position in the queue as well as estimated hold wait times. If customers don't want to wait on hold, they can opt to receive a call back from the next available agent without losing their current place in line. Callers can also choose to be automatically transferred to an agent's voicemail, or they can select a specific time to have their call returned.
Callers can also record their name when scheduling their request to be called back. The recording will be played to the agent directly before they return the client's call, allowing them to better personalize the experience and pull up any additional client information that may be needed.
Five9 also offers an automated Web Callback Service, which lets website visitors request to be called back directly from a company's website interface through Five9's Cloud APIs. These leads are automatically added to agents' outbound calling lists. Both instant and scheduled callbacks are available, and CTI screen pops provide essential client data when the call is made.
Five9 pricing is not listed on its website but plans usually start at $100.00/month per agent. For more information, read our Ultimate Guide to Five9.
Learn More About Contact Center Software
Customer callback capabilities decrease resolution times, improve productivity, and lead to a higher overall customer experience.
However, they're just one essential feature of call center software — and if you need more than a standalone callback tool alone, you need to know what to look for in a call center platform.
Our interactive table outlines the top call center software solutions, the most important features to look for, and offers reviews from real customers.