Outbound dialers eliminate the need for manual dialing, filter out other time wasters like busy signals and disconnected phone lines, and even automate TCPA compliance to protect your business.
Five9 Dialer is one of the most popular automated dialing systems for today's outbound call centers, providing a variety of dialing modes alongside features like CTI screen pops, agent scripting, and disposition timers.
This Five9 Dialer review outlines available pricing, plans, and the advanced functionalities that lead list penetration without sacrificing customer experience.
Compare contact center solutions
from top providers
What Is Five9 Dialer? 
Five9 Dialer is an auto dialer system for outbound and blended call centers offering Predictive, Progressive, Preview, and Power dialing modes and features that automate manual tasks, increase talk time, and maintain regulatory compliance.
Five9 Dialer simplifies agent script creation and optimization, consistently monitors agent activity and customer feedback to provide actionable insights and lets admins or agents adjust call pacing ratios and after-call work timers to keep teams productive.
Five9 Dialer is accessible from any location–and on any device–with a working Internet connection, providing mobility and flexibility to today's global, remote workforce.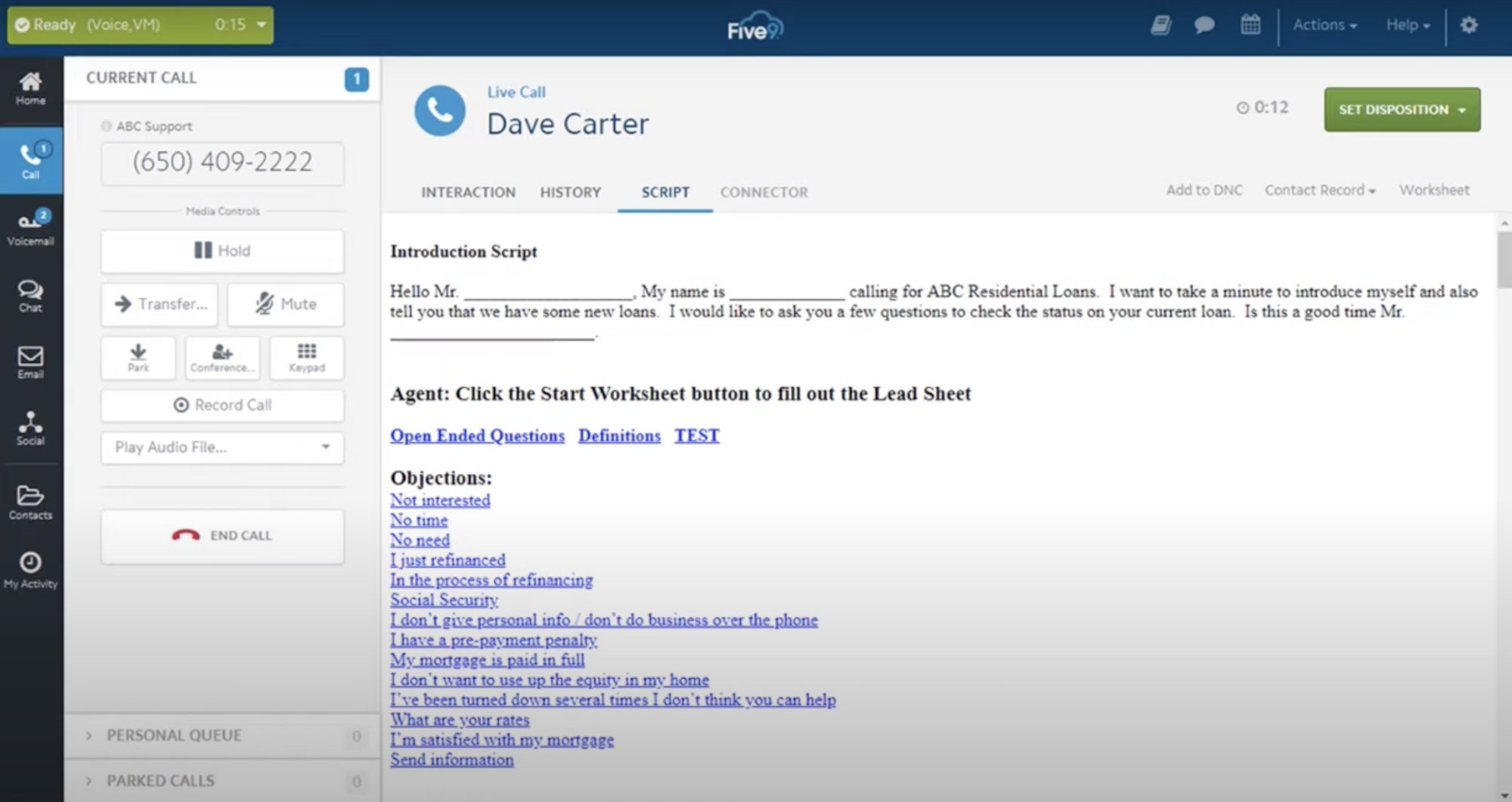 Top Five9 Dialer benefits include: 
Improved lead list penetration
Lead filtering capabilities that make it easier to identify and follow up with quality leads
Shortened sales cycles and increased revenue
Decreased call center agent turnover and lower overall operating costs
Access to integrated and native CRM data
A high ease of use with an intuitive interface
More effective call scripts
Call center metrics and KPIs monitor customer feedback and agent activity to optimize training materials, agent scheduling, call scripts, and overall products/services
Five9 Dialer Pricing and Plans
Five9 Dialer is available only as a feature of Five9's CCaaS platform, not as a standalone product.
However, Five9 does offer flexible pricing options including: 
Four scalable solution bundles from $149-$229+/month
Concurrent user pricing
Named user pricing
Pay-per-use pricing
Custom quote-based packages
Add-on features
Five9's bundled solution packages (pricing shown below) provide the greatest value and are the most popular call center software pricing option.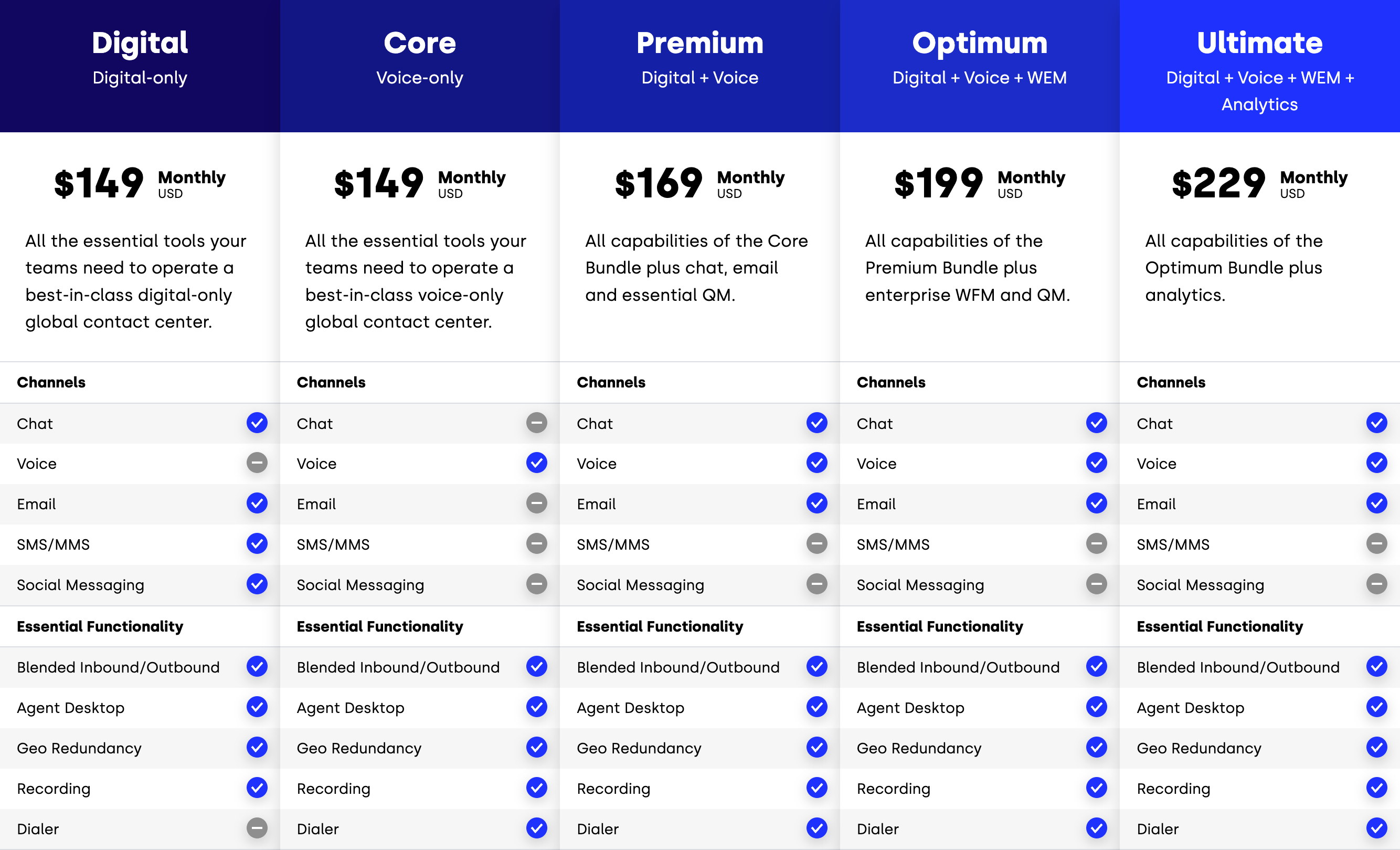 All four plans include 24/7 customer support, call recording, desktop and mobile VoIP softphone access, softphone functionality, basic inbound call management, and all outbound dialing modes.
Small inbound/outbound voice-only call centers that don't need omnichannel communication, workflow automation tools, or advanced Quality Management analytics should choose the Core Plan for $169/concurrent user/month.
The Premium Plan, for $169/concurrent user/month, gives users access to chat and email alongside Essential Workforce Optimization tools. It's a good choice for call centers that want to connect with customers on both digital and voice channels, but don't need advanced AI-powered analytics or automation.
The Optimum Plan, for $199/concurrent user/month, is right for larger blended contact centers with both remote and in-house agents across multiple time zones. That's because the Optimum Plan gives teams access to staffing and scheduling Workforce Optimization tools like performance gamification, real-time activity and adherence monitoring, forecasting, and more. The Optimum Plan is the first tier where the outbound omnichannel Proactive Notification feature, which includes outbound IVR, is available.
The Enterprise Plan, for $229/concurrent user/month, is the best fit for global corporations that have a high omnichannel inbound/outbound daily contact volume. In addition to advanced WFO features like Interaction Analytics, the Enterprise plan comes with all of Five9's Workflow Automation capabilities.
Available Five9 add-on features (pricing not publicly listed) are: 
Artificial Intelligence: Intelligent Virtual Agent (IVA), Agent Assist
Digital Engagement tools: Social Media messaging, Video conferencing with customer-agent screen sharing, SMS texting, Digital Outreach with automated SMS, email, or social missed contact follow-ups
Workforce Optimization: WFO Recording, Real-time Performance Dashboard, Essentials WFM, Gamification
Additional Add-Ons: IVR with Speech Recognition, extra storage, Admin Assist, Agent/Supervisor Consoles, CRM Connectors, Secure Pay, Operational Intelligence, Technical Account Manager
Key Five9 Dialer Features 
Below, we've outlined the top Five9 Dialer features.
Auto Dialing Modes
The best way to determine the quality of an outbound dialing tool is to examine the available auto dialing modes.
Auto dialing modes eliminate manual dialing and only connect call center reps to customers that have answered their telephones and are on the line, ready to talk. This way, agents don't lose time to endless rings, lengthy voicemail messages, disconnected numbers, or busy signals.
CTI screen pops, powered by CRM integrations, are shown either before the agent is connected or while they are on the phone with a caller. This gives agents access to past customer interaction history, notes from other agents, and other key client data to properly prepare them for calls.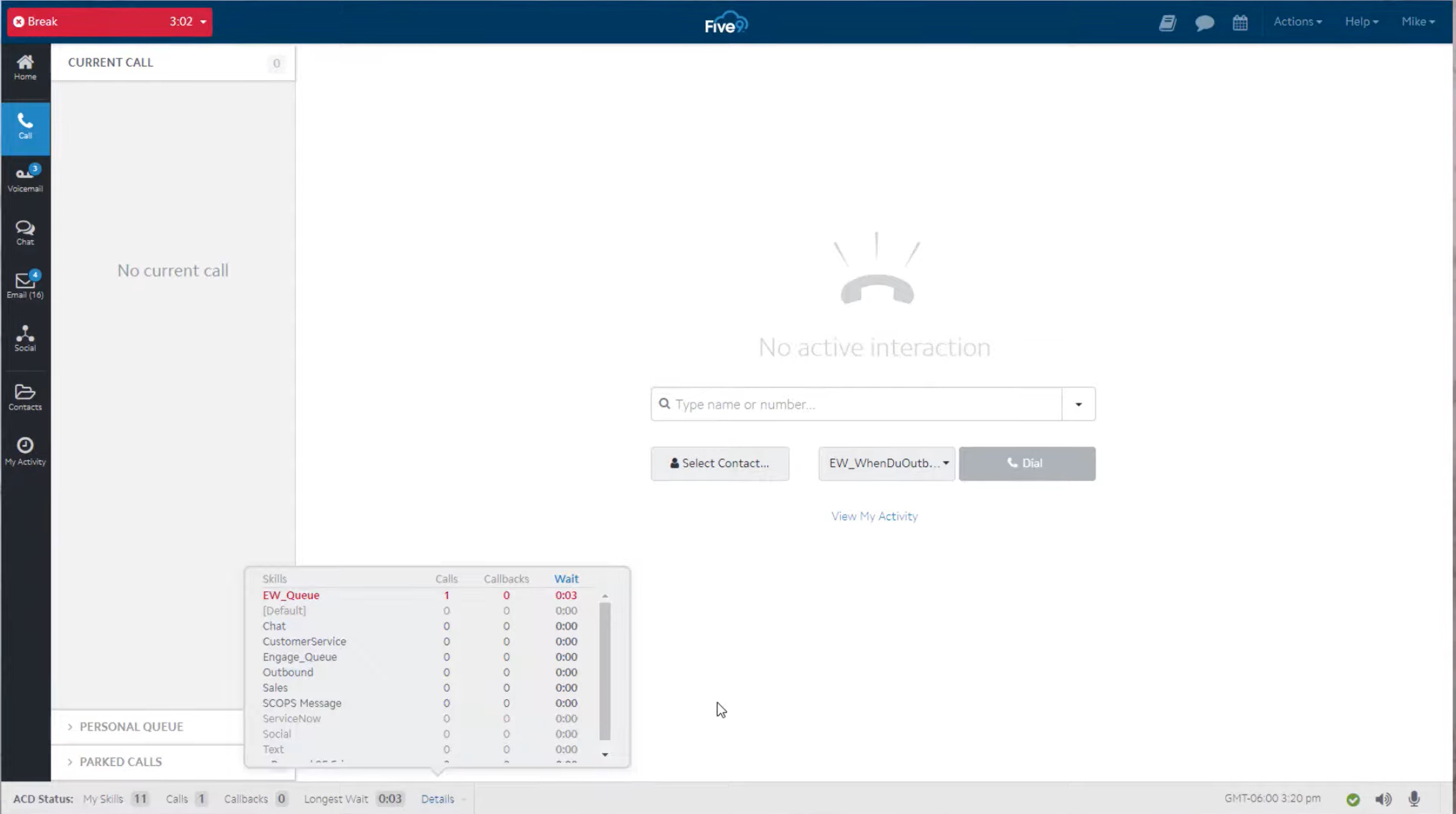 Advanced Five9 Dialer modes are: 
Power Dialer Mode: Automatically dials the next number on a lead list as soon as the agent finishes the prior call, ideal for penetrating longer and newer call lists
Predictive Dialer Mode: Automatically places outbound calls according to a call pacing algorithm that estimates when an agent will be available based on current call volume, call lengths, etc. Begins placing the next call while the agent is finishing up the prior call. Agents may be able to adjust the call pacing ratio according to admin settings. Ideal for smaller teams that need to avoid hiring additional agents, or businesses that want to increase talk time
Progressive Dialer Mode: Displays CRM and customer data for a preset amount of time, counting down before placing the next outbound call. Ideal for reading call scripts and initial outreach
Preview Dialer Mode: Displays call script and relevant customer data via automated screen pops before dialing the next phone number so agents can review key information. Agents manually indicate when they are ready for the call to be placed. Ideal for follow-up calls, high-value leads, existing customers, etc.
Five9 Dialer offers Vertical Dialing for all four of the above automated modes, which increases the chance of a live connection by rapidly dialing up to 3 contact phone numbers in succession. List Penetration Dialing, which dials only the first listed contact phone number for every lead, is also available.
After Call Work 
After Call Work is conducted in between outbound call placements, helping to summarize and keep track of call outcomes. Admins can choose to make ACW mandatory and set ACW timers to keep agents productive.
Agents can select preset or custom call disposition codes from a drop-down menu of phrases that quickly summarize the call outcome. Within the Dialer admin interface, supervisors can make disposition code assignments mandatory or optional, update/add new codes, create calling rules and redial times by disposition code, and set disposition timers.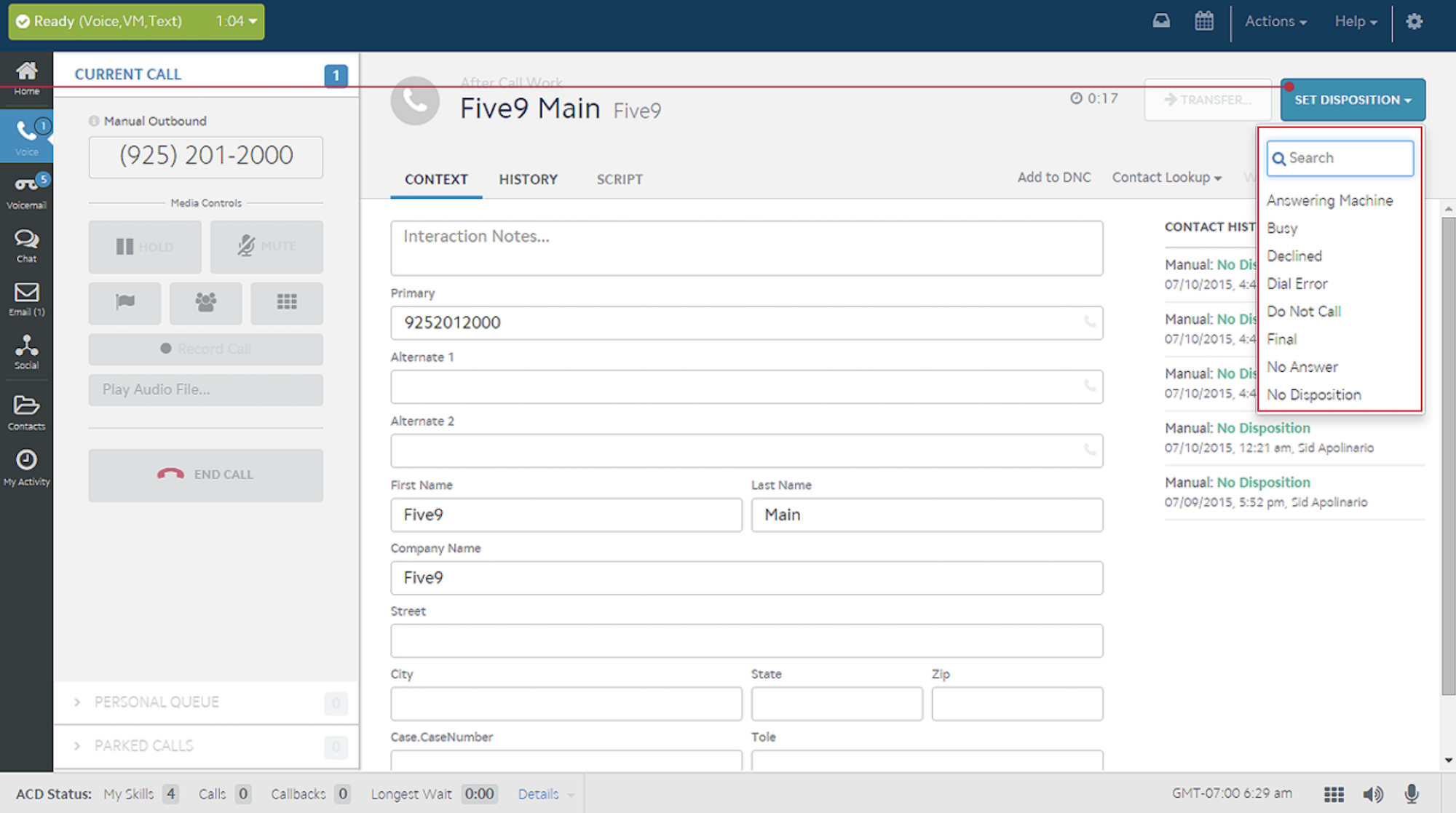 Popular disposition codes include:
Left  Voicemail
No Answer/Number Disconnected
Appointment Booked/Sale Made
Follow-up Call Scheduled
Caller Not Interested
Caller Interested, Call Again
While Five9 Dialer lets agents manually take notes during ACW, the AI-powered Agent Assist feature creates and uploads automatic call summaries that agents can review and improve with one click.
All After Call Work is automatically transferred to or updated within your CRM database to keep caller data consistent.
Depending on admin settings, agents can update their user presence/status (Ready, Not Ready, On A Break, etc.), manually adjust call pacing ratios, review scripts and training materials, or switch between campaigns and call lists during ACW.
Custom Caller ID
Customers are much more likely to answer a phone call from a number they don't know if that phone number has a local area code.
Five9 Dialer offers phone numbers from US and international area codes that give your company a local presence in the area where the call recipient lives. Admins can set custom, dynamic outbound caller IDs by customer demographic, lead lists, and campaigns to increase call pickup rates.
Answering Machine Detection and Voicemail Laydown
Five9 Answering Machine Detection (AMD) automatically detects and filters out no-answer calls and customer voicemail boxes, instantly dialing the next number on the call list without connecting the agent.
Admins can adjust settings to let agents leave live voicemail messages, or they can enable Voicemail Laydowns. Voicemail Laydowns are agentless dialing solutions that automatically leave pre-recorded voicemail messages on customer answering machines.
AMD and Voicemail Drop features make it easier to place a high number of calls and saves agents time.
Lead List and Campaign Management
Five9 offers a variety of lead list management and optimization features.
First, admins can upload existing .csv files or schedule automatic and recurring FTP file transfers to quickly access existing lead lists and contacts. Five9 checks for and removes duplicate contacts, while list scrubbing capabilities ensure real-time DNC compliance and remove disconnected, incorrect, or other problematic phone numbers from lead lists.
Admins can create targeted lead lists according to customer and order history, call outcomes, demographics, or other contact data. Lead lists can be assigned to multiple campaigns, specific agents, departments, and more.
Admins can create outbound Campaigns for specific products, services, or customer demographics, customizing them by: 
Setting start and end dates
Pausing and restarting campaigns
Setting and adjusting dialing modes
Managing campaign prioritization
Assigning multiple lead lists and agent groups to simultaneous campaigns
Creating specific agent skill requirements for campaigns
Assigning call routing strategies for callbacks
Customer feedback, call outcomes, and reporting/analytics
CRM Integrations
Five9 Dialer integrates with popular CRM software like Salesforce, ServiceNow, Zendesk, Oracle, and Microsoft Dynamics 365 to provide agents with instant access to caller data and conversation history without switching between multiple applications.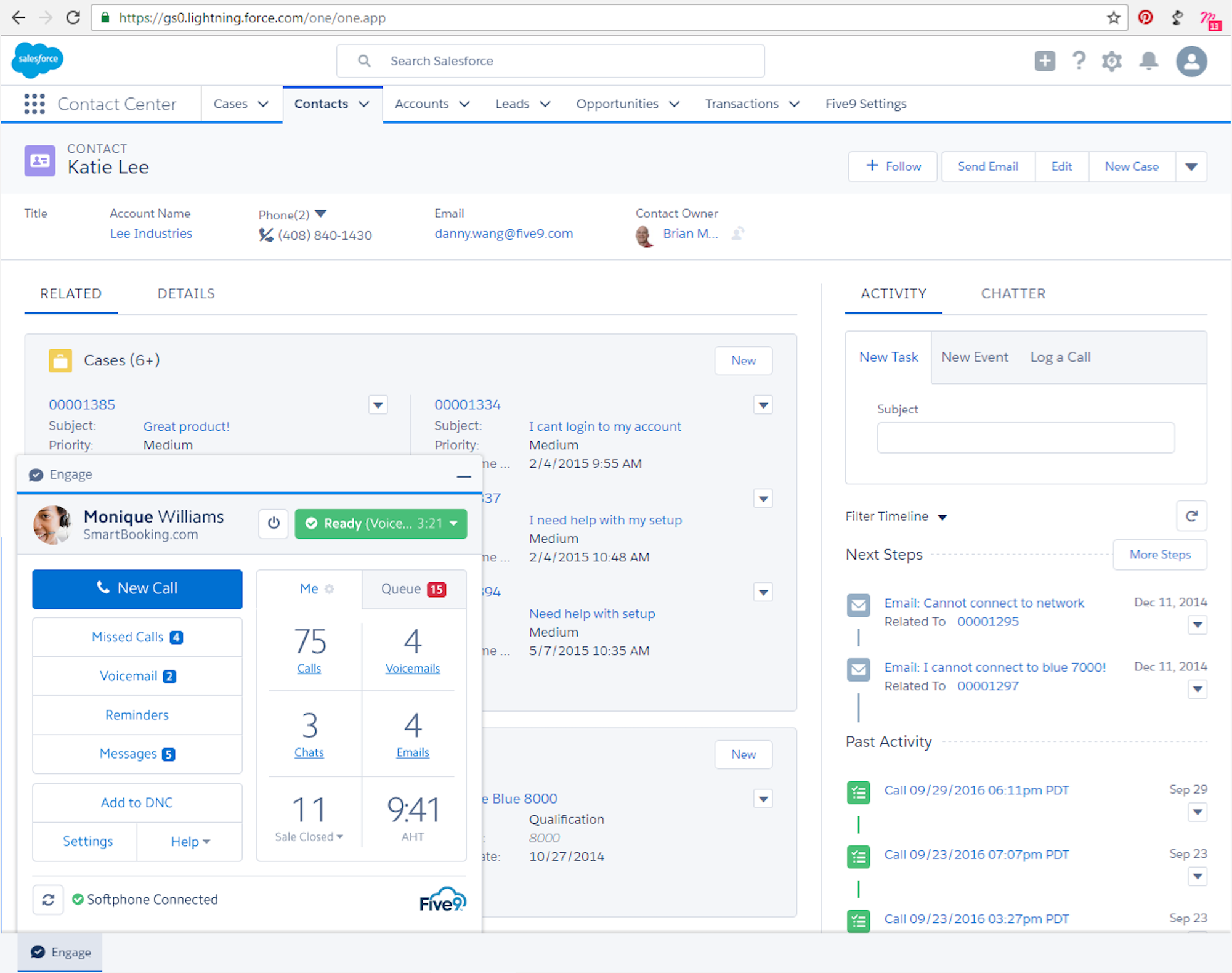 According to the selected dialing mode, CTI screen pops display key customer information from integrated CRM tools on the agent screen before or during the call. Once the call is complete, all After Call Work is automatically added to the CRM system.
Agent Scripting and Agent Assist
Five9 Dialer's call script feature lets admins build a searchable repository of outbound sales and support scripts that can be assigned to lead lists, campaigns, or accessible to agents within their Dialer dashboard.
Drag-and-drop script design, text-to-speech, and custom HTML and Javascript formatting options speed up the call script creation process. Agents can type customer answers to script prompts directly within the call script window–all answers are automatically saved.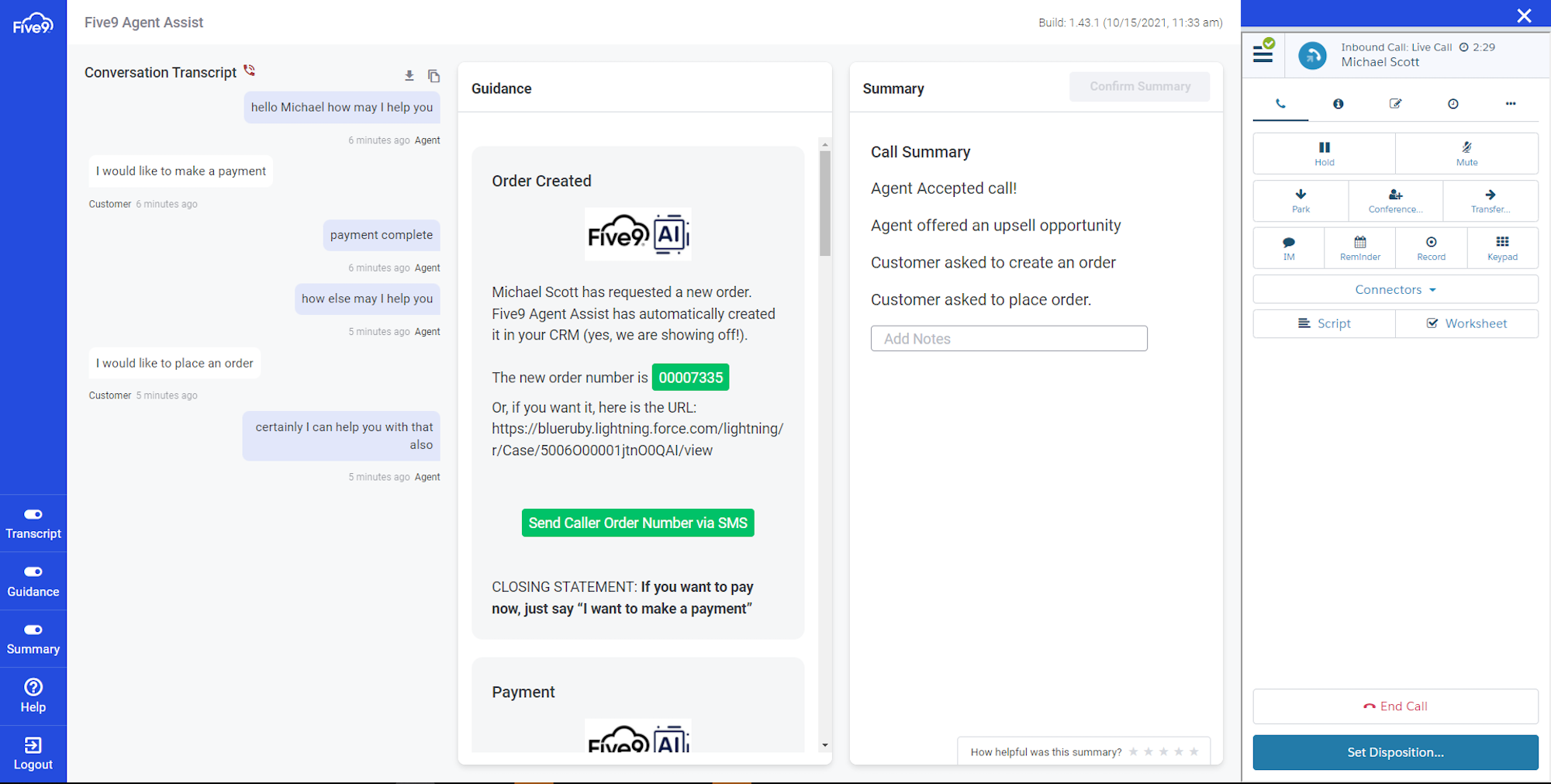 AI Agent Assist from Five9 takes call center scripts to the next level by automatically generating real-time call transcripts that are automatically saved, summarized, and synced to CRM tools. Best of all, Agent Assist automatically recognizes key trigger words and phrases that come up during the phone call. Using AI and machine learning, Agent Assist automatically displays relevant call scripts and more concise internal knowledge base information on agent screens.
DNC List and TCPA Compliance 
Though most commonly associated with telemarketing, The FCC's Telephone Consumer Protection Act (TCPA) outlines the regulatory standards all businesses must adhere to when contacting customers by phone.
The TCPA places some restrictions on how businesses are legally allowed to use auto dialers, pre-recorded voice messages, and make other unsolicited forms of contact. It also requires all businesses to comply with the Do Not Call List.
Five9's Manual Touch Mode keeps businesses TCPA compliant requiring agents to manually initiate each outgoing call. For an added layer of security, The Manual Touch Mode solution is hosted on a separate server from the rest of the Five9 system.
To ensure agents don't contact leads or customers on the Do Not Call (DNC) List, Five9 integrates with third-party DNC list scrubbing tools, lets businesses upload their own DNC call lists, and makes it easy to manage customer Do No Call requests in real time.
Time zone dialing rules make sure that all outbound calls are placed during standard business hours according to the time zone where the call recipient lives.
As a final security measure, the Dialer Certified Caller feature uses STIR/SHAKEN protocols to verify your business's outbound caller ID.
Proactive Notification 
The Five9 Dialer Proactive Notification feature uses AI and predictive analytics to intelligently determine the best time to place automatic outbound calls to customers. (Five9 also offers proactive notifications via social media, SMS texting, and email.)
To predict the ideal time to notify and engage with customers, Five9 continuously monitors all contact center activity and events. It tracks events like order placement and processing, CRM customer contact updates and interaction notes, callback scheduling, and the overall customer journey. Once the Proactive Notification tool identifies a major event, it automatically checks the customer's notification preferences and, if enabled, places an outbound call to deliver essential reminders or information.
Outbound notifications can be customized by customer relationship, priority level, event type, and more. Popular use cases include payment or appointment reminders, order and shipping updates, service level notifications and outage alerts, and reminders to refill orders or schedule a follow-up appointment.
Proactive notifications reduce inbound call flow, make customers feel like a priority, increase consumer loyalty, lower the number of appointment no-shows, and increase revenue.
Quality Management, Analytics, Reporting
Five9 Dialer includes a variety of quality management features that offer insight into agent performance and productivity, the effectiveness of current training materials, lead list penetration, customer feedback, and more.
On-demand and automatic call recording lets admins review outbound calls once they're finished to evaluate agent skills, the level of customer interest, and the effectiveness of the call script.
Call monitoring lets admins listen in on phone calls in real-time, and Five9's in-call coaching tool allows admins to send instant messages with suggestions for the agent.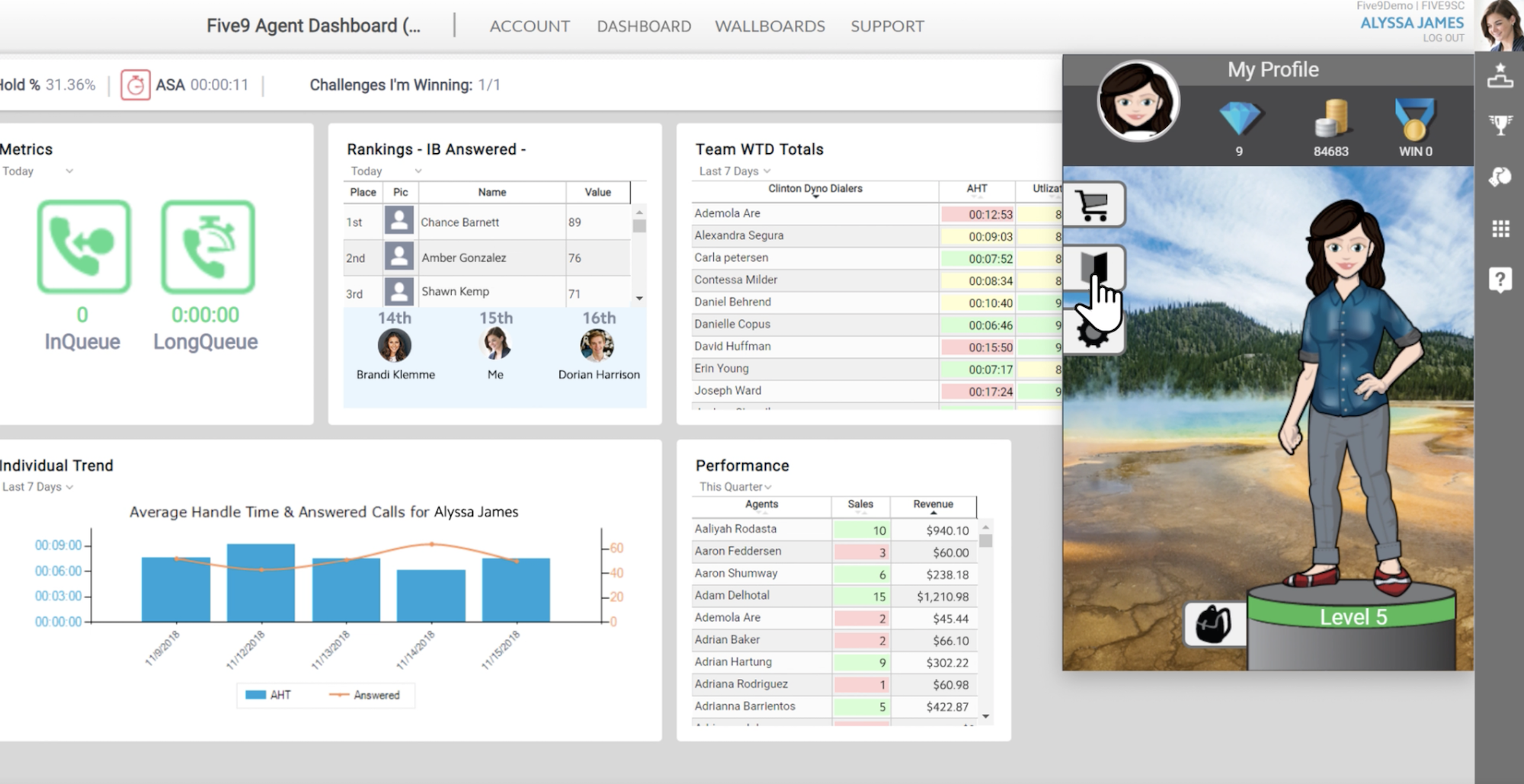 Five9's call center gamification tool shows a live agent activity dashboard consisting of key metrics (average talk time, call abandonment rate, etc) and an agent leaderboard. Agents can win performance-based prizes, compete with each other, and receive real-time updates about their leaderboard positions–ideal for increasing employee engagement.
Five9's analytics tools provide interactive pre-made and customizable call center reports, including real-time and historical KPI updates like:
Number of outbound calls made/hour
Campaign and lead list updates
Average agent talk time
Average call handle time
Cost per call
Conversion ratio
Agent activity and status updates
Customer feedback
Customer Callbacks
The Five9 Dialer doesn't just optimize lead list and cold calling strategies–its customer callback feature also prevents agents from losing possible leads.
First, interested leads can opt to receive an automated follow-up call at the date and time of their choice, increasing the chances of a sale and making customers feel valued. This feature is especially useful for quality leads with busy schedules or that don't have the time to talk when first contacted.
The Web Callback feature manages contact requests submitted by visitors to your company website. As soon as the customer submits the website contact form, the Five9 Dialer initiates an outbound automated followup call, and connects to a live agent when answered.
Who Is Five9 Dialer Best For? 
Five9 Dialer is best for medium to enterprise-level outbound call centers that want scalable contact center software ideal for both remote and in-office sales agents.
Though the Five9 cloud contact center software offers robust inbound calling features within their bundled packages, the Dialer isn't designed for managing incoming customer service and support requests. Instead, it's a tool for businesses, nonprofits, and other agencies to generate more revenue, collect donations, or share information on a nation-wide scale.
Five9 Dialer helps businesses lower the average cost per lead, increase agent talk time, avoid hiring additional live agents, and identify and close promising sales leads via an optimized prospecting process.
Although the Five9 platform offers omnichannel contact center solutions and features across both voice and digital channels, the Five9 Dialer system is for outbound telephone communication only. Sales teams needing live or automated outbound digital interactions–as well as outbound IVR for voice calling– should purchase either the Optimum or Ultimate Five9 Plan.
Popular Five9 use cases include: 
Telemarketing firms selling products or services via cold calling
Debt collection and upcoming/overdue bill payment reminders
Nonprofit donation collection and awareness campaigns
Appointment or upcoming service date reminders/confirmations
Political campaigning including candidate and voting information/reminders
Mass automated outbound announcements via voicemail laydown or outbound IVR, especially within the healthcare, local government, or education sectors
Top Five9 Dialer Alternatives 
The table below outlines the most popular Five9 Dialer alternatives, their pricing options, top features, and their ideal user base.
Provider
Pricing
Top Features
Best For
Genesys
5 paid plans from $75-$150/month
– Predictive, Progressive, and Preview Dialing Modes

– Power Outbound IVR with personalized, but agentless messaging – Predictive Outbound IVR that facilitates a connection with a live agent

– Advanced real-time and historical campaign analytics

Remote call centers that need to automate outbound calls and require high-level third-party integrations
NICE CXone
4 scalable quote-based plans
– Predictive dialer mode with CRM integrations

– CXone "Personal Connection" proactive outbound dialer with assigned agent skills

– No-pause dialing

Enterprise-level contact centers that need to personalize automated calls made via a predictive outbound dialer
Talkdesk 
3 plans from $75-$125/user/mont,Custom quote based Experience Cloud Center Software plan available
– Preview and Predictive Dialer modes

– Advanced campaign management features like campaign prioritization, multiple campaigns, pre-set calling hours

– Talkdesk Dialer for Salesforce ready-made integration

Omnichannel contact centers that need to run multiple simultaneous campaigns, streamline the list upload process, or that use Salesforce as their primary CRM platform
8×8
6 plans from $15-$140/user/month
– Preview, Progressive, and Predictive Dialer modes

– Select from multiple outbound call scripts, set maximum call abandonment percentage, set queue priority

– Upload custom agent whisper audio files that play automatically before the agent is connected to a live lead

Remote inbound/outbound call centers inbound that prioritize personalized live agent:customer interactions as opposed to fast lead list penetration