An auto dialer is a valuable part of a call center, making sales and customer service more efficient. There are different types of auto dialers, and each auto-dialer and CCaaS provider offers unique software with distinct features.
This article outlines auto dialer software–describing how it works, the types of auto dialers, key features, benefits, and today's top providers.
Jump to↓
What is an Auto Dialer?
An auto dialer is a software call-center capability that automatically dials phone numbers from a calling list until a recipient answers. At this point, the dialer transfers the call to an IVR menu or live agent.
Auto dialing provides outbound call efficiency because it automatically dials through a contact list at a steady rate, detecting voicemails and busy signals, even leaving voicemails when necessary. Since an auto dialer handles time-consuming aspects of outbound calling, it frees agents to handle other duties like researching a lead's background or preparing an offer.
Many of today's top VoIP and contact center providers–like RingCentral and 8×8–provide this call center technology built into their cloud solutions, accessible via softphone on desktop, browser, and mobile app.
Auto dialers draw contact lists from CRM databases, contact spreadsheets, and any other lists you create–dialing not only leads and prospects, but existing customers for announcements, customer service, appointment reminders, and more. Use outbound self-service IVR menus to auto-dial existing customers–providing notifications, updates, and bill pay options.
How Do Auto Dialers Work?
Auto-dialing software determines which number to call from a database of leads, customers, or any list of contacts you provide. It directs your computer and VoIP system to make the call, without manual dialing. Recipients typically answer in 25 seconds or four rings. If the call reaches voicemail, rings longer than 25 seconds, or reaches a busy signal, the auto dialer hangs up and moves on through the list.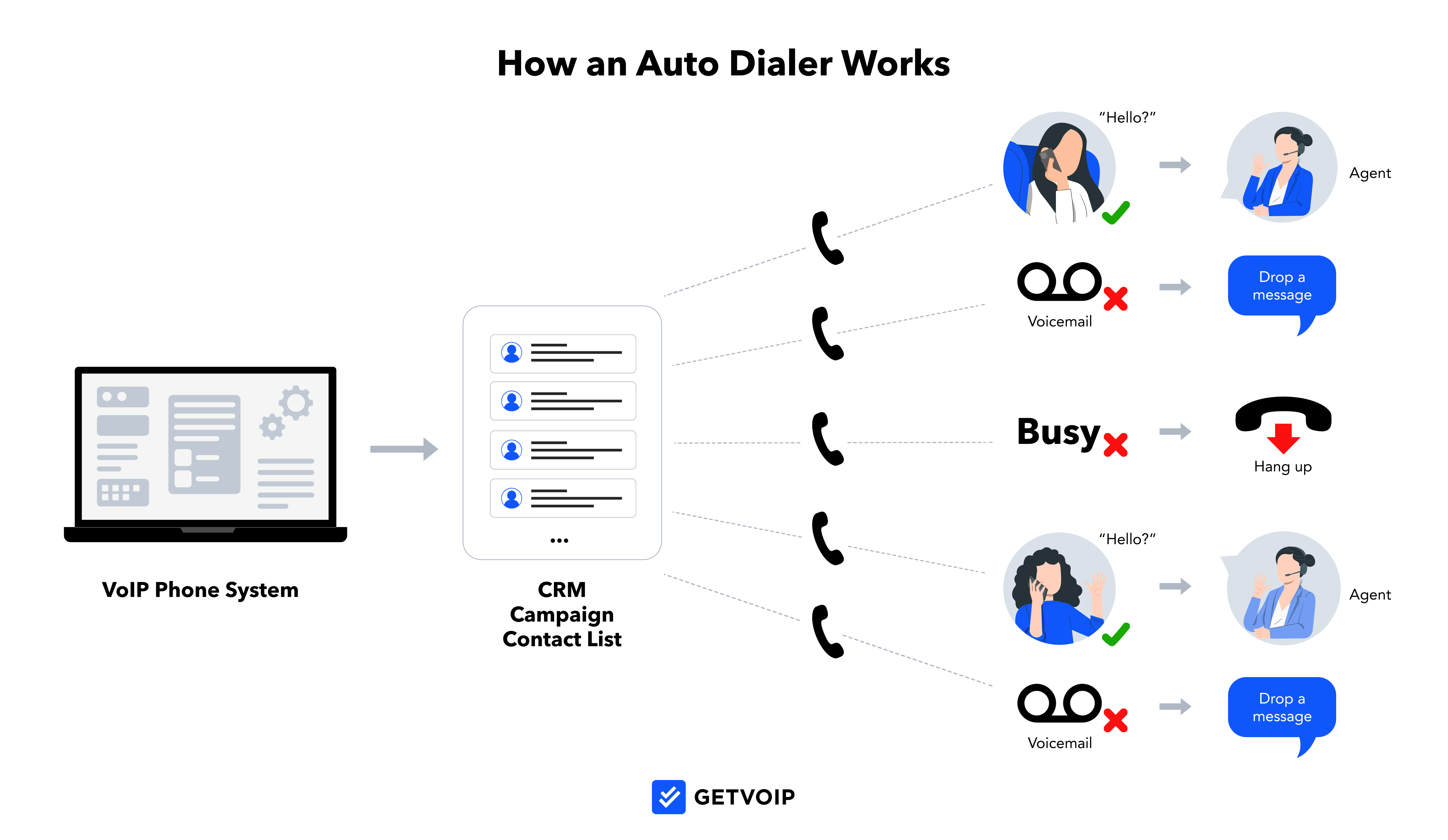 Auto dialers often have answering machine detection (AMD) software that distinguishes whether a person or pre-recorded greeting answers the call. In response, the auto dialer takes the appropriate action by routing the call to a recorded message, customer self-service menu, or live operator. If no live operators are available, it plays a recorded message or puts the caller in a hold queue.
Dialing Modes
Auto dialers utilize four primary "modes" or dialing styles: predictive dialers, power dialers, progressive dialers, and preview dialers.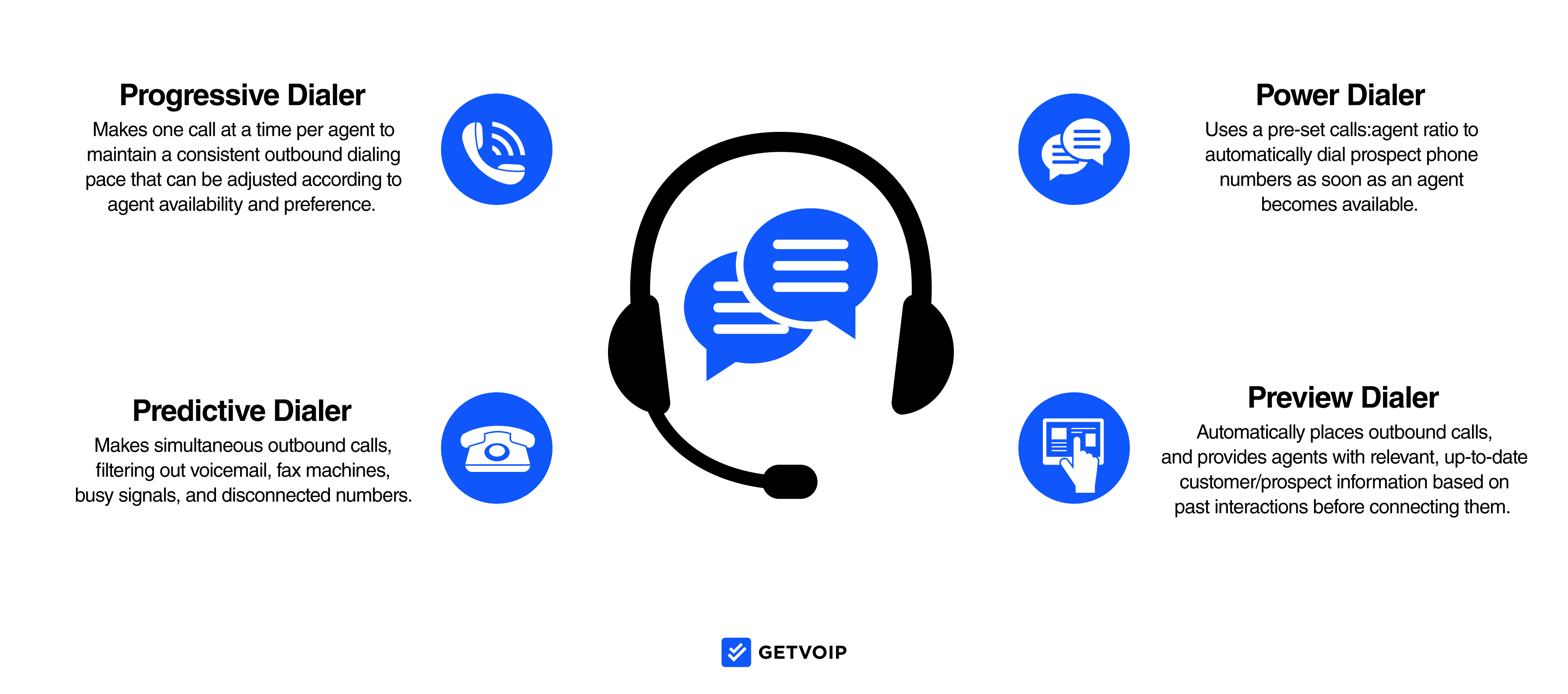 Predictive Dialers
Predictive dialers use a machine-learning algorithm to determine when to dial recipients automatically, and how many recipients to dial at once. The predictive AI algorithm determines this information from various shifting metrics: how many and which agents are available, how long their calls usually last, the probability of each dialed call connecting, and how long the phone is expected to ring before the recipient answers.
Factored together, these metrics inform the predictive dialer's "pacing algorithm," which seeks to perfectly time calls so that all agents transition immediately from one to the next.
Power Dialers
A power dialer enables a live agent to call phone numbers in immediate succession, one after the other, moving through a list. Unlike predictive dialers–which make multiple automated calls at once while an agent is on the phone–power dialers make one call after the other.
Compared to predictive dialing, power dialers eliminate the risk of connecting too soon while the agent is still on the previous call, and they provide the option for the agent to leave a voicemail or hang up.
Progressive Dialers
Progressive dialers move through your contact database one at a time, dialing new contacts only as agents become available–thus avoiding the risk of getting a customer on the line with no agent available–leading to a hangup and annoyed customer.
Preview Dialers
A preview dialer gives the agent a dashboard preview of the contact's profile and information–company, role, personal and account info, location–before placing the call.
This allows the agent to prepare and make necessary adjustments before proceeding, instead of getting thrown into a call without preparation.
What Are the Key Features of Auto Dialers?
Key auto dialer features include CRM software integrations, agent coaching tools, call recording, voicemail detection and pre-recording, and TCPA compliance.
CRM Software Integration
CRM software integrations enable richer contact profiles and background information to provide agents with a fuller context during auto-dialed calls. Further, customer relationship management (CRM) integrations can record and store gathered information from an auto-dialed phone call–such as customer sentiment and agent notes.
CRMs also record and organize data for later analysis. Supervisors can listen to call recordings, review transcripts, and analyze frequently used language and customer sentiment–using this data to coach agents and make script adjustments.
Call Monitoring
Call center monitoring, a feature built into many contact centers and VoIP phone systems, allows supervisors to actively listen, whisper, barge, and even take over live agent phone calls.
Monitoring typically includes a supervisor dashboard where managers can view, manage, and jump between active calls. Supervisors can see the total number of active calls, which agents are active, the recipient's Caller ID, each call's duration, and the number of calls waiting. Some advanced monitoring tools even display the live conversation sentiment, with one-click access to a live conversation transcript.
Call Recording
Many call centers offer automatic and on-demand call recording as an advanced feature. Automatic call recording allows supervisors to record all calls across the contact center, while on-demand allows agents to selectively record certain calls with the push of a button.
In fields that require HIPAA/HITECH compliance, call recording is critical because it delivers verification that agents have followed regulations.
Voicemail Detection and Voicemail Pre-Recording
Answering machine detection (AMD) technology determines if your auto dialer has reached a real person or a voicemail–detecting pauses, speech patterns, and phrases like "leave a message" to reach its conclusion.
AMD saves time because it prevents your auto-dialer's call-distribution system from connecting an agent with a voicemail machine. Many auto dialers allow agents to automate and "drop" a prerecorded message into voicemails while the agent moves on, maximizing time on active calls.
TCPA Compliance
Many auto dialers feature built-in rules that automatically comply with TCPA regulations, sparing your call center from committing a violation.
The Telephone Consumer Protection Act (TCPA) levies fines that range from $500 to $1500–in addition to the potential for customer lawsuits–against organizations that abuse auto-dialer technology.
TCPA requires that call centers adhere to the following rules:
Not call anyone before 8 a.m. or after 9 p.m. in a particular time zone
Not call anyone on the National Do Not Call Registry
Not perform artificial voice calls or recordings without express consent
Not make auto-dialed calls to cell phones when the receiver has to pay for said call
Not make calls to emergency telephone lines or hospital lines
Not call patient rooms at health facilities
Benefits of Auto Dialer Software
An auto dialer provides several key contact-center benefits: increased dial and connection rates, improved contact-center efficiency, accurate call center monitoring, greater agent productivity, and increased lead conversation ratios.
Increased Dial, Connection, and Contact Rates
Dial rates, connection rates, and contact rates are three critical contact center KPIs, which measure your contact center's overall outbound call volume.
Dial rate: The total number of calls dialed during a given time period, indicating call center and agent efficiency
Connection rate: The percentage of calls made that were answered by a real person, rather than a busy signal or voicemail, indicating which numbers and times of day are most effective in reaching particular customers and demographics
Contact rate: The percentage of total calls that led to live-agent contact with the recipient. This rate provides information about which announcements and call times of day retained call recipients, rather than leading to a hangup.
Improved Contact Center Efficiency
Using any of the auto-dialer types listed above–especially the progressive or predictive dialers–improves contact center efficiency and communication by handling call distribution.
These contact-center-wide auto-dialer technologies save agents and supervisors not only from having to look up and manually dial contacts–but from having to determine which agent is best suited for each contact. This leads to more efficient contact center functioning and improved call assignment.
Accurate Call Center Monitoring
Auto dialer functionality typically includes a dashboard with particular KPIs and metrics–such as calls made, calls completed, contact rate, live call recordings, and more–for each agent and the contact center as a whole. These tools enable supervisors to gain a live and historical view of contact center performance, during day-to-day operations and special outbound campaigns.
Greater Agent Productivity
Auto dialer software saves your agents from having to manually dial phone numbers, wait while the phone rings, and potentially reach a busy signal. Instead, the auto dialer deals with all of this, freeing your live agent to spend all their time speaking directly with customers and providing sales or customer service support.
Greater agent productivity leads to happier, less-frustrated agents.
Increased Lead Conversion
Integrating your CRM system with a preview dialer enables agents to rapidly connect with a large number of leads while retaining a full understanding of the customer's background, profile, and needs.
Best Auto Dialer Software For Outbound Calling
Cloud-based contact centers, such as Five9 and NICE CXone, deliver scalable auto-dialing software that doesn't require any hardware, setup, or infrastructure beyond an internet-connected device.
Here are our top auto dialer software providers:
Five9
Talkdesk
NICE
Genesys
Dialpad
Convoso
Aircall
VanillaSoft
Five9
Talkdesk
NICE
Genesys
Dialpad
Convoso
Aircall
VanillaSoft
Number of Plans with Auto Dialers
4
2 (with add-on availability for 4)
4
5
2
All Convoso plans include auto dialers
2
All VanillaSoft plans include auto dialers
Contact CenterPricing
4 plans from $149 to $229 monthly per user
4 plans from $75 to over $125 monthly per user
4 plans with custom-quote pricing
5 plans from $75 to $150 monthly per user
2 plans with custom-quote pricing
Custom quote pricing
3 plans from $30 to over $50 per user
Custom plan pricing, starting at $99 monthly per user
Predictive Dialer
Yes
Yes
Yes
Yes
No
Yes
No
No
Power Dialer
Yes
Yes
No
No
Yes
Yes
Yes
No
Progressive Dialer
Yes
Yes
Yes
No
Yes
Yes
Yes
Yes
Integrations
Salesforce, Velocify, Microsoft Dynamics, Zoho, Netsuite, Zendesk, Sugar CRM, Oracle Service Cloud
26 integrations including CRM platforms like Salesforce and communication platforms like Slack
CRM platforms including Salesforce, ServiceNow, and Zendesk, plus UCaaS platforms like RingCentral and Dialpad
Over 200 integrations including CRM systems, routing tools, UCaaS platforms, and workforce management
8 integrations including CRM systems and collaboration platforms like Google Workspace and Microsoft 365
17 integrations including CRM systems like Salesforce and HubSpot
20 integrations including CRM systems, collaboration apps, and communication platforms
Over 10 integrations including Salesforce, payment software, VoIP providers, and Zapier.
Coaching Tools
– Call recording

– Monitor, whisper, barge, takeover

– Call scripting

– Live agent assist AI support

– Supervisor dashboard

– Call recording

-Supervisor dashboard

– Call monitoring

– Live scripting

– Custom agent scripting

– Call monitoring

– Coaching groups

– Call monitoring

– Manager alerts

– AI speech coaching

– Call monitoring

– Performance reports

– Live scripting

– Analytics

– Call recording

– Call monitoring

– Call recording

– Call monitoring

– Live scripting

Skills-based Routing
Yes
Yes
Yes
Yes
No
Yes
Yes
Yes
TCPA-Compliant Manual Dialing
Yes
Yes
Yes
Yes
Yes
Yes
Yes
Yes
Five9
Five9's dialer system offers all four main dialer types–progressive dialer, preview dialer, predictive dialer, and power dialer–available as its own software product, or embedded within Five9's contact center. The dialer features built-in TCPA compliance.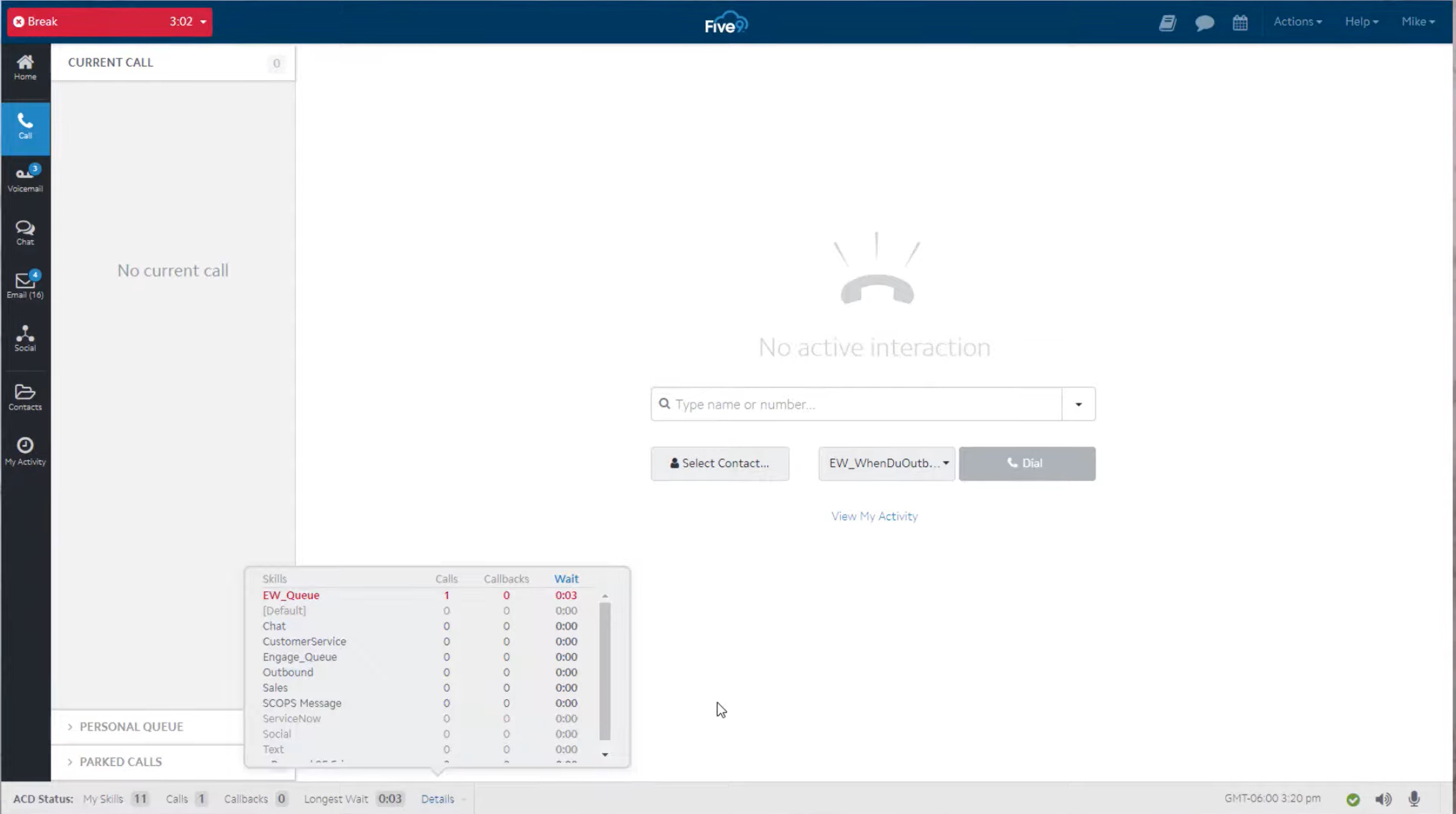 From an agent perspective, Five9's dialer embeds seamlessly within the outbound interface and other calling tools. Agents can easily select their campaigns, manage voicemail, revisit previous call activity, and make calls from campaign contact lists.
The Five9 dialer links seamlessly with the rest of Five9's contact center, importing outbound data to build dynamic calling lists and contact profiles. Agent scripting enables supervisors to provide agents with live scripts, tailored to each call's and contact's unique purpose and recipient.
Five9 Pricing
Five9 offers four contact center plans–each including outbound auto dialing. The Core plan focuses on voice only, with softphone functionality and call recording. The Premium plan adds digital channels like chat and email, plus quality management tools like agent training, a supervising monitoring dashboard, and live monitoring with whisper and barge. The Optimum plan adds workforce management tools like agent scheduling and staffing forecasts, embedded into your CRM app. The Ultimate plan adds interaction analytics–AI-based live-agent support with call transcription, multiple-language tracking, and real-time sentiment identification.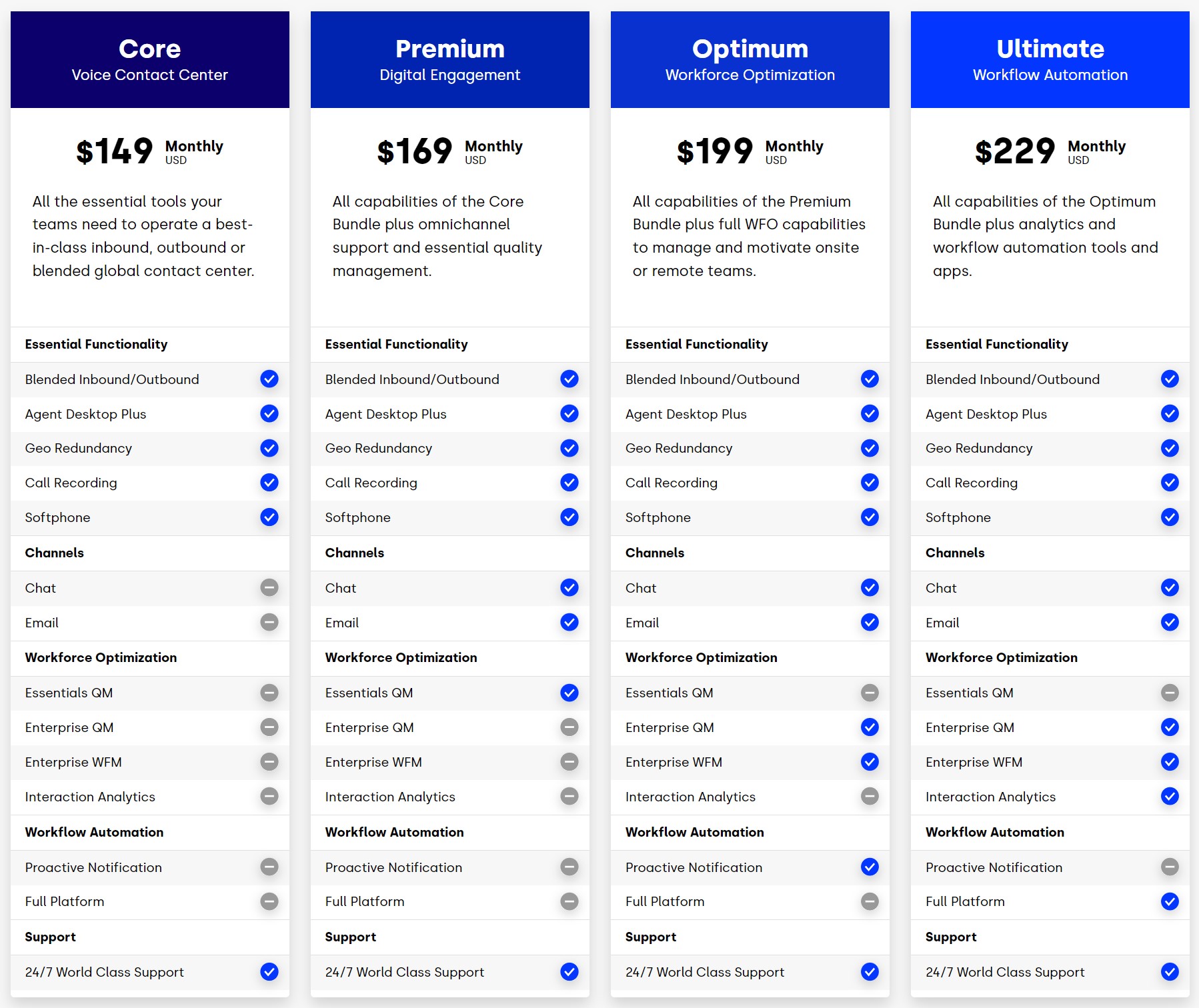 Standout Features
Campaign select: When preparing to make softphone outbound calls from their Five9 dashboard, agents can select particular campaigns from a checklist–opening up the contact list and agent phone number associated with that campaign. This makes it easy for supervisors to assign entire campaigns to agents, and easy for agents to know who to call.
Digital outreach: Automatically follow-up with customers who don't answer the phone, by sending an email or SMS text with a custom preset message
User interface: Five9's user display is clean and easy to navigate–with voicemail, 60-day activity log with key information like talk time and call result, one-click callback, and the agent's contact list.
Who Should Use Five9?
Five9 is best suited for mid-sized to enterprise clients or those that plan to scale substantially, thanks to its extensive and varied call center options.
NICE CXone
NICE CXone Personal Connections is NICE's patented proactive outbound dialing technology, designed especially to avoid the awkward pauses that usually ensue when an auto-dialed recipient answers the phone.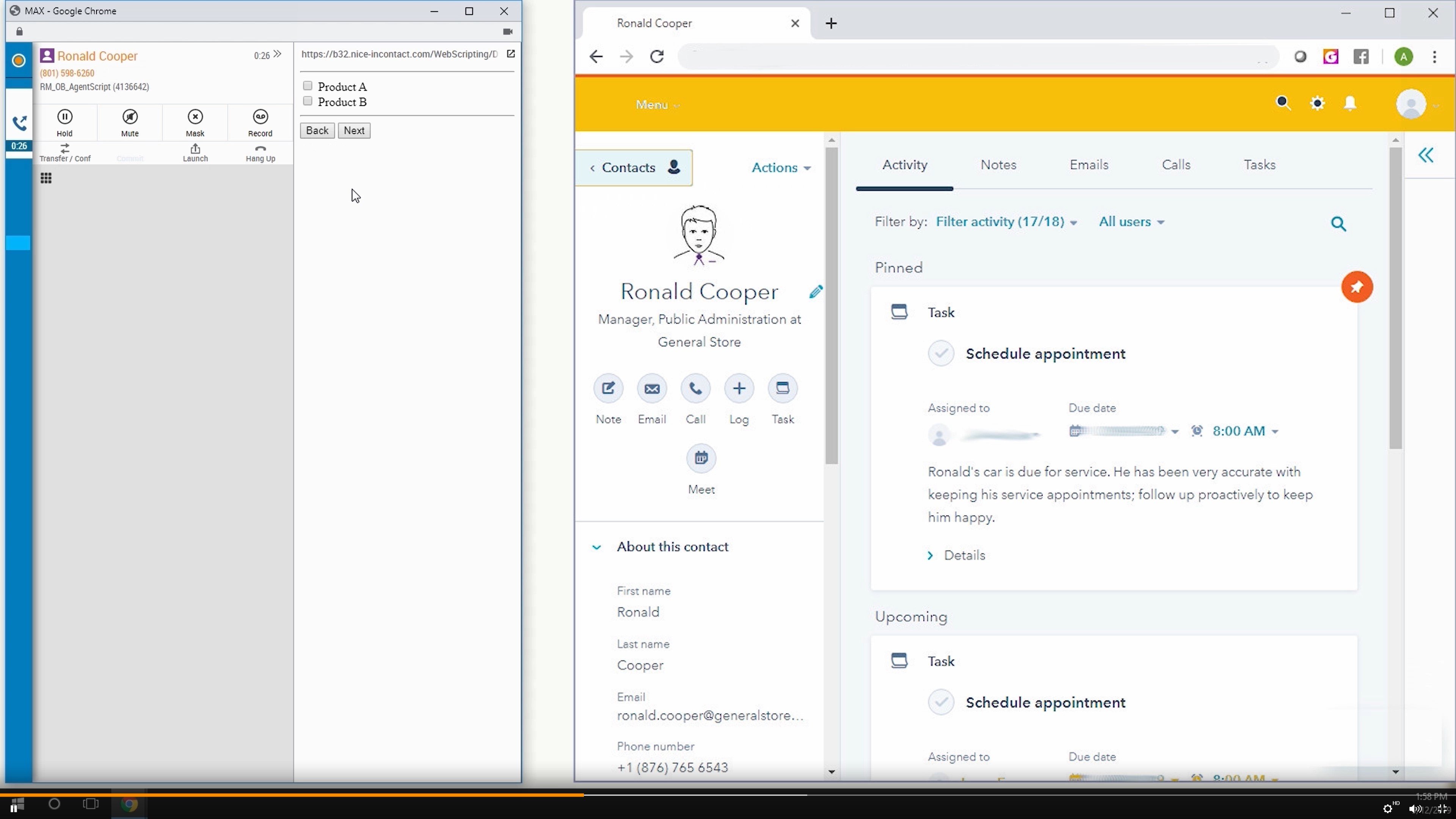 CXone quickly identifies customer answering machines, allowing agents to leave an automated message with one click and immediately move on to the next outbound call. The software maximizes agent efficiency, filling all gaps between inbound calls with automated outbound calls. CXone provides scripting and customer profiles for all interactions but also takes into account customer contact preferences–allowing agents to make outbound campaign contact not only through scripted calls but scripted emails and texts too.
NICE CXone Pricing
Nice CXone offers contact center pricing plans on a custom-quote basis. The basic Customer Engagement plan includes ACD, self-service IVR, and outbound auto dialing. The Essentials plan adds audio recording, screen recording, and quality management analytics with supervisor monitoring tools. The Core plan adds live-agent performance monitoring, while the Complete plan adds live interaction analytics for agent and supervisor feedback.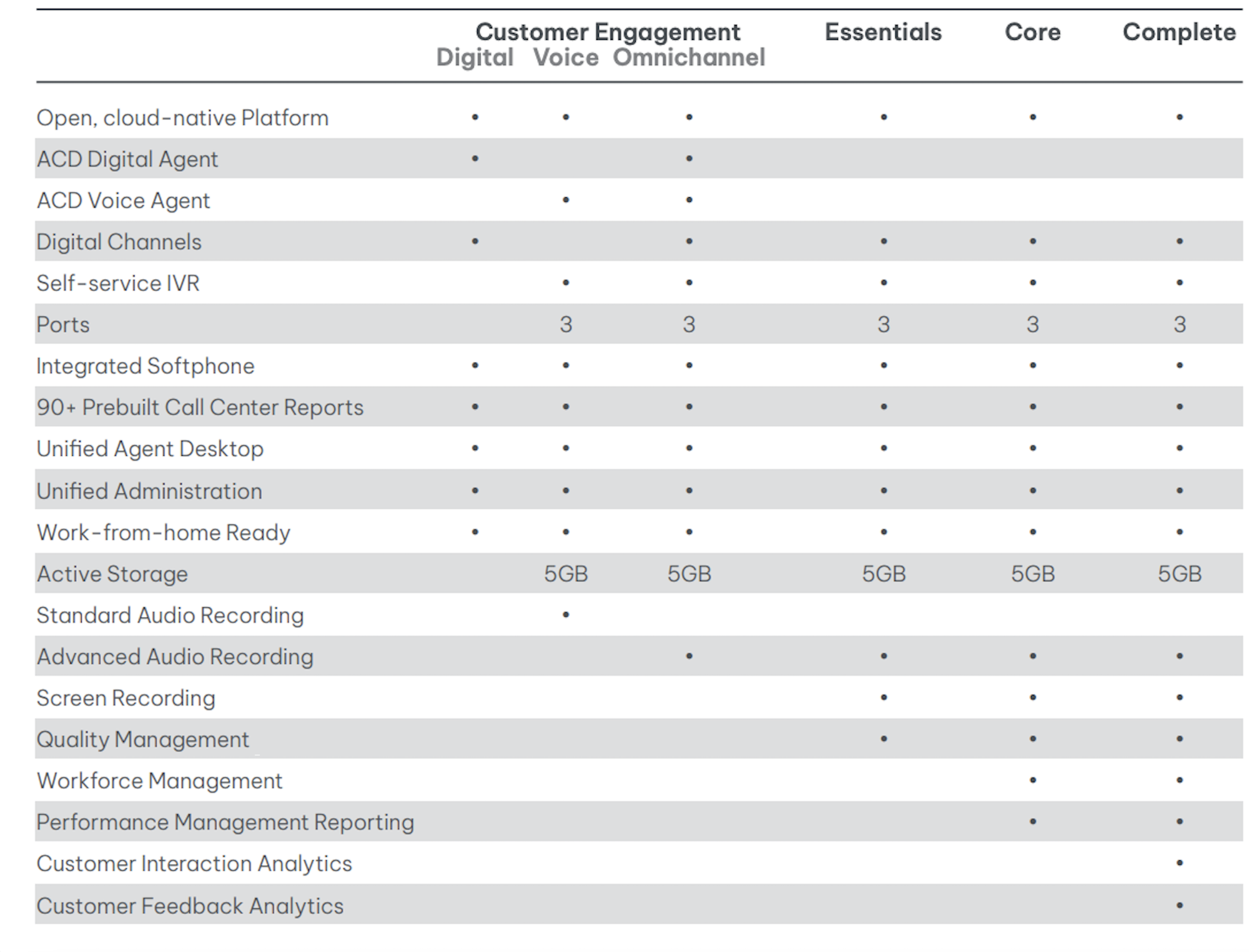 Standout Features
Skills-based campaign management: Supervisors can create, customize, and evaluate agent skills, choosing specialized media types and assigning each agent a numerical score.
Custom campaigns: Design outbound campaigns by uploading contact lists and selecting filters–such as targeting particular areas or types of leads–to tenure that each campaign and agent connects with exactly the audience you intend.
Scripting: Provide each agent with a full contact profile and script for every outbound interaction, ensuring that every conversation stays on brand.
Call flows with built-in compliance: Create automatic call distribution and routing sequences that remain TCPA-compliant–creating paths that honor DNC lists, delete sensitive data after a call, and handle.
Who Should Use NICE CXone?
Businesses that plan to engage a high volume of new leads and prospects. NICE's dialer reduces pause time, which increases the contact rate substantially, especially with first-time recipients.
Talkdesk
Talkdesk's dialer, built into the Talkdesk contact center, enables you to easily add and update contact lists, create and manage campaigns, assign agents, and supervise outbound queue status in real-time.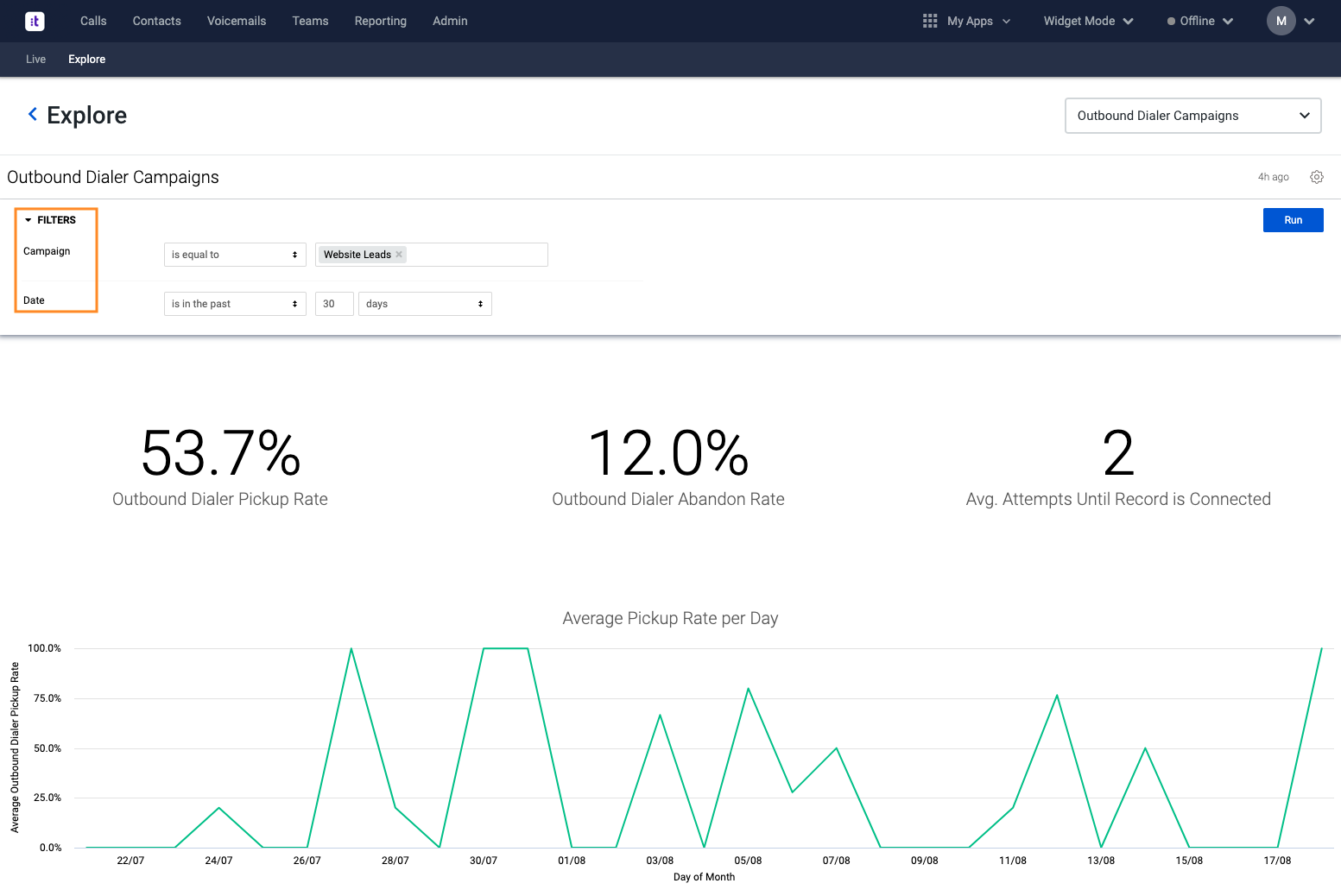 Build campaigns in a user-friendly and intuitive format–name your campaign, set campaign priority, and choose the dialing mode: predictive, progressive, or power-dialing. Set attributes like the dialing ratio per available agent, the abandonment ratio for calls answered when no agents are available, and the calling hours during which the dialer should activate the campaign.
Manage and import contact lists, choose the caller IDs you want to associate with each dialing campaign, set a max number of outbound attempts for each recipient before giving up, and set a "retry time" after which the dialer revisits previously unanswered numbers.
Talkdesk's predictive and power dialers include answering machine detection (AMD) with custom handling. The contact center includes real-time monitoring and advanced reporting that you can sort for each campaign.
Talkdesk Pricing
Talkdesk offers four pricing plans, but only the higher-tier plans–CX Cloud Elite and Experience Clouds–include Proactive Outbound Engagement, their auto dialer technology. However, Proactive Outbound Engagement is available as a standalone add-on, which you can add to any plan on a custom-quote basis.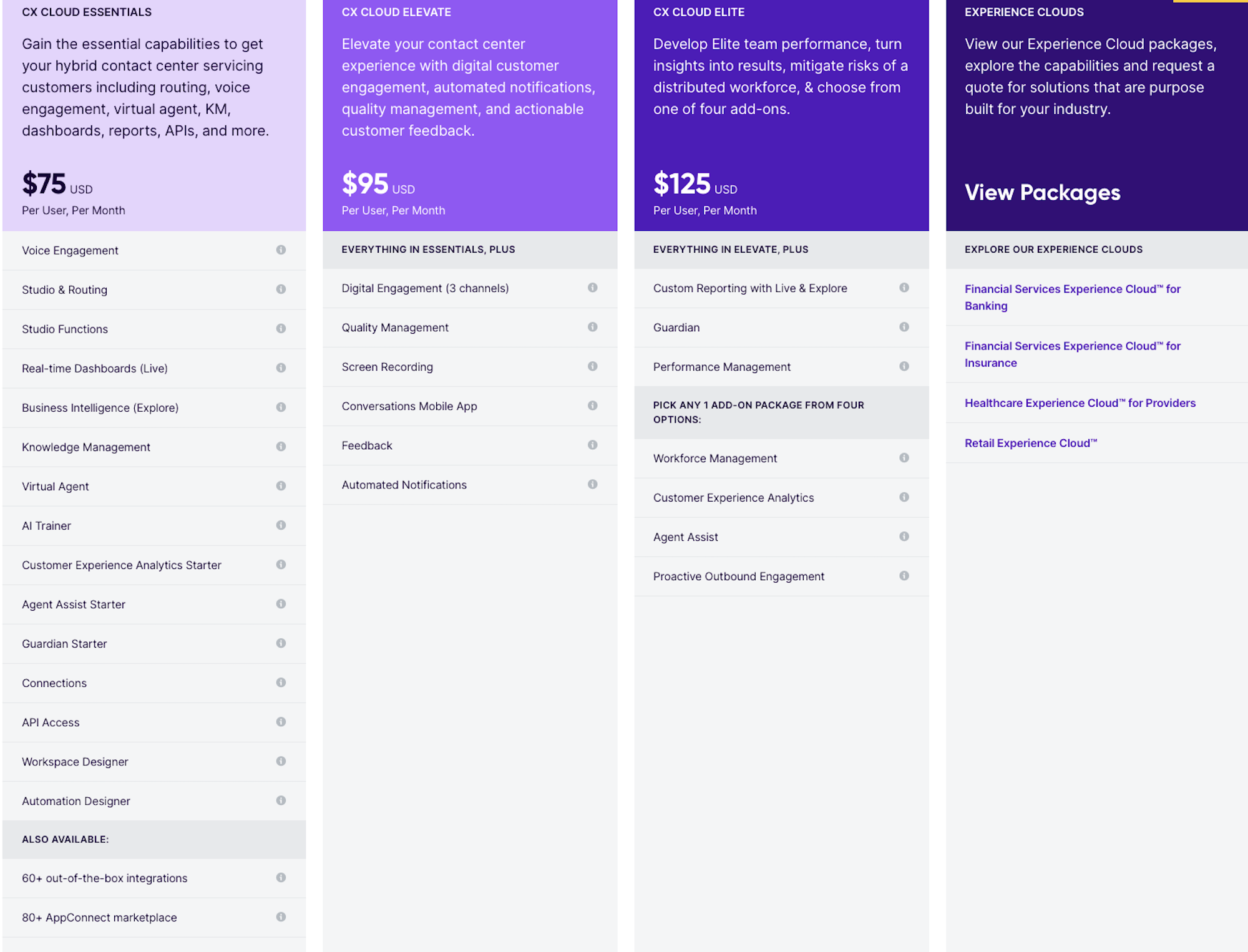 Standout Features
Reporting dashboard: Supervisors have access to a variety of dashboards and reports for each agent and campaign. Create custom reports and dashboard, tracking real-time and historical call activity, abandon rate, pickup rate, total calls made, outbound waiting time, connection time, and more.
Easy campaign management: Customize everything about your campaigns, managing dozens at once. Assign each campaign a priority, set details like ring wait time and how many leads to call at once. Upload calling lists from custom CSV files, or import directly from an integrated CRM.
Proactive notifications: Send event-triggered notifications–via text, email, or social media–in line with customer preferences. Customize the content of these automated messages as well as the events that trigger them, for use cases like appointment reminders and order confirmations. These messages save agents time, which they can spend on the phone with other leads.
Talkdesk Dialer for Salesforce: Talkdesk's dialer embeds seamlessly into Salesforce, providing preview dialing and power dialing functionality that allows agents to move briskly through CRM contact lists
Who Should Use Talkdesk?
Due to its exceptional campaign management features, Talkdesk is best for large companies that have a variety of outbound campaigns going at once, for different purposes–for example, campaigns for separate products or departments.
Genesys Cloud CX
Genesys Cloud CX includes a dialing system with predictive, preview, and manual dialing. The software connects auto-dial recipients with a custom IVR, capable of interacting with customers via not only voice but SMS, mobile web chat, and email–with automated alert messaging, notifications, and call follow-ups.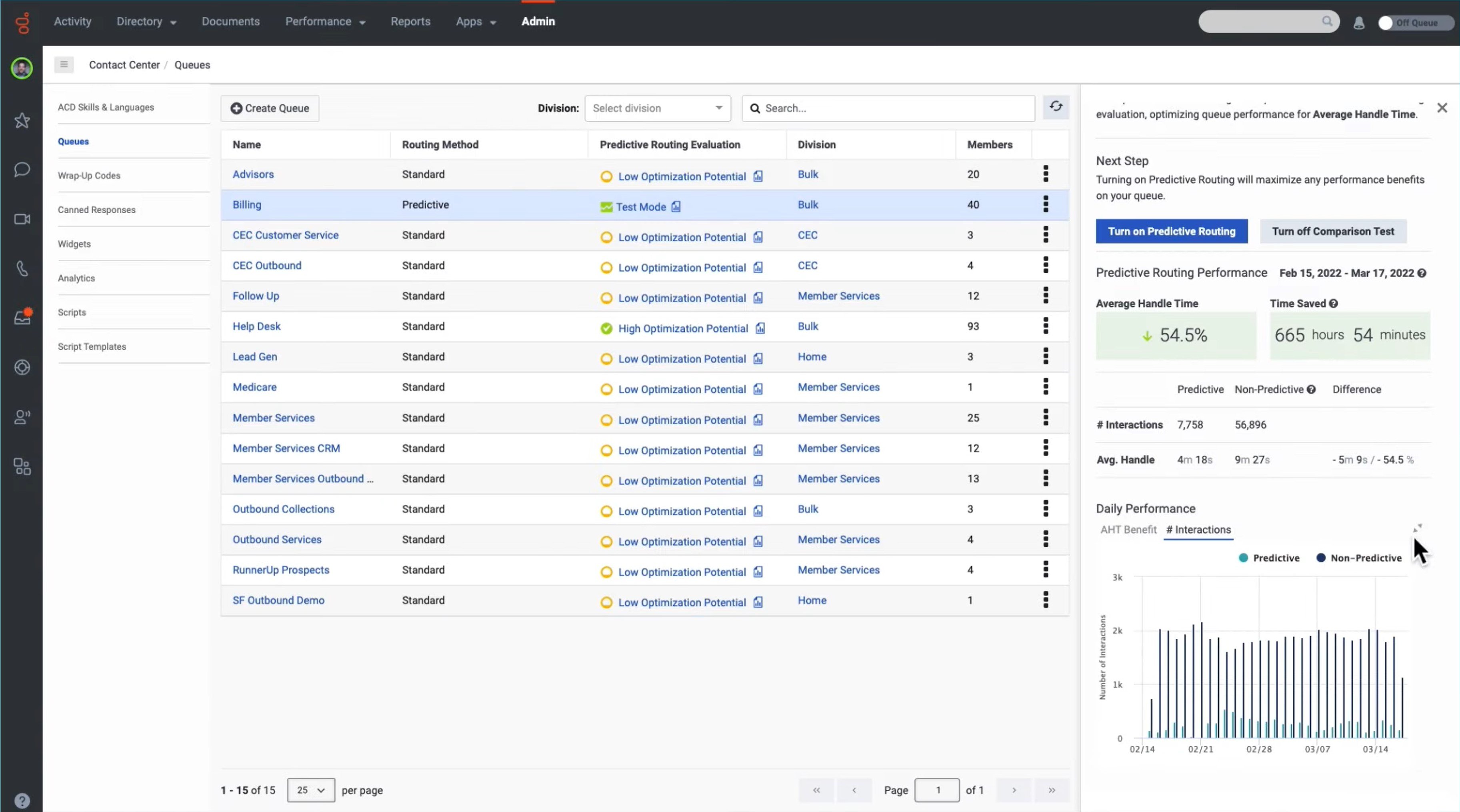 The dialer quickly distinguishes between live calls, voicemails, and busy signals–taking the appropriate next response with advanced skills-based routing capabilities. Once the agent is connected, the Genesys CXone offers an omnichannel interface, with a customer profile and preview dialing informed by CRM and business database analytics.
Cloud CX's dialer supports agents and supervisors with monitoring, live reports and speech analytics, and custom agent scripts.
Genesys Cloud CX Pricing
Genesys Cloud CX offers 3 plans, with 5 pricing options–since two of the plans offer both digital-only and omnichannel options. All of Genesys' plans include the outbound auto dialer.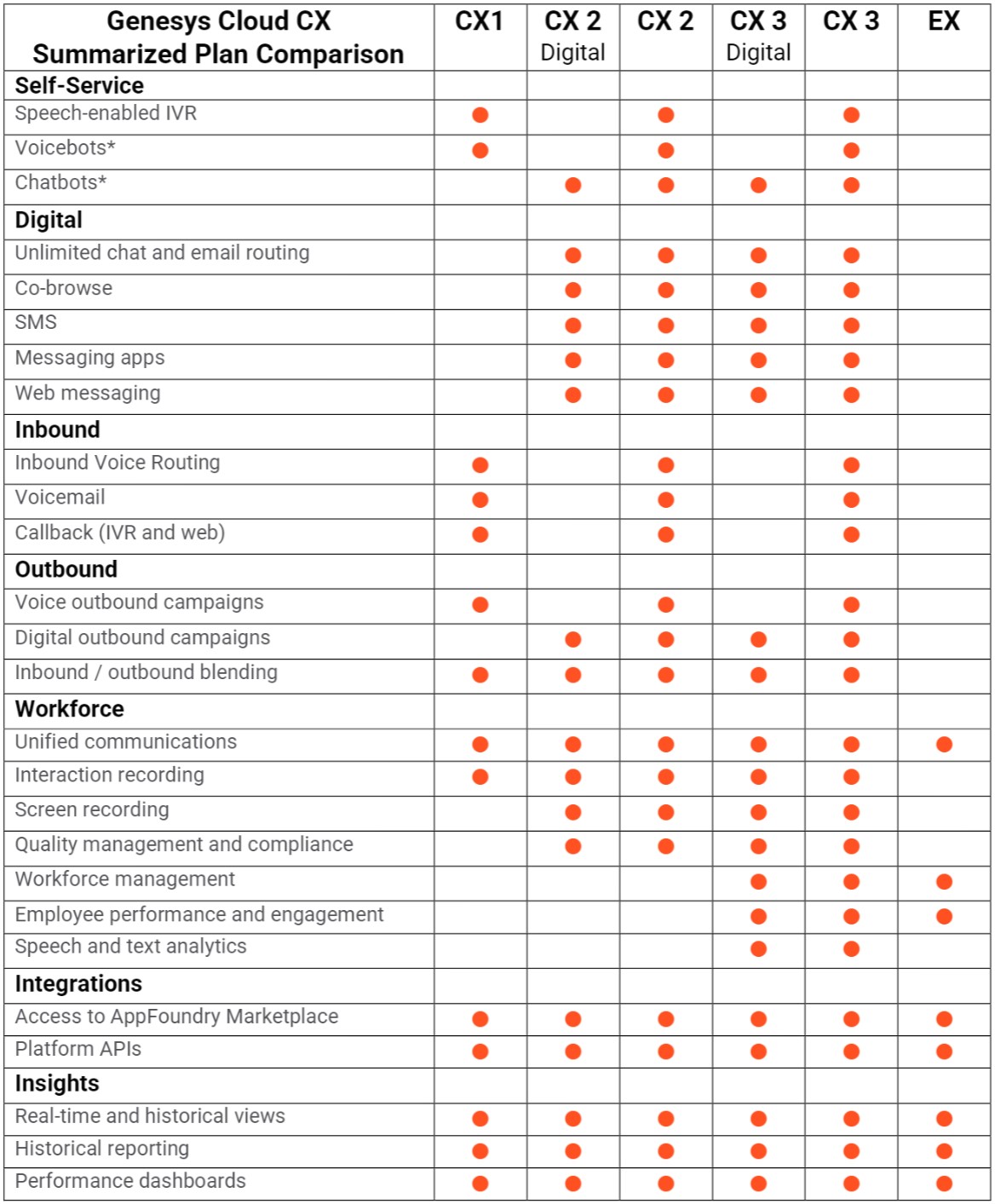 Standout Features
Multichannel outbound IVR: The automated system connects with recipients via an advanced multichannel IVR menu. Provide customers with DTMF options to hear an announcement, reach a live agent, or take action–such as receiving a text notification.
Reports and speech analytics: Campaign-effectiveness reports including contact and connection rate, number and percentage of hang-ups or lost calls, and more. Speech analytics identify trends–like customer sentiment and frequently used words–to inform agent scripts and IVR menu options.
Custom agent scripting: An agent workflow tool enabling supervisors to create scripted call flows that appear on an agent's screen during live interactions. Call flows can be adapted and customized depending on the customer, sentiment, and campaign.
Who Should Use Genesys Cloud CX?
Since Genesys Cloud CX offers auto dialing on all plans–even the cheapest–it's best for companies that want outbound dialing within an affordable phone-only plan.
Dialpad
While Dialpad offers UCaaS and CCaaS plans, they offer their power dialer as part of the sales-focused plan–along with call recording, SMS texting, AI support features, analytics, and CRM integrations.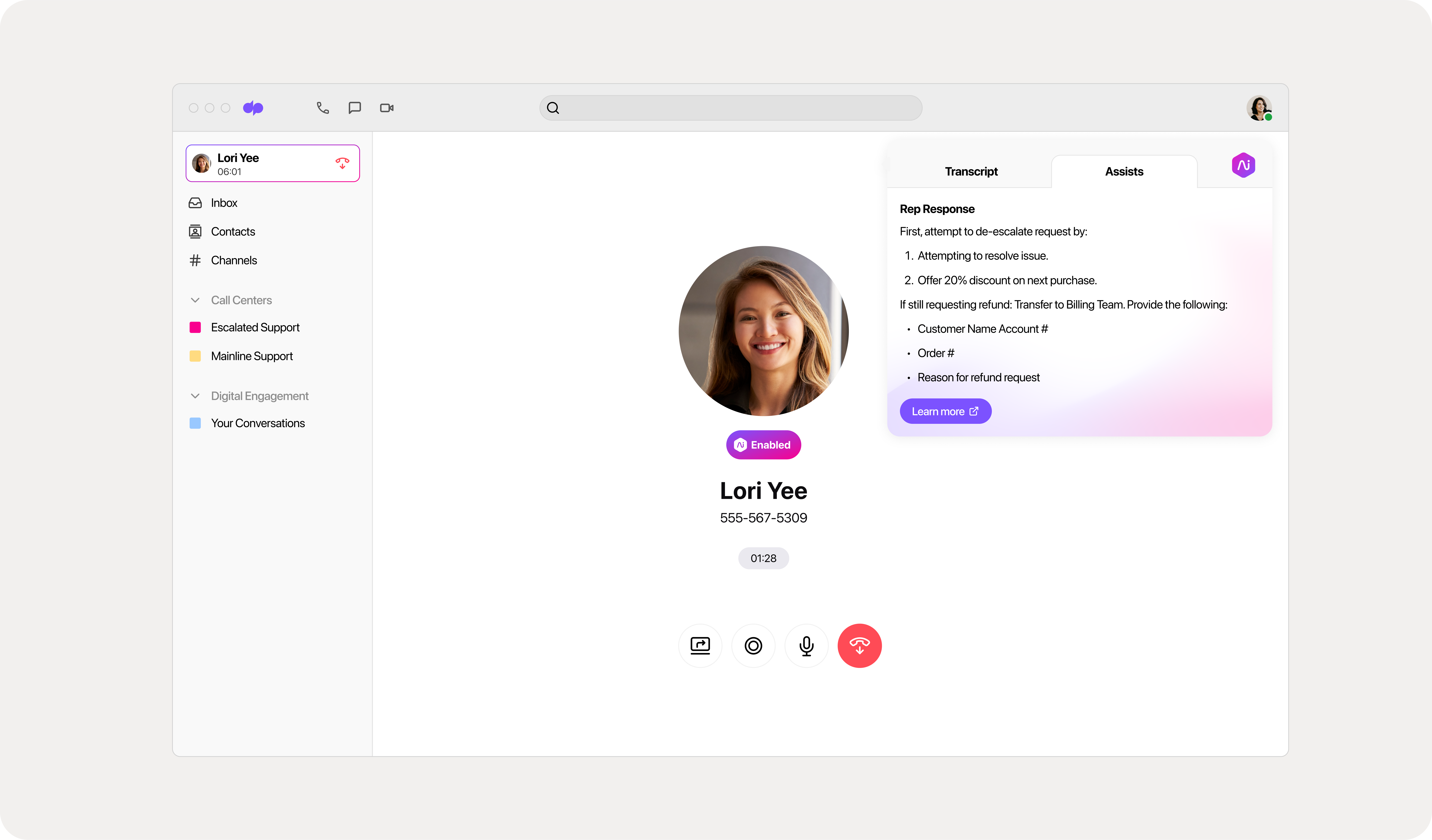 Their sales plans feature a power dialer only–not a progressive or predictive dialer–but this power dialer integrates with CRM software to provide customer context that mimics preview dialer functionality.
Dialpad automatically records and transcribes every call, with unlimited access to both features. Live AI assistance captures the transcript and uses it to offer agent support–including suggested knowledge-base articles, canned responses, and feedback. The agent dashboard includes a cohesive view of all agent tools, allowing agents to transfer calls to a meeting, send a message, or "drop" a prerecorded voicemail as soon as the agent reaches the recipient's voicemail message.
Dialpad's built-in analytics report on call volume, agent performance, customer sentiment, device usage, and more.
Dialpad Pricing
Dialpad offers its power dialer as part of its AI Sales pricing plans–not as part of the CCaaS or UCaaS plans.
Dialpad's AI Sales plans include a phone number for each user, unlimited call recording, softphone support, international phone numbers, call monitoring, and analytics. However, the Enterprise plan supports large contact centers and adds custom analytics.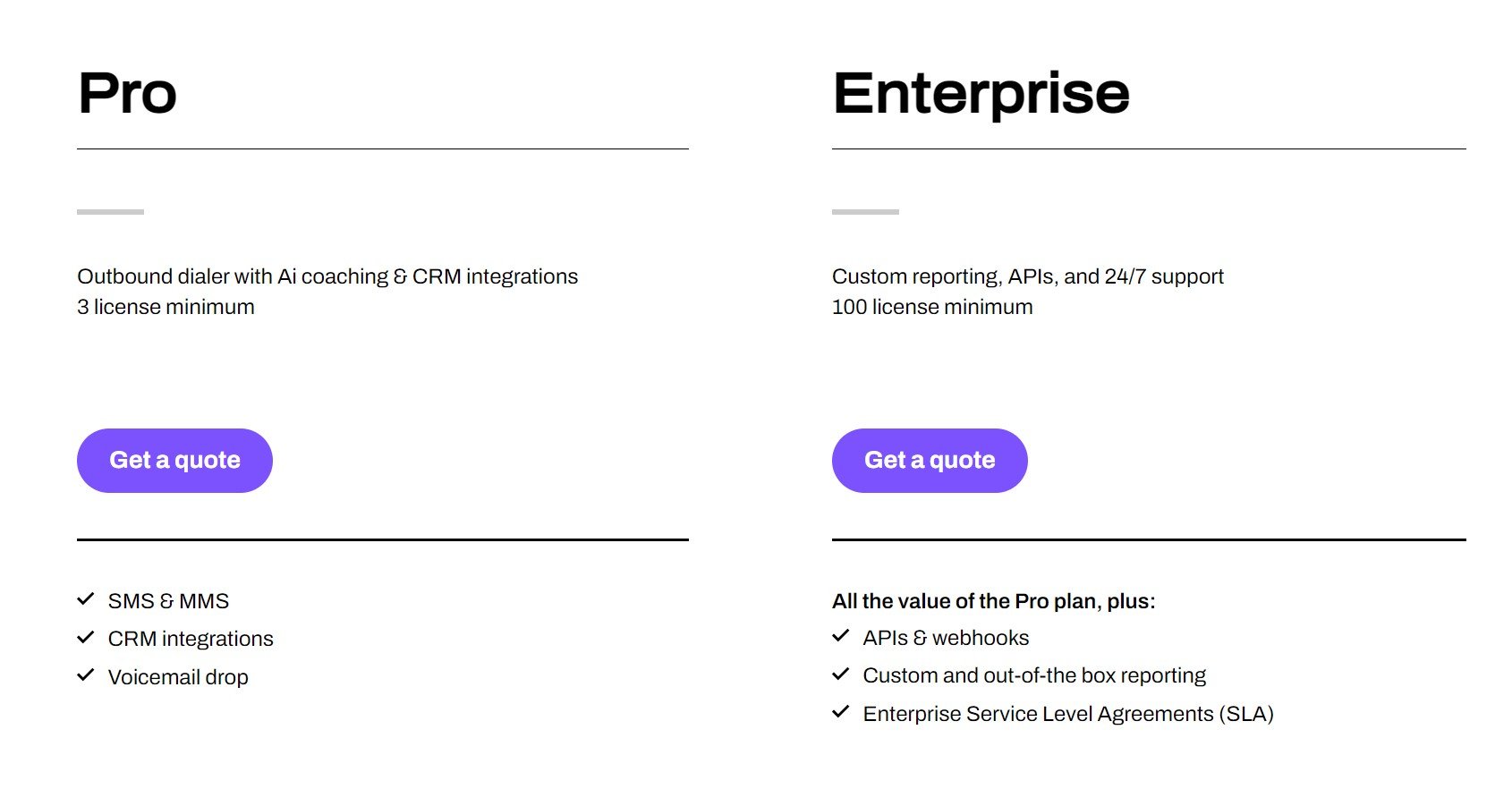 Standout Features
Real-time AI assistance: Dialpad's agent assist tool pops up automatically during all customer interactions presenting a live transcript and real-time agent support via canned responses, knowledge base suggestions, and coaching tips.
Live transcription: Dialpad includes unlimited recording and transcription on all calls, supporting both agents and administrators. Transcriptions are saved and logged with each call, allowing anyone to revisit, download, and share.
Coaching playlists: Supervisors can create recording playlists for sales and service agents, providing examples for training and coaching
Who Should Use Dialpad?
Dialpad is best for smaller contact centers without complex routing needs, since their power dialer does not route to multiple simultaneous agents as well as predictive dialing.
Convoso
Convoso is an outbound contact center software that emphasizes sales and lead generation, featuring auto dialer tools including a preview dialer, predictive dialer, progressive dialer, and power dialer.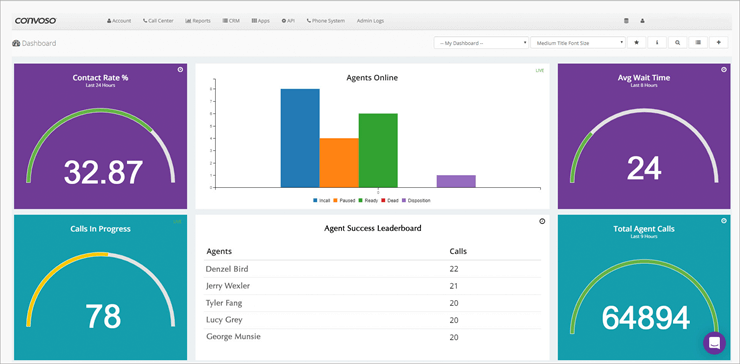 The omnichannel software includes calling, email, and SMS–allowing you to tailor outbound communication methods to your customers' preferences. Convoso includes advanced reporting, the ability to manage dozens of custom campaigns at once, automated agent tasks, call-center monitoring, and skills-based routing for inbound calls.
Auto-dialed calls have AMD technology with quick disposition and workflow automation, designed to help agents move swiftly through their calling, voicemail, and follow-up tasks for each call. While on call, agents have guided scripting and quick voicemail dropping with one click.
Convoso Pricing
Convoso does not post any pricing information publicly, so contact them directly for custom quotes.
Standout Features
Smart caller ID reputation management: Convoso's ClearCallerID allows you to manage your contact center numbers' caller ID reputation, seeing when a major carrier has blocked or flagged your number, or when someone has filed an FTC complaint. Convoso lets you replace these numbers quickly and ensures that carriers know you are using your phone number legitimately–thus avoiding a spam caller ID designation.
Customizable reports: Convoso includes a wide variety of reports, with filterable criteria to examine agent and lead performance. Generate conversion reports, lead reports, contact rate reports, agent call history, and more.
Lead follow-up automation: Predetermine follow-up schedules and channels for leads–timing future calls, emails, and text messages.
Who Should Use Convoso?
Convoso works best for companies mainly focused on outbound sales and lead management.
Aircall
Aircall is a phone-only call center software with a variety of routing tools, analytics, reports, and a power dialer.
The power dialer integrates with 20 applications–including CRMs, collaboration apps like Monday.com, and e-commerce apps like Shopify–powering customer profiles and screen pops that emulate preview dialing. Easily organize your CRM contacts into lists and campaigns, dialing through each one by one.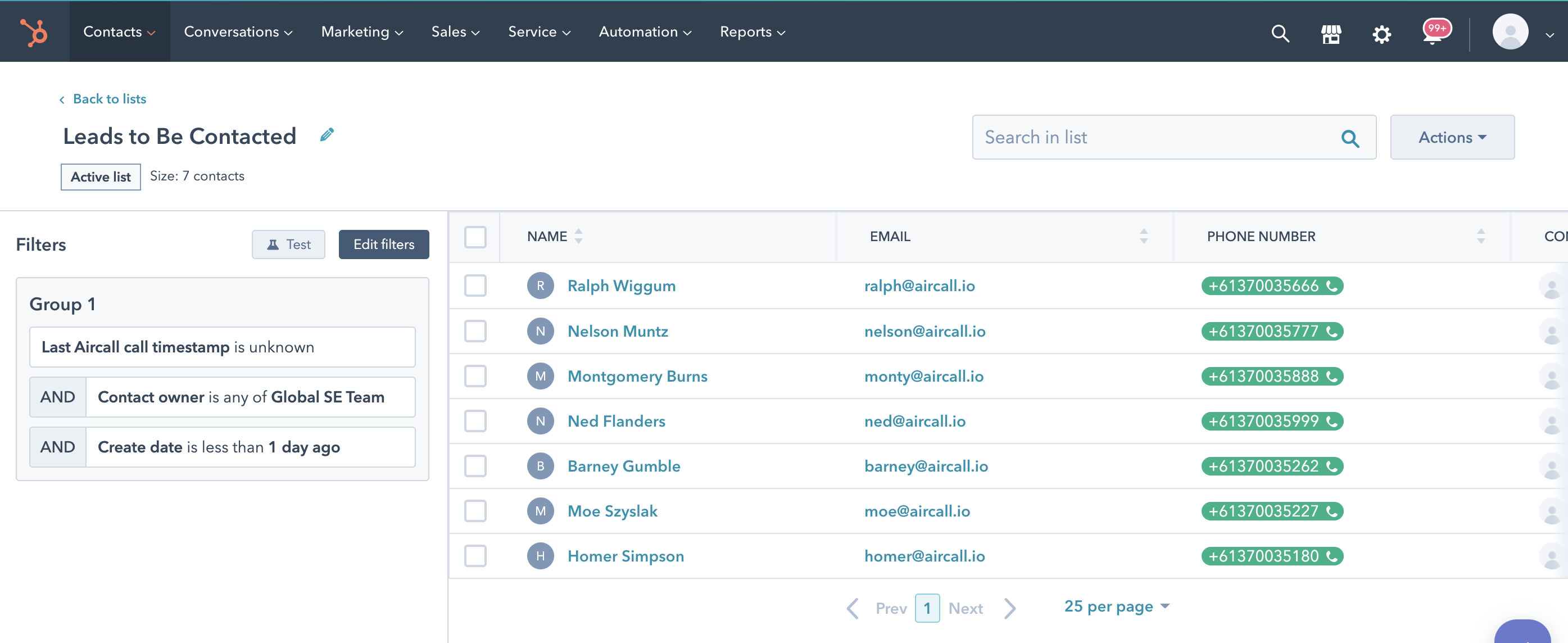 Aircall supports their powerdialer with ring groups, a shared call inbox for agents in the same queue, call recording, and call monitoring with supervisor whisper, barge, and takeover. Aircall's softphone functionality enables agents to make calls from any device on the desktop, Android, or iOS app.
Aircall Pricing
Aircall offers 3 pricing plans, which range from $30 to over $50 per user. However, power dialing is not included with the basic Essentials plan–only with the $50 Professional plan and the Custom plan. The Essentials plan also includes call recording, call queueing, call monitoring, and advanced analytics.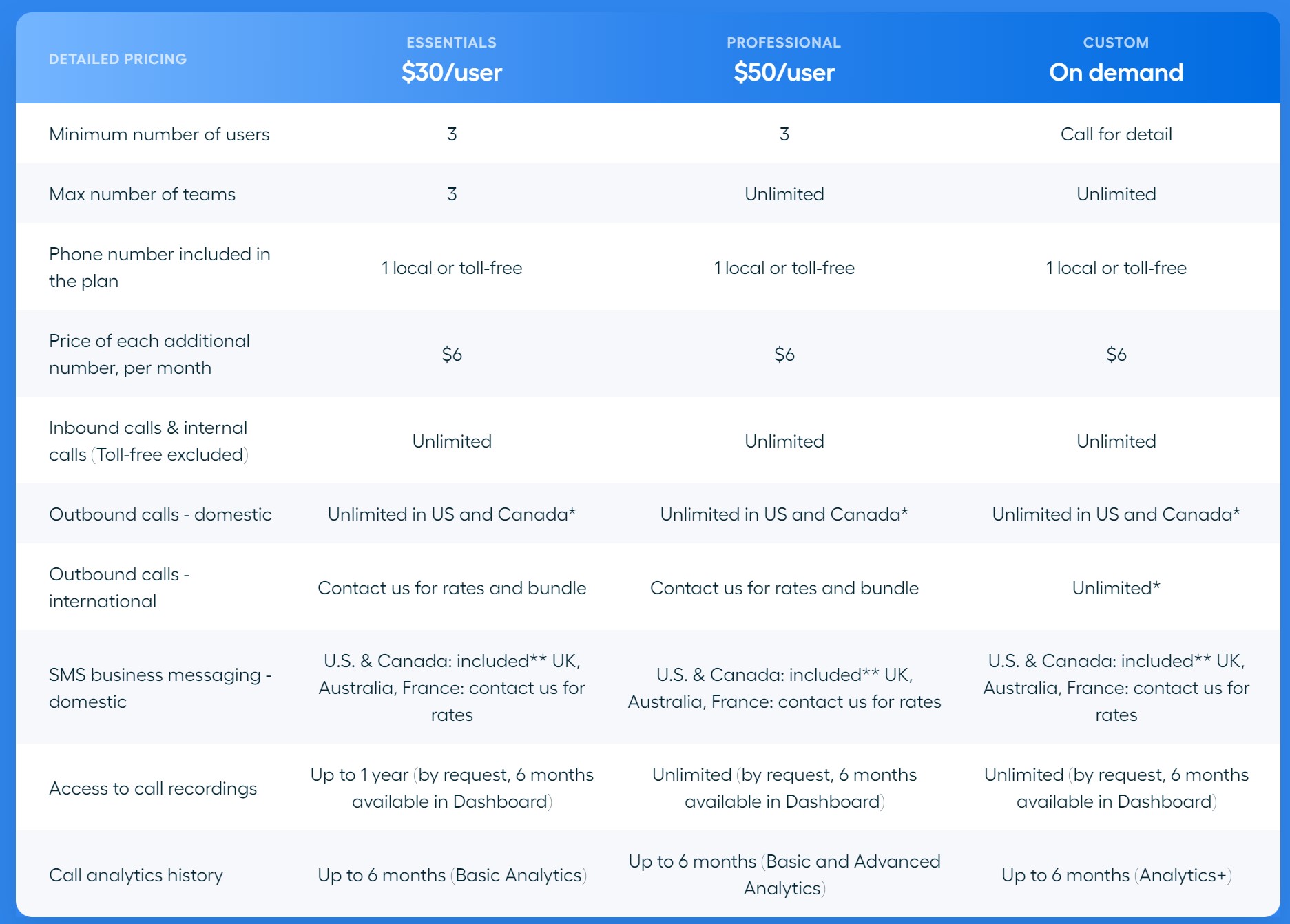 Standout Features
Automatic number identification: When you identify a business prospect in your CRM system and input their website, Aircall automatically identifies phone numbers and adds them to your campaign list
Screen pops: Each outbound call triggers an automated screen-pop window containing customer information, drawn from your CRM
Quick follow-up: As an agent handles post-call duties–like recording contact notes, tagging teammates, and other follow-up steps–Aircall automatically adds this context into your integrated CRM
Who Should Use Aircall?
Since Aircall offers a power dialer and not a predictive dialer, it works best for small call centers with a handful of simultaneous agents, instead of dozens. Further, Aircall's phone-only solution is best for teams that don't need messaging channels.
VanillaSoft
VanillaSoft is a queue-based, omnichannel sales engagement platform with VoIP, email and SMS.
Intended to optimize lead conversion and expedite sales agents' tasks, Vanilla Soft includes two auto-dialing modes: progressive dialing enables agents to call swiftly own a list of contacts one after the other, and preview dialing utilizes click-to-call functionality for agents to briefly analyze contact information before hopping on a call.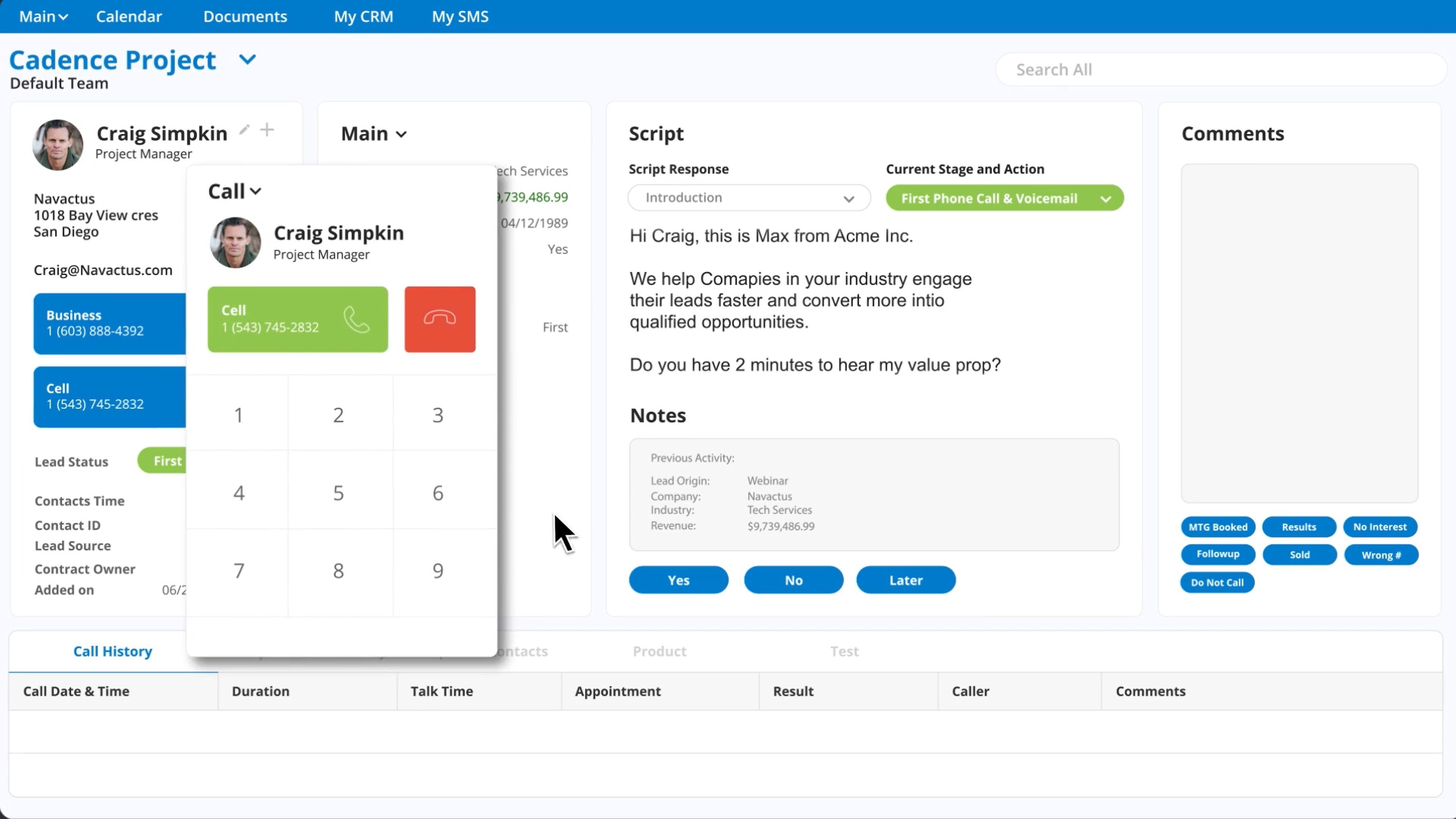 VanillaSoft supports its auto dialer with a variety of sales-focused multichannel features: supervisor tools like performance tracking and a call-activity dashboard, call recording, a built-in B2B database to generate new prospects and contact information, email drip sequences, and automated SMS templates.
VanillaSoft Pricing
All VanillaSoft features are included in VanillaSoft plans, which start at $99 monthly per user. However, VanillaSoft does not publicly disclose particular pricing plans, so contact them for a custom quote.
Standout Features
Lead routing: Customize lead-routing workflows with automated call cadences and lead prioritization. The VanillaSoft system evaluates and prioritizes leads–like hot leads, warm leads, and cold leads–sending new web leads and hot leads to the top of the queue.
Scripting: Build out a variety of potential conversation scripts, with objections and responses a prospect might have at various stages–to create adaptive live scripts, which incorporate personal data about the prospect
Appointment setting: With one click from any live conversation, agents can send custom appointment invites via email or SMS
Who Should Use VanillaSoft?
VanillaSoft is best for companies mainly prioritizing sales and prospect management since their tools focus on outbound contact engagement–rather than internal team messaging, CRM integrations, or task assignment.
Auto Dialers Make Your Contact Center More Efficient
Auto dialers expedite sales, lead management, and customer-support processes–integrating with CRM systems, monitoring, analytics, and an omnichannel interface to increase the number of contacts an agent makes per day.
As depicted above, each CCaaS provider and auto dialer software has unique strengths: some integrate with many applications, some seamlessly utilize SMS and email, and some use predictive dialing to keep dozens of agents simultaneously engaged with leads.
Whichever auto dialer and CCaaS software you decide to use, make sure to pick one that maximizes your business needs.
Auto Dialer FAQs
Here, we've answered some of the common auto dialer questions.
The difference between a phone system and a dialer is that a phone system handles both inbound and outbound calls, plus other routing and queueing features, while a dialer focuses only on outbound dialing, recipient identification, and routing.

No. Auto dialers are legal. However, it is illegal to call recipients outside of specified hours, or to call phone numbers registered on a Do Not Call list.
Each auto dialer has unique pricing since most of them are built into contact center plans. Outbound auto dialer plans usually range from $75 to $125 monthly per user.