An increasing number of businesses are opening up their own contact centers rather than outsourcing. This is primarily due to the reduced cost of cloud-based software auto dialer solutions and their subscription model. The top auto dialer is going to streamline your outreach practices and will also ensure compliance with federal regulations on cold-calling. The days of manual dialing are over. Today, for a contact center to succeed, it's going to require some form of auto dialing to ensure that agents are maximizing contact time and connecting with customers.
Quick links ↓
What is an Auto Dialer?
An auto dialer is a software that automatically dials telephone numbers for agents. When the recipient answers the call, the autodialer either plays an IVR message or connects the call to a live rep.
Auto dialing adds efficiency because of the fact that your agents will be sequentially dialing through a preexisting list at a steady rate. Auto dialer software can do this while the agent is working on other aspects of the call and they will even screen out voicemails and negative call results like busy signals and no answers. Auto dialers are just better at managing large outbound campaigns that require a high volume of calls.
Thanks to their utility, it's hard to consider opening a serious contact center without first having a capable auto dialer to help your agents outbound efforts. You must find an auto dialer that presents you with all of the features and functionality that your agents will need to convert and improve your customer experience.
In the past, auto dialers were constrained by some pretty stringent hardware requirements. These days, you have an option for either hardware or software auto dialers, which will help you automate outbound calling. There's been a definitive shift towards cloud-based contact center software dialers, and many of the top VoIP providers like 8×8 and RingCentral provide this call center technology in their cloud solutions. This dialing software is usable on desktops via software, softphones, in browsers, or even on mobile devices.
Auto dialers reach out to existing customers for cold calling or sending out appointment reminders. Even outbound interactive voice response (IVR) systems use auto dialer software to reach out to existing customers and provide them with notifications and bill pay options. These are almost completely automated systems that use telephone keypads and voice to walk customers through a company's self-service options.
How Do Auto Dialers Work?
In order for an auto dialer to work, there must be a computer running the software, a person answering the phones, a voice modem, and an active telephone line. The voice modem allows the computer to play recorded audio over a telephone line, though using VoIP often eliminates the need for any equipment.
As for standard desktop computers, they currently have two to four internal modem cards; the more modems you have, the more concurrent calls a call center software can make. The software will tell the computer which numbers to dial, and what to do when there is a busy signal, a voice mail, or an actual live person who picks up the phone.  Before the phone can connect, the auto dialing software must decide what number to call and for how long.
In the past, an auto dialer might just dial every combination of numbers at random, a process which is now called "war dialing." Auto dialers today select from database of leads. Most calls are picked up by a person in the first 25 seconds, or the time it takes to ring four times. After that, the call is usually forwarded to voice mail, so the auto dialer will drop a call if no one answers by 25 seconds. The call is also dropped if it encounters a busy signal.
Auto dialers sometimes have voice detection software, built to recognize whether or not it is an actual person and not a voice mailbox. At that point, the auto dialer will take the appropriate action by routing the call to a recorded message or a live operator. If there are no live operators at the moment, it will play a recorded message and even put the caller on hold.
The software compiles statistics based on how long each call lasts, whether the phone is answered by a person or a voice mailbox, and other information. From that information, the auto dialer uses what's called predictive dialing to make calls before the agent has even hung up the phone. Ideally for the call center, as soon as the agent finishes with one caller, the agent will immediately connect with another caller.
What Can Auto Dialer Software Do?
When used in a contact center for agent outreach, auto dialer software provides several critical benefits. Auto dialers can:
Increase dial rates
Improve efficiency
Allow supervisor monitoring
Reduce negative call results (no answers, dial-tones, voicemails)
Increase conversion ratios
Today, businesses like your own are opting to open up their contact centers rather than outsource. Out of all the technology that you'll need to implement, auto dialers are the single most important because they provide a means for your agents and IVR phone systems to perform efficient outbound calling. In our guide, we're going to show you several options for auto dialing, and we're also going to tell you about some of the features you'll need.
What Are the Key Features of Auto Dialers?
You must find a solution that meets your business needs. This means that you'll need to find software that has certain features that will help enhance agent performance and help your center meet important KPIs. These KPIs include handle time, minimized after call work time, occupancy rate, and customer satisfaction. Here are six of the features that the best auto dialer software should include:
Dialing Modes
Auto dialers increase the efficiency of inbound and outbound call center environments by automating the manual dial process, and there are several types of auto dialers for your center. Here are three to consider:
Predictive Dialers – Predictive dialers use machine learning to determine when an agent is available for a call.
Power Dialers – Power dialers "power" through a calling list at a continuous pace.
Progressive Dialers – These provide the agent with context about the call by tying in with marketing automation software and displaying information about the caller.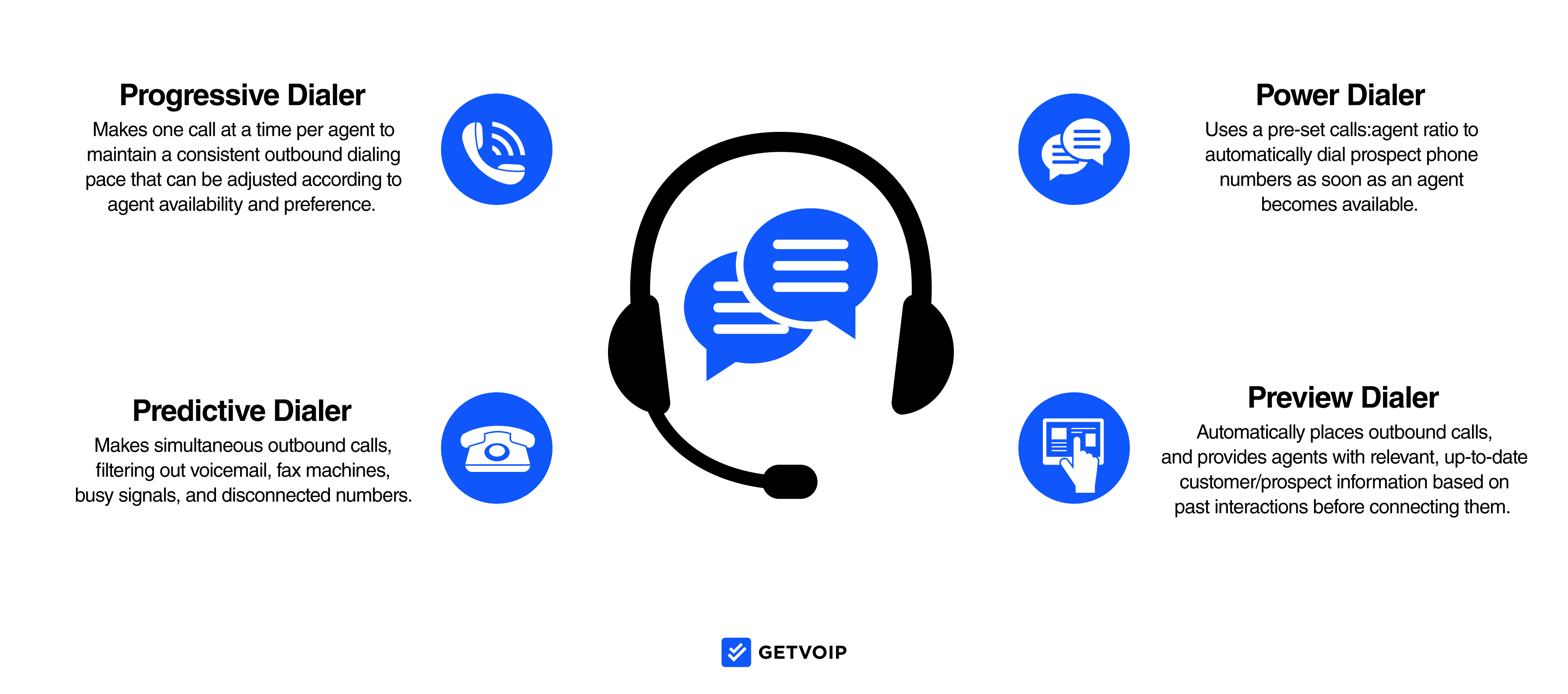 CRM Software Integration
Customer relationship management or CRM software, like Salesforce, gives agents an impression of what has happened during previous outbound calls and also tracks account status or special offers. Once the call ends, the agent selects a reason, and this data is synced in the CRM. This also works with inbound callers; the software will match the dial-in information with an existing CRM contact so that call center agents will have critical information beyond simple caller ID.
CRMs also allow for call data to be recorded for later analysis. Does your script need to be changed? Is one of your programs not working out with customers? CRMs record all data gleaned from a call so that you analyze it later.
Coaching Tools
Call monitoring is a technology that has been used in contact centers for generations. Traditionally, call monitoring has been used to coach agents by allowing their managers and supervisors to listen in on their calls. This technology helps by providing feedback to the agent. Modern coaching tools enhance traditional monitoring by adding whisper and barge features that help call center agents improve handle time and increase their knowledge.
With whisper coaching, management can speak to the agent without the customer being able to hear. This is an integral tool that contact centers use to improve agent performance in real-time. For example, when a customer has a circumstance that an agent doesn't know how to handle, a supervisor or manager can tell the agent how to proceed. This tool is very useful when trying to onboard new agents. It also improves the overall customer service experience by providing feedback while agents are on the line.
Call barging is similar to whisper calling except that the manager can directly interact with the caller. This allows the supervisor to supplement agent information or help them through a difficult customer service situation. Agents sometimes need help on calls, and this tool will allow the supervisor to help the customer, which is also a useful way for the customer to feel like their issues have been elevated.
Call Recording
In fields that require HIPAA/HITECH compliance, call recording is critical because they deliver verification that agents have followed regulations. Many of the top service providers will warehouse call recording data for as long as you need it, but some have cutoffs where the data is automatically deleted. Having properly maintained call records will protect you from legal liability, and it also can be used as a resource for training reps.
Voicemail Detection and Voicemail Pre-Recording
Auto dialer software increases call volume because they only connect agents with live respondents. When an answering machine or voicemail is reached, it's better if the system leaves an automated pre-recorded voicemail so that the agent keeps a high occupancy rate and maintains productivity. Certain technologies, like answering machine detection (AMD), will prevent agents from wasting their time on unanswered calls.
This technology determines if an answering machine is being used, thanks to the distinct background noise created during recording. Technology like this also uses machine learning to detect common voicemail phrases like, "Leave a message" or "Sorry, we missed your call."
Voicemail detection needs to determine if a live respondent is on the line. Many of the AMD systems use pause detection to determine if the first, "Hello, hello?" is from an actual caller. However, too much of a pause might result in that customer hanging up. This is even more problematic when the auto dialer creates another pause when connecting the call to an agent. Fortunately, several technologies exist that reduce the pauses so that there's a lowered call abandonment rate.
Additionally, systems like this are very useful when making outbound calls during the day since this is a period when there are a higher number of voicemail call results.
TCPA Compliance
Similar to compliance requirements that protect patient data, there is an act that protects consumers from abuse phone systems for automated dialing. The Telephone Consumer Protection Act (TCPA) levies fines that range from $500 t0 $1500 per incident against organizations that abuse auto dialer technology. Violators are also punishable by litigation since customers can file lawsuits if wrongdoing has occurred during telemarketing.
TCPA requires that standard and cloud call centers:
Not call anyone before 8 a.m. or after 9 p.m. in the specific time zone.
Not call anyone on the National Do Not Call Registry.
Not perform artificial voice calls or recordings without express consent.
Not make auto dialed calls to cell phones when the receiver has to pay for said call.
Not make calls to emergency telephone lines or hospital lines.
Not call patient rooms at health facilities.
There are exceptions to these rules, with the most notable being that manually dialed calls without pre-recorded messages are exempt from this type of liability. Also, calls made for real emergency purposes cannot be litigated against by TCPA. Calls made for tax-exempt nonprofit organizations are also safe from TCPA.
An auto dialer that is TCPA-compliant will integrate with third-party services that connect to the Do Not Call Database so that customers on this list are not reached. Safeguards like software features that will disable calling to certain areas before 8 a.m. and after 9 a.m. also ensure that your business is not outbound calling at the wrong time.
Best Auto Dialer Software For Outbound Calling
Not every auto dialer system is created equal. First, cloud-based software systems are quickly establishing themselves as the go-to contact center solution for companies that want to expand into outbound and inbound calling.
This is because they are far more scalable, and their expense is easily subsumed into operational costs. Providers like Five9 and NICE inContact are delivering professional-grade auto dialing software that don't require the operational infrastructure that was required even a decade ago.
But, which dialing service providers offer the best solutions for companies like yours? Here is a list of 5 providers that all include auto dialer functionality so that you can find the one that best fits your needs.
Here's a quick rundown of how best autodialer software stack up:
Five9

ChaseData
NiceCXOne
RingCentral
Velocify
Number of Plans with Auto Dialers
Auto dialer plans Available by consultation.
3
Auto dialer plans Available by consultation.
2
3
Plan Pricing
Available via consult
Small Business: $89 per user, per month
Professional Edition: $139 per user, per month
Enterprise Edition:
$169 per user, per month
Available via consult
Available via consult
Available via consult. (DIal-IQ is about $100 per user, per month)
Progressive Dialer
Yes
Yes
Yes
Yes
 No
Power Dialer
Yes
No (ChaseData does have preview dialing)
No
Yes
Yes
Predictive Dialer
Yes
Yes (Professional and Enterprise Editions only)
Yes
Yes
No
Integrations
Salesforce, Velocify, Microsoft Dynamics, Zoho, Netsuite, Zendesk, Sugar CRM, Oracle Service Cloud
Salesforce, Sugar CRM, Zoho, Oracle Service Cloud, API CRM solutions
Salesforce, ServiceNow, Zendesk, SAP, NetSuite, Oracle Service Cloud, Microsoft Dynamics, and Bullhorn
Salesforce, Zendesk, Oracle Service Cloud, Microsoft Dynamics, Okta Active Directory, Google G Suite, Microsoft Teams
Salesforce, Zendesk, Zoho, SurveyMonkey, HubSpot, Infusionsoft, LeadsBridge, Segment
Coaching Tools
Visual cue system,
Live monitoring, whisper, barge, and takeover
Barge, Take Over, Record, and Coach
Live monitoring, barge, and whisper
Live monitoring, whisper, and barge
Skills-based Routing
Yes
Yes
Yes
Yes
Yes
TCPA-Compliant Manual Dialing
Yes
Yes
Yes
Yes
Yes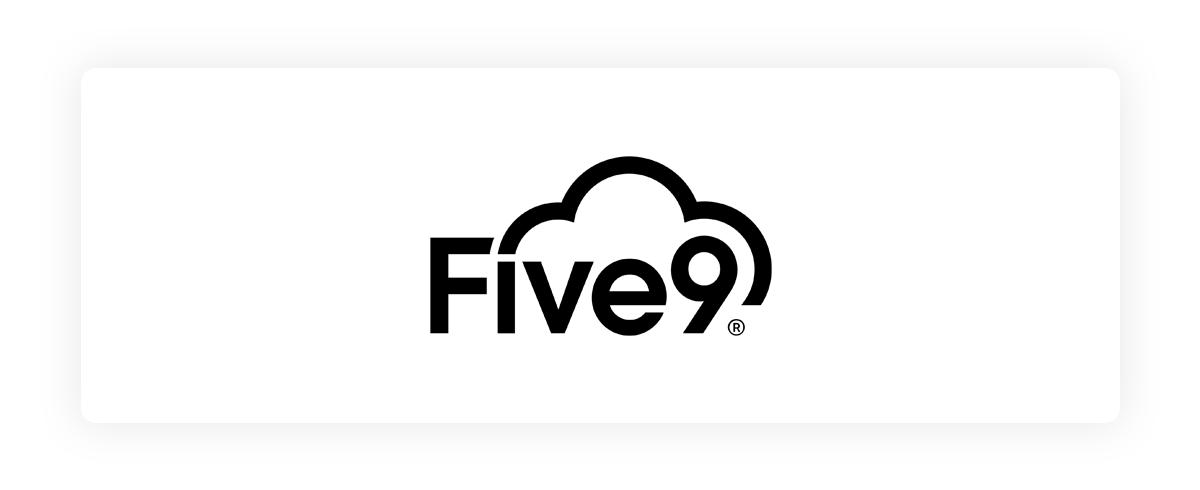 Five9's auto dialer software uses a predictive dialer to call phone numbers efficiently. Algorithms determine when the agent will be available and assigns live calls on an as-needed basis. As a result, Five9's dialer agent talk time is heightened. In most cases, with their predictive dialing system, agents will go from one live call to another. With more contact experience, agents will be better trained to deal with a wider variety of circumstances.
Five9 offers various dialing modes and has features to ensure that your contact center is TCPA-compliant. Clients of Five9 also have the option of using the companies Manual Touch Mode, which is hosted on a separate server to dial out without using traditional auto dialing. With this mode, agents initiate the call, but dialing from a preset list is still possible.
Five9 pricing is flexible with pay-as-you-go and custom options.
What we like about Five9:
The system has Salesforce integration that allows you to dial from a CRM.
The user interface is clean and easy to navigate for agents.
Five9's system is smart enough to leave a voicemail and halt callback of that number for a week.
Where Five9 Could Improve:
Five9 has a 99.9994% uptime that's lower than some other service providers.
There are no built-in lead management tools with Five9.
There's an extra charge to access their senior support team.
Best for:
Five9 is a solution that's better suited for mid-sized to enterprise clients thanks to its extensive and varied options. It's also a solution that's a good fit for businesses that may need to scale or require add-on features.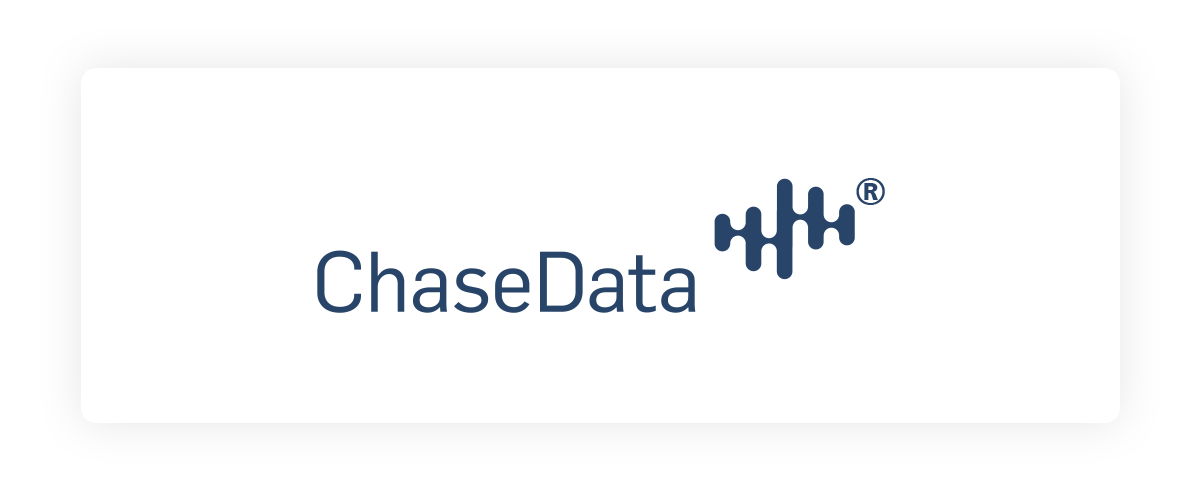 Right off the bat, ChaseData stands out because it's very inexpensive. The Small Business Edition is only $89 per month, per user, so this is a great entry-level auto dialer package. Despite this SMB-friendliness, features like inbound calling, CRM integration, and skills-based routing are all available on their base-level plan.
Small Business Edition provides a single voice channel, but this is increased to four channels per user and up to six for Enterprise Edition. If you want a predictive dialer, you're going to need the two, more premium, plans. Base-level subscribers also won't have access to the SOAP-based Salesforce API, so if you have developers on staff that can edit a REST API, then either Professional or Enterprise Editions will be your best bet.
Trainee mode in ChaseData is an agent- and admin-side feature that provides coaching for agents. With this aspect of the auto dialer software, you are able to listen in, whisper, barge, and screen share.
What we like about ChaseData:
All tiers allow agents to dial remotely.
The pricing for ChaseData is friendly to smaller businesses.
This provider has ticketing, fax support, an online knowledge base, and live phone support.
Where ChaseData Could Improve:
There's no predictive dialer mode with ChaseData's Small Business Edition.
ChaseData has no lead management tools.
Trainee mode is available for both agents and admin, which isn't useful for all contact centers.
Best for: 
Smaller businesses that don't need lead management features and want their agents to have an outbound dialing tool even when they are traveling.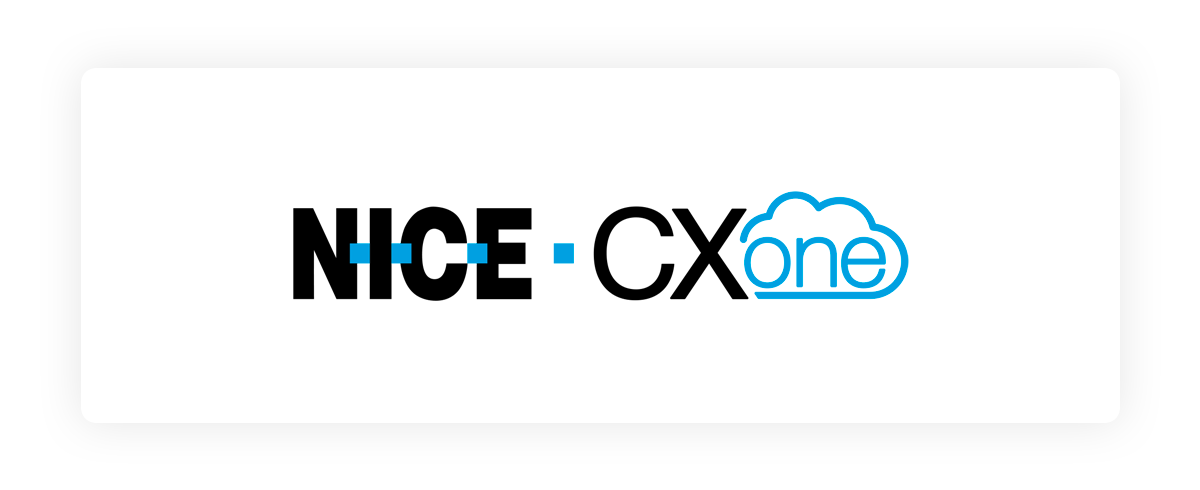 NICE is one of the leaders in the cloud-based contact center field. They utilize technologies like predictive behavioral routing and their Personal Connection Dialer, which minimizes the pause when connecting with an agent or determining if there's a voicemail.
NICE also includes IVR, automatic call distribution (ACD), and in-depth call center analytics. The service also enables centers to engage via multichannel or omnichannel methods; text messages, email, and apps like WhatsApp can all be added to your communications efforts.
NICE delivers both progressive and predictive dialing modes for agents, and with their interaction analytics, you'll be able to avoid TCPA issues. This is done via text analysis. Interactional analytics automatically converts all phone calls into text and automatically flags those that don't fit TCPA requirements. This is typically a result of an agent not attaining consent from the customer or saying something that amounts to a TCPA violation.
NICE combines outbound, inbound, and blended dialing options, which makes it an all-in-one solution for auto-dialing. The interface is also fairly intuitive since agents drag and drop portions of the UI while working. NICE also offers a 99.99% uptime guarantee.
What we like about NICE inContact:
NICE has several tools to ensure TCPA compliance.
The analytics capabilities of NICE inContact make it easy to track KPIs.
NICE has encryption and storage to meet HIPAA/HITECH standards.
Where NICE inContact Could Improve:
NICE doesn't have built-in lead management.
There's no power dialing mode.
NICE's various plans vary extensively, so it's hard to get a bead on the exact cost.
Best for:
Businesses that need a solution for better customer engagement. They have the call center technology to better match customers with agents, and they also minimize the pauses that plague some auto dialer providers.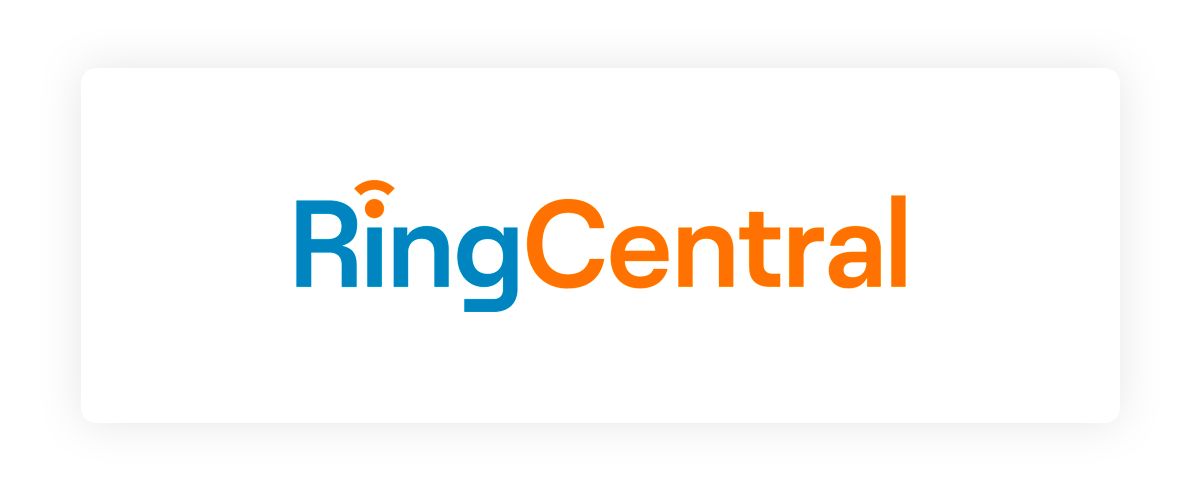 RingCentral Engage Voice is a dialing tool that delivers TCPA compliance to companies that also are looking to augment agent output. For TCPA compliance, the provider has three features:
Safe Dial, which is designed to determine number time zone and project opt-in status.
Manual dialing for reaching those customers with whom auto dialing is prohibited.
Do not call (DNC) list compliance and integration ensures that your agents aren't reaching the wrong respondents.
RingCentral has predictive and progressive dialer features. They also provide access to a preview dialer. Preview dialers place the onus of dialing a number in the agent's hands. The history of the call is presented so that the reps decide to call or wait a few days before making an outbound sales attempt.
Like NICE, RingCentral has options for outbound, inbound, and blended contact centers. You'll also find numerous integrations with several CRM and third-party software suites. The company stands out because of its fairly detailed and configurable analytics platform that helps determine if agents are hitting the right KPIs. They also offer call barge-in, whisper, and call takeover, which removes the agent from the call and allows the supervisor to take full control.
What we like about RingCentral Engage:
Three distinct dialing modes provide businesses with options.
RingCentral Engage offers clients an open API so that they build the needed app connections.
The answering machine detection is one of the best on the market.
Where RingCentral Engage Could Improve:
There's no free trial of RingCentral Engage.
RingCentral lacks scheduled recording features.
Only one supervisor can monitor a call at a time.
Best for:
Businesses that want to optimize their customer support by providing multiple supervisor options for call coaching. Not every provider has call takeover, but this feature is integral for conversion in some centers.
Velocify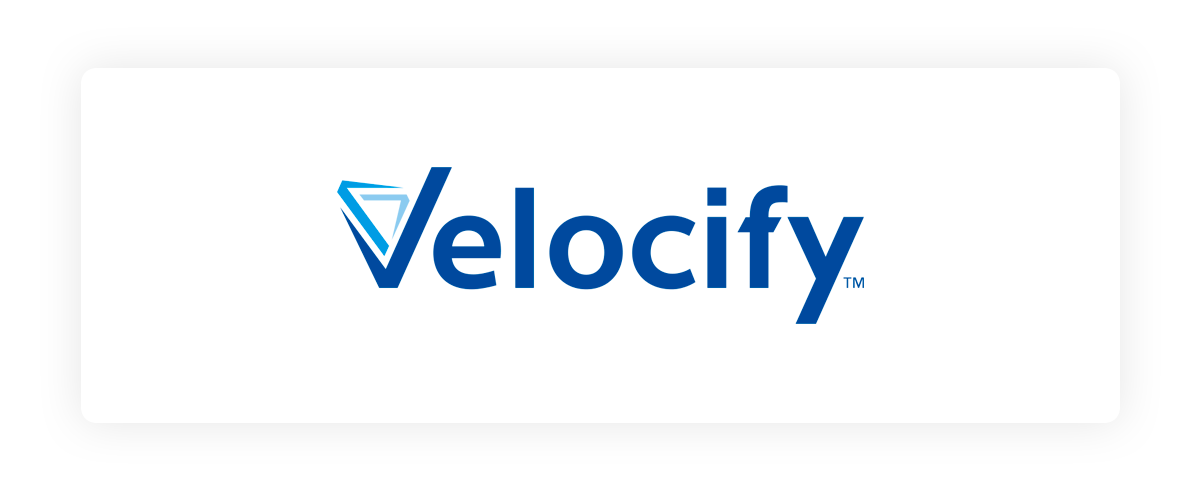 Unlike Five9, Velocify comes packed-in with lead management software. Lead management combined with call tracking allows you to follow the customer's journey through your sales pipeline. Your agents will also be prepared with detailed info about past interactions. Velocify's dialer system is particularly powerful and can dial and manage thousands of numbers simultaneously. This is ideal for larger call centers with a higher number of agents.
One of the questions Velocify asks is, "Why would you use a dialer that was built for support teams?" Velocify is designed with sales teams in mind; there's not a lot of room for things like customer notifications and research. Instead, their Dial-IQ software has sales dialer features like tailored call routing, live coaching, call priority queuing, and automated SMS and email. Velocify notifies agents when higher-priority leads are available on inbound calls. Agents also dial directly from CRMs.
Velocify has several coaching tools for agents, including whisper, listen-in, and call barging modes. Each of these modes is built around the capability for managers to listen in on a call. Whisper mode doesn't allow for managers to interact with the caller or the agent, whisper mode allows for direct coaching of the agent, and barge mode allows for supervisor voice broadcasting to interact with both caller and agent.
What we like about Velocify:
Velocify has several monitoring and coaching modes.
The online knowledge base is very useful for those seeking a self-service option.
The service is very easy to set up.
Where Velocify Could Improve:
Integration with Salesforce mobile is only available to advanced (premium) users.
Companies looking for more than just sales tools will find Velocify to be lacking.
Progressive and predictive dialing isn't available.
Best for: 
Velocify has features that are useful for sales-minded contact centers that need features like lead generation and priority queuing.
Auto Dialers Generate Leads and Support Customers
The features of each auto dialer provider benefit every customer interaction, from lead generation to sales and customer service. However, the strength of each provider stands out by either the types of calls they can make or the way they support each stage of the sales funnel.
Are you planning on using an auto dialer system to power sales? Then, a solution like Velocify is going to be something you should consider. Are you looking for a more well-rounded system? Then RingCentral or Nice inContact has tools for sales and customer support. Do you need a ton of integrations with third-party solutions and CRMS? What about CRMs? Then, consider a provider like RingCentral Engage.  We've selected the dialers in our guide because they are the best at providing different call centers with what they need to succeed.
In the end, you'll have to make a decision based on your specific business needs, but what we presented should help you better hone in on your ideal provider for software-based auto dialing. Here are a few questions that you should ask yourself before selecting a cloud-based software auto dialer:
How many dialing modes will I need?
Will my agents need a TCPA-compliant dialer?
Do I need a dialer for sales, or is it better to select one for customer support?
How many integrations will I need?
Auto dialers are integral but they're just one part of what makes a call center successful. Find out about more solutions for call center software so that your business can hit the ground running during your dialing efforts.