If you're new to the world of virtual telephony, it's easy to feel overwhelmed by the sheer amount of available VoIP features.
Functionalities like call forwarding, audio conferencing, and caller ID are familiar, but features like IVR may not be.
The good news is that, even if you've never heard of an IVR menu before, you've almost certainly interacted with one.
But what is IVR, and how does it work?
Read on to find out.
Table of Contents: 
What is IVR?
IVR, or "Interactive Voice Response" is a VoIP technology that allows callers to interact with pre-recorded business phone menus, forwarding their calls to the proper department, agent, or information based on the caller's dial pad selections or voice responses.
Have you called your bank and punched in your credit card number to check your available account balance? Have you ever "pressed 1 for sales, 2 for customer service, or 3 for billing?" What about briefly stating the reason for your call when prompted by an automated message before being transferred to an agent?
If you answered "yes" to any of the above questions, then you've used an IVR system.
IVR works alongside ACD (automatic call distribution) to route calls through a predetermined call path. It may also play pre-recorded messages based on which responses the caller's selections trigger within the IVR tool.
IVR is an effective form of customer self-service and call flow management, primarily designed to either prevent the need for a customer to speak with a live agent or to ensure that the live agent the customer is connected with is uniquely qualified to help them solve their particular issue.
IVR is used within both customer service and sales departments. Specifically, IVR is often used for:
Self-service bill payment/account inquiries
Delivery confirmation/order status inquiries
Call center call queue routing
Delivery confirmation/order status inquiries
Lead scoring, segmentation, and management
Appointment scheduling
Data collection
Marketing promotions (customers call a specific virtual phone number per campaign/offer)
Although IVR is primarily used for inbound call routing, outbound IVR is often used for appointment reminders, product/membership renewal reminders, and promotional offers.
But how does an Interactive Voice Response know where to direct calls, and what happens if a live agent isn't available?
How Does IVR Work?
IVR collects the most important caller information, determines the most likely reason for the call, and routes the caller to the ideal agent according to the responses the caller provides.
But how does IVR "learn" what callers need?
Through the caller's verbal responses or manual telephone keypad entries to a list of prerecorded and automatically played messages and menu options.
Manual keypad entries are processed through Dual-Tone Multi-Frequency signals, or DTMF tones for short.
DTMF signals are created when the caller's touch-tone keypad selections interact with the phone system, triggering intelligent call routing.
IVR evaluates verbal responses through Natural Language Processing, (NLP) which is a type of conversational artificial intelligence equipped with speech recognition capabilities. Though this doesn't mean your IVR solution can have full-fledged conversations with callers, it does mean it can pick up keywords, sentences, and phrases that trigger predetermined actions (often called directive dialogue.)
For example, the IVR tool of a popular computer manufacturer might ask the caller, "What are you calling about today?" The caller might respond, "I need to schedule an appointment to repair my computer."
The words "schedule," "appointment," and "repair" would then trigger further questions. The IVR could inquire about the caller's location to determine the nearest repair center, the specific product the customer owns, and the ideal date and time they'll like to schedule the appointment. In this case, the caller wouldn't even need to speak with a live representative to get their needs met.
The Benefits of IVR
Below, we'll explore the top benefits of IVR, which include:
Higher first contact resolution rates
Decreased operational costs
Agent optimization
Increased customer satisfaction
Higher First Contact Resolution Rates
First contact resolution rates, or FCR rates for short, demonstrate the number of customer interactions that are resolved during the initial customer contact.
In other words, FCR rates determine the percentage of calls that don't require a follow-up.
IVR, which allows for a high level of customer self-service and connects customers with agents possessing the training required to assist them, increases FCR rates dramatically.
A higher FCR rate can decrease customer churn by 67%, reduce repeat calls by up to 57%, and increase cross-selling profits by 20% or more.
Decreased Operational Costs
It's not an exaggeration to say that IVR can save your company hundreds of thousands of dollars — or more — each year.
Case in point?
Customer calls handled by a live agent can cost your business anywhere from $3.00-$6.50, while calls managed by IVR cost just $0.03-$0.25 per minute.
IVR also cuts down on call handling expenses thanks to drastically shortening hold times and preventing customers from needing to call again and again in order to get an issue resolved.
Shorter hold times also lower your average call abandonment rate, which shows how often customers simply hang up the phone and never call back after waiting to be connected to an agent for too long.
Studies show that getting your average call wait time down to two minutes or less can increase call center revenue by up to $3,000 each day.
Outbound automated appointment/reservation reminders also help to decrease the number of no-shows. In addition to being an inconvenience, no-shows have the potential to cost your company up to 21% of your annual revenue — not to mention the ten minutes per no-show of wasted admin time.
Agent Optimization
Poor call management practices can drastically lower agent productivity and agent morale.
This leads to high call center turnover rates of up to 45% — which can cost companies of just 50 or fewer employees over $100,000 a year.
Plus, if agents are tied up on the phones all day answering the same questions over and over again — questions that could easily be automated — you'll likely need to hire even more agents to keep up with caller demands.
IVR optimizes your agents by automating routine tasks like appointment scheduling/confirmation, billing, and other issues customers could easily resolve on their own.
In addition to preventing you from needing to hire additional agents, IVR ensures that agents are actually available for pressing issues that do require a personal conversation and one-on-one advice. It also means that agents will be on hand to assist your most valuable customers when they call in with an issue or order.
And because agents will no longer have to get through long callback lists every day?
They'll be able to spend more time with existing clients or promising leads, leading to loyal repeat customers. Those loyal customers can increase revenue rates by anywhere from 25% to 95% each year.
A Better Customer Experience
Over ¾ of customers say that even a single bad experience with a contact center would cause them to take their business to a competitor.
But you're not just losing those customers — you're also missing out on the clients you'll lose thanks to the 52% of those same customers that will tell friends and family about their poor experience with your business.
Additional common call center customer service complaints include uninformed agents, having to repeat problems to multiple agents, and long wait times.
The good news?
IVR can help to prevent all of the above from destroying your business, as they help to connect callers to the perfect agent, keep hold times short, provide relevant ads and product/service advice, and are features of phone systems that offer omnichannel communication with real-time syncing.
The Top 5 IVR Providers
Like ACD, IVR is a standard feature of most business VoIP and call center software.
Below, we'll cover the best contact center providers offering IVR, which plans have the feature, pricing, and what type of business would benefit the most from each software option.
The top IVR solutions are:
Nextiva
RingCentral
Talkdesk
Twilio
Cloud Talk
Nextiva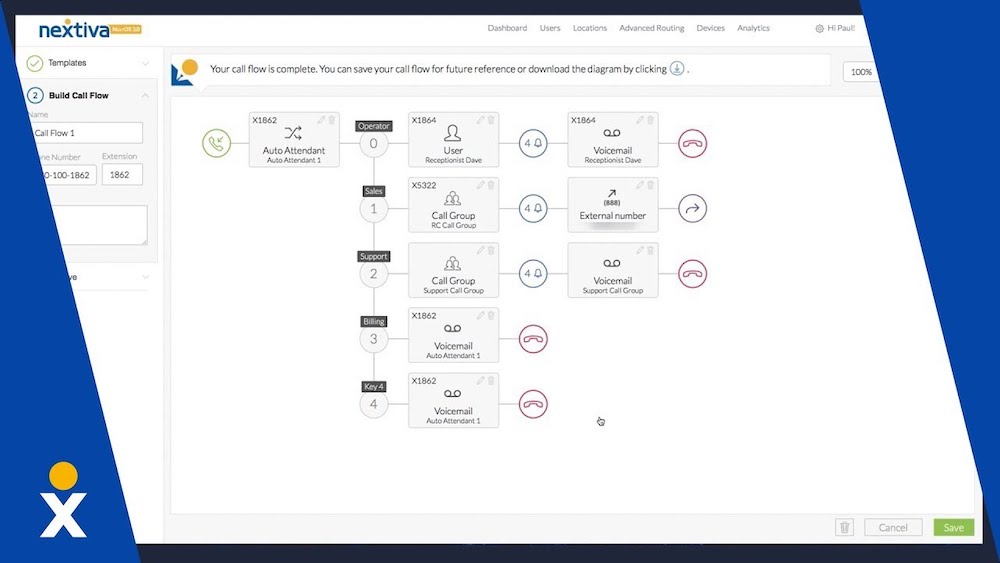 Nextiva IVR is an advanced conversational AI tool focused on increasing automation within incoming calls and outbound business phone calls.
It combines numerous speech recognition features like voice commands, voice biometrics, and text-to-speech that allow you to create an IVR tool that gets smarter over time. Using CRM-stored customer data as well as information provided by the customer within the call menu, Nextiva's IVR allows companies to:
Deploy and manage surveys
Send mass notifications
Schedule automatic callbacks
Access premade call path templates
Verify caller identity by voice recognition
Collect credit card payments
Benefit from AI machine learning to improve conversational AI interactions
In addition to its advanced IVR, Nextiva also offers auto-attendant capabilities. These allow for multi-level IVR, customized greetings, and can even answer client FAQs without the need to connect to a live representative.
IVR is available with both of Nextiva's VoIP Call Center Solutions plans — the Pro Plan from $50.00/user per month, or the Enterprise Plan from $100.00/user per month.
To learn more about other Nextiva features and their overall user experience, check out our complete Nextiva review.
Best For: Nextiva is best for companies of any size that heavily rely on IVR to provide a high level of customer self-service, and therefore need IVR applications with advanced AI and automation capabilities. These companies likely currently have a high call volume that they struggle to keep up with given the number of agents on staff.
RingCentral
RingCentral IVR lets admins build up to 250 call menus and submenus per account, add a unique Direct Inward Dialing (DID) number per menu, and connects to your company's dial-by-name directory.
Creating a high number of IVR prompts is simple with RingCentral, which allows you to record menu options on your computer, phone, through the text-to-speech option, or even upload menu options via WAV and MP3 files.
RingCentral's Interactive Voice Response system lets you:
Create multilingual and multi-location menu options
Manage customizable after-hours and holiday phone prompts
Import XML files for bulk changes
Edit your calling flow through the interactive Visual IVR interface
Validate accounts
Route calls to multiple phone numbers and voicemail
Set specific call path rules for VIP customers
Integrate your CRM system
IVR is available with RingCentral Office's Standard Plan ($27.99/user per month), Premium Plan ($34.99/user per month), and Ultimate Plan ($49.99/user per month.)
Our complete RingCentral breakdown reviews additional features, plans and pricing models, and user reviews.
Best For: RingCentral is best for companies looking for a scalable IVR solution that allows for a large number of call menus and sub-menus. It's also an excellent solution for businesses that want to have many different phone number-specific IVR solutions. For example, RingCentral IVR customers may have one phone number for customer support, a different phone number for product information, and another unique phone number for billing.
Talkdesk
The Talkdesk IVR Cloud Studio offers AI-powered IVR that includes features like real-time error flagging, advanced caller insights and analytics, and call queue management.
Best of all?
In lieu of traditional and often overly technical call path creation tools, Talkdesk's IVR is based on a visual design that requires no coding. Instead, admins can click through a pre-packaged component library of popular call menu options, choosing what to add and where through the intuitive drag-and-drop interface.
Talkdesk IVR also offers:
CRM integration
Speech recognition
Call queue management
Text-to-speech or audio file uploads for call menus
Multilingual call flow creation
IVR features are available with Talkdesk CX Cloud's Professional, Professional Plus, and Enterprise plans, which follow quote-based pricing models. Speech analytics, PCI payment portals, and an AI-powered customer self-service knowledge base are all available as add-ons.
For more information on Talkdesk pricing, features, and plans, check out our complete Talkdesk overview.
Best For: Talkdesk is best for It's also an excellent choice for small businesses or admins especially concerned with user-friendly IVR call path creation tools, as they may not have much of a coding/technical background.
Twilio
Twilio IVR is a scalable IVR API that allows users to add IVR capabilities to multiple communication channels, including business phone numbers, WhatsApp messaging, and Facebook Messenger.
Users can also add chatbots to their IVR systems, send out automated appointment reminders via REST API, and create contact center call flows with ease thanks to the drag-and-drop format.
Twilio is able to offer a highly personalized IVR experience, as it uses data from customer feedback, CRM integrations, and past customer interactions to constantly tweak your IVR call flow on a per-customer basis.
Those looking for a more standard approach to IVR will appreciate Twilio's Autopilot API, which allows users to create IVR systems using AI-powered premade templates and natural language processing capabilities.
Twilio also works with your existing contact center software to automatically transfer customer interactions to a live agent while providing insight into the context for their call. Users can select any additional communication API to add to their Twilio business phone plan or build their own.
IVR is available within Twilio Studio, which offers a pay-as-you-go pricing model at $0.001/flow execution. It's also available as a feature of the Twilio Flex cloud contact center platform, with pricing that starts at $150/user per month.
Learn more about Twilio pricing, features, and plans in our Twilio review.
Best For: Twilio is best for companies of any size seeking highly customizable, API-based business communication. It's also ideal for businesses looking for PCI-compliant systems allowing IVR systems to collect payments over the phone, as well as for omnichannel IVR solutions.
Cloud Talk
Cloud Talk IVR provides a multi-level interactive voice response and call flow design tool that lets users build layered call menus to get even more specific information about what callers need assistance with.
Here, users can be routed from one call menu to another, to a specific agent or group, or to a voice mailbox.
Admins can also configure business hours, set up automatic call recording within the IVR system, and automatically tag phone calls according to pre-configured company settings.
The IVR recording will automatically repeat itself until the customer makes a selection, and admins can set the specific number of seconds the customer will wait before being transferred to the next phase of the call path.
Users can constantly evaluate the effectiveness of their current IVR call path by electing to receive automatic email reports on the number of calls, customer survey responses, and more on a daily, weekly, or monthly basis.
In addition to IVR, Cloud Talk's phone system also offers call queueing, recording, ring groups, personalized greetings, VIP queues, skills-based routing, automated callbacks, and more.
IVR is available on Cloud Talk's Essential Plan ($25.00/user per month), Expert Plan ($40.00/user per month), and Custom Plan.
Best For: Cloud Talk is best for large-scale call centers that require multi-level IVR solutions. It's also a good solution for businesses that have a high number of remote employees that often use their personal smartphones to communicate with clients, and will therefore need an IVR system that can automatically forward calls to more than one phone number.
Compare Additional IVR Software Providers
In addition to the IVR solutions we covered above, our comparison table of the top IVR providers will help you to evaluate all of your options.
We break down pricing and plans, user reviews, available features, and more so that you can make the best choice for your business phone system.
Large-scale telemarking companies and enterprise-level businesses may benefit more from call center software, which offers ACD and IVR technology as standard features.
Cut down on customer callbacks, improve your first call resolution rates, and increase your overall revenue with IVR the power of technology.
IVR FAQs
Below, we've answered some of the frequently asked questions about IVR.
Frequently asked questions
In order to get the most out of your IVR technology, you should: 
Offer customers the option to switch to a live agent at any time
Ensure the IVR system integrates with your CRM software 
Enable error correction prompts ("I'm sorry, I didn't get that," etc.)
Keep IVR menu scripts under 30 seconds
Hire a professional to record your IVR menu to ensure clear speech
Total IVR costs will depend on whether your provider offers IVR as a part of a virtual phone number package with a set number of monthly minutes, or if plans are charged by the minute or call. In general, IVR costs average out to be about $1.00/call.
An IVR call flow is a bit like a flowchart diagram that outlines the specific call path you want callers to be routed through based on the answers they provide or options they chose while interacting with your IVR system. 
The IVR call flow will automatically transfer callers to their destination as opposed to live agents. 
Usually, IVR call flows are designed using a simple drag-and-drop interface. 
Visual IVR is similar to standard IVR but uses web applications that allow smartphone, tablet, and computer users to route interactions through an interactive touchscreen or via click commands. 
Users can move through IVR menu options via text message responses, by selecting answers on a company's website, or with a chatbot. Just as a phone tree would route calls to the proper agent or provide relevant product/service advice based on a caller's responses, visual IVR does the same, but through a different visually-based interface. 
In addition to IVR and ACD, call management can be improved by phone system features like: 
Call forwarding, transfer, and advanced call routing
Call recording
Call barge and call whisper
Call parking/hot desking
Ring groups
Automatic callbacks