Businesses have long relied on phone systems known as private branch exchanges, or PBX. These systems switch calls between enterprise users over local traditional telephone lines, allowing them to share external telephone lines. Hosted phone systems provide businesses with a more reliable and cost effective option. Let's look at how hosted phone systems work, the benefits of using one and some of the top providers on the market.
Jump to ↓
What is a Hosted Phone System?
A hosted phone system, sometimes called virtual PBX, provides similar functionality to traditional phone systems but runs through an internet connection.
Voice over IP, or VoIP, is the most common form of a hosted phone system. It leverages the cloud and an internet connection to provide phone services. There are other methods, though, that leverage traditional PBX through an online connection.
Hosted phone systems offer modern businesses with the enterprise features they've come to expect from a communication system provider. This includes standard features such as voicemail, voicemail to email with text transcription, video and audio conferencing, call diversions, and more.
How Does a Hosted Phone System Work?
A hosted phone system leverages an online server to manage incoming and outgoing calls. This system uses what is known as an SIP trunk and a VoIP connection to provide service.
Here's how it works:
Incoming calls go through a hosted PBX system that converts that call data into digital packets, which can be transmitted through an internet connection
The PBX routes the incoming call to a desk phone, softphone or cell phone.
The digital packets are converted back into voice messages and a connection is established. The PBX acts as an important middleman that routes the call among different office lines without using multiple landlines, helping reduce costs.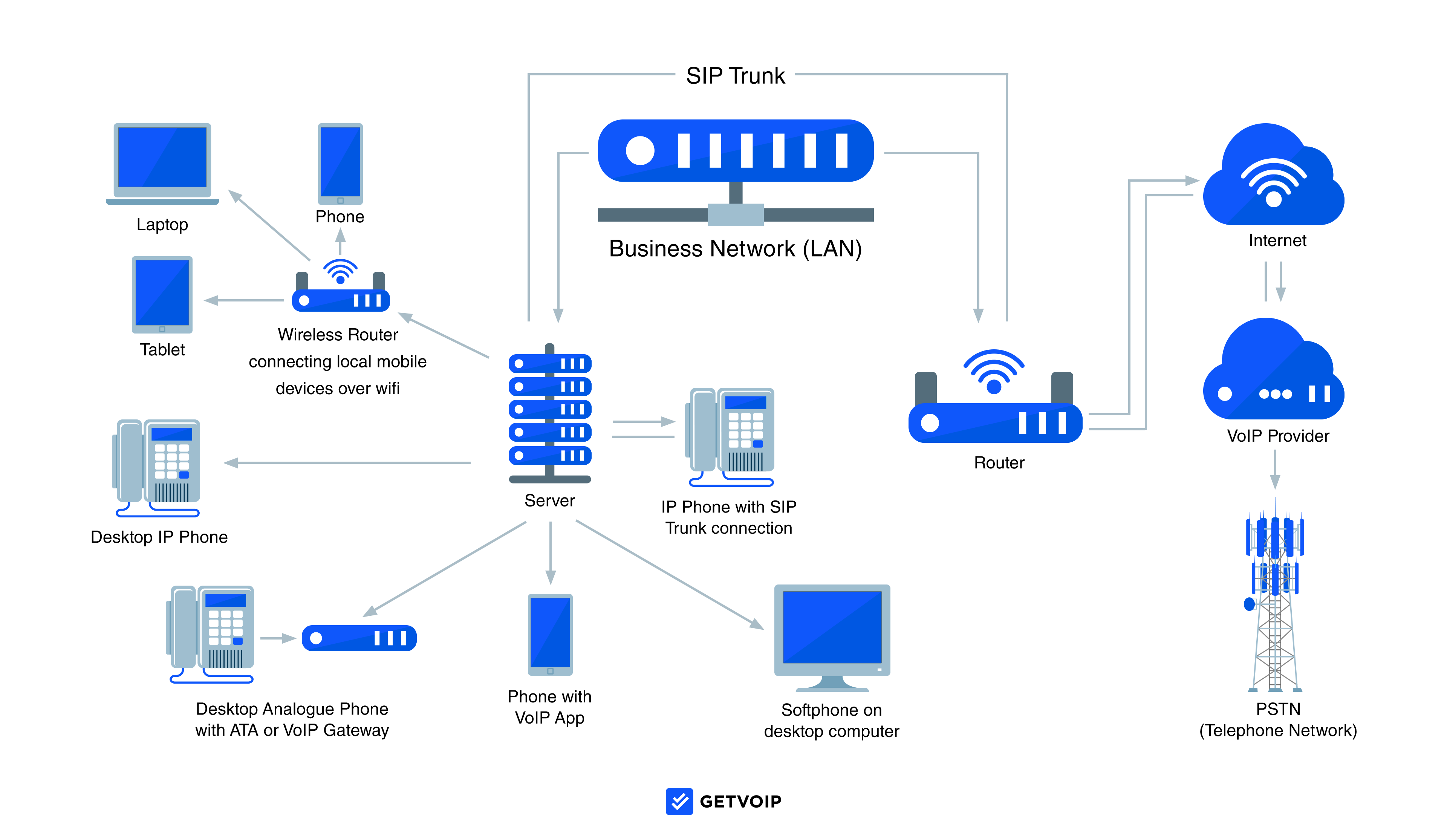 The Pros and Cons of Hosted Phone Systems
Using a hosted business phone system provides plenty of advantages, but also brings a few unique challenges that buyers should consider. Let's look at the pros and cons of hosted phone systems.
The Pros of Hosted Phone Systems
Easy installation: Hosted phone systems offer online setups, so businesses can get started without a representative coming to an office.
Cost savings: Hosted phone systems allow businesses to leverage their existing hardware, reducing the need for additional purchases. These systems also require less day-to-day maintenance, lowering the overall cost of ownership.
Part of a larger UC platform: Hosted phone systems providers often feature additional capabilities alongside hosted voice that form a larger unified communications system.
Remote flexibility: As employees move more toward remote work environments, a hosted phone system allows them to accept calls on a business line without being in a physical office.
Easier scalability: The system can easily add new lines and extensions as needed, making it a great solution for rapidly growing companies or those with seasonal workforces.
The Cons of Hosted Phone Systems
Need a strong Internet connection: This may not be an issue for people working in an office, but remote workers with unreliable connections may face challenges.
Power supply: Hosted phone systems also require an electrical connection, meaning they are prone to service outages during blackouts.
Key Hosted Phone System Features
Let's look at some of the most popular features found in hosted phone systems.
Voicemail to Email Transcription
This feature allows for voicemail messages to be transcribed and emailed directly to your inbox. It helps busy employees quickly read voicemail messages to gather key information, such as call back numbers, and have a permanent log of calls.
Video Conferencing
With more employees working remotely the need for video conferencing solutions has increased. Businesses want a video conferencing system that works with their other communications systems, ideally as part of a larger package. Virtual PBX solutions can offer that without the need for additional add-ons.
Security and Reliability
While there may be some fear about the security and reliability of VoIP, these technologies typically offer strong security and 99.999% uptime that exceeds traditional phone systems.
Call Recording
This tool allows businesses to record calls to monitor customer interactions and provide training opportunities for employees who may be falling short of expectations.
Real-Time Call Analytics
Today's world runs on data. Hosted phone systems can offer real-time call analytics so businesses can understand how effective their calling strategies are and how they can find improvement.
Auto Attendants
Also known as Interactive Voice Response (IVR), this technology helps route calls to the necessary agent. Companies can set up rules for the system online, which acts as a receptionist without needing a human in that role.
Outstanding Call Quality 
VoIP-based systems offer tremendous call quality since they do not use wired connections. Anyone with a solid Internet connection will have crystal-clear calls.
Top Hosted Phone System Providers
| | | | | | |
| --- | --- | --- | --- | --- | --- |
| Provider | Services Offered | Free Trial | Cost of Cheapest Service | Top Integrations | Support |
| Nextiva | Business Phone Service, Hosted PBX, SIP Trunking, Call Center | 30 days | $18.95 | Office 365, Oracle, Outlook | US & Global, Mon-Fri 5 a.m.-6 p.m.; Sat-Sun, 6 a.m.-6 p.m. MST |
| RingCentral | Business VoIP, Hosted PBX, Web Conferencing, Team Collaboration, Unified Communication, Paperless Fax | 30 days | $19.99 | Google, SugarCRM, Zendesk | 24/7 |
| Zoom | Business Phone, Hosted PBX, Video Meetings, Web Conferencing, Webinar, Chat | First month | $10 | Netsuite, Zendesk, Google Apps | 24/7 |
| Vonage | Business VoIP, Hosted PBX, Residential VoIP, SIP Trunking, Call Center Software, Web Conferencing, APIs | None | $19.99 | Box, Google Apps, Oracle | 24/7 |
| Dialpad | Business Voice, Video Conferencing, Contact Center | 14 days | $15 | Dropbox, Office 365, Quickbooks | 24/5 |