Grasshopper is a VoIP provider offering toll-free, vanity, and local numbers in a virtual phone system with unlimited local and long-distance calling.
In addition to a virtual phone number, each Grasshopper plan includes basic voice features, like:
Mobile and desktop apps
SMS
Call forwarding and transfer
Voicemail transcription
Custom greetings
Although Grasshopper is ideal for entrepreneurs, business owners, and startups that want the credibility a business phone number provides, its limited features mean many teams either outgrow it or prefer Grasshopper alternatives with additional communication channels and advanced functionality.
This article will outline the best Grasshopper alternatives, comparing pricing, features, and pros and cons.
Best Alternatives to Grasshopper
Below, we'll do a detailed review of top alternatives to Grasshopper.
1. Nextiva
Nextiva's Business Communication platform includes cloud-based VoIP service, video conferencing, team messaging, and SMS–alongside robust calling, video, and messaging features.
Use Nextiva's features in the desktop or mobile app for iOS and Android, which feature distinct dashboards and portals for agents and administrators. Nextiva offers unlimited calling within the US and Canada, with 24/7 customer support.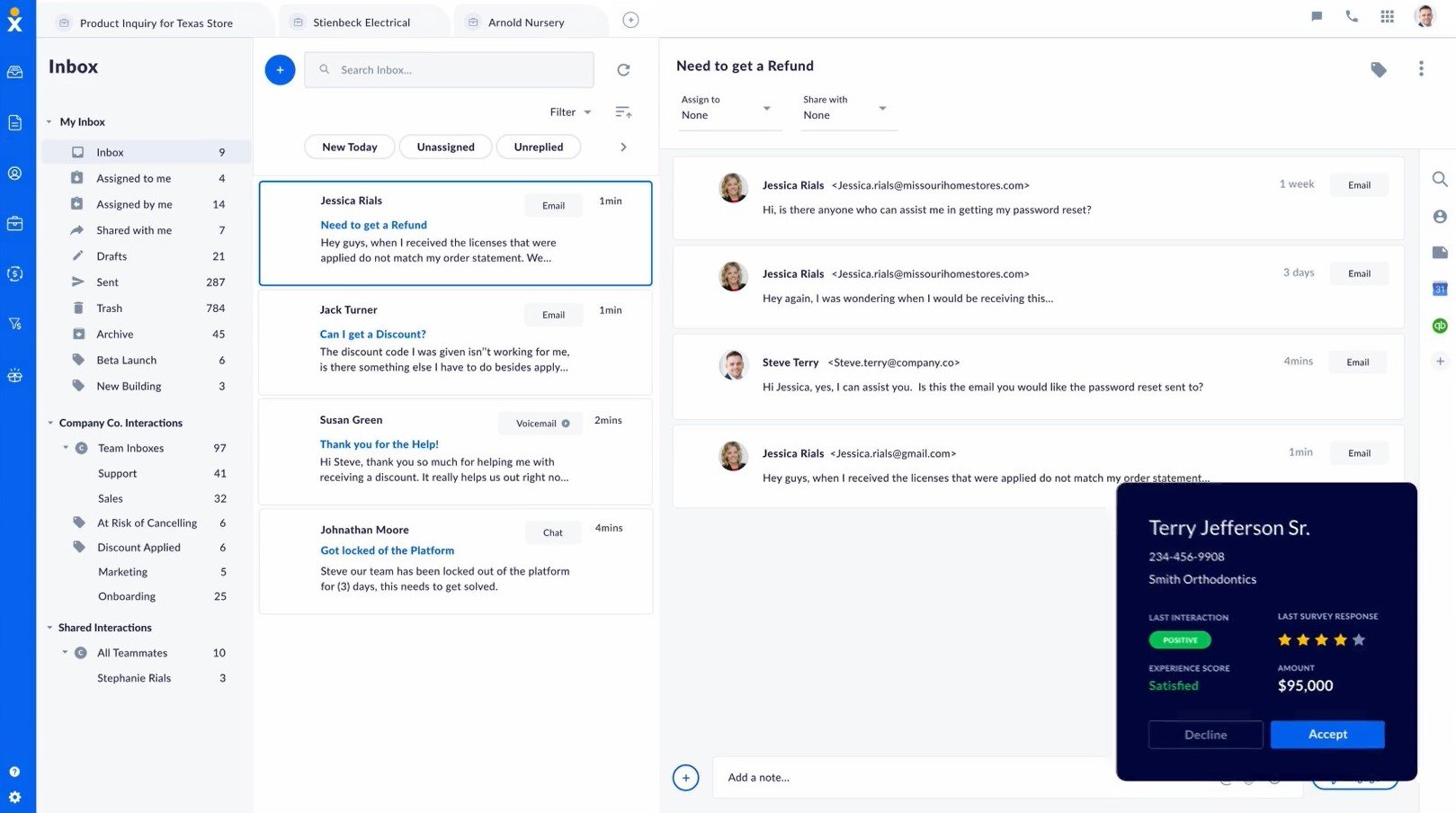 Plans and Pricing
Nextiva pricing offers 3 pricing plans, ranging from $18.95 to $32.95 monthly per user. The Essential plan includes voice, video calling (1-on-1), and voicemail. The Professional plan adds conference calling, video conferencing, SMS, and auto attendants, while the Enterprise plan supports unlimited video conferencing participants–excellent for webinars and virtual conferences.
Key Features
Video conferencing: Nextiva Meetings offers HD audio and video, screen sharing, chat, and file sharing. Easily schedule meetings and integrate them into your existing calendar apps. Meetings also support webinars, so use the Enterprise plan to host massive video conference events with unlimited audience participants
Call Pop: When users receive an incoming call, Nextiva's Call Pop launches an automated notification window that gives the agent key information about the caller, including incoming their picture, contact information, satisfaction score, account value and history, and notes from other agents
Smart automation: Set omnichannel automated outbound messages, surveys, and campaigns combining communication channels, with automated follow-ups and check-ins triggered by time or customer actions
Analytics: View analytics and reports about all contact center activity, including historical and real-time call reporting, agent performance wallboards, and trend reports
Call recording and logging: Each call is recorded and logged, so administrators and agents can review call recordings later to take notes, analyze agent performance and customer queries, offer agent feedback, and share recordings for training purposes
Nextiva App: Use the Nextiva mobile app to initiate and join voice calls, video conferences, chats, and even share your screen
Pros & Cons
Nextiva Pros
Supports webinars and conference events
Dashboards are easy to use
Dependable uptime and service
Nextiva Cons
The desktop app was reported to lag occasionally
Video conferencing requires Professional or Enterprise plan
Sometimes poor call quality
2. RingCentral
RingCentral MVP, a business VoIP phone system and internal team collaboration platform, offers voice calling, SMS, team chat messaging, and analytics dashboards.
The internal chat messaging interface helps employees connect one-on-one or in groups while managing workflows and sharing documents. RingCentral's VoIP phone service includes advanced features like IVR, call flipping, and visual voicemail, supporting unlimited calls within the US and Canada.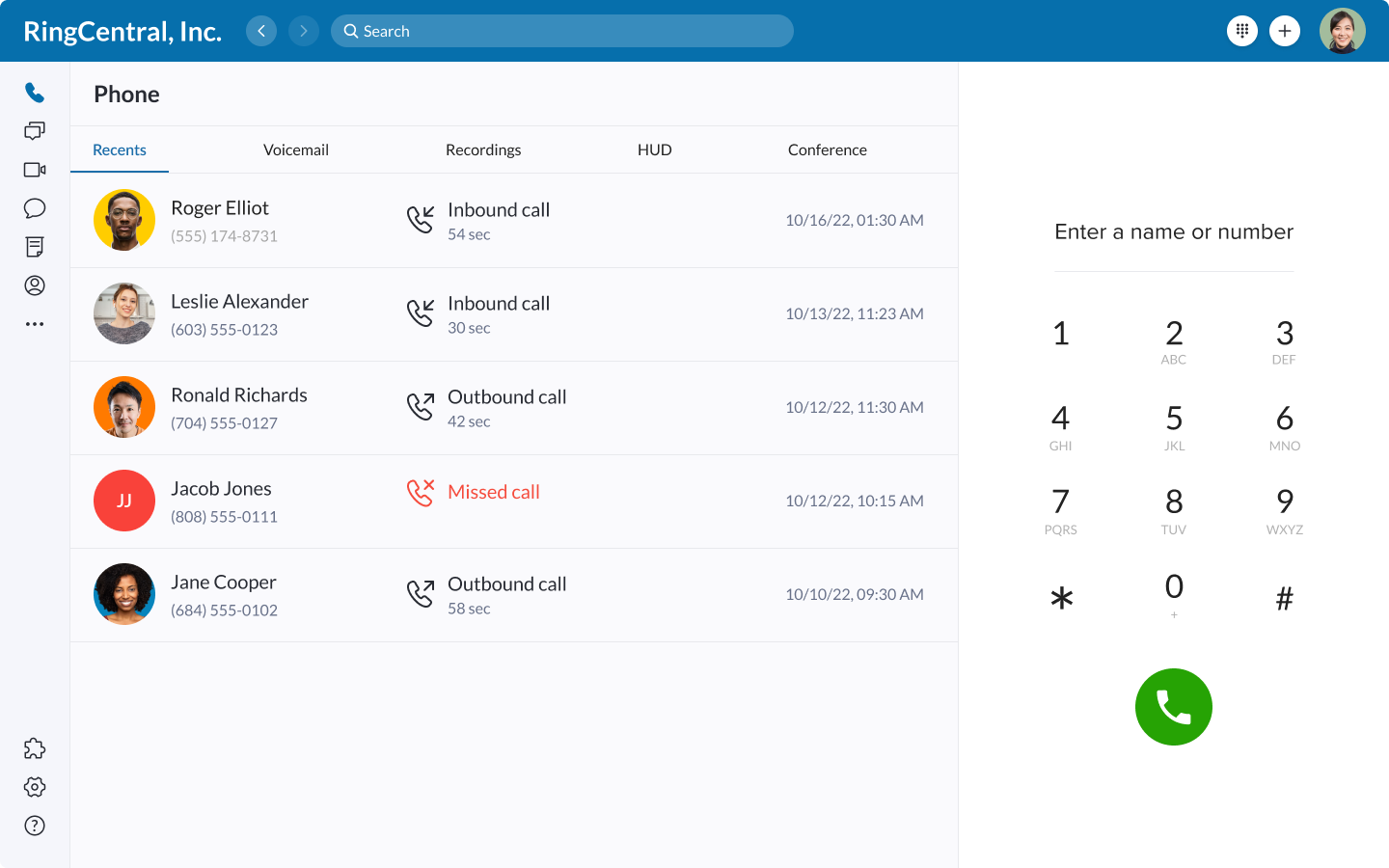 Plans and Pricing
RingCentral pricing offers 3 plans, ranging from $20 to $35 monthly per user. The Core plan includes all communication channels, plus IVR, collaboration, and call queueing. The Advanced plan adds call monitoring and analytics, while the Ultra plan adds 200-participant video capacity, unlimited file sharing, and advanced insights.
Key Features
Dynamic chat capabilities: Create one-on-one and group chat channels to share files, documents, and video-conference summaries, or use collaborative workflow management tools like to-do lists
Live video rooms: Set ongoing live video rooms in each chat channel, so users can pop in and out of video meetings without generating a new meeting ID every time
IVR: Create interactive voice menus where customers can use dual-tone multi-frequency (DTMF) to route themselves to agents or voicemail boxes throughout the company
Analytics and reports: View real-time and historical reports covering channel usage, agent call statistics, contact center activity, and quality of service
Video insights and engagement tools: After meetings, update absent team members with auto-generated insights like summaries, highlight reels, and key topics. During video meetings, engage participants with collaborative whiteboards, live transcription, breakout rooms, and chat
Advanced call handling: Admin can monitor and manage routing with overflow queues, ring groups, role-based access controls, and live controls like call monitor, whisper, barge, and takeover
Pros & Cons
RingCentral Pros
All plans include phone, SMS, and chat
Screens robocalls automatically
All plans support poplar integrations
RingCentral Cons
Initial setup can be confusing
Phone call audio can lag sometimes
Core-tier analytics lack some important insights
3. Dialpad
Dialpad offers voice, SMS, video meetings, and messaging even in their most basic unified communications plan.
Since Dialpad video meetings only host up to 10 participants, their low-cost plans are a great fit for small companies that don't plan to host webinars or large-scale meetings. However, with automated transcriptions and up to 25 ring groups, Dialpad can support medium-to-large business phone networks, too.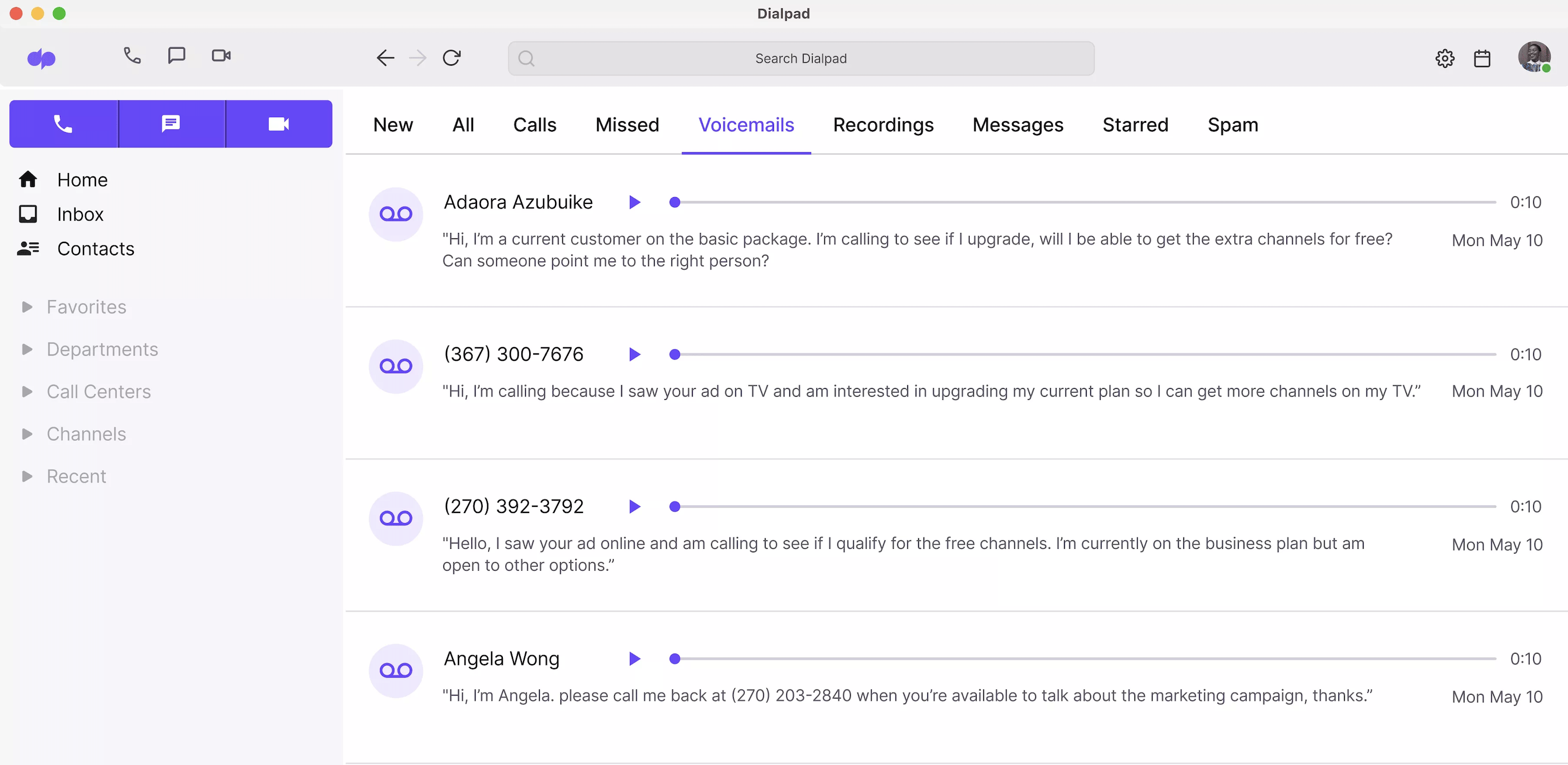 Plans and Pricing
Dialpad pricing includes 3 plans ranging in price from $15 to over $25 monthly per user, making it the most affordable provider on this list. All core communication channels come with the Standard plan, while the Pro plan adds more ring groups, APIs, and global text and phone support.
Key Features
Real-time meeting and call transcriptions: Dialpad AI automatically transcribes all calls, video meetings, and voicemails–in real time–providing agents with an on-screen conversation record that is saved and logged afterward for review
Live speech coaching: When agents are on a call with customers, AI analyzes the conversation and automatically suggests relevant scripts from the internal knowledge base, based on keywords and trigger phrases to expedite the support process. Suggestions also include speech pacing, word overuse, response length, and more.
Auto attendant: Create a self-service audio menu for customers to navigate to voicemails or agents within the company. Create custom messages for certain business hours and set routing priority based on agent idle activity and skills.
Call flipping: Call flipping enables on-call agents to switch from desktop to mobile with one click
Video features: Dialpad AI-powered HD video meetings allow users to meet instantly via desktop or mobile app, or schedule one-time and repeat meetings into a calendar app. During meetings, users can share screens, files, or collaborate and draw on a saveable whiteboard. Hosts can customize screen layouts, background, hold music, and meeting room URL.
Pros & Cons
Dialpad Pros
Affordable plans
Device switching works well mid-call
Easily navigable user interface
Dialpad Cons
10-participant video conferencing maximum
Transcriptions are often inaccurate
Setup instructions can be confusing
4. GoTo Connect
GoTo Connect, GoTo's communication and collaboration solution, combines video conferencing, SMS texting, internal chat, and GoTo's video-conferencing app, GoTo Meeting. The service provider's phone system includes a phone tree directory, drag-and-drop dial plans, analytics, and a customizable IVR tree for call routing.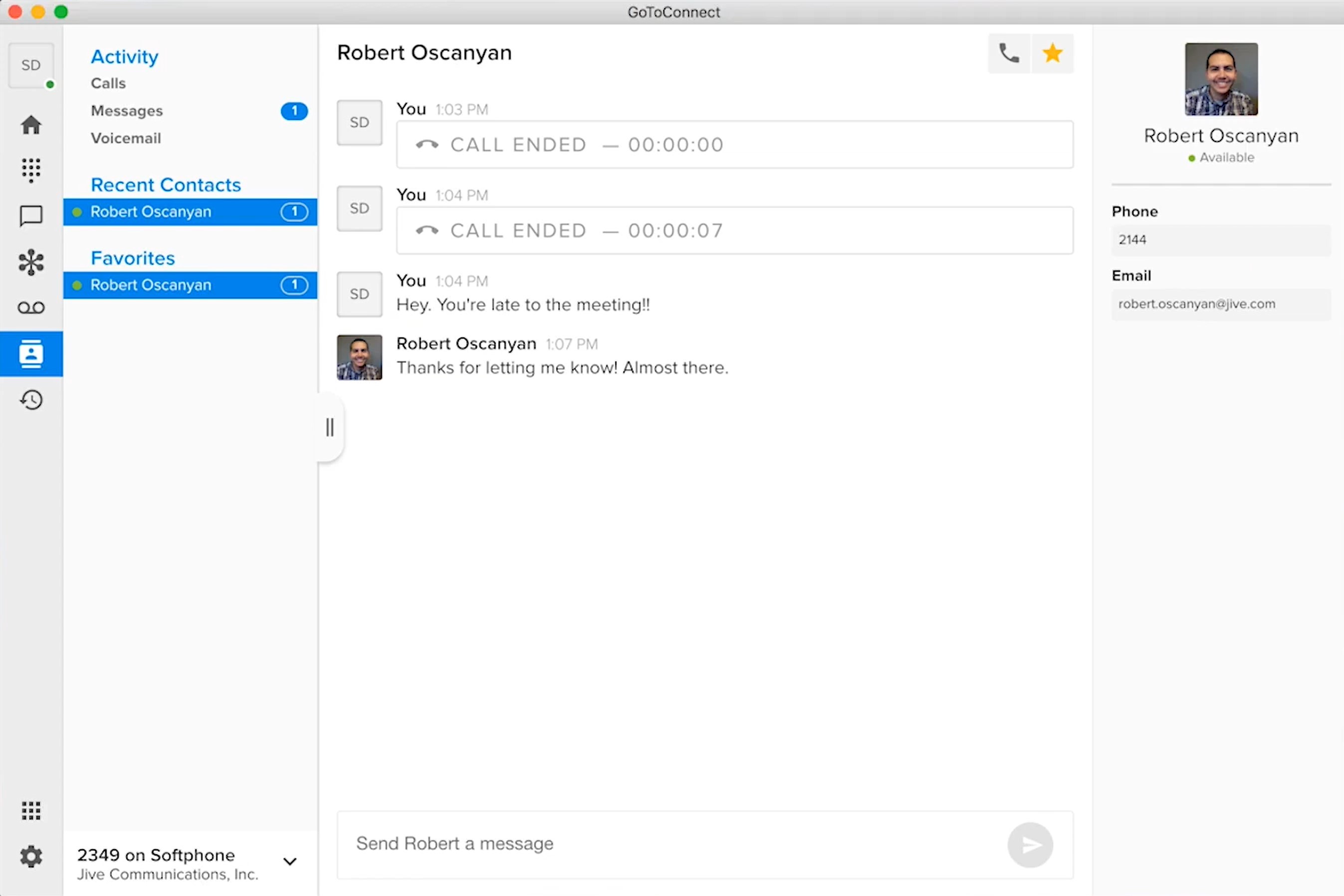 Plans and Pricing
GoTo Connect's pricing includes 2 plans ranging from $27 to $32 monthly per user. Only teams of 20 and under can use the Basic plan, with voice, chat, and small video meetings for up to 4 participants. The Standard plan supports unlimited users, with expanded video support for 150 participants, unlimited auto attendants, and an impressive 50-country unlimited calling area.
Key Features
Meeting organization: Schedule or set recurring meetings, and easily search contacts to add co-organizers. Users can jump directly from a chat or call into a video meeting
Multi-level IVR flows: Use a visual flow builder to create an auto attendant menu that routes customer calls anywhere within the company. Customize actions like: modify caller ID, require a password, schedule an appointment, play a sound clip, set a language, and more. Record custom messages and greetings, set up an advanced call flow in the visual builder, or create automated messages to share promotions
Virtual voicemail with transcription: Receive missed call notifications via push, text message, and/or email. Use the virtual voicemail box to access missed call information–caller profile, voicemail duration, one-click callback or text, and voicemail transcription
Video conferencing tools: Host collaborative video conferences with up to 250 participants and 25 simultaneous screens, using collaboration tools like a pen, spotlight, custom backgrounds, in-meeting chat, and screen sharing
Admin tools: In the admin portal, customize call routing strategies, set up auto attendants, design agent and supervisor dashboards, customize reports, and view analytics across the contact center
Pros & Cons
GoTo Connect Pros
Knowledge base for support
Reliable uptime
User-friendly interface
GoTo Connect Cons
Dashboard lacks some customization options
Minimal integration options
Meetings lack some security/verification features
5. Zoom One
Zoom One offers an all-in-one collaboration tool that unifies Zoom Meeting video conferencing, Zoom Phone VoIP calling, and team chat capabilities.
From the dashboard, easily navigate between these collaborative channels, keeping up with customer and team-member communications. Flip between channels instantly or collaborate on Zoom Whiteboard during and outside of meetings. Perhaps most impressive is Zoom's massive library of integrations, totaling 1951 as of this writing.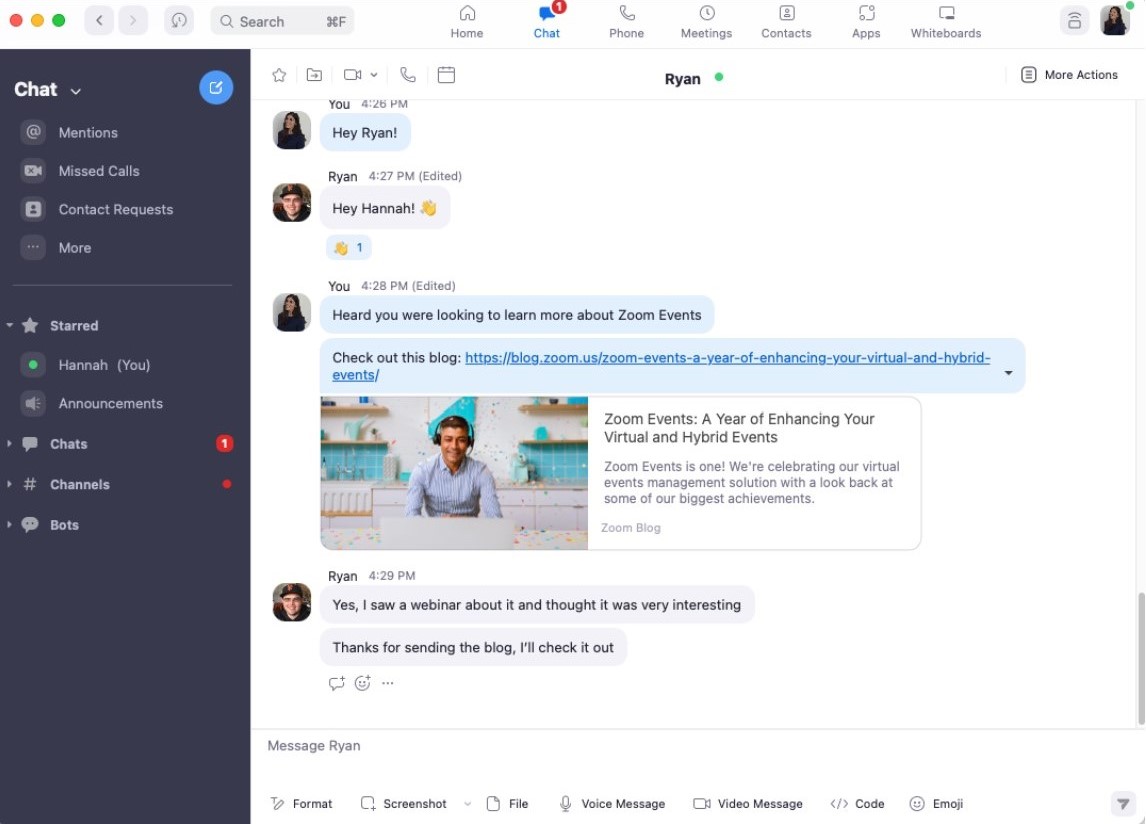 Plans and Pricing
Zoom One's free Basic plan includes no phone or chat, but it does offer video meetings with up to 100 participants and all of Zoom's dynamic video features, including three concurrent whiteboards. While the Basic plan caps video meeting length at 40 minutes, Zoom's pro plan removes that time limit. The Business plan supports 300 attendees and unlimited whiteboards, while the Business Plus plan adds Zoom phone with SMS, queueing, and routing features.
Key Features
Zoom Whiteboard: A collaborative tool both inside and outside of meetings, Whiteboard gathers dozens of team members together around a blank canvas to create and ideate, using smart connectors, paint tools, sticky notes, and comments
Dynamic video features: Zoom Meetings are full of engagement-boosting tools, like breakout rooms, Zoom virtual backgrounds, slide presentations, screen sharing with co-annotation, hand raising, in-meeting polling, and chat
Advanced chat tools: In Zoom chats, share files, whiteboards, and meeting recordings. Elevate chat to phone or video with one click, search for files, contacts, and messages with keywords, and set user presence and status.
Voicemail transcription: Zoom automatically transcribes and stores all voicemail message recordings in a searchable virtual voicemail box
Reporting and analytics: Zoom offers real-time and historical reports for meetings, phone, and chat. For each channel, view usage and adoption metrics, quality reports, infrastructure details, and hardware information.
Pros & Cons
Zoom One Pros
Offers a free plan
Whiteboards are shareable outside of meetings
Tons of integrations
Zoom Cons
Low-tier plans don't include phone
Mobile dashboards aren't user-friendly
Inbound chat notifications can be too subtle, causing missed chats
6. Vonage
Vonage Business Communications (VBC), Vonage's web-based UCaaS solution, bundles voice, team messaging, fax, social media, SMS, and video meetings with 99.999% uptime for service in over 40 supported countries.
Vonage Business Communications includes basic phone features like audio conference calling, call blocking, call queuing, and call screening. Vonage integrates with 25 external applications and offers some useful paid add-ons like call recording and conference calling with up to 20 participants.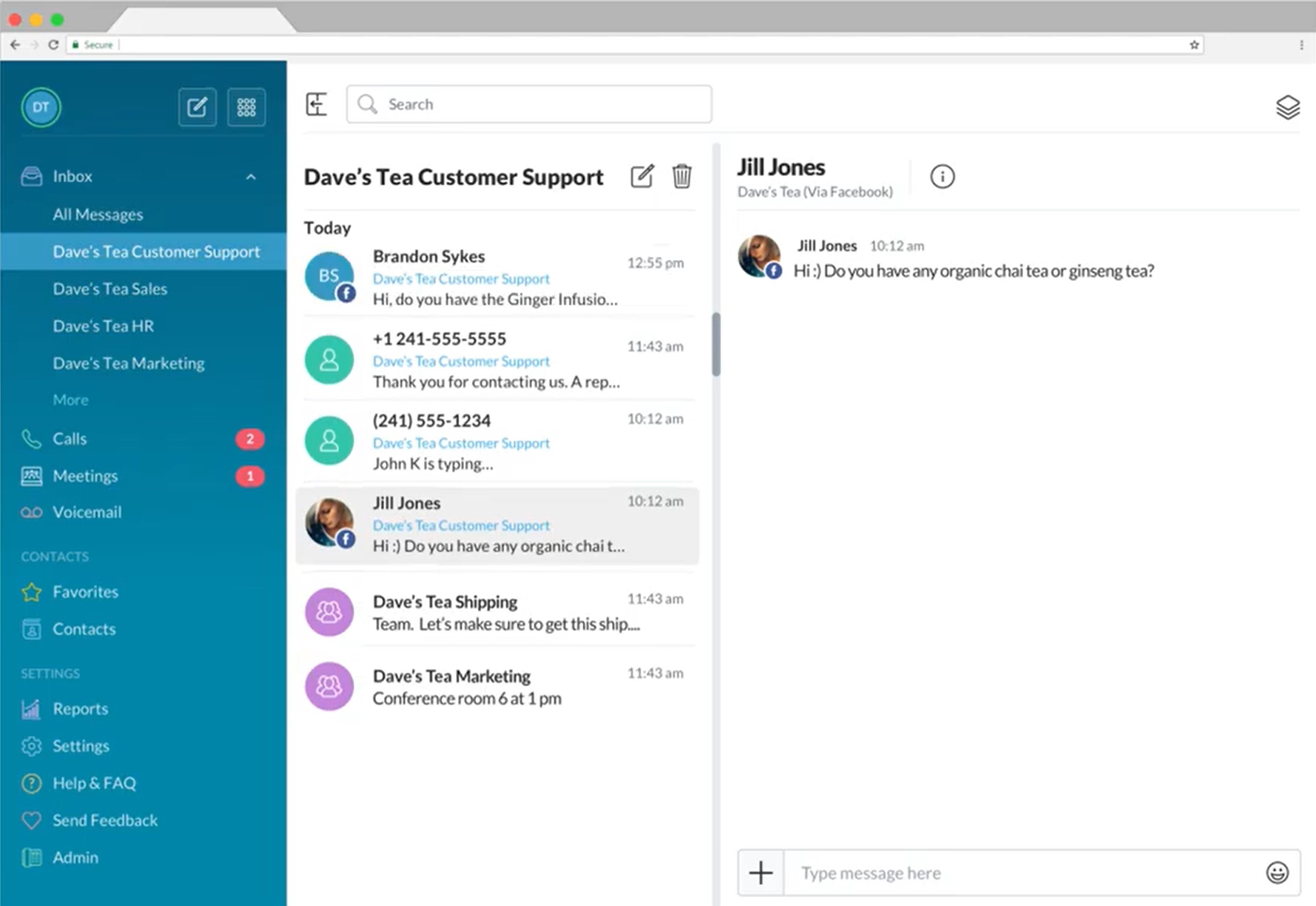 Plans and Pricing
Vonage's Basic plan covers the fundamental collaboration features–phone, chat, and SMS. It also includes access to Vonage mobile and desktop apps and the Vonage App Center, where you can purchase extra integrations. The Premium plan adds video conferencing with 100 participants, CRM integrations, and multi-level IVR. The Advanced Plan includes call recording, group calling, and visual voicemail.
For more details, check out our complete breakdown of Vonage's pricing and plans.
Key Features
Vonage Meetings: Vonage video meetings' speaker view adjusts focus to keep the speaking participant onscreen, even in large groups. Participants can share screens, collaborate by drawing on a whiteboard, and chat. Team members can escalate from chat to video, or hosts can invite attendees directly from a contact list, scheduling the meeting into a calendar app.
Admin portal: The admin portal makes it easy for administrators to monitor and manage routing, queues, phone lines, displays, and user capabilities in real time. Admin can track analytics, monitor employee call activity, customize calling features, and more.
Business Inbox: Business Inbox aggregates incoming customer messages from all digital channels–chat, SMS, even social media–and organizes them in one omnichannel inbox for quick support-team viewing and response through that same channel
Click-to-dial: A browser plug-in that enables agents to automatically dial any onscreen number with one click
Pros & Cons
Vonage Pros
Includes chat, SMS, and phone in the basic plan
Click-to-dial is beneficial on any webpage, not just on the Vonage website
Large pool of available international numbers
Vonage Cons
Expensive plans
Video lacks audience-engagement tools
No call or voicemail transcription
7. 8×8
The 8×8 X Series business communication plans bundle voice telephony, team chat, video, and SMS. With a network spanning 48 countries and a 99.999% uptime guarantee, 8×8 provides users the foundation to connect with customers and team members around the world. Supervisor tools include video screen customization and supervisor analytics, while agents benefit from the easy-to-use dashboards and guidance from conversational AI.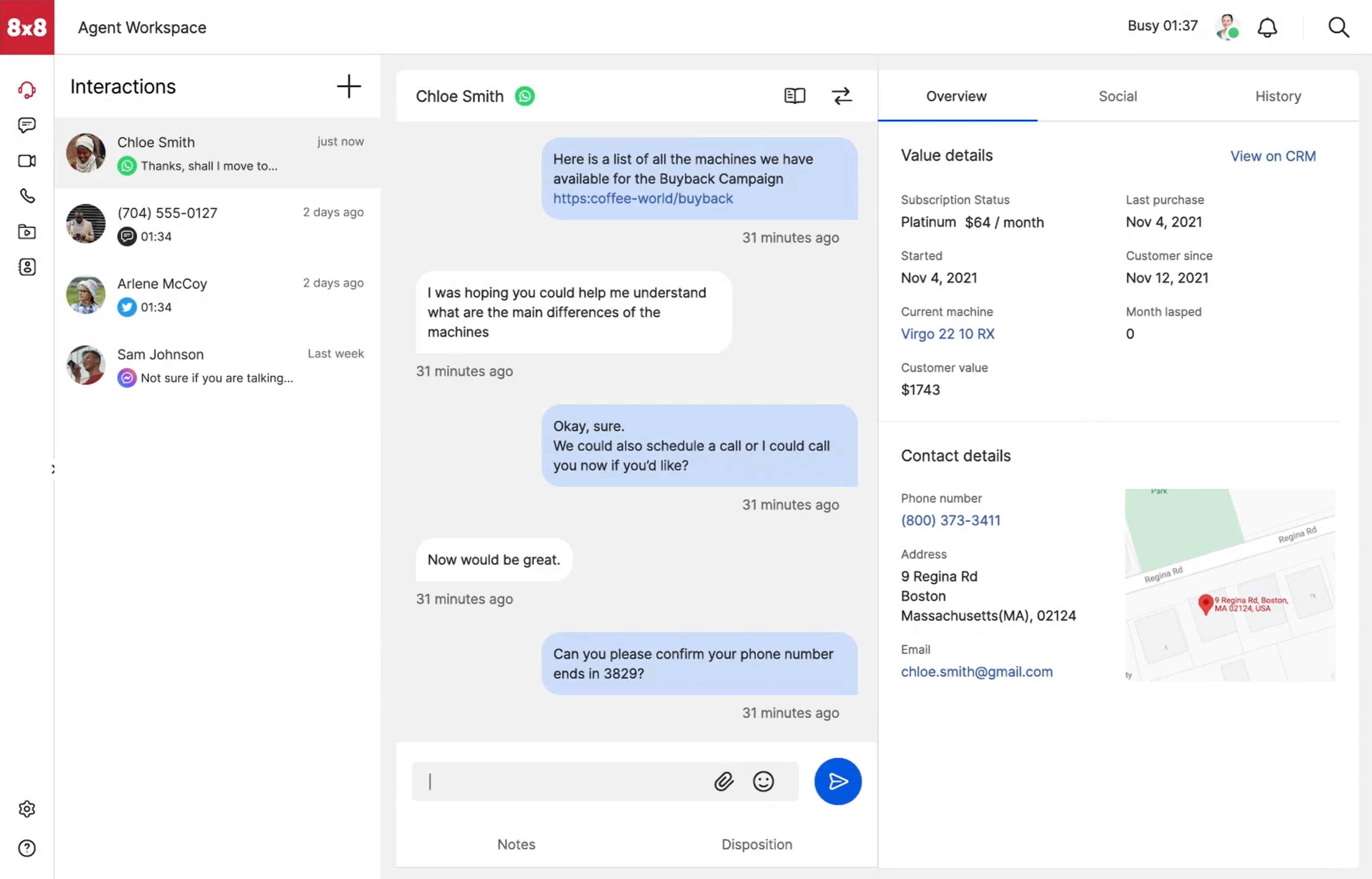 Plans and Pricing
8×8 offers 3 X-Series plans. The Express plan, with voice, video, team chat, IVR, and voicemail, costs only $15 but has a 10-user cap. The $24 X2 plan serves bigger teams, with video conferencing for up to 500 participants, SMS, and an expanded international calling network of 14 countries. Finally, X4 expands the network to 48 countries and includes supervisor support tools like supervisor analytics and monitor/whisper/barge.
Key Features
Feature-rich video: 8×8 HD video, accessible on desktop or mobile, includes virtual backgrounds, advanced moderation controls like meeting lock and lobbies, and even live streaming to Youtube. Brand your video with customized background and logo, and record and save meetings for sharing and review.
Universal messaging: Send chat messages across applications like Salesforce, Slack, and other platforms. You can also create public and private messaging rooms, share files, or initiate audio or video meetings directly from the chat interface.
Call handling: Forward, transfer, block calls, or initiate 3-way calls with one click
Conversation IQ: AI records and transcribes every call and video, creating a recording track for each party. AI analyzes these call transcriptions to identify commonly used customer keywords and customer sentiment, providing immediate feedback to help agents navigate conversations and long-term feedback about frequently discussed topics.
Analytics: Access real-time and historical contact center metrics, including customized queue dashboards, call quality and device reporting, speech and sentiment analysis, agent call statistics, and channel usage data
Pros & Cons
8×8 Pros
Quick, easy dashboard setup
Excellent voice quality
Mobile and desktop app ease of use
8×8 Cons
Voicemail setup can be difficult
Connectivity or service can be weak in some locations
No option to delete old SMS messages
8. Ooma
Ooma's UCaaS small business phone plans offer a strong balance between collaboration and contact center features.
With a mobile- and desktop-friendly agent dashboard encompassing chat, voice, video, and SMS, Ooma helps agents easily track their communication tasks. Ooma also empowers admins with routing tools like drag-and-drop IVR, ring groups, and analytics that can be easily sorted, customized, and scheduled into auto-delivered reports.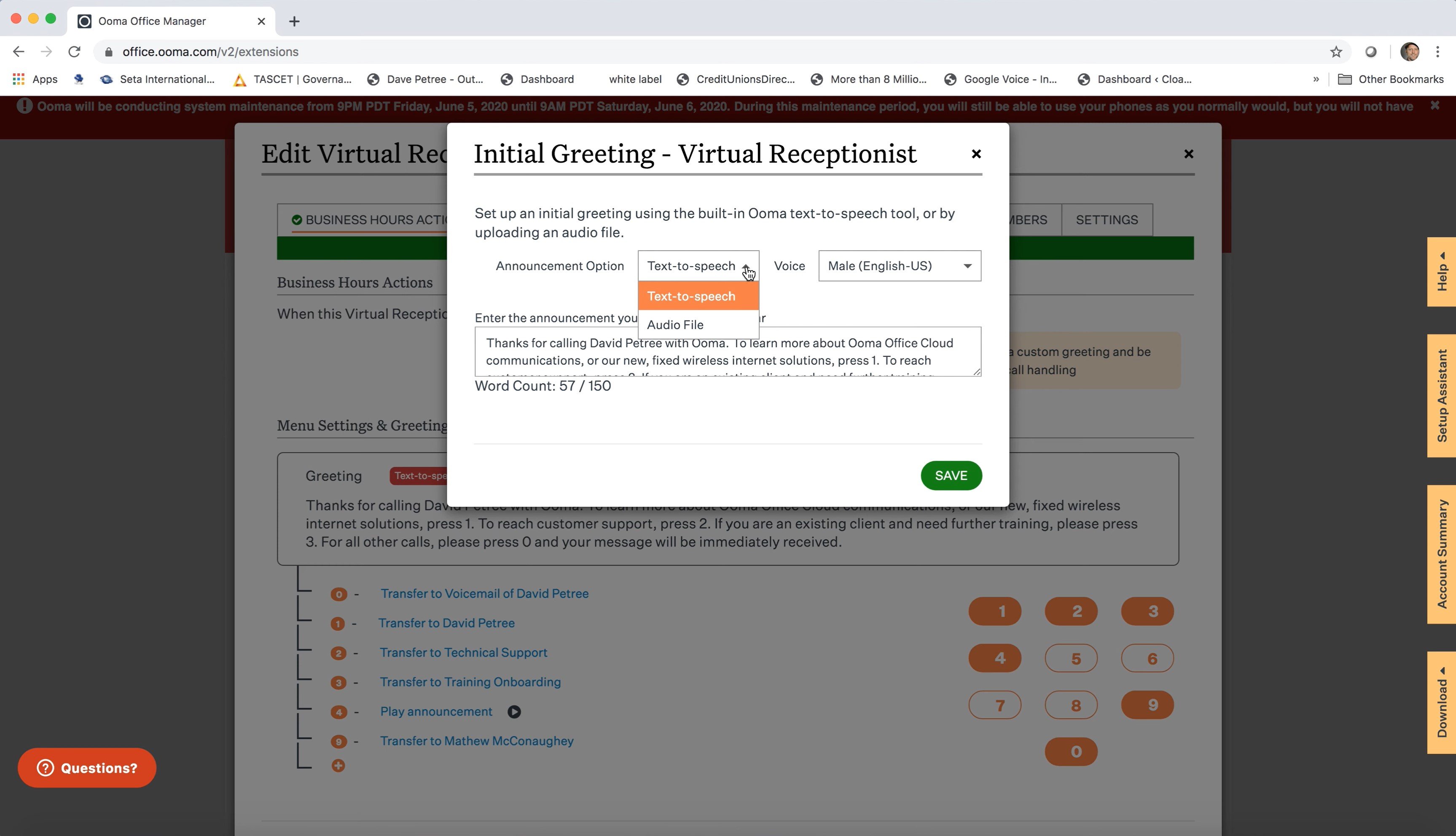 Plans and Pricing
Ooma offers 3 small business phone system plans, from $19.95 to $29.95 monthly per user.
While the Essentials plan includes agent communication and routing features–like phone, chat, SMS, ring groups, and a virtual receptionist–users should note that the Essentials plan does not include the desktop app, which we consider a critical collaboration component. The Pro plan adds the desktop app and video meetings, while the Pro Plus plan adds call queueing.
Key Features
Manageable video meetings: Ooma's video meetings, supporting 100 participants, are easy for participants to join and for admin to set up and manage. The Ooma Meeting dashboard gives admins and team members a view of all scheduled meetings, joinable with one click. Admin can schedule one-time or recurring meetings, set password options, and customize participant views.
Caller Info Match: An advanced caller ID system, Caller Info Match provides agents with background and key information about anyone on the phone. Agents can identify incoming callers as customers, access contact information, and pull up their customer experience history, customer sentiment, and recent purchases. Caller Info Match connects with your CRM software and social media platforms like Facebook and Linkedin to generate key user data.
Desktop app: The centerpiece of an agent's collaboration experience, the Ooma desktop app makes it easy to make and receive video calls, control and view agent availability status, track and listen to voicemails, create chat groups, and initiate chats
Mobile app: Ooma's mobile app provides a condensed option to manage nearly the same communication functions as the desktop app. Use the mobile app to see availability, initiate chats, create chat groups, receive and transfer calls as a softphone, call teammates with one click, and listen to voicemails while reading their transcriptions.
Advanced call analytics: Ooma's automated analytics include a wide library of pre-made reporting templates and customizable options. Sort calls by day, user, ring group, or call queue, and filter real-time and historical reports by chosen metrics
Pros & Cons
Ooma Pros
Great sound quality
Dashboard is easy to use
Easy mid-call device switching
Ooma Cons
Lacks some video engagement features
Essentials plan does not include a desktop app
Minimal integrations
Which Grasshopper Alternative Fits Your Business Best?
Each Grasshopper alternative offers a unique combination of pricing and features, so your company's choice depends on your budget and the features that you plan to use.
If you already have a phone system and want to add video conferencing with rich collaboration features, Zoom One is an ideal option.
On the other hand, if you don't care too much about video but still want an affordable option with chat, phone, and SMS, RingCentral is your best bet.
If you have a small company and want all collaboration channels, but plan to keep video meetings to a limited number of participants, Dialpad makes a great fit.
FAQs
We've answered some common questions about Grasshopper alternatives.