A well-rounded business-communication solution can do it all: VoIP calling, video conferencing and onscreen collaboration, team messaging, call handling and routing, analytics–even AI-enhanced customer support.
Two of today's top UCaaS providers, GoTo Connect and 8×8, offer these features and more.
While they have a lot in common, the two solutions differ in the exact features they offer, their pricing plans, and the external apps they integrate with.
This article will compare GoTo Connect and 8×8, outlining their key features, pricing, pros, and cons.
Jump to↓
GoTo Connect vs 8×8 at a Glance
Though GoTo Connect and 8×8 are both cloud-based business communication and VoIP solutions, the difference is that GoTo Connect offers a greater number of collaborative messaging features and a visual dial-plan designer, while 8×8 supports twice as many video participants with cheaper pricing for small businesses.
GoTo Connect features team-chat voicemail sharing, built-in calendars, and a drag-and-drop call flow builder–features 8×8 does not include. On the other hand, 8×8 offers live YouTube streaming and a basic plan that is $9 cheaper per user than GoTo Connect's.
GoTo Connect »

8×8 »

Pricing
2 plans from $24 to $29 monthly per user
3 plans from $15 to $44 monthly per user
Key Features

Visual dial plan editor
Smart call routing
Built-in calendars for meeting scheduling
Call recording

Multi-level auto attendant
Call queues
Voicemail transcription
Real-time speech analytics

Available Communication Channels

Voice
Video with 250 participants
Team chat
SMS

Voice
Video with 500 participants
Team chat
SMS

Integrations
30 integrated apps including:

Slack
Microsoft Teams
Zendesk
Salesforce
Google Workspace
Zoho CRM

60 integrated apps including:

Microsoft Teams
Salesforce
Google Workspace
HubSpot
Freshdesk
ServiceNow

Customer Support Options

Knowledge base articles
Community forum
24/7 chat, email, and phone support

Knowledge base articles
Community forum
24/7 chat, email, and phone support

Best For
Teams of 20 or more looking for a multichannel business communication solution with unlimited international calling
Small teams–especially under 5 users–seeking a well-rounded UCaaS solution on a budget
What is GoTo Connect?
GoTo Connect is a team communications platform uniting a hosted PBX phone system, SMS, video conferencing, and team messaging within a desktop and mobile app for Android or iOS.
It offers a multichannel interface where agents can manage all internal and customer-facing chat and text conversations at once, receiving activity notifications in a left-hand menu. Users can create and schedule video meetings in a calendar and make calls using any-device softphone functionality.
GoTo Connect agent menu tabs include:
Home
Phone
Meet (Video)
Messages (chat)
Contacts
Voicemail
Calendar
Apps
Settings
The service provider supports 99.999% uptime, low bandwidth usage on local networks, and 24/7 customer support via phone, chat, and email.
Learn more about
GoTo Connect
What is 8×8?
8×8 XCaaS is a business communications solution with a cloud-based VoIP phone system, SMS texting, video conferencing, and team chat, with the option for contact center licensing.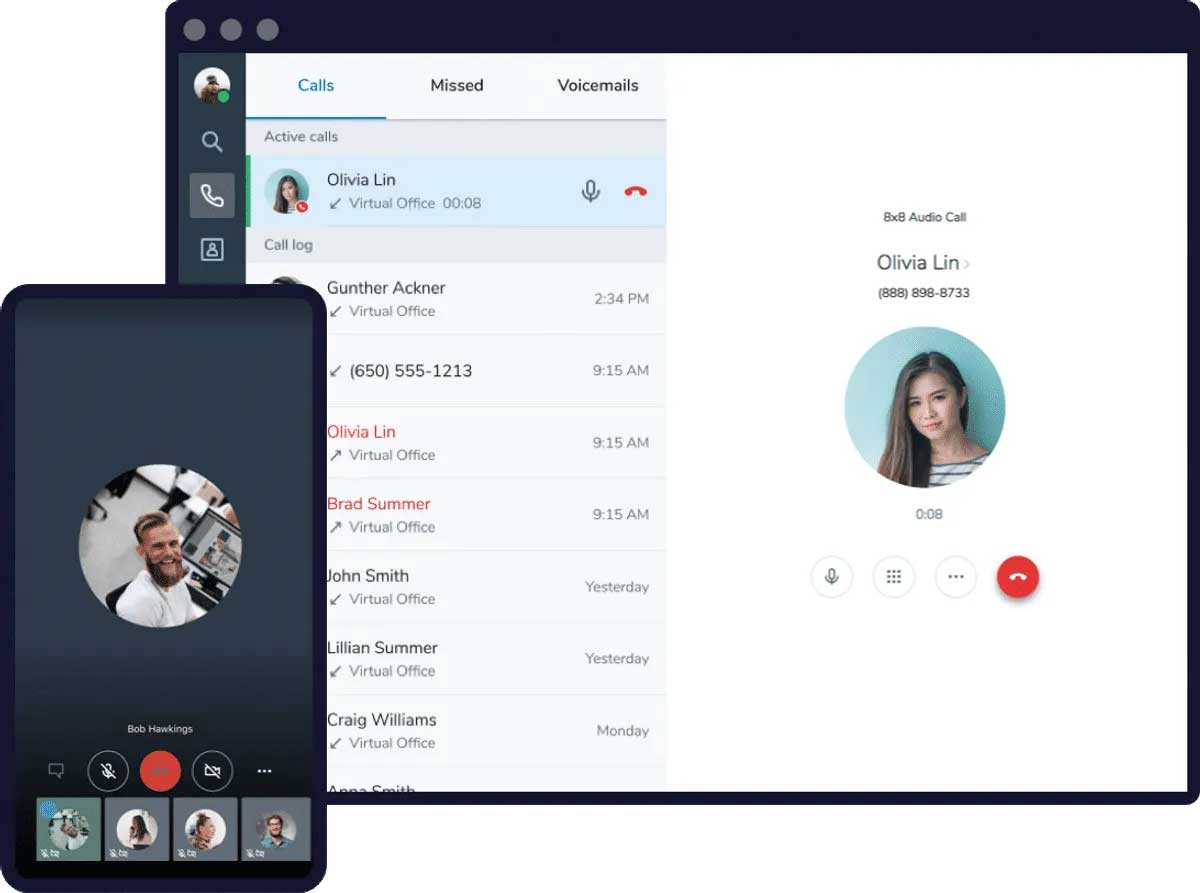 The platform's mobile and desktop app, 8×8 Work, enables agents to connect with customers and teammates on any channel. In the 8×8 Work unified communications dashboard, agents can transition between call, chat, and video from any touchpoint. Every interaction has end-to-end encryption, 99.999% uptime, and the higher-tier pricing plans include AI support.
Softphone functionality complements unlimited calls within the US and Canada–and even unlimited international phone service to 48 countries on the higher-tier X4 plan–without requiring a hardware device.
8×8 Work dashboard tabs include:
Contacts
Alerts
Calls
Messaging
Video
Voicemail
Search
GoTo Connect vs 8×8: Feature Comparison
Here, we've compared key features for GoTo Connect vs 8×8.
GoTo Connect Voice Calling
GoTo Connect offers unlimited HD-voice calling in the US and Canada, plus unlimited calling to over 50 countries on the Standard plan. GoTo's Basic plan includes some of the cheapest international calling rates around, compared to alternatives.
The virtual phone system allows you to port pre-existing numbers or purchase local, toll-free, and vanity business phone numbers from area codes around the world, with unlimited extensions. Administrators can customize a suite of routing features including auto attendants, queues, voicemail management capabilities, and more.
GoToConnect's voice features include:
Visual dial plan editor: A drag-and-drop canvas to create routing paths by linking business phone system tools, like auto attendant menus, caller DTMF options, ring groups, call queues, sound clips, http notify nodes, business-hours schedules, caller ID nodes, and more.
Virtual voicemail: Each voicemail message is organized in a visual log, along with its transcription, playback options, and caller details. Agents can search voicemail logs by name or keyword on any device and receive voicemails via email.
Auto attendants: Drag-and-drop self-service IVR menus with DTMF options that route customers to recorded announcements, submenus, or phone numbers.
Ring groups: Group agents to share inbound call answering, ensuring that more customers reach a live agent. Choose a ring style–round robin, longest idle, or simultaneous ring.
Instant response: Set up an automatic text-back response from an agent's number when busy.
Call recording: Stored in the GoTo Connect cloud for download and sharing
Call handling: forward, transfer, block, record, and instant device flipping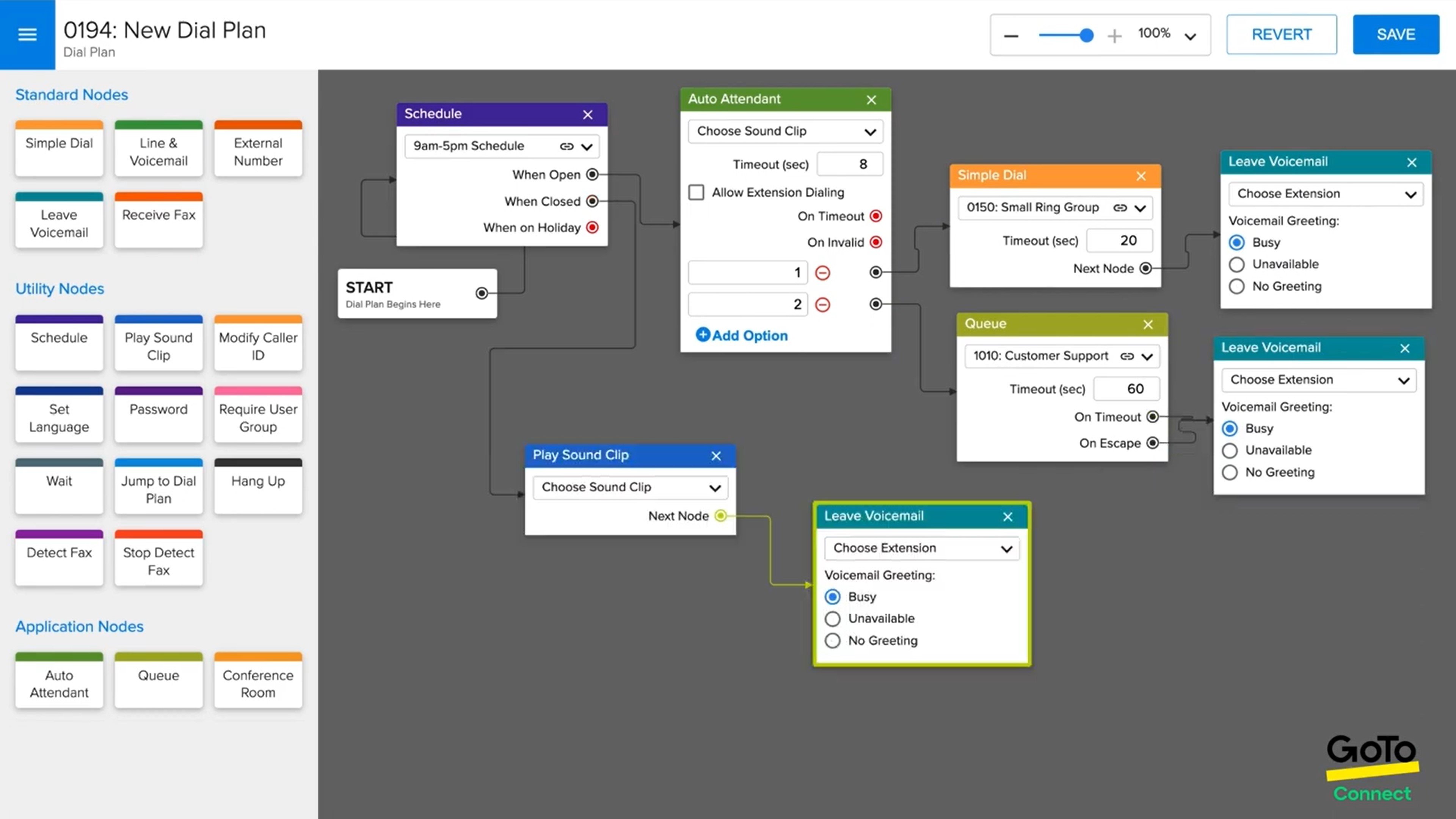 8×8 Voice Calling
8×8 Phone makes it easy for the admin to add, remove, and manage users, even within a large network. With just a few clicks, add new users by email and purchase local, toll-free, and vanity numbers around the world.
The basic Express plan offers unlimited calling and texting in the US and Canada. The X2 plan offers unlimited calling in 14 countries, while the X4 plan supports unlimited calling, texting, and faxing across 8×8's entire 48-country network.
A user's activity on any device instantly updates their records across all devices.
8×8 includes the following voice features:
Multi-level auto attendant: Self-service routing options with custom announcements, messages, and in-app functions like bill pay or appointment registration.
Call management tools: Caller ID, call block, do not disturb, call park, forward, transfer, and call waiting.
Visual voicemail: A searchable inbox organizing all voicemails, with voicemail transcription and voicemail-to-email. Agents can return calls directly from the voicemail message, or forward and share voicemails with colleagues.
Call queues: Place callers in a line with hold music, while waiting for a particular agent or group of agents. Callers have the option for queue callback, or to record a message in queue voicemail boxes.
Call monitoring: Supervisors can listen, whisper, barge, and take over calls for training and quality control purposes
Ring groups
Call recording
3-way calling
GoTo Connect Messaging
Agents can initiate 1:1 conversations or create unlimited group chat channels, each devoted to a particular task or business need.
In conversation, agents can share messages, emojis, images, calendar invites, and files, or jump with one click into video meetings or phone calls.
8×8 Messaging
1:1 instant messages, plus private and public group chats to share files and documents. Agents can @tag each other to avoid excessive notifications for agents who aren't directly involved in the conversation.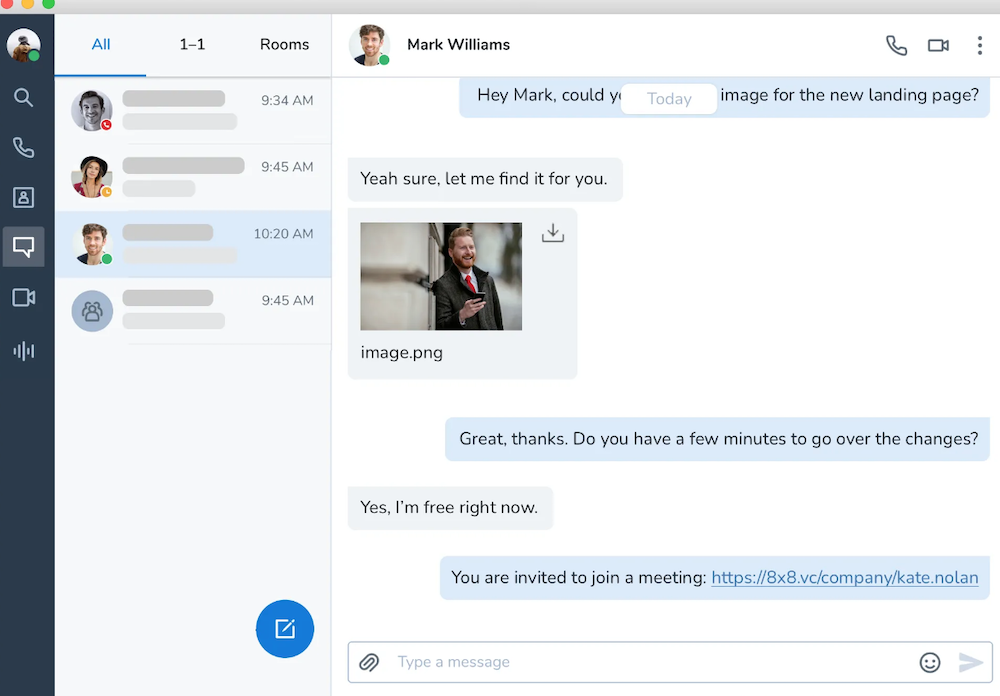 Any chat allows one-click channel switching to phone or video, and conversations can be connected to Skype, Slack, or Microsoft Teams for universal messaging.
When using the 8×8 Work app on mobile, agents can set push notifications for all activity requiring a response, responding to messages directly from the notification without opening the app.
GoTo Connect Video Conferencing
GoTo Meeting supports up to 250 participants, with 25 simultaneous onscreen webcam displays. Meetings last 40 minutes with a 4-participant capacity on the Basic plan, but host 150 participants with no time limit on the Standard plan. Any participant can join a meeting on any device, with no download.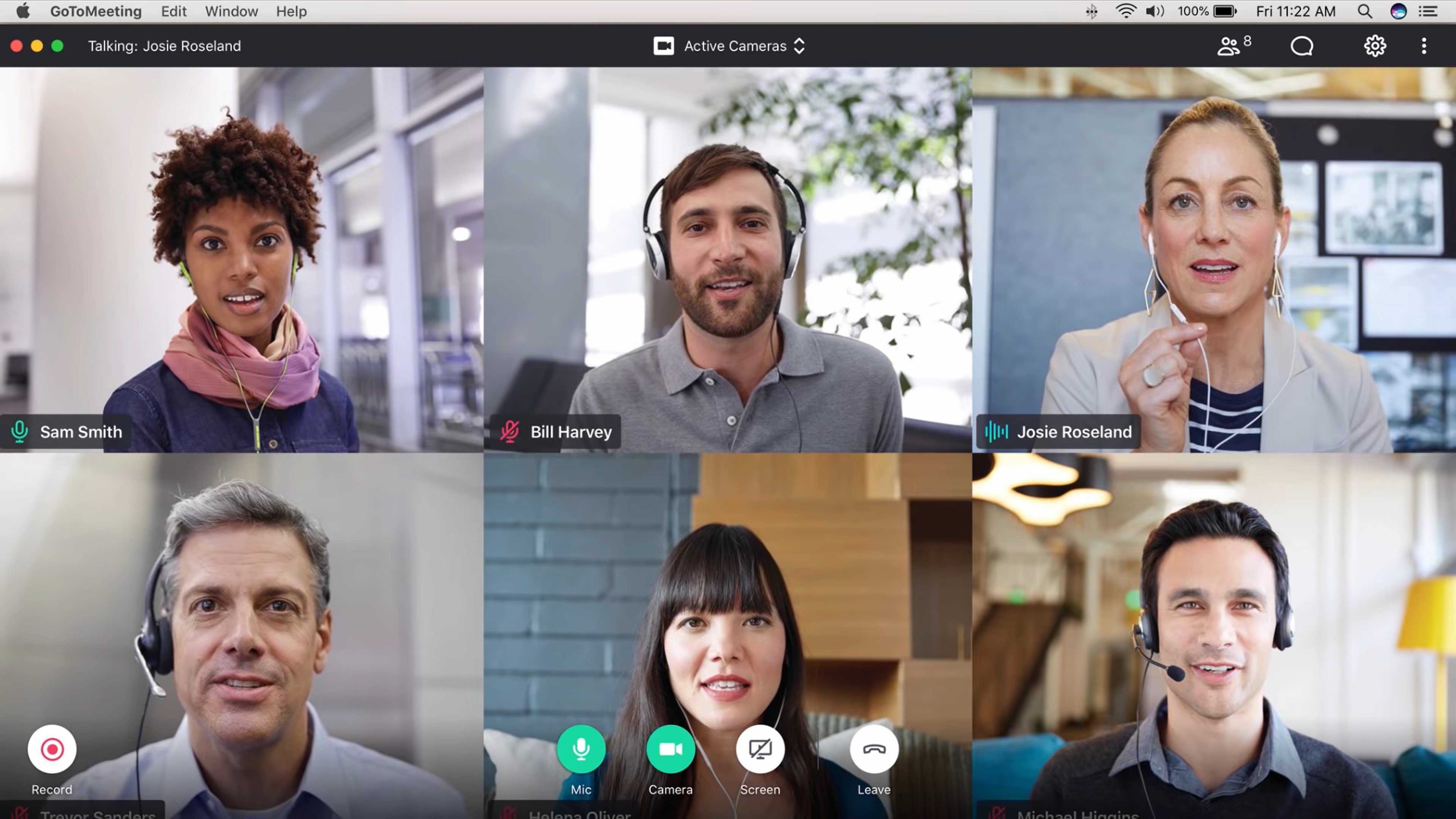 HD-video meetings are built into GoTo Connect's desktop and mobile apps, so agents can jump into an impromptu video meeting from any touchpoint, with a coworker or customer.
Users can schedule and customize one-time or recurring meetings, choosing date, time, duration, appointing co-organizers, and managing calendars with all upcoming and past meetings.
GoTo Connect Meetings Collaboration Tools:
Screen sharing: Mobile or desktop users can share their screen, choosing which panel or view they want to present.
Organizer controls: Start and pause screen sharing, pass presenter duties, mute attendees, or kick participants out of the meeting.
Drawing: Pen, highlighter, and spotlight tools–that multiple users can access at once–for collaboration and presentation.
Hand-raising and emoji reactions
8×8 Video Conferencing
Any-device HD video conferencing supports up to 500 participants, with no minute restrictions. Users can schedule video meetings in the main dashboard, with Google or Microsoft Calendar integrations to sync meetings across teammate calendars.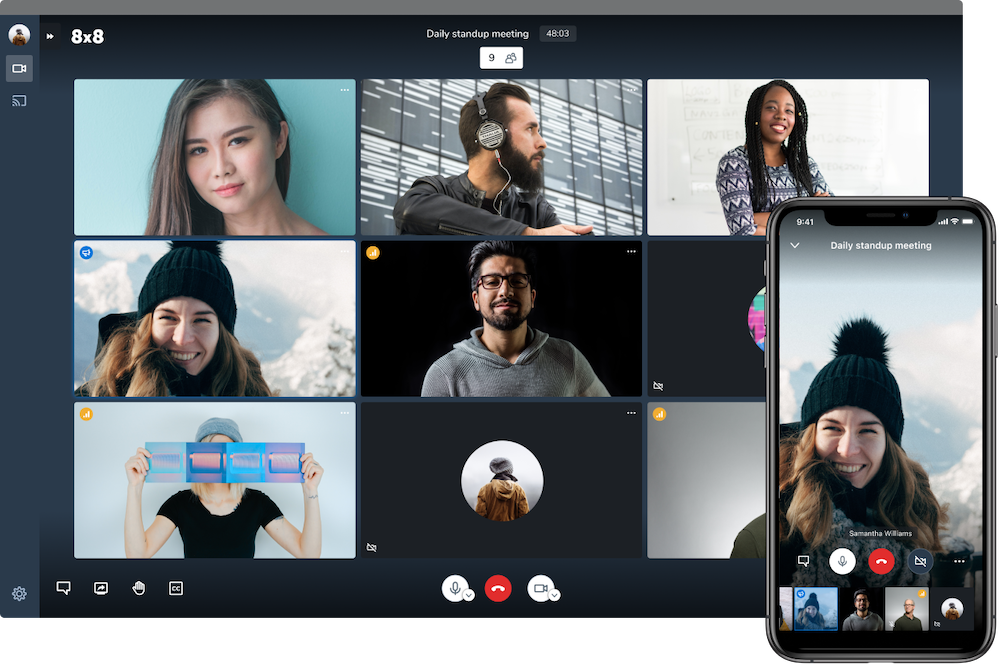 Users can create ad hoc meetings from chat conversations, and each voice call displays a Meet Now option for instant video escalation.
Further, every 8×8 user receives their own personal meeting link, which they can share anytime for a pop-up meeting.
Meetings include the following features:
Moderation controls: Meeting lock, host delegation, meeting lobby, participant muting, and participant permissions.
YouTube video sharing: Share a YouTube video with all participants during a meeting.
Audio sharing: Share audio from your computer, which plays through participants' speakers.
Meeting branding:  Customize the meeting's background, logo, and URL.
Screen sharing: On mobile or desktop
Virtual backgrounds
Meeting recordings
GoTo Connect Analytics & Reporting
Admin can access and customize real-time and historical dashboards displaying call center trends, statistics, queue activity, and KPIs. Live queue statistics and activity notifications enable supervisors to make quick routing adjustments to keep wait times low and maximize live-agent resources.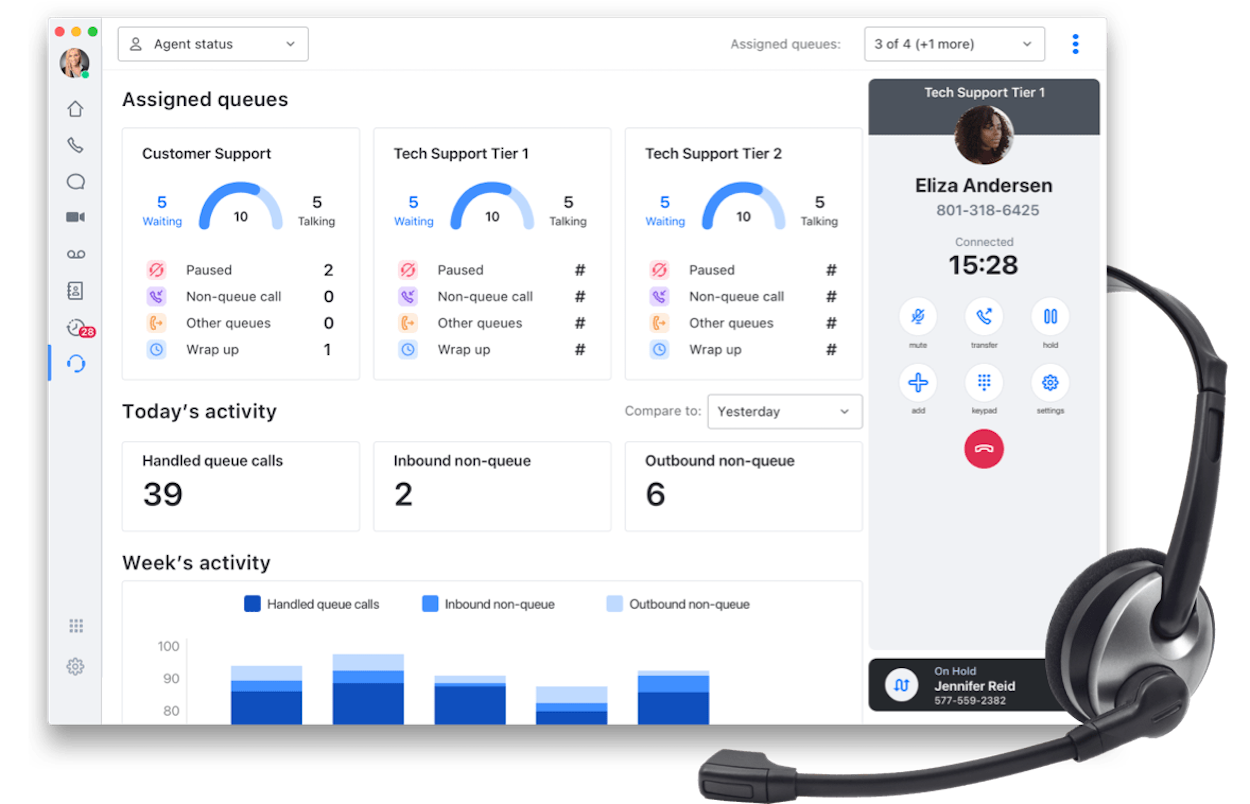 GoTo Connect Standard includes the following real-time analytics:
Presence monitoring: Live display of each agent's availability and activity status
Agent effectiveness dashboards: Each agent's inbound calls, outbound calls, and performance statistics. Agents can also monitor their own queues and performance in a personalized dashboard.
Queue visibility: Live insights about active calls, queued calls, and paused calls–each with context like customer information and call length. A central call log aggregates the queue's whole-day activity.
Historical call logs and reports: Administrators can compare previous call center performance with recent data, observing changes and areas for improvement.
Supervisors can monitor, whisper, barge, and take over calls when needed, coaching agents and improving customer experience.
8×8 Analytics and Reporting
8×8 Work analytics dashboards feature department-, agent-, and channel-specific metrics and KPIs for full admin call center monitoring.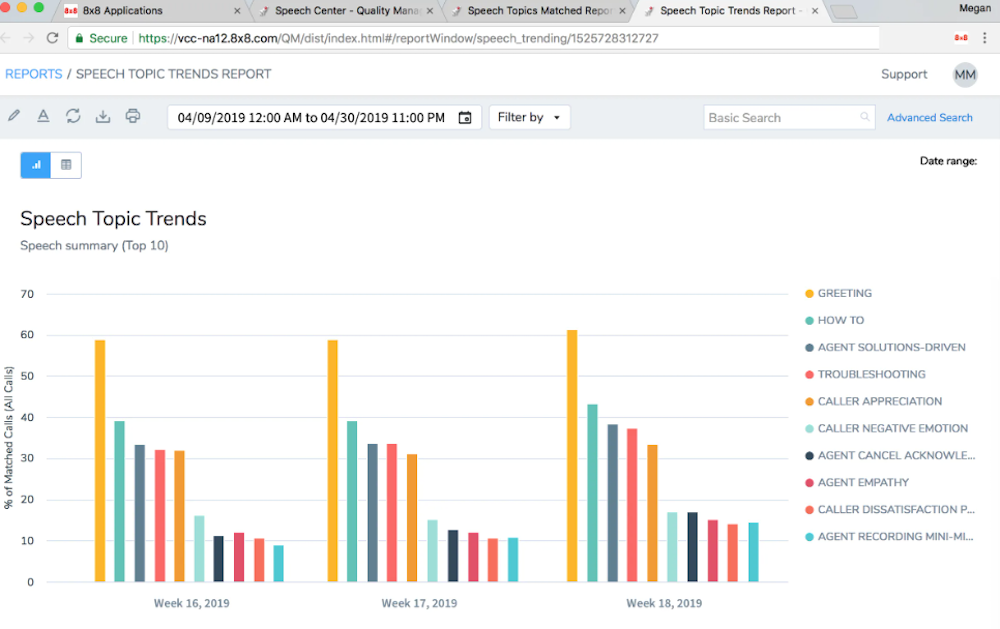 Admin can view and compare statistics and graphs within the following reports:
Company summary: At-a-glance view at call center activity by time of day, including call volume, number of calls answered, average caller wait time, and call abandonment rate.
Extension summary: A summary of call activity for any network number or extension
Call queue reports: An overview of real-time activity for any queue within your network
Call quality reports: Insights about audio quality and call volume, for troubleshooting
Call detail records: Historical information about all calls, including start time, end time, total talk time, and caller name
Meeting records: Full reports for each meeting, including start time, end time, meeting length, number of participants
GoTo Connect Integrations
GoTo Connect offers integrations with 30 external apps–from collaboration to customer support, education, events, calendaring, and sales.
The Basic tier offers Outlook and Google Workspace integrations, while the Standard tier offers CRM integrations like Salesforce and Zoho.
GoTo Connect integrations include:
Slack
Microsoft Teams
Zendesk
Salesforce
Google Workspace
Zoho CRM
8×8 Integrations
8×8 offers 60 integrations and plugins, only included with the X2 plans and higher–not the Express plan.
Highlight 8×8 integrations include:
Microsoft Teams
Salesforce
Google Workspace
HubSpot
Freshdesk
ServiceNow
Companies seeking a CPaaS platform can integrate 8×8's communication APIs into their native app for SMS, voice, chat, and video functionality.
GoTo Connect Add-Ons
GoTo Connect plans offer the following add-ons for additional cost:
Contact center: Includes advanced analytics and more stats, plus trend analysis. Real-time agent feedback and the outbound dialer improve sales and customer service. An omnichannel dashboard provides smoother agent transitions between communication channels.
Customer engagement: Includes shared contacts throughout the whole team, customer conversation histories, SMS campaigns you can schedule and create using templates, a multichannel conversation inbox for all messaging channels, and customizable SMS surveys.
Business continuity: An automatic system failover and fallback option that keeps your essential phone functions working in case of an outage or emergency.
SD-WAN: Provides connection using lower-cost broadband, while improving network quality, efficiency, and performance.
GoTo also offers additional phone numbers and desk phones as add-ons.
8×8 Add-Ons
8×8's business communication plans–Express, X2, and X4–include the features listed above. However, 8×8 also offers contact center plans–X6, X7, and X8–with advanced sales, customer engagement, and AI tools.
The below add-ons are included with X2 and X4 plans but are available as add-ons for contact center plans and the basic Express plan.
8×8 Add-Ons:
Auto dialer: An automated outbound dialing solution with preview, progressive, and predictive dialing that increases the customer-connection rate and presents agents with a greater number of qualified, connected calls.
AI Conversation IQ: Real-time automated call transcription with AI that tags and flags specific interactions requiring escalation, based on caller issue or language used. Admin can review and leave feedback comments on conversation transcriptions, or cut them into snippets and highlights.
Secure Pay: A secure payment-processing interface that uses an IVR-style structure with DTMF keypad tones for customers to directly enter payment information.
GoTo Connect vs 8×8: Pricing Overview
GoTo Connect's Basic plan is intended for small teams, with a 20-user cap and video meetings with only 4 participants, plus chat and SMS. On the other hand, the Standard plan supports unlimited users, call queues, IVRs, real-time analytics and video meetings with up to 150 participants. GoTo also offers an add-on with contact center features like queue analytics, call monitoring, call whisper and barge, and a supervisor dashboard.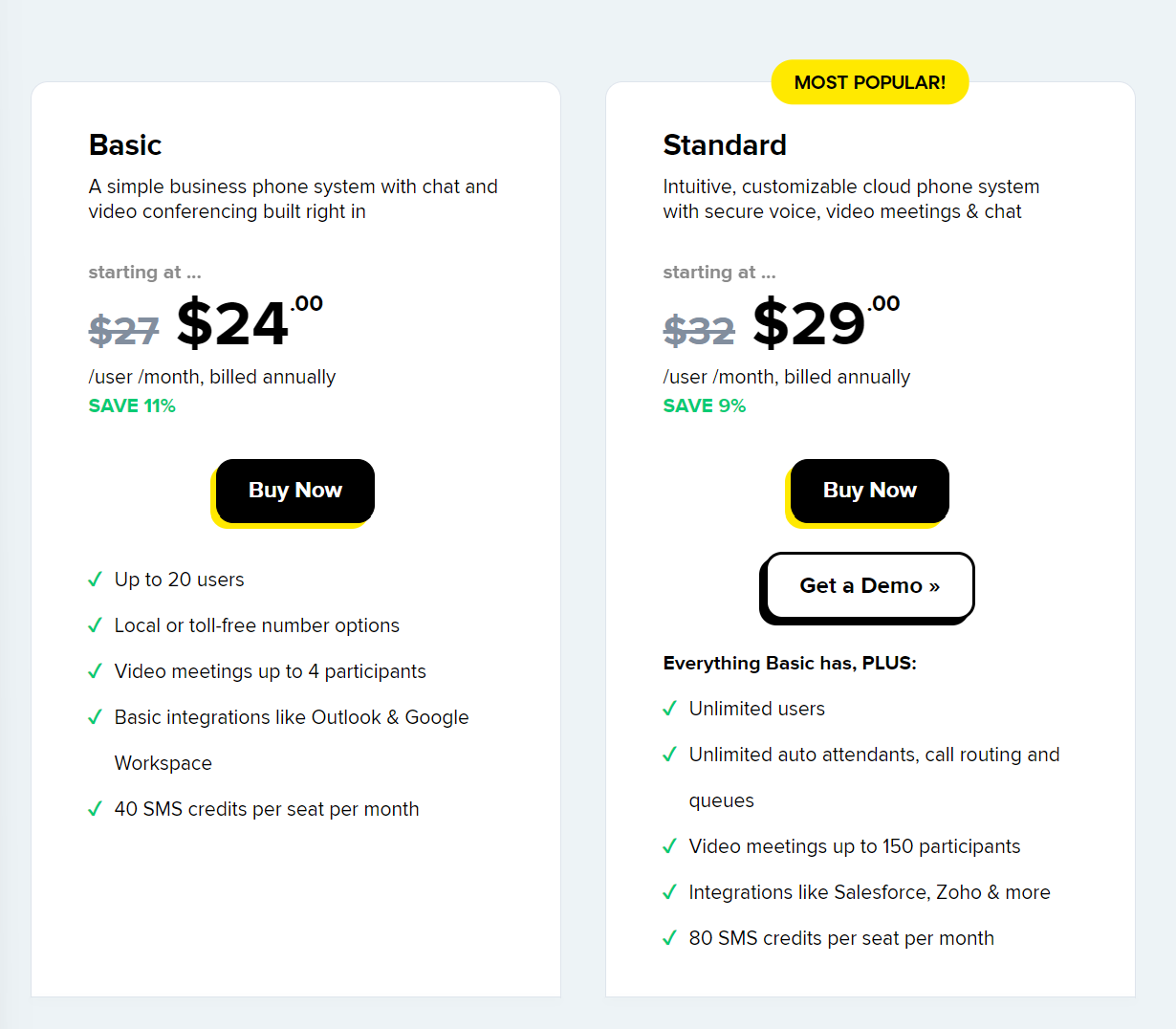 8×8's Express plan includes all core channels, unlimited domestic calling, and basic routing, with a 5-user limit. The X2 plan removes a user limit and offers unlimited voice calling to 14 countries. The X4 plan provides advanced and unlimited routing features, like a multi-level auto attendant, ring groups, and call queues.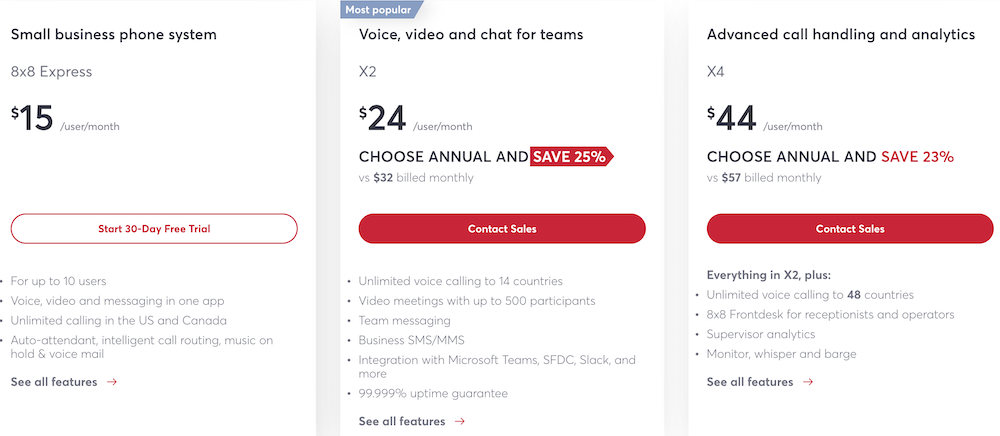 GoTo Connect Pros & Cons
| | |
| --- | --- |
| GoTo Connect Pros | GoTo Connect Cons |
| Visual studio for call flows | Call reports only offer basic information without an add-on |
| Mobile app ease of use | Lacks integration options with some popular CRM software |
| Simple after-hours and holiday scheduling | Interface requires a learning curve at first |
8×8 Pros & Cons
| | |
| --- | --- |
| 8×8 Pros | 8×8 Cons |
| High-level audio quality | The desktop app occasionally freezes |
| Easy to monitor employee call time | Interface can be confusing fr some users |
| QoS reports offer clear analysis of input and output call volumes | Some user reviews report errors when setting up voicemail |