Recent trends in call center technology, like automation and AI, make your business's daily call flow much more organized and easier to manage. Taking advantage of new call center software features is necessary to keep support and sales teams efficient, profitable, and to cut down on common call center problems.
In this article, we'll break down everything you need to know about call center technology — including the history, recent trends and advanced call center technology, and which vendors excel in this arena.
Call and contact center software
from top providers
Quick Links:
What Is Call Center Technology? 
Call center technology encompasses all the software tools that help customer-facing agents and departments operate smoothly through automation, customer relationship management, and analyzing customer behavior and other call center performance metrics. Its goals include an improved customer experience, decreased operating costs, and increased productivity by providing more efficient communication and collaboration.
For example, Computer Telephony Integration (CTI) unites your office computer and phone systems together, allowing for features like customer data screen pops.
Other examples include Interactive Voice Response (IVR), which uses pre-recorded menu options to automatically direct inbound calls, and automated call center dialers that improve lead list penetration.
Other hallmark features in every call center software platform include automatic call distribution (ACD), omnichannel routing, team chat messaging, and call recording.
What Are Key Call Center Technologies? 
Here's a breakdown of essential call center technologies and why they are important for your business.
Interactive Voice Response
Call Center IVR (Interactive Voice Response), also called hosted IVR or multi-level IVR, can boost your customer service offering by guiding your caller through a self-service menu.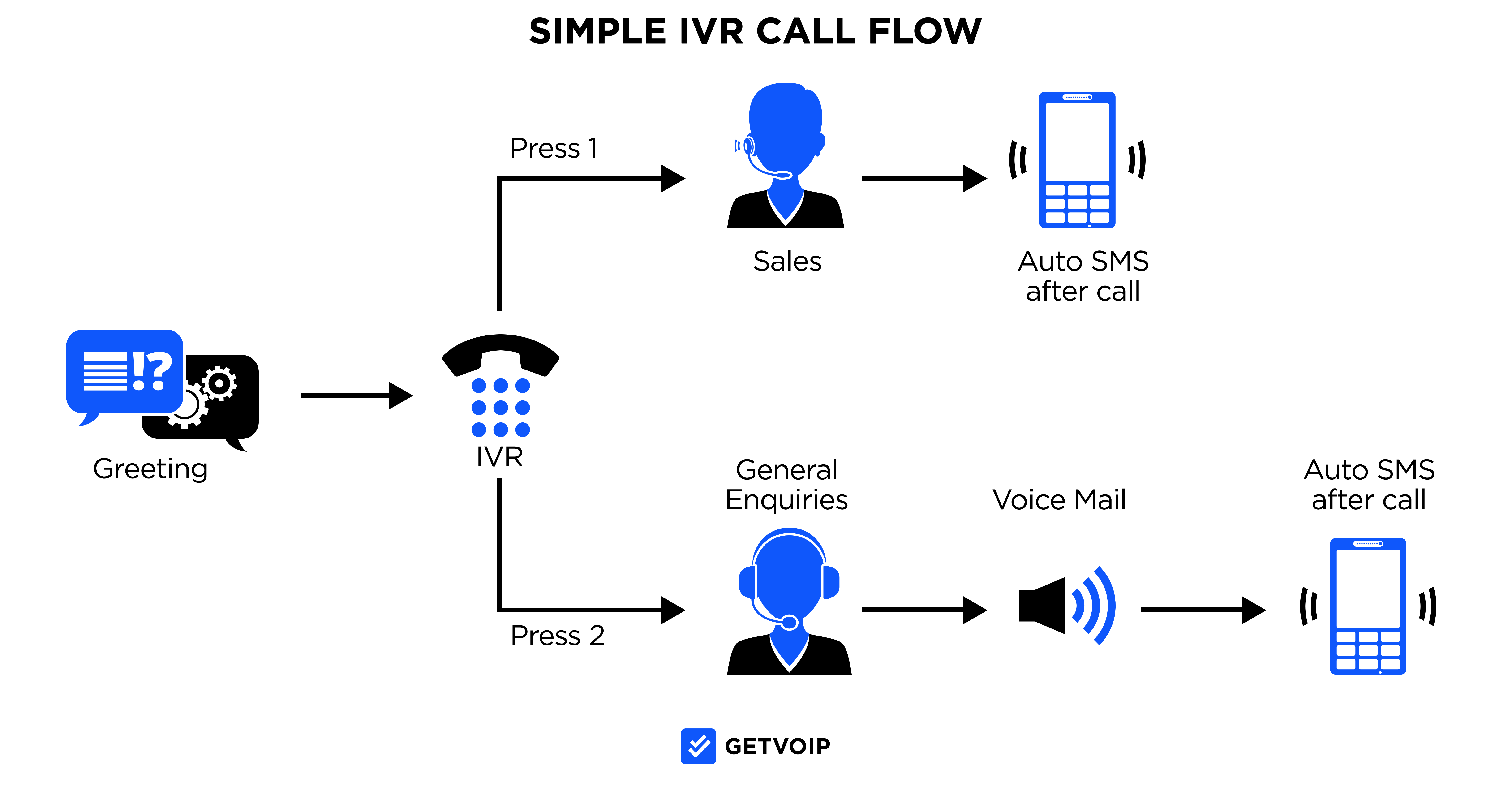 Based on your caller's answers, the system begins the process of call routing to take them to the correct department or provides them with the necessary messaging. This tool allows you to manage your contact center more efficiently.
Why is IVR important for call centers?
This software automates your customer service offering by presenting callers with a series of automated prompts. These messages often help your callers to solve their own issues. But if they can't be solved on their own, they'll be instantly directed to an agent that can help.
Not only does this offer a quick and efficient customer journey for your callers, but it allows your agents to spend more time on complex requests. This makes it an invaluable feature in your customer support offering.
Top call center providers that offer IVR:
Automatic Call Distribution (ACD)
Automatic Call Distribution (ACD) is a feature that routes inbound calls to the agent or department best suited to handle the inquiry.
The ideal call path is chosen based on predetermined criteria and routing strategies. Popular routing options include skills-based routing, idle routing, round-robin routing, time-based routing, and even VIP client status.
Why is ACD important for call centers?
ACD prevents one of the customers' top complaints: having to repeat the same problems to each new rep they're transferred to if the first person they spoke to didn't have the skills or information to assist them.
Instead, each customer is paired with the best available agent, often eliminating the need for a follow-up call. Plus, different routing strategies ensure that all agents within the same department have an equal chance at selling or providing support to each inbound caller. This isn't just about being fair – it's also about preventing agent frustration.
According to Hubspot, 40% of customers want customer service reps to take care of their needs faster, and over 60% of them expect an agent to be able to take care of their specific needs.
ACD makes that possible.
Top call center providers that offer ACD:
Call Recording
Call recording is a standard call center feature that records phone calls (or video calls) either automatically or on-demand.

These call recordings can be used for employee training, quality assurance, or to clear up miscommunications.
Why is call recording important for call centers?
69% of businesses record calls to routinely monitor customer support agent performance and overall customer satisfaction rates.
Call recording data offers insight into common customer support requests, customer complaints, and even what customers would like to see your company offer in the future.
Many call recording features also come with call monitoring, which allows managers to listen in on calls in real-time. The call whisper feature lets managers offer tips to the agent during the conversation, but without the customer being able to hear them. The call barge feature lets a manager or higher-up take over the current call when necessary.
Top call center providers that offer Call Recording:
Reporting and Analytics  
Call center reporting and analytics offer the unique opportunity to monitor a wide array of KPIs (Key Performance Indicators) by collecting both real-time and historical data.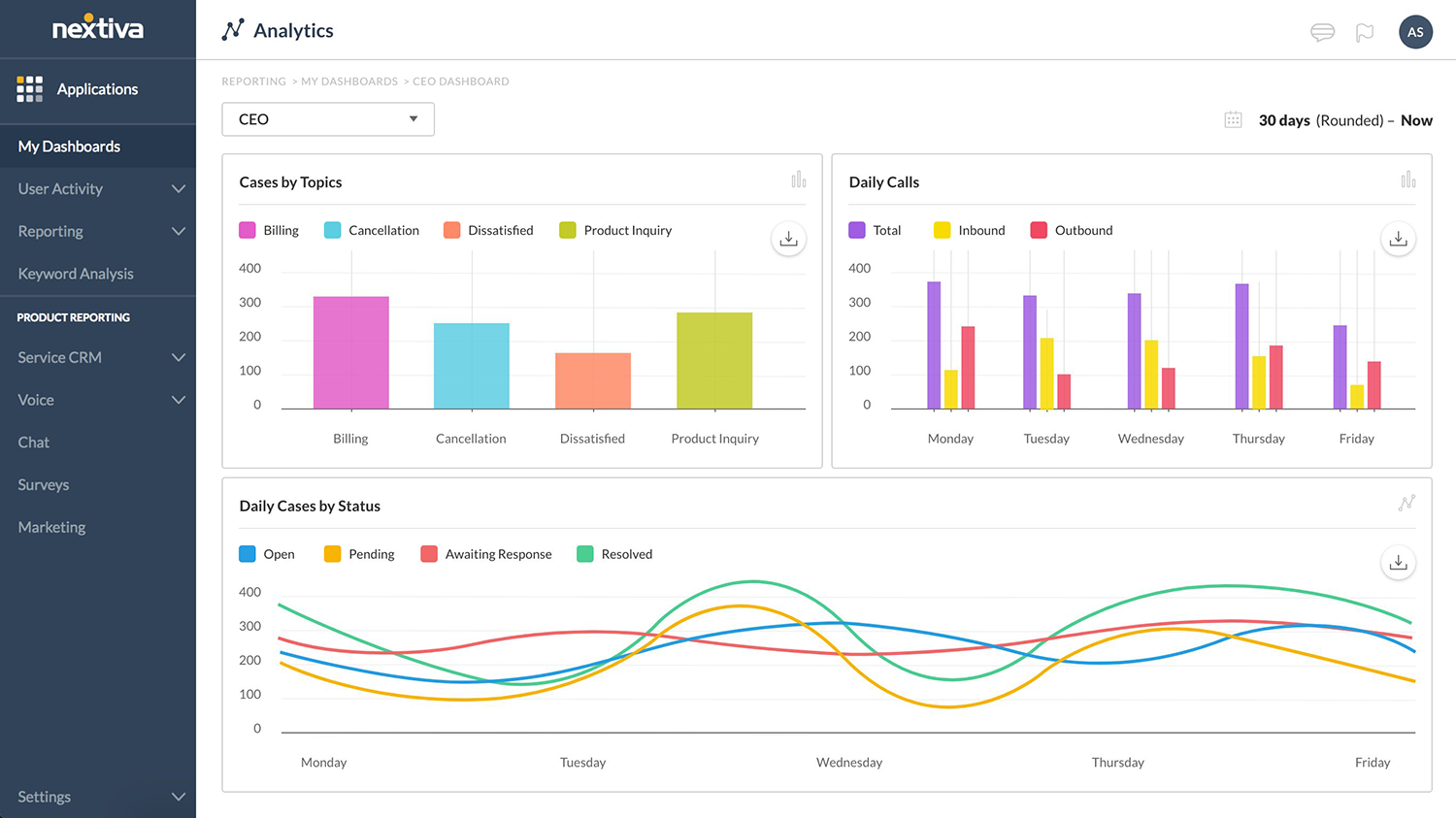 Users can monitor call center metrics like average call duration, call abandonment rate,  first call resolution, daily or agent daily call volume, CSAT, call quality, customer retention rates, and more.
Quality call center providers also offer pre-made or customizable report templates and automatically send out new reports at preset intervals.
Why are analytics important for call centers?
With reporting and analytics, you can see where a team, agent, or department has room for improvement.
You can take this information to coach specific agents or implement new goals. On the flip side, you can utilize this feature to see where you're excelling, in order to confirm you are hitting those goals.
Top call center providers that offer Reporting and Analytics:
Workforce Management
Workforce Management Software (also called Workflow Management or Workforce Asset Management) helps to increase employee productivity by managing to schedule, balancing workloads, forecasting future customer behaviors/trends, and more.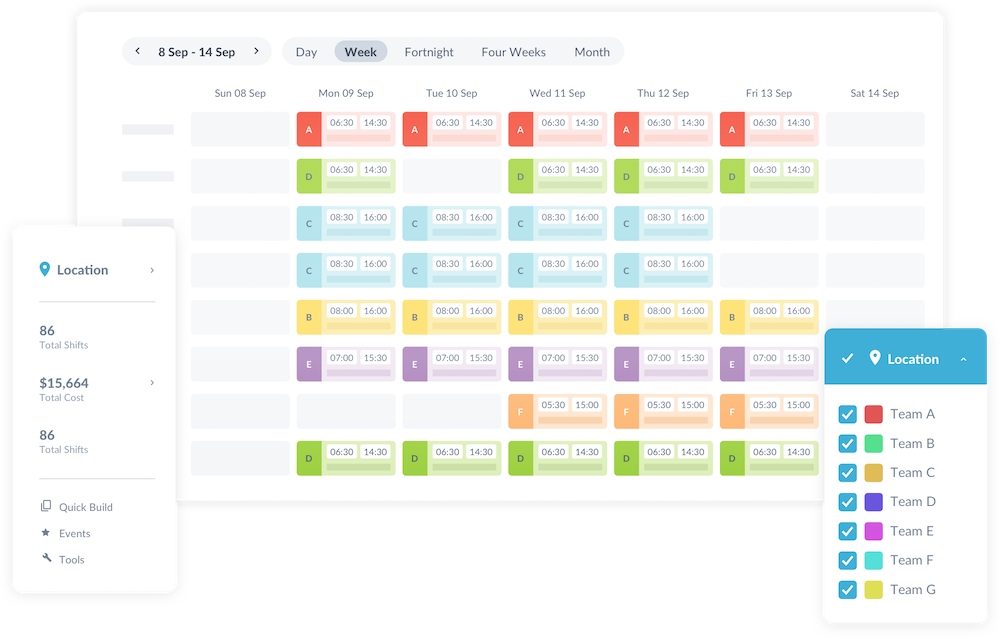 It also helps to simplify the new employee onboarding process, speeds up data entry with features like pre-filled form fields, and automatic data validation sends out automated reminders and more.
Admins can set conditions for validation, prioritize certain actions over others, and edit access control.
Why is it important for call centers?
Workflow management tools provide a birds' eye view of current staff activity, projects in progress, and customer/agent behavior and trends from KPI analytics.
It ensures that the most qualified and available agents are assigned to tasks, increasing overall team productivity and ensuring key players aren't overworked.
WFM also helps to manage scenarios like a sudden rise in call volume or an escalation matrix initiation.
Workforce management tools streamline the day-to-day "busy work" of agent scheduling, requesting PTO, entering data, and more, saving a significant amount of time.
Top call center providers that offer Workflow Management: 
Computer Telephony Integration (CTI)
Computer Telephony Integration (CTI) refers to the technology that empowers computers to interact with your phone system and other communication channels, such as texting, social media, and live chat.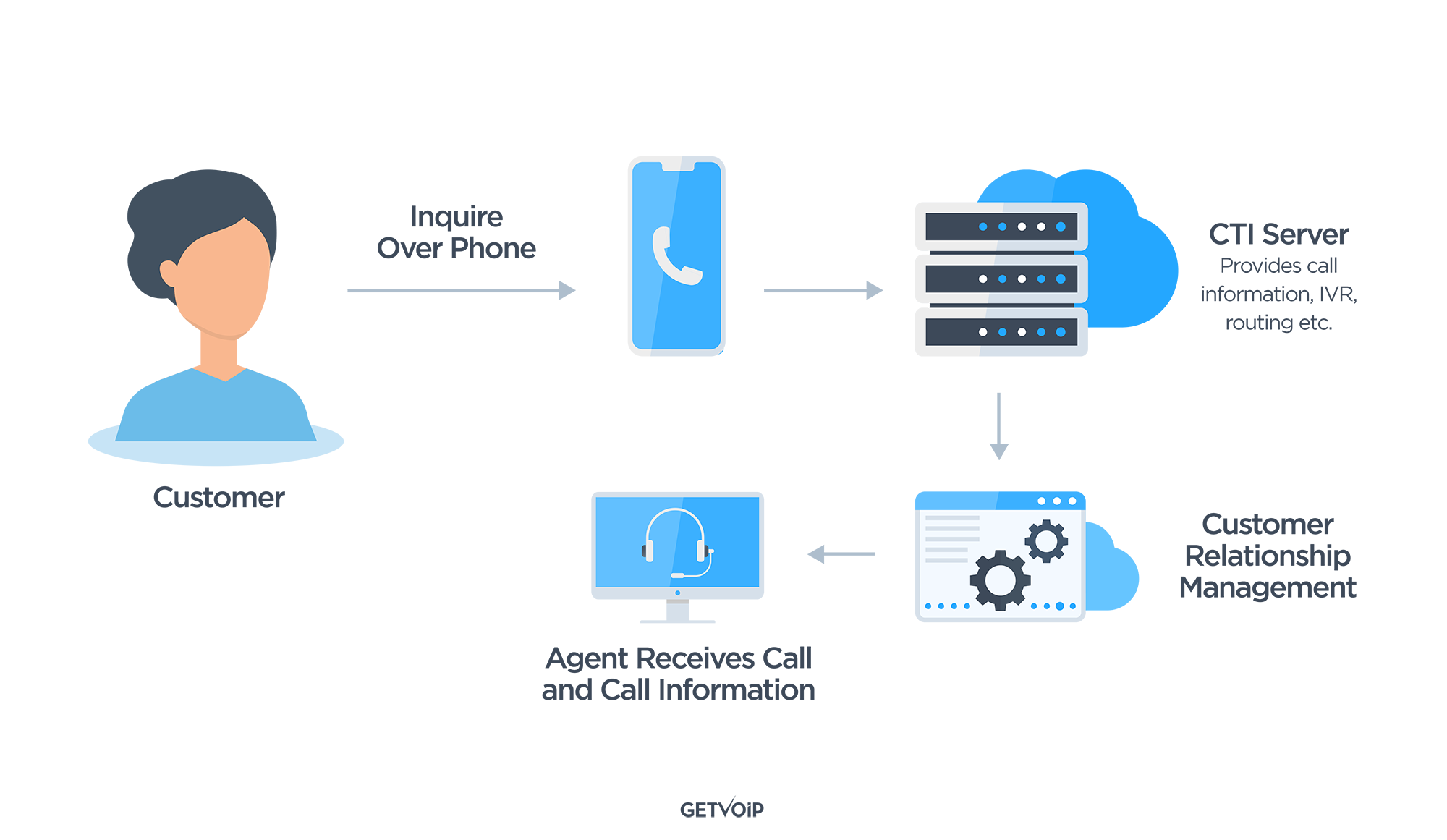 This is how users can make calls over a desktop phone, computer softphone, or mobile device.
Why is CTI important for call centers?
CTI tools make your team's phone calls more productive.
Call centers receive a high volume of calls every day, and CTI provides instant access to past customer data like order history, past agent notes, contact information, and more that will allow for more efficient conversations. These "CTI Screen Pops" integrate with your existing CRM system to offer as much client data as possible.
CTI also includes features like call transfer or click-to-call, which improves agent productivity.
Top call center providers that offer CTI:
Conversational AI
Conversational AI (also known as chatbots or Customer Engagement AI) gives computers the power to recognize multiple human languages, process words being said, and determine how to respond in the most natural way possible. This process starts when a customer submits a request over the phone or even online over social media, as shown below.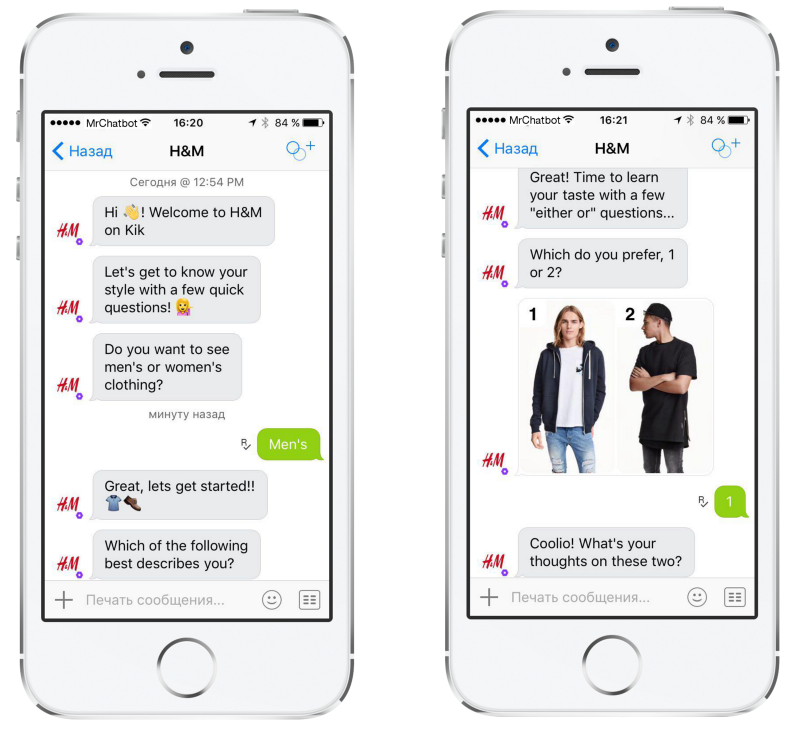 The AI solution captures the meaning of the words sent by utilizing natural language processing (NLP) and uses natural language understanding (NLU) to understand the intent of that customer's question.
Why is Conversational AI important for call centers?
Juniper Research reported that AI technology is expected to reduce business costs by over $8 billion annually by 2022.
Conversational AI allows you to scale your team and save on new hires, as it doesn't face the same limitations even your best agents do.
Utilizing these tools gives customers a more personalized experience without straining your team, and makes automating routine daily tasks easy.
Top call center providers that offer Conversational AI:
Nextiva
MobileMonkey
Genesys
Top 5 Call Center Technology Trends 
While call centers have certainly come a long way, in today's world, quality of service isn't enough to keep up with — let alone outpace — competitors.
The 5 best call center technology trends we've outlined below are guaranteed to keep you ahead of the curve without breaking the bank. They don't just improve customer satisfaction levels, they help to prevent your employees from becoming overburdened or burnt out.
Artificial Intelligence
Experts expect AI to be more prominent in call center systems in the next year or so. That's because these solutions offer a multitude of benefits.
First, top AI platforms can automatically route an inbound call to the most qualified — not just the first available — agent, leading to increased first call resolution rates and a higher level of personalization.
Natural Language Processing (NLP) and Speech Recognition AI take things a step further, often negating the need for a caller to speak to a live representative at all.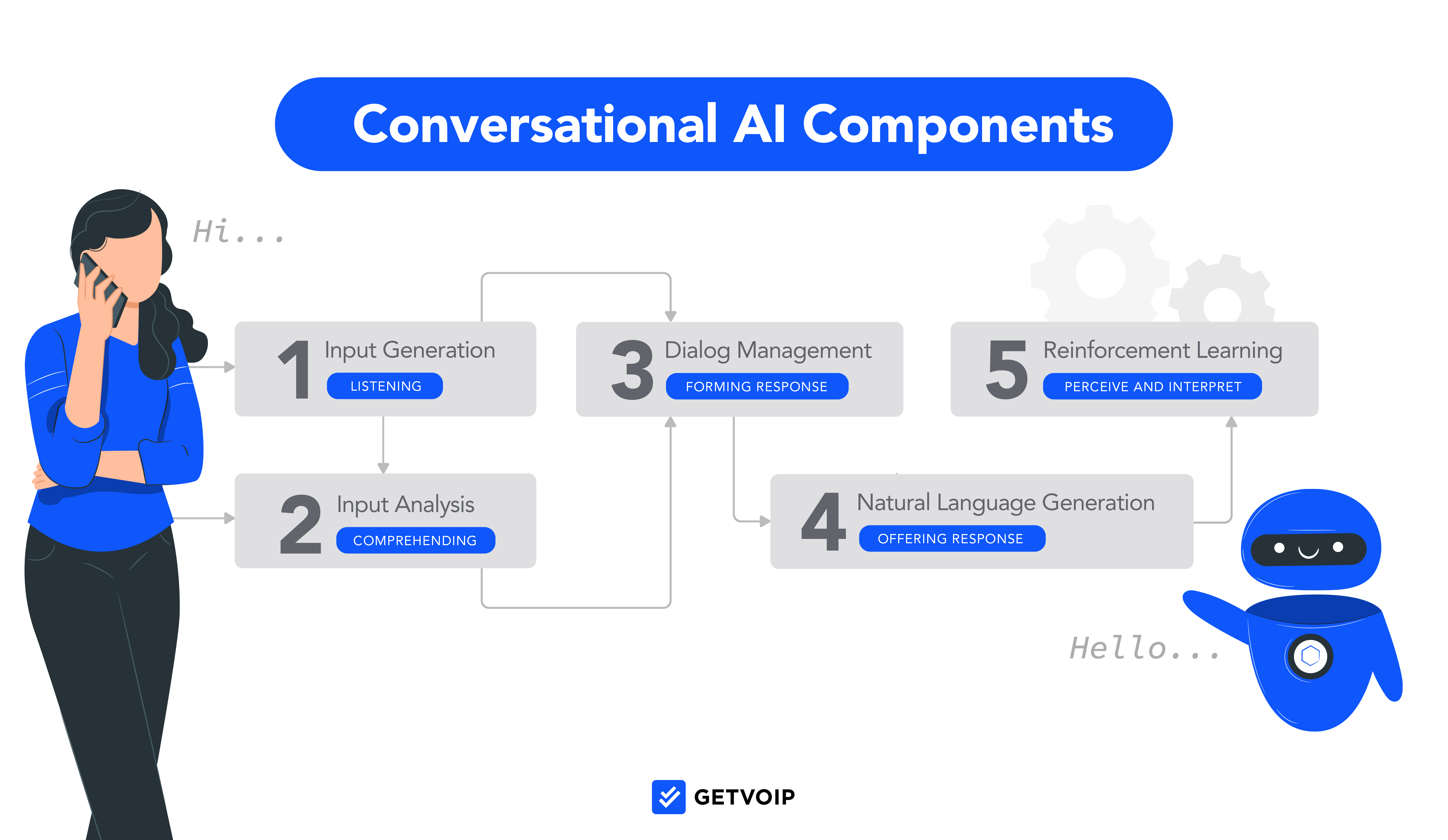 By analyzing customer speech, AI-powered machine learning can understand the customer's specific problem, attempt to offer advice, automatically direct the call if needed, and in some cases, even evaluate the customer's speech and cadence.
In addition to customers, AI tools can also assist agents by automatically providing relevant data from a knowledge base according to the conversation, evaluating the overall quality of the agent's call by studying the number of "filler words" (like, um) used, and more.
AI-powered virtual assistants can collect payment information, provide account updates, help customers book appointments, and more.
Since AI is always "learning" and improving based on consistent patterns of customer and agent behavior, it only becomes more efficient with time and use.
Omnichannel Call Centers
If your business hasn't deployed omnichannel call center software by now, you've fallen behind.
Technology has advanced enough that people expect to be able to reach your business through a number of different communication channels — not just by phone alone.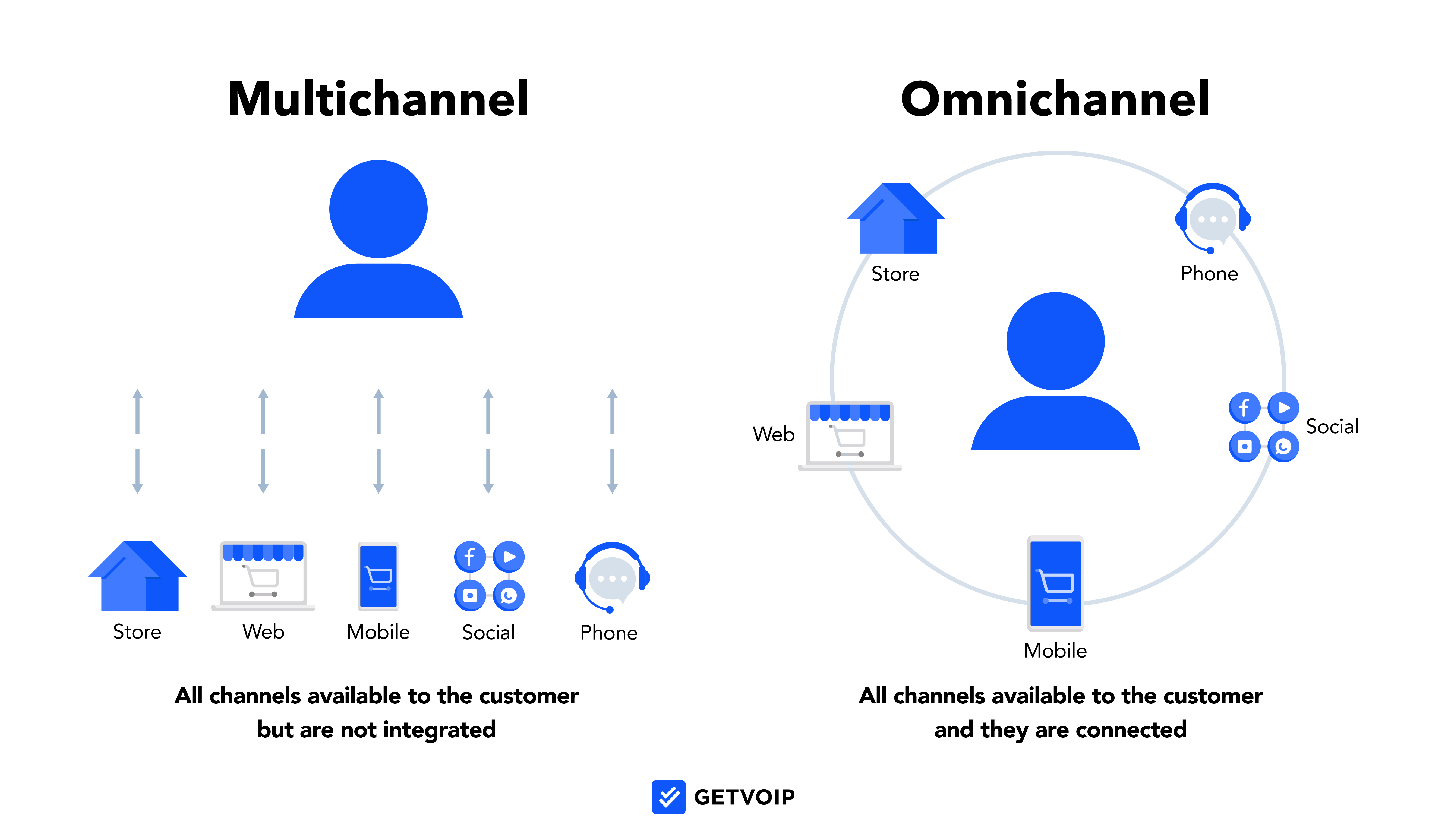 Omnichannel contact centers provide additional channels like:
SMS texting
Video conferencing
Live Chat website messaging
Email integration
Social media messaging (Facebook, Instagram, etc.)
Internal team chat messaging
But these channels don't operate separately. Instead, all conversations across every channel are automatically synced and updated after every interaction.
This allows customers and agents to "pick up where they left off" even if the conversation started on Facebook Messenger and ended on a video call. It also allows multiple agents to assist with a support ticket, as they'll each have the recent conversation history in front of them.
Social Media Customer Service
Today's call center tech trends have adapted to the new reality that providing customer service via social media is no longer an option, but an expectation.
In fact, nearly half of all customers that reach out to brands on social media expect a response within half an hour or less.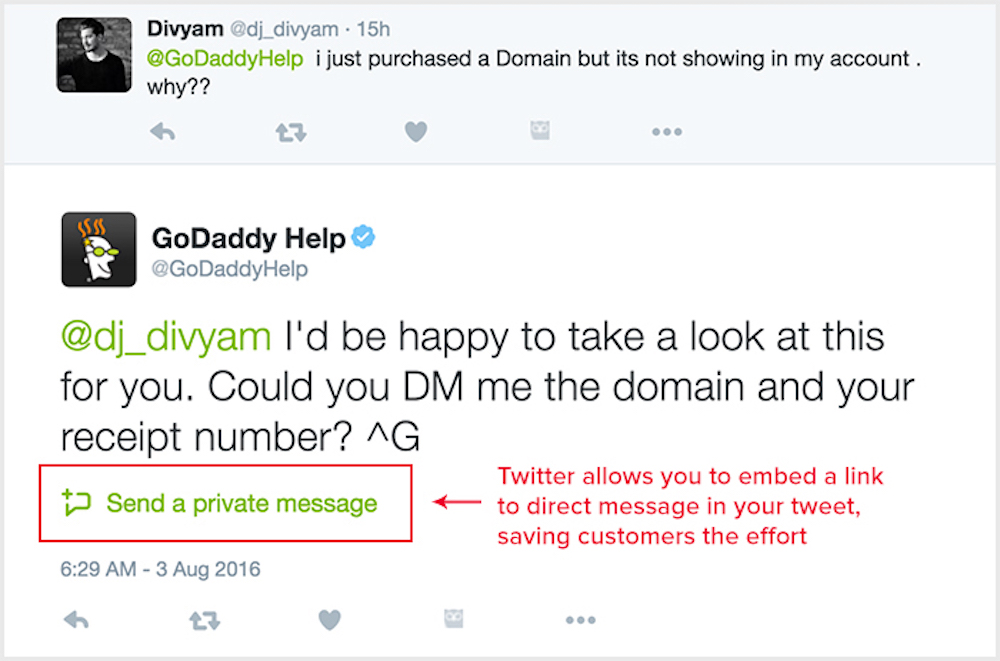 By integrating your business's Twitter, Facebook, or Instagram page (TikTok is likely soon to follow) to your call center software, you'll not only provide another channel for customers to reach you. You'll also be able to integrate automated responses that let customers know their question has been received and provide a timeline for an expected response.
As with any communication channel, agents can opt to receive contact notifications, so it's easy to ensure that important social media message customer queries aren't missed.
Recall Technology
We've all felt the embarrassment that comes with sending out a message or email to customers that's riddled with spelling mistakes or outdated information.
Recall technology, a call center feature that allows agents to quickly delete and edit sent messages in real-time, helps to stop small errors from causing additional conduction.
In some cases, recall technology even pauses a few seconds before sending out a message to a customer to give the agent time to quickly fix any errors.
Recall technology is a relatively new addition to contact center features, so expect it to develop far more by the end of 2021. For now, it's an excellent tool to cut down on human error in your call center.
Real-Time Transcription
Though call recordings and recording transcriptions allow call center agents and managers to evaluate their performance or review key meeting points after the call, real-time transcription offers an even higher level of instant insight into customer and colleague conversation.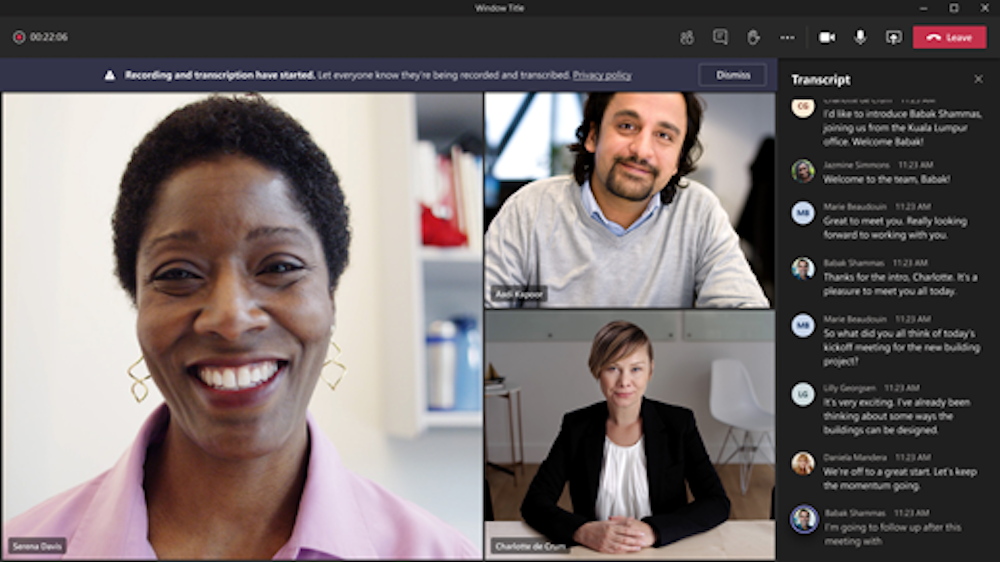 Real-time transcriptions don't just make meetings and conversations accessible to everyone, they also prevent miscommunications, allow for more accurate meeting notes, and allow meeting participants to instantly review previous conversations to clear up any confusion.
Today's advanced transcription technology can even differentiate between speakers, provide instant post-meeting highlights and action items, and provide searchable transcripts for future use.
Power Your Call Center with the Right Technology
By combining the latest call center technology trends with essential features like call recording, call routing, and ACD, your support and sales teams will be optimized, productive, and empowered with the tools they need to improve the overall customer experience.
Want to learn more about the providers listed here?
Our interactive contact center software comparison page provides an overview of top provider pricing, plans, features, customer reviews, and more.
Our blog also offers head-to-head comparisons of top providers (like this one on Five9 vs Genesys) to make it easy for you to find the best possible contact center solution for your business.
Call Center Technology FAQs
Below, we've answered some of the most common questions about call center technology and software.