A multichannel contact center combines several customer-facing communication tools into one application–including VoIP telephony, SMS texting, email, web chat, and video. The contact center dashboard supplements these channels with capabilities like analytics, AI support, automations, and collaboration tools.
This article outlines multichannel contact center software, including key features, benefits, and best practices.
Compare
multichannel
contact center solutions
Quick links:
What is a Multichannel Contact Center?
A multichannel contact center is a software solution that unifies a company's customer-facing communication channels: voice, email, web chat, SMS texting, video meetings, and social media.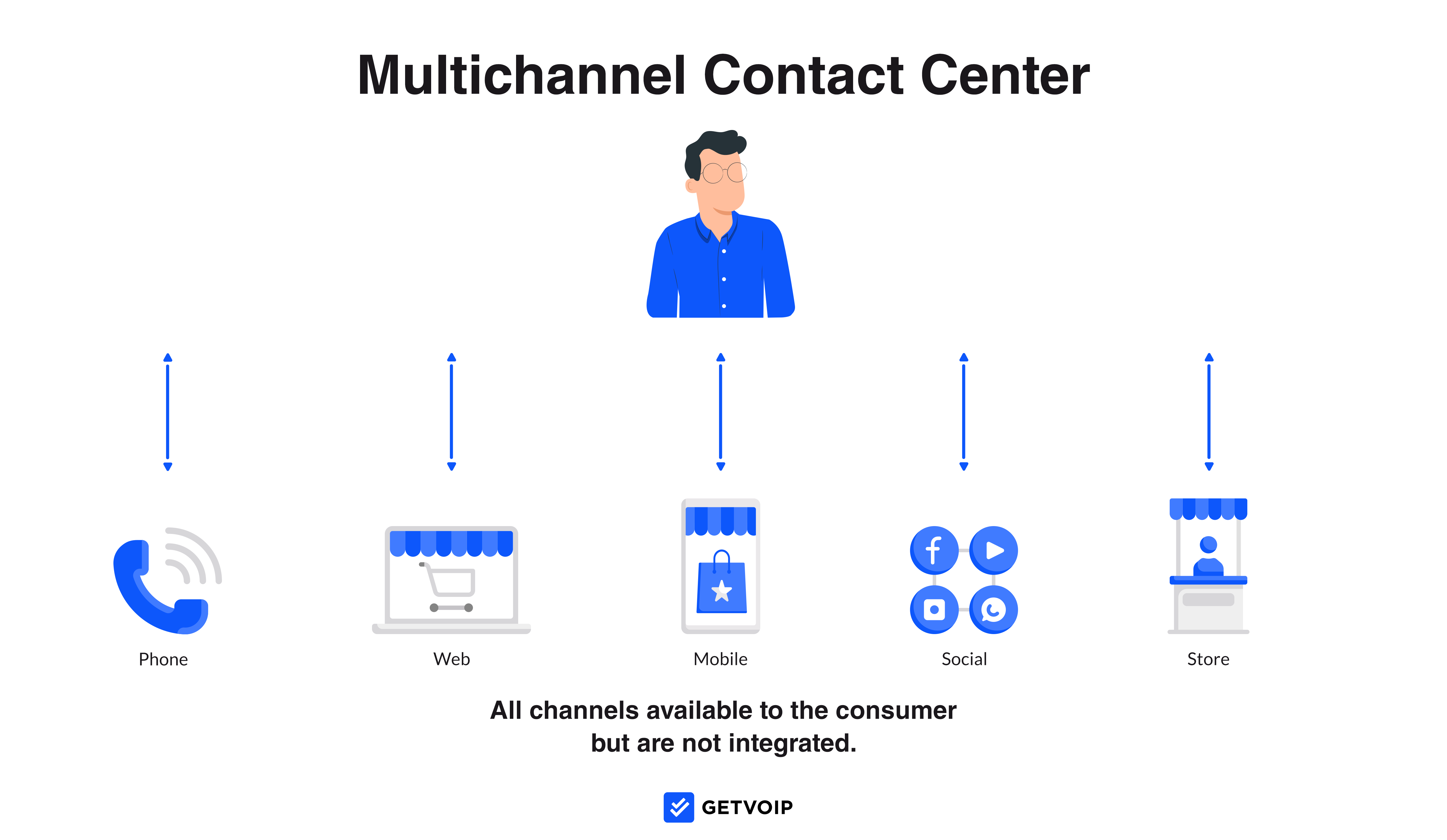 Agents can switch between channels as the customer prefers, such as flipping from phone to video or sending a real-time SMS while on a call. Customer profiles and journey histories enable agents to share a view of the customer's experience, so teammates can pick up where each other left off.
Contact center as a service (CCaaS) platforms streamline an agent's ability to support customers and contact leads with an easy-to-use dashboard, live and historical analytics, workflow automations, software integrations, internal collaboration tools, and other AI-based capabilities.
Multichannel Contact Center Channels
These are the most important communication channels to include in your multichannel contact center:
Phone (VoIP telephony)
SMS texting
Email
Web chat
Social media
Video conferencing
Phone (VoIP Telephony)
Inbound and outbound calling, via VoIP telephony, plays a fundamental role in personalized customer interactions.
Most CCaaS software providers offer virtual phone numbers throughout the United States, with unlimited calling in the US and Canada. Agents can make calls from a business number, even when remote or on the go.
Many cloud-based phone systems include advanced call routing and queueing features–such as interactive voice response (IVR) menus, skills-based routing, and ring groups–plus auto dialers for outbound campaigns.
SMS Text Messaging
Using a DID number, contact center agents can send and receive SMS and MMS text messages from the multichannel contact center dashboard.
In addition to conversational texting, many CCaaS providers integrate texting with automations, triggers, and CRM applications to enable automated use cases: SMS chatbots, bulk texts, live order updates, appointment confirmations, two-factor authentication, and more.
Email
Users can link a company email to their contact center account to send and receive emails through the application dashboard. Like texting, use email for conversational back-and-forth exchanges or automated use cases like bulk emails, announcements, promotions, password verification, and more.
Some contact centers include email campaign customization options, where you can customize email design and body using templates.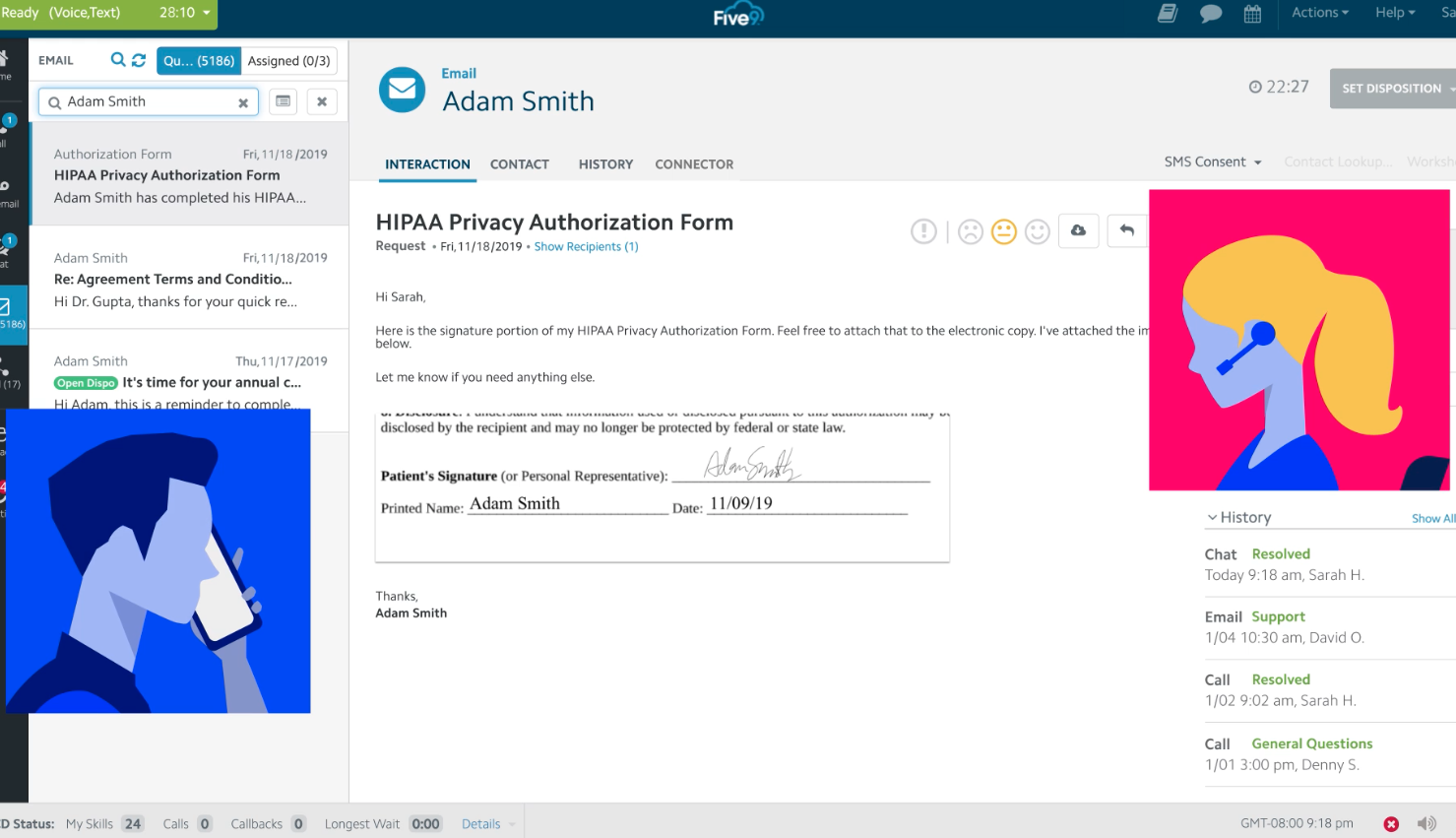 Web Chat and Chatbots
Embed 1:1 web-based instant messaging into your website or mobile app for conversational messaging and automated chatbots.
Present customers with web- or app-embedded button to chat, allowing them to instantly and easily communicate with an agent across devices. Alternatively, advanced CCaaS providers enable you to build a chatbot, typically using a drag-and-drop design tool to customize conversation paths that route customers and solve basic queries.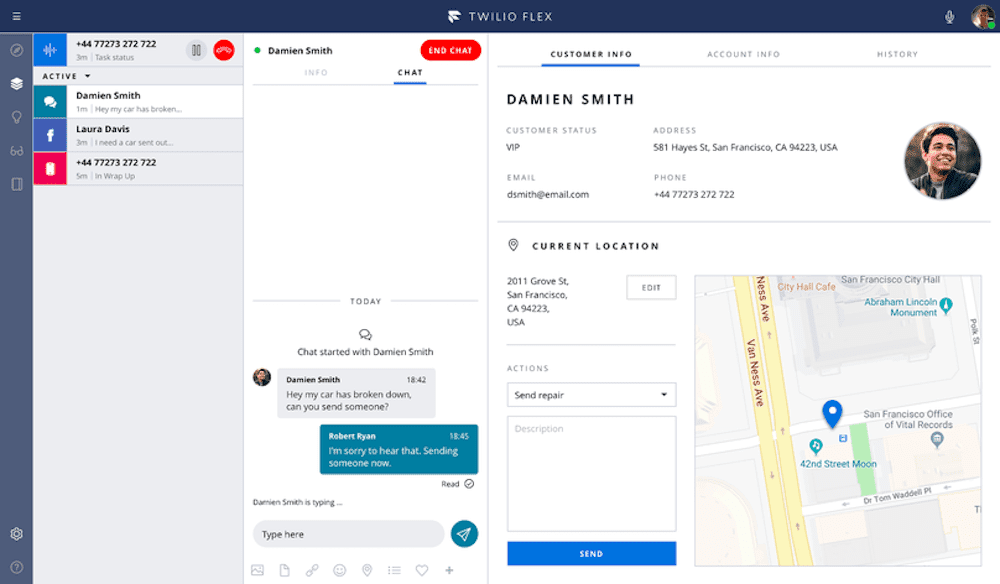 Automated chatbots can access and share knowledge base articles or hand the conversation over to a live agent, who receives the full conversation context.
Social Media
Communicate with customers via social media, through app-based messaging channels like FB Messenger and Twitter DMs or directly on social media posts.
Some CCaaS providers include social monitoring capabilities, allowing agents to track and respond to company-related posts and messages on social media.
Key Multichannel Contact Center Features
Here, we outline the most important multichannel contact center features:
Agent multichannel dashboard
Multichannel routing and IVR
Call queueing
Auto dialer
AI Support and Automations
Analytics and Monitoring
Third-party app integrations
Agent Multichannel Dashboard
Contact center solutions include a dashboard interface where agents access their communication channels, call logs and voicemails, internal collaboration tools, and reports–all within a click or two.
In most CCaaS apps, the display's left-hand menu organizes all capabilities. New activity across channels triggers a notification ping, so agents stay up-to-date on their tasks. Clicking on messaging channels–such as SMS, webchat, email, or internal team chat–opens the relevant inbox, where the agent can skim, prioritize, and respond to conversations.
Within an active call or messaging conversation, the agent's display gives them immediate access to a variety of support-related tools: multichannel customer journey history, contact details, and order information, the ability to change channels–and in advanced systems, AI-support tools like canned responses and relevant knowledge base articles.
Multichannel Routing and IVR
Advanced call center software includes built-in automatic call distribution (ACD) technology, capable of routing queries across all channels–voice, email, SMS, and chat–to the best-suited agent.
Build a self-service IVR menu where customers can navigate via phone to an announcement, queue, or agent based on their dial tone or speech inputs. Chatbots offer similar technology but in a text-based format. In both cases, use skills-based routing to automatically send calls to the agent with the best-matching capabilities and availability.
Call Queueing
Group agents into distinct queues that place callers on waiting lists based on when they called. An agent or supervisor can monitor their queues from the dashboard–with a view to who's in the queue, how long they've been waiting, and the expected wait time. Some advanced multichannel contact centers offer one-click or automated callback, allowing customers to hang up and receive a call when the agent is available.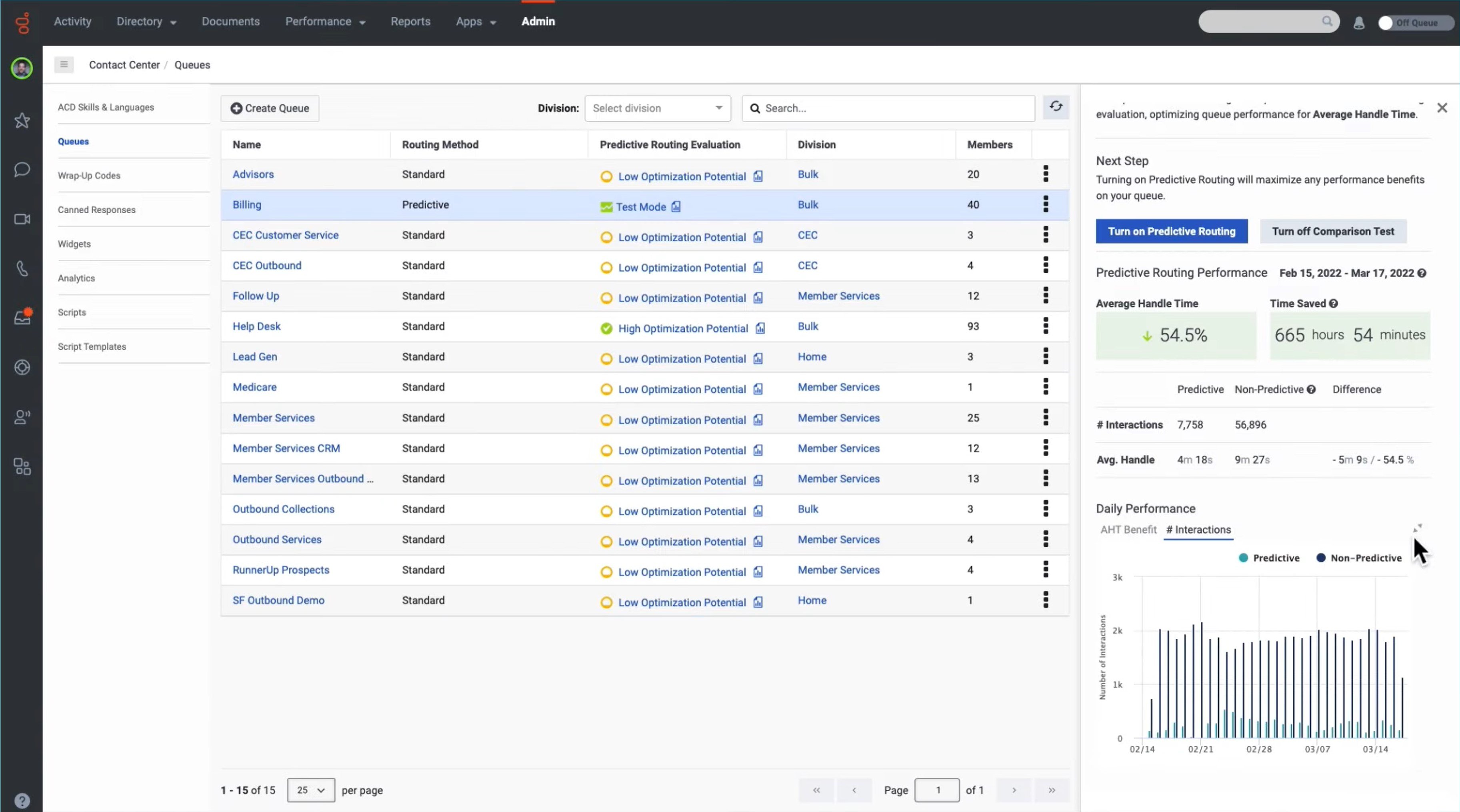 Auto Dialer
Outbound auto dialers automatically call phone numbers from a contact list, such as a lead spreadsheet from a CRM platform. The dialing system anticipates when the next agent will be available and dials down the list, detecting if the call reaches a voicemail, busy signal, or a real human. When the system detects a real-human recipient, it transfers the call to a live agent–if it reaches a voicemail, it hangs up or leaves a pre-recorded message without involving the live agent.
An auto dialer system makes outbound campaigns much more efficient, saving agent time.
AI Support and Automations
Contact center software includes AI-based tools for agent support, customer relationships, workforce optimization, and workflow automation.
Natural language understanding (NLU) technology transcribes voice calls live, providing captions and guiding agents with insights like canned response recommendations, customer sentiment, and relevant information from the knowledge base.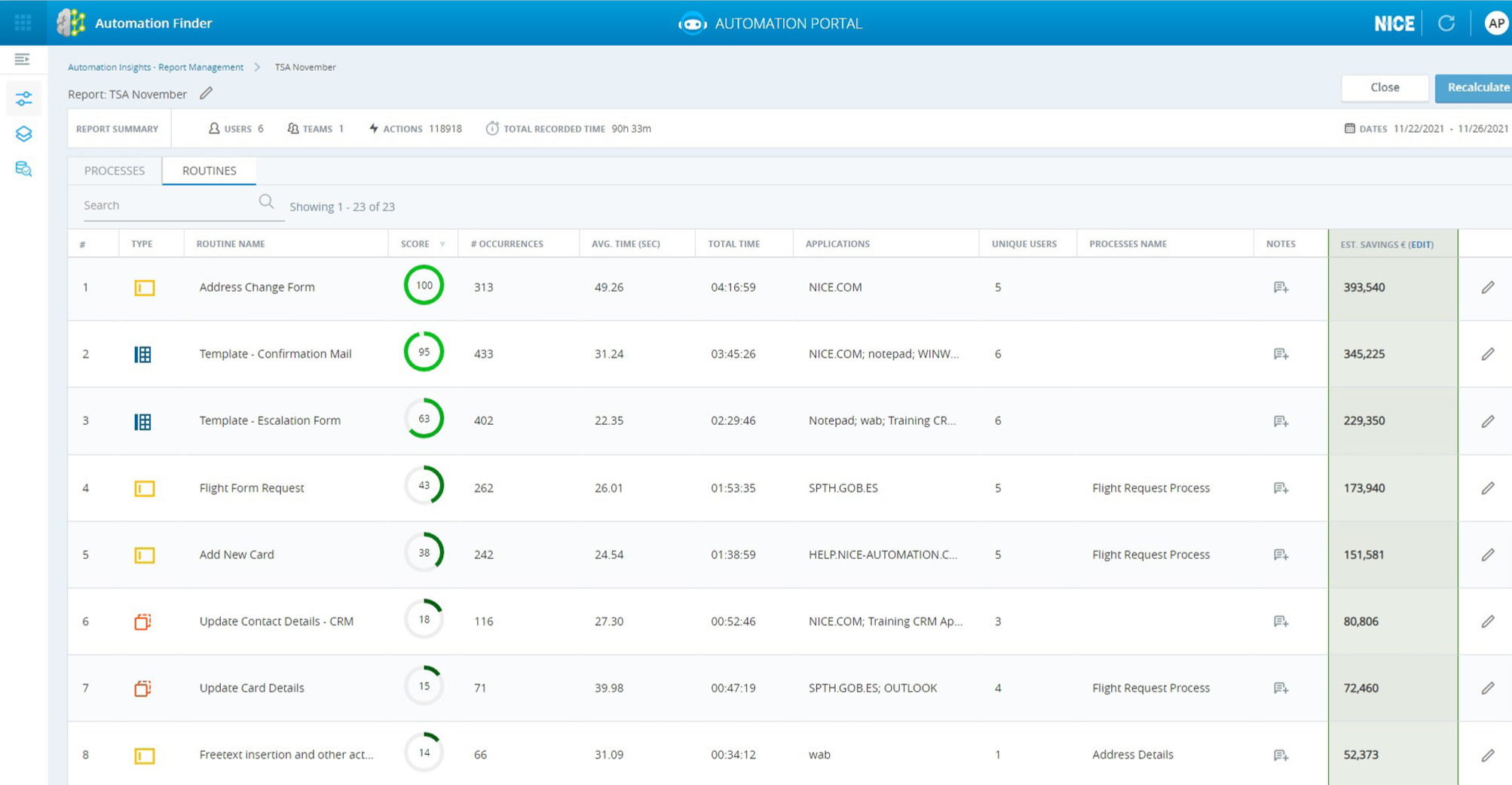 Scheduling engines track agent FTEs and anticipate call-center demand to forecast schedule needs for all agents, keeping both supervisors and agents up-to-date with work schedules. AI flags live conversations where the sentiment becomes problematic, informing supervisors for quick response.
Analytics and Monitoring
CCaaS platforms support supervisors and administrators with real-time call center monitoring tools, plus live and historical analytics and reports.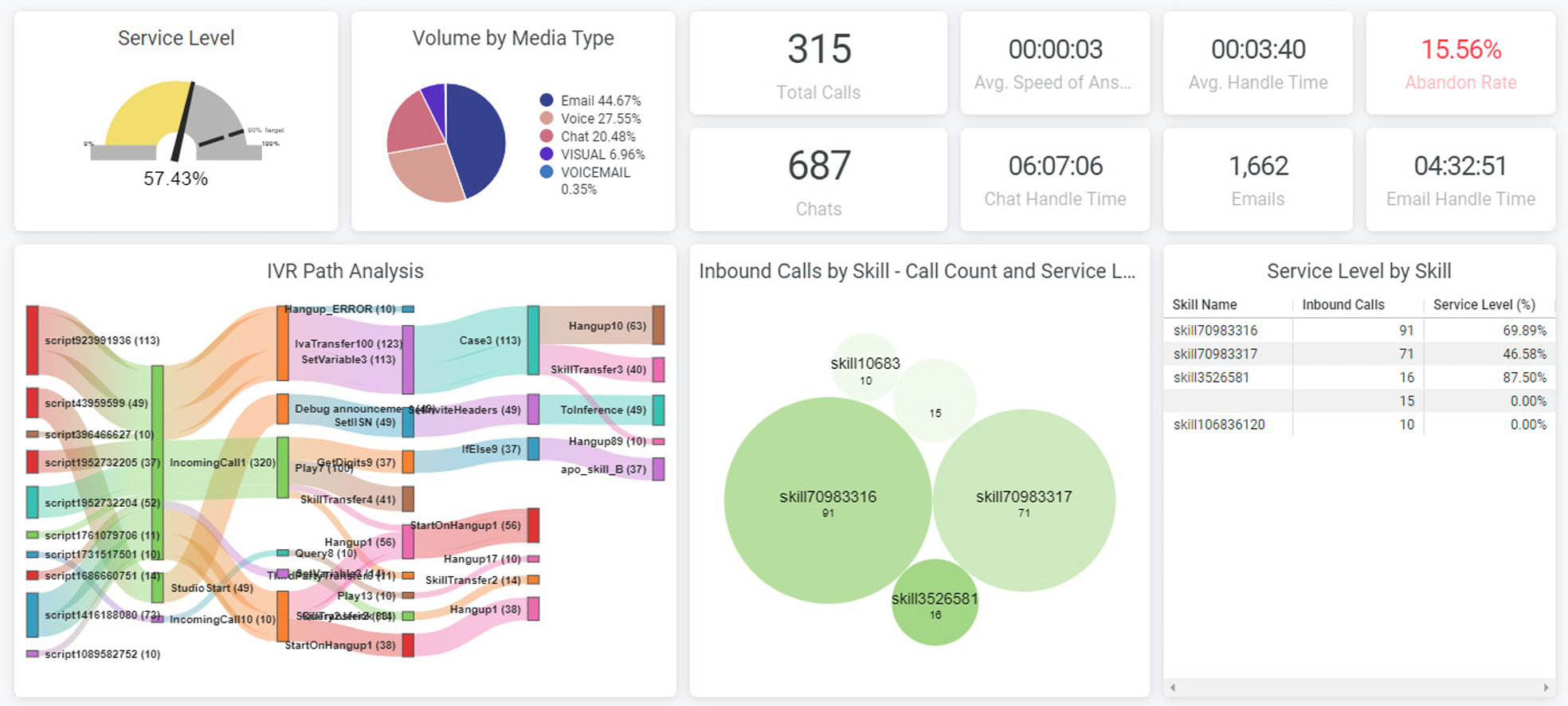 A supervisor's queue dashboard enables them to monitor dozens of agents and queues at once, with a summary view of which agents are on-call and available, who they're talking to, for how long, and how many callers are in the queue. Supervisors can listen in silently, join the call, whisper private guidance to the agent, or take over the call entirely.
Analytics include real-time and historical reports with metrics and KPIs covering call center activity, channel usage, agent performance, and call quality.
Integrations with Third-Party Apps
Cloud contact centers can often integrate with a wide variety of popular applications–including CRM platforms, UCaaS platforms, communication platforms, and databases.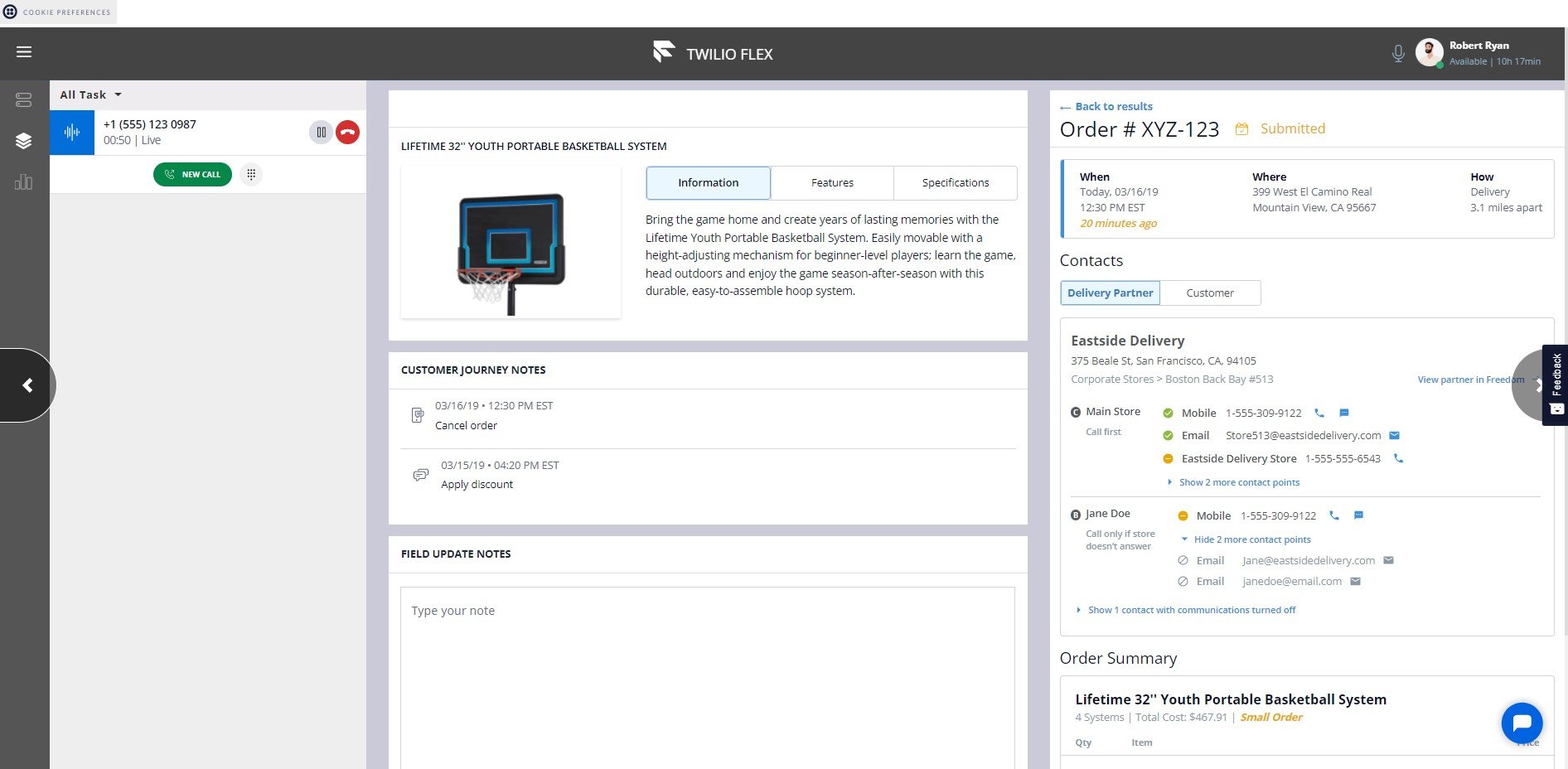 These tools combine with built-in CCaaS functions, unlocking dynamic use cases: customer profiles informed by CRM data, the agent's ability to view and take live action on customer orders, or automatic Slack updates whenever an agent receives a new task in the contact center.
Benefits of a Multichannel Contact Center
Here are the top benefits of using multichannel contact center software:
Advanced contact center insights
Better customer service
Improve agent morale and performance
Advanced Contact Center Insights
Multichannel contact centers include built-in analytics and historical or real-time reports, using AI to provide unique and dynamic insights about contact center performance.
Supervisors can monitor live queue activity with an overview of customer sentiment, listen in on agent conversations, and review agent interactions with audio playback and a live transcript. Administrators can assess call center activity metrics with hourly heat maps, or compare channel use activity to determine which communication channels offer the best ROI. Many CCaaS providers allow you to build custom reports, wallboards, and dashboards–with the metrics and KPIs you want.
Better Customer Service 
Most multichannel and omnichannel contact center features are intended to improve customer engagement. Tools like CRM integrations empower agents with customer data so customers don't have to repeat their order numbers.
Having several different channels allows customers to contact you through their preferred touchpoint, and IVR menus with skills-based routing increase the chances that customers reach the optimal agent on their first attempt.
Improve Agent Morale and Performance
Multichannel contact centers support agents with a variety of features–including the comprehensive dashboard, routing, AI support, and workforce management (WFM) tools.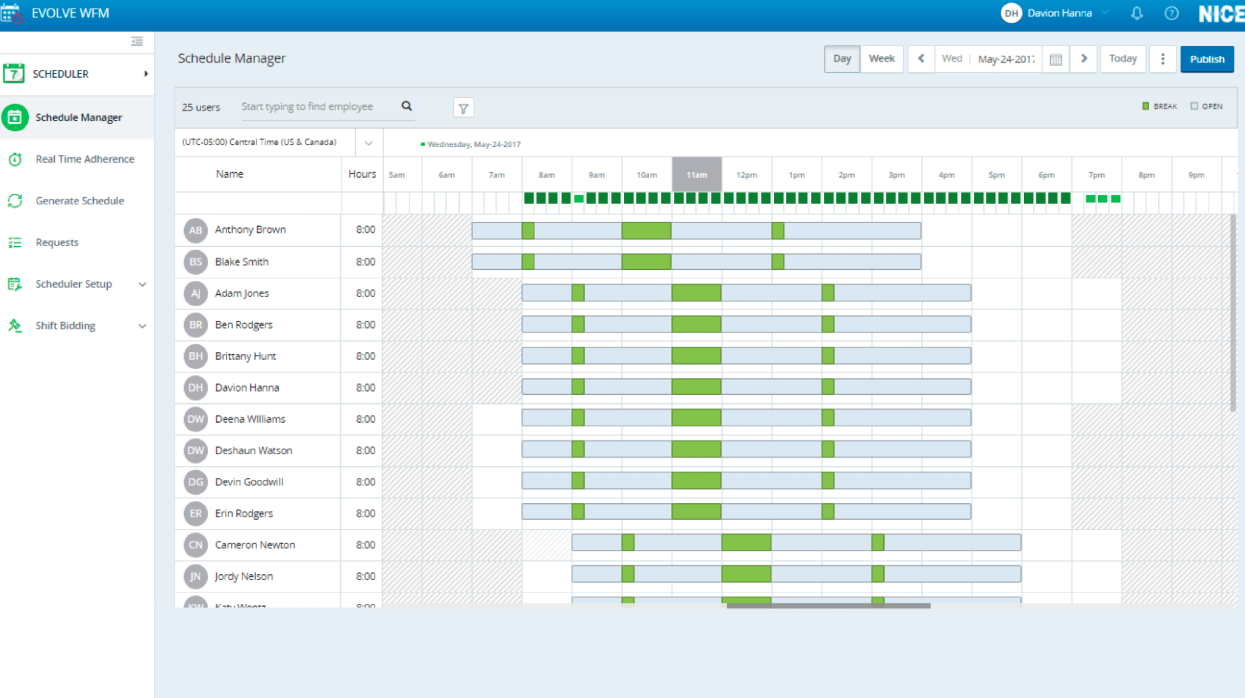 Not only does AI-based WFM automatically forecast the optimal schedule based on anticipated call center activity–it also allows agents to manage their own schedules with tools like shift bidding, requests, and the ability to trade shifts right within the agent portal.
The comprehensive dashboard powered with CRM integrations means that agents don't have to open multiple apps at once. Instead, they can access customer profiles and information within the CCaaS interface, during live interaction.
Best Practices for Setting Up a Multichannel Contact Center
Here are three key practices when setting up your multichannel contact center:
Don't go overboard with channel variety
Focus on the most important analytics
Utilize AI and self-service
Practice #1: Don't Go Overboard with Channel Variety
It's better to provide strong customer communication on a few communication channels than to offer an abundance of digital channels that are poorly executed.
Voice, SMS, email, and webchat support varied use cases–including chatbots, bulk texts, IVR menus, outbound sales, and personalized support. Make sure that agents and supervisors are trained on these core channels, before adding in other, less essential channels.
Practice #2: Focus on the Most Important Analytics
While many CCaaS platforms offer hundreds of KPIs, you only need a few fundamental metrics to analyze and improve customer support. It can be overwhelming and distracting to track dozens of metrics, and a supervisor's energy is better served by focusing on improving the basics.
Key Metrics to Track:
Practice #3: Utilize AI and Self-Service
While setting up AI support, automations, and self-service tools can be costly and time-consuming on the front end, these resources end up saving money and time while increasing contact center functionality in the long run.
AI support tools–like automated transcriptions, customer sentiment analysis, and live agent guidance–improve agent performance and gather customer information over time to build strong profiles. This makes agents' lives easier and reduces customer frustration, increasing customer retention rate.
Self-service tools like IVR and chatbots reduce the need for live agents, route phone calls more accurately, and provide customer convenience. Chatbots and IVR menus can handle basic customer needs–like simple questions and even appointment booking–saving agents for higher-level issues.
Top Multichannel Contact Center Providers
The table below outlines our 7 top multichannel contact center providers–with their pricing, key features, support channels, and integrations.
Provider
Pricing
Key Features
Communication Channels
Integrations
Best For
Five9
4 plans from $149 to $229 monthly per user
-Live interaction analytics with automatic agent evaluation

-Intelligent virtual agent (IVA) that routes multichannel tasks

-Voice

-Email

-Webchat

-Social media

-SMS

-Video

8 integrations, including with popular CRMs and UCaaS platforms
Large multichannel contact centers looking to support agents and supervisors with AI insights
Twilio Flex
Per hour pricing: $1 per active user per hour

Per-user pricing: Starting at $150 per user

-Customizable interface and agent dashboard

-Intelligent multichannel task routing

-Voice

-Email

-Webchat

-Social media

-SMS

-Video

Integrations with virtually any software platform with an API
Teams of any size that utilize many external apps and databases
Genesys Cloud CX
5 plans from $75 to $150 monthly per user
-Workforce planning tools like schedule forecasting

-Speech and text analytics like live sentiment analysis

-Voice

-Email

-Webchat

-Social media

-SMS

Over 200 integrations, including CRM, UCaaS, routing, and workforce management apps
Voice-only or digital-only contact centers
Talkdesk
4 plans from $75 to $125 monthly per user
-Custom analytics that allow you to compare any metrics in new visual displays

-Live AI agent assist

-Voice

-Email

-Webchat

-Social media

-SMS

Over 80 integrations, including CRM, eCommerce, and collaboration
Customizable multichannel routing paths with a low-code designer
NICE CXone
4 plans with custom quote-based pricing
-Proactive, automated outbound communication on any channel

-AI-generated workflow automations

-Voice

-Email

-Webchat

-Social media

-Social monitoring

-SMS

15 integrations including CRM and UCaaS platforms
Large or dispersed companies seeking advanced workflow automations
Dialpad
2 plans with custom quote-based pricing
-Live AI agent assistance

-Outbound power dialer

-Voice

-Email

-Webchat

-Social media

-Social monitoring

-SMS

4 integrations: Salesforce, Zendesk, Microsoft 365, and Google Workspace
Teams seeking basic AI support and call center features
RingCentral
4 plans with custom quote-based pricing
-File sharing and task management with internal team messaging

-Video whiteboards

-Voice

-Email

-Webchat

-Social media

-Social monitoring

-SMS

-Video (for team collaboration)

36 integrations including CRM, chatbots, and call transcription
Internal collaboration–including video meetings
Multichannel Contact Centers Improve Customer Experience
Multichannel contact center software helps agents, supervisors, and administrators work together to achieve their main goal: serving customers.
Every aspect of a contact center–dashboard, communication channels, integrations, AI support, analytics, auto-dialers, and automations–intends to personalize the agent's and customer's experience.
FAQs