A multichannel contact center provides customer-facing agents with centralized cross-channel communication capabilities and up-to-date customer data, streamlining customer support and dramatically improving customer satisfaction as a result.
This article outlines key features, benefits, and best practices for multichannel contact center software.
Compare
multichannel
contact center solutions
Jump to ↓
What is a Multichannel Contact Center?
A multichannel contact center is a software platform that allows a company to manage all its customer-facing communication channels in one place: voice, email, webchat (live agents and chatbots), SMS texting, video chat, mobile applications, and social media.
Mostly used by customer service agents and telemarketing centers, multichannel contact centers connect team members and customers across multiple channels, switching between channels at any time during an interaction.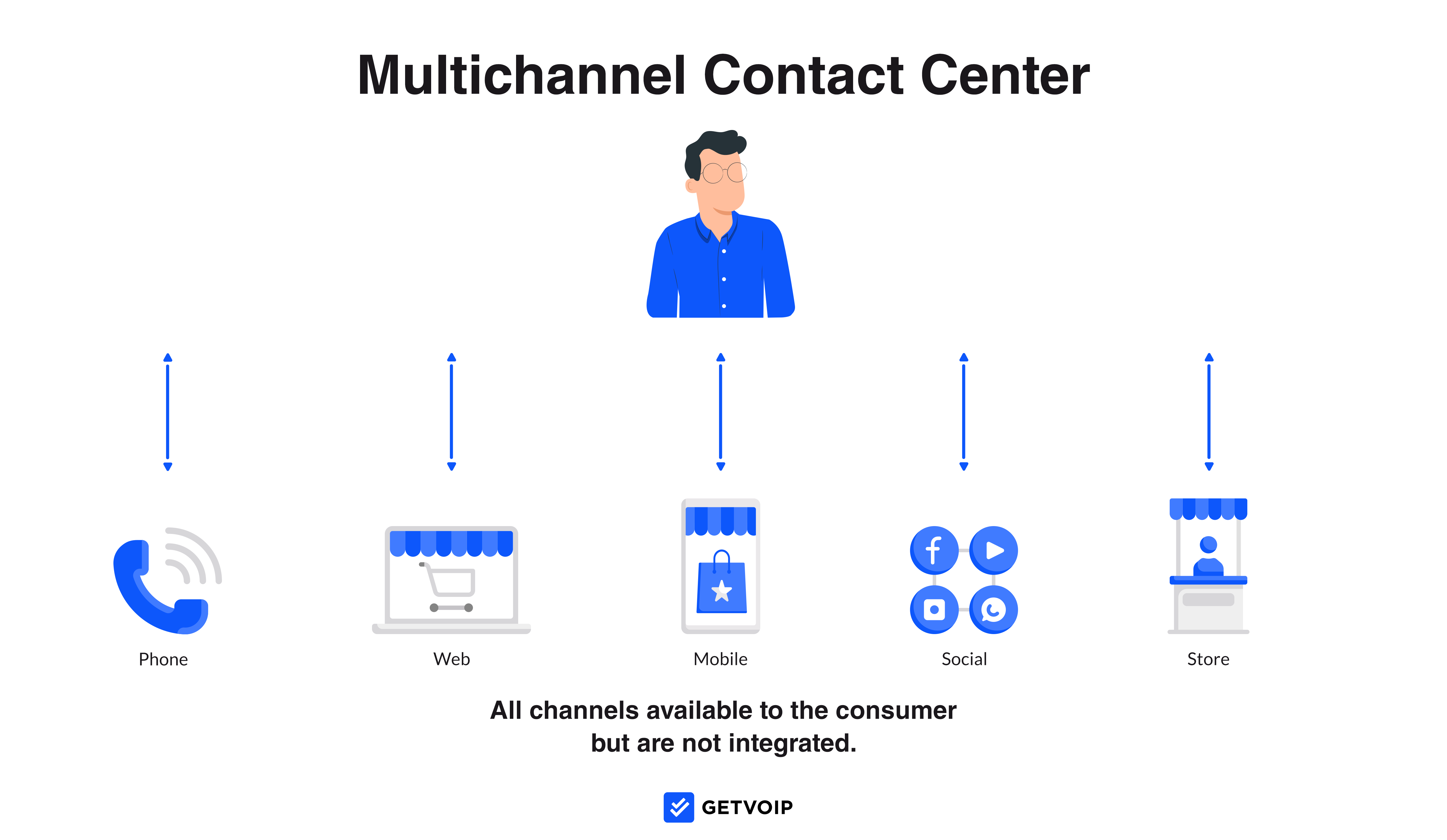 Additionally, multichannel cloud contact centers enhance customer service with various communication tools and insights, including:
Real-time and historical data and analytics
Customer preferences
Post-contact agent feedback and customer suggestions
AI-powered assistance
Searchable internal knowledge bases and help desks
Contact routing and customer interaction summaries
CRM (Customer Relationship Management) integration
In short, a multichannel contact center streamlines all of a company's communication tools. This provides a seamless experience for agents and customers, a smoother customer journey across multiple touchpoints, and a higher level of customer care.
Multichannel Contact Center Essential Channels
Below, we'll outline the key channels featured in multichannel contact centers:
Channel
Use Cases
Features
Drawbacks
Popularity
Voice (Inbound or outbound)
-Resolve complex customer-service issues

-Discuss details of a product, service, or project

-Make large-scale, complex, or "VIP" Sales

-Lead list penetration, lead qualification, lead follow-up

-Voice bot greeting, verification, and routing

-Call forwarding

-Call recording and transcription, call summaries

-Often requires a live agent

-Limited to one-on-one interactions

-Direct and personal, which some customers may not want

-Risks long queue times

-Most popular contact center channel (especially for those over the age of 25)
Email
-Send newsletters and welcome messages

-Provide customer information (passwords, username, etc.)

-Send automated reminders (Upcoming sales, meetings, events, coupons, etc.)

-Confirm subscriptions or orders

-Can address large audiences

-Pre-made and customizable reusable templates

-Easy for customers to reach out to company on their own time

-Young demographics don't use email very much

-Can feel impersonal

-Audiences can easily ignore emails or change addresses

-Second-most popular contact center channel, especially with those 25-59

-Popularity expected to decline in the future

SMS Texting
-Make orders or quick sales

-Provide customer support (complex or simple queries)

-Send order receipts or confirmations

-Send automated reminders or sale notifications

-Internal communication

-Instant  communication

-Easy to use

-Can include links and phone numbers for channel switching

-Does not require downloading an app

-Can customize caller ID or message short codes

-Can feel impersonal and invasive

-Not ideal for longer messages

-Limited by customer cell service

-Rising sharply in popularity over the last few years
Social Media
-Make posts for large audiences

-Post about new products, events, or updates

-Engage directly with customers in a public forum (answer common questions, etc.)

-Direct message customer communication

-Utilizes public posts and private messages

-Integrates with chatbots or live agents

-Compiles and reviews customer feedback

-Older audiences don't use social media

-Many social media channels (Twitter, Facebook, Instagram, Snapchat) can lead to overwhelmed agents

-The most popular contact channel for audiences under 25

-Rapidly gaining popularity overall

Webchat
-Communicate with customers on the company website

-Answer simple queries with bots, complex queries with live agents

-Gather customer information (email, phone number, name)

-Embeds directly into company website

-Supports automated chatbots for routine, simple service

-Supports live agents for sales and more complex customer issues

-Easily ignored by customers

-Older demographics are not as familiar or savvy with webchat

-Live agent support can be time-consuming for the agent and customer

-Chatbots can feel impersonal or irritating to customers

-Third-most popular with age 39 and under

-Experiencing rapid growth in recent years
Voice Calls (Inbound and Outbound Phone)
The most familiar customer-facing channel, phone communication is the most direct, personal way to follow up with leads, make sales, and resolve complex customer issues.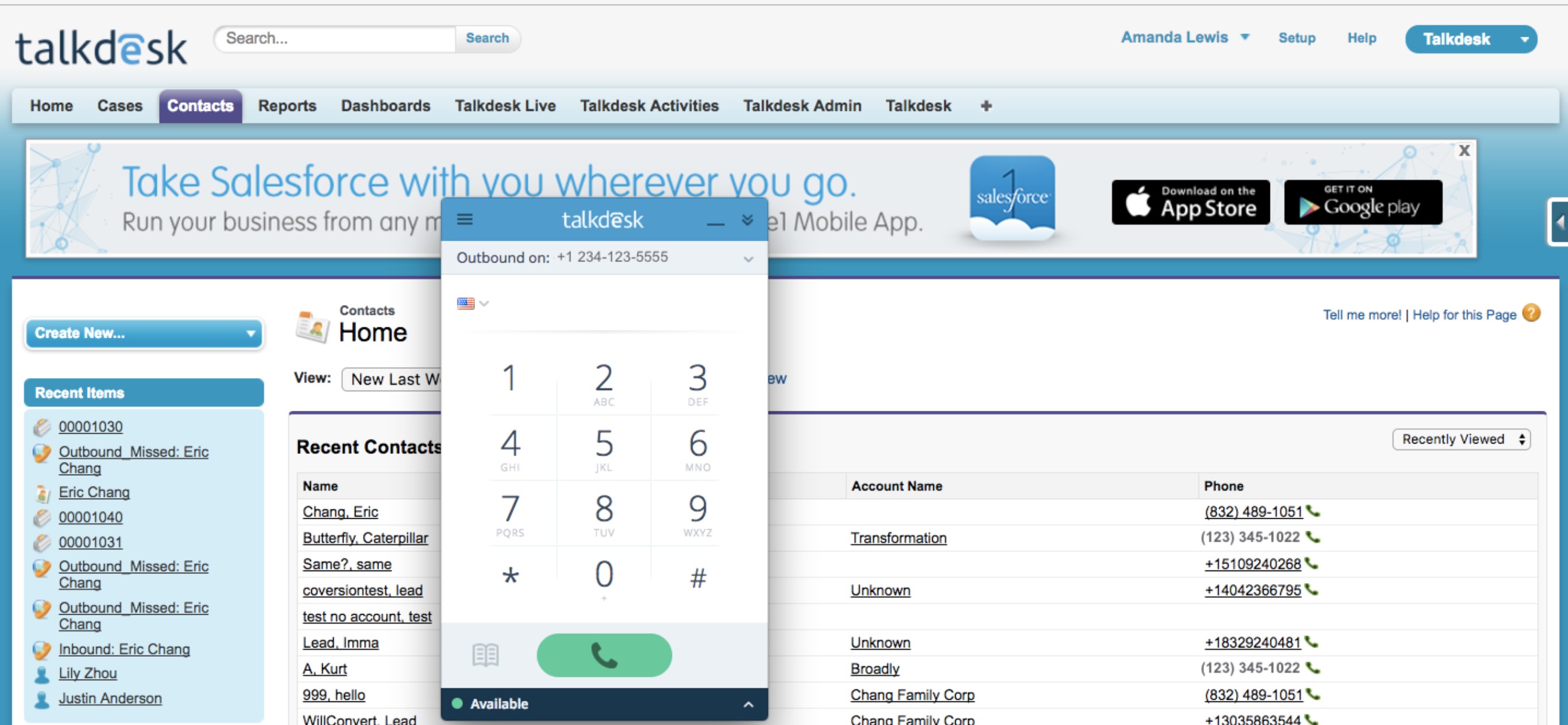 Multichannel contact centers use VoIP (Voice over Internet Protocol) calling to connect with customers via Internet-based phone calls as opposed to the traditional PSTN telephone network. Common VoIP calling features and functionalities on multichannel contact centers include:
A browser-based softphone interface for multi-device compatibility
iOS and Android mobile apps
Call forwarding, call transfer, call routing, call hold
Call recording and transcription
Integrating customer and call data with CRM systems
Email
Email is the second-most-common form of contact center communication, provided by 82% of polled contact centers. However, experts predict a decline in future customer email use.
Companies use email to:
Send newsletters and welcome messages
Follow up support/sales interactions with customers requesting more information
Share purchase or sales receipts
Announce upcoming sales or introduce new products or services
Indirectly reach out to customers who left the queue without resolution
Businesses can use AI technology to send automated email reminders or follow-ups, while agents can use personalized templates for complex or individualized cases.
SMS Text Messaging
Multichannel contact center services allow agents to send SMS text messages from desktop or mobile devices from their business or personal phone numbers.
Users can send two-way SMS and MMS messages to internal teams, or send mass one-way automated texts to customers. With texting, customers don't have to download an app or log in to their account, as agents can text clickable links that redirect customers to a web page or mobile app.
A 2021 NTT survey found that customer use of text messaging has risen 3% over the past two years, a trend that experts predict will continue.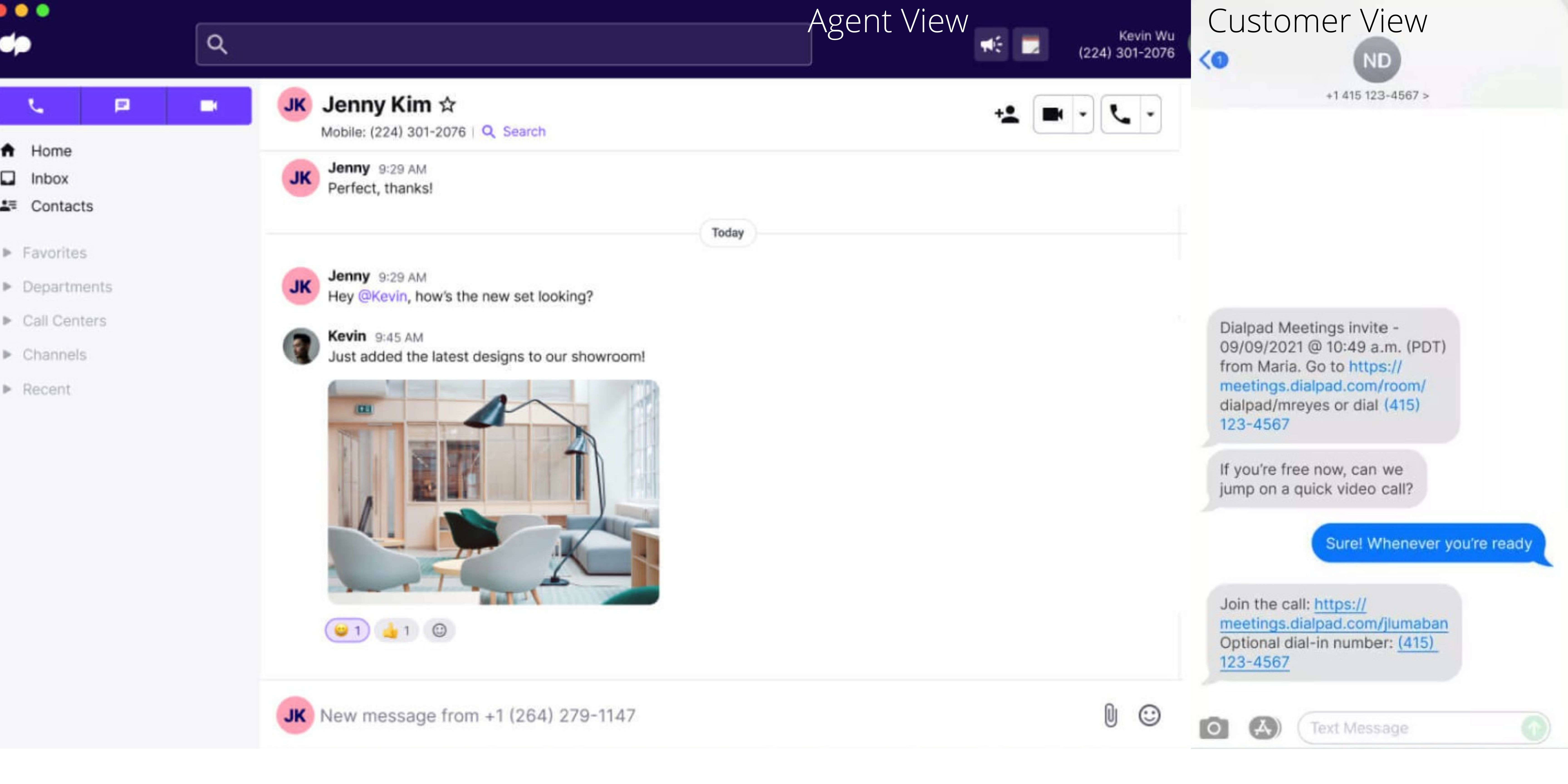 Social Media
Business social media accounts on popular platforms like Twitter or Facebook offer customer engagement with a company via one-on-one private messaging or by leaving a public comment on a post.
Companies can use AI-supported chatbots or live agents to provide customer assistance through the company-branded account.
Customers – especially those under 25 – say social media is a great way to stay informed about a company through posts and by reading and writing reviews.
NTT's survey revealed that social media use for active customer service has increased from 33% to 50% within just the last year – a trend experts say will only increase.
Businesses now see social media as a necessary customer support channel.
Instant Web Chat Messaging
Web-based instant chat messaging, often embedded directly into a company's web page, allows customers to chat online with a company – either a live agent or automated chatbot – at any time of day.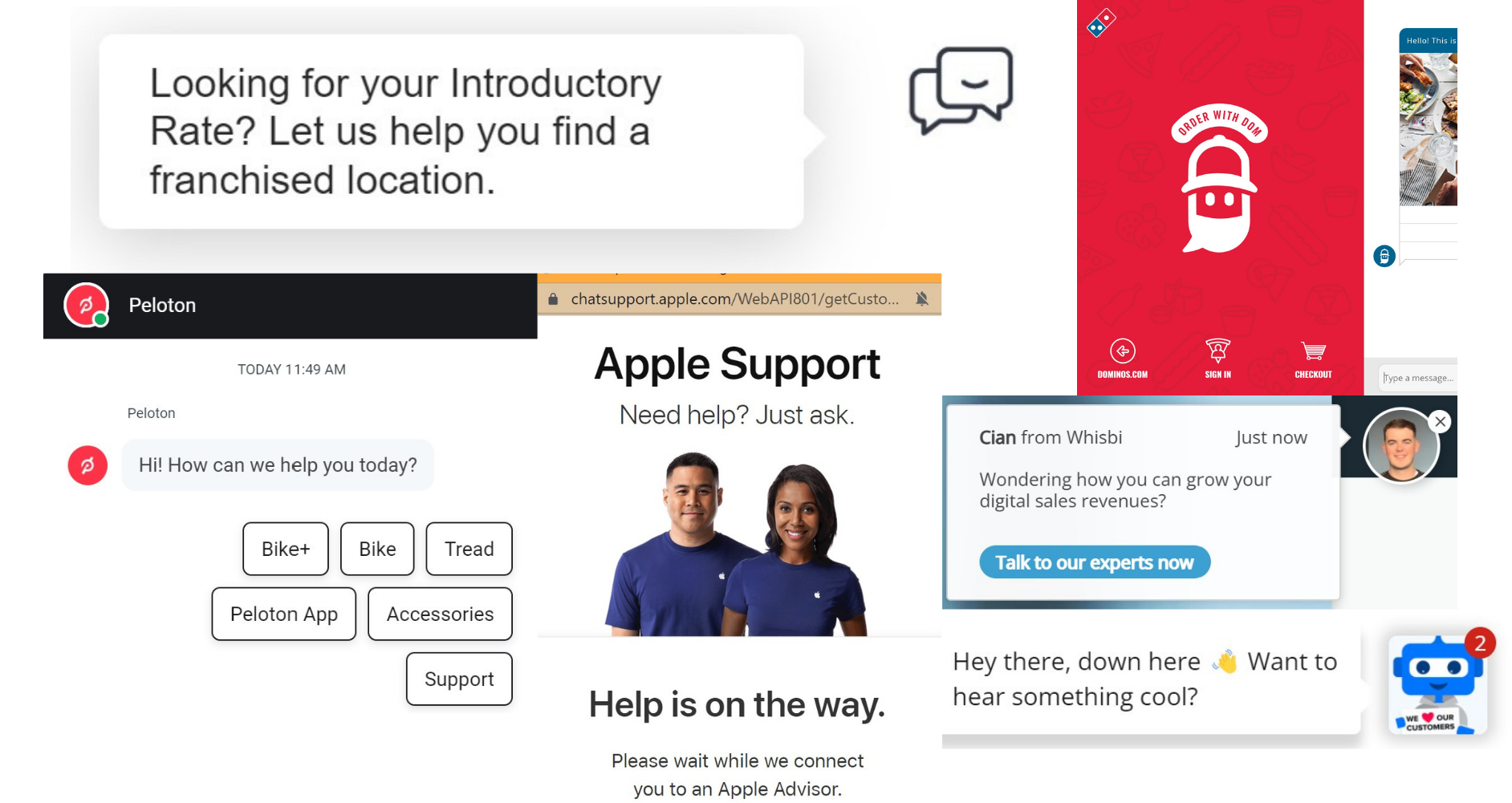 AI-supported chatbots can handle simple customer queries, like basic purchases, easily answerable questions, and newsletter signups. Additionally, chatbots can segment customers based on query type, gathering customer information and routing customers to the appropriate live agent. This process, which can serve thousands of customers even with no live agents available, saves time both for customers and live-service agents.
Live agents can use webchat to provide in-depth, customized service to multiple customers simultaneously. Supported by the company's CRM and knowledge-base systems, agents can make personalized product recommendations and help customers with specific or recurring issues, embedding links directly into the chat. Further, live chat software makes it easy and quick for employees to communicate with each other without disrupting other tasks.
According to NTT, customer webchat use has increased 4% in the last two years, and experts predict this trend will continue.
The Difference Between Omnichannel and Multichannel Contact Centers
The difference between omnichannel and multichannel contact centers lies in the customer's ability to seamlessly transition between communication channels during an interaction.
Multichannel contact centers provide several different customer technical support and sales channels (text, phone, social media, etc.) Incoming customers can choose from these different channels based on their personal preferences. In a multichannel contact center, agents usually specialize in a single channel, like voice, text, webchat, or social media.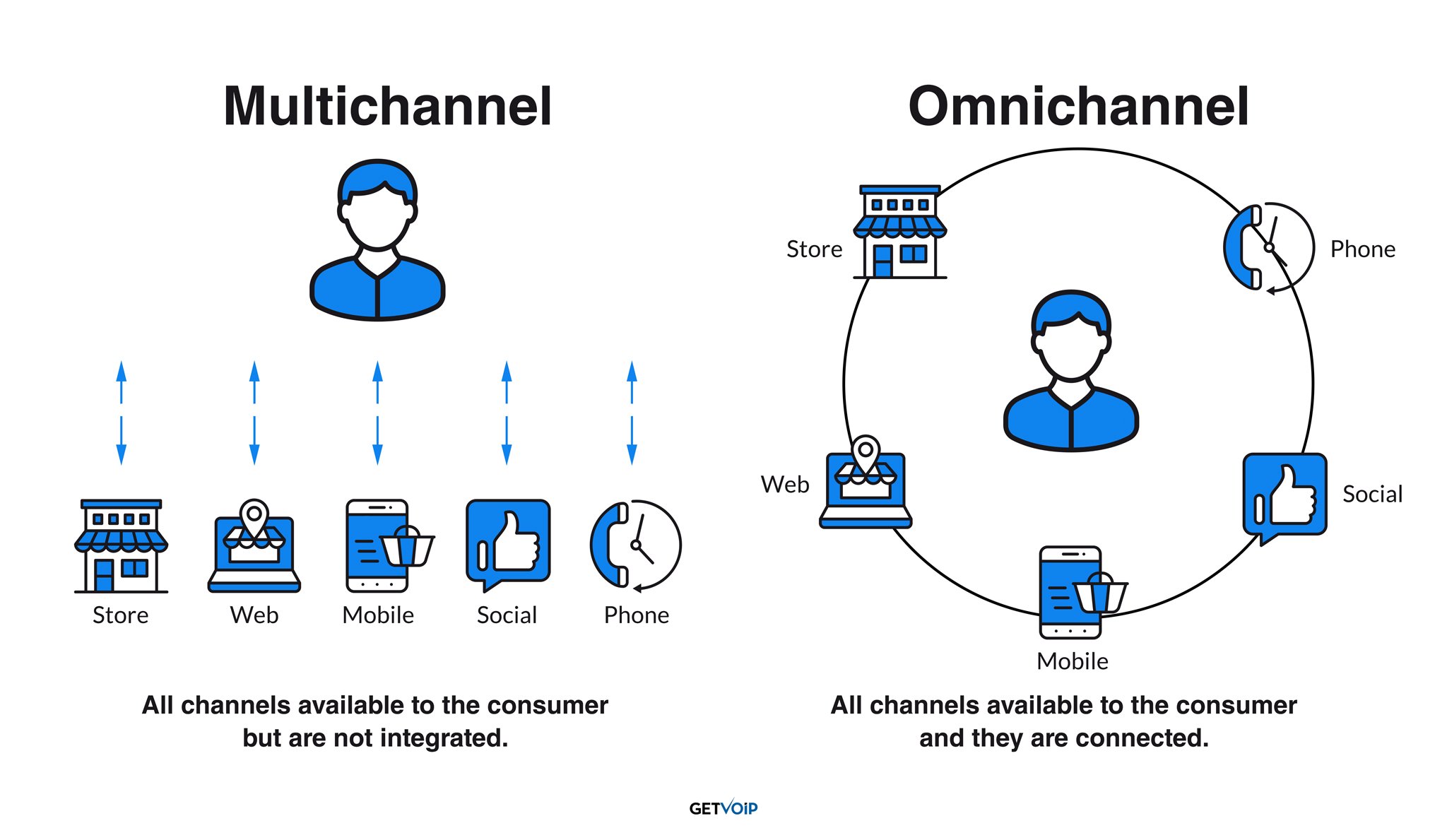 However, multichannel customers and agents can select only one channel per interaction. In other words, in a multichannel system, an interaction or query that begins via website chat can't seamlessly switch over to a phone call in the middle of the conversation. While it's possible for a customer to start an interaction on one channel and switch to another, doing so would mean the customer must call in with a new query, wait in a queue, speak with a new agent, and repeat the same information they provided to the first agent.
This frictional process causes frustrated customers to leave the queue early with unresolved tickets.
Omnichannel contact center agents, on the other hand, utilize all available channels simultaneously, as well as the company's data management systems (CRM and knowledge bases.) Customers can instantly switch from one channel to another during the same interaction, and the conversation picks up exactly where it left off.
For example, if a customer wants to switch from social media to a voice call, the transition occurs instantaneously, within the same interaction query and with the same agent. This is because in omnichannel contact centers, all conversations are instantly and automatically synced across channels, in real-time.
Omnichannel contact centers let customers switch channels instantly with minimal friction, such as having to repeat information, download an app, or redial a new number and wait in a new queue.
When taking an omnichannel approach, forward-looking experts consider platform integrations and APIs, flexibility, and agility.
The Benefits of a Multichannel Contact Center
Below, we'll describe some of the ways companies benefit from utilizing a multichannel contact center.
Gather and Analyze Unique Data Metrics
Multichannel contact centers provide KPI monitoring, data analysis, and both customizable and pre-made reports that can be automatically generated at preset intervals.
Capabilities like Artificial Intelligence (AI), Natural Language Understanding (NLU), Machine Learning (ML), and real-time monitoring allow contact centers to record and review agent-customer, agent-agent, or agent-supervisor conversations, analyzing customer speech tone and language choices, like keywords, to extract unique metrics.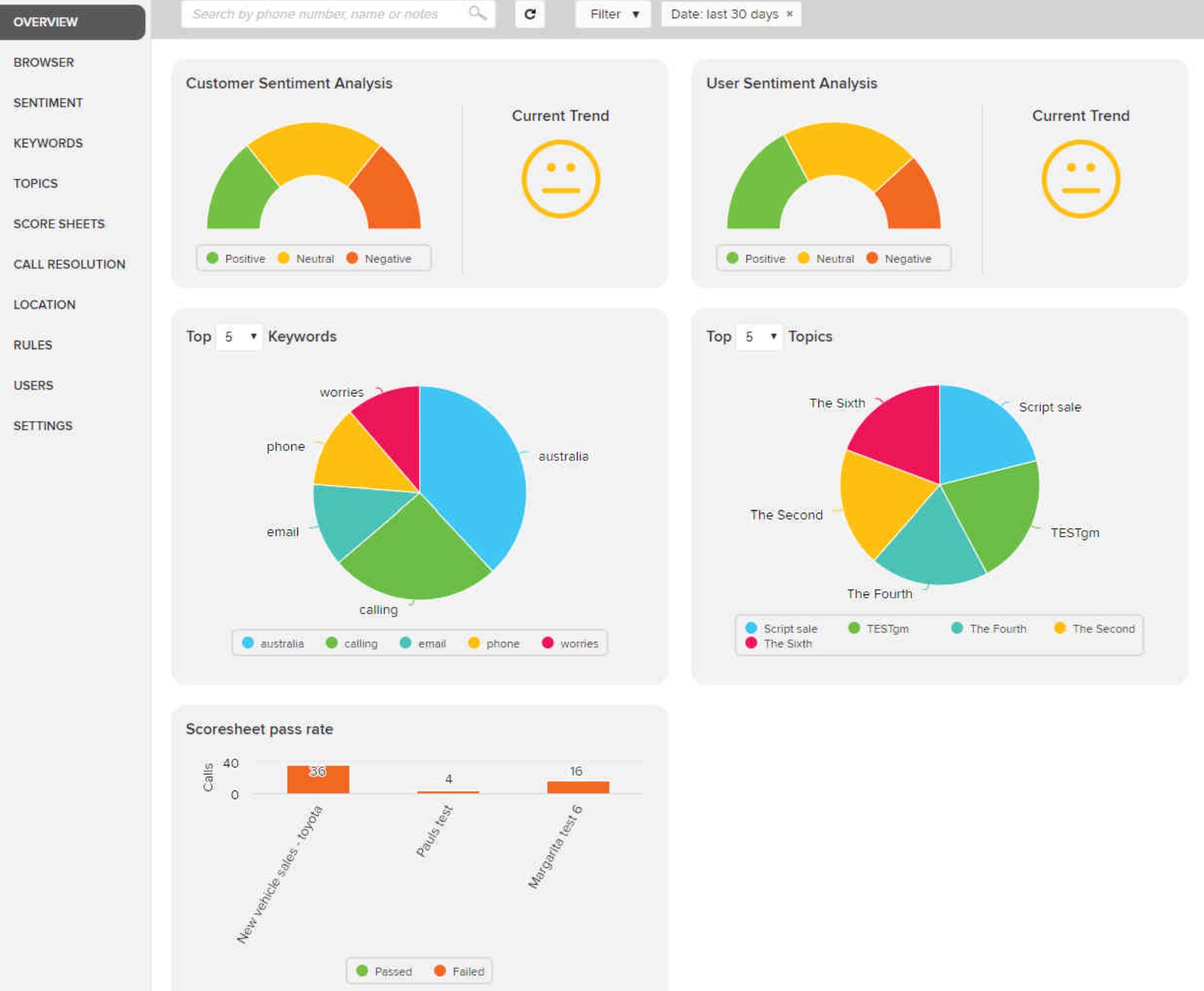 Over the longer term, compiled historical data can identify the most common customer trends and problems, and companies can use this information to predict seasonal demand, forecast staffing needs, and assess the effectiveness of new strategies in regard to particular audiences. NTT reports that organizational use of customer analytics has jumped from 36% to 46% over the past two years, as developing analytical technology continues to offer more insightful metrics.
Some common KPIs to monitor include:
Customer sentiment
Behavior and use patterns
Demographic information
Lifestyle information
Contact quality or efficiency
Improved Customer Service
Among customers, 67% cite bad service experiences as a reason for churn.
In 2022, customers expect to interact with companies asynchronously – not only through voice but a variety of text-based channels. Customers expect 24/7 customer service with fast response times and seamless transition between communication channels. They want to avoid repeating themselves, waiting a long time, or connecting to an agent that doesn't have the training or authorization to help them.
Omnichannel software allows customers to seamlessly navigate between channels, even with a new agent, as previous interaction notes and order history show up on-screen for agents. Contact centers integrated with knowledge-base and CRM systems gather customer data cross-departmentally and update these systems instantly, allowing new agents to quickly access customer context, data, and company knowledge to save time and prevent customer frustration.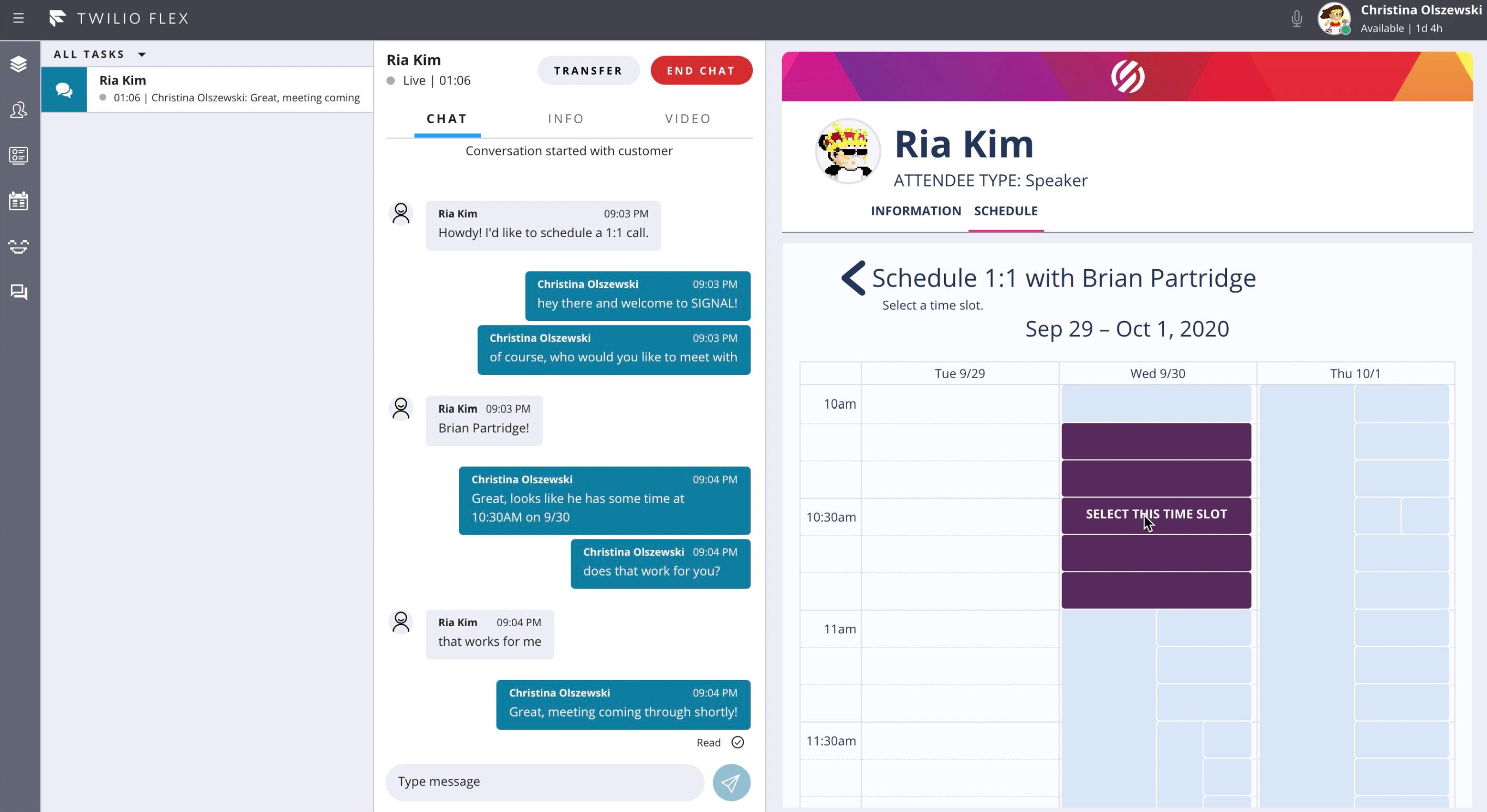 AI integration further bolsters customer support, as 86% of companies using AI report that it improved their customer service. Pre-programed chatbots help to correctly identify customer needs or issues, make quick sales or appointments, and answer simple questions. They can also route customers to a live agent for more complex assistance, and even authenticate callers based on their voice.
If a caller doesn't have time to wait in a queue, contact centers offer a callback feature.
Customers expect quick service, and AI support provides it.
Improve Agent Experience and Performance
Contact centers face a roughly 58% agent turnover rate each year, with resulting costs ranging from one-half to two times each agent's salary. A multichannel contact center mitigates the number one reason for high agent attrition: excessive workload.
Contact centers achieve this through leveraging automated bot technology: chatbots for text and virtual voice assistants for phone. AI-assisted and IVR-powered customer self-service decrease support tickets and queues, allowing agents to spend more of their time working with customers who truly need their one-on-one attention.
Equipping agents with performance tools is the greatest factor that positively influences agent success.
Key-phrase and sentiment analysis during an agent-customer conversation trigger automatic pop-ups with advice, suggestions, or even scripts from internal knowledge bases, making agents more effective. CRM pop-ups provide more specific client data according to interaction or purchase history. Plus, agents can customize their own dashboards with their preferred channels, tools and layouts, making it even easier to resolve customer requests.
Even contact center training can improve agent sentiment, ensuring a great customer experience through the gamification of agent performance, creating friendly competition and motivation in line with team culture.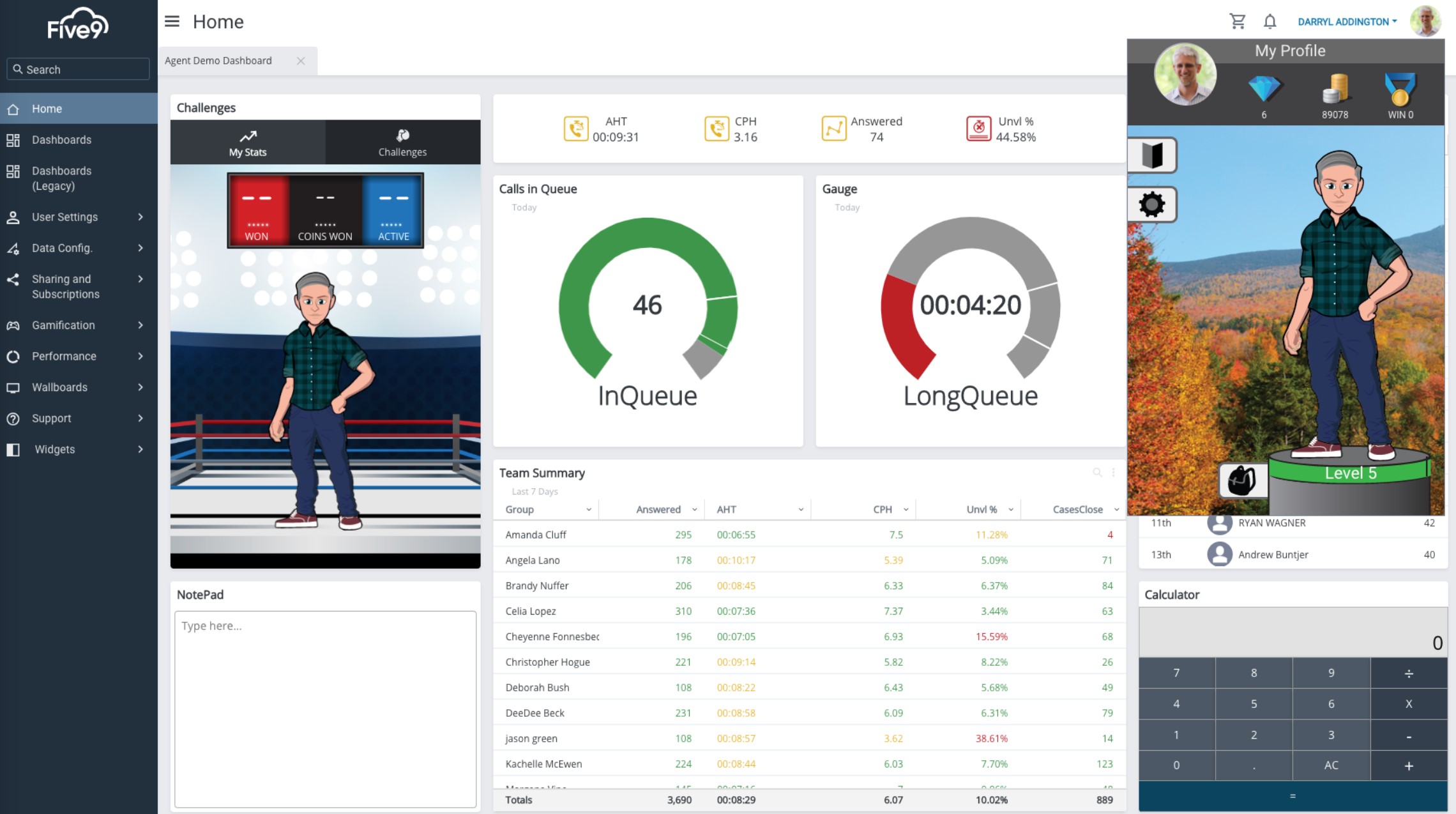 Supervisors can utilize live metrics like queue time, issue resolution, and customer sentiment to offer agents feedback to improve their performance. Admins can reassign agent tasks and domains depending on customer needs and current agent workload.
AI-transcribed conversation scripts, data, and feedback help managers evaluate agents and provide more accurate roadmaps for improvement.
Best Practices for Setting Up a Multichannel Contact Center
Below, we'll list some best practices to help develop your company's multichannel or omnichannel contact center:
1. Feature the Channels that your Customers Prefer
Ease of contact is one of the top three factors that keep customers loyal to a brand. However, as a 2021 NTT report points out, "The number of channels offered is not as important as how effective they are in serving different customer segments, reducing customer effort and enabling consistent customer experience across all customer journeys."


For quick, simple interactions like scheduling an appointment, making a routine order, or inquiring about store location, customers increasingly prefer self-service channels like SMS texting, social media messaging, or a website chatbot.
For now, however, inbound voice remains the go-to channel for customer-service-based contact centers. Customers need the ability to speak with a live agent for complex or highly individualized issues, and 66% of customers strongly agree they would like the ability to speak with a live agent.
The channels that you feature in your customer contact center will depend on the age and demographics of your customer base: audiences under 25 tend to prefer social media, for example, while audiences over 25 favor telephone use above all other contact center channels.
An effective customer contact center balances choice with ease of use.
2. Provide Your Agents with Thorough Preparation for all Necessary Channels
While automated technology supports live agents across channels, it's critical that live agents are equipped to handle all direct customer needs when they do arise. According to Five9, 84% of customers are frustrated when an agent isn't able to answer an inquiry (and who can blame them?).
Many companies still hire and train multichannel contact center agents as traditional call center agents. However, today's contact center agent skills have expanded to include AI and cloud management, CRM and knowledge-base use, and expert fluency in multiple communication channels.
If agents fail to meet these expectations as a result of poor employee training, lost revenue, customer churn, and a damaged company reputation could follow.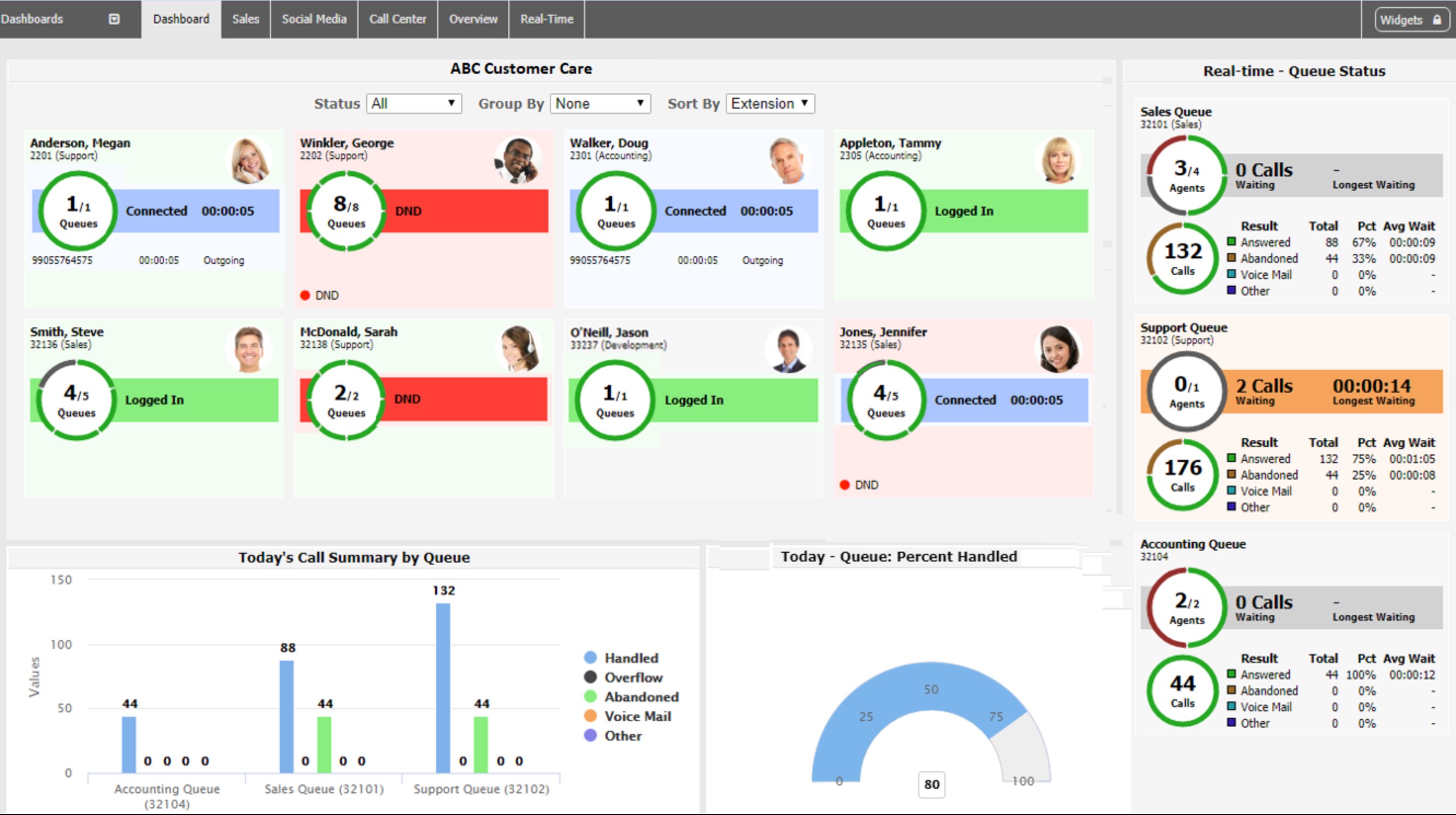 3. Use AI Assistance to Support your Agents and Provide Self-Service
With call-center agent turnover a growing problem, companies must use automation to reduce the workload on agents' shoulders.
NTT reports that, in line with this need, 50% of companies anticipate using AI to handle a majority of their customer experience within the next twelve months.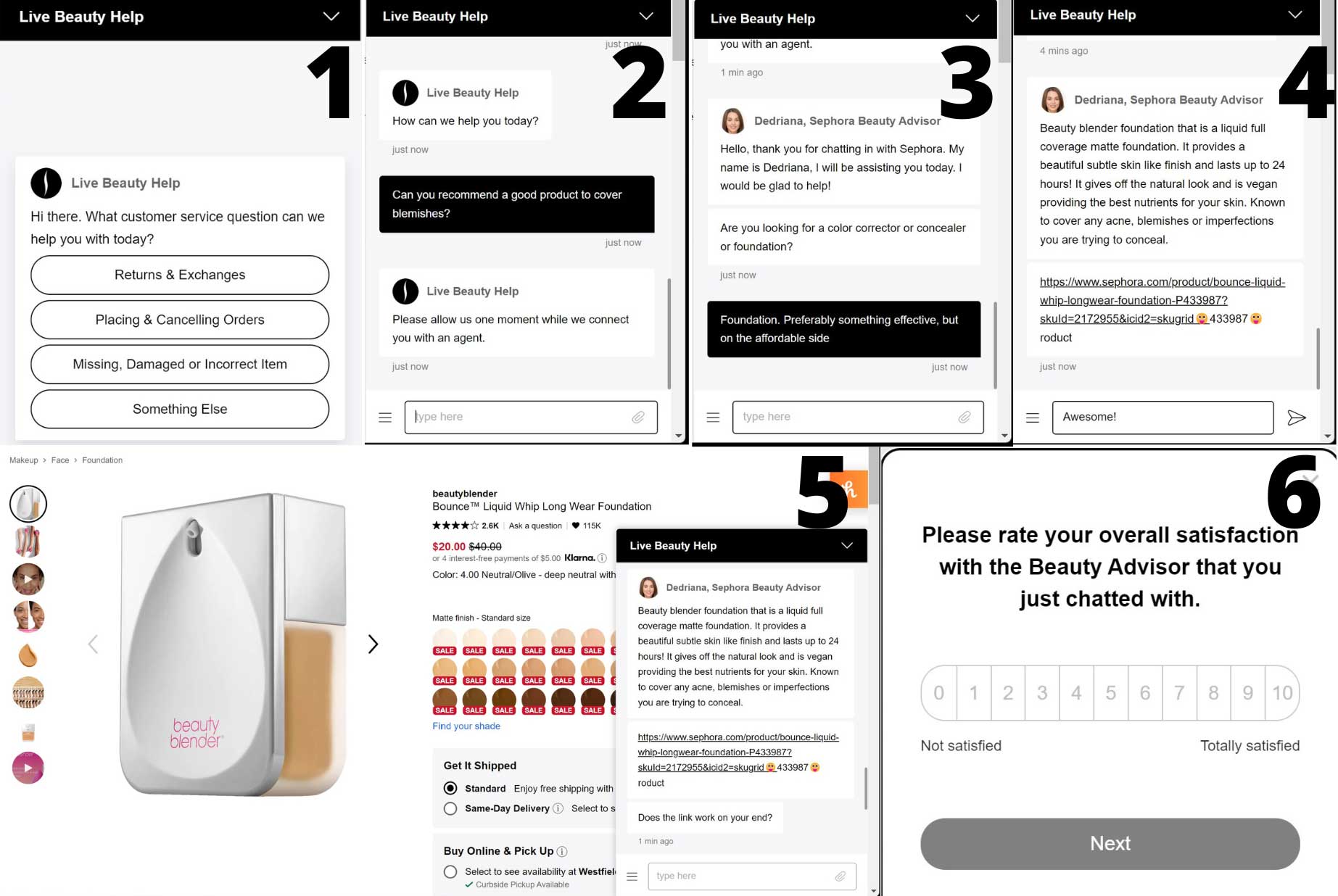 By mindfully crafting a customer journey that features AI assistance and self-service tools to greet customers, handle simple tasks, and route customers to preferred agents, a company can spare agents' time and energy and reduce operating costs – especially when considering software pricing.
Plus, customers will benefit from increased first contact resolution rates, 24/7 support that fits their own schedules, and the elimination of hold times.
4. Integrate Data and Tools Across All Channels
Remember, customers expect companies to seamlessly integrate several communication channels. Cloud-based omnichannel communication makes it possible for companies to meet this need by offering native or third-party channel support.
Multichannel analytic tools provide companies with new insights to drive growth, customer service, and decision-making, and knowledge-base integration spreads this information throughout the company.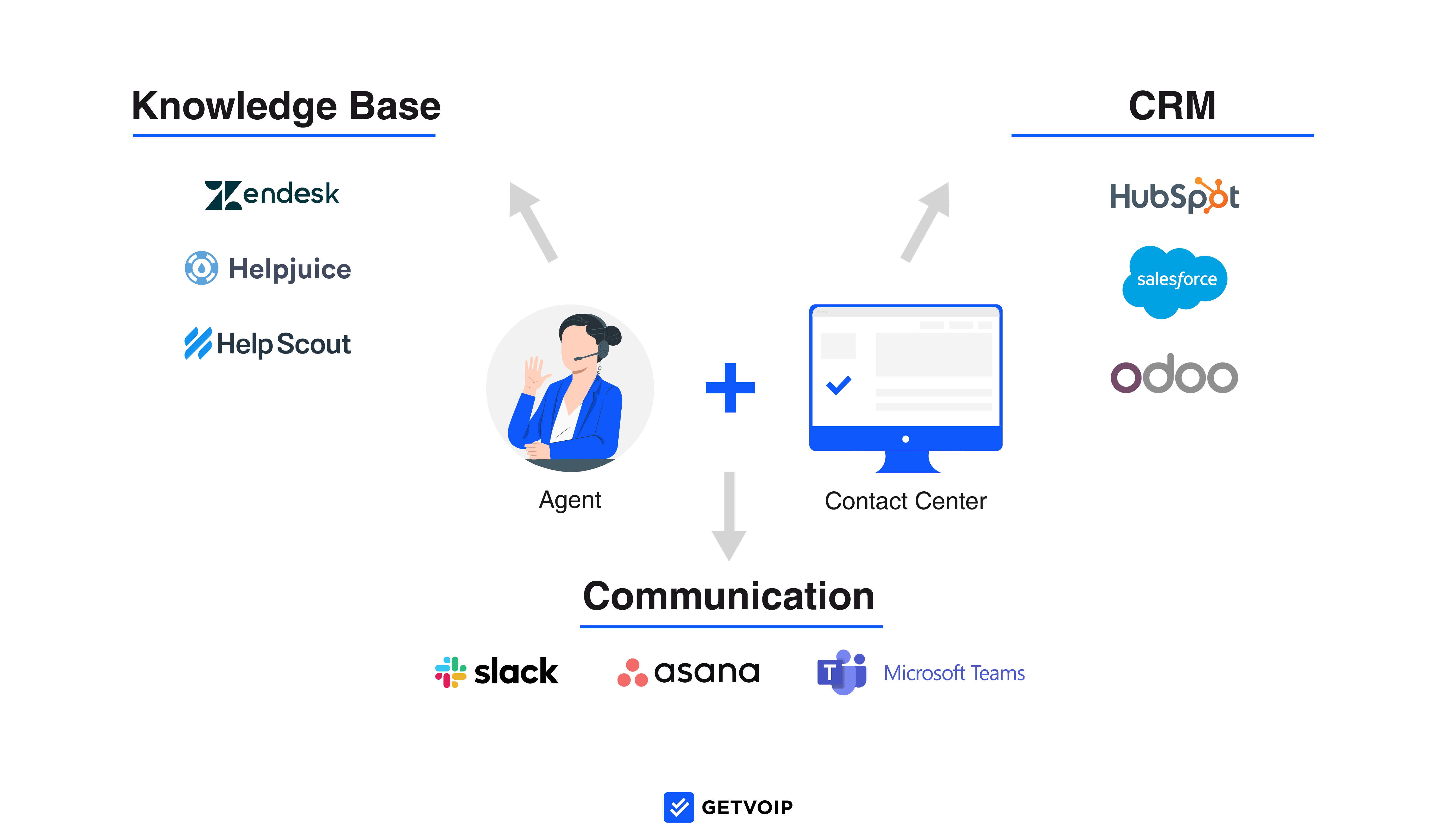 ICMI reports that while only 27% of contact centers currently self-describe as omnichannel, 72% of those who do say the omnichannel tools drive significant value in optimizing the workforce. Looking forward, one in three survey respondents expect omnichannel services to have the greatest effect on customer experience over the next two to three years.
The big takeaway? Go as omnichannel as possible.
Omnichannel and Multichannel Contact Centers Lead Customer Service into the Future
It's clear the future of customer service is centered on omnichannel and multichannel contact center solutions.
Developments in data analytics and communication technologies allow companies to overcome new challenges like increased customer service demand, agent burnout, and rising customer expectations across channels.
Whether your company aims to expand customer-facing channels, improve agent efficiency, or gain deeper consumer insight, multichannel contact center software will help.
With a variety of forward-looking providers available, now is the time to switch to a multichannel or omnichannel customer experience.
Multichannel Contact Center FAQs
Below, we've answered common multichannel contact center FAQs.
Multichannel communication is a strategy allowing customers and businesses to connect via multiple channels like voice, email, video, SMS texting, a digital channel like web chat, and social media. Multichannel communication involves two-way conversations between customers and live agents, AI-powered chatbots, or a combination of the two.

Multichannel communication is important because it improves customer and agent experience, saves companies money, lets customers choose their preferred channels of communication, and leads to faster, more convenient customer-query resolution.

While both multichannel and omnichannel contact centers provide customers with a variety of communication channels, multichannel contact centers don't allow customers to seamlessly transition between channels within a query, or with the same agent.
Omnichannel contact centers seamlessly integrate all channels so customers can immediately shift channels during an interaction while keeping the same agent.