Virtual phone systems offer numerous advantages over a traditional phone systems, including cost savings, advanced features, and easy scalability no matter where your team is located.
Switching to a virtual phone system will offer clients a higher level of customer support, increase office productivity, and cut down on miscommunications that frustrate everyone.
Let's take a look at what exactly a virtual telephone system is, how it works, its top features, benefits, and some of the best providers.
Virtual phone systems starting at
$10/mo
Quick links:
What is a Virtual Phone System?
A virtual phone system is a cloud-based business phone service that makes and receives calls over an Internet connection and a cloud-based PBX system, as opposed to over the copper wiring of a traditional landline.
A virtual phone system also means users can make calls on multiple devices, including a softphone interface on desktop computers, mobile apps, or tablets.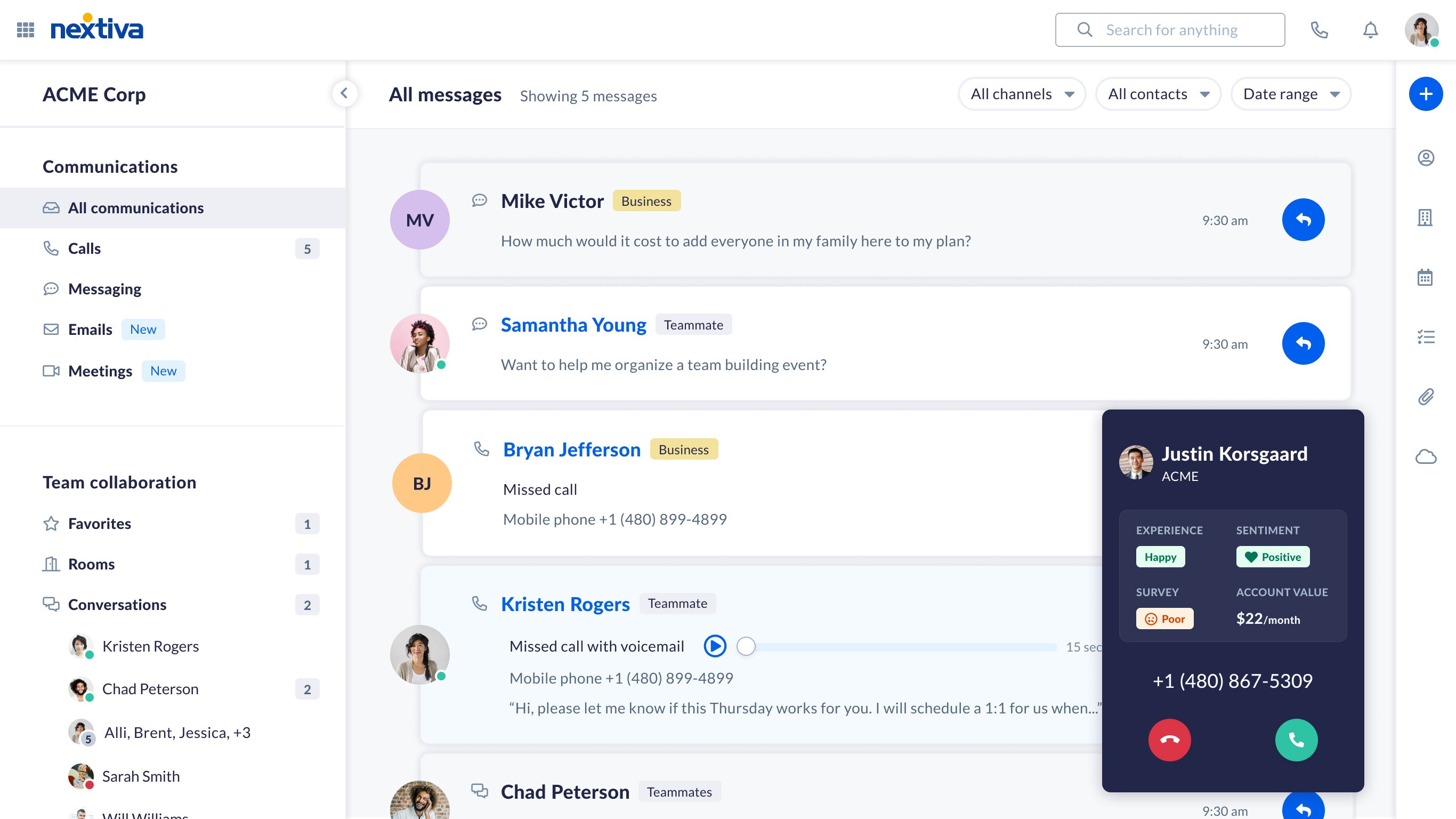 Incoming calls can be forwarded to multiple phone numbers to prevent missed calls and allow for greater flexibility. Outgoing calls can be managed much more efficiently thanks to integrations with trusted CRM systems and adjustable dialing speeds.
Virtual phone systems also require much less hardware than the traditional ones and can be quickly set up online – often in less than a day.
Companies can port in any existing toll-free and local numbers, or select several of their own toll-free, local, or vanity numbers within multiple area codes. International business phone numbers are also available.
While some companies may have separate telephone numbers for different departments, usually, each team member or department is accessible via an extension code.
This means employees can protect their cell phone or home numbers by providing clients with their virtual phone numbers instead of personal ones.
How Does a Virtual Phone System Work?
Virtual phone systems operate using Voice Over Internet Protocol (VoIP). When a call is made over a virtual network, an endpoint connection between the caller and the callee is established. Voice data is then broken up into packets, which allows the data to travel over the Internet to the other line. Once that packet data reaches the intended recipient, it's changed back into voice data.

When dialed, digital telephone numbers can route calls to traditional analog phones, your cellphone, softphones, and desktops.
Callers no longer need to hang up and redial additional numbers in order to reach the desired party. Virtual phone systems can forward calls to multiple devices in a customizable order.
A virtual phone system call path might look like:
Incoming call to virtual number → Office Landline → Desktop Computer → Business Cellphone → Personal Smartphone → Voice mailbox or coworker's phone number
Once a company decides to use a virtual phone system, they'll need to choose between hosted PBX and SIP trunking.
Hosted PBX means that the virtual phone system is operated by a third-party vendor with offsite equipment.
This means that there's no need for companies using cloud-hosted PBX to own any software or equipment, nor do they need to worry about running updates or fixing major IT issues on their own.
SIP trunking, by contrast, is ideal for businesses that have their own IT staff and on-premise PBX equipment or VoIP gateway. Session Initiation Protocol (SIP) virtually connects PBX hardware and Voice over Internet Protocol phone lines.
| | |
| --- | --- |
| Hosted PBX | SIP Trunking |
| Third-party offsite PBX | Onsite PBX |
| IT managed by third-party | IT managed by your company's IT staff |
| Billed per phone line | Billed per user |
| Best for new or small businesses | Best for corporations and multi-location businesses |
| Connects to PSTN | Connects to ITSP |
| Lower startup cost | High startup cost |
Larger companies or small business owners with high call volumes that already own private branch exchange equipment should select SIP trunking. Hosted PBX is best for smaller businesses that don't want to handle their own IT issues and are looking for more affordable virtual phone system solutions.
Essential Features of a Virtual Phone System
Standard virtual phone system features and functionality include:
Call Management Features
IVR
Call Queuing and Automatic Callbacks
Visual Voicemail
Video Conference Calling
Team Collaboration Tools
Business SMS
Call Recording
Business Phone Analytics
Third-Party Integrations
Call Management Features
Virtual phone systems offer far more call management features than landlines, the most important of which are call routing and call forwarding.
Call forwarding sequentially forwards calls across preferred devices without requiring the caller to dial another number to reach the person they're trying to connect with.
For example, if an agent misses a call at their desk phone, call forwarding would automatically send the inbound call to their mobile phone. If they don't answer their cell, the call would then be forwarded to their home phone or their Google Voice number. If there's no answer there, the call could be forwarded to voicemail or another agent.
Remote call forwarding provides greater employee flexibility, meets business needs, and ensures callers can speak to a live agent to increase first call resolution rates.
Call routing is the predetermined call path that the inbound caller travels through based on their responses to IVR (Interactive Voice Response) prompts or based on the pre-selected routing pattern.
Call routing ensures that the caller connects with the agent that is most qualified to assist them with their particular issues, and prevents a call transfer to an agent without the proper skill set.
Common call routing paths include round-robin, simultaneous ringing/call blast, most idle, skills-based, and more.
Additional call management features include:
Call Blocking
Do Not Disturb
Call Hold and Customizable Hold Music
Custom Greetings
Call Transfer
Call Screening and Caller ID
Hot Desking
Call Flip (Switch to another device during a phone call without disconnecting)
Call Monitoring (Call Barge, Call Whisper, etc.)
IVR
IVR, short for Interactive Voice Response, is designed not only to improve the call routing process as discussed above but also to offer a higher level of customer self-service that keeps agents free for more pressing issues.
IVR call menus can be added to every virtual phone system, and are essentially pre-recorded prompts that ask the customer questions about the reason for their call. It can use Natural Language Processing (NLP) to "understand" a customer's spoken words or can follow prompts when the customer enters their response via a phone keypad. (For example, "Press 1 for customer service, 2 for billing, 3 to speak to a receptionist…")

Then, based on the customer's responses, the IVR system will guide them through more pre-recorded prompts or answers from a virtual receptionist – without ever connecting them to an agent.
One of the most common examples of this is IVR payments, which allow customers to pay or manage their bills over the phone by responding to prompts via their phone keypads or spoken responses.
Call Queuing and Automatic Callbacks
Call queuing is a virtual phone system feature that allows users to sort and manage inbound calls, placing each caller into a line to wait for a representative to answer them.
Call queues are established based on a variety of factors, such as the importance of the customer/VIP client, the specific order in which the clients called in, (the most common), and the type of issue they need assistance with.
The callers will then hold until a representative is available to speak with them.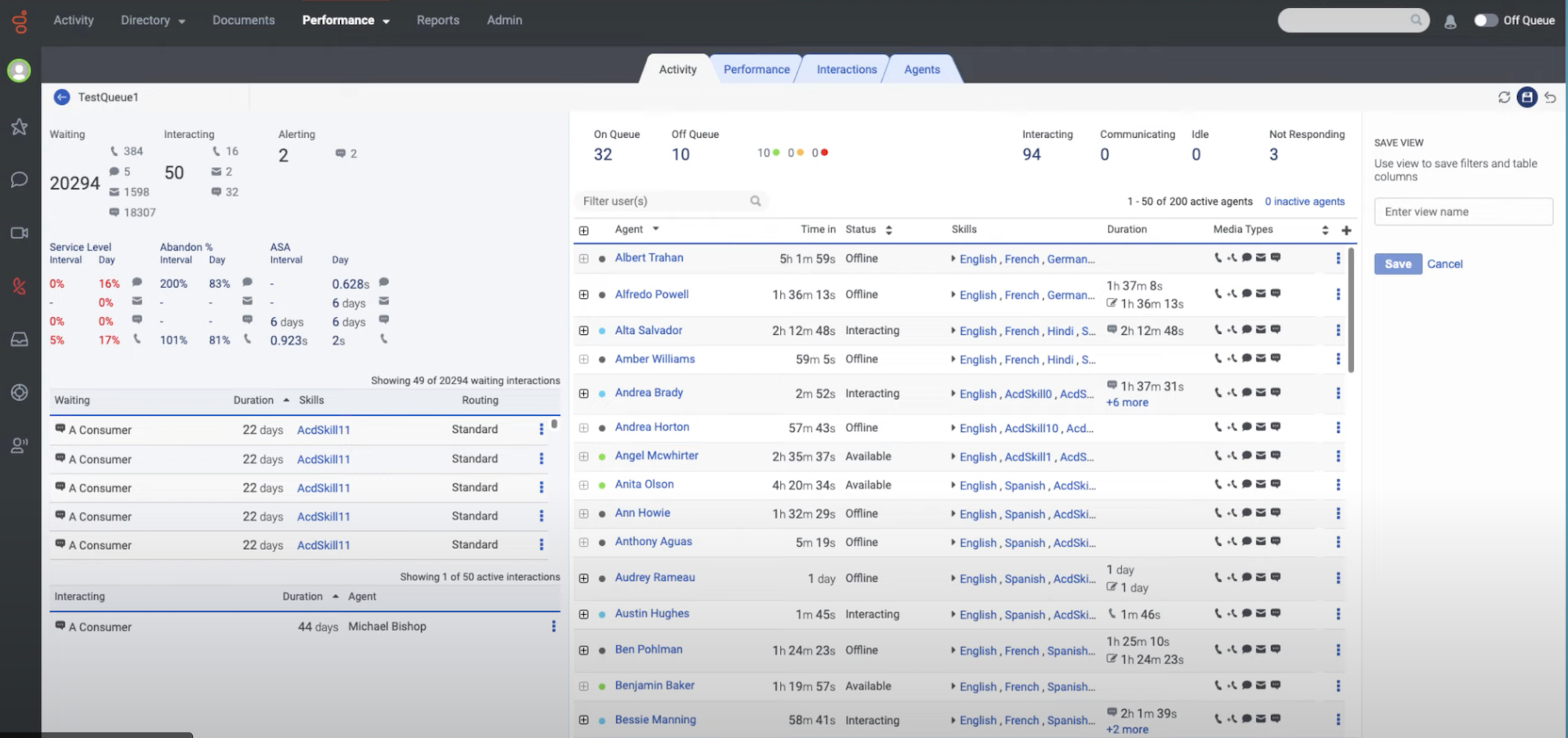 The only downside here?
A larger business or crowded call queue can mean long wait times for customers – something no one enjoys.
Automated callbacks eliminate the need for callers to wait on hold by allowing the caller to choose when they would like to receive a customer callback from an available agent.
This way, the customer can get the help they need on their own schedule, and the agent will receive automatic reminders when the time to place the return call is near.
Visual Voicemail
Unlike standard voicemail, VoIP visual voicemail automatically transcribes missed voice messages in addition to saving the audio attachments.
Representatives can then opt to receive those voicemails as a text message, where they can also send out an automated response to the missed call/message such as, "Let me call you in five minutes," or "In a meeting."
Voicemail-to-email is also effective, as it automatically sends both audio recordings and voicemail transcriptions to an agent's preferred email address.
In some cases, agents can even listen to voicemails directly within the voicemail portal, and can then opt to save the recordings or delete them. Agents will receive notifications when they have a voicemail message waiting.
Video Conference Calling
Especially as video conferencing tools like Zoom or Microsoft Teams become an essential part of business communication, most virtual phone systems will provide native video calling capabilities as a part of their plans.
Web conferencing improves remote team collaboration by allowing for face-to-face real-time communication and collaboration.
Users can share their screens with other attendees, use virtual backgrounds, rearrange the camera views, present slideshows, vote on virtual polls, use virtual hand-raising when they want to speak, and use team chat messaging to communicate with each other during a video call.
Team Collaboration Tools
Though team collaboration tools are often used in conjunction with a video conference (especially team chat messaging) they can also be used on their own throughout the workday.
For example, in addition to tagging other users, assigning tasks to, and reacting to chat messages, users can also upload files and co-annotate them in real-time. Users can transition from a chat message to a video call with one click, use the whiteboard to illustrate a point, and even take remote control of another user's screen.
Though today's phone system providers offer basic team collaboration features, most users will need to integrate their preferred collaboration tools to access more advanced collaboration functionalities.
Business SMS
Business SMS text messaging lets agents send texts to coworkers or clients using their business phone number, via both their VoIP desktop app or mobile device.
Agents can type in longer messages on their desktop computers to save time, and still access entire text conversation histories as they would on a smartphone. In some cases, automatic SMS responses or marketing text messages can be sent to clients or those who have opted in to receive messages from a company.
Call Recording
Call recording exists for both audio and video calls (including screen sharing, whiteboards, etc.) within a virtual phone system.
Unlimited call recording is usually available only on more expensive paid plans, but often, providers will include at least 3-5 GB of recording space in more affordable plans.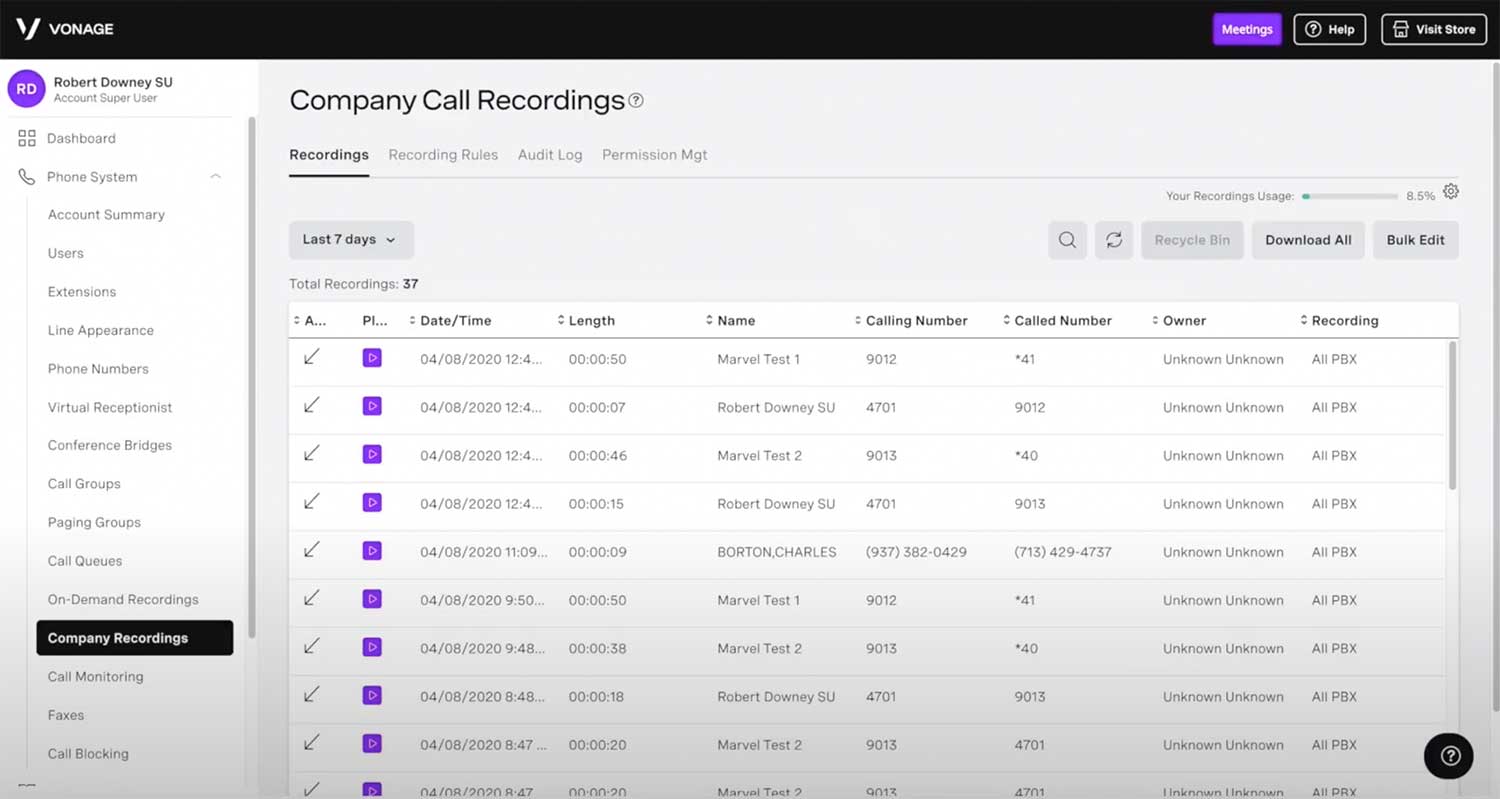 Admins can set company-wide recording rules or allow users to manage their own recordings. These recordings are transcribed so that users can easily search for keywords, or they can be shared via email or in the team chat.
Recordings can be password-protected or users may pause and restart the recording at different points during a conversation for privacy.
Business Phone Analytics
Business phones provide real-time and historical employee and client data and analytics. In most cases, these analytics are available via pre-made report templates or completely customizable reports that allow users to select KPIs.
Users can specify a specific date range, individual agent, department, call direction, and more. These reports can be automatically sent out over set intervals to allow users to keep a close eye on changing trends.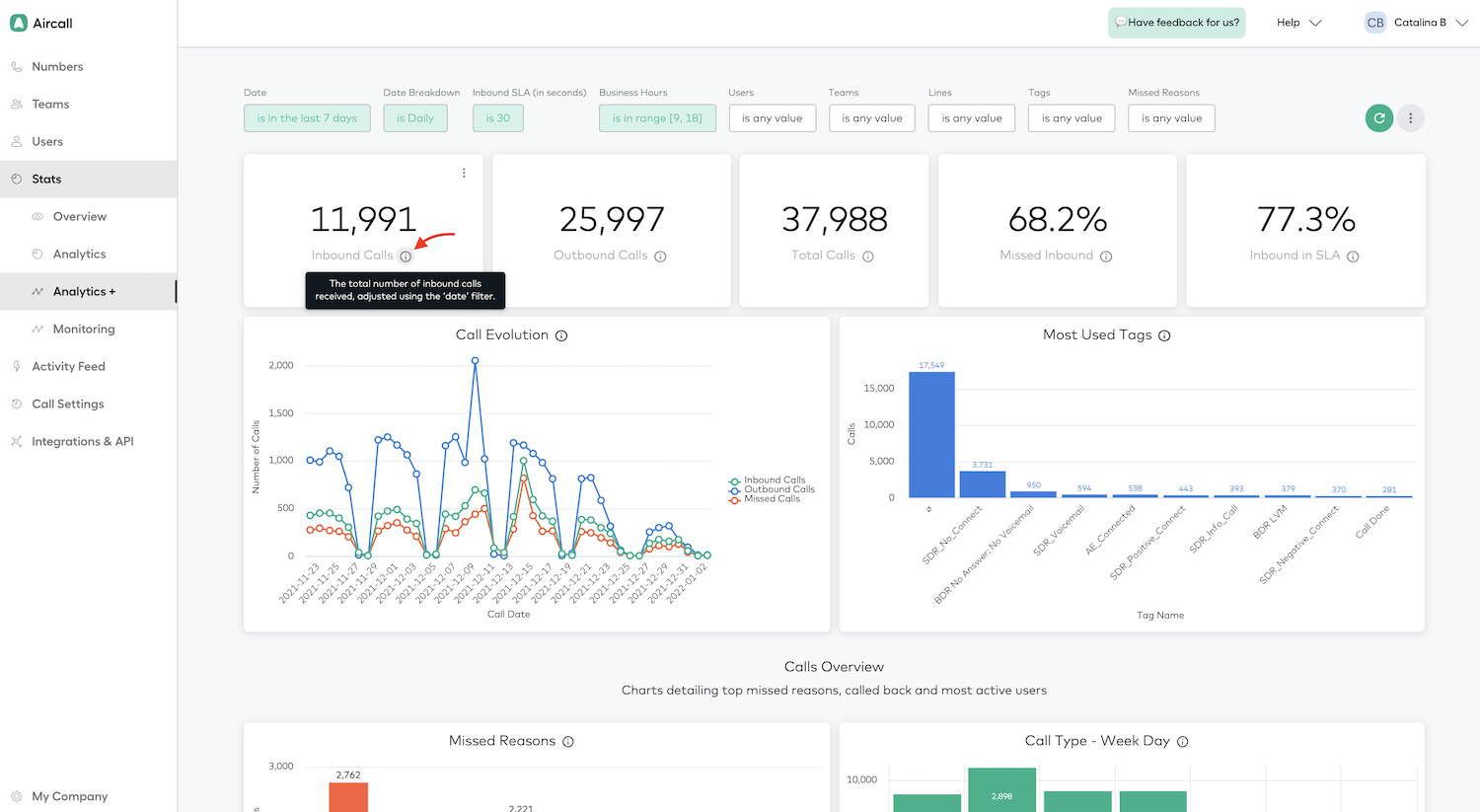 Popular analytics include:
Average call duration
Number of inbound and outbound phone calls made (Daily Call Volume)
Caller location
Time of call
Speech analytics
Common issues/reasons for support requests
Conversion rate
Customer satisfaction
Third-Party Integrations
Even with all the above features, team members may still need additional functionality that the virtual phone system provider doesn't offer. Or, they may simply prefer to use other tools that they're more comfortable with.
Third-party integrations allow team members to integrate other business communication software and CRM systems into their virtual phone system.
For example, you could integrate popular workflow management tools like Asana, Slack, or Monday.com into your business phone system. You could also integrate tools like Microsoft Office or Google Calendar to schedule upcoming video meetings or conference calls.
Benefits and Drawbacks of Virtual Phone Systems
There are numerous benefits that a virtual phone system offers over a traditional telephone.
First, virtual phone systems are highly scalable, meaning that companies can start with basic VoIP phone service and gradually add on new features or additional users on an as-needed basis.
This means the phone system is not only customized to the specific needs of a business – and can grow with it – but also that users will avoid paying for features they don't need.
Additionally, users can add multiple communication channels, such as video calling, online faxing, or SMS text messaging, to their virtual calling platform – an impossibility with Plain Old Telephone Service (POTS.) Customers and coworkers will be able to connect on the channel they prefer, and all conversations are automatically synced across channels and devices to avoid missing important information.
Below, we've compiled a list of some more of the most common virtual phone system benefits and drawbacks to consider based on user experience.
Virtual Phone System Benefits
Lower Cost: The majority of users save anywhere from 50-75% on communication costs when switching to a virtual phone system
Ease of Setup: There's no need to purchase additional hardware, and setup can often be completed in about half an hour
Improved Call Quality: HD audio offers crystal-clear conversation, while call transcription services can further prevent miscommunications
Customized Call Forwarding Paths: In addition to determining the specific device order, users can set business hours, recorded messages, and adjust them at any time based on their schedules and preferences
Greater Employee Flexibility: Employees can make/receive calls from anywhere, leading to fewer missed calls and a higher level of employee satisfaction. This also allows for a more connected remote workforce
More Features Than Traditional Business Phones: For example, an IVR auto-attendant allows for a higher level of customer self-service, freeing up agents to take more pressing calls
Virtual Phone System Drawbacks
Relies on WiFi Availability and Connectivity: You'll likely need to upgrade your bandwidth when switching to a virtual phone system, and if your Internet goes out, you won't be able to make/receive calls
Potential VoIP Security Vulnerabilities: DDoS attacks, spam over IP, data packet loss, and overall network security issues can happen when calling over the Internet
Lengthy Vendor Contracts: Though most contracts do offer an SLA with guaranteed uptime, you'll likely need to commit to 1-2 years with a provider — and pay fees if you wish to end the contract early
Occasional Dropped Calls: VoIP telephony results in occasional dropped calls, which can interfere with business operations and frustrate clients. Read provider reviews to ensure that dropped calls aren't a common complaint
Occasional Call Lags: Because calls are made over the Internet, network issues can create lags or cause service to go in and out
Some Features Are Add-Ons: Make sure to review which features are included in standard plans, and which ones require you to pay an additional, separate monthly fee
How to Know if You Need a Virtual Phone System
It's time to consider making the move to a virtual phone system if:
Your business has a high number of remote employees, or if your team members are frequently away from their desks on business or sales trips, in client meetings, or on service calls.
You use multiple business communication tools and are tired of constantly having to switch from one platform to another while on calls. Virtual phone systems offer a high level of integration with third-party software like CRM tools, so you can see all the essential information within a singular dashboard.
Your daily call volume has exceeded your current number of available agents or has grown exponentially within the past few months. A good sign that you've exceeded capacity is an increase in missed business calls or voicemail messages.
An increase in business or number of employees has caused your telecommunications costs to skyrocket
You've recently opened a new location, or are interested in expanding your business to multiple locations. A virtual phone system makes it much easier for team members working across several locations — and remote employees — to connect with each other. It also reduces customer support resolution time, since clients can reach a representative faster.
Best Virtual Phone System Providers to Consider
The table below covers some of the best virtual phone systems available on the market, comparing their pricing and key features.
| | | | | | | | | |
| --- | --- | --- | --- | --- | --- | --- | --- | --- |
| Provider | Best For | Pricing | Unlimited US and Canada Calling | Visual Voicemail | Video Conferencing | Call Recording | Team Collaboration Tools | SMS Texting |
| Nextiva | Medium Sized businesses with a high daily call volume and team members across multiple locations | $19.95-$27.95/user per month | Unlimited calling, with a free toll-free or local phone number | Voicemail-to-Email, Voicemail Transcription, Voicemail to SMS | Unlimited HD video conferencing for up to 250 participants | Call recording and video conference recording only available on the two most expensive plans | Team chat, voting, task management, team calendar, screen sharing, file sharing | Unlimited |
| RingCentral | Mostly remote teams of 100 employees are under that primarily communicate via telephone | $19.99-$49.99/user per month | Unlimited calling, cheapest plan hosts only 10 maximum users, more expensive plans host unlimited users | Voicemail-to-Email, Voicemail Transcription, Stores up to 200 combined voicemail messages for 30 days | Up to 24-hour meeting length for up to 200 participants | On-demand and automatic with unlimited storage | Team chat messaging, screen sharing, task management, live file sharing and collaboration | Unlimited SMS and MMS of up to 1,000 characters each (international texting included) |
| GoToConnect | Small to midsize companies that need a phone system offering superior video communications | $22.00-$29.00/user per month | Unlimited calling, plus unlimited calling to 50+ countries on the Standard plan | Voicemail-to-Email, Voicemail Transcription | Unlimited meeting lengths for up to 150 participants | Automatic and on-demand, access cloud recording storage from anywhere | Team chat, more extensive features available via GoToMeeting | Available in the US and Canada only, the feature must be enabled first |
| Dialpad | Newer companies or startups that prioritize low-cost virtual telephony options. | $15.00-$25.00/user per month | Unlimited calling, 1 local number included | Voicemail Transcription, custom voicemail greeting, Voicemail-to-Email | Up to 100 meeting participants for up to 5 hours | Automatic and on-demand audio and video recording | Team chat, screen sharing, automatic post-meeting notes | Unlimited SMS and MMS (domestic only) International SMS available on a paid plan |
| 8×8 | Businesses that want to build a completely customizable business phone system via APIs | $12.00-$44.00/user per month | Unlimited calling, SMS, and online faxing | Voicemail-to-Email, return calls directly from a voicemail message, voicemail transcription, forward voicemails to another extension | Unlimited length for up to 100 participants | Automatic and on-demand for audio and video calls | Team chat, file sharing, screen sharing, whiteboard, virtual hand-raising | Unlimited |
| Grasshopper | Small teams or sole proprietorships looking for a basic business phone system without a need for additional communication channels like video | $26.00-$80.00/user per month | Unlimited, up to 3 extensions for cheapest plan, unlimited extensions for most expensive plan | Voicemail Transcription, Voicemail-to-Email, Instant SMS response to voicemail | Not offered | Not offered | Requires third-party integrations | Unlimited |
| Phone.com | Startups and small businesses looking for a budget-friendly solution with paid add-ons | $12.99-$29.99/user per month | 300 pooled minutes for cheapest plan, unlimited for additional plans | Voicemail-to-Email, Voicemail Transcription | Unlimited length for pp to 100 participants | Call and Video Recording on most expensive plan only | Whiteboard, team chat, document sharing | 1000 pooled messages for the cheapest plan, unlimited SMS texts for additional plans |
Virtual Phone Systems FAQs
Below, we've answered the top virtual phone system FAQs.