RingCentral is considered one of the best options out there when it comes to business phone systems. Users like their feature-rich service and the ability to access their phones across a variety of devices.
But they're not for everyone. Whether it's pricing, customer service, or something else that you don't like, we've put together a comprehensive list of the best RingCentral alternatives.
Why RingCentral?
RingCentral helps companies stay connected to their business and their customers, no matter where they are. Some prime benefits of RingCentral are:
Their unified cloud communication solution makes it possible to manage calls, text messages, and collaborate with colleagues
Their features are usable from any device, including smartphones, computers, and tablets
Their simul-ring feature offers call management, routing to the next available person if the main phone line is busy
Auto-attendants and IVR offer call routing to keep callers from being sent to voicemail
These are great, but where does the service falter? Here are a few sticking points:
RingCentral is more expensive than some of its alternatives
Some RingCentral reviewers complain about the support they receive from RingCentral, and problems can take days to resolve
RingCentral can be difficult to set up, especially for users that are not familiar with VoIP technology
That said, RingCentral might not fit everyone. The alternatives listed below offer a wide range of features, affordable pricing, and reliable service.
Best RingCentral Alternatives and Competitors
Based on our research, here are the top RingCentral alternatives:
Since 2006 Nextiva has helped over 150,000 businesses by providing best-in-class VoIP services. Nextiva works with companies ranging from small businesses to international airlines. While RingCentral is one of the top Nextiva alternatives, Nextiva is a service that's continually building on their offerings to compete as a RingCentral alternative.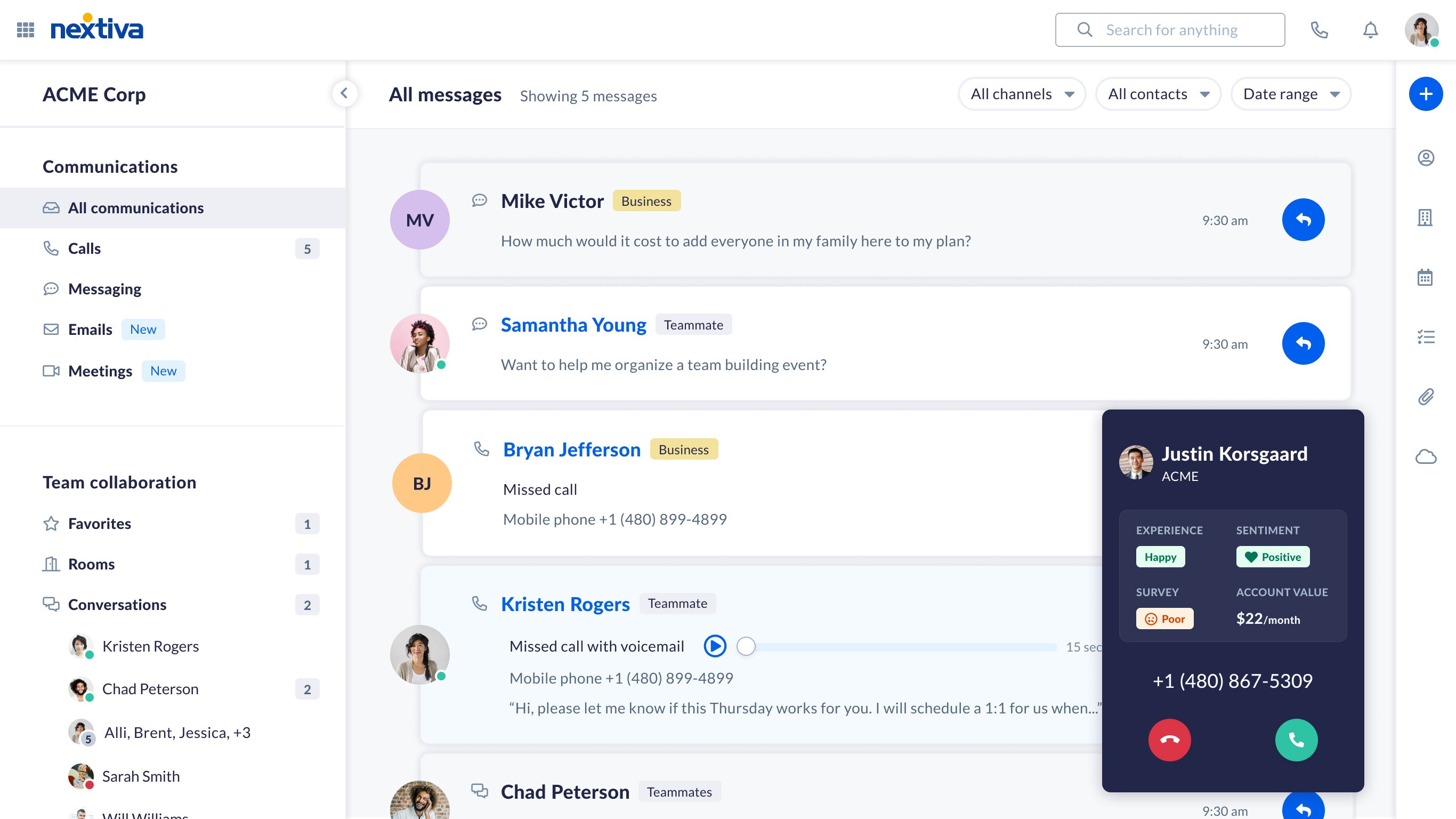 Nextiva offers customers features like hosted voice calling, voicemail transcription, video conferencing, toll-free numbers, texting, and even online faxing. The company also has an unlimited calling and virtual fax for those that need it. While RingCentral is an excellent choice for conferences, Nextiva has a robust conference bridge that will allow up to nine people to attend.
Nextiva Pricing
Essential
Professional
Enterprise
From $18.95
/user/mo
From
$22.95
/user/mo
From
$32.95
/user/mo
Unlimited voice & video calling
Everything in Essential, Plus
Everything in Professional, Plus
Voicemail
Unlimited conference calls, 40 participants
Unlimited participants on voice & video conferencing
Toll-free numbers
Unlimited video conferencing, up to 250 participants
Call recording
Outlook/Google Contacts Integrations
Screensharing
Unlimited video conference recording
Unlimited internet fax
Auto attendant (multi-level)
Voicemail transcription
Mobile and Desktop SMS/MMS
Microsoft Teams/Custom Integrations
Salesforce/HubSpot Integrations
Single Sign On

1 Professionally Recorded Greeting

3 Professionally Recorded Greetings
[Source: Nextiva Pricing & Plans, updated on 05/03/2023]
Nextiva Pros & Cons
| | |
| --- | --- |
| Pros | Cons |
| Nextiva users report a level of service that they've never experienced before. | While their support is excellent, some users wish it was easier to deal with problems themselves. |
| Calls are clear, with no static or background noise. | Business voicemail can be difficult to access when not in the office. |
| With the Nextiva Office Pro plan, the company offers unlimited domestic calling. | The online manuals are sometimes outdated. |
Originally, called Min-X when it was launched in 2001, Vonage is one of the business VoIP providers that are widely recognizable, even outside the industry. Vonage Cloud is their business solution that's designed to use cloud-based technology to continually update a business's communication ability as it grows.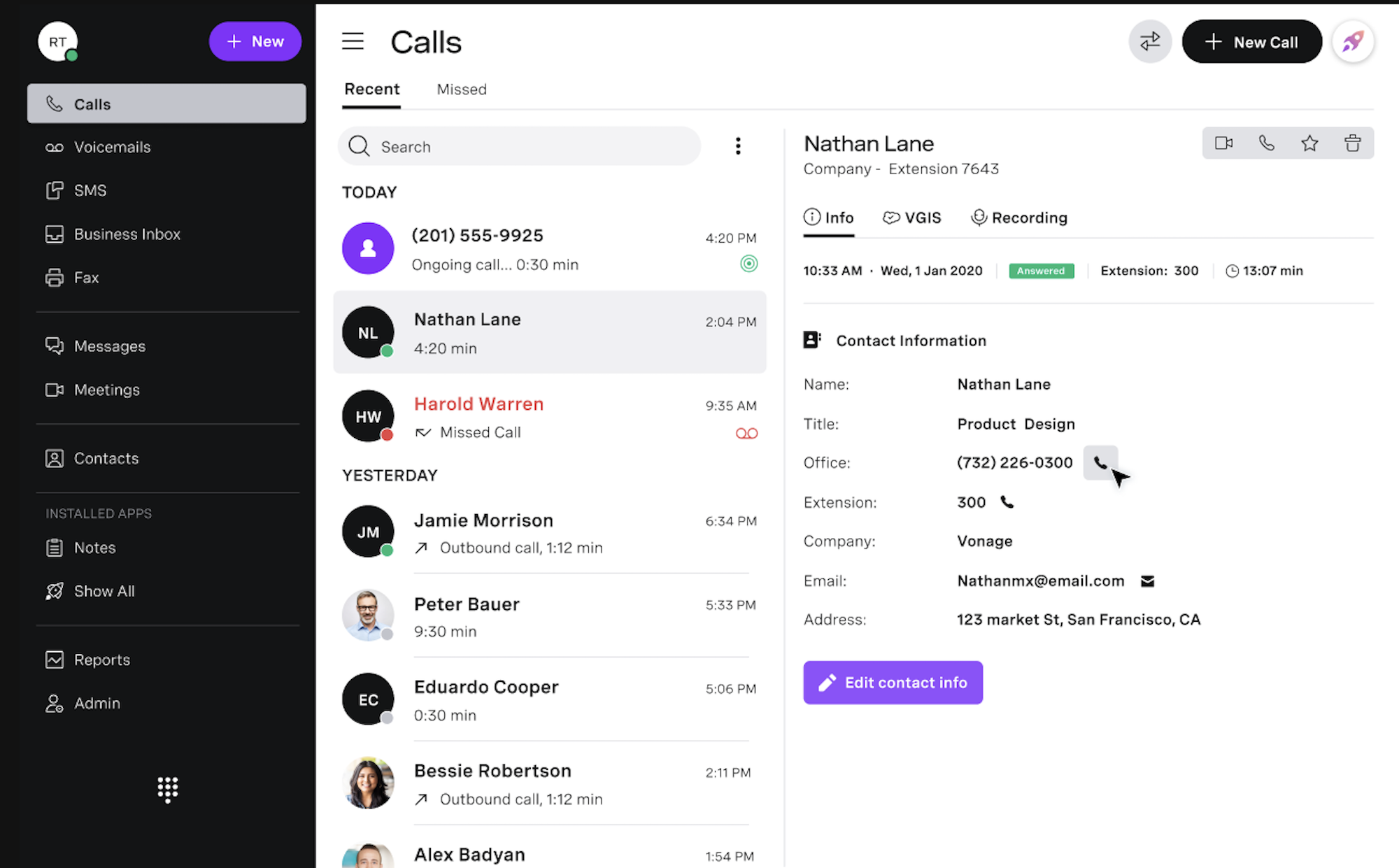 With Vonage Business you can make phone calls, text, and set up video conferences from any device you want. Their desktop and mobile VoIP apps help link all the services together, so you can be there for your business, regardless of whether or not you're in the building. The software uses Amazon Chime Pro Tier, which provides security in intra-company communications as well as providing features like screen share and chats.
Vonage Pricing
Mobile
Premium
Advanced
$19.99

per month/per line
plus taxes & fees

$29.99

per month/per line
plus taxes & fees

$39.99

per month/per line
plus taxes & fees

Features:
All Mobile Plan features PLUS:
All Premium Plan features PLUS:
Mobile and desktop apps
Unlimited meetings for up to 100
Call Recording: on-demand (15 hours)
Unlimited Calls and SMS
Multi-level auto attendant
Call Group
Vonage App Center
CRM Integration
Visual Voicemail
Unlimited Team Messaging
IP desk phone capability
[Source: Vonage UC Plans & Pricing, updated on 05/03/2023]
Vonage Pros & Cons
| | |
| --- | --- |
| Pros | Cons |
| Customers often worry about the quality of phone calls with business VoIP services, but call quality with Vonage Business is excellent. | Vonage Transcription can sometimes be inaccurate. |
| Their follow-me feature allows you to easily route desk phone or call center calls to your cell phone or another device. | Features like call recording aren't available in the standard plan. |
| Vonage Business has mobile and desktop applications that will allow teams to coordinate from anywhere. | |
Bringing 25 years of experience to the table, 8×8 makes it a good alternative to RingCentral, offering users multiple solutions to best suit their needs. With its new free video conferencing software, they are set to have an even larger install base.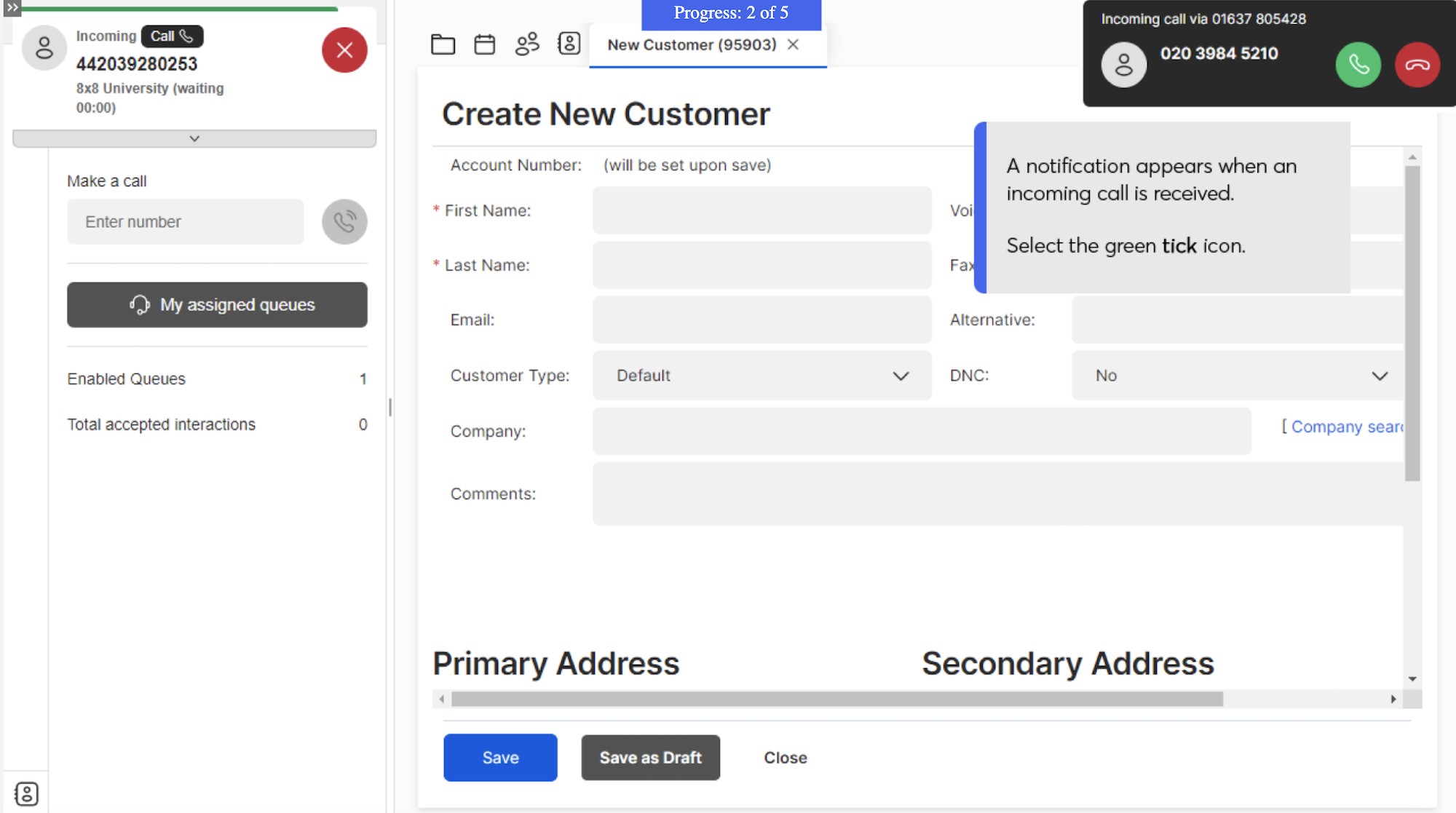 8×8 provides standard offerings like hosted voice calls, voicemail, video conferencing, and text messaging, making them one of the top RingCentral alternatives. They serve small- to medium-sized businesses as well as enterprise-level customers. The company also provides actionable call analytics for your team.
8×8 Pricing
| | |
| --- | --- |
| X2 | X4 |
| $24 /user/month, annually | $44 /user/month, annually |
| Unlimited users | Everything in X2, plus: |
| Unlimited voice calling to 14 countries | Unlimited voice calling to 48 countries |
| HD video & audio conferencing for up to 500 active participants | 8×8 Frontdesk for receptionists and operators |
| SMS, MMS and team chat | Supervisor analytics |
| Microsoft Teams integration and more | Monitor, whisper and barge |
You can all check for a more extensive list of features in a plan on their product page.
[Source: 8×8 Business Phone Pricing, updated on 05/03/2023]
8×8 Pros & Cons
| | |
| --- | --- |
| Pros | Cons |
| 8×8 has built-in CRM integration for a variety of different platforms, including GSuite, Hubspot, Salesforce, and more. | 8×8 users report that support services could be better with 8×8, and technical issues tend to take a long time to get resolved. |
| The real-time analytics and built-in reporting give users the ability to track results with a high level of accuracy. | The setup process can be lengthy and complicated. |
| Their VoIP solution is known for its ability to produce HD levels of audio. | |
GoTo Connect was previously known as Jive Communications, which is now a part of the LogMeIn family. Jive was founded in 2006, but in 2019 LogMeIn made the decision to merge the product with its GoTo products to create GoTo Connect. This new offering pairs together Jive's hosted PBX service with GoToMeeting's video meeting capabilities.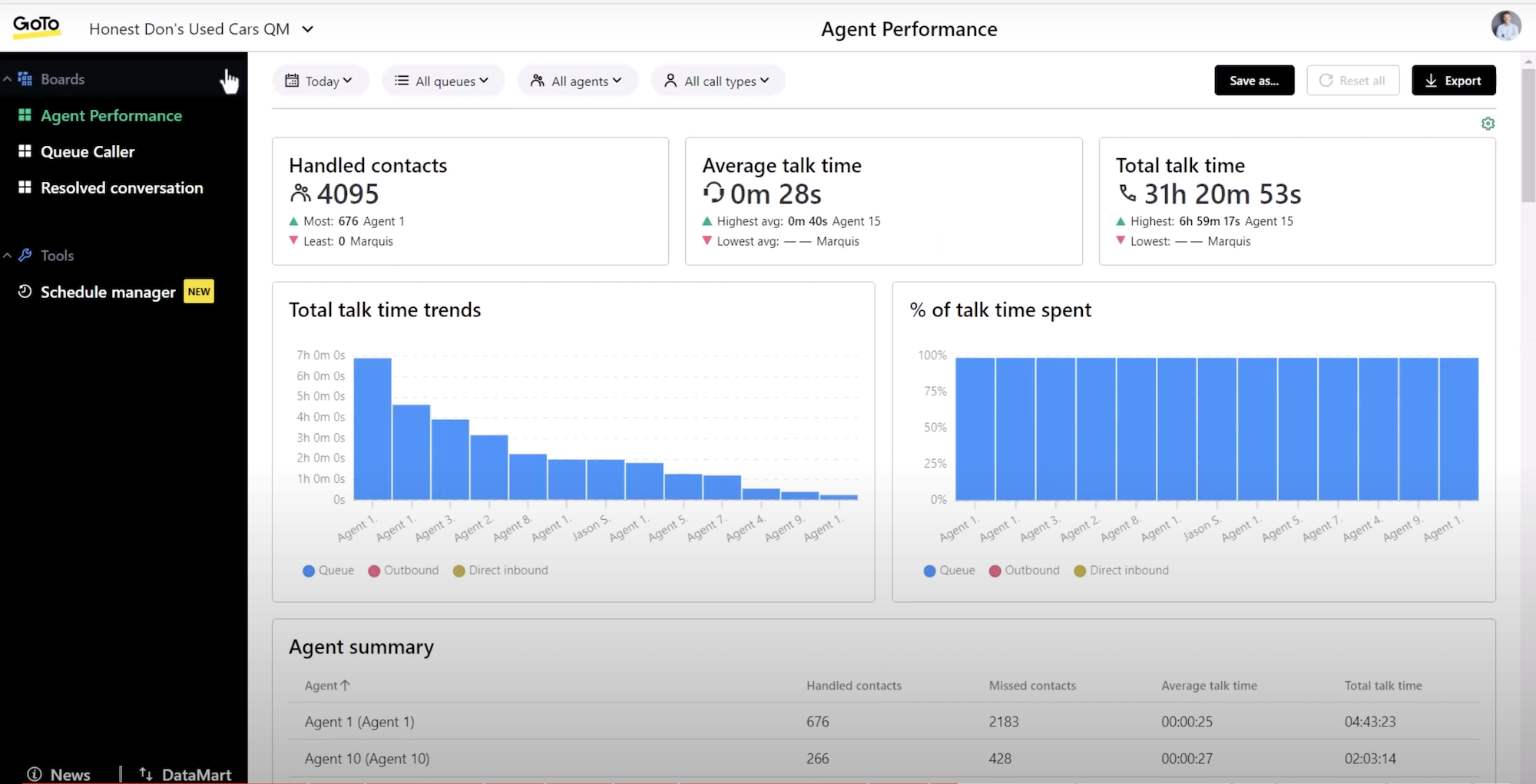 GoTo Connect provides customers with a full suite of tools to help grow your business. This includes auto attendants, mobile apps, call forwarding, virtual voicemail, ring groups, and more. The company boasts savings of up to 87% when moving from a traditional phone service to their system.
GoTo Connect Pricing
| | | |
| --- | --- | --- |
| | Basic | Standard |
| | Starting at $27.00 /user /month |  Starting at $32.00 /user /month |
| Flexible Cloud Phone System | | |
| Call from Any Device, Anywhere | ✓ | ✓ |
| Existing Number Porting | ✓ | ✓ |
| Local, Toll-Free & Vanity Numbers | ✓ | ✓ |
| Smart Call Routing | ✓ | ✓ |
| Unlimited Extensions | ✓ | ✓ |
| Call Forwarding | ✓ | ✓ |
| Auto Attendant Recorded Greetings | 1 | Unlimited |
| Customizable Dial Plans | 1 | Unlimited |
| Ring Groups | 1 | Unlimited |
| Call Queues | 1 | Unlimited |
| Multi-Site Compatible | | Unlimited |
| Hot Desking | | ✓ |
| E-Fax | | ✓ |
| International Calling | Charged per minute (all countries) | 50+ countries included free (additional countries charged per minute) |
| Voicemail to Email | | ✓ |
| Seamless Call Management | | ✓ |
| Paging | | ✓ |
| Intercom | | ✓ |
| Call Recording | | ✓ |
| Caller Hold Time Report | | ✓ |
| Real-Time Analytics | | ✓ |
| Toll-Free Minutes | $.03 /minute | 1,000 free minutes shared across account ($.019/additional minute) |
| Built-In Meetings & Messaging | | |
| Team Messaging | ✓ | ✓ |
| Audio Conferencing | ✓ | ✓ |
| Meeting Duration | 40 mins | Unlimited |
| Meeting Participants | 4 | 150 |
| Simultaneous Webcams | 4 | 50 |
| SMS | 40 credits | 80 credits |
[Source: GoTo Connect Pricing – updated on 05/03/2023]
GoTo Connect Pros & Cons
| | |
| --- | --- |
| Pros | Cons |
| Solid support team | UI and navigation has room for improvement |
| Affordable product | Difficult to set up without support's assistance |
| Easy to make changes to your existing plan | Occasional service outages |
Dialpad brings a wide range of tools to the table on a platform that was built on the Google Cloud Platform. Dialpad started as Uberconference, which is included in Dialpad offerings. The company is cloud-based, and they also offer AI and contact center solutions. Dialpad Talk is their business phone service, and this software has built a reputation for clarity and call quality.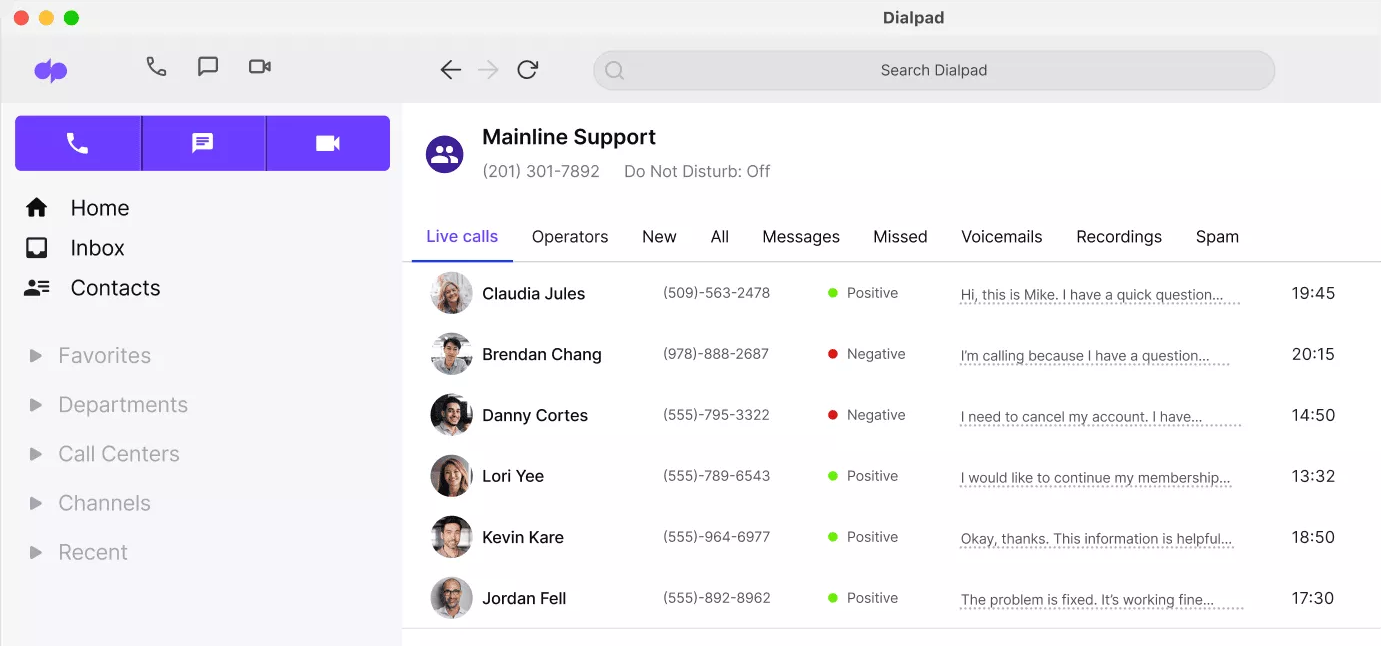 Dialpad now provides business owners with voice calling, video conferencing, desk-to-desk calling, and more. They also have several integrations with tools like GSuite and Office365. Dialpad is known for the saying, "Work is a thing you do, not a place you go," and their design supports this. Users can utilize all of the Dialpad features from virtually any device or in any location.
Dialpad Pricing
Standard
Pro
Enterprise
$15
/user/mo


$23 USD if billed monthly

$25
/user/mo


$35 USD if billed monthly

You'll need to contact them for pricing
Unlimited calling
All the value of the Standard plan, plus:
All the value of the Pro plan, plus:
SMS & MMS
Local number support in 70+ countries
100% uptime
Ai-powered call and voicemail transcriptions
Multiple phone numbers per account
Unlimited office locations
Google Workspace & Microsoft 365 integrations
25 ring groups (departments)
Unlimited ring groups (departments)
Unlimited video meetings
10 office locations
Dial-by-extension
Web and chat support
Global SMS capabilities
Integrations with leading SSO providers (Okta, OneLogin)
CRM integrations (Salesforce, Zendesk, HubSpot, Zoho & more)
Azure AD SSO integration
Open APIs & Webhooks
Data retention policies
24/7 live agent support
Priority live agent support
[Source: Dialpad Pricing, updated on 05/03/2023]
Dialpad Pros & Cons
| | |
| --- | --- |
| Pros | Cons |
| Dialpad works seamlessly across all devices, which grants users the ability to work from anywhere. | Some Dialpad users complain about call quality issues. |
| There's an AI transcription service that will transcribe calls for optimized record keeping and analytics. | Phone support is minimal for the lower-priced plans. |
| This is a solution that is easy to deploy quickly across an organization. | |
Mitel is a Canadian company that has been offering its services for over 40 years and began as a lawnmower company. Over time, the company shifted focus towards communications, and today, it's entire focus is VoIP for businesses.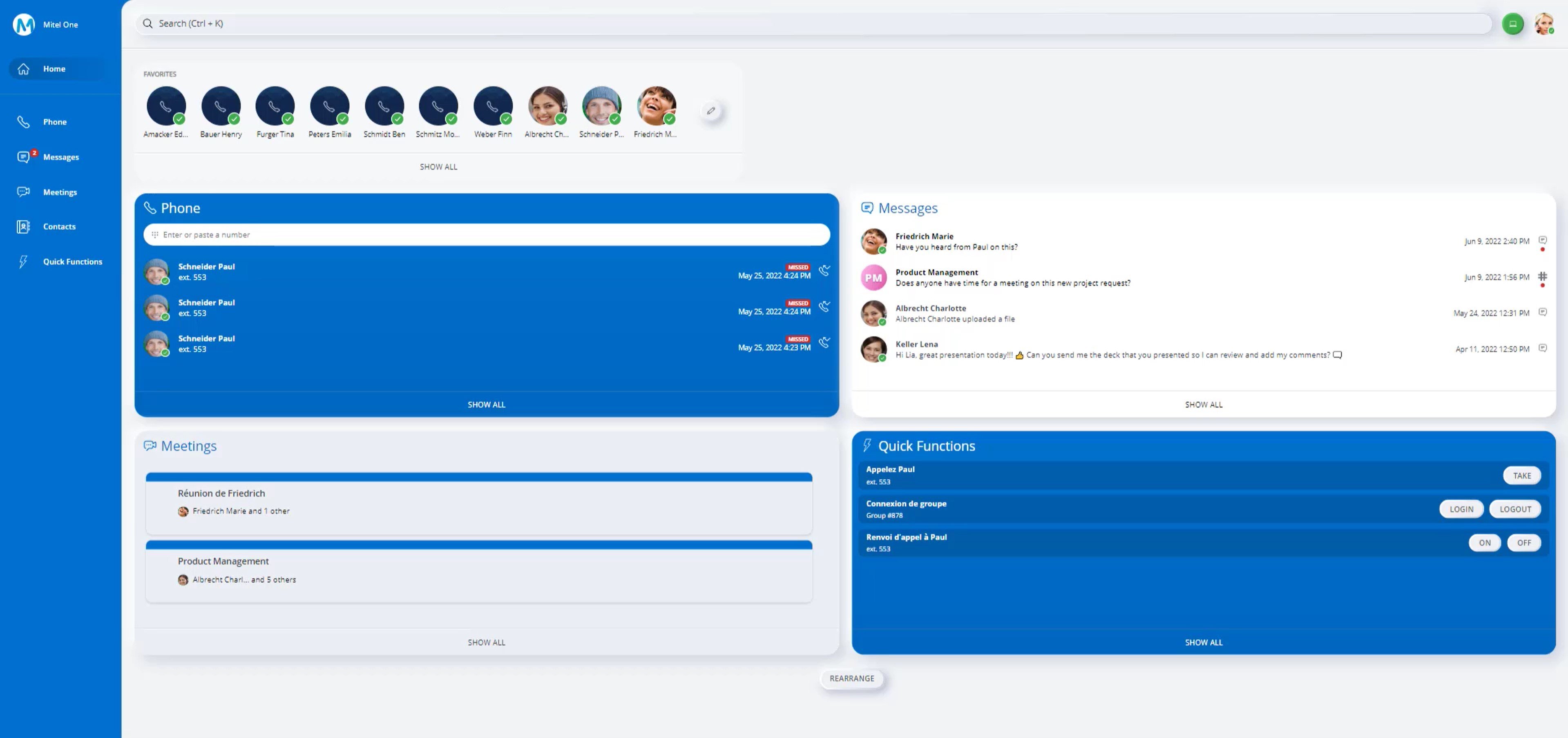 Mitel brings experience to the table and offers companies the ability to make voice calls, video conferencing, texting, and more. Their solution is device-agnostic, and the company even provides a mobile-first collaboration tool that works for both Android and iOS. Through this tool, users can start a conference with just one click.
Mitel Pricing
Mitel doesn't openly advertise their pricing. Instead, they suggest this formula:
# of users X monthly cost per user X 12 = Annual cost of the system
Here's how you would estimate the cost of a system that lets you mix and match license types:
# of tier 1 users X monthly cost per tier 1 user X 12 = A
# of tier 2 users X monthly cost per tier 2 user X 12 = B
# of tier 3 users X monthly cost per tier 3 user X 12 = C
A + B + C = Annual cost of the system
[Source: Mitel website, updated on 05/03/2023]
Mitel Pros & Cons
| | |
| --- | --- |
| Pros | Cons |
| Everything from setting the system up to on-going maintenance is done much easier than competitors like RingCentral. | Mitel user reviews report spending too much time on the phone. And having support tickets stack up as a result of the delays in getting things sorted out. |
| The core offering is excellent and is scalable for companies that are growing. | Some users report that Mitel support could improve. |
| There is Siri integration on iOS devices. | |
Intermedia's Unite product has been a VoIP favorite for several years. They've been recognized as one of PCMag's Editors' Choice winners since 2017. Competitive RingCentral alternatives must aim at enterprise solutions like Intermedia does through their tiered services that attract clients of all sizes.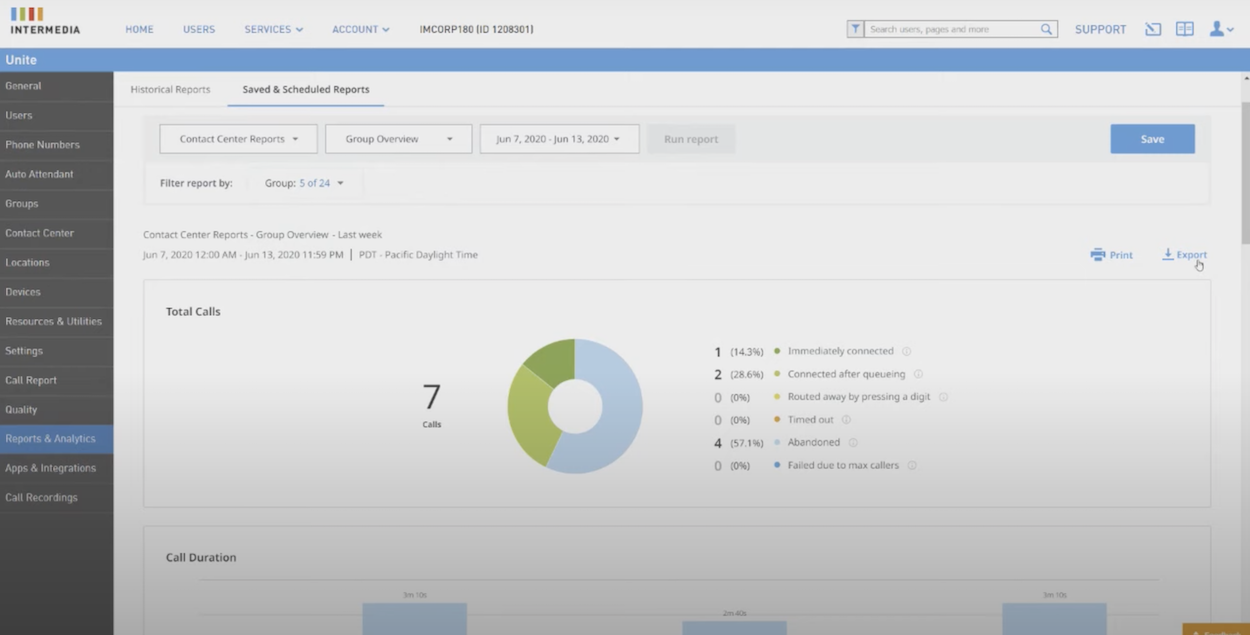 Intermedia is built for businesses that don't want a complicated setup process or a solution that's hard to manage on a day-to-day basis. The solution has apps for both desktop and mobile use, and file sharing is easy through either platform type. Intermedia is a service provider with no annual contracts, which can be an easier setup for smaller businesses.
Intermedia Pricing
Unite Pro
Unite Enterprise
$27.99
$32.99
Mix and match
✓
✓
Free Phone or Device
Each Unite user can choose one of the following options
– Poly VVX 150
– Yealink T33G
– Yealink WH62 Mono Headset
– Poly VVX 150
– Yealink T33G
– Yealink WH62 Mono Headset
Number of concurrent endpoints
5
5
Mobile apps
✓
✓
Desktop app
✓
✓
Unlimited calling
✓
✓
Auto Attendant
✓
✓
Call Pickup
✓
✓
Caller ID
✓
✓
Call transfer, Call Hold, 3-way calling, Music on hold
✓
✓
Paging
✓
✓
Call park/Pickup
✓
✓
Intercom
✓
✓
SPAM Call blocking/tagging
✓
✓
911 admin notification
✓
✓
Voicemail
✓
✓
Voicemail transcription
✓
✓
Call recording
✓
✓
Receptionist mode
✓
✓
Web fax
✓
✓

Collaboration

Presence detection
✓
✓
Team messaging
✓
✓
Business SMS
✓
✓
File backup, sync and share
50 GB
200 GB
Exchange Mailbox
✓

Video Meetings and Conferencing

HD video conferencing
100 Participants
200 Participants
HD audio conferencing
200 Participants
200 Participants
Screen sharing
100 Participants
200 Participants
Max videos on screen
100
100
Meeting transcription
✓
✓
Unlimited recordings
✓
✓
Screen annotation
✓
✓
Transcriptions & meeting insights
✓
✓
Remote control
✓
✓

Unite Envision Analytics

QoS Dashboard
✓
✓
Call History
✓
✓
Supervisor Analytics
✓
✓
Wallboards
✓
✓
Detailed contact center analytics
✓
✓

Unite Extend Integrations

Active Directory
✓
✓
Chrome (click to call), G Suite integration, Outlook integration, Slack (meeting integration), Outlook/ Office 365 (meetings integration), Generic CRM screen pop
✓
✓
Sugar CRM, Zoho CRM, Zendesk
✓
✓
Salesforce, Service Now, NetSuite, MS Dynamics
✓

Call and Contact Center

Agent Log in and Log out
✓
✓
Call Queuing, Configurable Wrap up time, Configurable agent removal from the queue, Greetings Management
✓
✓
Wall boards, Scheduled Reports, Graphical Reports, Real time Status
✓
✓
Supervisor functions (Monitor, whisper, barge)
✓
[Source: Intermdia Pricing page, updated on 05/03/2023]
Intermedia Pros & Cons
| | |
| --- | --- |
| Pros | Cons |
| Intermedia promises 99.999% uptime and underscore that aspect with a service-level agreement that's backed financially. | Feature rollout is notoriously slow. They are often working on upgrading their legacy users and prioritize them over new users. |
| Intermedia offers an interface to check out your support tickets and access live chat when you need it. | A few notable features will cost users additional monthly fees. |
| Customer support is open 24/7. | |
Grasshopper is one of the most well-known business phone services for small businesses and individuals. If you're looking to run an office from home, it's the perfect solution for projecting professionalism. They offer a fast and easy set up at multiple tiers to cover your business as it scales up.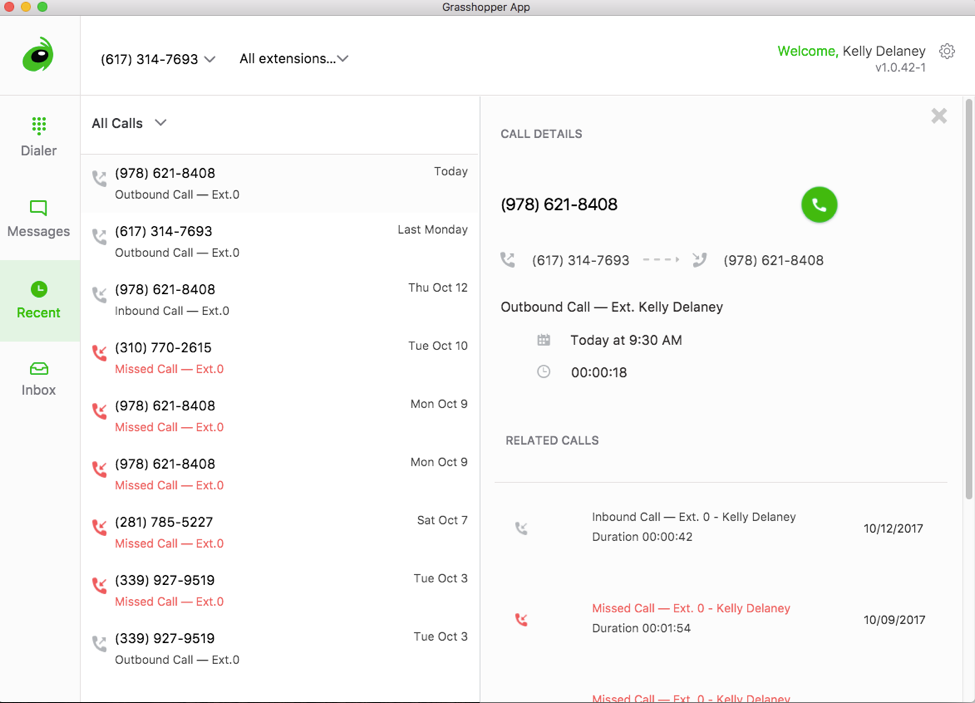 Grasshopper makes it easy to have two phone numbers on a single phone so that clients can reach users without the need to have their personal local number. They also have a robust set of desktop and mobile apps that grant access to business texting, call forwarding, and virtual fax. They even provides voicemail transcription, better than most Grasshopper alternatives.
Grasshopper Pricing
| | | |
| --- | --- | --- |
| Solo | Partner | Small Business |
| $28/mo billed annually | $46/mo billed annually | $80/mo billed annually |
| 1 Phone Number | 3 Phone Numbers* | 5 Phone Numbers* |
| 3 Extensions | 6 Extensions |  Unlimited Extensions |
All Grasshopper plans include:
Mobile + Desktop Apps
Business Phone Number*
Business Texting
Call Forwarding
VoIP + WiFi Calling
Virtual Fax
Voicemail
Read Your Voicemail
Extensions
Instant Response
Custom Greetings
Call Transfers
Simultaneous Call Handling
Incoming Call Control
Reporting
*Additional phone numbers can be added, post-purchase, for $10/mo each.
[Source: Grasshopper Pricing page, updated on 05/03/2023]
Grasshopper Pros & Cons
| | |
| --- | --- |
| Pros | Cons |
| Grasshopper has a great voicemail system to collect messages from callers. | Some users complain of high latency with their service. This leads to a delay when you're talking to users on the system. |
| Faxing is fast and straightforward with Grasshopper with inbound and outbound faxes from the same business number. | The support staff is adequate, but they don't follow up with a call or email. |
| The voicemail transcription feature is convenient for record keeping and analytics. | Number porting takes seven to 10 business days. |
Ooma creates an innovative communications experience for businesses. Their communications hub, Ooma Office, provides users with cloud-based telephony services. The platform offers more than 35 distinct features to ensure customers save money and never miss a call.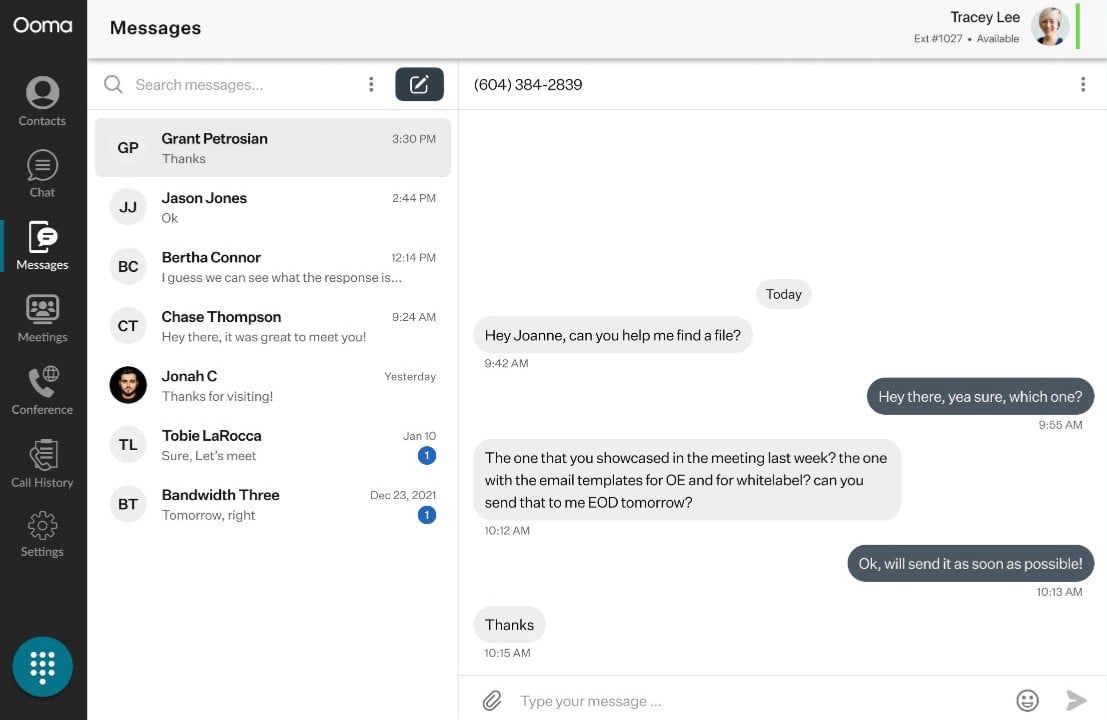 Ooma Office offers features curated specifically for small businesses. This includes high-definition voice and advanced features such as enhanced call blocking and call recording. The platform also offers integrations with mobile devices so you can take your calls on the go.
Ooma Pricing
Price
Billing Frequency
Ooma Office Essentials

Includes a user extension, a local phone number, and unlimited calling to the US, Canada, Mexico, and Puerto Rico

$19.95
Monthly
Ooma Office Pro

Includes all standard Ooma Office features, plus Ooma Meetings, Call Recording, enhanced call blocking, Voicemail Transcriptions, and more

$24.95
Monthly
Ooma Office Pro Plus

Includes all standard Ooma Office and Ooma Office Pro features, plus Hotdesking, Call Queues, CRM integration, and more

$29.95
Monthly
Capacity
User extension

Includes Virtual Fax and a local phone number

$19.95 Base
$24.95 Pro
Monthly
Local phone number
$9.95
Monthly
Toll free phone number

Includes 500 minutes, 3.4¢ per additional minute

$9.95
Monthly
Conference bridge

Includes phone number

Free
N/A
Ring groups
Free
N/A
Virtual receptionist
Free
N/A
Services
Number porting
Free*
N/A
Toll-free calling plan

Includes 1,500 minutes, 2.9¢ per additional minute

$15.00
Monthly
Toll-free calling plan

Includes 3,000 minutes, 2.4¢ per additional minute

$30.00
Monthly
International calling
Varies by use
Deducted from prepaid account after each call
Hardware
Grandstream HT812 ATA
$69.99
One-time
Grandstream HT814 ATA
$119.99
One-time
Expansion Base Station
$99.99
One-time
Ooma Linx
$49.99
One-time
Ooma IP phones
Starting at $59.99
One-time
Ooma DP1 desk phone
$89.99
One-time
Yealink IP phones
Starting at $99.99
One-time
Yealink Conference IP phone
$399.99
One-time
[Source: Ooma's website, updated on 05/03/2023]
Ooma Pros & Cons
| | |
| --- | --- |
| Pros | Cons |
| Reasonably priced product | Room for improvement with Ooma-branded phones |
| Easy to set up | Occasional issues with call quality |
| Impressive call forwarding feature | Mobile app could be fleshed out more |
Which RingCentral Alternative Should You Choose?
To establish a baseline for your needs, ask the following question, "Which features are most important to me today?"
Once you've established your starting point, the next question should be, "What features are going to be important to me next year?"
You need to project out when investing in technology like VoIP to ensure you're not going through the whole process one, two, or even three years from now. Switching isn't always easy, or cheap, so finding a solution that allows you to grow, add users, and take advantage of increased functionality is essential.
The same holds for pricing. You'll want a solution that remains in your budget as you scale. There are fewer things less pleasant than discovering the next pricing tier for your cloud phone system is way out of your budget. This will force you to go through the selection process all over again, which no one wants.