Cloud-based call center software provider Aircall streamlines internal and customer-facing business operations with tools like call routing, click-to-dial, and power dialing. Additional Aircall features, like warm transfers and CRM-integrated Customer Insight Cards, improve the customer experience by better preparing agents for calls.
However, Aircall's lack of available communication channels and limited scalability mean many businesses opt for Aircall competitors.
In this article, we'll explore some of the top Aircall alternatives, their key features, pricing and plans, and integrations.
Why Aircall?
Aircall is affordable, easy to use, and an ideal business phone system for startups and small businesses that don't need advanced AI features or omni channel communication.
Top Aircall benefits include:
Integrations with over 100 business tools (Zendesk, Salesforce, Slack, HubSpot, etc.)
3-user minimum for most popular plans, 10-user minimum for custom plans
Unlimited access to call recording, plus pause-resume recording
Unlimited calling in the U.S. and Canada
Smartflows intelligent call routing and multi-level IVR
Bundled outbound international minutes available
Single Sign On (SSO)
Live phone customer support for all users
End to end data encryption
That said, there are some areas where Aircall falls short:
No guaranteed uptime SLA
Lack of video conferencing
No native team messaging
Lack of workforce management and engagement (WFM/WEM) tools
Includes power dialing but no predictive, preview, or progressive dialing
Native omnichannel options are limited (no live chat, social media messaging, etc.)
9 Best Aircall Alternatives
Below is a list of 9 of the best alternatives to Aircall:
1. Five9
Five9 is a leading provider of cloud contact center software that uses AI-powered tools, workforce optimization, and automations to offer companies a complete CCaaS solution. Service channels include voice, email, chat, SMS, or social messaging. With a 99.999% uptime SLA and advanced security features including HIPAA compliance, Five9 is a popular choice for organizations in the healthcare and financial industries.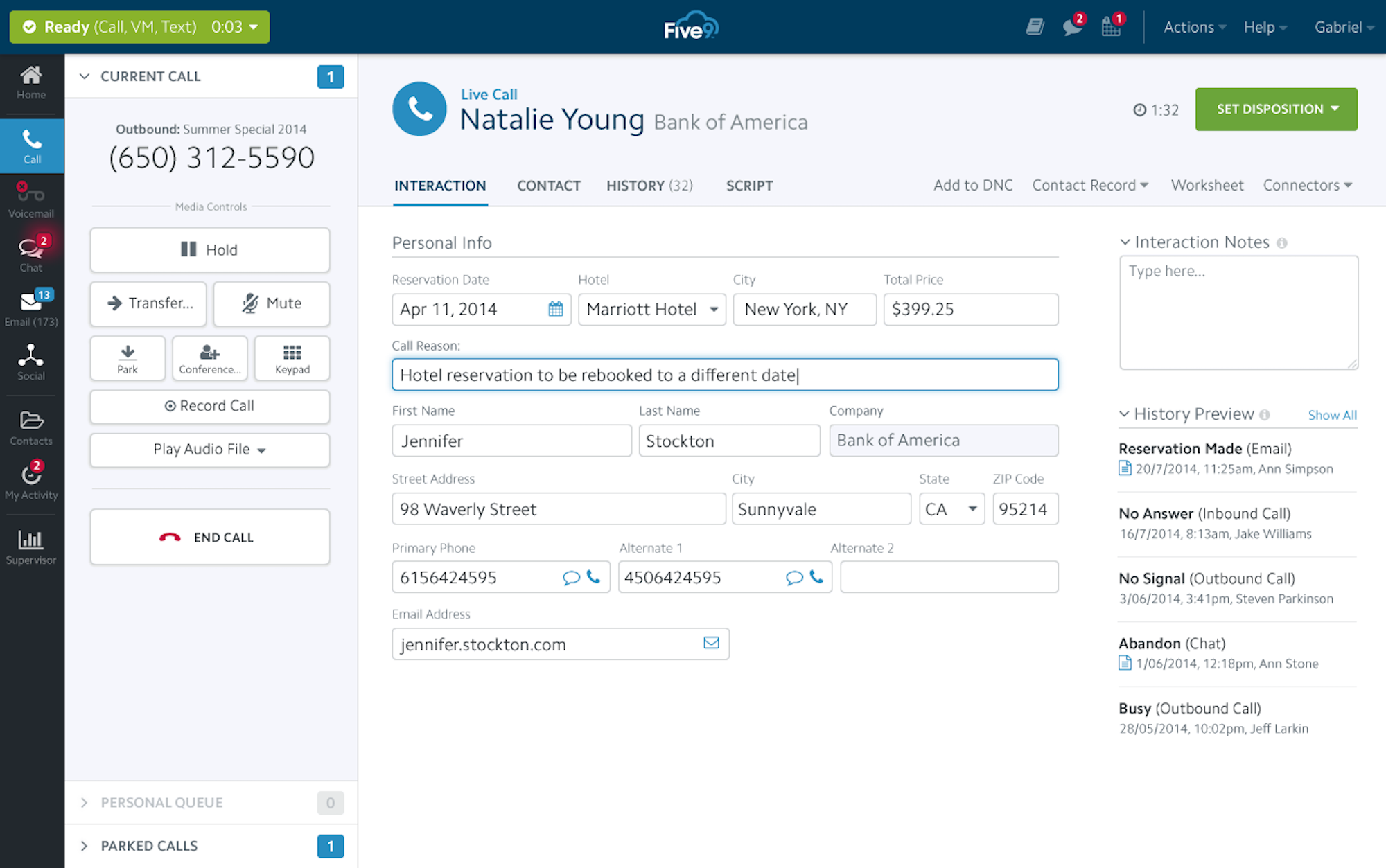 Five9 Pricing & Plans
Five9 offers four different pricing plans, here is a breakdown.
Core
Premium
Optimum
Ultimate
Price
$149 per month
$169 per month
$199 per month
$229 per month
Key Features

Call recording
Real-time reporting
Blended inbound/outbound calling

Omnichannel support including chat and email
Essentials Quality Management (QM)

Workforce management
Enterprise Quality Management (QM)
Proactive workflow notifications

Full workflow automation platform
Interaction analytics
Five9 Features
Some of the key features of Five9 include:
Workflow Automations:  No-code intelligent workflow automations with multi-event triggers, custom business rules, and in-dashboard connectivity with 50+third-party apps. Include automated proactive omnichannel outreach, tasks, agent assignment, etc.
SMS: Filter and intelligently route SMS messages to the best available agent
Reporting and Analytics: Real-time and historical reporting tools including 120 out-of-the-box reports and custom dashboards
Workforce Management Dashboards: Agent wallboards, multichannel forecasting, automated scheduling, adherence monitoring
Five9 Integrations
Five9 includes developer APIs and pre-built integrations for Salesforce, Oracle, Zendesk, ServiceNow, Microsoft Dynamics 365, Zoom Phone, and Microsoft Teams.
What Sets Five9 Apart From Aircall
Five9 is significantly more expensive than Aircall, but offers omnichannel communication across voice calling, social media messaging, chat, video calling, and email.
Five9 includes other features Aircall lacks like workforce management tools, Conversational AI, stronger security standards, and higher call quality.
Five9 is best for enterprises looking for a blended contact center solution or SMBs experiencing rapid growth. Aircall is a better choice for startups and small call centers that communicate via voice calling and SMS only.
2. Talkdesk
Talkdesk is a CX-focused omnichannel contact center known for its AI-powered workflows, synchronized databases, and advanced customer self-service capabilities like identity authentication powered by voice biometrics. Low-code, no-code, or custom-code development tools make Talkdesk's platform extremely flexible.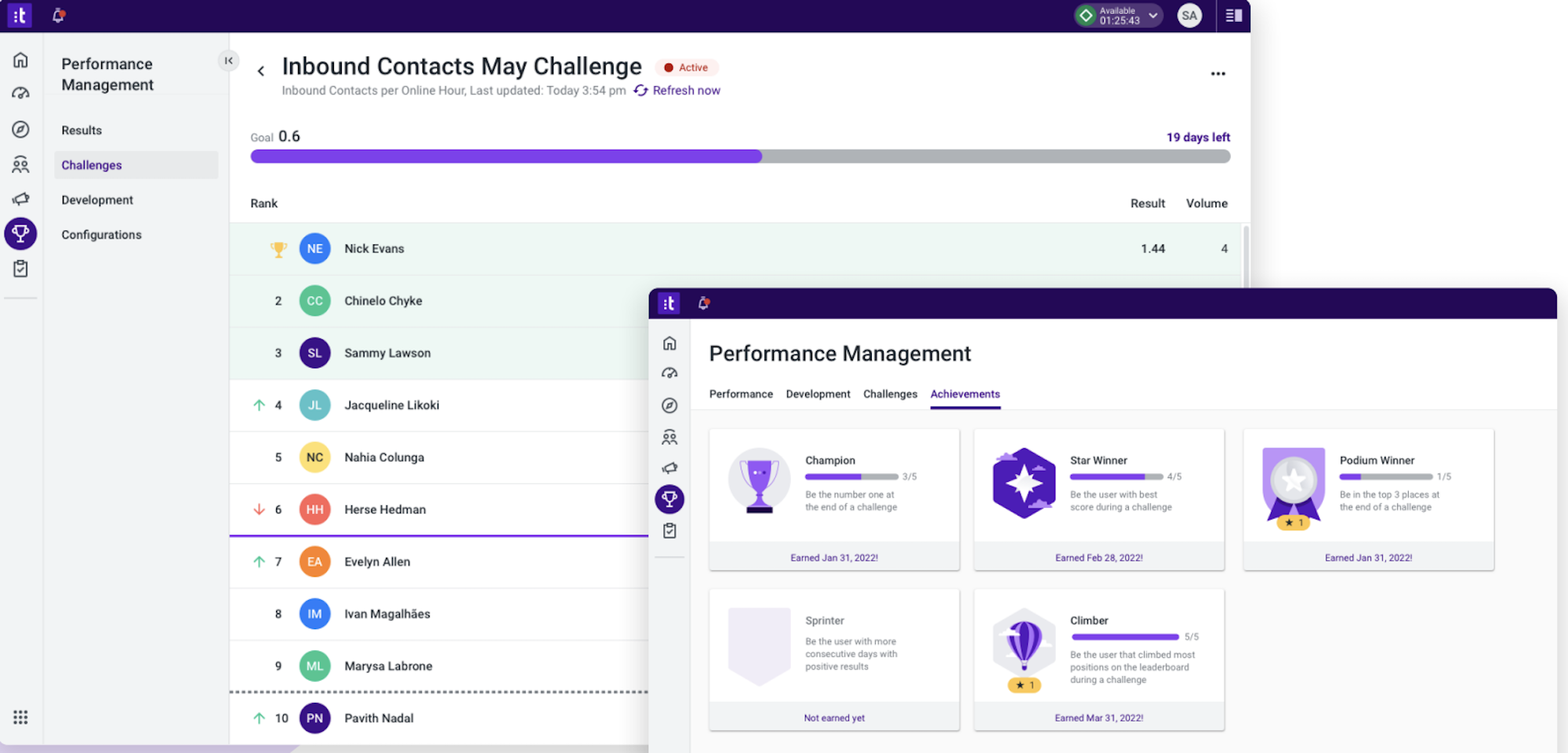 Talkdesk Pricing & Plans
Talkdesk offers three different pricing plans as well as custom packages that are based on industry such as banking, retail, and healthcare. Here is a quick overview of Talkdesk pricing.
CX Cloud Essentials
CX Cloud Elevate
CX Cloud Elite
Price
$75
$95
$125
Key Features

Virtual agent
Real-time dashboards
Intelligent routing

Screen recording
Multichannel engagement (chat, email and SMS)
Automated notifications

AI-powered real-time agent assist
Customer experience analytics
Custom reporting
Talkdesk Features
Here are some of the key features of Talkdesk:
Agent Assist: Uses AI and machine learning to provide in-conversation agent support like next-best action recommendations, knowledge base integration with multilingual search, CRM data screen pops, and automated pre-and-post-call work
Conversations Mobile App: iOS and Android app (included in CX Elevate plan and above) connects agents to the contact center, enabling them to handle inbound and outbound calls from anywhere
Screen Recording: Enables supervisors to capture agent desktop activity during calls, synchronizes screen and voice recordings for enhanced call monitoring and performance quality analysis
Customer Experience Analytics: 900+ real-time and historical KPIs, root cause analysis, searchable transcripts with Conversational Analytics, automated interaction scoring, sentiment analysis, automated SLA alerts
Talkdesk Integrations
Talkdesk has over 60 out-of-the-box integrations with third-party providers including Zendesk, Slack, Microsoft Teams, and more.
What Sets Talkdesk Apart From Aircall
Talkdesk is more affordable than many Aircall competitors, offers industry-leading AI analytics, and provides high-level security via Talkdesk Guardian with HIPAA compliance, 30+ security certifications, and advanced threat detection.
Like Aircall, Talkdesk does not include video conferencing or team chat on its platform.
Talkdesk is popular with companies in the financial and healthcare sectors, and offers industry-specific packages for financial services, healthcare and retail organizations. Talkdesk also offers some advanced features that Aircall doesn't have including AI-powered automated scheduling, screen recording, and preview dialing.
3. Dialpad
Dialpad's voice and digital CCaaS platform uses AI and NLP-powered tools like real-time sentiment tracking, AI coaching, and self-service digital agents to improve the customer experience across voice calling, webchat, SMS, WhatsApp, Facebook Messenger, Apple Business Chat, and more.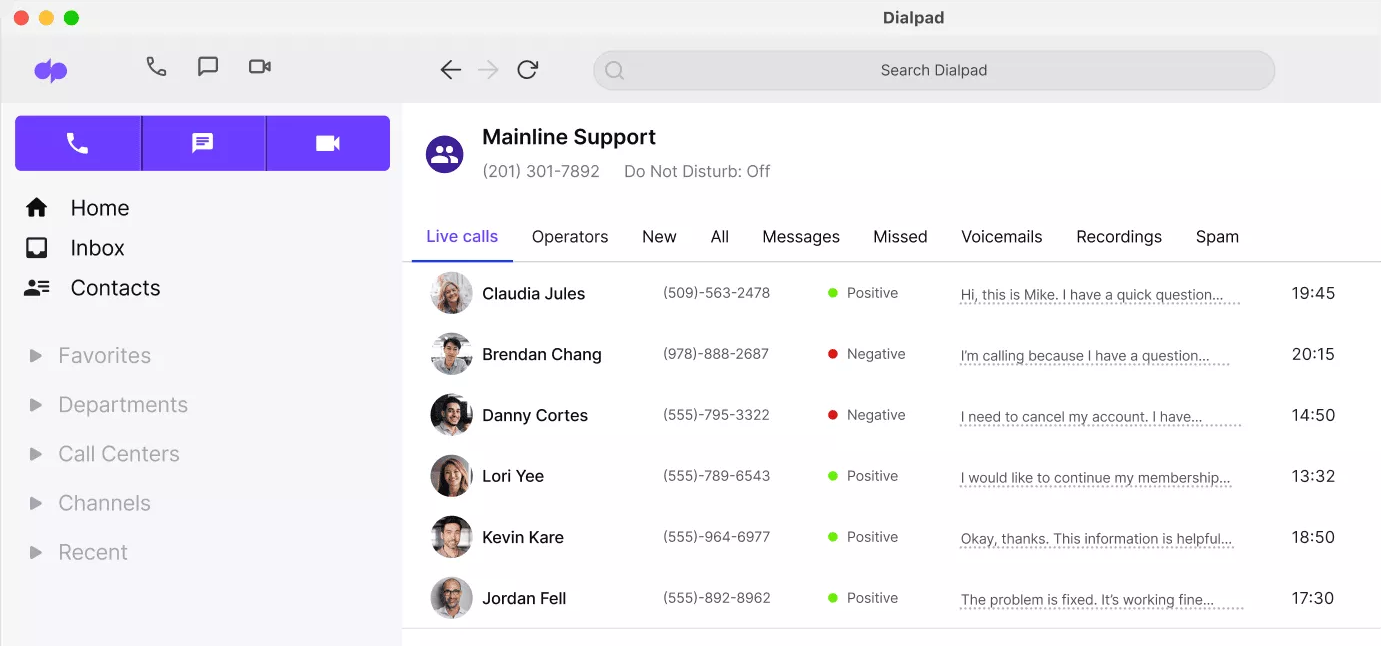 Dialpad's advanced WEM capabilities include forecasting, agent scheduling, and behavior adherence/scorecards.
Dialpad Pricing & Plans
Dialpad does not publish its contact center prices online, but offers two bundled plans outlined below.
Pro
Enterprise

Multi-level auto attendant
Custom hold music
Call monitoring (Listen In, Barge, Take Over)
Digital Engagement (Social and Web Messaging, Live Agent Chat, SMS)

Custom business rules for call queues
100% uptime SLA
Custom dashboards & reporting
Dialpad Features
Here are some of the key features of Dialpad:
Custom Call Queues: Set call queue maximums for wait time and number of callers waiting, upload custom greetings and hold music, and create custom routing rules (longest Idle, fixed order, round robin, etc.)
Speech Coaching: In-call, AI-powered agent speech quality reminders automatically triggered when agents speak too quickly or speak uninterrupted for too long
Sentiment Analysis: Real-time phone call sentiment (positive or negative customer mood) detection tool that identifies the specific sentence used to classify a conversation as good or bad
Manager Alerts: Custom in-dashboard, email, SMS, and Slack performance monitoring alerts for KPIs and SLA thresholds (calls received, agent duty status, queue size, wait time, etc.)
Dialpad Integrations
Dialpad offers custom integrations with open APIs as well as nearly 100 out-of-the-box integrations including Microsoft Teams, HappyFox, Zoom, and Zoho.
What Sets Dialpad Apart From Aircall
Like Aircall, Dialpad is suitable for SMBs, but it offers more AI-powered tools like post-call summaries, speech coaching, and built-in digital deflection.
Dialpad offers many more digital channels than Aircall, including Facebook Messenger, Twitter, Instagram, Webchat, and video conferencing.
For companies that need a true omnichannel solution, Dialpad is the better choice.
4. Twilio Flex
Twilio Flex is an omnichannel contact center platform that leverages a variety of communication channels including webchat, video and chatbots.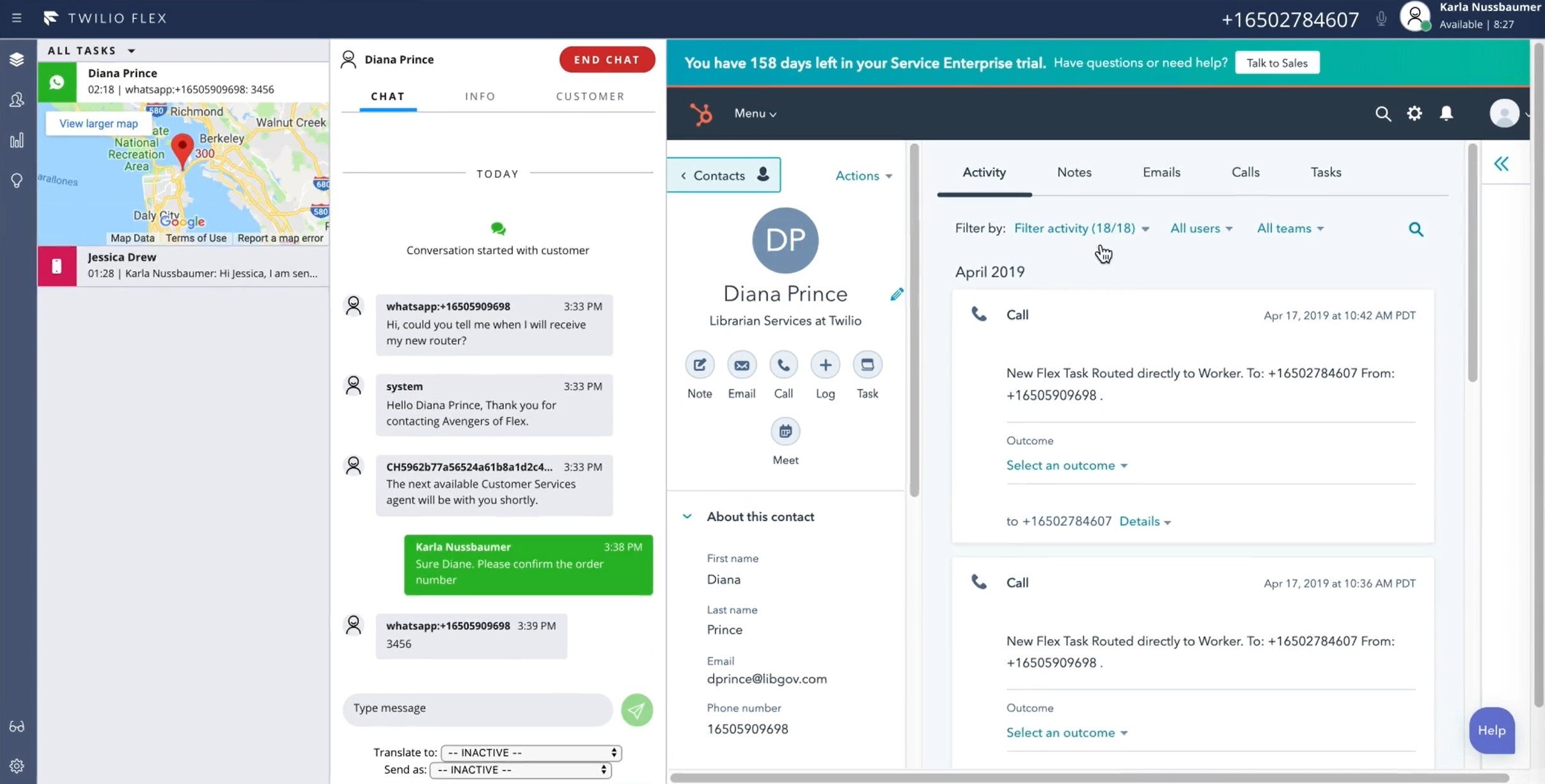 Twilio Flex combines an out-of-the-box contact center solution with customizable automations built via APIs, plugins and integrations.
Twilio users are able to add features as-needed and customize any aspect of the user interface, reporting, connectivity or self-service experience–making Twilio one of the most flexible platforms in the CCaaS space.
Twilio Pricing & Plans
Twilio Flex offers two pricing plans as well as a free trial with 5,000 free active user hours. Instead of offering feature-based plans, Twilio Flex users can choose to pay a monthly or hourly rate.
Per hour pricing is $1 per hour per active user and is best for contact centers that need to scale up or down with seasonal changes.
Monthly pricing is $150 per month per named user regardless of volume or activity.
Twilio Features
Below are some main features of Twilio Flex:
Omnichannel support: Web-based agent desktop for customer interactions across email, voice, video, SMS, WhatsApp, Facebook Messenger, web chat, and more–plus customer interaction history and real-time team collaboration tools
Intelligent routing: Choose from pre-set or build custom routing rules (skills-based, priority-based, support escalation, etc.) across voice and digital channels
Reporting and analytics: Built-in real-time analytics tools enable businesses to make data-driven decisions that optimize agent performance and customer experience
Video Applications: Create custom video apps with unique layouts and virtual background, enable noise cancellation, automatically adjust video bandwidth
Twilio Integrations
Twilio Flex's platform is based on APIs, so it can integrate with nearly any CRM or workforce optimization app. Twilio Flex users can also integrate with Google Contact Center AI to retrieve relevant information for agents and recommend responses.
What Sets Twilio Apart From Aircall
Twilio Flex is different from Aircall in that Twilio is meant to be integrated with existing systems and customized to fit the specific needs of the contact center.
Twilio includes many more personalization options than Aircall, as well as more communication capabilities like chatbots, video functionality, and web chat. Twilio Flex is, however, more expensive than Aircall, and will likely require some level of development knowledge.
Twilio is best for teams that need a custom solution and have an IT team to implement it.
5. NICE CXone
NICE CXone is a virtual call center and communication platform designed to create seamless customer journeys while speeding up the resolution process.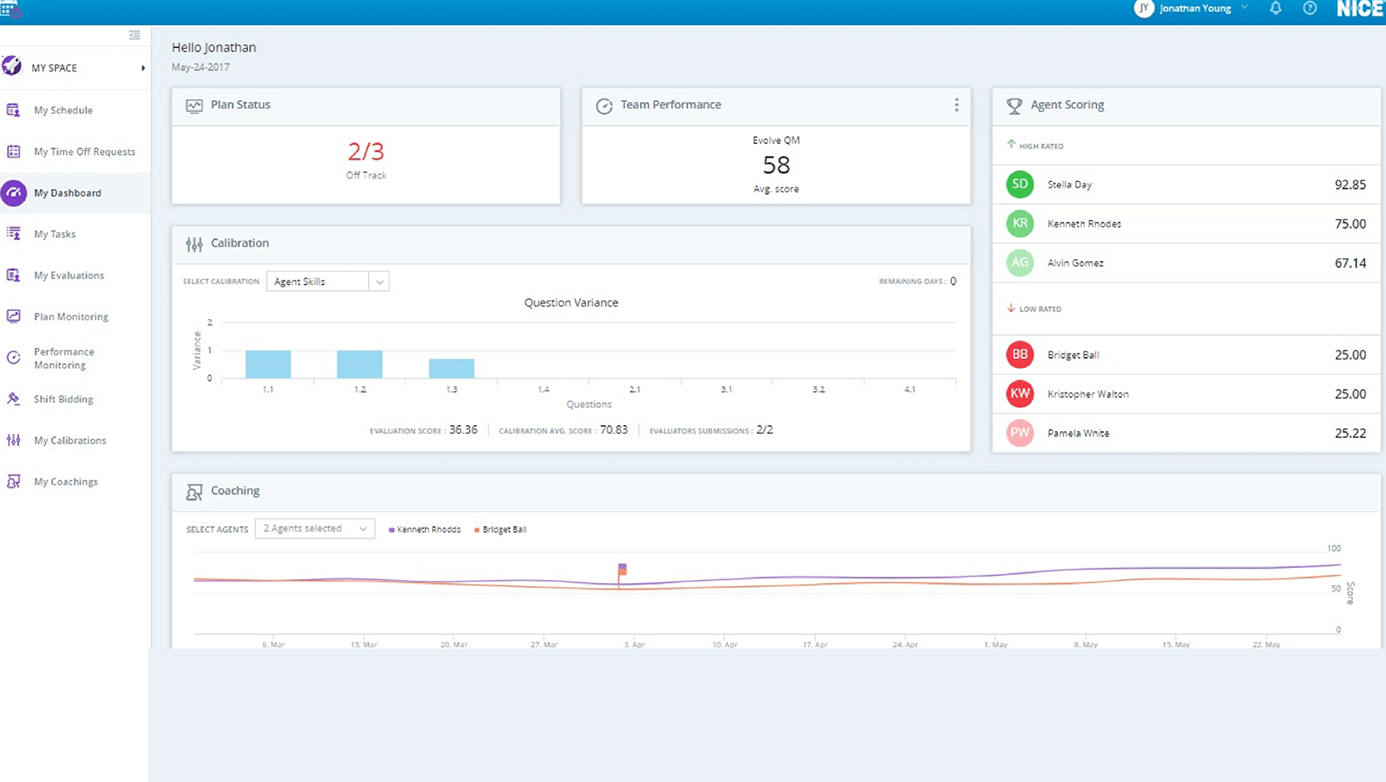 NICE CXone users have access to a number of self-service features like conversational AI chatbots, virtual agents, and AI-powered call routing.
The platform also includes a robust stack of analytics tools including customer journey analytics, voice of the customer, performance analytics, and interaction analytics.
NICE CXone Pricing & Plans
Nice CXone does not publicize its prices.
Companies must contact Nice CXone for a customized quote. There are, however, four pricing plans with bundled features: The Customer Engagement plan, the Essentials plan, the Core plan and the Complete plan. The Customer Engagement plan has a voice only (includes ACD voice agent and self-service IVR), digital (includes digital channels and digital ACD but no ACD voice agent, self-service IVR or ports), and an omnichannel version (includes ACD digital and voice agents, digital channels, self-service IVR, and advanced recording). Below is a breakdown:
Customer Engagement
Essentials
Core
Complete

90+ pre-built call center reports
Integrated softphone
Unified agent desktop

Screen recording
Quality management

Workforce management
Performance management reporting

Customer interaction analytics
Customer feedback analytics
NICE CXone Features
Below are some main features of NICE CXone:
Conversational AI Bots: No-code chat and voice bots free up agents by handling routine self-service requests such as password resets, balances transfers, status updates, and scheduling
Multichannel Service: 30+communication channels in a unified digital inbox (voice, SMS, MMS, webchat, Twitter, Youtube) plus interaction history, sentiment analysis, CRM integration data, etc.
Quality Management: CXone Core and Complete plan users can access advanced agent coaching tools based on insights from  customizable quality management dashboards that monitor key performance indicators (KPIs) like agent scorecards, average handle time (AHT), and average customer sentiment
Workforce Management: AI-powered omnichannel forecasting and agent scheduling based on preset agent skill sets, qualifications, availability, and other business rules
NICE CXone Integrations
Nice CXone offers a number of pre-built integrations with third party apps such as Salesforce, LogMeIn, SugarCRM, Fuze and Bullhorn. Nice CXone also offers APIs and SDKs to create custom integrations.
What Sets NICE CXone Apart From Aircall
The main difference between Aircall and NICE CXone is the focus of the platform.
The main purpose of Aircall is to help call centers increase agent productivity and streamline operations. Most of Aircall's features are call handling features meant to decrease average handle time and wait times, and increase fast resolutions.
NICE CXone conversely, has more omnichannel functionality, including channels such as Whatsapp, chat and email, and more self-service tools such as chatbots. Additionally, Aircall analytics are limited to call activity metrics such as average duration of inbound and outbound calls while NICE CXone allows companies to obtain deep customer insights via digital omnichannel feedback, interaction analytics, and IVR surveys.
6. Freshdesk
Freshworks offers an all-in-one contact center solution known as Freshdesk. The Freshdesk platform focuses on advanced VoIP telephony features including AI-powered voice bots, speech-enabled IVR, and real-time call monitoring dashboards. Freshdesk Contact Center is also a part of Freshdesk Omnichannel, which includes multiple channels such as Whatsapp, Google Business Messages, Facebook Messenger, SMS, and Email, as well as workflow automations and support bots.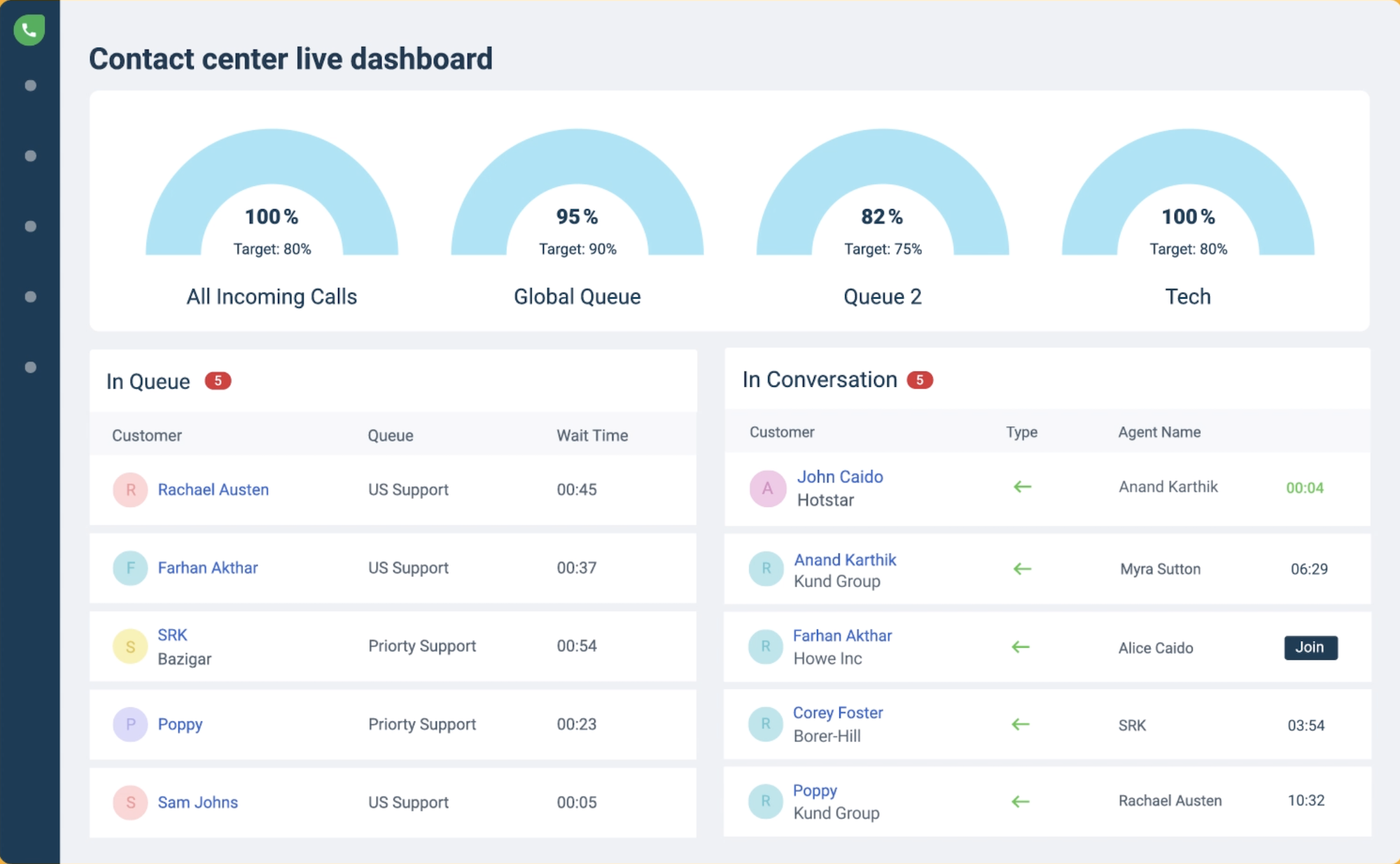 Freshdesk Pricing & Plans
Freshdesk is one of the few CCaaS providers to offer a pay-per-minute plan (agent licenses are free). In addition to its free plan, Freshdesk has three different bundled plans, below is a breakdown:
Free (pay per minute)
Growth
Pro
Enterprise
Annual Price
$0
$15 per agent/mo.
$39 per agent/mo.
$69 per agent/mo.
Monthly Price
$18 per agent/mo.
$47 per agent/mo.
$83 per agent/mo.
Included minutes per month
None
2,000
3,000
5,000
Key features

Inbound caller ID
Call metrics
Call notes

Pre-built reports
Queue transfer
Call recording

Queue callback
Routing automation
Call recording opt-out
Standard IVR

Abandoned call metrics
Service level monitoring
Speech enabled IVR
Freshdesk Features
Here are some of the main features of Freshdesk contact center software:
Real-Time Analytics: 360-degree-view of KPIs with visible data restriction, incoming call assignment, custom views and filters, call monitoring, and call barge
Multi-Level IVR: Allows customers to interact with pre-recorded call menu options via phone keypad or speech for self-service and 24/7 support (Enterprise plan only)
AI-Powered Voicebots: Conversational AI-powered voicebots from Freddy AI provide natural-sounding automated customer support and improve over time with machine learning and customer feedback
Call Notes: Agents can take and review in-call notes without leaving the main dashboard. Notes are automatically saved and synced across CRM tools, and can be shared or transferred to another agent along with the call itself
Voicemail Transcription: Automatically converts voicemail messages to text, stores transcriptions and audio files in call metrics dashboard along with the call summary and other key
Freshdesk Integrations
Freshdesk contact center integrates with dozens of third party apps including Zoho, Copper, Pipedrive and AgileCRM. Additionally, Freshdesk is meant to work well with other Freshwork products.
What Sets Freshdesk Apart From Aircall
Like Aircall, Freshdesk offers affordable prices. Although some Freshdesk plans are less expensive than Aircall, Freshdesk limits minutes on all plans while Aircall does not. Some essential call center features, including IVR, are only offered in Freshdesk's Pro and Enterprise plans. Freshdesk pricing is therefore on par with Aircall–as long as the minute limit is not exceeded.
The main advantage is that Freshdesk is a part of Freshworks, which means Freshdesk users can access sales tools, marketing and campaign management features, and help desk capabilities.
Freshdesk is therefore a better option for SMBs looking to expand, as it offers more communication channels and more robust analytics (including live call tracking and data scoring) than Aircall.
7. 8×8 Contact Center
8×8 is a leading CCaaS provider with a reliable and secure platform known for its affordable pricing and global reach, enabling companies to make international calls to over 55 countries. 8×8 offers all users a 99.999% uptime guarantee as well as advanced security and compliance features including single-sign on (SSO) and HIPAA compliance.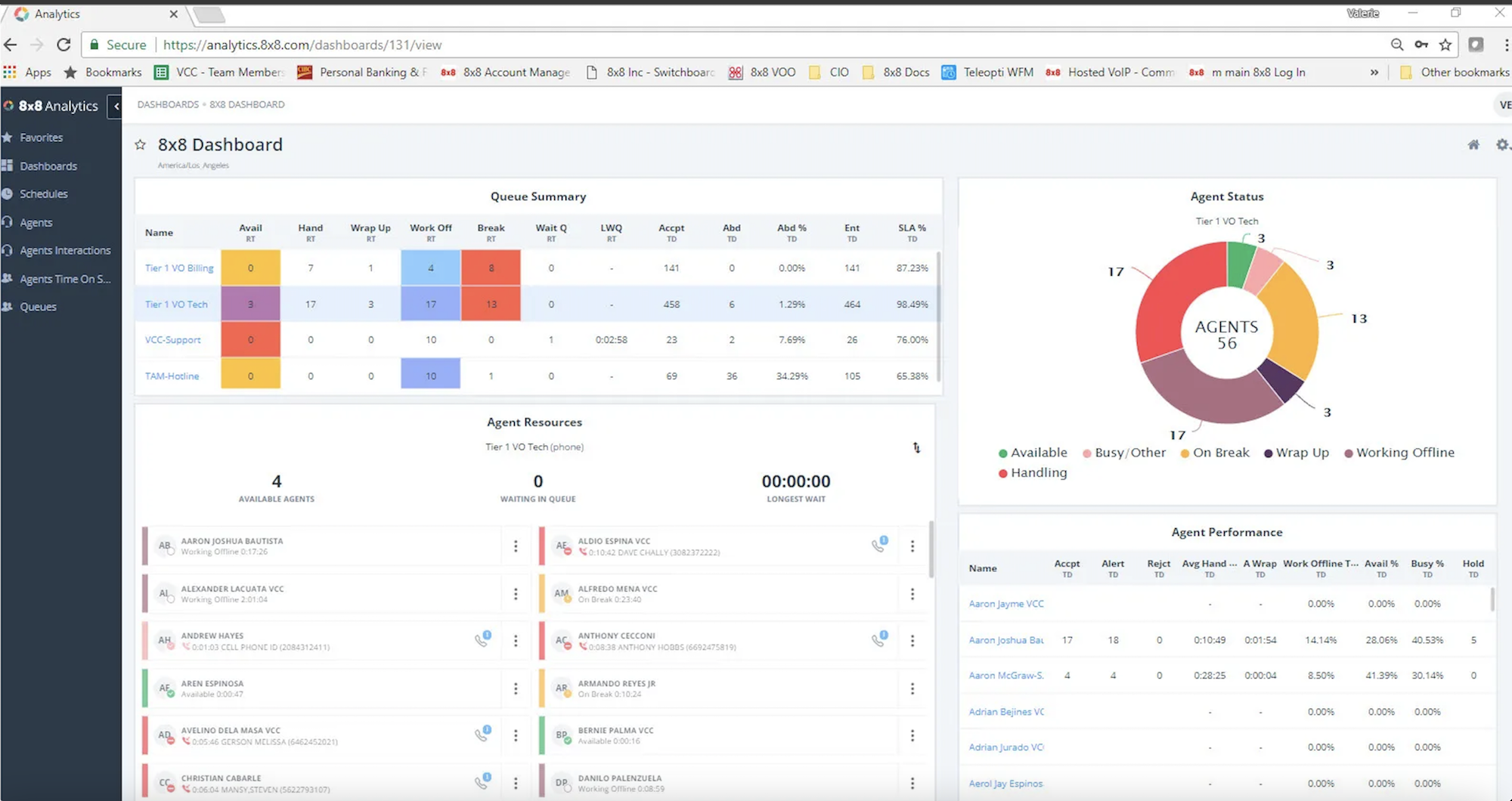 8×8 also has a plethora of communication features including cross platform team messaging, video conferencing, and IIVR (Intelligent Interactive Voice Response.)
8×8 Pricing & Plans
8×8 has three pricing plans with contact center functionality. Below is a breakdown:
X6
X7
X8
Annual Price
$85 per user/mo.
$110 per user/mo.
$140 per user/mo.
Main Features

Monitor/Whisper/Barge
Call analytics
Advanced moderator controls of audio and video meetings

Chat, Email, SMS/text messaging, and social media channels
Co-browsing

Auto dialer: preview, progressive, and predictive
Quality management
Speech analytics
8×8 Features
Below are some main features of 8×8 contact center software:
Video Meetings: Unlimited meeting duration with up to 500 participants plus features like screen sharing, virtual background, audio/video/desktop recording, audio sharing, live streaming via YouTube, end-to-end encryption, meeting lock, participant lobby, and participant restrictions
Cross Platform Team Chat: Universal team chat space that automatically adds users from company directory, enables one-click voice and video calling, and offers features like conversation threads and file sharing
Advanced Analytics: Customizable, AI-powered intelligence and reporting like topic trending, customer behavior analytics, automated SLA notifications, etc.
Intelligent IVR: Powered by Automated Speech Recognition (ASR) and Natural Language Processing (NLP), includes pre-built and customizable IVR templates for scheduling appointments, sending bill reminders, etc.
8×8 Integrations
8×8 includes dozens of out-of-the-box integrations including Google Chrome, Zendesk, and Zoho. 8×8 is also certified for a Microsoft Teams integration which can be purchased as an add-on to any plan.
What Sets 8×8  Apart From Aircall
8×8 is only slightly more expensive than Aircall, providing a higher level of reliability and security alongside an extensive feature stack that makes 8×8 suitable for businesses of all sizes.
Unlike Aircall, 8×8's platform includes video conferencing, social media messaging, team chat, and preview, predictive, and progressive auto dialing.
8. Nextiva Contact Center
Nextiva is a cloud-based business phone service that offers a user-friendly omnichannel contact center platform.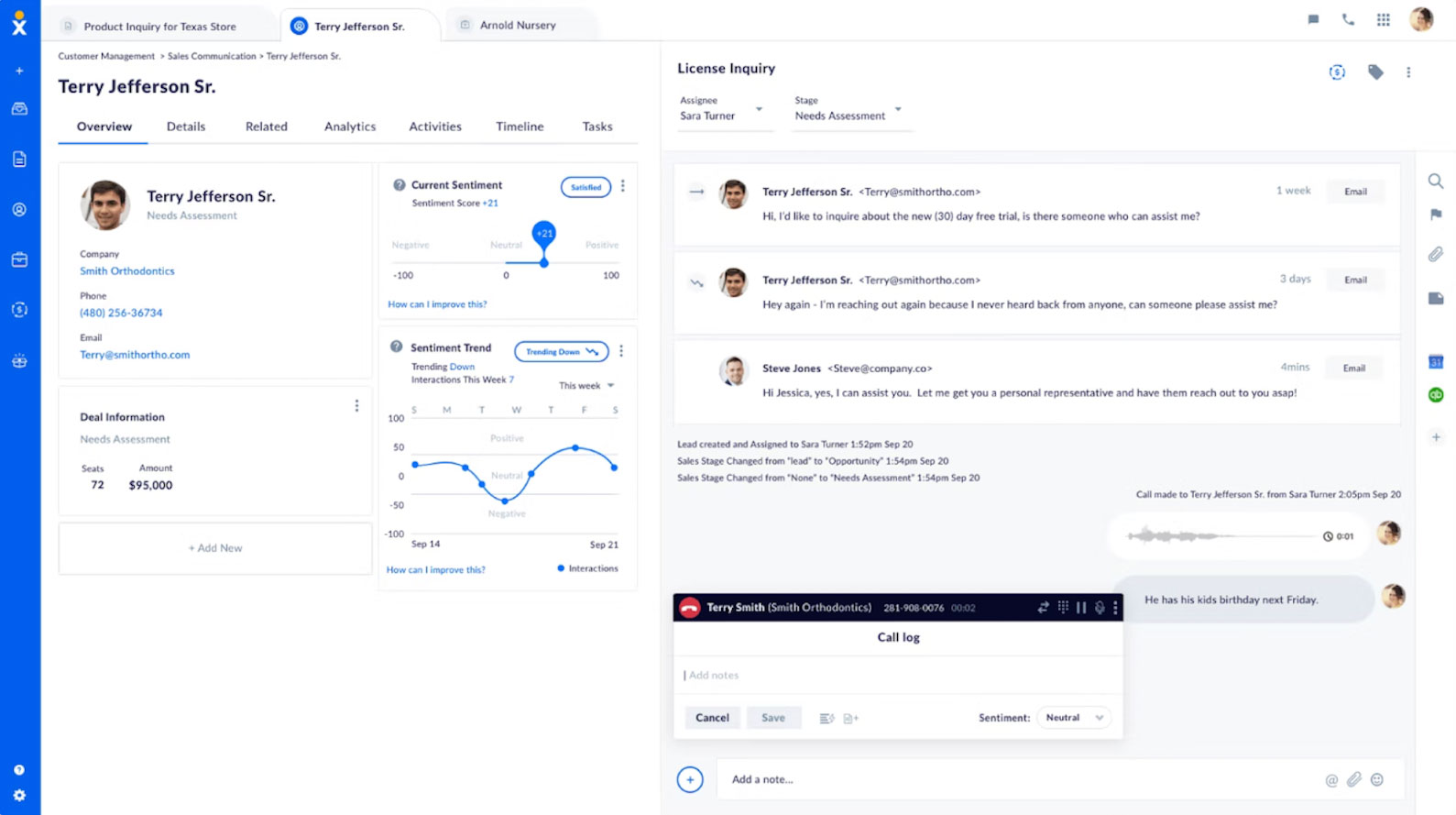 Offering workforce optimization and management tools like multi-channel staff forecasting, scheduling, and agent coaching, Nextiva is also a highly reliable solution with a 99.999% uptime and 24/7 live customer support for all users.
Nextiva Pricing & Plans
Pricing for Nextiva's contact center platform starts at $50 per agent per month, but companies must request a custom quote. There are four bundled plans offered by Nextiva, below is a breakdown:
Core
Premium
Optimum
Ultimate

Call recording
Nextiva voice integration
Blended inbound/outbound calling

Digital channels (Chat, email and SMS)
Essentials quality management (basic scorecards and screen recordings)

Enterprise quality management
Workforce management
Proactive workflow automation

Workflow automation suite
Interaction analytics
Nextiva Features
Below are some main features of Nextiva call center software:
Workflow Automation Suite: Automated workflows, real-time visualizations, pre-built integrations
Intelligent Virtual Agent (IVA): Available as an add-on, uses AI and machine learning to comprehend human speech and respond naturally, ideal for automating simple/recurring customer support requests
Screen Pops: Shows agents essential native and CRM-integrated customer information during a live call, including phone numbers, past purchases, help desk tickets, and more
Intelligent Routing: Directs calls to the appropriate agent based on their skills, the time of day, caller ID, and IVR input (skills based routing also applied to chat, SMS, and email communications)
Nextiva Integrations
Nextiva includes 19 integrations with popular CRM, contact center, and productivity apps including Five9, Lotus Notes and Hubspot.
What Sets Nextiva Apart From Aircall
Like Aircall, Nextiva's contact center platform is a straightforward solution without a lot of bells and whistles.
Although Nextiva Contact Center doesn't come with team chat or video conferencing, these and other features are accessible via a paid subscription to Nextiva's popular UCaaS Business Communications Suite.
Aircall and Nextiva both offer affordable pricing as well as live customer support, and are therefore both suitable for small support teams and SMBs.
9. RingCentral Contact Center
RingCentral is one of the most established service providers in the cloud-based communications space, best known for its UCaaS platform, RingCentral MVP.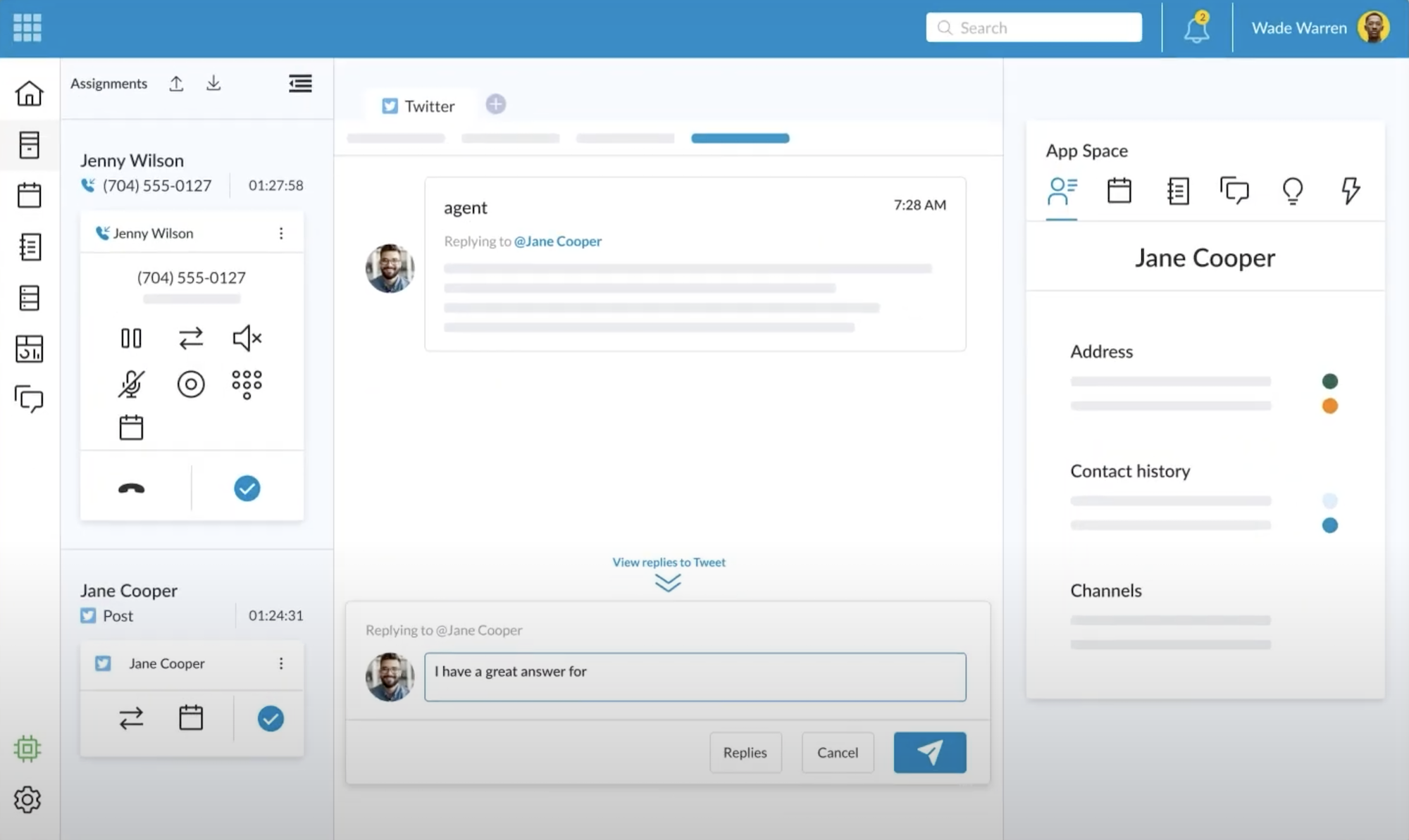 Its contact center solution is highly secure, reliable and packed with advanced features including conversational AI, workforce management, and real-time AI coaching. RingCentral offers over 30 communication channels like webchat, social media and messaging apps. RigCentral security features include end-to-end encryption, single sign on, and AI-based spam blocking. Ringcentral guarantees an uptime of 99.999%.
RingCentral Pricing & Plans
RingCentral does not publicize its prices but it does offer 4 different bundled plans. Customers can also purchase certain advanced features as add-ons to create a customized solution. Below is a breakdown:
Essentials
Standard
Premium
Ultimate

Skills based routing
Advanced IVR
Click-to-call
Automatic call distribution (ACD) with skills based routing

Advanced voice recording
30+ digital channels

Quality management
Screen recording

Workforce management
Performance management
RingCentral Features
Some of the key features of RingCentral include:
Smart routing: RingCentral's smart call routing tools enable users to route inbound calls to queues based on agent skill, language, or channel. Admins can also set up automatic callbacks to reduce hold times.
Artificial Intelligence: RingCentral's AI features include the ability to deploy virtual agents to provide customer support 24/7, as well as assist agents in the moment with guidance and coaching tools. AI-powered analytics are used to monitor communication, find trends, and track sentiment.
Pre-built and custom reports: RingCentral customers can choose from over 100 pre-built reports to gain insight into contact center operations. Users can also choose to build custom reports, selecting from over 250 out-of-the-box metrics such as average handle time, first contact resolution, queue time, and more.
Auto Dialing: RingCentral's platform includes four types of auto dialers: progressive, preview, predictive and TCPA safe, a full featured manual dialer with built-in compliance.
RingCentral Integrations
RingCentral integrates with over 250 applications, including Salesforce, Microsoft Teams, NetSuite and SAP.
What Sets RingCentral Apart From Aircall
RingCentral has a higher price tag than Aircall, but offers a higher level of security and reliability, more digital channels, robust analytics, and advanced auto dialing modes.
RingCentral also offers  AI-powered tools that Aircall doesn't, like virtual agents. such as virtual agents. Users also have the opportunity to add on RingCentral's MVP service, which includes a full-featured video conferencing platform.
Which Aircall Alternative is the Best for Your Business?
When selecting a contact center software solution or Aircall alternative, consider key factors like pricing, scalability, ease of use, and the specific channels, features, and integrations your business needs.
Also study customer reviews and ratings,  feature and security white papers, and popular use cases to understand how each solution performs in real-world scenarios.
Ultimately, the best Aircall alternative for your organization will depend on your specific requirements and priorities.
Companies prioritizing customer service are best served by Nextiva or Five9, while teams with strict compliance regulations and high-level security will benefit the most from RingCentral or Talkdesk
Startups and small businesses might do best with an inexpensive solution, such as Freshdesk or 8×8.
For large contact centers needing high-level customization, Twilio Flex is a great choice.
The above list is by no means exhaustive. Other cloud-based phone systems to consider are Cloudtalk, Genesys, and JustCall. By carefully evaluating each Aircall alternatives, you can make an informed decision and select the solution that is the best fit for your agents, customers, and business as a whole.