When it comes to the specificity of looking for the best business phone service, figuring out exactly what that "right system" even consists of can be tricky. That's we've done the work to simplify things.
Thankfully a large number of vendors seem to agree and aim to make the option of finding the right plan as simple as possible. When it comes down to it, recognizing the needs for your business and then unique reasonings for grabbing a solution like this are just the tip of the iceberg for a business decision as expensive and complex as this one might be.
But, of course, searching for just the best business phone plan or most popular option won't always offer the best results. When it comes down to unique business requirements, not every single platform is made the same, and not every business has the same needs.
When it comes to Virtual Faxing, it can be a bit more difficult to truly find an unlimited business phone plan, that also hits all the right points of more modern collaboration paradigms seen in UCaaS tools such as call center analytics. But no worries, that's why we are here — we have made an effort to weed through all the information to truly understand who the most popular business VoIP solution is with unlimited calling and texting, along with virtual faxing.
The 8 Most Popular Unlimited Calling and Text Business Phone Plans

Thankfully for those organizations that are searching for a complete platform that covers all of these bases, there are quite many options to choose from. By combining these unique requirements and looking back at all of this information, we can begin to formulate a solid basis for which to compare and contrast numerous providers, plans and service offerings.
From our research, we have been able to hone in what we feel are the best 8 most popular Business VoIP plans.
Most Popular Plan
Office Pro Plus
Premium
Premium (Vonage Business Cloud)
X Series X3
Tier 2
Call Center
Professional
Pro
Plan Starting Price
$20.95/mo
$34.99/user/mo
$27.99 per month/per line
$38 per user/per month
$25.95 per line/per user
$64.95
$23 per month/per user
$30 per user/per month
Plan User Count
N/A
Unlimited
5-19 Lines
1-99
5-9
N/A
Unlimited Calling
Yes
Yes
Yes
Yes, 32 countries
Yes
Yes
Yes
Yes
Unlimited Texting
Yes
Yes
Yes
Yes
Yes
Yes
Yes
Yes
Unlimited Faxing
Yes
Yes
Yes, $15.99 Add-On
Yes
Yes
Yes
Yes
Yes
Included Numbers

Free Local Number
Free Toll-Free Number
Free Number Porting

Toll-free OR local number

Local or geographic numbers available

Number Porting
Toll-Free Numbers
Local Numbers — all 3 for an extra free

Local DID
Global Extension Plan

Local Numbers
Toll-Free Numbers
International numbers

Features

Professionally Recorded Greeting (1)
Call Me Now
Nextiva Mobile App
Team Presence
Text Messaging
Free Number Porting
Advanced Call Management
Unlimited Calling
Free Local Number
Free Toll-Free Number
Voicemail to Email
Unlimited Virtual Faxing
Shared Call Appearance
HD Music on Hold
Voicemail To Text ($2.95 per line)
Barge In
Auto Attendant
Text Messaging
Nextiva App
Call Queueing
Find Me, Follow Me
SSAE 16 certified and SOC II audited Data Centers

Unlimited video and audio meetings with screen sharing on desktop and mobile — 100 people per meetings
2,500 toll-free minutes
Unlimited Business SMS
Call management and phone system administration
Phone rental options: desk and conference phones
Mobile apps for iOS and Android
HD Voice
Visual Voicemail and Voicemail-To-Email
Team Collaboration
Integrations with Microsoft, Google, Box and Okta
24/7 Customer Support
Professional implementation
Multi-level auto attendant
Internet Fax
Call Log Reports
Quality of Service Reports
Automatic Call Recording
Multi-site support
Custom app development and deployment
Integration with Salesforce, Zendesk, and Desk.com
Single Sign-On
Voicemail Transcription to Text

Unlimited  Calling and SMS Messages
Mobile App (iPhone, iPad, Android)
Desktop App
VonageFlow (Team Messaging)
Multi-level auto attendant
Video conferencing, chat and file sharing – up to 100 people
CRM Integrations
24/7 US-based service and tech support
Number porting
Call Announce
Caller ID Block
Call Screening
Do Not Disturb
Set Caller ID
Spam Shield
Busy Lamp Field
Call Continuity, Call Hold, Call Park
Call Logs
Call Queue
Call Recording
Call Waiting
Click-To-Call Me
Dashboard
HD Voice
Shared Line Appearance
Simultaneous Ring
Caller ID, Dynamic Caller ID, and Custom Call Tagging
Find Me, Follow Me
Local or Geographic Number
Main Company Number
Music on Hold
Toll-Free Numbers
User and Admin Portals
Virtual Mailbox, receptionist and Voicemail
Business inbox
Call Forwarding
Call Flip
Cell Phone Integration

Cloud Phone
Unlimited Voice and Unified Communications Calling within 32 Countries
Phone Number and Extension Dialing with HD Voice
Voicemail, Auto Attendant, Click-to-Dial and Music on Hold
8×8 Team Messaging
8×8 Meetings, up to 100 participants
Mobile Apps
Operator Switchboard
Call Recording
5GB of Media Storage
Business SMS and texting
Unlimited Internet Faxing
Third-party Integrations
Predictive Outbound Dialer
Interactive Voice Response
8×8 Expert Connect
8×8 Analytics Essentials

Auto-attendants
Barge
Call-Analytics
Call Logs, and monitoring
Call Recording
Conference Bridge and 3-way Conferencing
Corporate Directory on Phone
Custom Greetings
Custom Hold Music
Custom Messages
Custom Schedules
Dial by Extension
Dial by Name
Dial Plan Editor
Direct Inward Dialing
Direct Outward Dialing
Extension Dialing
Fax to Email
Hot Desking
Inbound Call Filters
Individual Call Logs
Intercom
Last Number Redial
LDAP Integration
Line fAIlover
Local & LD Dial-Tone
Message Waiting Indicator
Paging
Presence Monitoring
Ring Groups
Shared Lien Appearance
Speed Dial
Spy
Unlimited Auto Attendants
Unlimited Extensions
Virtual Fax
Voicemail to Email
Web-Based User and Admin Portals
Whisper

Integrated Softphone
iOS and Android Mobile App
Music on Hold
Ring Groups
Follow/Find
Call Recording
Outlook Integration
Voicemail
SmartBox unlimited storage
DID Numbers
 Audio/Video Streams
Auto Attendants
Team Rooms/Team Messaging
Unlimited Conferencing
ACE Operator Console
ConnectMe Video Conferencing
Screensharing
Skype 4 Business Integration
Digital Fax
Unified Live Monitor
Supervisory Modes
CRM Integration
Unlimited Call Queues
Lifetime Analytics
Detailed Reporting
App Designer

Call Catch
Call Forward Busy Line, Don't Answer, Whisper and basic Call Forward
Call Waiting, Hold, Log Park and Transfer
Call Recording
Communicator
Conditional Call Catch
Do Not Disturb
Call Forwarding, Call Forwarding Whisper
Find Me, Follow Me
Global Extension Plan
Hot Desking or Hoteling
Intercom
Local DID
Mobile iPhone & Android App
Multiple Devices/Extension
One Number
Paging
SMS
Online Portal
Sound Manager
Unlimited Domestic Calling
Virtual Fax
Block Numbers
Contact Book
Extension Maps
Announcement Groups
Business Hours
Music on Hold, Ringtones

Local & Toll-Free Numbers
Unlimited Calling in US & Canada
Unlimited SMS, MMS and group texting in US & Canada
Call Forwarding
Call Controls (Transfer, Hold, Mute, etc)
HD Video Calling
Call Waiting
Voicemail Greeting
International Numbers
International offices in 40+ countries
Multiple offices supported
Automated system greeting
Operator routing (Round robin, fixed order, etc.)
Simultaneous Ring
Customizable hold music
Dial by Name Directory
Hold Queues
Real-Time Transcription
Audio Snippets
Shareable Post Call Summaries
Action Items
Manual Notes
Automatic transcript logging (Salesforce, ServiceNow, Zendesk)
Unlimited Conferences with UberConference Free (up to 10 participants)
SMS & MMS
Group Messaging
Chat
Custom historical call analytics
Automatic Recording
Web Call History
G Suite, Office 365, Dialpad Everywhere, LinkedIn, Salesforce Sales Cloud and Service Cloud, Salesforce1, Service Now and Slack integrations
Single Sign-On
Failover Numbers
Web-Based admin portal
Desktop and Mobile Apps

Vendor Strengths

Strong platform that can be expanded with NextOS, to include even more business tools and functionalities
8 US Data Centers with 99.999% uptime
Amazing, in-house 24/7 customer service (award-winning)

Listed as a leader in Gartner UCaaS MQ
Evolving and growing platform, recently saw thing bring in new tech
Strong collaboration focus, with desktop meetings and screen sharing

Strong overall platform, with contact center presence
Vonage owns Nexmo, which is a great compliment to the service and biggest competitor to Twilio
Offers great 24/7 US-based customer service and tech support.

Strong global presence, with unlimited calling and texting to 32 countries in the X Series X3 plan, with this number going up to 47 for the even more expensive plans
Noted as a Leader within the Gartner UCaaS Magic Quadrant

Jive's pricing is structured based around included users, as opposed to limiting features to higher-level tiers
Custom pricing is available for teams that require over 99 seats
Jive was recently acquired by LogMeIn, and the platform is continuing to grow with new UCaaS features

24/7/365 support with 99.999% uptime and proven quality of service
Panterra's solution brings in even more capabilities (when you're aiming for the free faxing) including UC and meeting tools

Strong foundation based on the Boardvoice platform that includes a virtual call center and related functionalities
Award-winning service

Dialpad offers a competitive platform with some truly unique capabilities, like a focus being placed on AI
Dialpad was also the provider to offer a free phone service, building off their proven roots from Google Voice
The Pro Plan gains some extra security functions as well, and otherwise expensive features including automatic recording, SSO and more
Nextiva is by no means a stranger to any of our lists — and for good reason. Nextiva can arguably be seen as one of the gold standards when it comes to modern Business Phone systems. We just recently listed Nextiva as one of the best enterprise companies to bet your careers on in 2019, and that says a lot.
Nextiva's platform is known for innovation, and the provider has a history of updating their platform to not only match the latest paradigm shifts but introduce and invent their own as well. For example, NextOS is the provider's newest take on the idea of an integrated communications platform.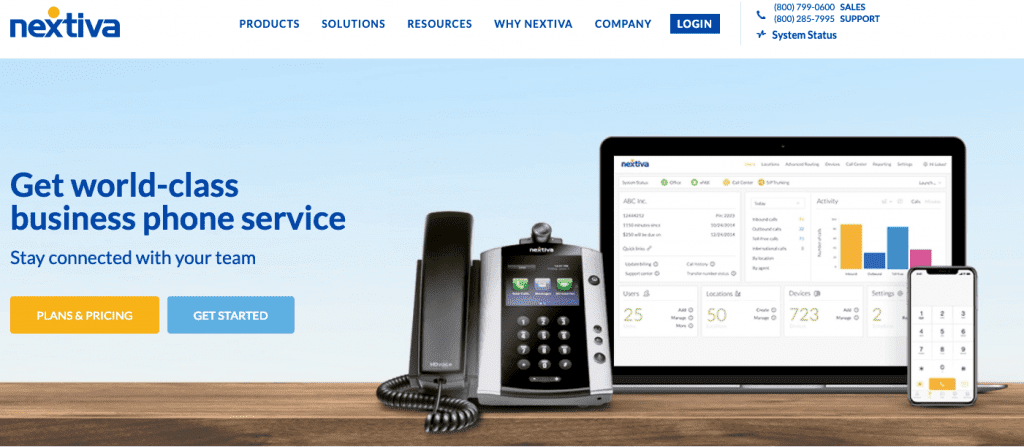 When it comes to Business Phone Systems specifically, Nextiva's Cloud PBX platform has always been considered a "best of the best" choice. Nextiva is one of the few providers to still offer their stand-alone virtual faxing solution.
When it comes to the need for a complete platform, with room to grow and a deep focus on modern collaboration and UCaaS solutions, Nextiva is one of the strongest choices — especially for organizations that prioritize in-house support and service, something Nextiva has been awarded for time and time again.
Just after RingCentral was included as a leader within Gartner's most recent 2018 UCaaS Magic Quadrant, we went ahead and wrote a feature on the provider to highlight just why they are considered such a strong leader. And honestly, after going public, RingCentral has shown no signs of slowing down.
Just in January of 2019, we highlighted what seemed to be a recent industry trends, a bigger focus and priority being placed on growing a business phone system into not just a Unified Communications platform, but a complete customer engagement solution as well.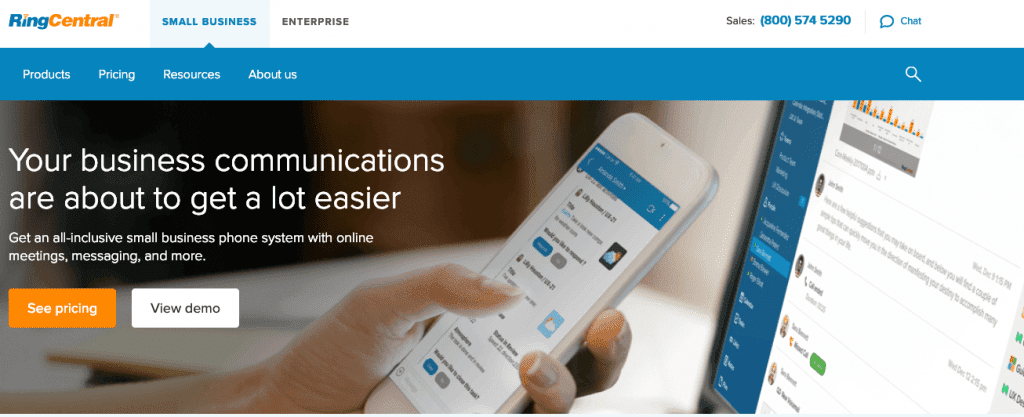 RingCentral was one of the first providers we noticed to snatch up a new cloud contact center solution, with the provider acquiring Connect First. Like Nextiva, RingCentral is growing its focus into a more complete and robust platform, bringing in far more than just business phone features.
Similarly, RingCentral is one of the few providers to still offer a stand-alone virtual faxing solution and represents a very good marriage between the latest and also proven technologies.
As probably one of the most recognizable names in Business VoIP, the Vonage Business Cloud manages to always make their way onto some of the top recommendation lists — and that's no different when it comes to unlimited business phone plans, either.
Vonage, like RingCentral and Nextiva, has been growing its overall platform and has recently placed a strong focus on customer engagement. Vonage owns Nexmo, one of Twilio's largest competitors, and has grown the platform with some really strong use-cases with tools like the Nexmo Messages API.

Of course, when it comes to searching for the best business phone plans, Vonage is also a great choice with not only a proven name but competitive service and features. Not to mention, Vonage has recently stepped up its game and includes 24/7 service to compete with some bigger names like Nextiva.
Even without branching further into extra services like Nexmo or call center software, Vonage's core UC and business phone solution has continued to grow with the latest technologies and trends. Vonage even managed to include AI into their platform to help administrators better manage their solutions.  Despite all the cutting edge features, Vonage Business plans remain very affordable.
If you combine the best of the best from other providers, while adding on an international presence, you'll be left with 8×8. One of 8×8's strongest points, and a major reason for their leadership position within Gartner's latest Magic Quadrant, alongside RingCentral, is that global presence.
Not only does 8×8 have a proven, competitive and reliable platform, but their solution and capabilities extend beyond just the reaches of the United States, and is one of the strongest cloud-only communication provider options that branch through international markets.
8×8's X3 plan offers international calling within 47 different countries, as well as local phone numbers. And on top of providing your organization with a complete, global communications platform, 8×8 solutions include VoIP phones and are packed with features you don't normally find in a business phone system.
For example, their most popular plan includes outbound Predictive Dialer, a feature much more commonly found on automatic dialing specific platforms.
Just recently acquired by meeting and collaboration leader LogMeIn, Jive Communications is in an even better position than they already were. By joining a proven meeting solution with a proven business phone and collaboration solution, Jive's platform is even more robust and well-rounded than it has ever been.
We also went ahead and wrote a feature highlighting just exactly why Jive is such a unique UCaaS powerhouse. One major reason is not only the availability and accessibility of the solution, but the sheer number of options and features made available.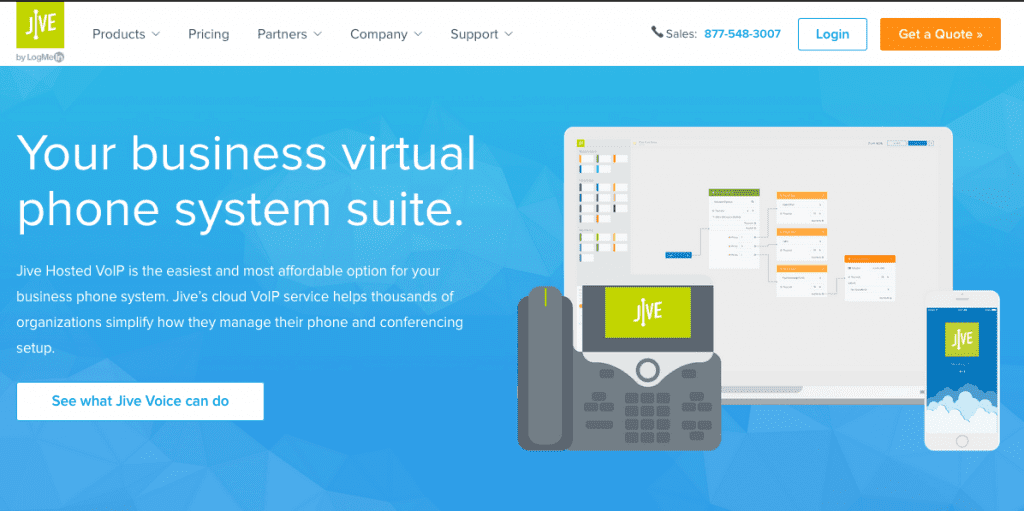 Jive's Business Phone feature list is so extensive that we didn't even bother attempting to cover the entire thing within the chart above. With features split into categories like Basic Voice Features, Call Management Features, Call Center Features, and Phone Service, it is clear that Jive's focus directly on providing a great cloud business phone system hasn't disappeared.
While Jive has become a UCaaS powerhouse, they are also still one of the providers that continues to offer virtual faxing on top of their latest paradigm shift.
As one of the highest-rated providers on our own user reviews page, PanTerra may not be the most common name when it comes to business phone systems, but they are one of the best — especially if your business is in search of an unlimited phone plan that also includes virtual faxing.
PanTerra Networks is considered a leading provider for mid-market enterprise organizations, meaning companies with anywhere from 50 to 50,000 seats, with revenues anywhere from $50M and $5b. Panterra manages to cover a wide range of organizations and has a solution that can adapt to different requirements.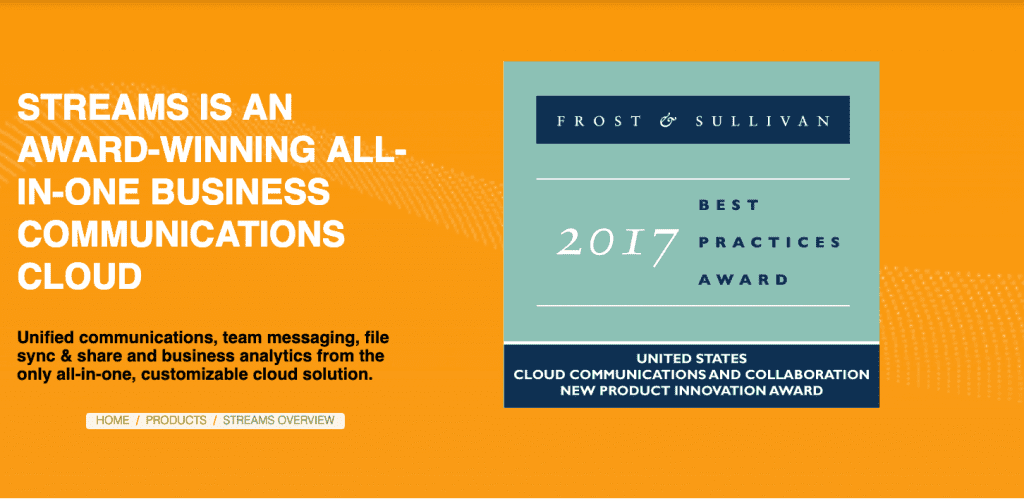 PanTerra's pricing chart structure is really easy to understand, and while teams may have to go up to the Call Center solution to gain unlimited faxing, organizations are then gaining even more functionality with some advanced capabilities, including an app designer, detailed reporting, unlimited call queues, intense admin controls and more. Their award-winning UC solutions are worth the consideration.
While BroadVoice may not always be on our radar for the latest announcements, the provider offers a wide range of cloud-delivered business solutions, of course including business phone systems and more recently a complete UCaaS platform.
Starting as a paper company run out of a dorm back in 1987, BroadVoice is no stranger to reinventing itself and has become an award-winning communications platform by 2017.

Similar to other options on our list, the BroadVoice platform has a strong inclusion of not only modern communication capabilities and technologies, but a strong virtual call center offering and related functionalities, as well.
One truly unique aspect of BroadVoice's platforms and solutions is their 4G Failover Network. If your service has any issues, or your business loses an internet connection due to weather, hardware failures or power outages, the system will automatically divert data to the wireless nationwide 4G network.
Of course, we can't forget the unlimited calling and texting,  virtual fax, along with the option for not only local DID numbers but a global calling extension plan as well.
Dialpad has always been an interesting contender in the ever-growing business phone systems market. With humble beginnings, and founders coming from Google Voice, Dialpad has managed to keep that innovative spirit alive and truly manages to punch above their weight quite a bit.
A little while back I renowned Dialpad's Free Business VoIP plan as being a truly unique offering, one that could help put them on the map while empowering organizations to get a taste of how Business VoIP can benefit their overall bottom line and business communications.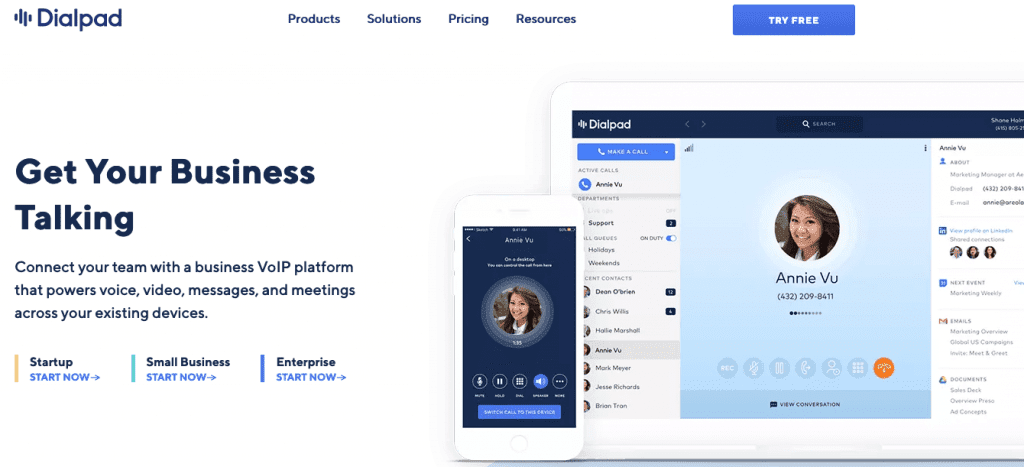 Even further from that, Dialpad more recently had introduced Artificial Intelligence into their solution, offering even the smallest organizations some really powerful functionalities, as AI is going to be one of the major differentiators for communication platforms in the time to come, as the technology only continues to grow.
Overall, Dialpad manages to hit the nail on the head with a modern, evolving and rapidly shifting platform that manages to include some of the most capable tools, while still maintaining the tried and true unlimited business phone plan so many businesses rely on — even including virtual faxing.  Additionally, Dialpad pricing remains very reasonable.
Understanding Why Choosing the Best Business Phone Plan Matters
When it comes to choosing the best of the best, we usually like to listen to the majority of customer and user feedback. At the end of the day, those that are using and purchasing the solutions are the ones that have real-world experience with the tools.
This proven experience helps decision-makers better understand what level of insight, thought and knowledge went into the review of the product, providing a great real-world image of how the solution will truly perform.
However, when we are generally comparing specific solutions, in this case, the most popular business VoIP platforms with unlimited calling, SMS and Faxing, we can even look towards the solutions themselves.
For example, a large number of UCaaS and business VoIP providers try to make it as easy as possible to shop for their solution, and therefore directly highlight with their offerings is the most popular among existing users.
The Best Business Phone Plans are Also the Most Popular
Looking back at all of this information, we can begin to formulate a solid basis for which to compare and contrast numerous providers. We've rounded up both the most popular and the best business phone plans and service offerings. From our research, we have been able to hone in what we feel are the best 8 most popular business VoIP plans.
It is also worth mentioning, the tricky part here wasn't necessarily finding 8 good unlimited business phone plans or 8 solutions that users are happy with, that information is fairly easy to come by. You can take a look at our top business VoIP options to gain a larger understanding of the current landscape.
But when we hone in on very specific requirements, that's when the situation and equation becomes a bit more complicated. For example, while unlimited calling and text is an expected staple of Business VoIP solutions, unlimited virtual faxing is a bit harder to come by at this point. Throw in unlimited business SMS and we have an even trickier paradigm.
Thankfully, the people have spoken and the most popular options are also the best business phone plans around.