Twilio and Vonage are two of today's most popular CPaaS providers, with a variety of communication APIs and prebuilt applications that meet advanced business use cases.
Companies can embed these APIs into their app for specific communication capabilities–voice, SMS, video, and chat–or opt for a prebuilt, ready-to-use multichannel solution.
But which CPaaS provider is the best fit for you?
This article will compare Twilio vs Vonage, outlining their features, pricing, pros, and cons.
Jump to↓
Twilio vs Vonage Overview
While both Twilio and Vonage offer voice, SMS, and video APIs, Twilio offers better video features, while Vonage offers cheaper pricing per SMS. 
Their readymade app solutions specialize in different use cases: Twilio's apps support multichannel and data-driven marketing, while Vonage supports internal communication via unified communications (UCaaS) app.
Twilio
Vonage
Key Features

Drag-and-drop IVR/menu designer
Video conferencing API with whiteboarding
Readymade apps including email marketing and data-based campaigns

Drag-and-drop IVR/menu designer
Voice API with call recording
Readymade apps including unified communications and contact center

Available Communication Channels

Phone
SMS and MMS
WhatsApp
Social media messaging
Web chat
Video conferencing
Email

Phone
SMS and MMS
WhatsApp
Social media messaging
Web chat
Video conferencing

Pricing

SMS API: $0.0079 per SMS
Voice API: $0.004 per minute
Video API: $0.0015 per participant per minute

SMS API: $0.0059 per SMS
Voice API: $0.0041 per minute
Video API: $0.00395 per participant per minute

Best for

Companies looking to utilize customer data and CRM in marketing campaigns and customer support

Companies seeking to add an SMS API
What is Twilio?
Twilio is a cloud communication platform offering voice, messaging, video, and email APIs that integrate with your company's app to improve how you engage customers. In addition, Twilio offers pre-made applications built upon their own platform, including apps for outbound email marketing, sales workflows, customer data tracking, and an omnichannel contact center.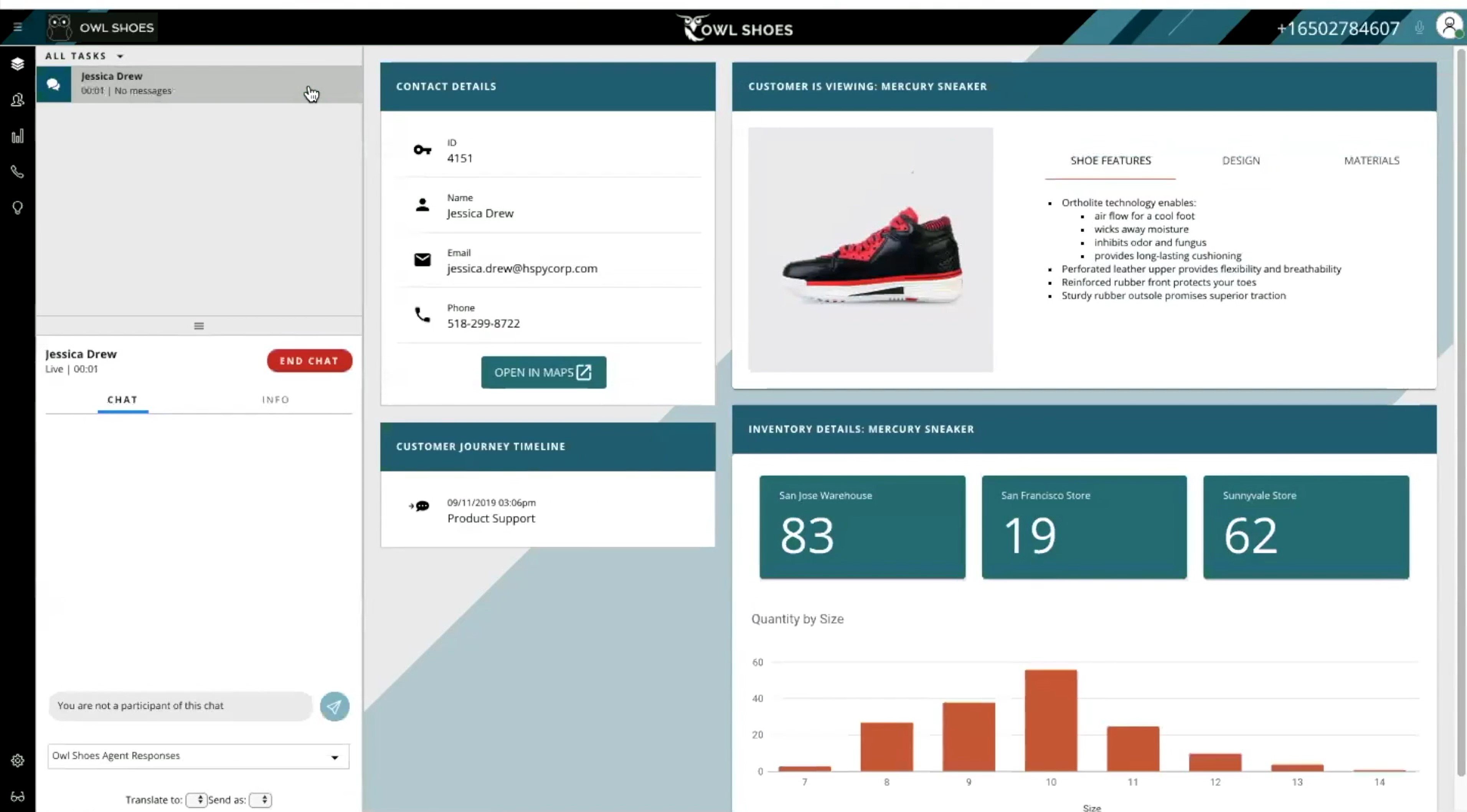 What is Vonage?
Vonage is a communications platform offering APIs for capabilities including video, messaging, voice, and two-factor authentication. Vonage is also a unified communications provider, offering readymade UCaaS and contact-center solutions built upon their platform and APIs.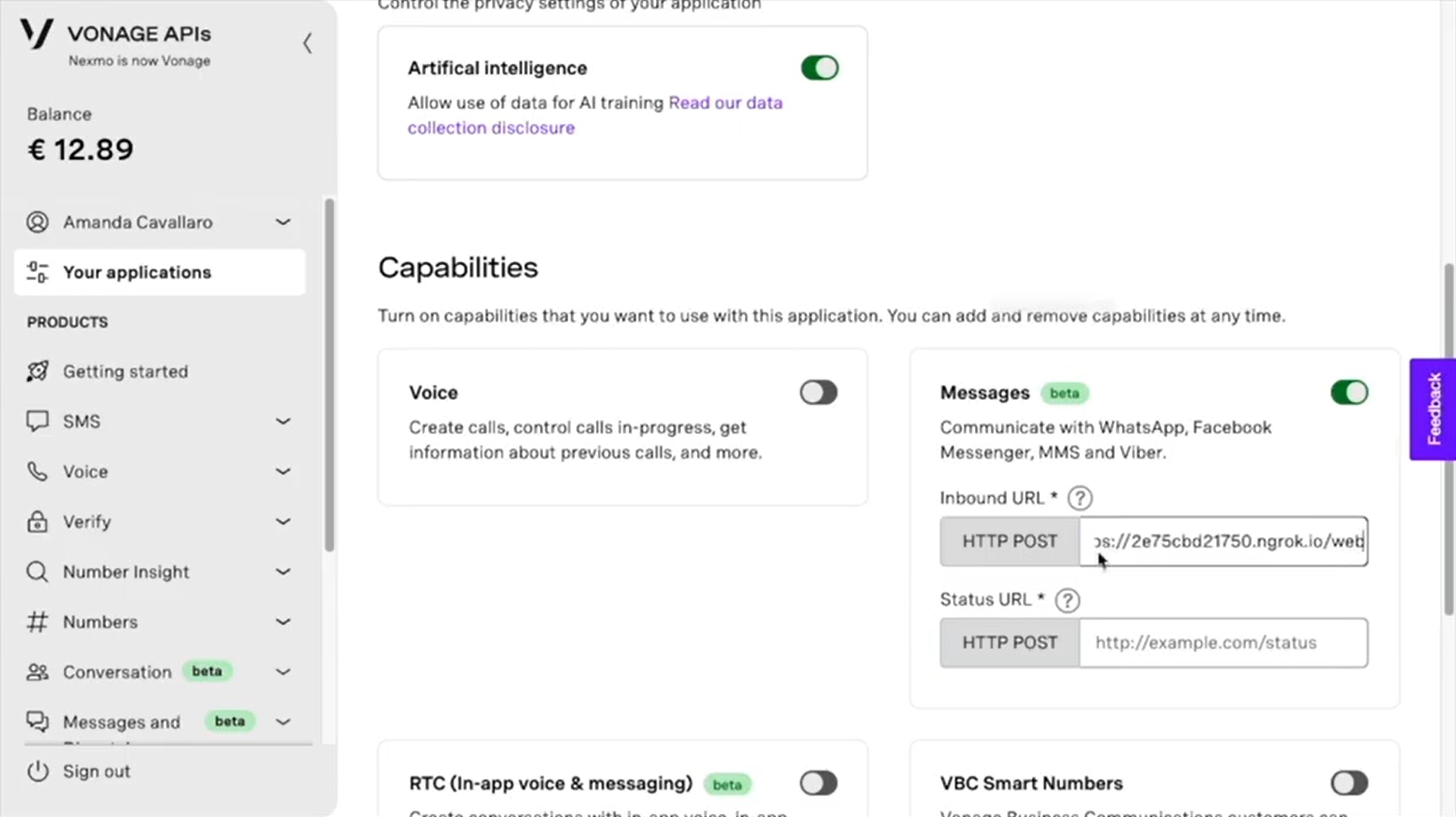 Twilio vs Vonage: What is the Difference?
The difference between Twilio and Vonage is that Twilio offers an email API and email marketing app that gather data and integrate with your CRM, while Vonage offers a better deal on SMS texting and a UCaaS app geared toward internal communication.
Twilio's video API is not only cheaper than Vonage's, but more collaborative–with features like participant lobbies and whiteboarding.
| | |
| --- | --- |
| Differences | Similarities |
| Twilio offers an email API and marketing solution | Both offer voice, SMS, and video communication APIs |
| Vonage offers a UCaaS solution | Both offer contact center apps |
| Twilio's video API offers more collaborative features | Both offer drag-and-drop designers for multichannel self-service menus |
Twilio vs Vonage: Feature Comparison
Below, we'll compare Twilio's and Vonage's key features, including their API offerings and readymade software applications.
Twilio Voice API
The Twilio Voice API adds VoIP telephony to your application, utilizing Twilio's secure, reliable network of over 100 countries and 1500 carrier connections. Twilio Voice enables webRTC inbound and outbound calls from your app, helping you scale a virtual phone system no matter your size, carrier, or current setup.
Regardless if you use an on-premise landline PBX system, VoIP provider, or mobile carrier, Twilio can switch you to cloud-based calling. Purchase local, national, mobile, and toll-free numbers in over 100 countries or port in your pre-existing numbers and carrier. Your developers can use the Twilio Voice SDK to embed voice into your app and establish a routing system.
With AI features like natural language understanding (NLU) and integrations with CRM tools, Twilio Voice unlocks a variety of use cases for your app.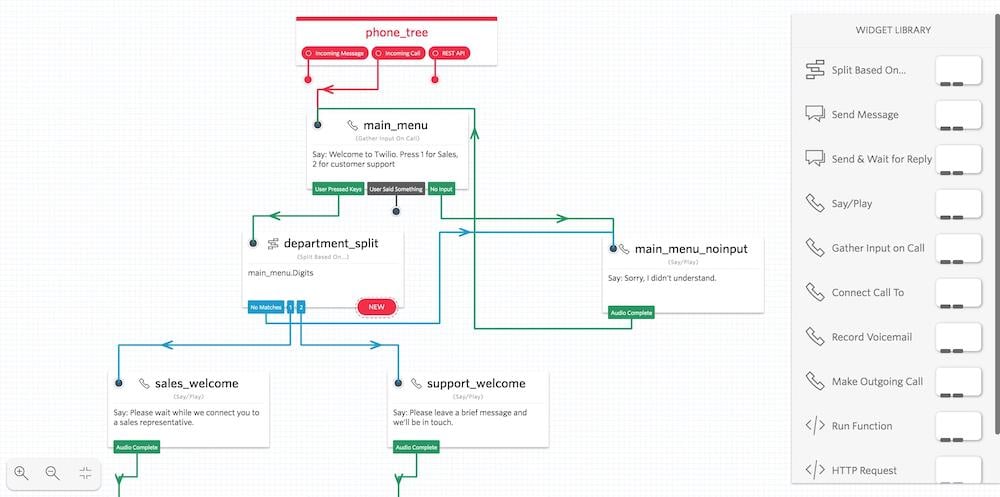 Twilio Voice API Features and Use Cases:
Interactive voice response (IVR): Build a self-service auto attendant menu that customers can navigate via DTMF or voice commands, in hundreds of languages. In addition to call routing, Twilio IVR can make announcements, send text messages–even facilitate customer purchases and appointment setup. Build your IVR in Twilio Studio, a drag-and-drop tool that autogenerates the programming code.
Speech recognition: Natural language understanding (NLU) speech-to-text supports a variety of app functions including IVRs, voice search of your knowledge base, voice forms, surveys, and lead qualification.
Alerts and notifications: By integrating with a third-party database or fraud detection system, automate customer voice notifications such as password resets, appointment confirmations, and low balance alerts.
Call tracking: Track call information, including call time and caller details, integrating this data with your CRM system and marketing campaigns.
Conference calling: Enable global audio conferencing with up to 250 participants. Conference features include audio dial-in numbers, audio recording, and waiting music.
Vonage Voice API
Vonage's programmable voice API supports live inbound and outbound calling, plus automated use cases.
The API adapts to the SIP infrastructure you already have, connecting you to Vonage's global network of over 1600 direct-to-carrier and tier 1 connections. Purchase local, toll-free, shortcode, 10DLC, mobile, and landline numbers in over 65 countries, or port in the business phone numbers you already have. You can even bring your own carrier to combine with Vonage's voice and phone system features.
Vonage Voice uses webRTC for live HD-voice calling over the internet and PSTN. Vonage WebSockets and NLU connect with your application and third-party apps, facilitating automated features like AI bots, payment options, IVR, post-call surveys, transcripts, and more.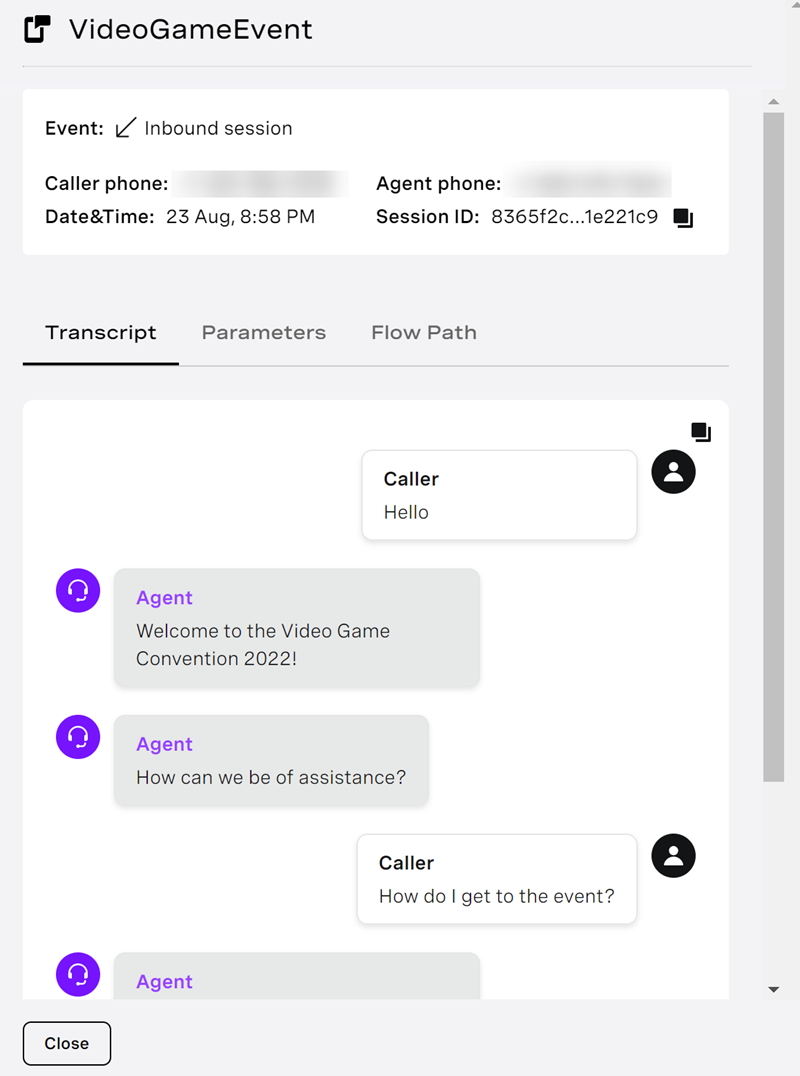 Vonage Voice API Features and Use Cases:
IVR: Design a multichannel self-service menu that routes inbound phone calls, sends SMS messages, provides order updates, books appointments, registers payments, and more. Similar to Twilio Studio, Vonage AI Studio is a drag-and-drop designer to build these tools without programming.
Multi-use virtual assistants: Use premade templates combined with Vonage AI NLU to build assistants for a variety of use cases, such as self-service FAQ bots, voice delivery updates, and post-call surveys.
Text-to-speech: Supporting over 50 languages
Call recording: With call transcription, content search, sentiment analysis, and 32-track recording
Speech control: Control text-to-speech pronunciation, including punctuation, pausing, emphasis, volume, and more
Audio conferencing
Customized voice prompts and hold music
Twilio Messaging APIs
Twilio's messaging platform, MessagingX, includes APIs for messaging via SMS, MMS, WhatsApp, and web chat. MessagingX offers both one-way transactional messages and back-and-forth conversational messages.
Twilio's global network utilizes real-time route optimization to ensure high deliverability to over 180 countries, with built-in security features that ensure international compliance and protect customer data.
Twilio Programmable Messaging API
A single API for one-way SMS, MMS, and WhatsApp messages, Twilio's programmable messaging works well for automated use cases: alerts and sms notifications, triggered marketing messages, announcements, and promotions.
Send bulk and automated messages from any Twilio number–toll-free VoIP numbers, shortcodes, and 10-digit long codes.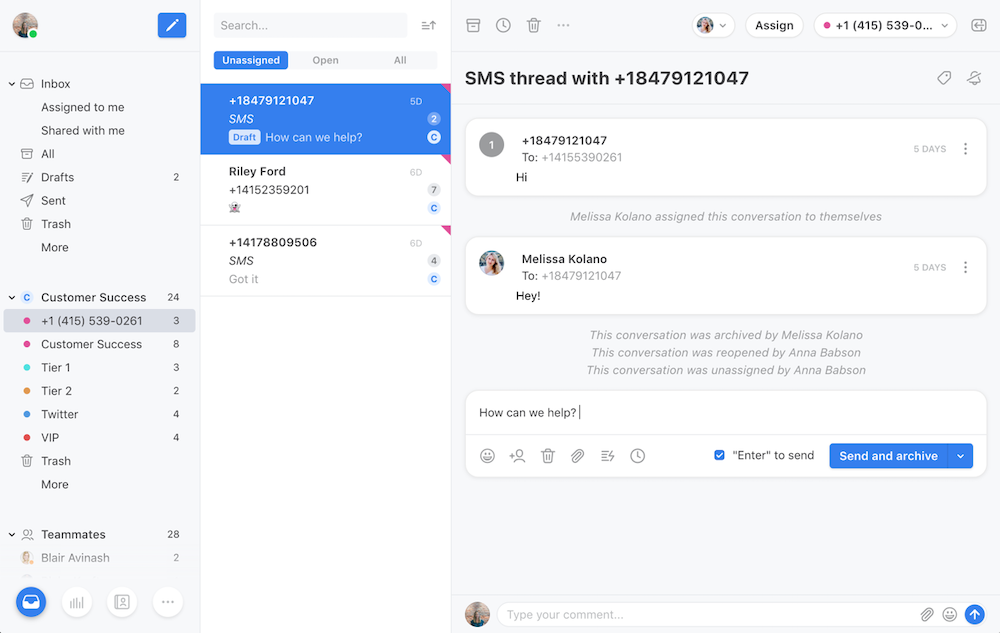 Schedule programmable messages or link them to app functions like CRM systems and databases. Rich message content supports SMS, MMS, and WhatsApp features like delivery notifications, emergency alerts, one-time passcodes, and appointment reminders. Use programmable messaging in marketing campaigns for customer retention.
Handle customer responses with preset webhooks that detect keywords. Twilio offers advanced opt-out and opt-in functionality, so customers can choose how they interact with your messages.
Twilio Conversations API
Twilio's Conversations API facilitates back-and-forth messaging on SMS, MMS, webchat, WhatsApp, Facebook Messenger, and Google Business Messages. Agents can jump between these channels to send and receive photos, videos, and files–with read receipts.
Supporting up to 1000 conversation participants, this API unlocks use cases like customer support, conversational marketing and commerce, and relationship management. It logs and archives conversation history for all agents to retain context.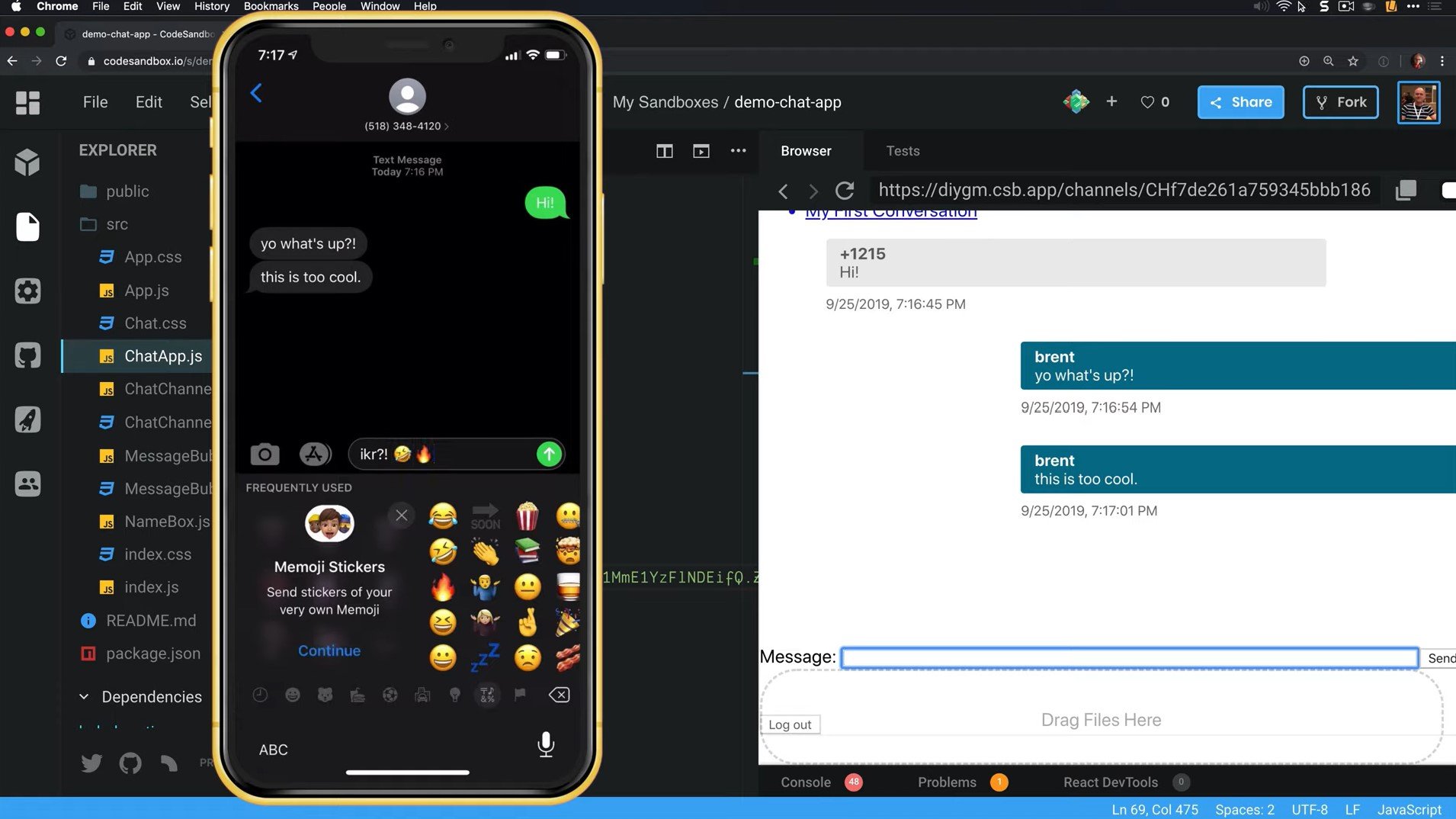 Vonage Messages API
Vonage's Messages API, formerly called Nexmo, offers programmable and live conversational messaging with customers through SMS, MMS, WhatsApp, Facebook Messenger, and Viber, from any Vonage virtual number or shortcode.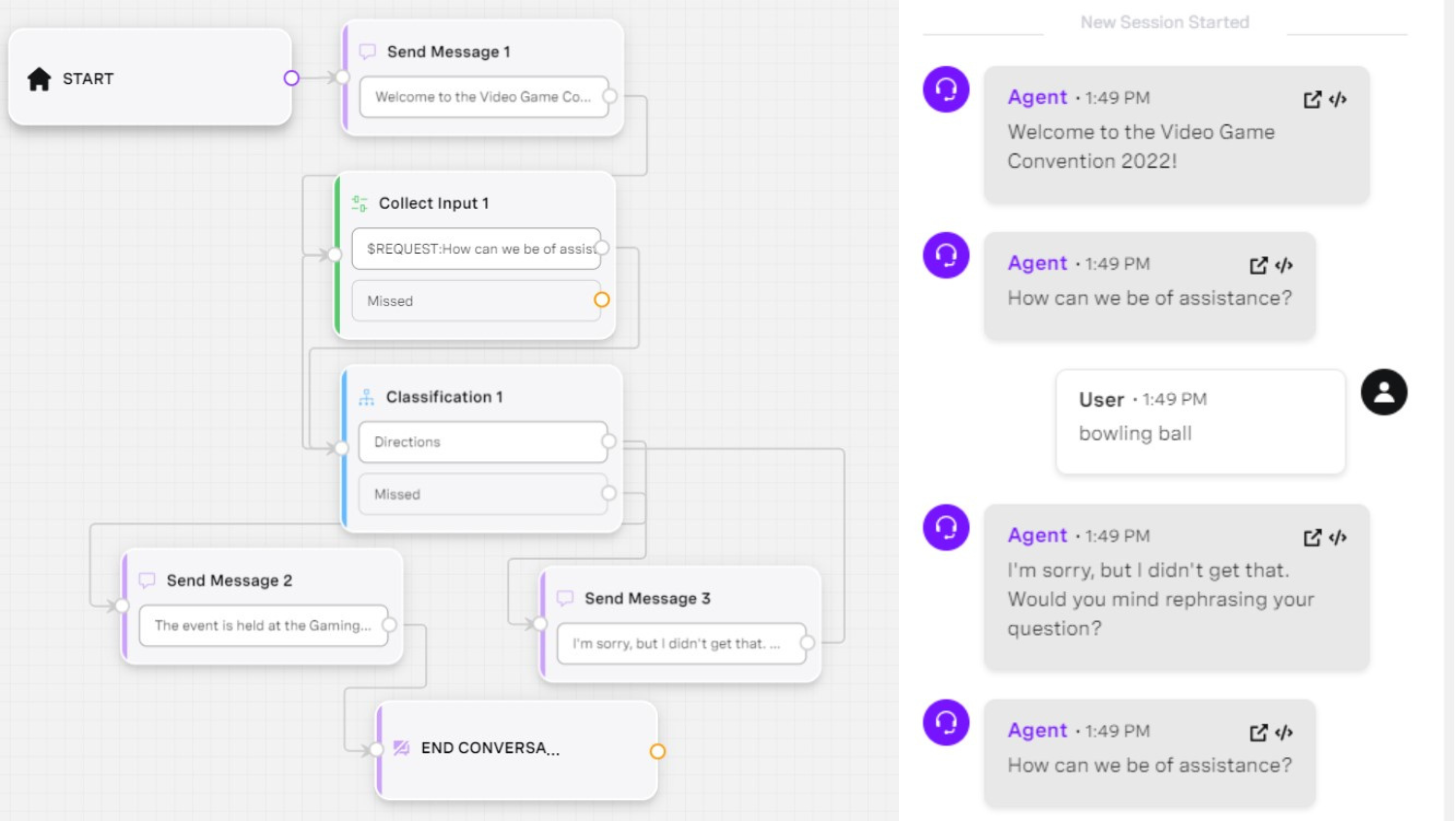 Vonage ensures high deliverability, with direct-to-carrier relationships around the world and an adaptive routing algorithm that works in real-time to identify the best route for your messages. The Compliance Engine considers how and when to send messages in compliance with country requirements, increasing message delivery success rate. Set failover and fallback channel options when messages don't reach their destination.
Send multimedia messages and rich communication services, leveraging Vonage's Dispatch API to automatically message customers on their preferred channel. Vonage's Reports API enhances your messaging campaign's effectiveness by gathering data, including delivery status, usage reports, and campaign metrics like click-through and sales rates.
Vonage Messages API Features and Use Cases:
Two-factor authentication (2FA): Message customers single-use passcodes and verify links
IVR: Automate multichannel messaging as part of your IVR menu, designed in Vonage AI Studio
Multichannel marketing and onboarding campaigns: Incorporate customer data and preferences for successful campaigns with high engagement
Chatbots: For automated real-time messaging conversations
Confirmations: Enable customer responses to confirm appointments, bookings, and more
Phone number validation
Live-chat customer service
SMS invitations and links
Twilio Video API
Use Twilio's video API to build applications with real-time video meetings, accessible via web browser and mobile, including iOS and Android. With options for collaboration, quality monitoring, and analytics, Twilio video meetings support tons of use cases: hiring, education and tutoring, telehealth, sales, and more.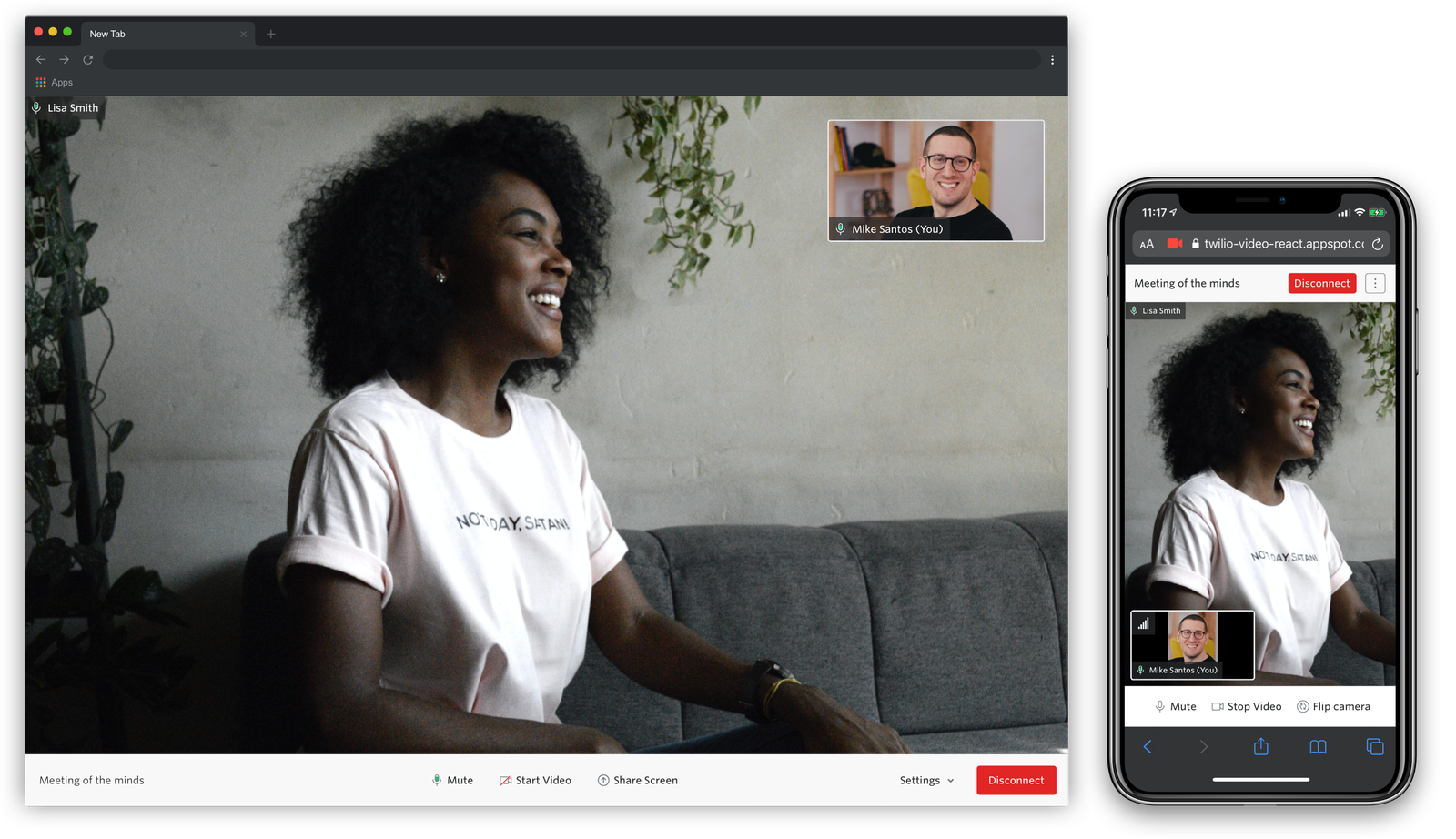 Twilio documentation provides developer tools, SDKs, sample code, and Video Insights–a tool to help you analyze video data. During meetings, Twilio's Network Quality API provides insights about the quality of your participants' video–including bandwidth, jitter, and packet loss.
Twilio Video API Feature Capabilities:
Meeting chat
Video animations
Screen filters, including virtual backgrounds and background blurring
Meeting recording
Customized and branded video layout
Video lobby
Vonage Video API
Vonage Video API enables live, custom video meetings on your desktop, web, or mobile app. Host up to 3000 real-time viewers, plus capabilities for live streaming over FaceBook Live, YouTube, and Twitch.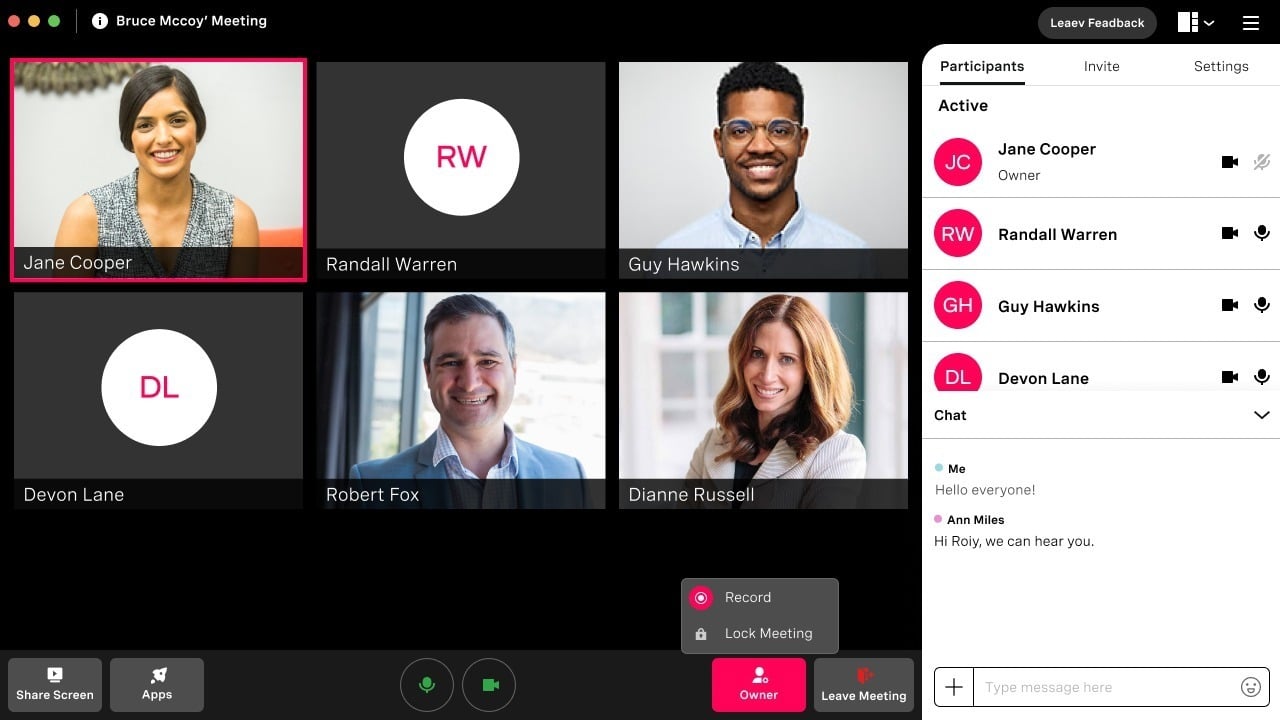 Vonage's videos are encrypted, protected behind firewalls, and supported with audio fallback if network quality drops. The Video Express feature helps web developers build dynamic video apps, even without video-building experience.
Vonage Video API Features: 
Video chat embeds: Embed a video chat window directly into your app's webpage or screen, with a Click to Call button and specified window width and height. With one click, your website visitors can connect with a team member for consultations, sales, appointments, and more.
Audio detection: Automatically adjust screen layout and display based on participants' audio activity
Analytics: Logs, quality reports, performance analytics, and usage data
Virtual backgrounds and filters
Twilio Applications
Twilio's software applications, built upon their own platform, come ready to use with a mobile and desktop interface, built-in communication channels, analytics and data monitoring, and advanced features.
Customer Data: Twilio Engage
Twilio Engage is a marketing campaign solution that gathers customer data in real-time to build personalized, multichannel customer-engagement journeys.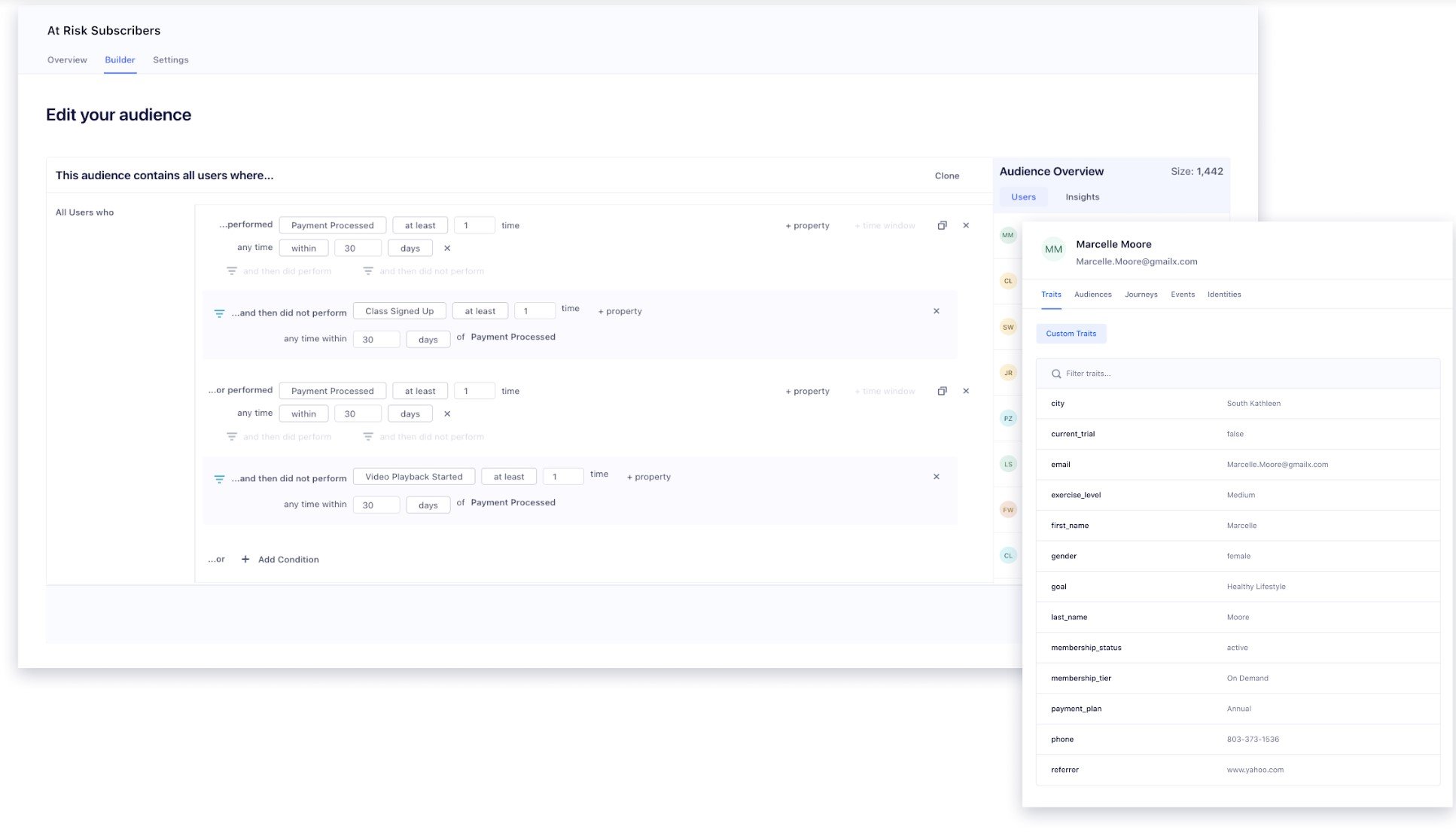 One piece of the application is Twilio Segment, which gathers customer data across every touchpoint: website, mobile app, email and text communication, and ads. Segment organizes this data in one database and builds customer profiles, unlocking insights like preferences, channel usage, traits, and behaviors.
Engage combines this data with Twilio's communication APIs and your predesigned marketing templates, creating personalized outreach campaigns that target customers with relevant messages on preferred channels.
Twilio Engage Use Cases:
New customer targeting and activation
Promoting subscriptions, sign-ups, and offers
Onboarding programs
Customer loyalty campaigns, and more
Email Engagement: Twilio SendGrid
SendGrid, Twilio's email API and application, provides a console for users to create emails, automate and track delivery, and monitor customer engagement.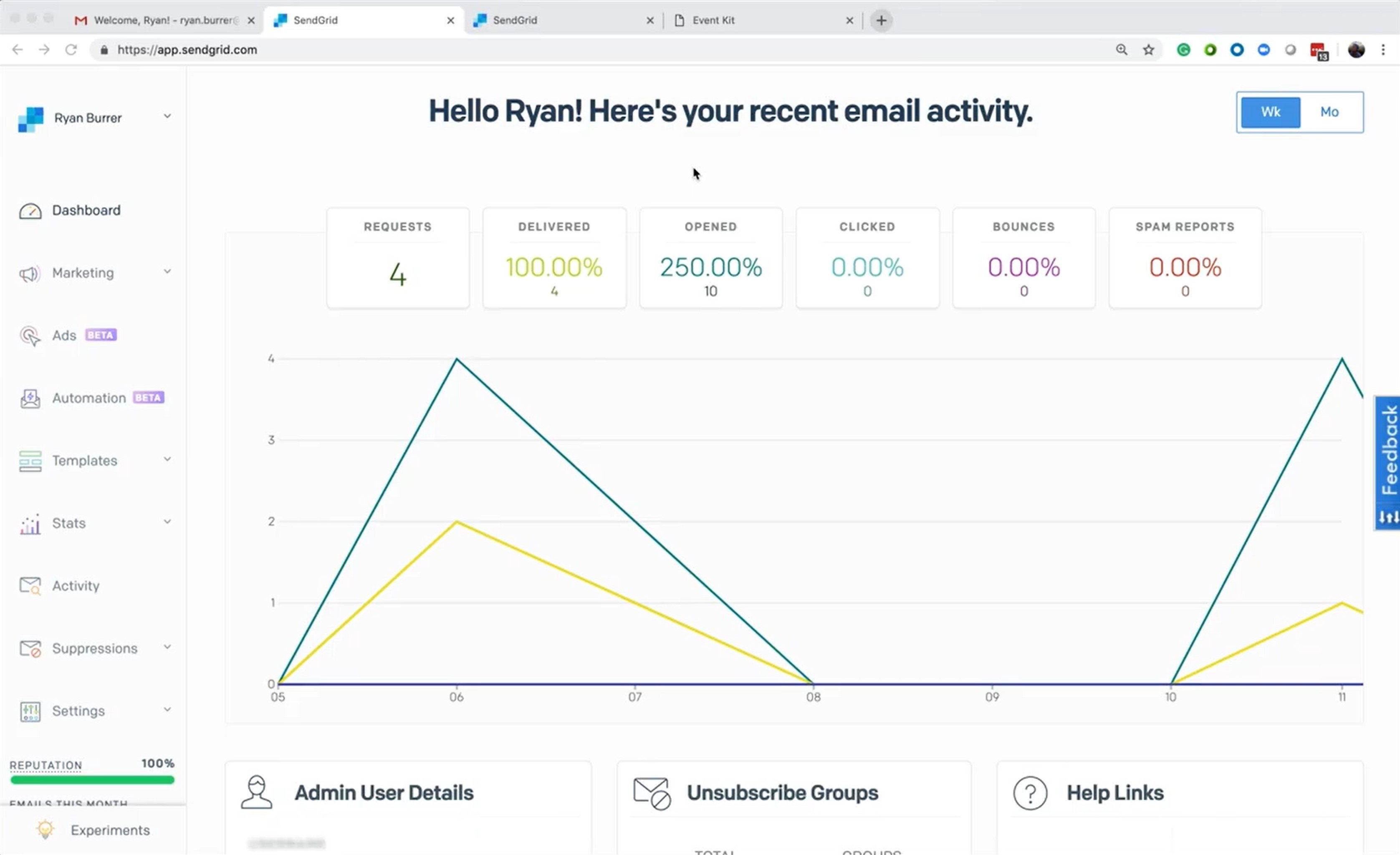 Design your own email templates with modules like images, text, columns, buttons, spacing, social media links, and more. Add your own code to email templates in your choice from 7 coding languages. Automate particular templates upon triggers and events, sent to particular customer subsets. SendGrid tools help you test and edit templates for optimal results.
Monitor all aspects of delivery and engagement, with delivery receipts, open rate, click status, unsubscribe rate, and bounce rate. SendGrid provides a customizable dashboard to view key campaign KPIs.
Use cases include transactional email–like account creation messages, shipping notifications, and password recovery–as well as marketing email–product recommendations, nurturing campaigns, and monthly newsletters.
Mobile-First Customer Relationships: Twilio Frontline
Frontline bundles Twilio's voice and conversational messaging APIs–WhatsApp, chat, SMS, and MMS– in one application to support your sales team in building personal, cross-channel customer relationships.
Regardless of a customer's touchpoint, agents can respond in real-time from web or mobile app. They can monitor read receipts and send emojis, images, and audio–all from a web or mobile application interface.
Each customer's cross-channel conversation history is logged and integrated with your CRM system, providing sales employees with full context for each interaction.
Contact Center: Twilio Flex
Twilio's cloud contact center earns the name "Flex" with its tremendous flexibility–in channel offerings, customer-interaction style, routing features, and interface layout.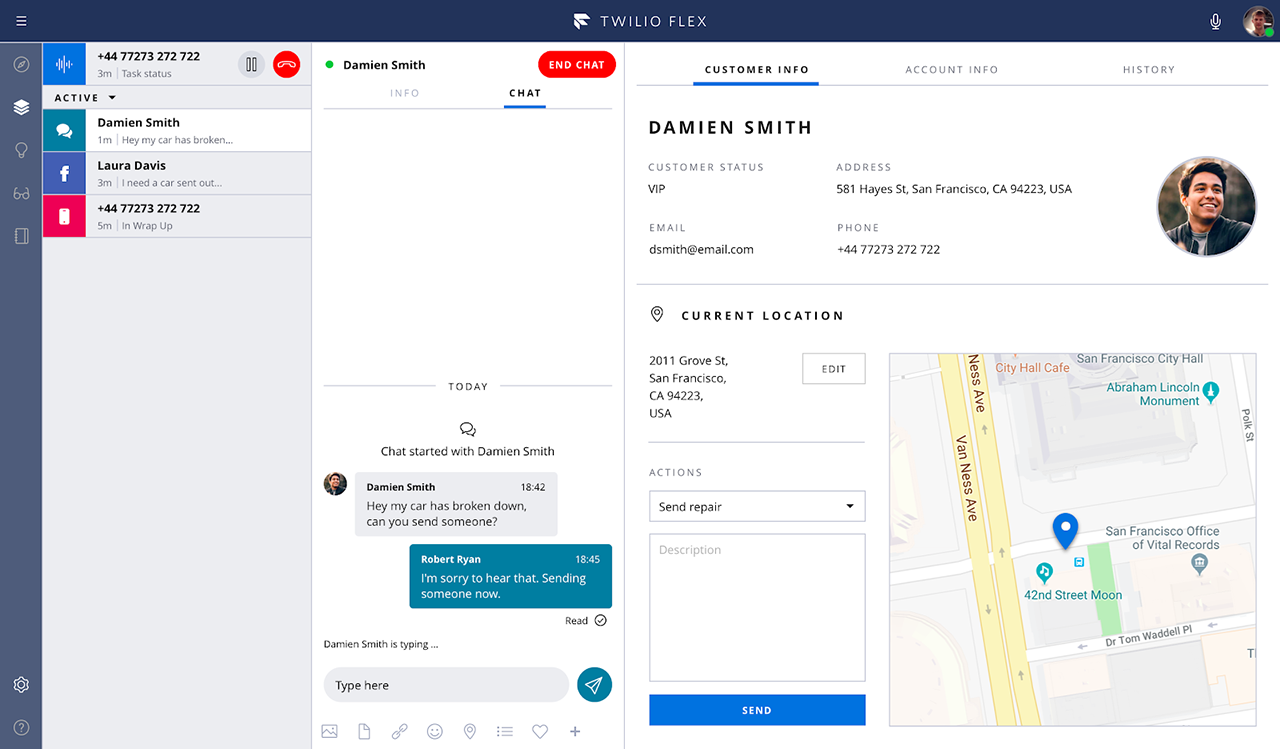 It leverages Twilio's programmable and conversational APIs for a blend of in-person and automated support, providing agents with an omnichannel interface to manage conversations, customer data, and internal communication.
Build automated chatbots on multiple messaging touchpoints using Twilio Studio, leveraging data from CRM integrations to offer customers a personalized experience. Live agents can take over the conversation anytime. The agent interface combines chat with a real-time view of the customer's journey and screen display, offering relevant CRM information, product inventory status, and canned responses that produce insightful support.
Agents can escalate calls between channels, create notes, and build new task lists in the midst of conversation, adapting to each customer's needs and subtly pulling in teammates when applicable.
Twilio Flex unites all of Twilio's services seamlessly into one product.
Vonage Applications
Vonage's readymade apps bundle their APIs into business communication solutions for large enterprises or small businesses.
Vonage Unified Communications 
Vonage offers a UCaaS app specialized for business communications and internal collaboration, including voice, SMS, team chat, fax, social media messaging, and video meetings with collaboration features.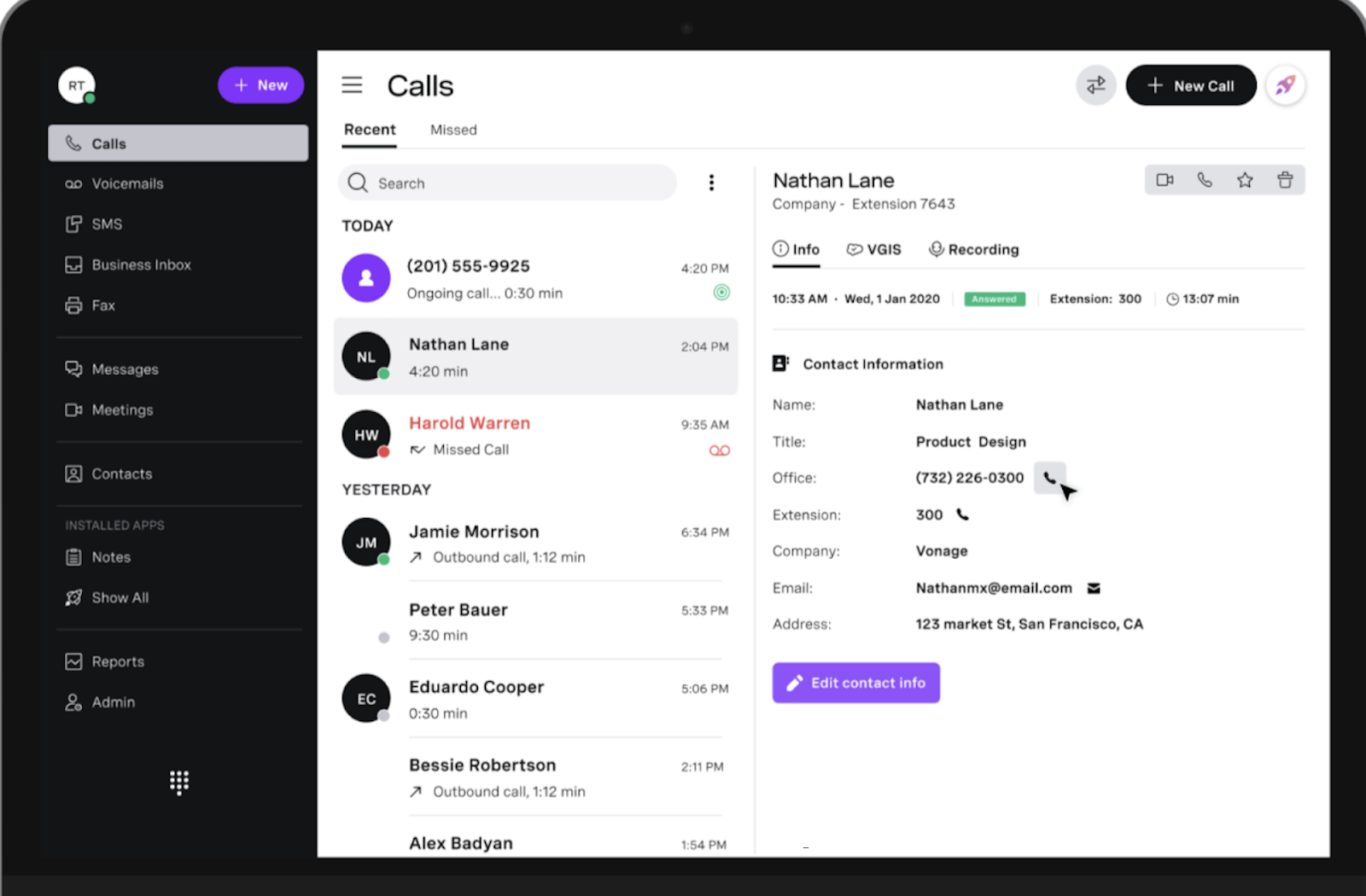 Agents can monitor internal and external communications in one easy-to-use interface, with a left-hand dashboard that organizes all channels, with notifications indicating new activity. Features and tools are accessible on desktop, web, or mobile apps, including iPhone and Android.
The UCaaS software's phone system includes over 50 features, such as IVR, call recording, call queues, live call controls, and the ability for agents to jump between devices in real time.
Agents can initiate 1:1 and group chat channels to share text, files, and images. The add-on Business Inbox feature provides a shared company inbox that aggregates inbound customer messages from SMS, MMS, and Facebook Messenger.
Vonage Contact Center
Vonage's omnichannel contact center software enables agents to manage customer interactions and internal communications. The interface combines team productivity tools, workforce management, routing and call queues, call center analytics with real-time dashboards, AI-enhanced customer support, and integrations with tons of third-party software like CRM systems.
Route customers to agents based on agent skill levels, with a dynamic IVR system that understands customers in dozens of languages. CRM integrations route customers to the right agent based on their priority, history with particular agents, and more.
AI tools like a virtual assistant, live sentiment analysis, and actionable insights improve the agent's ability to support customers. Call center monitoring tools like call, whisper, barge, and takeover enable supervisors to coach agents.
Pricing Comparison
Below, we'll compare the pricing plans of Twilio and Vonage.
Twilio Pricing
Most of Twilio's APIs are priced per use, with volume and committed-use discounts available.
API Channel
Inbound
Outbound
Free Option?
SMS
$.0079 per SMS
$.0079 per SMS
No
Voice
$0.004-$0.008 per minute
$0.004-$0.014 per minute
No
Video
$0.0015-$0.004 per participant per minute
Yes
Twilio's readymade applications, email API, and conversational marketing API utilize a monthly per-user subscription model, with free options available. Twilio Flex offers a unique per-hour pricing option–perfect for companies scaling up or down seasonally, or those with part-time agents.
| | | |
| --- | --- | --- |
| Application or API | Monthly Cost per User | Free Option? |
| Email API | $19.95-$89.95 monthly per user | Yes |
| Conversations Messaging API | $0.05 per active user per month + per-minute SMS pricing | No |
| Email Marketing Campaigns | $15-$60 monthly per user | Yes |
| Twilio Engage | Starts at $120 monthly per user | Yes |
| Twilio Frontline | Starts at $20 monthly per user | Yes |
| Twilio Flex | $150 monthly per user or $1 per hour per active user | 5,000 free active user hours to start |
Vonage Pricing
Vonage offers their communication APIs on a per-use basis alongside committed use and high-volume discounts.
API Channel
Inbound
Outbound
Free Option?
SMS
$.0059 per SMS
$.0064 per SMS
No
Voice
$0.0041 per minute
$0.0041 per minute
No
Video
$0.00395 per participant per minute
Yes
Vonage's pre-built applications are priced on a monthly subscription per user. While their UCaaS pricing is listed below, contact them directly for a personalized contact center quote.
| | | |
| --- | --- | --- |
| Application or API | Monthly Cost per User | Free Option? |
| Unified Communications | $20 to $40 monthly per user | No |
Twilio vs Vonage: Pros & Cons
Here, we've outlined the pros and cons of Twilio vs Vonage.
Twilio Pros
With SendGrid, Twilio offers an email API–something that many alternatives don't provide. Further, Twilio's video meetings support whiteboarding–a useful collaboration tool. Finally, they offer both a programmable and a two-way conversational SMS API, which facilitates nuanced customer interactions.
Twilio Cons
Twilio's abundance of features–across all APIs and some of their apps–requires advanced coding know-how, meaning that a team without experienced developers will not easily be able to incorporate Twilio's APIs.
Vonage Pros
Vonage offers strong audio quality, video meetings that embed right into your app's webpage, and their unified communications app is easy to use.
Vonage Cons
Many Vonage users report disappointment with their customer service, citing that it's difficult to reach a real person for support. Further, Vonage's video meetings lack some advanced collaborative features–like whiteboards, lobbies, and branding.
Twilio vs Vonage FAQs