Immediate responses to support requests, personalized product recommendations based on past purchases, seamless interactions with team members across multiple communication channels: it's no secret that today's customer expectations are sky-high.
One way to make meeting them easier?
Conversational Marketing.
As the name suggests, conversational marketing wins over customers through a two-way, real-time dialogue between businesses and consumers.
Read on to learn more about conversational marketing: what it means, why you need it, and how its features benefit both agents and customers.
Table of Contents:
What Is Conversational Marketing?
Conversational marketing is a customer engagement strategy where consumers and businesses connect via highly personalized, real-time interactions that closely mimic the fluidity and ease of natural conversation.
These conversations can be proactive (initiated by the business) or reactive (initiated by the consumer).
While the term "Conversational Marketing" refers to any type of two-way communication, including email and telephone, chat messaging is the most commonly used form.
As such, most conversational marketing interactions begin with a pop-up instant chatbot message in the corner of a business website/landing page, mobile application, or third-party messaging platform.

The goal of conversational marketing is to anticipate, understand, and respond to consumer questions and needs throughout the entire customer journey, essentially guiding the customer through the sales funnel step-by-step.
Conversational marketing is used to:
Provide product or service recommendations
Qualify and convert leads
Create and maintain customer relationships
Speed up sales cycles
Collect visitor, customer, and target market data
Respond to some customer service issues
Automated Chatbots vs. Live Agents in Conversational Marketing
A company's chat messaging can be facilitated by automated AI technology (chatbots), real-life human agents, or a combination of the two. Both chatbots and live agents can engage consumers in chat through the company website, SMS text messaging, or social media applications.
While both chatbots and live chats play critical roles in a balanced conversational marketing strategy, the two methods have some distinct features and strengths, which this section outlines.
Among consumers, 61% say they most often use live chat to communicate with businesses instead of relying on other communication channels like voice calls or email. However, especially for enterprise-level, international companies, it's simply not possible to respond to every single message with a live, human agent.
Enter the VIP of the conversational marketing world: automated chatbots.
Chatbots: Automated AI Conversation Software
Chatbots are automated instant-messaging programs connected to software systems that aim at reproducing real-time conversations between consumers and businesses. This usually happens on company websites or social media accounts.
You've probably interacted with quite a few chatbots yourself, given that the Drift study linked above found consumer-reported use of chatbots grew 71% between 2020-2021 – more than any other form of conversational marketing.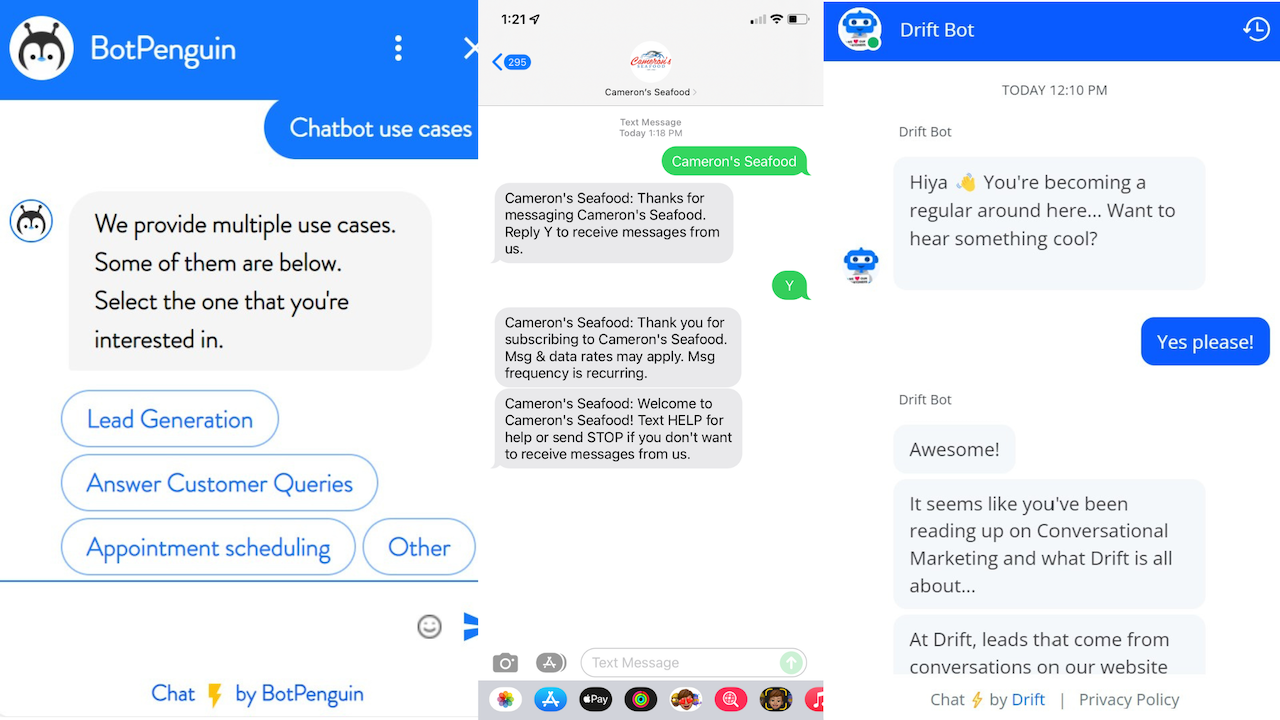 There is a constantly growing number of reasons to make chatbots a part of your approach to conversational marketing. While the chatbots of five years ago may have only understood hard-coded phrases or button selections, modern-day tools are so effective that 47% of chatbot users think they may have mistaken a chatbot for a live human agent.
Today's chatbots can:
Leverage artificial intelligence (AI) to interpret/respond to more natural, varied language/phrasing
Provide programmed responses according to keyword triggers or customer input
Use machine learning to improve based on previous conversations
Chat across multiple communication channels (phone, computer, email, social media)
Integrate with third-party business communication tools (CRM systems, knowledge bases, etc.)
Route customers to the appropriate live team member
Record, organize, and analyze visitor and customer data, including website-interaction history, contact preferences, and company information
They provide 24/7/365 conversational marketing opportunities and general customer service/support, keeping human agents free to work on more complex and critical issues.
Chatbots can also filter out quality leads, route conversations to the correct reps, schedule appointments, and meetings, subscribe website visitors to a newsletter or SMS-reminder service, make simple sales, and provide basic customer support.
With a wide variety of conversational styles, personas, and technological use cases, chatbots serve many company roles previously occupied by humans:
FAQ bots
Website navigation bots
Customer feedback bots
Newsletter subscription bots
Lead management bots
Demo booking bots
Product promotion bots
A word of caution on chatbot use: because they're automated, they can only assist consumers with the limited issues they've been programmed to manage – anything outside of that is beyond their scope. As such, rely on chatbots for simpler, routine tasks – not more difficult interactions.
When a customer has a complicated issue or prefers human interaction, live agents enter the picture.
Live Chat Agents
Live chat agents are customer service employees who interact directly with customers via chat messaging to solve issues, answer questions, and provide support.
Currently, live-chat messaging is the most commonly used method of customer support, with 85% of businesses expected to use live chat support by the end of 2022.
With an average response time of 48 seconds, live agents are fast and personalized enough to handle a variety of complicated consumer questions or problems. Live agents can decode confusing customer language and ask for further information when necessary. They can also use company knowledge bases to better understand the particulars of a customer's issue, then recommend personalized solutions.
Many companies offer live chat services integrated with various popular messaging platforms, including Facebook Messenger, Twitter, Zoom, SMS texting, WhatsApp, and others.
Live chat agents can provide the following functions:
Make customized recommendations for products or plans
Solve complicated and unique user problems, and answer questions
Ask follow-up questions to better understand the user's experience
Build human-to-human rapport
Conversational Marketing vs. Traditional Marketing
Traditional marketing techniques are all about making a sale – any sale, to anyone, at any time, and as quickly as possible.
Yes, familiar marketing strategies like cold calling, print and television advertising, and online ads cast a wide net. However, they also waste an enormous amount of agent time and company resources "pitching" to people that may not need or even want what they're offering.
Traditional marketing extends the sales cycle and requires the customer to do most of the work to get what they need. As shown in the image below, these consumers have to visit the business website, find and fill out the lead form, wait for a response, follow up, schedule a sales meeting, then possibly make a purchase.
No wonder traditional sales funnels yield these unsatisfying results:
Only 43% of people answer cold calls
The average email open rate has fallen to 20%
The average landing page conversion rate is only 2.35%
Standard marketing techniques and the transactions they generate aren't personal and they don't make the customer feel valued. In short, they're company-centric.
Conversational marketing, on the other hand, puts the customer front and center. Using both live chat and automated AI-based chatbots, businesses get to know the customer on a deeper level. They make individualized product or service recommendations only once they know what the customer is looking for, and they connect them with the agents most qualified to assist them.
This kind of relationship-based marketing doesn't only benefit customers – it also takes an enormous workload off of sales and support teams through automated self-service chatbots and AI-powered conversations.
Customers can express their problems, get answers, provide information to chatbots, and receive recommendations 24/7/365. Sales teams then wake up to segmented, pre-qualified leads, and have little "busy work" since conversational AI automates routine marketing, data recording, and customer support.
In short?
Conversational marketing does not entirely replace traditional marketing efforts, but instead makes them much more efficient – while satisfying customer expectations for round-the-clock engagement.
Key Conversational Marketing Tool Features
Below, we'll discuss the main features that distinguish conversational marketing from more traditional forms.
Internal and External Knowledge-Base Integration
Chatbots and live agents integrate easily with a company's internal or external knowledge base, allowing them to serve the customer quickly and personally.
Knowledge bases are software systems that allow companies to compile large repositories of data, making this data easily accessible to customers or company agents who need it.
Internal knowledge bases store information intended to be easily accessible by members of the company, such as customer information or company transaction history. External knowledge bases store information for the customer to access, such as how-to guides, informative articles, pricing questions, and other public information.
Integrating internal knowledge bases with live agent support makes a live agent's job much easier because when a customer opens a ticket through chat, the live agent can quickly search the internal knowledge base, pull up the relevant information, and resolve the customer's query in a matter of seconds or minutes.
External knowledge bases, on the other hand, connect chatbots to a huge bank of information, making chatbots much more useful to customers. Chatbots recognize keywords in customer queries, then match these keywords within the vast external knowledge base, and finally send customers either a relevant piece of information or a link to an article or webpage addressing their query.
In short, knowledge base integration equips live agents and chatbots to help customers quickly.
Customer Relationship Management (CRM) System Integrations
CRM system integration lets live agents access customer data and previous interaction history in seconds, helping them solve customer tickets quickly.
In live chat, a CRM helps agents gain quick access to customer metrics including:
Recent orders
Account value
Job title and company
Interaction history
Additional notes
Agents can access this information without having to leave the chat or make the customer wait. By increasing first-contact resolution, CRM-chat integration leads to happy customers and more customers served, resulting in more future purchases.
Sales agents can also segment their customer base using CRM-stored metadata, such as:
Customer revenue and employee count
Industry
Geography
This segmentation helps your sales team target their efforts and key performance indicator (KPI) improvement toward the target audience with the greatest ROI, translating time and sales efforts into more sales.
Chat Data and Analytics
Chatbots and live-agent chat continue to develop the ability to track and analyze many data metrics about your agents, customers, and your strategy's overall customer-service effectiveness.
Some trackable chat metrics include:
Individual Chat Agent Performance
Chat duration: time each agent takes to help customers
Response time: the time it takes an agent to respond to a customer
Agent activity: which agents are online, and their activity status
Chat or ticket satisfaction: customer satisfaction level with chat team, individual agents, or individual tickets
Chat availability: hours per day your agents and team are available to customers
Customer Service Effectiveness
Total chats: number of chats your team handles everyday
Chat engagement: where your chats come from (which page, link, product)
New tickets: number of new tickets your agents face each day
Solved tickets: number of solved cases per day
First response time: the time it takes for a ticket to receive a response
Queue abandonment: how many and which customers left the queue before chatting with an agent
Your company can use these metrics and KPIs to make informed marketing decisions based on reports and analytics that identify trends, comparisons, and changes over time, highlighting areas of your chat strategy that could use improvement.
The report data are viewable in various forms, including bar charts, line charts, pie charts, and tables tracking progress by the day, week, month, or year.
Analytics and Reports
Tracked sales: shows how much value you get from your live chat or chatbot strategy, which products generate the most sales, and which agents make the most sales
Achieved goals: shows how many of your chats ended up with your visitor taking the desired action, like a sale or sign up
Conversion rates over time: shows effectiveness over time of certain greetings, chatbots, or agents, giving a percentage measuring an increased or decreased success rate over days, weeks, or months
Side-by-side comparisons: delivers comparisons among greetings, agents, or chat locations to see which tactics work best
Additional Conversational Marketing Channels: Email, Social Media, Forms
Additional communication channels like email, social media messaging, SMS texting, and web forms have seen a drop off in popularity since 2020, ceding ground to chat messaging.
Still, these alternative methods present opportunities to expand your target market, gather additional consumer data, and provide immediate answers on channels your customers might prefer over website chat.
Companies like 1-800-Flowers, shown below, blur the line between chat messaging and social media, with chat agents on Facebook Messenger able to gather customer information and provide custom product recommendations.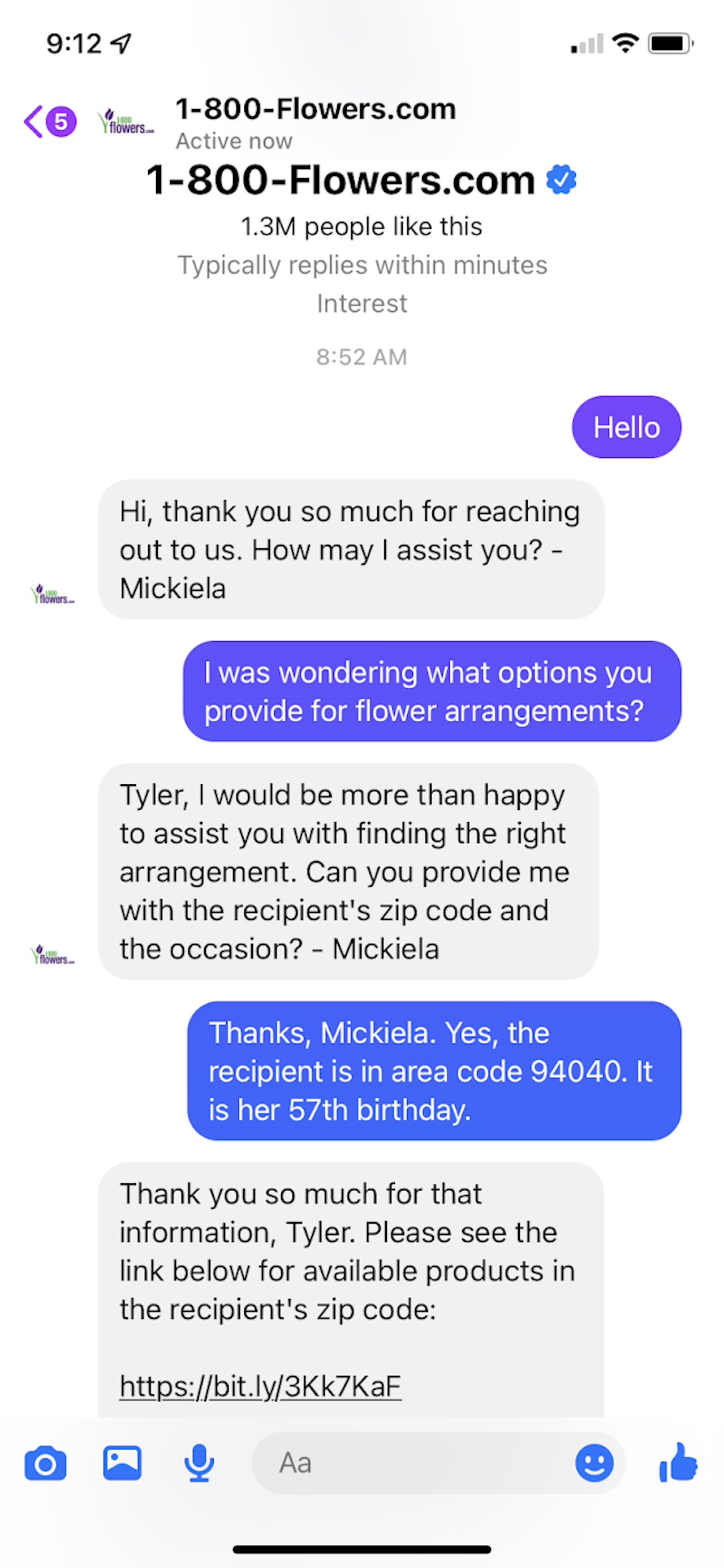 Text messaging offers the same benefits as online chat messaging, but for mobile-first consumers. With younger generations texting as frequently as ever, a Zipwhip 2018 survey found that 83% of Gen Z (those born in the early 2000s) respondents wish companies would text them more.)
Company forms, used for gathering information about customers, collecting surveys, and qualifying leads, can adopt a conversational tone to engage customers on a more personal level. Further, company forms can provide an interactive sequence-flow of questions that change in response to customer answers.
While online-chat gains popularity in the field of conversational marketing, alternative methods like email, texting, and forms provide great opportunities to offer customers the conversational benefits of engagement, immediacy, and a personal tone.
The Top Benefits of Conversational Marketing
Below, we'll outline a few of the biggest advantages of using conversational marketing.
Efficient Customer-Support Resolution
Customers want their simple questions and concerns answered as quickly as possible.
A 2016 MyCleverAgency report shows that 46% of consumers are frustrated by business websites that lack basic information like company location and hours. Additionally, 40% of consumers say business websites and other online platforms can't provide immediate answers to simple questions, while another 27% are irritated by a lack of company response outside of business hours.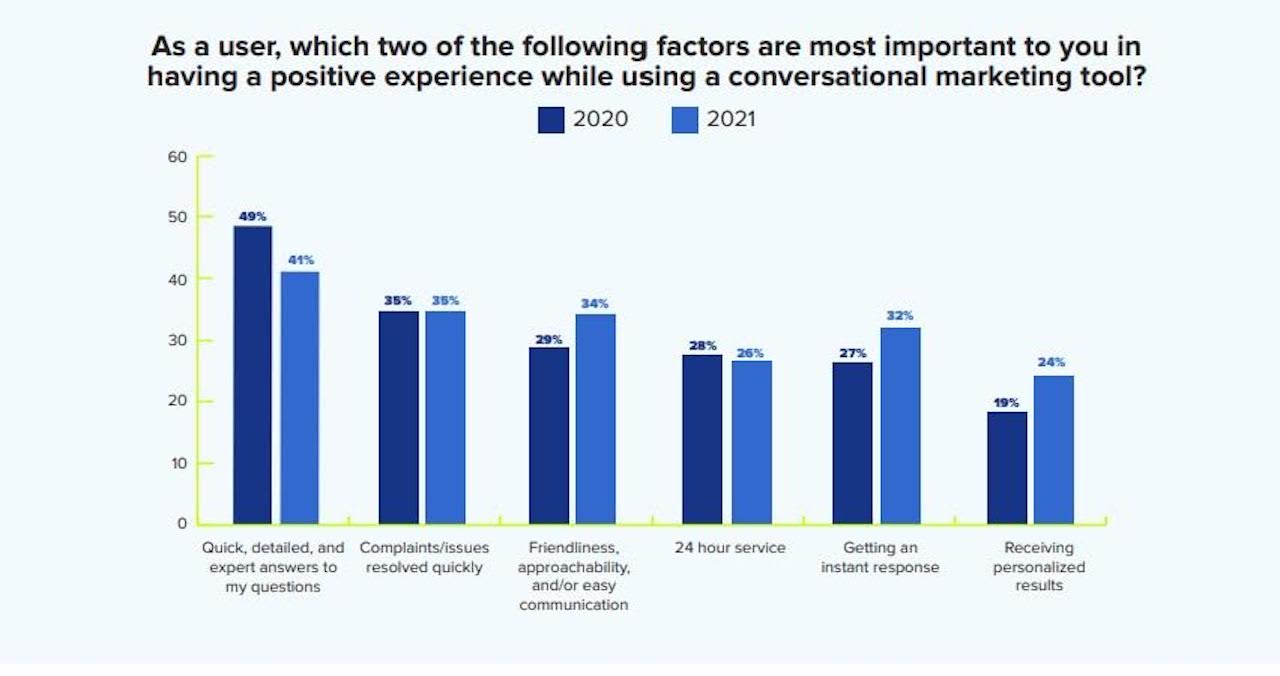 Inefficient customer support harms not only customer morale but company morale as well, as team members must spend extra time answering or asking redundant questions and appeasing frustrated customers.
Conversational marketing offers more seamless and proactive customer support, providing 24/7 customer self-service through engaging websites and chatbots, routing to live conversational agents only as needed. Live agents can deal with a limited number of customers at once, but automated chatbots can help 100,000 frustrated users simultaneously accomplish a variety of tasks: book appointments, refill orders, make purchases, and find answers to questions.
In short?
If you're looking for a way to outpace your competitors and improve customer-service-team morale, rely on conversational marketing to meet customer expectations for efficient query resolution.
Personalized Customer Interactions
Customers want a personalized experience interacting with a company. Today's shoppers rank open, friendly communication as one of the top 5 factors influencing their purchasing decisions and loyalty.
Natural language technology (NLT) constantly improves chatbots' ability to provide a personalized tone and conversational flow through keyword-initiated responses.
Live chat agents achieve personalization to a greater extent, as agents can respond to spontaneous and unlimited customer issues with empathy, concern, and commitment, as shown below.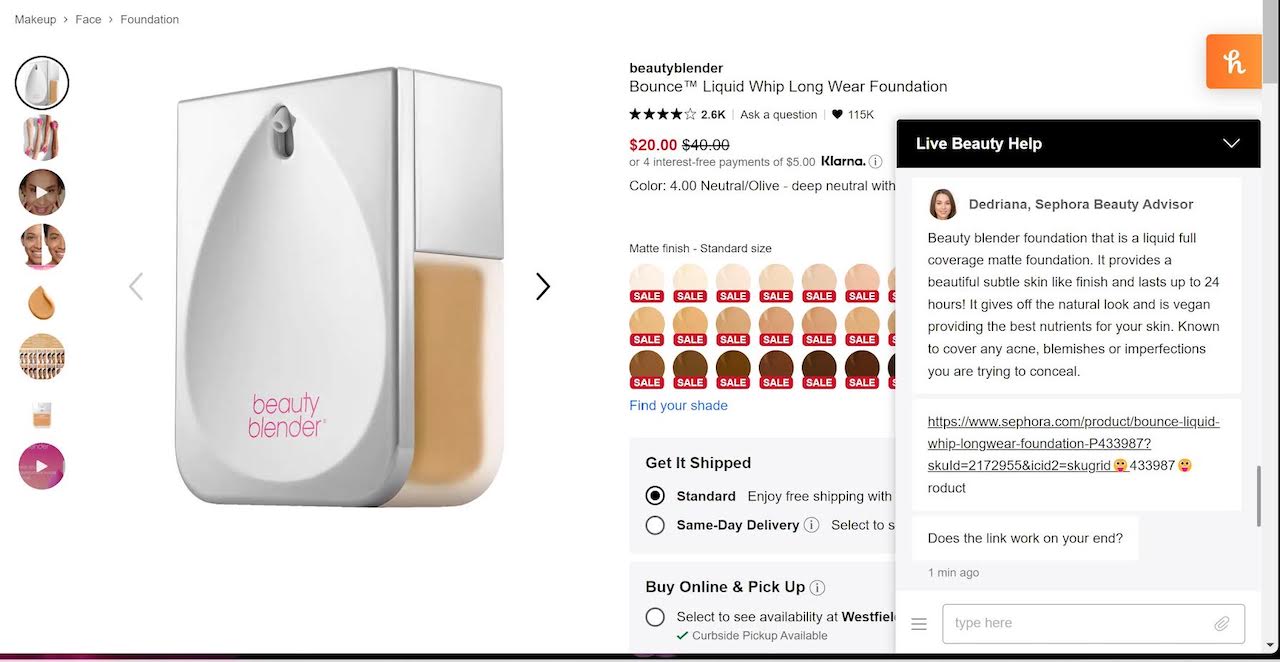 By allowing the consumer to ask questions, express issues, and receive individualized solutions, conversational marketing bridges the gap between efficiency and personalization.
Increased Consumer Spending and Lower Operating Costs
Increased consumer spending with lower operating costs means greater sales revenue.
Chatbots and live chat help companies achieve just this.
Chatbots, capable of dealing with unlimited numbers of customers at once, free agents to work with more qualified leads. Customers appreciate live chat, as 63% of customers who spend between $250 to $500 a month are most likely to buy from and remain loyal to businesses offering live chat.
A conversational marketing strategy utilizing automated tools like customer subscriptions, ordering, and purchasing expedites the sales and order process, generating more sales quickly and with less live-agent involvement.
Chat CRM system integration schedules automated reminders for customers using the channels and frequency that they set for themselves. Customized reminders keep loyal customers, as 90% of clients say they're more likely to do business with a company that sends them.
AI chat automation allows your company to save money on live agents without compromising customer convenience or sales opportunities.
Effective Lead Management and Shorter Sales Cycles
High-performing companies convert about five times as many leads as their average-performing peers.
What allows these companies to achieve high lead-conversion rates?
Lead nurturing, which refers to companies' pacing of leads through the sales funnel and follow-through turning them into paying customers. Companies that effectively use nurturing campaigns can boost their pool of sales-ready leads by up to 50%, and AI-automated chat technology can facilitate the lead-nurturing process.
For example, chatbots and live agents quicken follow-up time. Lagging follow-up time decreases contact rate by 10 times, but chatbots follow up with leads in seconds, gathering their sales-relevant information and qualifying them for sales-team contact. A chatbot message pop-up convinces website visitors to stick around and interact, lowering the landing-page bounce rate.
Among companies using AI-enabled technology, 82% find it to be a very suitable asset in their current sales and marketing strategy. This is because conversational marketing increases the conversion of website visitors into paying customers.
Intuitive Customer Usability
Today's consumers intuitively engage with automated and live messaging interfaces. Since the COVID-19 pandemic, consumer-use channels with the largest increases include video, web chat, instant messaging, and voice-activated virtual assistants and wearables–automated chat technology takes advantage of these trends.
A Gartner 2022 Report shows how chatbots have increasingly developed the ability to learn customer behavior to deliver more personalized experiences.
Automated chat systems integrate with social media applications already familiar to customers. They also meet international customer communication needs by integrating translation applications, voice capabilities, and summarization capabilities. This way, businesses can overcome language barriers in worldwide communication with customers.
By communicating with customers through languages and mediums most familiar to them, both AI-automated and live-agent chat technology make happy, loyal customers.
How to Create a Conversational Marketing Strategy
Below, find a brief walkthrough of steps to get your company's own conversational marketing strategy up and running.
Step One: Define and Research your Target Market
First, identify which audience you want to target with your conversational marketing strategy.
To select an audience for lead conversion, consider the following questions:
What problems do my customers face and how will my products/services solve them?
What is my target market's goal in using this product?
Do I want to target all of my website visitors or just certain ones?
Depending on these needs, which function should my chatbot solve?
Step Two: Determine the Purpose(s) and Type of your Conversational Marketing Strategy
Next, determine the purpose(s) you want your conversational marketing strategy to serve.
Examples of conversational marketing strategy purposes include:
Generating and qualifying leads and gathering data
Answer FAQs
Promote content
Providing customer support
Disseminating contact forms
Providing forms for users to submit reports, tickets, requests, applications
Guiding customers on the website (to make payments, find information)
Step Three: Set Specific Goals for Measuring Conversational Marketing Success
Setting specific performance goals for your conversational marketing program allows your team to measure the marketing strategy's effectiveness. These goals and measurements make it easier to know if and how the strategy is or isn't meeting expectations, which components to adjust, and how well each change improves the desired measurement outcomes.
The below KPIs (key performance indicators) help you accurately evaluate your CM strategy: :
Subscribers to the company newsletter
Clicks on a link
Number of solved tickets per day
Total number of daily chats engaged
Total number of converted sales per day, week, or month
Customer chat satisfaction scores
Percentage of website visitors converted into a sale
Step Four: Choose Your Chat Tool's Location
While many websites have a chatbot, newsletter sign-up, or live-agent chat link available in the bottom right-hand corner of the page, where you place yours depends on factors like:
The specific application or communication channel
Whether customers will engage with the chat tool on desktop or mobile devices
The actions you want customers to take on a specific website page
What on-page actions trigger a chatbot
Type of marketing tool used (chatbots, live agents, forms, links)
Web page function and design
Step Five: Develop Chat Personas
It's time to start developing content and personas for your online chat tools. First, determine the bot's desired persona.
Do you want to give the bot an on-brand "personality," name, and look? Or, would you like to give the bot a human face? Should live agent chats display the rep's name and photo in the chatbox? What kind of branded "lingo" or conversational style should it use?
Check out these examples of bot "faces" that various companies use: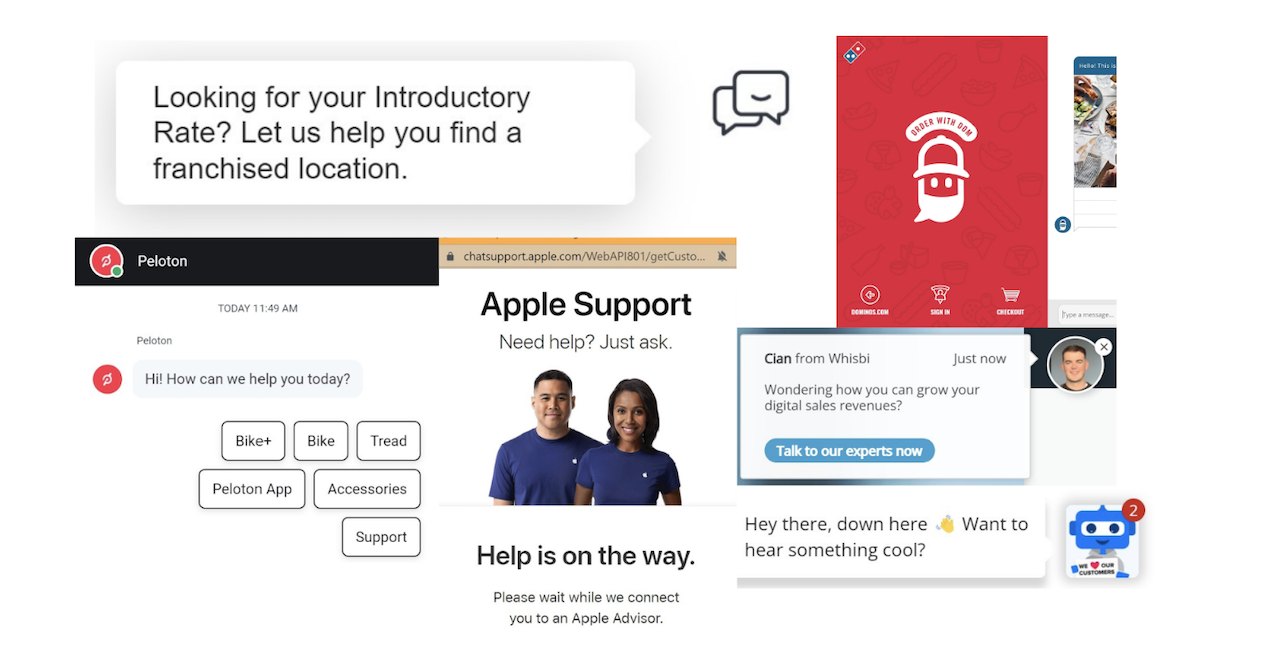 Step Six: Outline Conversation Flows
Next, map out the conversation flow by writing question prompts, multiple choice answers/response options, greetings, and "if-then" conversation paths depending on customer responses, actions, or use of trigger words.
Check out the bot flow example below for more ideas: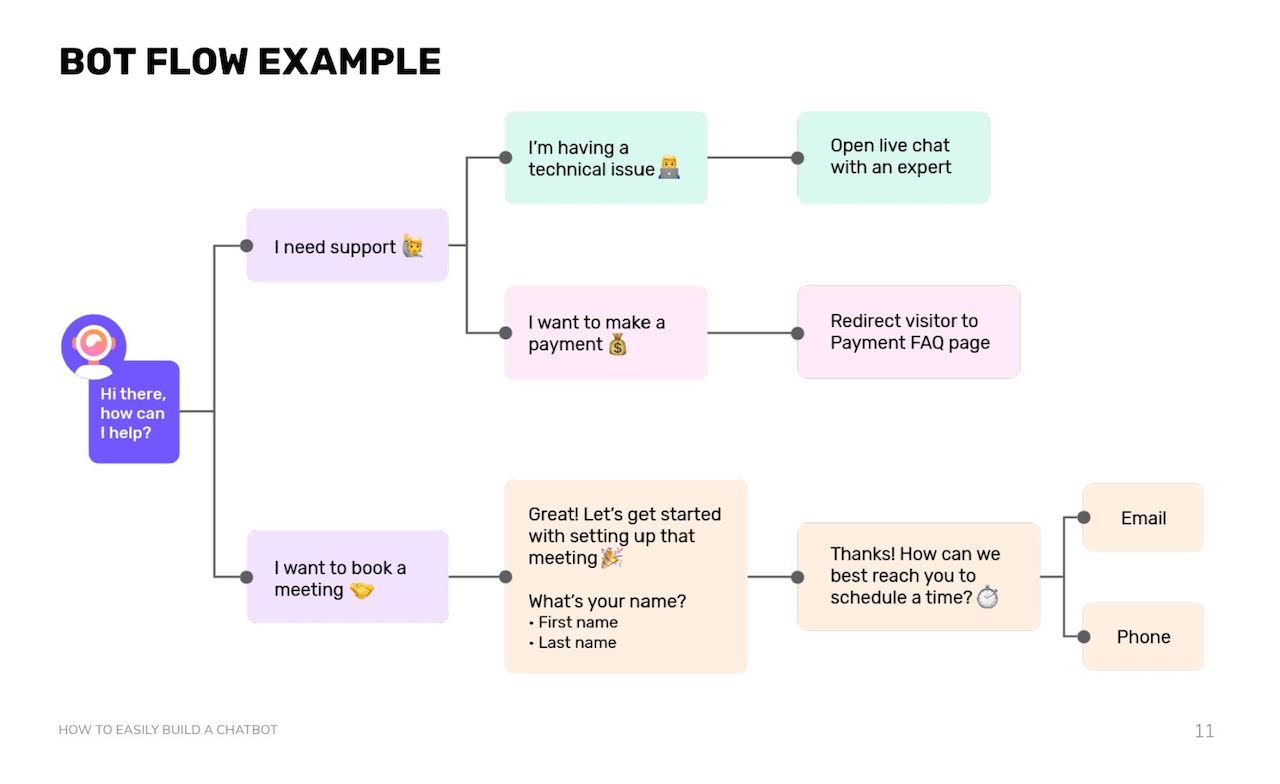 Step Seven: Engage with Customers and Collect Data for Improvement
Time to put the plan into action!
Once your bot is live, begin gathering and tracking customer data to qualify leads and make sales or suggestions. Typically, a CRM or knowledge base system will automatically track and organize this data, segmenting leads for sales-team follow-up.
Once you've collected some data, It's also time to measure your conversational marketing strategy's effectiveness based on KPIs and adjust strategies or goals if needed.
Questions to ask at this step include the following:
What information is most important to customers?
Is that information readily available to customers that engage with the chatbot?
What does our recorded data tell us about the effectiveness of our conversational marketing campaign?
Where have we fallen short of our marketing or sales goals, and how should we change our approach to meet these goals?
Where do we see evidence of success for the conversational marketing campaign?
Conversational Marketing Puts Customers First
Industry leaders and expert predictions make it clear how businesses can get ahead over the next decade: conversational marketing.
While live agents and real-life phone calls will always hold special value within the conversational-marketing space, AI-automated chat technology continues to add new capabilities that improve not only the customer experience, but company performance, mood, and unity.
The future of business-customer interaction is accelerating toward automation, especially since technological advances making chat technology more intuitive.
Now is the time to examine some conversational marketing providers and tools and consider how your company can better serve its customers.
Conversational Marketing FAQs
Below, we've answered the top FAQs about conversational marketing.
Conversational marketing is effective because it provides consumers with an interactive,  personalized, and fast customer experience. While recommending specific products/services and answering key questions, conversational-marketing tools also collect customer information, segmenting, qualifying, and guiding leads through the sales pipeline.
A conversational growth strategy is a customer-experience-oriented marketing approach that provides customers with personalized, conversational interactions with the company. Over time, this personalized dialogue builds strong customer relationships and loyalty, reducing customer churn and increasing sales opportunities.

Common strategies for improving conversational marketing efforts include CRM- and knowledge-base-software integration for easier access to customer data, chatbot personalization, automated instant responses, and the option to transition from an AI-powered chat to a conversation with a live agent at any time.
Conversational marketing effectiveness is measured through customer sentiment and data analysis. Customer surveys and forms provide a qualitative view of the customer experience, while KPIs like chat effectiveness, solved tickets per day, first-contact resolution rate, chat or ticket satisfaction, and overall sales conversion rate give insight into how to improve the customer experience and generate more revenue.

 The most popular conversational marketing tool is currently live, one-on-one chat messaging with a human agent. Emailing and phone calls are the second and third most popular strategies, but social media has gained an increased role in conversational marketing. Chatbot technology is rapidly gaining popularity, especially as natural language technology and intuitive communication integrations become smarter, more human-like, and more versatile.