Today's customers expect quick, personalized interactions with companies: immediate responses to support requests, personalized product recommendations based on past purchases, and seamless interactions with team members across multiple communication channels.
One way to meet these expectations?
Conversational Marketing.
As the name suggests, conversational marketing wins over customers through a two-way, real-time dialogue between businesses and consumers.
Read on to learn more about conversational marketing: what it means, how it will benefit your company, and how to implement a conversational marketing strategy.
Quick Links:
What Is Conversational Marketing?
Conversational marketing is a customer engagement strategy where consumers and businesses connect via highly personalized, real-time interactions that closely mimic the fluidity and ease of natural conversation.
These conversations can be proactive (initiated by the business) or reactive (initiated by the consumer).
While the term Conversational Marketing refers to any type of two-way communication, including email and telephone, chat messaging is the most commonly used form.
As such, most conversational marketing interactions begin with a pop-up instant chatbot message in the corner of a website page, mobile application, or third-party messaging platform.
The goal of conversational marketing is to anticipate, understand, and respond to consumer needs throughout the customer journey, guiding the customer through the sales funnel.
Conversational marketing is used to:
Recommend products or services
Qualify and convert leads
Create and maintain customer relationships
Improve customer experience
Speed up sales cycles
Collect visitor, customer, and target market data
Respond to some customer service issues
Conversational Marketing vs Traditional Marketing
Traditional marketing approaches are all about making a sale–any sale, to anyone, at any time, and as quickly as possible.
Yes, familiar marketing strategies like cold calling, print and television advertising, and online ads cast a wide net. However, they also waste an enormous amount of time and company resources "pitching" to people that may not need or even want what they're offering.
Traditional marketing extends the sales process and requires the customer to do most of the work to get what they need–consumers have to visit the business website, find and fill out the lead form, wait for a response, follow up, schedule a sales meeting, then possibly make a purchase.
Standard marketing techniques and the transactions they generate aren't personal, and they don't make the customer feel valued. In short, they're company-centric.
Conversational Marketing is Customer-Focused
Conversational marketing, on the other hand, puts the customer front and center. Using both live chat and automated AI-based chatbots, businesses get to know the customer on a deeper level, making individualized product or service recommendations only once they know what the customer is looking for, and they connect customers with the agents most qualified to assist them.
Relationship-based marketing doesn't only benefit customers–it also takes an enormous workload off of sales and support teams.
Customers can express their problems, get answers, provide information to chatbots, and receive recommendations 24/7/365. Sales teams then wake up to segmented, pre-qualified leads and potential customers, and have little "busy work" since conversational AI automates routine marketing outreach, data recording, and customer support.
In short?
Conversational marketing does not entirely replace traditional marketing efforts, but instead makes them much more efficient–while satisfying customer expectations for round-the-clock engagement.
Automated Chatbots vs. Live Agents in Conversational Marketing
A company can facilitate its chat messaging using automated AI technology (chatbots), live agents, or a combination of the two. Both methods can chat through the company website, SMS text messaging, or social media applications.
Chatbots and live chats play critical roles in a balanced conversational marketing strategy, each with distinct strengths.
Live agents offer a personalized, convenient support option that can help customers with complicated or high-security issues. However, it's not always feasible to staff a live agent contact center 24/7.
Enter the VIP of the conversational marketing world: automated chatbots.
Chatbots: Automated AI Conversation Software
Chatbots are automated instant-messaging software-based programs that aim to produce real-time conversations between consumers and businesses through company websites, SMS, or social media accounts.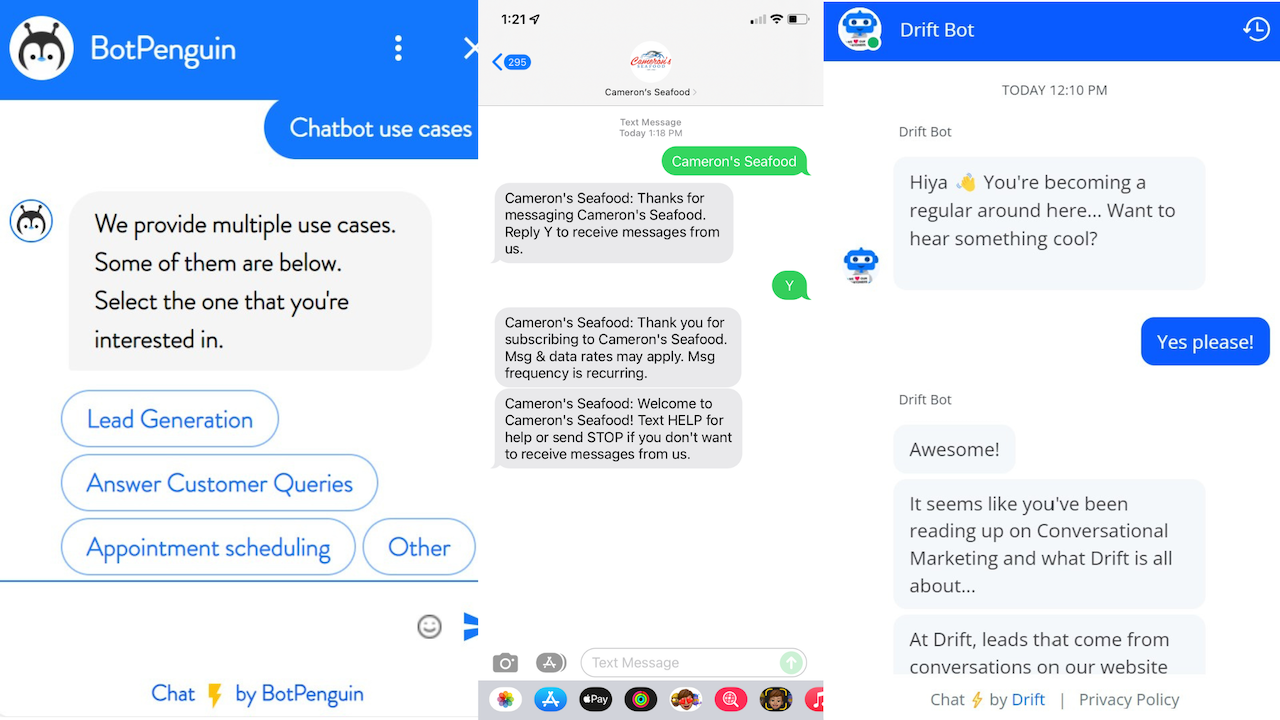 Several years ago, chatbots interacted in a clunky, unnatural style. But today's chatbots use natural language understanding (NLU) technology for nuanced, responsive conversation.
Today's chatbots can:
Leverage artificial intelligence (AI) to respond to more natural, varied language for meaningful conversations
Provide programmed responses according to keyword triggers or customer input
Use machine learning to improve based on previous conversations
Chat across multiple communication channels (phone, computer, email, social media)
Integrate with third-party communication tools (CRM systems, knowledge bases, etc.)
Route customers to the appropriate live team member
Record, organize, and analyze visitor and customer data, including website journey, contact preferences, and company information
They provide 24/7/365 conversational and inbound marketing opportunities, and general customer service/support, keeping human agents free to work on more complex and critical issues.
Chatbots serve many company roles previously occupied by humans:
Answering FAQs
Helping navigate websites or apps
Gathering feedback or giving surveys
Subscribing customers to a newsletter
Opting in or out of SMS automated systems
Lead generation, qualification, and management
Routing customers to the correct agents
Booking demos and appointments
Promoting products
A word of caution on chatbot use: because they're automated, they can only assist consumers with the limited issues they've been programmed to manage–anything outside of that is beyond their scope.
Rely on chatbots for simpler, routine tasks, reserving complicated interactions for live agents.
Live Chat Agents
Live chat agents are customer service and sales reps who interact directly with customers via chat messaging to answer questions, make offers, and provide support.
Currently, live-chat messaging is the most commonly used method of customer support.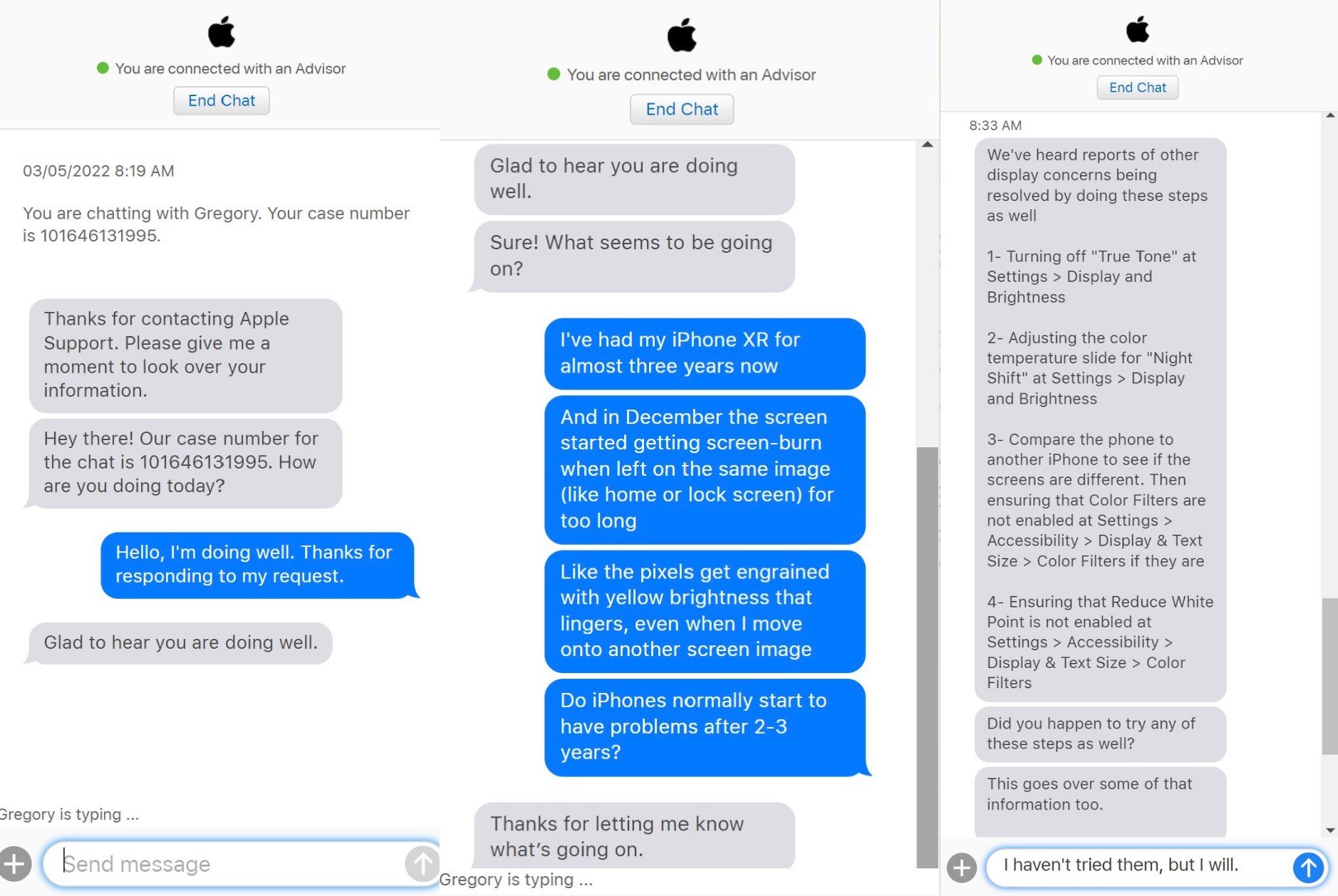 Live chat agents can:
Make customized recommendations for products or plans
Solve complicated user problems
Answer questions
Ask follow-up questions to better understand the user's experience
Build rapport
Many companies offer live chat services integrated with various popular messaging apps and platforms, including Facebook Messenger, Twitter, Zoom, SMS texting, WhatsApp, and others.
The Top Benefits of Conversational Marketing
Below, we'll outline a few of the biggest advantages of using conversational marketing.
Efficient Customer-Support Resolution
Customers want their questions and concerns answered as quickly as possible.
46% of consumers get frustrated when business websites lack basic information like company location and hours, or can't provide immediate answers.
These pain points harm not only customer morale but company morale, as team members must spend extra time answering or asking redundant questions and appeasing frustrated customers.
Conversational marketing offers proactive customer support, providing 24/7 customer self-service through websites and multichannel chatbots, routing to live conversational agents only as needed. Live agents can deal with a limited number of customers at once, but automated chatbots can help 100,000 frustrated users simultaneously accomplish a variety of tasks: book appointments, refill orders, make purchases, and get answers.
To outpace your competitors and improve team morale, rely on conversational marketing to meet customer expectations for efficient query resolution.
Personalized Customer Interactions
Customers want a personalized experience interacting with a company, ranking open, friendly communication as one of the top 5 factors influencing their purchasing decisions and loyalty.
Natural language technology (NLT) combines machine learning and linguistics so automated systems like chatbots and IVR can understand customer language using keywords, responding to specific needs and expanding their understanding capabilities constantly.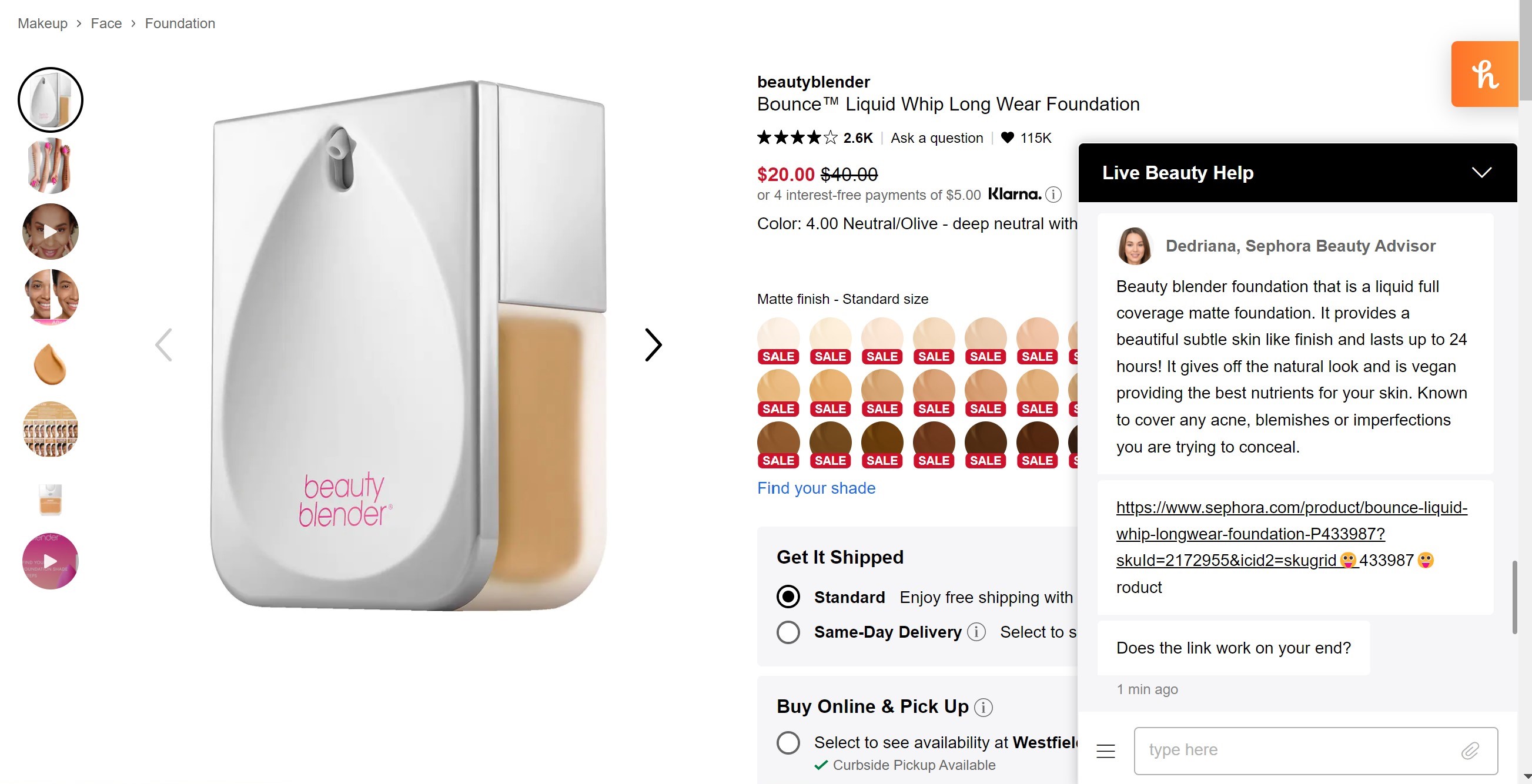 Live chat agents increase personalization further, as agents can respond to spontaneous customer issues with empathy, concern, and commitment.
By allowing the consumer to ask questions, express issues, and receive individualized solutions, conversational marketing bridges the gap between efficiency and personalization.
Increased Consumer Spending and Lower Operating Costs
Increased consumer spending with lower operating costs means greater sales revenue.
Chatbots and live chat help companies achieve just this.
Chatbots, capable of dealing with unlimited numbers of customers at once, free agents to work with more qualified leads. AI conversational marketing capabilities like customer subscription signup, automated reminders and updates, and order and purchase processing expedite the sales and order process, generating more sales quickly and with less live-agent involvement.
Most contact center or unified communications providers charge a monthly rate to use chatbot software or conversational marketing platforms, meaning you can serve as many customers as you want–at any time of day–without incurring extra costs.
Effective Lead Management and Shorter Sales Cycles
How do high-performing companies convert more than twice as many leads as their competitors?
Lead nurturing: strategically progressing leads through the sales funnel, reinforcing relationships at every stage of the process, ultimately turning them into paying customers.
AI-automated chat technology facilitates the lead-nurturing process by quickening follow-up time and automating many parts of the contact and relationship-building process.
Chatbots respond to customer queries in seconds
Email marketing campaigns send customers personalized discounts and coupons
Automated texts address customers by name, announcing new promotions
Live agents use AI-gathered customer info to call customers at the right time and offer the right deal
Conversational marketing improves every part of the lead nurturing process.
Intuitive Customer Usability
Today's consumers intuitively engage with automated and live messaging interfaces, because they use these channels all the time socially and because NLU has become lifelike.
Chat systems integrate with social media applications already familiar to customers–Twitter, Facebook, Instagram–as well as SMS.
Automations and live chat feature built-in translation, text-to-voice, and media attachment capabilities, so companies can market to customers around the world without language barriers.
How to Create a Conversational Marketing Strategy
Here's how to get your company's own conversational marketing strategy up and running.
Step 1: Determine Communication Channels 
While chatbots and live chat agents are popular and effective conversational marketing channels, multichannel marketing campaigns utilize multiple channels to maximize open rates while providing choice and variety.
Conversational marketing communication channel options:
Chatbots
Live chat
Social media
SMS texting
Email
Video
Voice
Each of these channels provides options for back-and-forth conversation between company and customer, going beyond traditional marketing toward conversational marketing.
Many contact center inboxes unify multiple channels into an omnichannel interface, so agents can easily interact with customers across channels simultaneously.
Step 2: Place and Sequence Channels for Lead Nurturing
Considering audience contact touchpoints on your website and application, outline a general sequence assigning each channel's role and placement within your conversational marketing campaign.
Sample Channel Sequence
Channel
Lead Nurturing Function
Chatbot

Lead magnet
Gather information
Qualify leads
Newsletter signup
Demo booking

Email

Welcome message
Email discount after one week
Responding to customer emails

SMS Text

Announcement with link to newly stocked products
Product ordering

Live agent chat

Follow up on all chatbot-forwarded conversations
Live sales on website

Voice

Qualified lead follow up
Demo follow up
Many contact center providers, like Zendesk and Intercom, offer outbound marketing campaign flow tools, where you can outline and visualize all possible customer journeys through your lead nurturing sequence.

Step 3: Personalize Your Channels
Personalized means that automated and in-person customer interactions must be individualized and timely.
You can individualize your outbound messages with CRM integrations to utilize customer data and message templates with auto fill-in.
Many contact center providers offer email, chatbot, and text-messaging templates, or you can create your own. When sent automatically or in bulk, these templates auto-populate with customer information:
Name
Company
Most recent contact, activity, or order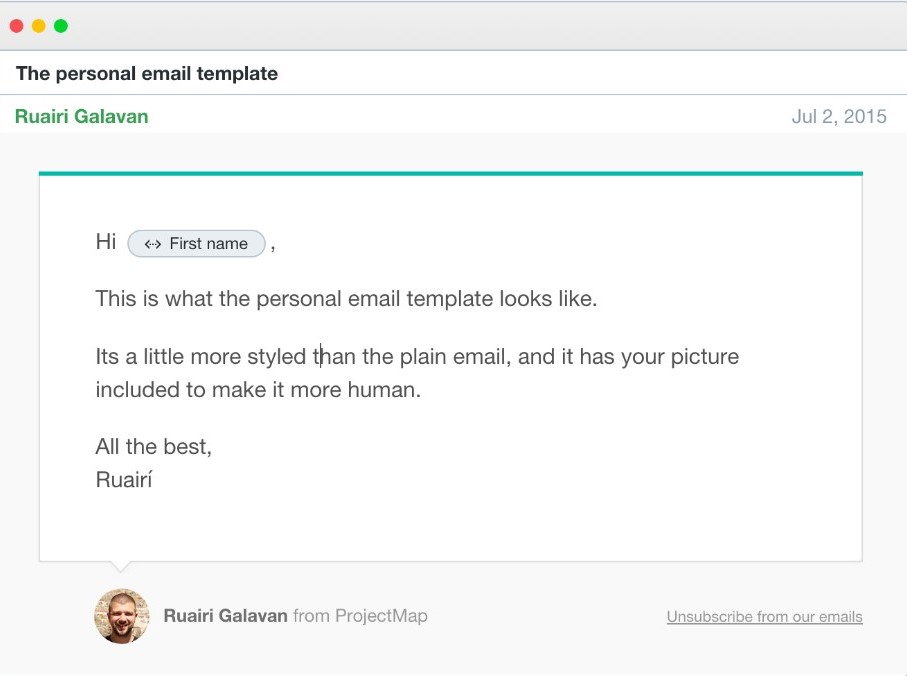 Even though these messages are automated, addressing customers directly adds a personal tone.
To achieve timeliness, utilize triggers and automation rules. These IF-THEN sequences, which administrators can customize in your contact center's Settings menu, set automated action sequences that occur when customer actions meet time- or action-based criteria.
Trigger Rules (Action-Based)
Automation Rules (Time-Based)
IF
THEN
IF
THEN
Customer gets tagged as a "qualified lead"
Add as a ticket to agent inbox
Customer abandons cart for 2 hours
Send abandoned cart SMS
Website visitor subscribes to newsletter
Send welcome email
Customer signed up 3 days ago
Send new customer discount email
Customer replies to email
Add as a ticket to agent inbox
Customer viewed demo 24 hours ago
Add as a ticket in agent inbox
Customer makes a product order
Send SMS order summary
Customer stays on the product page for 5 minutes
Chatbob widget pop up prompting for help
Conversational Marketing Examples
Here are some of our favorite real-world examples of conversational marketing.
Example 1: Automated Chat Order System with Domino's Pizza
Dom, the Domino's Pizza bot, does the following:
Displays the Domino's menu
Takes your order
Lets you customize order options
Offers products, coupons, and discounts
Provides various payment options
Facilitates payment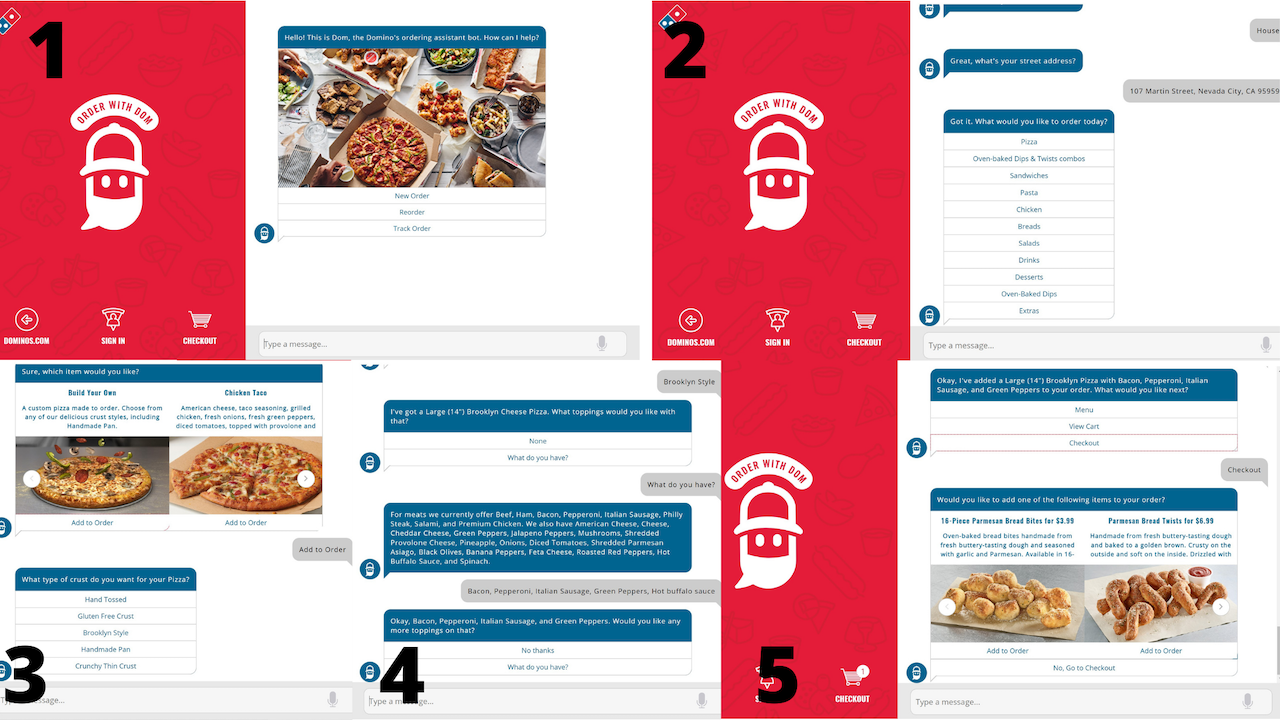 Customers interact with Dom through prescribed menu-item buttons, rather than an open chat box. This ensures that Dom always understands customer selections.
Dom markets Domino's products in multiple ways–order menu, company promos, coupons, payment–using images, a friendly conversational tone, and interactivity. 
By processing and customizing a customer's order, Dom achieves all the marketing and transactional items that a live agent would.
Example 2: Automated and Live-Agent Product Recommendation with Sephora Beauty Products
Sephora, a personal care and beauty products retailer, offers online chat with beauty advisors 7 days a week, from 3 a.m. to 9 p.m. Pacific time, on the company website.
Sephora's strategy combines chatbots and live agents to:
Determine your problem and reason for visiting the website
Prompt for elaboration
Route you to a suited agent
Provide customized product recommendations
Promote sales and discounts
Administer a survey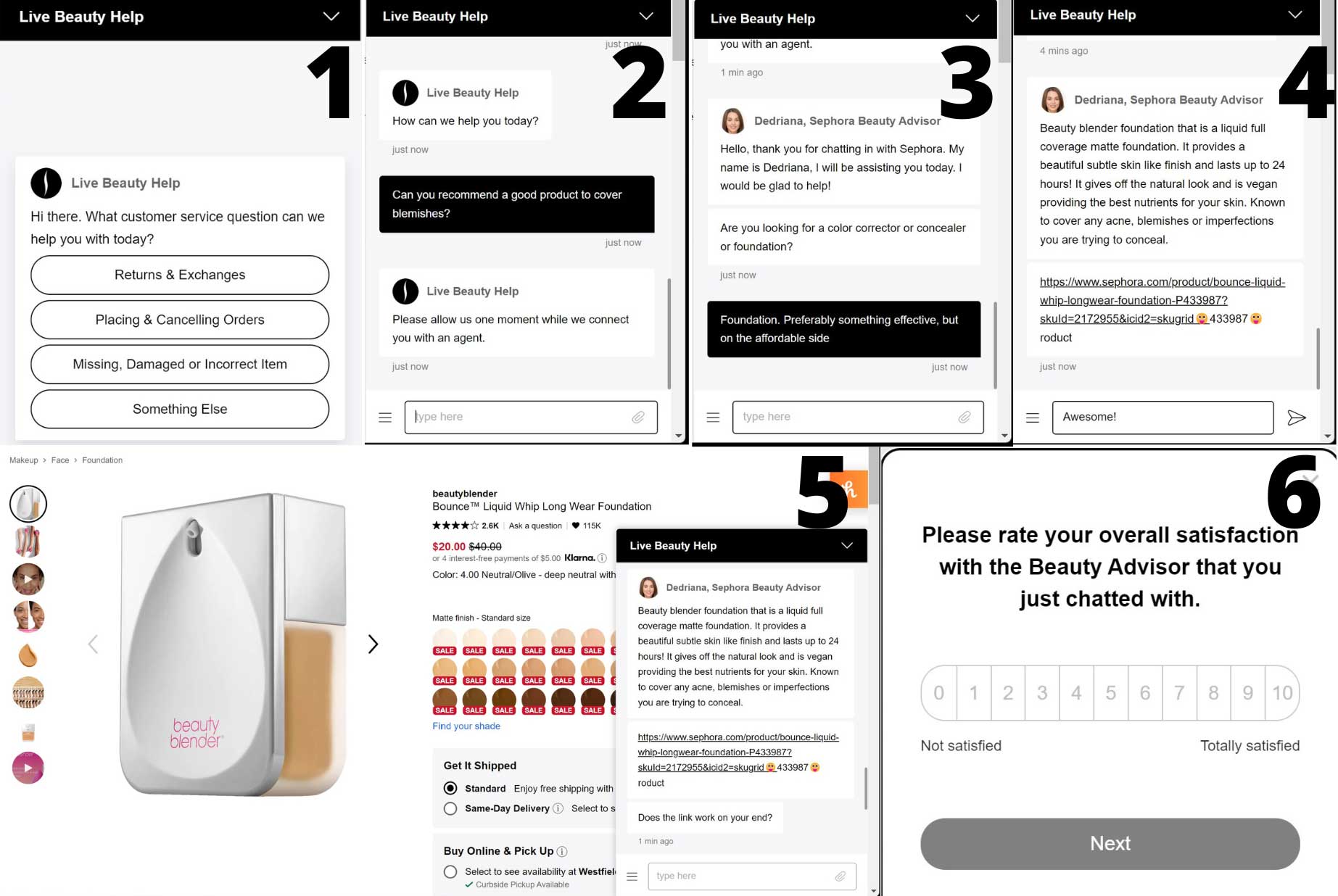 Sephora demonstrates how conversational marketing can sequence automated chatbots and live agents, optimizing the balance between efficiency and personalization.
The chatbot gathers my information, my reason for logging into the website, and routes me to a live agent who provides a customized product recommendation. Ending this interaction triggers an automatic survey, capping a conversational marketing sequence that accomplishes a lot while using agent effort sparingly.
Example 3: Automated Gym Service Recommendation with Fiticket Fitness Pass
Fiticket, which provides users a fitness pass to access multiple gyms and classes, offers a thorough chatbot that learns customer preferences to generate informed recommendations.
Fiticket's bot does the following:
Gathers interaction history
Qualifies you as a lead
Learns your favorite activities and daily workout schedule
Records your location
Gathers contact information
Routes you to an agent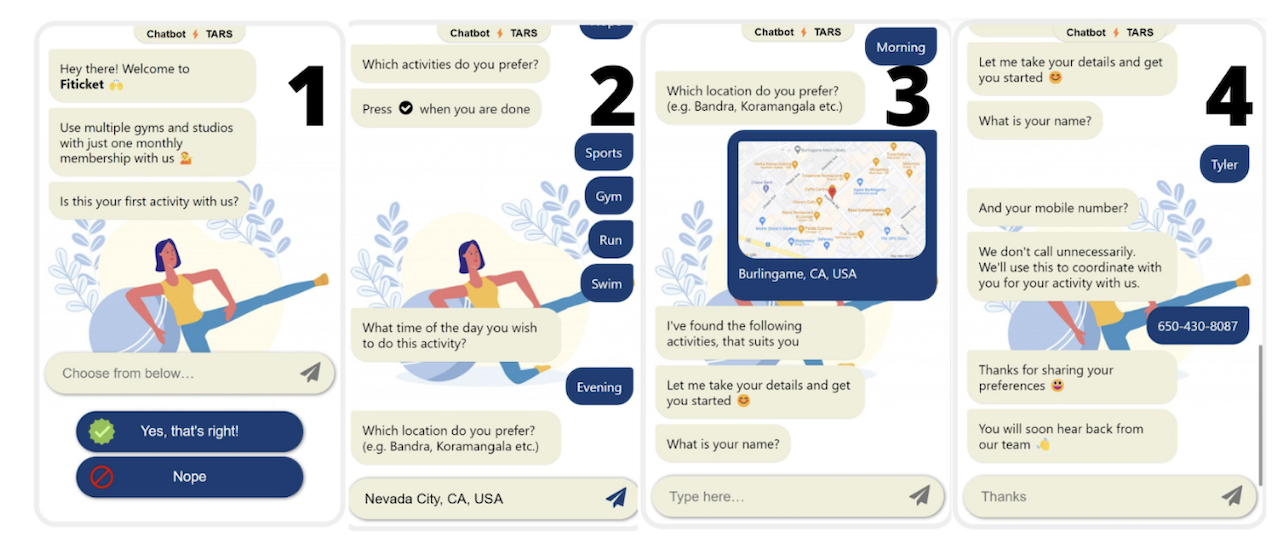 Without agent involvement, Fiticket's bot gathers contact information, workout preferences, lead qualification status, and routes you to an agent. 
Agents can use this information to find relevant gyms and programs before calling you, leading to a more personalized, efficient conversation for agents and customers.
Conversational Marketing FAQs
Below, we've answered the most commonly asked questions about conversational marketing.