Conversational commerce enables businesses to interact with customers through chat software like webchat, SMS, Facebook Messenger, WhatsApp, Drift, WeChat, and others. Customers can get support, personalized recommendations, and even purchase products directly from messaging apps.
In this guide, we will cover conversational commerce along with its types, benefits, common channels, and how to get started.
Quick links:
What is Conversational Commerce?
Conversational commerce is when businesses use messaging and chat apps to interact with customers and facilitate purchases in real-time.
A multichannel communication method, conversational commerce works with SMS, website chat, app-embedded chat, social media, and messaging apps like WhatsApp. A live agent or chatbot can do conversational commerce, selling products and services directly to the consumer.
Conversational commerce has multiple purposes:
Personalization: Ensuring that the customer feels properly guided or supported through the buying process
Facilitating sales: Moving potential customers through the purchase funnel, reminding them with notifications via direct chat
Marketing: Introducing users to products they were otherwise unaware of
Follow-up support: Providing additional service and recommendations after the purchase has been completed
How Does Conversational Commerce Work?
Here's how conversational commerce works:
Connect with a customer through your website, app, or messaging medium
Virtual or live agent determines the customer's intent
Make targeted product suggestions
Transition the conversation to a live agent (optional)
Receive and facilitate the transaction
Follow up on the transaction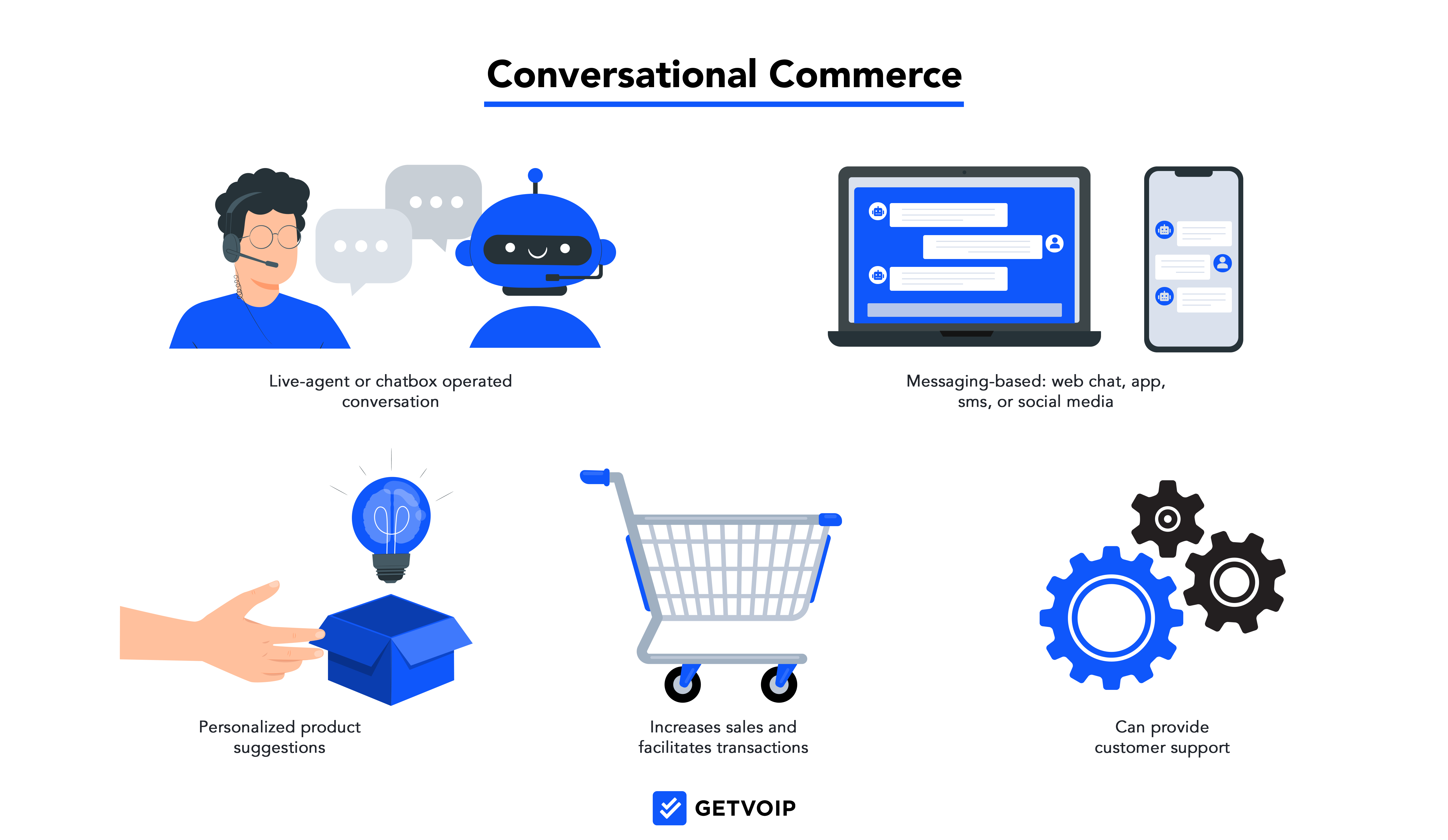 1. Connect with Customer
The conversational commerce process begins by connecting with the customer through a messaging platform. This can occur via social media, SMS, email, or on your website via embedded chat.
Usually, the customer reaches out first by sending a message or clicking a button, and the business responds through the same channel.
Conversational Commerce Channels:
Webchat
SMS
Social media and social media messaging–Facebook, Instagram, Twitter
Messaging apps
Email
Voice
2. Virtual or Live Agent Determines the Customer's Intent
Once the messaging platform makes contact with the customer, a live or virtual agent messages to determine the customer's intent, or the reason for their inquiry.
Live agents and IVAs can determine intent with multiple methods:
Buttons: Chat software can include buttons, each labeled with a specific inquiry or product. The button a customer presses provides information about their intent.
Topics and keywords: Live and virtual agents identify keywords in a customer's message, such as the names of products or services. This helps the company personalize its suggestions.
Follow-up questions: Messaging services can ask follow-up questions, such as "How can I help you?" to learn the customer's intent.
NLU: Virtual agents use natural language understanding (NLU) to identify keywords and customer sentiment, and refine service
3. Make Targeted Product Suggestions
Once the chat system has determined the customer's intent, the agent or IVA can make custom product recommendations to meet the user's needs. The agent can ask follow-up questions, send links to particular products or pages, provide discounts or suggest sales, and answer the customer's questions.
4. Transition the Conversation to a Live Agent
If a virtual agent handles the beginning of the interaction, it can qualify potential leads using NLU to analyze the user's keywords and sentiment. If a customer seems close to buying or has complicated questions, the IVA can transfer the conversation to a live agent along with full context and the transcript.
5. Receive and Facilitate the Transaction
Ideally, after a few suggestions, the customer indicates that they'd like to make a purchase. In some cases, they simply buy the item normally through your website or app.
With advanced conversational commerce software, the agent or chatbot can facilitate a transaction right within the messaging window. Customers can browse, add items to their cart, and check out–all within the messaging conversation.
6. Follow Up on the Transaction 
After facilitating the transaction, the agent can follow up immediately. This may include sending a receipt or confirmation, asking if the customer has any further questions, or providing links to relevant articles and guides for the product the customer just bought.
Channels for Conversational Commerce
Here are the main channels, or types of conversational commerce:
Live chat software
Chatbots
Messaging Apps
Voice Assistance
Live Chat Software
Live chat software is when a human agent interacts with a customer via direct messaging on your website or app. A common feature of most eCommerce websites, live chat allows customers to get quick and clear answers immediately through your site.
Live chat can be reactive or proactive in nature, presenting itself as a "Here if you need me" type of service or reaching out when a customer reaches a particular webpage.
Chatbots
Chatbots are automated self-service chat software, embedded into your website or application. Also known as intelligent virtual agents (IVA), AI-powered chatbots can answer basic questions, suggest knowledge base articles, route users to agents, and even take action like processing a payment.
While AI chatbots aren't as responsive as live agents, chatbots have a few benefits: They reduce staffing needs and provide quick, round-the-clock service.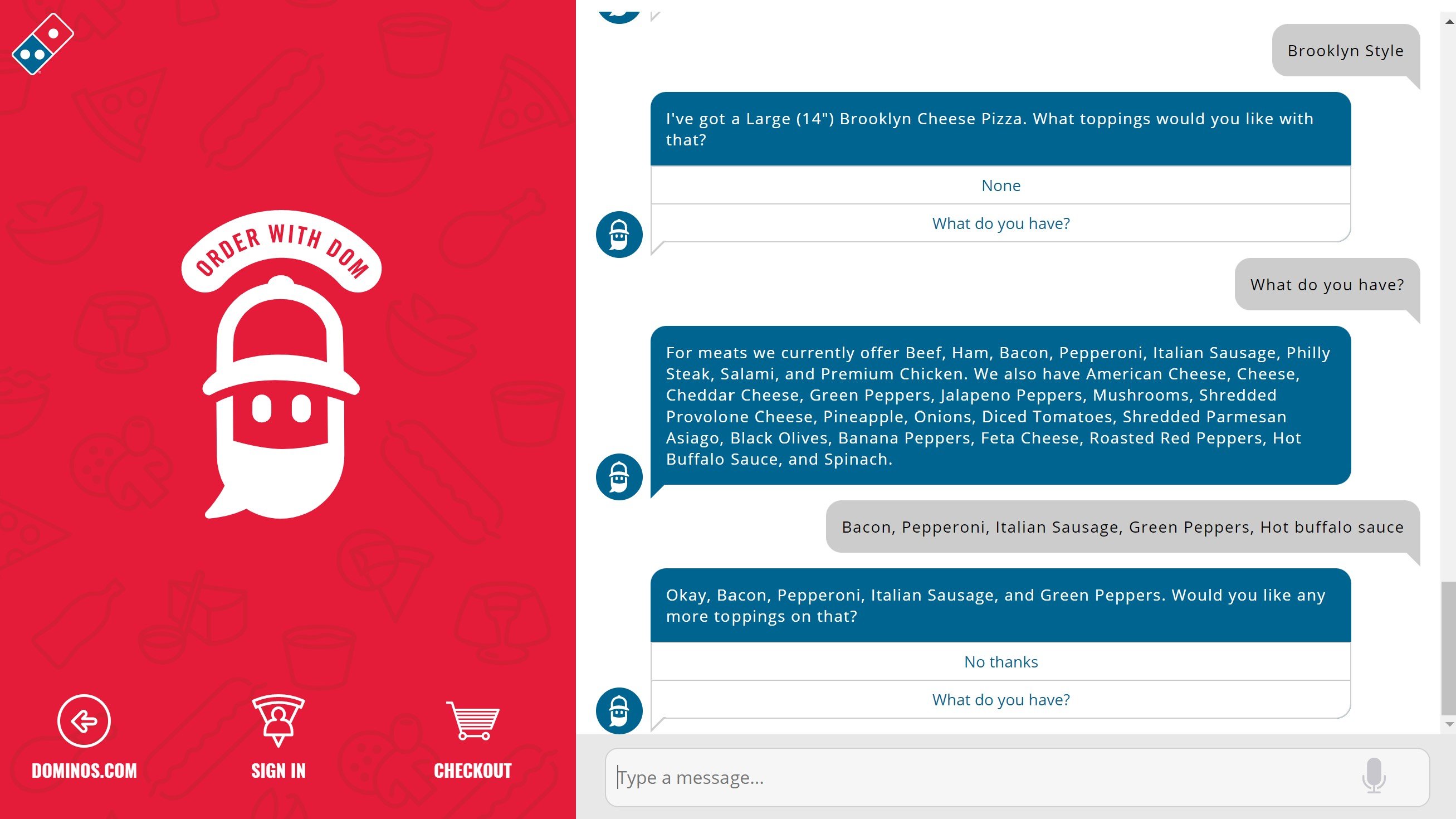 SMS Messaging Apps
SMS texting and common messaging apps like WhatsApp or Apple's iMessage can be excellent methods of connecting with the customer. Companies commonly integrate IVA chatbots into SMS or messaging, but VoIP providers also enable live agents to communicate with customers via 1:1 text messaging.
Companies can initiate text conversations via bulk messaging and respond to customer replies.
Voice Assistance
Voice assistance software, like Siri, Alexa, and Google Assistant, provides conversational commerce via automated product suggestions for customers. A verbal version of IVAs, voice assistants can offer immediate answers to voice commands, suggest articles, and drive customers to your website.
Benefits of Conversational Commerce
Here are the benefits that conversational commerce can provide for your business:
Qualified leads: By embedding into your website, app, and messaging touchpoints, conversational commerce catches customers when they're most likely to make a purchase. When customers click into a chatbox or reply to a message, they indicate that they want to interact with you. Automated chatbots qualify leads by determining the customer's intent before routing them to an agent.
Increased agent efficiency: By pre-qualifying leads and letting customers initiate interactions, conversational commerce places agents in contact with people who are more likely to buy. Agents spend more time suggesting products to engaged users, and less time cold-calling leads from a list. This increases close rates and makes better use of agent time.
Better customer relationships: Conversational commerce lets customers initiate the interaction with your company, rather than the more traditional approach of reaching out to them. Catching users where they want to interact with you–such as on your website or app–improves customer engagement.
More sales: Conversational commerce tools market products directly to interested customers, increasing sales and conversion rates. Agents can learn what the customer wants, upselling and cross-selling products they're more likely to buy.
Fewer abandoned shopping carts: Webchat connects with customers on the cusp of making a purchase. They may be on a product page, or have items in their cart, but have a few questions. Rather than letting these customers log off or abandon their cart, conversational commerce engages them and increases their likelihood of following through with the purchase.
Customer retention: Conversational commerce connects customers with products they're more likely to buy. This means higher customer satisfaction. Further, the conversational aspect helps customers connect with a particular agent from your company, fostering a personal connection and brand loyalty.
Conversational Commerce Best Practices
Here are the best practices for integrating conversational commerce into your business:
Automate the initial contact
Create multiple conversation paths
Integrate with your other applications
Embed chat into your website or app
Automate the Initial Contact
Save time for your live agents by using an automated chatbot or IVA to handle the initial customer contact. Many users that you contact won't be qualified buyers, and virtual agents can filter out these non-qualified leads.
You can have an automated web chat widget that says "Hi! How can I help you?" or an auto-response for all inbound SMS. Use buttons or keywords to determine intent–which customers are actually looking for sales support–and route these customers to live agents.
Create Multiple Conversation Paths
The best way to determine customer intent is to create multiple conversation paths, with various buttons or reply options. Similar to an IVR call flow, different paths make automation more effective by letting customers specify how you can serve them. Depending on the path a customer takes, you can potentially provide automated service with an advanced NLU or route them to the right agent.
Many chatbot and IVA software tools let you create a tree of conversation paths using a drag-and-drop tool, linking each path to specific actions, responses, and routing options.
Integrate with Other Applications
Your company and customers get more out of conversational commerce when you integrate it with third-party software like CRM systems, databases, inventory logs, and communication apps.
CRM systems: CRM integrations like Salesforce and HubSpot can empower your automated messaging system with customer journey information like recent purchases or web pages visited. CRM systems can also log each contact's and lead's interaction history.
Databases and inventory: Integrating with databases and inventory logs like Shopify can inform customers about item availability and even facilitate transactions
Communication apps: Syncing your messaging platform, call center, or UCaaS solution with communication apps like Slack, Microsoft Teams, or Asana streamlines project management. Users can receive and respond to messages, and coordinate internal tasks, without having to jump between apps.
Embed Chat Into Your Website or App
The most immediate and effective form of conversational commerce is chat embedded into your app or website. Web chat is immediately on hand for customers considering a purchase on your site, catching them when they're most likely to buy. With chat, customers don't need to remember a phone number or open another device–they can contact your company in the window they're already using.
How to Get Started with Conversational Commerce
To get started with conversational commerce, follow these steps:
1. Determine your conversational commerce use cases
2. Decide which channels to use
3. Select communications software
4. Build conversation paths
5. Test and troubleshoot
6. Examine data and refine
1. Determine Your Conversational Commerce Use Cases
Before specifying channels or software, envision how you'll use conversational commerce to serve your customers. Consider which products or services you plan to sell, if you want to facilitate transactions or book appointments, and where you currently handle these processes.
Visualize the customer experience while shopping with your company. Note if the customer needs to specify certain details, ask follow-up questions, pick colors, input payment details, and any other processes your conversational messaging strategy will need to cover.
2. Decide Which Channels to Use
Choose the channels you'll utilize to converse with your customers to market and sell products. Prioritize channels your customers use that integrate well with the services you want to provide.
Website or app-embedded chat is popular because you can integrate it directly into the web pages where your customers are already browsing your products and services.
Social media messaging works well if your company already utilizes social media platforms like Instagram, Facebook, and Twitter for other marketing purposes.
SMS works well if you send out bulk messages or automated messages about special occasions like sales, enabling customers to reply directly to your bulk message.
3. Select Communication Software
Choose a messaging or communications software to support your conversational marketing efforts. The two primary options are an omnichannel contact center platform or a standalone conversational AI software.
Omnichannel Contact Center
Contact center software unifies multiple messaging channels–social media, SMS, live chat, and IVA/chatbot–into one app with various pricing plans. An omnichannel interface makes it easier for your agents and administrators to organize and monitor customer-facing communications.
Most call center software includes advanced automation tools that support bots and IVA across messaging channels. The software utilizes natural language processing, CRM integrations, and routing tools to streamline customer service.
Popular contact center software providers are Five9, Talkdesk, Genesys Cloud CX, and Twilio Flex.
Conversational AI Software
Many providers offer artificial intelligence (AI) tools specialized for conversational commerce platforms. This software integrates with your app and website, your checkout tools and inventory databases, and it tracks customer data.
IVA solutions converse naturally with customers, identify their intent, and can handle a wide range of actions:
Sending push notifications
Answering questions
Recommending products
Processing transactions and cart actions with built-in buttons
Popular conversational AI providers include LivePerson, Haptik, and Kore.ai.
4. Build Conversation Paths
Build automated conversation paths that frame how customers interact with your messaging software. Use your messaging software's Conversation Builder drag-and-drop widgets and text boxes to visualize a conversation tree. Provide buttons to guide the conversation, or set keyword detection that informs your virtual agent how to respond to the user. Integrate third-party app functionality, actions like bill payment, and intelligent routing.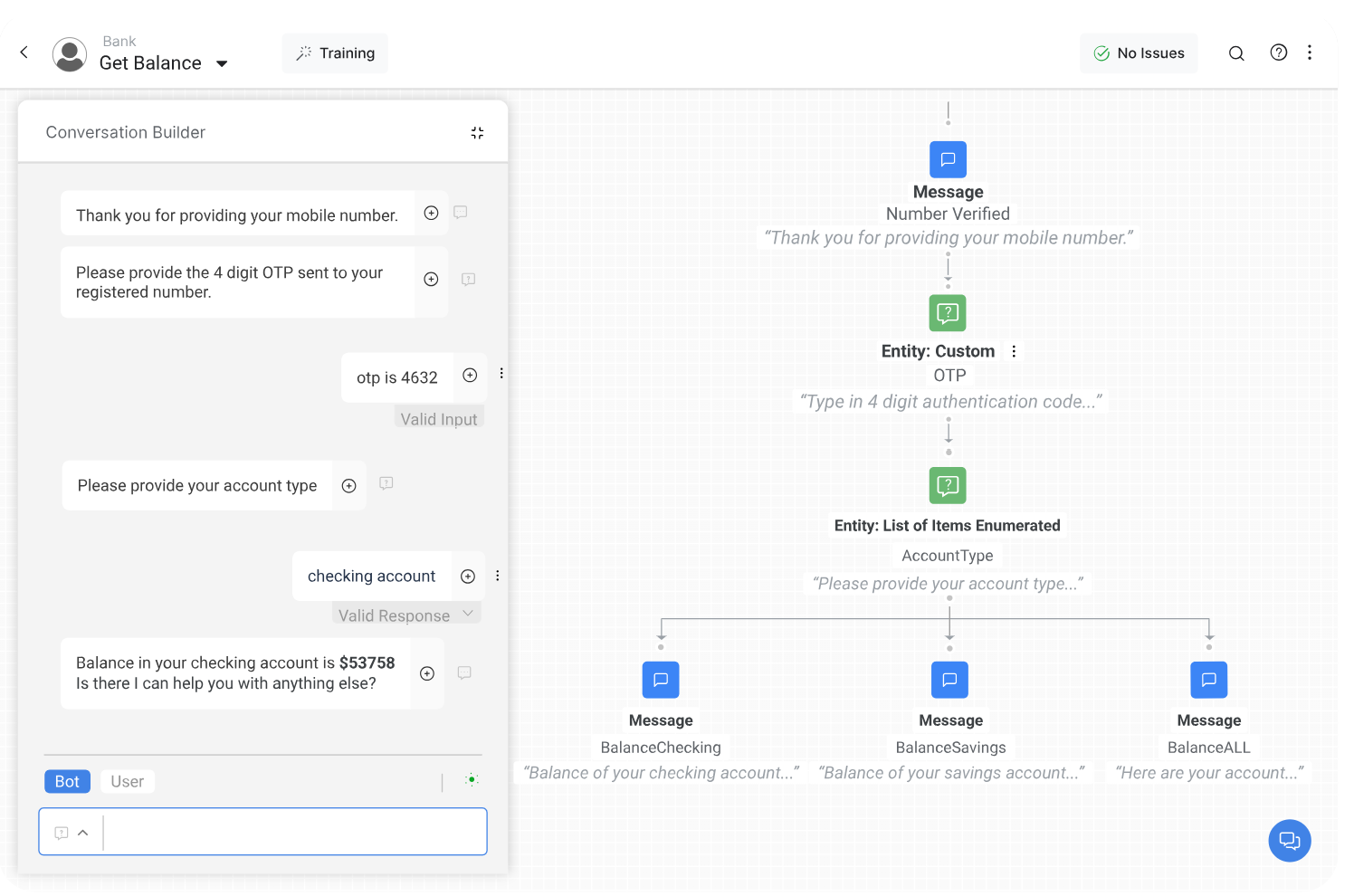 5. Test and Troubleshoot
Within your messaging software, test your conversation paths for the use cases you planned. Make sure that your automated steps interact naturally with customers to respond to basic queries and keywords. Have staff members and volunteers test your software's routing to make sure the system connects them with an agent when necessary.
Users should be able to add and remove items from their cart and purchase items directly within the messaging conversation. If functionality feels frustrating or limited, revisit your conversation paths and find ways to expand your system's functionality.
6. Examine Data and Refine
Once you roll out your conversational commerce strategy, prioritize a few KPIs to track. Most conversational messaging solutions monitor data like user activity, keywords, close rates, and routing patterns. These metrics allow you to observe how customers use your software, so you can make adjustments to meet their needs and reduce friction points.
Important conversational commerce KPIs:
Number of customers engaged
Number of sales made and close rate
Most popular keywords and topics
Customer sentiment
Use Conversational Commerce to Boost Sales
Conversational commerce can be a valuable tool to connect with customers, increase sales, and make your agents' lives easier. There are many conversational AI software options out there that automate customer conversations, facilitate transactions, and integrate with the tools you already use.