Redeeming a coupon code, getting flight status updates, confirming appointments: if business text messaging plays such a big role in your life, why not extend the same convenience to your customers?
Here, we review essential business SMS features, use cases, benefits, and top text messaging software providers guaranteed to make you opt-in.
How We Evaluated Business Text Messaging Providers
Pricing Structure: Does the provider offer pay-as-you-go pricing, bundled plans, or both options? Which features are included, and which are available only as paid add-ons? Can users roll over unused messaging credits?
Available Features: Does the platform include essential business text messaging features like MMS capabilities, campaign/contact list management, auto-replies, real-time and one-way bulk texting, and standard analytics?
Ease of Use: Does the software have a clean, intuitive interface that helps keep learning curves low? Does the provider offer written and/or video tutorials that simplify user training?
User Reviews: Does the provider have an active user base that seems satisfied with their service and the customer support experience? Is the provider responsive to reviews and other forms of customer feedback?
Scalability: Does the platform make it easy for customers to add on new features, add seats/users, increase/decrease text message amounts, integrate third-party systems, and expand communication channels?
Security/Authentication: Does the software include multi-factor authentication, verification features/APIs, one-time passwords, network monitoring, etc?
An Overview Of The Best Business SMS Platforms
The below table provides a quick overview of the best business SMS platforms reviewed in this post.
| | | | |
| --- | --- | --- | --- |
| | Pricing | Best Features | Best For |
| Twilio | Pay-as-you-go and volume discounts, pricing varies by message type, phone number, and functionality | Message delivery insight,  Twilio Verify | Teams with high daily messaging volumes needing to add customizable, scalable, and multichannel (SMS, MMS, WhatsApp) messaging to existing business  applications |
| SimpleTexting | Pay-as-you-go monthly/annual pricing from $39.00 for 500 monthly texts to  $909 for 50,000 monthly texts | Built-in AI Assistant, pre-made and custom data collection fields | Medium to enterprise-level companies heavily reliant on bulk texting as a marketing and engagement tool, teams needing advanced third-party integrations |
| TextMagic | Pay-as-you-go pricing from $0.049/text for 1,000 outbound SMS messages/month ($4.90/month) to 0.049/text for 100,000 messages/month ($4,900/month) | Email-to-SMS and SMS surveys | Teams that often communicate with local and international customers via live, 1:1 text messaging, teams sending longer texts/larger files as promotional materials |
| EZ Texting |  4 paid plans from $20/month (500 free messages, $0.027/message) to $3,000/month ($0.010/message, 200,000 messages/month included) | SMS analytics, template and design tools | Large-scale businesses that primarily use SMS messaging for marketing, lead generation, and sales, eCommerce shops, salons, service professionals |
What is Business Text Messaging? 
Business text messaging is a communication tool that lets businesses and consumers send/receive SMS messages via 1:1 two-way messaging or through automated outbound bulk messages.
While business SMS platforms work on mobile devices, they're also accessible on desktop computers. This makes reviewing message history, managing automated and real-time texting, and monitoring outbound SMS marketing campaigns much easier.
Businesses can purchase toll-free or local VoIP phone numbers used exclusively for SMS, assign each employee a number, give multiple agents access to the same phone number and messaging dashboard, or create a dedicated shortcode for outbound texts only.
Today, business SMS is available as a standalone product or as a feature of unified communications or contact center software.
Essential Business Text Messaging Features
The most important business text messaging features are:
MMS: Users can send photos, PDFs, videos, audio clips, rich text, etc. to enhance the messaging experience
One-Way SMS: An automated outbound text customers can't reply to (order confirmations/tracking updates, appointment reminders, billing reminders, etc.)
Two-Way SMS: 1:1 or group messages enabling real-time agent: customer communication
Message Triggers: Custom keywords, phrases, or customer actions trigger automated responses and message routing paths, eliminating the need for live agent involvement
Custom Tags/Filters: Create custom text  message tags and filters (by agent/ customer, by product/service, by campaign, etc.)
Link Sharing/Shortening: Users can include a complete clickable URL, or automatically  shorten the URL to save characters
Bulk SMS: Ideal for alerts and mass marketing, bulk SMS automatically sends a text to hundreds/thousands of customers simultaneously
Analytics/Reporting: Real-time/historical SMS analytics including open rates, CTR, subscribe/unsubscribe rates, campaign metrics, message delivery reports, etc.
Shared Agent Inbox: An SMS inbox available to multiple agents in the same department, call group, with the same schedule/skillset, etc.
Dedicated Short Codes: 5 or 6-digit abbreviated versions of business phone numbers ideal for mass text marketing campaigns
Drip Campaigns/Follow-Ups: Automated SMS customer follow-ups or marketing messages sent at preset intervals to increase the likelihood of a sale
SMS Keywords: Customers text a custom keyword to a business phone number to complete an action (opt-in/opt-out, update communication preferences, subscribe to newsletters, etc.)
Marketing Campaign Management: Lead list generation/scrubbing, market segmentation, campaign analytics, automated follow-ups, etc.
Third-Party Integrations+APIs: Integrates with CRM systems, web conferencing platforms, marketing tools, CCaaS/UCaaS software, etc.
The Benefits of Using Business SMS Apps
The top benefits of using business SMS applications include:
Increased Customer Engagement: Customers always have their phones nearby and check their devices numerous times a day, increasing customer engagement, sales, and customer loyalty
Cost-Effective Marketing: Automated bulk SMS marketing is much more affordable, instantaneous, and effective than other marketing strategies like postcards, email, telemarketing, print/online ads, etc.
Insight Into Customer Behavior: Managers can review SMS analytics for insight into peak buying seasons, detailed customer demographics, most/least successful products and services, successful campaigns, customer feedback, etc.
Boost Agent Productivity: Agents have more time to make outbound sales calls, can focus on prospects they know are already interested in what they're selling
More Cross-Selling+Up-Selling: SMS marketing increases up-selling and cross-selling opportunities via targeted segmented marketing, drip campaigns, and automated follow-ups
Additional Customer Support Channels: Free up support agents, provide 24/7 self-service via text messaging, enable AI messaging bots, and use canned responses to improve the customer service process and shorten handling times
Gives Customers More Control: Customers can opt-in/opt-out at any time, not as invasive as telemarketing calls, customers can set personal preferences for alerts about their favorite products/services
Shorter Buying Cycles: Sales alerts, special discount codes, and new product alerts prompt impulse buys and shorten overall buying cycles
The Best Business SMS Platforms 
Below, we've outlined the top business text messaging platforms based on the criteria discussed at the start of this post.
Twilio
Twilio MessagingX includes the Conversations API for two-way SMS/MMS texting and the Programmable Messaging API for transactional messaging. These APIs are designed to be integrated with existing business applications like business phone systems and UCaaS platforms.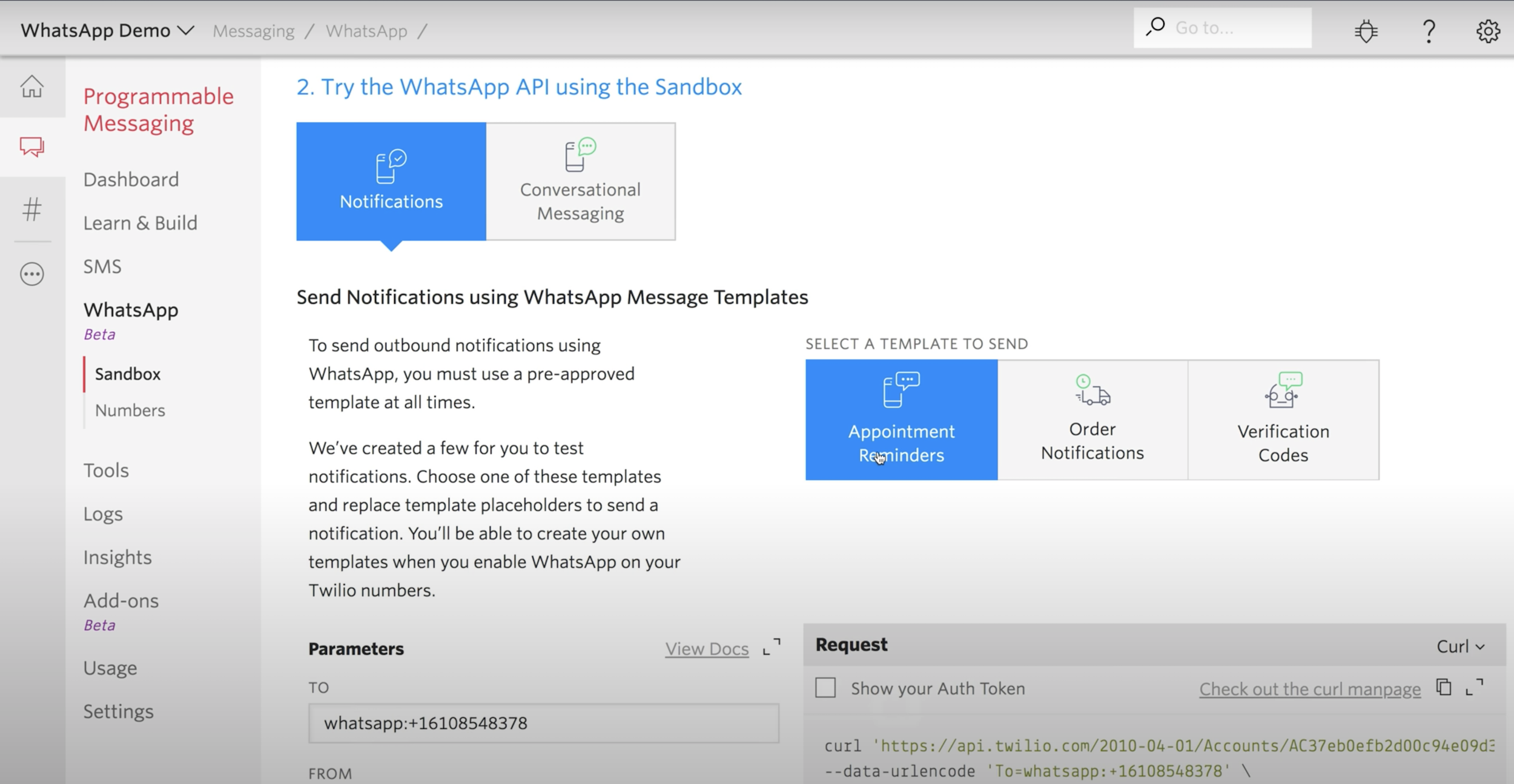 In addition to SMS/MMS, Twilio MessagingX APIs enable omnichannel messaging across WhatsApp, in-app/website chat, Facebook Messenger, and Google Business Messages.
The Programmable Messaging API sends one-way (outbound) text messages for use cases like appointment confirmations, real-time notifications, and mass promotional/marketing alerts. The Conversation API enables two-way 1:1 or multiparty texting for personalized customer service and conversational commerce.
Twilio Messaging lets users send/receive text messages using shortcodes, toll-free numbers, long codes, and FTEU shortcodes
Key Features
Deliverability: Localized Sender ID for 180+ countries in 42 languages, real-time message deliverability and engagement rate monitoring, message fallback re-delivers failed WhatsApp/short code messages via standard SMS, custom SMS validity periods limit how long outbound messages remain in queue, read receipts, automatic delivery re-rerouting/route optimization
Marketing/Campaign Management: Custom opt-in/opt-out messages to ensure regulatory compliance, message scheduling, auto-responses, inbound SMS routing, customer segmentation, CRM/marketing software integrations (Salesforce, Mailchimp, Zapier)
SMS Fraud Protection API with Verify: Fraud Guard to prevent pumping, phone number verification, message redaction, one-time passcodes, multi-factor authentication, 24/7 network and login monitoring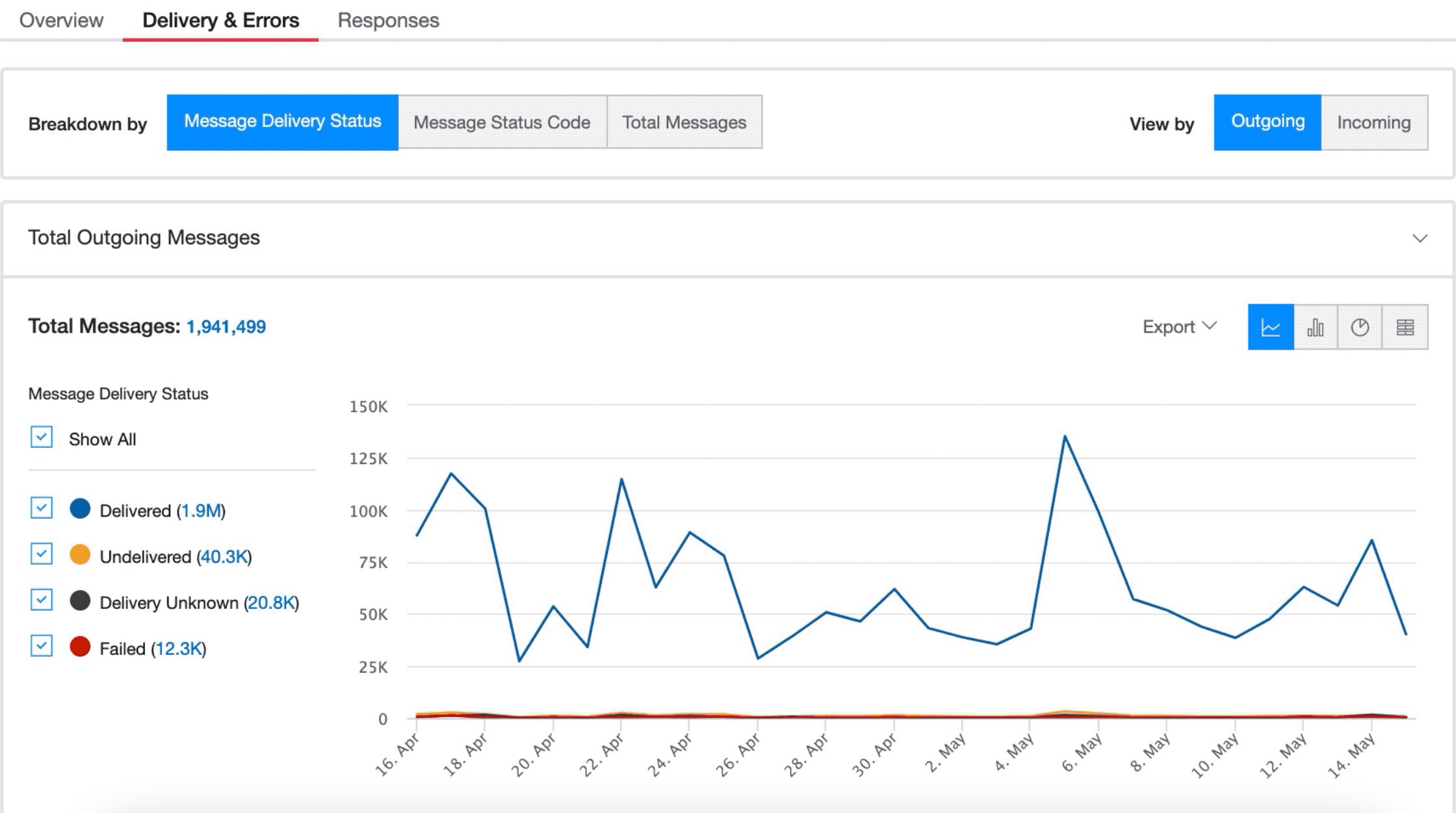 Pricing
Twilio offers pay-as-you-go pricing plus volume and committed use discounts for its MessagingX APIs. SMS/MMS pay-as-you-go pricing starts from $0.0079/message (costs vary by phone number type and if the text is inbound or outbound). Volume discounts for long code and toll-free texting are available for 150,000 to 1 million+ messages/month. SMS short code volume discounts start at $0.0079 for less than 150,000 messages/month. Carrier fees start at $0.0030/outbound SMS. Committed use discounts are available on request.
Pros & Cons
Pros:
Flexible/scalable pricing, including pay-as-you-go, volume discounts, and committed-use discounts
1,500 Tier-1 carrier partnerships plus a 99.9% uptime
Conversational Commerce feature syncs SMS, MMS, and social media messages in one inbox, automates customer follow-ups/updates, and enables link-sharing
Cons: 
APIs and SDKs require coding knowledge and are complex/time-consuming to configure
Complex pricing structure means cost vary by message type carrier, channel, use case, message volume, and business phone number
Messaging Engagement Suite, which includes link click tracking, message scheduling, and link shortening, is available only as a paid add-on
Best For
Enterprise-level teams with international customers
Businesses that use text messaging for both mass marketing and 1:1 customer service
Companies handling sensitive customer data (health/financial information, etc.) requiring advanced user authentication and high-level security features
SimpleTexting
SimpleTexting is a small business text message service offering 1:1 and two-way SMS, text blasts, automated mass marketing texts, and 1,000+ third-party integrations. SimpleTexting streamlines the contact management process with opt-in tools like web forms, text-to-join, text-to-win, and text-to-vote.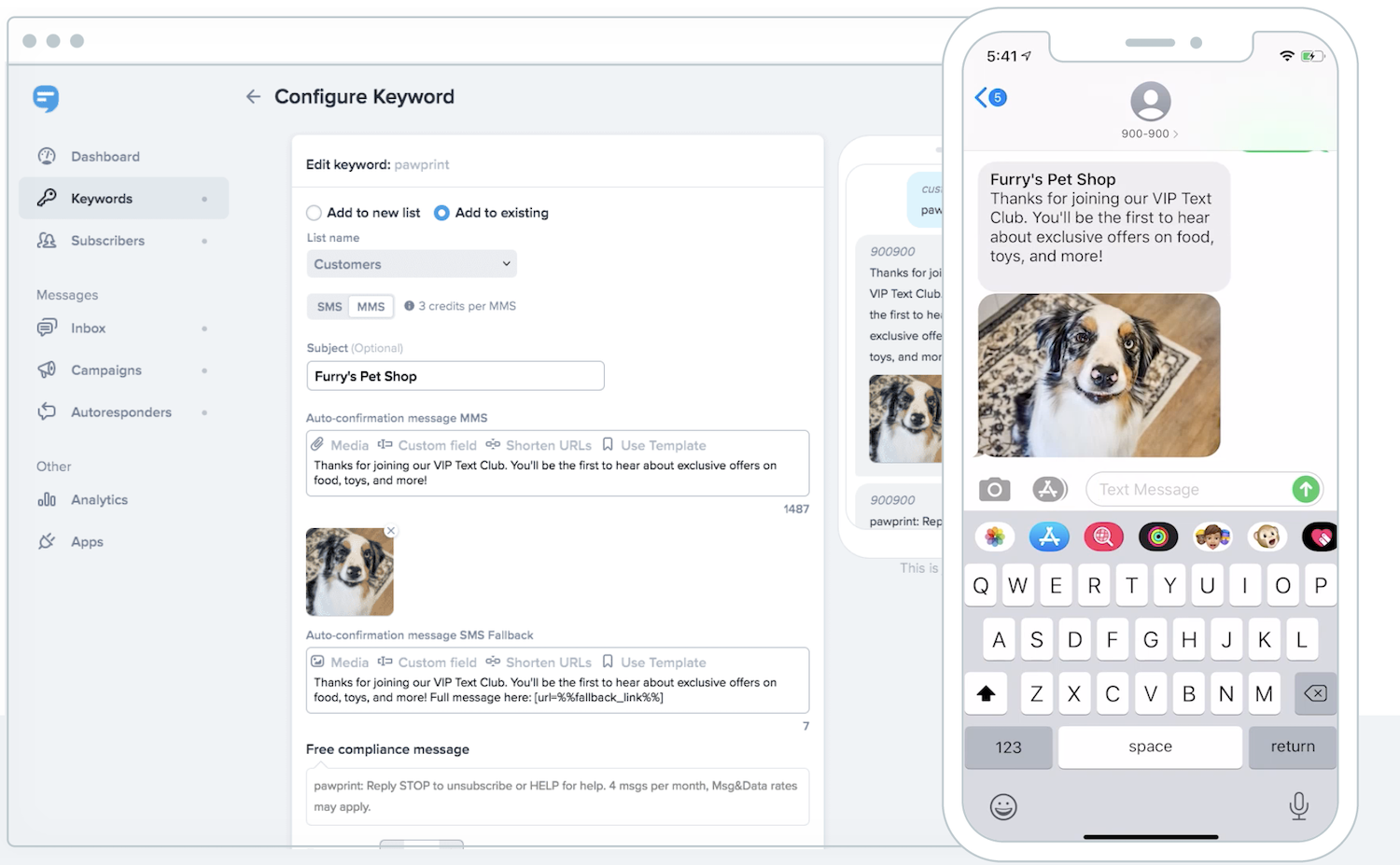 Admins can assign agents conversations, give each agent an individual phone number or assign multiple agents to one number (multi-number texting), add shared inboxes, set conversation filters, and save replies for future canned responses. Agents can add internal notes to text message conversations and integrate CRM software for real-time access to customer data.
SMS/MMS analytics features track link clicks, CTRs, subscribers/unsubscribers, and more in a variety of interactive reporting templates. Compose, reply, manage, and collaborate with other team members on text messages within the intuitive desktop or mobile dashboard.
Key Features
Data Collection: Add fields to collect (birthday, name, notes, custom fields), set keywords to collect more specific client information for market segmentation, use automatic data entry/management, export contact lists, personalize future messages, automatic list scrubbing
Automated SMS/MMS Marketing: Schedule texts, create lead lists, set away messages, enable drip campaigns and recurring texts, set up text-for-info keywords for customer self-service
Built-in AI Assistant: AI Assistant follows custom topic prompts to automatically create 5 versions of potential text messages. Users can customize fields like business name, message purpose, and desired outcome
Pricing
SimpleTexting offers pay-as-you-go monthly and annual pricing for between 500-50,000+ texts per month. Users can choose from local and toll-free numbers, and dedicated shortcodes, and create custom plans. Personalized onboarding and a dedicated customer success manager are available as add-ons, as are additional phone numbers ($10/month/number) and additional teammates ($20/month/user).
Pricing begins at $39/500 monthly texts on a local number, plus a one-time $4 carrier registration fee. Pricing tops out at $909/50,000 monthly texts with a local number.
Pros & Cons
Pros:
MMS lets users send up to 1600 characters/message and add GIFS, personalization, short links, photos, and audio clips
Rollover message credits
API integrations add Simple Texting to popular business communication apps like Salesforce, Mailchimp, Slack, HubSpot, Shopify, Instagram, WordPress, and Facebook Lead Ads
Cons: 
No activation fee for toll-free numbers, but the activation process takes 4-8 weeks
Access to APIs/key integrations available only to customers purchasing 7,500 texts/month ($239/month)
All rollover credits expire after 1 month, and users that downgrade their plans lose access to all rollover credits
Best For
Teams heavily reliant on automated mass SMS/MMS marketing campaigns to generate sales
Growth-oriented SMBs that need advanced automation capabilities like keyword-based marketing and AI message generation to avoid hiring additional agents and increase productivity
Businesses that want to integrate Simple Texting APIs with existing business applications to add SMS/MMS functionality
TextMagic
Textmagic is a text message marketing platform offering two-way SMS/MMS, 1:1 texting, and bulk text message marketing campaigns with up to 100,000 recipients.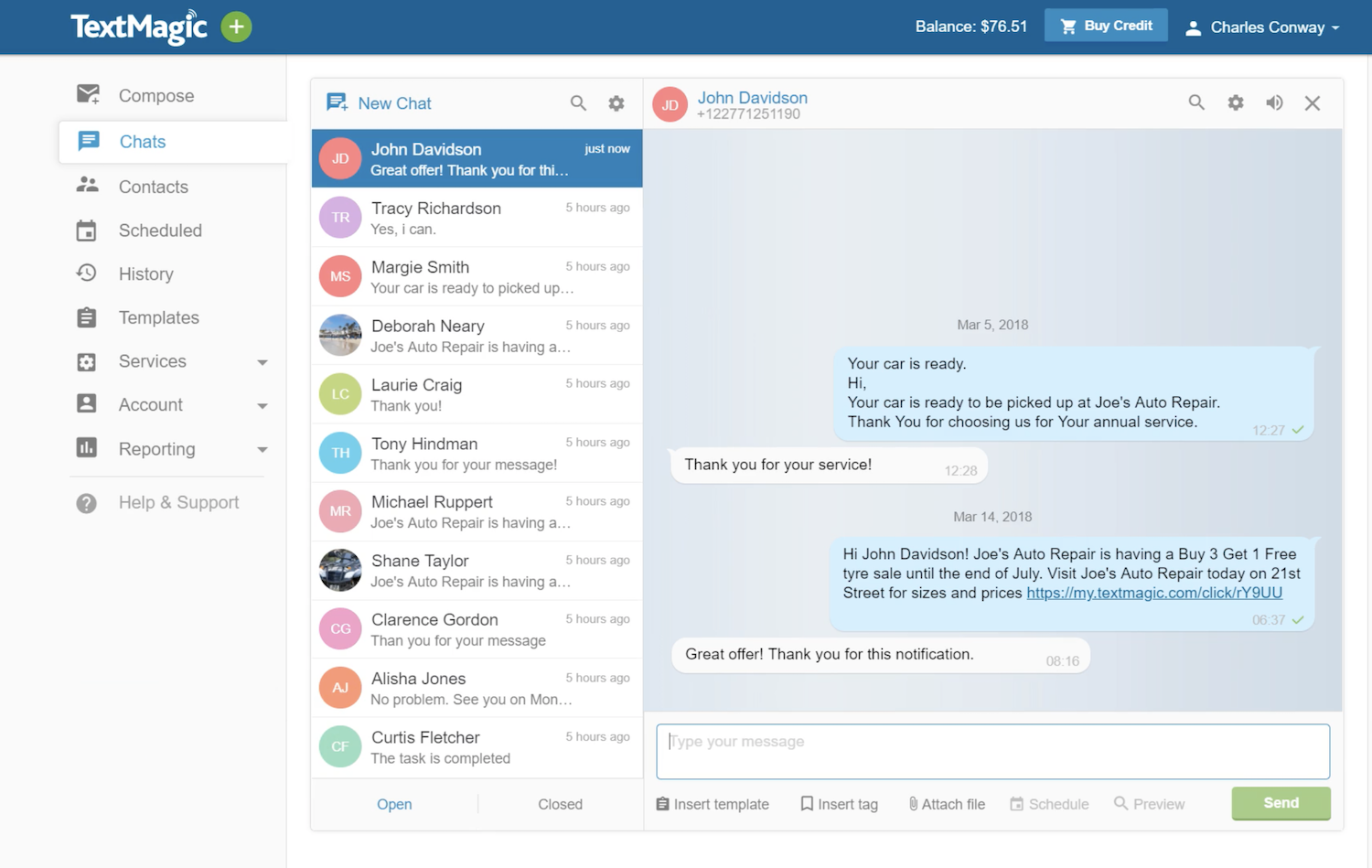 In addition to text messaging, Textmagic offers add-ons for omnichannel messaging across WhatsApp, Facebook, and email inboxes. Admins can set custom keywords, schedule text messages, create auto replies, and add unlimited contacts. Free, unlimited sub accounts with access control and admin message monitoring optimize agents without sacrificing support quality.
Textmagic integrates with roughly 1,000 third-party applications, including Instagram. Businesses can add a "text us" button to their Instagram profile to collect follower contact information and generate new lead lists.
Key Features
Email to SMS: Convert emails to text messages, send/receive 1:1 and group texts via email, enable team-wide email-to-SMS, add and remove email signatures
SMS Surveys: Choose from 6 survey templates, (brand awareness, employee performance, customer feedback, etc.) add survey file attachments, automatically save survey responses, set automated customer survey trigger words/phrases
Landline Texting: Use a local 10DLC phone number to enable inbound/outbound landline text messaging, enable automated SMS responses for landline numbers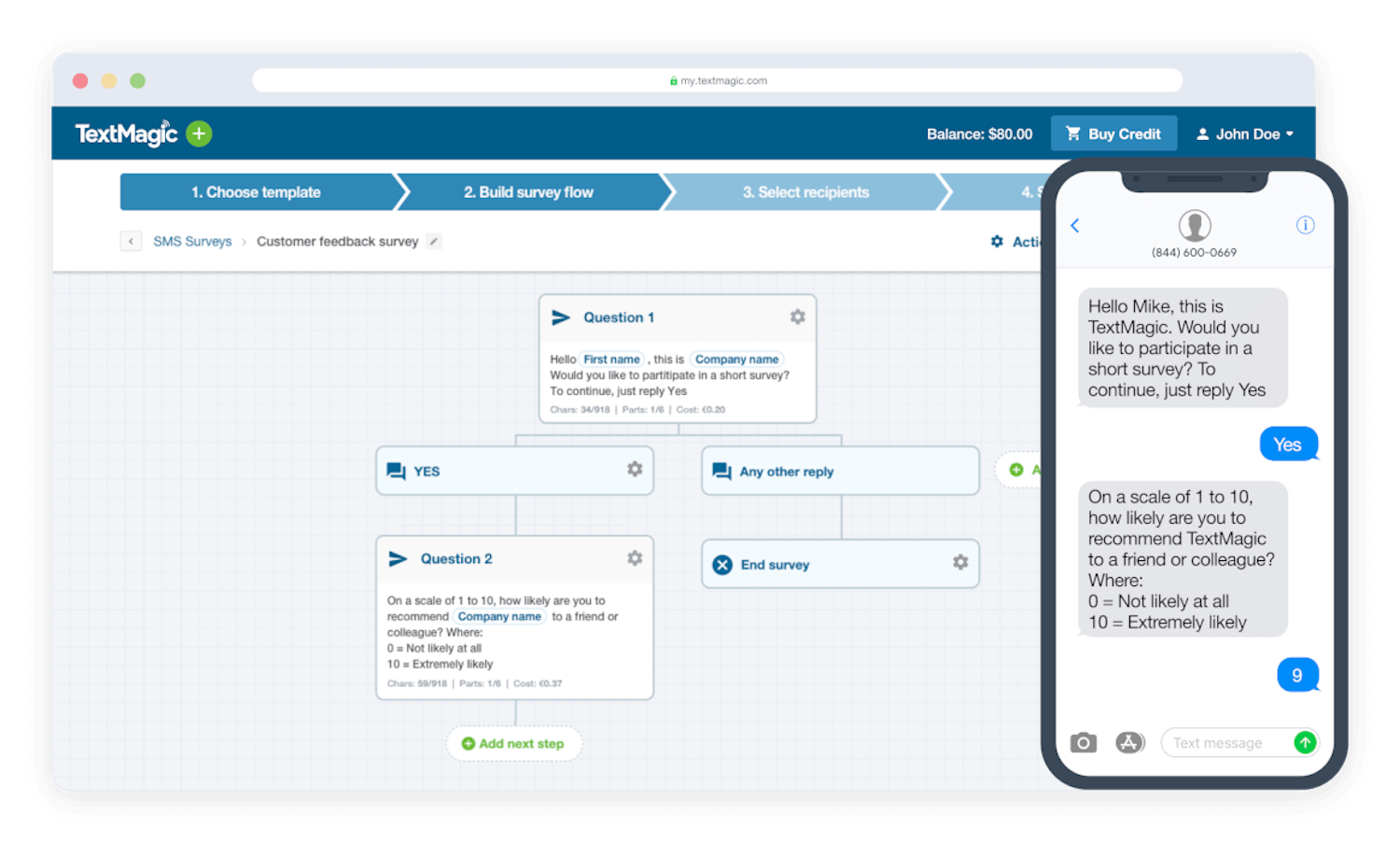 Pricing
Textmagic offers pay-as-you-go pricing, and all plans include the same features. MMS, dedicated numbers, and carrier lookups sold separately.
Pricing starts from $0.049/text for 1,000 outbound SMS messages/month ($4.90/month) and ends at 0.049/text for 100,000 messages/month ($4,900/month.) As of this writing, no committed-use or volume discounts are available.
Pros & Cons
Pros:
Send long text messages with up to 918 characters/message
Website form tool lets admins create customizable SMS opt-in forms that collect customer names, phone numbers, email addresses, etc.
View/export advanced reports with KPIs like live delivery reports, campaign/list management updates, open/close rates, agent activity and usage reports, reply rate, cost per contact, etc.
Cons: 
Users are required to request a refund for any unused text message credits–rollover credits are not automatically applied
Limited discounts are available–even for nonprofits and educators–and costs are high compared to competitors
Outdated, overcrowded interface means a higher learning curve
Best For
Businesses that plan to scale up their text messaging platform to include additional communication channels like voice calling, email, and social media messaging
Teams with an international clientele (Textmagic offers international text messaging to 190+ countries)
SMBs that want to use SMS marketing to strengthen their business reputation with features like text-based business reviews, automated customer surveys, and SMS payment collection
EZ Texting
EZ Texting is an SMS marketing application focused on increasing open rates, capturing and converting new customers, and boosting overall customer loyalty. Though focused on one-way, outbound bulk messaging, EZ Texting offers some customer support chat features like auto responses and feedback management.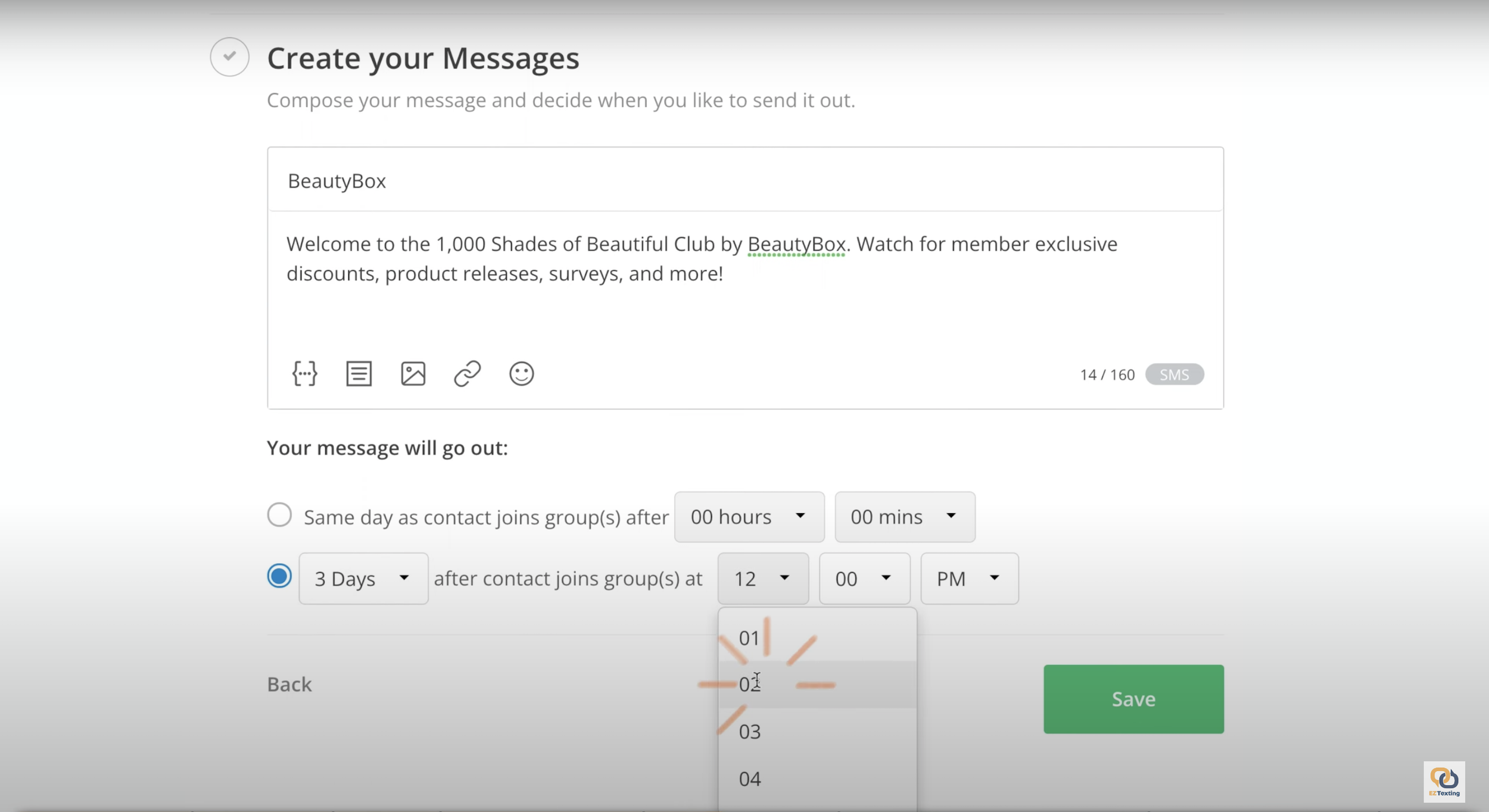 EZ Texting is one of the few providers offering prepaid monthly plans with monthly and annual plans as opposed to strictly pay-as-you-go pricing.
Users can send automated one-way or two-way SMS messages of up to 160 characters, and MMS messages of up to 1,600 characters. Messages can contain links, short codes, coupon codes, emergency notifications, appointment confirmations, and payment notifications and reminders.
Key Features
SMS Analytics: Track bounce rates, opt-outs, clicks/engagement, delivery updates, review source data/web traffic, view contacts by source, enable keyword tracking, drill down data to customer level
AI Compose/Reply: Automated context-based SMS messages and replies, integrates with existing knowledge bases
Template and Design Tools: Shutterstock partnership gives users access to 20 million free photos that can be added to a campaign via drag-and-drop, users can add headers/subheaders, links, filters, effects, and more. Pre-designed templates are also available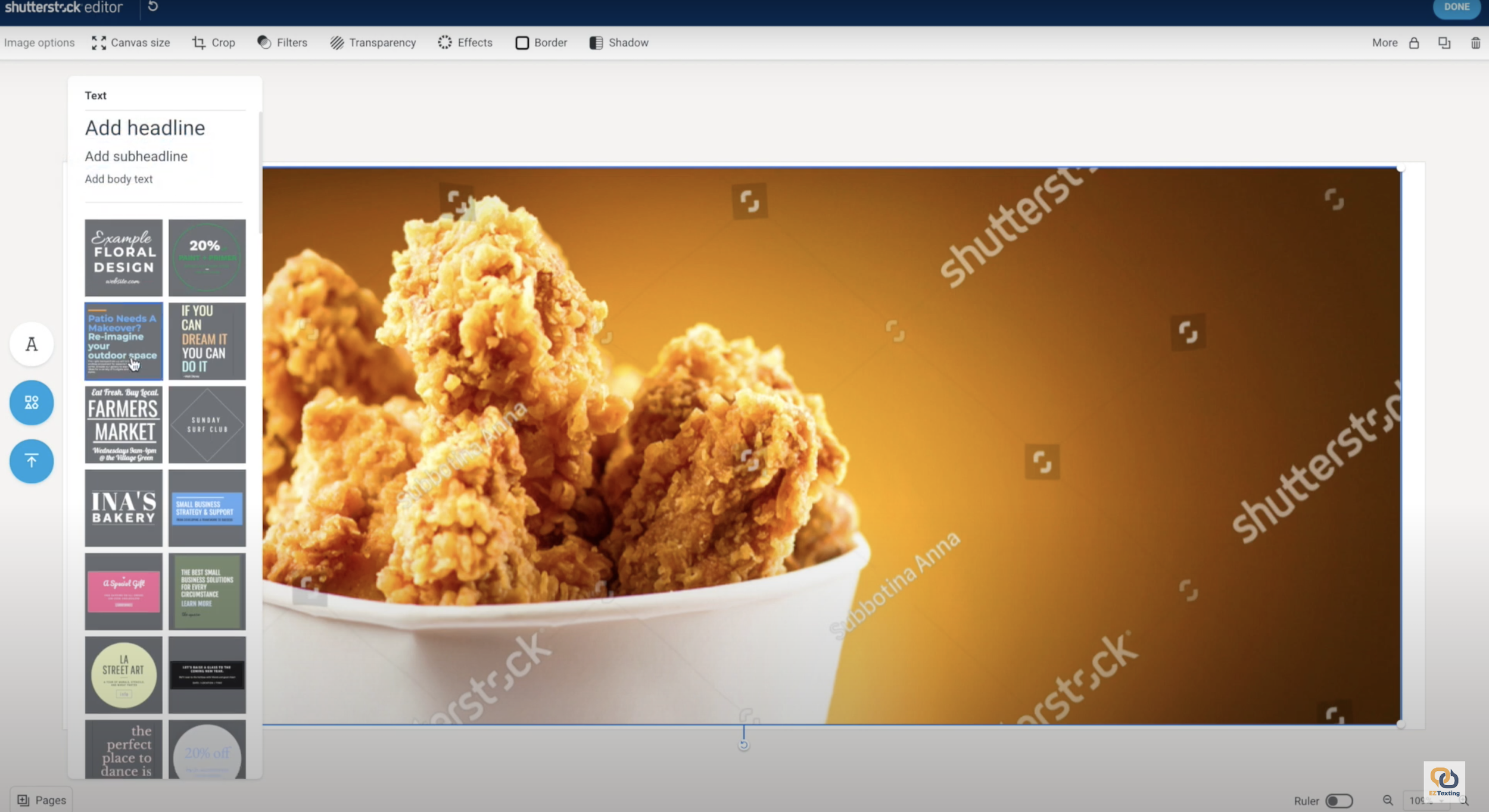 Pricing
EZ Texting offers four paid plans from $20/month (500 free messages, $0.027/message) to $3,000/month ($0.010/message, 200,000 messages/month included.)
Users can purchase dedicated short codes for $1,000/code/month, or upgrade to a vanity short code for $1,500/code/month–plus one-time setup fees between $1,500-$3,000. Additional local phone numbers, high-volume phone numbers, and keywords are available for $25.00/number/month.
All plans include unlimited inbound messages, contacts, keywords, two-way texting, QR codes, MMS Edge access, AI Compose and Reply, and limited CRM features. Users can choose from a variety of business phone numbers for texting, including local/toll-free numbers, short codes, high-volume numbers, and text-enabled landlines.
Pros & Cons
Pros:
Excellent value and transparent monthly pricing–all plans include unlimited keywords, contacts, and inbound SMS
Contact Management feature lets users upload unlimited contacts via Excel, .CSV, .XLS, or a drag-and-drop file upload template
Collect and automatically add contacts from custom website forms, keyword interactions, and QR codes
Cons:
Enterprise Plan can take 4-12 weeks to set up
Each MMS message costs three credits, meaning bulk MMS campaigns quick add up
International texting isn't available, as EZ Texting operates only in the United States and Canada
Best For
Small or new businesses interested in a basic business text messaging platform that includes not only customer service/marketing texting, but also employee/internal SMS communication
Teams that already have a high number of contacts and need an SMS platform that supports unlimited contact management
eCommerce shops, salons, hotels, service professionals, and nonprofits that generate most of their revenue from upselling, cross-selling, and incentives loke customer rewards
Business Text Messaging Use Cases
Popular business SMS use cases include:
Contact Management: Collect and update customer phone numbers/contact information by including text messaging sign-ups on your website, in emails, etc.
Marketing and Promotions: Send special discount codes, coupons, seasonal sale notifications, limited-time offers, QR codes, new product drops, restock alerts, etc.
Appointment Management: Make, cancel, confirm, and reschedule appointments, set up automated appointment reminders, send forms for customers to complete before their appointment
Customer Service: Offer personalized live customer service via two-way texting, use auto-responses to provide 24/7 customer self-service via text messaging, let customers schedule a voice call from a support team member
Event Invitations: Send evites for special in-store promotions, holiday parties, exclusive sales, one-time events, industry panels/lectures, charity benefits, etc.
Sweepstakes/Contests: Customers text back a keyword to be automatically entered into a contest
Customer Surveys: Automatically send customer surveys to customers via SMS, collect and analyze feedback to identify communication silos, gaps in agent training, CSAT scores, etc.
Healthcare: One-time/recurring medication reminders, request refills, appointment management, send payment reminders/collect payments, fill out patient forms, etc.
Education: Send out school-wide closure and safety alerts, communicate with parents, collect homework, share school announcements with students, faculty, and family, manage substitute teachers, etc.
Finance: Real-time fraud alerts and account management, send account balance updates and payment reminders, collect payments, enable automated transfers, etc.
Best Practices For Effective Business Text Messaging
Study SMS Compliance: Monitor changes in business texting regulations, streamline the opt-in and opt-out processes, look for platforms offering automated opt-in/opt-out management, TCPA compliance, and lead list scrubbing
Regularly Review Analytics: Look for upward/downward trends in subscribers, link clinks, successful/unsuccessful campaigns, keywords, etc.
Offer Messaging Frequency Options: To limit unsubscribers, give customers a choice about specific topics they're interested in and how often they want to hear from you (weekly, a few times a month, special events only, etc.) and
Keep Messages Short: Keep messages under 160 characters to avoid "double texting" customers–include links to more information instead
Use Market Segmentation: Review customer purchase history, communication preferences, contact details, and other demographics to segment markets and provide targeted marketing messages to increase conversion rates
Enable Omnichannel Syncing: Set up omnichannel auto-syncing between messaging channels (SMS/MMS, social media messaging, email, etc.) to avoid repetition and improve the customer experience
Integrate CRM Systems: Integrate third-party CRM platforms for instant, in-conversation agent access to key customer data, account information, interaction history, and custom notes to provide personalized and efficient service
FAQs
Below, we've answered some of the top text messaging FAQs.