Whether you're redeeming a coupon code, getting real-time updates about your flight status, or confirming an appointment, business text messaging already plays a role in your life.
You're ready to extend the convenience of business text messaging to your customers–and reap the benefits of doing so.
But to get the most out of business SMS, you need to find the right platform.
The top business texting providers reviewed in this post have the advanced features, TCPA SMS compliance, and flexible pricing structures guaranteed to make you opt-in.
An Overview Of The Best Business SMS Platforms
The below table provides a quick overview of the best business SMS platforms reviewed in this post.
Pricing
Best Features
Best For
Twilio
Pay-as-you-go and volume discounts, pricing varies by message type, phone number, and functionality
Messaging Insights and Twilio Verify
Teams needing to add customizable, scalable, and multichannel (SMS, MMS, WhatsApp) messaging to existing business  applications

Teams with high daily messaging volumes

SimpleTexting
8 plans from $29.00/month (500 texts/month) to  $899.00/month (50,000 texts/month)

Shortcode pricing from $1,000/code/month

Advanced automated marketing and notification messaging strategies
Medium to enterprise-level companies heavily reliant on bulk texting as a marketing and engagement tool

Teams needing high-level third-party integrations

RingCentral
As RingCentral MVP feature: 4 plans from $19.99-$49.99/user/month

As RingCentral Contact Center feature: quote-based

Enhanced Business API SMS: $0.85/message, 1.3 cents/MMS

High Volume SMS pricing from $0.0085/message

Programmable SMS APIs and High Volume SMS
Teams needing a UCaaS platform or business phone system including text messaging
TextMagic
Pay-as-you-go pricing with unlimited credit rollover from:

– $0.04/text

– $0.04/MMS or Carrier Lookup

Custom bulk pricing from 10,000+ messages/month and up

Email-to-SMS and SMS surveys
Teams that often communicate with local and international customers via live, 1:1 text messaging

Teams that need to text larger files including promotional materials

EZ Texting
4 paid plans from $20.00/month for 200 credits and $299/month for a custom plan

Dedicated short codes for $1,000/code/month

Pay-as-you-go SMS credit bundles available

Contact Management and built-in template design tools
Large-scale businesses that primarily use SMS messaging for marketing, lead generation, and sales

Ideal for eCommerce shops/store websites, salons, hospitality industry, service professionals

Textedly
11 plans from  $24.00/month (1,200 messages/month) to $2,100/month (180,000 messages/month)
Conversation Triggers and SMS Keyword Tool
Medium-to-enterprise-level businesses using SMS to automate support and sales processes

Companies that heavily rely on sales generated from business texting campaigns

Sakari
7 plans from $16.00/month (500 messages/month) to $640.00/month (25,000 messages/month)
Advanced Rich Text Messaging and Sakari SMS mobile app
SMBs needing a user-friendly business texting application for one-way automated messaging

Teams needing a robust mobile business SMS app

Dialpad
As Dialpad Business Communications suite feature: 3 plans from $15.00-$25.00+/user/month

As Dialpad Contact Center feature: 4 quote-based plans

High Volume SMS A2P and SMS CSAT Surveys
Teams needing a UCaaS platform with SMS/MMS capabilities

North American-based companies that use group SMS texting to communicate with team members and clients

ClickSend
Pay-as-you-go pricing from $0.0224/message (under 2,000 messages/month) to for $0.0080/message (100,000+messages/month)
Quick SMS/MMS, time and contact-based automations, RCS Messaging
Small businesses prioritizing ease of use, bulk automation, and recurring campaigns

Teams only interested in pay-as-you-go pricing

TrueDialog
4 paid plans from $99/month to $2499/month

API SMS/MMS Pricing available for long code and shortcode numbers

Team-based texting, call center texting, in-CRM texting
Enterprise-level companies that need multiple agents to collaborate within a single unified texting thread
What is Business Text Messaging? 
Business text messaging is a communication tool that lets businesses and consumers send/receive SMS messages via 1:1 two-way messaging or through automated outbound bulk messages.
While business SMS platforms work on mobile devices, they're also accessible on desktop computers. This makes reviewing message history, managing automated and real-time texting, and monitoring outbound SMS marketing campaigns much easier.
Businesses can purchase toll-free or local VoIP phone numbers used exclusively for SMS, assign each employee their own number, give multiple agents access to the same phone number and messaging dashboard, or create a dedicated shortcode for outbound texts only.
Today, business SMS is available as a standalone product or as a feature of unified communications or contact center software.
Top Business Text Messaging Features
Though some companies may have more specific business messaging capabilities to look for, there are essential features any reputable SMS service will provide, including:
Free incoming SMS messages
One-on-one and group/bulk messaging
SMS and MMS capabilities
SMS marketing service tools
A dedicated phone line
Auto-response messaging with custom triggers
SMS Keywords (ie: "Text 'NEWBREW' to 523-54 for 10% off your next order)
Shortcodes
Link inclusion/link shorteners
Scheduled and staggered messages
iOS and Android mobile apps
Automated appointment reminders
Drip campaigns
Opt-out automation and compliance
Polls, customer surveys, and website subscriber list signups
Saved message templates
Integration with other business communication and CRM software
Message personalization
Analytics and reporting, report sharing and customization
The Best Business SMS Platforms 
We've outlined the standout features, pricing and plans, and ideal user base of the best business SMS platforms:
Twilio
Twilio's Programmable Messaging API lets teams add low-code SMS, MMS, and WhatsApp messaging to existing business applications.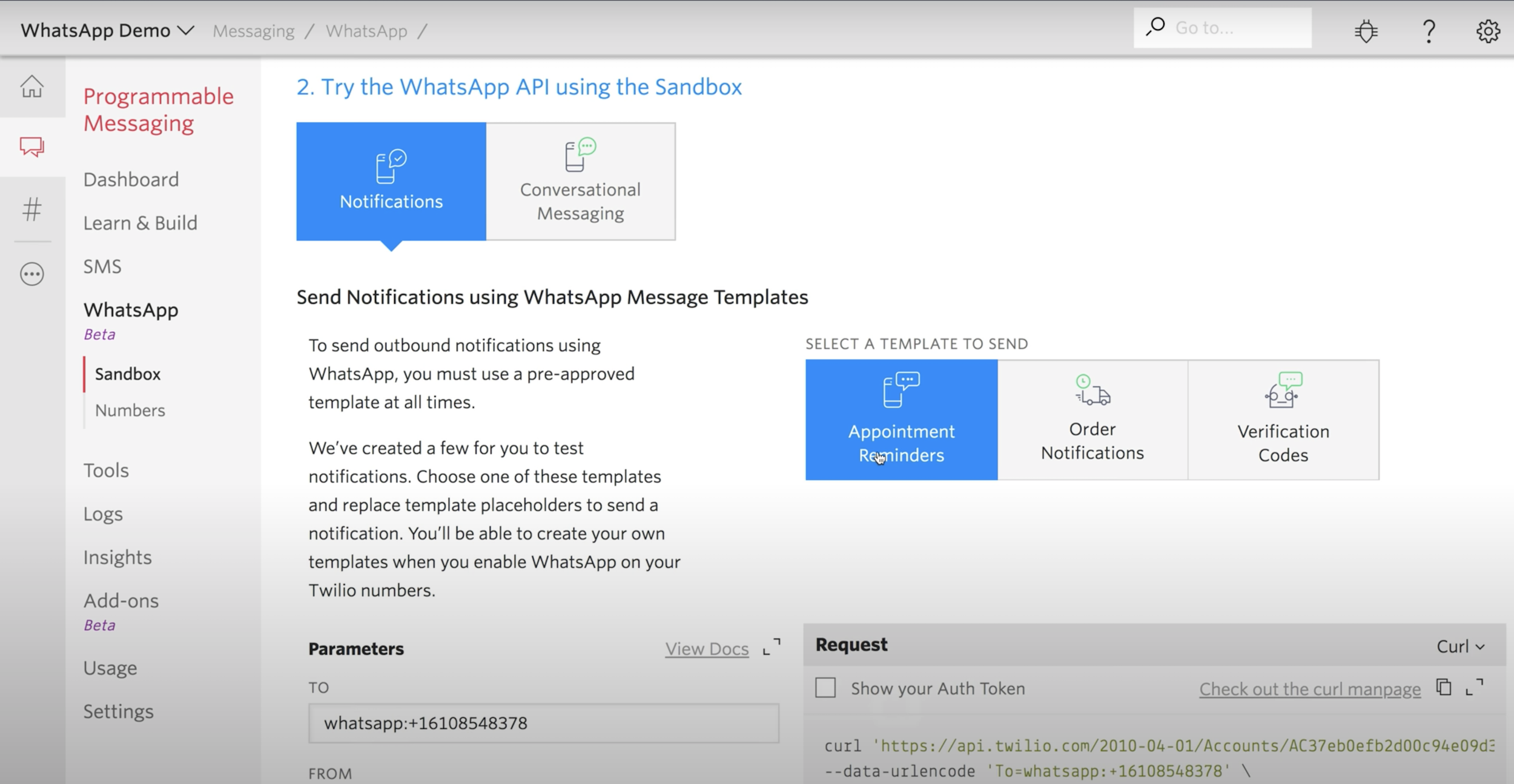 Unlike an out-of-the-box texting platform, Twilio's messaging REST APIs allow for high-level customization and scalability–while detailed documentation and sample code streamline app configuration for developers. Both automated chatbot-based and live agent customer messaging are available, as a bulk, small group, and 1:1 SMS.
Twilio's Conversations API is designed for two-way, omnichannel engagement via not only SMS and MMS, but also WhatsApp, Facebook Messenger, Google Business Messages, and website chat.
Other Twilio SMS features include:
Local and toll-free phone numbers, or text-enable existing numbers
International SMS in 180+ countries
SMS link sharing/link shortening
MMS support for PDFs, videos, images, audio, GIFs
Text-to-email
Multi-tenant subaccounts
Message scheduling and auto-responses/notifications (SMS, MMS, WhatsApp)
Advanced opt-out management
Automatic route optimization and rerouting for better deliverability
1,500+tier-1 carrier network connections
Random and Vanity Short codes
Salesforce, Zapier, Mailchimp integrations
Automated message fallback to SMS if WhatsApp/shortcode delivery fails
Message delivery status and read receipt updates
Key Features 
Twilio's Messaging Insights is an interactive analytics dashboard showing real-time messaging updates related to:
Message delivery and error rates
Inbound message responses and filters (Other, Opt-Out, Help, Opt-In)
Inbound:outbound messaging volume
OTP Conversions
General messaging 9inighsts related to time, date, subaccount, phone number, channel, country, carrier, error code, etc.
Verification requests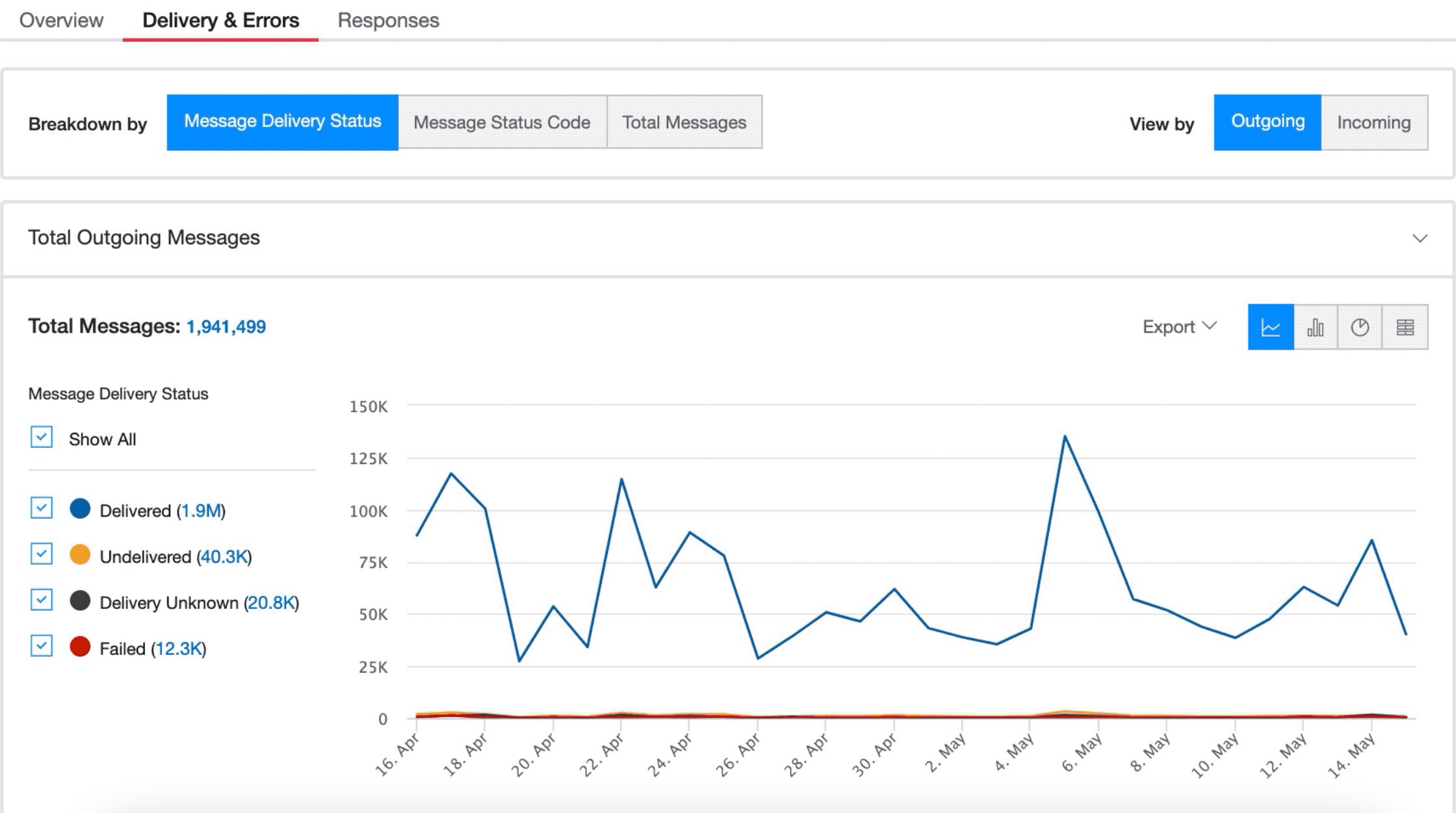 The Twilio Verify API offers SMS-based two-factor authentication, provides a one-time password (OTP) and makes it easy to protect user accounts and mitigate fraud. Admins receive automated alerts for suspicious account activity, notifications of phone number and email validity, and phone number lookups.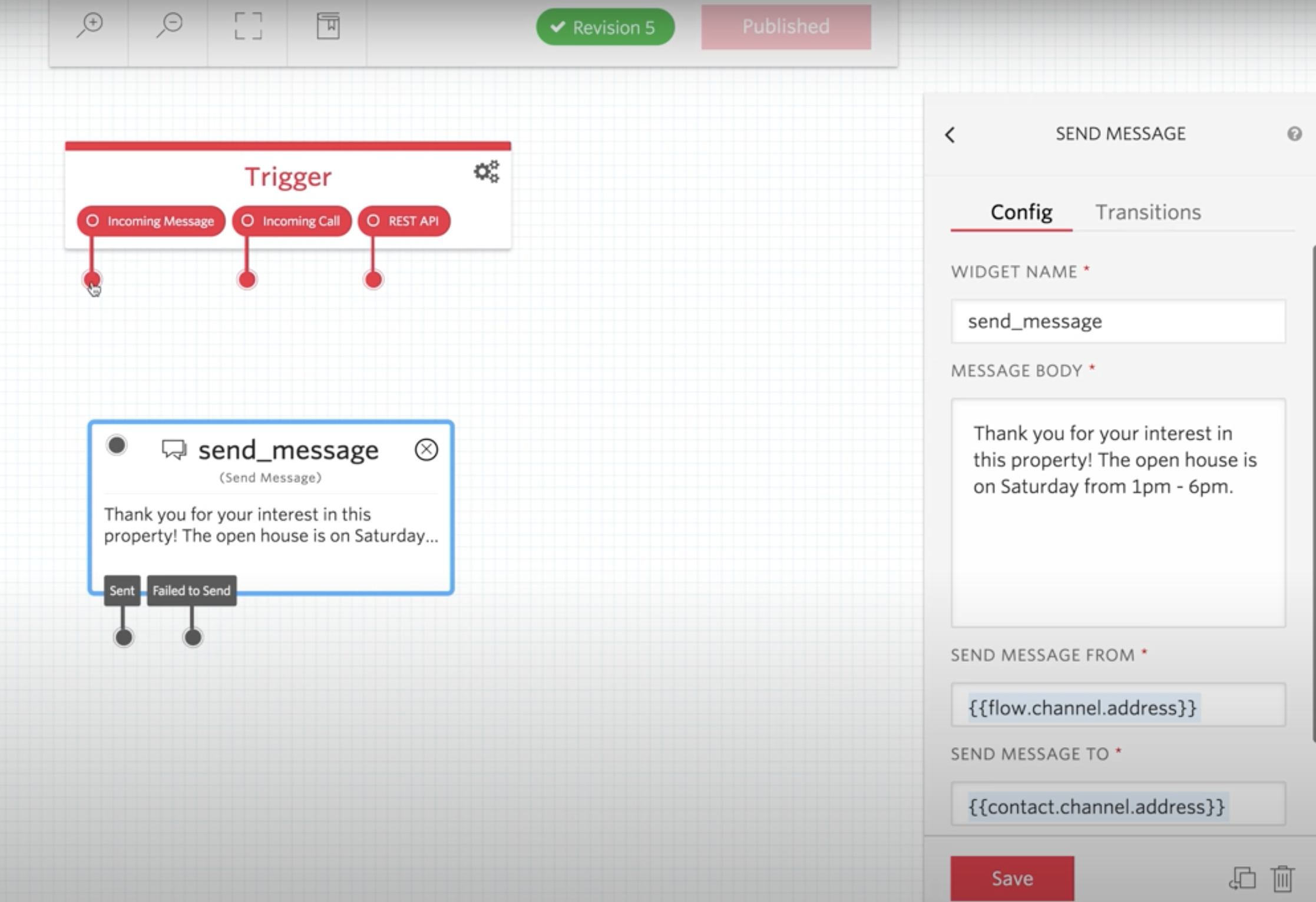 Pricing
Twilio pricing and plans for SMS include pay-as-you-go and cost-effective volume discounts, which are outlined in the tables below. Note that pay-as-you-go outbound text pricing varies by message destination location and carrier. Committed use discounts are also available upon request.
Twilio Pay-as-you-go Messaging Pricing
| | | | | |
| --- | --- | --- | --- | --- |
| Number Type | Cost Per Outbound SMS | Cost Per Inbound SMS | Cost Per Outbound MMS | Cost Per Inbound MMS |
| Local | $0.0079 | $0.0075 | $0.0200 | $0.0200 |
| Toll-Free | $0.0079 | $0.0075 | $0.0200 | $0.0200 |
| Short Codes | $0.0079 | $0.0075 | $0.0200 | $0.0100 |
Twilio Pay-as-you-go Phone Number Pricing
Local Phone Number
$1.00/month/number
Toll-Free Phone Number
$2.00/month/number
Use Existing Phone Number
$0.50/month/number
High Volume Short Code
$1,000/month/code for Twilio-leased code

$500/month/code for self-leased code
Twilio SMS Volume Pricing
| | | |
| --- | --- | --- |
| Number of SMS Messages/Month | Inbound SMS | Outbound SMS |
| First 5 Million Messages | $0.0075 | $0.0079 |
| Next 20 Million Messages | $0.0050 | $0.0053 |
| Next 75 Million Messages | $0.0030 | $0.0032 |
| Next 150 Million Messages | $0.0020 | $0.0021 |
| Next 250 Million Messages | $0.0015 | $0.0016 |
| Next 500 Million Messages  | $0.0010 | $0.0011 |
| Above 1 Billion Messages | $0.0005 | $0.0005 |
| | | |
| --- | --- | --- |
| Number of MMS Messages/Month | Inbound MMS | Outbound MMS |
| First 25 Million Messages  | $0.0100 | $0.0200 |
| Next 75 Million Messages | $0.0090 | $0.0175 |
| Next 150 Million Messages | $0.0075 | $0.0150 |
| Next 250 Million Messages | $0.0050 | $0.0125 |
| Next 500 Million Messages | $0.0045 | $0.0110 |
| Above 1 Billion Messages | $0.0040 | $0.0100 |
Best For
The Twilio SMS API is best for teams that need to add scalable, customizable, and secure multichannel messaging capabilities to their existing business applications. Businesses that choose Twilio are heavily reliant on text messaging for marketing, 1:1 support, bulk one-way messaging, and even user verification and authentication. The 99.999% uptime and route optimization makes Twilio ideal for high-volume messaging.
SimpleTexting
SimpleTexting is a feature-rich text messaging service with advanced automation capabilities for both one-on-one and mass texting.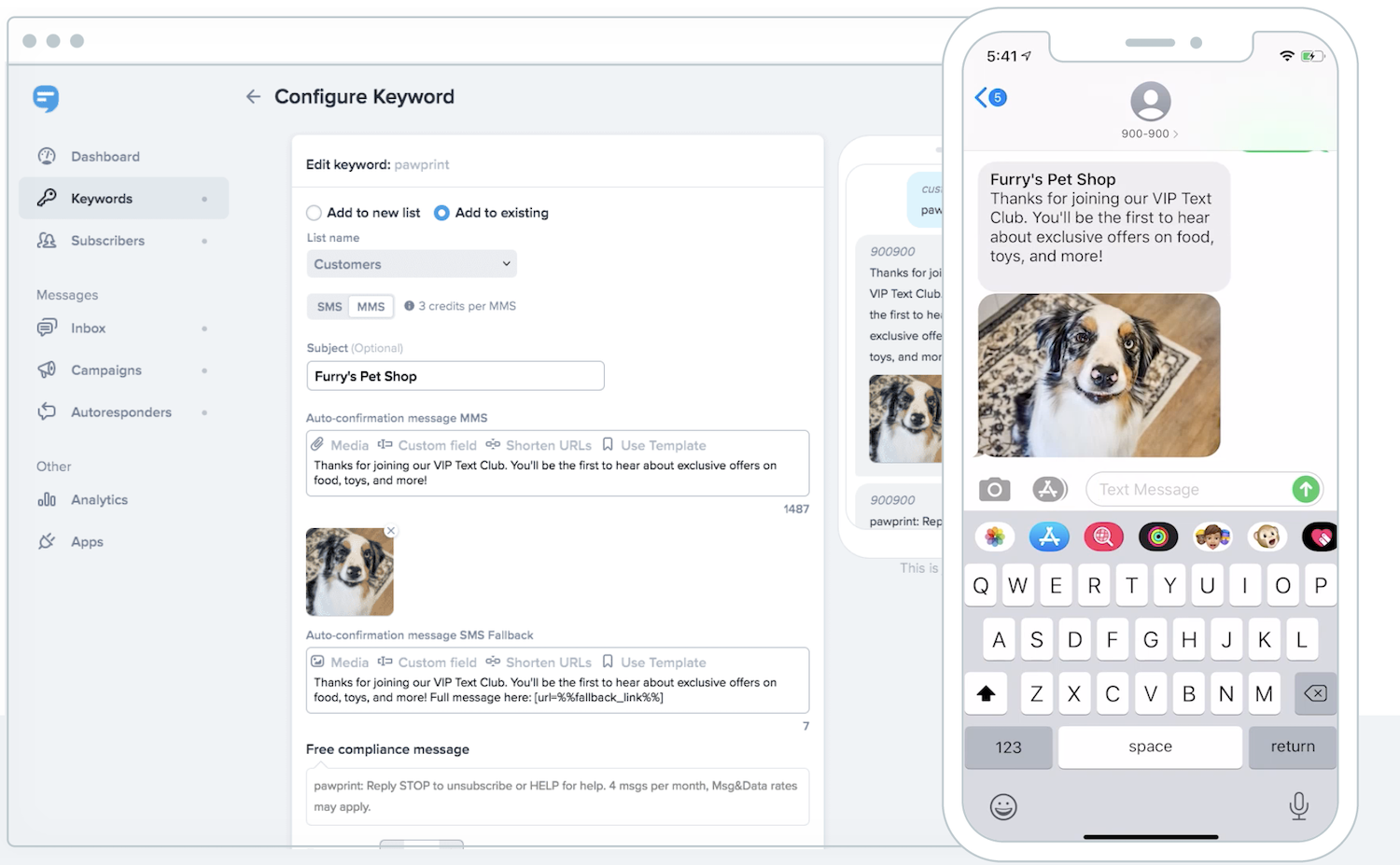 Two-way texting is available with a toll-free, local, or text-enabled existing business phone number. Compose, reply, manage, and collaborate with other team members on text messages within the intuitive desktop or mobile dashboard.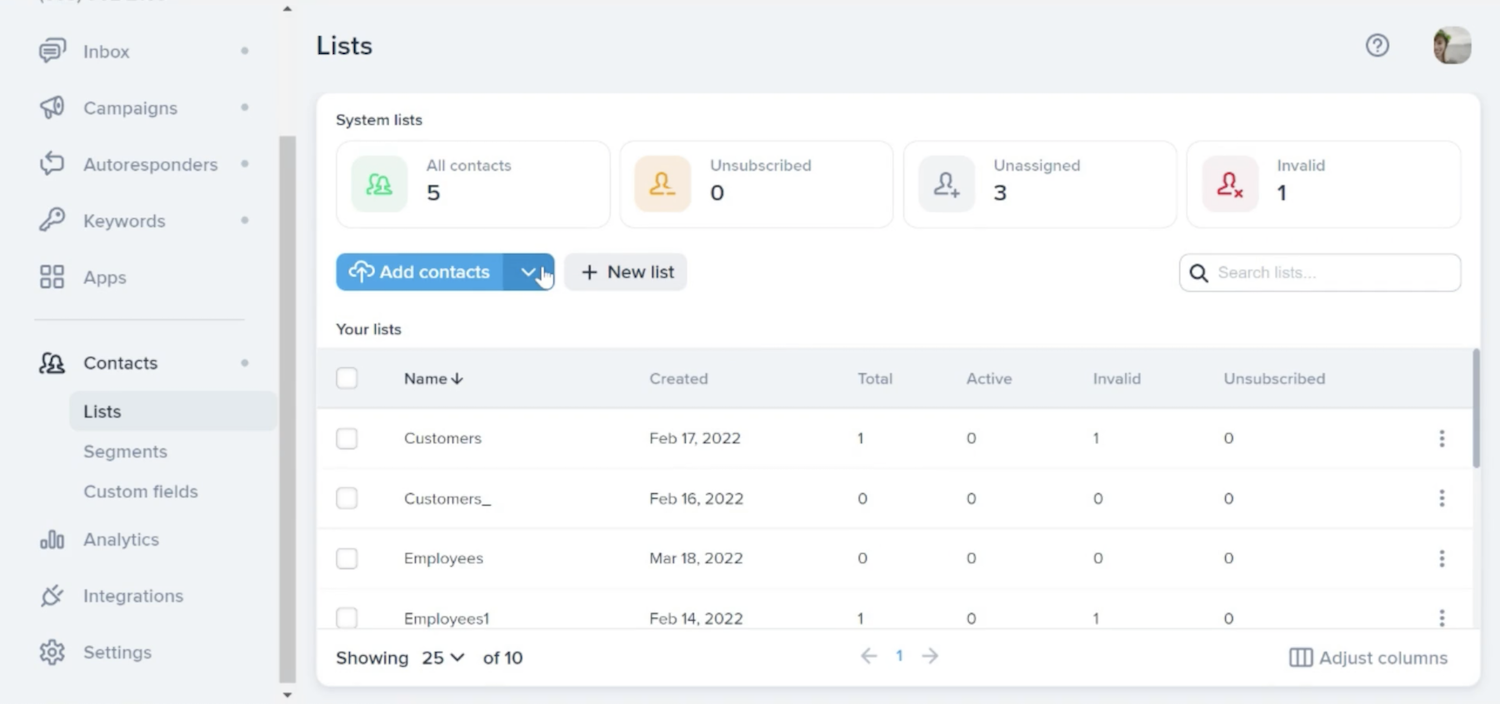 SimpleTexting offers:
1 toll-free phone number per account
Dedicated short codes
MMS mass marketing texts up to 1,600 characters
SMS texts up to 360 characters
Team-based texting with shared inbox, conversation assignment and notes, multi-number messaging
Tiny links (link shorteners)
Interactive analytics like link and engagement tracking, subscriber and campaign reporting, billing statistics
SMS Sweepstakes/Text-to-Win
Custom Fields
Customizable/reusable message templates
1,000+third-party integrations (Zapier, MailChimp, HubSpot, Salesforce)
Key Features
SimpleTexting's Automated Messaging feature automatically sends customizable SMS or MMS messages when a customer takes a specific action, when selected conditions are met, or at a pre-established date/time. Automated texts can be sent in bulk or individually, as recurring or one-time messages.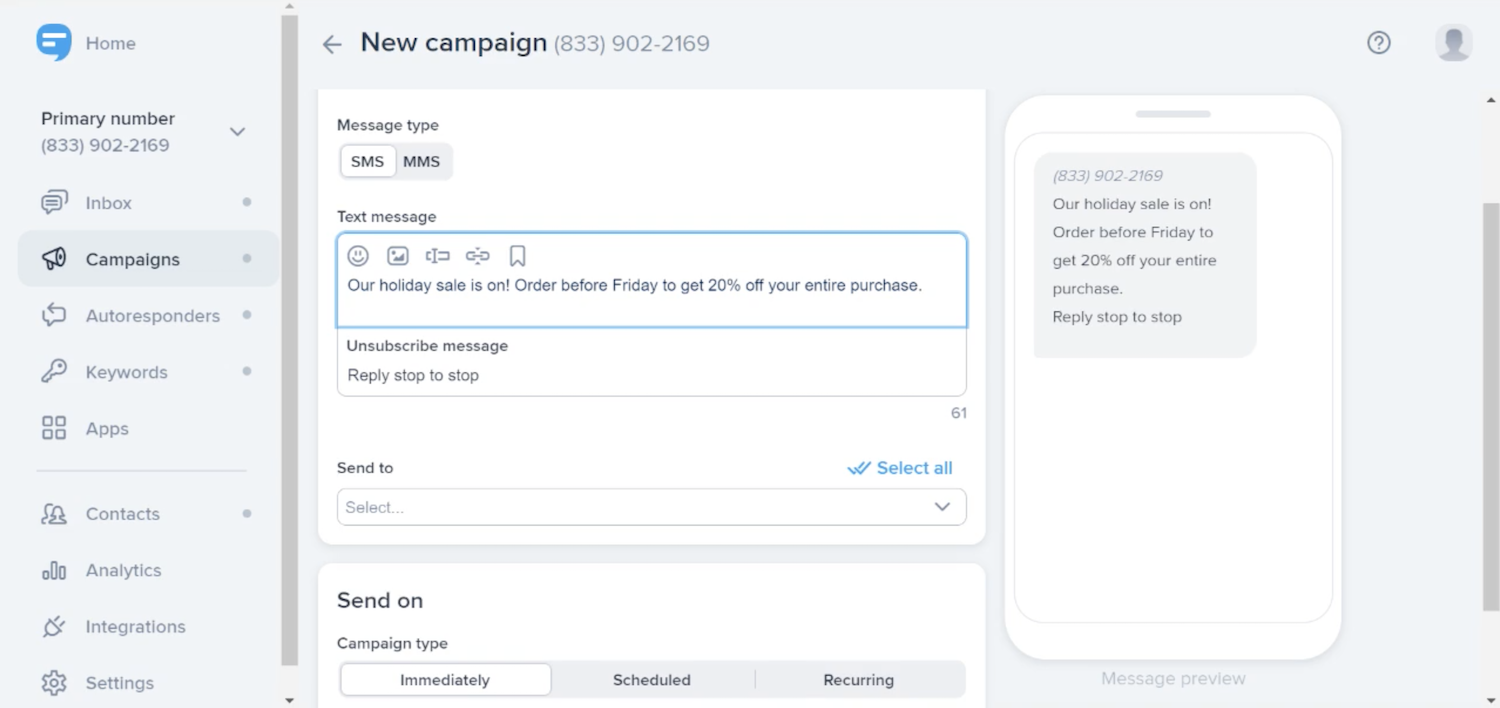 SimpleTexting offers message automation options for: 
Scheduled texts (Sent at a specific date/time, ideal for new campaign launches/coupon codes)
Autoresponders (Send welcome message to new subscribers, appointment confirmations, acknowledge customer message receipt, onboard customers, provide automated support, set out-of-office replies)
Contact list importing and segmentation
Drip campaigns (Sends several texts over a period of time to guide subscribers through customer journey)
Data collection (collect subscriber contact and demographic information, as well as customer feedback)
Pricing
SimpleTexting pricing is somewhat of a combination between pay-as-you and monthly, tier-based plans.
8 monthly plans range from $29.00/month for 500 texts/month to $899.00/month for 50,000 texts/month. Users can purchase additional monthly credits from 4 cents each to 5.5 cents each, plan pending.
All monthly plans include almost the same feature set, though custom integrations and access to a dedicated account manager are available only to users purchasing 7,500 monthly credits and above.
Custom plans for teams sending over 50,000 monthly texts are also available.
Short code pricing starts at $1,000/code/month, and all users can purchase additional phone numbers.
SimpleTexting offers a 14-day free trial, all churches and nonprofits get a 15% discount on monthly plans, and users that purchase an annual plan get a 20% discount.
Best For
SimpleTexting is best for medium-to-enterprise level businesses that use automated bulk texting as a primary way to communicate with, sell to, and research their consumer base. Smaller businesses likely won't need–and will be overwhelmed by–the robust feature set. SimpleTexting's high-level integrations make it ideal for businesses already using third-party VoIP phones, CRM tools, and team collaboration software.
RingCentral
RingCentral isn't just a business SMS tool–it's a unified communications solution combining VoIP telephony, video conferencing, and messaging in one platform.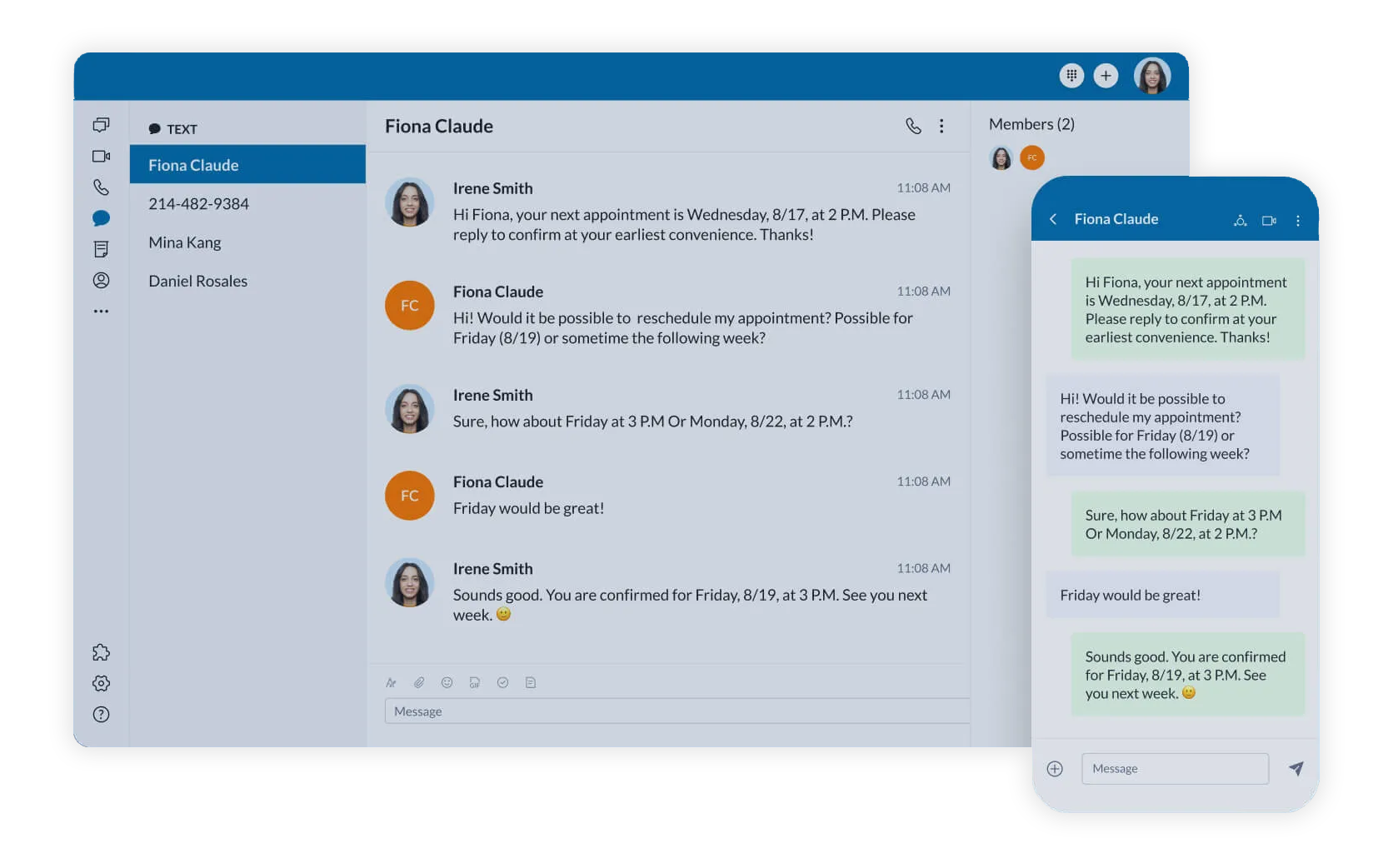 While business texting might not be the star of the RingCentral show, it's the ideal choice for teams looking for omnichannel communications tools with SMS messaging capabilities. You'll use the same RingCentral phone number (local or toll-free) for voice calling, faxing, MMS, and SMS –meaning your customers know how to reach you on their preferred channel. Mobile and desktop texting is available with RingCentral SMS.
Other features include:
Store up to 5,000 text messages (sent/received)
International texting to/from 20+ countries (160 characters maximum)
Text-enable existing phone numbers and devices
Two-way internal and external texting
Real-time mobile, desktop, or email push notifications for business phone system text messages, missed phone calls, voicemails, etc.
Up to 1,000 characters/message
Text message forwarding
Limited group messaging
Integrations with hundreds of third-party apps
Message history search bar
SMS conferencing invitations
Send/receive images, zip and audio files, videos
Number and spam blocking for SMS
In-line multimedia file previews
Key Features
Though RingCentral's native texting capabilities are basic, it offers Programmable SMS APIs (called Enhanced Business SMS) for more advanced automation features like surveys, reminders, mass marketing texts, and more with third-party integrations. Users can include QR codes in texts, communicate in multiple languages, send barcodes and videos, send/receive long code MMS messages, and automate opt-out management.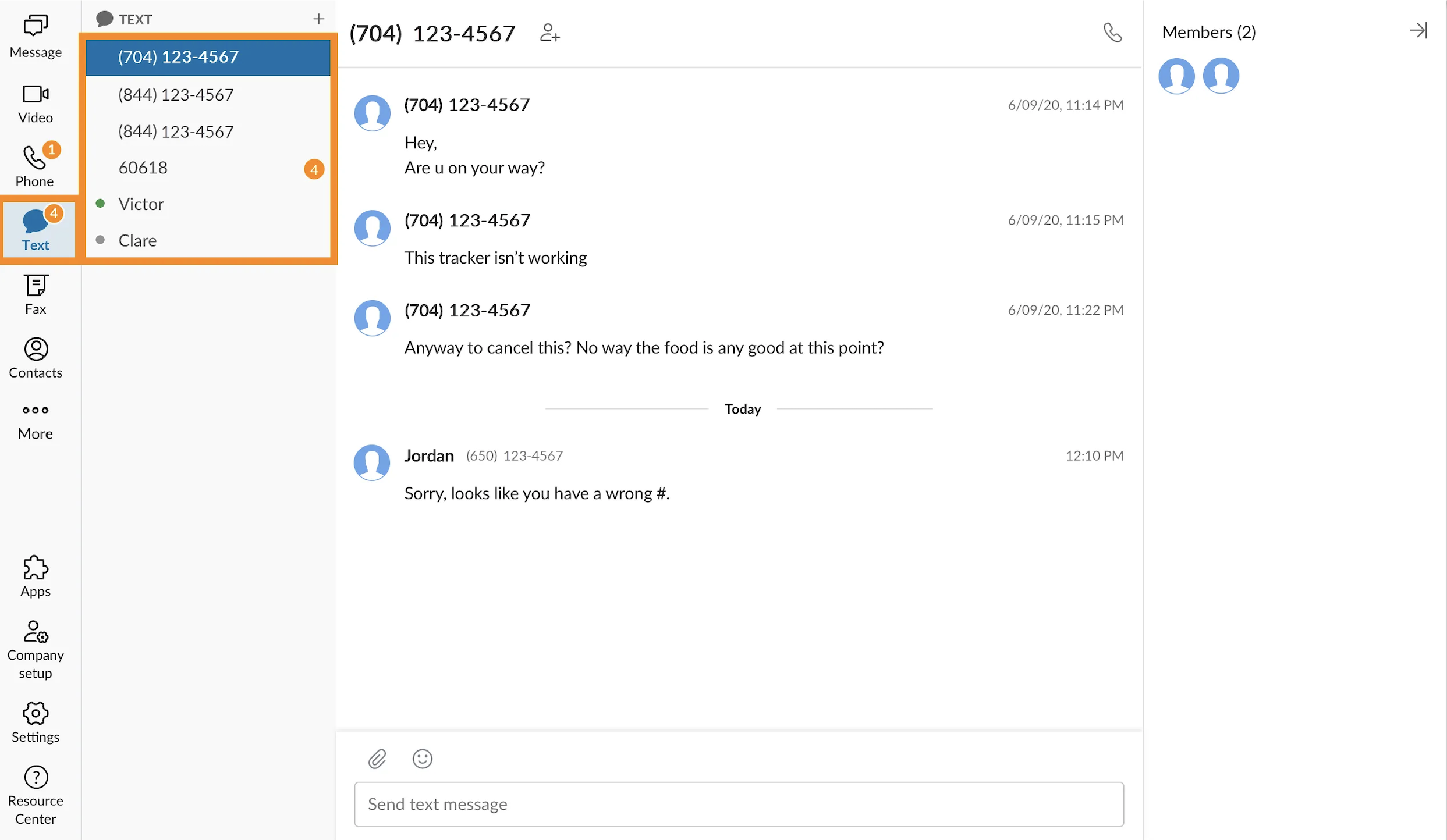 RingCentral's High Volume SMS App, though still in development, is available as a custom add-on for some customers. It will let users send up to 250,000 messages/day, import existing contacts, manage opt-out lists, and create and review campaigns. As of this writing, existing users must contact RingCentral directly to learn more about High Volume SMS and how to add it to their plans.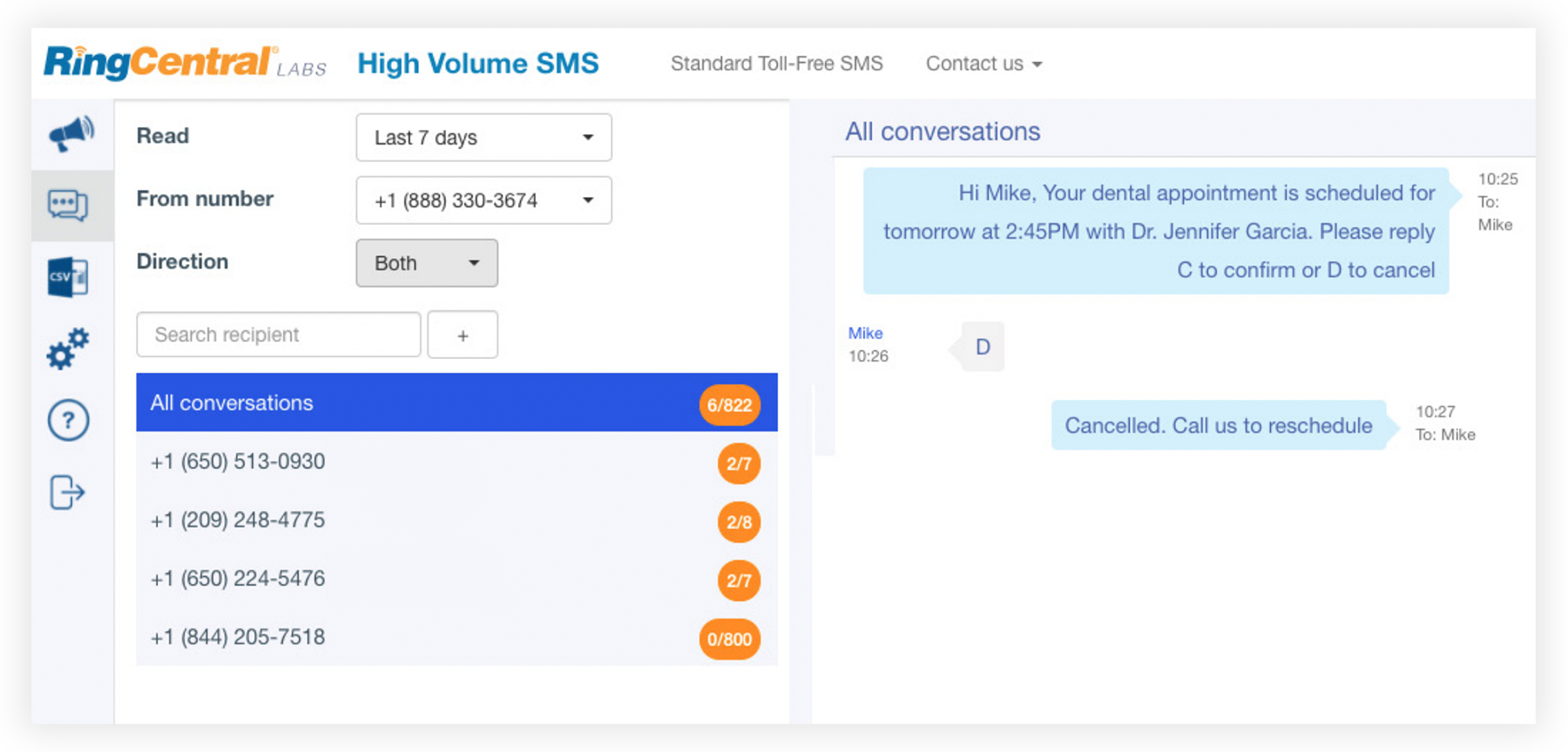 Pricing
RingCentral SMS is not available as a standalone product, but as a part of the RingCentral MVP or RingCentral Contact Center solutions.
RingCentral MVP has 4 paid plans from $19.99-$49.99/user/month, and offers a 14-day free trial. RingCentral Contact Center pricing is quote-based.
Enhanced Business API SMS pricing options are $0.85/message, 1.3 cents/MMS, and country-based international SMS rates.
High Volume SMS pricing begins at $0.0085/message, added onto your current RingCentral monthly plan fee.
Best For
RingCentral is best for teams that want a business phone system with basic SMS texting capabilities–not advanced automation and mass marketing campaign features. It's an ideal option for teams that text each other, occasionally text clients 1:1, and that want to use texting to send video and audio conference call invitations. It's not right for high volume SMS messaging.
TextMagic
TextMagic is an SMS software for mass automated and 1:1 personalized texting related to notifications/alerts, order confirmations, and text-based marketing.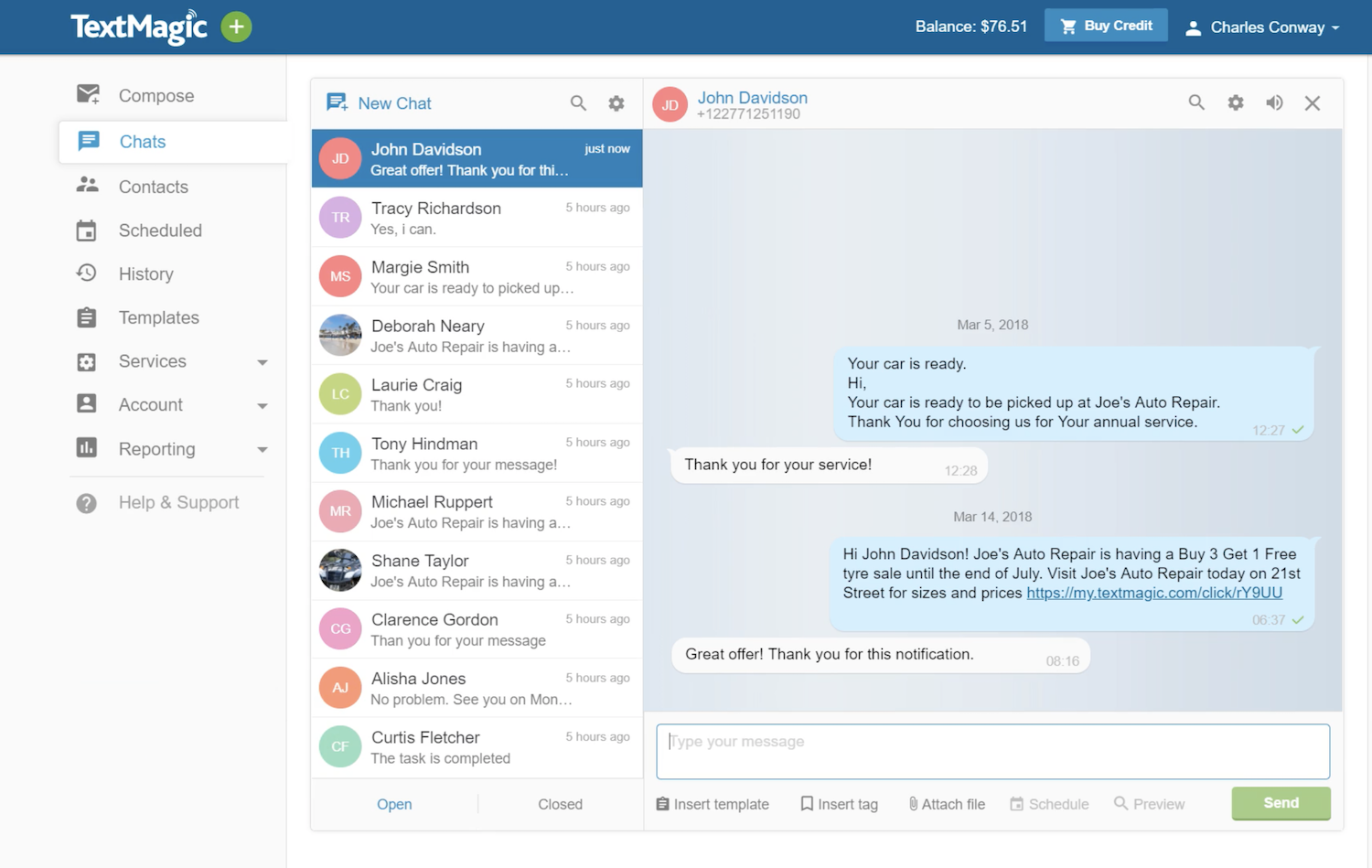 Users can manage two-way text chats with individual clients and bulk texts with up to 100,000 recipients from the TextMagic browser-based Web App, Desktop App, and iOS or Android Mobile App. Free, unlimited subaccounts with access control and admin message monitoring optimize agents without sacrificing quality customer service and support.
TextMagic also offers:
Custom Sender Settings (Dedicated local or toll-free Virtual Numbers, Shared Virtual Numbers, Custom Sender ID, Personal Smartphone Number)
Texting to 190+ countries
Scheduled 1-time or recurring texts and automated replies with custom keyword triggers
Custom templates with autofill personalization, unlimited custom fields, mail merge tags
Long Texting (up to 918 characters/message)
Conversation History/Export text logs to Excel
Internal mass texts (employee safety alerts, company-wide announcements, etc.)
Contact importing and shareable contact lists (market segmentation)
Email, desktop app, and mobile push notifications
Zapier integration and REST API with 12 pre-made code libraries to quickly integrate TextMagic into existing applications
Reporting/Analytics (live delivery reports, campaign reports, etc.)
SSO, 2FA, audit logs, role-based permissions, carrier lookup+number validation and email lookup+validation\
Opt-out and unsubscribe automation with alerts
Key Features
TextMagic's Email To SMS feature lets users convert emails into texts, receive SMS replies in their email inboxes, and send texts via email to multiple recipients. Just link your preferred email provider using the TextMagic API. Email To SMS can be enabled team-wide, email signatures are automatically removed, and users can text from any email address. As shown in the below image, all SMS texts managed with email are available in the TextMagic Desktop/Web App.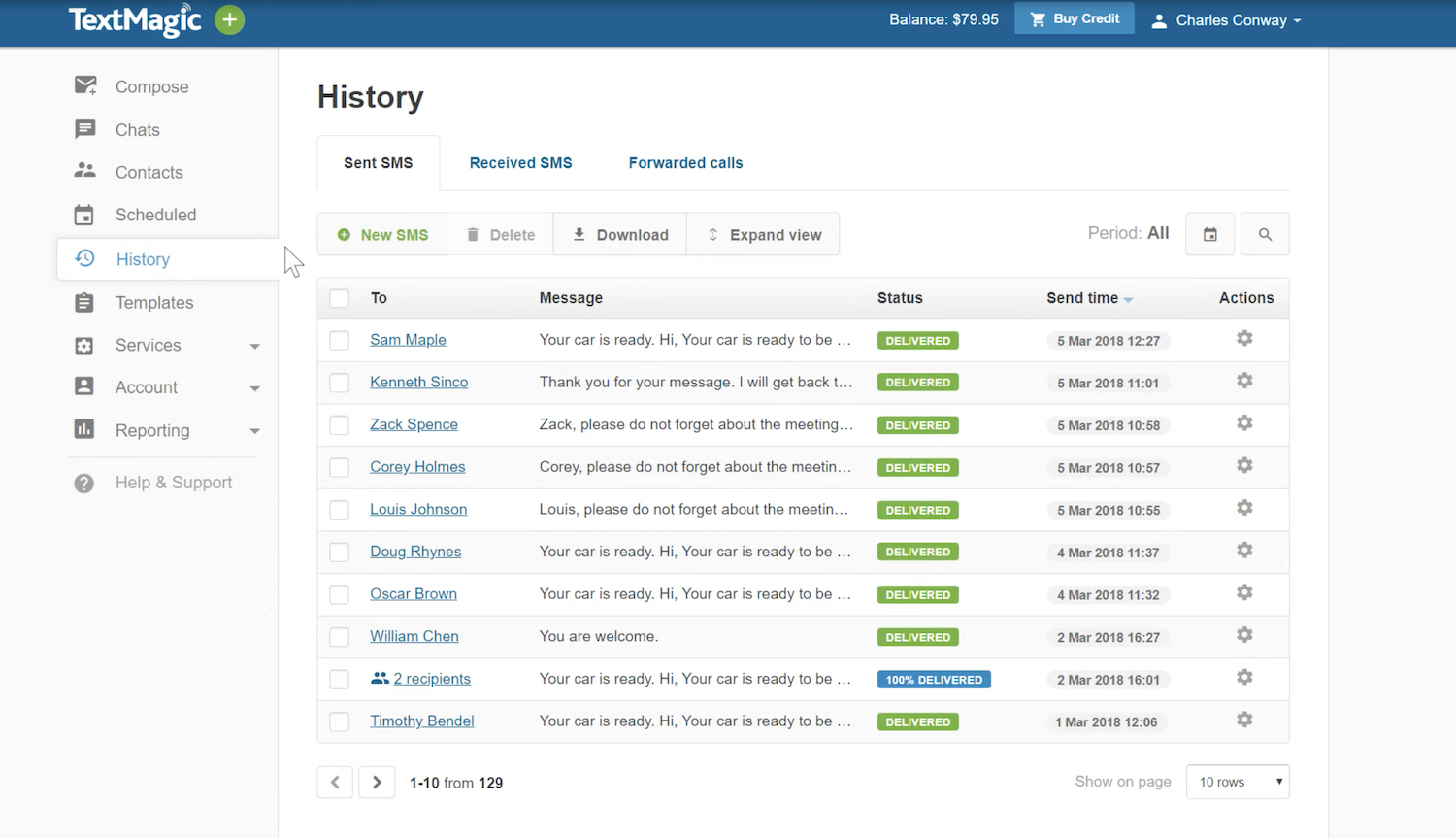 SMS Surveys can be sent out automatically using the TextMagic Survey Tool. Users can choose from 6 survey templates including brand awareness, employee performance, and customer feedback. SMS surveys can be personalized, include file attachments, and progress via automated flow templates and keyword triggers. Responses are automatically saved and analyzed.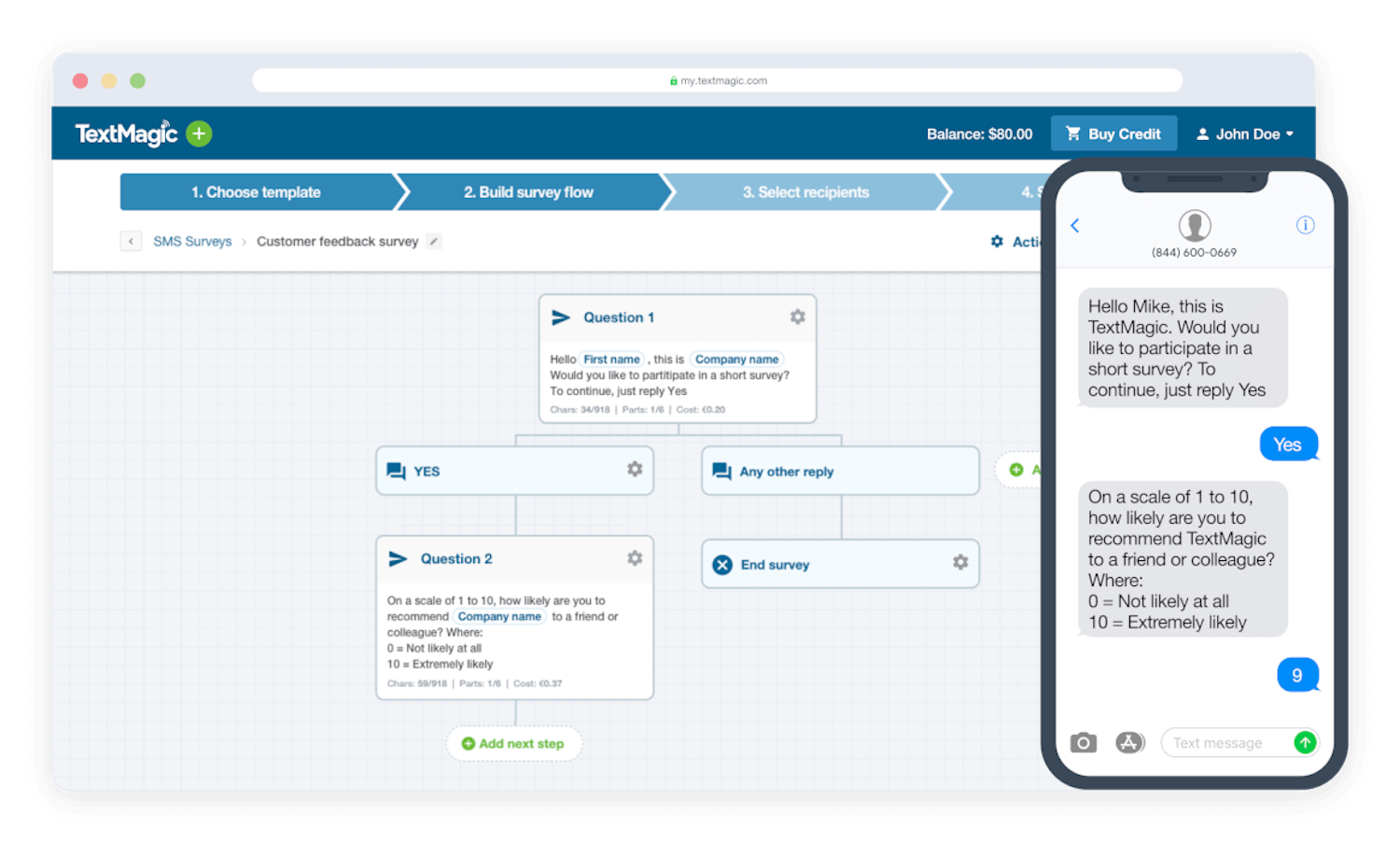 Pricing
TextMagic includes free inbound SMS, unlimited unused credit rollover, and a pay-as-you-go pricing model (custom plans are available for 10,000+ messages/month.) All plans include the same features, and the cost per text starts at $0.04/text in the United States (international pricing varies by country.) Note that MMS messages and Carrier/Email Lookups are sold separately, and also start from $0.04/MMS or Lookup.
TextMagic offers a 30-day free trial with free credit, and auto-recharge is available.
Best For
TextMagic is best for teams that frequently communicate with local and international clients 1:1 via real-time SMS, as it offers advanced personalization, long texting, and the ability to attach promotional materials in PDF, doc, video, photo, and image form (great for catalogs, menus, flyers, etc.) These teams need features that help them manage a high volume of inbound texts like a shared inbox, email forwarding, auto-responses, voice reply, and strong security measures.
EZ Texting
EZ Texting is an SMS marketing application packed with features that increase open rates, capture and convert new customers, and boost overall customer loyalty. Though it is focused on one-way, outbound bulk messaging, EZ Texting offers some customer support chat features like auto responses and feedback management.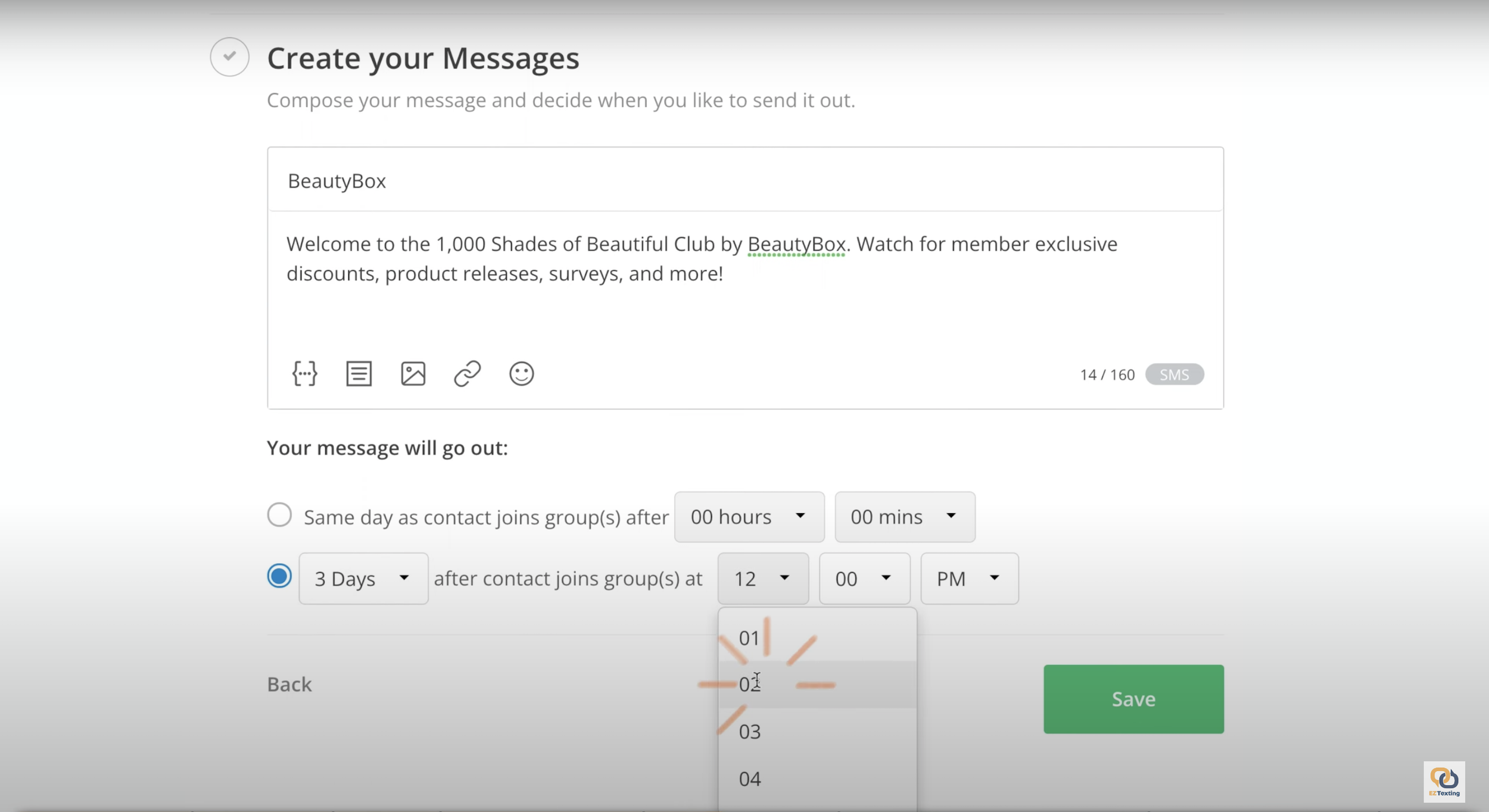 EZ Texting users can send automated one-way or two-way SMS messages of up to 160 characters, and MMS messages of up to 1,600 characters. Messages can contain links, short codes, coupon codes, emergency notifications, appointment confirmations, and payment notifications and reminders.
Other EZ Texting features include:
SMS Analytics (Message volume, open rates and CTR, engagement levels, opt-in and opt-out statistics, campaign-specific analytics, etc.)
SafeSTOP Opt-out compliance tool, identity verification, automated disclosures
Scheduled text messages
Unlimited number of contacts within a message group
Text-to-join keywords, text-to-win campaigns, automated drip campaigns
SMS polling
Live push notifications
Toll-free phone number, 10-digit local number, high volume number, text-enabled landline
Text-to email and text forwarding
One-time and recurring automated marketing campaigns
Message personalization
Mobile App
Simultaneous one-way text blasts with message templates, multimedia files, contact segmentation, link shorteners
SMS QR Code, Keyword, and Web Signup creation and management
Key Features
EZ Texting's Contact Management feature lets users upload unlimited contacts via Excel, .CSV, .XLS, or a simple drag-and-drop file upload template. Contacts can be uploaded as a group, individually, or by integrating EZ Texting with existing third-party platforms like Zapier, HubSpot, or MailChimp. Users can segment and filter contact groups according to location and preferences, add more detailed contact information with custom fields, and manage targeted automated messages and opt-out requests. Contacts collected from custom website forms, Keyword interactions, and even QR codes are automatically added to your lists.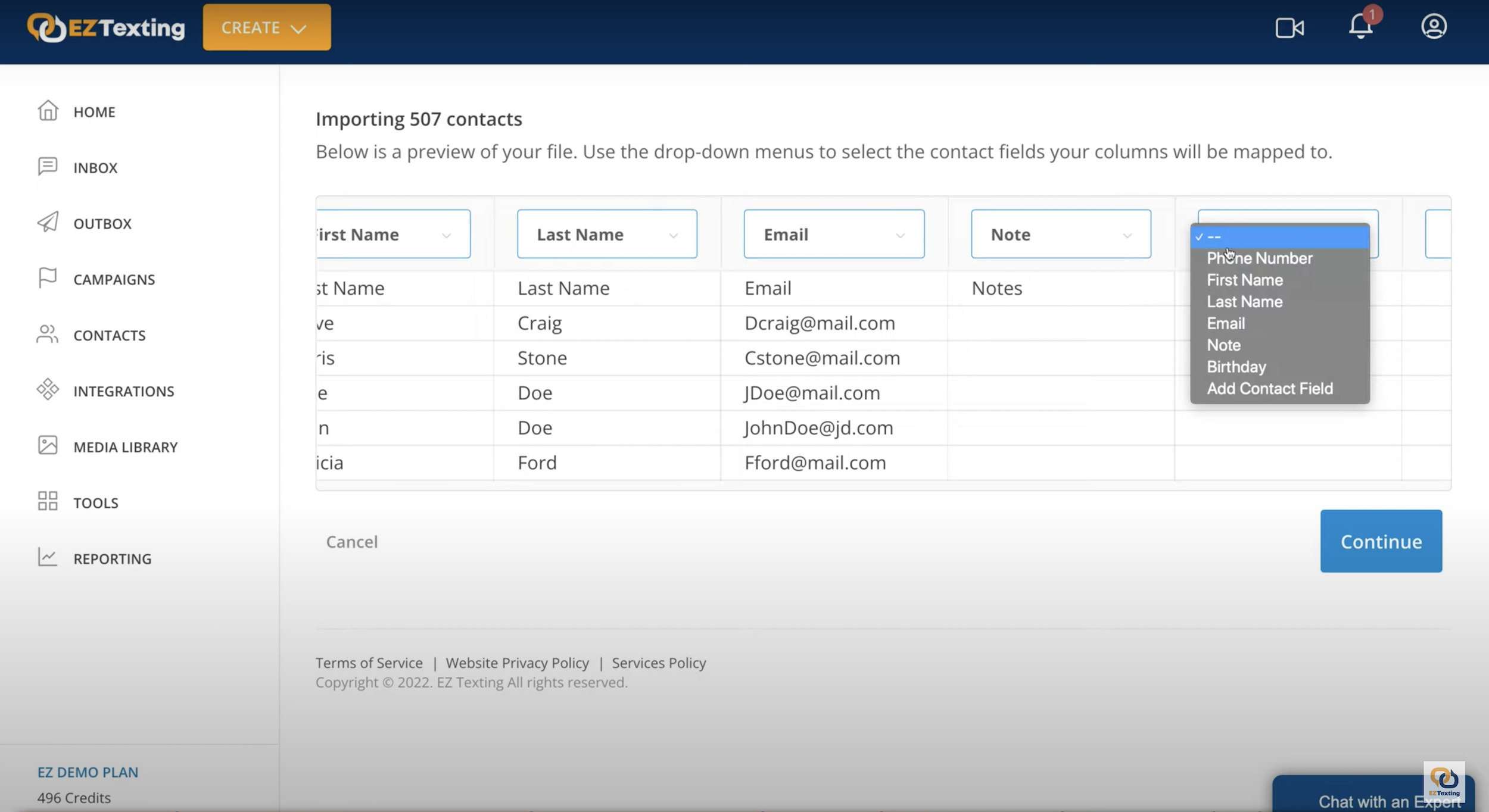 EZ Texting stands out for its Template and Design Tools, which let users create unique media-focused SMS campaigns. A partnership with Shutterstock gives users access to 20 million free photos that can be added to a campaign via drag-and-drop, while pre-designed templates shorten the graphic design process. Images are automatically designed and available within the EZ Texting dashboard.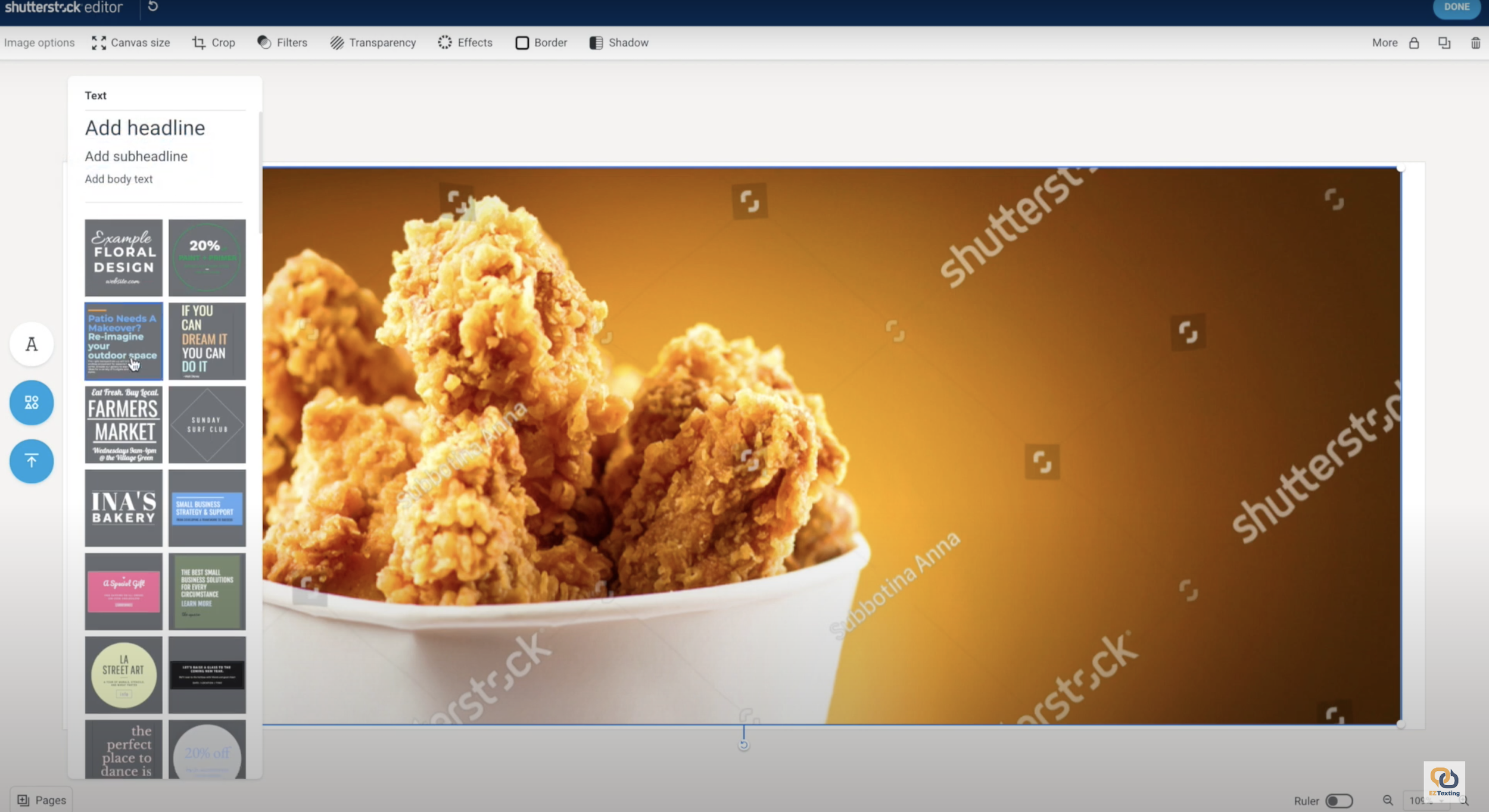 Pricing
EZ Texting offers 4 paid plans from $20.00/month for 200 credits and $299/month for a custom plan. Annual pricing comes with a 20% discount, and a 14-day free trial is available.
All plans include 200 credits per month, and additional discount credit bundles between 6,000-120,000 credits are available for purchase.
Users can purchase dedicated short codes for $1,000/code/month, or upgrade to a vanity short code for $1,500/code/month–plus one-time setup fees between $1,500-$3,000. Additional local phone numbers, high-volume phone numbers, and keywords are available for $25.00/number/month.
Best For
EZTexting is best for large-scale businesses primarily focused on SMS Marketing strategy optimization, lead generation, and conversions. Users prioritize automated, offer-based messaging, sign-up link sharing, and creative, eye-catching text SMS campaign design. These teams already have a high volume of contacts and customers, and want to grow further while increasing recurring purchases and client lifetime value. eCommerce shops, salons, hotels, service professionals, and nonprofits are top EZ Texting customers.
Textedly
Textedly is a text message marketing platform with over 3,000 third-party app integrations and a wide variety of use cases across industries. It's primarily focused on lead data collection and mass SMS Marketing from multiple sources. Features like email capture, custom Webforms, Instagram Texting, and text message data collection that gathers subscriber State, City, Name, and Zip Code make it possible.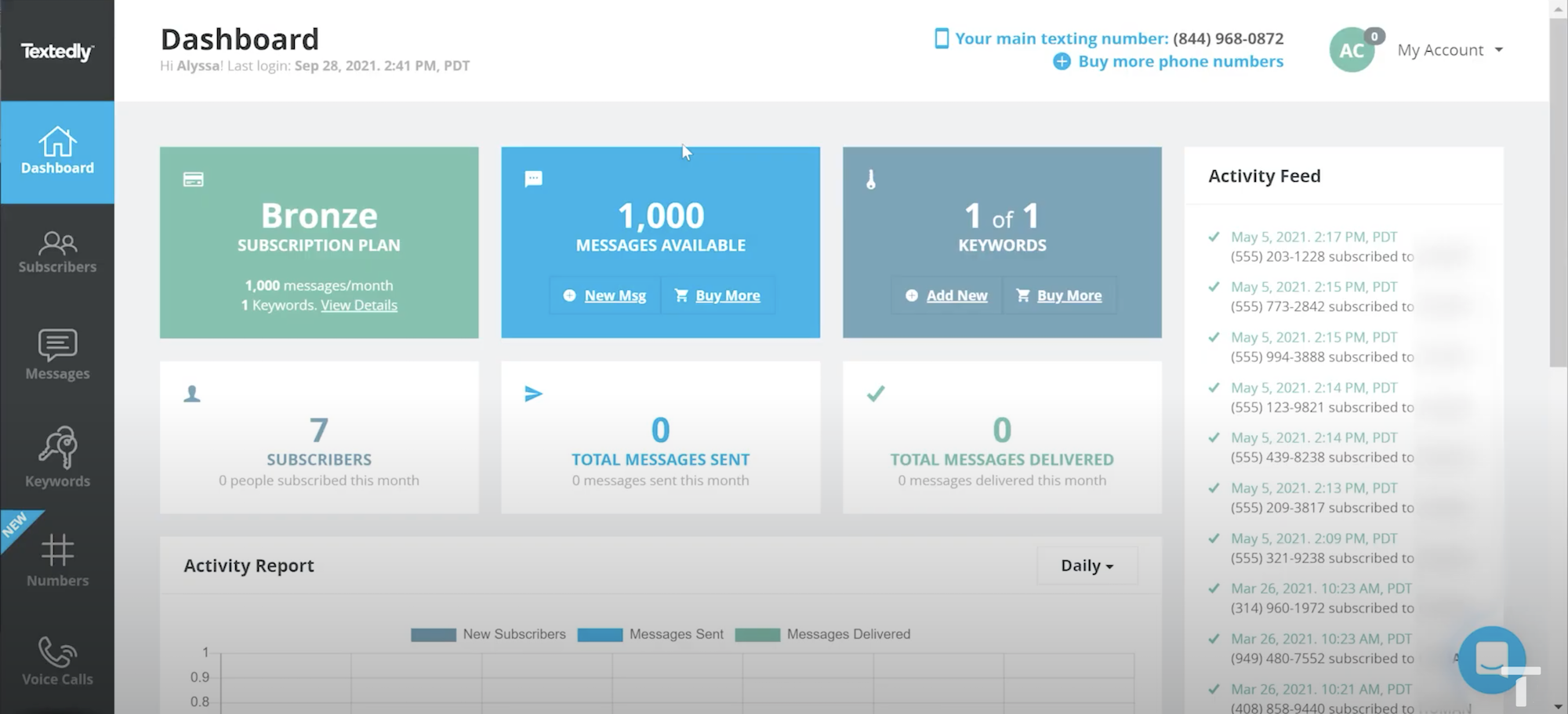 Other Textedly features include:
Automated texting for emergency alerts, appointment reminders, drip campaigns, and scheduled messages
Real-time SMS Analytics
Multiple User Support
Subscriber List Upload
Single Send (1:1 SMS)
Inbound MMS
Text Message authentication and 2FA
Just Once keyword auto-response
Built-in SMS/MMS link sharing
10-digit long codes and short codes
Text blasts
Two-way SMS
Long texting SMS, MMS texts up to 1,600 characters
SMS Surveys
Text To Join
Personalization
Key Features
Textedly's SMS Keyword tool simplifies the opt-in process by providing a specific keyword (FLOWERS, SNEAKERS, etc.) customers text to automatically enroll in your business's text campaigns.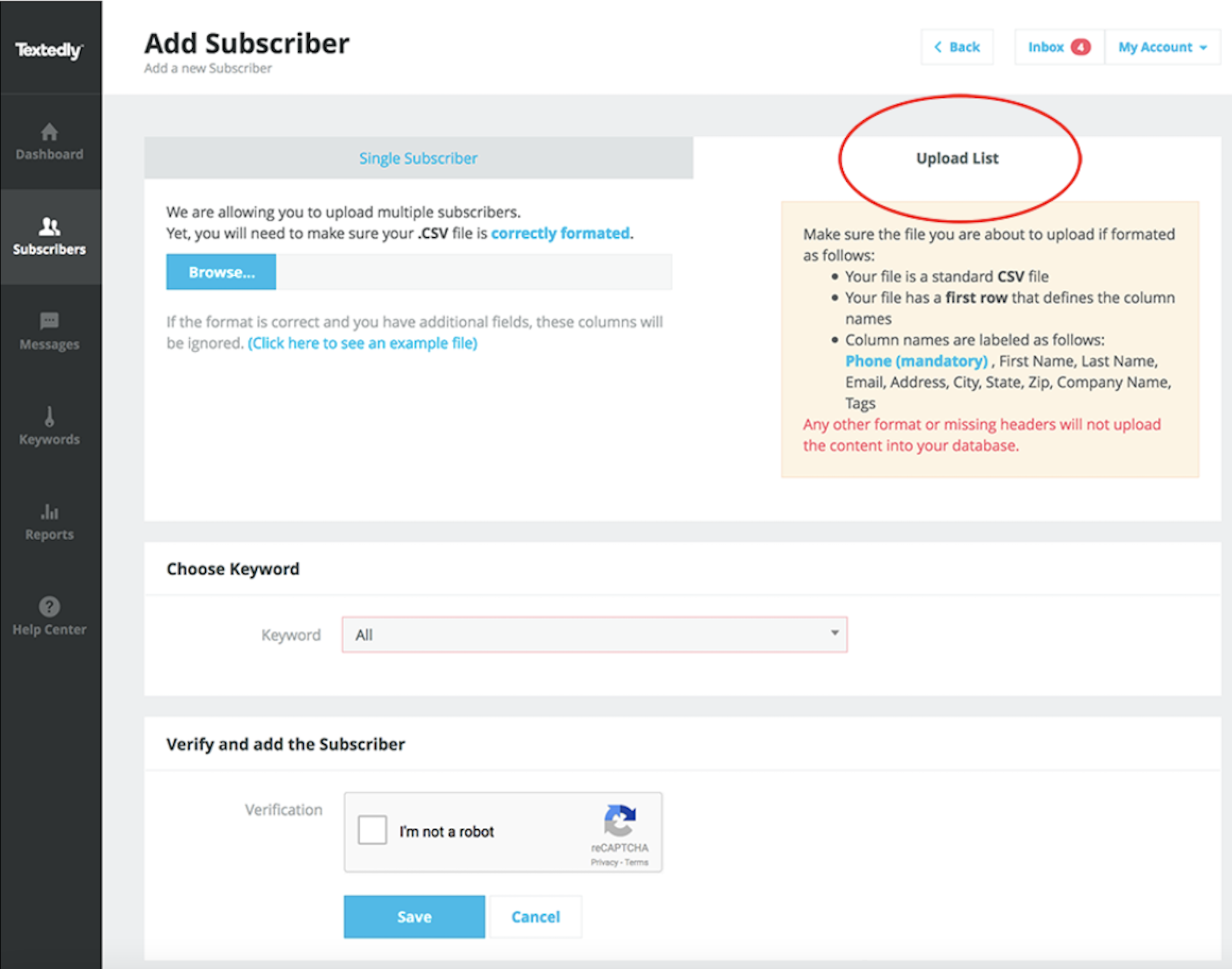 By using different keywords per specific campaign, it's easier to evaluate each one's success and study customer engagement. Textedly offers several different keyword-based campaign templates, like Text To Vote, Lead Generation, Text To Win, and Coupons.
Textedly also offers automated Conversation "Triggers'" for Application to Person auto-responses, simplifying the sales and support process and allowing for stronger customer self-service.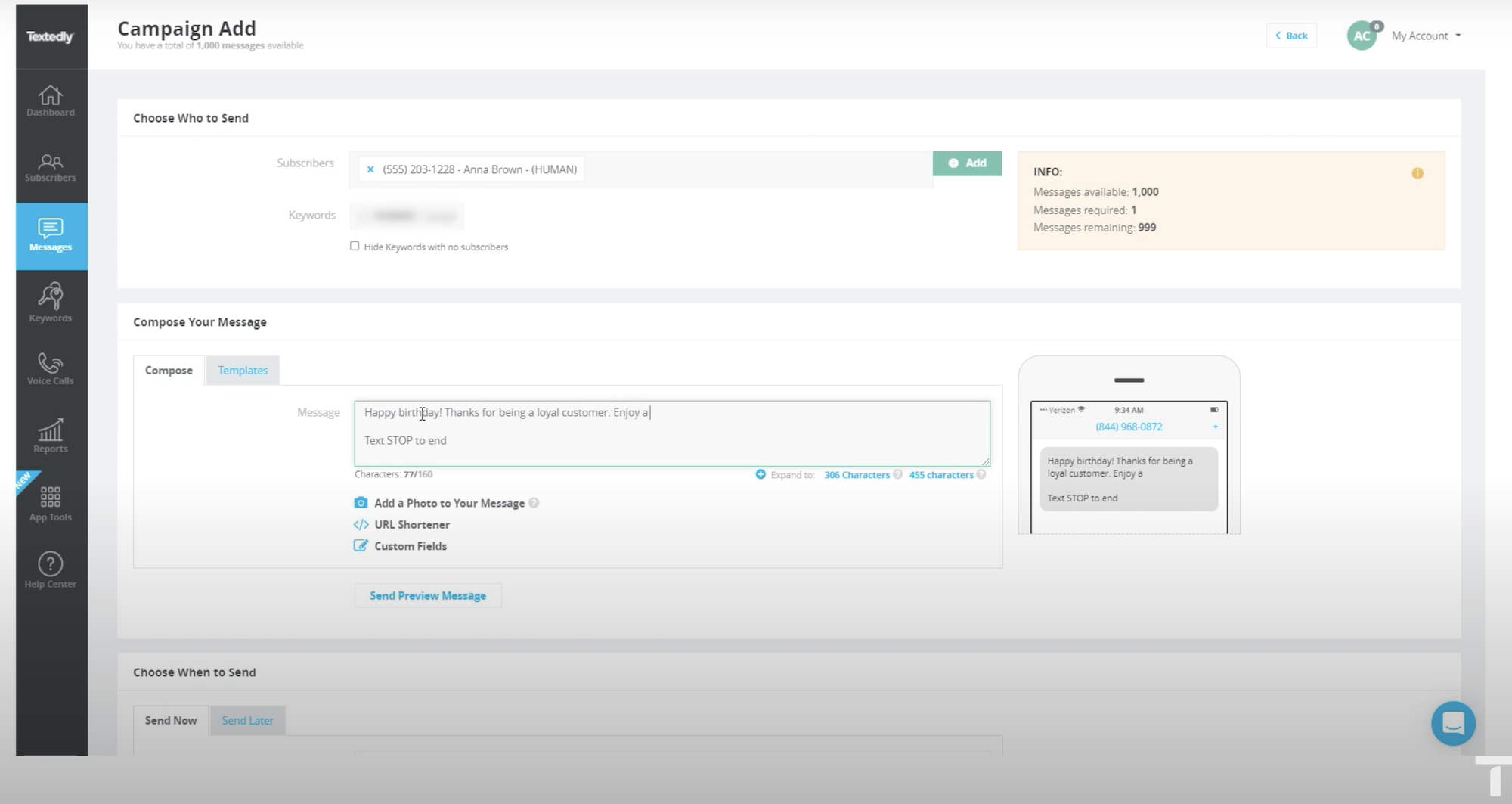 For example, when customers text keywords like "HOURS" or "LOCATION" to your business number, a relevant, pre-written auto-response is instantly sent to them. Triggers are ideal for abandoned cart reminders, special offers, personalized messages, tracking updates, and basic support requests.
Pricing
In addition to a 14-day free trial, Textedly offers 11 plans ranging in price from $24.00/month for 1,200 messages/month to $2,100/month for 180,000 messages/month. All plans come with free inbound texting.
The table below outlines available Textedly pricing and plans.

| | | | | | | | | | | | |
| --- | --- | --- | --- | --- | --- | --- | --- | --- | --- | --- | --- |
| | Bronze | Plus | Enterprise | Elite | Business | Silver | Premium | Pro | Gold | Platinum | Diamond |
| | $24.00/month | $39.00/month | $50.00/month | $70.00/month | $140.00/month | $210.00/month | $350.00/month | $500.00/month | $700.00/month | $1400/month | $2,100/month |
| Messages per month | 1,200 | 2,400 | 4,200 | 6,000 | 12,000 | 18,000 | 30,00 | 42,000 | 60,000 | 120,000 | 180,000 |
| Number of Custom Keywords | 1 | 2 | 3 | 4 | 6 | 7 | 10 | 13 | 15 | 20 | 20 |
Best For
Because it has an unlimited number of mobile subscribers per campaign and lead generation features like webforms, text data collection, and opt-in Text to Join tool, Textedly is ideal for large-scale businesses that heavily rely on SMS for marketing and sales. Teams also use Textedly to automate mass texts that usually include links, images, photos, or other multimedia files. Companies often use Textedly to automate support requests via SMS with the intention of cutting down on the high volume support requests made via email, phone, and live website chat.
Sakari
Sakari is a cloud-based business text messaging service optimized for personalized automated reminders, notifications, and confirmations–though mass SMS for sales and marketing is also offered.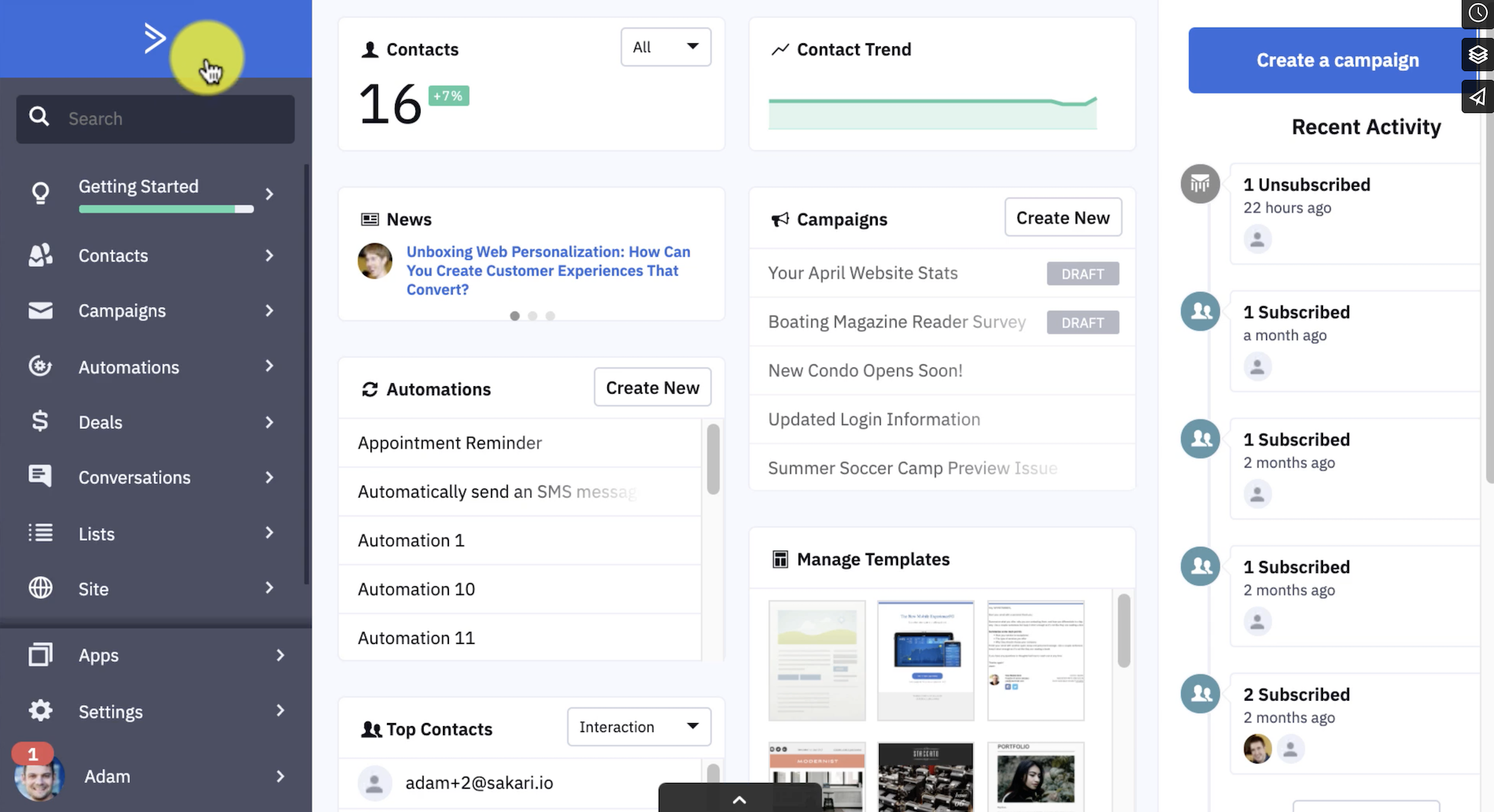 Though some may find it robust enough on its own, Sakari is designed to work alongside its over 1,300 integration-ready apps, especially HubSpot, Intercom, Pipedrive, and Salesforce. An Sakari SMS API is also available.
Sakari is one of the more intuitive, easy-to-use platforms on this list, offering pre-scheduled texts, mass campaigns,  auto-responses, 1:1 (two-way) texting, and MMS alongside unlimited contacts. Users can bulk import contacts from CSV files and third-party applications, adding data fields like customized Attributes (job titles, skills, etc.) and Tags (location, age range, etc.) to drill down data.
As shown below, users can view all auto-responses and replies from customers in one interface.
Additional Sakari features include:
Customize and reuse messaging templates
Dedicated local, toll-free, landline, and shortcode phone numbers
Shared phone numbers, phone number assignment, phone number tags, and phone number groups with user permissions
Email-to-SMS
Link shortener
Conversation history
International texting to 200+ countries
Push notifications
Landline
Users can bulk import contacts from CSV files and third-party applications, adding data fields like customized Attributes (job titles, skills, etc.) and Tags (location, age range, etc.) to drill down data.
Key Features
Sakari's Rich Text Messaging allows users to take reminder and marketing messages to the next level. Users can add linked web pages, logos and images, call-to-action clickable buttons, icons and maps, and custom data fields. Examples of Sakari rich text capabilities are shown in the image below.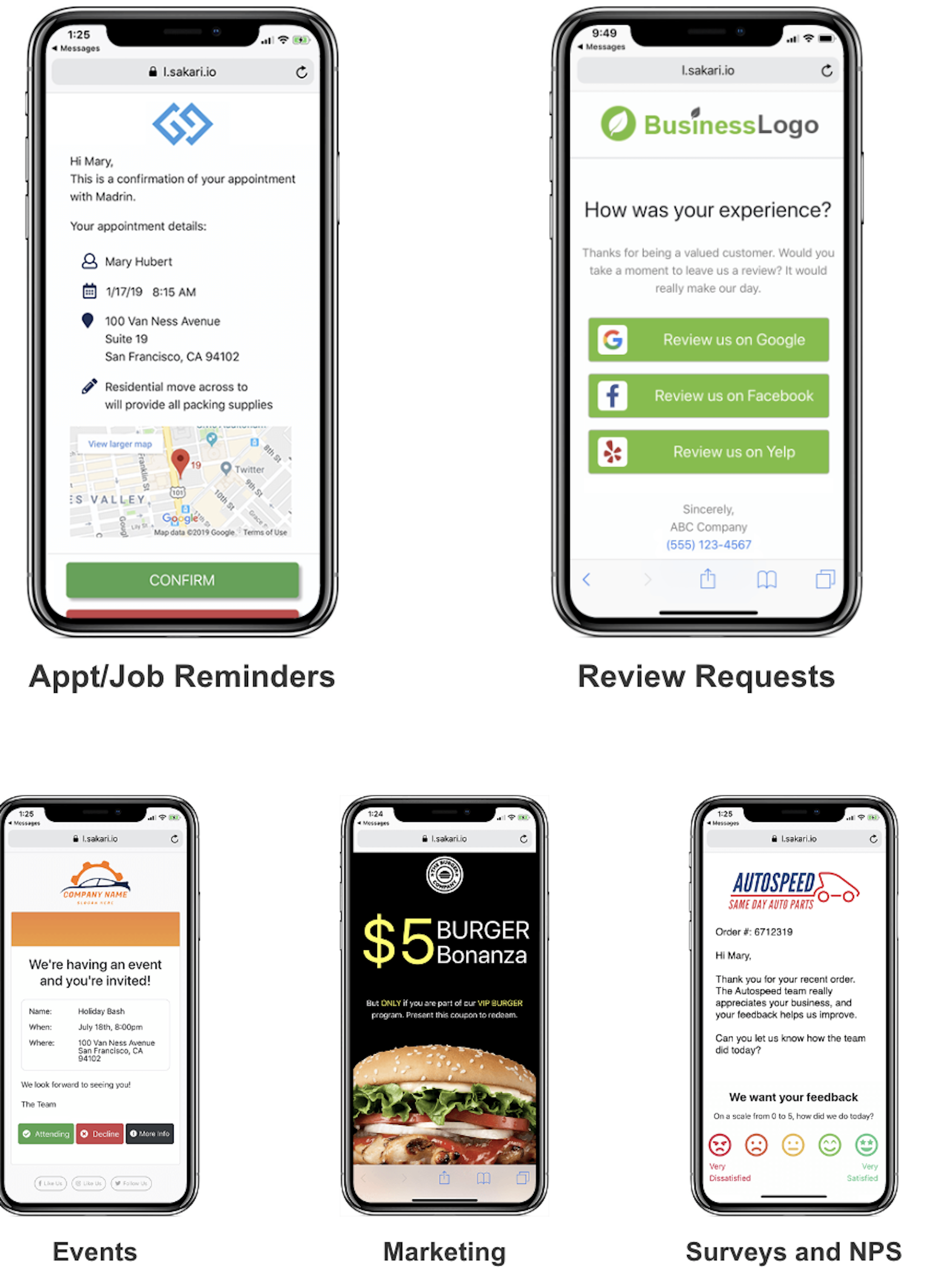 The Sakari Mobile App is practically interchangeable with the desktop app. Users can create and edit messaging templates, add images from their personal photo gallery/camera, enable push notifications, monitor analytics, and send/receive SMS and MMS two-way texts in real time.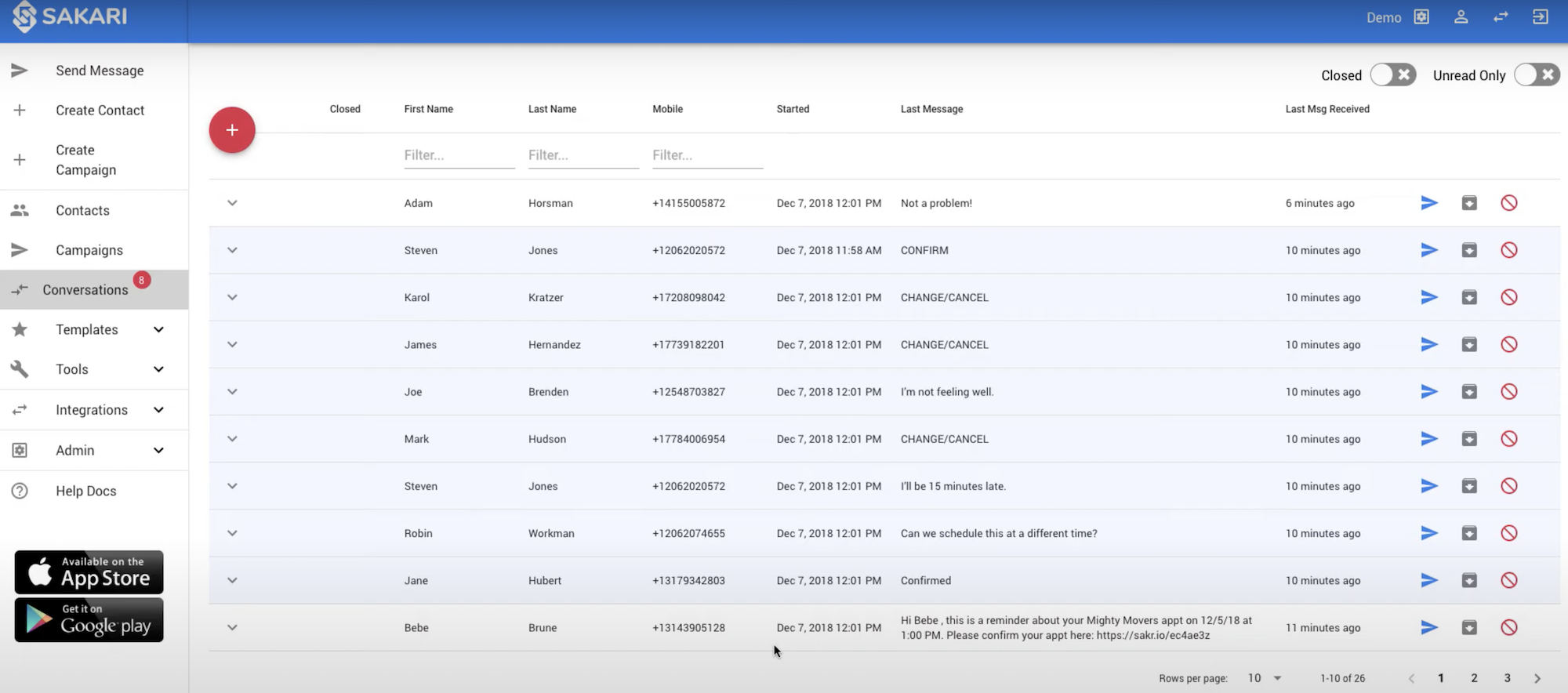 Pricing
Sakari offers 7 plans ranging from $16.00/month for 500 messages/month to $640.00/month for 25,000+ messages/month. Users can purchase additional messaging credits via stored credit card, which roll over if unused. A 14-day free trial is available. Dedicated phone numbers are available for purchase, but are priced individually by country code.
The table below outlines Sakari pricing and plans. 
| | | |
| --- | --- | --- |
| | Pricing | Texts/Month |
| Starter  | $16.00/month | 500 |
| Growth | $30.00/month | 1,000 |
| Business  | $90.00/month | 3,125 |
| Team | $170.00/month | 6,250 |
| Gold | $330.00/month | 12,500 |
| Elite | $640.00/month | 25,000 |
| Enterprise | Quote-Based | 25,000+ |
Best For
Sakari is best for SMBs that are somewhat new to SMS marketing and need a user-friendly solution for automating one-way reminder and notification texts.  appointment reminders, order updates, and notifications. Its superior mobile application also makes Sakari ideal for on-the-go employees requiring flexibility for remote/blended teams–and those that need to access SMS messaging and edit/monitor campaigns anywhere, anytime.
Dialpad
Dialpad is another all-in-one business phone system unifying VoIP calling, AI-powered video conferencing with Dialpad Meeting , chat messaging, and SMS into one platform.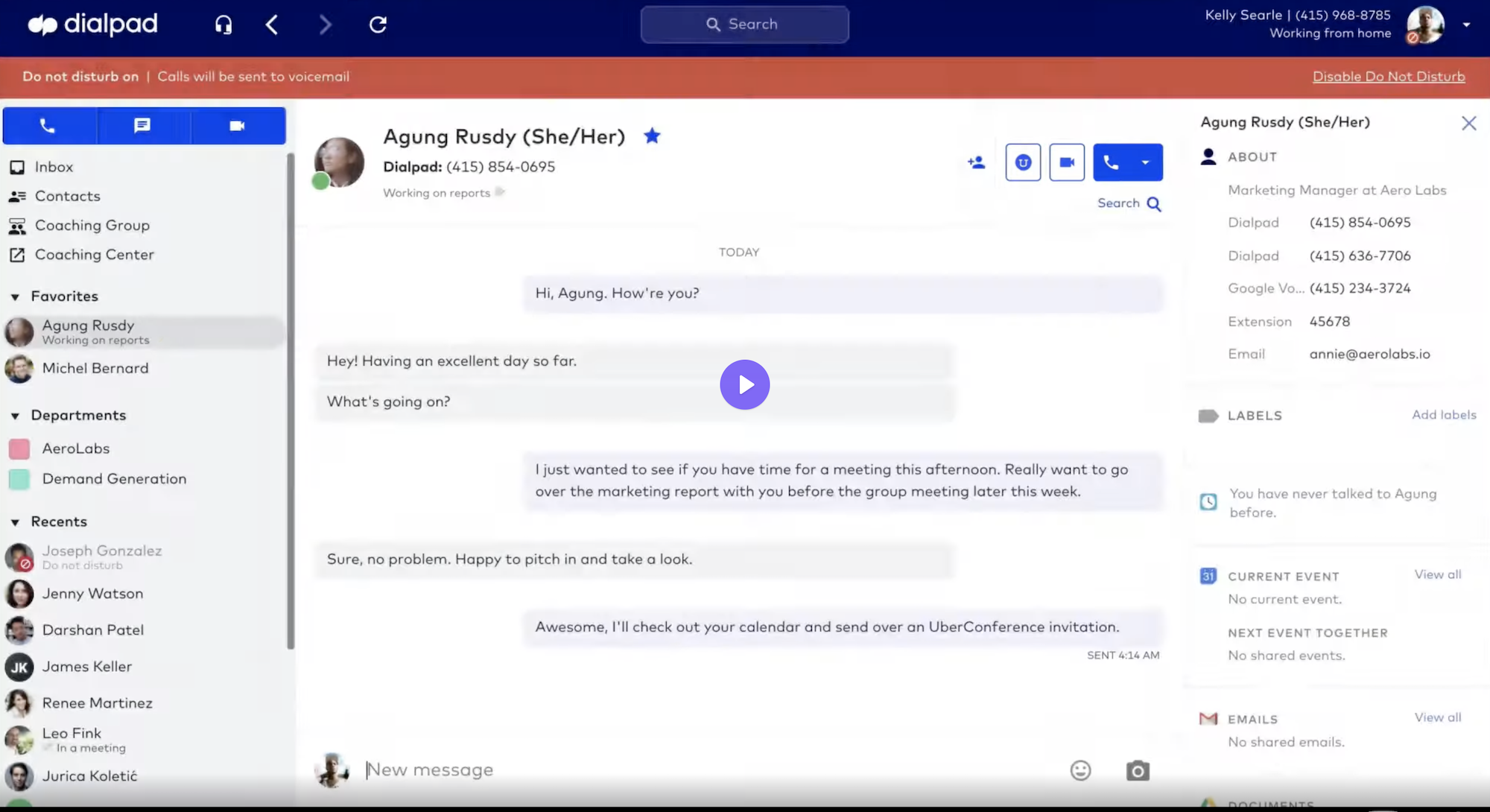 The Dialpad App for Windows and Mac OS includes a Messaging Inbox displaying all recent SMS conversations and a contact directory for one-click SMS texting on desktop or mobile. Favorite and recently contacted customer conversations are shown in the top of the menu sidebar. Note, however, that unlimited Dialpad SMS/MMS messaging is only supported in the US and Canada. Message characters are limited to 1,500 characters, or 160 characters per page. Both personal phone numbers and shared lines are available for SMS.
Other Dialpad SMS features include:
Contact search bar
Group SMS with up to 24 members (internal and external business contacts)
Desktop and mobile SMS push notifications with/without sound
In-call SMS messaging and alerts
Short codes
Message forwarding
Mark messages unread
Local, 10-digit long code SMS phone numbers, plus number porting
Customized SMS sender ID (New Message From feature)
SMS Auto Reply with Do Not Disturb status syncing
Salesforce, Zendesk, Microsoft 355, Google Workspace, and more integrations
Key Features
Dialpad offers High Volume SMS A2P (application to person) to automate and streamline text messaging campaigns. 10-digit long codes and toll-free numbers are available for high-volume texting, and larger companies can connect with all employees via A2P internal messaging.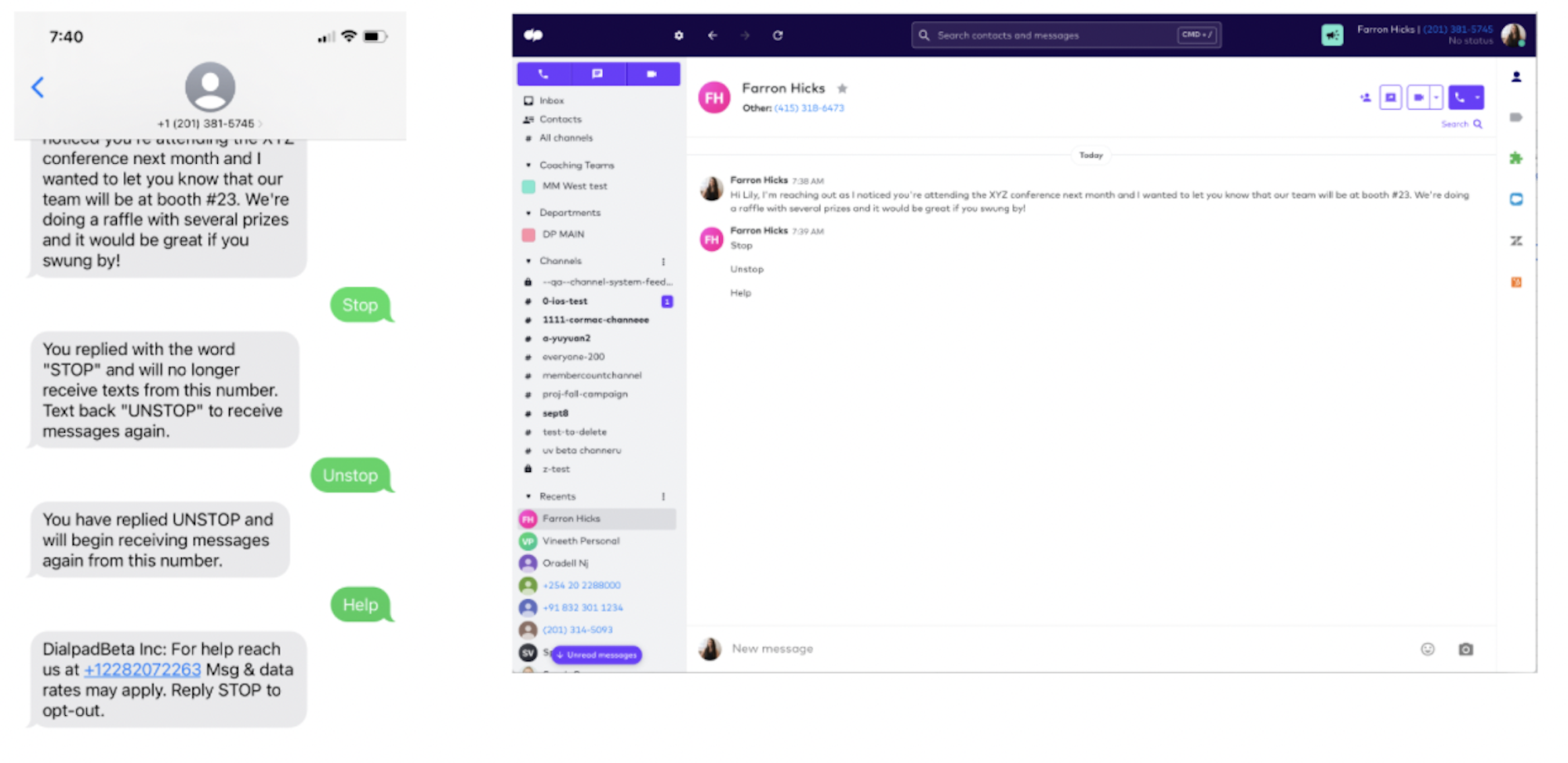 Each business phone number can be assigned to a specific high volume A2P use case like 2FA, SMS customer support, delivery notifications, fraud alerts, sweepstakes entry, emergency updates, and marketing offers.
Dialpad's automated opt-in and opt-out messaging feature is ideal for welcome bulk SMS, as recipients can respond with STOP, UNSTOP, or HELP. Businesses can customize their automated "HELP" message responses to include contact information, business hours, locations, and more.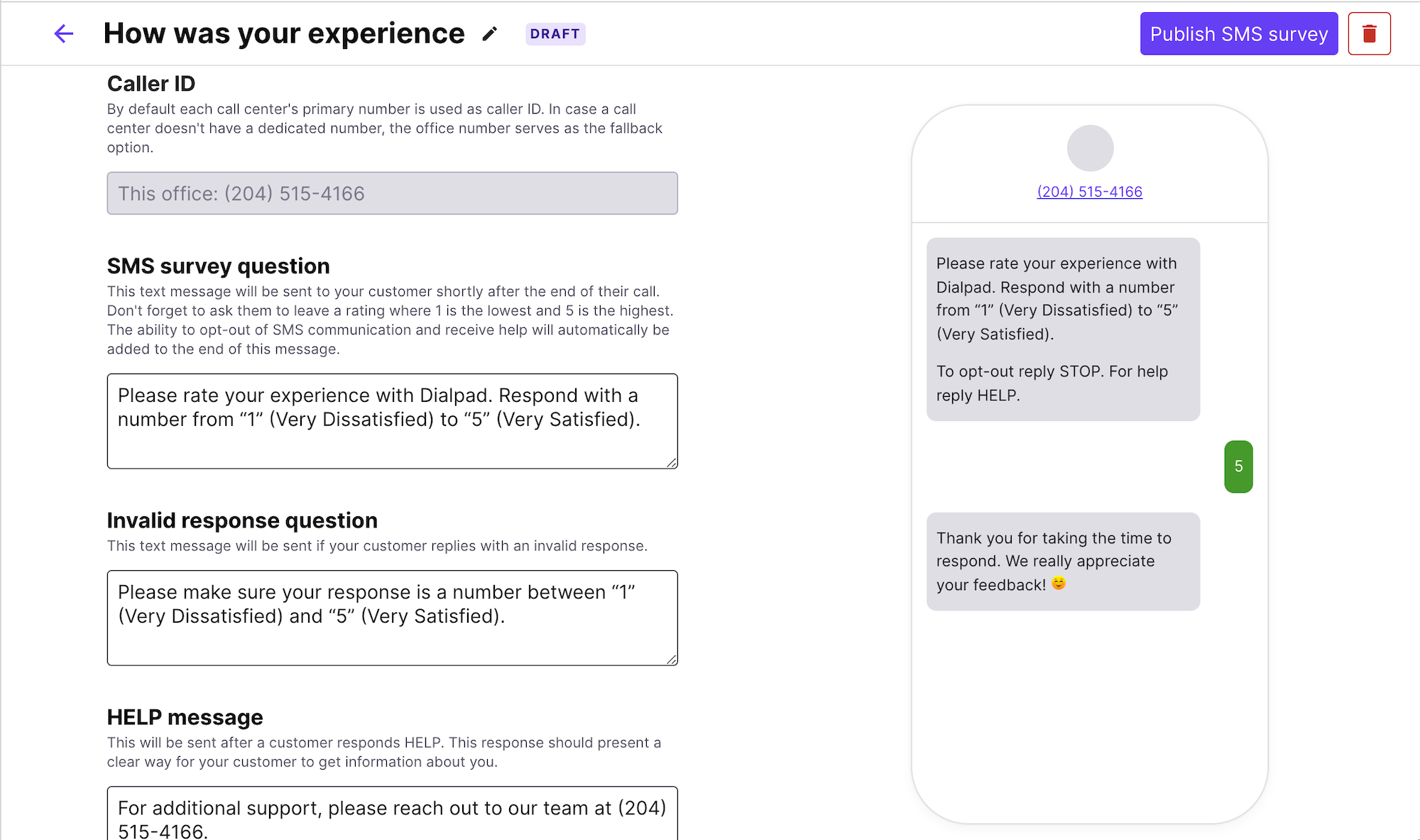 Dialpad's SMS CSAT surveys, shown above, allow admins to create a customer satisfaction survey that can be sent out automatically post-call, or bulk texted to existing customers. Surveys expire within 24 hours, and responses are automatically entered into the Dialpad analytics database.
Pricing
SMS business texting is available as a feature of Dialpad's Business Communications suite.
The suite is available in three plans: the Standard Plan for $15.00/user/month, the Pro Plan for $25.00/user/month, and the Enterprise plan, which is quote-based.
Each plan includes one local business phone number. Additional local numbers are available for $5.00/number/month, and toll-free and international numbers can be purchased for $15.00/number/month.
All plans offer unlimited SMS/MMS group or 1:1 texting within the US, Canada, and internally. Message data export, file sharing, and message search are also included with all plans.
Dialpad's AI-powered Contact Center software has four quote-based plans. A 14-day free trial day is available for Dialpad software.
Best For
Because texting is limited to the US and Canada, Dialpad is best for North American-based businesses without an international clientele. It's ideal for teams that need a complete UCaaS or CCaaS platform with both Person-to-Person and automated Application-to-Person texting capabilities. Its group SMS/MMS messaging feature is ideal for internal, department or project-specific texting, as well as for teams that need to communicate with multiple clients or external business team members simultaneously.
ClickSend
ClickSend is a multichannel communications platform offering SMS, MMS, and Rich Messaging Gateway tools (email, postal mail, voice, and fax are also available.)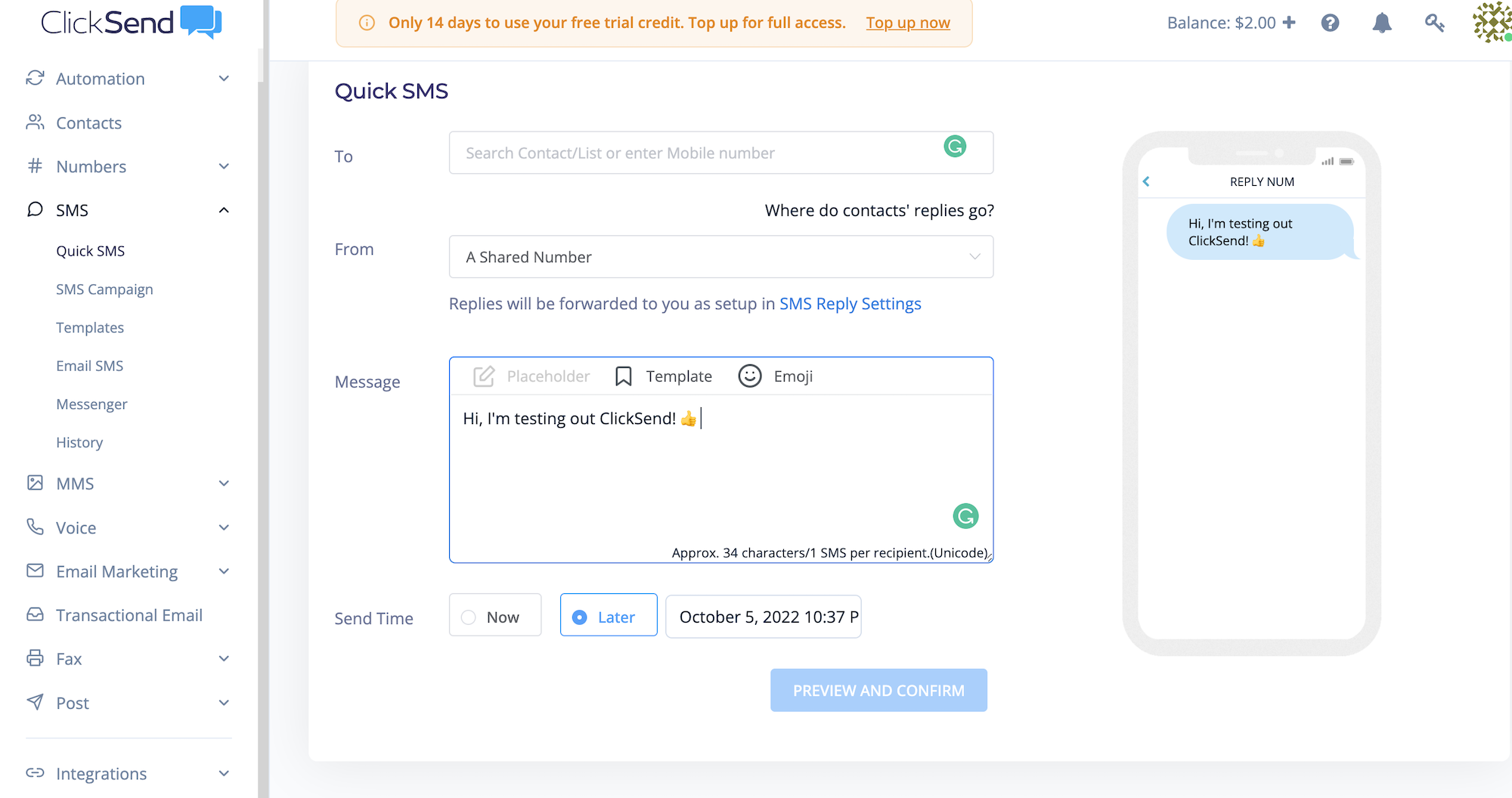 Ideal for small businesses, ClickSend users can send messages through a basic, intuitive web-based application, a mobile app, or via the ClickSend SMS Gateway API. 1:1, group, bulk SMS and MMS messaging, campaigns, auto-responses, and shared lines are available.
Users can send messages from their mobile number, a dedicated number, a random shared number, or a custom alphanumeric code (usually a business name.)
Other ClickSend features include:
1,5000 character MMS limit
Contact list creation and segmentation
Searchable message history
Automated MMS image resizing
Keyword messaging
Scheduled messaging
Message route optimization
Custom sender ID
OTP authentication
Email-to-SMS
Save message templates
Message personalization
Upload contacts from CSV or Excel
Automatic message opt-outs
24/7 support
No contracts or setup fees
100% uptime SLA
Integrations with 900+ apps including Shopify, Zoho CRM, and Google Workspace
Key Features
ClickSend's Quick SMS and Quick MMS tools let users create mass text campaigns in seconds. Choose recipients from stored lists, specify sender details, add custom keywords and links with merge tags, and send or schedule the message. Add images via the drag-and-drop interface.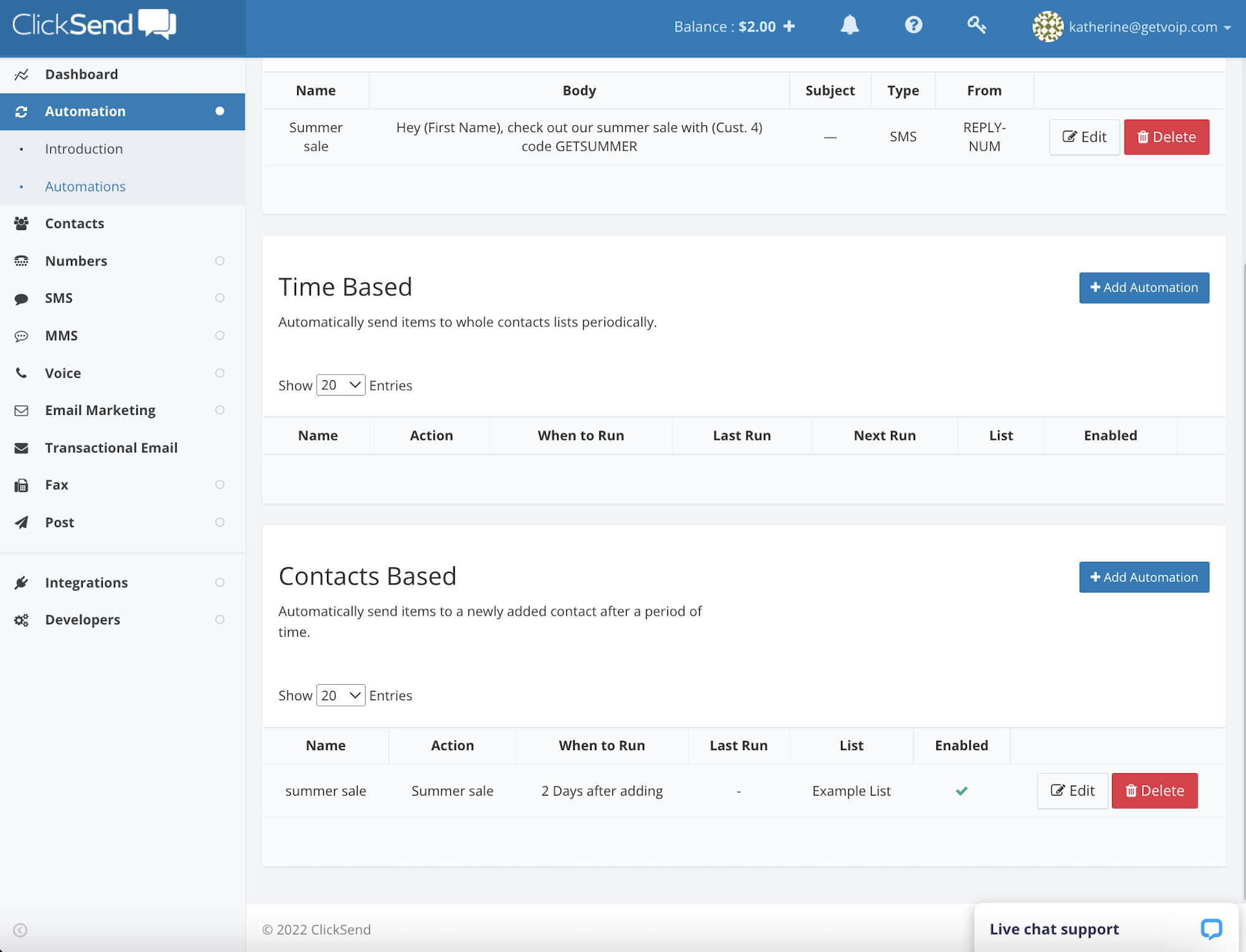 Message automations can be contact-based or time-based. Time-based means saved automated text campaigns will be sent several times within a designated date range (ideal for recurring offers or alerts.) Contact-based means automated messages are sent to new contacts after a set period of time.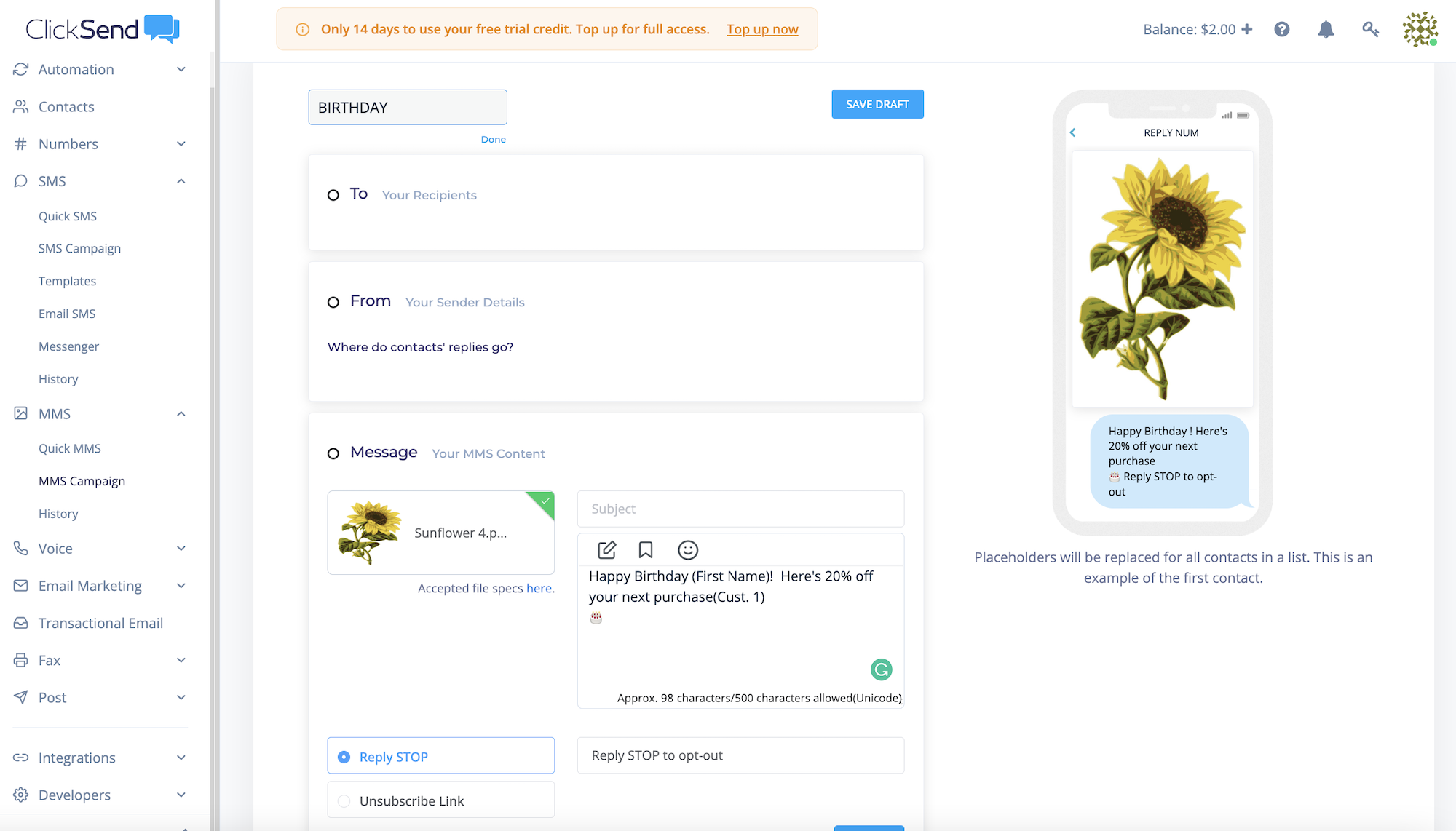 Set first and last run dates, rerun dates, choose from lists, and add multiple automations.
Upcoming RCS Messaging is currently in Beta, but will allow ClickSend users to send SMS/MMS messages via:
Viber
WhatsApp
Telegram
Facebook Messenger
WeChat
Line
Pricing
ClickSend offers exclusively pay-as-you-go pricing for SMS, MMS, and all other communication channels–so users can pick and choose what they need. A free trial is available, and all inbound messaging is free.
Users can purchase a dedicated SMS phone number for $1.60/number month or a dedicated shortcode for $928.58/month. Outbound MMS messages are $0.0379/message, and dedicated MMS numbers cost $3.20/month/number.
The below table outlines ClickSend SMS pricing.
| | |
| --- | --- |
| Number of Monthly Outbound SMS Messages | Price Per Outbound SMS Message |
| Under 2,000 | $0.0224 |
| 2,000 or more | $0.0160 |
| 10,000 or more | $0.0109 |
| 100,000 or more | $0.0080 |
| Over 200k | Contact ClickSend |
Best For
ClickSend is best for companies interested in exclusively pay-as-you-go pricing that prioritize ease of use and a fast campaign development process over advanced features. Businesses using ClickSend generally want to "set and forget" recurring marketing campaigns or reminders, and generally use SMS and MMS as a secondary form of marketing. They need to be able to add multiple automations in bulk but want to explore additional messaging channels outside of carrier SMS and MMS alone.
TrueDialog
TrueDialog is an enterprise-level business text messaging service best known for its proprietary "Cross-Code" feature, which allows multiple agents/departments to communicate with a customer within the same text thread, via both long code and shortcode messaging.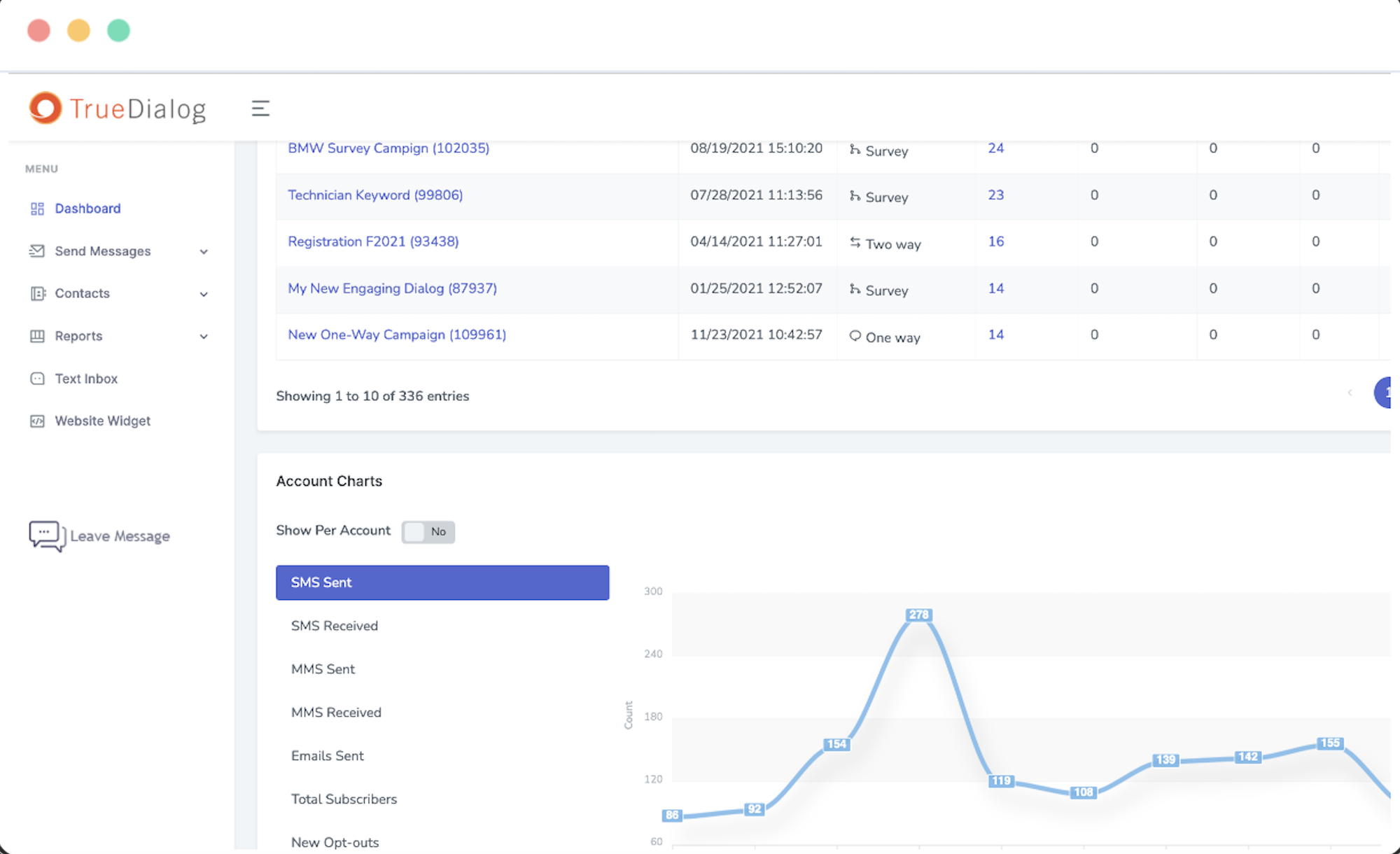 Cross-Code technology makes it easy to keep track of previous automated and personal customer message histories, provides complete context for the current conversations, and improves internal collaboration.
Most importantly, TrueDialog's proprietary cross-code technology speeds up the customer resolution process, streamlines workflows, and optimizes agent schedules through its team-based approach to two-way texting.
These unified messaging threads prevent customers from having to connect with several agents separately, improving the customer experience and giving retention rates a major boost.
Other TrueDialog features include:
SMSafe duplicate opt-out records
Multichannel (voice, email, and text) instant alert notifications
In-CRM text messaging
Android and iOS mobile apps
Database management and market segmentation
Built-in opt-out and subscription manager tools
Live and historical drill-down reporting
99.9% uptime
URL Shortener
Text coupon engine
SMS scheduling
Shared and dedicated shortcodes
Landline-enabled texting
Contact list importing
1-to-millions messaging
Key Features
Aside from its patented Cross-Code technology, TrueDialog offers relatively basic features.

Its Call Center Texting feature lets agents exchange text messages, emails, and voice calls with customers and other team members within the same interface, and its click-to-call tool makes one-click, in-thread calling easy.
TrueDialog is also known for its in-CRM texting, which, unlike other texting platforms with CRM integrations, lets users send/receive texts directly within their CRM interface. This CRM-first approach to messaging is compatible with popular tools like Salesforce, Microsoft Dynamics, Hubspot, Oracle, and Campus Management.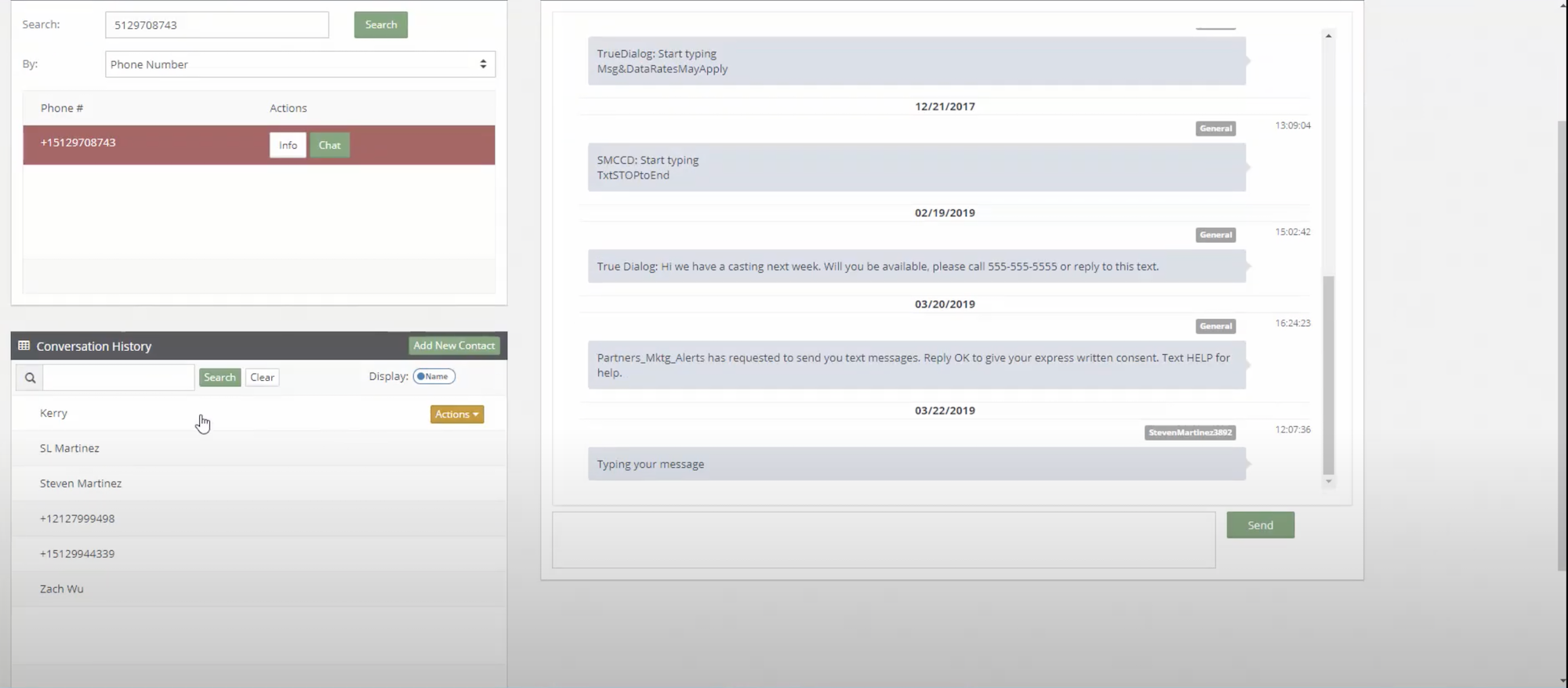 Pricing
TrueDialog offers both SMS API pricing and bundled service plans, but its API pricing structure isn't as straightforward as providers like Twilio.
TrueDialog's long code inbound/outbound SMS APIs start at $0.00700/message for the first 5 million messages, while long code MMS inbound/outbound APIs start at $0.01400/message for the first 5 million messages. Long Code phone numbers cost $1.00/number/month for the first 1,000 numbers, and cost $0.50/number/month for more than 1,000 numbers.
Shortcode API pricing starts at $0.0700/message for the first 500,000 SMS inbound messages, and $0.01400/message for the first 500,000 MMS outbound messages. All API pricing comes with additional carrier fees and more.
TrueDialog's bundled plans are much more straightforward and are outlined in the table below.
A free 15-day trial is available.
| | | | | |
| --- | --- | --- | --- | --- |
| | Small Business Plan | Business Pro Plan | Enterprise Plan | Custom Enterprise Plan |
| Pricing | $99/month | $375/month | $899/month | $2499/month |
| Includes Messages and Minutes  | 5,000 | 25,000 | 75,000 | 250,000 |
| Cost per Message/per Minute Overage | 2 cents | 1.5 cents | 1.2 cents | 1 cent |
| CRM Integrations | No | Yes | Yes | Yes |
| Dedicated Account Rep | No | Yes | Yes | Yes, plus On-site Consultation |
Best For
TrueDialog is best for enterprise-level businesses that send out mass text messages for marketing and customer service purposes almost daily, but that also need to have scalable and personalized two-way texting with customers. TrueDialog users have a customer base that's highly responsive to text advertisements or automated SMS reminders, and sees these mass texts as a starting point for an instant, one-on-one conversation.
TrueDialog is also a smart option for large-scale businesses prioritizing the most competitive high-volume discounts–whether they opt for a bundled, turnkey plan or want to add texting capabilities to their existing apps with APIs.
Note that TrueDialog has a large user base within the education sector–especially in higher education institutions. These teams use TrueDialog to manage financial aid, applications, alumni engagement, urgent campus-wide alerts, career services, and more.
Business Text Messaging FAQs
Below, we've answered some of the top text messaging FAQs.
Business text messaging works much like standard smartphone text messaging, in that customers and businesses can enjoy two-way communication on desktop and mobile devices, and share images, emojis, photos, videos, links, and some file types, However, business SMS is able to send out automated bulk (high volume) texts from business phone numbers or dedicated shortcodes. These texts often include pre-programmed support responses, auto appointment reminders, cart reminders/alerts, coupon codes, surveys, conformations, tracking updates, and more. 
You can get business text messages by choosing a VoIP phone system provider that offers more basic SMS and MMS texting capabilities, or opt for standalone business texting platforms for more advanced, automation and marketing-focused messaging features.
There aren't many quality free business text messaging apps, but some newer or micro businesses may be able to use free texting apps like WhatsApp or Google Voice for temporary business SMS communication. Most providers include a free trial with credits included.