Voice over Internet Protocol (VoIP) is a virtual business communications technology that allows users to call, text, or connect via other channels in real-time regardless of their geographic location or the kind of Internet-enabled device they're using.
A VoIP number is a telephone number linked to your business phone system, and there are several different types to choose from.
Here, we'll outline the basics of VoIP phone numbers: how they work, how they differ from traditional analog phones, their benefits, and more.
Get a VoIP phone number from
top providers
What is a VoIP  Number?
A VoIP number is a real telephone number that uses the Internet to make and receive calls.
Because VoIP numbers don't require a physical connection to the PSTN (Public Switched Telephone Network), they aren't limited to just one physical location, phone line, or device. Instead, each VoIP number can be assigned to an individual user, an entire business, or a specific department.
Since VoIP phone service is cloud-based, your entire business phone system is accessible on any device with a broadband or WiFi Internet connection. So, when someone calls your VoIP phone number, you can accept the call from your desktop computer, your smartphone, a VoIP-enabled landline, or your tablet.
How?
Using the softphone interface.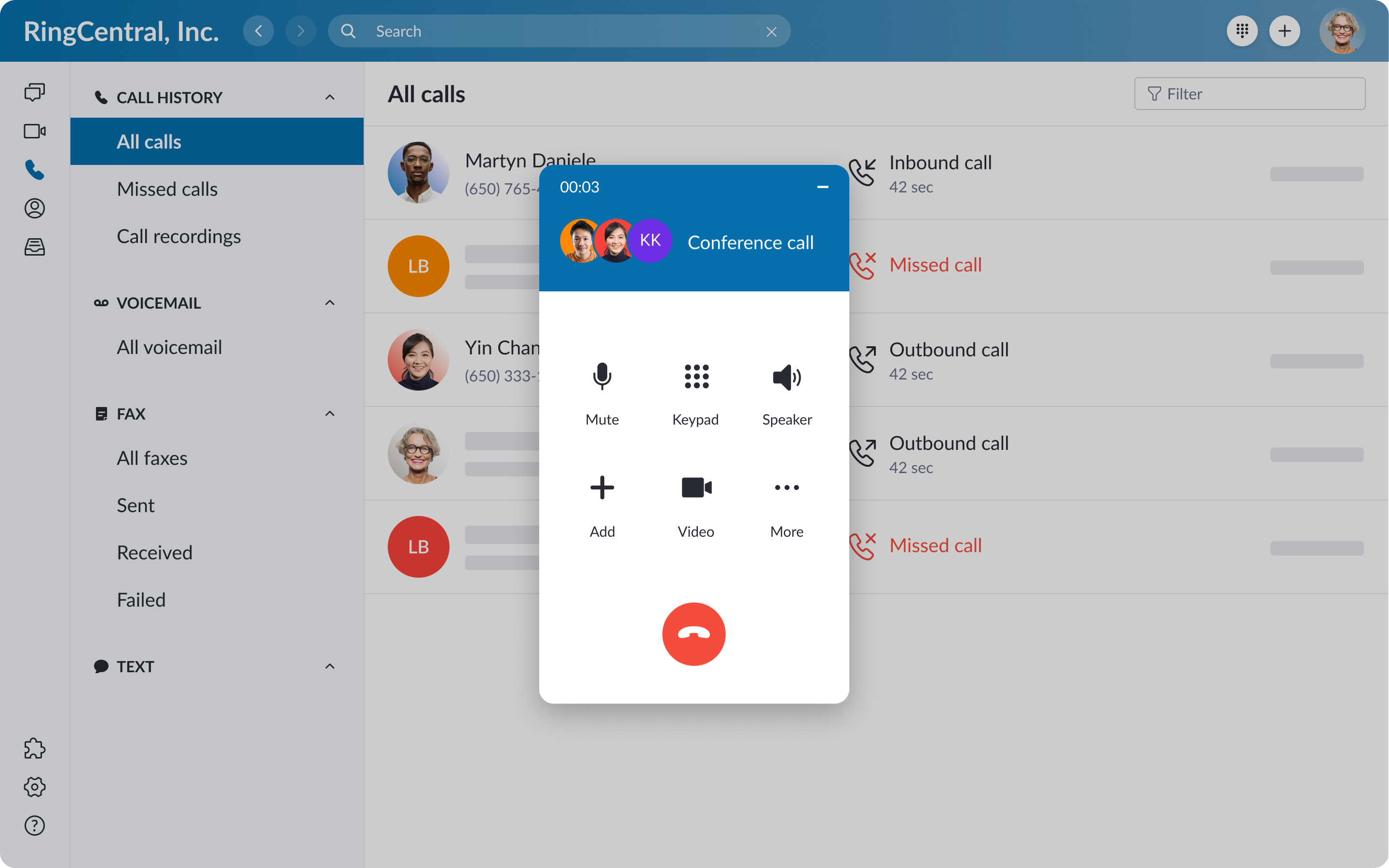 The VoIP softphone interface (shown above) mimics the look of a touch tone keypad and is accessible on desktop and mobile phones via a compatible mobile app.
This softphone application is essentially the "control panel" of your VoIP phone, allowing you to make/receive phone calls, design call routing paths, join conference calls, adjust audio levels, transfer calls, and more.
How Does a VoIP Phone Number Work?
A VoIP number works by converting traditional analog phone audio into small digital data packets that travel to their destination via the Internet, where they are then reassembled into clear voice audio.

Analog (hard phone) voice call audio travels via the PSTN circuit switching method are sent and received using the PSTN circuit switching method–meaning they require a physical connection point.
VoIP transfers audio via packet switching, which doesn't require a physical connection point to transmit voice signals. Packet switching breaks down voice data into smaller data packets, made up of the caller's voice audio signals. These data packets travel to their destination via broadband Internet and reassemble once they reach their destination (the call recipient.)
VoIP technology, unlike the circuit-based PSTN, can actually evaluate the most efficient path of travel for these data packets, improving audio quality and optimizing bandwidth usage.
The Difference Between a VoIP Number and a Landline
The main difference between a VoIP number and a landline is that VoIP numbers facilitate virtual Internet-based communication, while landlines provide only voice calling via POTS (Plain Old Telephone Service), which can't function without a physical connection to the PSTN.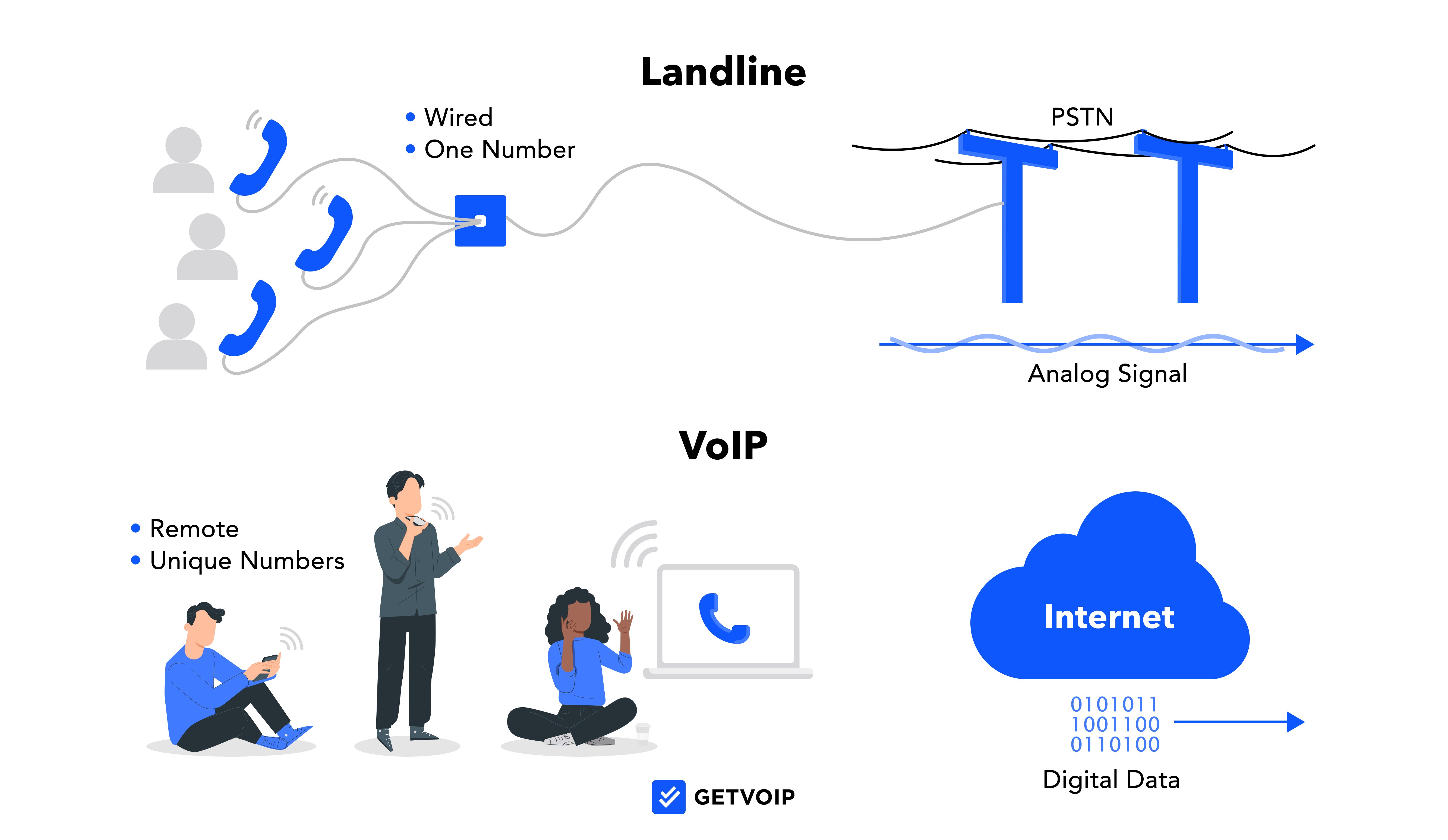 However, this is far from the only difference between VoIP phone systems and traditional landline phones. The below table summarizes the differences between VoIP numbers and landlines, which we'll explore in more detail below.
VoIP Phone Numbers
Landlines
Facilitates Calling Via
An Internet connection
The wired PSTN
Device Compatibility
– VoIP-enabled desk phones

– Desktop and laptop computers

– Mobile devices

– Tablets

A traditional office desk phone or any other hard phone
Communication Channels
– Voice Calling

– Video Calls

– Virtual Faxing

– SMS/MMS Text Messaging

– Instant Chat Messaging

Voice Calling
Available Features
– Over 90+ VoIP features
– Voice Calling

– Voicemail

– Call Hold/Transfer

– Caller ID

Required Hardware
– Internet access

– Router

– Preferred devices (works with existing devices)

– Ethernet cable

– Headphones/deskphones

– Cabling

– Onsite PBX system

– Power outlets and phone jacks

– Office space/PBX hardware space

Scalability
Purchase more phone numbers or scale up to higher-tier plans in minutes via VoIP provider website
Time-consuming setup process, requires physical installation
Costs
– $15.00-$40.00+/user/month (unlimited extensions often included)

– Maintenance handled by the provider

– No need to purchase new hardware

– Can install/setup yourself

– $15-$50.00+/month/line

– Monthly maintenance and hardware costs

– Installation and Setup Fees

– Onsite IT staff
Communication Channels
While landlines are strictly limited to voice calling, even more basic VoIP phone systems today allow for at least 2-3 communication channels.
Phone calling, virtual faxing, and business text messaging are standard functionalities of VoIP phone numbers.
Especially on higher-tiered VoIP plans, additional communication channels like video conferencing, team chat messaging, and even social media messaging are included. All these channels exist within an omnichannel interface, syncing across channels in real-time and making it easy for users to switch between one channel and another during a conversation.
Even if additional communication channels aren't available with your provider, you'll likely be able to integrate third-party applications into your VoIP platform–meaning you can use familiar apps like Zoom, Slack, or Microsoft Teams directly within the VoIP dashboard.
Available Features
Traditional landlines simply can't compete with even the most basic VoIP phone number features.
While landlines can provide only voicemail, call waiting/call hold, caller ID, and call transfer, there are well over 100 VoIP features and functionalities, including:
Call Forwarding: Automatically forwards inbound calls to additional agent phone numbers if first call is unanswered, without requiring caller to hang up and dial another number
Call Routing: Automatically distributes inbound calls according to preset call paths/rules (Skills-based, Round Robin, Time-based, Relationship-Based, List-based, etc.)
Visual Voicemail: Transcribes voicemail messages and sends voicemail transcription to agents via voicemail-to-text (shown directly in call log) or voicemail-to-email
Automatic Call Distribution (ACD): Automatically connects callers to the best available representative
Interactive Voice Response (IVR): Customer self-service feature where callers interact with pre-recorded menu prompts to direct their own calls/complete basic actions without connecting with a live agent
Call Queuing: If all agents are busy, waiting callers are organized into preset call queues until best available agent returns
Team Collaboration Tools: Persistent and in-chat/in-video screen sharing, user tagging, user presence, virtual whiteboarding, task management, and more
Automated Callbacks: Lets callers choose date/time to receive a callback, automatically adds scheduled callbacks to agent queues
CRM Call Pops: Instantly displays current caller's native or integrated CRM software data, agent notes, interaction history, etc.
Call Monitoring: Call recording and transcription, listen in on active calls, call whisper to coach agents in real-time, call barge to take over current call
Ring Groups: Simultaneously rings a predetermined group of agents with relevant skills/schedules, first agent to answer gets the call
Real-Time And Historical Analytics: Preset and customizable reporting templates and real-time alerts regarding call center activity, customer satisfaction, etc.
Direct Inward Dialing (DID): Virtual phone numbers that connect directly to agents or departments, eliminating the need to navigate an IVR menu or auto-attendant
Required Hardware
Landlines come with a lengthy setup and installation process that requires expensive equipment and hardware like desk phones, an onsite PBX system, cabling, outlets, phone jacks, and enough office space to store it all in.
Landline hardware can easily cost between $5,000-$10,000 and up–even for a small business.
By contrast, all a VoIP phone number really needs to function is a working broadband Internet connection, an Ethernet cord, a router, and compatibility with existing devices.
Additional VoIP equipment, like headsets, speakers, backup power, and an Analog Phone Adapter, is optional. Plus, unlike landline phone systems, VoIP phone numbers can be set up in a matter of minutes.
Scalability
Getting an additional landline phone number means a lengthy, expensive, and disruptive physical installation process–which is why most companies don't even consider it.
But getting additional VoIP phone numbers just takes the click of a button. Simply go to your provider's website, select the type of number you want, choose an available number, and add your payment method to start using it in a matter of minutes.
VoIP number providers have multiple, tiered plans to choose from–with the option to scale up or down at any time. Users can also add the features they need one by one.
Average Costs
Most businesses that switch to VoIP from landlines cut their communication costs in half.
How?
First, traditional phone number providers charge a flat monthly service fee of between $15.00-$50.00/number/month–but that's only for local phone calls. If you want to make long-distance or international calls, you'll have to pay extra on top of the monthly fee.
Purchasing landline equipment can easily cost up to $5,000–and that's before paying the setup and installation fees. Don't forget to factor in maintenance costs and, especially for enterprise-level companies, the expense of an in-house IT team.
VoIP phone number providers charge an average monthly service fee of between $20.00-$25.00/user/month (though higher-tiered plans could cost up to $50.00/user/month.)
However, this fee includes not only additional features and communication channels, but also the cost of all maintenance–which is handled offsite by your provider. Many VoIP number providers offer 24/7 support, eliminating the need for an in-house IT team. Additional VoIP equipment is optional, and many providers offer a pay-as-you-go option for those looking to save even more.
Types of VoIP Numbers
There are several different types of VoIP numbers:
Ported Phone Numbers: An existing business phone number (VoIP or analog) that is transferred to your VoIP account, allowing you to make/receive VoIP calls without having to change phone numbers.
Local Phone Numbers: A VoIP phone number with a local area code (chosen by the number's owner), providing a local presence and offering free unlimited inbound and outbound calls (local calling only)
Toll-Free Phone Numbers: A VoIP number that charges the business that owns the toll-free number, not the customer/call recipient, for the cost of the call. Toll-free numbers begin with fixed number prefixes (800, 888, 887, 886, etc.)
Vanity Phone Numbers: A toll-free VoIP number with a toll-free number prefix and alpha-numeric phrasing to create a memorable, branded business phone number (like 1-800-BUYCARS, 1-888-COOKIES, etc.)
International Phone Numbers: A phone number with an international country code that establishes a local presence anywhere on earth. International calling is usually charged according to the specific country's fixed rates.
Why You Should Get a VoIP Number
Regardless of the type of VoIP number you choose, your team and your customers will benefit from the mobility, capabilities, and quality they offer.
Let's explore some of the top benefits of VoIP phone numbers below.
To Earn Consumer Trust
A VoIP phone number increases your business's legitimacy and the level of trust consumers have in your business in multiple ways.
Having a VoIP number makes your business appear established, successful, and accountable –especially key for newer or strictly online and eCommerce companies. When you place a call, your business's name or an agent's name will show up on the recipient's caller ID–a much better alternative to the suspicious "No Caller ID," which many will assume is a scam call.
Local VoIP phone numbers let you select your preferred area code, giving your business a local presence in areas where your customer base lives–regardless of the actual location of your business and employees. Seeing a familiar area code on their caller ID screen makes your target market much more likely to answer your calls.
As an added bonus, having a VoIP number means you and your employees can avoid giving personal phone numbers to clients.
To Improve Call Quality
VoIP works with Tier-1 carrier data networks to bring you high-quality, crystal-clear HD voice audio.
Additional features like background noise suppression and cancellation, differentiating speaker identification in voice call or video transcripts, and advanced audio controls further boost call quality.
VoIP number providers also provide real-time system status updates and evaluate the overall quality of each call, making it easy to know when there's an issue and providing solutions to common VoIP problems.
Providers also offer an SLA-backed guaranteed uptime of at least 99.9%, 24/7 network monitoring, and multiple global points of presence to further ensure superior call quality.
To Lower Operating Expenses
We've already covered how switching to a VoIP platform offers a low cost setup by eliminating the need for expensive hardware, a larger office space, and a physical installation.
VoIP also lowers your overall operating costs by:
Giving you access to free, unlimited calling (local/long-distance)
Offering bundled or pay-as-you-go toll-free/long-distance minutes
Optimizing agent schedules by identifying peak call times
Identifying workflow bottlenecks
Automating routine business processes and recurring tasks
Increasing customer support self-service options via IVR
Using real-time syncing, push notifications, and alert to avoid miscommunications
Providing advanced features that increase team member productivity
Give team members remote access to save on travel and in-person employee costs
Increasing employee satisfaction, drastically lowering employee turnover rates
To Boost Customer Satisfaction
VoIP numbers don't just benefit your team–they benefit your customers, too.
Their features improve customer satisfaction rates by:
Increasing the likelihood of connecting with a live agent
Providing self-service options
Allowing customers to communicate on their preferred channel
Prevent customers from having to repeat themselves to multiple agents
Increase first call resolution rates
Letting customers communicate with your business via texting
Sending automated appointment reminders, confirmations, coupon codes, etc. via text
Connecting them with reps qualified to assist them, not just whoever is available
To Give Team Members Flexibility
Because they don't require a physical connection, VoIP numbers come with a level of flexibility and mobility that traditional desk phones are unable to provide.
With VoIP, agents are no longer required to remain at their desks for long periods of time, waiting for an important call to come through. Instead, they can set up call forwarding to automatically send their work phone calls to multiple numbers.
If they need to switch devices while on an active call, the call flip feature makes it possible with a single click–no hangup required.
To Simplify The Setup and Configuration Process
A Voice over IP phone number is refreshingly easy to set up, install, and scale. Unlike analog phone companies, IP phone providers also offer 24/7 searchable online knowledge bases with video tutorials, user forums, release notes, on-demand training webinars, FAQs, and more.
Those needing additional customer service and support can purchase concierge onboarding service, priority support, and even in-person software instruction.
In most cases, you can have your VoIP phone number up and running in less than half an hour.
To Streamline Business Processes With Advanced Features
Even the most basic VoIP phone number providers offer features an analog phone never could–and these features can dramatically improve your workflow by simplifying previously complex tasks.
Third-party integrations eliminate the need for constant app switching, CRM call pops instantly display relevant caller information, and real-time, AI-based agent suggestions give reps in-call access to call scripts and support recommendations.
Admins can set recurring meetings, automate analytics and KPIs, create ring groups to increase first call resolution rates, and enable a shared inbox so multiple agents can view and resolve open support tickets and customer requests.
How To Get a VoIP Number
The best way to get a VoIP number is to purchase one directly from your VoIP service provider.
In most cases, at least one local number will be included with your plan, and toll-free and international numbers are available for an additional fee. You can purchase as many VoIP numbers from your provider as you need directly within the admin portal, and disable existing ones at any time.
If you have an existing phone number you want to continue to use within your VoIP phone system, you can port the existing number into your account–even if your old phone number is associated with an analog phone. Most providers do not charge a fee for landline number porting, and you can access these numbers from all compatible VoIP devices.
While platforms like Google Voice do offer a free VoIP number, the available features are limited.
VoIP Number FAQs
Below, we've answered the top VoIP number FAQs.