Today's customers value a personalized experience. They want to know that the brands they buy from are ready to listen to their immediate needs and provide them with answers, quickly. A call center's hosted IVR system provides this experience.
IVR systems help your customers contact you during your business hours, ask for directions, book reservations, or pay a bill.
No matter what type of business you run, you should consider using self-service IVR to communicate with your customers. Today, we'll outline what hosted IVR is, how it works, and why you should add it to your business.
Discover Hosted IVR solutions from
top providers
 Jump to↓
What is Hosted IVR?
Hosted IVR (interactive voice response) is a telephony menu and routing system that provides interactive responses to callers. It helps businesses organize the callers that contact their organization, determining their needs and routing them to the right queue.

Through the IVR menu system, the business can direct callers to the right department and the right person within the department as quickly as possible. That way, customers get the answer to their questions with fewer delays, enhancing their interaction with the organization. These systems often integrate with ACD, or automatic call distribution, which helps get callers to the information they need without the need for human input.
IVR platforms are often built into business VoIP systems, unified communications platforms, or call center software. This makes IVR easy for brands to implement, regardless of the type of phone system they use. Many IVR applications also offer IVR customization options, like drag-and-drop call flow designers, allowing each company to utilize the technology for its own goals and customers.
Natural language understanding (NLU) and text-to-speech functionality enable the software system to interact smoothly with the customer, providing the information they need and helping them navigate to the right destination without frustration or repetition. Without IVR, problems such as transferring people to the wrong department or mistakes in directing calls become more common, which can harm the impression of the business.
How Does Hosted IVR Work?
Hosted IVR works by building a routing voice menu that inbound callers use to reach a variety of users, departments, and actions in your phone system. Within your call center (CCaaS) or unified communications (UCaaS) software, you can connect these capabilities via an IVR call-flow designer.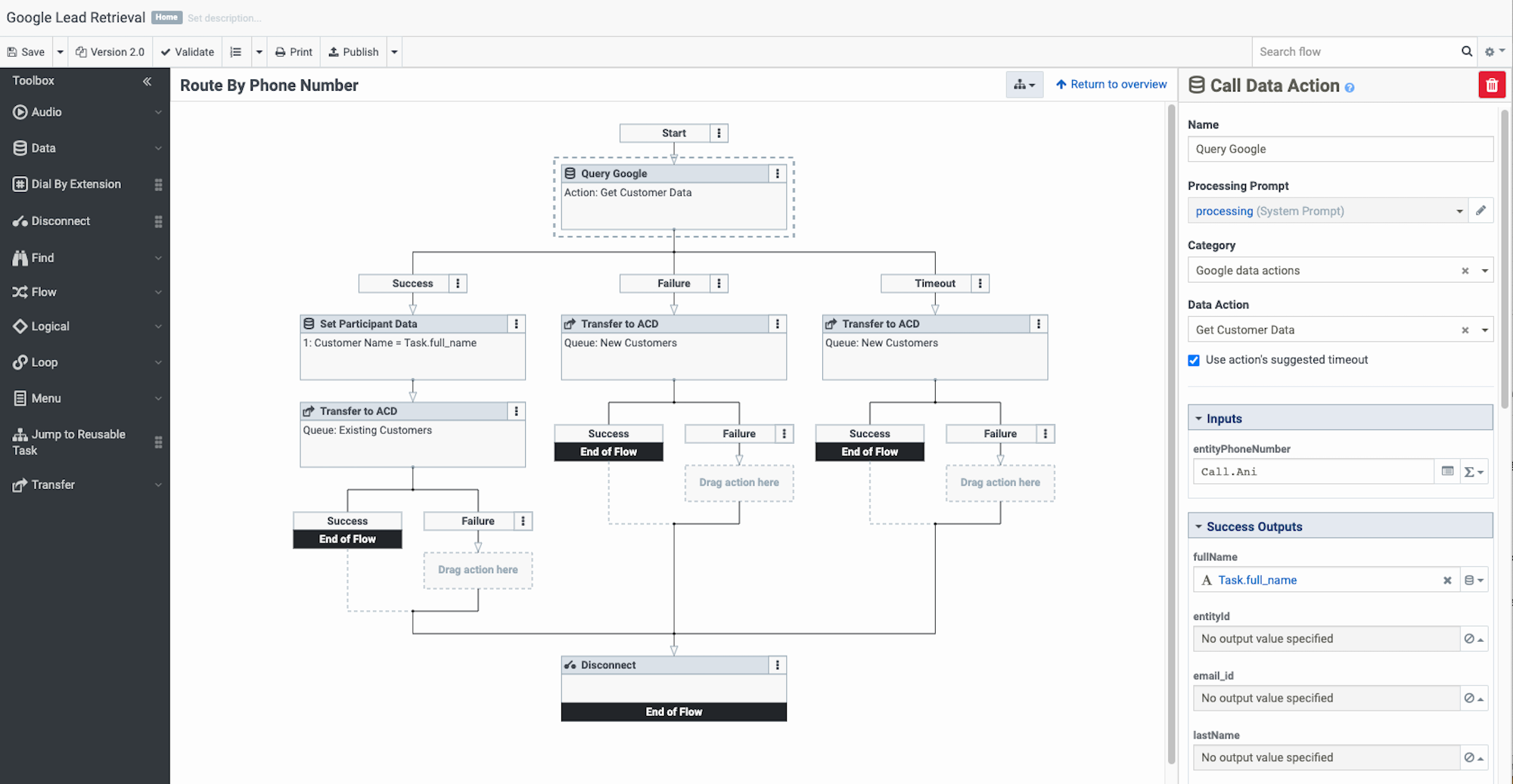 When callers contact your designated IVR business phone number, they hear a menu with preselected choices to reach the information, user, or action they need. For example, your IVR may give them options to Press 1 for Store Hours or Press 2 for Customer Service. After a customer inputs their selection via keypad or speech recognition, the phone system routes the caller to the right queue, action, or submenu.
Companies typically organize IVR call flows to handle inbound callers' most common needs. Some IVR options may provide auto attendant self-service–like bill pay, appointment setup, and password retrieval–so customers never need to interact directly with an employee.
Many CCaaS systems integrate hosted IVR with an advanced automated call distribution system (ACD) that uses AI to detect the caller's needs and route them to the optimal agent. This is called intelligent routing and can navigate callers based on agent skills or availability.
Advanced call center software includes intelligent virtual assistants (IVA) that act as visual or app-based multichannel routing systems. Essentially a mobile IVR system, virtual agents allow customers to connect with agents via not only voice but SMS text or web chat.
What Are the Pros and Cons of Hosted IVR?
Hosted IVR software offers many benefits for businesses and their customers.
Pros
Below, are the pros of hosted IVR:
Reduce Communication Errors
With a computerized system that automatically receives a customer's input and routes them to the right queue or agent, a company can reduce human routing errors that stem from speech misunderstanding or incorrect input.
This avoids queue overflow and keeps customer wait times as low as possible. Further, it boosts customer experience, improves first-call resolution, and builds stronger relationships with your customers.
Efficient Call Transfers
Automatic transfers route callers to the right agent instantly, saving time compared with manual routing. Agents don't have to worry about forwarding calls but can instead focus on their call queues, providing more focused and personalized service. This improves agent morale and customer satisfaction.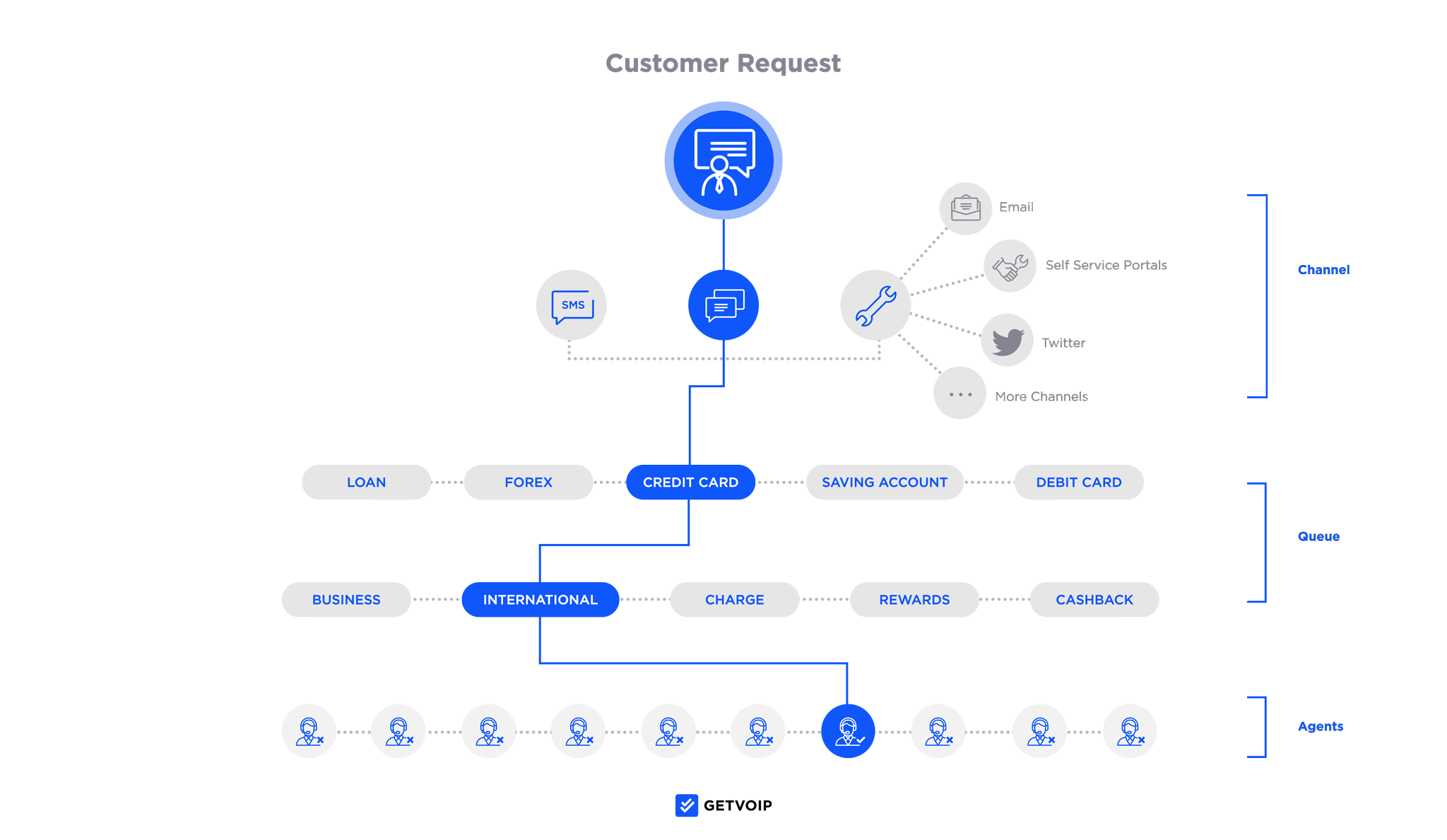 Employee Productivity
With the IVR system, companies save time because employees no longer need to act as receptionists who answer the call, learn the caller's needs, and transfer them. Computerized IVR systems and automations handle services previously performed by humans, such as providing business hours or basic account information.
Since IVR systems and automations are available around the clock, they provide availability that real humans can't match.
Analyze Call Data
Call center and UCaaS software often integrates with call center analytics systems, making it easier to gather data about your callers and better understand their experiences. Visualize customer journeys within the system and the number of calls that were answered or missed by the employees in each department. Call recording features also help employers better understand the customer care callers receive and collect information about where customers are calling from.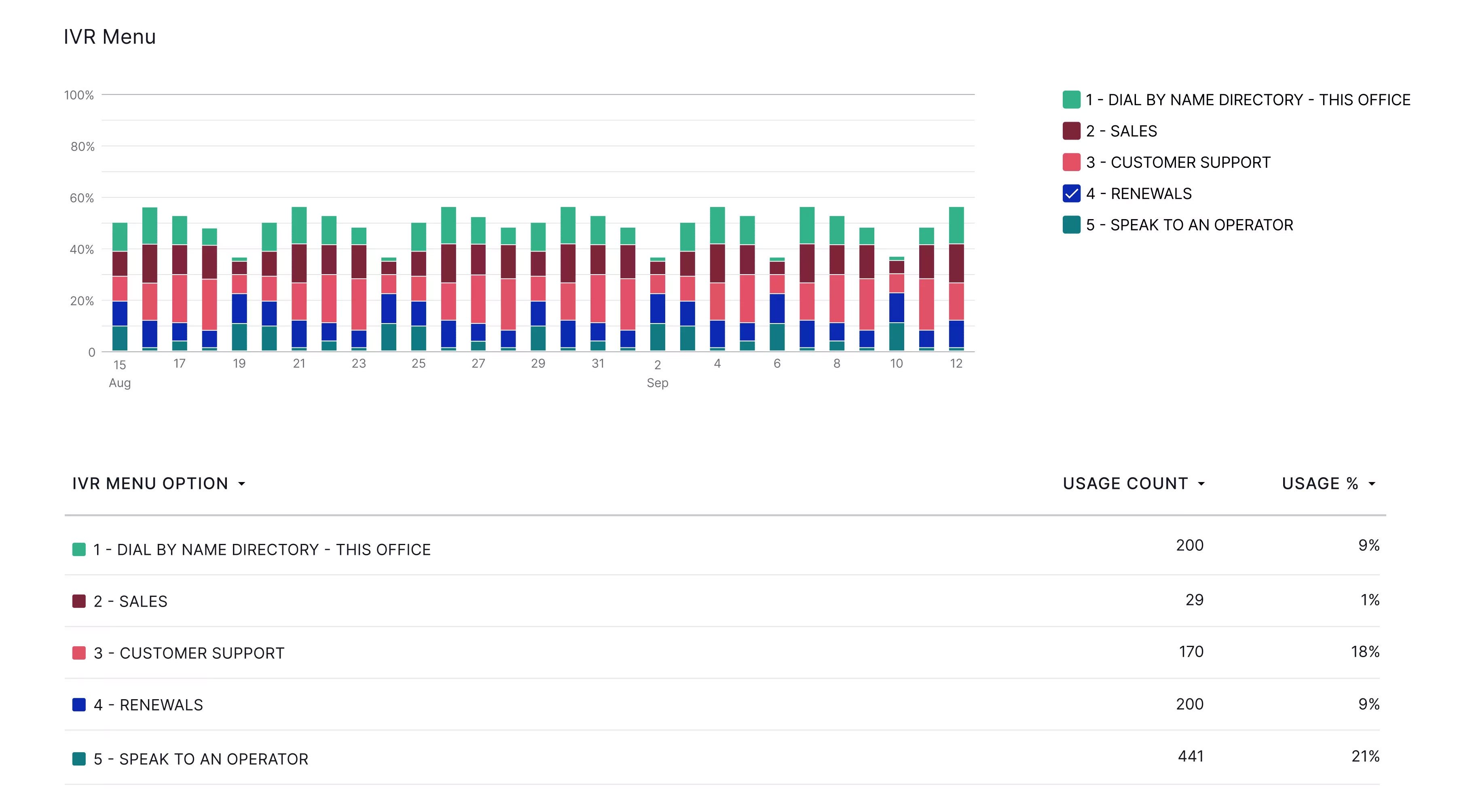 Call recordings and analytics helps businesses build stronger marketing campaigns and improve the level of service that customers receive from the organization.
Cons
Although the benefits are clear for many business owners, hosted IVR solutions have a few drawbacks:
Customers Prefer Live Agents
Some customers do not like the experience of feeling as though they must 'talk to a machine' and may prefer live chat vs chatbots or automated IVR. Brands will have to be able to balance these consumer needs with their desire for efficiency. This is why your IVR call flow should include a 'select 0 to speak with an operator' option for those who want to skip over the automated menu options.
Menus Are Confusing
There may also be some customers who have trouble successfully using automated menus and lists. For example, some customers may struggle to keep track of all the different menu options or determine what category their precise need fits into. Others may become increasingly frustrated if they find themselves engaging with multiple menus, or if your IVR menu includes mistakes.
Businesses that want to address these shortcomings should focus on creating short, efficient menu options as well as options for reaching an operator at any time.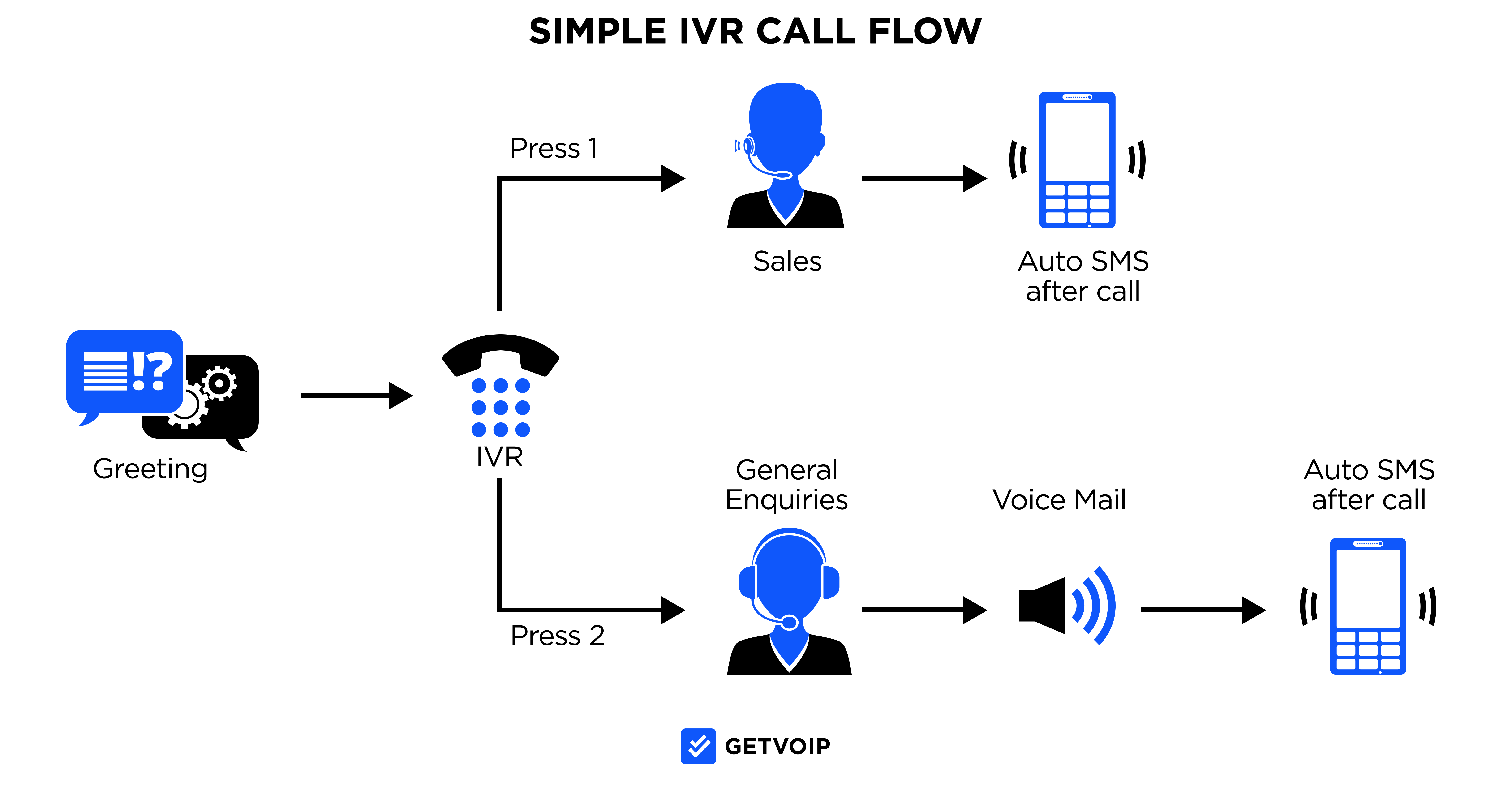 Constant Upkeep
Make sure you take the necessary time to invest in your system. If you do not, your IVR system may cause problems via poorly organized menus or other inefficiencies that will cancel out IVR's benefits. Taking the time to research effective IVR menu options, investing in a quality voice recording, and otherwise creating a high-quality IVR system can result in a tremendous difference in the customer experience.
Frustrated Customers
Brands also need to make sure that any potential buyers that contact their organization feel the personalized service that the brand is trying to create. If customers call, feeling ready to buy, but then get directed to endless menu phone trees, they may begin to feel ignored or not prioritized. The IVR system needs to take into account active buyers and be able to direct them to the best sales representatives so they can receive the personal attention they need to complete their purchase.
Does My Business Need Hosted IVR?
To determine if your company needs hosted IVR services, consider your inbound call traffic and how well your current call routing system meets your customers' needs.
Consider also your employees' efficiency. Think about whether or not your employees waste time answering basic questions and if an IVR system can help them use their time more effectively.
Further, consider the three questions below to determine if hosted IVR will benefit you.
Does your business need a better system to manage call flow?
If your company struggles to effectively and efficiently manage incoming calls, then you may need an IVR. If your employees find themselves regularly wasting time answering mundane phone calls, when they could be completing tasks that would more directly impact the business's revenue, then self-service may be the solution. Similarly, if the employees find themselves inundated with regular calls and struggling to get the potential customers to the right department, then a computerized call tree may be a great investment.
Do you need to improve inbound call efficiency?
If your callers often struggle to get the answers they need from your employees, then an IVR can help. If callers regularly get transferred multiple times between different departments and feel frustrated by their struggles to reach the people who can actively help them, then having a computerized system that will direct them exactly where they need to go can improve the level of customer care and create a better impression for your brand.
Do you want to enhance your business' professionalism?
If you also want to take your business to the next level, increasing your appearance of professionalism and the level of service for customers, then an IVR system may be the most cost-effective solution. With an IVR platform, even small companies can make their organizations appear bigger and more developed through multiple lines and mailboxes dedicated to providing customers with a high-quality experience. Rather than have a single employee try to answer all the questions that come in, cloud IVR services make it simple for brands to automatically direct callers to the best-suited employee.
Top Hosted IVR Solutions
If you plan to switch to hosted IVR, here are some of our favorite service providers and CCaaS solutions.
8×8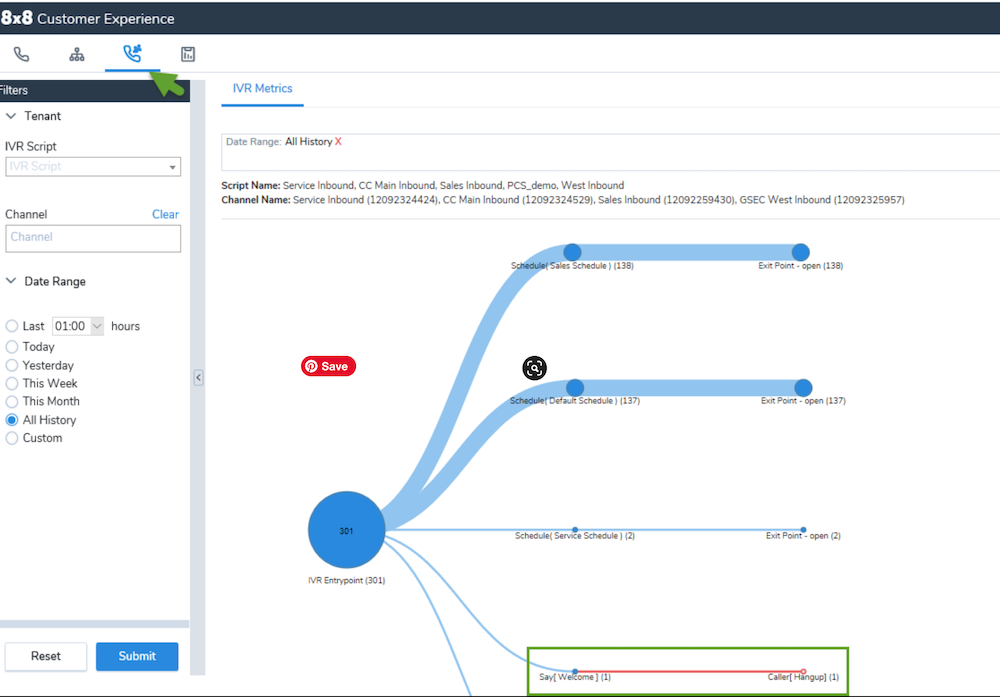 8×8 contact center and business communications platforms focus on providing services to small to medium size businesses. 8×8 supports popular IVR applications including voicemail, automatic callback, email, and webchat. 8×8's ACD includes skills-based routing and advanced queue reports.
It also has the ability for employees who answer the phone to provide their contact number to customers, helping them to resolve issues and help customers feel well-attended to.
RingCentral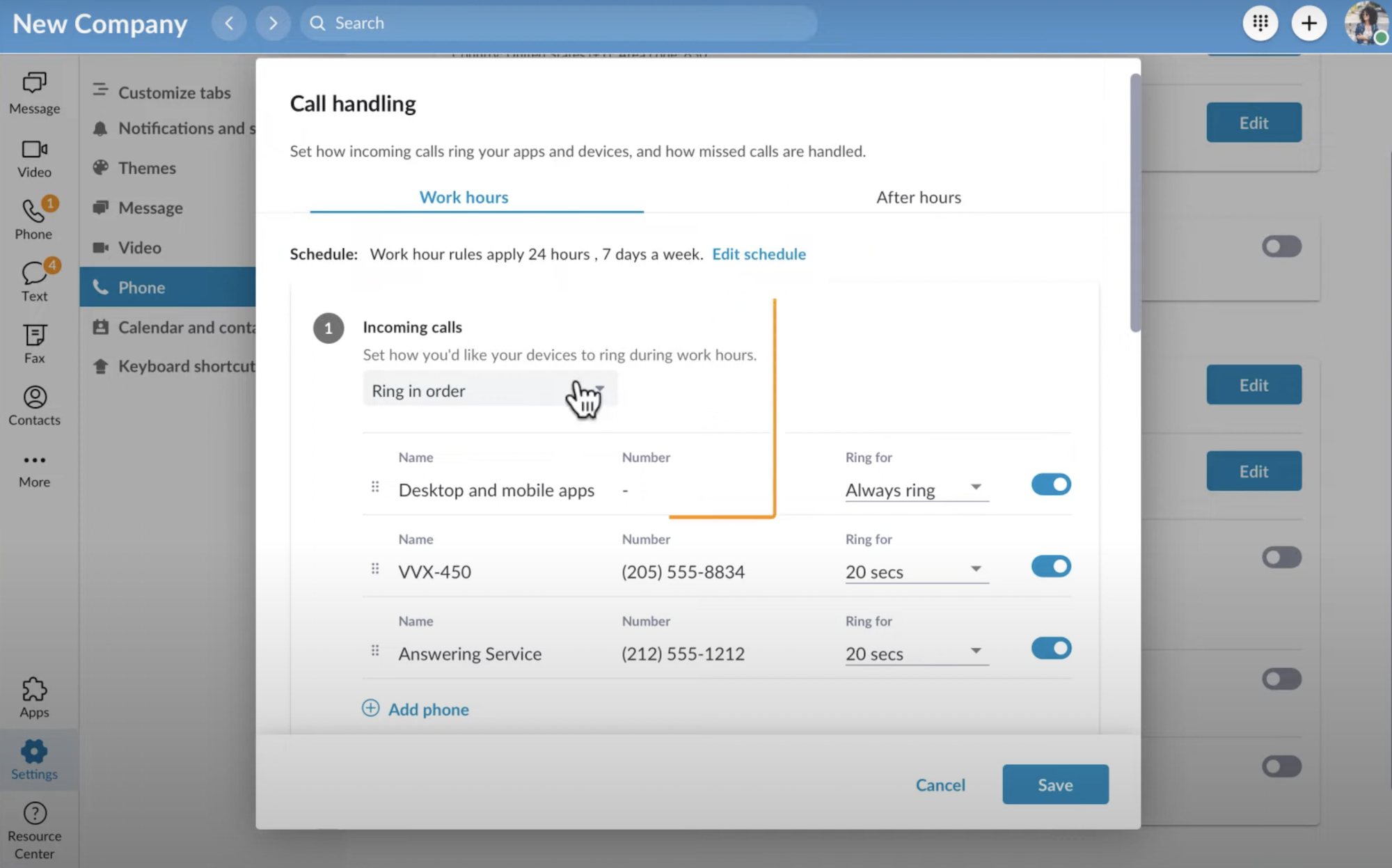 RingCentral MVP offers features such as automatic call distribution and blended communications–including VoIP phone, SMS, webchat, and internal video conferencing–in addition to their IVR options. This program can be integrated with various third-party systems and includes features to help customers track and generate leads as well as perform market research.
Five9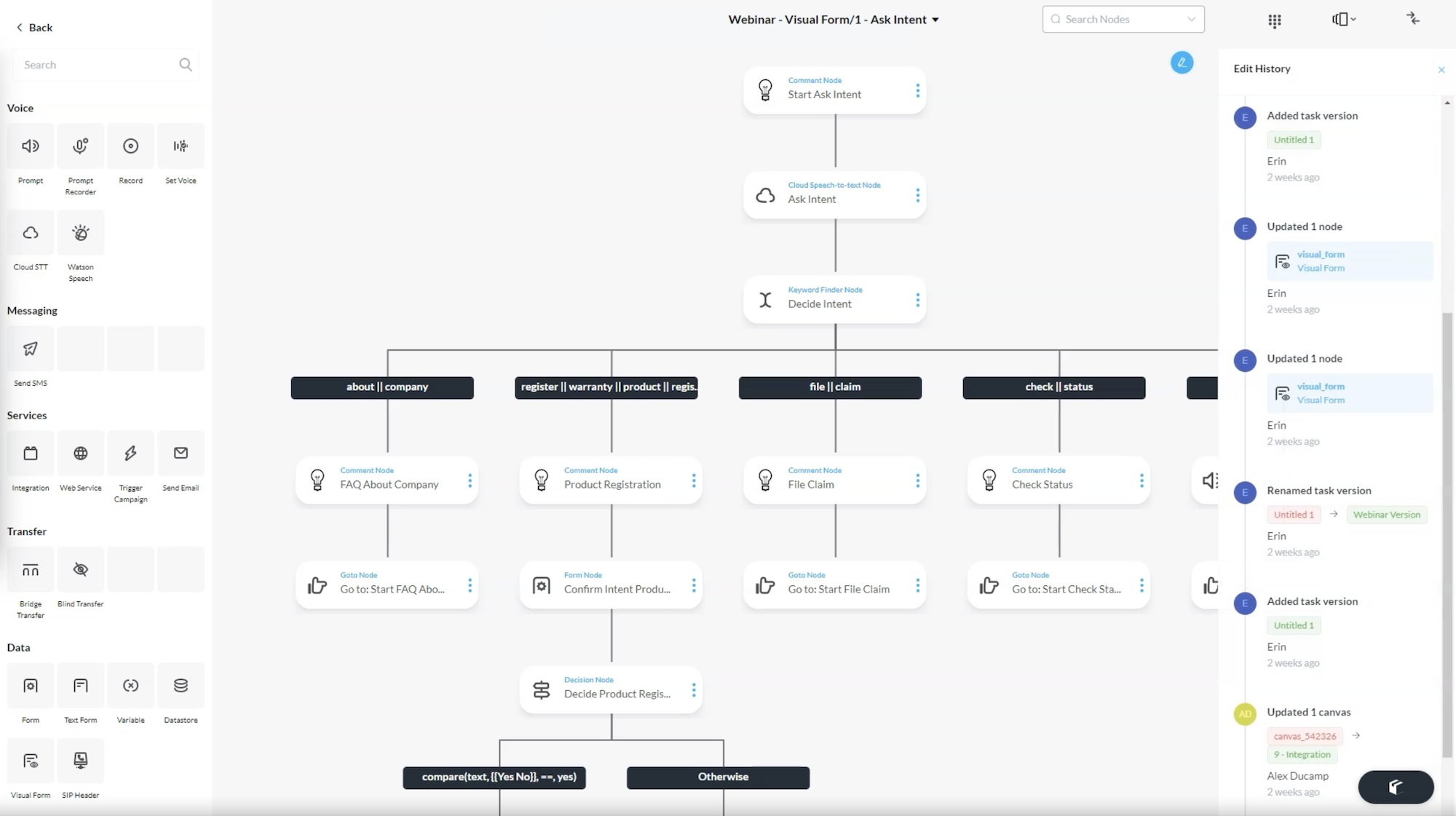 The Five9 Cloud Contact Center software combines inbound, outbound, and blended support to help brands take advantage of cloud-supported call center technology. This option works to improve the customer experience by integrating across multiple platforms–including voice, chat, SMS, email, and mobile. Five9 uses AI to better understand customer needs and offers a range of tracking technology for its IVR systems. This data includes real-time metrics and the ability to track performance and sync customer data with the business CRM. Companies will find it significantly easier to understand how past interactions with customers have progressed.
Talkdesk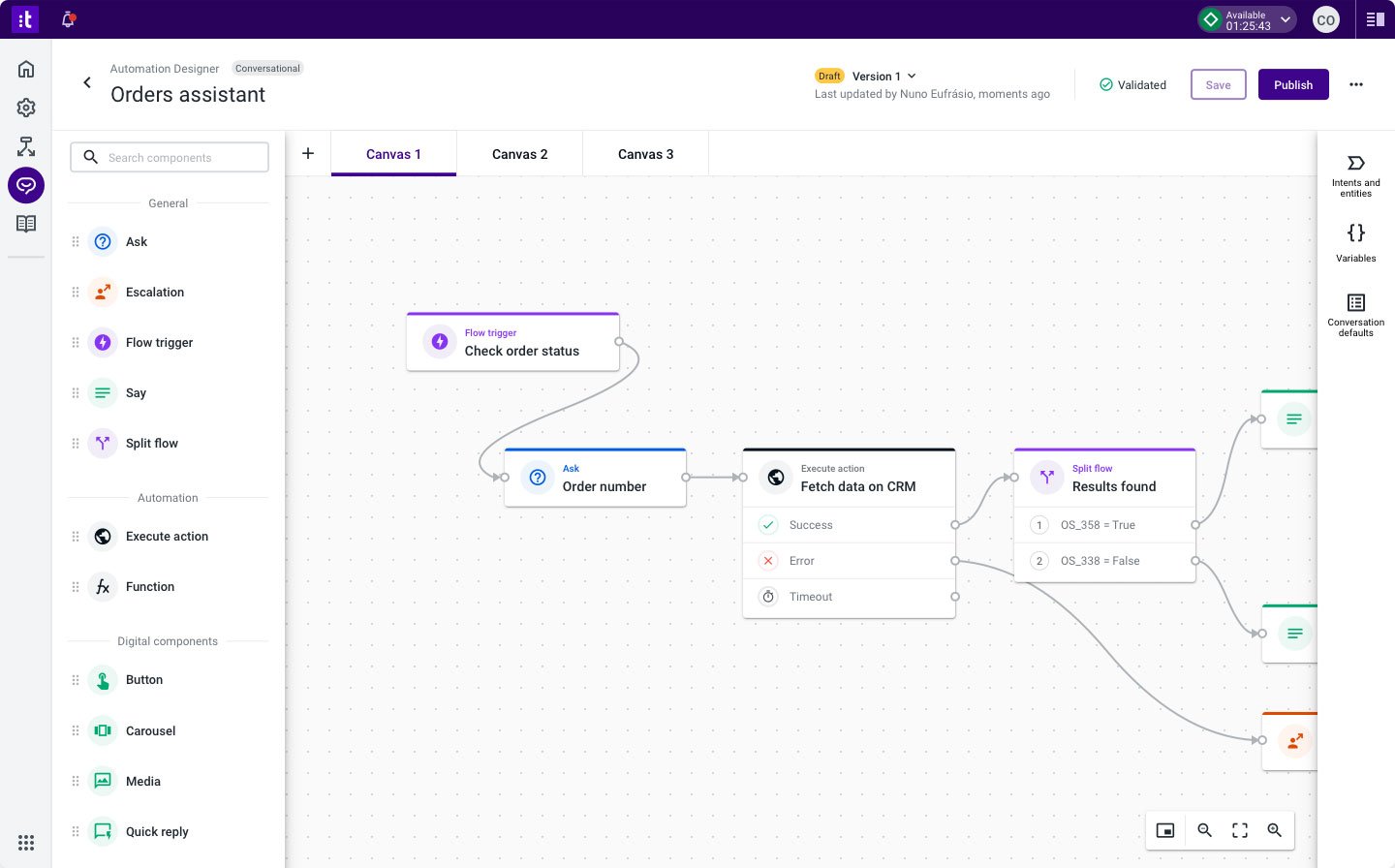 The Taskdesk call center uses cloud-hosted and managed IVR to help employees provide more personalized connections to customers. Agents can see the history of each particular customer while they talk, including their purchase information and their contact history, giving useful context. Talkdesk IVR combines with queueing and an advanced call distribution system, including intelligent skills-based routing
Nice CXone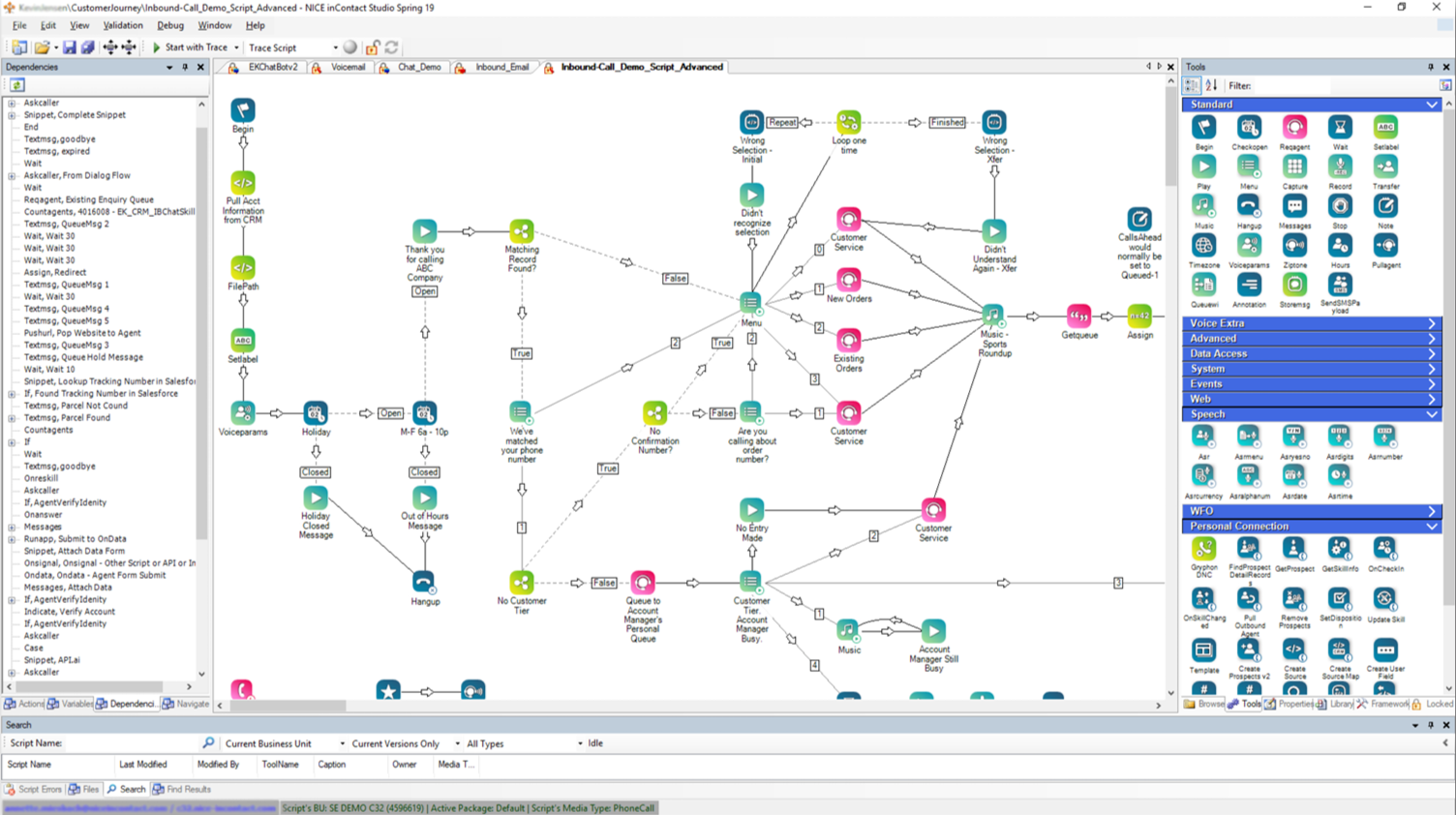 Nice CXone Call Center Software incorporates its IVR system with related technology to allow for inbound and outbound calls. It also integrates with voicemail, SMS, webchat, and social media. This call center can integrate with databases and CRM applications to make it easy to track customer interactions with the brand and enhance the customer service the company can provide.
Hosted IVR Personalizes Customer Service
IVR offers personalized experiences for customers throughout their call, connecting them quickly to representatives that can handle their needs.
If you want to help your business grow, you should consider the potential benefits of using IVR or auto attendants. This technology is an essential part of any enterprise VoIP system.
FAQs
Below, we've answered some FAQs related to hosted IVR.