VoIP phones provide countless benefits over landlines, including advanced call management features, HD voice quality, and cost savings. VoIP phones are portable, scalable, helpful for remote teams, and easy to set up for companies of any size.
This article will outline VoIP phones, discussing how they work, benefits, features, and the best VoIP phones currently on the market.
What is a VoIP Phone?
A VoIP phone is a type of telephone that uses Voice over IP (VoIP) technology to make and receive calls over an internet connection.
VoIP phones can be hardware or software-based, offering users a range of features such as inbound and outbound calling, SMS texting, call controls, routing capabilities, and other advanced digital functions.
The following devices can act as a VoIP phone:
Mobile devices
Computers
Tablets
VoIP hardware–headsets and desk phones
VoIP phones from
top providers
How Does a VoIP Phone Work? 
VoIP phones work by transmitting voice data via the Internet, instead of the public switched telephone network (PSTN).
Taking a call on a VoIP phone feels just like using a traditional landline PSTN or mobile phone. But behind the scenes, the data transmission is completely different: Instead of sending an analog signal through the PSTN, VoIP service uses the Internet to transmit digital data packets from your local network.

VoIP phones convert sounds into digital data packets, which travel via broadband Internet from your local WiFi network to your VoIP phone service provider. Your VoIP service provider then uses an IP PBX (private branch exchange) system for one of two possible next steps:
1. Transmit the digital data over the internet directly to another VoIP provider, who routes it to the recipient
or
2. Convert the digital data into an analog signal for PSTN transmission to a traditional landline phone
VoIP Phone Systems vs. a Traditional Phone System
There are two primary types of VoIP phone system setup: Hosted VoIP, and an on-premises PBX system. Below we compare these two types of VoIP with a traditional landline phone system.
Hosted VoIP Phone System 
With a cloud-hosted VoIP phone system, your provider houses all the PBX hardware to transmit your digital data to any recipient, including VoIP, mobile, or landline numbers. You don't have to worry about storing machinery, connecting cables, or installing upgrades. Your VoIP carrier hosts the servers and data centers, so you don't need to purchase any hardware. Additionally, VoIP providers audit security and install upgrades to the virtual PBX systems, so hosted PBX saves your IT department a lot of work.
With a hosted PBX setup, all you need is an internet-connected device. VoIP apps offer softphone functionality, enabling agents to use mobile devices and computers as IP phones. If you want a hardware VoIP phone, you can purchase a physical headset or desk phone and connect it to your computer.
On-Premises PBX System (SIP Trunking)
An on-premises PBX system means that your company hosts the VoIP hardware onsite. You manage and update IP PBX servers for your local VoIP network and connect them to both the internet and the PSTN. Usually, your IP PBX system resides in a designated office or room with cables linking it to the PSTN, the router or modem, and sometimes to users' computers and VoIP phones. A technology called SIP Trunking provides virtual phone lines that connect your IP PBX to your landline phone system.
While an on-premises VoIP setup provides greater privacy and control over your phone system's features, its upkeep demands time and attention from your IT staff. Further, hosted PBX systems usually offer many more VoIP phone features than do on-premises systems.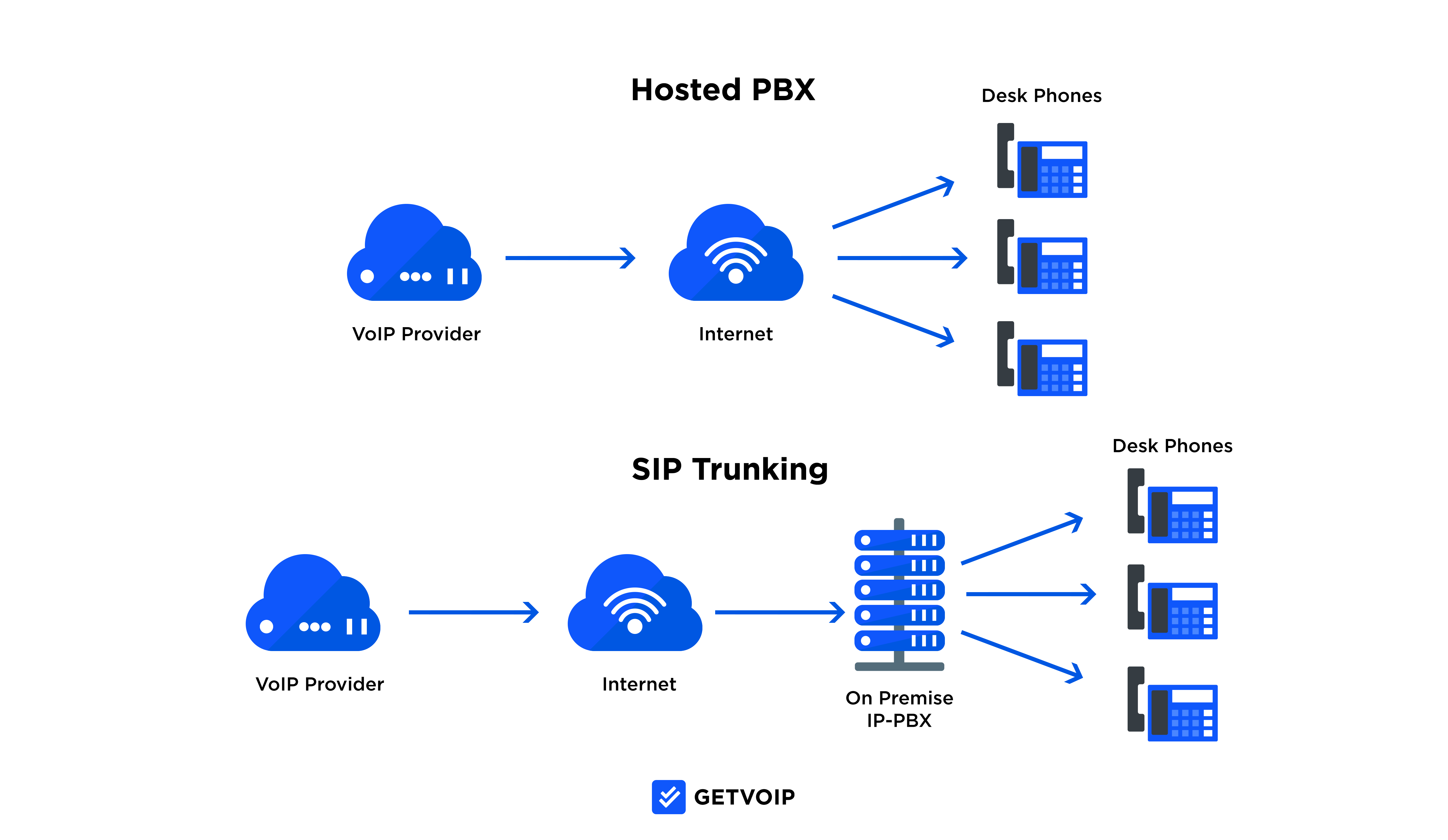 Traditional Landline Phone System
Unlike the VoIP systems described above, a traditional landline phone system requires no internet. Instead, a landline phone system transmits analog sound vibrations to the recipient through a series of interconnected copper wires, the PSTN. A landline phone requires a physical wired connection to the PSTN, meaning users cannot take landline calls away from their home or office. Further, since each landline phone number is connected to a physical address, changing or adding landline numbers is a painstaking process that requires installing new phone jacks.
VoIP Phone Features
VoIP phone software applications usually include dozens of built-in features, such as these:
Digital interface
Call controls
Routing Features and IVR
Call analytics
Third-party integrations
Digital Interface
Most VoIP phone providers offer mobile and desktop applications with a comprehensive user interface, including an agent and supervisor dashboard that unifies features and settings.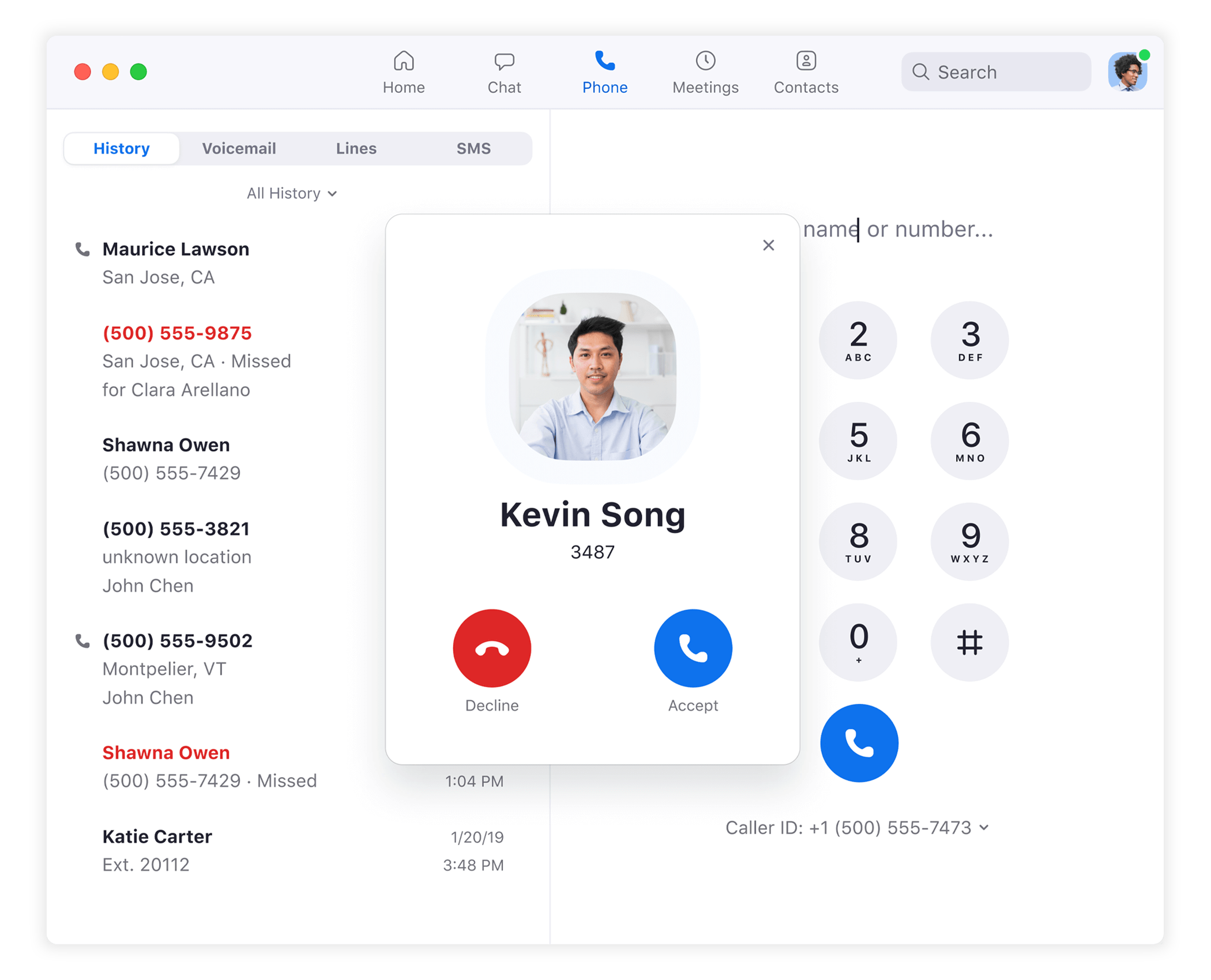 VoIP software dashboards unify the following features:
One-click communications: Make voice calls with one click from a contact list, dial a contact's number, and receive inbound calls via screen pop. Agents can send text messages and, if supported by the VoIP app, participate in web chat conversations and video meetings.
Voicemail: Organize and listen to voicemail messages, with audio transcription
Contacts: Companies and individuals can organize searchable contact lists. Each entry contains details, notes, and sometimes advanced profiles powered by CRM data
Administrator controls: Administrators can view analytics, monitor call center activity, set up routing and IVR call flows, and adjust user permissions from a left-hand panel
Call Controls
A VoIP phone system typically supports users with a variety of live call controls, which are accessible on mobile devices and computers:
Call transfer: Transfer the call to another user within the company
Call parking: Place the call in a communal parking space, where a teammate can retrieve it
Call flipping: Switch live calls between devices, such as flipping from a computer to a mobile phone, or vice versa
Conference calling: Host conference calls with dozens of participants
Basic call controls: Caller ID, hold, mute, add participants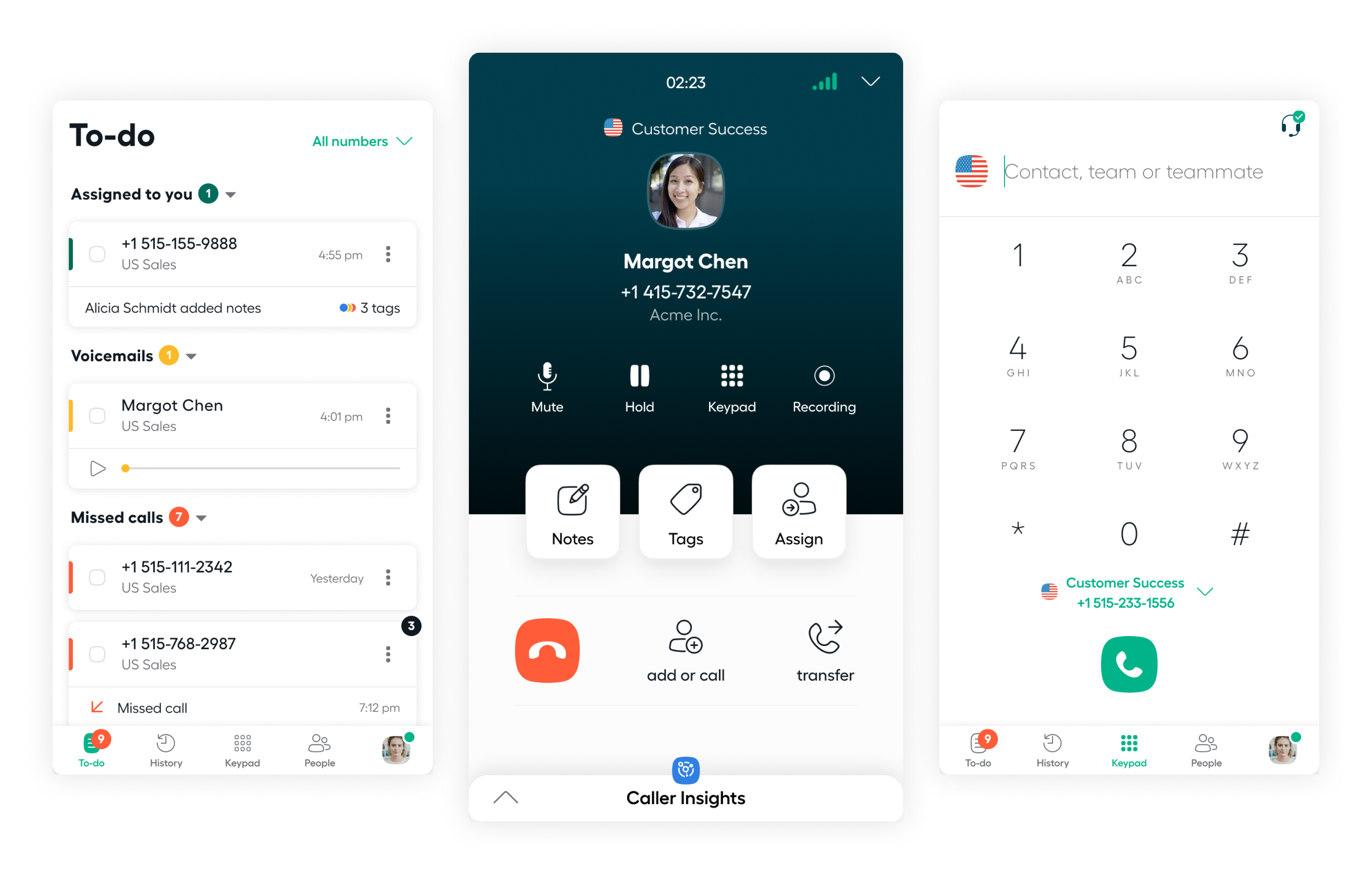 Routing Features and IVR
VoIP phone solutions often include built-in routing features, which enable administrators to set up custom automatic call distribution (ACD) systems that route inbound calls to the right agent or department.
Common VoIP Phone Routing Tools:
Interactive voice response (IVR): A self-service menu that provides callers with speech or dial-tone options to navigate to a department, announcement, or submenu. Use a design tool to customize a multi-level IVR menu.
Call queues: Organize agents into groups, each with an organized hold queue for callers waiting. Each agent in a queue can see the calls waiting, with the option for one-click callbacks.
Ring groups: Group agents together to share inbound call responsibility, when one receives a call
Custom ring style: Choose how calls get distributed among ring groups–a recurring order, round-robin, or simultaneous ring
Call Analytics
Advanced VoIP solutions include call analytics, which tracks insights and metrics across your business phone system. Usually reserved for higher-tier pricing plans, these historical and real-time KPI dashboards track data for whole teams or particular users.
Third-Party Integrations
Since VoIP phone systems are software-based, they integrate with many popular third-party integrations like CRM systems, business communication platforms, and call centers. In fact, some cloud-hosted PBX providers include hundreds of supported software applications that work cross-functionally with your VoIP system.
CRM systems: Link customer journey information, purchase history, and other context between your VoIP phone system and CRM apps like HubSpot, Salesforce, SugarCRM, and more
Communication platforms: Link VoIP and messaging functionality across communication apps like Google Workspace, Microsoft Teams, Asana, and Slack
Call centers: Link VoIP functionality with call center and customer service platforms like Zendesk, ServiceNow, Zoho, and more
Benefits of Using a VoIP Phone
Here are the key benefits of using a VoIP phone instead of a traditional landline:
Call quality
Scalability and a remote workforce
Portability
Security
Long-distance reach
Global presence
Advanced contact center features
Reduced cost
Call Quality
VoIP phone call quality is much better than traditional phone system call quality. Unlike analog calling, VoIP digital data enables HD sound quality through a wideband signal. Softphone devices and hardware VoIP phones both support HD voice.
To guarantee the best sound quality, make sure you have enough bandwidth for the VoIP data, along with a high-quality VoIP router.
Scalability and a Remote Workforce
VoIP phone systems are a breeze to scale, compared to traditional legacy PBX systems.
To add a new user to your VoIP system, you only need to sign the person up for your account's software subscription You have the option to purchase a physical VoIP phone, but softphone functionality means you don't even need to buy any hardware. Assign phone numbers to new users anywhere in the world, who only need a laptop or mobile phone to begin making phone calls from your company VoIP number.
Adding new agents to legacy PBX requires purchasing new phones, installing new phone jacks in the walls, and purchasing new PBX hardware as the size of your phone system demands.
Portability
Virtually every VoIP provider supports telephone via both desktop and mobile apps. This means employees can accomplish more while on the go. Many platforms have a Call Flip feature, which allows users to switch their VoIP phone instantly between a handset, computer, and/or a smartphone.
Security
VoIP technology comes with cutting-edge security protocols that ensure no one can eavesdrop on sensitive calls. Most solutions also have features like two-factor authentication, E2EE (end-to-end encryption), and single-sign-on–which keep unauthorized users out of your communications infrastructure.
Long-Distance Reach
Companies that use VoIP phone systems can reach more markets without the high overseas calling rates you'd incur on landlines. Most providers offer unlimited calling across the US and Canada, and some specific plans let you extend to other countries.
Even for VoIP plans that don't include free international calling, the calls are significantly cheaper than with PSTN.
Global Presence
Many VoIP providers offer virtual phone numbers from area codes around the globe. Purchase toll-free, vanity, and local numbers and assign them to any user within the company.
Advanced Contact Center Features
VoIP phones can integrate with other internet-based call center or unified communications features, like real-time call analytics and omnichannel contact centers.
VoIP solutions meet business needs with advanced features like:
Call recording, transcription, and voicemail transcription
Video calls
Call forwarding and call routing
Customer data tracking and analysis
AI-supported auto-attendant
CRM Integrations
Reduced Cost
VoIP phone systems are far cheaper to run than legacy PBX systems. In fact, factoring in the purchase of new VoIP phones, even small businesses with 30 employees or less will still save up to $1200/month by switching to VoIP service.
Best VoIP Phones on the Market
Below, we've listed our picks for the best VoIP desk phones and conference phones currently on the market.
| | | | | | |
| --- | --- | --- | --- | --- | --- |
| VoIP Phone | Photo | Price | Display | Line Keys | Standout Feature |
| Siemens Gigaset SL450A | | $270 | 2.4-inch color display | 0 | Aluminum frame |
| Siemens Gigaset C570HX | | $180 | 2.2-inch color display | 0 | No required base station |
| Polycom VVX 601 | | $199 | 4.3-inch touchscreen | 16 | Zero Touch Provisioning and server-based configuration |
| Cisco 7841 | | $88 | 3.5-inch grayscale display | 4 | Easy to use and navigate |
| Ooma DP1-T | | $90 | 1.8-inch grayscale display | 0 | Easy to use and navigate |
| Yealink SIP-T58A | | $220 | 7-inch color touchscreen | 3 | Two-way HD video |
| Siemens Gigaset DX800A | | $295 | 3.5-inch color display | 5 | App-based Info Center |
| Cisco 8845 | | $165 | 5-inch color display | 5 | Cell phone screencasting |
FAQs
A VoIP phone not only saves business costs compared with a landline phone setup, but also adds a ton of other benefits and features. Remote teams, small businesses, and enterprise companies can benefit from the routing features, analytics, and mobility of VoIP.
Agents can use a computer, mobile, or one of the hardware devices listed above as a VoIP phone.
In case you have more questions about VoIP phones, check out the FAQs below.