VoIP phones provide countless benefits over landlines, including advanced call management features, HD voice quality, more affordable pricing.
Therefore, if you haven't yet made the switch to VoIP, now is the time to do so.
This post is here to give you the answers you need when choosing a VoIP phone, information on the available types of phones, the features to look for, and the best IP phones for businesses of all sizes.
Quick links:
What is a VoIP Phone?
A VoIP phone is a type of a telephone that uses Internet connection to make and receive calls.
Standard desktop phones (also called hardphones), mobile devices, and softphone applications can all be used to make and receive VoIP calls.
VoIP phones bring far more flexibility, scalability, and affordability to business communications, especially when compared to the setup process, high costs, and limited features of the copper-wired PSTN (Public Switched Telephone Network.)
How Does a VoIP Phone Work? 
VoIP phones work by using the internet, instead of the PSTN, to transmit voice data.
Using a VoIP phone feels just like using a traditional landline PSTN phone. But behind the scenes, the data transmission is completely different–VoIP service uses the internet (sometimes PSTN too) to transmit digital data from your local network, instead of the PSTN's analog signal.

VoIP phones convert sounds into digital data packets, which travel via broadband Internet from your local network to your VoIP phone service provider. Your VoIP provider then uses an IP PBX system for one of two possible next steps:
1. Transmit the digital data over the internet directly to another VoIP provider, who routes it to the receiver
or
2. Convert the digital data into an analog signal for PSTN transmission to a traditional landline phone
VoIP and IP PBX work together: VoIP phones turn audio into digital data; IP PBXs are the switchboards that, when needed, convert this data to an analog signal for PSTN transmission,
IP PBX allows VoIP users to make and receive calls to other VoIP users, or to traditional landlines.
VoIP Phones vs Traditional Phone Systems
Below, we've outlined the differences between traditional legacy PBX phone service systems and modern systems: VoIP and IP PBX.
Legacy PBX
Before VoIP or IP PBX, company landline phones were wired to an on-premise legacy PBX system to route the analog-signal call (by wire) to the destination. This requires a series of switches from routing offices between the caller and the destination.
Since this method relies on wires and hardware, it's difficult to upgrade or add new features to the legacy PBX. That, among other reasons, is why most large and small businesses today use IP PBX and VoIP instead.
IP PBX
IP PBX allows companies to make phone calls over the internet–replacing the analog switchboards of legacy PBX with digital networking protocols (IP) connecting a local network.
IP PBX systems convert digital voice data packets into PSTN analog signals, which are then ultimately delivered on a landline or converted by the receiving IP PBX back into digital data packets.
These systems can be on-premises (using a SIP trunk) or hosted by your VoIP provider.
On-Premises PBX System (with SIP Trunking)
A SIP trunk (Session Initiation Protocol) converts your company's preexisting, on-site legacy PBX system into an IP PBX system capable of VoIP communication.
SIP trunking connects VoIP phone calls to IP PBX hardware, which can route the data through digital VoIP or as an analog signal through PSTN.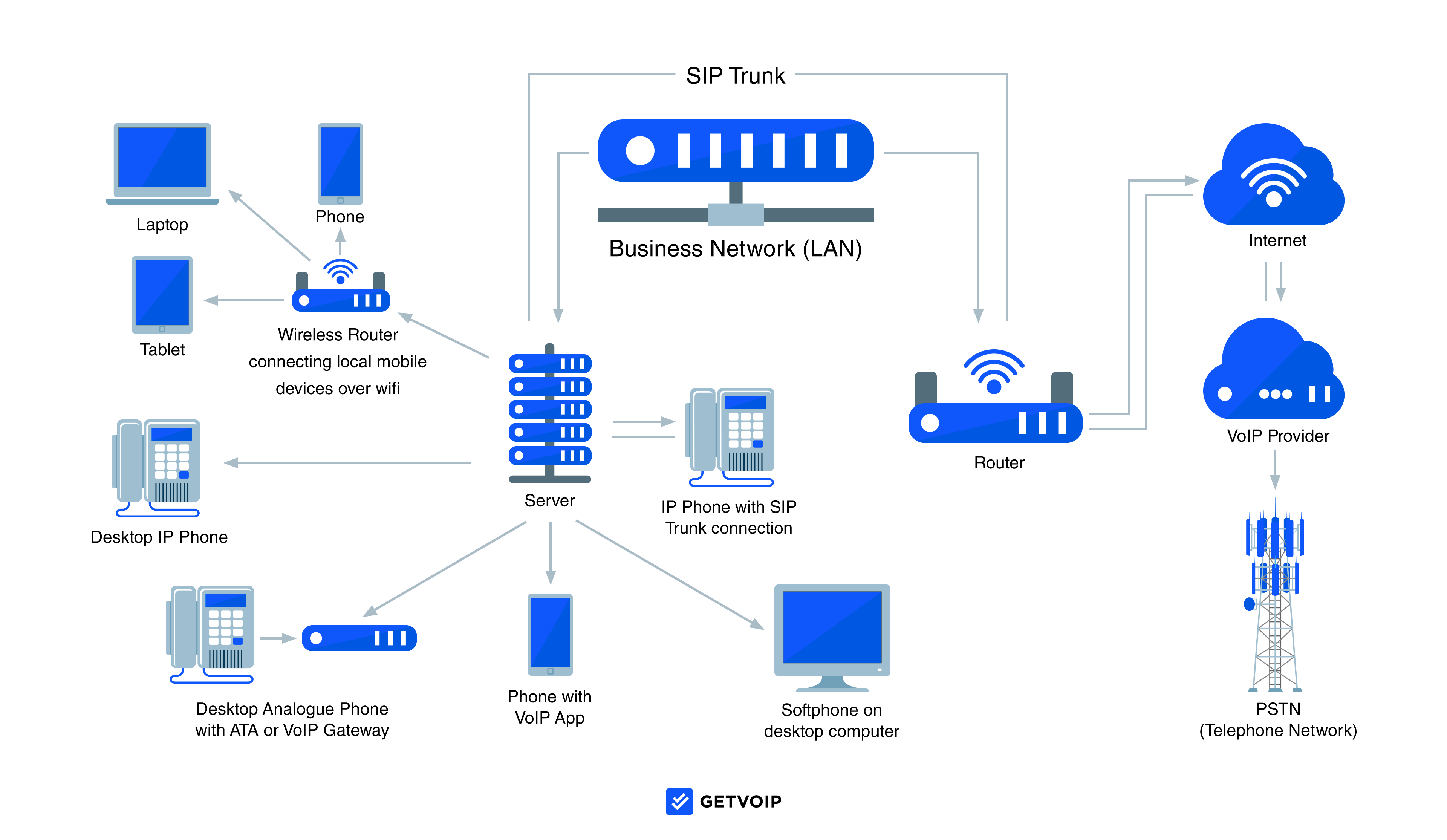 Hosted PBX
Most VoIP providers today provide cloud-hosted PBX, which means that they house all the PBX hardware to convert your digital data into analog PSTN–so you don't have to worry about storing, managing, or updating your PBX system.
Additionally, VoIP providers audit security and install upgrades to their PBX systems, so hosted PBX saves your IT department a lot of work.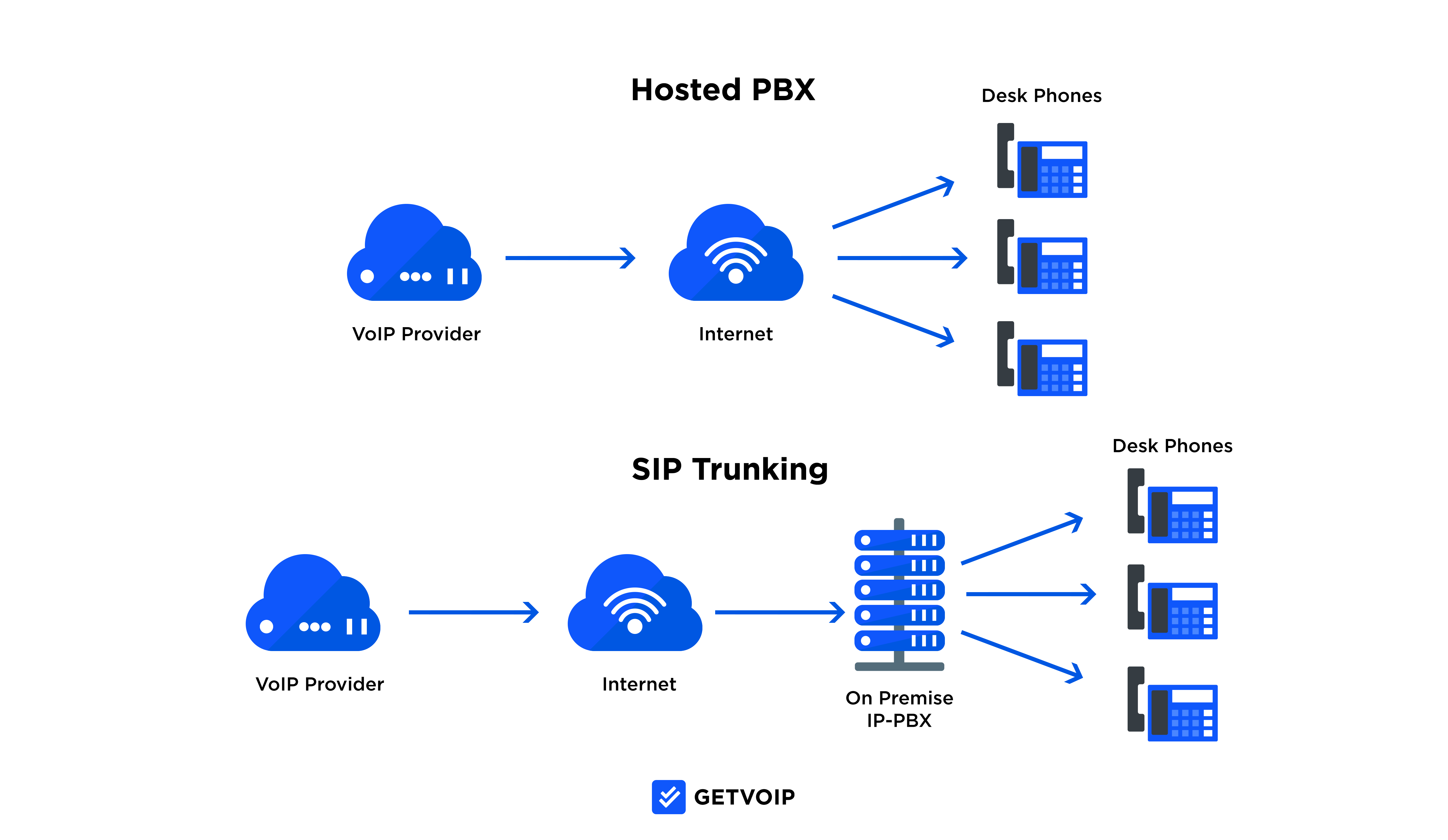 VoIP Phones
VoIP uses Internet Protocol (IP) to transfer digital audio data packets from the caller to the VoIP provider, who routes them to the end-user/call destination.
If the end-user is another VoIP phone, the digital data packets transmit entirely across the internet–no PSTN involved.
However, if the final destination is a landline phone number, the VoIP provider converts the digital data packets into an analog signal for PSTN transmission.
Types of VoIP Phones
Below, we've outlined the various types of VoIP phones and their unique properties.
Hard Phones
These hardware phones provide VoIP functionality separate from your computing device.
Desktop Phones: Desktop phones are the most standard type of a VoIP phone that look and work just like regular wired phones. These plug directly into your router or switch via Ethernet cable and come with the basic hardware features you expect from a phone.
Wireless VoIP Phones: Wireless VoIP phones are just like desktop ones, except they connect to your router via WiFi, instead of an Ethernet cable. With a wireless phone, you can walk around your workplace freely, placing your phone's handset within range of WiFi coverage.
USB Phones: USB phones plug directly into your device's USB port to enable phone use. Usually, people connect a USB phone to their device running a softphone application.
Conference Phones: Conference phones, specialized for multi-party calls, deliver higher voice quality, speakerphone voice detection, and electronic volume balancing for all parties involved, even those in large conference rooms.
Softphones
Softphones are VoIP applications that give you access to the business phone system. With VoIP software installed, your device–laptop, desktop computer, tablet, or smartphone–acts as a VoIP phone, with a VoIP phone number. Employees can use their own phones or laptops as softphones with a VoIP number.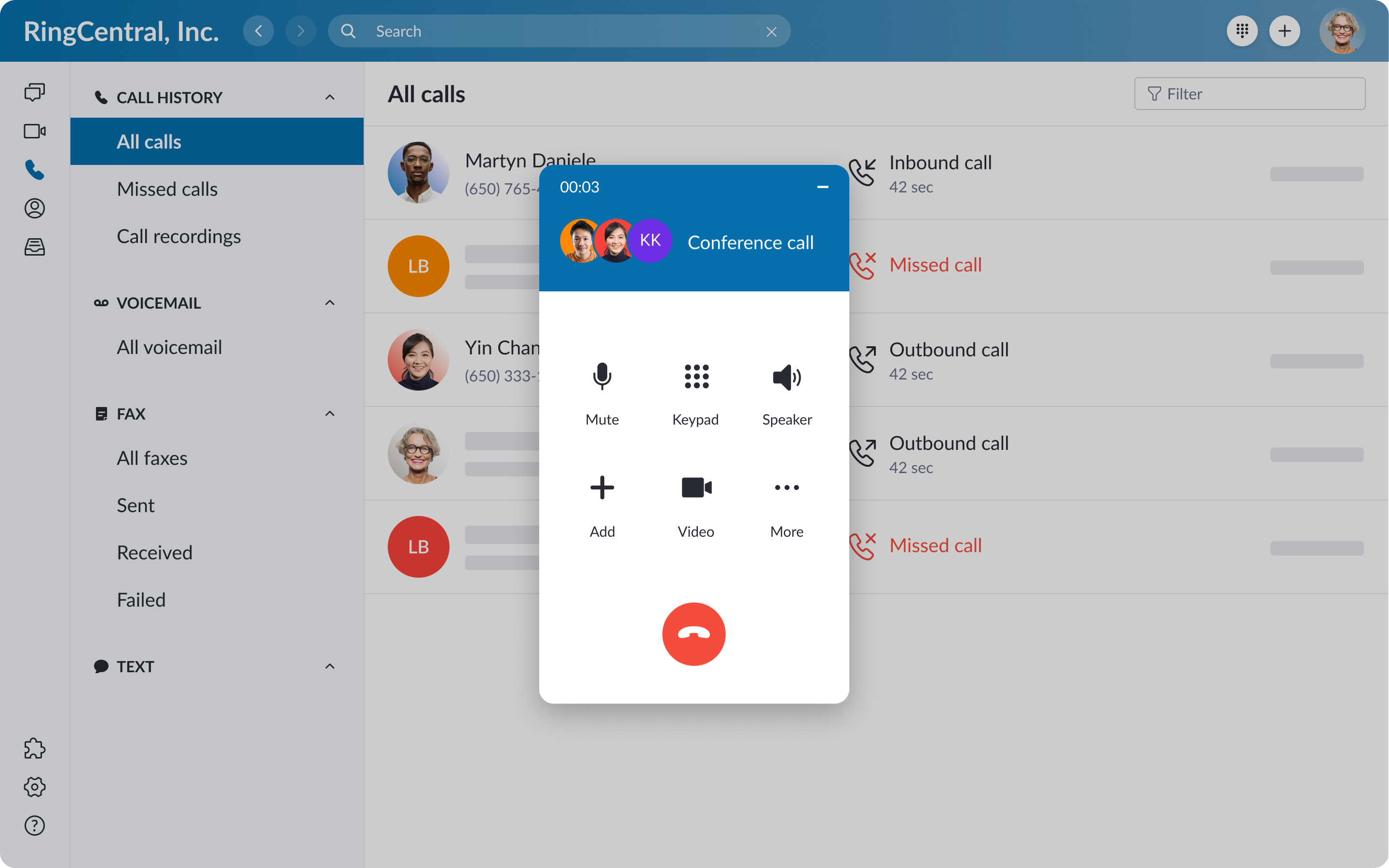 Key Features of a VoIP Phone
Below, we'll overview the fundamental hardware features of a VoIP phone.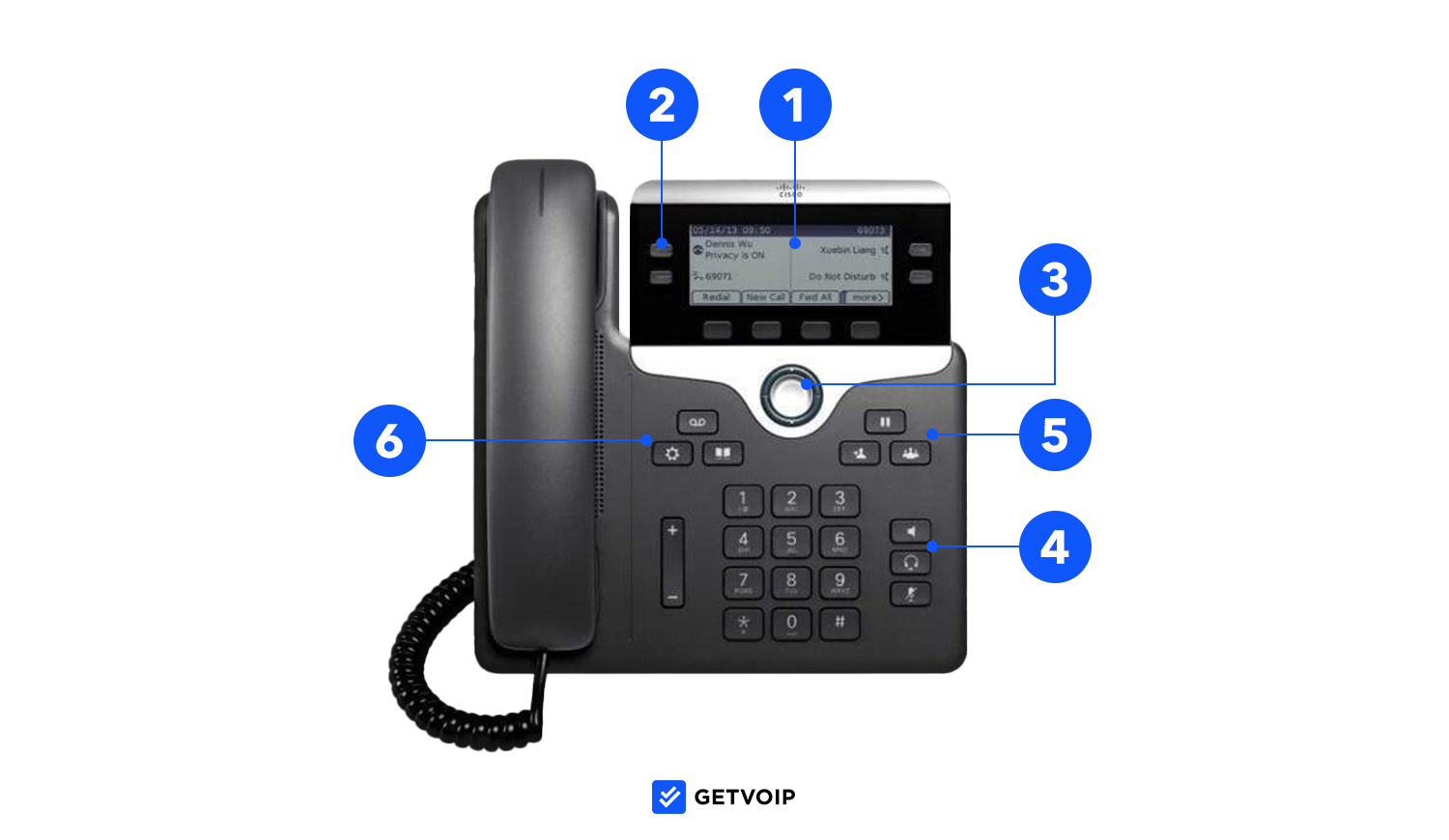 1. Screen
A VoIP phone's screen gives you important, basic information: the phone's menu, messages, call details, incoming caller ID, and status.
Common screen menu items include:
Select Services
Bluetooth
Additional Features
Call Lists
SMS
Answer Machine/Voicemail
Organizer
Directory
Settings
2. Line Keys
Typically next to the phone screen, line keys give access to multiple phone lines, letting you switch between them and indicating which lines are:
Occupied by a caller on hold
Receiving a call
Still open
3. Navigation Cluster (Navigation and Select Keys)
Right below the phone's screen, the navigation keys let you navigate the menu, and the select key lets you "click" an option. Depending on the call status, the navigation keys may present different options.
In idle mode, navigation keys may access the directory, main menu, or list of headsets.
During a conversation, navigation keys may open the directory, mute the microphone, or initiate an internal call.
4. Speakerphone, Mute, and Headset Keys
These three keys, usually bunched, control volume-related call functions:
Speakerphone toggles the speakerphone on or off
Mute toggles the microphone on or off
Headset toggles the headset on or off
5. Hold/Resume, Conference, and Transfer Keys
These three keys control the essential agent calling features:
Hold/resume places an active call on hold or resumes it
Conference creates a conference call
Transfer transfers a call
6. Contacts, Applications, and Messages
These three keys provide fundamental outreach functions:
Contacts accesses personal and corporate directories
Applications accesses call history, user preferences, and phone settings
Messages autodials your voice-messaging system
Benefits of Using a VoIP Phone
Here are the key benefits of using VoIP phones instead of a traditional landline.
Call Quality
VoIP call quality is much better than traditional analog PSTN call quality. Unlike analog calling, VoIP digital data offers HD sound quality.
To guarantee the best sound quality, make sure you have enough bandwidth for the VoIP data, along with a high-quality VoIP router.
Scalability
VoIP phone systems are a breeze to scale, compared to traditional legacy PBX systems.
Adding new agents to legacy PBX required purchasing new phones, installing new phone jacks in the walls, and adding new PBX hardware.
With a VoIP system, you only need to add a new user to your subscription and buy another handset–softphone users don't even need to buy any hardware.
Portability
Virtually every VoIP provider includes mobile apps with their plan. This means employees can accomplish more while on the go. Many platforms have a Call Flip feature, which allows users to switch from desk phone to smartphone without ending the call, improving customer support.
Security
VoIP software comes with cutting-edge security protocols that ensure no one can eavesdrop on sensitive calls. Most solutions also have features like two-factor authentication, E2EE (end-to-end encryption), and single-sign-on–which keep unauthorized users out of your communications infrastructure.
Long-Distance Reach
Companies that use VoIP are able to reach more markets without the high overseas calling rates you'd incur on landlines. Most providers offer unlimited calling across the US and Canada, and some specific plans let you extend to other countries.
Even for VoIP plans that don't include free international calling, the calls are significantly cheaper than with PSTN.
Advanced Contact Center Features
VoIP calls can integrate with other internet-based call center or unified communications features, like real-time call analytics and omnichannel contact centers.
Most VoIP solutions open the door to features like:
Call recording, transcription, and voicemail transcription
Video calls
Call forwarding and call routing
Video calls and video conferencing
Customer data tracking and analysis
AI-supported auto-attendant
CRM Integrations
Reduced Cost
VoIP phone systems are far cheaper to run than legacy PBX systems. In fact, factoring in the purchase of new VoIP phones, even small businesses with 30 employees or less will still save up to $1200/month by switching to VoIP service.
Overview of the Best VoIP Phones
Below, we've researched and outlined the Best VoIP phones available on the market today, including features and price.
| | | | | |
| --- | --- | --- | --- | --- |
| VoIP Phone | Price | Display | Line Keys | Standout Feature |
| Siemens Gigaset SL450A | $270 | 2.4-inch color display | 0 | Aluminum frame |
| Siemens Gigaset C570HX | $180 | 2.2-inch color display | 0 | No required base station |
| Polycom VVX 601 | $199 | 4.3-inch touchscreen | 16 | Zero Touch Provisioning and server-based configuration |
| Cisco 7841 | $88 | 3.5-inch grayscale display | 4 | Easy to use and navigate |
| Ooma DP1-T | $90 | 1.8-inch grayscale display | 0 | Easy to use and navigate |
| Yealink SIP-T58A | $220 | 7-inch color touchscreen | 3 | Two-way HD video |
| Siemens Gigaset DX800A | $295 | 3.5-inch color display | 5 | App-based Info Center |
| Cisco 8845 | $165 | 5-inch color display | 5 | Mobile phone screencasting |
1. Siemens Gigaset SL450A: Highest-Quality Material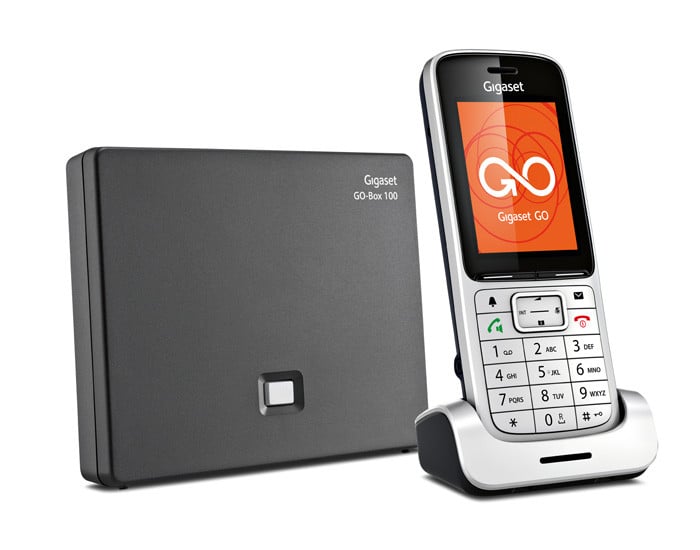 The cordless Siemens SL450A offers an exceptional balance between high-quality materials, intuitive design, and stellar sound quality. The large TFT-color screen complements the 3 adjustable audio profiles for maximum control over your sound.
The SL450A has 3 integrated answering machines for voicemail, each with up to 55 minutes of recording time, and can store up to 500 contacts with 3 numbers each. With a BlueTooth connection, a headset jack, and a range warning tone, this phone allows for full mobility throughout the workspace.
This VoIP phone protects your focus when you want: Receive vibrating alerts with the phone on mute, notice display messages when you've missed a call, and enjoy the calmness of suppressed anonymous calls.
Key Features:
Aluminum frame
3 answering machines with 55 minutes of recording each
500 contacts with 3 numbers each
Range warning tone
Integrated alarm, notifications, and calendar
Adaptive transmission power from handset to base
ECO Mode option for decreased transmission power
Price: $270
2. Siemens Gigaset C570HX: Best for Mobility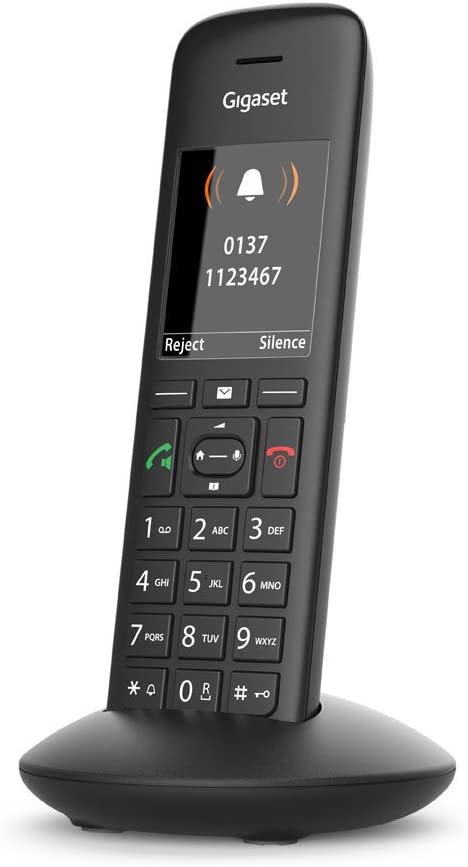 An ergonomic alternative to the SL450A, the cordless Siemens Gigaset C570HX is 25% taller with large, separate buttons incorporated in a slim handset. A high-contrast TFT color display, with simple navigation through a six-icon main menu and optional jumbo-text mode, make this phone comfortable to use. With 200 contact entries, this phone's address book is still large.
This VoIP phone offers tons of personalization options: customized screen saver, display color scheme, caller-assigned ringtones from 18 possibilities, and even the choice between two acoustic frequencies.
Since the Gigaset C5709HX logs directly by radio link into the DECT base set of your router, you don't need to plug the handset into the base station–you can leave the handset wherever you want–office, hallway, bathroom (we won't tell your clients).
Key Features:
Large, separate button keys
No required base station allows anywhere usage
Simple menu with jumbo display mode
Personalization options
17 hours of talk time
200 contact entries with 3 numbers each
Block anonymous or blacklisted calls
Price: $180
3. Polycom VVX 601: Best for Large-Scale Management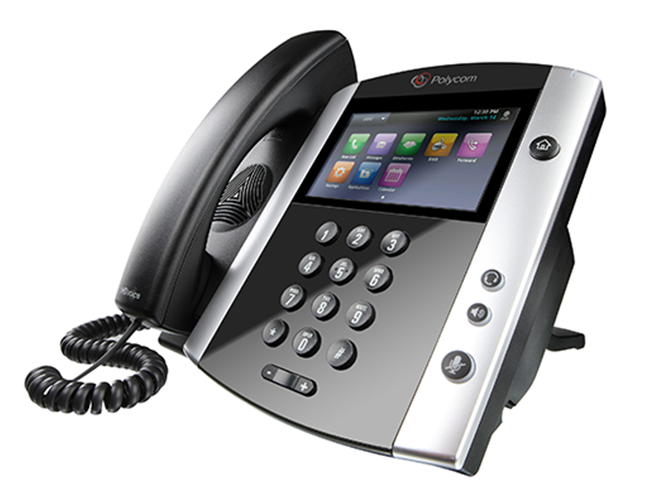 Designed specifically for executives, managers, and knowledge workers, the desktop Polycom VVX 601 VoIP phone combines Polycom HD voice quality, high-resolution color, and a multitouch screen.
Users can manage applications like calendars, receive alerts and reminders, or extend their PC's desktop to include the Polycom VVX 601 4.3-inch screen.
For administrators and IT departments managing a large number of phones, the web-based, intuitive setup tool makes it easy to use Zero Touch Provisioning and server-based configuration on large-scale deployments. From an IT perspective, the built-in interoperability capabilities allow IT agents to integrate the Polycom VVX 601 with previous IT infrastructures, while integrating new third-party applications.
With advanced features like built-in web applications, a digital photo frame, and a video playback feature, this business VoIP phone supports not only media streaming, but video conferencing.
Key Features:
Large, color multitouch display
Polycom HD Voice Clarity
Polycom VVX camera, which enables desktop video conferencing
Polycom Zero Touch Provisioning and web-based configuration tool
Deployable on existing network without needing to upgrade
Supports many desktop workplace applications (calendar, alerts, reminders)
Integrates with third-party web-based applications
Price: $199
4. Cisco 7841: Best for Beginners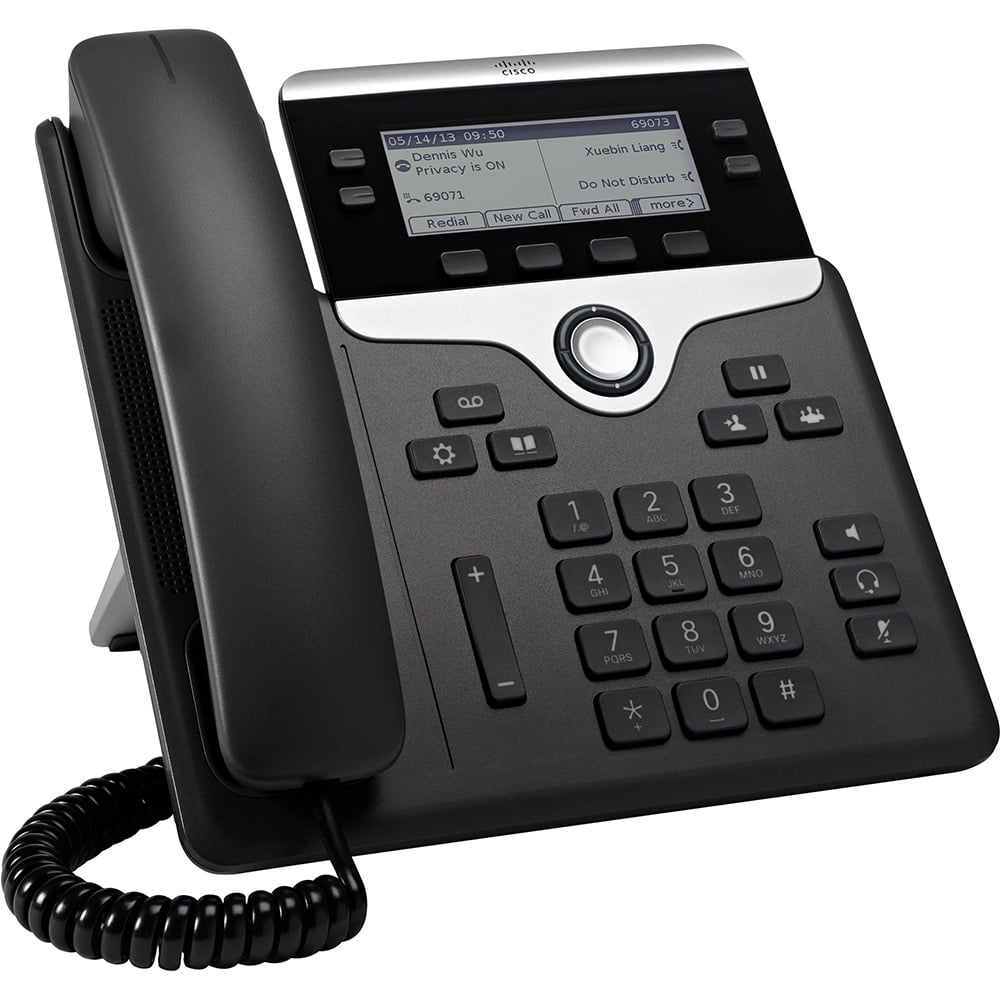 With a budget price and ergonomic design, the Cisco 7841 desktop office phone provides all the core phone features to meet your VoIP-phone business needs.
It has fixed function keys for one-touch access to service, messaging, directory, hold/resume, transfer, and conference features, as well as a full-duplex speakerphone for multiparty conferences. A volume-control toggle makes for easy decibel-level adjustment of the handset, monitor speaker, and ringer.
Each phone can handle multiple calls at once, making it a great fit for a call center, and the 3.5" grayscale display with white backlighting, localized language support, and easy-to-use interface prevents user confusion.
Companies just switching to VoIP will find it easy to integrate the Cisco 7841 into their business phone system.
Key Features:
Fixed function keys for one-touch access to basic services
Full-duplex speakerphone for conferencing
Volume control toggle
3.5" grayscale display with white backlighting
Easy-to-use display, buttons, and keys
Includes all basic support features, including hold music, conference, auto-answer, etc.
Price: $88
5. Ooma DP1-T: Best for Small Office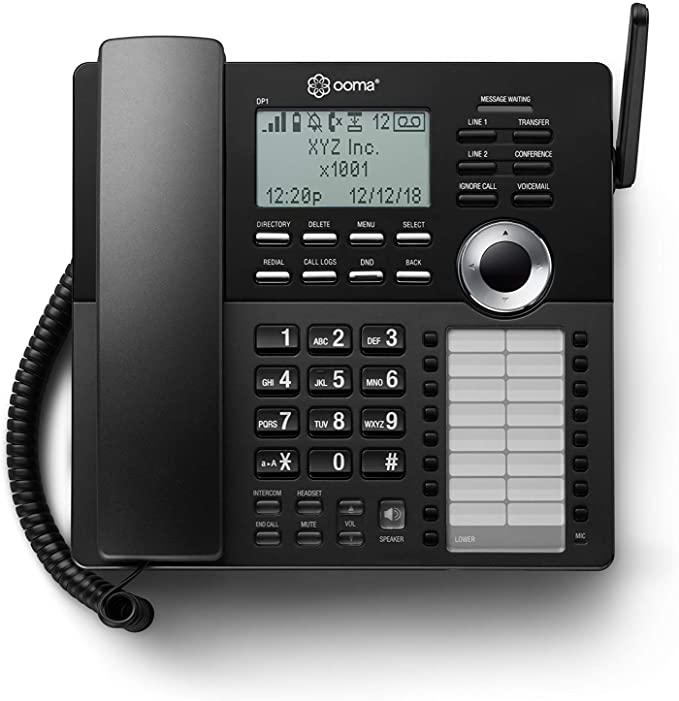 The Ooma DP1-T desktop phone is designed for small business or home office, with all the basic features you expect at an affordable price.
While the handset itself stays wired to the base, the phone connects wirelessly through DECT 6.0 technology to the Ooma Telo station device within a range of 150 ft–you can set up Ooma phones throughout your home or small office within minutes and be ready to go. Keep in mind that the Ooma DP1-T requires you to also buy an Ooma Telo ($99) to use it.
With 32 programmable speed dials, a message waiting indicator, and dedicated buttons for call management features like hold, transfer, voicemail, and conferencing, call center agents unfamiliar with VoIP phones will quickly establish a productive rhythm with this device.
Key Features:
Wireless DECT 6.0 technology with 150 ft range
Message waiting indicator
32 programmable speed dials
Hold, transfer, and conferencing buttons
Do Not Disturb mode
Full-duplex speakerphone
Quick set up
Price: $90
6. Yealink SIP-T58A: Most Bells and Whistles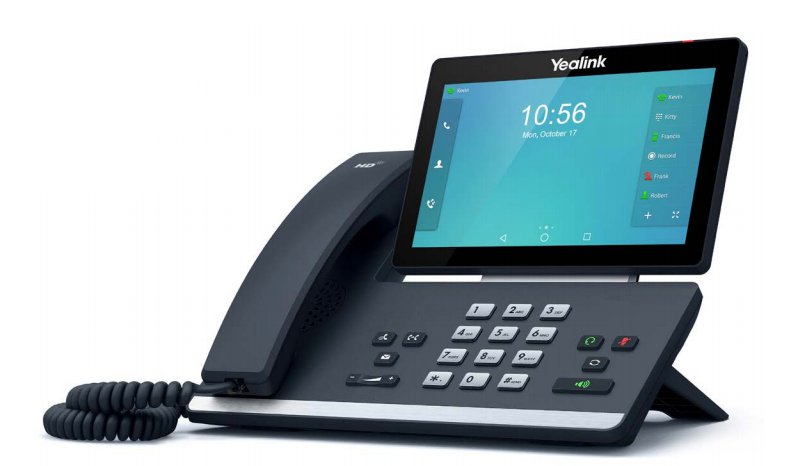 For those seeking bells and whistles, the Yealink SIP-T58A smart media phone has you covered: it combines enriched HD audio with HD video-calling capabilities and other media features.
Centered around the Android 5.1.1 operating system, the SIP-T58A has a 7-inch adjustable multi-point touch screen, integrated WiFi and Bluetooth 4.0+ EDR, a built-in web browser, calendar, recorder, and the ability to support other third-party Android applications.
Three separate idle screen views, with drag for conference, transfer, and call forwarding, and a fast response speed for the user interface make for optimized collaboration and video meetings, with up to 5-party audio conferencing.
This VoIP phone makes a great choice for video conferencing, transforming into a 720p HD video phone, with an optional removable two-megapixel HD camera for excellent face-to-face detail.
Key Features:
7-inch adjustable touch screen
720p30 HD video
Runs Android 5.1.1
Built-in Bluetooth 4.0+
Built-in WiFi and web browser
Removable two-megapixel HD camera
Up to 16 VoIP accounts
Up to 5-party audio conferencing
Price: $220
7. Siemens Gigaset DX800A: Best VoIP-Landline Combo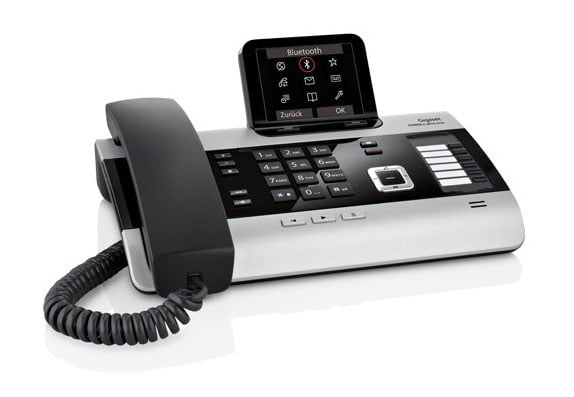 The Siemens Gigaset DX800A, an all-in-one desktop phone, works for VoIP and ISDN or landline networks while providing some luxurious desktop VoIP service features.
A 3.5" color TFT display with an intuitive interface complements HD sound with HDSP. The screen houses an Info Center with weather, RSS feeds, and more.
For those looking to manage large numbers of frequent contacts, you can use the Gigaset DX800A to direct-dial Microsoft Outlook contacts from a connected PC, build an address book with up to 1000 vCard contact entries, and access local network or public online directories.
With the phone's 3 separate voicemail machines totaling up to 55 minutes of recording space, and the ability to hold 4 calls at once in a queue, you don't have to worry about missing an inbound call if you're on another line.
To top it all off, this phone has remarkable connection capabilities: 6 simultaneous handsets, a 2-port Ethernet switch, and up to 10 MSNs and 6 SIP accounts. This VoIP phone can do it all.
Key Features:
Multiline functionality: VoIP, ISDN or PSTN
3.5" color TFT display
Info Center with weather, RSS feeds, and more
Direct-dial Microsoft Outlook contacts from a connected PC
3 separate answering machines with 55 minutes of recording space
Holds up to 4 calls at once
Connect up to 6 handsets simultaneously
Up to 1000 vCard contact entries
Price: $295
8. Cisco 8845: Best for Video Conferencing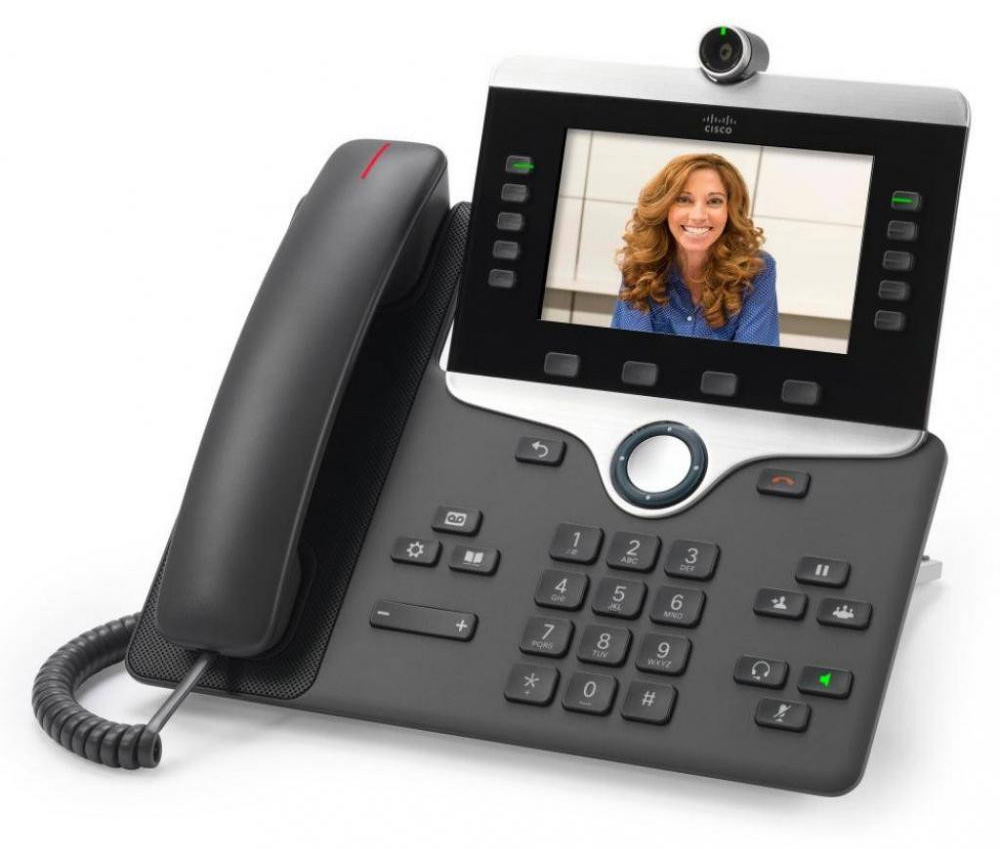 The Cisco 8845 wins our award for best video conferencing VoIP phone, due to its stellar video and audio features: 720p HD two-way video on a 5-inch high-resolution widescreen, built-in camera, and wideband audio.
Cisco Intelligent Proximity for Mobile Device lets you integrate your mobile device with the Cisco 8845, merging audio and video and letting you cast your mobile device's screen for remote screen sharing and collaboration.
For remote workers, Cisco Expressway provides single sign-on access, so team members can use their Cisco VoIP phone anywhere in the world, without needing a VPN. For the energy-conscious, Cisco Energywise reduces the device's energy costs and carbon footprint during off-work hours.
Key Features:
720p HD two-way video
5-inch display high-resolution widescreen
Built-in camera
Wideband audio
Cisco Intelligent Proximity for mobile device screencasting
Cisco Expressway for remote access without a VPN
Cisco Energywise to reduce energy usage
Price: $165
Should You Use a VoIP Phone?
With benefits ranging from cost, to sound quality, to security, it's clear that VoIP phone service–rather than PSTN–is the future of company calling.
As VoIP technology grows to add more features, and VoIP providers increasingly offer stronger coverage and sound quality, those who make the switch now can begin reaping the rewards.
No matter your company's VoIP needs, there's a VoIP phone to match them, with all the features you want.
FAQs
Below, we've answered some commonly asked questions about VoIP phones.
Yes. VoIP phones work like regular phones, except the call connects over an internet connection instead of a telephone line.

Yes. Traditional landline phones will not work for VoIP. However, many VoIP providers offer softphone apps allowing you to turn your mobile device into a VoIP phone.

If you use hosted PBX, all you need is a VoIP phone and Ethernet cable to plug the phone into your router.

Yes. All the great VoIP features benefit home users as much as those in an office.