An IVR system intelligently routes calls to the right department using an automatic call distributor (ACD) and gathers information about the customer so agents are well-prepared for the interaction.
To get the most out of your self-service IVR system, it's important to have an effective IVR call flow–the conversational paths, interactions, and menu options your IVR menu provides.
This article will outline IVR call flow, describing what it is, its benefits, and best practices to optimize your phone system's IVR call flow.
IVR systems from
top providers
Jump to ↓
What is an IVR Call Flow?
An IVR call flow is the path a customer takes through an IVR menu to handle their query or reach the correct department within your organization.

The interactive voice response (IVR) system is a prerecorded, automated audio menu providing options for the caller to select the service, department, or individual that they need to reach. Once this is determined, the automatic call distribution system (ACD) routes the caller to the appropriate user or submenu. An IVR call flow usually begins by allowing a customer to choose their language, before providing multiple paths of self-service submenus to meet the customer's needs.
To optimize the IVR call flow, several elements need to be in place: interactive speech features, DTMF touchtone menu options, voicemail, and a simple call flow that helps customers easily reach the agent who is best suited to help them.
Why is an IVR Call Flow Important?
An IVR call flow is important because it enables the caller to reach the optimal agent or department on their first try.
If the call flow is not designed correctly to avoid common IVR mistakes, it leads to a higher rate of abandoned or misrouted phone calls. Misrouted calls lead to a longer average handle time, which frustrates customers and agents.
Businesses that use inbound or outbound IVR dialers need simplified menus so that customers reach the right department smoothly. When the menu options are clear and concise, the caller will have an easier time getting the results they seek. An IVR system should anticipate the needs of the caller before they call, presenting the most common needs first. This is why many IVR menu recordings start with something like, "Press 1 for customer support. Press 2 for billing," etc.
What are the Benefits of an Effective IVR Call Flow?
An IVR call flow provides four primary benefits:
Improves customer experience
Resolves issues faster
Boosts agent efficiency
Reduces business costs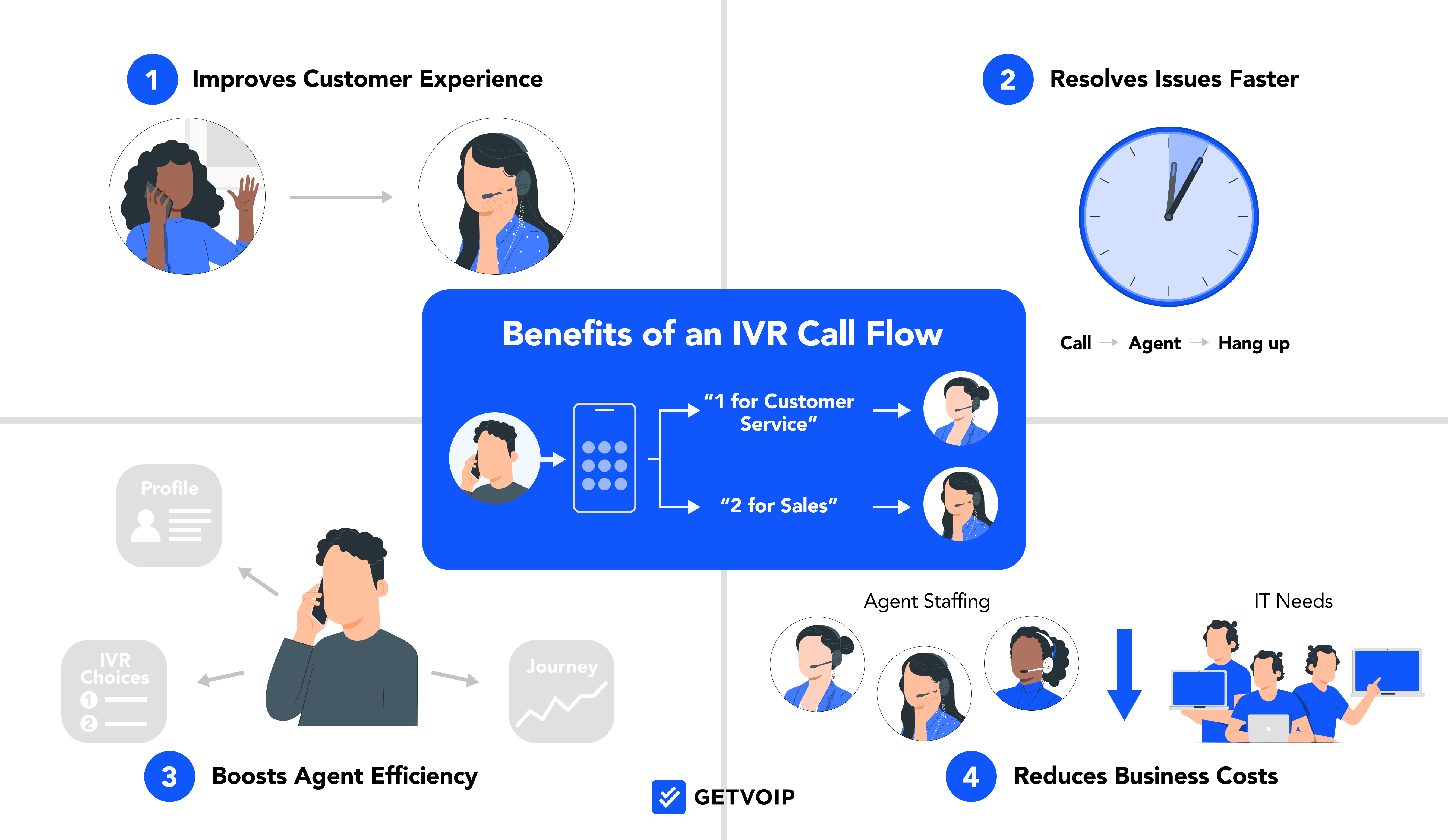 Improves Customer Experience
An IVR call flow provides customer self-service around the clock via natural language detection (NLD) and automations. When customers can handle basic queries on their own–like retrieving account balance or setting up an appointment–they no longer need to wait in a queue. This increases IVR containment, lowers hold times, and boosts customer satisfaction.
Resolves Issues Faster
A well-designed IVR call flow resolves customer queries as efficiently as possible since it navigates customers to the right destination: an agent or automation.
When an IVR call flow is simple, utilizes self-service, and pairs with intelligent routing, it sends customers to the right agent or action on the first try. This means customers get in and out rapidly, no matter the complexity of their issue.
Boosts Agent Efficiency
An effective IVR application, with self-service and intelligent routing, maximizes the amount of time that agents spend serving the customers who need them.
Customers with basic issues can resolve them via an automated system. And with intelligent routing, such as a skills-based routing system, agents receive a higher percentage of customers they're prepared to serve–reducing the time agents waste forwarding calls to teammates. Call center IVRs gather the caller's context and needs, passing this information to agents and saving the time they would otherwise spend asking about it.
Reduces Business Costs
Since interactive voice response systems provide self-service and route customers optimally, make agents more efficient with less queue traffic and call volume. This reduces call center staffing needs and saves money.
Further, compared to a traditional legacy phone system, a cloud-based phone system offers affordable subscription-based pricing models.
Important Metrics to Optimize IVR Call Flow
Tracking these three call center metrics will provide helpful data to monitor how well your IVR is serving customers: 
Transfer rate
Task completion rate
Average IVR handle time
Transfer Rate
The transfer rate measures the percentage of inbound calls that get transferred to another agent. If your system is frequently bouncing callers to various departments, there's an issue because the caller should be sent to the right agent group immediately – the last thing you want is to tie up multiple reps with calls that shouldn't have been routed to them in the first place.
A high number of call transfers indicates that your customers aren't sure which menu option they should select. Reconsider your menu setup, including the ways your queues are split up, ordered, and expressed to the customer. Review the most common reasons customers call you, and make sure there's a clear menu option that meets the most common needs. Consider using skills-based routing to quickly transfer calls to the most appropriate agent rather than using long queues.
Task Completion Rate (TCR)
The IVR task completion rate measures how often a user runs through an IVR interaction without hanging up or asking for an agent. A high TCR indicates that customers successfully use your IVR system to accomplish their task–whether that be routing to a live agent or using a self-service automated action.
If you have a low TCR, with many customers hanging up or immediately pressing "0" for an operator, it means that customers don't think the automated system can resolve their issue. To fix this, consider changing your IVR menu recording, routing options, or automations. You may simply need to present or order the IVR call flow in such a way that customers can easily understand which department can help them. Predictive behavioral routing can help automatically route callers to the right agent faster, so they don't become frustrated.
Average IVR Handle Time
Average IVR handle time measures how long the average caller spends interacting with your IVR system. Most IVR interactions should last under four minutes before the customer resolves their issue or reaches a live agent.
If IVR interactions are taking longer than this, consider reorganizing menu options to ensure that each submenu's presentation is clear. Further, aim to keep the submenu options as simple and concise as possible, listing the most common submenu or outing options first so that customers don't have to sit through an automated message any longer than necessary.
Best Practices for Setting Up an IVR Call Flow
Here are the most important practices to keep in mind when setting up your IVR call flow:
Use a drag-and-drop builder when available
Keep the menu simple
List the most common menu items first
Offer callbacks
Utilize self-service automations
Implement intelligent routing
Enable callers to speak with an agent at any time
Use a Drag-and-Drop Builder When Available
Many contact center as a service (CCaaS) applications and phone systems include drag-and-drop flow builders, where you can design an IVR call flow by connecting widgets. These no-code builders make it easy to visualize the possible paths your inbound callers may take, and they include a wide variety of actions and tools.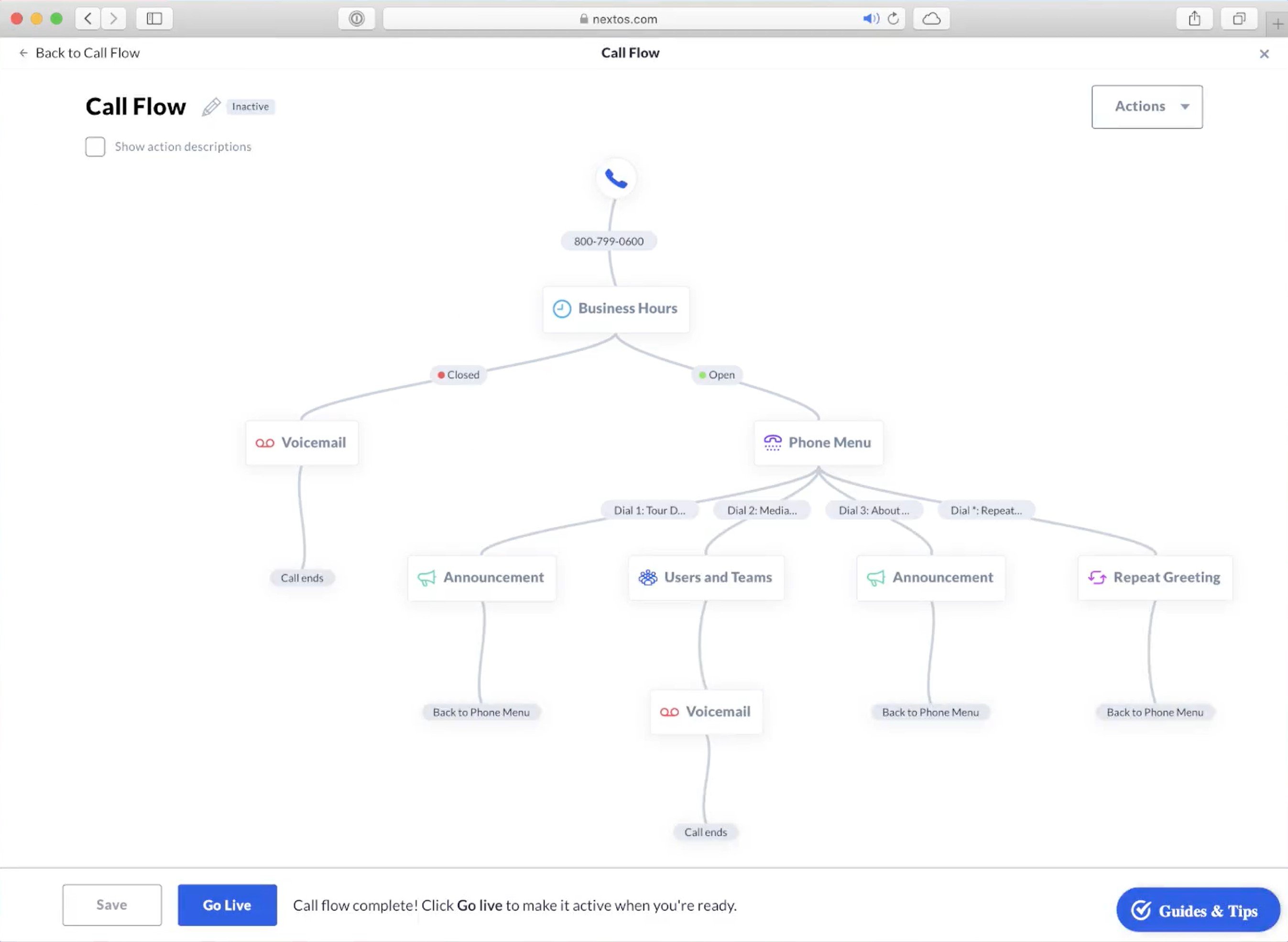 Add audio recordings, text-to-speech, or actions at each step of your IVR flow. Determine the number of submenus that branch off from each flow, attaching DTMF phone keypad numbers to each submenu. Attach user phone numbers, queues, hold music, opt-out and timeout options, and a variety of capabilities: retrieving payment information, booking appointments, sending automated text messages, and more.
Compared to dropdown menus, drag-and-drop designers make it easier to visualize complex conversation paths.
Keep The Menu Simple
When building your call flow, keep the menu options simple and the phrasing concise. Restricting the first menu to simple, distinct categories will help inbound callers choose which department will best meet their needs. Aim to cover all the primary reasons a customer might call, without any overlapping menu options.
Try to limit each menu to five options, such as listed below: 
For Customer Service, press "1"
For Technical Support, press "2"
To check on an order, press "4"
To book an appointment, press "5"
To speak with a live receptionist, press "0"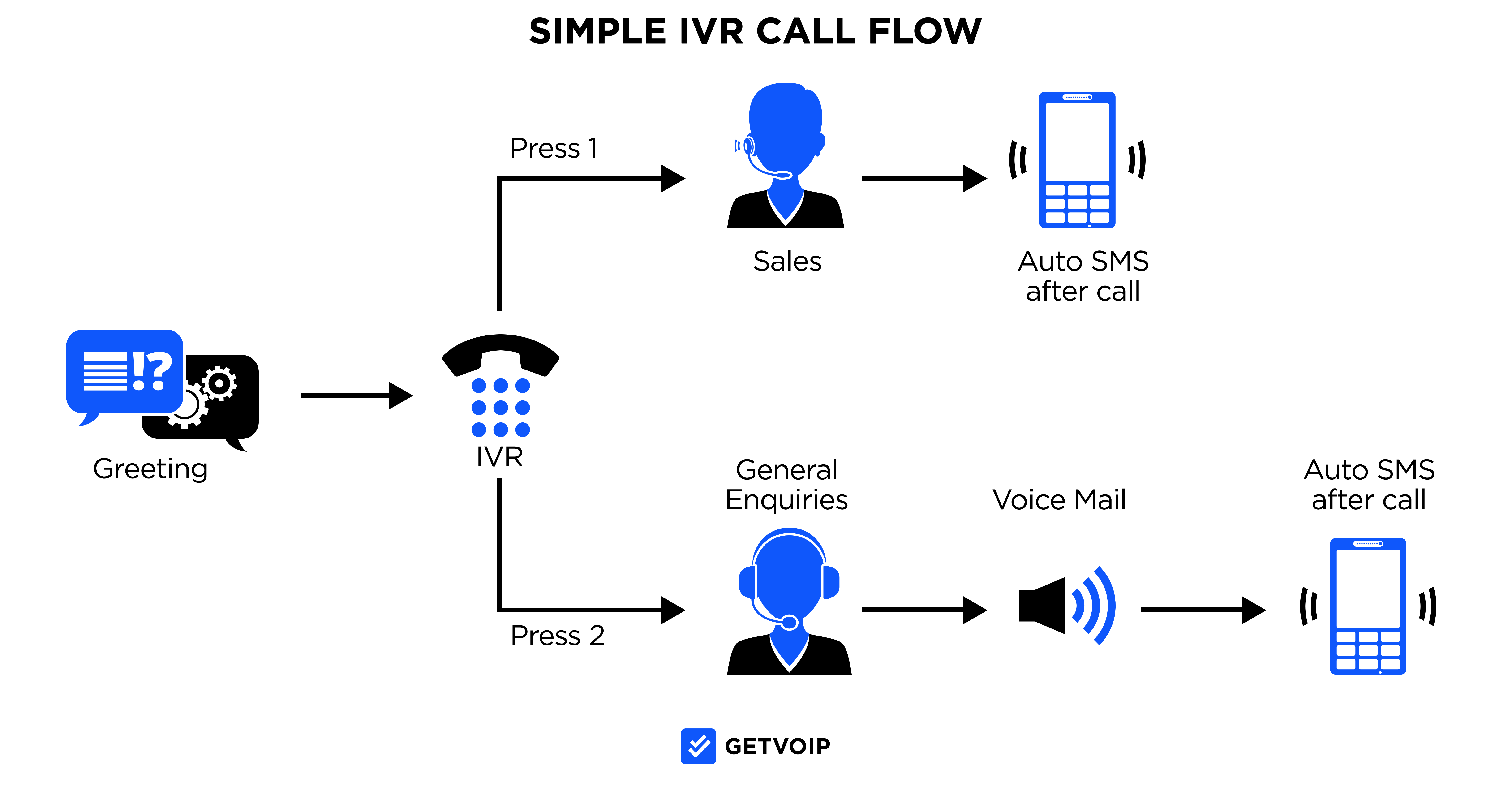 In general, present the menu option first, followed by the DTMF option. This will allow customers to identify where they want to navigate before receiving directions. Express each submenu option as succinctly as possible, making sure to distinguish each option from the others.
These suggestions apply to the main menu and all submenus.
Offer IVA or Visual IVR Options
Omnichannel contact centers offer both intelligent virtual assistant (IVA) and IVR functionality, allowing you to offer customers app-based visual flows or traditional voice flows.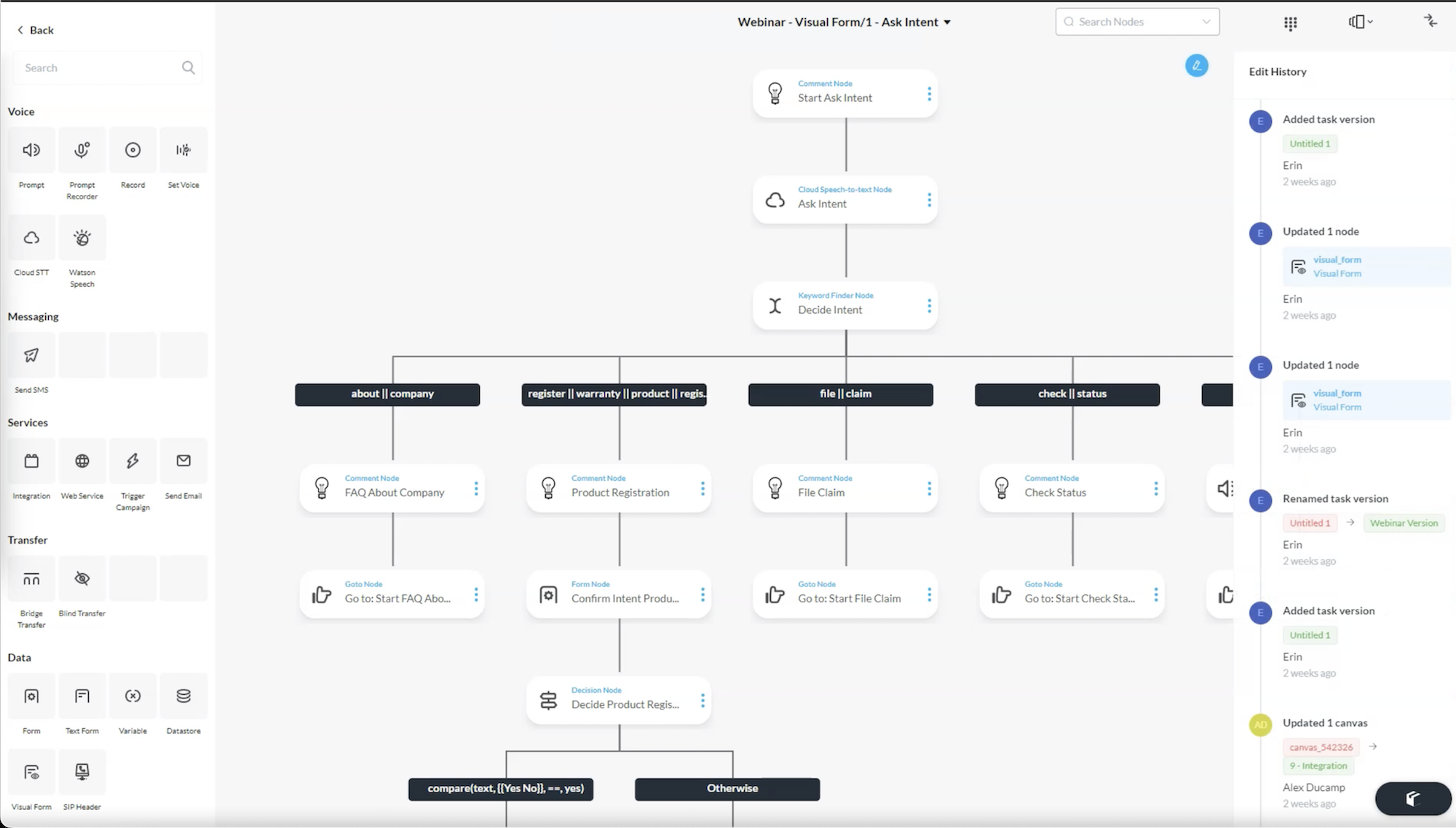 IVA systems are displayed visually on a customer's computer or mobile device, providing an app-like experience that customers can access on your application, website, or via SMS. Some customers prefer to navigate visual menus, and virtual assistants offer a faster and more convenient option for customers who don't want to listen to an audio menu.
List the Most Common Menu Items First
To minimize the time a customer spends in the queue, list the most popular and commonly used menu items first. That way, a majority of customers can instantly identify their intended department, select the DTMF option, and route to their destination. This will optimize the IVR handle time and the task completion rate.
Offer Queue Callbacks
Many CCaaS platforms and VoIP phone systems offer built-in callback functionality, where customers can mark their place in line with a phone number, or hang up and receive a call when the next agent is available. When the agent finishes a call, they see a list of callers in their queue–with important customer details and one-click callback options.
Some CCaaS platforms also use AI to estimate each caller's in-queue wait time along with their place in line–helpful information in helping callers decide if they want to hang up or remain on the line.
Utilize Self-Service Automations
Advanced call center software and IVR systems offer AI tools enabling customers to take a variety of self-service actions:
Checking on order status
Receiving SMS texts, emails, and multifactor authentication
Making orders
Booking appointments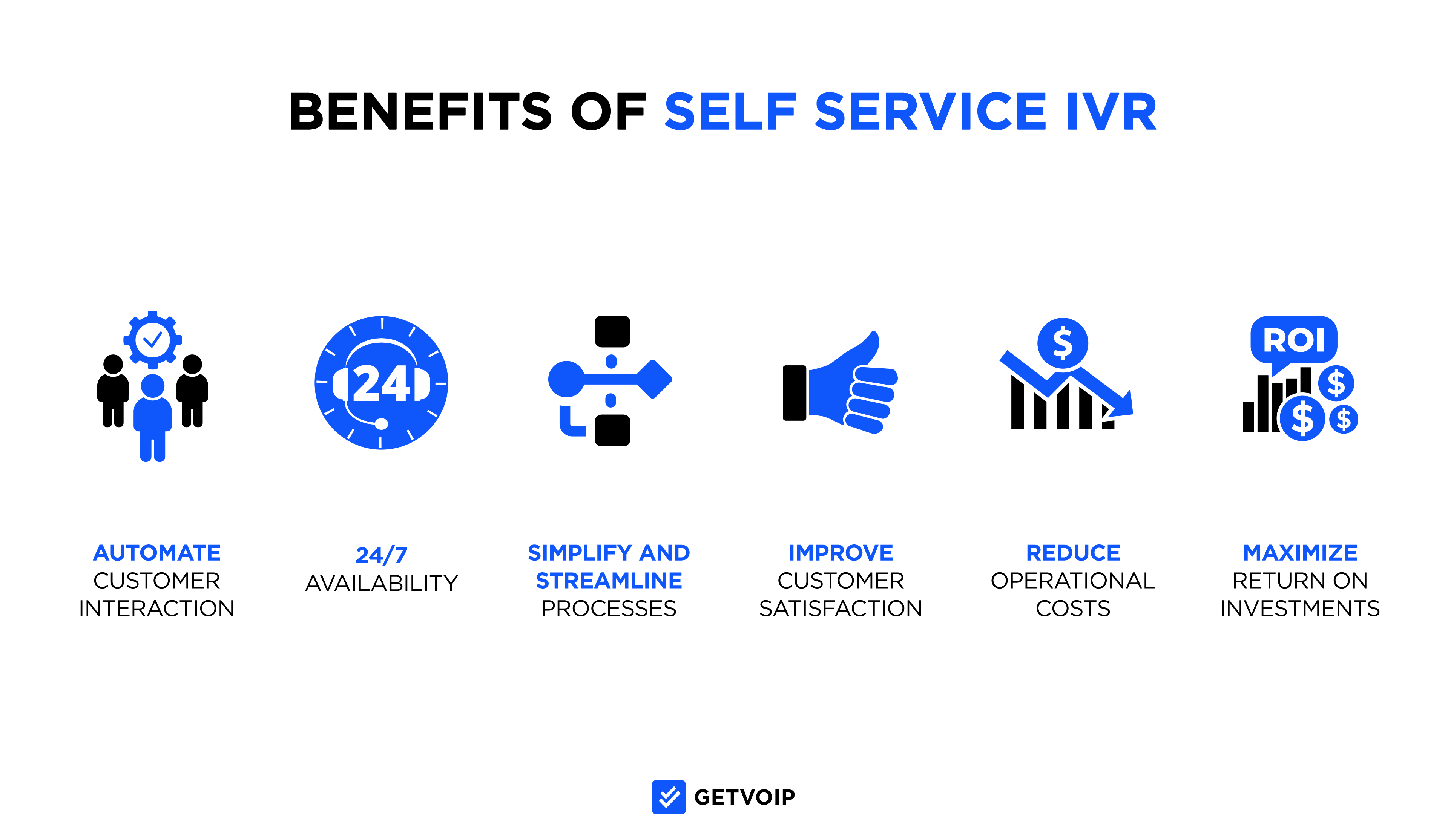 These automated tools are available anytime of day, offering customer convenience while keeping live-agent queues shorter for customers with more complex issues that require personal support.
Implement Intelligent Routing
Top call center providers offer automatic call distribution (ACD) systems with intelligent routing that analyzes each caller's intent and needs, automatically matching them with the best-suited agent to help.
Supervisors can evaluate each agent based on custom skills. When someone calls in, the routing system predicts their needs using caller information–gathered from their profile, order history, and IVR menu choices–to match them with the optimal agent based on the interaction's demands. Intelligent routing considers customer needs, agent skill level, and agent availability.
There are several types of intelligent call routing, listed below: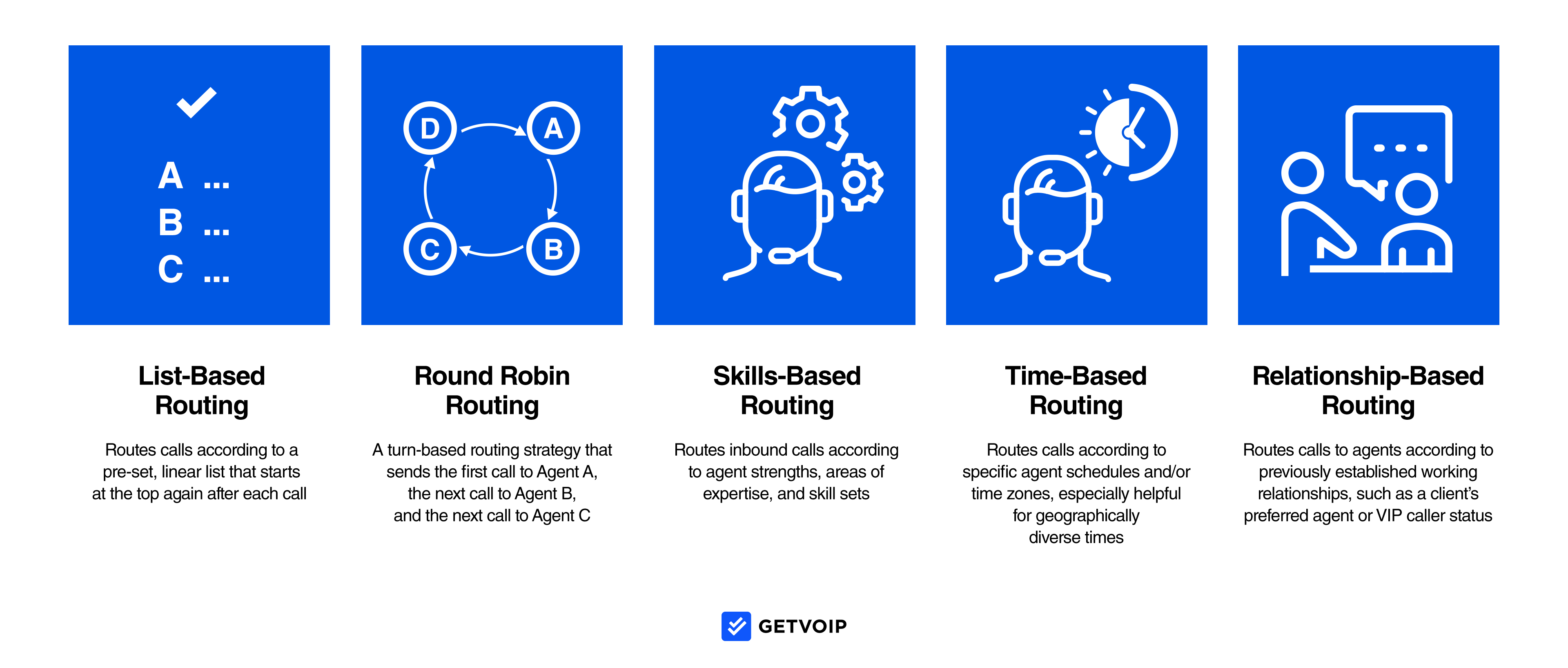 Let Callers Speak with an Agent at Any Time
While self-service enables customers to quickly handle their own issues, NTT found that 66% of consumers strongly agree that they'd like the option to speak to a human when they want to.
Set aside some general-purpose agents who can field a variety of inbound callers. These agents should be prepared to route callers or handle basic queries. Allowing callers to instantly connect to an agent helps appease frustrated, overwhelmed, or confused callers.
Top Providers for IVR Systems and IVR Call Flow
While some companies offer free IVR software, many call center providers include built-in IVR solutions–with advanced design tools, intelligent routing, and automated capabilities.
Here are our top call center providers with built-in IVR solutions:
Five9
Twilio
NICE CXone
Talkdesk
Genesys Cloud CX
Five9
Five9 is a CCaaS platform that includes advanced IVR features. They offer a drag-and-drop call flow designer with premade templates, a visual IVR, estimated queue wait time, automatic callback, and the option for customers to navigate IVR via text. Include surveys and forms in your visual IVR, utilizing multiple communication channels in a single automated interaction. Customers can call or text live agents through the Five9 IVR.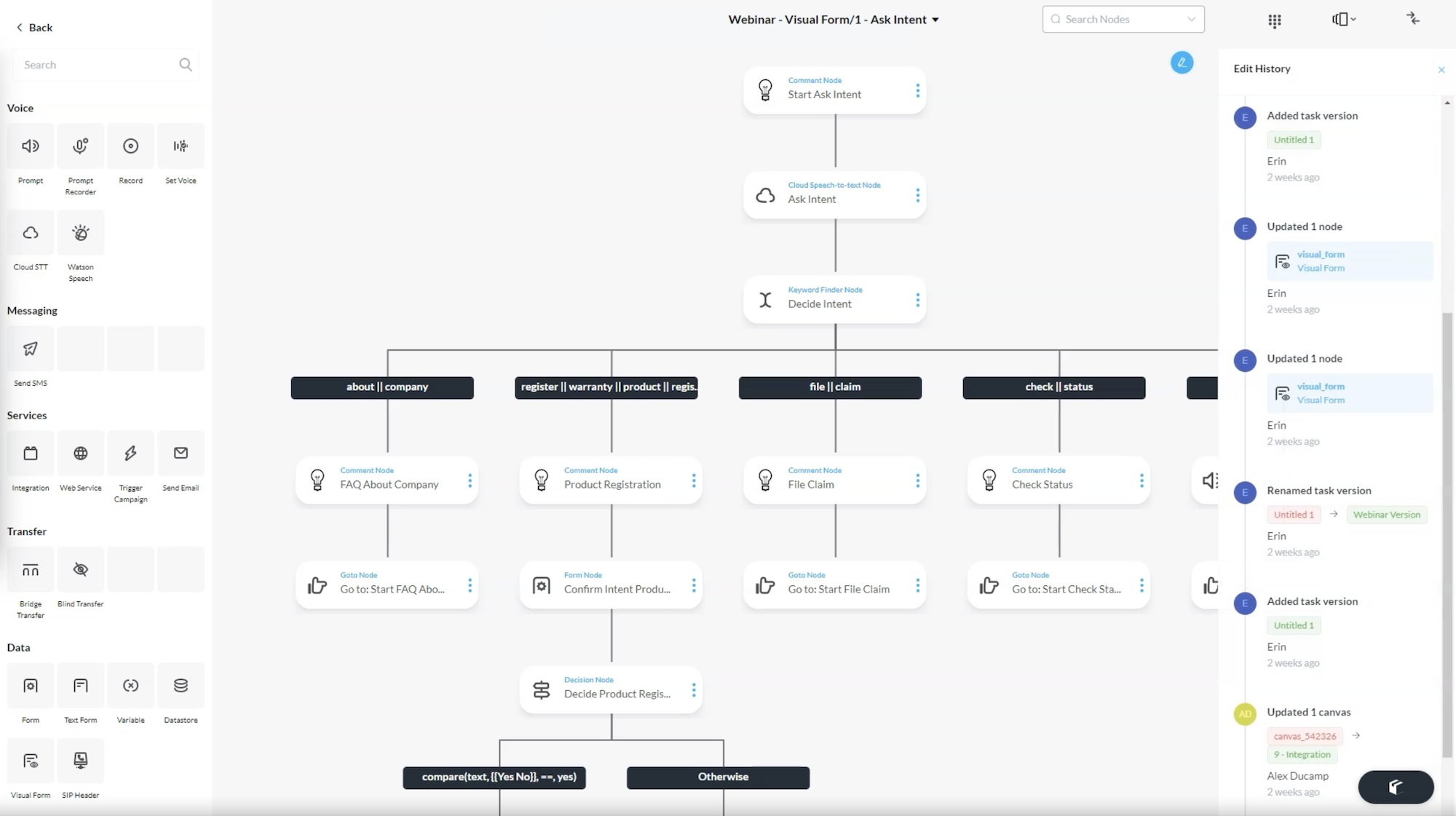 Why we chose Five9:
Strong mobile and omnichannel IVA tools
Built-in surveys
Callback options
Twilio
Twilio offers an IVR API that integrates with your pre-existing VoIP telephony system, call center, or UCaaS platform. Like Twilio's other flexible APIs, the IVR utilizes the drag-and-drop Twilio Studio flow designer, connecting with dozens of widgets: translations, call recording, conference calls, type-to-talk messages, automatic timeout, caller ID detection, and more. Twilio IVR is available on its own or as part of Twilio Flex, a prebuilt CCaaS app.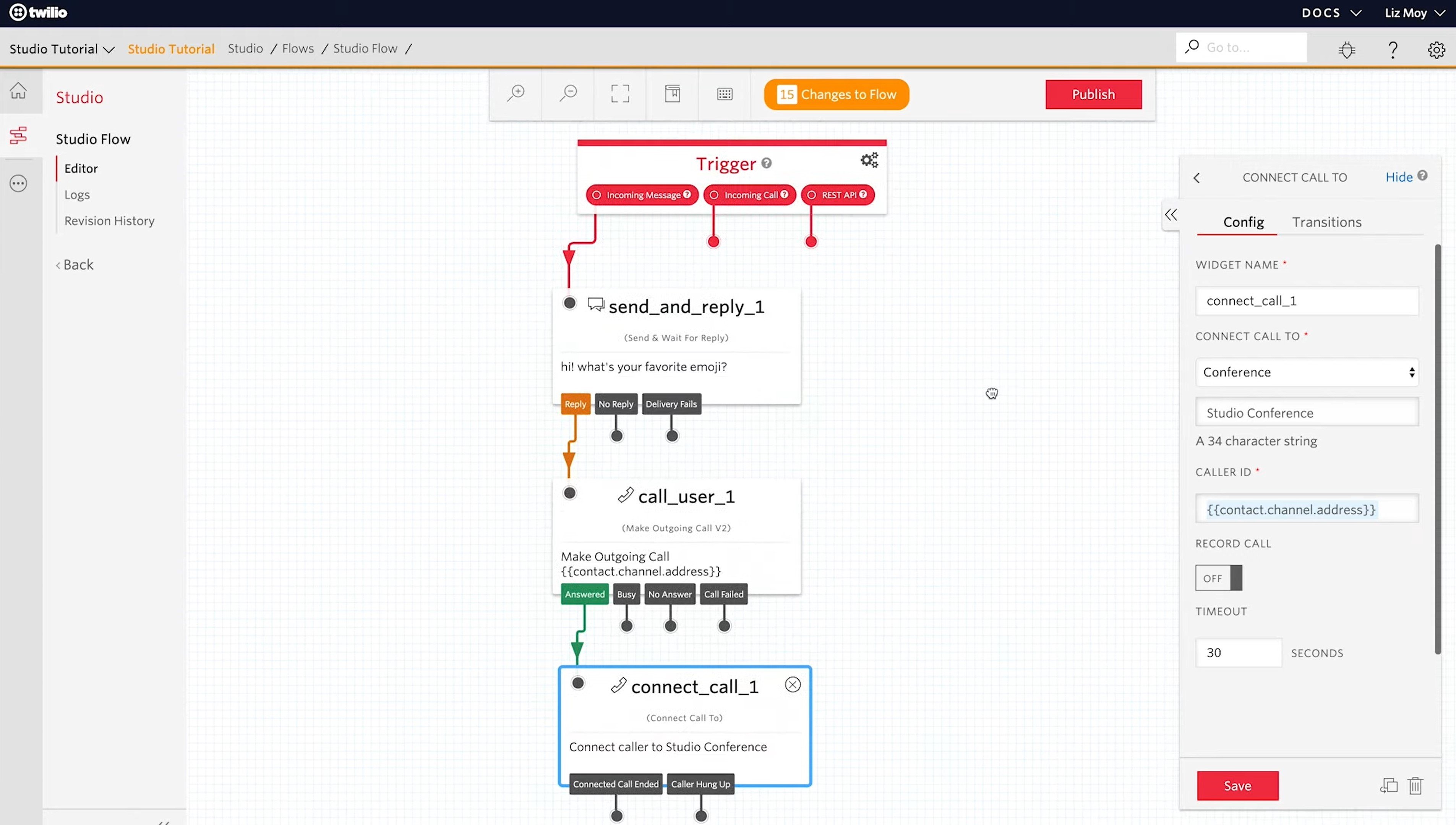 Why we chose Twilio:
Flexible API that integrates with phone systems
Drag-and-drop flow builder
Call recording
NICE CXone
NICE CXone is an omnichannel contact center featuring an IVR system, intelligent call routing, and a virtual agent. Use a visual drag-and-drop designer to build call flows including automated multichannel capabilities: callbacks, automated messages, transfers, recording, adding notes to customer profiles, creating appointments, and more. NICE CXone features automated speech recognition (ASR) for reliable need identification and smooth AI conversation.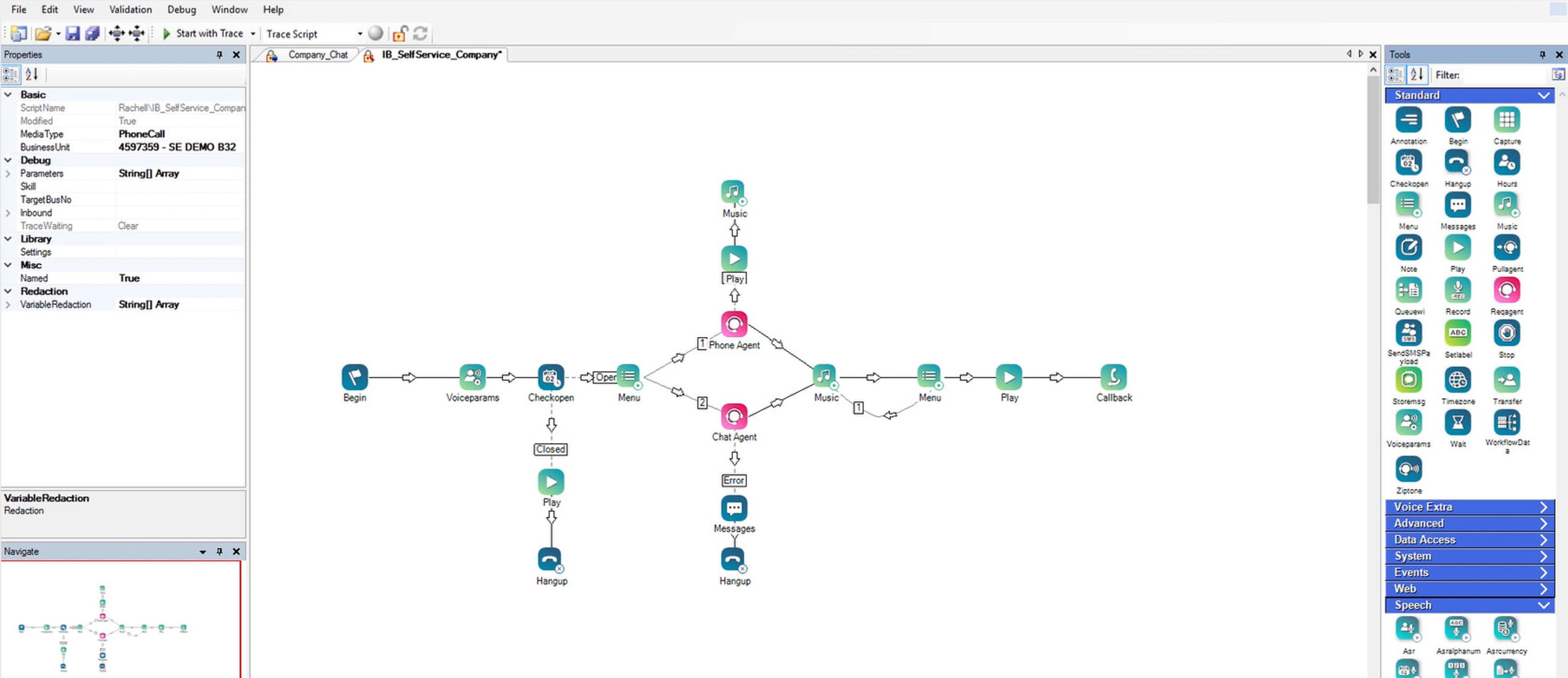 Why we chose NICE CXone:
Drag-and-drop designer
Wide variety of automated capabilities
CRM and database integrations
Talkdesk
Talkdesk is a multichannel CCaaS platform with a variety of self-service and AI tools including Talkdesk Studio–a drag-and-drop IVR and virtual menu designer. Build multiple call flows, attaching them to a variety of business phone numbers. While customers navigate your IVR, Talkdesk AI extracts context and data like their number and menu selections. Add functionality like call recording, business hours and rules, sending SMS, and more.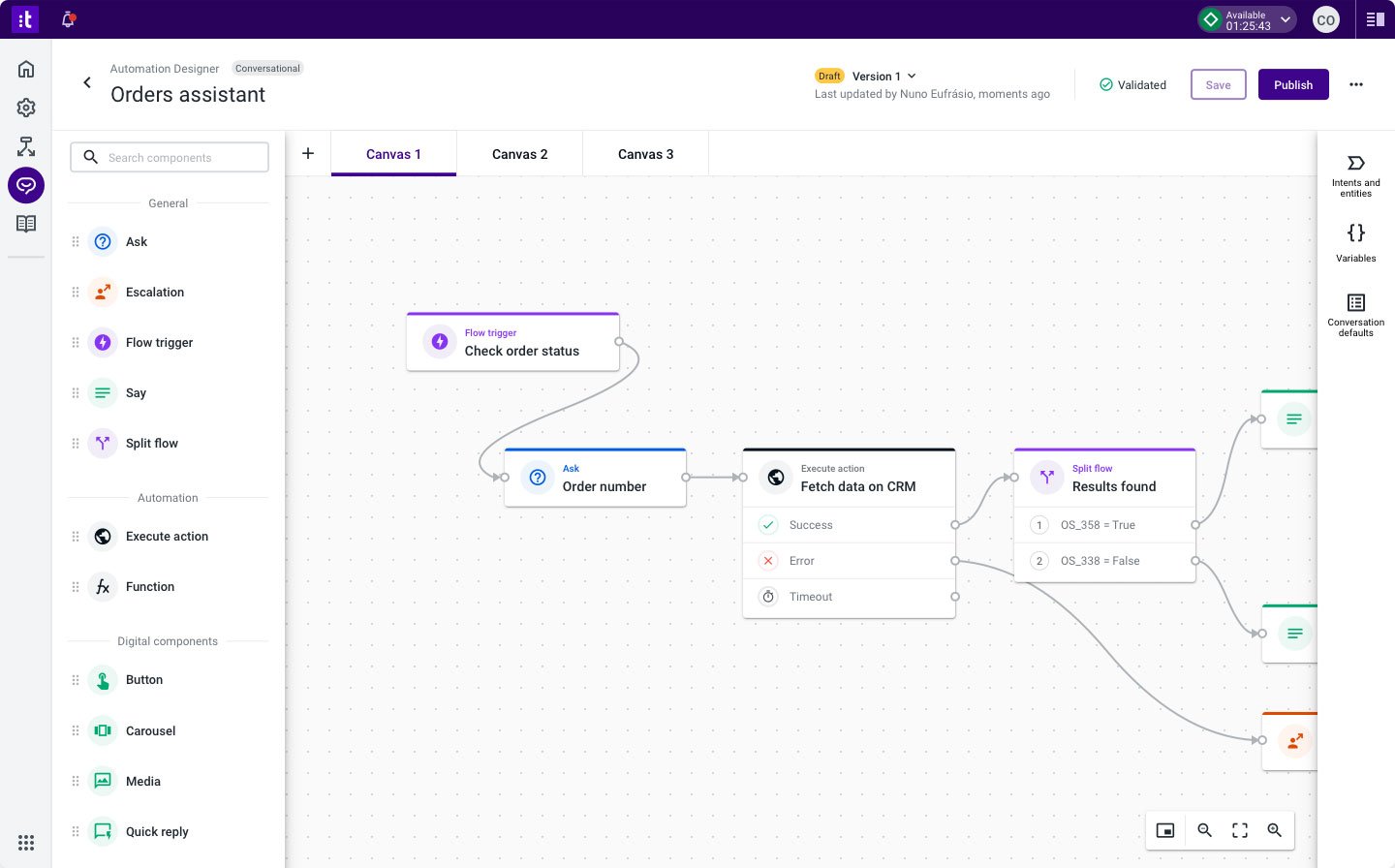 Why we chose Talkdesk:
Can build and edit multiple call flows simultaneously
Virtual agent
Self-service authentication
Genesys Cloud CX
Genesys Cloud CX is a CCaaS platform that includes IVR and self-service on all plans–including the affordable $75-per-user basic plan. Create a customer self-service bot and make it available across all channels–voice, website, email, or SMS. Cloud CX offers IVR and IVA with intelligent routing, plus customer identification that analyzes a customer's journey and uses this to determine the optimal agent.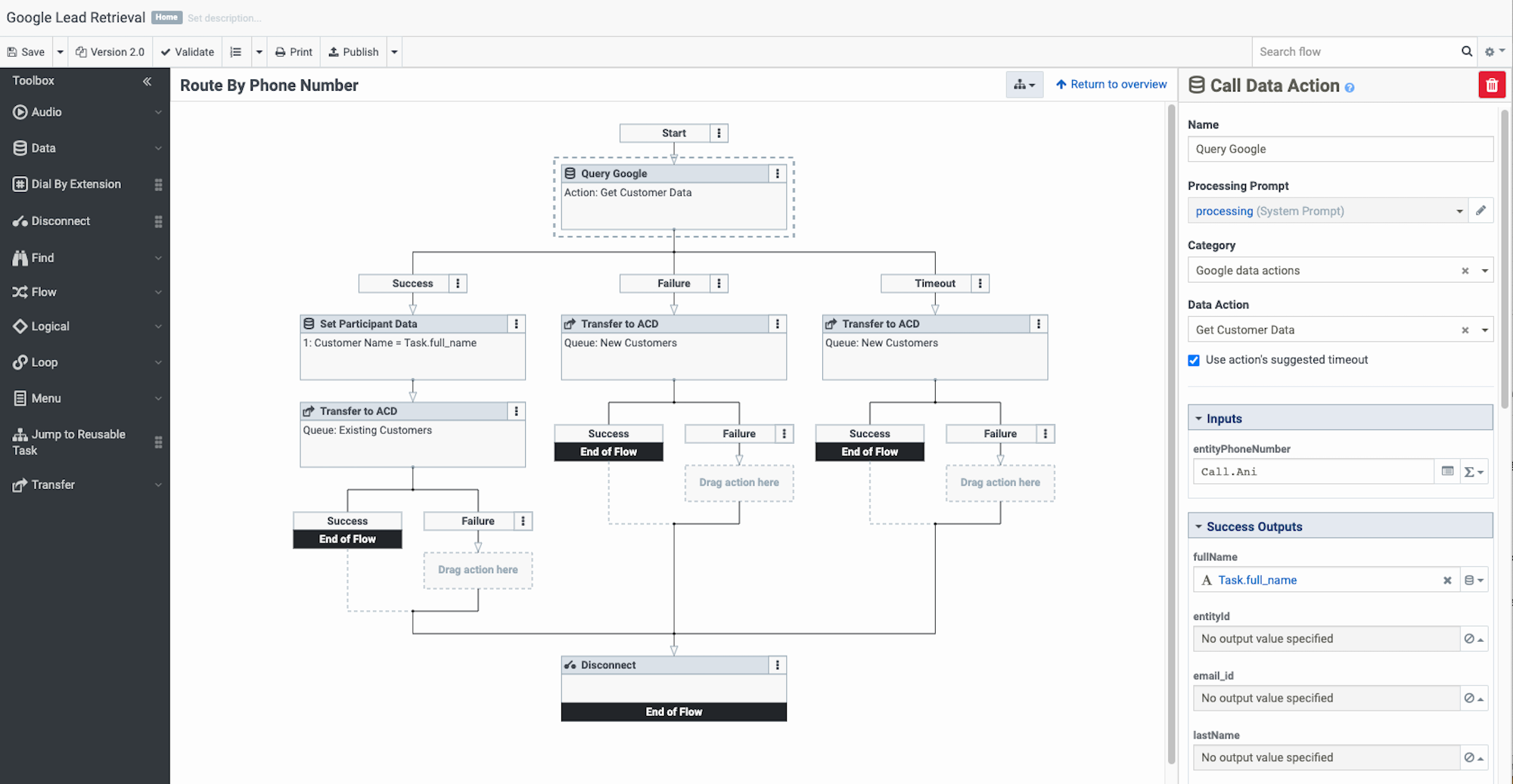 Why we chose Genesys Cloud CX:
Intelligent customer identification
Journey analysis for smart routing
IVR and IVA across communication channels
IVR Call Flow Improves Customer Experience
An effective and simple IVR call flow, powered by self-service and intelligent routing, makes customers' lives easier. When a customer calls into your call center, they want to handle their query as quickly as possible. An IVR call flow supports this with straightforward menu options, concise phrasing, and routing that reliably gets callers to the right agent on the first try.
Smart automation saves time for customers and agents, keeping queues efficient and effective.