Phone.com and Grasshopper are two of today's most popular VoIP providers, offering virtual phone systems with business phone numbers, SMS texting, voicemail, call routing, and more.
However, these cloud-based solutions have distinct advantages and use cases.
In this article, we'll compare Phone.com vs Grasshopper, outlining their pricing, features, pros, and cons.
Phone.com vs Grasshopper at a Glance
The main difference between Grasshopper and Phone.com is that Grasshopper focuses specifically on calling, SMS texting, and fax–while Phone.com adds video conferencing and team collaboration tools.
Further, Phone.com offers business phone numbers from area codes around the world. Grasshopper only provides phone numbers based in the US.
Phone.com →

Grasshopper →

Pricing
3 plans from $12 to $27 monthly per user
4 plans from $14 to $80 monthly per account, with between 1 and 5 phone numbers
Key Features

Call recording
Call analytics
Video whiteboards

Call transfers
Instant SMS greetings
Voicemail transcription

Available Communication Channels

VoIP calling
Fax
SMS
Video conferencing

Integrations
Five integrations:

AllProWebTools
Chrometa
Comm100
Zoho
Zapier

No built-in integrations, but you can forward your Grasshopper number to Skype and Google Voice
Customer Support Options

Knowledge base
Live uptime reports
24/7 phone and web-based support

Knowledge base
24/7 phone and web-based support

Best For
Companies with diverse monthly call volumes between users
Small US-based companies looking for a basic phone system without video or chat
What is Phone.com?
Phone.com is a business phone system and unified communications solution with VoIP calling, SMS texting, and video conferencing. Accessible via web browser and iOS/Android mobile app, the business phone service includes routing options, analytics, conference calling, voicemail, and over 50 call-handling features.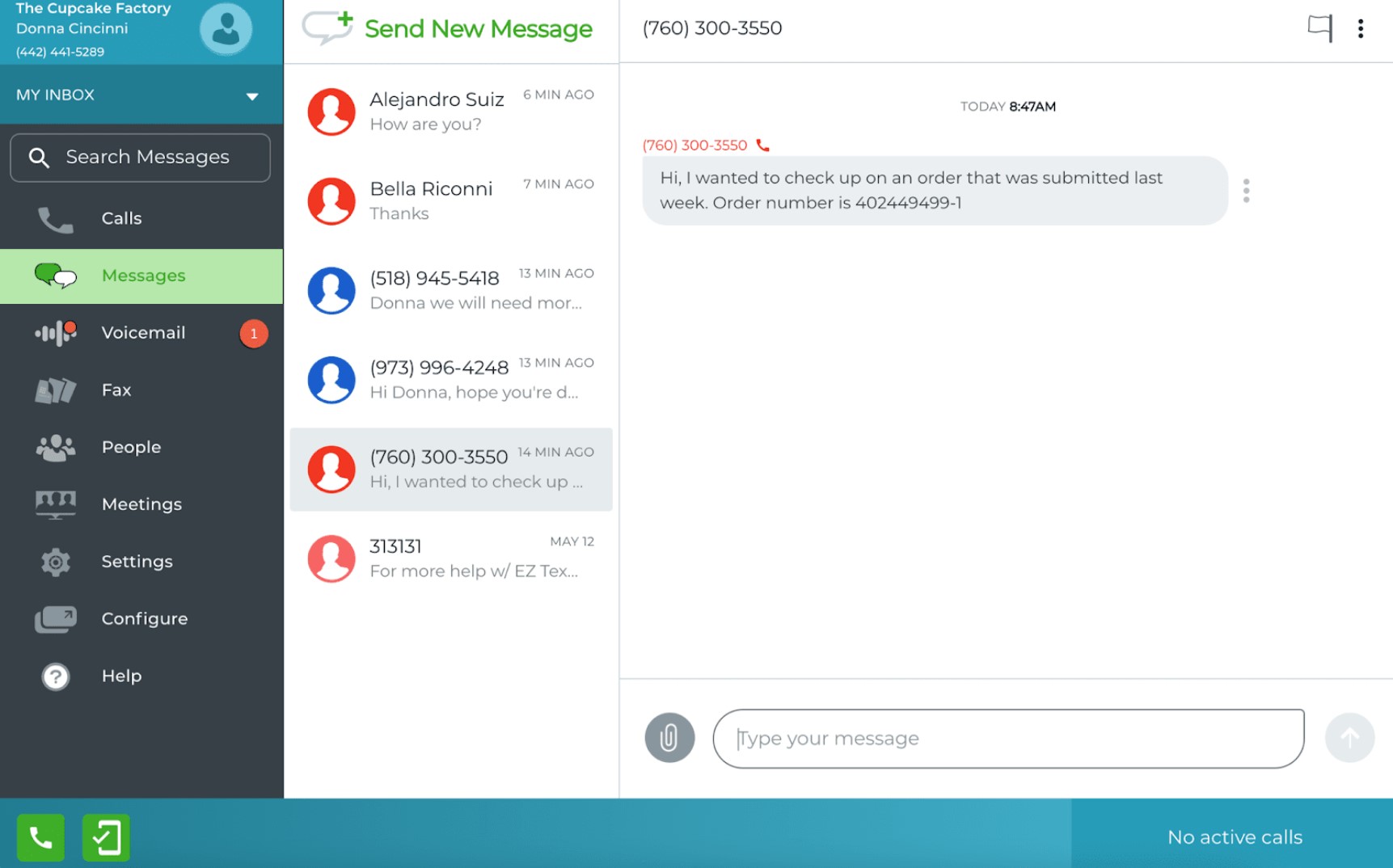 What is Grasshopper?
Grasshopper is a business phone system that offers VoIP calling and SMS texting. Specialized for small businesses, it offers fax, voicemail features, phone number extensions, reporting, and basic call-handling options.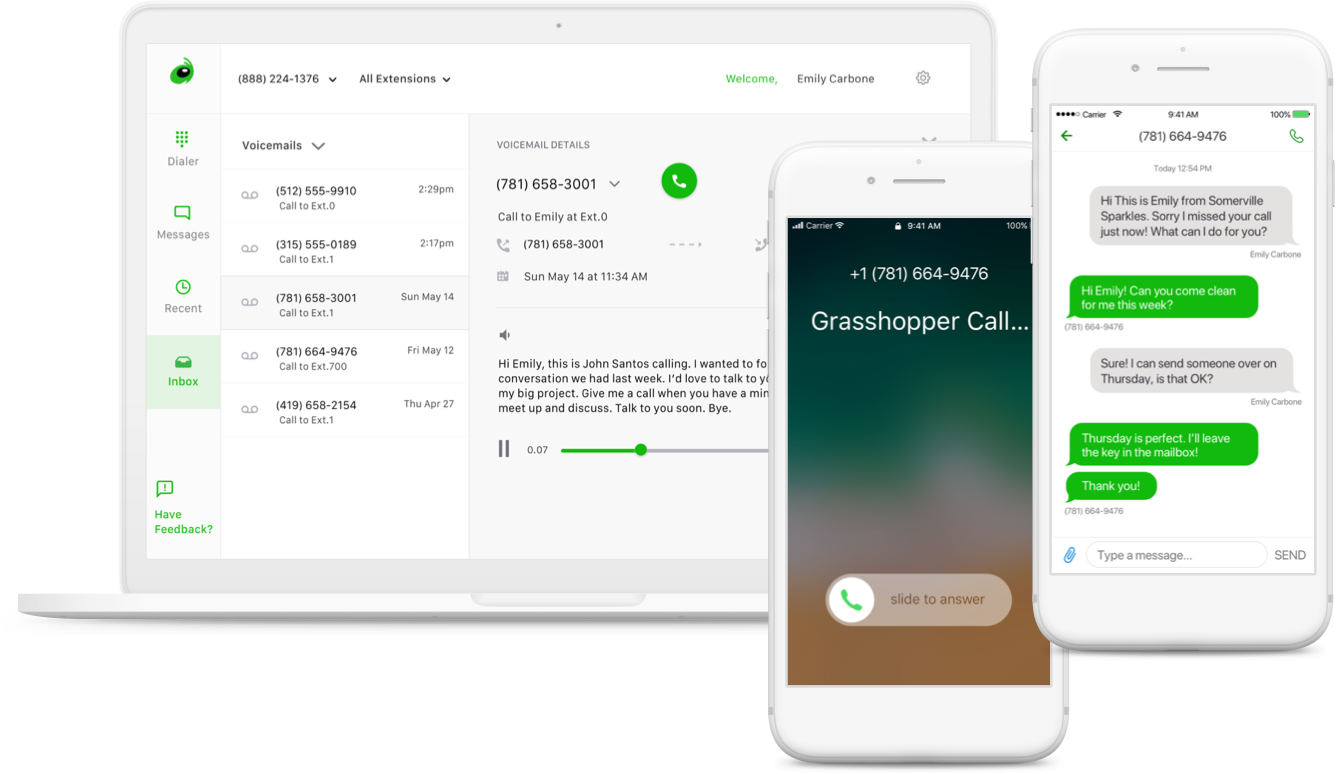 Phone.com vs. Grasshopper: Pricing Overview
Phone.com offers 3 user types, ranging from $12.74 to $27.19 monthly per user. You can mix and match plan types within one account.
Basic ($12.74 monthly per user): 500 pooled minutes and one phone number per account, 10-participant video conferencing,
The Plus user includes one number per user, unlimited calling minutes, SMS texting, and video meetings with 25 participants.
The Pro user has unlimited minutes and 100-participant video meetings, plus live streaming, meeting breakout rooms, app integrations, and analytics.
Grasshopper offers 4 pricing plans with identical calling features: business phone numbers in the US, unlimited domestic calling, SMS texting, call handling, and voicemail. The plans differ in the number of phone numbers and total extensions included.
True Solo ($14 monthly): 1 user, 1 phone number, 1 extension
Solo Plus ($28 monthly): Unlimited users, 1 phone number, 3 extensions
Partner ($46 monthly): Unlimited users, 3 phone numbers, 6 extensions
Small Business ($80 monthly): Unlimited users, 5 phone numbers, unlimited extensions
Phone.com vs Grasshopper: Features Comparison
Below, we'll compare key features of Grasshopper vs. Phone.com.
Phone.com Phone System
We've analyzed Phone.com's phone system in three parts: Calling network and phone number options, routing features, and call controls and voicemail.
Calling Network and Phone Number Options
Phone.com provides toll-free, local, and vanity numbers around the world, available immediately to call any VoIP or landline number. Companies can also port in pre-existing phone numbers.
All numbers support HD voice, with desk phone and softphone functionality across devices.
Users with low call volumes can share a phone number and 500 pooled minutes, while those with high call volumes can take their own number with unlimited calling. Minutes and unlimited calling apply only within the US and Canada, while international calls incur additional rates.
Routing Features
Phone.com offers basic routing, queueing, and call-handling rules:
Call queues: Group agents to receive business calls based on preset routing rules, with customized ring order. If one agent is busy, the call automatically rings the next agent. Play hold music for waiting calls.
Auto attendants (IVR): Self-service routing menus that navigate customers using DTMF. Create custom menu options and announcements using type-to-talk or recorded messages.
Schedules and rules: Set business hours and call handling rules so inbound calls route to particular agents, extensions, or queues based on day and time. Schedule greetings for particular times of day.
Dial-by-name directory: A phone directory that customers use to reach parties by name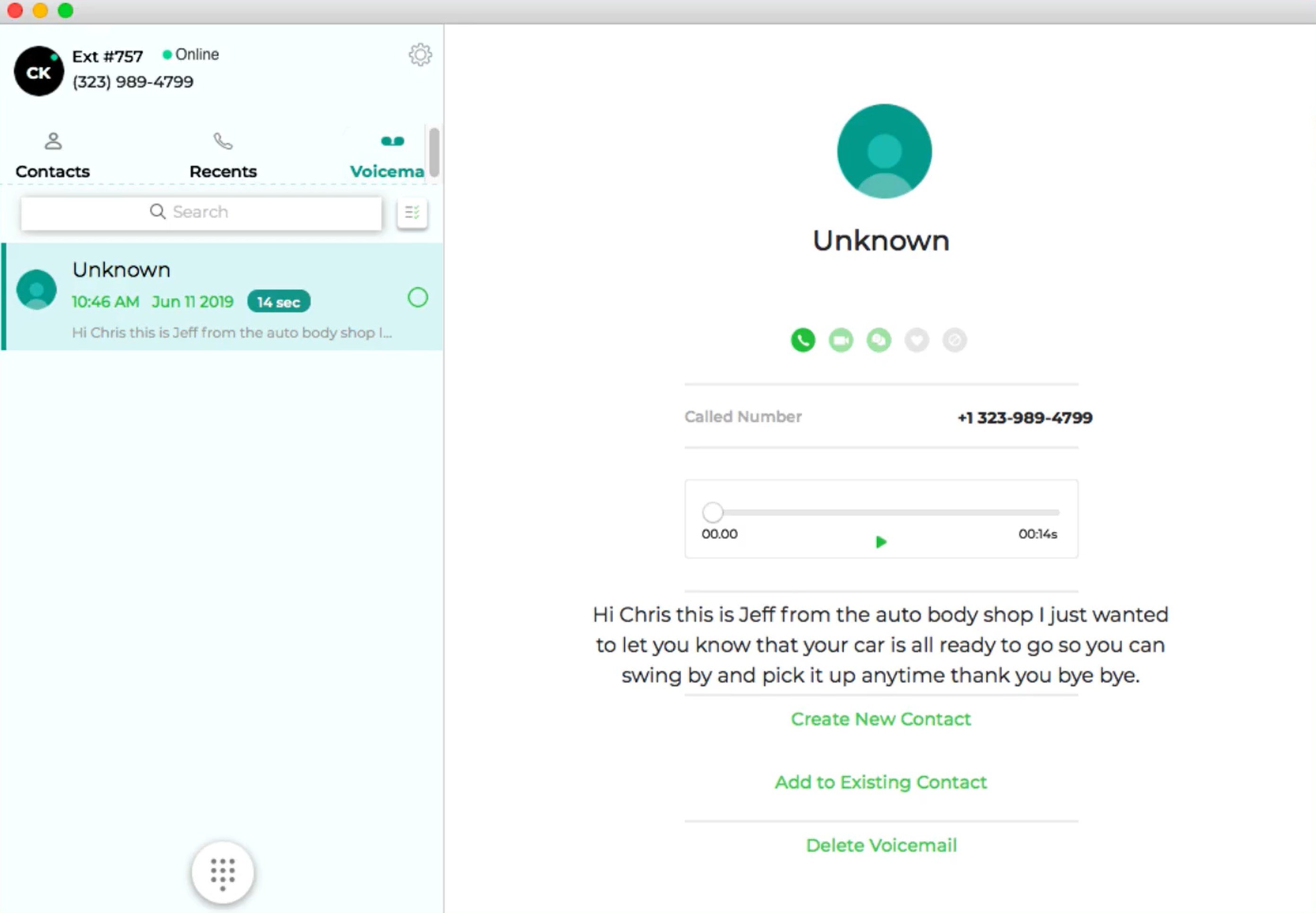 Call Controls and Voicemail Features
Phone.com provides agents the following call-management and voicemail tools:
Call controls: Call transfer, waiting, blocking, screening, forwarding, caller ID
Embedded click-to-call: Embed a website widget where customers can enter their phone numbers to connect automatically with an available agent
Voicemail: A visual and searchable voicemail inbox, with voicemail transcription and voicemail-to-email
Call recording: All recordings are stored for 13 months afterward
Conference calling: Host conference calls with up to 250 participants, with dial-in bridges
Grasshopper Phone System
We've split our analysis of Grasshopper's phone system into three parts.
Calling Network and Phone Number Options
All Grasshopper plans include unlimited VoIP service within the US and Canada. International rates apply outside these countries.
Depending on the size of your business, choose between plans offering 1 to 5 business phone numbers. Grasshopper offers local, vanity, and toll-free numbers in area codes throughout the US–plus the option to port pre-existing numbers. Unfortunately, they do not offer any virtual numbers outside the US.
Grasshopper's business VoIP numbers support HD voice and softphone functionality across devices.
Routing Features
Grasshopper offers flexible phone-number extensions that you can group together using call-handling rules, for even call distribution.
While Grasshopper does not include built-in IVR, ring group, or call queue customization tools, you can create these routing capabilities by pairing extensions with call handling and call-management rules.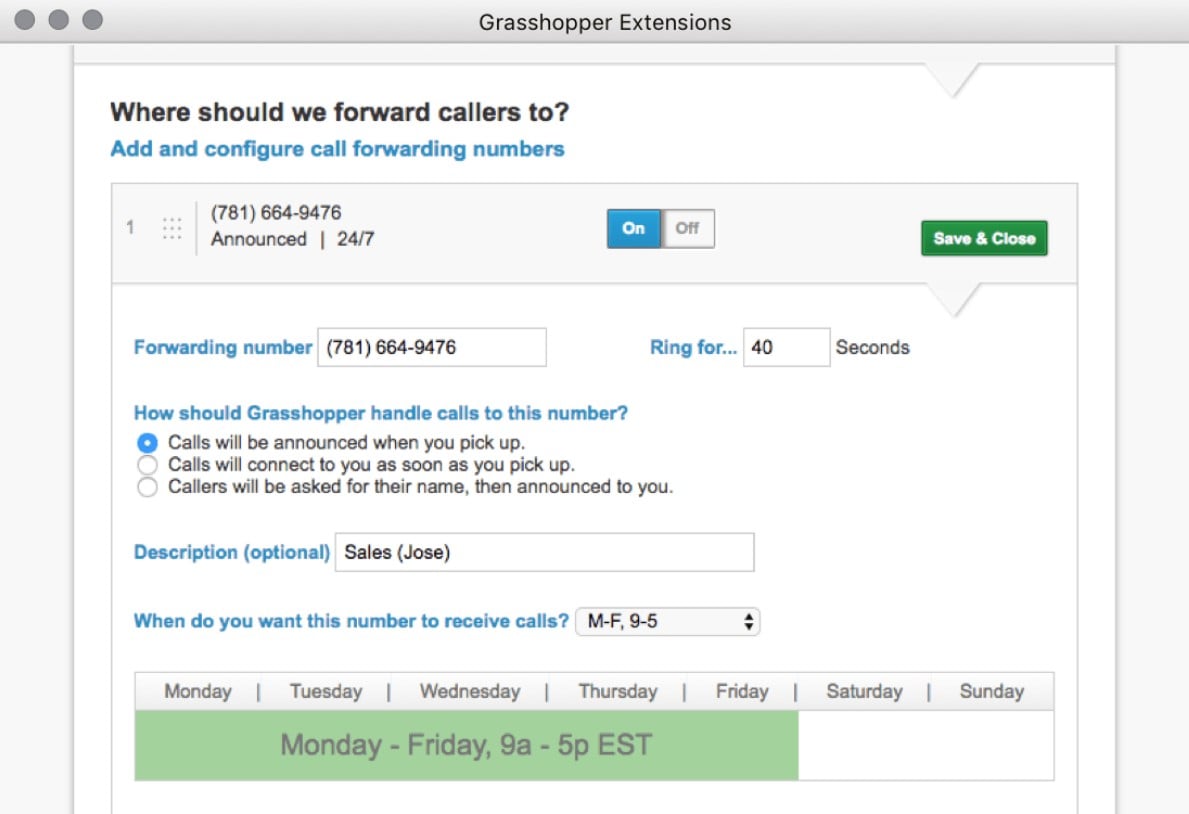 Unfortunately, the resulting build-your-own IVR is single-level, lacking the flexibility and functionality provided by more advanced competitors. Further, call queues and ring groups made with Grasshopper's extensions can be confusing to customize, lacking options beyond basic ring time and business hours. Grasshopper doesn't offer ring sequence options, and removing or adding agents to queues isn't user-friendly.
Grasshopper Routing and Call Handling Features
Extensions: Create extensions for users, announcements and messages, or departments. Customize forwarding and routing rules between extensions.
Simultaneous call handling: Set up automatic call forwarding rules when a call reaches a busy line. The customer hears a continuous ringtone.
Incoming call management: Automate how your phone system handles inbound calls, based on caller and time of day. Set business hours, extension schedules, and call blocking lists, then customize forwarding and ring-duration rules based on these settings.
Call blasting: Ring call forwarding numbers simultaneously. This paid add-on can turn forwarding groups into ring groups.
Custom greetings and menus: Record custom welcome messages for all inbound phone calls or as part of your voicemail
Single-level IVR: By pairing custom messages with extensions and phone numbers, you can build single-level IVR menus. Provide keypad options ("Press 1 for sales," etc.) for customers to navigate your phone system.
Ruby Receptionist: A third-party service that provides US-based virtual receptionists for advanced customer service–appointment scheduling, routing, providing account information, and more. Ruby service is an add-on.
Call Controls and Voicemail Features
Grasshopper offers the following call controls and voicemail features:
Call transfer: Blind or supervised transfer. Blind transfer sends the call without warning, while supervised transfer lets the agent check in with their teammate first.
Call forwarding: Utilize automatic call forwarding, customer self-service forwarding via dial pad, or agent-initiated forwarding
Call screening and call blocking: Block any numbers from your call history
Virtual voicemail: An organized and searchable voicemail inbox, with voicemail transcription and voicemail-to-email.
Virtual fax: Cloud-based fax delivery to your business number, accessible within the mobile and desktop apps.
Conference calling: Grasshopper conference calls host up to 10 participants, but with no conference bridge for dial-in. The host must manually call all participants.
Phone.com Messaging
Phone.com's Messages tab organizes 1:1 and group SMS text-messaging conversations, allowing agents to text customers, field workers, or internal team members directly within the app.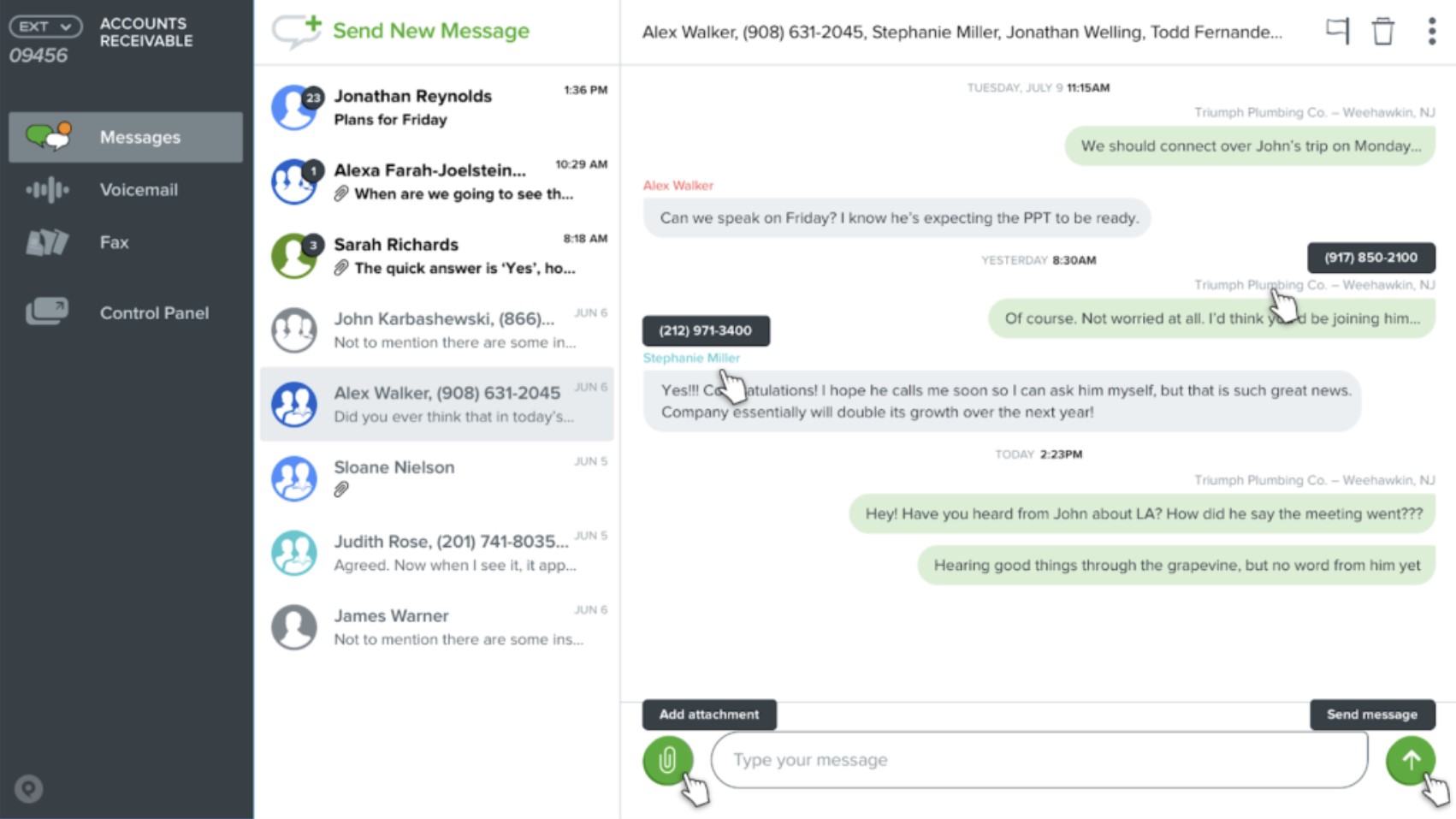 A user can sort between their personal number's My Inbox tab and the company's shared Company Inbox, which gathers texts sent to the whole company. Just like missed calls, new messages alert a user with a notification bubble in the app's left-hand menu. Since unread conversations are bolded, agents can easily manage which conversations still need checking. Search any inbox by keyword or contact name.
Creating a new chat is easy–search a contact's name or number, type the text, and click Send. Attach files, images, audio, and video. Text from any VoIP business number, or shortcodes (4-, 5-, and 6-digit) available from Phone.com
Grasshopper Messaging 
Send and receive 1:1 and group SMS text messages from a Grasshopper virtual number, within the app's Messages tab. Messaging supports SMS text, links, and MMS context–including video and photos.
Grasshopper's instant response feature sets an automatic SMS response whenever you miss a call from a new customer. This saves you from constantly rewriting welcome texts and confirms for new customers that they've reached the right number.
Texting is available with every Grasshopper plan, from any type of number–local, toll-free, vanity, or shortcode. However, only local numbers can send group and MMS messages. And while users within the US and Canada can receive SMS from international numbers, you cannot send texts to international numbers.
Phone.com Video Conferencing
The Phone.com app supports video meetings with up to 100 participants. Meetings are browser-based, accessible on any web-connected device, and have no time limit.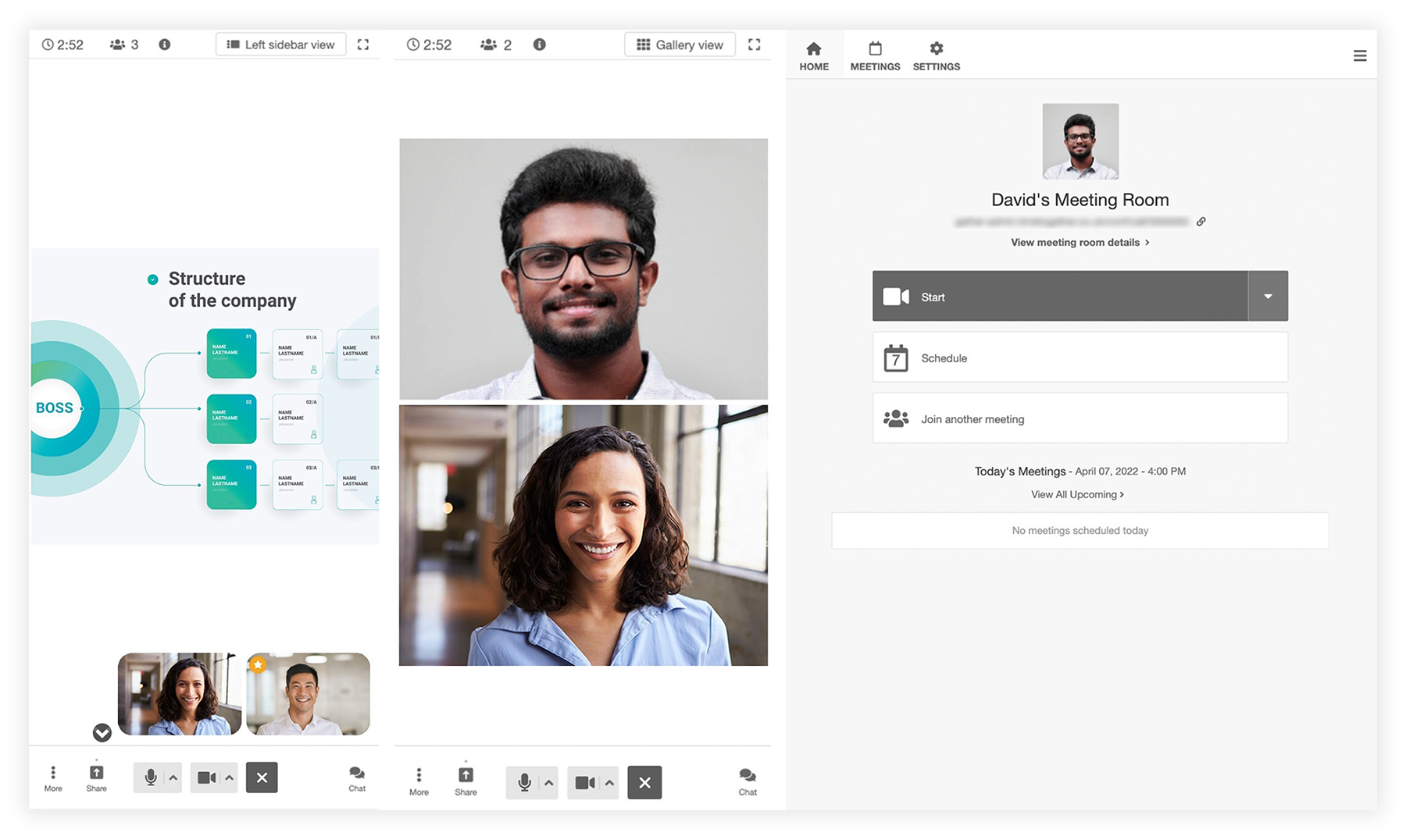 Admin can create meetings within the Phone.com app, generating a meeting URL and dial-in number for audio-only users. Simply share the link via SMS or within the app, inviting team members and customers to join instantly with no download.
While every Phone.com plan includes video meetings, the participant capacity and collaboration features increase with each higher-tier plan.
Phone.com Video Collaboration Features:
Moderator controls: Mute participants, meeting lock, kick from meeting, invite to speak, spotlight a participant's camera
Branded meeting rooms: Customize the meeting room with your company logo
Online whiteboard: With text, paint, and sticky note tools for team members to ideate and annotate together
Meeting summaries: AI-generated summaries Including highlights, key moments, and action items
Screen sharing
Live streaming to YouTube
Phone.com Reporting and Analytics
Phone.com provides KPIs about call trends, activity, and user performance.
With call analytics, monitor call activity and performance by time of day, sorted over custom historical timeframes or by individual agents. KPIs include inbound and outbound call volume, missed calls, hold time, abandoned calls, and average call duration. View this information in statistical form, or choose between three graph types.
Call logs display basic call activity over time. View records of inbound, outbound, and missed calls, with call details like participants and time of day.
Grasshopper Reporting and Analytics
Grasshopper includes 3 types of call reports, each available over custom historical  timeframes:
Usage report: Minutes used, inbound and outbound calls made, average call duration, and more
Detail report: Call details, including call participants, inbound/outbound status, duration, and time of day
Activity report: Call activity sorted by type–voicemails, hang-ups, missed calls, abandoned calls, and faxes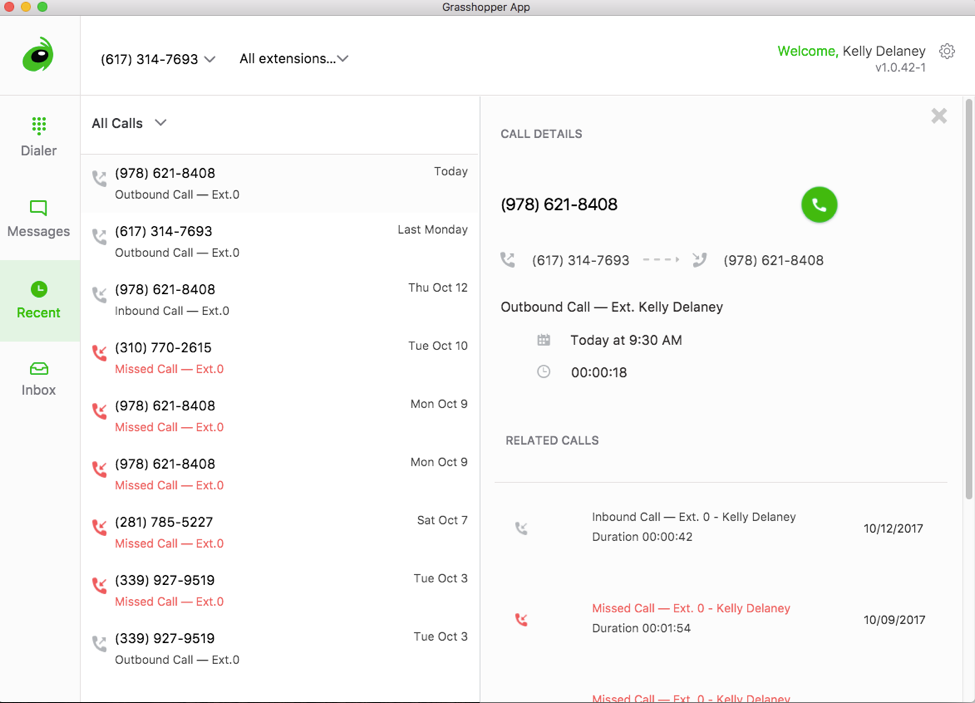 Phone.com Pros & Cons
| | |
| --- | --- |
| Phone.com Pros | Phone.com Cons |
| All plans include three communication channels–phone, SMS, video | No team chat |
| Choice between pooled or unlimited minutes | Video meeting capacity is 100–lower than some alternatives |
| Pricing customizable by user, rather than company-wide account | No visual call-flow designer for routing |
Grasshopper Pros & Cons
| | |
| --- | --- |
| Grasshopper Pros | Grasshopper Cons |
| All features included on all plans | No team chat or video meetings |
| Affordable pricing for companies that plan to share phone numbers among extensions | No phone numbers in area codes outside the US |
| Instant response feature improves communication with new customers | Creating IVR menus using extensions can be a hassle |
Which Phone System Should You Choose?
The best VoIP phone system for your company depends on your size, budget, customer base, and communication business needs.
Companies seeking a multichannel phone system will prefer Phone.com over Grasshopper, since it includes video meetings with collaboration features. If inbound routing is your priority, look to Phone.com because their queues are relatively easy to set up. Finally, if you have a large customer base outside the US, Phone.com offers local numbers around the world.
Alternatively, if your company plans to share business phone numbers among multiple extensions, Grasshopper offers a great bang for your buck–coming out to under $10 per user.