Conference call services have advanced features that increase team flexibility, streamline communication within a user-friendly interface, and make it easy to keep remote and blended teams on the same page.
This software makes it easy to meet face-to-face via video conferencing, send quick messages and share files in the chat, or instantly start a voice call with your team — all without having to switch between applications.
With so many conference call services to choose from, it's tough to know which one is right for your team. Here, we'll compare best conference call services according to pricing and plans, top features, user experience, and more.
Table of Contents
Overview of Best Conference Call Services
Conference call services allow internal and external team members/customers to meet virtually in real-time and face-to-face via audio and video conferencing.
The below table outlines top conference calling solutions by providing information on pricing and plans, top features, and the types of users that would most benefit from each platform.
Provider
Price Range
Top Feature
Best For
Reviews
Zoom

Flat-Rate Fee: $100.00-$150.00/user per month

Pay-As-You-Go:  based on usage and minutes

Requires a paid Zoom plan

"Listen-only" conference call attendees

Current Zoom users looking for an "all-in-one" web conferencing solution

Our Zoom Review

Dialpad Meetings

1 Free Plan, 1 Paid Plan for $15.00/user per month

Voice Intelligence

Small teams that meet frequently but briefly and rely heavily on AI and automation

Our Dialpad Review

Google Meet

1 Free Plan, included as a part of 4 paid Google Workspace plans from $6.00-$18.00+/user per month
Live video captions with translated live captions in beta
Current Google Workspace users that need only basic audio/video calling features
Our Review of Recent Google Meet Updates

GoTo Meeting

No Free Plan, 3 Paid Plans from $12.00-$16.00+/user per month

SmartNotes

Smaller, mobile-first teams with multiple daily meeting

Our GoTo Meeting Review

Cisco WebEx

1 Free Plan, 3 Paid Plans from $13.50-$26.95+/user per month

AI Meeting Assistant

Blended/hybrid teams that frequently make presentations in meetings and need corresponding equipment

Our Cisco Webex Review
RingCentral

No Free Plan, 4 Paid Plans from $19.99-$49.99/user per month 

RingCentral App

Remote or in-house teams that frequently host large meetings with over 100 participants

Our RingCentral Review
Microsoft Teams

1 Free Plan, available as a part of 2 paid Microsoft 265 plans from $5.00-$12.50/user per month

 

Teams Rooms

Current or future Microsoft 365 users that want to expand their team conferencing capabilities

Our MS Teams Review
Zoho Meeting
1 Free Plan, 4 paid plans from $3.00-$12.00/host per month
Advanced meeting analytics
Small fully remote teams prioritizing scalability within the Zoho software universe
Our Zoho Review
Best Conference Call Services For Small Businesses
In developing the criteria necessary for a conference call service to make this list, it needed to have both audio and video conferencing capabilities, offer multiple plans, provide both dial-in and dial-out access, and allow for at least ten simultaneous conference participants.
In addition, it needed to offer some basic team collaboration features to optimize conference calls, such as file sharing, screen sharing, in-meeting chat messaging, or integrations with top business communication and collaboration tools.
Finally, the providers had to offer the option to purchase toll-free vanity phone numbers, as well as offer international calling in over 30 countries.
Through the above criteria, we found the best conference call services to be:
Though Zoom is primarily known as a video conferencing platform, it also offers excellent conference calling capabilities.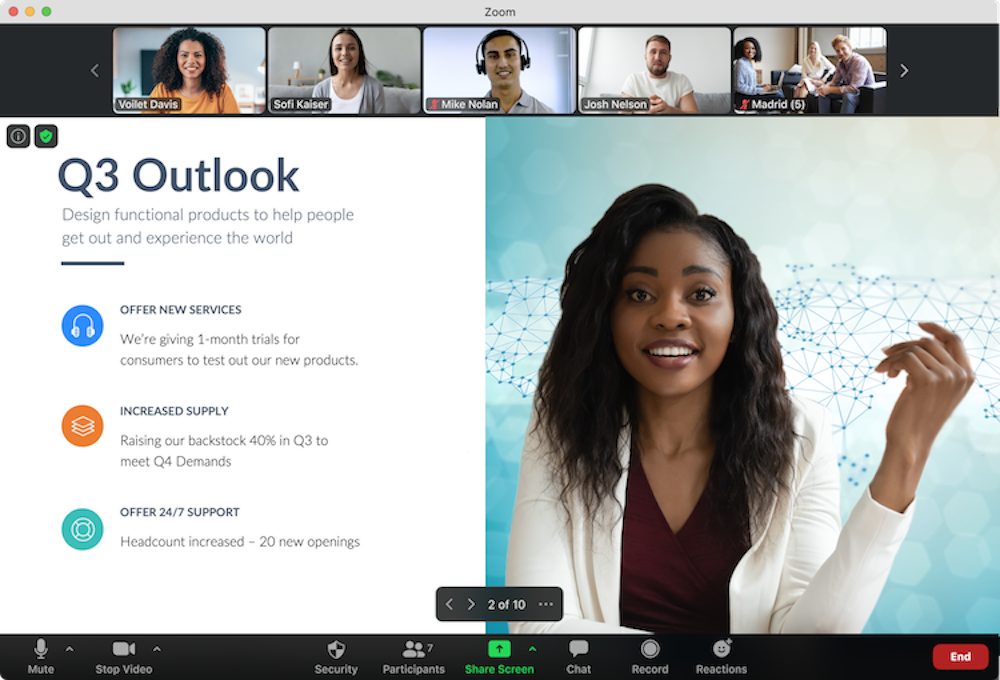 Basic calling capabilities are available with a paid Zoom Meetings plan or via Zoom Phone.
Users can join a meeting via dial-in access on a smartphone or traditional telephone, or simply opt not to share their video screens while on a Zoom conference call. Here, users are charged according to their individual phone plans.
However, in order to access more advanced conference call features,  Zoom users will need to purchase the Audio Conferencing add-on.
This lets users not only access all standard Zoom web conferencing features like chat messaging, Breakout Rooms, and file sharing), but also offers toll-free call-in options for more than 100 countries and VoIP and toll-based dial-in options for over 55 countries with no additional charge. Hosts can manage the conference call from the web-based Zoom application or over their office telephone using DTMF tones.
Zoom Audio Conferencing includes dedicated dial-in phone numbers that provide each Zoom user with a Personal Audio Conference line. This means that hosts and attendees won't need to enter a conference ID number when dialing in.
Additional features include:
Conference ID passwords
Listen-only participants
Noise cancellation
Low latency
"Call Me" feature to call meeting participants at meeting start time
Conference call invitations sent via email, chat, copied link, or Google/Outlook Calendars
Custom Telephone Welcome Message
Hold music
Meeting recording
SIP connected audio
In order to purchase the Audio Conferencing add-on, users will need a Pro ($14.99/user per month), Business Plan ($19.99/user per month), or Zoom for Education (quote-based) account.
The Zoom Audio Conferencing add-on offers two pricing options — a pay-as-you-go plan, which is available only to Business and Education Zoom users, or a monthly commitment plan, which is available with every paid Zoom plan.
The pay-as-you-go plan pricing is calculated based on the number of minutes used per month and rates per minute. The flat-rate monthly fee is $100.00-$150.00/user per month. Dedicated dial-in numbers cost $10.00/month per number.
| | |
| --- | --- |
| Zoom Audio Conferencing Pros | Zoom Audio Conferencing Cons |
| Dedicated dial-in number | Basic audio conference features are not available on the Zoom free plan, only as an add-on plan |
| Benefits of Zoom Meetings features included with Audio Conferencing add-on | Expensive monthly plans  |
| Pay-as-you-go plan available  | Lower participant capacity (100-300 without Large Meeting add-on or more expensive plan)  |
Zoom is Best For
Zoom Audio Conferencing is best for teams that want to be able to take advantage of Zoom Meetings features like video conferencing, screen sharing, and team chat, but who also need audio-only traditional conference calling capabilities every once in a while.
Dialpad Meetings (formerly UberConference) is a web conference call service with video conferencing, team chat, and audio calling.
Its free conference call service plan lets up to 10 participants host an unlimited number of up to 45-minute meetings, while the paid plan allows for 5-hour long meetings for up to 100 participants.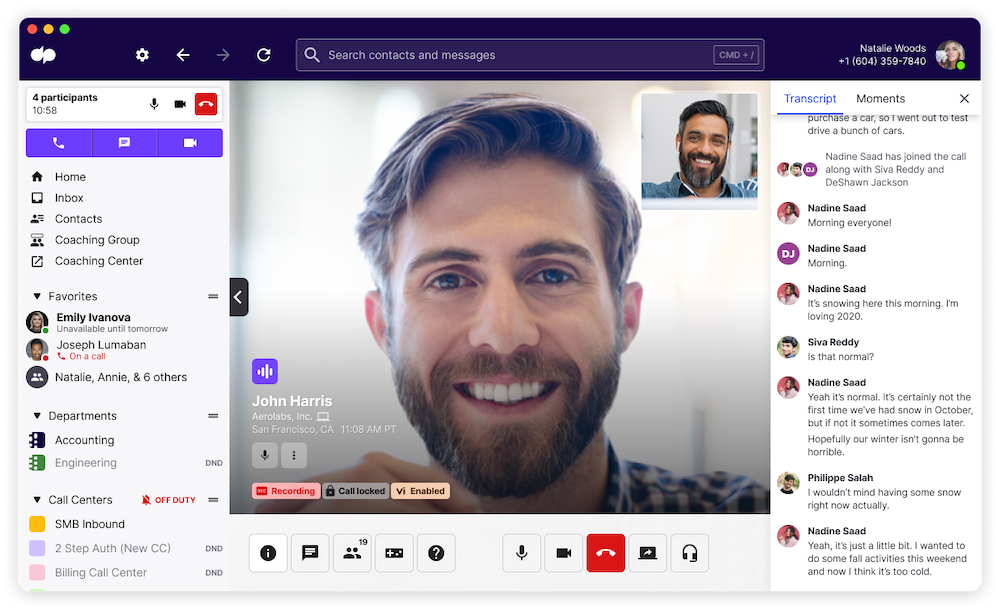 No download is required, and users can join/host conference calls via phone, web browser, Google Chrome extension, or the Dialpad Meetings Apple or Android mobile app.
One of its standout features is its built-in AI, which uses Natural Language Processing (NLP) to transcribe conference calls in real-time and machine learning to improve and recognize meeting patterns over time.
It differentiates between speakers via voice recognition and automatically adjusts video resolution according to available user bandwidth to prevent frozen screens.
Perhaps most notably, Dialpad Meeting automatically creates and emails meeting recaps (Call Summaries) to participants after a call.
Call Summaries include key action items/tasks, meeting recordings, transcriptions, and Snippets. Snippets are highlights of the conference call that users can continually refer back to, eliminating the need to take notes or rewatch entire meetings to find key moments.
Dialpad Meetings provides users with a free custom local call-in number for attendees in the United States and Canada, allowing local customers to call into a familiar number without having to worry about being charged long-distance fees.
Custom toll-free numbers are also available for an additional monthly fee.
Dialpad lets users decide whether or not to require a PIN for conference calls, and lets teams select hold music from pre-fixed options or upload their own music.
Additional features and functionality include:
Screen sharing and whiteboarding for video conferences
Free call recording and MP3 recording files
International conference calling capabilities in over 50 countries
Salesforce, Slack, Outlook, Google Calendar, Google Hangouts, Twitter, and Microsoft Teams integrations
Team Management Portal
Background noise reduction
Searchable conference transcripts
Conference analytics
Dial out for conference participants
The free version of Dialpad Meetings requires a PIN and offers more basic features (no custom hold music, Voice Intelligence, nor Custom Call-In Number. However, Dialpad offers a free 14-day trial of its paid plan, which costs $15.00/user per month. Toll-free numbers cost $35.00/month, and are not included in the free plan.
| | |
| --- | --- |
| Dialpad Meetings Pros | Dialpad Meetings Cons |
| Free audio conferences for up to 45 minutes  | Mobile application needs improvement  |
| Affordable paid plans | The free version sometimes kicks out participants before the 45-minute time limit |
| PINs optional | Only allows for up to 100 users for a maximum 5-hour meeting time  |
Dialpad Meetings is Best For
Dialpad Meetings is best for SMBs that need robust automation and AI-powered features to handle routine tasks and take notes. These teams may meet frequently, but not for extended periods of time, and often via audio-only conference calls. Teams that want to integrate third-party software on a free plan will also benefit from Dialpad Meetings.
Google Meet: Best For Gmail Users Needing Basic Features
Google Meet (formerly Google Hangouts) is an audio and video conferencing tool designed to work alongside other Google Workspace (formerly G Suite) tools like Gmail, Google Docs, and Google Calendar.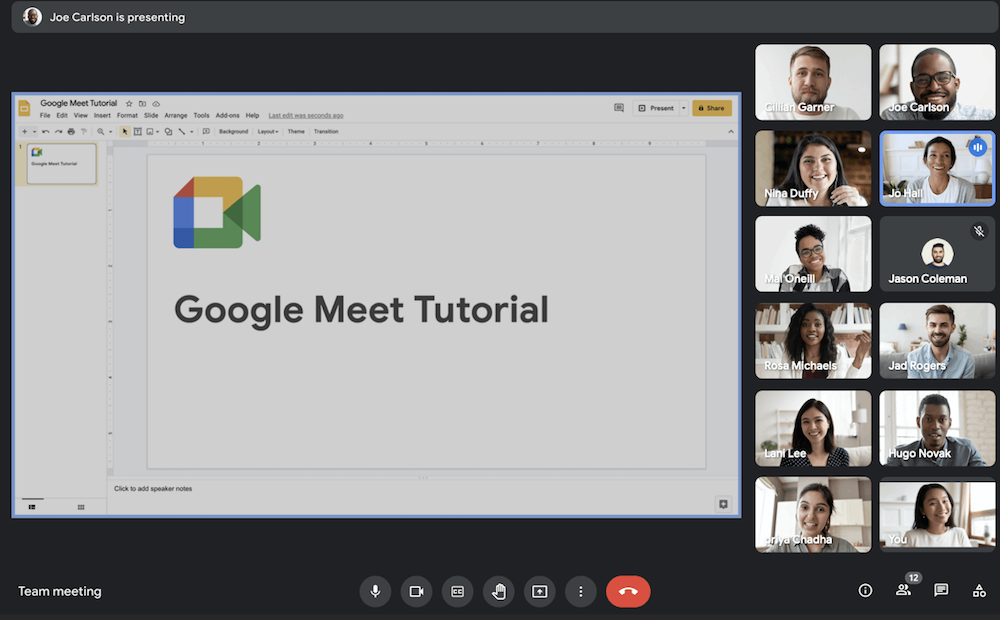 Users can access the free version of Google Meet via their web browser, Gmail or Google Calendar account, or email invitation with a shared meeting link. In addition to the Gmail Android and iOS mobile apps, there is also a dedicated Google Meet app for Android and iPhone users. A unique meeting code is also available for recurring meetings.
Google Meet offers basic meeting features that won't overwhelm new users and don't bog down users that need a simple tool without advanced capabilities.
It allows for on-demand call recording and in-meeting chat recording, then shares the recordings automatically to integrated Workspace tools like Google Calendar or Google Drive. Emailed links to recordings are also available.
In-meeting polling, Q&A sessions, Breakout Rooms, and even Attendance Tracking showing the participant's name, phone number/email, and length of time in the meeting are also available.
Users can also apply visual effects to their video conferencing stream like custom or pre-set backgrounds, background blurring at different levels.
Additional features include:
Lock all participant audio/video
Anonymous participants
Noise cancellation
Translated video captions (currently in Beta)
Add captions to live meetings
Whiteboarding and screen sharing (tab, window, entire screen)
Meeting layout adjustment to show up to 49 simultaneous feeds in tiled, active speaker, and sidebar view
Sidebar view lets presenters share their screens/presentations while also viewing other participants
Participant pinning
Dial-in and dial-out meeting access
Live document sharing and co-editing in video meeting
Add up to 25 meeting co-hosts
Virtual hand-rasing
The remaining paid plans include Google Meet as part of the paid Google Workspace plans, which range in price from $6.00-$18.00+/user per month and offer 24-hour meetings and more advanced features. Google Meet's free plan allows up to 100 participants to meet for up to 60 minutes via audio and video conferences. The free plan also allows for in-meeting chat and file sharing, instant, and scheduled meetings.
| | |
| --- | --- |
| Google Meet Pros | Google Meet Cons |
| Lightweight and intuitive interface | Everything is centered on Google Workspace |
| Offers free plan ideal for startups and conferencing tool beginners | Limited conferencing features when compared to other providers, even with the paid version |
| Live video captions are inclusive and prevent miscommunication | Limited customer support for free users |
Google Meet is Best For
Google Meet is best for current Google Workspace user Gmail users that need a compatible audio and video conferencing service that operates within the same interface. It's also an ideal tool for teams that prioritize one-to-one, uncluttered meetings with an intuitive and familiar interface.
GoTo Meeting is an online meeting and conference call service offering HD audio and video communication, and team collaboration.
It offers unlimited monthly conference calling for up to 250 simultaneous participants (and up to 3,000 on its Enterprise Plan.) Users can host or join conference calls on desktop or laptop computers with a meeting link, via the Android or Apple smartphone app, or dial in via standard telephone call.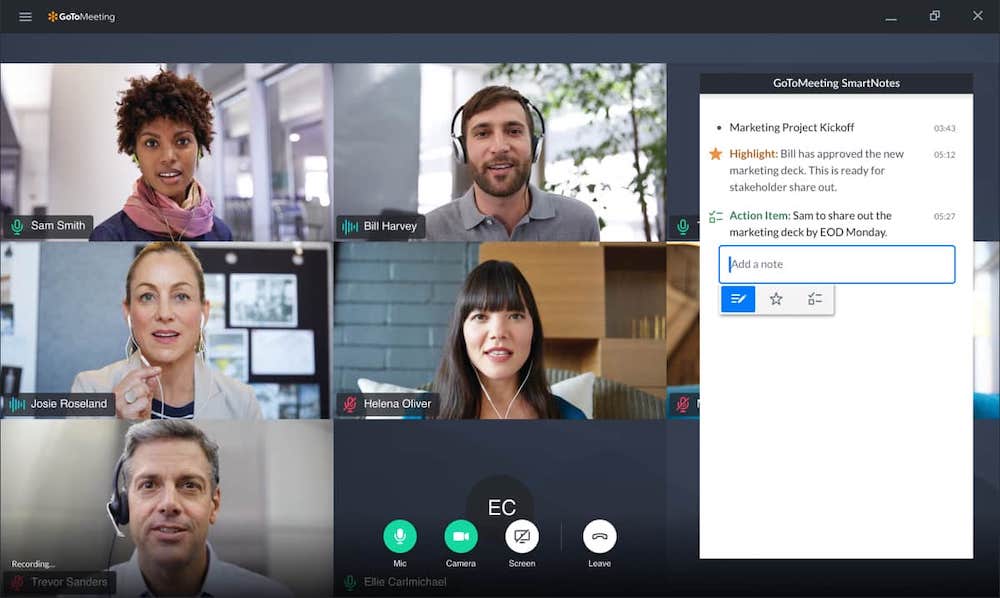 One of its most competitive features is its SmartNotes tool, which automatically transcribes and records meetings, storing those recordings locally or in the cloud. The SmartNotes Meeting Assistant also separates individual speakers for more accurate transcriptions,
Additionally, attendees can join via the toll-free "Call Me" feature in which GoTo Meeting dials participants at the start of the meeting, securely bypassing the need for PINs. Users are even able to switch devices during a meeting.
GoTo Meeting's Personal Meeting Rooms allow users to select their own URLs, upload photos and business titles, link to their website, and provide basic bio and location information. Best of all, users can create multiple personal meeting rooms for free.
Additional features include:
Set recurring conference calls
Meeting reminders
Searchable recording transcripts
One-click conference call initiation
Toll-free phone numbers in 50+ countries
Free call recording
Screen sharing
DTMF touch-tone meeting controls
Customized email invitations
Single Sign-On (SSO)
Two-way whiteboarding
InRoom Link for seamless conference call joining in physical conference rooms
GoToRoom all-in-one system for customized physical conference room hardware and design
GoTo Meeting hub with past and upcoming meetings, attendee information, and basic analytics
Reservationless web conferencing access
Meeting lock and PINs
Annotation tools with Spotlight laser pointer, highlighter, pointer, and pen
GoTo Meeting does not offer a free plan but has 3 paid plans from $12.00/user per month to $16.00+/user per month. There is a 14-day free trial available for paid plans. Note that the Call Me feature is an add-on that costs the meeting organizer $.08/minute per attendee.
| | |
| --- | --- |
| GoTo Meeting Pros | GoTo Meeting Cons |
| Advanced mobile conferencing capabilities | The decline of video and audio quality in meetings with 20+ attendees, it needs high-speed Internet for top quality |
| Enterprise Plan can host up to 3,000 meeting participants | Lack of a free plan |
| Ability to create multiple Personal Meeting Rooms per user | Only displays a maximum of 6 simultaneous video feeds |
GoTo Meeting is Best For
GoTo Meeting conference call service is best for blended mobile-first teams that need to be able to attend both instant and prescheduled conference calls from any device. It is also ideal for small teams of 5-20 that have multiple brief meetings per day.
Cisco Webex is an audio and video online meeting and collaboration tool offering unlimited conference calls.
Users can connect to conference call audio through VoIP telephony, toll-based or toll-free dial-in with a dedicated phone number, or through the "Call-Me" feature, which calls participants at their designated number at the start of the conference.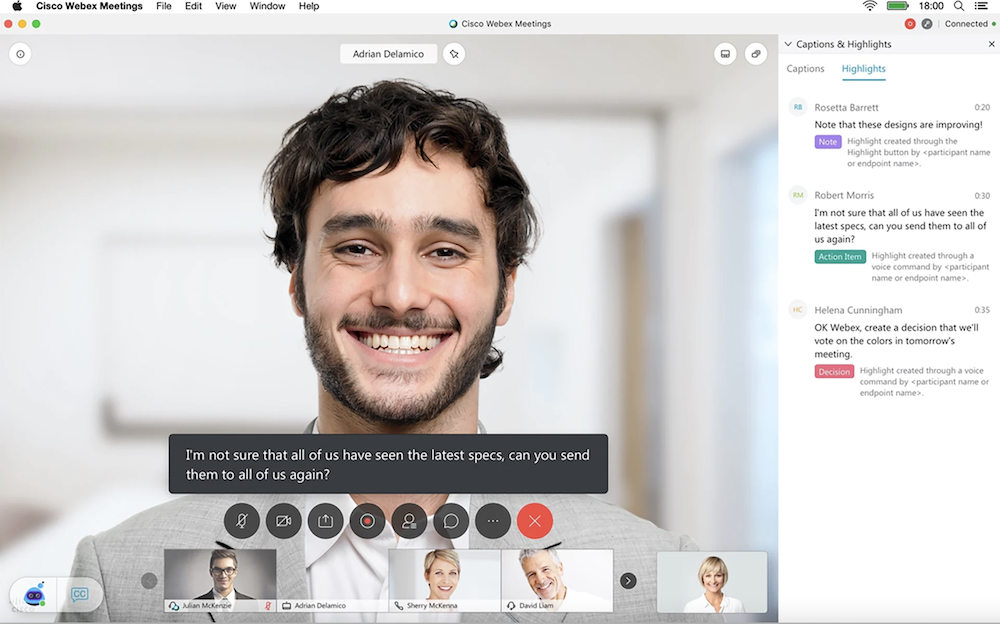 One of Webex's top features is its AI-Powered Meeting Assistant (seen above) which allows users to create in-meeting, real-time action items from discussions in conference calls.
Hosts can record meetings, then download and share both audio and video recordings with participants. To avoid making team members sift through lengthy meeting footage, hosts can also designate certain moments as "meeting highlights," which are recorded, saved, and shared with attendees. The AI Assistant includes hands-free voice commands that let users schedule conference rooms, join or conduct conference calls, open new files or use whiteboards and drawing tools, share screens, and even set follow-up meetings. The Assistant can also create and send post-meeting recaps.
Webex users can create personal meeting rooms with dashboards showing past and upcoming meetings, recent meeting analytics, and allow for both scheduled and instant conference calling. These personal rooms have unique URL addresses and let users set alternate meeting hosts when needed.
Team members can seamlessly turn any 1-on-1 VoIP phone conversation into a conference call by selecting additional contacts from the Webex softphone interface and dialing in, eliminating the need to set up a separate meeting. If during an audio-only conference call, users need to share content or meet face-to-face, the host can transition the call to video conferencing with one click.
Webex also comes with its own line of compatible meeting hardware, ideal for creating seamless in-person conference rooms for blended or in-office conference calls. Top devices include the WebEx all-in-one Board Series for presentations, whiteboarding, and screen annotation, as well as turnkey Webex Room Series that have equipment ideal for any type of conference room.
Additional features include:
Background noise removal and speech enhancement
DTMF tone control to mute, lock meetings, send email reminders, play the participant count, and more
On-screen reactions (emojis and gestures) for attendees to react to audio conferences in real-time while muted
Dedicated local or toll-free business phone number
Searchable transcripts
Breakout rooms and two-way whiteboarding
Individual speaker detection for clear transcripts
Real-time meeting translation in over 100 languages
Pre-made meeting templates (brainstorming, catch-ups, etc.) for easier agendas
Integrations with Microsoft 365, GSuite, Zendesk, Salesforce, Slack, etc.
Meeting scheduling with Outlook, Google Calendar, or within the WebEx Meetings app
Screen sharing and up to 25 simultaneous video streams
Instant chat messaging with file and application sharing
Cisco WebEx offers four paid plans, including one free plan, between $15.00/user per month and $25.00+/user per month.
Note that the WebEx AI Assistant offers a free 15-day trial for paid WebEx users, but is not included in the free plan. If users want to keep the Assistant after the trial, they need to purchase it as a separate add-on for $30.00/user per month. Additionally, international calling is only available with WebEx as a paid add-on for $429.00/year.
| | |
| --- | --- |
| Cisco Webex Pros | Cisco Webex Cons |
| High audio quality  | Audio-only conference calls can host a maximum of 15 simultaneous callers |
| The recent update includes a higher level of collaboration tools | AI Meeting Assistant is a paid add-on |
| Advanced historical and real-time analytics on call quality, user activity, meeting data, and more | International calling capabilities expensive  |
Webex is Best For
Cisco Webex is best for hybrid teams that need an in-office physical conference room to connect with both remote and in-house teams and clients for frequent presentations and near-daily team collaboration.
The RingCentral audio and video conference call service is available as a standalone product (RingCentral Vide0) or as a part of the RingCentral MVP all-in-one communications suite. There is a free version of RingCentral Video, which allows up to 100 participants to meet for up to 24 hours (for users who signed up by December 2021.)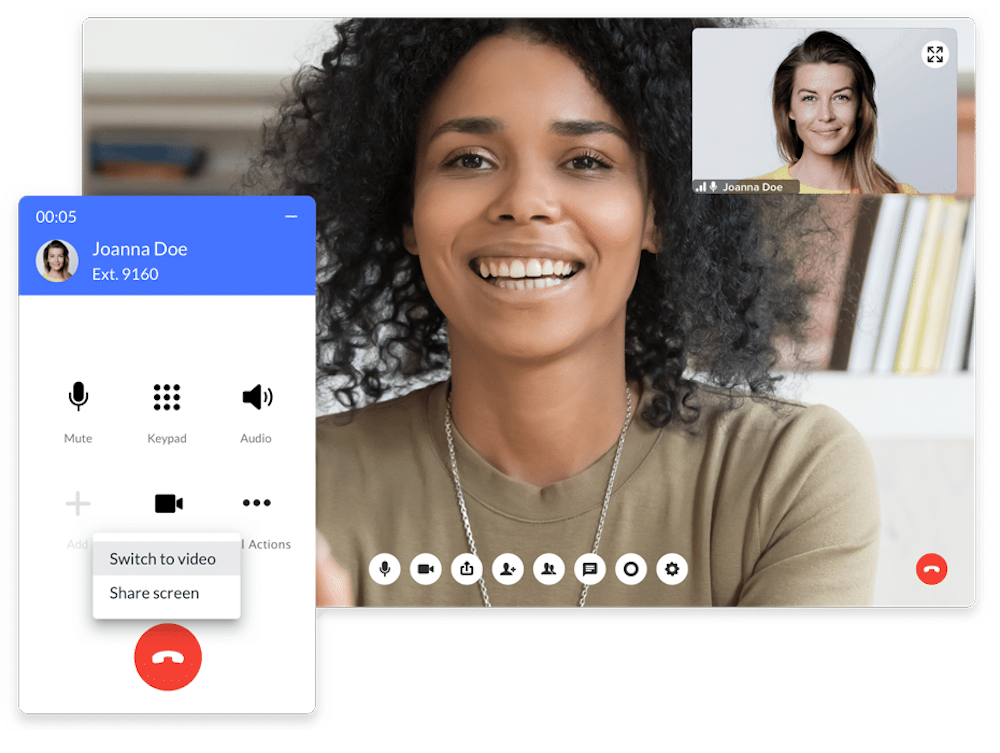 It offers unlimited audio-only and video conferencing services, a single bridge number per company, and each user gets their own host and access code. This means that team members can hold simultaneous conference calls without interfering with other calls.
One of the top features is its newly designed RingCentral App, which combines phone, video conference calling services, and team chat messaging into a single mobile-friendly platform. Call participants can easily create action items in chat messages during conferences, assassin tasks, create project teams, and even add external guest users.
VoIP phone conference calls can be made over WiFi, with carrier minutes, or using smartphone data. The RingCentral app comes with more than 180 out-of-the-box integrations and lets users build custom APIs.
Each conference call line is always available, eliminating the need to reserve space and time for a call. This also allows for instant, improvised conference calls.
Additional features include:
iPhone and Android apps
Host touchtone controls including listen-only participants, conference call recording, mute/unmute, etc.
Screen and file sharing, chat messaging
Email or text message conference invitations
On-demand and automatic meeting recording
Unlimited recording and file storage
Instantly join the conference from a text message without a PIN access code
Ability to switch between devices during a conference
International toll-free or premium phone numbers in over 80 countries
Local phone numbers in 50+ countries
RingCentral Rooms add-ons for physical conference room hardware
Integrations with GSuite, Microsoft 365, Asana, Salesforce, Zendesk, etc.
RingCentral MVP offers 4 paid plans from $19.99/user per month to $59.99/user per month — however, unlimited conference calls are not available on the cheapest plan. RingCentral Video offers one free plan and one paid plan for $11.99/user per month. Additional toll-free numbers can be purchased from $4.99/number per month.
| | |
| --- | --- |
| RingCentral Video Pros | RingCentral Video Cons |
| Hosts up to 1,000 participants per call  | The interface has a higher learning curve  |
| Anyone outside of the RingCentral network can join a conference call  | In-depth reports take over 24 hours to generate |
| Unlimited storage available  | Essential features – like unlimited audio conference calls – not available on more affordable plans |
RingCentral Video is Best For
RingCentral conference call service is best for teams that have frequent large-scale conferences with internal and external attendees. It's also ideal for companies that heavily rely on data and analytics to better evaluate their workforce, meeting efficiency/engagement, and target market.
Microsoft Teams: Best for Existing Microsoft 365 Users
Microsoft Teams is an online conferencing and collaboration platform that offers video and audio-only conference calling service for up to 250 attendees.
Attendees can join an active or prescheduled Teams meeting by dialing in from a standard desk phone, smartphone, or desktop/laptop computer. Teams can also dial-out participants when the meeting is set to begin.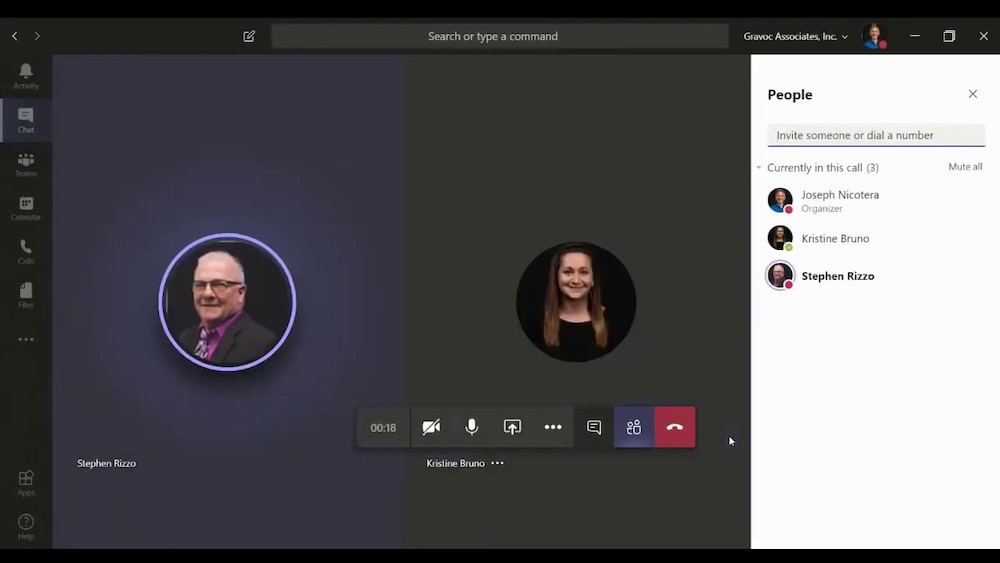 Users also have personalized Microsoft Teams Rooms for hosting recurring or one-time meetings, and can instantly send meeting notes, recordings, and transcriptions to conference attendees once everyone signs off.
Hosts can also schedule follow-up meetings within the Teams interface or in the Outlook Calendar.
Note that all Teams users are able to join an audio conference, but that only Audio Conferencing from Teams users can host or schedule conferences.
Additional features include:
Dedicated and shared conference line phone numbers
Screen sharing and custom backgrounds
Meeting agenda attachments in invitations
Invite external guests
Email invitations with PINs
In-meeting dialpad commands for user management
Automatic meeting transcription
Access previous meeting notes and recordings in the current conference
Scheduled and instant meetings
Meeting recording
Global dial-in numbers
Searchable chat messaging during audio/video conference calls
Real-time collaboration in Microsoft Office apps
Though Microsoft Teams itself is free, more advanced communication and collaboration features are available with the purchase of paid Microsoft 365 plans. These paid plans range in price from $5.00/user per month to $12.50/user per month. A one-month free trial is available for all paid plans.
The most important thing to note, however, is that Audio Conferencing with Microsoft Teams is a paid add-on (though as of this writing, it's available free for a limited time) for $4.00/user per month. Extended dial-out provides teams with unlimited dial-out minutes and the United States and Canada, and is available for an additional unlisted fee.
| | |
| --- | --- |
| Microsoft Teams Pros | Microsoft Teams Cons |
| The free version allows for 100 participants to meet for up to 1 hour | Can be challenging for those unfamiliar with Microsoft 365 to navigate |
| Seamless and simple integration with Microsoft 365 tools (Office, Word, PowerPoint, etc.)  | Advanced Audio Conferencing solution is a paid add-on |
| Recent Teams update in March 2021 ensures latest optimized features | More basic audio conferencing features than most plans |
Microsoft Teams is Best For
Microsoft Teams is a great conference calling service for current Microsoft 365 users who need to expand their current audio and video conferencing capabilities. It's ideal for teams that don't often communicate via audio conference, but that need to be able to connect with external clients that prefer it.
Zoho Meeting: For Fully Remote Teams Prioritizing Customer Relations
Zoho Meeting is a browser-based conference calling solution for fully remote teams offering audio and video communication alongside team chat messaging, CRM, and collaboration tools.
It offers one free plan for up to 3 participants and four paid plans from $3.00-$12.00/user per month. Plans are tiered according to the number of users (from 10-100.)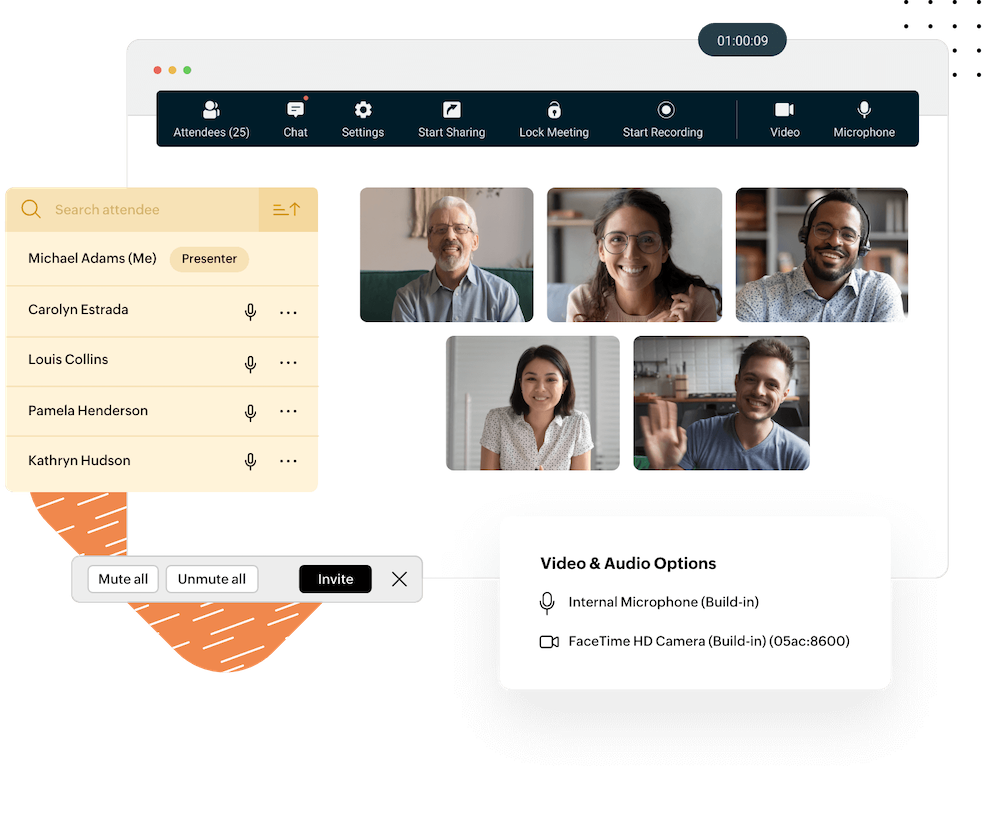 Unlike many other participants on this list, Zoho Meeting also offers a comparable webinar solution, which allows for up to 1,000 participants, YouTube live streaming, and registration moderation.
The webinar plans are more expensive (ranging in price from $19.00-$200.00/user per month.) Unfortunately, Zoho's webinar solution doesn't really offer many additional features when compared to the top-tier plans other conferencing platforms offer, aside from an increased number of participants.
A unique Zoho Meeting feature is that participants can share and join meetings directly via web pages, eliminating the need to create and share numerous separate meeting invitations throughout the day.
Zoho Meeting also has features ideal for teams that want detailed analytic and subjective feedback on business processes and meeting quality as a whole. Recently, the tool has added anonymous in-meeting Q&A sessions. After the meeting, Zoho automatically compiles a list of all the questions and answers provided during the meeting. Users can also access detailed analytics regarding meeting polls, including the total number and percentage of votes, participation rate, votes per poll question, and average answer. Participant analytics include meeting arrival and departure times, registrant/attendee contact information, and length of stay in meetings.
Additional features include:
Android and iOS mobile apps
E2EE Screen sharing (single application, browser tab, or entire screen)
Remote screen control
Meeting recording including remote screen sharing sessions
Meeting recordings shared via link or in cloud storage space
Up to 25 simultaneous video feeds
Instant, one-click meetings
Pre-scheduled meetings with RSVP requirements, detailed meeting descriptions, and several email reminder notifications
Google Workspace and Microsoft 365 integrations
Pass presenter tool
Meeting locks, attendee approval, mute/unmute participants
In-meeting instant and pre-set polls, virtual hand raising
Broadcast messaging
Automated meeting follow-up email
Desktop application for Windows, Mac, Linux
Firefox and Google Chrome extensions, Outlook plugin
| | |
| --- | --- |
| Zoho Meeting Pros | Zoho Meeting Cons |
| Free meeting dial-in phone numbers for over 100 local regions | The free plan only allows for up to 3 participants, paid plans only allow for up to 100 participants |
| Highly scalable plans, including integration with additional Zoho Apps and Suites |  Few integrations with third-party apps to encourage operating fully within the Zoho universe |
| Embeddable meeting/webinar registration form, embeddable registration widget |  More basic feature set when compared to other conferencing services |
Zoho Meetings is Best For
Zoho Meeting is best for smaller, fully remote teams that are already using Zoho applications like Zoho CRM, Zoho TeamInbox, or Zoho Connect.  It's also a good option for teams prioritizing affordability and scalability, as it's easy to add on new Zoho apps, upgrade to Suites, and access Zoho tools for different departments (sales, HR, marketing, etc.)
Why Your Business Needs Conference Call Services
Employees today spend about 15% of their workweek attending meetings.
This might not sound excessive — until you learn that over ¼ of a 40-hour workweek is spent preparing and organizing for those meetings.
Given that your team spends nearly half of their 40-hour workweek on meetings or meeting-related tasks, it's no surprise nearly 70% of employees say meetings get in the way of their ability to do their jobs effectively.
Finding business communication solutions that allow your team to have fewer and more effective meetings should be a top priority — especially if you've noticed a recent decrease in productivity and employee satisfaction.
That's where conference call services come in.
In addition to more efficient meetings, conferencing call services offer benefits like:
Meeting virtually instead of in-person saves businesses roughly $11,000 annually
Virtual meetings reduce the need for business travel by 50%
Meeting software saves employees between $2,000-$5,000/year on travel costs
Improved mobile collaboration in the remote/blended workforce, even across different time zones
Easier (often automated) meeting scheduling, as well as the option to meet instantly
Not having to devote as much time to scheduling/planning for meetings means increased productivity, time for more personalized/detailed customer service, the potential for increased revenue, etc.
Eliminates the need for endless emails or chat messages that make it easy for teams to miss important information or miscommunicate
Fewer, but more high-value meetings
Ability to offer a more transparent business process to stakeholders, clients, and team members
How To Choose Conference Calling Services
The top factors to consider when choosing the conference calling services for your business include:
Audio/video meeting attendee, host, and participant capacity
Meeting length time limits
Available call type (audio-only or audio and video)
Key features like in-meeting instant chat messaging, file sharing, presentation mode, meeting recording/recording transcription, screen sharing, whiteboarding, remote screen control, virtual hand-raising, in-meeting polls, breakout rooms, etc.)
Browser, Operating System, and device compatibility
Audio and video quality with features like video backgrounds/filters, background noise suppression, etc.)
Security and meeting host control (meeting passwords, meeting locks, E2EE, mute/remove participants, etc.)
Additional Tools To Improve Team Meetings
Though the conference call services mentioned on this list are among the best, that still doesn't guarantee that they're a good fit for your small business.
You may find you need solutions that offer greater team collaboration features, additional integrations, improved ease of use, or even a higher level of customer training and support.
For information on additional providers, read our interactive overview of other popular web conferencing software solutions like 8×8 and Vonage, or check out our detailed, head-to-head comparisons of top platforms like Zoom vs GoTo Meeting.
Conference Call Services FAQs
Below, we've answered some frequently asked questions about conference calling services.
The best conference call service depends on your company's needs. For example, RingCentral is good for large-scale conferences, Cisco Webex is good for hybrid teams, and Dialpad — for small meetings.

Yes. Google Meet offers conference calls, texting, voice, and video calls for free.

Yes. GoTo Meeting offers free meetings for up to 40 minutes, screen sharing, VoIP audio, and in-meeting chat.

Each provider has unique conference calling options. Some free providers offer unlimited conference meetings with limited meeting duration, and some limit the number of users per conference call.