Conference call services help businesses work faster, more efficiently, and ensure teams across continents stay connected and aligned. Today's conference call platforms offer advanced features and capabilities that make teamwork much more convenient and engaging.
In this article, we'll review the best conference call services, compare their key features and pricing, and discuss how they stand out as well as where they fall short.
The Best Conference Call Service Providers
Here are the best conference call services:
Zoom Meetings
Zoom Meetings, available as a free tool and as a part of Zoom One, is the best-known online meeting platform.
Zoom Meetings offers both audio-only and video conferencing, while more advanced Zoom One plans also include Zoom Phone and some Zoom Events and Webinars features. Users can also opt to purchase the Zoom Audio Conferencing add-on (from $1,200/year) to access Call Out, global toll-free, and local dial-in phone numbers. Additional Cloud Storage (from $120/year) and Zoom Translated Captions ($50/year) are also available as add-ons.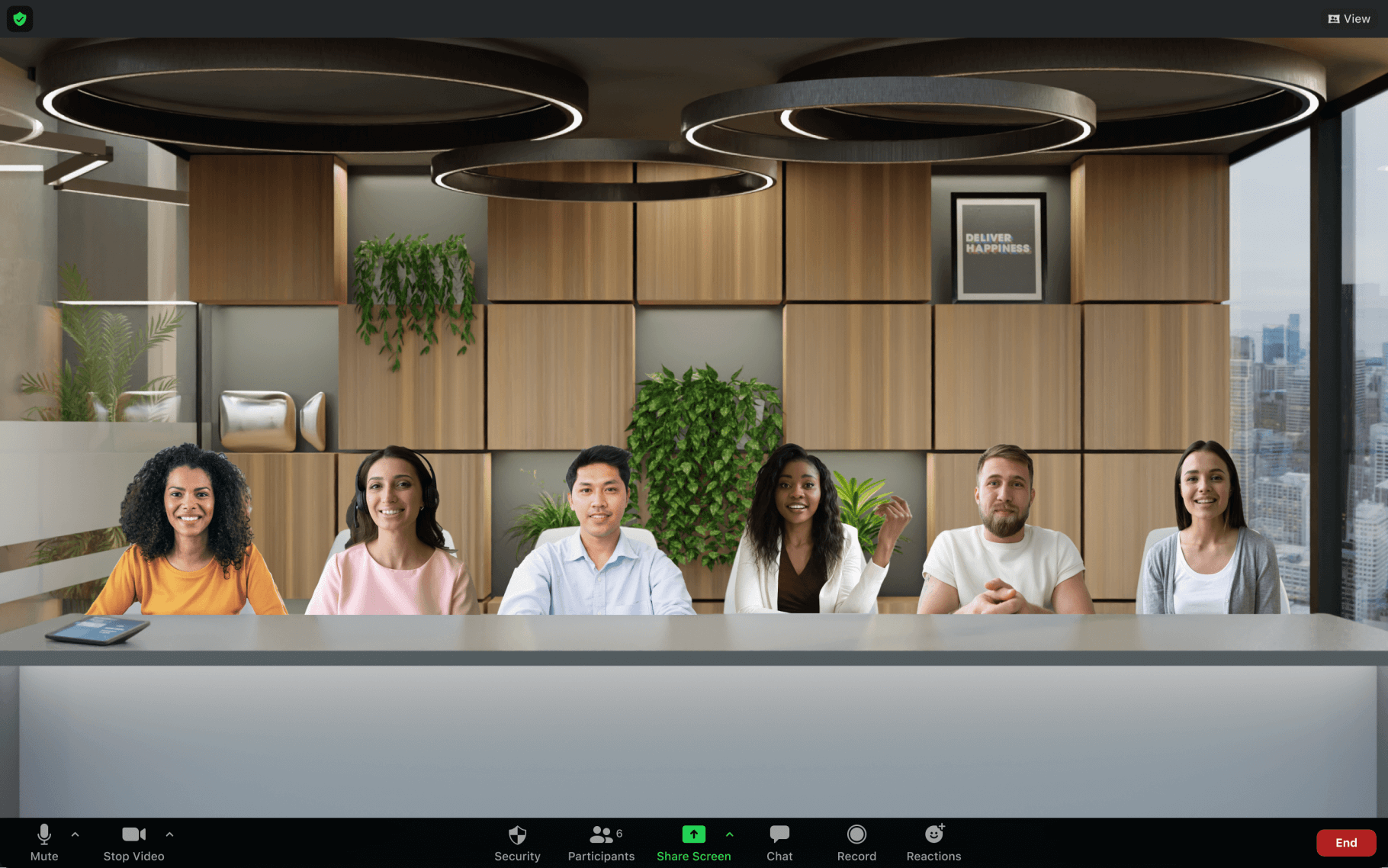 Key Features
Breakout Rooms: Create up to 50 randomized or pre-selected breakout rooms per meeting, host can drop-in on breakout room sessions, broadcast content, audio, and messages to all breakout rooms, search breakout rooms, set room timer
Views and Layouts: Filters and pre-made/custom virtual backgrounds, Active Speaker view, Gallery view, Immersive view, Floating view
Essential Apps Integrations: Free in-meeting third-party apps for 1 year including Coda for meeting agendas/nots, Prezi for on-screen visuals, Sesh with pre-designed activities and timing queues, AI Notetaker by Fathom, etc.
Pricing and Plans 
Zoom One offers a free plan and 3 paid plans between $149-$250+/user/year.
Basic (Free) Plan: 100 participants, 40-minute meeting duration, local recording, screen sharing with co-annotation and remote screen control, basic whiteboard, breakout rooms, virtual background, Personal Meeting ID, team chat, host controls and waiting room, multi-language automated captions, Zoom mail and calendar client app,
Pro Plan ($149.09/user/year): Host conference calls for up to 100 participants, 30-hour meeting duration, Essential Apps, 5GB Cloud Storage, ticket/chat/phone support, toll-based dial-in, polling, co-hosts, assign meeting scheduler, livestreaming to Facebook and YouTube, calendar service
Business Plan ($199.90/user/year): 300 participants, SSO, managed domains, admin portal, branding, hold music, language interpretations, unlimited whiteboards, mail client and custom mail domain
Business Plus Plan ($250/user/year): 10 GB storage, Zoom Phone features, 3-way ad-hoc conference calls, call handoff between devices, persistent team chat messaging with user presence
Enterprise (Quote-Based): 1000 attendee maximum, Webinar 500, advanced Zoom Phone capabilities, Rooms and Webinars, Workspace Reservations
Why We Picked It
Clean, intuitive, and familiar interface accessible
Robust free plan provides access to features like breakout rooms, screen sharing, automated captions, and remote control (only available via competitor paid plans)
Strong security features like end-to-end encryption, 2FA, screen share watermark, meeting lock, passwords, and audio signatures included on all plans
Where It Falls Short
Free and Pro plans limited to 3 whiteboards
Can no longer purchase Zoom Meetings as an individual tool, comes only with Zoom One, Zoom Phone, Zoom Contact Center, etc.
Enterprise Plan caps participants at 500, requiring paid add-ons that start at $600/year
RingCentral Video
RingCentral Video is an online meeting platform available as a standalone service or as a part of RingCentral MVP.
It offers an excellent free plan that includes unlimited audio conferencing, is known for its ease of use, and includes AI features to improve meeting efficiency.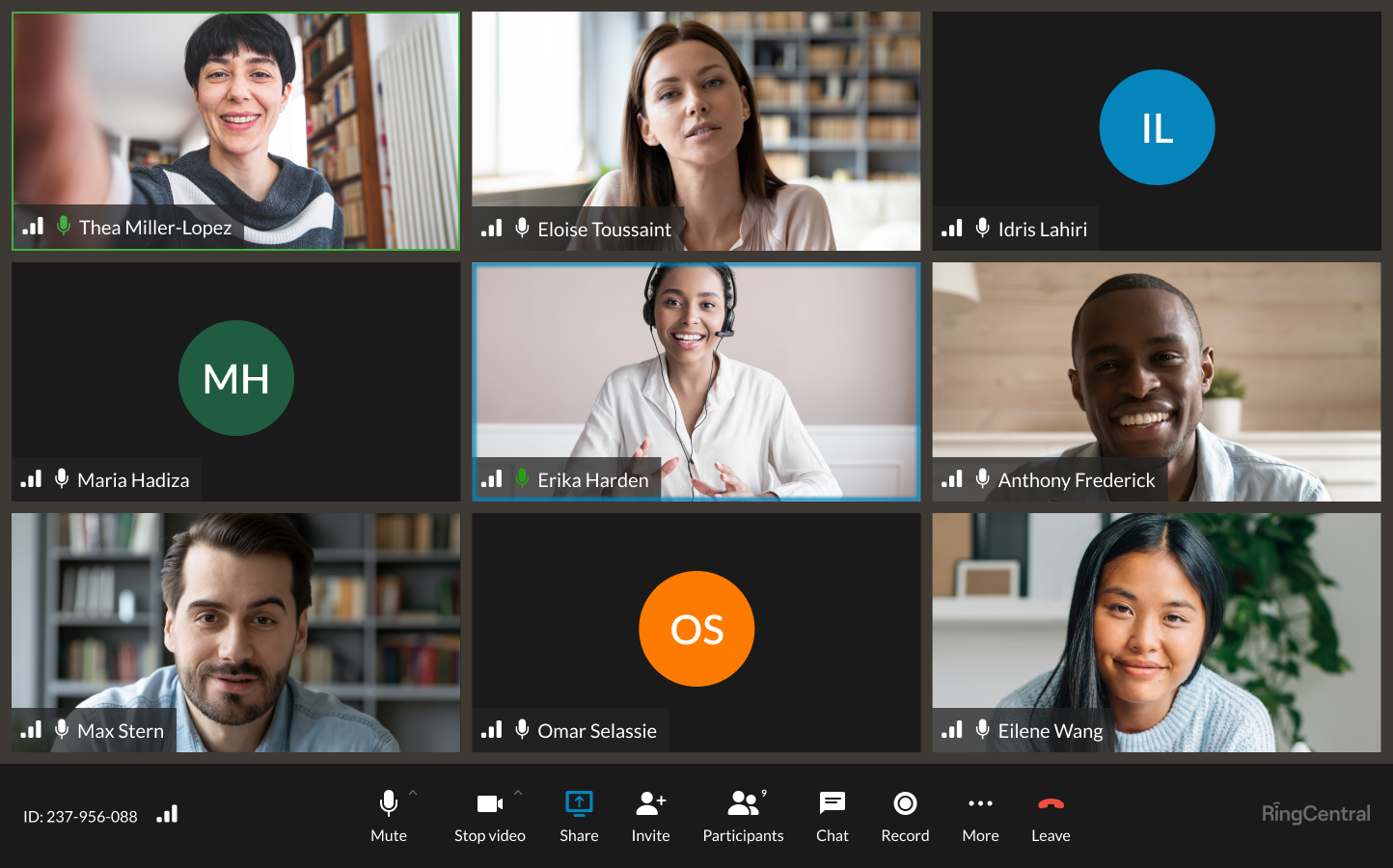 Key Features
AI Meeting Insights: Automatic post-meeting "Highlight Reel" provides searchable "key moments," alongside transcripts, topic lists, summaries, and keyword-based clips
Meeting Switch: Available on all plans, allows participants to switch between desktop and mobile devices during a live meeting without disconnecting
Business App Integrations: Integrates with Google Workspace, Microsoft Teams, Outlook, Conduit. Canvas, Insightly, etc.
Pricing and Plans
RingCentral Video offers a free plan and a paid plan from $11/user/month.
RingCentral Video Pro (Free): 24-hour meeting duration for up to 100 participants, unlimited audio conferencing, meeting waiting room, AI noise cancellation, desktop and mobile meeting switch, AI Meeting Insights, AI live transcription and closed captioning, annotated whiteboard, screen sharing with remote desktop control, collaborative notes, breakout rooms, meeting recording, virtual backgrounds
RingCentral Video Pro+ ($11/user/month): Up to 200 meeting participants, SSO, advanced meeting analytics, CRM integrations and APIs, Call Me/Call Out including 500 minutes, user management, delegate scheduling
Why We Picked It
Unlimited audio conferencing for up to 1,000 attendees on free and paid plans
Full-featured free plan includes AI-powered features and team collaboration tools
Video Pro Plus plan includes access to developer APIs
Where It Falls Short
Some standard meeting features, like polling and no-download attendee access, available only with RingCentral webinar
Only one paid plan with limited add-ons means less scalability
Designed to work within the RingCentral SaaS universe, which may be limiting
Google Meet 
Google Meet is a popular video and audio conferencing tool available for free or as part of a paid Google Workspace plan.
It is known for its ease of use, screen sharing and in-meeting chat tools, and live transcription capabilities.
Both internal and external users can join a meeting via shared link, the desktop or mobile app, in-browser, and from Google Calendar or the emailed meeting invitation.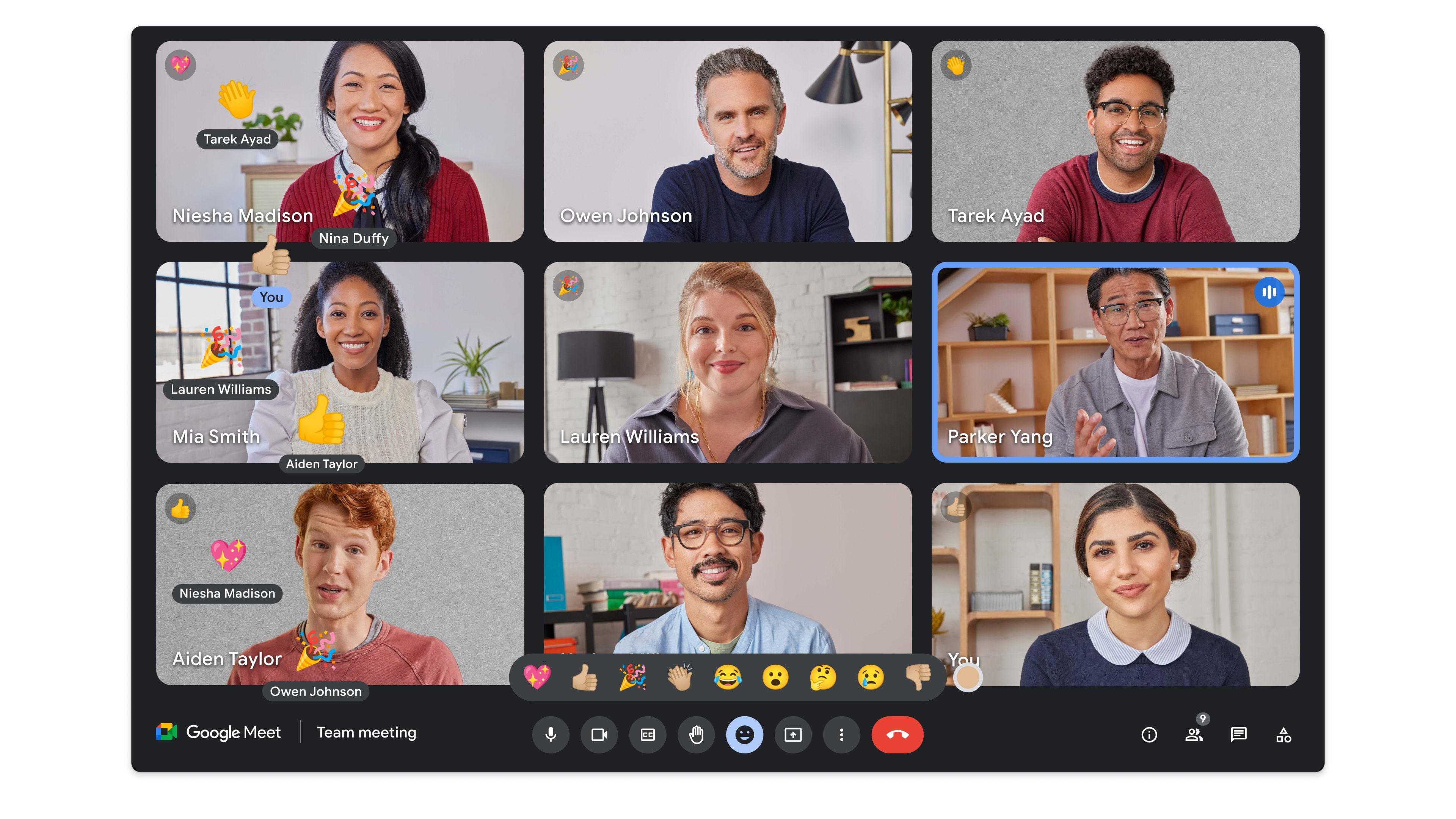 Key Features 
Host Controls: Add up to 25 co-hosts, add meeting waiting room, mute/unmute/remove participants, turn video on/off, turn participant in-meeting chat on/off, bulk admit/deny participants, end meeting
Breakout Rooms: Allows hosts to create and set timers for smaller discussion groups within an active meeting, ideal for department brainstorming/catch up sessions, training, etc.
Presenting: Lets a user share a Slides presentation, entire screen, a window, or a single tab with all meeting attendees–ideal for conference call presentations, product introductions, training, etc.
Pricing and Plans
Google Meet offers 1 free plan and 4 paid plans from $6/user/month to $18/user/month and up. A 14-day free trial is available.
Free Plan: Anyone with a Google account can meet with up to 100 participants for up to 60 minutes/meeting
Business Starter ($6/user/month, 1-yr. commitment):100 participants max., 24-hour meeting duration, noise cancellation, digital whiteboarding, US or international dial-in access, custom ad-free business email, phishing and spam protection, Standard Support
Business Standard ($12/user/month, 1-yr. commitment): 150–participant max., meeting recording with 2 TB pooled storage/user, noise cancellation, moderation controls, hand-raising, breakout rooms, Paid Enhanced Support available
Business Plus ($18/user/month, 1-yr. commitment): 500-participant max., attendance tracking, 5 TB pooled storage/user, eDiscorvery, retention
Enterprise (Quote-Based): 1000-participant max., Premium Support paid upgrade available, more storage space available, in-domain live streaming, enterprise endpoint management
Why We Picked It
Go-to free video and audio-only conferencing tool with unlimited conference calls per month
Google Workspace interface is familiar (low learning curve, fast setup process)
Integrates with Google Workspace tools like Google Calendar, Google Docs, and Gmail for easy scheduling and content sharing
Where It Falls Short
Free version doesn't include meeting recording and limits meeting lengths to 60 minutes
Advanced customer support available only via paid add-on for all plans (even Enterprise)
Paid users can only purchase Google Meet as a part of the Google Workspace suite, meaning businesses will likely pay for features they don't want or need.
GoTo Meeting
GoTo Meeting is an online conferencing platform that can be used on its own or as a part of a more full-fledged UCaaS platform.
Unlike other providers, GoTo Meeting does not offer a free conference call service–but it does offer more advanced AI-powered meeting notes, 24/7 customer care, and high security standards.
GoTo Meeting is designed to eventually integrate with other GoTo platforms like GoTo Webinar, GoTo Connect, and GoTo Training.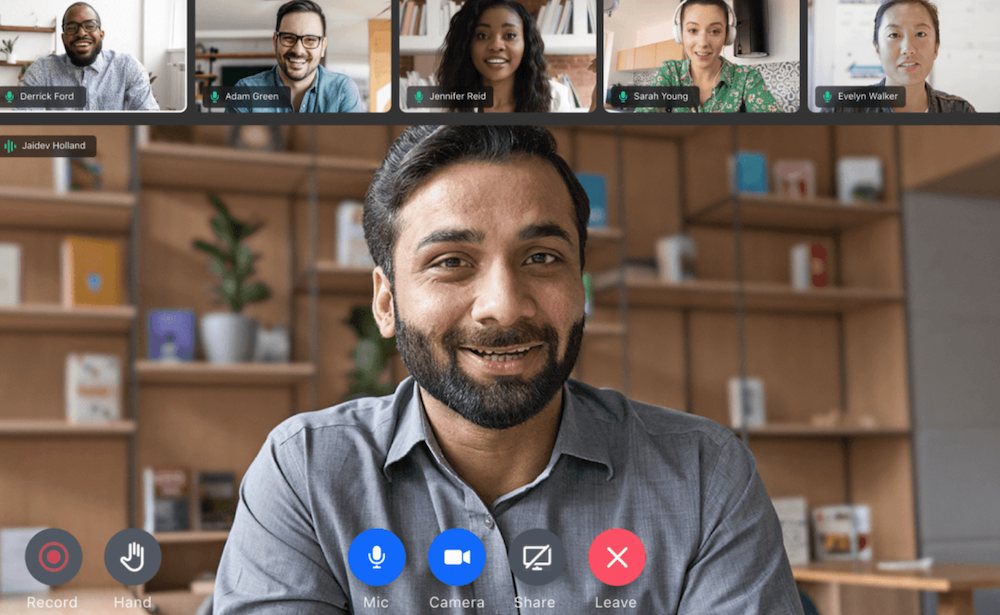 Key Features
Smart Assistant: Machine learning automatically recognizes action items and meeting highlights to create a summary of video conference calls
Slide to PDF: Creates a shareable PDF of all slides used in meeting presentations, automatically order slides
Drawing Tools: Ability to draw and collaborate directly on-screen, ideal for brainstorming, editing, and training
Pricing and Plans
GoTo Meeting offers three paid premium plans from $12-$16+organizer/month. A 14-day free trial is available.
Professional Plan ($12/organizer/month): Up to 150 participants with unlimited meeting durations, breakout rooms, dial-in Conference Line, persistent business messaging with user presence, screen sharing, HD video quality, virtual hand raising, personal meeting rooms, desktop and mobile app
Business Plan ($16/organizer/month): Up to 250 participants, unlimited cloud recording, meeting transcription, Slide to PDF, Smart Assistant, Note Taking, drawing tools, meeting lock, remote screen control, co-organizers
Enterprise (Quote-Based): Completely custom solution with onboarding and training, bundled discounts, and a Customer Success Manager
Why We Picked It
All plans include unlimited meeting duration
High-level mobile app capabilities include mobile cloud recording, voice commands with Siri, mobile meeting hosting, Commuter Mode to save data and access distraction-free, color-coded interface
All plans include always-on team chat messaging for constant collaboration
Where It Falls Short
One of the only providers without a free conferencing app
Enterprise plan caps attendance at 250 participants, low compared to competitors
Limited integrations (Office 365, Slack Meeting Launcher, Google Calendar, Salesforce only)
Dialpad AI Meetings
Dialpad Ai Meetings is a free and paid conference call platform with audio and video communication, unlimited audio recordings for all plans, and high-level customer support.
Dialpad is known for its advanced AI features, HD audio quality, and high-level integrations.
Dialpad Meetings is available as a standalone tool or as a part of the Dialpad Business Communications package.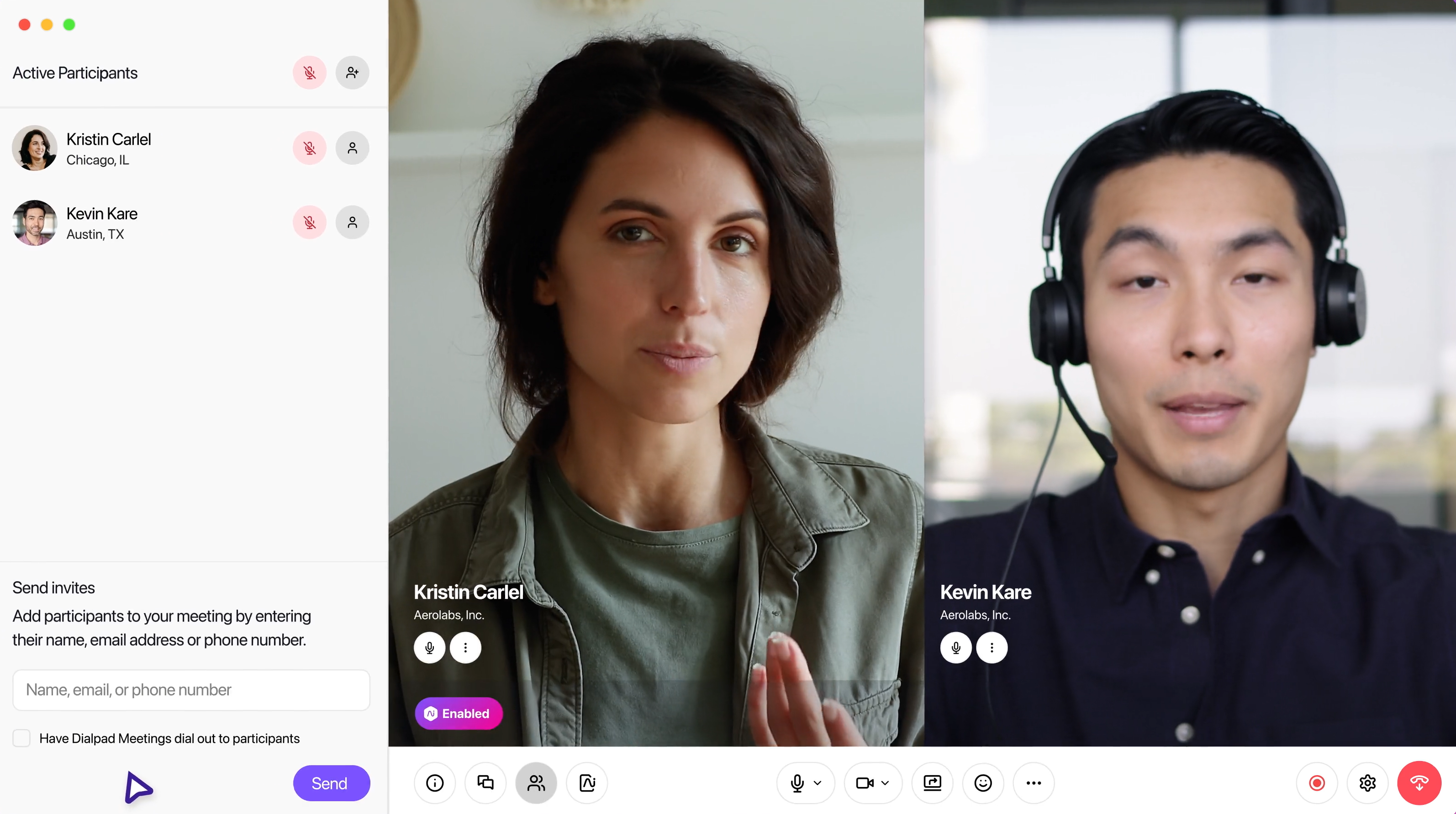 Key Features
Built-in AI: Uses Natural Language Processing for real-time conference call transcriptions, differentiates between speakers, automatic bandwidth adjustment, automatic post-meeting summaries with custom action items and full transcriptions
Integrations: Salesforce, Slack, HubSpot, Google Workspace and Microsoft 365 Calendars, Microsoft Teams, LinkedIn, Twitter, Miro
Customer Support: All plans include knowledge base and community forum access, M-F web and chat support, paid plan offers 24/7 phone support
Pricing and Plans
Dialpad Meetings has a free basic plan and a paid plan for $15/user/month.
Free Plan: Up to 10 participants can meet for 45 minutes, screen sharing, HD audio and video web conferencing software,  Personal Meeting ID, desktop and mobile access (no-download), US and Canada dial-in access, unlimited audio recordings, end of meeting reminder, virtual backgrounds, background noise reduction, meeting lock and waiting room, multiple layouts, high-level integrations, host controls, HIPAA compliance
Business Plan ($15/user/month): Up to 150 participants, 5-hour meeting duration, all Built-In AI tools, co-hosts, International and toll-free numbers ($20/number) dial-in access, dashboard/analytics, 24/7 and phone support, SSO, admin portal, no meeting PINs or access codes required
Why We Picked It
High-level integrations are the most impressive for a free conferencing tool
AI capabilities, including custom action items and automated post-meeting summaries, far outperform competitors
Custom, international, and toll-free dial-in conference numbers available, as well as auto dial-out
Where It Falls Short
Paid plan still caps participants to 150, and cuts of meetings after 5 hours–short compared to competitors
All plans include unlimited audio recordings, paid plan
Lack of overall scalability with just two plans
Zoho Meeting
Zoho Meeting is an online audio and video call meeting platform that includes scalable webinar capabilities and collaboration tools.
Though designed to work alongside other Zoho business communication stack software, Zoho Meeting works equally well as a standalone conferencing tool.
Anyone can join an instant or scheduled Zoho conference via desktop computer, downloadable application, Apple iOS or Android mobile app, Internet browser, calendar tool integration, Firefox or Chrome extension, or via an embeddable meeting link on a company website.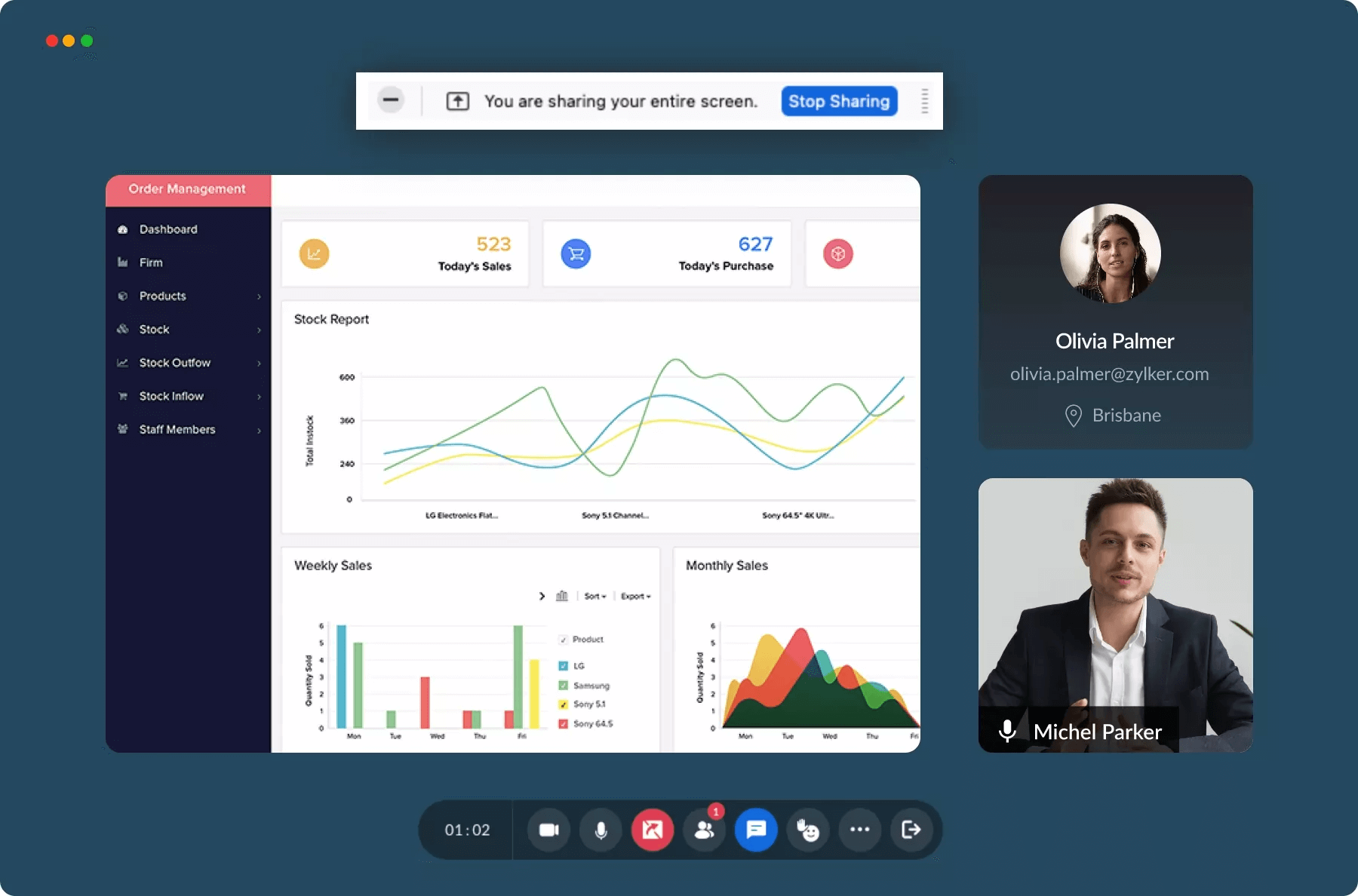 Key Features
Whiteboard: Upload images and save to image library, add text and shapes, write/draw with the pen tool, adjust text color, clear/save whiteboards, undo/redo actions, download whiteboard, collaborate with other attendees
Security Standards: Two-factor authentication (2FA), audio and video encryption for callers, HIPAA/GDPR compliance, meeting locks, SOC 2 Type 2 compliance, random password generation
Scheduling and Reminders: Set one-time or recurring automated email meeting reminders in day, hour, or minute intervals, (Gmail, Zoho Mail, Outlook integrations,) customize meeting registration forms/invitations
Meeting Analytics: Participant Engagement Report (name, role, device, time joined/departed, time in meeting), session duration, history, participant list, recordings, number of participants, average sessions per day
Pricing and Plans
Zoho Meeting offers a free conferencing solution and 2 paid plans from $1-$15/user/month. Pricing varies by the number of participants selected. A 14-day free trial is available.
Forever Free Plan: 100 max. participants can meet for up to 60 minutes/meeting, screen/application sharing, virtual backgrounds, in-meeting chat, whiteboard, instant and scheduled meetings with meeting reminders, mute/unmute/remove participants, virtual hand raising, basic support, limited webinar features
Standard Plan ($1 for 10 participants-$10 for 250 participants): 250 max. participants with 24-hour meeting duration, interactive polling, up to 2 co hosts, keyboard and mouse sharing, meeting lock, meeting recording, recording share, limited meeting storage, Zoho integrations,user management, co-branding, priority support, international dial-in, in-meeting file sharing
Professional Plan ($3 for 10 participants-$15 for 250 participants): 250 max. participants with 24-hour meeting duration, embeddable meeting widget, advanced meeting reports, custom meeting domain, set up to 5 co-hosts
Why We Picked It
Flexible pricing according to desired number of conference participants
Free plan includes some webinar features, like an embeddable registration widget, pre-webinar and in-session polling, view and share registration reports, automated attendee follow-ups, upgrade attendees to speakers or presenters, and Q&A
Dial-in meeting access phone numbers in 55+ countries, with toll-free and vanity numbers available as add-ons
Where It Falls Short
Free plan lacks meeting lock and in-meeting file upload/sharing
Designed to work alongside the Zoho SaaS space (Zoho CRM, Zoho Projects, etc.), so offers few third-party integrations
Paid plans don't include the same webinar features as the free plan, meaning Zoho Meeting users must upgrade to Zoho Webinar plans ($8-$416/organizer/month) to access the same free features
Cisco Webex Meetings
Cisco Webex Meetings is an online audio and video conference platform packed with advanced features to increase business communication and team collaboration, optimize meeting time, and prevent miscommunications.
Anyone can attend a Webex meeting via desktop or mobile device, in-browser, via the downloadable Webex application, toll-free dial-in, or by the Meetings on the Go feature for Apple CarPlay integration.
Webex Meetings is ideal for remote or blended small businesses and startups looking for a free audio conferencing tool equipped with video, meeting recording, AI-powered features, HIPAA compliance, and robust collaboration tools.
Users can upgrade to the Suite Plan, which includes both calling and meeting features, to access a scalable business phone system alongside conferencing capabilities.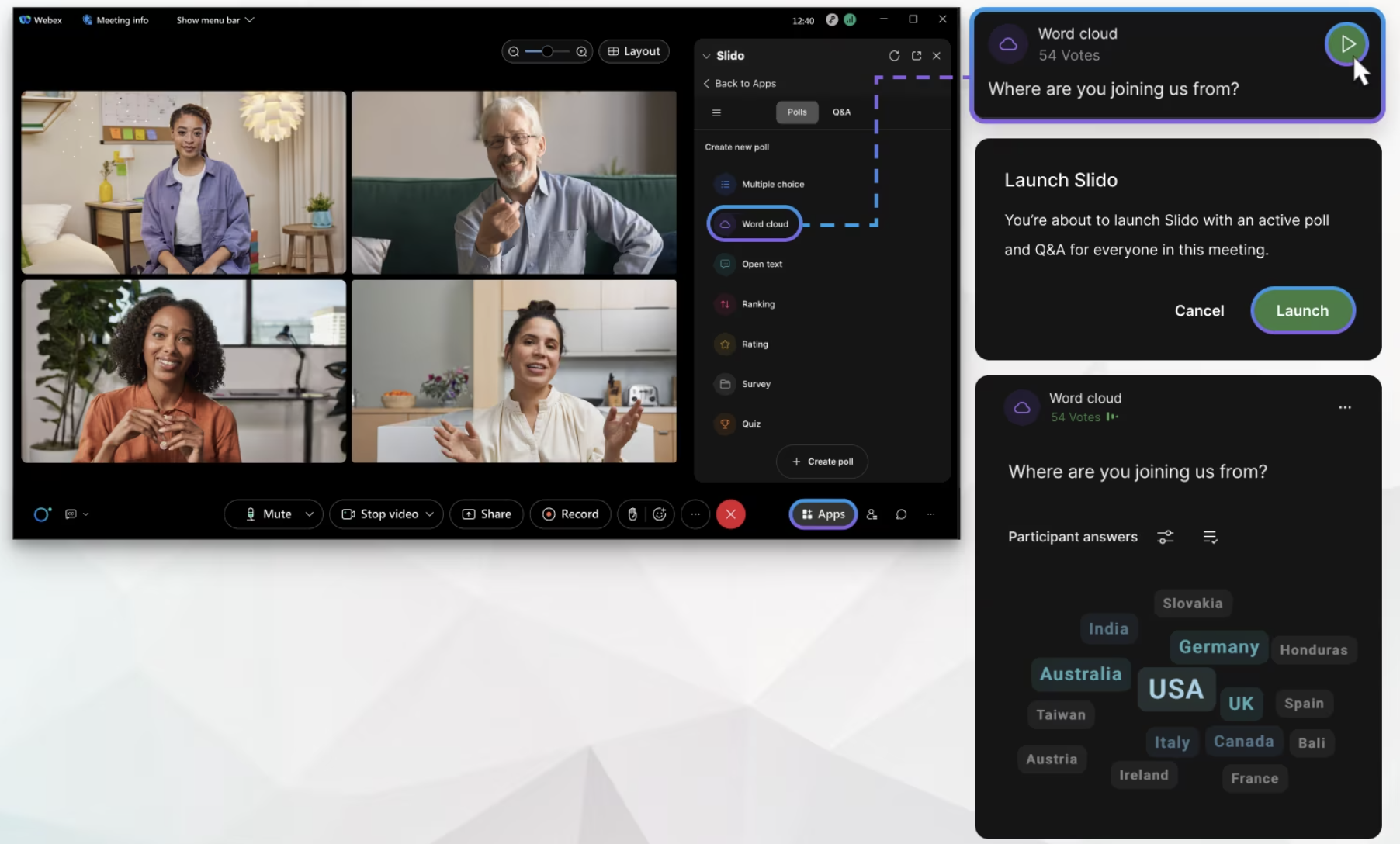 Key Features
Meeting Highlights: Users can create in-meeting highlights to capture key points, play highlight audio, edit highlight text, share or delete highlights, or label highlights as decisions, agendas, action items, etc.
Real-Time Translation (Add-on only): In-meeting closed captioning and translation in 100+ languages including French, Spanish, German, Chinese, and Arabic, 15-day free trial, then $30/license/month
Live Polling by Slido: In-meeting polls, quizzes, surveys, word clouds from answers, share and export poll results in or after meeting
Messaging and Collaboration Tools: All free and paid plans include unlimited 1:1 public/private team chat messaging with file sharing and storage, message threading and search, user presence, message reactions (emojis, GIFs), and internal/external guest accounts
Pricing and Plans
Webex offers 1 free plan and 3 paid plans from $14.50-$25+/license/month. A 90-day free trial is available.
Free Plan: 100 max. participants, 40 minutes/meeting time limit, public and private in-meeting chat, desktop and mobile screen sharing, breakout rooms, whiteboard, noise removal and voice optimization, waiting room, pin video and content, meeting recording and local storage, virtual backgrounds, share multiple applications, HIPAA compliance, messaging and collaboration tools, online Help Center
Meet Plan ($14/50/license/month): 200 video call participants, 24-hour meeting duration, local and 10GB cloud storage, meeting closed captions and highlights, live polling by Slido, join overlapping meetings simultaneously, call anyone with a Webex account, participant control, case form, chat, and phone support, post-meeting transcript, meeting co-hosts
Suite Meet+Call Plan ($25/license/month): 200 participants, 24-hour meeting duration, call any number via Webex app, 6-way conference calling, contact lists, call waiting and call forwarding, visual voicemail
Enterprise Plan (Quote-Based): 1000 participants, 24-hour meeting duration, dedicated support representative, unlimited cloud recording storage, in-meeting file transfer, simultaneous interpretations, livestreaming to YouTube or Facebook, call recording, call queueing, call barge, group paging
Why We Picked It
Provides scalable audio-only, video, collaboration, and business phone system capabilities within the same tool
Meeting recording is included with every plan, including the free plan
All Meet plans come with Webex Assistant, allowing for AI features like voice commands and keywords, post-meeting transcripts, closed captions, meeting highlights, and hand gesture recognition
Where It Falls Short
More advanced conferencing features mean a higher learning curve, and interface can feel overcrowded
"Call Me" meeting access available only as a paid add-on ($4/license/month domestic, $25/license/month international)
External users must download the Webex app to join a meeting
Webinars and Online Events Platforms 
In addition to the conference call services mentioned in this post, consider upgrading to webinar software to access high-level features like in-event offers, higher attendance caps, panelists, event analytics, practice spaces, and more.
Popular webinar platforms include: 
Webex Webinars
GoTo Webinar
Zoom Events and Webinars
Zoho Webinar
RingCentral Webinar
Microsoft Teams Webinar
What Is Conference Calling Software? 
Conference calling software is a business communication tool allowing multiple internal and external participants to attend the same shared audio or video virtual meeting. 
Especially for geographically diverse, blended, and remote teams, conference call tools facilitate business meetings across a variety of time zones, schedules, departments, and even languages.
Conference calls eliminate the need for a physical meeting place and even the need for excessively expensive conference room equipment.
With a conference call platform, businesses may choose to meet entirely virtually or facilitate calls with external participants from a physical conference space powered by conference call software and hardware (webcams, virtual boards, speakers, etc.)
Conference call services enable flexibility, mobility, and stronger collaboration.
10 Essential Conference Calling Features
The most important features of a conference calling platform are:
Meeting Recording and Storage: Automatic or on-demand audio and/or video meeting recording and storage, exportable post-meeting recording or transcript, meeting summaries and highlights
Host Controls: Enable meeting waiting room and meeting lock, set meeting password, add+remove participants, enable/disable audio and video, set meeting co-host, upgrade participant to presenter, end meeting, enable breakout rooms, etc.
Real-time Collaboration Tools: In-meeting public/private chat, online whiteboard, screen sharing, file sharing and co-editing, reactions, virtual hand raising, polls, Q&A tools, etc.
Audio Conference Bridge: Allows multiple people from different locations to join in the same conference, a bridge can be a virtual meeting room in a desktop or mobile app, a web browser, or a phone with dial-in access
Meeting Analytics: Shows meeting duration, participants, participant activity, talk time by participant, meeting dates/times, average number of monthly meetings, etc.
Video: Allows for face-to-face virtual meetings, includes custom video layout/pinning tools, virtual backgrounds, lighting adjustments, active speaker views, etc.
HD Voice and Audio: Background noise cancellation or suppression, echo cancellation,
Meeting Scheduling: Users can set one-time or recurring meetings, add a meeting title and agenda, hide or show participant/invitee lists, share meeting links, add dial-in access numbers, etc.
Mobile App: Users should be able to join from any Android or Mobile smartphone or another mobile device, and should ideally be able to switch between devices during a meeting without having to leave and rejoin
Email and Calendar Integration: Compatible integrations with your preferred email service and calendar tools simplify the meeting invitation process and enable automated meeting notifications, reminders, scheduling, and post-meeting file/recording sharing
Benefits of Using A Conference Call Service 
The top benefits of conference call services are:
Scalability: In addition to individual add-ons like increased storage capacity and toll-free dial-in numbers, conference calling solutions make scaling up to a more complete UCaaS, VoIP, or webinar platform simple with tier-based pricing and additional provider software or third-party integrations
Improved Collaboration: Especially since most conference calling solutions include a no-download free plan, internal and external collaboration is simple and enhanced by functionality like in-meeting file sharing, whiteboarding, breakout rooms, screen and sharing, in-meeting chat messaging, and shareable meeting recordings
Improved, Efficient Meetings: Helps to cut down on both the number and duration of necessary team meetings, recordings and shareable whiteboards/meeting notes ensure those who missed the meeting don't miss key information, notifications and reminders prevent team members from accidentally missing meetings
Greater Sense of Teamwork: Especially value for remote and blended teams, conference calls allow employees and management to get to know one another, share ideas, ask questions, feel recognized and valued, and uncover team member skill sets
Cost-Savings: Allows businesses and employees to save the time and costs of transportation, hotels, purchasing additional devices (works with existing desktop, smartphones, laptops, tablets), and office or event spaces
The best conference call service depends on your company's needs. For example, RingCentral is good for large-scale conferences, Cisco Webex is good for hybrid teams, and Dialpad — for small meetings.

Yes. Google Meet offers conference calls, texting, voice, and video calls for free.

Yes. GoTo Meeting offers free meetings for up to 40 minutes, screen sharing, VoIP audio, and in-meeting chat.

Each provider has unique conference calling options. Some free providers offer unlimited conference meetings with limited meeting duration, and some limit the number of users per conference call.