Phone.com is a business phone system that offers VoIP calling, SMS texting, video conferencing, routing features, and analytics, available via mobile and desktop apps.
With 3 pricing plans starting at $11.99 monthly per user, Phone.com offers a VoIP solution for all budgets and companies, ranging from solopreneurs to SMBs to enterprise businesses.
But how does Phone.com stack up against competitors?
This article will outline Phone.com alternatives, comparing features, pricing, pros, and cons.
Best Phone.com Alternatives
Here are the top Phone.com alternatives:
Dialpad is a UCaaS business phone system offering HD voice, small-team video conferencing, SMS, web chat messaging, and online collaboration meetings. Plans include local number support in over 70 countries, with unlimited calling inside your country, the US, and Canada.
Dialpad's service shines when it comes to AI agent support, as their real-time transcriptions, sentiment analysis, and coaching provide agents with helpful, live insights.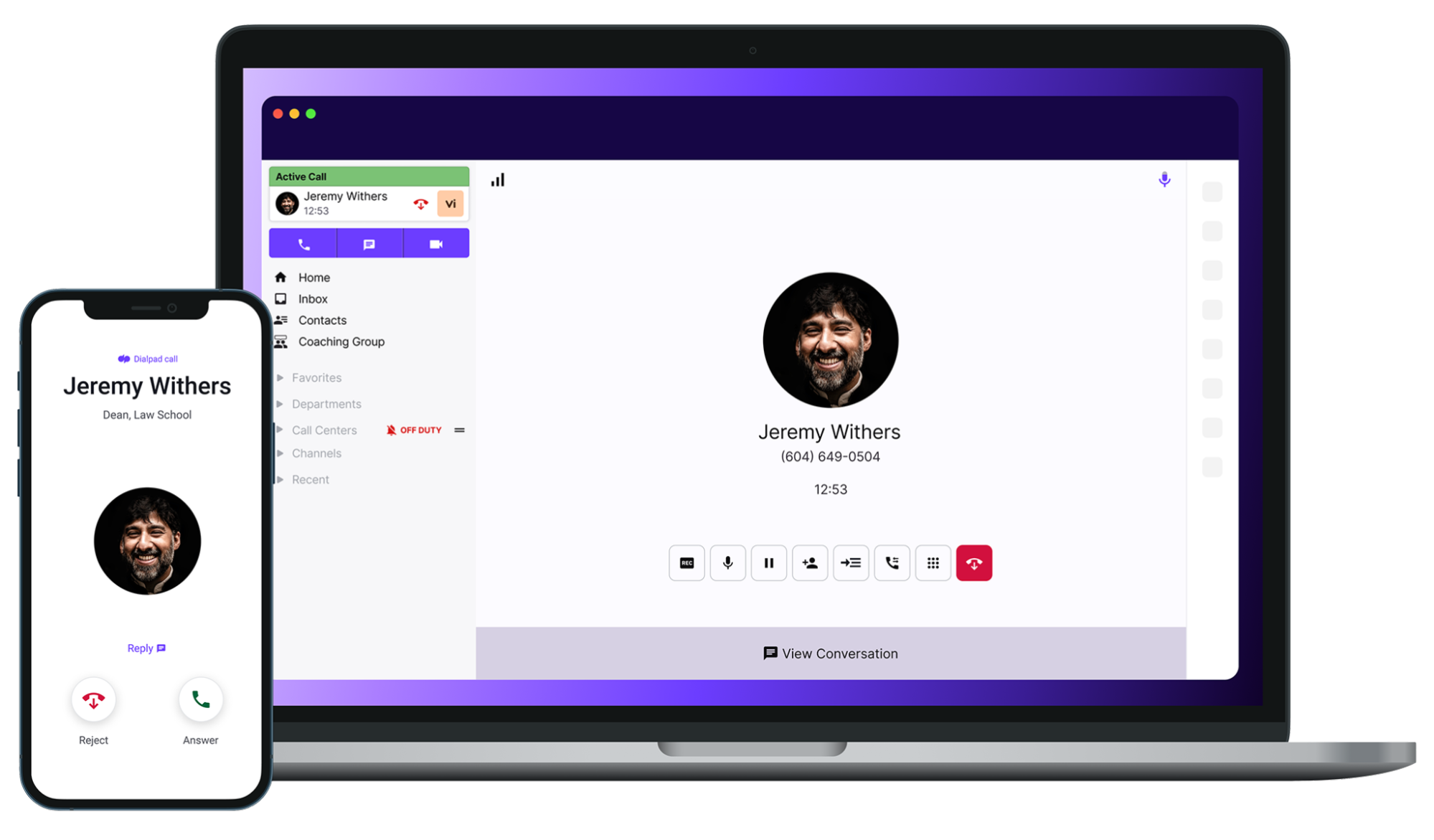 Features
Built-in AI for agent support: Real-time call recording and transcription. Natural language understanding (NLU) AI provides live speech coaching on aspects like agent pace and keyword usage.
Supervisor visibility tools: Supervisors have live call center monitoring, with custom wallboards and analytics displaying KPIs like real-time caller sentiment, agent activity heatmaps, agent service quality scorecards, and customer CSat survey results.
Unlimited video meetings: Schedule meetings in-app, with before-during-and-after productivity features–chat channels to prepare the right group, and agendas to share relevant files or links for in-meeting materials. Participants can join meetings on any device and use virtual backgrounds, collaborative whiteboards, meeting chat, screen sharing, and countdown timers.
Other Features:
Call monitor, whisper, barge, takeover
Call Center IVR and call queues
Unlimited 1:1 and group messaging channels with file sharing, emoji responses
Automated post-call notes
Visual voicemail with searchable voicemail transcription
Dialpad Pricing & Plans
Dialpad's standard plan for small teams includes phone service, video, chat, and SMS. The Pro plan adds multiple phone numbers per account and widespread international local number support. The Enterprise plan offers unlimited ring groups and office locations.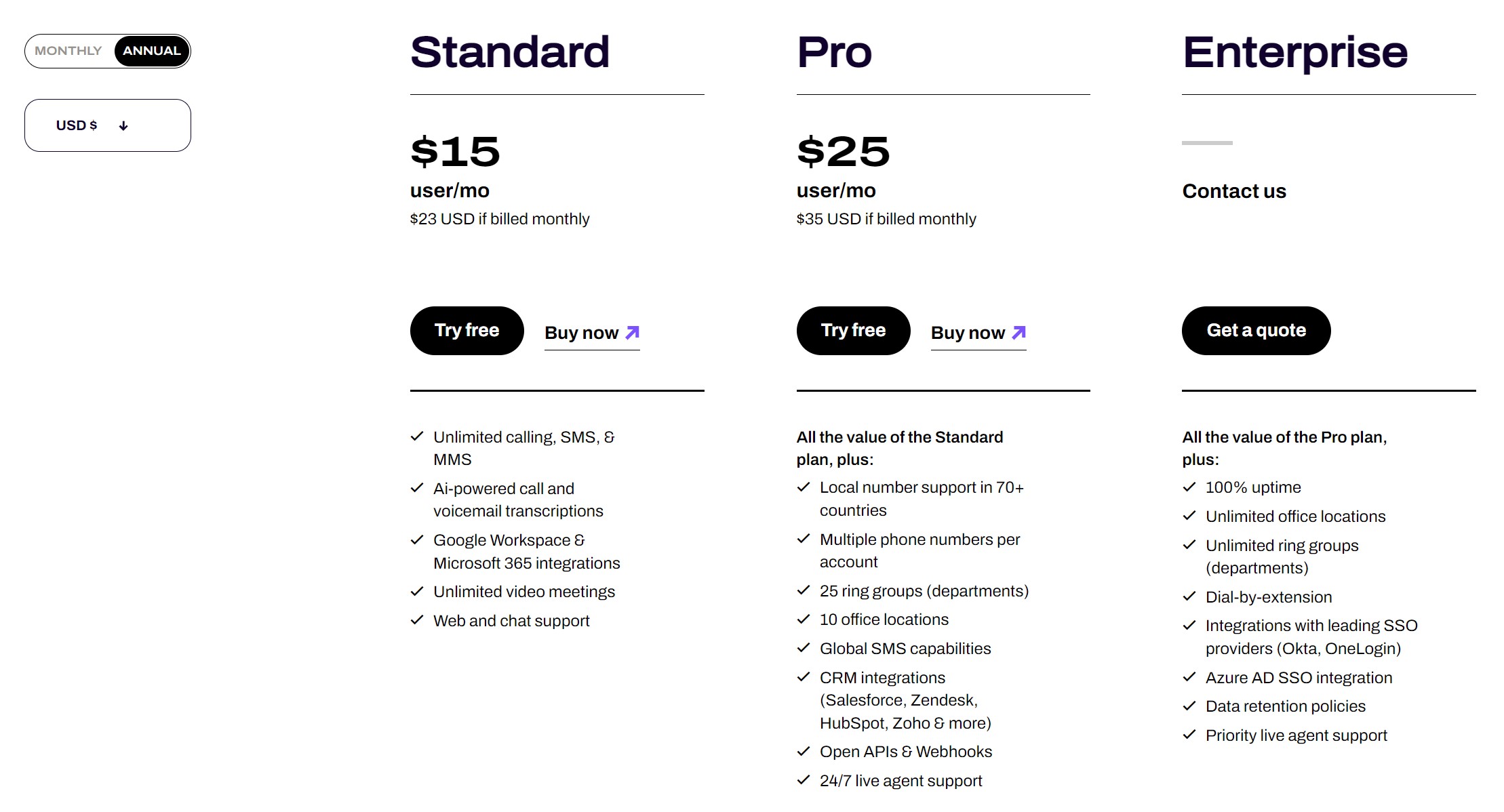 Dialpad Pros & Cons
| | |
| --- | --- |
| Dialpad Pros | Dialpad Cons |
| All plans include all channels | Video meeting capacity is only 10 participants |
| Live AI tools like call transcription and agent coaching | Standard plan does not allow multiple phone numbers per account |
Nextiva's business communications solution supports video conferencing, chat messaging, SMS, and unlimited HD-voice calling within the US and Canada. Their phone system bundles with contact center and CRM software, and they provide a free local and toll-free number with each account. Each plan includes at least 1,500 toll-free minutes, plus internet fax.
The mobile- and web-app interface unites all agent communications in an easy-to-use dashboard, providing CRM-enhanced pop-ups for a full context of inbound customer calls.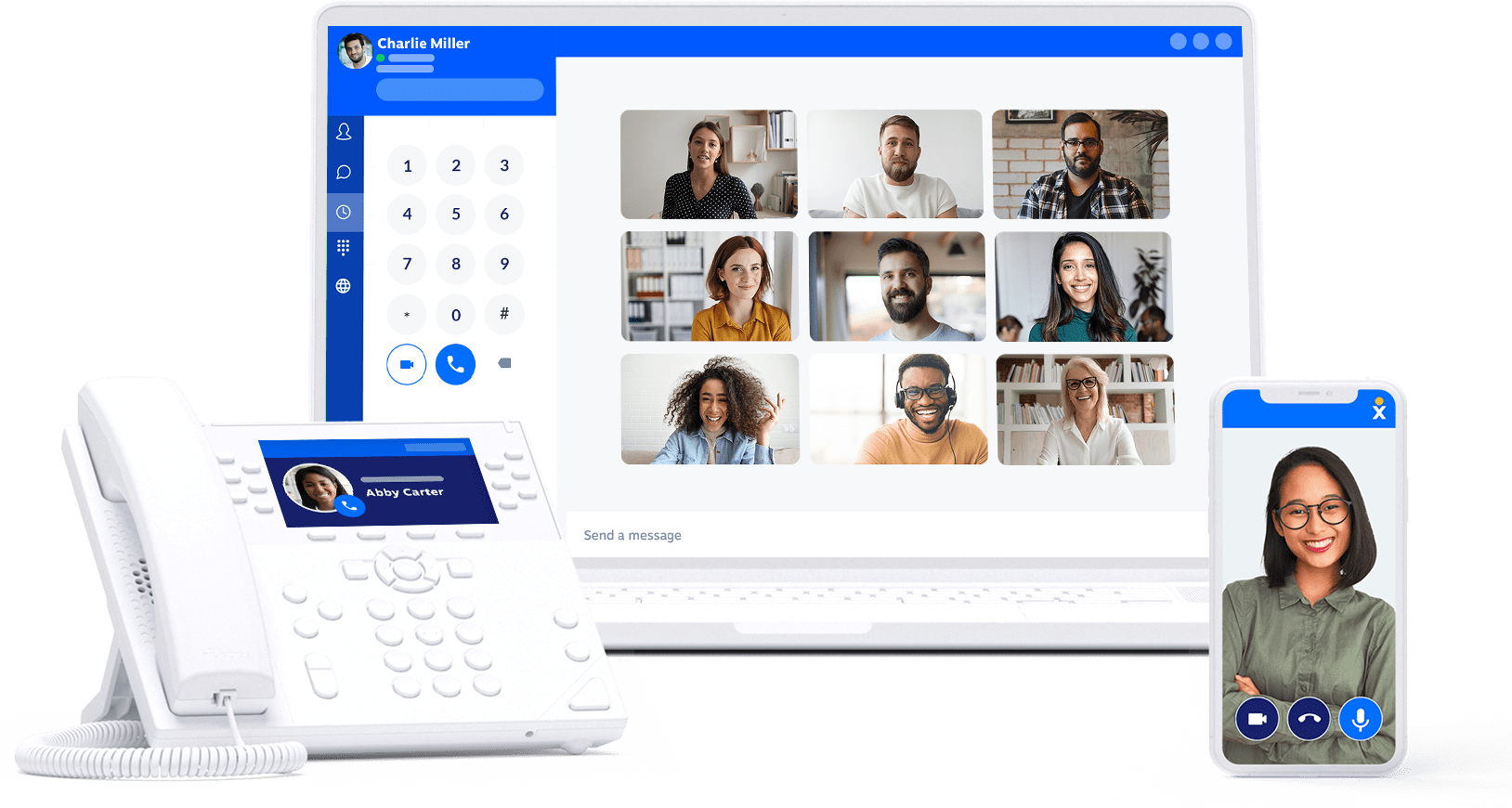 Features
Collaboration–chat and calendars: Create unique team channels and 1:1 chats to collaborate. These chats support voicemail sharing with playback, message sorting and search, file sharing, and integrated calendars where teammates can create, sync, and organize events and video meetings.
Video conferencing: Video meetings, accessible on desktop or mobile, host up to 250 participants per meeting but are capped at 45 minutes on all regular plans–uncapped meeting lengths require purchasing the productivity add-on. In meetings, users can record, chat, share images and files, and manage agendas or to-do lists.
Productivity features: To enhance productivity and effectiveness during phone calls, agents can create contact and call notes. Transcribed visual voicemail, voicemail-to-SMS and voicemail-to-email ensure that each inbound call reaches an available agent as soon as possible.
Other Features:
Drag-and-drop IVR flow builder
Call recording
Routing groups
Pricing
Nextiva's plans each include calling, team messaging, video conferencing, calendar sharing, and video-meeting scheduling. The Professional plan adds a multi-level auto attendant and SMS texting, while the Enterprise plan adds call recording and the full integration suite.
Users should note that Nextiva's plans only include basic call reports and logs–more comprehensive analytics and meeting collaboration tools require the Analytics or Productivity plugins, sold separately.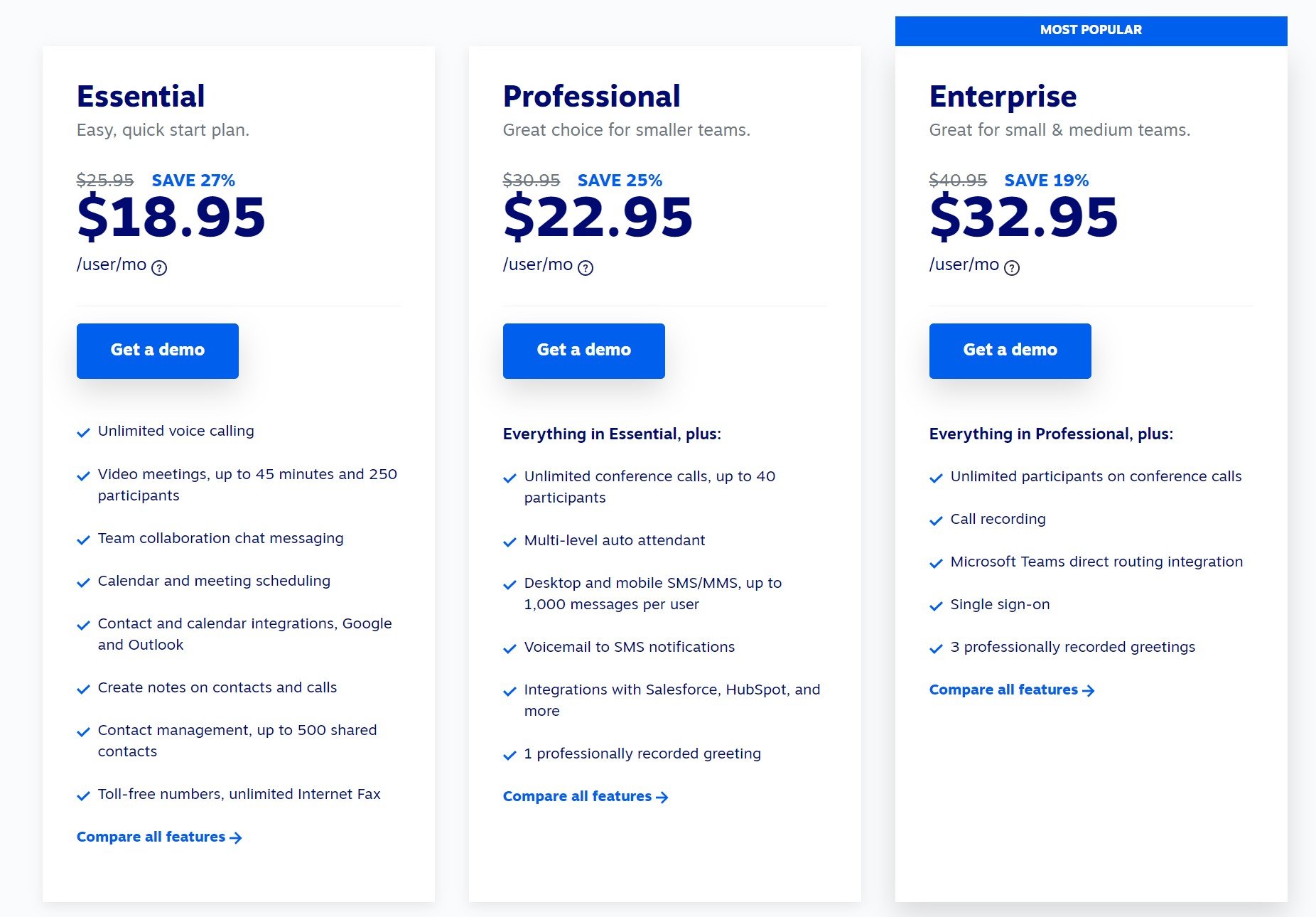 Nextiva Pros and Cons
| | |
| --- | --- |
| Nextiva Pros | Nextiva Cons |
| Large video meeting participant capacity | Add-ons are required for comprehensive analytics and full video collaboration tools |
| Free local and toll-free number for each account | Nextiva does not support the Opus codec, meaning lower audio quality |
RingCentral's MVP plan includes messaging, video, and phone–plus fax and SMS texting–with over 250 app integrations, global calling to over 110 countries, and 99.999% uptime.
Compared to Phone.com, RingCentral has a much larger integration library, with hundreds of apps spanning CRM, customer support, automation, and productivity.
Accessible with softphone access on mobile or desktop, their phone system provides analytics, routing, and AI support.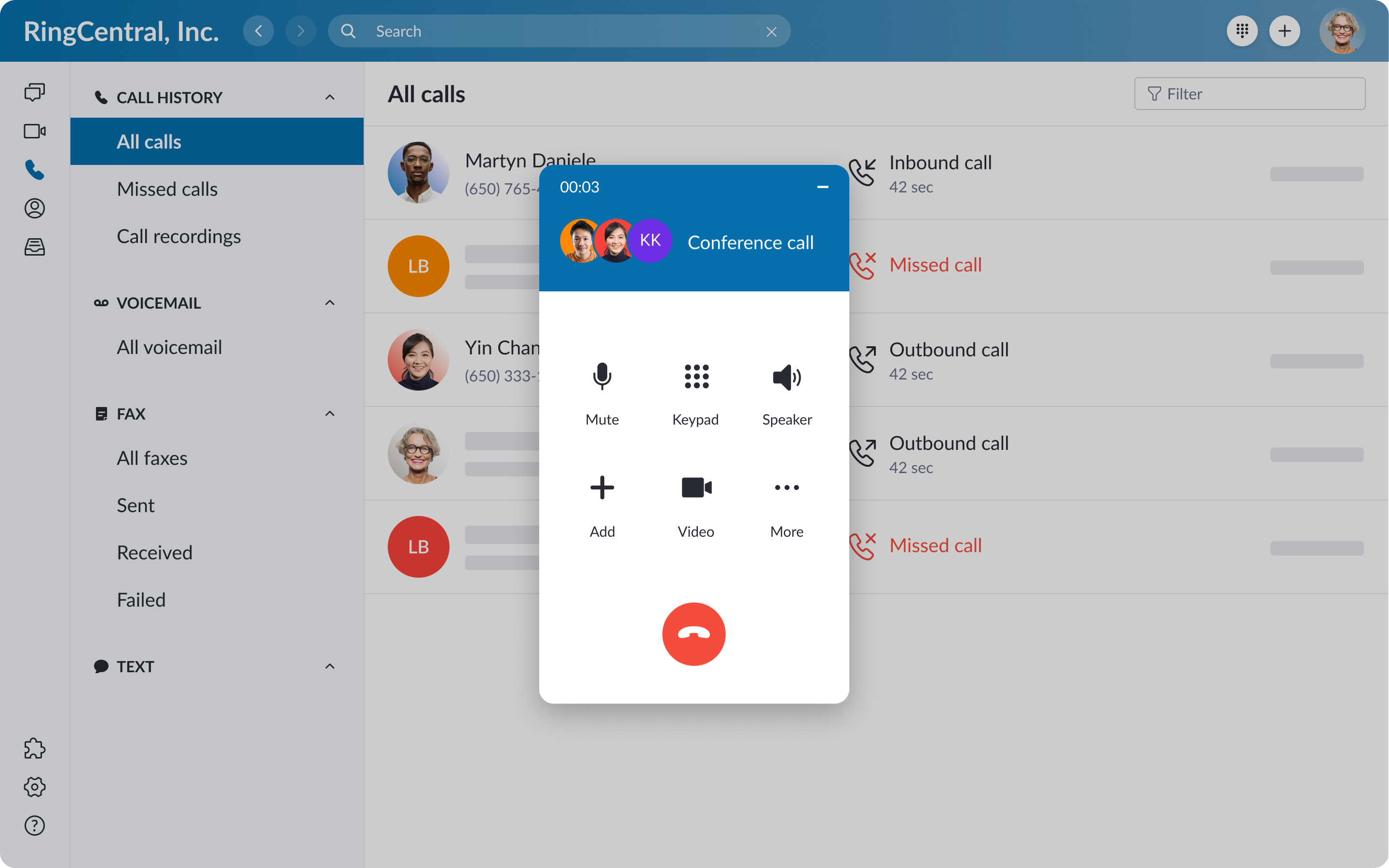 RingCentral Features
Video conferencing: RingCentral's HD video conferencing, requiring no download, is full of collaboration features. With up to 200 participants, enjoy screen sharing, whiteboards, annotations, breakout rooms, live chat, and recording.
AI meeting features: AI support enhances video meetings with features like post-meeting insights–summaries, topics, highlight reels, keywords, and transcripts. AI generates a live transcript during the meeting and automatically reduces speaker background noise.
Messaging productivity tools: Within 1:1 chats and group channels–create and assign tasks with to-do lists, add external contacts by email, enter a live video huddle anytime, and share or pin messages and files.
Other Features:
SMS/MMS
Real-time analytics
Visual voicemail
Voicemail-to-email and voicemail-to-text
RingCentral Pricing
RingCentral's 4 plans each include unlimited calling within the US and Canada, plus SMS and team messaging. Video conferencing is only included with Standard plans and up.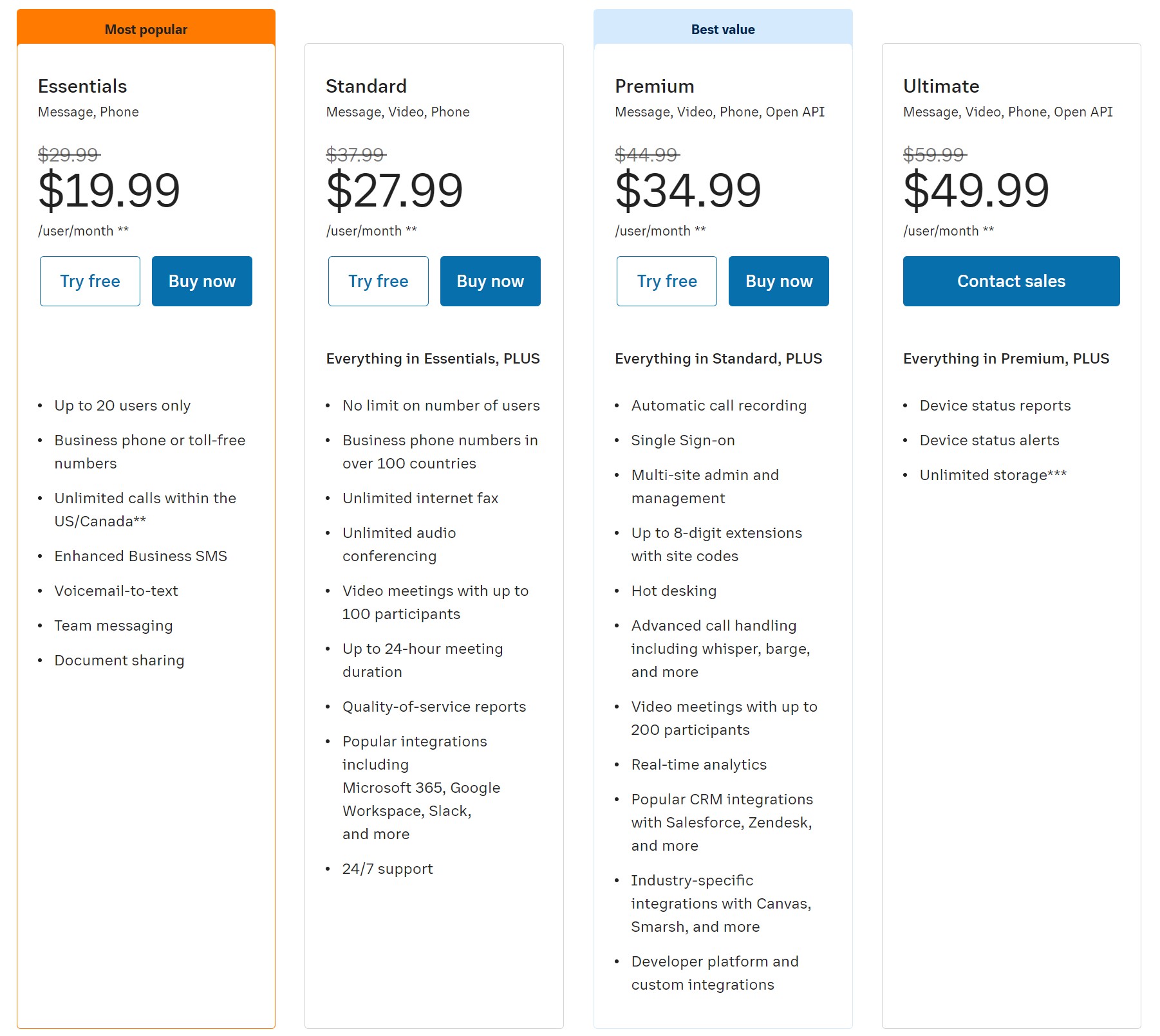 RingCentral Pros and Cons
| | |
| --- | --- |
| RingCentral Pros | RingCentral Cons |
| Dynamic video-collaboration features | Video only comes with Standard plan and up |
| Task management messaging features | Some users have had difficulty with initial setup |
Zoom Phone is a VoIP solution with voice, SMS, and web chat. While it doesn't include video, it integrates seamlessly with Zoom One, which offers free 45-minute video meetings with a ton of advanced features like whiteboards, chat, and breakout rooms. All channels–including video–are housed neatly in Zoom's agent portal, accessible on mobile or desktop apps.
All of the VoIP provider's plans offer 9 integrations with popular names: Salesforce, Slack, 5 contact center providers, Microsoft, and Google products.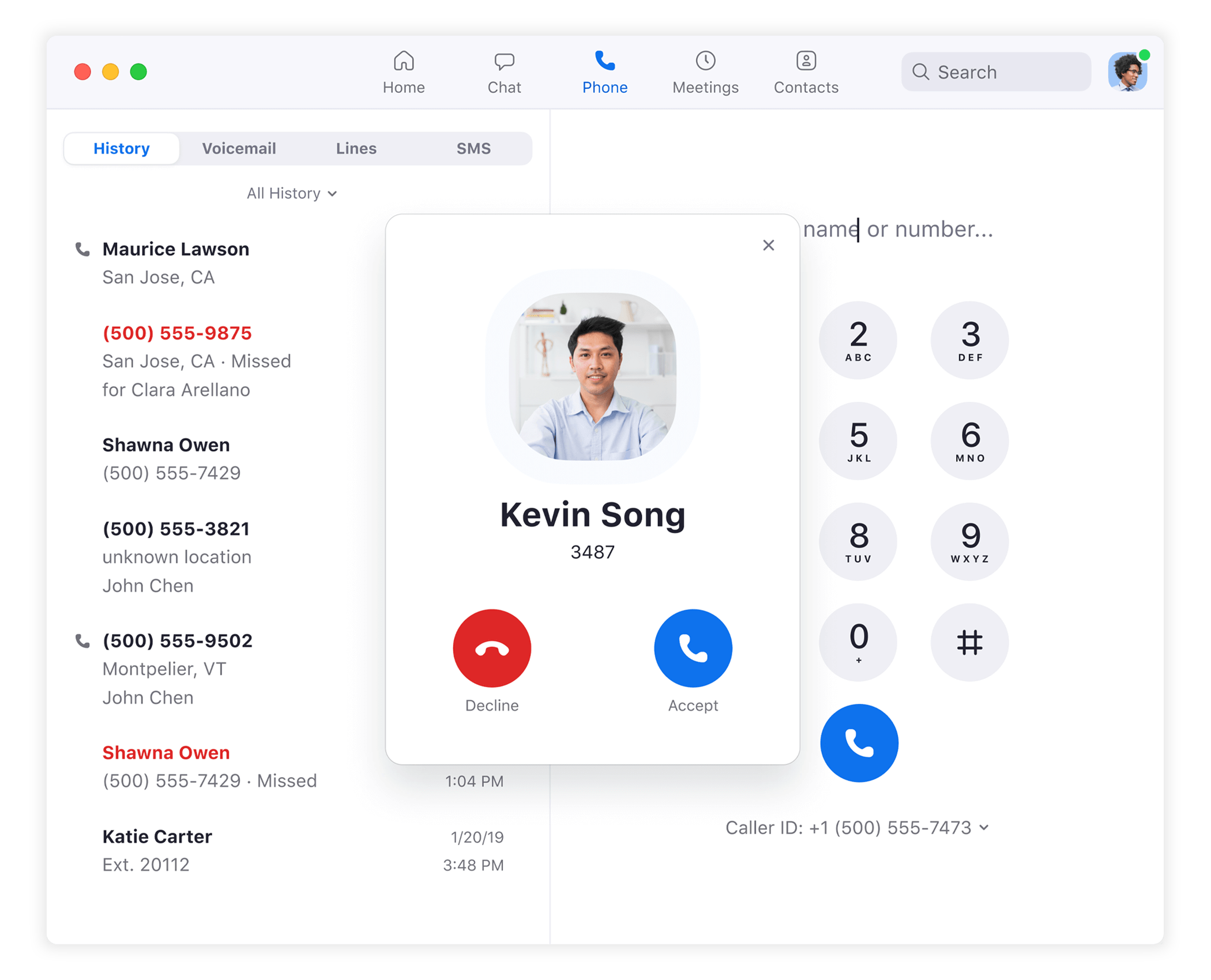 Zoom Features
Administration: Agent monitoring tools like monitor/whisper/barge/takeover, call logs, call quality dashboards, and call delegation for assistants to make calls for executives.
Routing and Queueing: Global call routing with set business hours and follow-the-sun settings, call queues with overflow rules, and unlimited auto-attendant self-service menus to route customers anywhere within the phone network.
Other Features:
Call recording
Elevate call to Zoom Meeting or Zoom Room
SMS and MMS
1:1 and group chat
Integration with Zoom Meetings, featuring tons of video collaboration features
Zoom Pricing
Zoom Phone offers 3 plans: a pay-as-you-go plan, a plan with unlimited calling inside the US and Canada, and a global option with unlimited domestic calling in one of 40+ supported countries outside the US or Canada.
Each Zoom Phone plan includes SMS and team chat, and users can integrate Zoom One's free video-conferencing features.

Zoom Pros and Cons
| | |
| --- | --- |
| Zoom Pros | Zoom Cons |
| Highly affordable plans | No built-in meetings on Zoom Phone plans |
| Integrations with Zoom One and Zoom Meetings | Lacks some messaging productivity features |
Vonage's unified communications plans include unlimited calling and SMS, team messaging, and meetings with up to 100 participants–all on mobile and desktop apps.
The Vonage phone system offers VoIP services to deliver softphone functionality to all devices, provides toll-free numbers, and boasts 99.999% uptime.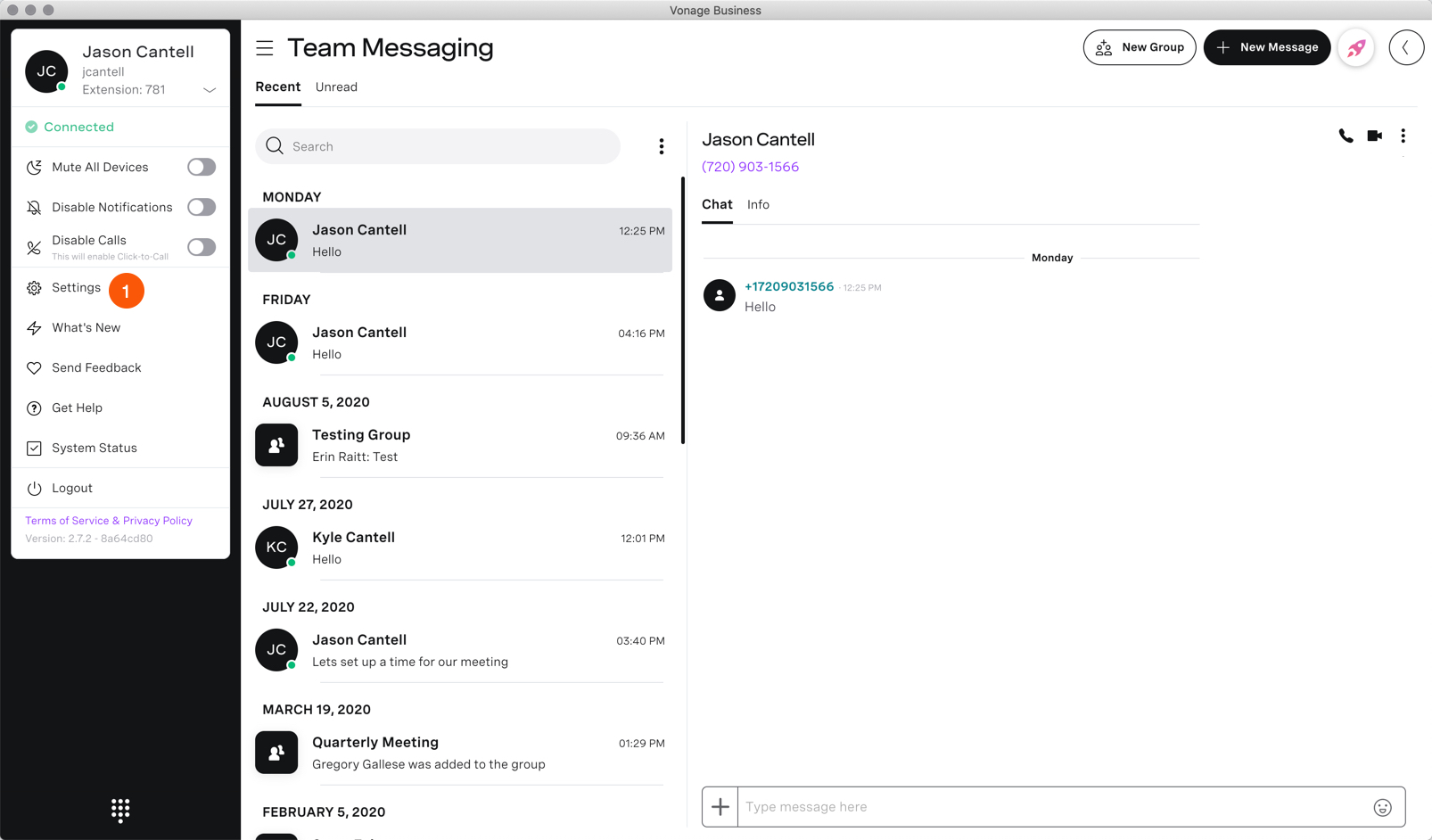 Vonage Features
Vonage Meetings: Users can schedule meetings and add them to the calendar right within the Vonage app, join from a team chat room, and escalate to video from SMS. Video meetings include screen sharing, whiteboard with up to 20 participants, waiting rooms, and chat.
Agent dashboard: The Vonage agent mobile and desktop dashboards host all of a user's activity and contacts in one home screen. Users can send texts, manage internal and customer-facing messaging conversations, initiate videos, and make softphone calls–within just a few hours of signing up. Simply clicking on a contact's name pulls up customer information and one-click calling or video meeting.
AI Virtual Assistant: Like an IVR, Vonage's AI assistant can provide customer self-service, send personal email and chat responses to customer inquiries, and offer agents live support with scripts and conversation queues. Set up and manage the virtual assistant in the AI Design Studio.
Other Features:
Virtual and visual voicemail
1:1 and team messaging
Call park
Call queues
Auto attendant
Vonage Pricing
Vonage's Mobile plan includes telephony, SMS, and team messaging. The Premium plan adds video and auto attendants, while the advanced plan adds call groups, visual voicemail, and call recording.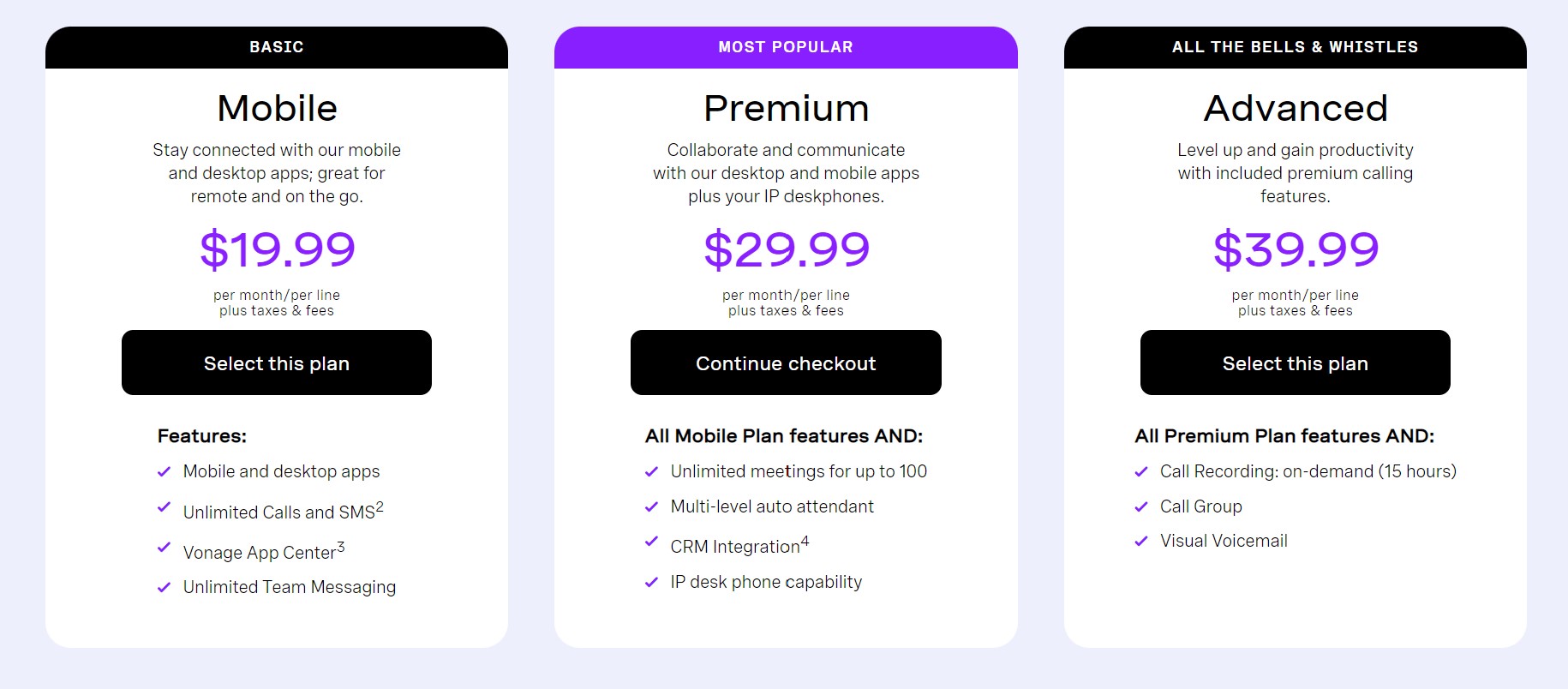 Vonage Pros and Cons
| | |
| --- | --- |
| Vonage Pros | Vonage Cons |
| Click-to-dial plugin is convenient | No video on basic plan |
| AI agent support | Meetings only support 100 participants |
Grasshopper offers a virtual phone system catered toward small businesses, with voice calling, business SMS texting, fax, voicemail, and basic call management features. Users can make unlimited calls and send unlimited texts with all Grasshopper plans.
Unlike alternatives, Grasshopper primarily uses your cell provider's network service to make calls. This decreases the audio quality a bit. However, Grasshopper does offer WiFi and VoIP calling as non-default options.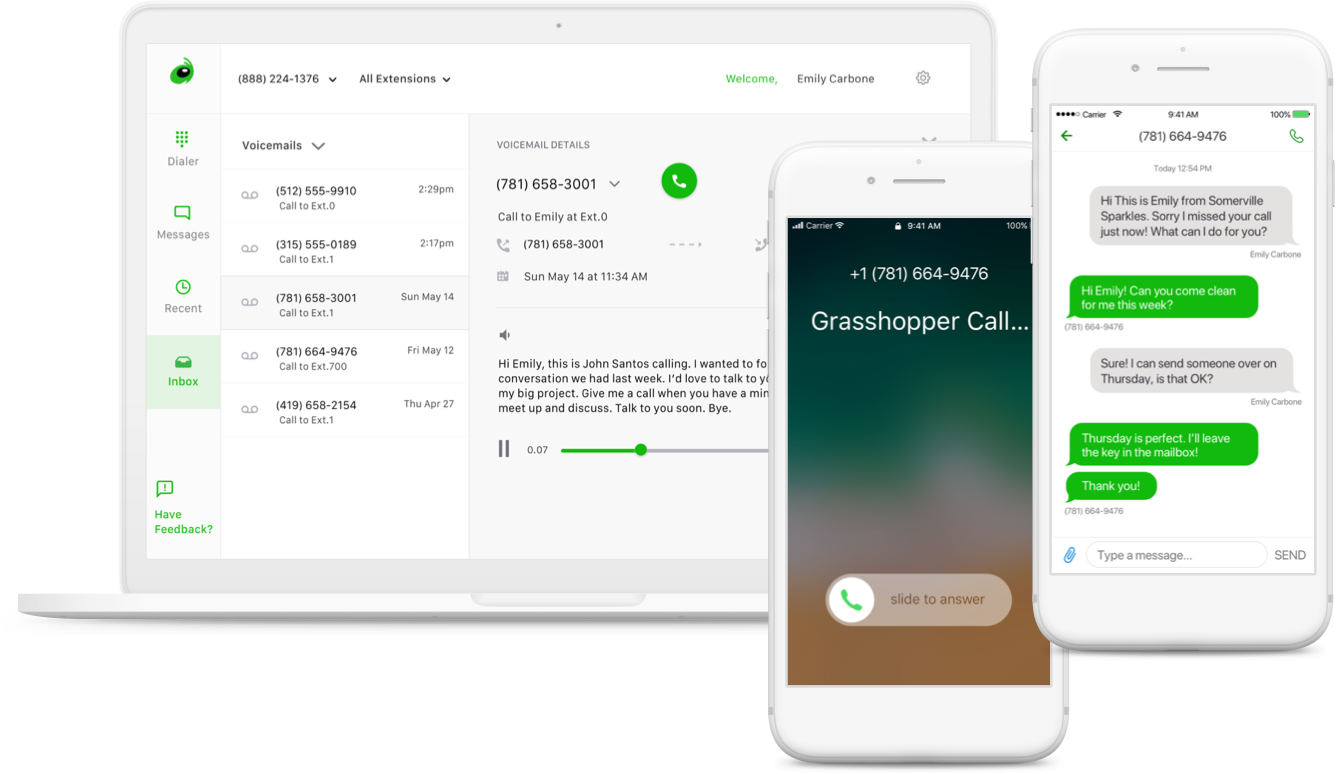 Grasshopper Features
Simultaneous call handling: Set a chain of fallback numbers, for a call-forwarding sequence when the initial number is busy.
Instant response: An automatic text response for inbound callers who reach a busy or away number.
Incoming call control:  Screen and block callers, and set custom business hours with call-handling options.
Other Features:
Automatic voicemail transcription and voicemail-to-email
Call transfer
Business texting
Call Reporting
Grasshopper Pricing
Each Grasshopper plan includes a set limit of business phone numbers and extensions, geared toward a particular business size. Multiple users within a company can share phone numbers, extensions, and features.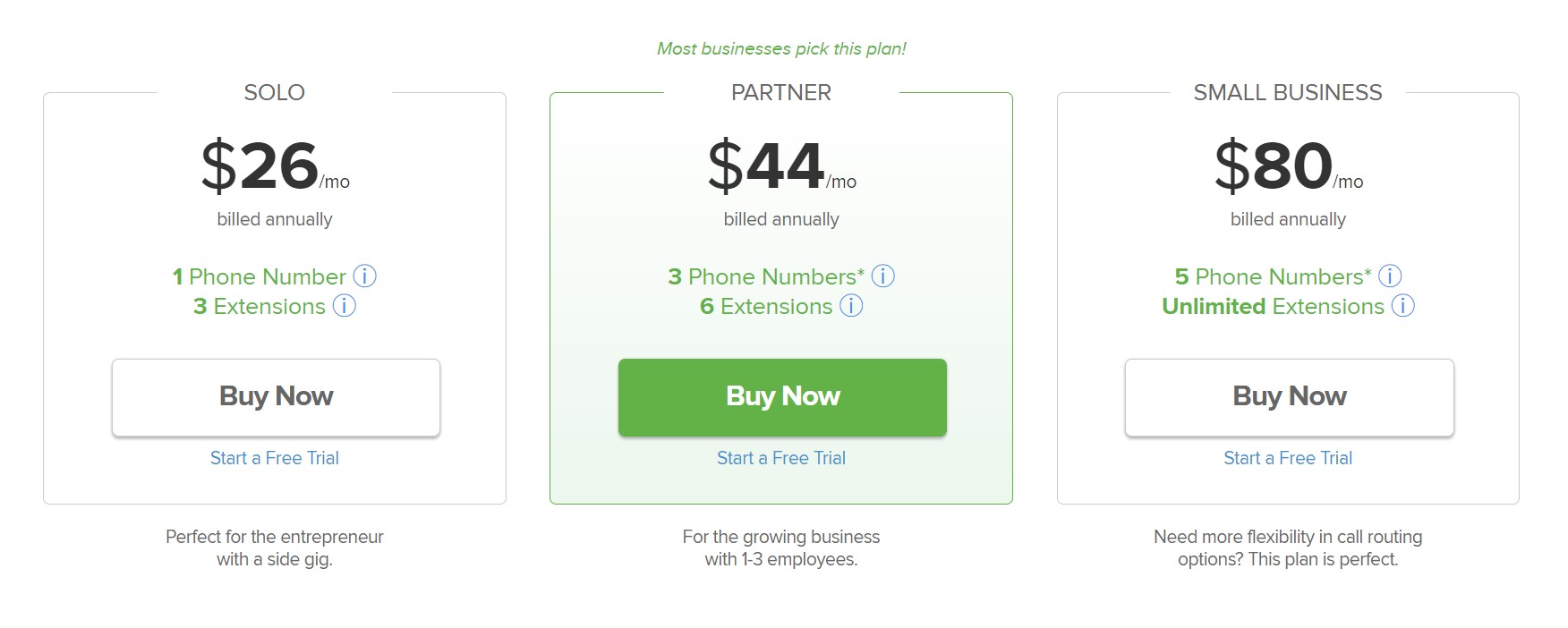 Grasshopper Pros and Cons
| | |
| --- | --- |
| Grasshopper Pros | Grasshopper Cons |
| Company-wide billing plans can save money | Limited phone number total per account |
| Simple, easy-to-learn features | Lacks useful channels: live video and team chat |
GoTo Connect is a cloud-based phone system uniting VoIP phone, SMS, video meetings, team chat, analytics, and quick setup–in both mobile and desktop apps.
The phone system boasts 99.999% uptime, low bandwidth usage, 24/7 customer support, unlimited calling in the US and Canada, and per-minute international calling to over 50 countries.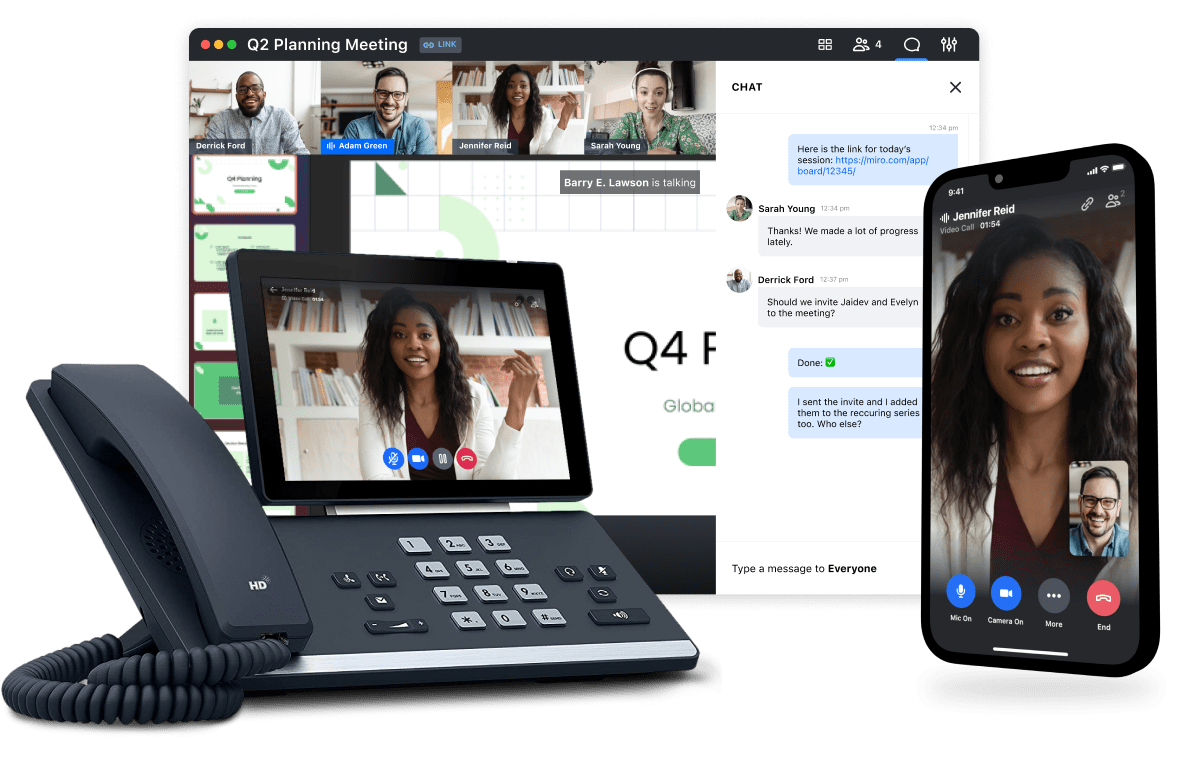 GoTo Features
Live AI agent support: Predictive AI uses NLU and predictive analytics to determine customer sentiment during calls and provide agent action recommendations, for improved customer experience and support-team effectiveness.
Call center analytics: Queue Caller Boards monitor call traffic, the Resolved Conversations Board compares each channel's usage and activity, and the Agent Performance Board displays where most agents spend their time.
Video meetings: Built-in HD-video meetings with up to 250 participants and an uncapped time limit, displaying up to 25 simultaneous webcams. Schedule meetings right within the app and invite users with custom email templates, a one-click join link, or the option to jump in right from chat. Features include wait rooms, video chat, breakout rooms, recording, and live transcription.
Other Features:
Call queues
Ring groups
1:1 messaging and team chat channels
Listen, whisper, and barge
GoTo Pricing
Each GoTo Connect plan has HD-voice calling, SMS, video, and team chat. The Basic plan, ideal for small teams, hosts 4-participant video meetings. The Standard plan, for unlimited users, hosts up to 150 video participants, plus CRM integrations. The Premium plan includes 250-participant video meetings and contact center features, like full analytics.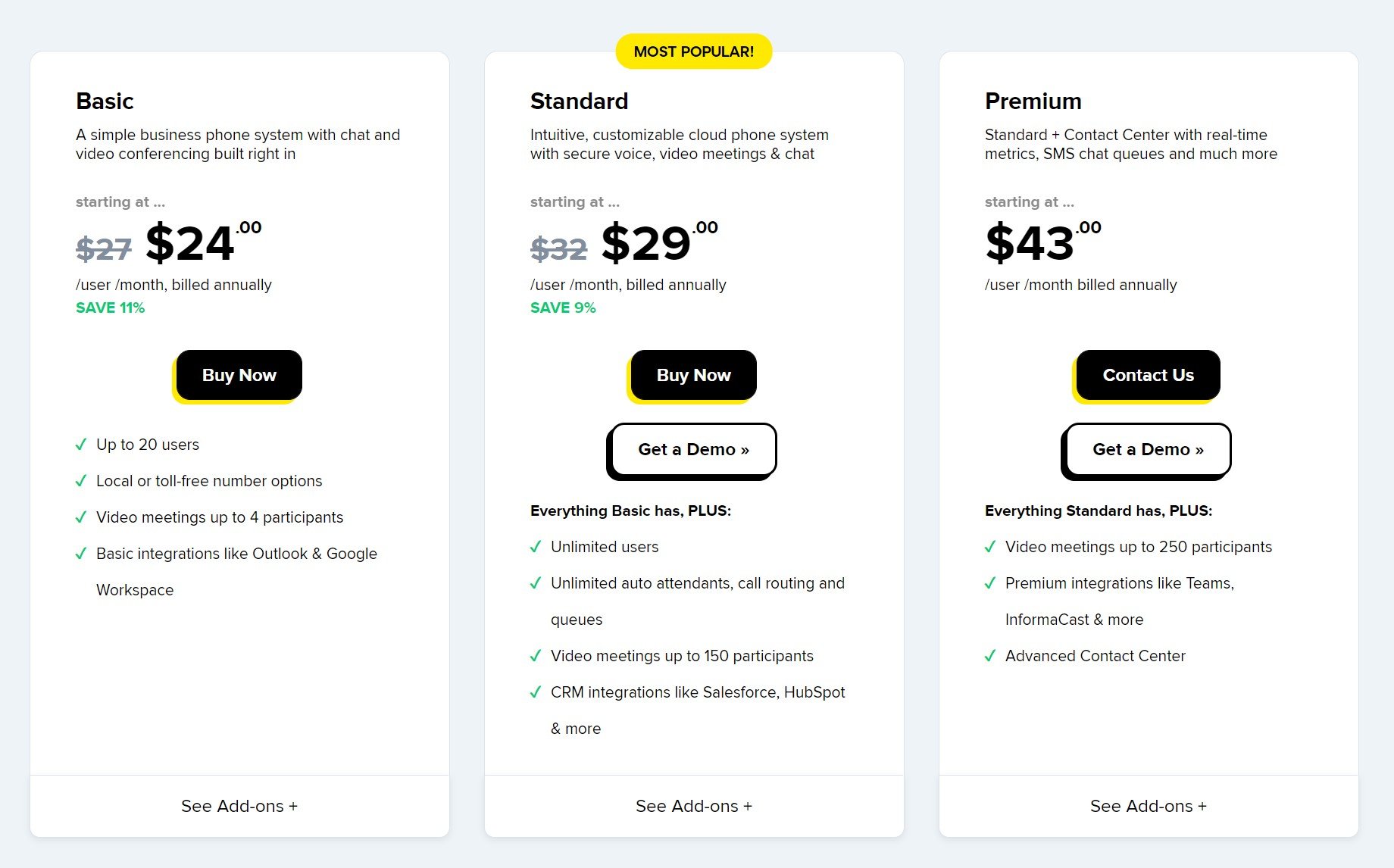 GoTo Pros and Cons
| | |
| --- | --- |
| GoTo Pros | GoTo Cons |
| Mobile app is very helpful | Basic plan has small video participant capacity |
| Tons of tools | Lacks some important CRM integrations |
Avaya Cloud Office, Avaya's cloud-based phone system, includes voice calling with RingCentral's high-quality phone system, video meetings, and messaging on any device. Users can make unlimited business calls within the US and Canada, use up to 2500 toll-free minutes from phone numbers in over 100 countries, and send unlimited SMS.
The app's agent workspace unifies an agent's internal and customer-facing communication, with notifications across all channels, the ability to jump into a meeting directly from a team chat, and one-click calling to any contact or user.
Avaya integrates with popular software like 365, Google Workspace, Slack, Salesforce, and more.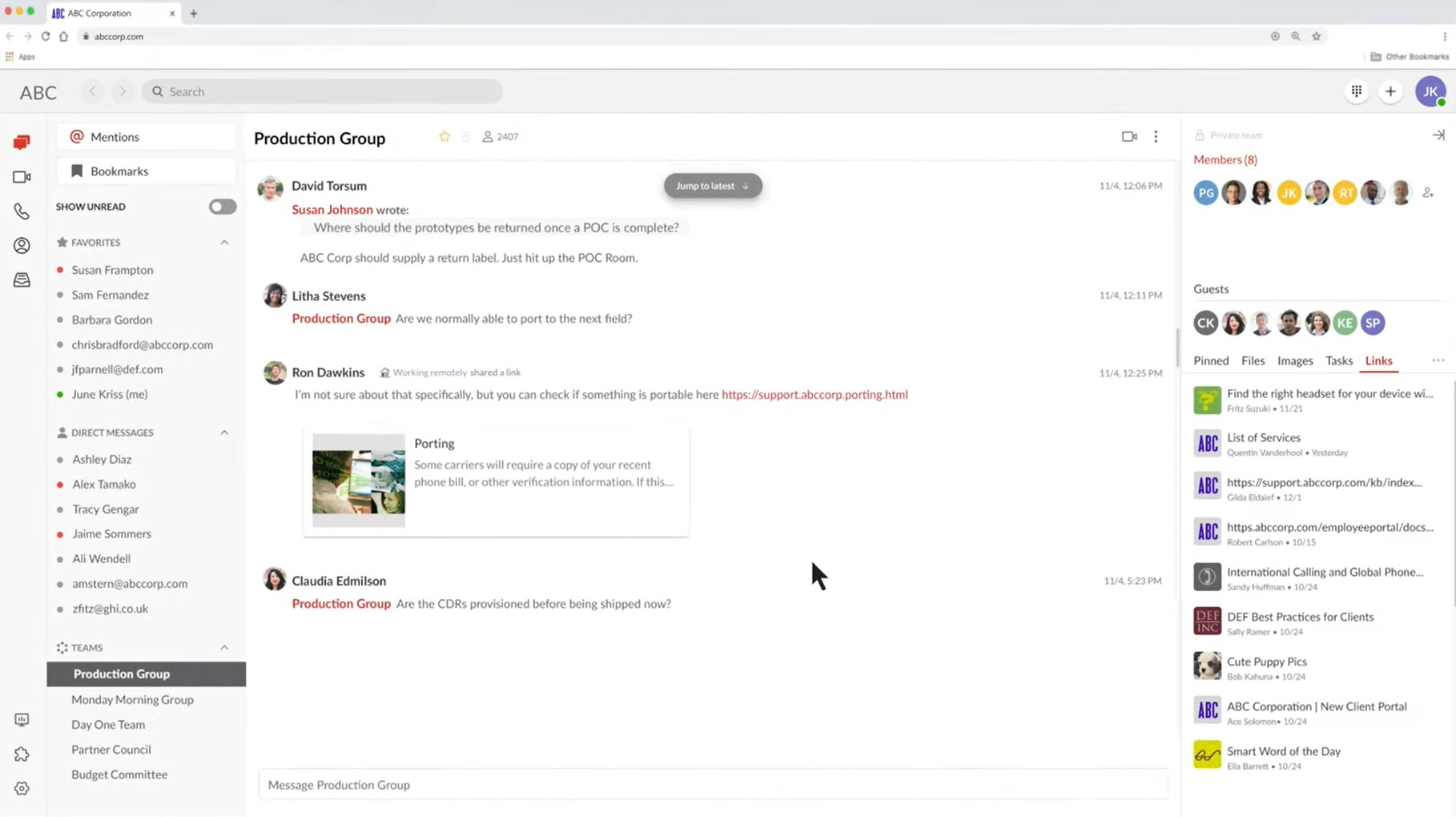 Avaya Features
Voicemail features: Visual voicemail inbox with voicemail transcription and voicemail to email–all searchable by user or keyword.
Reporting and analytics: Real-time analytics with multichannel call center data and metrics. Quality of service reports identify and diagnose service quality issues. Call log reports organize all inbound and outbound calls and faxes.
Monitor, whisper, barge takeover: Admin can listen in on any call, barge and join the call, offer live coaching with whisper, or take over the call entirely.
Other Features:
1:1 and team messaging, with file sharing
Call logs
Call recording
Unlimited audio conferencing
Avaya Pricing
Avaya's Essentials plan, capped at 20 users, includes unlimited calling, texting, and team messaging. The Standard plan supports unlimited users and adds video conferencing with 100 participants, while the premium plan adds real-time analytics and expands meeting capacity to 200 participants.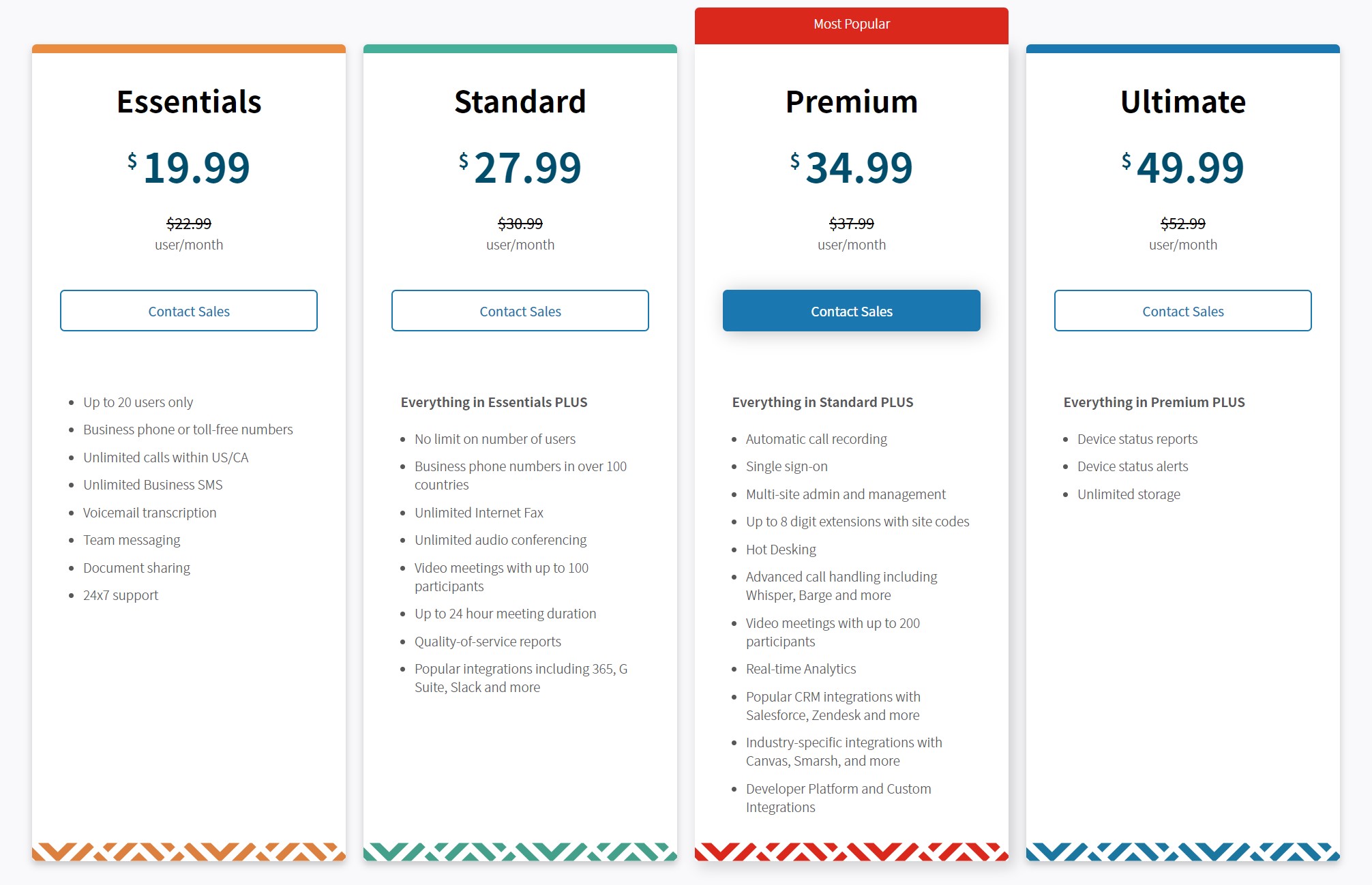 Avaya Pros and Cons
| | |
| --- | --- |
| Avaya Pros | Avaya Cons |
| Wide variety of analytics reports | No video meetings in Essentials plan |
| All account users can share call log records | Lacks a ring-forever option |
Ooma Office is a small-business cloud phone system with HD-voice VoIP calling, text messaging, and video conferencing. Their phone system is known for reliability, with easy setup plus local and toll-free numbers around the world.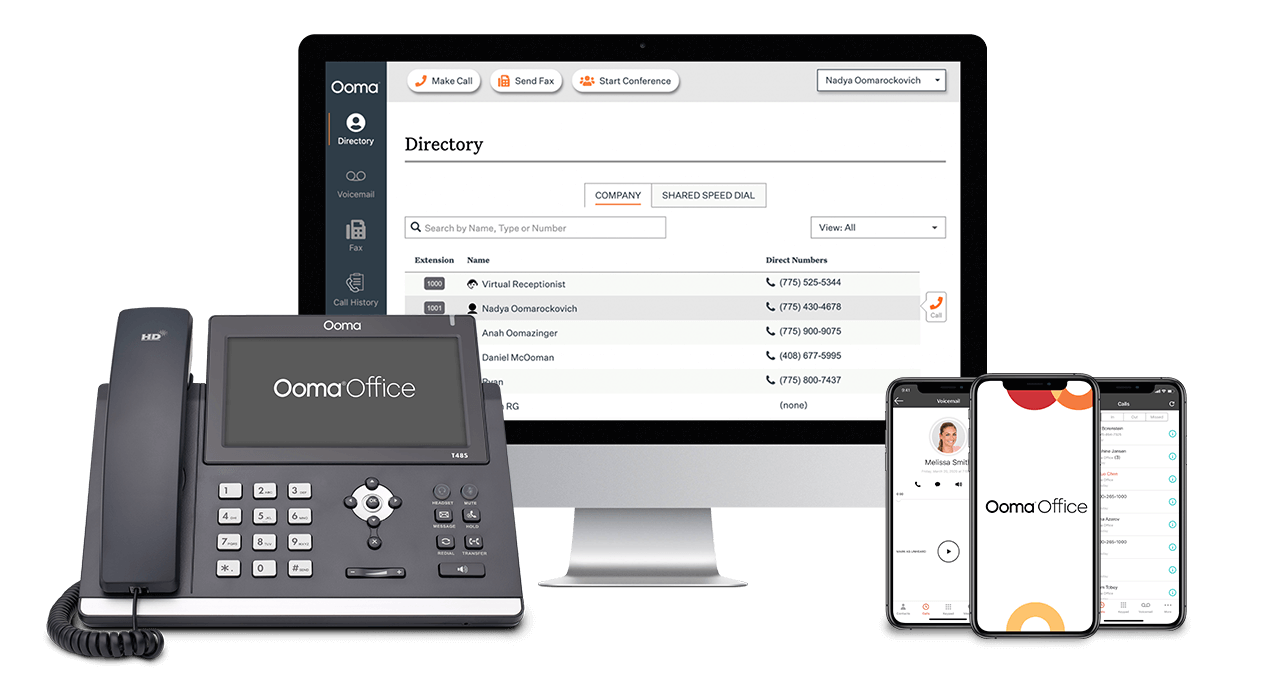 Ooma Features:
Call reports and analytics: Ooma Office reports and analytics display statistics and graphs for a variety of call center KPIs–call volume trends, call metrics by the weekday, call metrics by the hour, and call distribution heatmaps, all viewable over customized timeframes.
Virtual receptionist: Ooma's customizable auto-attendant system. Give customers multi-level menu options including custom messages and announcements, multiple language options, business hours and after-hours menus, dial-by-name directories, and routing to extensions and ring groups.
Advanced voicemail options: Automatic emails with voicemail audio attachments and voicemail transcription.
Other Features:
Call queues
Ring groups
Call recording
Desktop and mobile apps
Ooma Pricing
Ooma's Essentials plan is a phone-only system, with basic routing features like IVR and ring groups. The Pro plan adds SMS texting, video conferencing, and analytics. The Pro Plus plan adds queuing and Salesforce integration.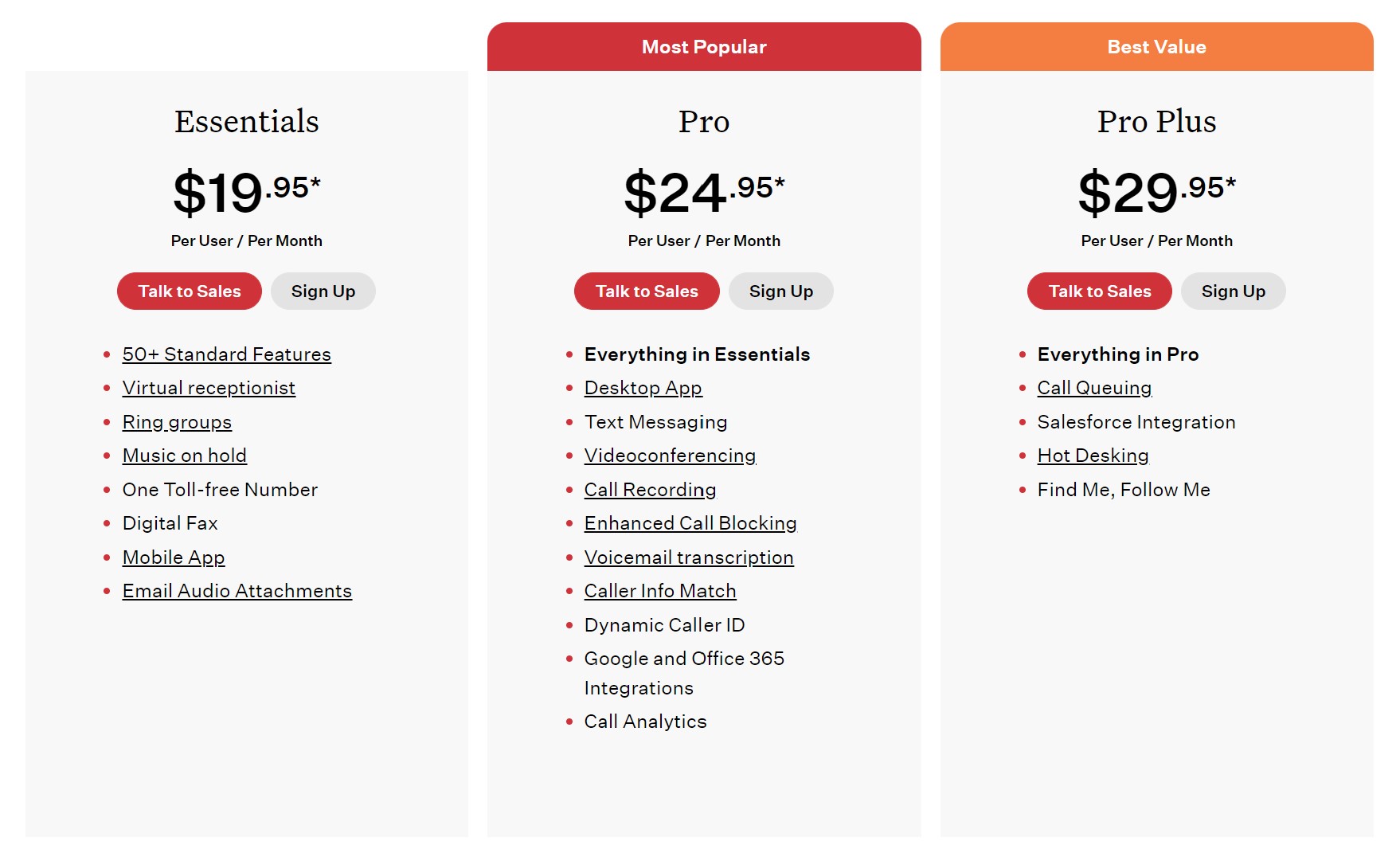 Ooma Pros and Cons
| | |
| --- | --- |
| Ooma Pros | Ooma Cons |
| Quick setup | No option to schedule call forwarding with business hours |
| Great sound quality | Some features are not user friendly |
Mitel One is Mitel's cloud-based business communications app that brings together calling, video meetings, and team messaging on desktop and mobile apps. Mitel makes a solid yet basic business VoIP option.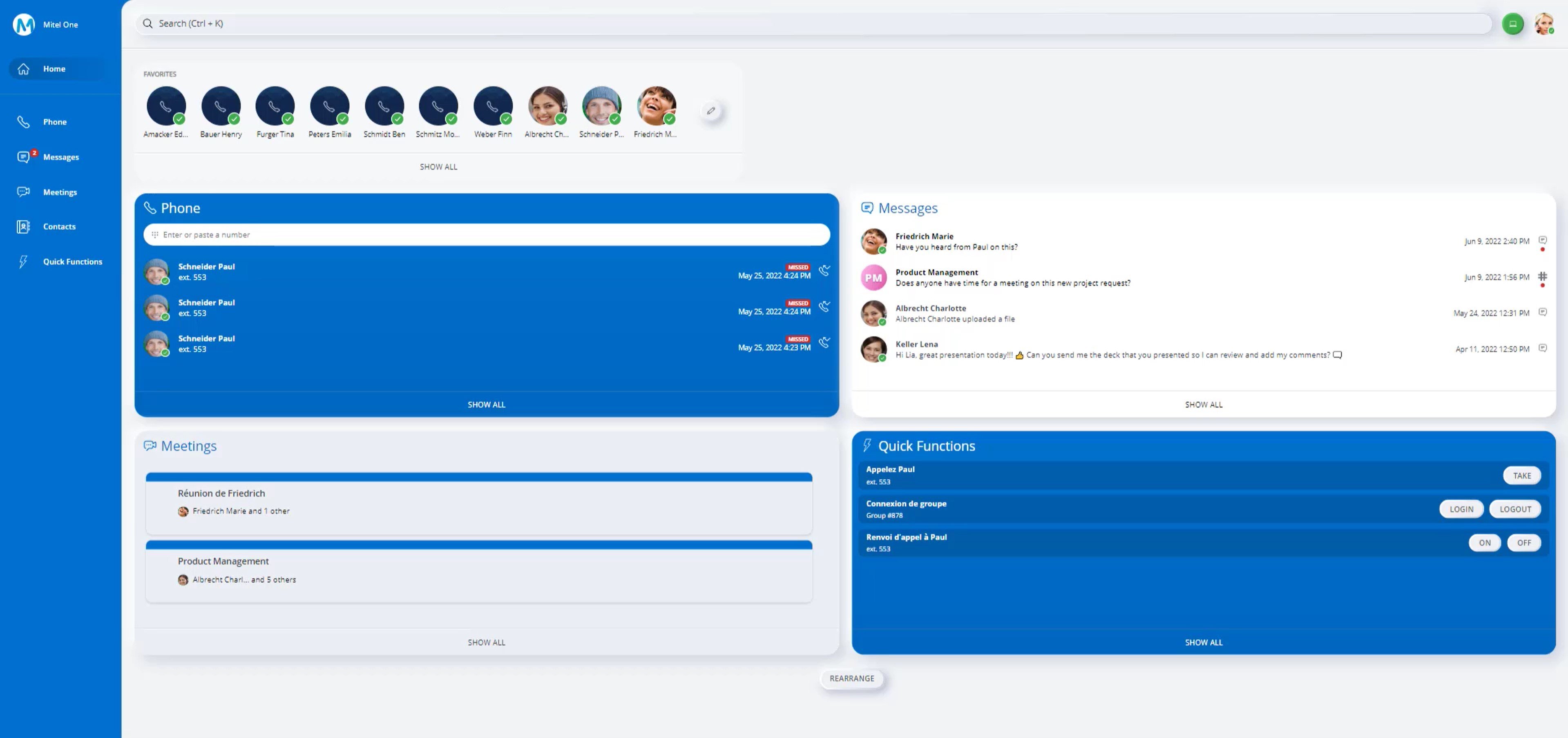 Mitel One Features
Video meetings: Launch or schedule a meeting within the Mitel app, hosting up to 100 participants. In-meeting users can share files, chat, and share screens.
Mobile app: The mobile version of the Mitel app runs on iOS and Android platforms, consolidating all communication channels. From the home screen, users can store favorite contacts, examine missed call details and call logs, and read or respond to messages.
Messaging and streams: Send 1:1 or group chats, and receive home screen notifications of all activity. Share files and images via chat. Streams are team messaging channels devoted to particular groups or projects, where users can share files, voice notes, location, and chat.
Other Features
In-app softphone
Click-to-call
3-party conference calls
Teammates tagging and mentions
Voice-note sharing
Mitel One Pricing
Mitel offers pricing on a custom basis, so reach out to the Mitel sales team for an individualized quote.
Mitel One Pros and Cons
| | |
| --- | --- |
| Mitel One Pros | Mitel One Cons |
| Call queueing is helpful | Confusing setup for non-tech users |
| Good sound quality | Video conferencing interface feels archaic |
Why Phone.com?
Phone.com's VoIP phone system unifies multiple business communication channels in a single app, so your company can initiate HD voice calls, SMS texts, and video conferences internally and with customers.
Their plans offer pooled calling minutes or unlimited company-wide calling, with local and toll-free numbers from worldwide area codes, and even some free virtual number options.
Phone.com's video calling offers up to 100-participant capacity, along with advanced video features like screen sharing, chat, breakout rooms, video recording, online collaborative whiteboards, and AI-generated meeting summaries.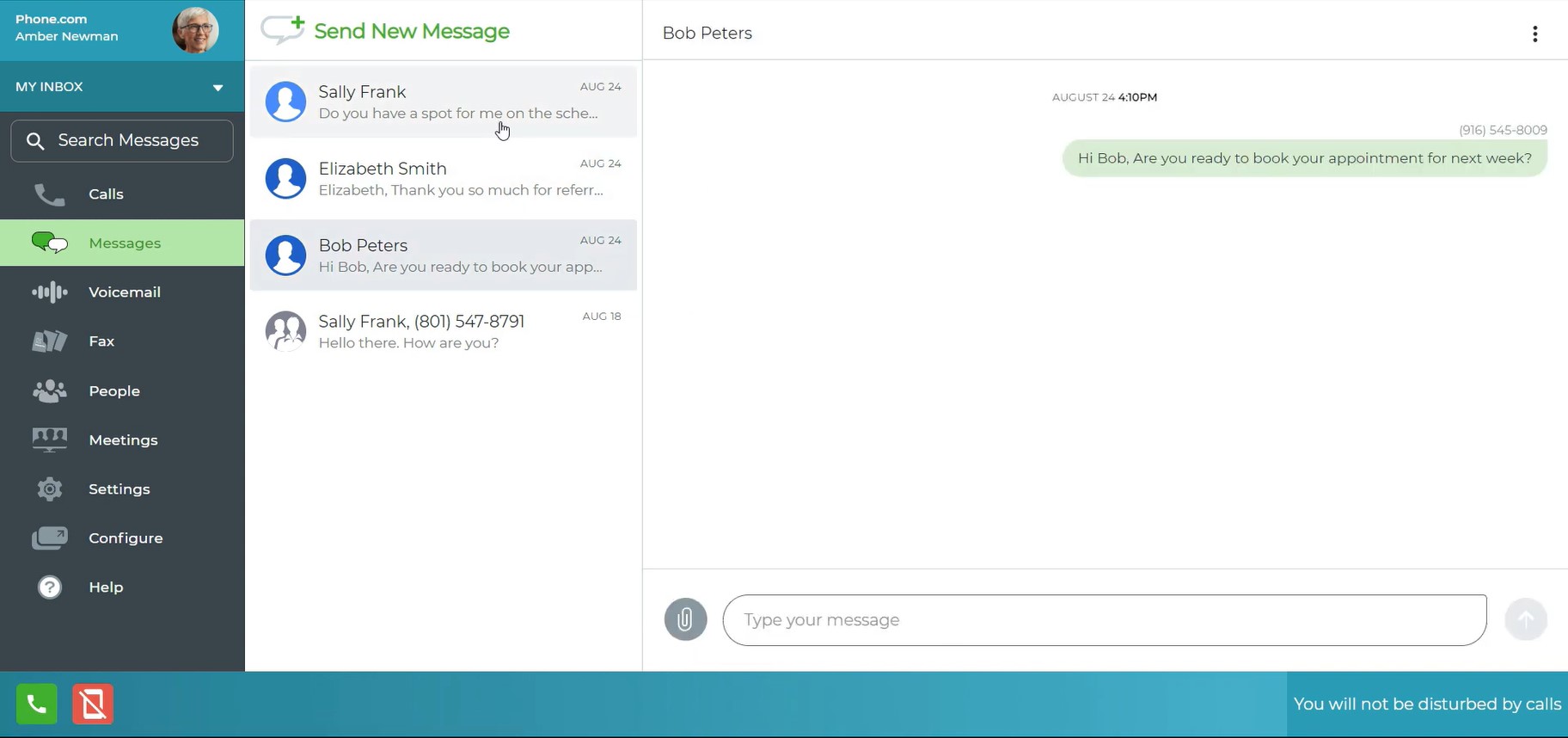 Phone.com features include:
Routing features like IVR menus, call queueing, routing rules, and business hours
Instant customer-generated call requests
Call recording
Call analytics and reports
Voicemail transcription
Conversational SMS texting
CRM-software integrations
However, for all the capabilities that Phone.com provides, it lacks some key features that its unified communications (UCaaS) competitors do offer.
Which Phone.com Alternative Should You Choose?
The best Phone.com alternative for your company depends on your team size, your budget, and your intended use cases for your cloud-based phone and collaboration system.
If your team is on a budget and wants a phone-only system without other bells and whistles, Grasshopper, Zoom Phone, and Ooma offer affordable options.
If you're a small team or startup that still wants to take advantage of a multichannel cloud-based UCaaS system, Dialpad and GoTo Connect would make sense.
If you have a large team and want all the features you can get–routing, IVR, AI agent support, and all–Nextiva and RingCentral provide excellent all-inclusive UCaaS solutions and phone systems.