Web conferencing software helps remote, in-person, and hybrid teams connect and collaborate virtually in real time from anywhere with an Internet connection.
Dialpad AI Meetings is Dialpad's standalone HD video conferencing solution, known for its feature-rich plans complete with screen sharing, analytics, meeting recording, AI-powered automations, and more.
This Dialpad AI Meetings review covers key features, pricing options, pros and cons, and popular Dialpad alternatives to help you determine if it's the right solution for your team.
Jump to ↓
What is Dialpad AI Meetings?
Dialpad AI Meetings is a cloud-based web conferencing tool that enables teams to collaborate with HD video conference calls. Meetings include a variety of interactive tools like sidebar chat, emoji reactions, virtual backgrounds, and noise cancelation.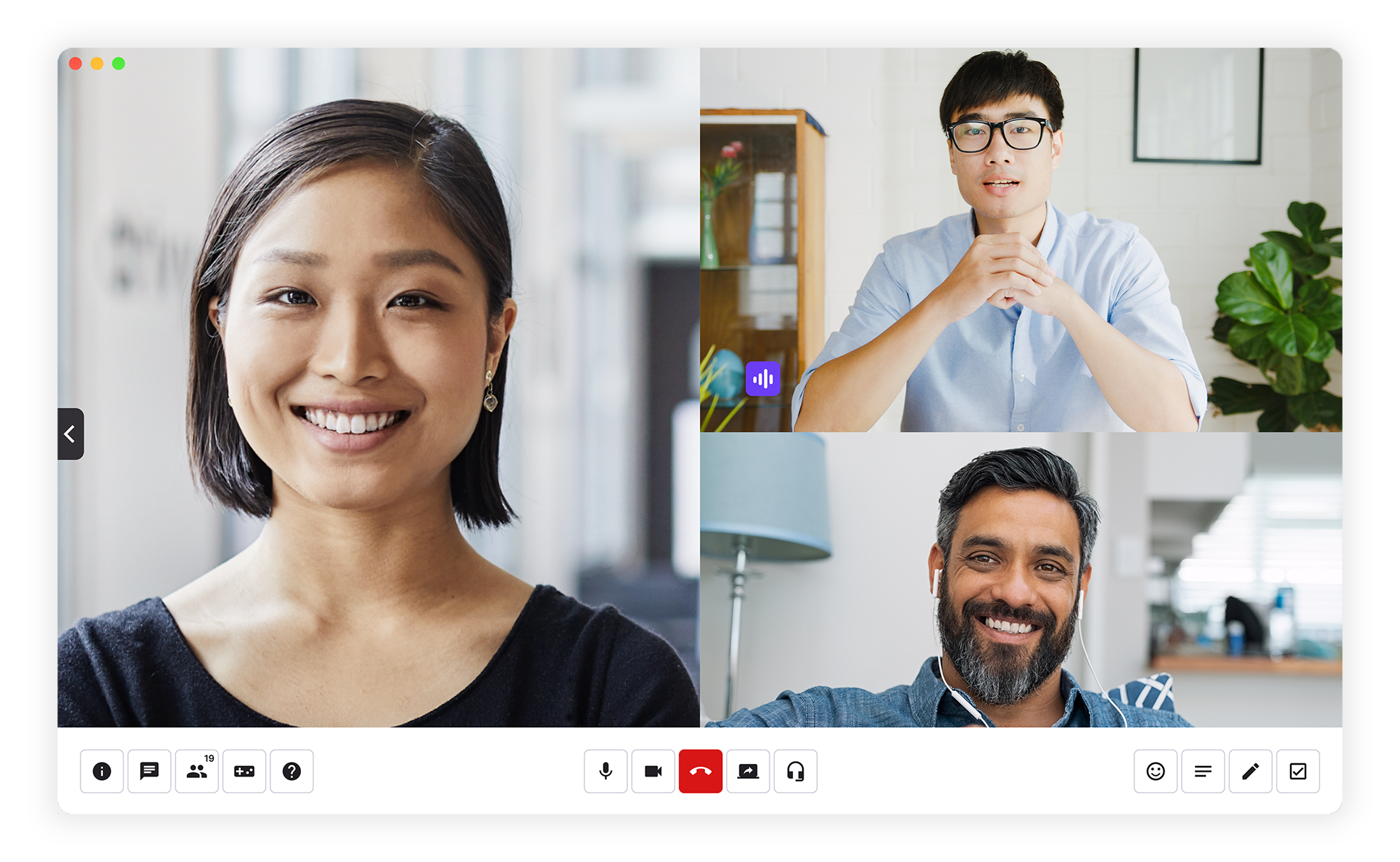 Even more, Dialpad AI Meetings are enhanced with AI productivity tools: 
Live transcriptions
Post-call summaries
Highlighted to-do lists
Analytics
Users can download the standalone Dialpad Meetings app as free software, or upgrade to the paid Business Plan for advanced features and longer meetings. Dialpad also includes AI Meetings with all Business Communications UCaaS plans.
Participants can join online meetings from a web browser such as Google Chrome, an Apple iOS or Android smartphone or tablet, or a compatible VoIP phone. Attendees can also call into any meeting with a dial-in number. Since users can share meeting links with anyone, companies or individuals can use Dialpad Meetings for team collaboration, customer support, interviews, and essentially any video-based use case.
Dialpad AI Meetings Pricing Plans
Dialpad AI Meetings offers two pricing options: Free and Business.
Free ($0 monthly per user): Hosts 10 participants for 45 minutes, with instant join on desktop and mobile. Includes screen sharing, virtual backgrounds, emoji reactions, waiting room, and all security features and integrations
Business ($15 monthly per user): Hosts 150 participants for up to 5 hours, adds all AI features–transcription, action items, post-meeting summaries, and custom hold music
Dialpad Meetings Key Features
Here are the top Dialpad AI Meetings features:
Interactive Features
Dialpad AI Meetings facilitate team collaboration with the following interactive features, available on both the free and Business plans:
Screen sharing: Any user can share their screen with the meeting, from desktop or mobile app
Sidebar chat: The group can participate in whole-meeting chats or send 1:1 messages live during the meeting
Hold music: Set custom hold music, for participants to enjoy while waiting for the meeting to begin
Emoji reactions: Users can respond or vote by sending emojis for the whole group to see
Virtual backgrounds: Set custom virtual backgrounds,
Background noise reduction: Meetings software automatically detects and reduces unwanted background noise, like people talking or dogs barking
Timer: The host can set a timer, to ensure that discussions and presentations stay on schedule
Host meeting controls: The meeting host can mute participants, remove participants from the meeting, toggle on-demand recording on and off, and invite participants to share their screens
Video Meeting Interface and Layouts
Dialpad Meetings users can toggle between 4 different video layouts:
"Dynamic" view: Splits the screen between up to four participants ordered by who spoke most recently
"Grid" view: Shows each participant's live video or contact card
"Filmstrip" view: Displays contact cards atop the screen, while displaying the live speaker's video
"Spotlight" view: Populates the whole screen with the current speaker's video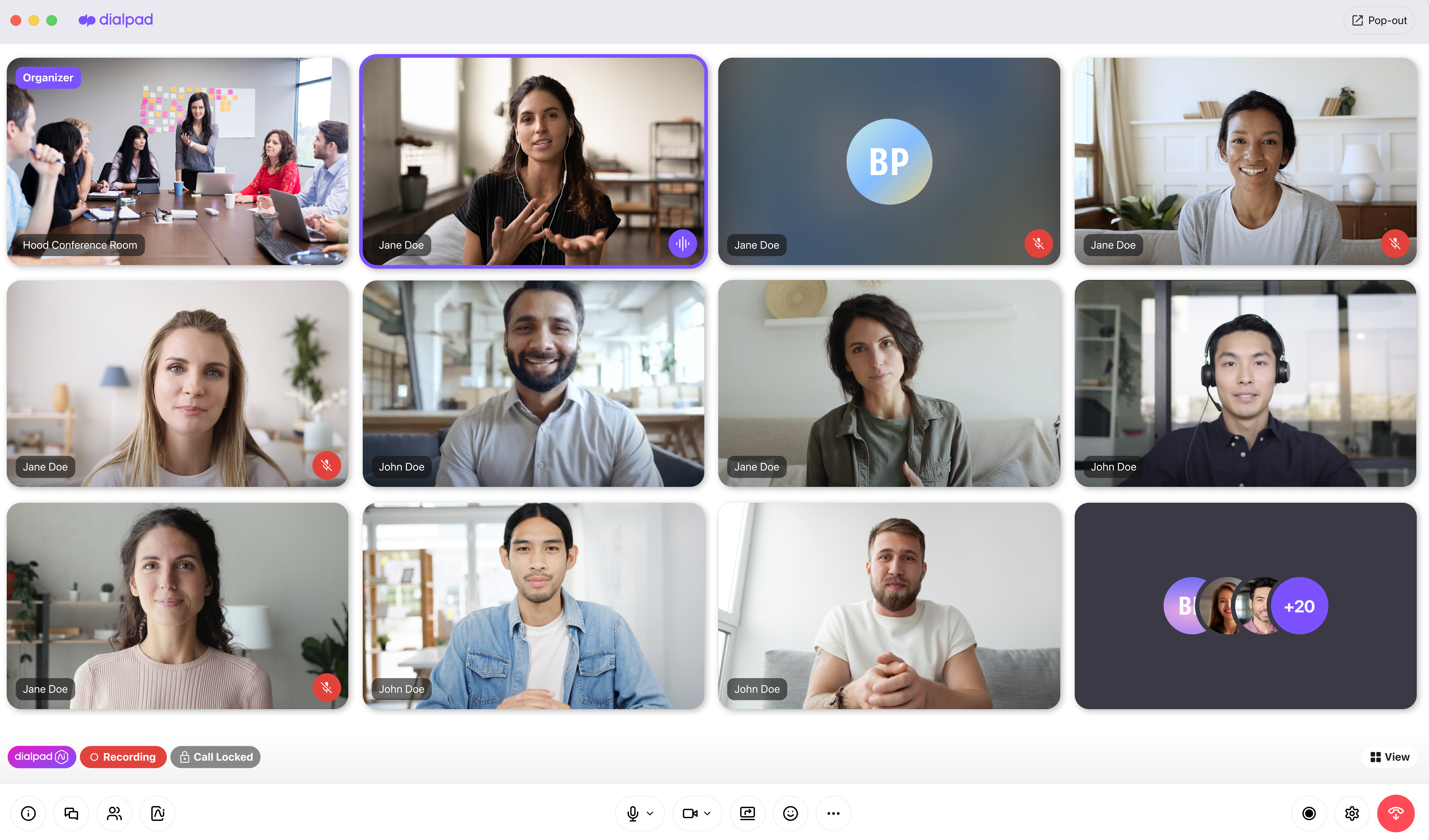 Meeting Recording
Dialpad Meetings allows organizers to record video, audio, and shared screens.
Video call recording is only available with Dialpad Meeting's paid Business plan, though free plan users can record meeting audio.
Everyone in the meeting room receives an on-screen notification and audio message at the start of each meeting recording, simplifying compliance with call recording laws. Choose between automated and manual recording options, and recordings can be stopped, paused, and resumed at any point in-meeting by returning to "organizer controls".
Video is captured in "Dynamic Layout", a split screen that displays up to four participants in the order they most recently spoke.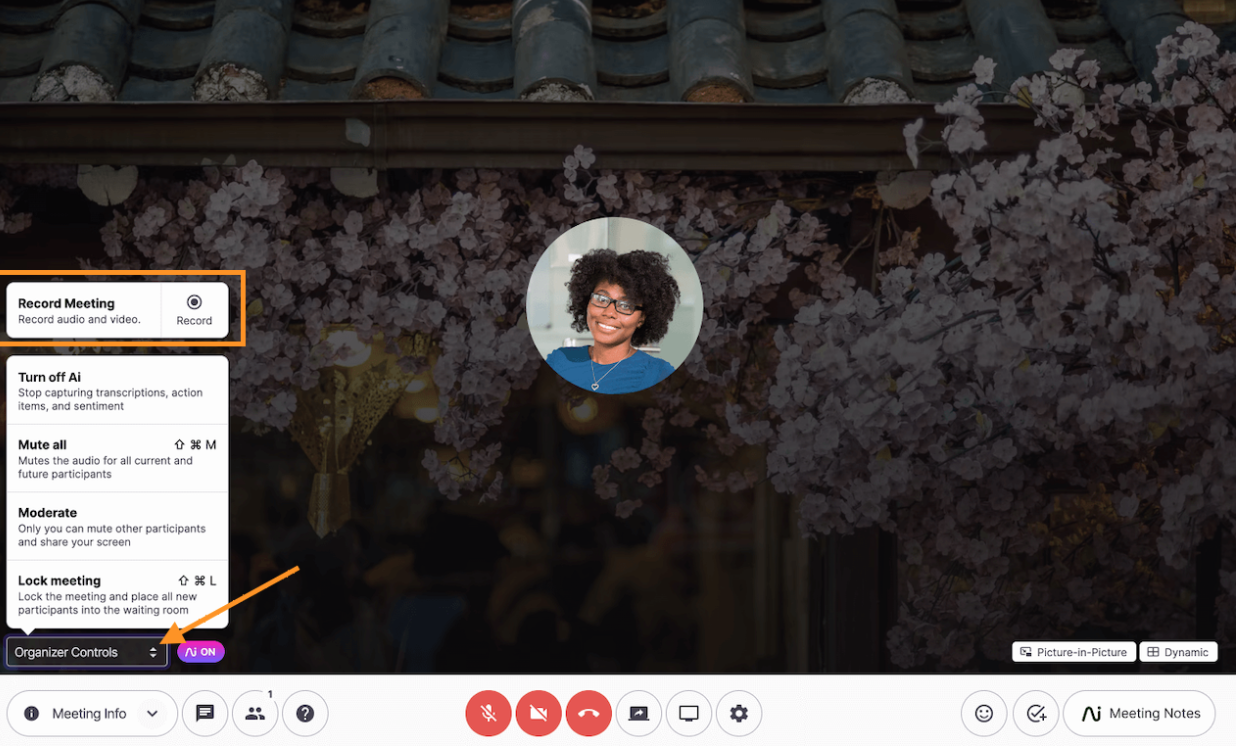 Real-Time Transcription
Dialpad Meeting business plan users have access to Dialpad AI, Dialpad's cutting-edge voice intelligence software that includes speech analytics, sentiment analysis, and natural language processing.
When Dialpad AI is enabled, Meetings users can simply click on the "Meeting Notes" button to access a side panel displaying a real-time meeting transcription, differentiating each speaker. Recordings and transcripts are logged afterward, for review or to update those who missed the meeting.
Dialpad AI also uses the live transcript for the following features:
Keyword identification and tracking
Sentiment analysis
Recording important questions
List action items
Post-Meeting Summaries and Action Items
Post-meeting summaries are in-depth recaps of video meetings, which are sent to the organizer after the meeting has concluded. Then, the organizer can choose to share the call summary with other participants.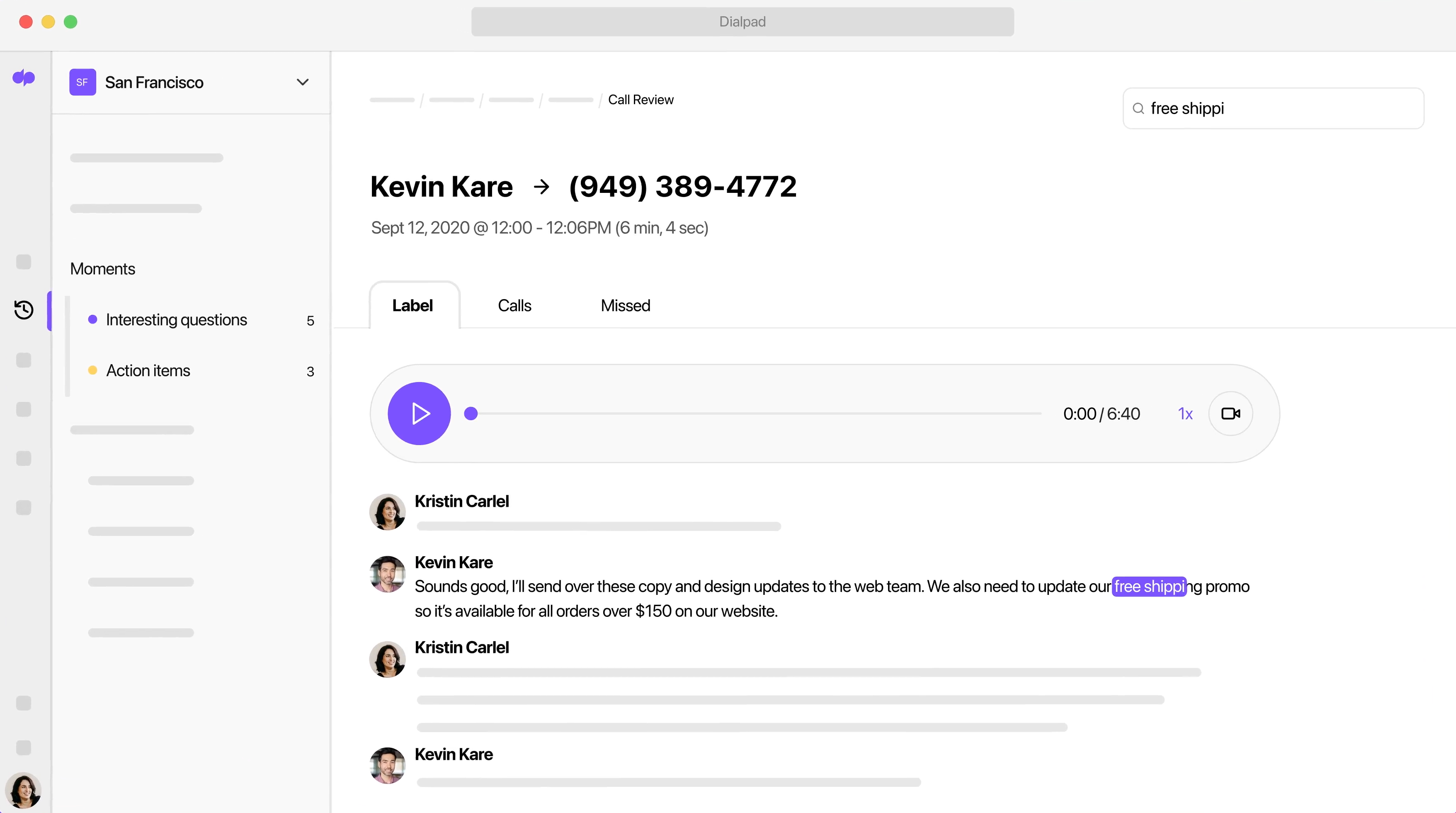 Post-meeting summaries include the following information and moments:
Meeting information: Date, time, and participants
Meeting recording: Full audio playback with the option to jump to specific timestamps during the meeting
Action items: User tasks defined during the meeting to be competed afterward–for example, "I'll call you tomorrow"
Moments: Unique or interesting quotations or discussions during the meeting
Sentiments: Notably positive or negative interactions that occurred
Full transcript: A searchable meeting transcript
Administrators can click on any moment from the call summary and immediately revisit that part of the meeting' transcript, with audio and video playback.
Analytics Dashboard
The Dialpad Meetings Analytics dashboard provides admins with historical data and KPIs about each team's and agent's activity and Meetings usage. Only included with the Pro plan, the analytics dashboard includes a visual display of when meetings occurred, how long each meeting lasted, and the number of screen shares per meeting.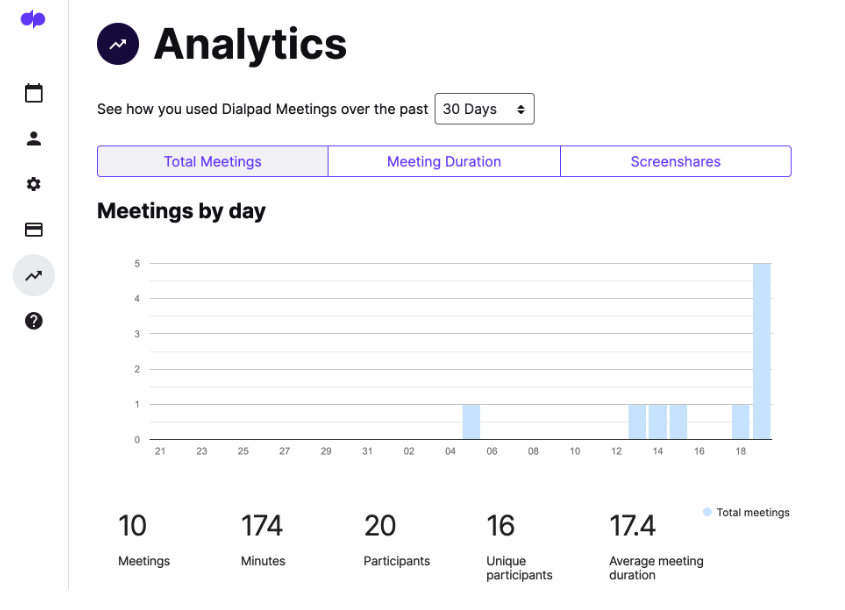 Managers can sort this information over the past week, month, or three months to view data for individuals or whole teams. Print or export any report as a CSV file.
Available metrics and KPIs include:
Average participants
Total conferences
Total number of unique participants
Average conference duration
Percentage of conferences viewed online
Total screen shares
Percentage of meetings that utilized screen share
Automatic Dial-Out
The Meetings dial-out feature enables hosts to automatically dial participants via phone calls before or during a scheduled meeting. Invitees who receive a dial-out can join meetings by pressing 1.
Hosts can set dial-out when scheduling a meeting or when during a meeting:
When scheduling a meeting: Toggling "Dial-out" will automatically send participants an SMS reminder five minutes before the meeting begins, then dial all participants' phone numbers as the meeting begins.
During a meeting: Users can click on "Invite Participants" and switch on the auto dial-out feature in the same way.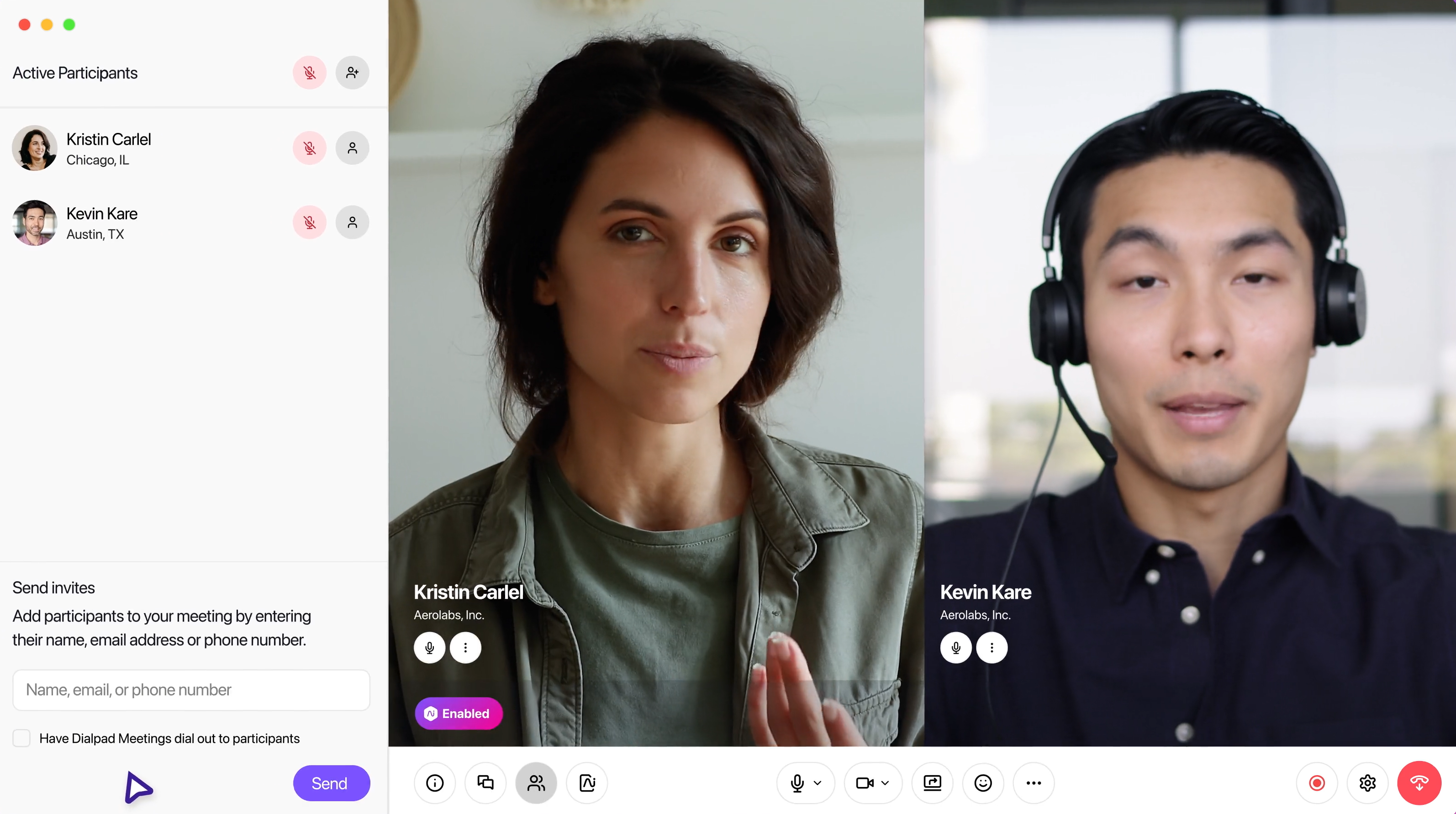 Security Features
Dialpad AI Meetings is one of the most secure video-conferencing platforms on the market. All meetings are encrypted end-to-end, and all account data and recordings are stored in the secure Google Cloud Platform. All Dialpad products are HIPAA compliant, protecting sensitive user data.
Dialpad AI Meetings also includes in-conference security tools:
Hang up: The meeting host can kick out any participant from the meeting
Conference lock: Hosts can lock a meeting once it's begun, preventing new participants from joining
Waiting room: Set a waiting room for new participants, holding them until the host manually lets them in
PIN number: Protect the meeting with a PIN number or passcode
Integrations
Dialpad AI Meetings integrates with 9 apps–including CRM tools, calendars, communication apps, and whiteboards.
Notable Dialpad Meeting Integrations:
Miro Whiteboard: Create a shareable whiteboard, for teams to draw and ideate in real time. Miro includes templates, sticky notes, text, drawing tools with different colors, and more. Save and share whiteboards after the meeting.
Microsoft Outlook and Google Workspace: Sync Dialpad Meetings with Outlook and Google Calendar. Schedule meetings and invite participants directly within these calendar apps, join meetings directly from the calendar and automatically populate all users' calendars with updated meeting schedules.
HubSpot and Salesforce: Dialpad Meetings automatically match meeting participants and Salesforce contacts by name, updating user activity and logging upcoming meetings as tasks within Salesforce.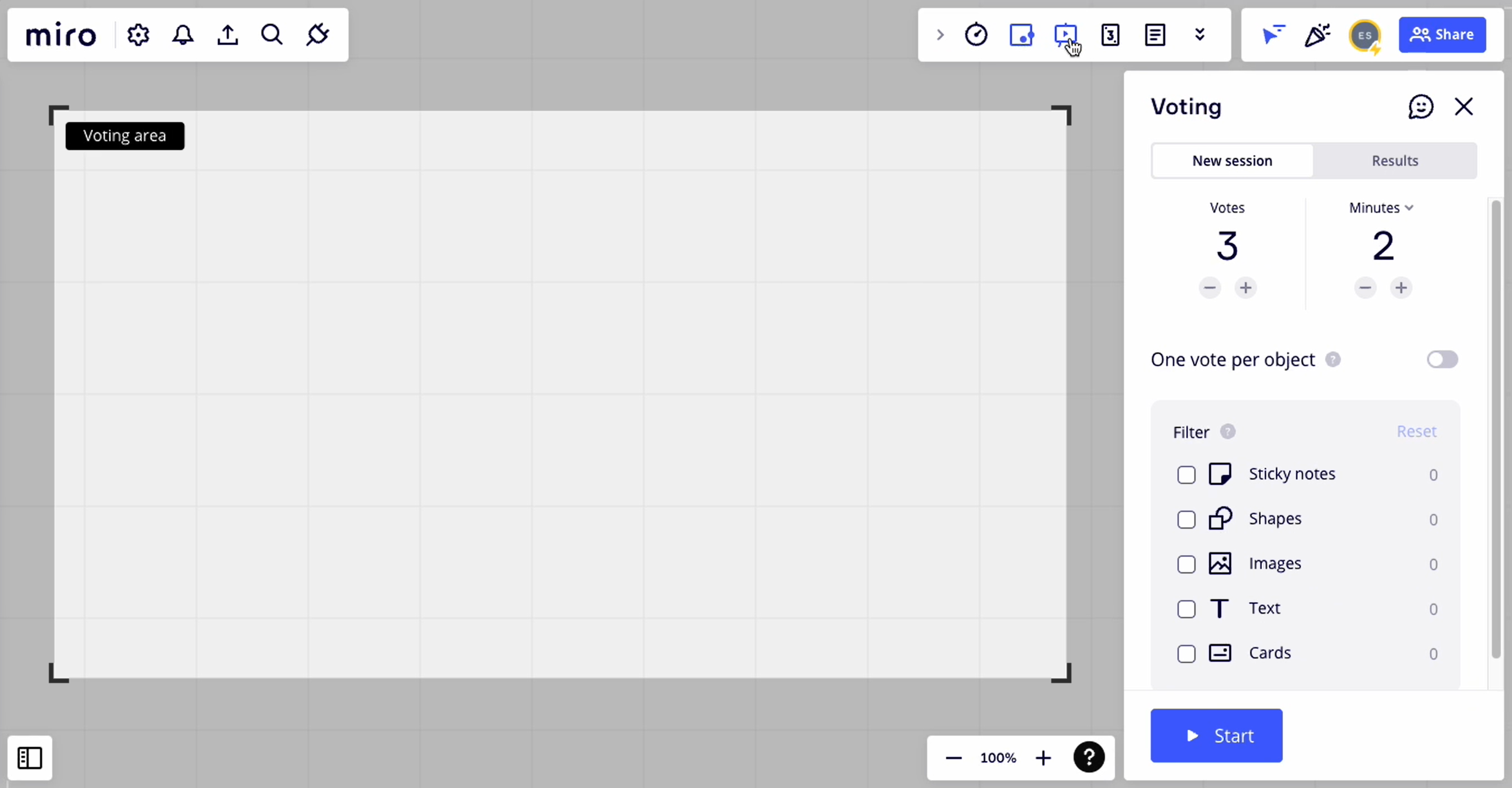 Dialpad AI Meetings Pros and Cons
Dialpad AI Meetings Pros
Offers a free plan with interactive features
11 integrations–including calendar apps–available on all plans
One-of-a-kind AI features like post-call summaries
Calls are easy to initiate
Crystal-clear video
Live customer support available for all users
Host controls feel intuitive
Dialpad AI Meetings Cons
Lacks some popular features, like breakout rooms
Whiteboarding requires a Miro integration
Small participant capacity and meeting length on free plan
Screen updates can be slow during large-capacity meetings
The service drops or lags occasionally during calls
Compare Dialpad AI Meetings to Its Alternatives
Here's a comparison chart of Dialpad Meetings' biggest competitors.
Provider
Pricing
Standout Features
Best For
Zoom One
4 plans from free to $25 monthly per user

300 participants and 30-hour meetings
Unlimited whiteboards
Breakout rooms

Teams that prioritize drawing as a collaboration tool
GoTo Meeting
2 plans from $12-$16  monthly per user

250 participants and 8hour meetings
Automatic transcriptions
Scren sharing

Medium-sized businesses
Google Meet
4 plans from free to $18 monthly per user

500 participants and 24-hour meetings
Polling and live Q&A
Attendance tracking

Businesses of any size
RingCentral
2 plans from free to $12 monthly per user

200 participants and 24-hour meetings
Annotation on Shared Screens
Advanced Analytics

Contact centers and UCaaS platforms
Cisco Webex
3 plans from free to over $25 monthly per user

200 participants and 24-hour meetings
Live polling and quizzes
Join overlapping meetings at once

Large teams and enterprises
Microsoft Teams
3 plans from $4-12.50 monthly per user

300 participants and 30-hour meetings
Team chat with phone support
File sharing

Teams seeking video and chat, especially those already using Microsoft 365
Zoho Meeting
3 plans from free to $15 monthly per user

250 participants and 24-hour meetings
Advanced analytics
Custom meeting domain

Small businesses and medium-sized businesses
Vonage Meetings
3 UCaaS plans from $19.99 to $39.99 monthly per user

Whiteboard with up to 20 participants
Virtual backgrounds
Waiting room

Teams looking for a collaborative UCaaS platform along with video
 Dialpad AI Meetings FAQs
Dialpad AI Meetings' free plan includes unlimited free conference calls with up to 10 video participants for up to 45 minutes per meeting. 

Dialpad AI Meetings is a cloud-based video conferencing platform that is easy to set up and use. You can create an account, log in and start a meeting right away. 

While both Dialpad and Zoom have robust video conferencing solutions, they have different focuses. Dialpad Meetings offers more advanced AI-powered tools such as sentiment analysis and automatically generated meeting highlights. On the other hand, Zoom has a much higher participant cap (100 in Zoom's free plan vs 10 in Dialpad's free plan) and offers several features that Dialpad doesn't, such as whiteboarding.   

Yes Dialpad AI Meetings has integrations with Outlook, Google Calendar and other popular productivity apps.