Web conferencing software helps remote, in-person, and hybrid teams connect and collaborate face-to-face, in real time–from anywhere with a working Internet connection.
Additional video calling tools like note-taking, in-meeting chat, and screen sharing take productivity to the next level while keeping everyone on the same page.
Dialpad Meetings is Dialpad's stand-alone HD video conferencing solution, known for its feature-rich plans complete with AI-powered automations.
This Dialpad Meetings review covers key features, pricing options, pros and cons, and popular Dialpad alternatives to help you determine if it's the right solution for your team.
Jump to ↓
What Is Dialpad Meetings?
Dialpad Meetings (formerly Uberconference) is a cloud-based web conferencing tool that enables teams to collaborate with HD video conference calls.
Users can download the standalone Dialpad Meetings app as a free version, or upgrade to the paid Business Plan for access to more advanced features.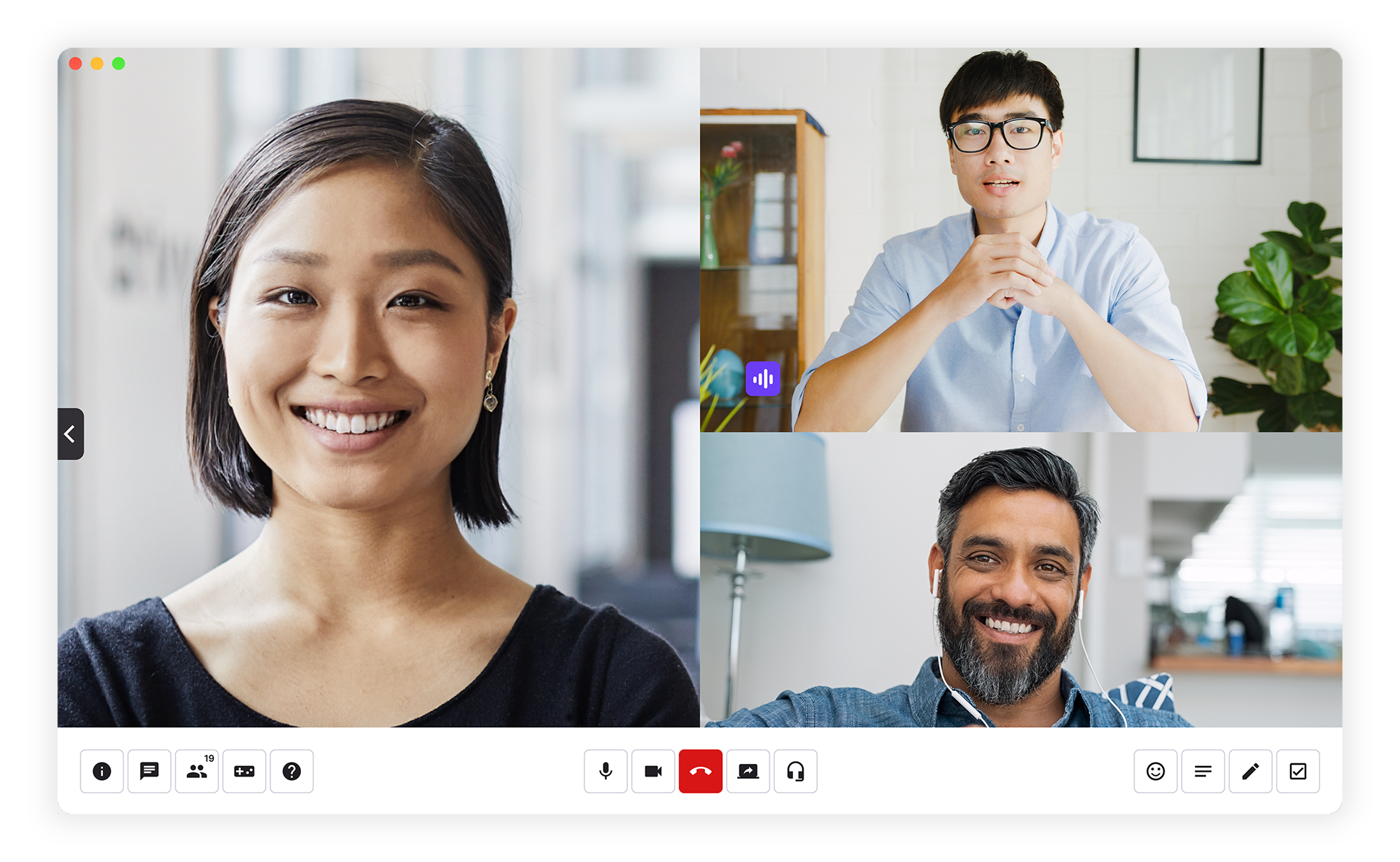 Dialpad Meetings is also included with all UCaaS Dialpad Business Communications plans, with the number of video participants increasing with each pricing tier.
Dialpad Meetings advanced features include background noise reduction, emoji reactions, virtual backgrounds, international dial-in numbers, and more. Participants can join online meetings from a web browser such as Google Chrome, an Apple iOS or Android smartphone or tablet, or a compatible VoIP phone.
Security features include Single Sign On, HIPAA compliance, encrypted recordings, waiting room, and Meeting Lock. Due to its affordable price and relatively low participant cap, Dialpad Meeting is best for startups and SMBs, particularly those with remote, hybrid or international teams.
Dialpad Meetings Key Features
Here are some of the key features that Dialpad Meetings has to offer.
Multiple Video Layouts
Dialpad Meetings users can toggle between 4 different video layouts.
The "Dynamic" view splits the screen between up to four participants ordered by who spoke most recently.
The "Grid" view shows the contact cards (as opposed to live video feed) for the organizer and all participants on one screen.
The "Filmstrip" view displays contact cards as well as a screen share.
The "Spotlight" view enables the speaker's video feed to fill the whole screen.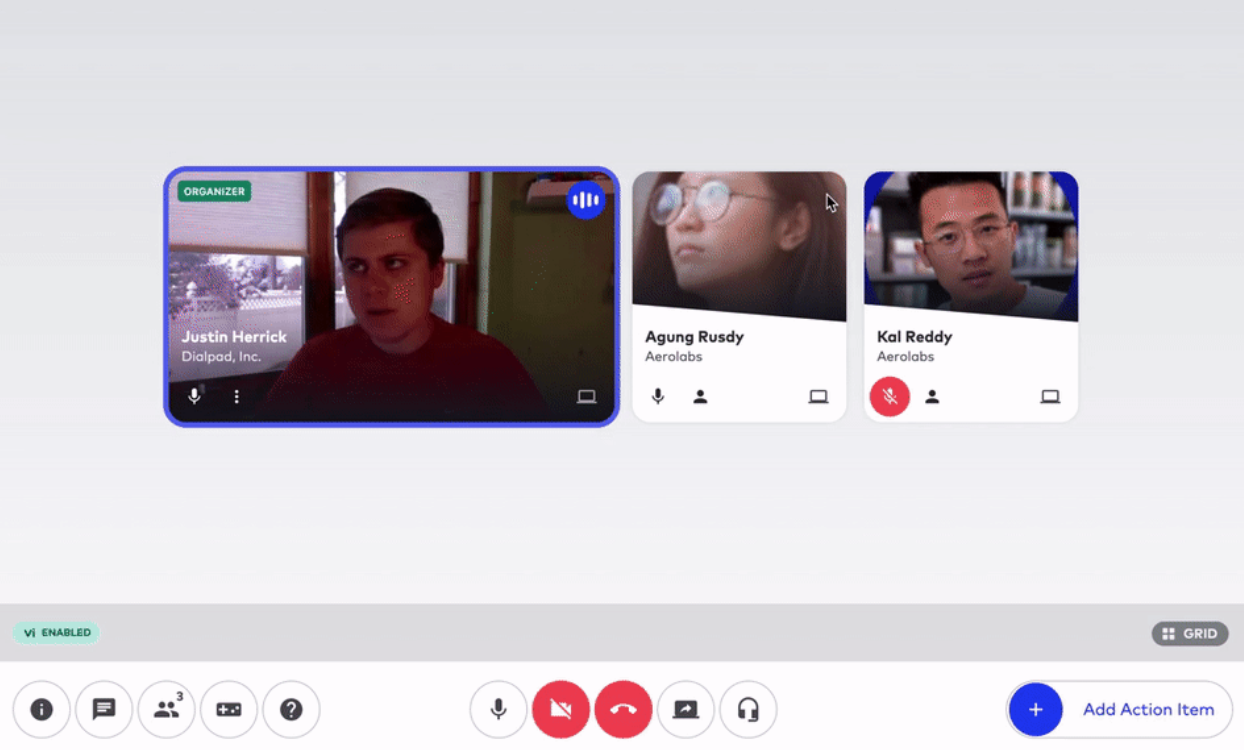 All video layouts are available for all Dialpad Meetings users.
Screen Sharing
The screen share function in Dialpad Meetings allows users to share their entire screen,  a single tab, or an application window on desktop or mobile devices.
Dialpad's video and audio screen sharing is an essential collaboration tool that helps team leaders explain a concept visually or demonstrate a complicated process.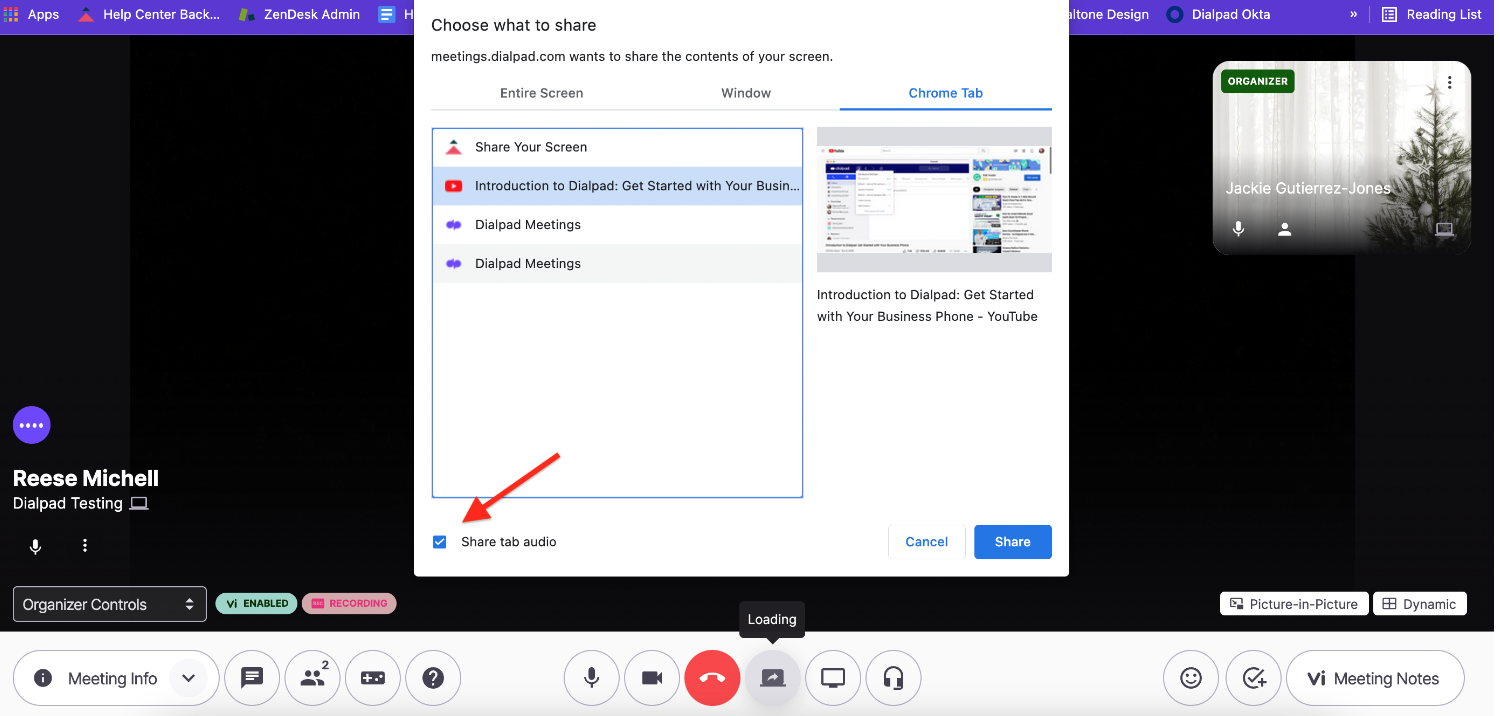 For added security, organizers have the ability to stop any participant's screen-sharing video stream. All screen sharing is encrypted in transit and at rest and is not maintained by Dialpad Meetings.
Screen sharing is available for all Dialpad Meetings users.
Audio and Video Recording
Dialpad Meetings allows organizers to record video, audio, and shared screens.
Video call recording is only available with Dialpad Meeting's paid Business plan, though free plan users can record meeting audio.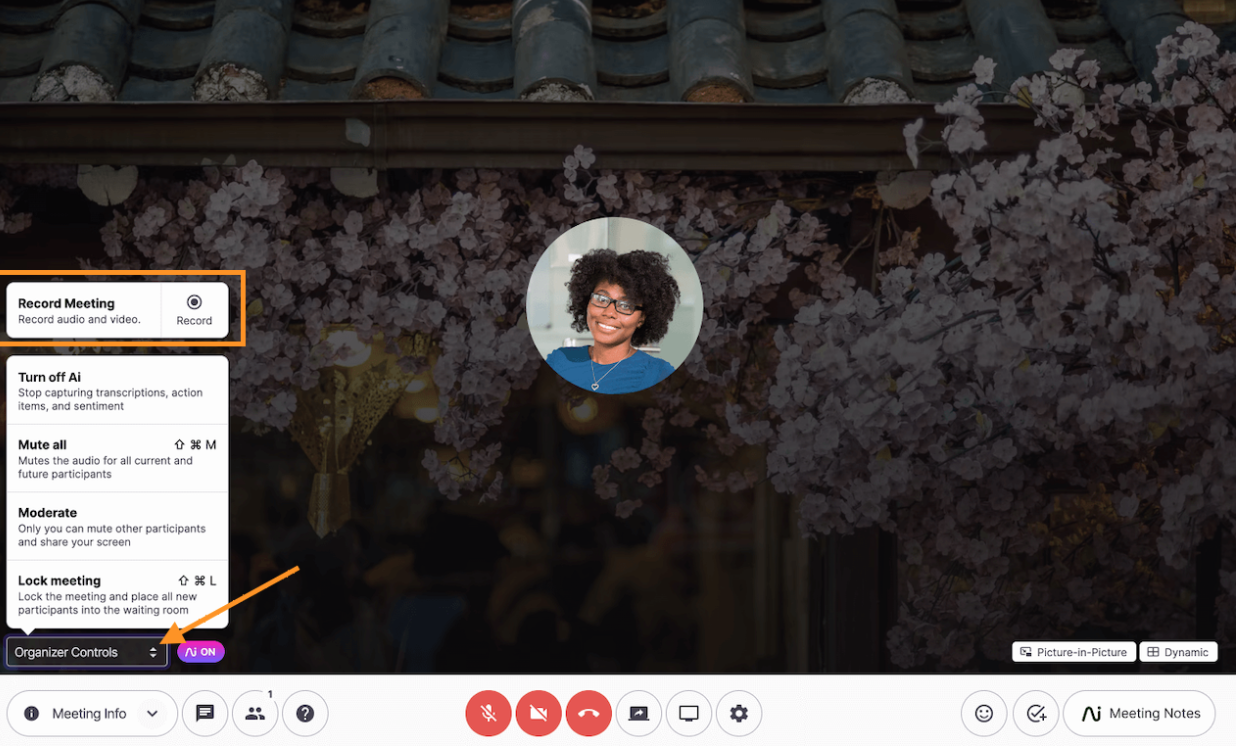 Everyone in the meeting room will receive an on-screen notification and audio message at the start of each meeting recording, simplifying compliance with call recording laws. Both automated and manual recording options are available, and recordings can be stopped, paused, and resumed at any point during the meeting by returning to "organizer controls".
Video is captured in "Dynamic Layout", a split screen that displays up to four participants in the order they most recently spoke.
Live and Post Meeting Transcription
Dialpad Meeting business plan users have access to Dialpad AI, Dialpad's cutting edge voice intelligence software that includes speech analytics, sentiment analysis, and natural language processing.
When Dialpad AI is enabled, Meetings users can simply click on the "Meeting Notes" button during a video call and a side panel will pop up. The side panel displays real-time transcription of the meeting, including differentiating speakers.
Dialpad AI does more than just transcribe the meeting, however. The technology also listens for keywords, analyzes sentiment, takes note of questions, and lists relevant action items.
Post-Meeting Summaries and Custom Action Items
Post-meeting summaries are in-depth recaps of video meetings that are sent only to the organizer after the meeting has concluded. The organizer can then choose to share a link to the call summary with other participants.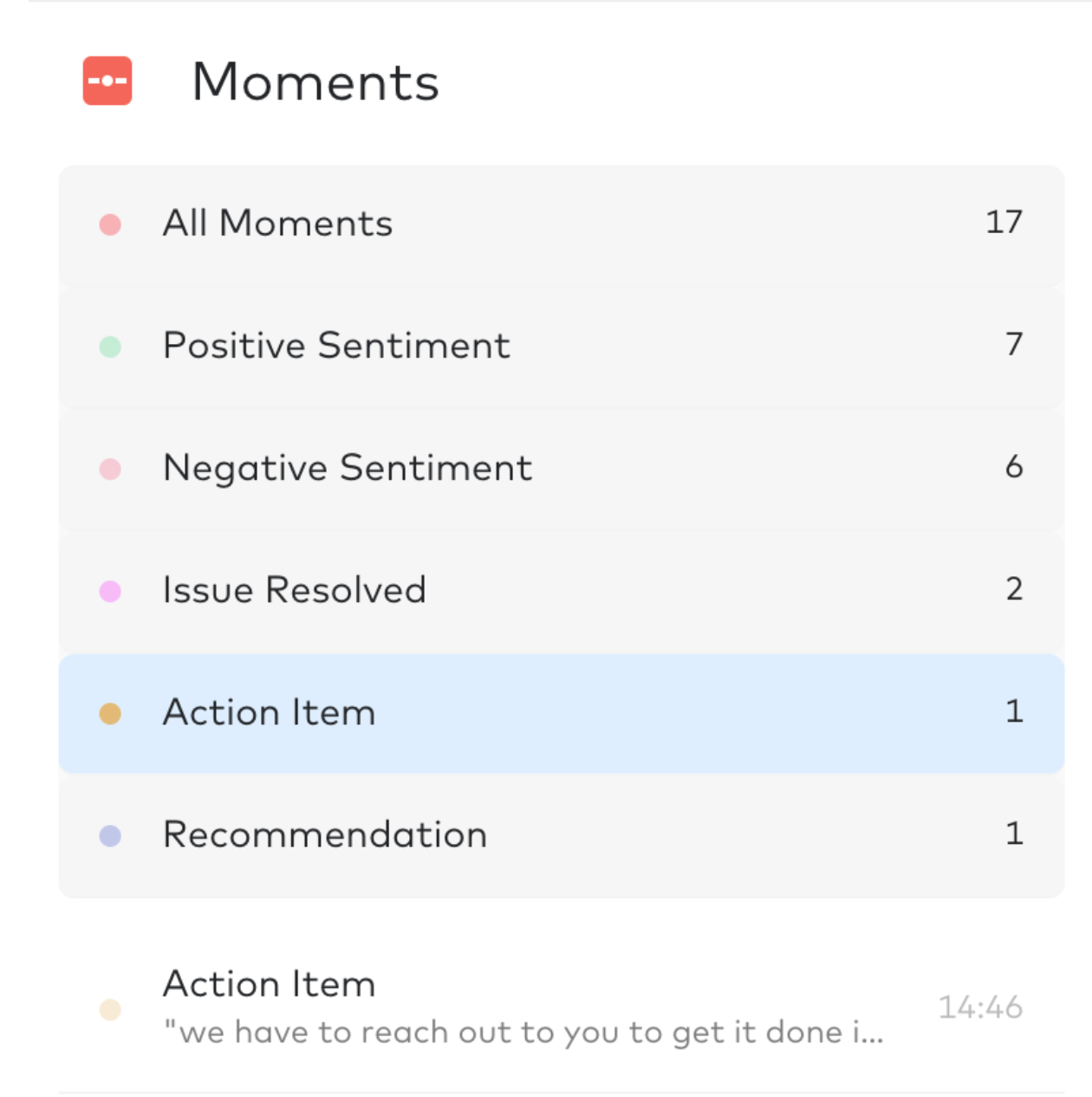 Dialpad Meetings post-meeting summaries include:
Action Items
Moments (a unique or interesting part of the meeting)
Sentiments (a positive or negative interaction)
Full transcript of the meeting
Action items, moments and sentiments are automatically noted and tagged by Dialpad AI during the meeting in real-time. This data is then organized as a searchable list in the post-meeting summary. Users can click on any "moment" to see the specific portion of the transcript when that moment occurred.
An action item is a single task that has been clearly defined during the meeting and must be completed after the meeting–for example, "I'll call you tomorrow".
Dialpad Meeting participants can also add their own custom action items during the meeting. These items will be added to the list generated by Dialpad AI and included in post-meeting summaries.
Dialpad Meetings Analytics Dashboard
The Dialpad analytics dashboard gives admins the ability to see how their team is doing at-a-glance with visual representations of pre-selected KPIs. The analytics dashboard is only available to Business plan users and is limited to historical data (not real-time or same-day data).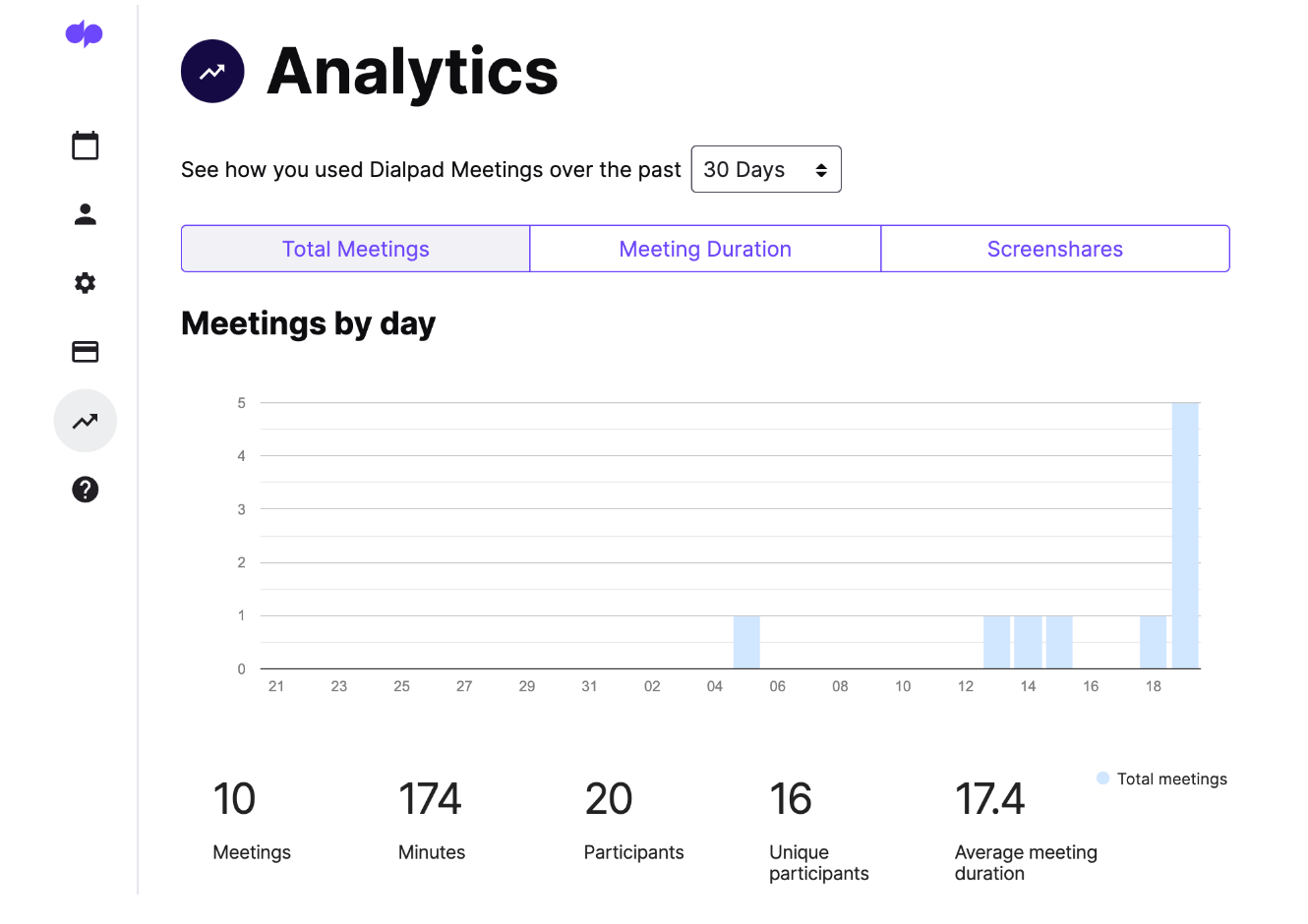 With Dialpad analytics, managers can view Meetings usage over the past week, month or three months. Usage for an individual or an entire team can be displayed.
Available metrics and KPIs  include:
Average participants
Total conferences
Total number of unique participants
Average conference duration
Percentage of conferences viewed online
Total screen shares
Percentage of meetings that included screen share
All-time usage reports can be exported as CSV files.
Automatic Dial-Out to Participants
Dialpad Meetings Business plan users can enable the dial-out feature to automatically dial participants before a scheduled meeting or even during an active one.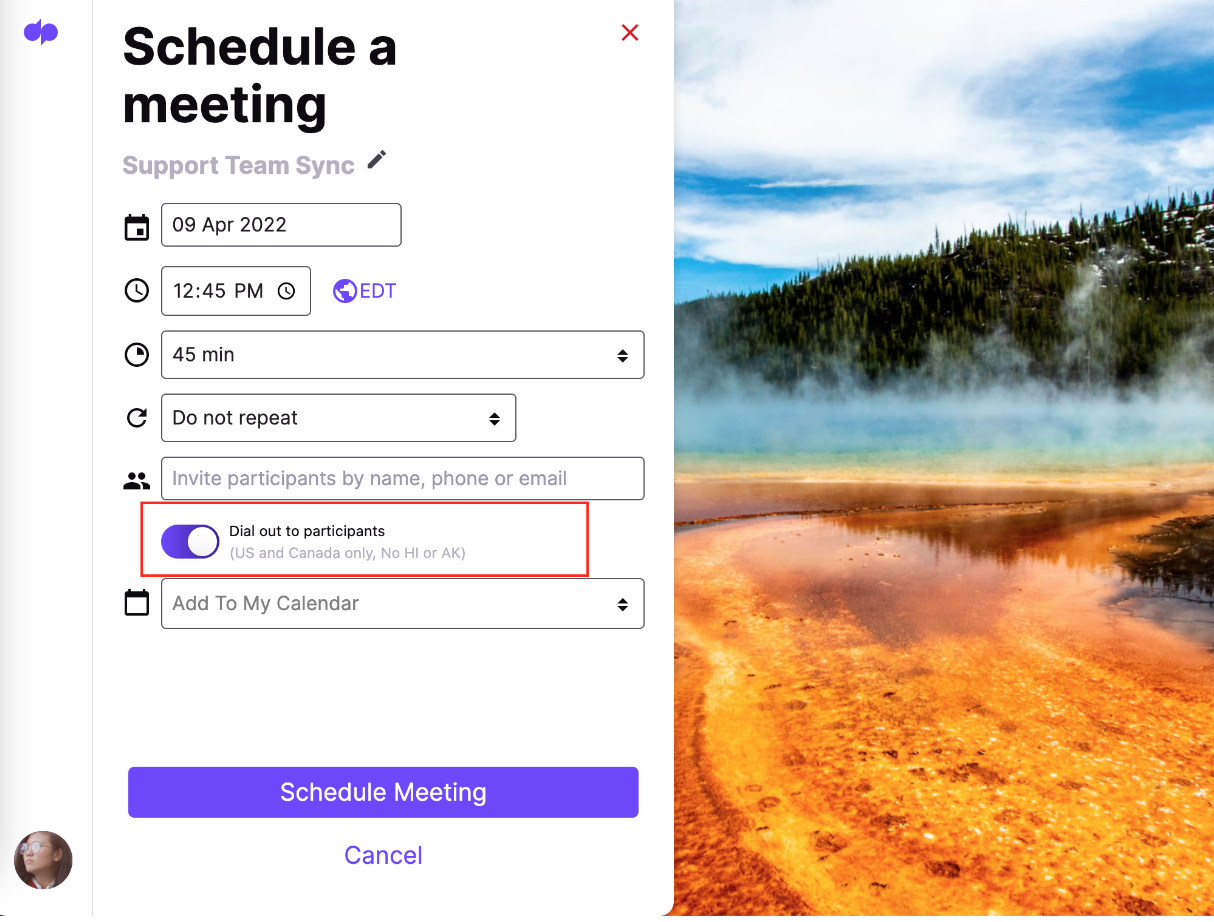 In the case of scheduled meetings, once participants are added and the dial-out toggle is turned on, Dialpad will automatically send participants a five-minute reminder via SMS, and then dial all participants right as the meeting begins.
During an active meeting, users can click on "Invite Participants" and switch on the auto dial-out feature in the same way.
Invitees who receive a dial-out can join meetings by pressing 1, and won't be required to enter a pin, even if one has been set by the organizer.
Organizers are limited to 200 automatic dial-outs per day, and only numbers in the U.S. and Canada (excluding Hawaii and Alaska) may be used.
Dialpad Meetings Pricing Plans
Dialpad Meetings offers just two pricing options: Free and Business.
Both plans include unlimited meetings, mobile apps for iOS and Android, and key features such as screen sharing, audio recording and virtual backgrounds. The Business Plan also includes unlimited video recording, countdown timer and live transcription.
Here's a breakdown:
Free Plan
Business Plan
Annual Price
$0 user/mo
$15 user/mo
Monthly Price
$0 user/mo
$20 user/mo
Max participants
10
150
Max length of meetings
45 minutes
5 hours
Key Features

Virtual Backgrounds
Waiting Room
Background Noise Reduction

Co-Hosts
Single Sign On
Custom hold music
The Pros and Cons of Dialpad Meetings
Here's a look at some of the unique strengths and specific drawbacks of Dialpad Meetings.
| | |
| --- | --- |
| What users like about Dialpad Meetings | What users dislike about Dialpad Meetings |
| Free plan available with HIPAA-compliant unlimited meetings, screen sharing, audio recording, HD video quality | Relatively low cap on participants compared with competitors |
| 11 integrations available to all users including Hubspot, Teams, Google Workspace, Salesforce and Microsoft 365 | 5-hour max length of meetings is low compared with competitors |
| Cutting-edge AI capabilities including real-time transcription and sentiment analysis | No Whiteboard feature |
| Live customer support available for all users | No End-to-End (E2EE) encryption |
Compare Dialpad Meetings to Its Alternatives
Here's a comparison chart of Dialpad Meetings' biggest competitors.
Provider
Pricing
Standout Features
Best For
Zoom
$0-$21 user/mo

Unlimited Whiteboards
In-meeting Chat
Up to 10 GB of cloud storage

Startups and SMBs
GoTo Meeting
$12-$16 user/mo

Breakout Rooms
Unlimited Cloud Recording
Smart Assistant/Note Taking

Medium-sized businesses
Google Meet
$0-$18 user/mo

Up to 500 participants
Enhanced Security Management and Controls
Polls

Businesses of any size
RingCentral
$0-$14.99 user/mo

24-hour Meeting Duration
Annotation on Shared Screens
Advanced Analytics

Medium-sized businesses, enterprises and contact centers
Cisco Webex
$0-$14.50 user/mo

Advanced Noise Removal
Closed Captions
Customized Stage Layouts

Enterprises
Microsoft Teams
$0-$12.50 user/mo

File Attachments can be sent in Chat
Guest Access
Outlook and Skype Contact Import

Large Businesses and Enterprises, especially those already using Microsoft 365
Zoho Meeting
$0-19 user/mo

Customizable Registrations
Live Streaming
Meeting Lock

Small businesses and medium-sized businesses
Vonage Meetings
$19.99-$39.99 user/mo

Whiteboard with up to 20 participants
Show Active and Inactive Attendees
Escalate to Video from SMS and Contacts

SMBs
Dialpad Meetings FAQs
Dialpad Meetings' free plan includes unlimited free conference calls with up to 10 video participants for up to 45 minutes per meeting. 

Dialpad Meetings is a cloud-based video conferencing platform that is easy to set up and use. You can create an account, log in and start a meeting right away. 

While both Dialpad and Zoom have robust video conferencing solutions, they have different focuses. Dialpad Meetings offers more advanced AI-powered tools such as sentiment analysis and automatically generated meeting highlights. On the other hand, Zoom has a much higher participant cap (100 in Zoom's free plan vs 10 in Dialpad's free plan) and offers several features that Dialpad doesn't, such as whiteboarding.   

Yes Dialpad Meetings has integrations with Outlook, Google Calendar and other popular productivity apps.