While your business always aims for a high level of customer satisfaction, keeping up with consumer demands like fast support times, automated self-service, and personalized, authentic omnichannel communication is increasingly difficult.
This is especially true for businesses that either don't have an in-house IT team, or that lack the time and knowledge required to build their own communication applications from scratch.
CPaaS (Communication Platform as a Service) Platforms like Avaya's OneCloud CPaaS make it easy to meet customer demands for seamless support resolution and instant cross-channel conversation without having to recreate your entire communications infrastructure.
The Avaya OneCloud CPaaS solution leverages Artificial Intelligence, powerful APIs, and workflow management tools to optimize the omnichannel customer journey, empowering teams to create applications that are tailored to their specific markets, products, and services.
This article introduces Avaya OneCloud CPaaS along with its top features, pricing info, use cases, pros, cons, and alternatives.
Jump to ↓
What is Avaya OneCloud CPaaS?
Avaya OneCloud CPaaS is a development platform that allows users to build, access, and integrate diverse services, functions, and application APIs into pre-existing communication applications and tools.
By providing several pre-built communication platforms (like Avaya Spaces, Aura, Breeze, and Conferencing) and the building block REST APIs for DevOps teams, Avaya OneCloud CPaaS empowers companies to mix plug-and-play with ground-up design.
Users can pick and choose from Avaya's pre-built platforms and communication API tools, avoiding paying for features and channels they don't need.
Avaya OneCloud CPaaS serves as a solid foundation for application building and optimization, providing a customizable development platform that lets businesses fine-tune their own applications, ensuring they're as "useful" to both teams and customers as possible.
In other words, OneCloud users don't have to change their business processes or customer service strategies to meet the needs of existing software. Instead, they can create their own, automating and expediting workflows by integrating AI capabilities and data-driven automation.
OneCloud enables more effective communication across multiple channels, like:
SMS Text Messaging
Video Conferencing
Voice Calling
Email
Chatbots
Live Chat
Three Pathways To Your Avaya CPaaS Solution:
Here are the three primary pathway options to use Avaya's CPaaS as a solution for your company's needs.
1. Subscribe To A Pre-Built Solution 
Use pre-made entire applications built on CPaaS, such as IVR, Avaya Breeze, Spaces, Aura, or Conferencing, plugging the turnkey application directly into your infrastructure for immediate use: a website, webpage, CRM system, communication channel, or mobile application.
Since these applications are built on CPaaS, you can take parts of them (such as video conferencing from Spaces) and integrate them into other communication systems.
2. Avaya Builds Your Solution
If your company doesn't have developers, Avaya's Advanced Services team will work with you to build custom applications for your needs, ready for consumption in days.
3. Build Your Own Solution
Your company's developers can use Avaya's bank of REST APIs to create custom workflows that route communication avenues along customized paths, based on triggers and conditions baked into the workflow.
Avaya OneCloud CPaaS Top Features
Below, we'll outline some of the important Avaya OneCloud CPaaS features.
Avaya Spaces
Avaya Spaces, developed on Avaya CPaaS, is a pre-built communication platform that allows a user to create a virtual communication and team collaboration space anywhere.
These Spaces combine a set of dynamic features in a single dashboard: voice, video conferencing, SMS texting, email, webchat, task assignment, and more.
Creating a Space is easy– click "Create A Space," give your space a name, and invite people from inside or outside the organization by name, email, phone number, web link, or even QR code.
Your Space's dashboard organizes all the features you need, allowing users to access video conferences, chat messages, posts, task management, meetings, and more with one click.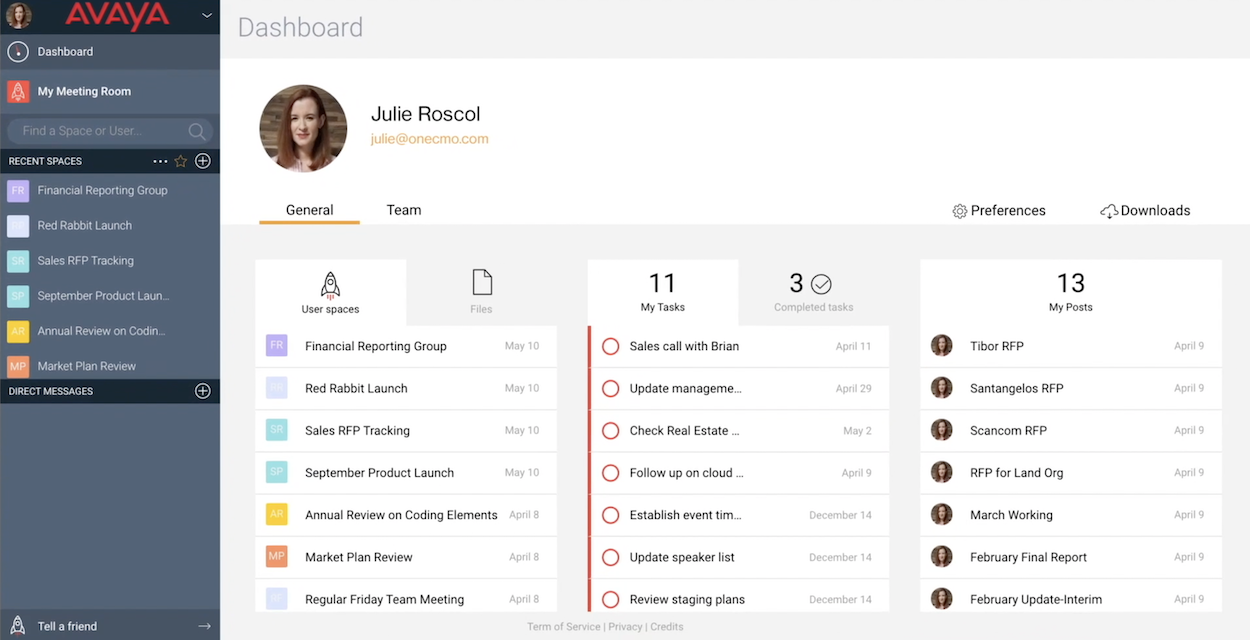 Check out some of the other features and functionality in Avaya Spaces:
Project Flexibility: Once you create a Project Space, users can come and go, checking in on the space when needed to stay up-to-date, as Spaces saves everything with a two year automatic retention period
Large Meeting Capacity: A Space holds up to 1000 people, with a 61-participant HD view, so you feel like you're in an office with your team. You can customize the video layout, choosing between auto, concert, grid, lecture, or panel views.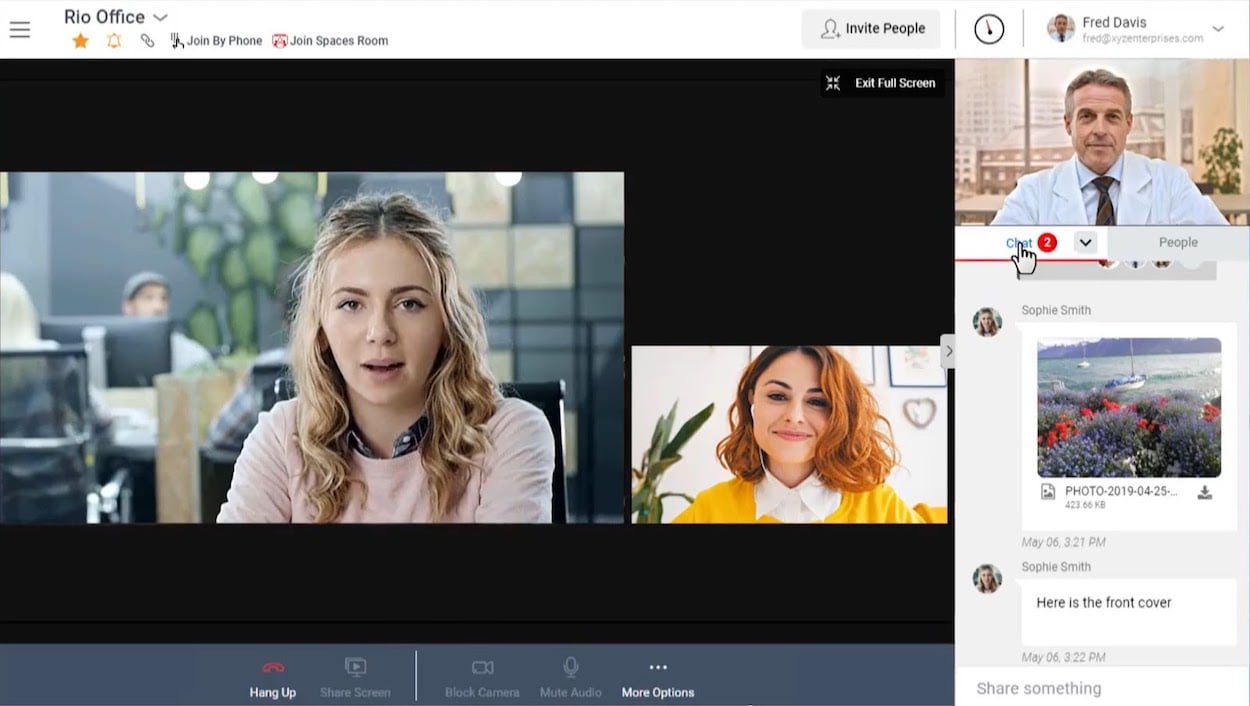 During video conferences, an ongoing live chat allows participants to post documents, ask clarifying questions, use emojis, or raise a hand.
Meeting Scheduling: Use the Avaya Spaces Outlook add-on to schedule Spaces meetings directly from Microsoft Outlook, customize meeting details, set reminders for team members, determine meeting length and recurrence, share meeting notes, select meeting background, and invite team members
Rich Calling: Call participants directly from your browser using WebRTC, transfer, merge, or manage multiple calls
Artificial Intelligence: Noise elimination knocks out unwanted background sounds, background blur prevents your background from distracting other participants, and intelligent transcription and closed captioning recognize when there's a new speaker
Security: Avaya Spaces meetings have over 30 significant security features, randomized non-guessable meeting IDs, unique private rooms where only authenticated users can enter, encrypted data, role-based control, and it's all HIPAA and GDPR compliant
Users can also pick and choose their favorite Spaces components and integrate them into pre-existing communication channels.
For example, users can embed Spaces video conferencing into customer service platforms or on a tutoring website learning hub, or add the Spaces chat function to a contact center.
Spaces provides a CPaaS-supported whole platform, or toolbox, for you to build your communication system.
REST APIs
REST APIs are pieces of easily embeddable code for isolated communication functions–like talk-to-text conversion, voice transcription, or bulk messaging. These APIs individually plug into a company's communication systems or larger communication applications.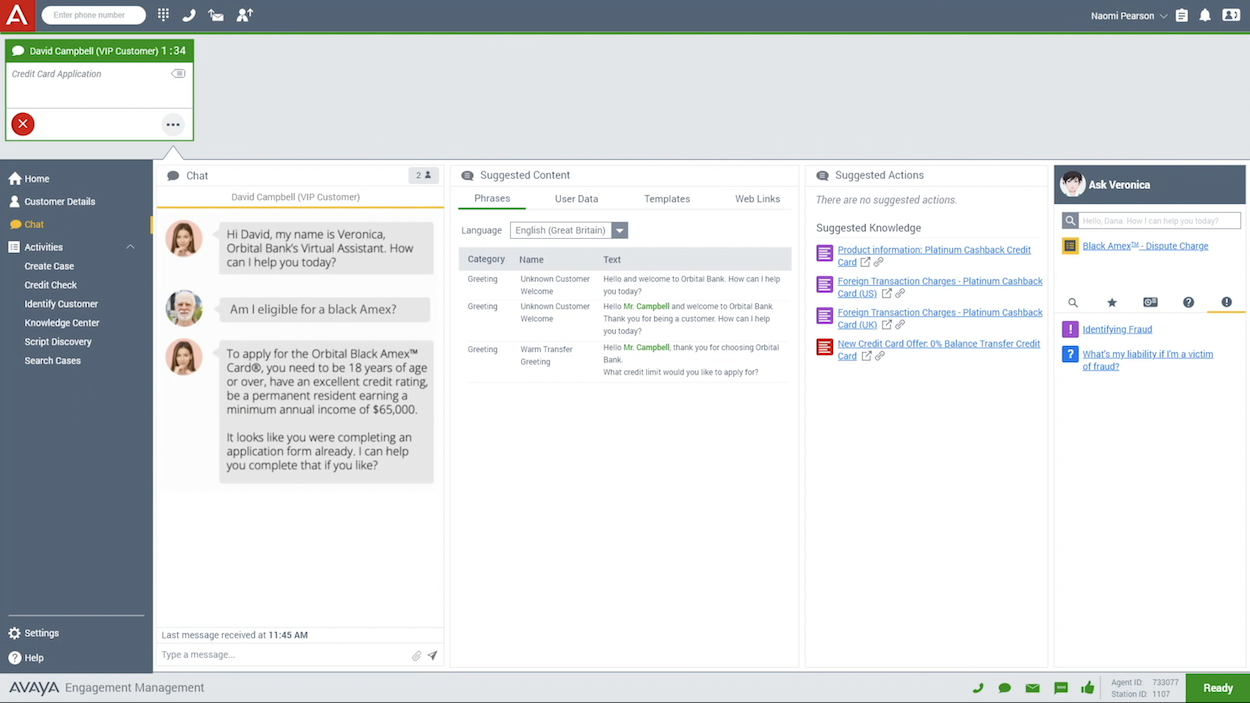 Avaya CPaaS offers a wide variety of pre-formed APIs, organized based on the following general functional categories:
Calls
SMS
MMS
Conferences
Applications
SIP Registration and Domains
Recordings
Notifications
Transcriptions
Fraud Control
When building their own applications, users only need to select the REST APIs they want to add to their apps. These APIs give more capabilities to pre-existing projects or can be used to build an entirely new project, like an employee training hub.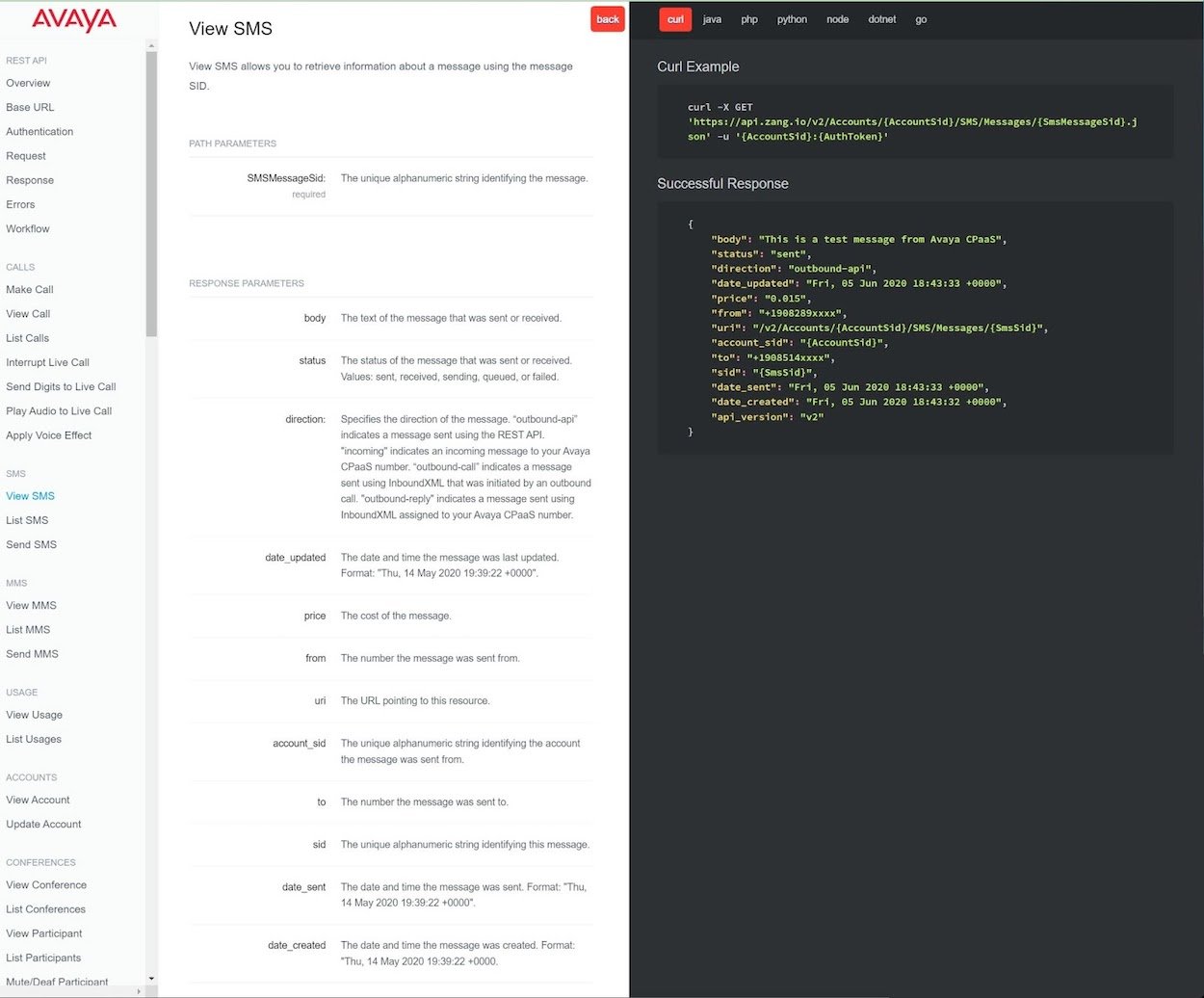 Avaya CPaaS provides a visual drag-and-drop interface to customize and map out API workflows.
For example, if you wanted a certain update on your website to trigger a mass SMS notification and post a message via chat within particular spaces, the visual workflow tool in CPaaS allows you to set up this path, using REST APIs.
Below, we've outlined some of the standout tools and commands that the Avaya REST APIs allow you to integrate into your communication channels:
Voice APIs and Integrations 
Below, we've outlined OneCloud's best Voice APIs.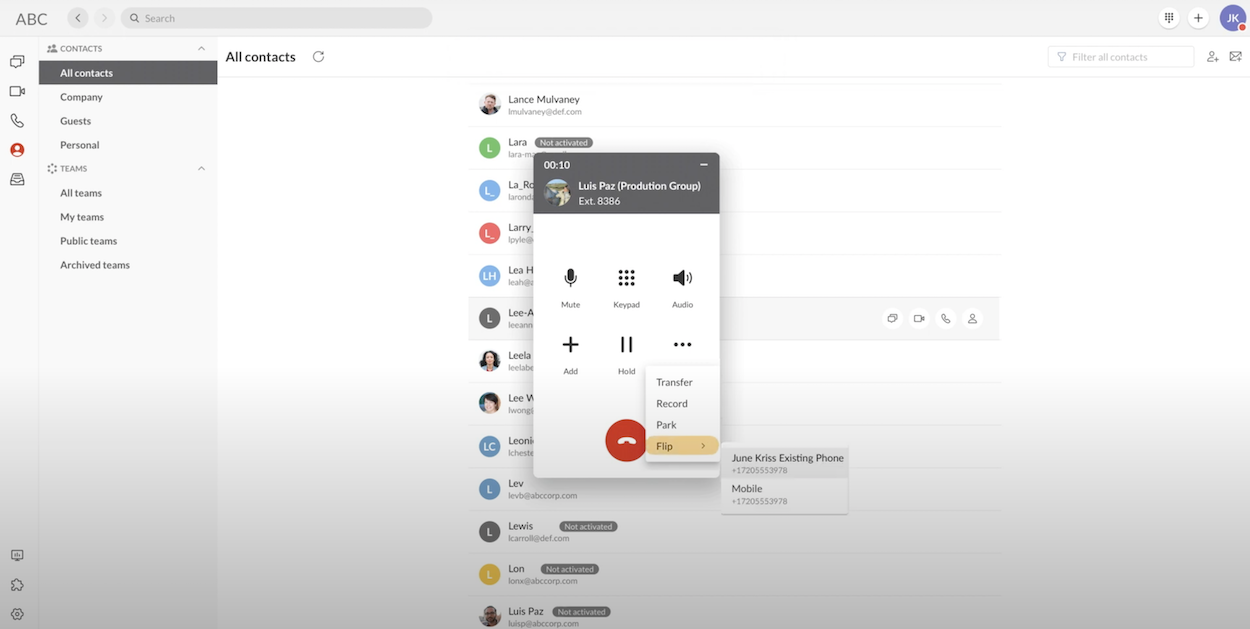 Automatic Speech Recognition: Customers can navigate voice menus and IVRs by speaking their selection (in up to 26 languages)
SIP Registration: Connect your existing telephony infrastructure, including an IP PBX, to the cloud through Avaya
Embedded AI: Avaya CPaaS numbers can easily be associated to AI-enabled conversations with AI providers like Google Cloud, IBM Watson, and other Avaya-enabled AI partners
Text-to-Speech: Enable your app to convert written text into spoken voice (in up to 20 languages) that your readers will hear upon interaction with your webpage, app, or phone number
Audio Conferencing: Add voice conferencing to any app, enabling multiple parties to connect by calling the same number, while the host retains full control
Call Analytics: Avaya OneCloud CPaaS provides real-time analytics for every call, including tracking, billing, and caller background information
Transcription: Access hybrid, keyword, automatic, and real-time voice transcription of calls
Voice Effects: Use voice effects by augmenting aspects like pitch, temp, bitrate, and octaves
Interactive Voice Response (IVR): Enable powerful self-service with interactive voice menus, attached to your main number, where customers can navigate to information. This feature can recognize multi-language speech as well as DTMF audio tones.
Other Voice APIs: Split Channel Call Recording, Caller Identity Management, Inbound Call Processing, and Call Tracking
Messaging APIs
Below are some of Avaya OneCloud's best messaging APIs.
Two-Way SMS: Receive text messages for free, from your purchased number, and only pay for outgoing text messages
Bulk Messaging: Send messages to mass groups of people, and receive real-time analytics detailing the delivery status of each SMS, so you can easily track the performance and success of messaging campaigns
Delivery Analytics: Allow mobile and web apps to support messaging, and gain access to analytics like response rate and open rate
Polling and Surveying: Gain useful insights with automated polls and surveys about customer attitudes and opinions
Custom Sender ID: Alter the sender ID of your SMS so that it appears as a local identity–with this service, multiple agents can contact customers from the same ID and number
AI Plus SMS and SMS: Apply toll-free and DID-enabled SMS and MMS to any AI-enabled conversation from AI providers like Google Cloud and IBM Watson
Other Messaging APIs: MMS, Automatic Long Texts Splitting, and Free Inbound Messaging
These tools allow you to scale and customize both your internal and external communication systems with ultimate control.
Mass Notifications
With Avaya Cloud Notification System (ACNS), part of OneCloud CPaaS, users can send timely outbound mass notifications through email, SMS, voice, web portal, or a combination of multiple channels.
When something important occurs–a parking lot at your university gets blocked off because of a gas leak, or a data failure brings down your company's website–you need to be able to reach both customers and your team in moments. ACNS facilitates this.
ACNS's functions, like geofencing and location tracking, allow you to notify audiences based on location, selecting only the particular audience you want. With two-way communication, customers or employees can respond to you for short back-and-forths, improving inter-company communication in remote settings.
The ACNS app makes it easy to organize customers and recipients into groups, and you can also provide customers the opportunity to opt into ACNS notifications with a self-submitted form.
ACNS allows you to add a question to your mass notification, which prompts a two-option response from customers–they respond 1 for a particular option, and 2 for another.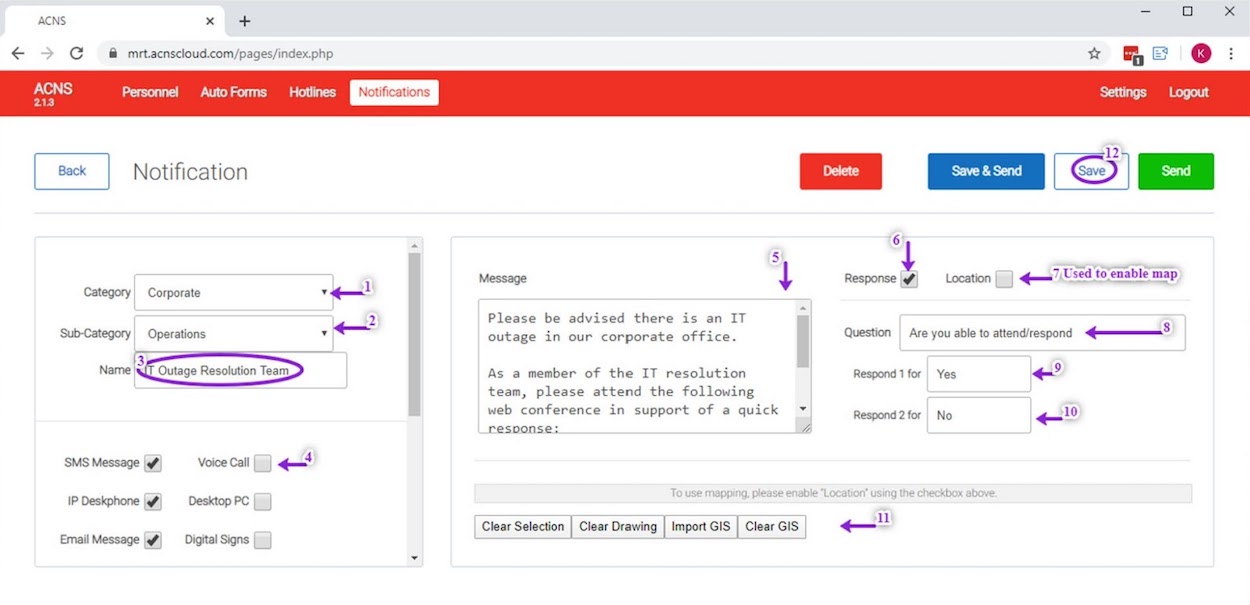 Here are a few useful functions within Mass Notifications:
Notifications to diverse endpoints: Notifications can reach enterprise desk phones, home phones, wireless phones, teletypewriters, and telecommunications devices for the deaf. Messages can travel through text, email, web, and social media, and can even be broadcast over speakers and horns.
Voicemail or answering machine detection: Automatically detect answering machines with the option to leave a voicemail
IP phone zone paging: Define zones of IP phones and broadcast audio or text messages, visible on the display screen and audible through the phone's speakers
Integrated conferencing and collaboration: Allow key stakeholders to dial into an audio conference bridge for an impromptu conference
Detailed reporting: Summaries and detailed reports, available in the Web Portal, give real-time insight into who has been notified, and if and how and when they've responded
Business Phone Numbers
With Avaya CPaaS, users can buy local, toll-free numbers and use them fully online without any provisioning – just global coverage under a single carrier, with simple pricing.
Each number you buy is capable of implementing all voice, SMS/MMS APIs, meaning that you can use a purchased number to text mass notifications, and provide inbound-calling customers with menus and information via IVR to gain their information, or route them to an agent.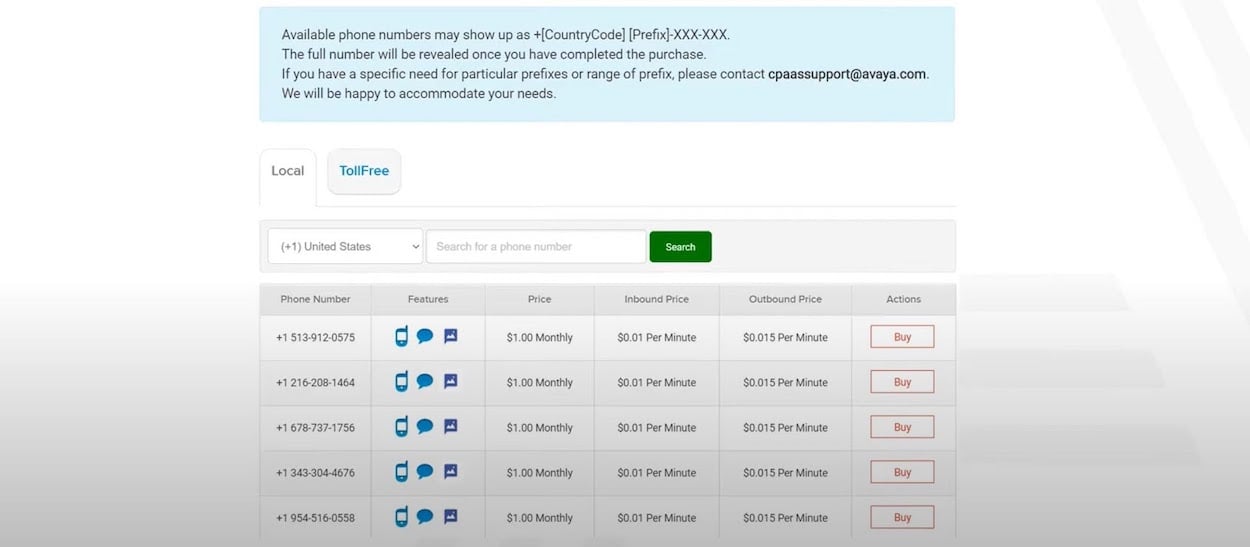 Here are some of the types of numbers and features included:
Shared Shortcodes: Lease pre-approved, instantly provisioned shortcodes to schedule SMS and MMS in bulk from a single, short, memorizable business number
Dedicated Shortcodes: Dedicate particular numbers to particular purposes by purchasing multiple numbers, schedule SMS and MMS functions from an individual number
Local Phone Numbers: Regardless of a business's actual physical location, they can talk to customers with a phone number from a local area code
Toll-Free Numbers: Purchase toll-free numbers in over 40 countries for just $2 per month
Carrier Lookup Services
The Carrier Lookup API, within the REST APIs toolbox, is a standout feature that gives users insights about incoming calls based on the telephone number.
When an incoming call reaches your application, CPaaS can use Billing Name Address (BNA) and caller name (CNAM) lookup to provide you with the following information about the caller:
Phone type (mobile or landline)
Carrier network
Carrier ID
Calling location
Caller name
You can use this information to automate triggers, like responding to mobile calls with an SMS message linking to an immediate mobile experience using your website or webchat.
Avaya OneCloud CPaaS Plans and Pricing
Since Avaya OneCloud CPaaS offers such a wide range of individual APIs, turnkey experiences like Avaya Spaces, and the opportunity to build your own complete application with Avaya's Services Team, there is no one-size-fits-all pricing plan–for a customized estimate, contact Avaya to set up a two-hour in-depth consultation, where a representative will provide you a detailed outline.
In general, however, with Avaya CPaaS you only pay for the services, APIs, and tools that you use. This means that you pay by the call, message, or number purchased.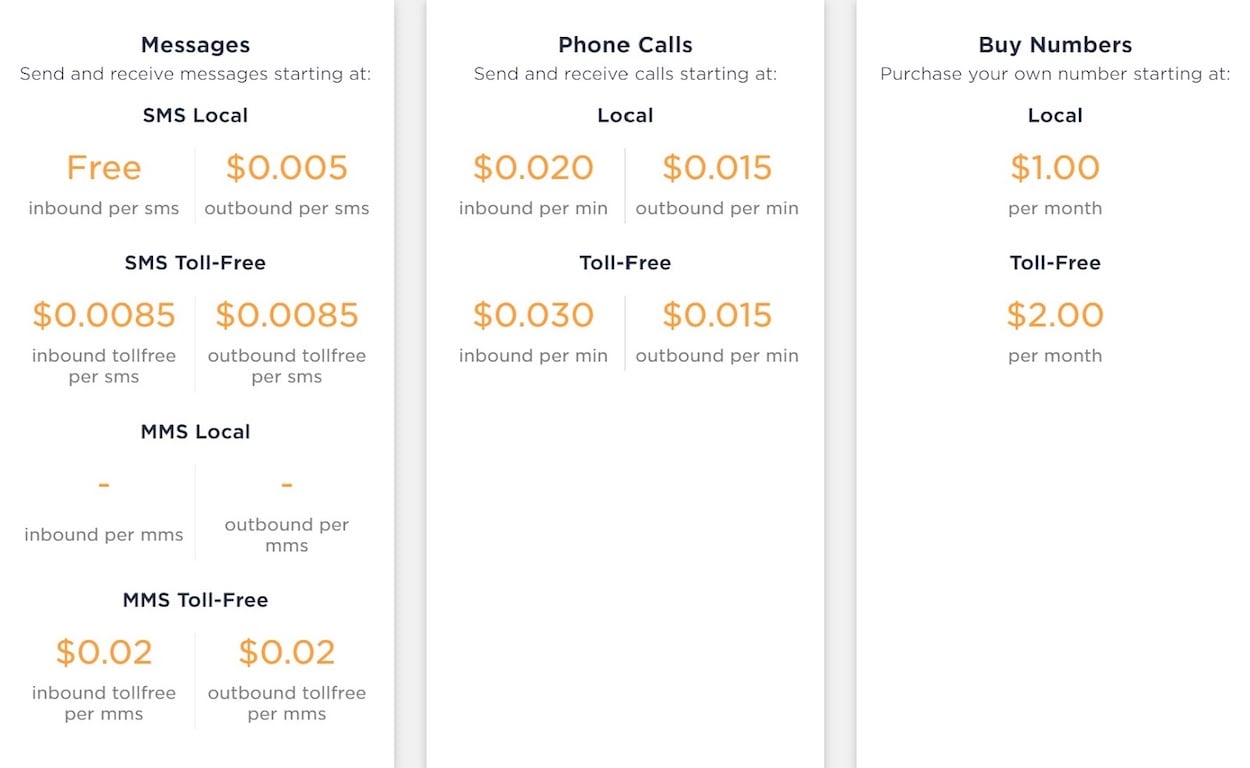 For each API tool used on top of a call or text, such as voice transcription or embedded surveys, you pay an additional charge–only for what you use.

Avaya OneCloud CPaaS Pros & Cons
Avaya CPaaS boasts a ton of positives, like flexible scalability along with the fact that companies can pick just the tools they want, to layer communication systems without having to purchase a whole new one.
However, integrating Avaya CPaaS's REST APIs does require skilled developers, and if a company doesn't have such a team, it may struggle to independently use many of Avaya's tools and features.
| | |
| --- | --- |
| Avaya OneCloud CPaaS Pros | Avaya OneCloud CPaaS Cons |
| Easily scalable (up or down) | Without developers, it can be challenging to implement the APIs |
| Maximum API flexibility: you can pick which APIs to use, individually or combined | Difficult to buy just one API–buying one usually requires more for full functionality |
| Composability within pre-build platforms: Avaya Spaces, Aura, Breeze, Scopia | Does not include the full Avaya Suite–Unified Communications, Contact Center, etc. |
| Avaya Advanced Services team will help you build your system | Analytics KPIs within CPaaS are not as varied as in other platforms, like the Contact Center |
| Strong security (HIPAA compliant) across all channels | The robust, plug-and-play API tools mainly apply to voice and text, not video or AI |
Who Should Use Avaya CPaaS?
Avaya OneCloud CPaaS makes a great fit for companies of all sizes–SMB to enterprise-level.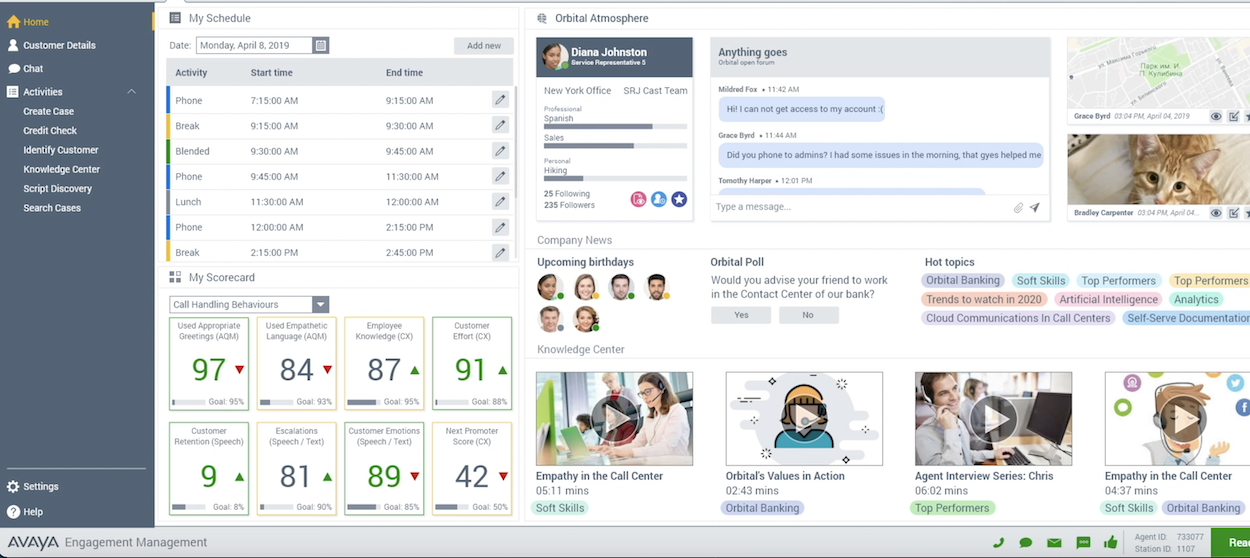 However, Avaya CPaaS especially fits companies looking to:
Scale communication systems: Companies planning to scale or shrink in size will appreciate the fact that with Avaya CPaaS, you only pay for what you use
Add An Original Communication Plan: If you envision a unique use case for your communication–for example, a healthcare or education mass notification system or an employee training hub–Avaya OneCloud CPaaS enables you to create the most unique system possible
Access Advanced Developer Tools: Since Avaya's REST APIs translate to a wide variety of coding languages, developers will love the flexibility the APIs provide
Avaya OneCloud CPaaS Use Cases
Here we've outlined some of the key ways companies are using Avaya OneCloud CPaaS.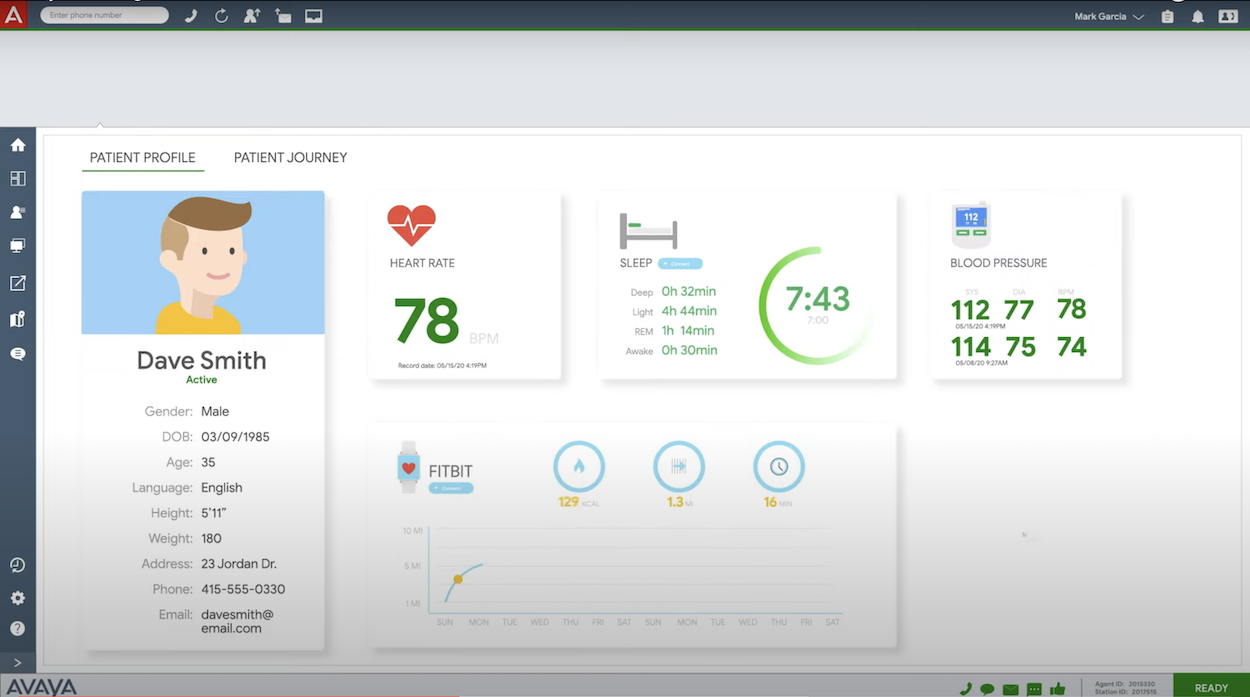 Healthcare
Healthcare companies can use Avaya Spaces to make it easy for their patients to communicate with them quickly.
A medical company can create virtual waiting rooms where patients can check-in and fill out paperwork. During the meeting, patients and doctors can exchange the patient health information with high security, since Avaya OneSpace CPaaS is HIPAA compliant.
Healthcare companies can also use Avaya OneCloud CPaaS to streamline a customer self-service journey through information, action, and resolution:
Information: Provide a database of documents, webpages, and hotlines that inform customers about a disease or symptom, along with directions about what to do or where to get tested
Follow-up: Notify patients about test results, through their selected channel, in a timely manner
Education
Education companies can use Avaya Spaces to set up online learning hubs that feature a ton of different technologies, in one website:
Video conferencing and chat (among teacher and students)
Email
Calendars
Interactive to-do lists
Pre-recorded video lessons
Syllabuses and other instructional documents
If a student has a question, she can jump with a single click into a video conference or webchat with her teacher or a classmate. Real-time online tutoring sessions have never been so easy.
Finance and Banking
Financial institutions use Avaya OneCloud for several functions that enable them to meet consumer needs for speedy and personalized service:
Virtual Online Branches: With phone, chat, and video capabilities integrated within a financial institution's app, customers can now digitally handle transactions that once required an in-person branch
Intelligent Hotline: A single remote hotline can interact with callers, process inputs, monitor sentiment, and use AI to connect customers to the people or information they need
Authentication: OneCloud enables you to integrate real-time biometrics into your apps and transactions, for simple and secure verification–especially valuable with regard to banking information
Personalization: With OneCloud, you can provide each customer with a personalized app experience, that pulls from customer databases and third-party apps to integrate user aspects like location, purchase history, bank account information, personal documents, and chat
Simplifying Service Delivery: With interactive to-do lists and chatbots capable of guiding users through complex processes such as signing documents, you can use OneCloud to remotely simplify processes like applying for loans
Proactive Outreach: WIth Avaya OneCloud CPaaS' full range of proactive outreach solutions, you can use any voice or digital channel to notify customers about new online features, billing reminders, security or deposit notices, loan updates, credit statements, and more
Automotive/Retail
One automotive retailer with over 200 locations faced a problem with communication: agents at each of their locations were using their personal mobile numbers, which gave the automotive company no visibility into the customer dialogue or contact information, and also didn't give the automotive company a unified look in the customers' eyes.
Leveraging Avaya Breeze, the automotive company worked with Avaya to create a two-way SMS application that enabled their existing landline numbers to deliver messages between sales reps and agents, while using a Salesforce integration to log the exchanges in CRM.
Professional Services
A home inspection services company, that connects homeowners with local home inspectors, was experiencing poor customer satisfaction due to long queues–agents were limited to phone calls in customer interactions.
This home inspection services company built a custom two-way SMS application using CPaaS APIs, allowing its agents to speak with customers and local inspectors in a single native app.
Alternatives to Avaya OneCloud CPaaS
Avaya OneCloud offers a robust CPaaS solution for SMBs, particularly those looking to scale communication systems with strong teams of developers.
If this review has left you feeling like Avaya isn't the right platform for your team, check out the most popular OneCloud CPaaS alternatives below.
Provider
Available Communication Channel APIs
Pricing
Best For
More Information
Twilio
-SMS and MMS

-Voice

-WebChat

-Facebook Messaging

-Video Conferencing

-Email

-Messaging Apps (WhatsApp, FB Messenger)

Pay-as-you-go pricing starting at:

-$0.0075 per SMS

-$0.0085 per minute for voice

-Enterprise-level businesses that need access to as many communication channels as possible

– Companies that need bulk email marketing features

Our Twilio Review
8×8
-SMS and MMS

-Voice

-Video Conferencing

-Messaging Apps

Pay-as-you-go pricing starting at:

-$0.031 per SMS

-Customized quote for voice

-Companies of all sizes looking to capitalize on video-based solutions
Our 8×8 Review
Plivo
-SMS and MMS

-Voice

Pay-as-you-go pricing starting at:

-$0.005 per SMS

-$0.001 per minute for voice

-Companies new to APIs looking for easy customization and administration
Our Plivo Review
MessageBird
-SMS and MMS

-Voice

-Video Conferencing

-Email

-Messaging Apps

Pay-as-you-go pricing starting at:

-$0.006 per SMS

$0.015 per minute for voice

-Companies looking to utilize APIs for marketing, such as marketing messages and push notifications
Our MessageBird Review
Vonage Communication APIs 
-SMS and MMS

-Voice

-Video

-Email

-Messaging Apps

Pay-as-you-go pricing starting at:

-$0.0062 per SMS

-$0.012 per minute for voice

-Companies new to APIs who want 24/7 support with escalation and clear resolution for issues
Our Vonage Review
Use Avaya CPaaS for Ultimate Control
If you've ever felt restricted by your company's communication system and tools, like you wanted to connect with your customers in an innovative way, Avaya CPaaS provides a solution.
With the ability to take bits and pieces from pre-built platforms like Avaya Spaces, Aura, and Breeze, take the entire platforms themselves, or build on your own communication system with easy-to-integrate REST APIs, Avaya CPaaS empowers you to build the communication system you envision.
To learn more about Avaya and the alternatives listed here, check out our interactive table of top CPaaS providers.
Avaya OneCloud CPaaS FAQs
Below, we've answered some common FAQs pertaining to CPaaS and Avaya.