Between working on department-wide projects, monitoring upcoming tasks, scheduling video meetings, joining new messaging channels, and editing files, today's employees are in a near-constant state of team collaboration.
Collaboration platforms like Microsoft Teams help employees keep track of deadlines, communicate across channels, and ensure everyone is working on the most current versions of projects and files. Microsoft Teams integrates with popular third-party business software, making it easy to streamline collaboration and collaboration into one interface.
Still, Microsoft Teams isn't right for everyone–especially for those that don't work within the Microsoft 365 universe.
In this article, we've researched the best Microsoft Teams alternatives and compared their features, user experiences, available communication channels, pricing models, and more.
What Are The Best Microsoft Teams Alternatives?
Here are the best Microsoft Teams alternatives:
1. Zoom
Zoom One is a team communications platform that unites Zoom's key applications and collaboration tools–like Zoom Meetings, Zoom Phone, chat messaging, file sharing, and idea workshopping– into one interface with real-time syncing.
Users know Zoom best for its Meetings application, with easy link generation and sharing, making it easy for teams to jump into dynamic HD-video meetings with up to 1000 participants, filters, and other dynamic collaboration video features.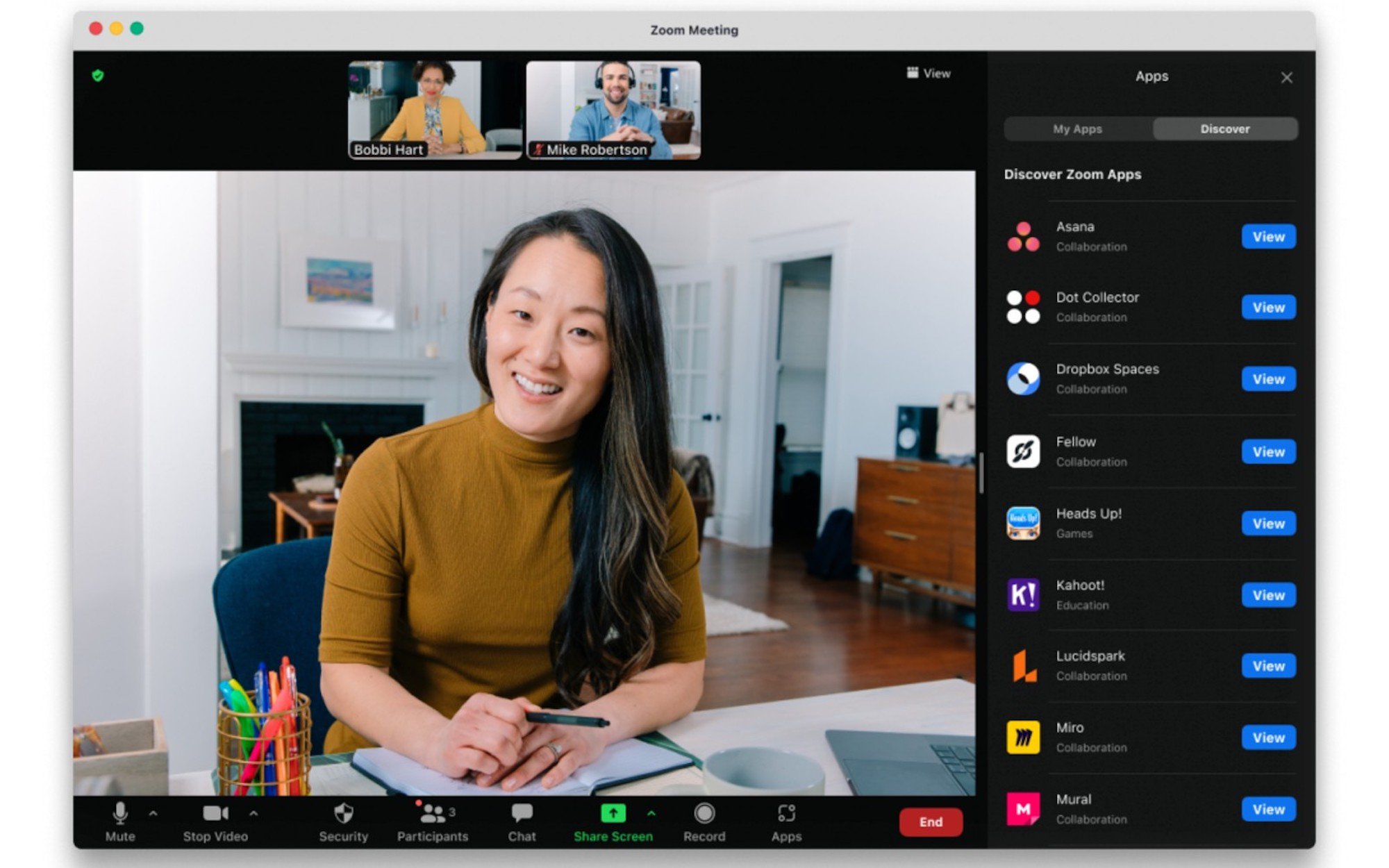 Zoom Phone provides HD video chat as well, integrating with omnichannel contact centers. Zoom Chat facilitates collaboration and media sharing, including whiteboard and calendar sharing.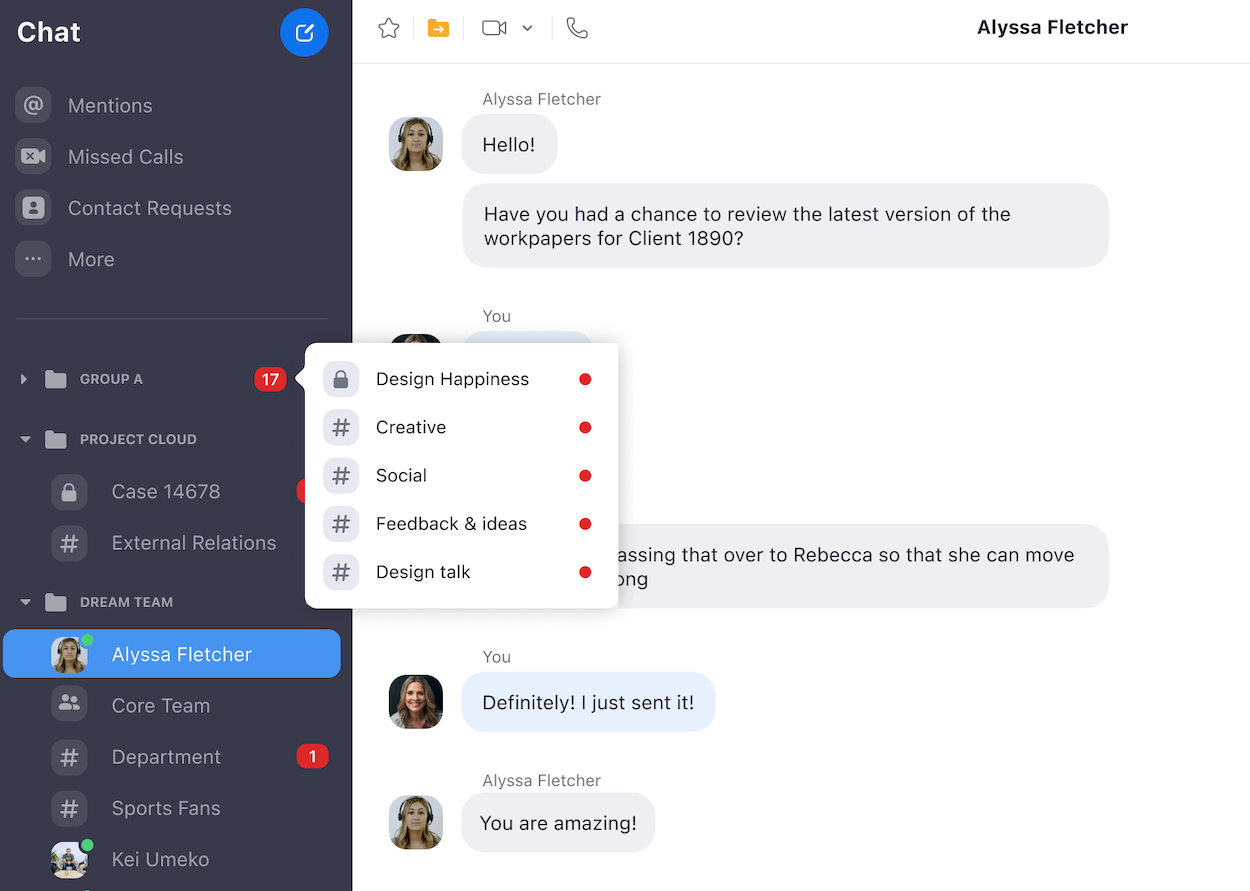 Administrator settings let admin easily control user permissions, add team members, and track analytics about usage and adoption, quality and performance, infrastructure usage and performance, and cloud storage.
Key Features
Virtual Meetings: Video-conferencing tool Zoom Meetings (which rose to prominence during the 2020 pandemic) supports up to 1000 users, with features including screen sharing, chat, live captioning, meeting recording and transcription, the ability to join and start meetings easily from calendars, audience engagement tools like polls, hand raising, and music.
Team Chat: Zoom Chat allows you to send direct or group messages with files, videos, emojis, and GIFs. Jump into meetings and whiteboarding directly from chat.
Digital Whiteboard: A virtual collaboration space with a whiteboard interface that allows users to sketch and brainstorm–before, during, or after meetings–with drag-and-drop sticky notes, drawing tools, comments, and easy whiteboard sharing.
Phone: Zoom Phone provides HD voice across mobile, desktop, or desk phones, with intelligent call routing, IVR auto attendant, call recording, line sharing, voicemail, call logs, and contact lists.
Zoom Pricing And Plans
Zoom One has five pricing plans, ranging from free for the Basic plan up to $25.00 monthly per user for the Business Plus plan.
While Zoom doesn't offer free trials for paid plans, their free Basic plan offers a great test run to see if the more expensive plans would be worth it for you.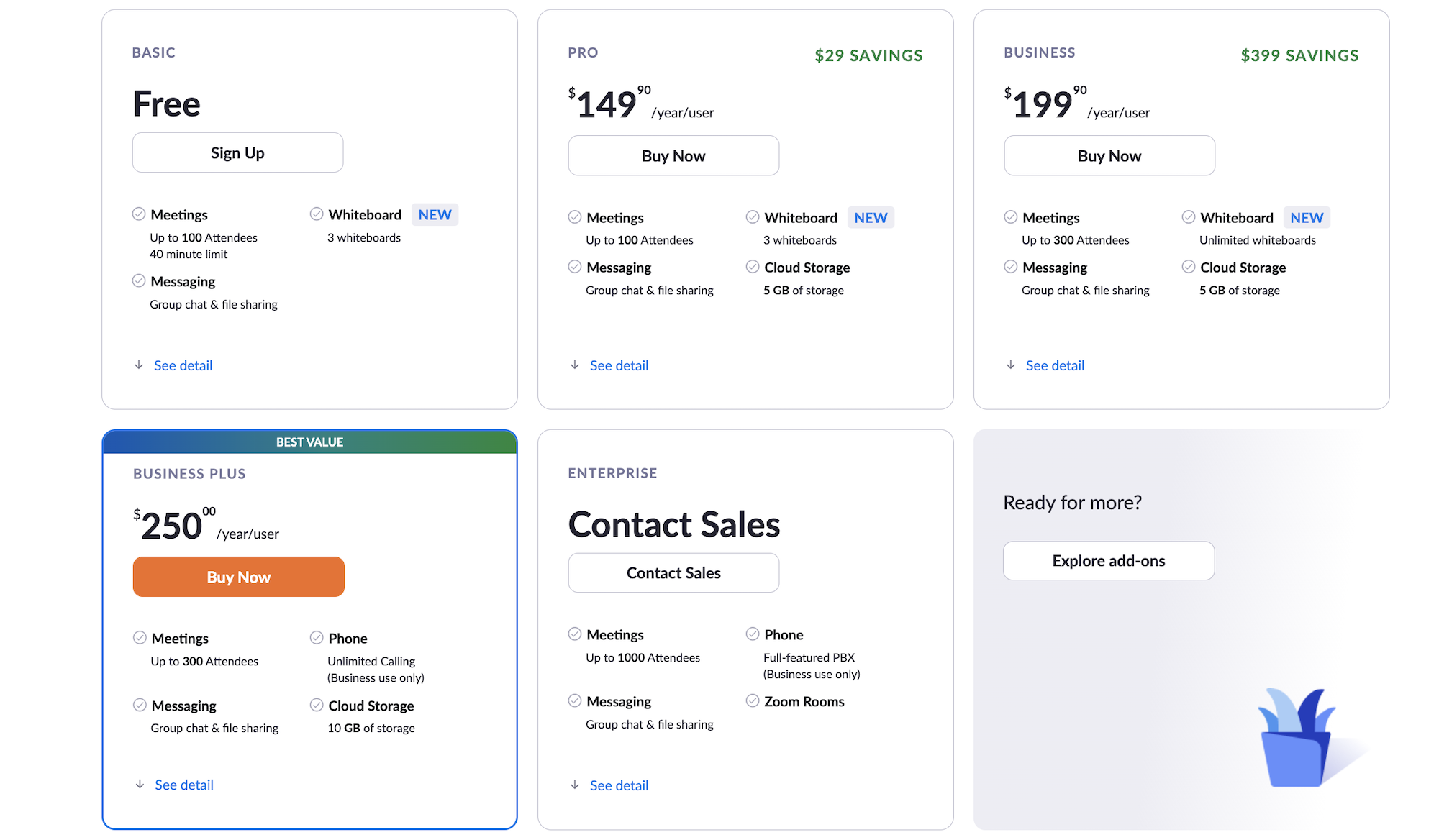 What Users Like and Dislike about Zoom
The below table outlines the pros and cons of Zoom.
| | |
| --- | --- |
| What Users Like about Zoom | What Users Dislike about Zoom |
| Call recordings | Can be difficult to hear distinct musical sounds |
| No connection issues, even with large groups | Difficult to hear users who aren't wearing headphones |
| Easy to schedule, share, and join meetings | Does not offer video filters like social media platforms Snapchat/Instagram do |
| Whole groups can edit a whiteboard at once | Advanced settings can only be adjusted on the website, not in-app |
Why Zoom Is A Good Alternative To Microsoft Teams
Zoom One provides a more video-focused version of Microsoft Teams. While Zoom matches Microsoft Teams with its chat and voice-calling features, it outdoes Microsoft Teams when it comes to video capabilities, like in-video polls, captioning, hand-raising, and especially the Zoom Digital Whiteboard.
2. RingCentral
RingCentral's MVP (Message, Video, Phone) suite offers a virtual collaboration solution where users can create groups and teams, chat, create and join video conferences, make voice calls, sketch and whiteboard, send media and files, create and assign tasks and checklists, and send desktop and mobile faxes.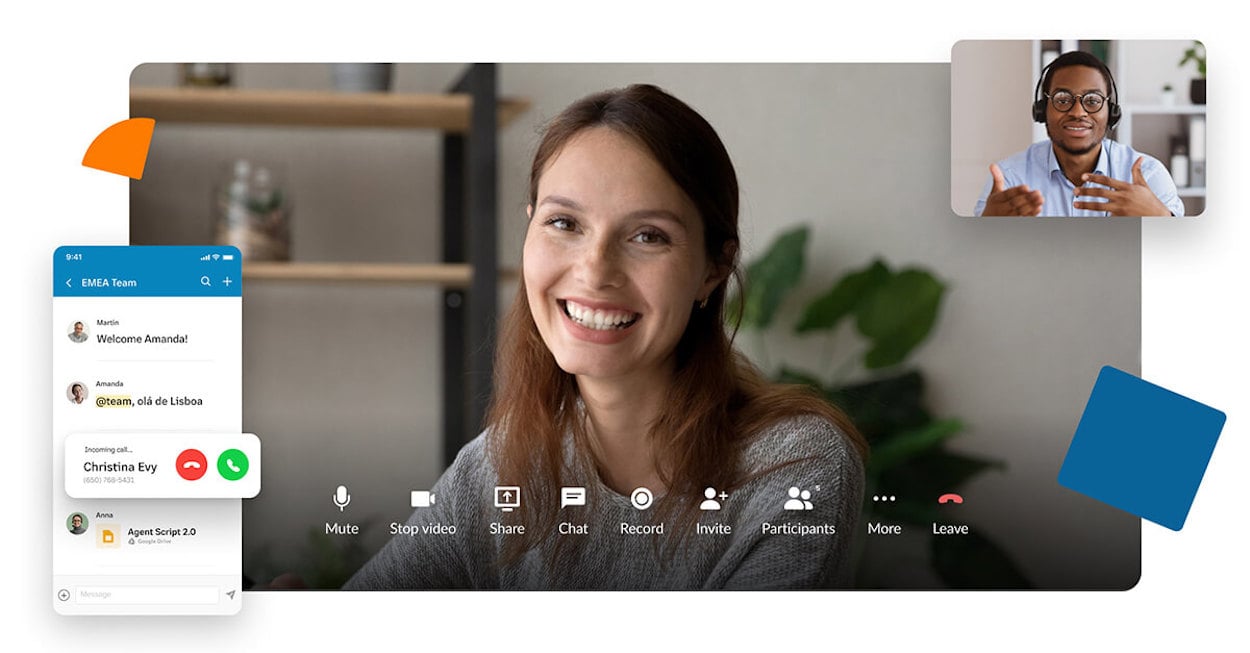 The RingCentral collaboration space's dashboard lets users monitor all mentions, favorite contacts, direct messages, and teams. Clicking into any of these opens up the conversation, with shared files organized on the right.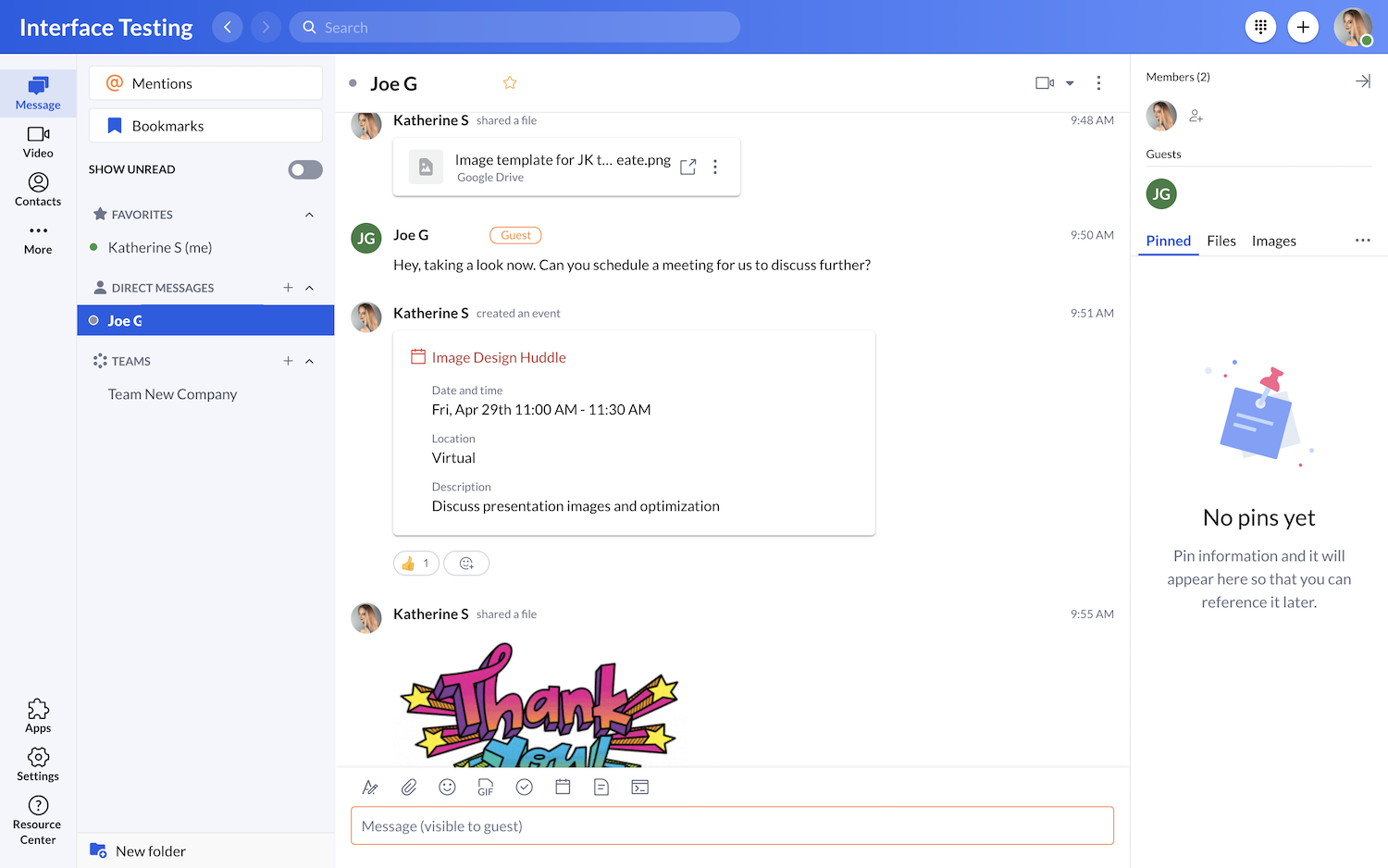 Alongside media and file sharing, RingCentral messaging users can share, assign, and mark off to-do lists–making RingCentral a suitable project management tool.
Key Features
Messaging: Users can create groups and teams or message one-on-one, with internal or external contacts. All conversations are logged and searchable by keyword or mention. Switch from conversation to call or video with one tap.
Task Creation: Users can create new tasks directly in message conversations and message history, set schedules, and create and assign to-do lists any user can check off.
Phone: RingCentral phone service includes calling, SMS, voicemail, voicemail transcription, fax, and more. Using desk phone, desktop, or mobile softphone, users can customize ringtone, phone number, routing settings, multilingual IVR, and calling extensions.
Video Meetings: RingCentral video meetings host up to 200 participants, with live transcription, speaker identification, and presentation modes where the speaker can customize their placement on users' screens. Auto-follow camera mode automatically follows the speaker during movements, and advanced meeting insights like highlight reels and summaries help catch up team members that couldn't make it.
Meeting Collaboration: Digital whiteboard, breakout rooms, and always-on team huddle rooms with drop-in capabilities
RingCentral Pricing And Plans
RingCentral offers 3 MVP plans, ranging from $20 to $35 monthly per user. They offer a 14-day free trial for all plans.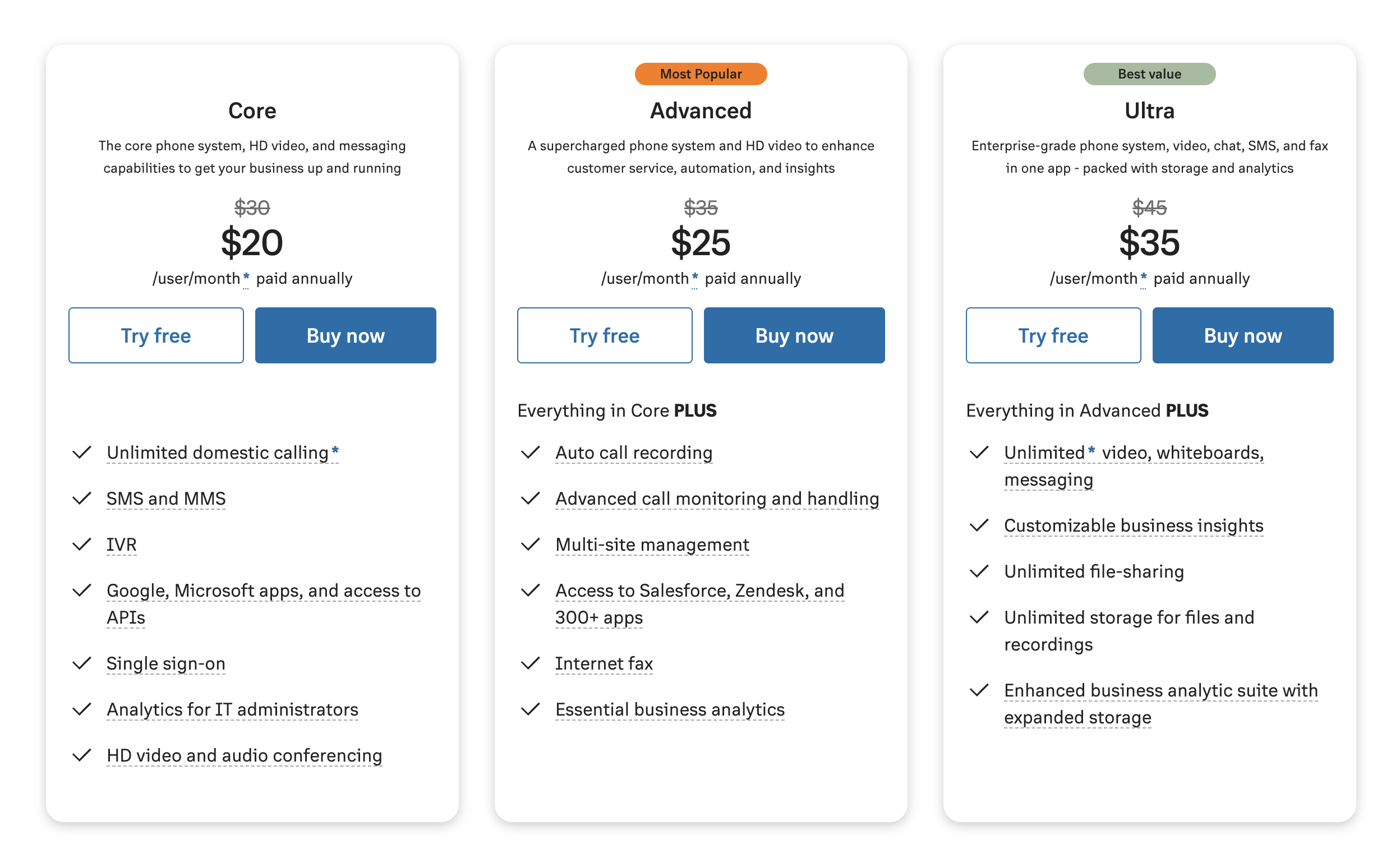 What Users Like And Dislike About RingCentral
The table below outlines common RingCentral pros and cons.
| | |
| --- | --- |
| What Users Like About RingCentral | What Users Dislike About RingCentral |
| Good value for the price | The initial setup can be challenging |
| Texting with clients | Doesn't show a unified Caller ID on outbound external calls |
| High uptime | Missed call notifications are sometimes delayed |
| To-do lists for the whole team | Can't save contacts across users |
Why RingCentral Is A Good Alternative To Microsoft Teams
RingCentral takes Microsoft Teams' messaging and video capabilities to a new level–especially with interactive to-do lists, which enhance media and video sharing options.
3. Nextiva
Nextiva is an all-in-one collaboration and customer management platform that combines phone, SMS, video, email, customer experience, calendar, and productivity tools into one dashboard.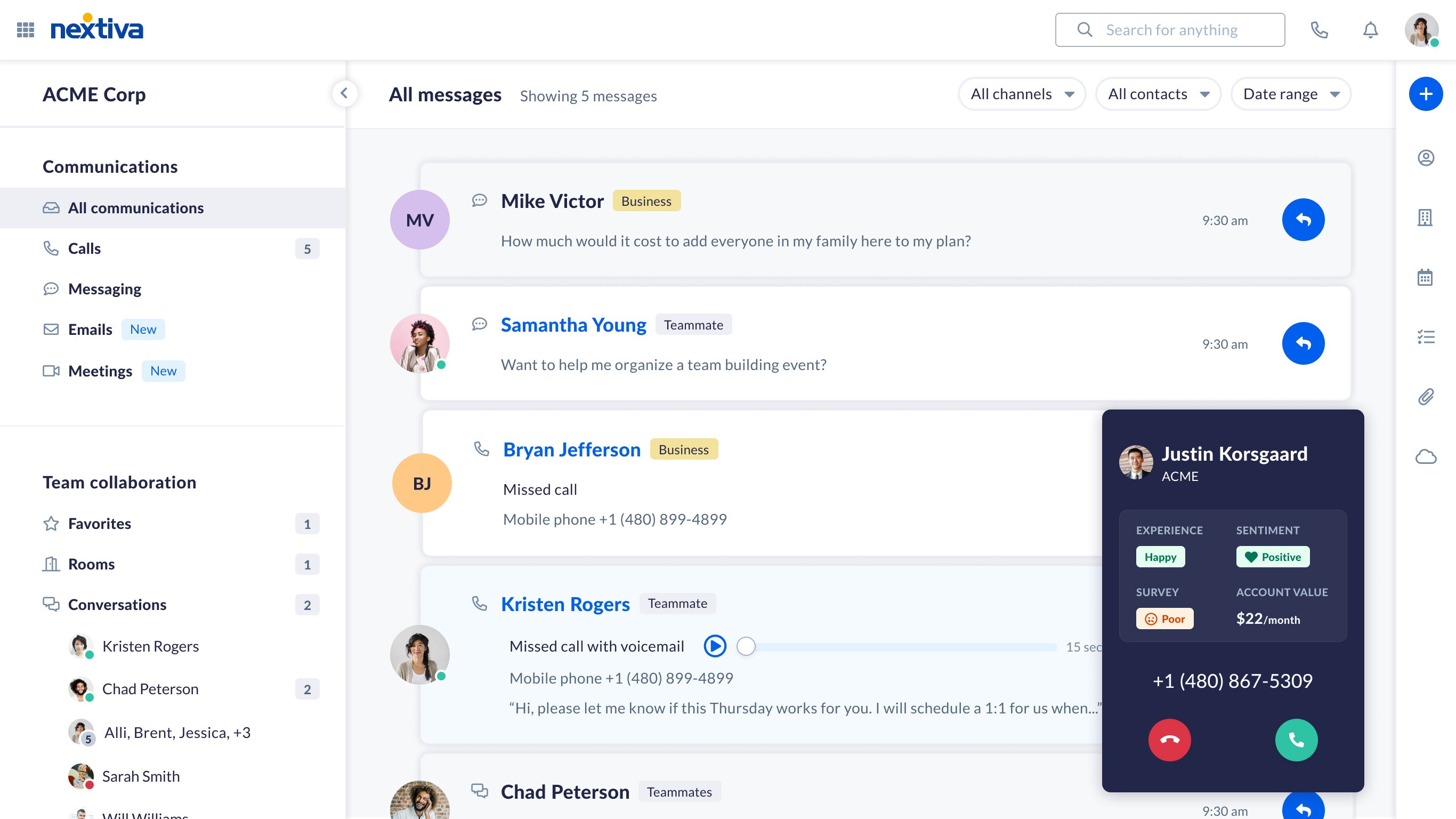 Users can monitor and respond to new messages from all communication channels, create and contribute to 1:1 direct messages and group conversations on all text-based channels, view users' profiles, share files and to-do lists, search transcriptions, and create calendars to better manage workflow.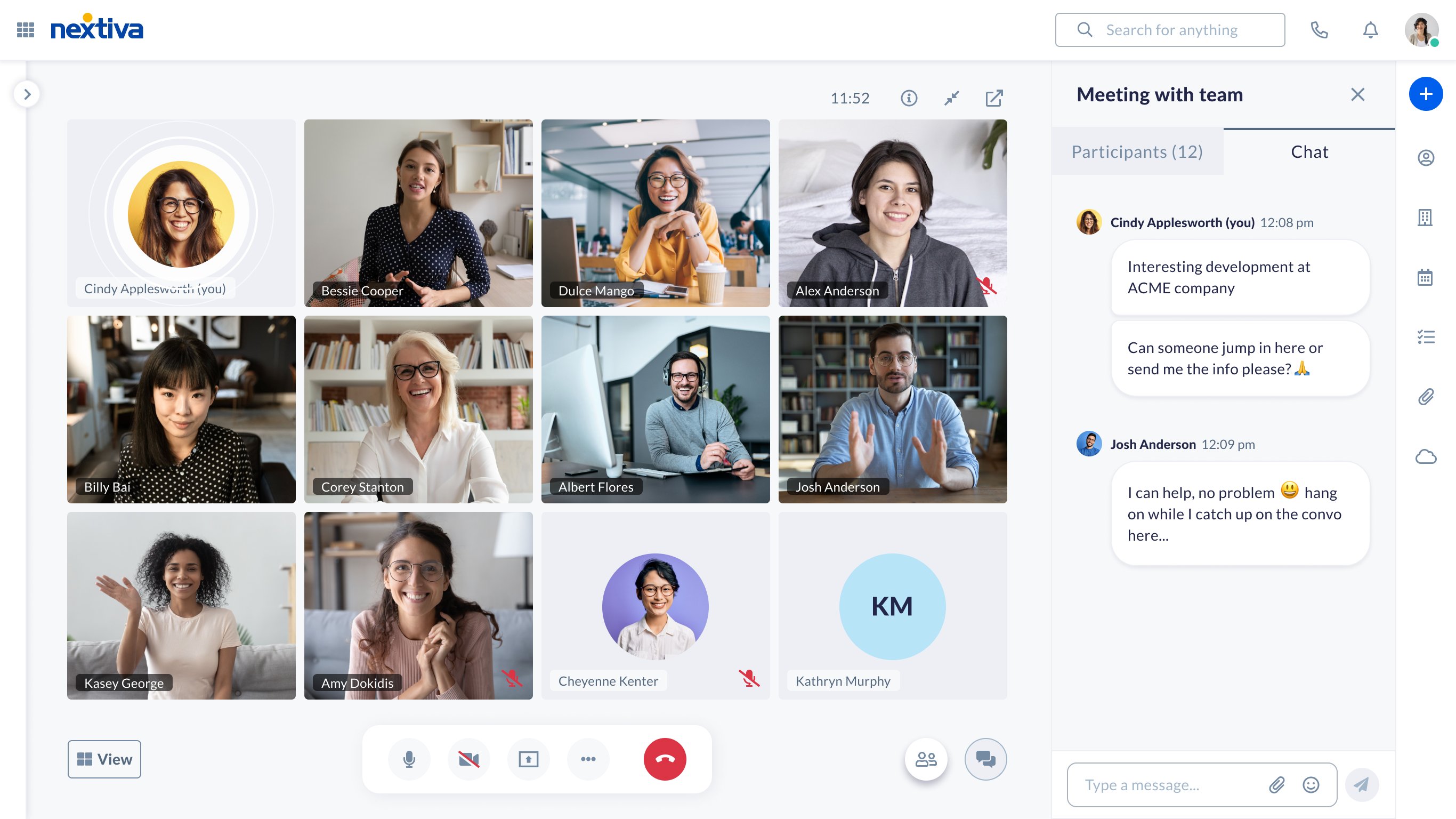 Key Features
Cospace: Cospace is Nextiva's collaboration tool, bringing together video and voice calling, screen sharing, group/1:1 chats, task management, and file sharing. Create and check off daily to-do lists, invite people inside and outside your organization, share files, links, and workday updates, and initiate videos right from chat conversations.
Productivity Templates: Nextiva offers pre-built templates that automate agent reminders to follow up with teams and customers about things like forgotten tasks and check-ins. Templates utilize multiple modes of communication, taking into account previous contact methods.
Voice: Nextiva voice calling includes virtual voicemail, auto attendant IVR, audio conference calls with instant messaging and screen sharing, HD audio, and call recording.
Automations: With Nextiva, set up automations that guide agents through the process of interacting with customers, team members, and administrators. Nextiva automations utilize surveys, email and message templates, and automatic actions to enroll customers in campaigns, remind agents to follow up, notify managers of critical new actions, and more.
Call Pop: All incoming calls trigger a call pop immediately, shown on the receiving agent's screen. The call pop contains critical caller information like phone number, company, interaction sentiment, deal amount, survey response ratings, and customer experience score.
Nextiva Pricing And Plans
Nextiva offers 3 Business Communication plans, ranging from $25.95 monthly per user to $40.95 monthly per user. The most affordable plan, the Essential plan, comes with a 7-day free trial–the other two plans offer demos.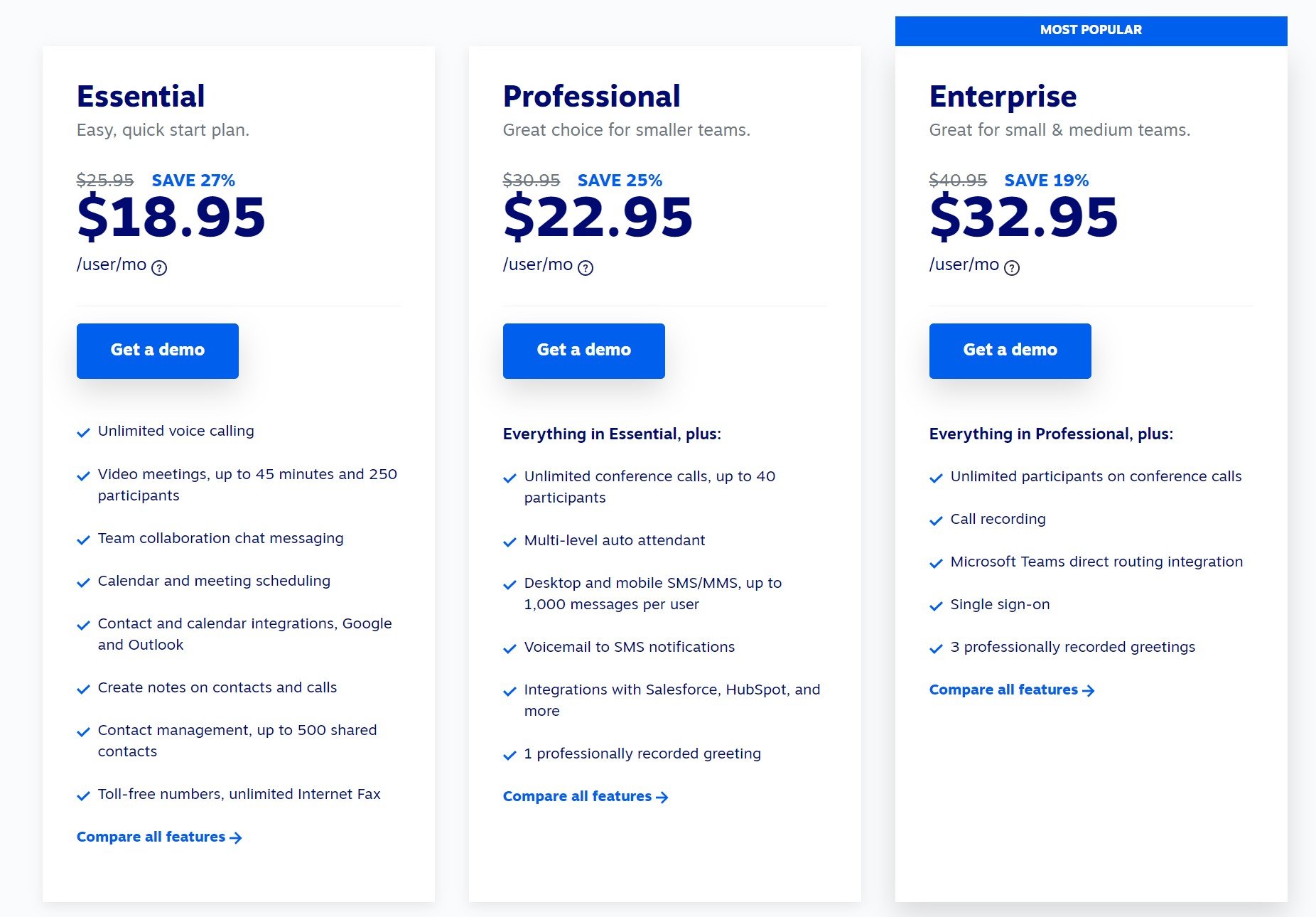 What Users Like And Dislike About Nextiva
The below table shows the pros and cons of Nextiva.
| | |
| --- | --- |
| What Users Like about Nextiva | What Users Dislike about Nextiva |
| Softphone for desktop and mobile is very easy to use | Poor call quality sometimes |
| Tracking employee progress and to-do lists | No whiteboard in Cospace video |
| Includes CRM tools | Offers a lackluster number of integrations |
| High-quality onboarding and customer support | Must add address books as contacts before seeing their status |
Why Nextiva Is A Good Alternative To Microsoft Teams
Nextiva offers everything that Microsoft Teams does–calling, chat, video conferencing, groups, and file sharing–with a few key bonuses: a CRM system that helps agents keep track of customer information and guides them through customer interaction, templates to guide agent follow up with customers, and the call pop feature that displays this information whenever a customer or team member reaches out via phone.
4. GoTo Connect
GoTo Connect is GoTo's collaboration, calling, and customer engagement platform, featuring cloud voice calling, video conferencing, internal chat, SMS, and multichannel contact center functionality on desktop and mobile devices from Android and Apple iOS.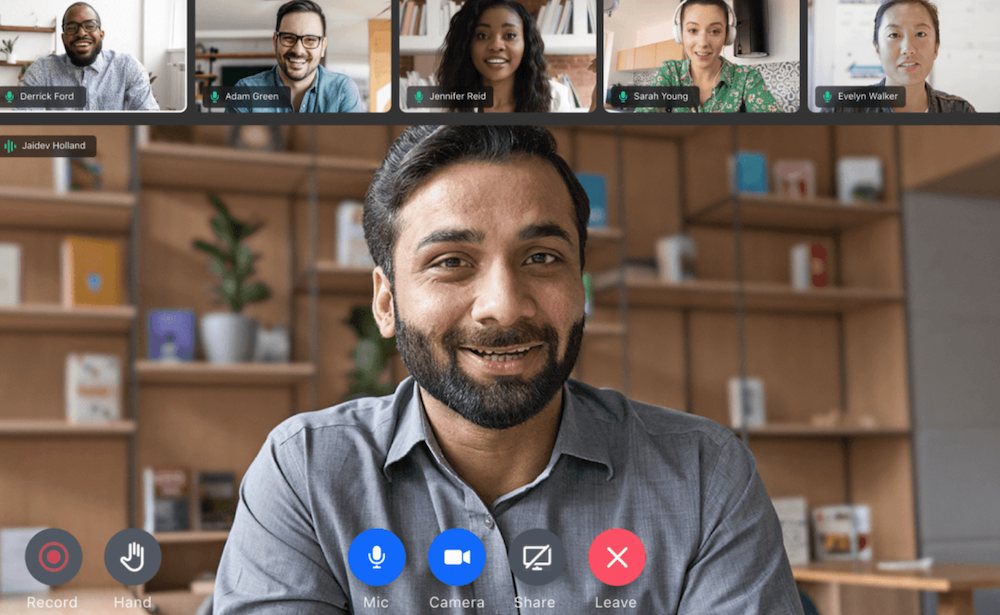 Plans also include call center features such as local, toll-free, and vanity numbers, ring groups, call queues, auto attendants, and a dial plan editor that enables you to make a customized call flow.
Key Features
Video Conferencing: Host video meetings with up to 250 participants, screen sharing, drawing tools, custom backgrounds, and in-session chat. Meeting links enable anybody to join with one click, making them easy to share in chat internally or with customers or other external contacts
Meeting Transcriptions: Each meeting is transcribed, and afterward, users are sent the full transcript to search for specific terms and jump to particular moments in the conversation. The Meeting History page has unlimited storage to hold all meetings.
Dial Plans: More than just a ring group or auto attendant, GoTo Connect's dial plans allow you to customize exactly how incoming callers progress through your phone system. Combine numbers, tools like faxing and scheduling, language choices, user group and password verification, and more into a call path with timing controls each step of the way.
GoTo Connect Pricing And Plans
GoTo Connect offers 2 pricing plans, at $24 and $29 monthly per user. The Standard plan offers a 14-day free trial.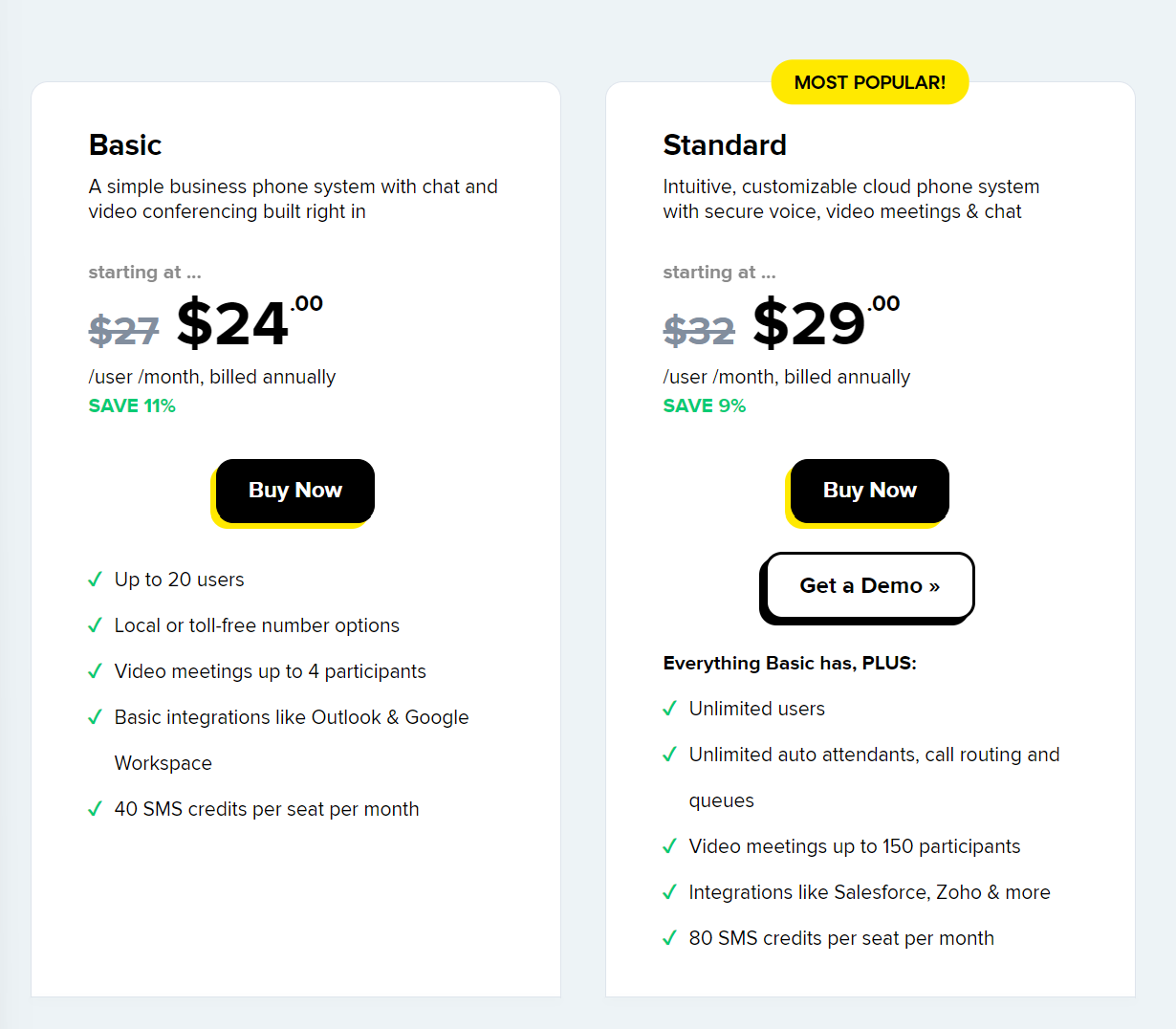 What Users Like And Dislike About GoTo Connect
The below table shows the pros and cons of GoToConnect. 
| | |
| --- | --- |
| What Users Like about GoToConnect | What Users Dislike about GoToConnect |
| Allows a company to have as many lines as they want for multiple purposes | Video transcription can be inaccurate |
| Users can be assigned to multiple lines | No built-in calendar with internal chat |
| Voicemail system | No password option for meeting security |
| Easy to see users' availability | The mobile app sometimes glitches and gets stuck on a call |
Why GoToConnect Is A Good Alternative To Microsoft Teams
GoTo Connect outdoes Microsoft Teams in video and voice tools. In addition to GoToConnect's live transcription and forever storage, GoTo Connect allows agents to have 5 users on hold, with call queues, IVR, and ring groups.
5. Dialpad
Dialpad is an internal and customer-facing communications platform with VoIP voice, chat, and video within a single dashboard organizing inboxes, contacts, team messaging channels, and recent conversations. A search bar enables quick contact lookup, and the screen's center display lists conversation history, contact lists, missed calls, and other menus.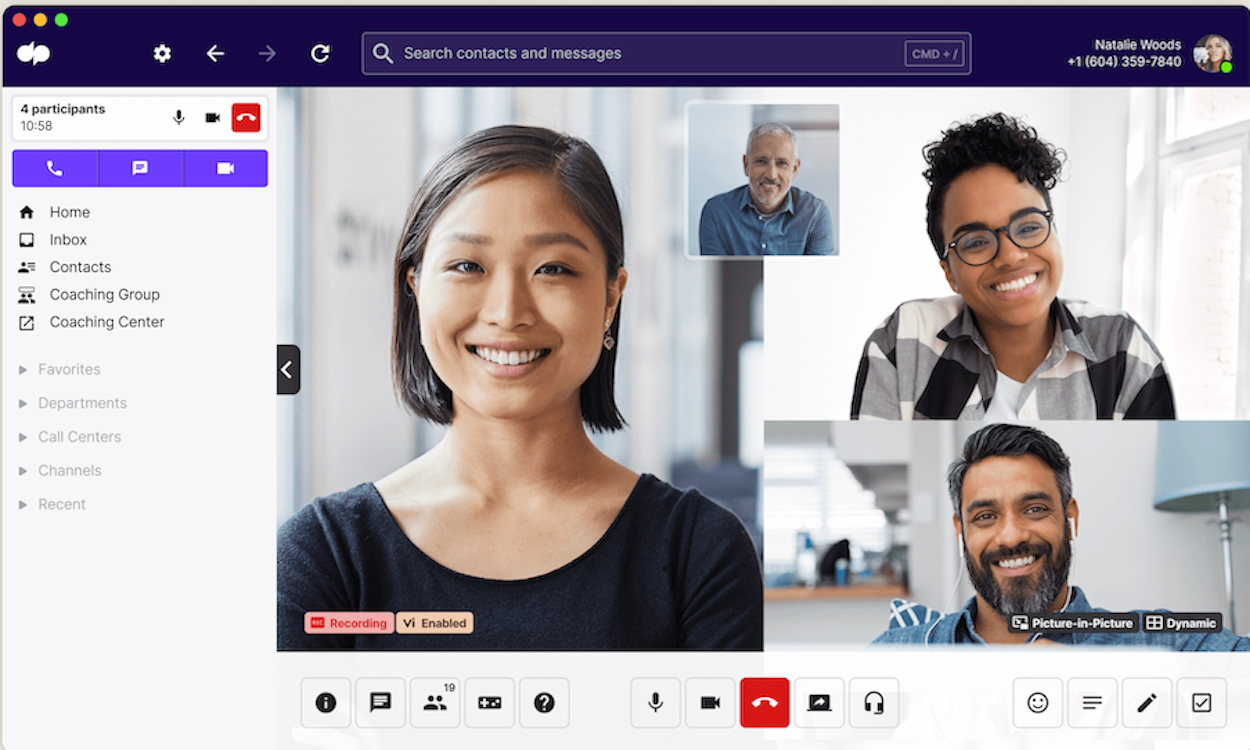 To contact a teammate, a user only needs to click on a contact's name–this pulls up their 1:1 interaction history, a click-to-call phone number, and a video-call option.
Key Features
Video Productivity Tools: Dialpad HD video conferencing is intended for intra team meetings, with a maximum of 15 participants. Scheduled meetings automatically call participants at start time, and before meetings, hosts can create and share agendas and relevant files. During the meeting, use screen sharing, meeting chat, and the host's meeting timer to stay on track.
AI Transcriptions: Dialpad AI automatically transcribes all video and audio calls, tracking action items and sending both in a call summary immediately after the call is finished.
Call Controls: Within a call, agents have a full toolbox at their disposal: transfer calls, add new people to the conversation, share screen, switch from desktop windows to mobile devices, record, and more.
Channel Conversations: Within chat channels, users can send images and chat, respond with emojis, and can jump into a voice chat or a video meeting with one click. During video meetings, Dialpad tracks and indicates who is speaking. Dialpad integrates with any popular calendar app, offering users an image of their whole day, with clickable access to the day's events from the calendar itself.
Dialpad Pricing And Plans
Dialpad offers three plans, ranging from $15 to over $25 monthly per user–the Standard and Pro plans offer 14-day free trials.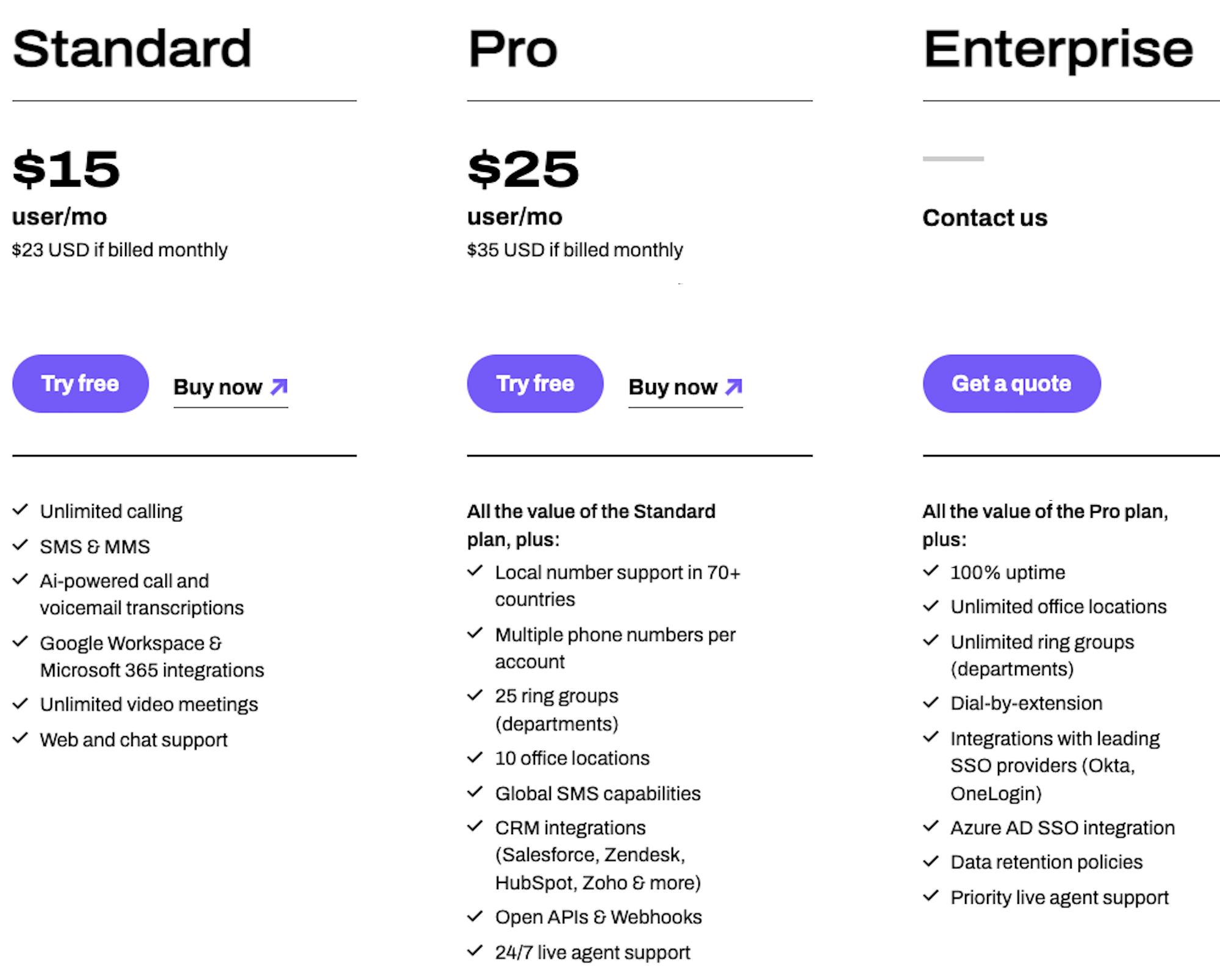 What Users Like And Dislike About Dialpad
The below table shows Dialpad pros and cons.
| | |
| --- | --- |
| What Users Like about Dialpad | What Users Dislike about Dialpad |
| Email and calendar reminders and notifications help users stay on top of obligations | Speech translation quality is inaccurate |
| All communication tools–video, audio, chat–are quick and easy to access | Sometimes caller ID number is inaccurate and confusing–sometimes shows up as spam |
| Call summaries embedded right into chat channels | Transcription does not recognize languages besides English |
| Team channels support all communication modes | The app sometimes glitches and gets stuck on a call |
Why Dialpad Is A Good Alternative To Microsoft Teams
While Dialpad video meetings only support 15 people, they include meeting productivity tools that set Dialpad apart from Microsoft Teams and others on this list. Dialpad automatically transcribes audio and video, using this to extract key action items, takeaways, and follow-ups for individual meeting participants, sending these items via chat and email in a meeting summary.
6. Webex
Cisco Webex Suite is a cloud-based communication platform that emphasizes remote and hybrid video meetings with up to 200 participants, 4 video layout options, and a host of other video-focused features unique to Webex.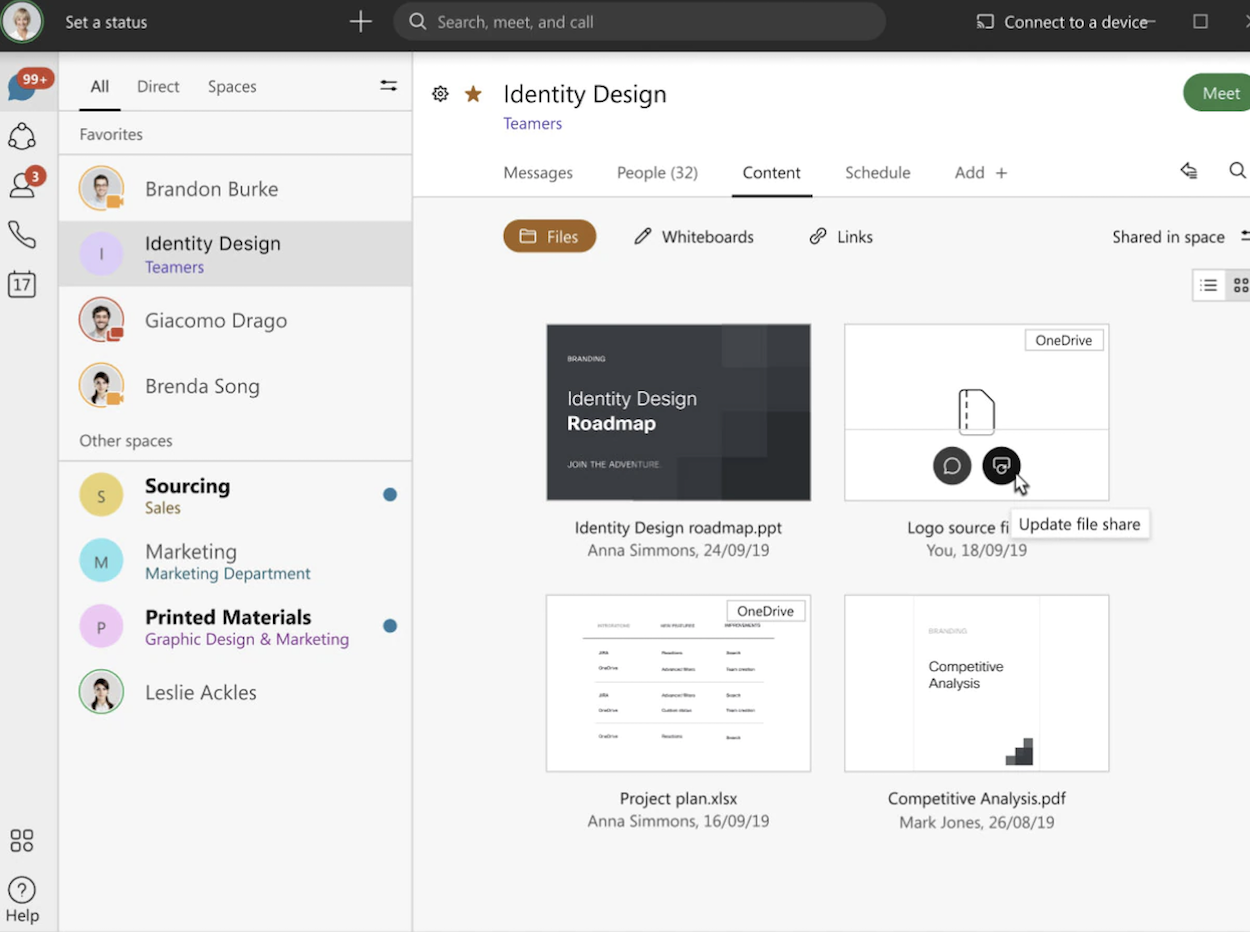 Webex also includes a large number of call management tools, messaging, an agent inbox to organize all types of messages, calendar integration, and shareable to-do lists–all on mobile or desktop.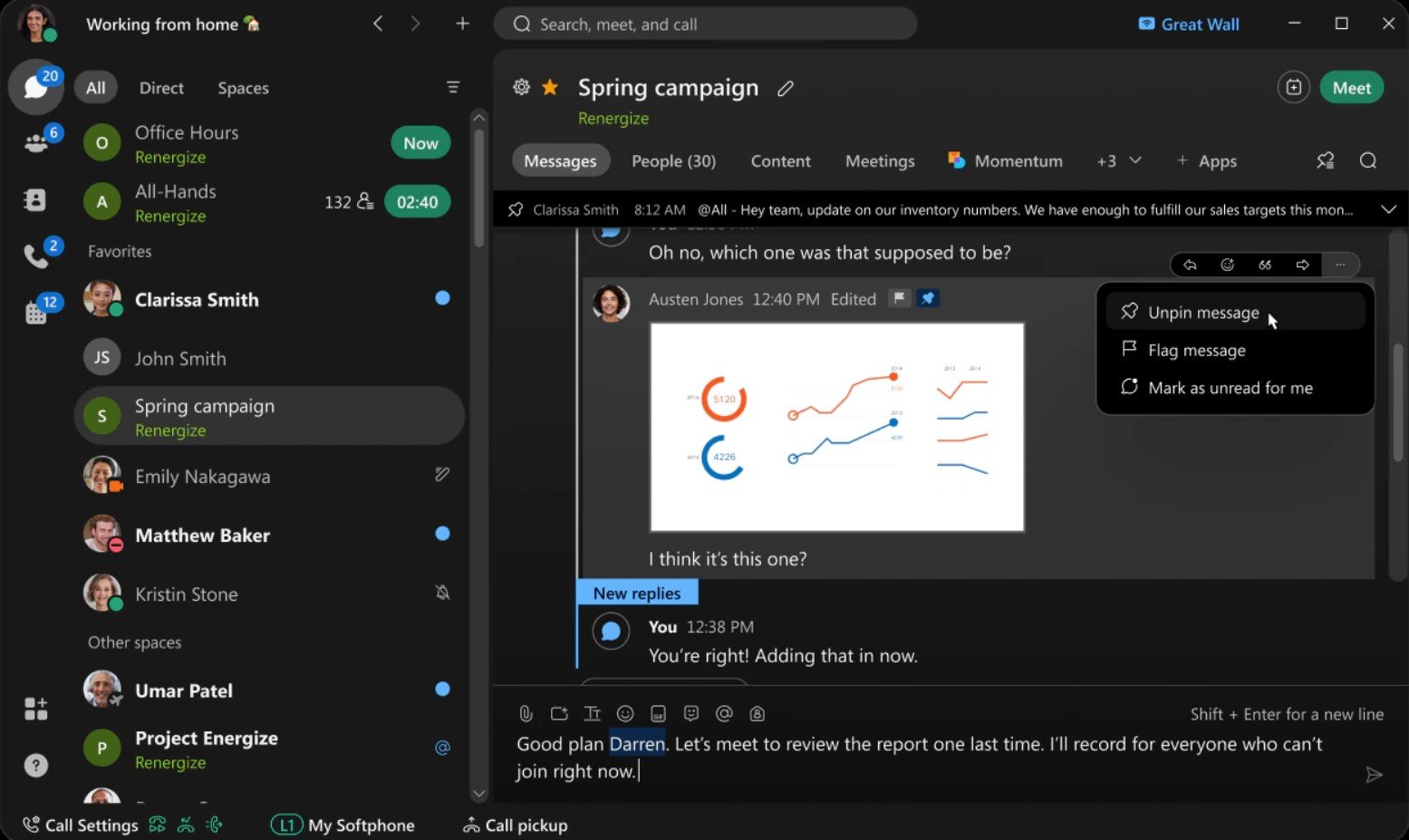 Key Features
Calling Features: Webex calling has automatic background noise removal, call recording and transcription, and one-click call elevation to meeting
Immersive Share: During video meetings, users can immerse themselves in the content they're sharing by overlaying their video with the presentation screen itself. This means that users can adjust their own video placement in front of a backdrop featuring slides, graphs, roadmaps and outlines, and more.
Dynamic Video Features: Webex Teams transcribes all videos, applying notetaking, highlights, and even live translations for multilingual audiences. Hosts can split participants into breakout rooms, and whiteboards allow users to sketch and ideate with multiple colors, with tools like an eraser, lines, shapes, and text. After each meeting, highlights, the transcript, and the recording are automatically sent to permitted users.
Live Polling And Q&A: During a Webex video meeting, engage users with multiple types of polling: multiple choice, word cloud, quiz, star rating, open text responses, or ranking. Various question types allow hosts to use polls for different purposes–multiple choice unveils a group's preference among options; quizzes are good for gamifying questions; rankings help the group determine priority orders, etc.
Webex Pricing And Plans
Webex offers 5 Suite plans, ranging from free to over $25 monthly per user. Their free plan acts as a free trial.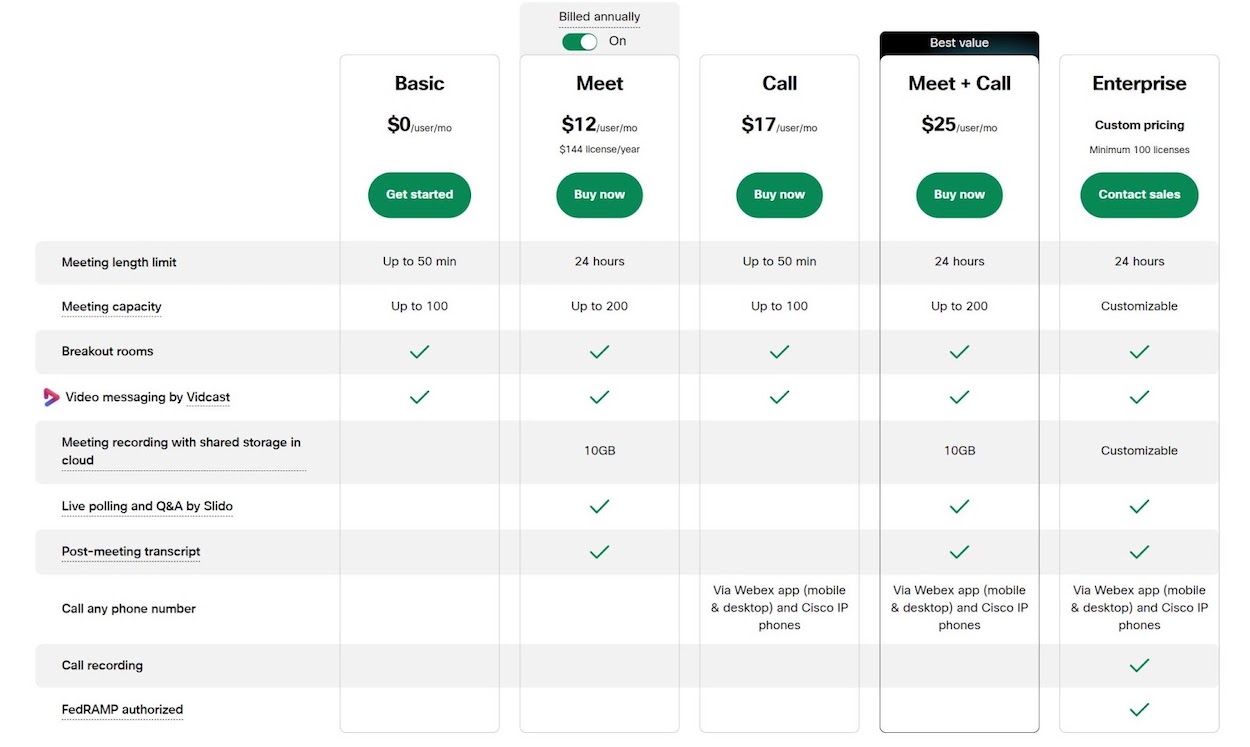 What Users Like And Dislike About Webex
The below table shows the pros and cons of Webex.
| | |
| --- | --- |
| What Users Like about Webex | What Users Dislike about Webex |
| Quick and easy to roll out, even to big teams | Sometimes polling feature doesn't work |
| Easy daily interactions with team | Struggles to load on older computers |
| Video meetings work well for hybrids between individuals and conference rooms | Meetings with a lot of attendees can sometimes get glitchy |
| Team channels support all communication modes | Camera virtual background does not look good |
Why Webex Is A Good Alternative To Microsoft Teams
Webex is a more video-focused alternative to Microsoft Teams. Webex video meetings offer engaging features like immersive share, polling, and Q&A, allowing presenters to transform regular video meetings into informative, collaborative, webinar-style events.
7. Google Workspace
Google Workspace, formerly known as G Suite, is a solution platform containing Google productivity and collaboration products: a Gmail address and email inbox, Google Calendar, Meet video conferencing, Chat 1:1 and group chat messaging, Drive file organization and sharing, Docs word documents, Sheets spreadsheet creation, Slides slide deck creation, Forms survey creator, Sites website designer, and more.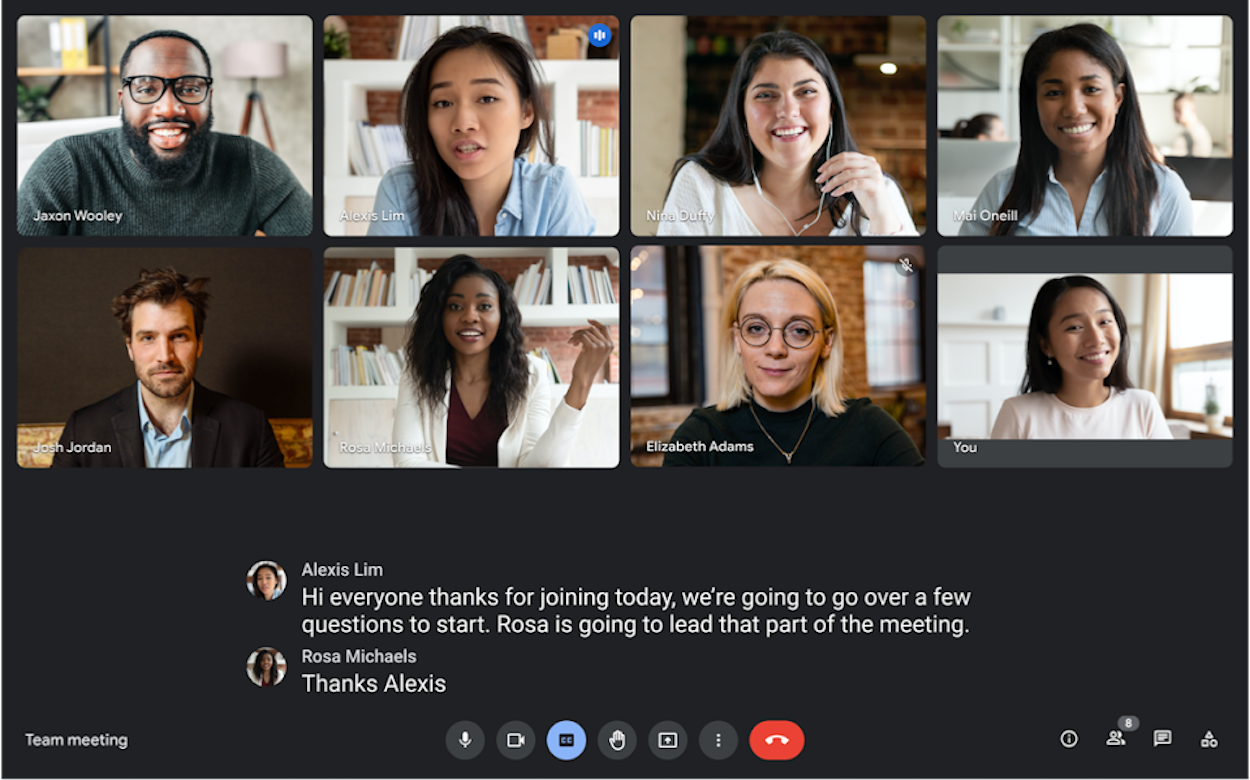 From the Gmail homepage, users can manage their mail, chat, groups, video rooms, meetings, and scheduled events within one interface. With just a few clicks, users can explore all their Google applications, add events to their calendar, and make calls using their Google Voice number.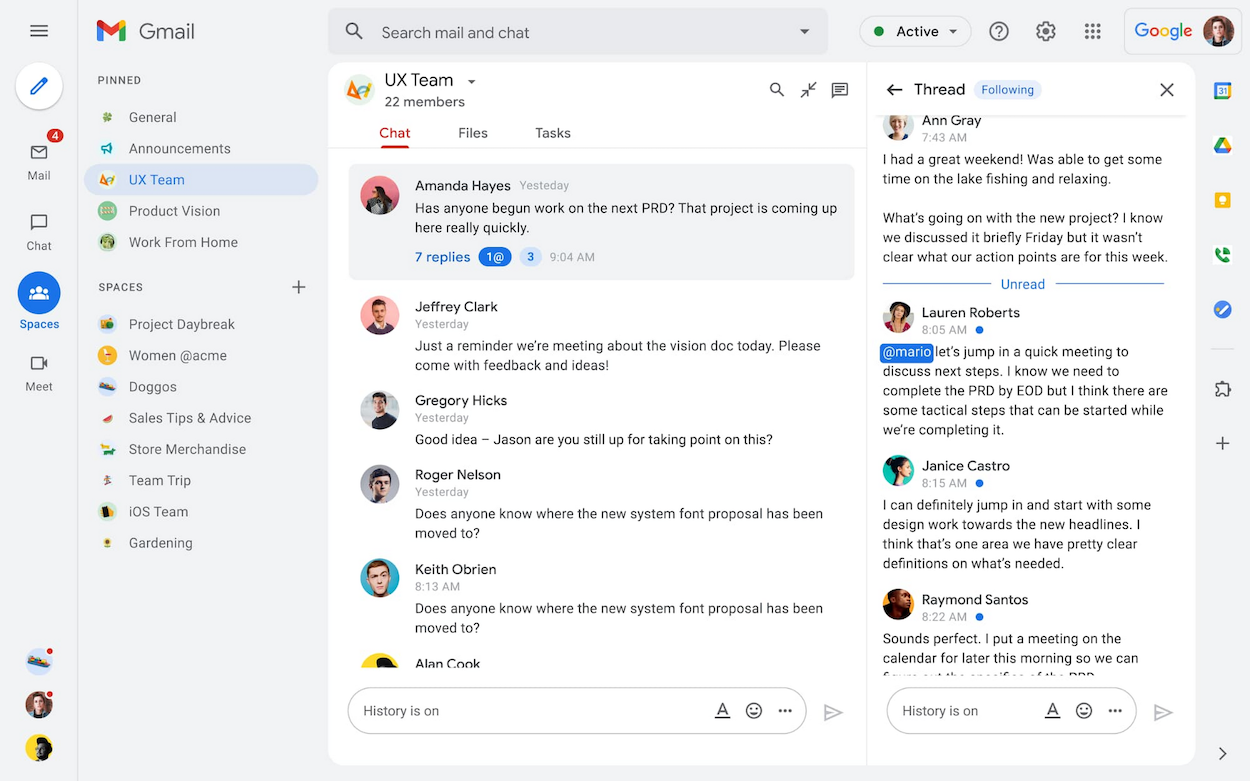 This all makes Google Voice a well-rounded Microsoft Teams alternative, capable of almost any imaginable business function.
Key Features
Google Chat and Spaces: Spaces are basically channels for group chat. You can create as many spaces as you want, which keep a record of all discussions over time. In a space, share materials from anywhere in Google Drive, send calendar invites and join meetings, and respond to teammate messages with emojis.
Collaboration on Docs, Sheets, and Slides: Collaborate on word documents, spreadsheets, and slide decks with unlimited team members–right inside the document, in real-time. While working, users can see who else is on the document, where their cursor is, and can message teammates via Google Chat or comments left right in the document's workspace.
Google Meet Video: Generate, share, and join Google Meet links with one click. Invitees don't even need to worry about having a Google account of the desktop plugin–they just click the link and hop in. Users can join directly through a clicked link in email or from the calendar, on mobile or desktop.
Calendars: Create multiple calendars, which can be shared among users and teams. When a Goole Meet event is created and shared, it automatically updates the calendars for all involved users. Calendars sync updates with Gmail and send automatic email reminders and confirmations, bridging all parts of Google Workspace together.
Google Workspace Pricing And Plans
Google Workspace offers 4 plans, ranging from $6 to over $18 monthly per user. Google also offers a 14-day free trial, and many of its products offer free versions.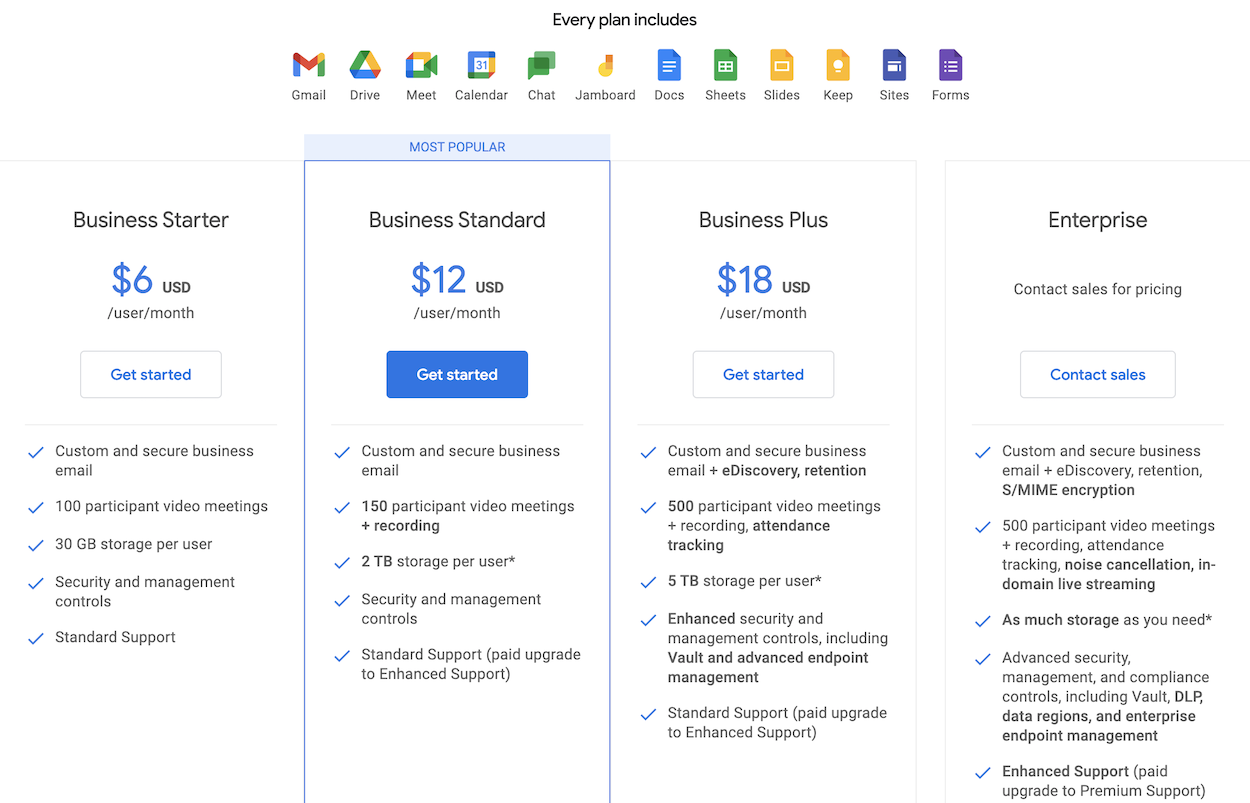 What Users Like And Dislike About Google Workspace
The below table outlines Google Workspace pros and cons.
| | |
| --- | --- |
| What Users Like about Google Workspace | What Users Dislike about Google Workspace |
| Integration between calendar and meetings | Cannot share or assign tasks to other users |
| File sharing is easy | Google Drive file management can be clunky |
| Great spam protection in email | Flat aesthetic |
| Supports hosting of multiple domains | On mobile, Google Workspace requires downloading multiple apps–not integrated into one |
Why Google Workspace Is A Good Alternative To Microsoft Teams
Of all providers on this list, Google Workspace offers the most seamless combination of calendar, video meetings, and collaboration. The calendar automatically embeds meeting links and includes them in pre-event reminders, sent to users' email addresses. Sharing documents for group editing is as easy as sharing the document link, and videos and chat both move right into the document. With one click, users can hop on a document, spreadsheet, or slide deck for mutual editing. Google Workspace offers a well-functioning dashboard that combines all of its apps smoothly.
What Is Microsoft Teams?
Microsoft Teams is a desktop and mobile workspace application that streamlines internal communication across voice calling, video meetings, and chat messaging while providing a central location for real-time team collaboration.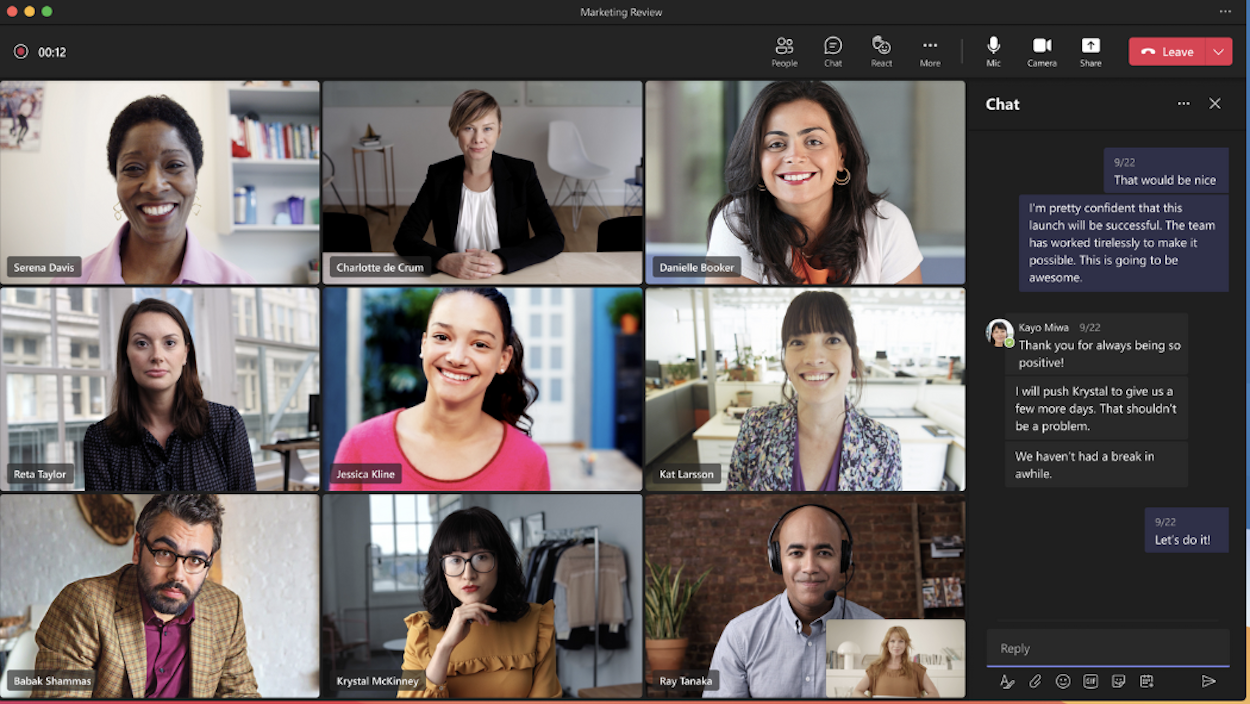 With just a few clicks, users can create Teams, which are groups organized for any project or purpose. Teams can be categorized by department, location, organization, or according to custom groupings.
After creating a team and adding members, users can share files, images, and other media among their team, and can switch between teams and individual conversations via the sidebar menu.
Microsoft Teams is especially popular with remote and hybrid workforces, though in-office businesses will also benefit from its unified user interface and integrations with tools like Slack, Salesforce, Outlook, Zoho, and APIs.
Key Microsoft Teams features:
Chat Messaging: Create and join teams or private one-on-one conversations. Search all conversation histories by keyword or user name.
File Collaboration: Share and co-edit documents and files with specific team members or entire organizations, while chatting about potential edits in a messaging inbox
Video Meetings: Schedule, share, and launch video conferences with in-meeting features like file and screen sharing, meeting notes, and online meeting recording. Collaborative whiteboarding, virtual backgrounds, and live captions are also available.
Calendar: Create new calendar events, add location and communication channels, invite team members, attach relevant files, and create meeting agendas. Share meeting events with your teams and receive reminders for upcoming events. View calendars in daily, weekly or monthly views.
Calling: Make calls via click-to-call or embedded dial pad
Search: Look up keywords, items, or people throughout your whole Teams library or history
| | |
| --- | --- |
| What Users Like about Microsoft Teams | What Users Dislike about Microsoft Teams |
| Breakout room increases meeting productivity | The mobile platform is not very user-friendly |
| Saves the entire chat history | Sometimes lags and unclear voice audio |
| Creating custom teams work well for small projects | Screen sharing sometimes lags |
| Whiteboard during video meetings | Sometimes status doesn't display a user's set status |
| Can send GIFs in chats | Can be challenging to add participants outside of the organization to a meeting |
Which Microsoft Teams Alternative is Best for Your Company?
The best provider on this list for your company depends on your company's budget, size, and communication preferences.
If your company is under 15 people and prefers to have detailed video meeting minutes, with summaries, takeaways, and action items–Dialpad is a strong alternative. If you're looking to host large meetings or Webinars, Zoom's massive participant capacity makes it a compelling option.
If you want to use your collaboration tool for project management, RingCentral's to-do assignment will prove incredibly useful.
If you want CRM support that lets agents communicate internally but also guides them through customer-facing interactions, Nextiva's CRM functionality is unparalleled. If you prioritize whole-team collaboration within documents and slides, Google Workspace is a clear choice.
There's a collaboration platform provider out there offering exactly the special features that your company needs. If you're still on the fence, check out our list of unified communications providers.
Microsoft Teams Alternatives FAQs
Below, we've answered the top FAQs about Microsoft Teams Alternatives.
The Microsoft Teams free plan can be used for as long as users would like, and includes 1:1 meetings of up to 30 hours in length, and group meetings of up to 1 hour. However, surpassing 5 GB of data storage and having group meetings over one hour requires upgrading to at least the $4 monthly Essentials plan.

The paid versions of Microsoft Teams offer integrated Microsoft Office apps and services, more meeting participants, larger data storage amounts, webinar hosting and attendee registration tools, email, and meeting recording with transcripts.
Yes. Webex, and Zoom both offer free plans, and most other providers offer free trials.