Webex Calling is a cloud-based business phone application that either integrates with or replaces your existing PBX system and video solution.
Unlike Cisco Webex Meetings, which is exclusively a web conferencing platform, Cisco Webex Calling is an all-in-one unified communications solution combining voice calling, video conferencing, team collaboration and messaging in one interface.
The Webex cloud phone system includes unique call management features — which we'll explore in detail in this post — and other features like digital whiteboards, which make it easy to replicate the in-office boardroom experience.
Here, we'll break down the best Webex Calling cloud phone features, outline available pricing and plans, review how Webex Calling ranks against competitor business phone systems, offer our own hands-on insight into overall user experience, and more.
Table of Contents:
Let's begin with Webex Calling Pricing and Plans
The Webex Cloud Phone system is available on three out of the five overall Webex plans.
The below graphic from Webex's monthly pricing page outlines the above plans. Annual pricing is also available for a 10% discount. Note that, although the Meet+Call Plan is not included in Webex's pricing table, the plan includes all of the Call Plan and Meet Plan features and functionalities bundled together.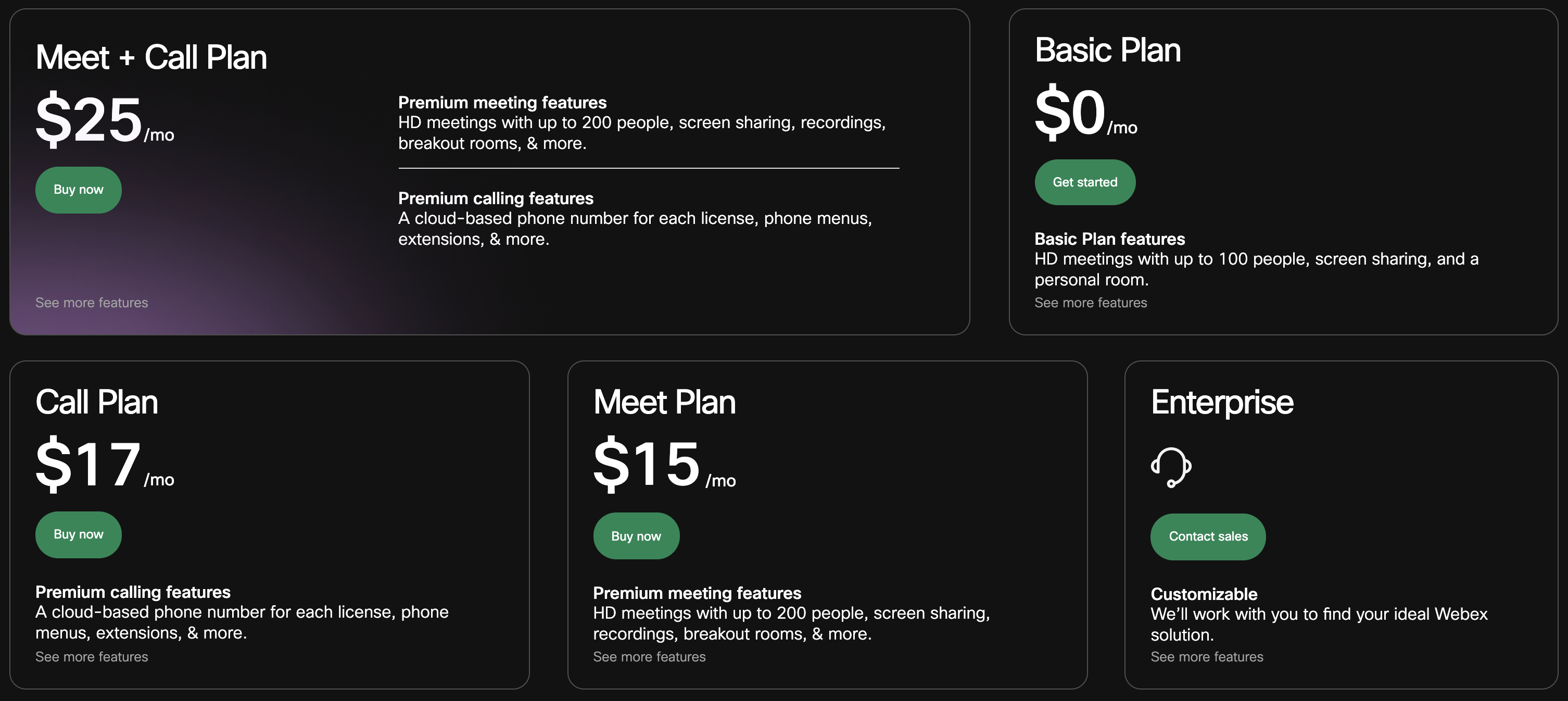 While there is a Webex free plan, it is used for video calling and basic team collaboration features like screen sharing and team chat messaging only. The only type of VoIP calling available on the free plan is the ability to make/receive calls to/from other Webex customers.
The Meet Plan, for $15.00/user per month, also only allows voice calls between current Webex customers and is primarily used by businesses who need only upgraded video meeting features (higher video participant capacity, video meeting recording transcriptions, etc.)
The three plans that contain complete Webex Cloud Calling functionality are:
The Webex Call Plan for $17.00/user per month
The Webex Meet+Call Plan for $25.00/user per month
The Webex Enterprise Plan (quote-based custom pricing)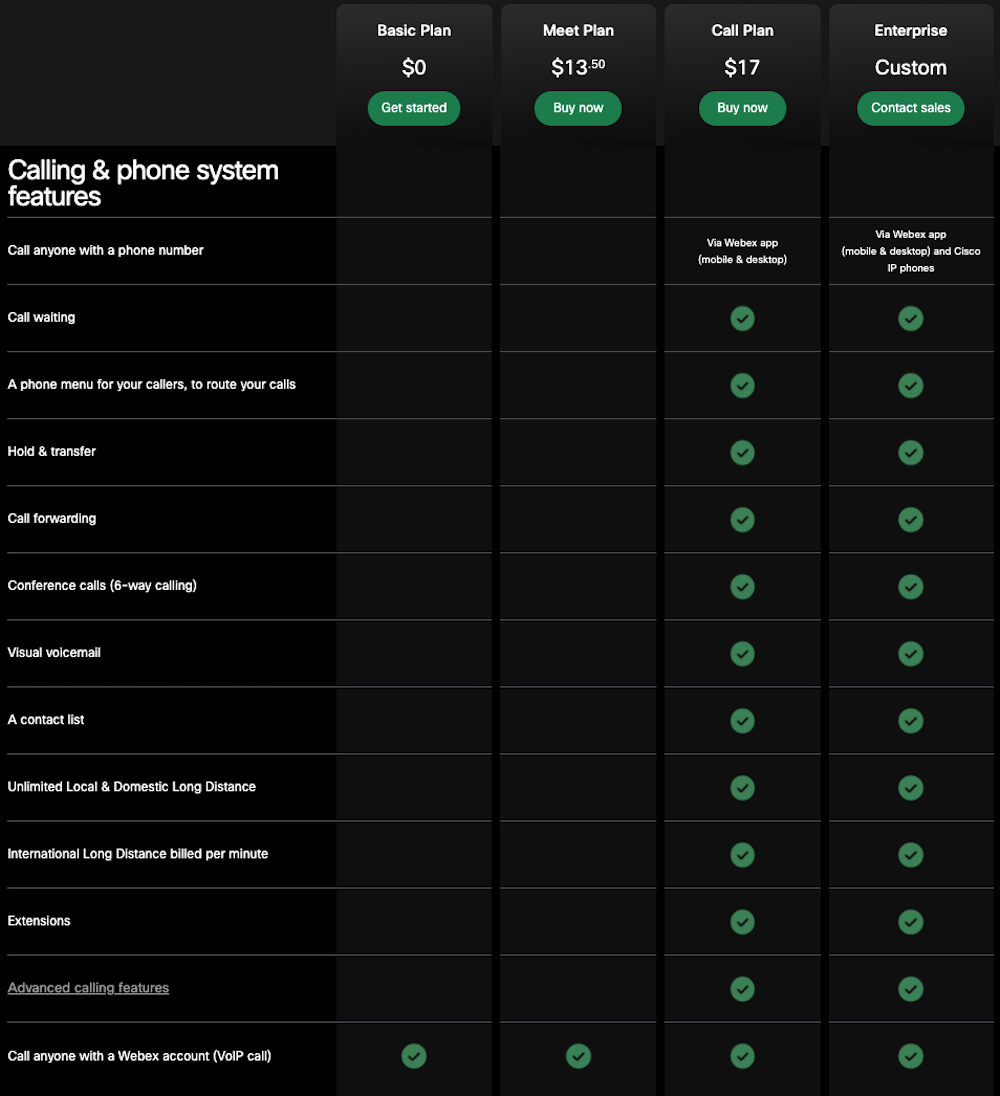 The below add-ons are also available: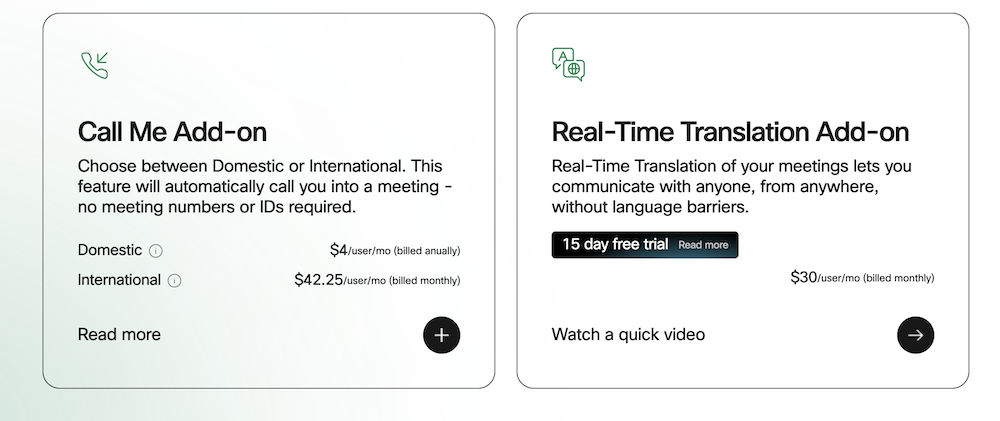 How Does Webex Calling Pricing Compare to Others? 
At first glance, Webex Calling — and the Call and Meet plan — may seem like a great deal, especially when compared to other available phone systems.
After all, Webex's most basic plan is available for under the average VoIP phone system cost of $20.00/user per month and even offers a free Basic version that allows for video calling and meetings of up to 100 users with other Webex users.
Unfortunately, the reality is that Webex's current cost-effectiveness still doesn't make up for essential missing features on all plans like voicemail transcription, complete call recording capabilities, customer callbacks, and more. This means users will need to rely on (usually paid) third-party integrations or possibly a fully customized Webex plan to get the features most providers include in all of their pricing levels.
In short, Webex Calling offers users "Less for Less," without even providing the opportunity to purchase key paid add-ons. That said, newer companies with basic business phone system needs will find Webex to be an excellent deal.
Evaluating Essential Webex Calling Features
The above pricing section provides an overview of standard Webex business phone system features like call parking, call forwarding, unlimited local and domestic long-distance calling, and Do Not Disturb.
But what actually sets Webex apart from other VoIP providers, and how well do Webex's more standard features hold up when compared with those of their competitors?
Webex Call Flow Design
Though call flow design is a staple feature of every VoIP phone system, Webex takes theirs to the next level with an easily configurable and feature-rich IVR system.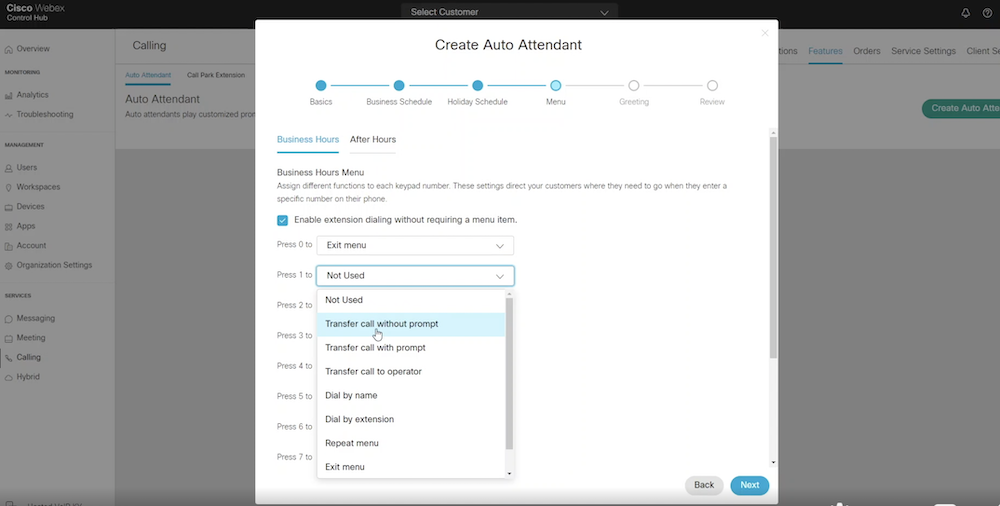 In the Webex Calling Administrator Portal, (CAP) admins can:
Create up to 10,000 total dial plan paths
Choose specific locations for each auto-attendant (main office, IT department, etc.)
Choose from over 10 language options
Set unique caller ID names per call menu
Set daily business hour call paths, after-hours call paths, and holiday call paths
Set customized or default greetings
Create call menus that let inbound callers dial by name, extension, department, connect to an operator, etc.
Assign calling hunt group agents to respond to calls made to specific phone numbers/extensions
Enable simultaneous ringing
Enable priority alerts from VIP phone numbers or calls received at a specific date/time
Choose from call routing options like longest idle time, top-down sequential order, (up to 5 agents) circular round-robin routing, or weighted call routing
Set the number of rings before a call is forwarded or transferred to another agent
Direct calls straight to shared or individual voicemail if all agents are busy
The Webex CAP also lets admins optimize call queue settings by:
Selecting the maximum number of callers allowed in a queue (up to 50)
Choosing which custom greetings to play
Providing an estimated wait time
Setting intervals for how often "comfort messages" like "Your call is very important to us, please stay on the line" are played
Playing hold music
Overall Impression: Webex Calling has strong IVR and call flow design features when compared to competitors. The ability to receive real-time alerts about VIP callers across multiple devices, the numerous call routing options, and the overall ease of call flow design and call path editing are its biggest advantages. However, Webex's call queue feature leaves much to be desired. Though the "comfort message" intervals are a nice touch, Webex Calling does not offer automated callbacks that allow customers to select a preferred time to receive a callback as opposed to waiting on hold.
Conference Calling
Webex Calling lets up to 6 participants meet for telephone audio conferences. Those needing a higher conference calling capacity can use the audio-only feature of Webex Meetings to connect with up to 200 participants and 25 simultaneous screen streams.
Users can easily upgrade from a team chat message to an audio/video conference call and access team collaboration tools like in-meeting chat, file sharing, screen sharing, virtual hand-raising, and live polling during meetings.
Webex's top conference calling feature is its background noise suppression and voice detection technology.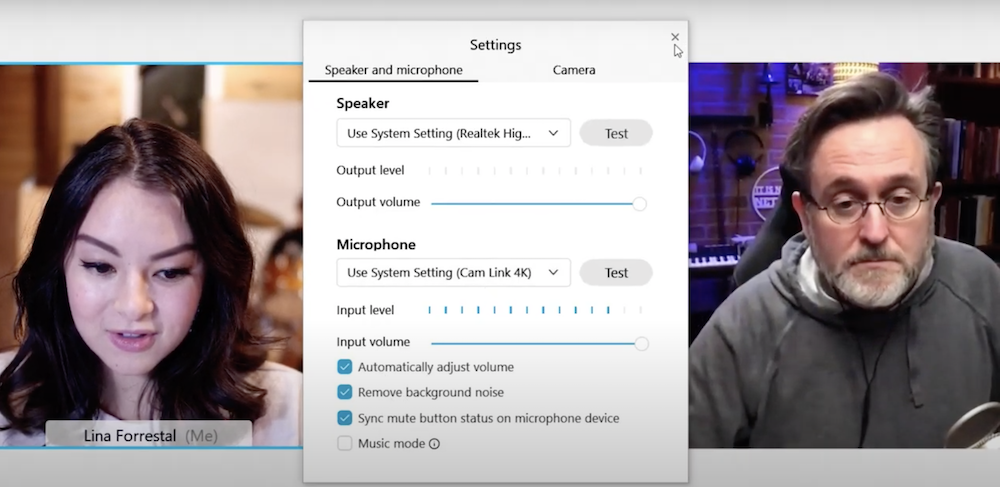 As of this writing, the background noise suppression tool has removed over 15 billion minutes of distracting noises like sirens, barking dogs, keyboard typing, and more from Webex meetings.
In addition to enabling noise cancellation, users can opt to automatically adjust volume, select microphones, adjust output level, and adjust personal speaking volume.
As of June 2021, Webex also offers a new smart audio feature that distinguishes between foreground and background speakers. Users can still use background noise suppression, but can also choose the "My Voice Only" smart audio setting to completely remove any background noise that is not their own voice when they speak.
Other conference call features include:
Toll-free number dial-in access
Call-Me audio conferencing access
No downloads required
Personal Meeting Rooms for both audio and video conferencing (unique URLs, on-demand and pre-scheduled meetings)
Ability to play music during a meeting
Meeting participant list
Mute/unmute speakers
Overall Impression: Webex offers advanced smart audio features like My Voice Only and Background Noise Suppression, which easily give it an advantage over other providers. Users have many ways, including toll-based and toll-free dial-in or Call Me access, to join conference calls. That said, it's clear that Webex wants its customers to rely more on the Webex video meetings features for both audio and video conference calls. This may not be an issue for some, but businesses that already have a preferred video conferencing tool may find that Webex Calling isn't necessary.
Voicemail
Webex offers basic voicemail functionality, allowing users to listen to voicemails on mobile and desktop devices directly in the Webex app and within the call history log.
Though Webex does send text and email voicemail notifications, it does not allow users to listen to MP3 or MP4 voicemail recordings directly in an email or text inbox. As of this writing, Webex Calling does not offer voicemail transcription.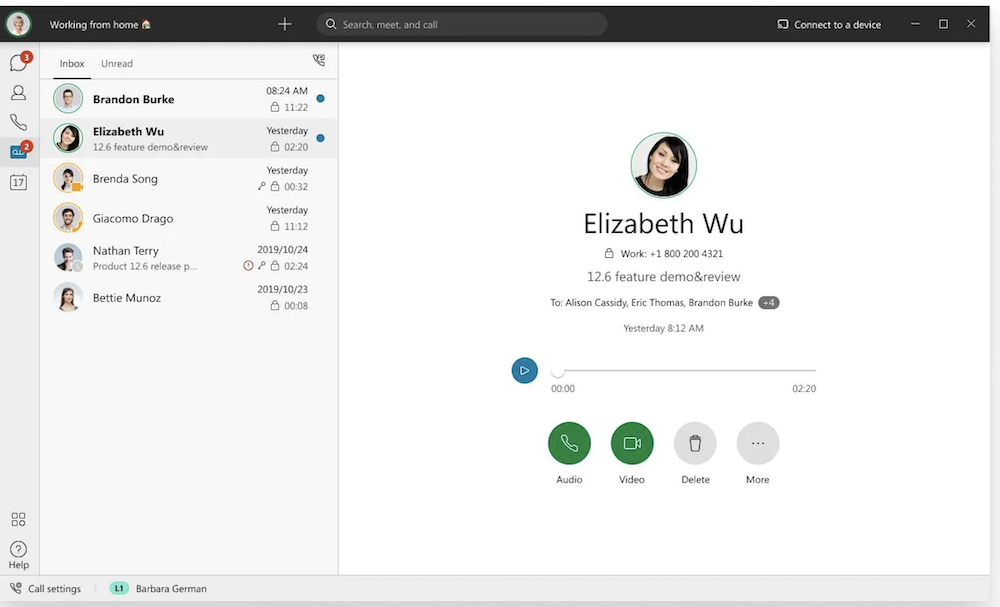 Other voicemail features include:
Automatically send all calls to voicemail when the user is on a call, in a meeting, automatically for a set period, or after a set number of rings
Shared voicemail boxes
Set voicemail passcode PINs
Receive voicemail notifications via text, email, or desktop notification
Internal and external voicemail storage
Overall Impression: Webex's current voicemail capabilities leave a lot to be desired as they're missing key features like voicemail transcription and the ability to access voicemail recordings to email. In fact, Webex's overall lack of voicemail features is a common complaint in Webex user forums, where many users rightfully express frustration that while they had access to voicemail transcription in previous Webex phone iterations like Cisco Jabber and Spark, they no longer do. That said, Webex representatives have responded to these comments with the news that voicemail transcription is in the works.
Call Recording
Unfortunately, Webex really misses the mark when it comes to call recording.
Though chat messaging and video meeting audio and video recording are available, as of this writing, call recording for voice calls is unavailable as a native feature.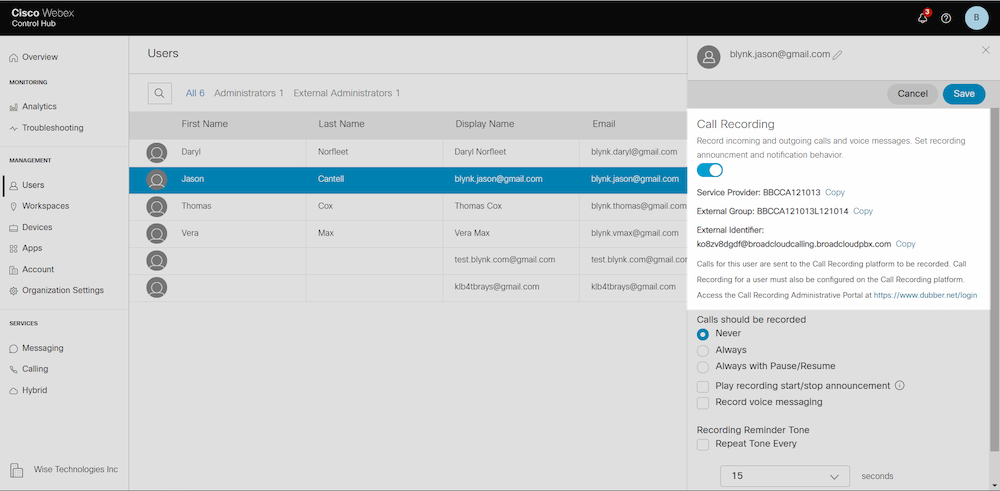 That said, users can still access call recording capabilities through Dubber, a third-party Webex partner. Dubber Go is included for free with all Webex Calling plans, which provide unlimited call recordings for up to 30 days.
Users can choose between on-demand and automatic call recording, pause recording, and automatically play call recording announcements at the start of a call.
Unfortunately, in order to access unlimited storage, AI analytics, Natural Language Processing, and more, a paid Dubber subscription is required.
Overall Impression: The fact that Webex Calling doesn't offer native call recording capabilities — and that it requires users to upgrade to a paid Dubber subscription to access more advanced recording features in addition to the Webex monthly fee — is a huge blow. If Webex Calling doesn't improve its call recording capabilities quickly, it's unlikely that it will be able to seriously compete with other platforms in the long term, especially given the current reliance on NLP and AI analytics to understand customer behavior and satisfaction levels.
Webex Cloud Calling Security
Webex has exceptionally high VoIP security and encryption standards, taking a multi-level approach to protecting user data through application and data center security as well as the Cisco Secure Development Lifecycle.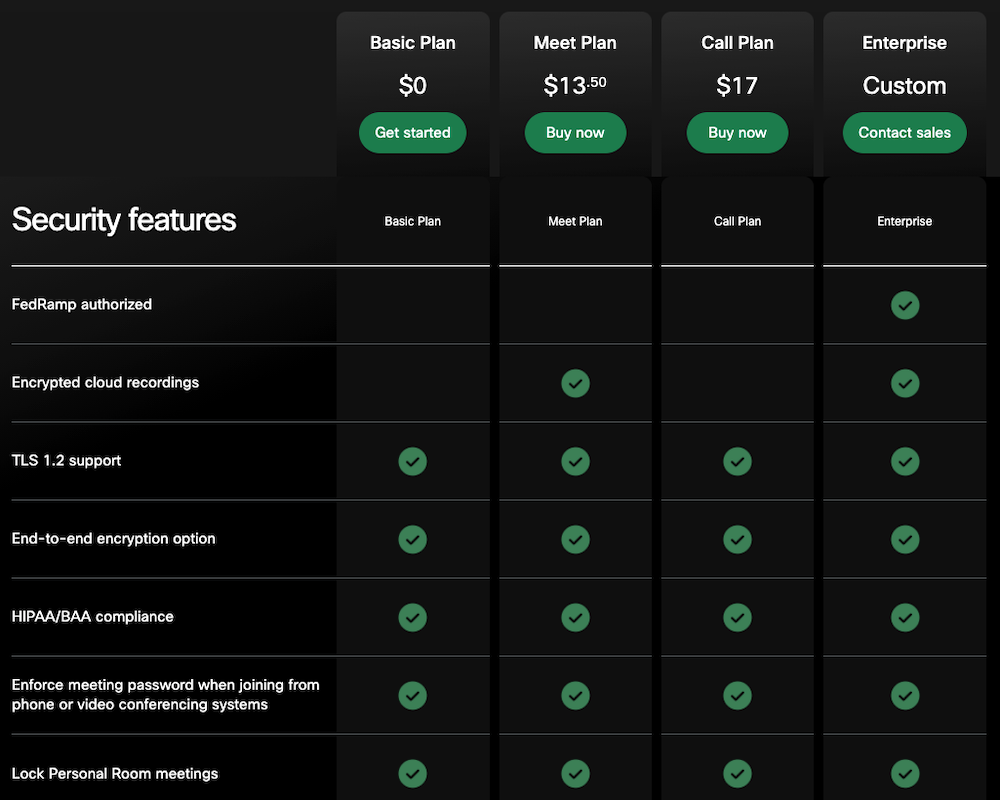 The Development Lifecycle ensures that Webex products are designed and developed following Cisco security codes and processes including coding guidelines, threat modeling, vulnerability testing tools, and more.
Cisco also relies on its InfoSec and Incident Response departments to ensure that Webex Calling and other Webex tools are always a step ahead of new security threats.
This proactive approach to security sets Webex apart from its competitors, as does the transparency it provides when it comes to its overall security process.
Standard Webex security and compliance measures for all plans include:
Global Points of Presence locations
SOC2 and ISO 27001-certified redundant data centers
Video surveillance and two-factor ID for physical entry to data centers
AES-256 end-to-end encryption (E2E) over TLS, TCP, and UDP for all Webex communications
Unique role-based access for hosts, cohosts, presenters, attendees, and site administrators
Single Sign-On (SSO)
HIPAA compliance (with BAA)
PCI compliance
GDPR compliance
Meeting security settings including meeting passwords, meeting lobby and meeting locks, meeting recording access restrictions, automatic meeting disclaimers, and more
Webex Calling Customer Support 

To get a clear answer on the Webex customer support hours and channels provided, we went ahead and contacted Webex directly.
The upside is that Webex offers 24/7 live chat and phone support for all customers, regardless of plan. Email support is also available. However, unlike other business phone service providers, there is no priority customer support given to customers that have the top tier Webex plans. While this is certainly good news for basic Webex customers, it may not be so appealing to higher-level clients.
That said, our experience with Webex live chat support agent was excellent.
Though we did have to provide our email address and phone number first, (standard for most support chats) we waited less than one minute to be connected to a live agent and our support queue position was listed in the chat window.
Once connected, the agent answered our questions immediately, without gatekeeping information in an attempt to get more information about our business. Instead of trying to sell us on a product, they just provided the answers we needed — a welcome relief when compared to other providers' chat support.
In terms of onboarding support, Webex offers:
Advisory Services to assist in selecting/customizing ideal Webex solution
Expert new user implementation services with Cisco CX Advanced Services Solutions
Focused custom training sessions
Live and recorded user training classes for IT admins, users, and partners
How-to video tutorials and written guides
Webex also offers ongoing user support, including:
Dedicated Customer Success Managers
Online Knowledge Base
Webex User Community Forum
Online ticket creation
Live Webex status page
Phone support
Webex Calling Alternatives
When considering alternatives to Webex Calling, we looked at factors like:
Included VoIP features vs paid add-on features
Communication channels (video, faxing, SMS texting, etc.)
User capacities/limitations
Overall scalability and cost-effectiveness of available plans
Our research determined that the four providers below are the most comparable to Webex Calling, each with different advantages and disadvantages over the Webex platform:
RingCentral
Microsoft Teams
GoTo Connect
Vonage
RingCentral 
At first glance, RingCentral MVP (Message, Video, Phone) may seem like the closest competitor to Webex calling. After all, it's also a unified communications platform that seeks to combine the top three communication channels into a single interface.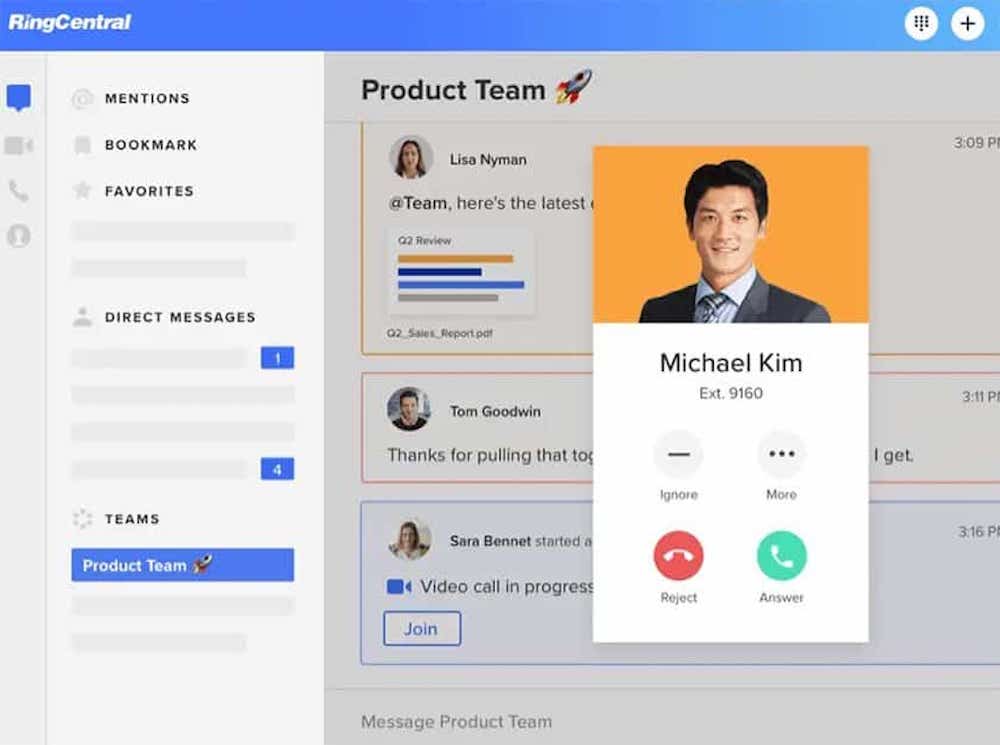 However, RingCentral offers numerous features like Webex Calling lacks, such as virtual faxing, unlimited business SMS, native on-demand/automatic call recording, and voicemail transcription.
The below table offers more RingCentral and Webex points of comparison.
| | |
| --- | --- |
| | |
| Up to 1,000 audio conference attendees | Up to 200 audio conference attendees when used in conjunction with Webex Meet video calling tool |
| Four paid plans from $19.99/user per month to $49.99/user per month, all plans include voice calling | Three paid plans include voice calling, plans range in price from $15.00/user per month to $25.00/user per month and up |
| Visual Voicemail includes voicemail-to-text and voicemail-to-email, which can also include voicemail audio file | No voicemail transcription, receive voicemail notifications via email, desktop, and SMS, can only listen to messages in the Webex app or via dial pad |
| Native call recording capabilities with automatic call recording storage for 90 days, voice call transcription available via third-party integration | Call recording available only via third-party integration with Dubber must upgrade to paid Dubber plan to receive AI voice insights and unlimited storage |
RingCentral pricing information is available in the image below.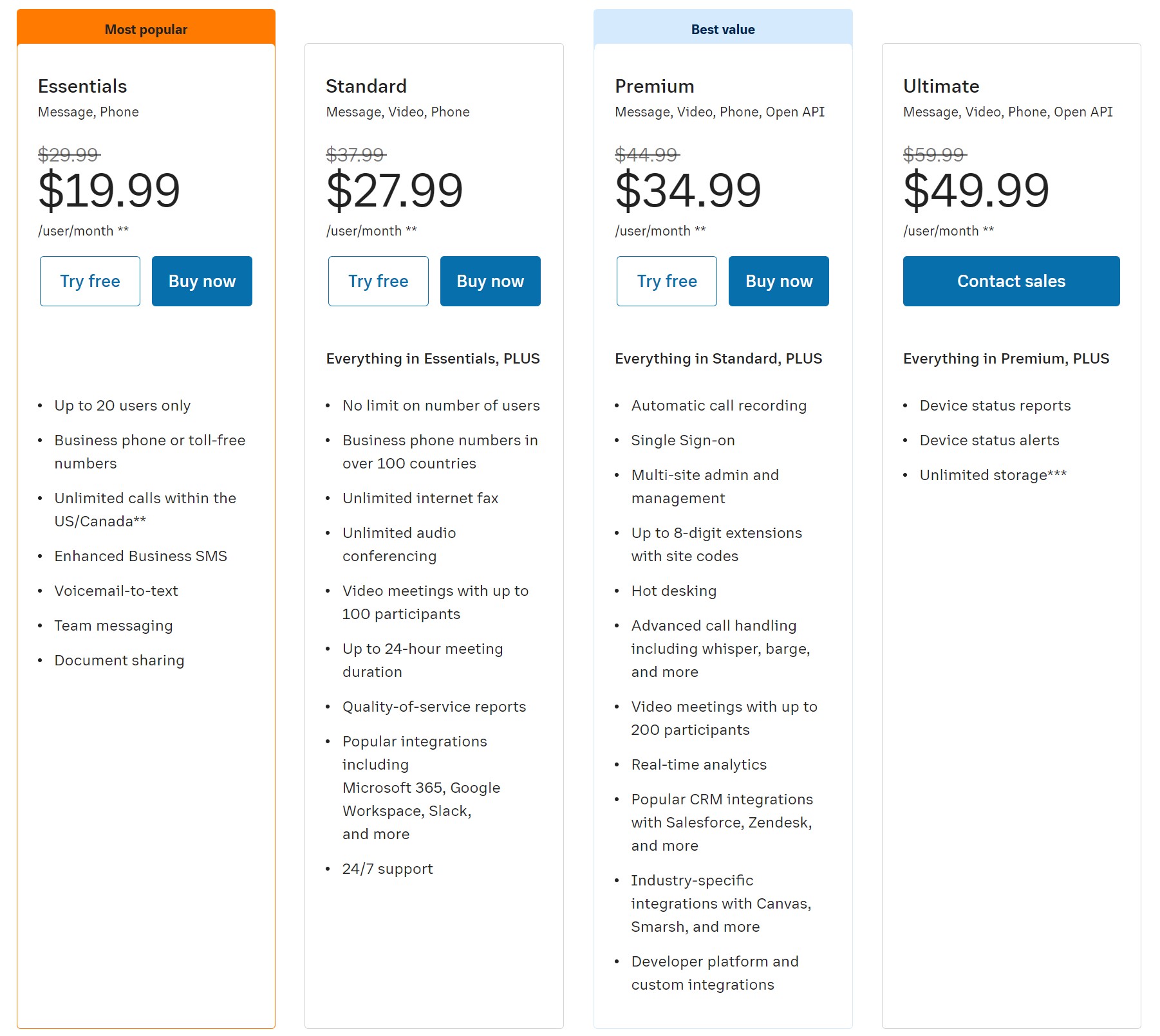 Choose RingCentral Over Webex If:
You're a remote, in-house, or blended team willing to pay slightly more for advanced features like visual voicemail, call recording, a higher audio conference participant capacity, and if you have a moderate to high daily call volume.
Microsoft Teams
Microsoft Teams Phone is a business calling solution that can be purchased as an add-on to provide current Microsoft 365 and Microsoft Teams users with voice calling capabilities.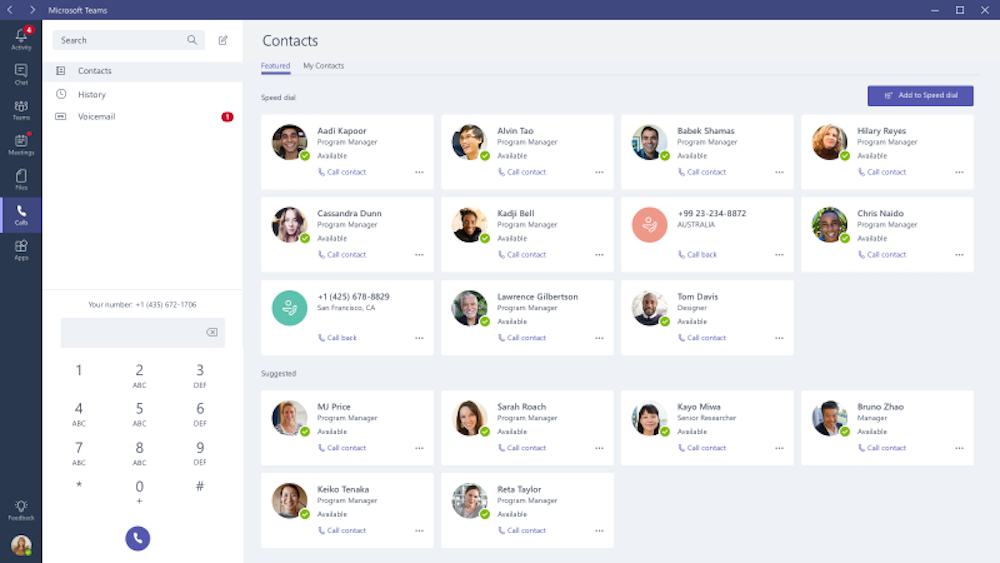 It allows not only Team users to call not only each other but also those outside of the Teams organization via the PSTN and SIP Trunking. Note that users cannot purchase the Microsoft Teams Phone as a standalone product,  but rather as an add-on to an existing Teams or Microsoft 365 plan.
The below table provides additional points of comparison between Microsoft Teams Phone and Webex calling.
| | |
| --- | --- |
| | |
| Requires Microsoft 365/Microsoft Teams, available as an add-on for $15.00/user per month or $57.99/user per month | Three paid plans from $15.00/user per month to $25.00/user per month, features are bundled in plans and only available add-ons are Call-Me meeting access and real-time translation |
| Has specific paid plans for SMBs of 300 and under employees and larger-scale companies of 300+ employees as opposed to several different pricing tiers | Tiered pricing allows users to scale phone system features |
| Allows up to 20 audio conference participants and up to 1,000 dial-in audio-only video call participants, meeting recordings available for download or up to 20 days of cloud storage | Call recording available via Dubber third-party integration |
| Cloud voicemail and voicemail transcription, all plans include video calling and team chat | All plans include Webex Meet video calling and team chat messaging |
Microsoft Teams Phone pricing information is available in the image below.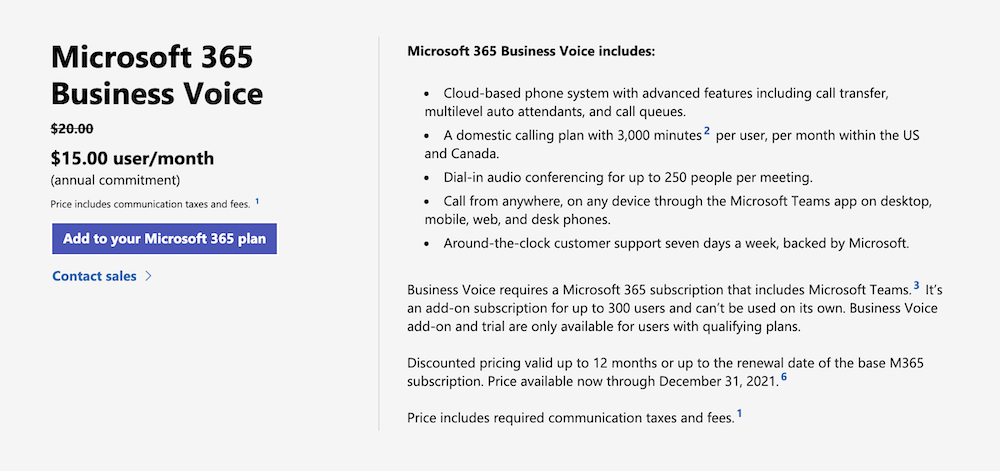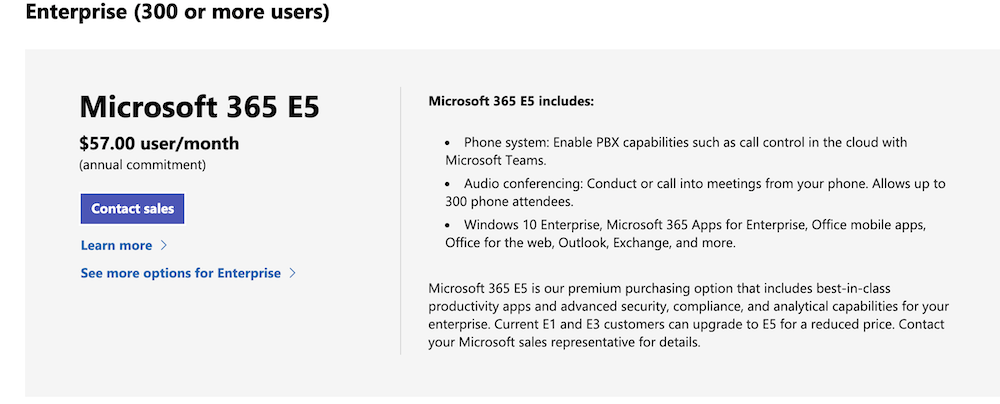 Choose Microsoft Teams Phone Over Webex If:
You're an existing Microsoft Teams or Microsoft 365 user that needs to add voice calling capabilities to your communications system, or if you want a complete voice calling, phone calling, and team collaboration solution in a single package. Ideal for medium-to large-sized companies of between 200-400 employees.
GoTo Connect
Like Webex, GoTo Connect offers both voice calling, team chat messaging, and video meeting capabilities with every plan.
Unlike Webex, GoTo Connect offers automatic and on-demand native call recording and cloud storage, voicemail transcription, virtual faxing, and SMS texting.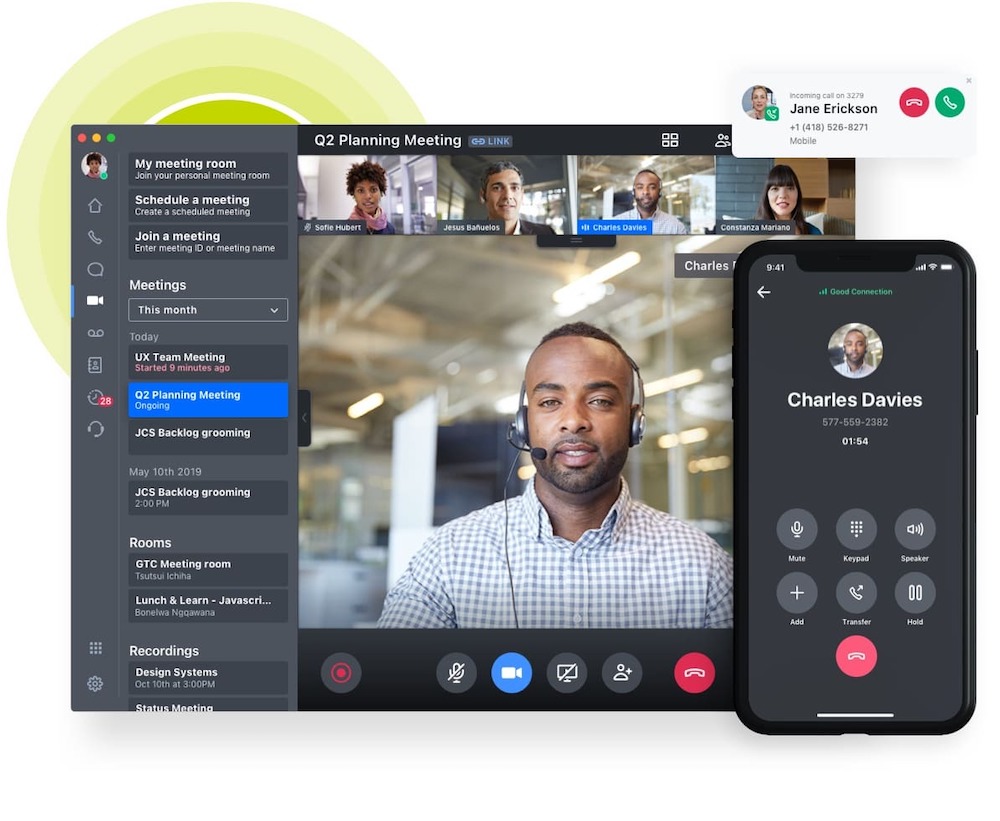 Additional comparisons are outlined in the table below.
| | |
| --- | --- |
| | |
| Three paid plans from $22.00/user per month to $39.00/user per month (for 2-10 users) | Three paid plans from $15.00/user per month to $25.00/user per month, unlimited users |
| Unlimited call queues for all plans | Up to 50 callers only in call queues |
| Voicemail transcription and voicemail audio file to email and text available | Voicemail transcription unavailable, receive notification of a voicemail message (no attached audio file) to email/desktop |
| Audio conference bridge allows for conference calls of up to 20 participants, can transition to GoTo Meeting video call for up to 250 participants | Audio conference calling for up to 6 participants, can transition to audio-only Webex Meetings call for up to 200 participants |
GoTo Connect pricing information is available in the image below.

Choose GoTo Connect Over Webex If:
You want to be able to scale your business phone system by adding more users as your business grows as opposed to paying the same rate each month for an unlimited amount of users.
Vonage
Vonage Business is an all-in-one UCaaS phone system offering voice calling, video meetings, social media messaging, texting, and faxing in one platform.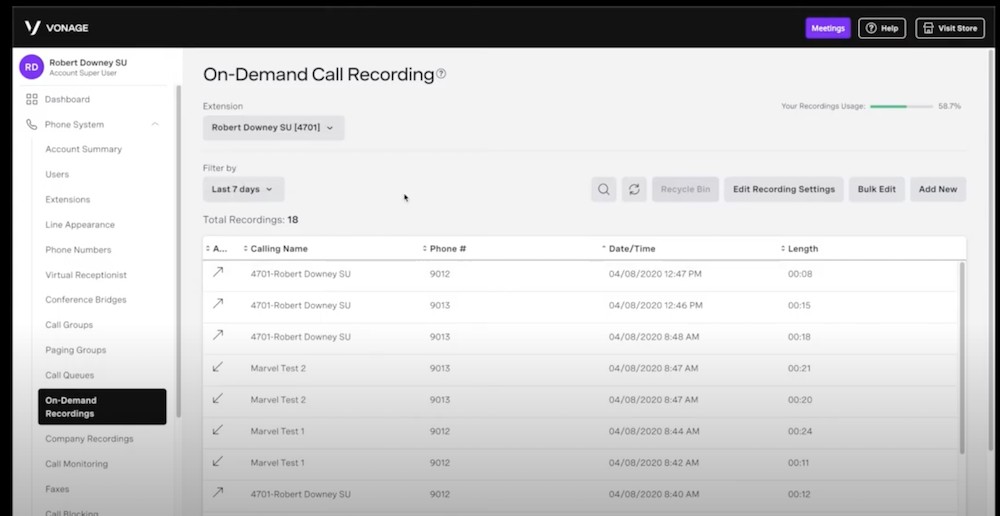 That said, Vonage's features are limited without paid add-ons, which include key functionalities like call queuing and call monitoring, which Webex Calling offers in its plans.
The comparison table below provides more information.
| | |
| --- | --- |
| | |
| Three paid plans from 14.99/line per month to $34.99/line per month, essential features like call groups, visual voicemail, call monitoring, call recording, and call queuing available only as paid add-ons | Three paid plans from $15.00/user per month to $25.00/user per month, only two available add-ons, some key features require integrations |
| Audio conferencing for up to 30 participants, video calling for up top 100 participants | Audio conferencing for up to 6 participants, video meetings for up to 200 participants |
| Call recording only included in the most expensive plan, can be purchased as an add-on for $49.99/500 hours per month | Basic call recording functionality through Dubber is available on all plans, advanced features like unlimited storage and NLP are available only as a paid add-on |
| Over 20 integrations (CRM, team collaboration, etc.) are available in Vonage App Center, integrations not available on the most basic plan | Integrations available on Webex App Hub on all plans (Salesforce, Slack, Asana, Zendesk, etc.) |
Here's a detailed look at Vonage Business pricing, and quick overview available in the image below.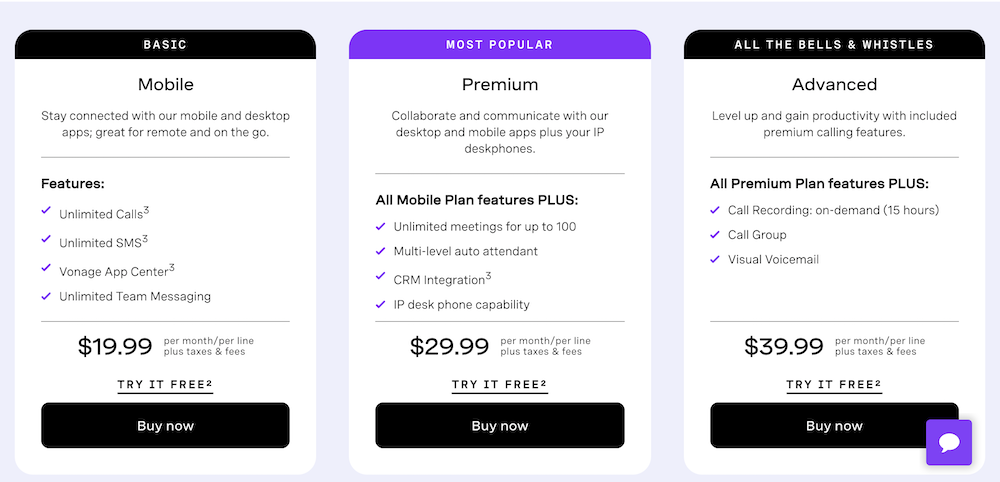 Choose Vonage Over Webex If:
In general, Vonage Business Communications is only cost-effective if your business already has preferred platforms they don't want to switch from, but instead want to integrate into a business phone system.
Who Should Use Webex Calling?
Our research and comparisons with top competitors found that Webex calling is best for small businesses of 15-20 employees or fewer that need basic business phone system functionalities and have a low-to-medium daily call volume.
Remote, blended, and fully in-house teams can use Webex Calling, as whether or not it's the right fit for your business depends more on available features and company size as opposed to geographic diversity.
That said, although Webex Calling has some standout features like excellent customer support and strong video calling/collaboration tools through Webex Meetings, it's clear that Webex's recent transition to an all-in-one platform is still in its infancy.
With issues like a lack of key native features, including call recording, voicemail transcription, and automatic callbacks, as of this writing, Webex Calling leaves much to be desired. However, given the success of past products like Webex Teams and Cisco Jabber, we're confident that Webex Calling will only grow from here.
For more information on phone system solutions, check out our interactive Business VoIP provider table.
Webex Calling FAQs
Below, we'll address some of the most common questions about Webex Calling.
No, Webex Calling is not the same thing as Webex Meetings. 
Webex Meetings exclusively provides video conferencing services and team collaboration features like instant messaging, polling, screen sharing, and interactive whiteboarding.
Webex Meetings has two main plans -- their free Basic Plan (up to 100 participants, 50 minute maximum meeting time) and the Meet Plan for $15.00/user per month (up to 200 participants, 24 hours maximum meeting time, recording, and more.)  
Webex Meetings does not have any business phone system features, aside from the ability to make/receive audio calls with any other Webex user. As such, it's only suitable for teams who need video meeting solutions, not phone calling. 
Webex Calling is an all-in-one communications tool -- meaning that it includes not only the features of Webex Meetings but also those of Webex Calling. 
There are two basic Webex Calling plans: The Call Plan for $17.00/user per month, (basic video features in addition to unlimited local/long distance phone calls, phone menus, call management features, etc.) and the Meet + Call Plan for $25.00/user per month (advanced video meetings and advanced call management features.) 
To successfully operate Webex calling, users will need: 
100 Kbps per audio call device

macOS X 10.13 or higher

Windows 8 or higher 

Linux Ubuntu 14 or later 

Chrome, Linux, Firefox, or Safari Internet Browsers

iOS or Android mobile devices
Webex Suite is similar to Webex Calling in that it's also a unified communications platform combining business telephone, video calling, and team collaboration tools.
However, Webex Suite is unique in that it is purpose-built for hybrid workspaces and contains specific functionalities that are more useful to Enterprise-level, large-scale businesses. 
These additional features include webinar creation and hosting capabilities for up to 5,000+ attendees, the AI-powered Webex Assistant, and other features, like advanced polling, designed to increase audience participation in virtual events.
Webex Calling offers three paid plans (there is no free version of Webex Calling.) 
The Call Plan, which focuses mostly on voice calling capabilities, costs $17.00/user per month. The Meet+Call Plan, which includes the advanced video communications features of Webex Meetings alongside the Call Plan, costs $25.00/user per month.

There is also a more customizable Enterprise Plan, which provides only quote-based individual pricing.
Cisco Webex Calling works by using the Internet, as opposed to the PSTN traditional phone network, to make and receive calls, video chats, and provide access to team collaboration tools. 
In addition to cost savings, VoIP communication also provides advanced features that traditional phones can't offer, like team chat, advanced call routing options, call transcription, and more. 
Cisco Webex Meetings offers a 30-day free trial, which includes unlimited video meetings for up to 200 participants, whiteboarding, screen sharing, personal meeting rooms, and more.