Cisco Webex Calling is an all-in-one business phone system and UCaaS platform designed to streamline team communication, improve the customer experience, and better manage high call volumes.
In addition to VoIP voice calling, Webex Calling includes basic collaboration and video calling features via Webex Meeting. It also offers third-party integrations, APIs, cloud storage, and end-to-end encryption for all Webex communications.
But is it right for your business? This overview of Webex Calling pricing, features, user experience, and competitors will help you find out.
Quick links:
Webex Calling Pricing and Plans
Webex Calling offers three paid plans with monthly and annual billing. A 90-day free trial is available upon request, including bundled trial versions of Webex Meetings, Messaging, and Calling.
While Webex Meetings offers a free plan, it functions primarily as a video conferencing tool and only allows users to make/receive phone calls with other Webex users. The Webex free plan includes 40-minute video meetings for 100 participants, local meeting recording, team chat messaging, whiteboard and screen sharing, plus the ability to send audio and video clips.
Webex Call Plan ($17/License/Month)
Voice Calling Features: Unlimited VoIP local/long-distance cloud calling with HD audio, international calling with per-minute billing, 6-way conference calling, auto attendant with extensions, visual voicemail (in Control Hub dashboard only), call waiting, call hold, call transfer, call forwarding, contact list
Video Meeting Features: Free plan video conferencing features+desktop/mobile Webex app, breakout rooms, desktop and mobile devices screen sharing, meeting waiting room, video messaging by Vidcast, background noise removal, custom screen layouts, live reactions, Outlook and Google Calendar integrations
Collaboration Features: Third-party integrations, team chat messaging with internal/guest users, public/private channels, audio messaging, user presence, message reactions, file sharing and storage, message search, message threads/quotes
Security and Customer Support: End-to-end encrypted meetings, HIPAA-compliance, meeting room lock, set meeting password, support via help center, phone, chat, case form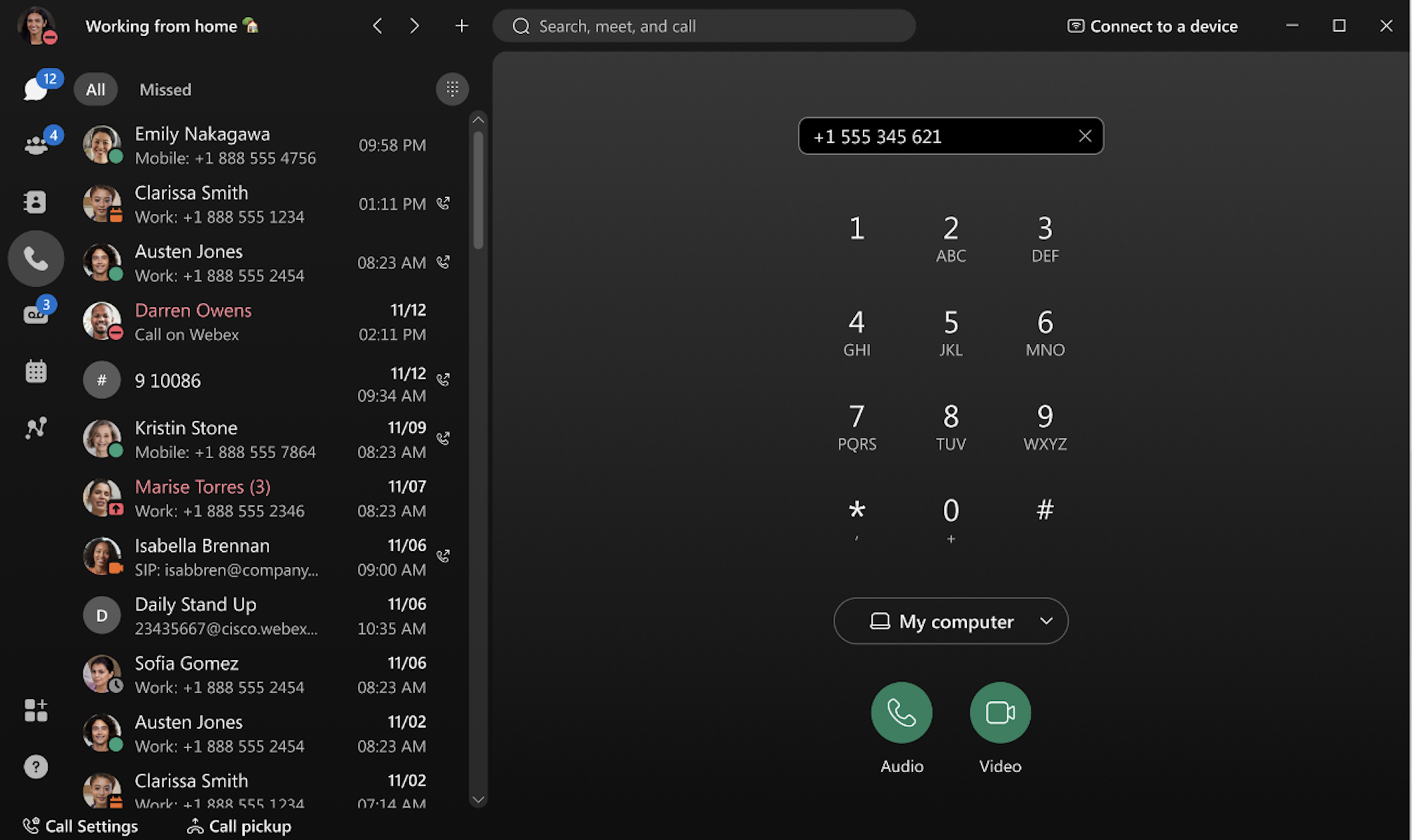 Webex Suite Meet+Call Plan ($25/License/Month)
Voice Calling Features: No changes
Video Meeting Features: 24-hour meetings with 200 participants, 10GB cloud meeting storage, closed captioning and meeting highlights, live polling/Q&A by Slido, join simultaneous meetings, toll dial-in access, post-meeting transcript, voice commands/keywords, in-meeting file transfer, meeting co-hosts
Collaboration Features: Adds the ability to add/remove participants from messaging workspace
Security and Customer Support: Adds encrypted cloud recordings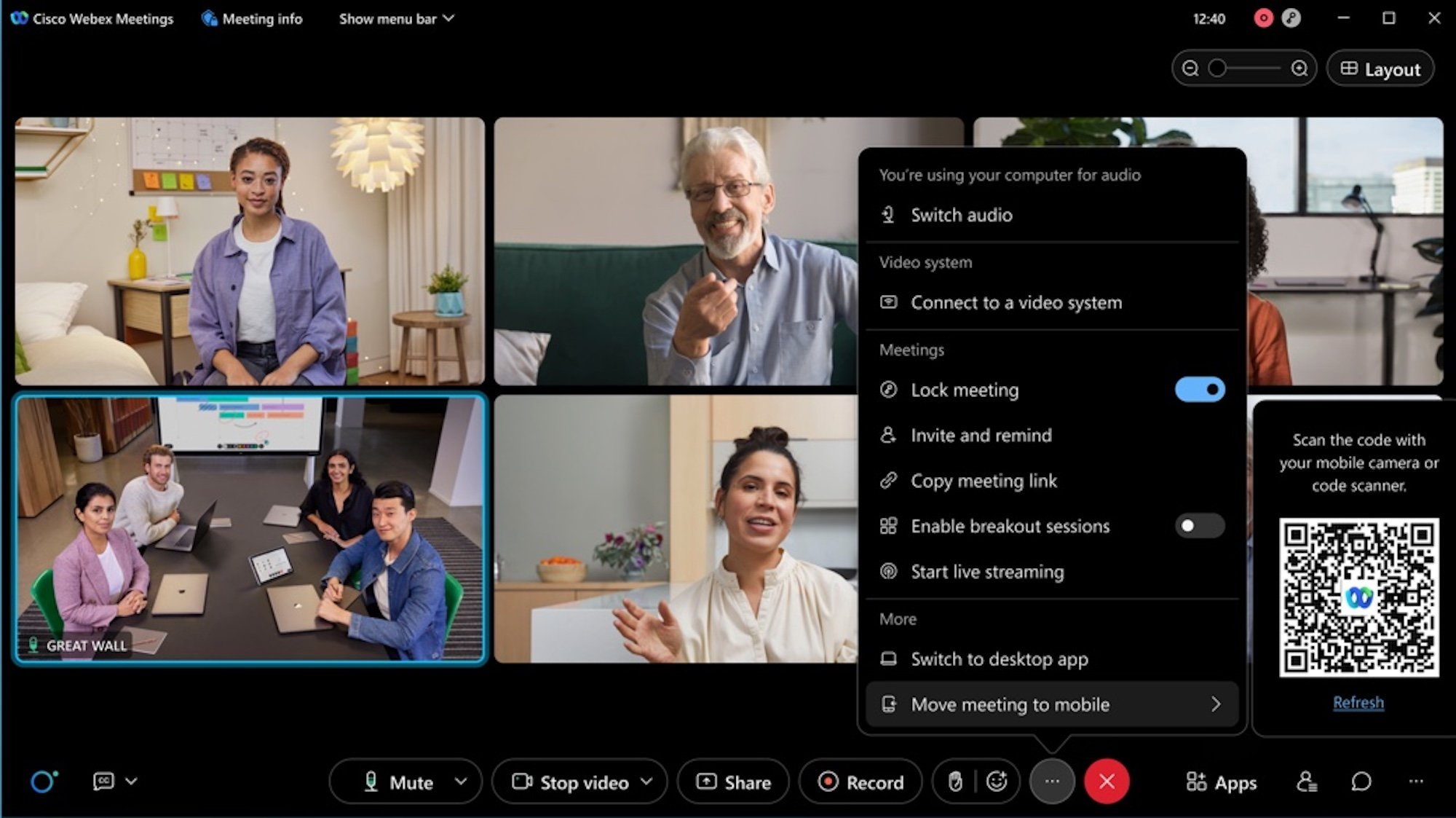 Webex Enterprise (Custom Pricing)
Voice Calling Features: Adds call barging, call queueing, call routing, call recording, customer callback, skills-based routing, advanced IVR, call barge/monitor/whisper, call queue reporting/analytics, group call/group paging for 75 agents, voicemail-to-email
Video Meeting Features: Adds up to 1000 meeting participants, local/unlimited cloud meeting recording, meeting live streaming to YouTube/Facebook Live, simultaneous interpretations
Collaboration Features: Adds Webex APIs, Webex Go access
Security and Customer Support Features: Adds a dedicated account representative,  FedRAMP authorization, Enterprise-grade custom retention policies for messages/files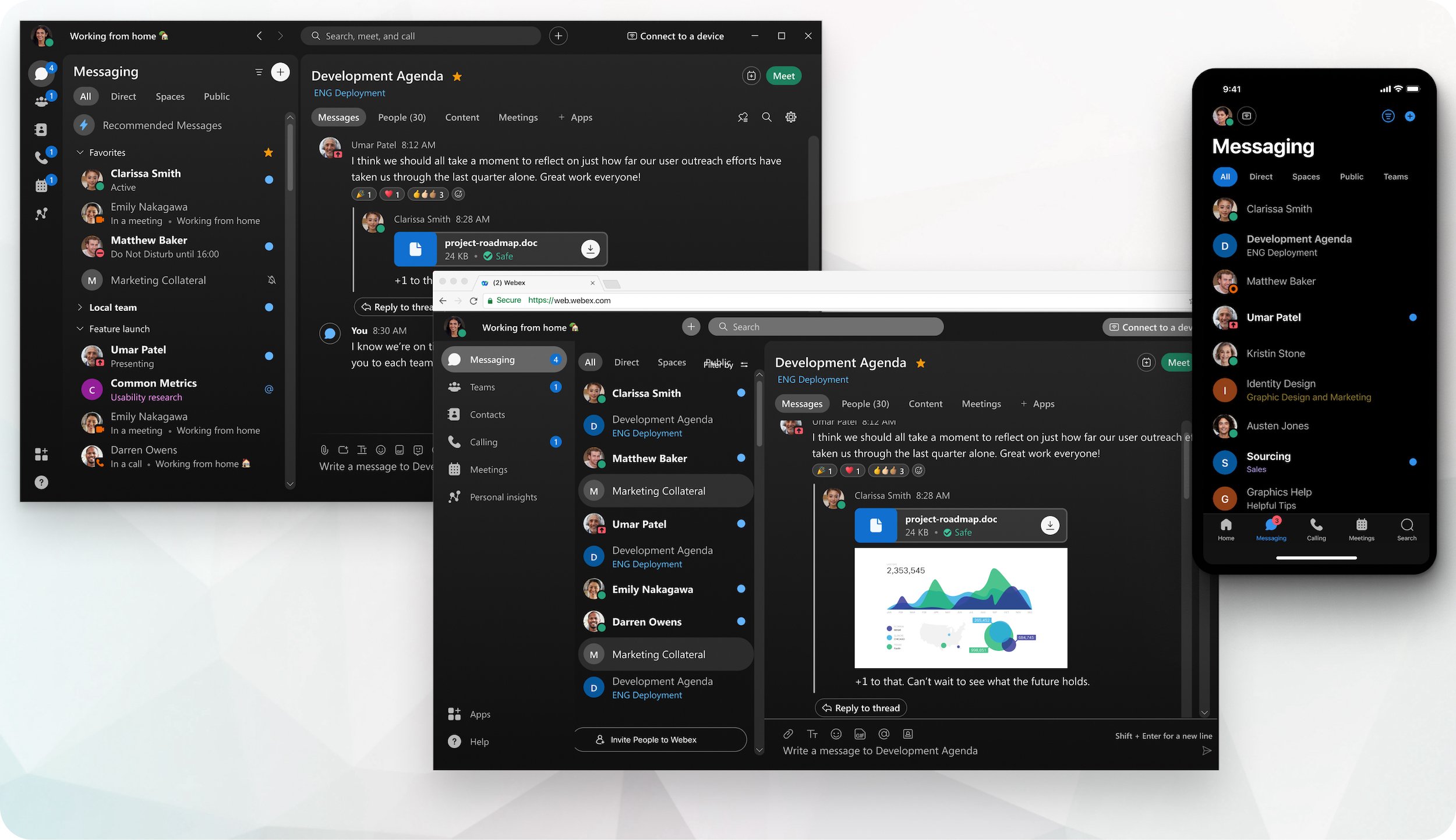 Top Webex Calling Features
What features set the Webex platform apart from other PBX and VoIP providers? We'll explore the best Webex Calling features below.
Webex Call Flow Design
Though call flow design is a staple feature of every business phone system, Webex takes theirs to the next level with an easily configurable and feature-rich IVR system.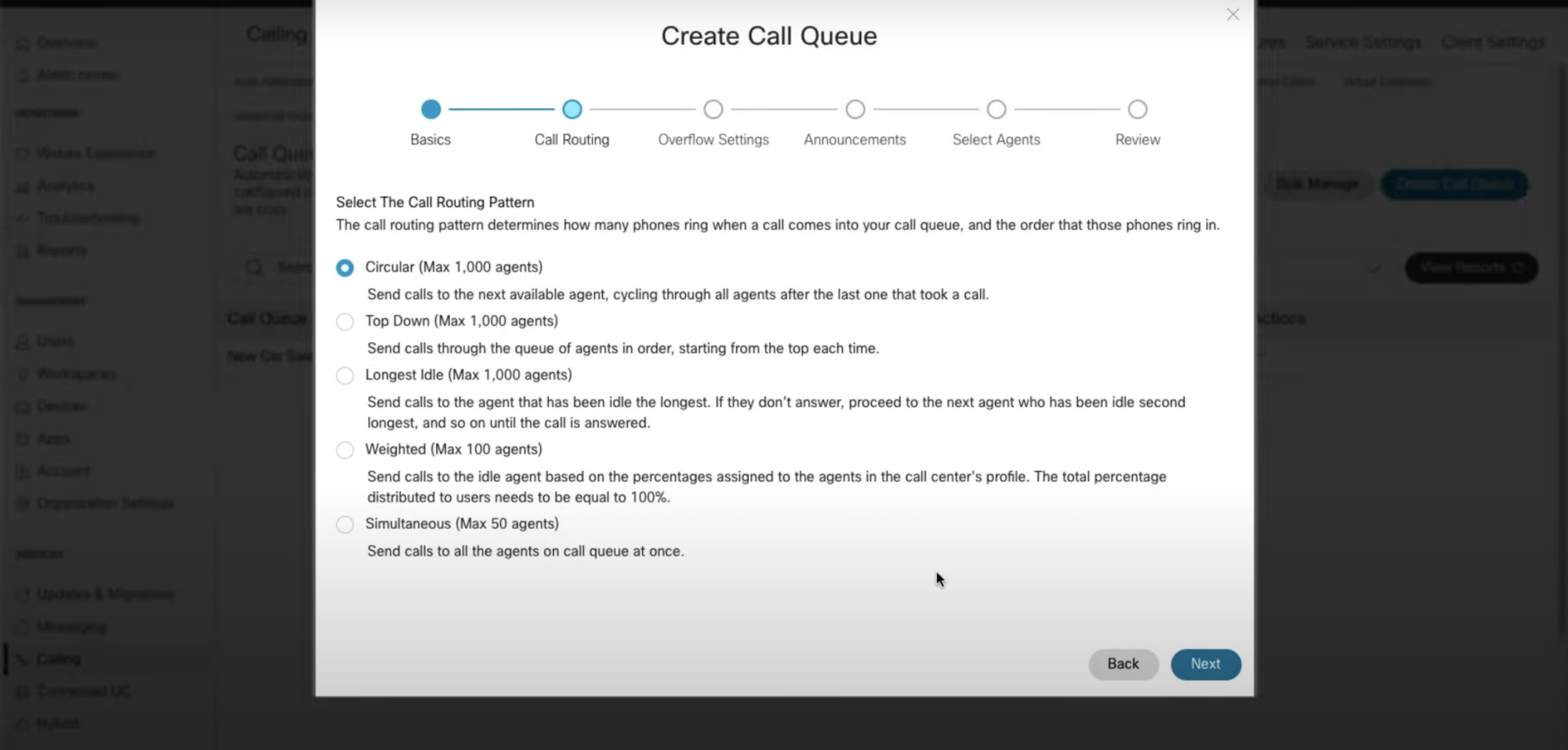 In the Webex Calling Administrator Portal, (CAP) admins can:
Create up to 10,000 total dial plan paths
Choose specific locations for each auto-attendant (main office, IT department, etc.)
Choose from over 10 language options
Set unique caller ID names per call menu
Set daily business hour call paths, after-hours call paths, and holiday call paths
Set customized or default greetings
Create call menus that let inbound callers dial by name, extension, department, connect to an operator, etc.
Assign Webex cloud calling hunt group agents to respond to calls made to specific phone numbers/extensions
Enable simultaneous ringing Enable priority alerts from VIP phone numbers or calls received at a specific date/time
Choose from call routing options like longest idle time, top-down sequential order, (up to 5 agents) circular round-robin routing, or weighted call routing
Set the number of rings before a call is forwarded or transferred to another agent
Direct calls straight to shared or individual voicemail if all agents are busy
The Webex CAP also lets admins optimize call queue settings by:
Selecting the maximum number of callers allowed in a queue (up to 50)
Choosing which custom greetings to play
Providing an estimated wait time
Setting intervals for how often "comfort messages" like "Your call is very important to us, please stay on the line" are played
Playing hold music
Conference Calling
Webex Calling lets up to 6 participants meet for telephone audio conferences. Those needing a higher conference calling capacity can use the audio-only feature of Webex Meetings to connect with up to 200 participants and 25 simultaneous screen streams.
Users can easily upgrade from a team chat message to an audio/video conference call and access team collaboration tools like in-meeting chat, file sharing, screen sharing, virtual hand-raising, and live polling during meetings.
Webex's top conference calling feature is its background noise suppression and voice detection technology.
Other conference call features include:
Toll-free number dial-in access
Call-Me audio conferencing access
No downloads required
Personal Meeting Rooms for both audio and video conferencing (unique URLs, on-demand and pre-scheduled meetings)
Ability to play music during a meeting
Meeting participant list
Mute/unmute speakers
Voicemail
Webex offers basic voicemail functionality, allowing users to listen to voicemails on mobile and desktop devices directly in the Webex app and within the call history log.
Voicemail features include:
Automatically send all calls to voicemail when the user is on a call, in a meeting, automatically for a set period, or after a set number of rings
Voicemail to email and visual voicemail
Shared voicemail boxes
Set voicemail passcode PINs
Receive voicemail notifications via text, email, or desktop notification
Internal and external voicemail storage
Integrations and APIs
Though APIs are only available on the Webex Calling Enterprise Plan, all plans include access to essential third-party integrations like:
Slack, Smartsheet, Microsoft Teams
HubSpot, Salesforce, Pipedrive, Zoho CRM
Marketo, Gong, ServiceNow
Box, Google Drive
Webex Calling Security
Webex has exceptionally high cloud-based phone system security and encryption standards, taking a multi-level approach to protecting user data through application and data center security as well as the Cisco Secure Development Lifecycle.
The Development Lifecycle ensures that Webex products are designed and developed following Cisco security codes and processes including coding guidelines, threat modeling, vulnerability testing tools, and more.
Cisco also relies on its InfoSec and Incident Response departments to ensure that Webex Calling and other Webex tools are always a step ahead of new security threats.
This proactive approach to security sets Webex apart from its competitors, as does the transparency it provides when it comes to its overall security process.
Standard Webex security and compliance measures for all plans include:
Global Points of Presence locations
SOC2 and ISO 27001-certified redundant data centers
Video surveillance and two-factor ID for physical entry to data centers
AES-256 end-to-end encryption (E2E) over TLS, TCP, and UDP for all Webex communications
Unique role-based access for hosts, cohosts, presenters, attendees, and site administrators
Single Sign-On (SSO)
HIPAA compliance (with BAA)
PCI compliance
GDPR Compliance
Meeting passwords, meeting lobby and meeting locks, meeting recording access restrictions
Webex Calling Customer Support 
Webex offers 24/7 live chat and phone support for all customers, regardless of plan. Email support is also available. However, unlike other business phone service providers, there is no priority customer support given to customers that have the top tier Webex plans.
Webex offers onboarding support like:
Advisory Services to assist in selecting/customizing ideal Webex solution
Expert new user implementation services with Cisco CX Advanced Services Solutions
Focused custom training sessions
Live and recorded user training classes for IT admins, users, and partners
How-to video tutorials and written guides
Webex also offers ongoing user support, including:
Dedicated Customer Success Managers
Online Knowledge Base
Webex User Community Forum
Online ticket creation
Live Webex status page
Phone support
Webex Calling User Experience
Below, we'll cover the top Webex pros and cons.
Webex Calling Pros
Advantages of Webex Calling include:
High ease-of-use, intuitive interface and excellent online knowledge base means a shorter learning curve than competitors
Webex Meeting capabilities included in all Webex Calling plans
Webex Go tool offers high-level mobile functionality
High-quality HD audio with automatic background noise suppression and QoS reporting
Webex Calling Cons
Potential disadvantages of Webex Calling include: 
Webex App Hub is unintuitive and integrates mostly bots and highly-specific app integrations as opposed to popular business communication/collaboration tools
Lack of scalability compared to competitors
Limited call management features compared to competitors, and even basic features like call queues, call monitoring, voicemail-to-email, and call recording require users to purchase the most expensive Enterprise Plan
Webex Calling Alternatives
Below, we've outlined the best Webex alternatives.
RingCentral MVP
RingCentral MVP is an intelligent phone solution combining VoIP voice calling, SMS/team chat messaging, and video conferencing in a single platform.
Unlike Webex Calling, RingCentral MVP offers built-in virtual faxing, Enhanced Business SMS texting, and AI-powered outbound calling for sales teams.
RingCentral MVP also offers advanced real-time and historical analytics with essential KPIs to measure agent performance, call center activity and efficiency, and average handle time. Pre-made and custom reports are available, as are targeted filters, custom date ranges, and automated outbound report sharing.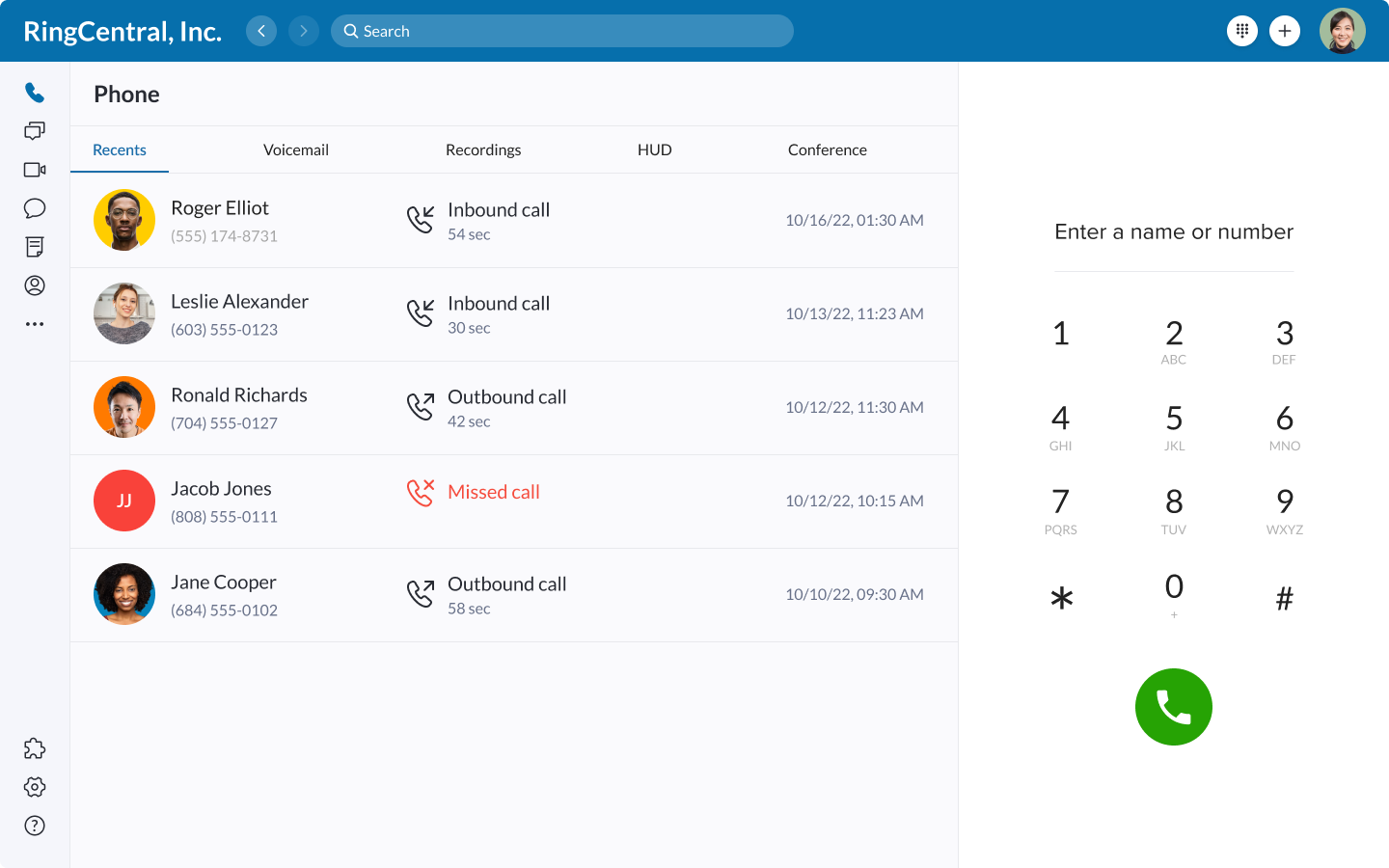 RingCentral MVP Pricing
RingCentral MVP offers three paid plans from $20-$35/user/month, billable on a monthly or annual basis. A 14-day free trial is available.
Core Plan ($20/user/month): Includes unlimited local/long distance VoIP calling, 100 toll-free minutes, SMS/MMS, multi-level auto attendant/IVR, inbound caller ID, shared lines, visual voicemail/voicemail-to-email, on-demand call recording, basic call routing, team chat, audio conferencing, HD video meetings for 100 participants, AI Meeting Insights/Live Transcription, breakout rooms, team chat, collaborative notes, whiteboard, 99.999% uptime, 24/7 support, SSO, unlimited video meeting recording, APIs/basic integrations
Advanced Plan ($25/user/month): Adds advanced call routing and call queueing, hot desking, call monitoring/call barge/call whisper, automated/on-demand call recording unlimited online faxing, Business Analytics Essentials, advanced integrations with 300+apps
Ultra Plan ($35/user/month): Adds unlimited cloud-based storage for messages/recordings/files, device analytics/alerts, Business Analytics Pro
RingCentral MVP vs Webex Calling
| | |
| --- | --- |
| RingCentral | Webex Calling |
| Voicemail-to-email, on-demand call recording, basic call queueing, and multi-level IVR are included in all RingCentral MVP plans | Call queuing, call recording, voicemail-to-email, and multi-level IVR are available only on Webex Suite and Enterprise plans |
| All plans include unlimited audio conferencing with up to 1,000 attendees per conference call |  Audio conference calls are limited to 6-15 participants maximum |
| APIs available on all RingCentral MVP plans |  Webex APIs are available only on the most expensive Webex Enterprise plan |
| Transparent pricing with individually priced add-ons |  No information about paid add-ons listed, Enterprise pricing is quote-based |
Best For
Teams with a high volume of third-party integrations
Remote and hybrid work, geographically diverse teams needing advanced call routing strategies, drag-and-drop IVR design, and custom business hour rules
Sales teams needing automated outbound dialing capabilities with lead management, campaign monitoring, and agent coaching
GoTo Connect
GoTo Connect is a business calling solution and a part of the GoTo cloud communications suite.
It combines voice calling with team collaboration tools, business text messaging, analytics, and video calling by GoTo Meeting.
All GoTo Connect plans offer more advanced call management features than Webex Calling, including inbound call filters, the ability to auto-reject or auto-divert calls, and the IVR Dial Plan Editor.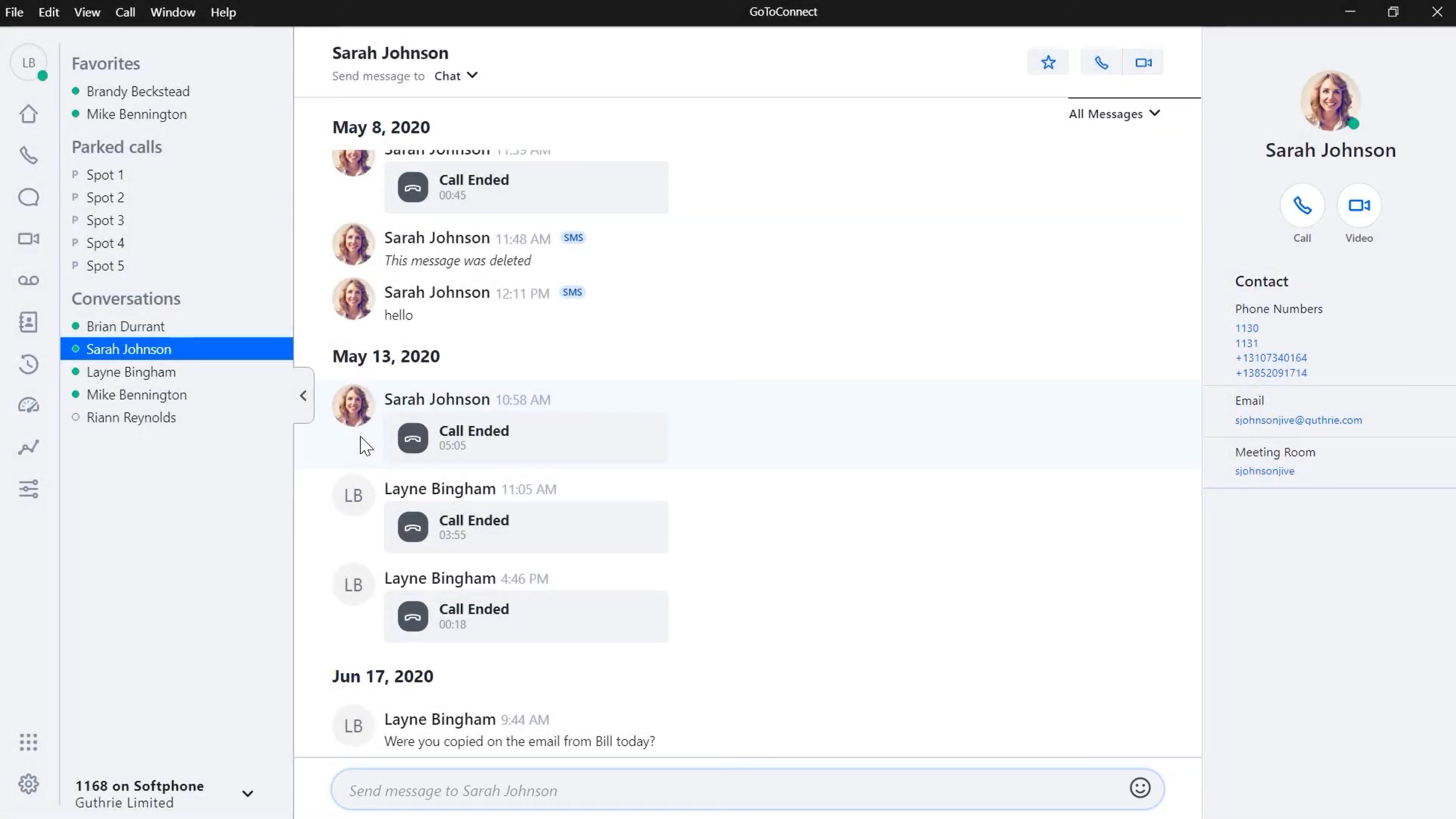 GoToConnect Pricing
GoTo Connect offers two paid plans and a 14-day free trial.
Basic Plan ($27/user/month): Unlimited domestic calling, local/toll-free/vanity phone numbers, Smart Call Routing, unlimited extensions, call forwarding, Instant Response, 1 dial plan, 1 call queue, 1 auto attendant, per-minute international calling, team messaging, audio conferencing, unlimited meeting duration for 4 participants, 24/7 support, 40 SMS credits
Standard Plan ($32/user/month): Adds unlimited auto attendants, unlimited custom dial plans, unlimited ring groups, unlimited call queues, multi-site compatibility, hot desking, 250 video call participants, virtual faxing, 80 SMS credits, free international calling to 50+ countries, voicemail-to-email, advanced call management, call recording with cloud storage, live analytics, 1,000 toll-free minutes/month included, meeting co-hosts, Miro integration, Smart Notes
GoToConnect vs. Webex Calling
| | |
| --- | --- |
| GoTo Connect | Webex Calling |
| Unlimited video meeting duration, 250 maximum meeting participants | 24-hour video meeting duration, 1,000 maximum meeting participants |
| Standard Plan includes free international calling to 50+ countries | International calling billed on a per-minute basis on all plans |
| Basic Plan bills toll-free calls at $.03/minute, 1,000 toll-free minutes included in the Standard Plan | Does not offer native toll-free phone numbers/toll-free minutes |
| Includes one-on-one and group SMS/MMS texting with file attachments | SMS is only available on the Enterprise plan and requires a Cisco Calling plan and a primary phone number from Cisco Calling |
Best For
Business with a large number of international clients
Teams that may scale up their business communications to access capabilities from other GoTo products like GoTo Resolve, GoTo Contact Center, GoTo Webinar, or GoTo Training
Vonage Business Communications
Vonage Business Communications is a unified communications platform with voice calling, SMS, team messaging, and video conferencing via Vonage Meetings.
Vonage provides a feature-rich phone service, with 50+ built-in call management tools like auto attendant, call park, call routing, call screening and tagging, click-to-call, and Caller ID.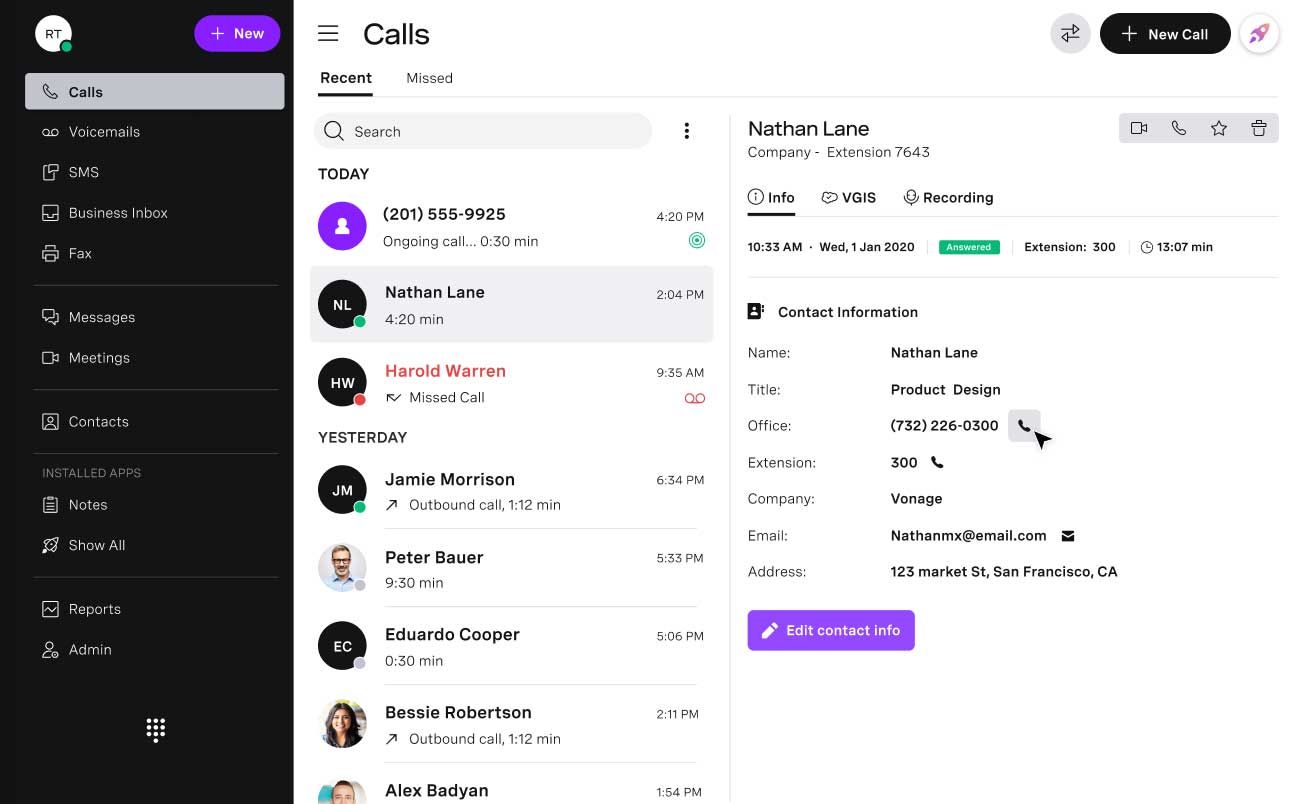 Vonage Business Communications Pricing
Vonage Business Communications offers three paid plans billed by the number of phone lines purchased (users can buy 1-1000+ lines per account.) A 14-day free trial is available.
Unlike other UC platforms, Vonage Business Communications allows users to truly customize their phone system with individual feature add-ons–though some may find it too cost-prohibitive.
Mobile Plan ($19.99/line/month): Includes unlimited domestic voice calling and SMS, unlimited team chat messaging, Vonage App Center with 20+integrations, iOS/Android mobile app
Premium Plan ($29.99/user/month): Adds CRM integrations, multi-level auto attendant, unlimited video meetings for 100 participants
Advanced Plan ($39.99/month/line): Adds on-demand call recording with 15 hours of cloud storage, visual voicemail, and call groups
Vonage Business Communications add-ons include:
Call recording for $49.99/month
Business Inbox for $9.99/month
Conference bridge for $14.99/month
Online faxing for $14.99/month
AI Virtual Assistant
Vonage Business Communications vs. Webex Calling
| | |
| --- | --- |
| Vonage | Webex Calling |
| Paid add-ons include AI Virtual Assistant, Shared Inbox, on-demand call recording, call queue | No individual paid add-ons for Webex Calling, advanced features require upgrading to the Enterprise Plan or purchasing another Webex product |
| BYOD or purchase compatible IP phones and hardware from Poly, Yealink, and more | Optimized for Cisco IP Phone models and on-premises hardware |
| Though audio conference calls can have 200 participants, video meetings have a maximum of 25 participants | Video calling for up to 1,000 participants, but conference calls are restricted to 15 participants maximum (6 for some users) |
| Video calls aren't HIPAA-compliant | Offers HIPAA-Compliant video calls |
Best For
Vonage Business Communications is best for: 
Businesses needing high-level third-party integrations and APIs
Teams looking for a la carte, feature-based pricing as opposed to bundled pricing
Remote teams requiring advanced call routing and call forwarding strategies
Who Should Use Webex Calling?
Webex Calling is best for blended or in-office small businesses looking for a free video conferencing and UCaaS platform that also offers basic VoIP telephony features.
Webex Calling users don't have a particularly high daily call volume and therefore don't need access to the kinds of AI-powered advanced features offered by most cloud service and business VoIP providers.
Instead, businesses using Webex Calling prioritize:
Complete collaboration tools to streamline communication with part-time or contract-based employees
Standard IVR call menus/auto attendants to eliminate the need for an in-person receptionist and connect customers with the ideal sales/support agent
Overall ease-of-use with an excellent online knowledge base for self-directed support
A high-level mobile app for remote/on-the-go teams, as the Webex ios/Android Mobile App includes video calling with screen sharing, inbound/outbound voice enterprise-grade calling with call transfer, call hold, team chat/user presence, voicemail, call recording, and Call Pull (call flip)
A platform with the option to scale up to add webinar and online event functionality (Webex Events)
Webex Calling FAQs
Below, we'll address some of the most common questions about Webex Calling.