Zoom is a video conferencing platform offering HD video and audio calling, cross-platform messaging, end-to-end encryption, mobile apps, and other valuable features.
While Zoom certainly has its benefits, it may lack the specific features and functionalities, pricing tiers, or security protocols your business needs.
Below, we've outlined the best Zoom alternatives for small business video calling and remote meetings. We'll discuss available pricing and plans, standout features, and the ideal user base for each provider.
Compare
top Zoom alternatives
for video conferencing
The Best Zoom Alternatives
The best Zoom alternatives are:
RingCentral Video
RingCentral Video is a cloud-based, no-download video conferencing application for desktop and mobile devices.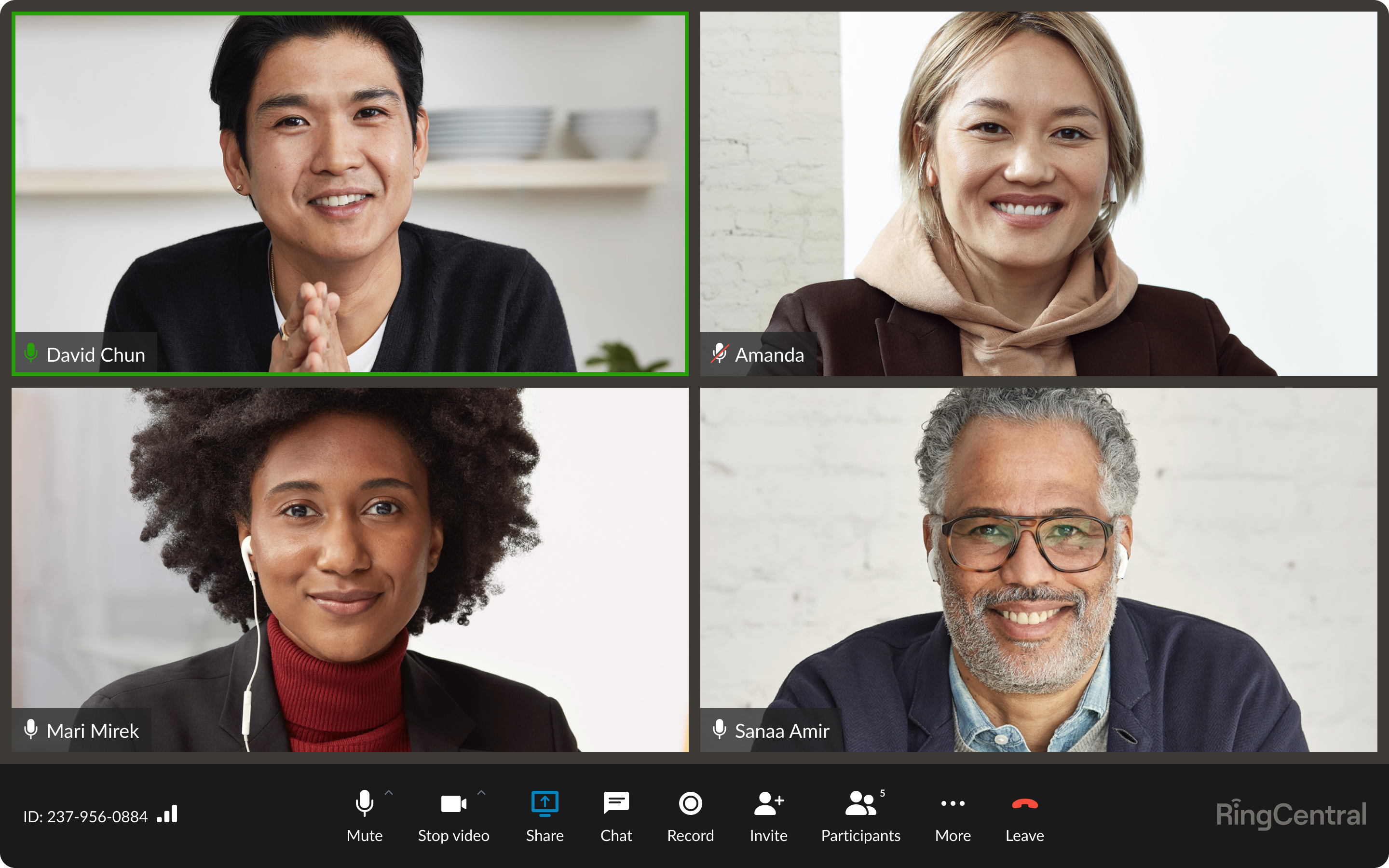 Available on desktop and mobile devices, RingCentral Video has a Large Meetings add-on that allows for up to 500 participants to meet for 24 hours. AI-powered noise reduction with automatic background noise cancellation, HD voice, and virtual backgrounds ensure distraction-free meetings.
Team collaboration tools like persistent and in-meeting chat, always-on Team Huddle video rooms, task management and monitoring, and user presence cut down on miscommunications and improve workflows.
Top Features
Team Chat Messaging: Internal and guest users can favorite, bookmark, forward, mark as unread, edit, quote, and emoji react to messages in group, direct, or team-based channels. Additional messaging features include one-click phone/video calling, file/link sharing, message threading, user tagging/mentions, message search/filter, task creation from messages, and desktop/mobile notifications
AI Meeting Insights: Automatically generated meeting summaries with video highlight reels, complete meeting transcripts, keyword-based clips and topics,
Collaborative Notes: Simultaneous in-meeting note-taking, task creation/assignment, image/file sharing, and post-meeting shareable notes
AI Live Transcription: In-meeting closed captioning, post-meeting shareable and searchable transcript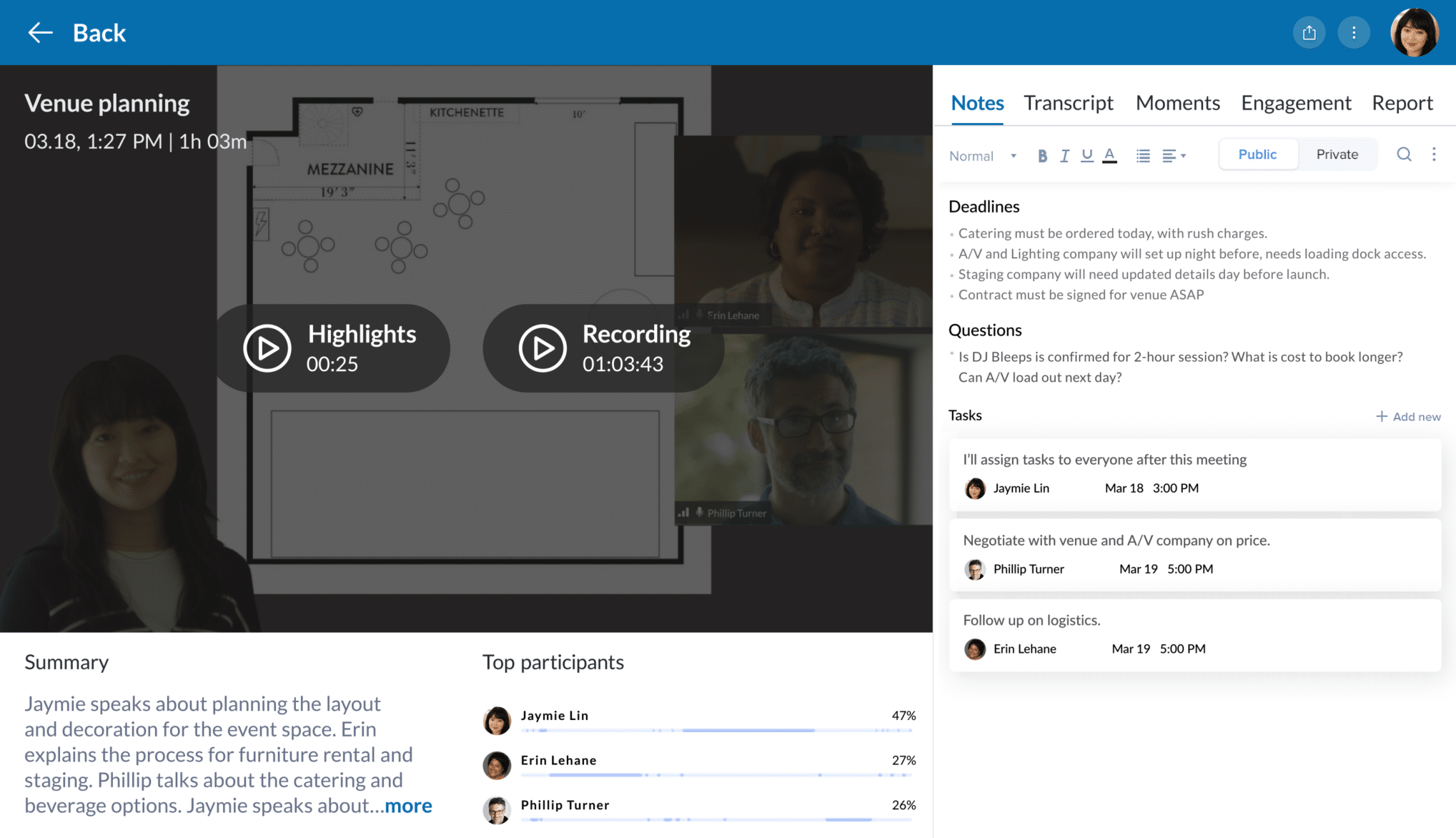 Pricing
RingCentral Video is available as a standalone application or as a part of the RingCentral MVP cloud communications platform.
RingCentral MVP offers 3 paid plans from $20-$35/user/month and a 14-day free trial.
RingCentral Video Pro Plan (Free Plan): Includes 50-minute video meetings for up to 100 participants, team chat, whiteboard/annotations, breakout rooms, screen sharing/remote desktop control, collaborative notes, Chrome extension, AI Voice Cancellation/Meeting Insights/Live Transcription video recording with 10 hours of cloud storage, meeting waiting room, virtual background, device switching, unlimited audio-only conferencing for 1,000 attendees
RingCentral Video Pro Plus Plan ($10/user/month annual pricing): Adds end-to-end encryption for instant messaging and videos, dial-in/dial-out access with 500 monthly minutes, integrations and open-source APIs, user management, and delegate scheduling
Best For 
RingCentral Video is best for:
Small remote/blended teams that host 1-2 internal video meetings each week and
Efficiently sharing key information between departments and teams–without requiring everyone to attend the live meeting
Teams looking for a robust Zoom One alternative with a better business phone system
Dialpad Ai Meetings
Dialpad Ai Meetings is a no-download desktop and mobile video conferencing application with pre-built third-party integrations, HIPAA compliance, and AI-powered workflow automation.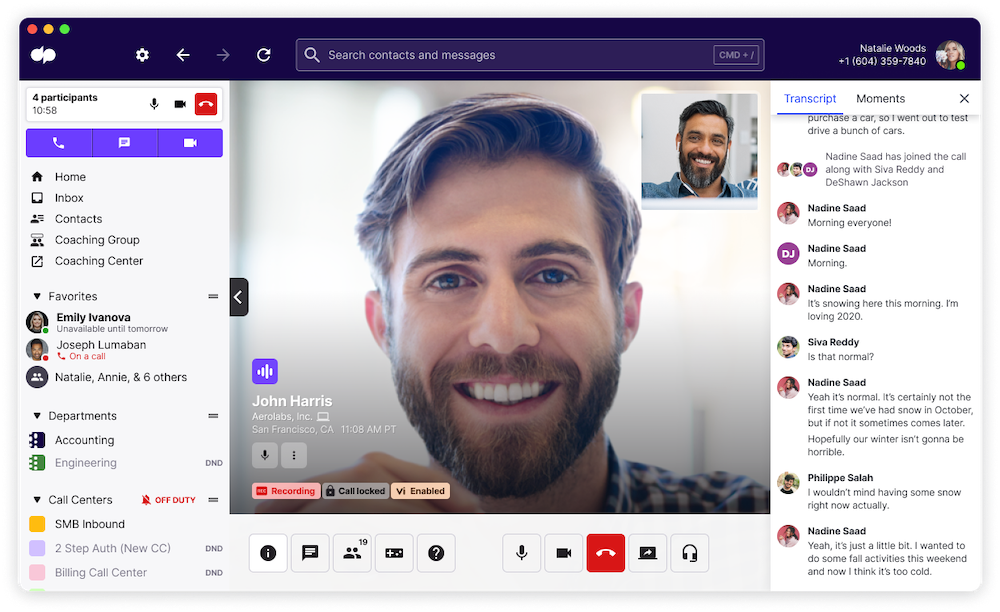 Up to 150 participants can meet for a maximum of 5 hours without a meeting PIN. Team chat messaging with user presence, file sharing and collaboration, and custom messaging notifications are available. An always-on drop-in open audio room lets team members quickly communicate via voice messaging without leaving the chat interface.
Meeting Social Profiles display each attendee's name, profile photos, company email address, and even information imported from third-party social media channels like Twitter, Salesforce, and LinkedIn.
Top Features 
Third-Party Integrations: Salesforce, Slack, Microsoft 365 (formerly Office 365), Google Workspace (formerly G Suite), Intercom, HubSpot, Miro, Zendesk, Intercom, Evernote, and more
Meeting Countdown Timer: Real-time meeting time elapsed/time remaining time visible to all participants, five-minute warning before meeting end, enable/disable automatic meeting end when timer elapses
Built-in AI: Post-meeting automated summaries with meeting transcripts and recordings, custom and auto-suggested action items, sentiment analysis, key meeting moments with filterable moments list, live meeting transcription with speaker differentiation
Picture-in-Picture: Allows current presenters/those sharing their screens to also view participant video streams without toggling between display modes–ideal for engagement tracking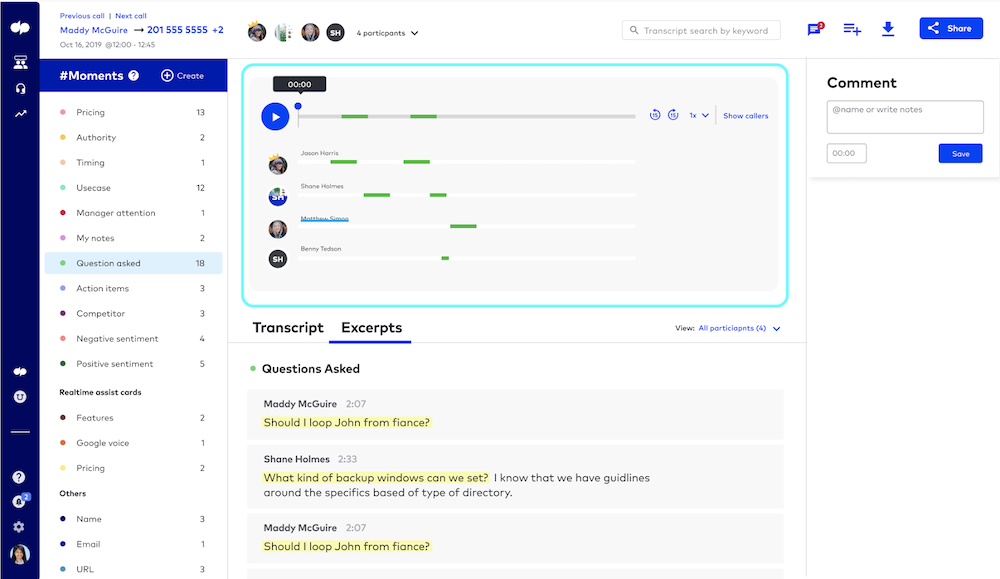 Pricing
Dialpad Ai Meetings is available as a standalone application with one free and one paid version or as a part of the Dialpad Business Communications suite (three plans from $15-$25+/user/month, 14-day free trial).
Dialpad Ai Meetings (Free Plan): Includes 45-minute high-quality video meetings for 10 participants, screen sharing, personal meeting ID, desktop/mobile access, unlimited audio recordings, US/Canada dial-in access, end-of-meeting reminders, third-party integrations, meeting lock/waiting room, encrypted cloud recordings, E2EE meetings, host controls, emoji reactions, virtual backgrounds, multiple video layouts
Dialpad Ai Meetings Business Plan ($15/user/month with annual pricing): 150 meeting participants, 5-hour meeting duration, adds meeting countdown timer, unlimited call me/call out, no PIN access required, unlimited audio/video recording, post-meeting summaries/transcript, live meeting transcription, custom action items, co-hosts, unique meeting lengths, toll-free conference numbers ($20/number/month), meeting analytics, custom hold music, custom dial-in numbers, international dial-in numbers
Best For
Dialpad Ai Meetings is best for:
Teams with frequent short meetings that would benefit from AI automation
Small businesses that often give video presentations to clients/external users
Teams needing in-meeting access to high-level third-party integrations
Microsoft Teams 
Microsoft Teams is a web conferencing and team collaboration platform for teams using video conferencing platforms as their primary means of internal communication.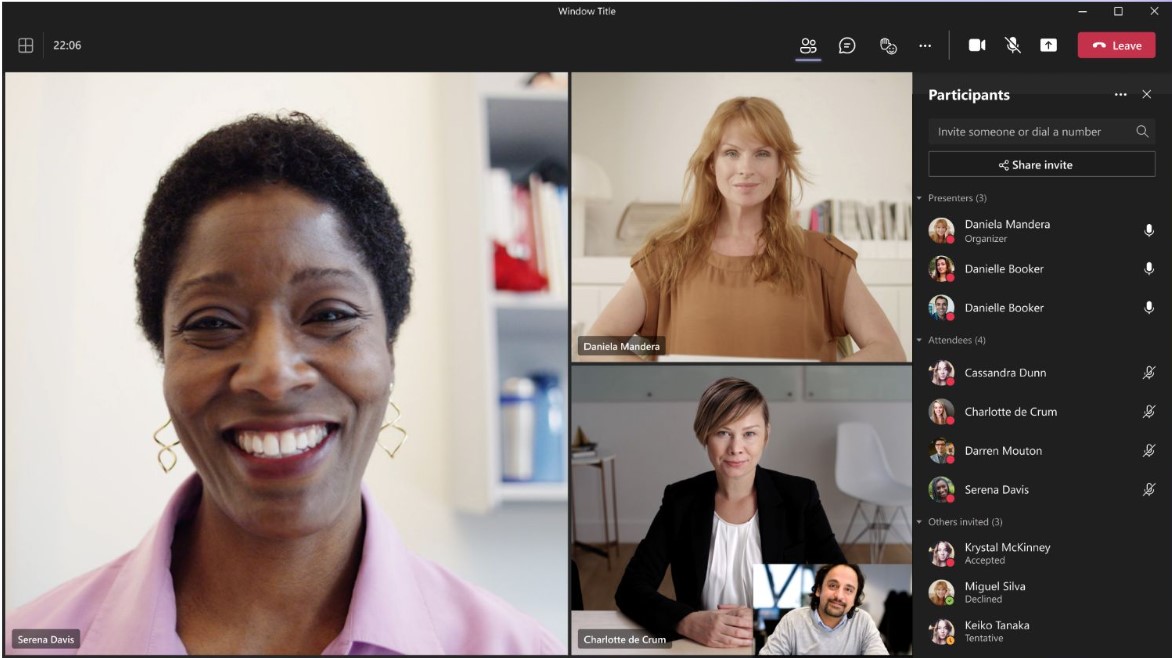 Teams (a popular Skype replacement) is designed to seamlessly work alongside other popular Microsoft 365 tools like PowerPoint, OneDrive, Sharepoint, and Outlook
Users can host instant or scheduled 30-hour video meetings with up to 300 participants. Advanced Teams plans include webinar software features like custom themes, presenter bios, registration tools with custom approvals and waitlists, polling, and webinar reporting.
Top Features 
Team Chat: Public/private chat channels, message threads, message translation, reactions, in-chat file sharing, task management with Approvals hub, Praise app for team member recognition, polling, Microsoft Forms for data collection, suggested replies,
Microsoft Whiteboard: 41 premade templates, 12 sticky note colors, note grids, add images/shapes/reactions, hand-drawn image sharpening
Collaborative Annotations: Enables users to add live annotations, reactions, comments, notes, etc. to shared screens and files with pen tracking
File Co-editing: Real-time guest/internal file co-editing in Word, Excel, and PowerPoint files with comments, user edit tracking, live word counts, and in-file team chat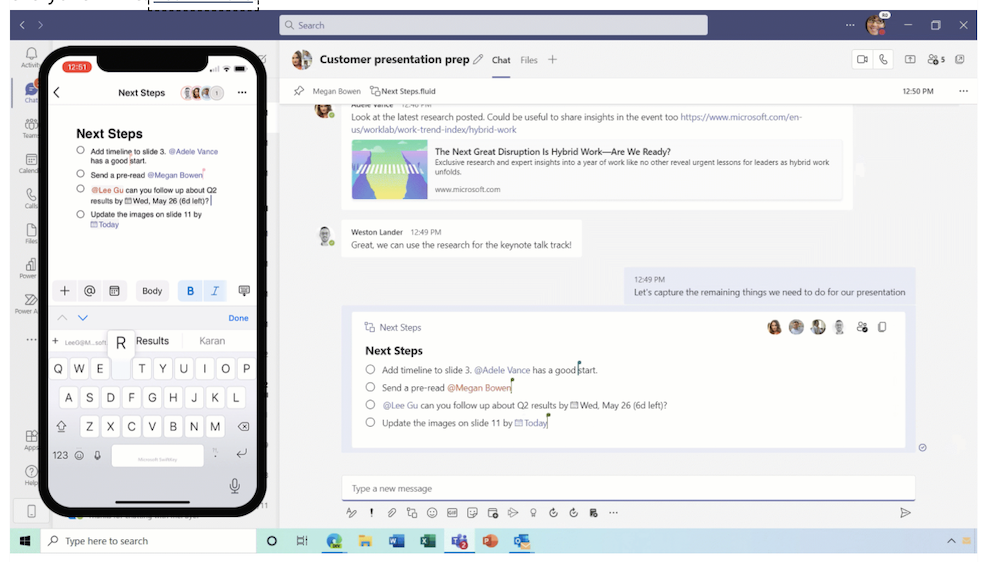 Pricing
Microsoft Teams is available as a standalone application or as part of the Microsoft 365 suite. Teams offers 1 free plan and 4 plans from $4-$22/user/month. A 1-month free trial is available.
Microsoft Teams Free Plan: Includes 60-minute video meetings for 100 participants, 30-hour 1:1 meeting duration, screen sharing, together mode, meeting scheduling, live meeting captions, custom backgrounds, noise suppression, 100 chat users with unlimited chat messages, 2GB/user file sharing, 5GB total file storage, live Microsoft 365 mobile collaboration, web versions of Word/PowerPoint/Excel, E2EE, Outlook contact importing
Microsoft Teams Essentials ($4/user/month annual pricing): Adds 300 meeting participants and 30-hour meeting duration, meeting recording/transcription, breakout rooms, Microsoft Whiteboard, 300 chat users with guest access, 10GB file storage, 250+ third-party integrations, SSO, 24/7 web and phone support
Microsoft 365 Business Basic Plan ($6/user/month annual pricing): Adds access to Microsoft 365 apps like Exchange/Sharepoint/Outlook live meeting captions in 30+ languages, collaborative annotations, 1TB storage, custom email address, Microsoft Bookings, multi factor authentication, advanced reporting, 99.9% uptime guarantee, user/admin settings
Microsoft 365 Business Standard Plan ($12.50/user/month annual pricing): Adds webinar hosting with email confirmation/registration/reporting, desktop versions of Outlook/Excel/Word/PowerPoint/Access/Publisher
Microsoft 365 Business Premium Plan ($22/user/month annual pricing)

: Adds advanced security features, access control, and cyber threat protection
Best For
Microsoft Teams is best for:
Remote/in-house businesses heavily reliant on daily file collaboration between teams, departments, and external guests/employees
Teams needing advanced co-authoring and co-annotation tools with edit tracking and file versioning
Current Microsoft 365/Microsoft app (Outlook, PowerPoint, etc.) users needing video conferencing
Cisco Webex
Cisco Webex Meet, available as a free tool as part of the Webex Calling+Meeting Suite, is a video conferencing tool with participant engagement features, HIPAA compliance, and AI-powered capabilities.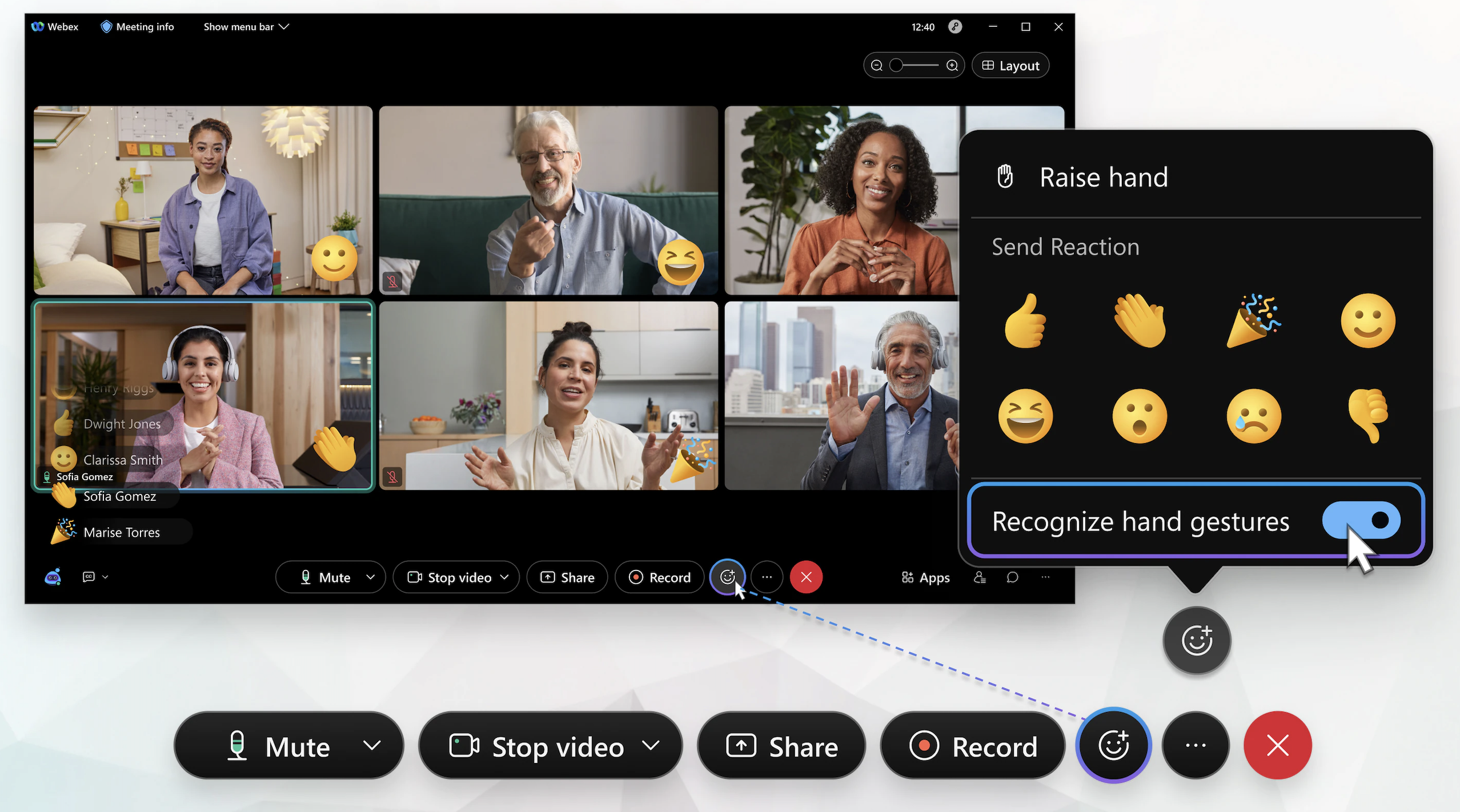 Top Features 
Voice Intelligence: Smart audio uses audio processing and deep learning to distinguish between main/background speakers, suppress background noise, turn on music mode, and provide more accurate meeting transcripts
People Insights: Allows users to create, edit, and display profile information visible to other internal/external meeting participants. Information can be added entirely by the user themselves, or automatically pulled from the company directory or public website data. Users can add photos, work history, professional titles, education, short bios, news articles, reporting structure, internal contact information, etc.
Polling and Q&A by Slido: Ideal for webinars and large meetings, Webex meeting hosts can hold Q&As and post in-meeting polls with live results shown to all participants. Hosts can choose from quizzes, open-ended questions, surveys, ratings, rankings, word clouds, and multiple choice. All data can be exported/shared post-meeting
Chat Messaging: Message threading/editing/flagging/forwarding/pinning, user tagging, document sharing/co-editing, two-way whiteboard, personalized spaces (channels), E2EE, third-party integrations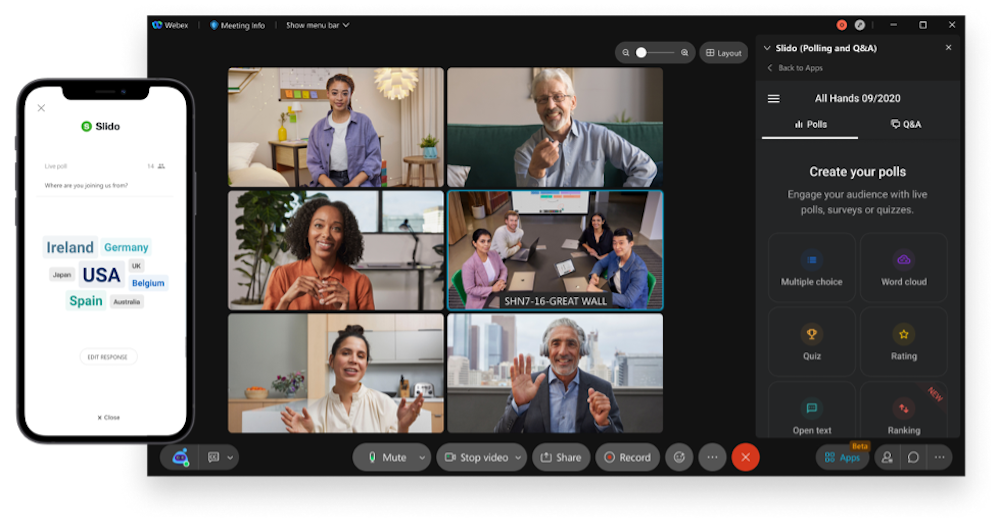 Pricing
Webex Meetings is available as a standalone free or paid app, or as a part of 2 paid Webex Suite plans that combine video conferencing and Webex Calling. Users can access a 90-day free trial.
Webex Free Plan: 100 participants can meet for up to 40 minutes, includes meeting recording with local storage, screen sharing, live reactions with hand gesture recognition, breakout rooms, E2EE chat messaging with user presence, file sharing/send audio clips/message quoting/message threading, Vidcast video messaging, multiple application sharing,  whiteboard, noise removal, meeting lobby, virtual meetings on the go, custom video layouts, Google/Outlook calendar integrations,HD audio
Webex Meet Plan ($14.50/license/month): 200 participants can meet for 24 hours, local/10GB cloud storage, post-meeting transcript, voice commands, in-meeting file transfer, meeting highlights/closed captioning, live polling/Q&A by Slido, join overlapping meetings simultaneously, co-hosts, toll dial-in access, access control
Webex Suite Meet+Call Plan ($25/license/month): Ads advanced calling features
Webex Enterprise Plan (Quote-based): 1,000 participants, adds local/unlimited cloud meeting recording, live streaming to Youtibe/Facebook Live, simultaneous interpretations, FedRAMP certification, custom file/message retention policy
Best For 
Webex Meetings is best for:
On-the-go teams needing mobile video conferencing app features like screen sharing, automatic transcription, team chat with real-time user presence updates, and in-meeting device switching
SMBs that currently don't need a business phone system, but may want to add voice calling capabilities to their video chat applications in the future
Former BlueJeans video conference users looking for a replacement platform
Google Meet
Google Meet is a free and paid video calling tool with in-meeting chat, screen sharing, and other basic video conferencing solution features.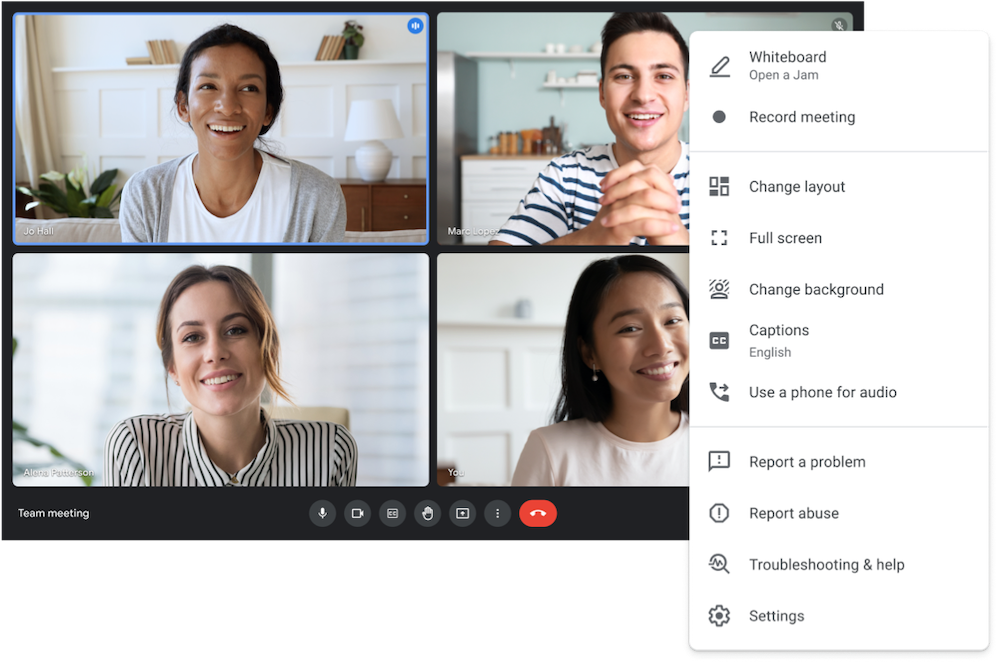 Known for its user-friendly, uncluttered interface and compatibility with other Google Workspace products, Google Meet allows up to 1,000 participants to attend meetings with a maximum duration of 24 hours.
As part of the Google Workspace suite, Google Meet is designed to work alongside Gmail, Google Calendar, Google Docs, Google Chat (formerly Google Hangouts), Google Sheets, and more.
Top Features 
Google Calendar: Integration with Google Calendar lets users set recurring/one-time instant or scheduled video meetings, automatically add meetings to Calendars, add meeting descriptions, copy/share meeting link, and invite participants directly in the Calendar interface
Jamboard: In-meeting/persistent digital whiteboard for up to 50 simultaneous co-editors, search/upload Google Images in whiteboards, upload Google Drive files, add sticky-notes/text boxes/shapes, access freehand drawing tools/highlighters/laser pointers/erasers
In-meeting presentations: Lets presenters access and share Google Slides in video meetings, assign co-presenters, open in-slide links or play embedded media, share Slide presentations in chats
Companion Mode: Feature designed for hybrid teams that lets in-conference room attendees join Google Meet meetings on a second screen so they can access in-meeting tools like present screen, chat, hand raising, etc.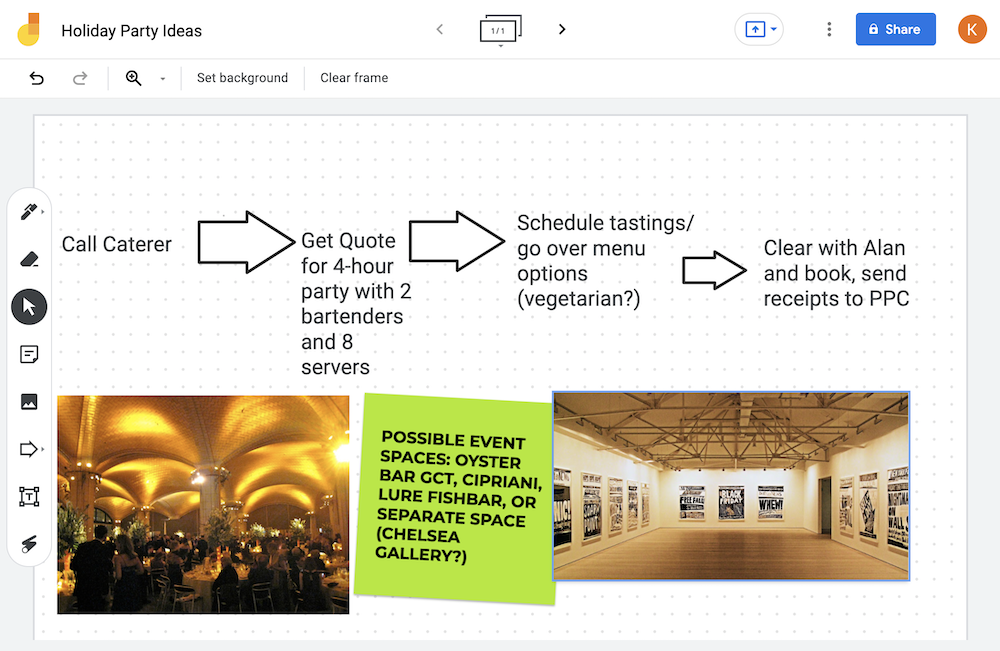 Pricing
Google Meet is available as a free standalone tool or as a part of 4 paid Google Workspace plans ranging from $6-18+/user/month. Google offers a 14-day free trial for its paid Workspace plans.
Google Meet Free Plan: Includes 100 participant, 60-minute meetings, in-meeting chat, screen sharing, live captions, on-demand/scheduled meetings, Mac, Windows, iOS, Android mobile app, Jamboard, two-step verification, meeting reaction, virtual hand raising
Google Workspace Business Starter Plan ($6/user/month, 1-year commitment): Adds 24-hour meeting duration, custom business email with Gmail, 30GB cloud storage with Google Drive, international/US meeting dial-in, 3GB pooled storage/user, standard support, security controls
Google Workspace Business Standard Plan ($12/user/month, 1-year commitment): Adds 150 meeting participants, meeting recording/save recordings to Google Drive, breakout rooms, moderation controls in-meeting polling/Q&A, noise cancellation, 2TB/user Google Drive cloud storage, appointment booking pages with Google Calendar
Google Workspace Business Plus Plan ($18/user/month, 1-year commitment): Adds 500 meeting participants, attendance tracking, 5TB/user Google Drive cloud storage
Google Workspace Enterprise Plan (Custom Pricing):  Adds 1,000 meeting participants, in-domain meeting live streaming, additional storage, Google Workspace migration tools, advanced security
Best For 
Google Meet is best for:
Startups and micro businesses with less than 5 employees needing free, lightweight video conferencing tool
Current free Gmail, Google Calendar, or other Google Workspace app users
Teams using meetings for quick check-ins or whiteboard brainstorming sessions, not advanced planning and collaboration
GoTo Meeting
GoTo Meeting by LogMeIn is an HD video communication platform and collaboration tool providing meetings of unlimited length for up to 250 participants.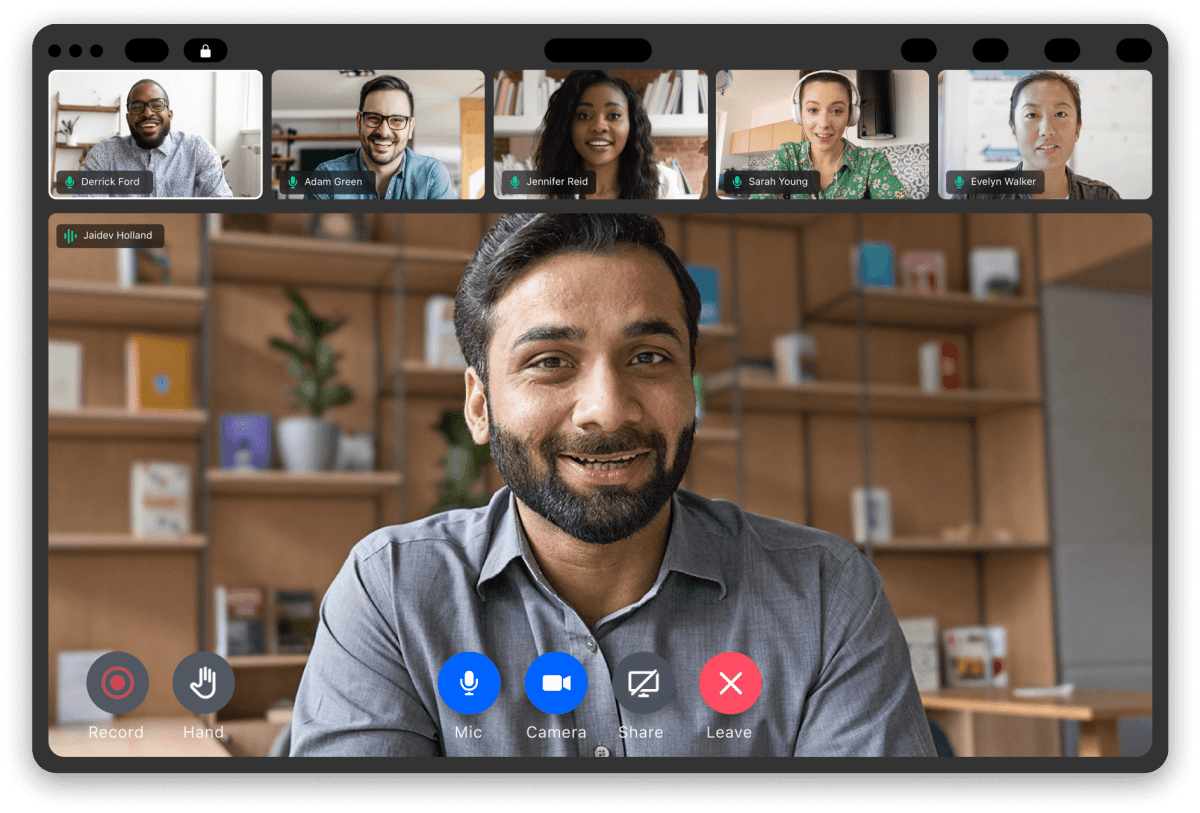 It also provides business chat messaging, unlimited cloud recording, and workflow integrations with Salesforce, Slack, Microsoft 365, and Google Workspace (among others.)
The platform relies heavily on AI, meaning it's ideal for hybrid or fully remote teams that need to automate as many business processes as they can. As a part of the GoTo SaaS ecosystem, GoTo Meeting users can integrate their video calling tool with other GoTo apps like GoTo Webinar, GoTo Connect, and GoTo Contact Center.
Top Features 
Meeting Drawing Tools: In-meeting whiteboard/drawing tools for uploaded files or shared screens, includes spotlight icon, highlighter, laser pointer, pen, multiple pen/text colors, co-annotation with pen tracking,
AI-Powered Collaboration: Slide to PDF tool automatically combines all slides–even from multiple presentations–shared during a meeting, puts them in order, then sends them to participants in a shareable PDF. Note Taking tool allows for shareable in-meeting notes. Smart Assistant automatically creates a post-meeting summary with highlight reels, suggested action items, stores automated meeting recordings/transcripts, creates time stamps and speaker differentiation
Mobile App: Automatic bandwidth adjustment, mobile meeting reminders, commuter mode with large, color-coded buttons for safe driving, voice commands with Siri, and mobile cloud recording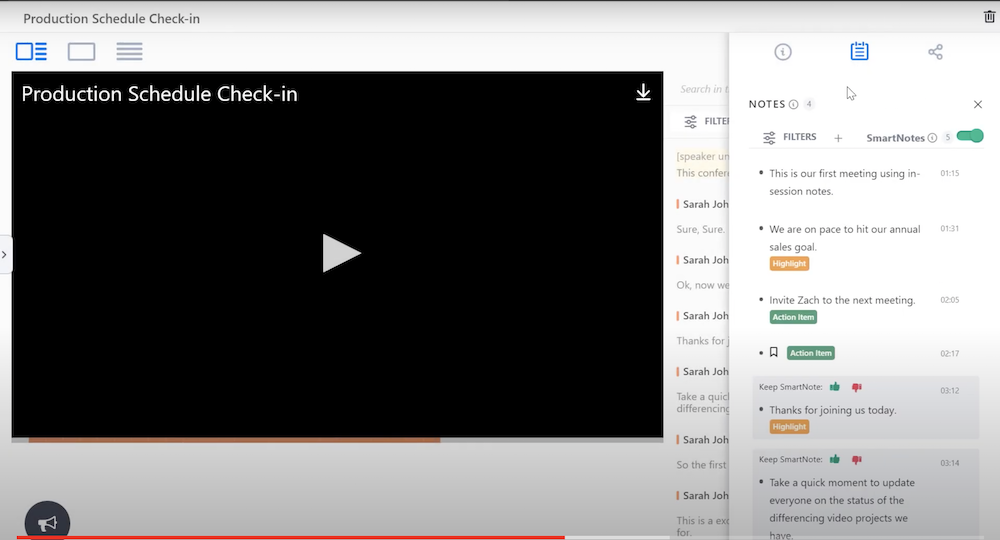 Pricing
GoTo Meeting offers three paid plans from $12-$16+/user/month, a 14-day free trial, and annual/monthly billing options. Add-ons include GoTo Room conference room equipment, toll-free numbers, and GoTo Webinar suite features.
Professional Plan ($12/organizer/month, annual billing): Includes unlimited meetings for 150 participants, dial-in conference line, screen sharing, HD video, business messaging, personal meeting room, breakout rooms, hand raising, Apple iOS/Android mobile apps, Commuter Mode, voice commands with Siri, workflow integrations, HIPAA compliance, 24/7 support, SSO, meeting diagnostic reports, admin center, active directory connector
Business Plan ($16/organizer/month, annual billing): Up to 250 meeting participants, adds unlimited cloud recording, meeting transcription, Slide to PDF, Smart Assistant, note taking, drawing tools, keyboard/mouse sharing, meeting lock, meeting co-organizers, mobile cloud recording
Enterprise Plan (Custom Pricing): Adds customer success manager, volume discounts, and custom onboarding/training
Best For 
GoTo Meeting is best for:
Teams prioritizing affordable video conferencing software with AI-powered automations, and unlimited meeting duration on all plans
Teams wanting to streamline webinar, contact center, employee training, and business phone system tools within a single platform from one provider
Why Look For Zoom Alternatives? 
Though Zoom Meetings became the default tool for businesses forced to suddenly transition to fully remote work during the Coronavirus pandemic in 2020, there were some glaring issues.
First, Zoom faced notorious bouts of Zoombombing, where internet trolls snuck into public and password-protected Zoom meetings and derailed video calls with inappropriate messages, images, and video streams. These incidents led to lawsuits against Zoom, damaged business reputations, and serious privacy concerns.
Zoom also faced criticism–and a hefty $85 million settlement–for sharing user data and failing to offer end-to-end encryption as promised.
Though Zoom has turned things around since 2020, these issues caused many companies to ban employees from using the platform for work-related video calls altogether.
Additional reasons to seek alternatives to Zoom include:
Limited collaboration tools
Lack of quality customer and onboarding support across multiple channels
Poor video quality/constant freezing
May not integrate with desired third-party platforms
Need for a browser-based, not application-based, video calling tool
What is the Best Zoom Alternative for Video Calling?
The best web conferencing platform for your business depends on your budget, the level of daily team collaboration, and whether your workforce is fully remote, in-house, or blended.
Our picks for the best alternatives to Zoom Meetings are:
Best Free Zoom Alternative: Microsoft Teams
The Microsoft Teams free plan lets 100 participants meet for up to 60 minutes and allows 1:1 video calls to last for up to 20 hours.
It also includes an unlimited team chat app for 100 users, in-meeting screen sharing, real-time meeting captions for accessibility, and integrates with other free versions of Microsoft 365 collaboration tools.
Best Paid Zoom Alternative: Dialpad Ai 
With high-level automation and AI-powered sentiment analysis, meeting summaries, and suggested action items, Dialpad Ai allows users to get the most out of every team meeting.
Tools like picture-in-picture mode, real-time closed captioning, and online meeting countdown time limits make video presentations more efficient and engaging, while Social Profiles encourage networking and team collaboration.
Best Overall Zoom Alternative: Cisco Webex 
Cisco Webex is the best Zoom Meetings alternative because it offers robust free and paid plans, lets teams host up to 1,000 video meeting participants, and includes excellent attendee engagement features like advanced in-meeting polls, multi-lingual interpretations, whiteboarding, and People Insights.
Like Zoom One, Webex users can choose to scale up to a combined VoIP phone system and web conferencing tool with Webex Suite Plans.
Zoom Alternatives FAQs
Below, we've provided answers to some frequently asked questions about Zoom alternatives and web conferencing.
Video calling software can be purchased in monthly or annual installments (generally, you'll see about a 10-15% cost savings with the annual price.)
Many platforms include a free version and/or a free trial of paid versions lasting anywhere from 7 days to a month.
The exact amount you pay will depend on the vendor, number of users/seats, and features. Generally speaking, video conferencing tools cost an average of between $28.00-$58.00/user per month.
Aside from a desktop/laptop computer or mobile phone, any additional equipment for your video conferencing system is mostly optional (though you may find you need to upgrade your Internet connection for a higher, more consistent video quality.)
Common video meeting equipment includes:
Speakers
Microphones
Compatible desk phones
Touch-screen displays
This post on popular conference room hardware provides additional input.
Basic security standards and features to look for in web conferencing solutions include:

End-to-end encryption
Password-protected meetings 
Meeting locks
Meeting waiting rooms
Two-factor authentication
SSL
HIPAA Compliance 
Ability to mute/unmute, kick attendees out of meetings, or permanently block users 
Webinars are generally less collaborative in nature than video meetings, and often include one speaker or a few panelists presenting a lecture/findings to attendees. There may be a Q&A session or polls in the webinar, but generally, attendees are there to mainly listen and learn, not directly participate.
Webinars also allow for a higher number of attendees, include registration templates/forms, and even have virtual practice rooms. Webinars may include in-session promotions/offers and can accept online payments from attendees.
Lastly, virtual meetings are mainly geared towards either small businesses or internal office communication. Webinars are usually used in nationwide, enterprise-level meetings and include a higher amount of external attendees than online meetings do.