Zoom is a web conferencing platform offering HD video and audio calling, cross-platform messaging, end-to-end encryption, mobile apps, and other valuable features.
While Zoom certainly has its benefits, it may lack the specific features and functionalities, pricing tiers, or security protocols your business needs.
The good news is, thanks to the rise of remote work and the "new normal" of conducting meetings via video, there are multiple Zoom alternatives you can choose from.
Below, you'll find a list of the best Zoom alternatives for small business video calling and remote meetings. We'll discuss available pricing and plans,  standout features, and the types of users that will benefit from each provider.
Compare
top Zoom alternatives
for video conferencing
What Are the Best Zoom Alternatives?
Overview of Zoom Alternatives
The below table provides a quick outline of the top Zoom alternatives we'll discuss in greater detail in this post.
Platform
Price Range
Top Feature(s)
Best For
RingCentral MVP

4 plans from $19.99/user per month to $49.99/user per month

Meeting Summary, in-meeting task management

Small remote or in-house teams (10 members and under) that collaborate and tasks/files at least once per day

Microsoft Teams

One free plan, 3 paid plans from $5.00-user per month to $12.50/user per month

Advanced whiteboarding tools and templates, Loop collaboration tool
Teams that work within the Microsoft Office 365 universe, and companies with a high daily chat message volume
Cisco Webex
One free plan, 3 paid plans from $15.00/host per month to $25.00+/host per month
Gesture Recognition and Meeting Assistant
Small businesses needing a robust free video calling plan that may want to scale up to a complete business phone system in the future
Google Meet
One free plan, 2 paid plans from $7.99-$9.99+/active user per month
Google Jamboard, unlimited Google Drive storage
SMBs needing a user-friendly and free video communication tool, businesses working within the Google Workspace universe
8×8 Meet
One Jitsi-powered free plan, one Meet Pro paid plan for $9.99/user per month
Branded meetings, in-meeting live analytics
Hybrid teams that want to live stream meetings to YouTube and access real-time meeting data
Dialpad Meetings (Formerly UberConference)
One free plan, one paid plan for $15.00/user per month
Meeting Summaries Meeting Time Management
Small teams wanting to make meetings more efficient and organized even if video meetings aren't especially frequent
GoTo Meeting
3 paid plans from $12.00/organizer per month to $16.00+/organizer per month
Smart Assistant and Drawing Tools
Teams needing high meeting capacities with on-the-go, flexible meeting tools for mobile workforces
BlueJeans
4 paid plans from $9.99/host per month to $16.66+/host per month

Smart Meeting, HD Dolby Voice audio quality

Small businesses that frequently host longer meetings and need to condense meeting content for numerous team members
Lifesize

3 paid plans from $14.95/host per month and up

Up to 10,000 meeting attendees and Lifesize Connect

 

Small businesses that looking to customize their video meeting tools and those that frequently host webinars
Best Zoom Alternatives You Should Consider
Below is a detailed review of the best alternative solutions to Zoom.
RingCentral MVP is a no-download, browser-based business communication platform for up to 200 simultaneous users. It combines video meetings, chat messaging, and business phone system capabilities into one unified platform, allowing users to switch between channels with one click.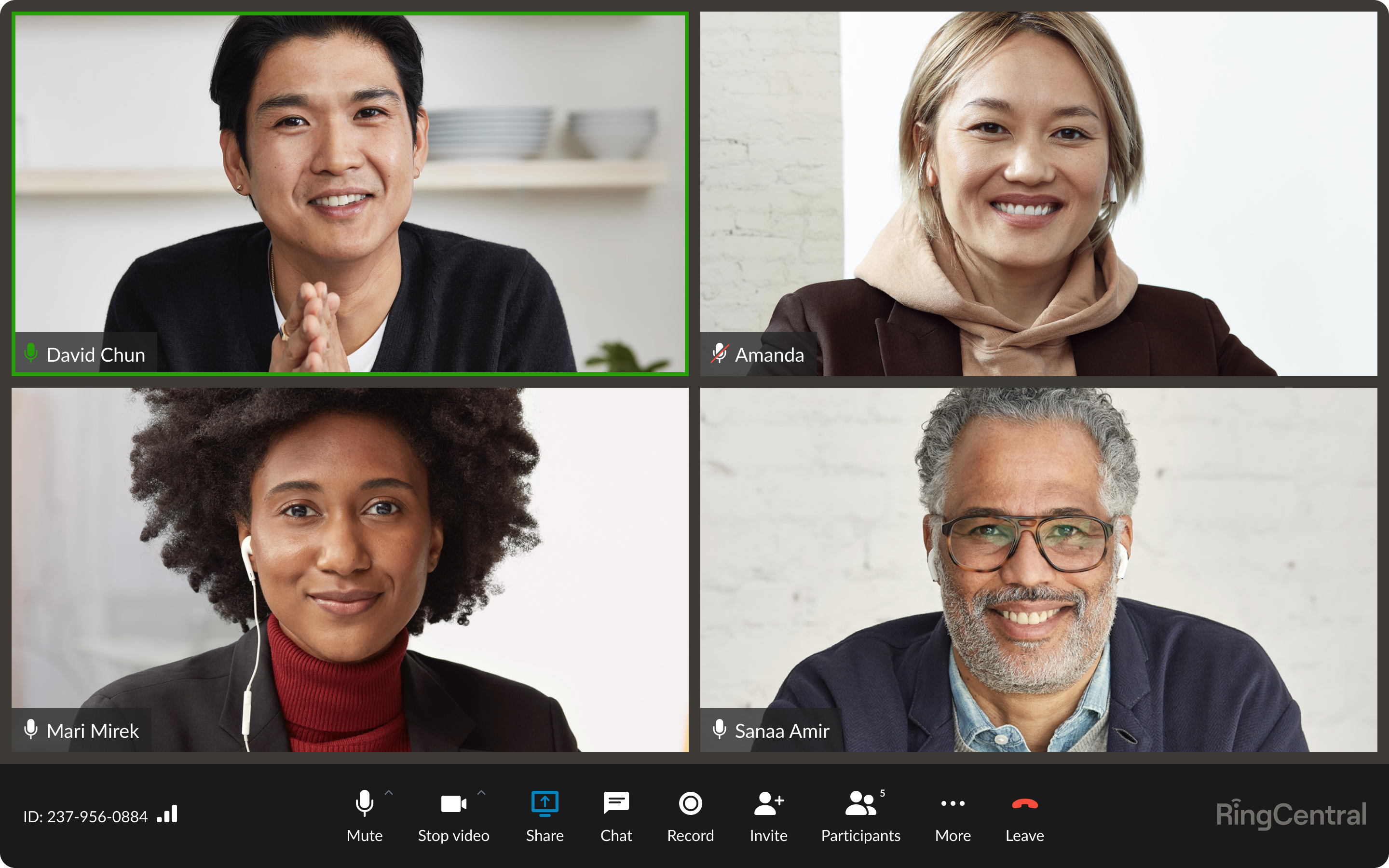 Standard video meeting functionalities include whiteboarding, application and screen sharing, and real-time, drag-and-drop file sharing/editing.
However, recent updates and new features are specifically designed to improve productivity for hybrid teams with near-constant collaboration.
For example, RingCentral now offers automated, real-time meeting transcription, making it easy for meeting latecomers to participants who needed to step away to catch up. These transcriptions — along with background noise suppression — work to reduce miscommunications.
The most exciting update for remote and hybrid teams may be the Meeting Summary tool.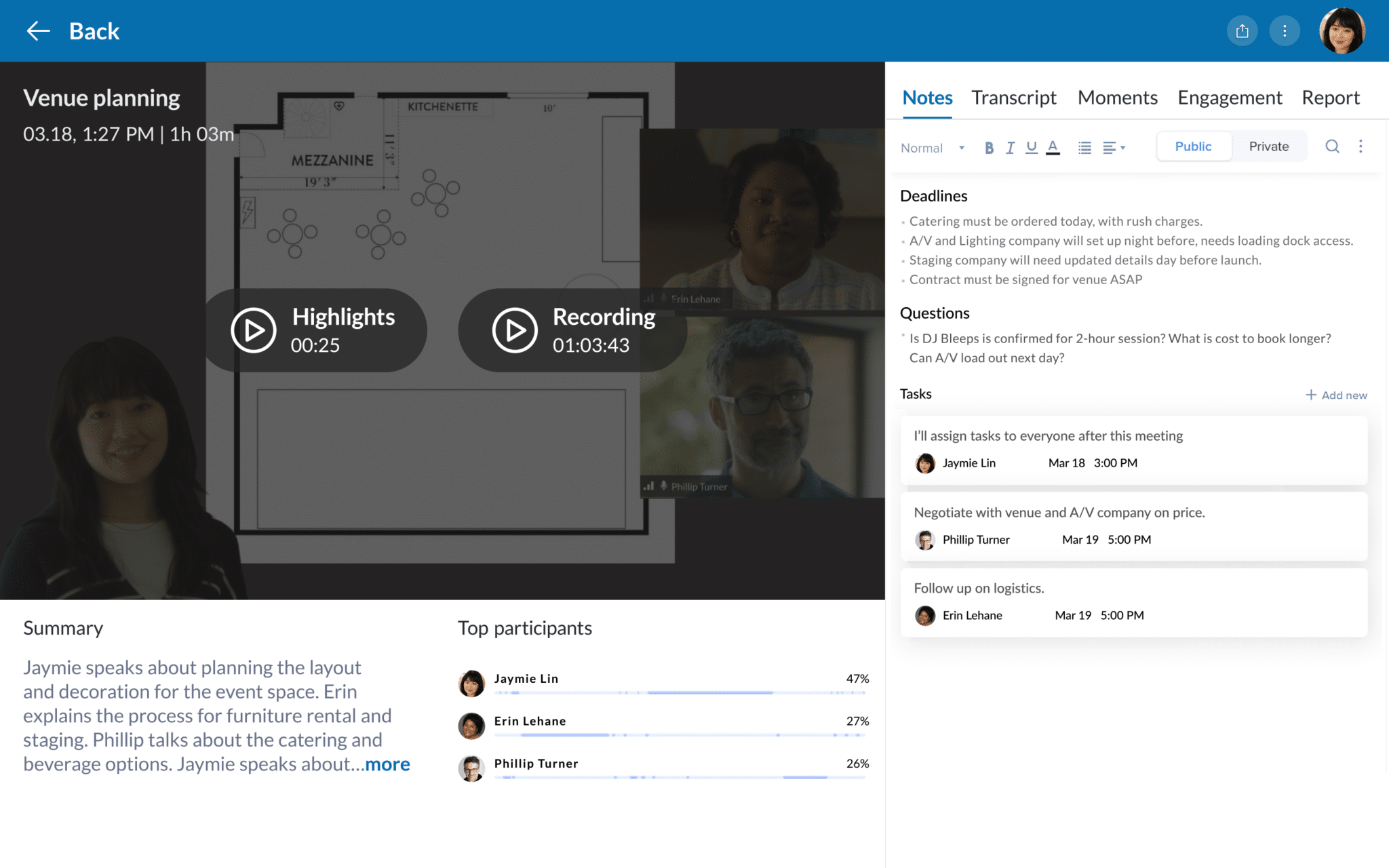 The Meeting Summary feature provides a digestible summary of key meeting moments feature video highlights, keywords, top participants, and even tasks and meeting notes.
Speaking of tasks, another standout feature is RingCentral's real-time task management tool. As seen in the image below, users can instantly create, assign, color-code, and attach files to tasks.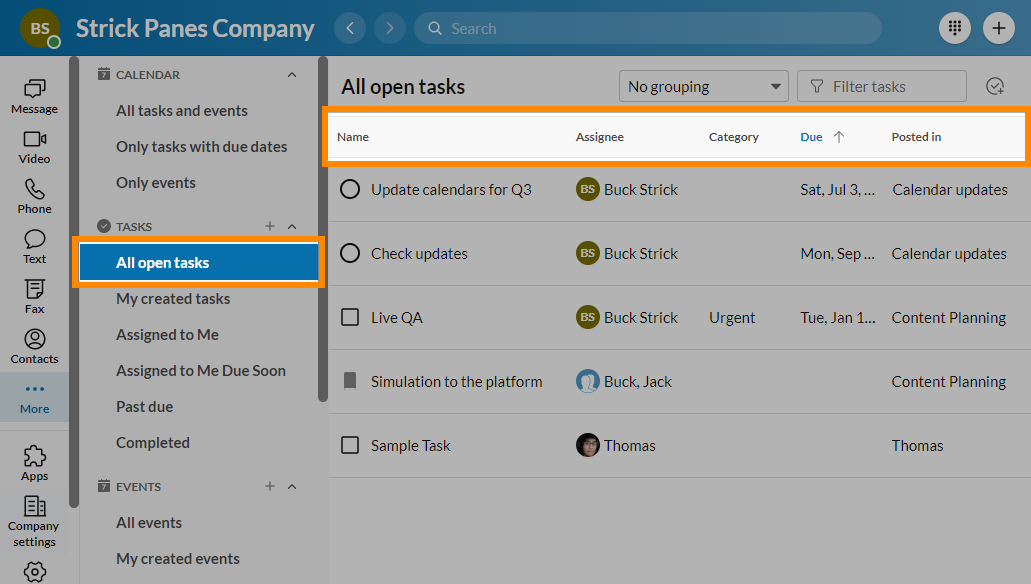 The feature provides space for more detailed task descriptions, offers the ability to set recurring tasks, and allows for multiple assignees. Users can set not only due dates but also due times and dependencies.
Join pre-scheduled conferences on any device through dial-in access, by receiving a call, through the Android or Apple iOS smartphone app, or by clicking an invitation link. Immediately transition any chat or email message conversation into a video call, with a single click.
Additional features include:
24-hour meeting duration
Unlimited calling in US/Canada
Unlimited SMS
Public/private team chat app with message threads
Breakout Rooms
Meeting recording with cloud storage for 1 year
In-meeting device switching
Historical and real-time meeting analytics
Single Sign-on
Third-party app integrations with tools like Slack, Outlook, G Suite, Dropbox, Google Drive, and more
Message search
Dark mode
99.999% SLA uptime
RingCentral MVP Pricing
RingCentral MVP has four available plans, ranging in price from $19.99/user per month for up to 10 users to $59.99/user per month for unlimited users. There is no RingCentralMVP free version.
However, RingCentral Video Pro does have a free version that offers unlimited meetings for up to 100 users.
The below screenshot shows RingCentral pricing options for 1-99 users on an annual basis (the most popular option, offering a 33% cost savings over month-to-month payment.)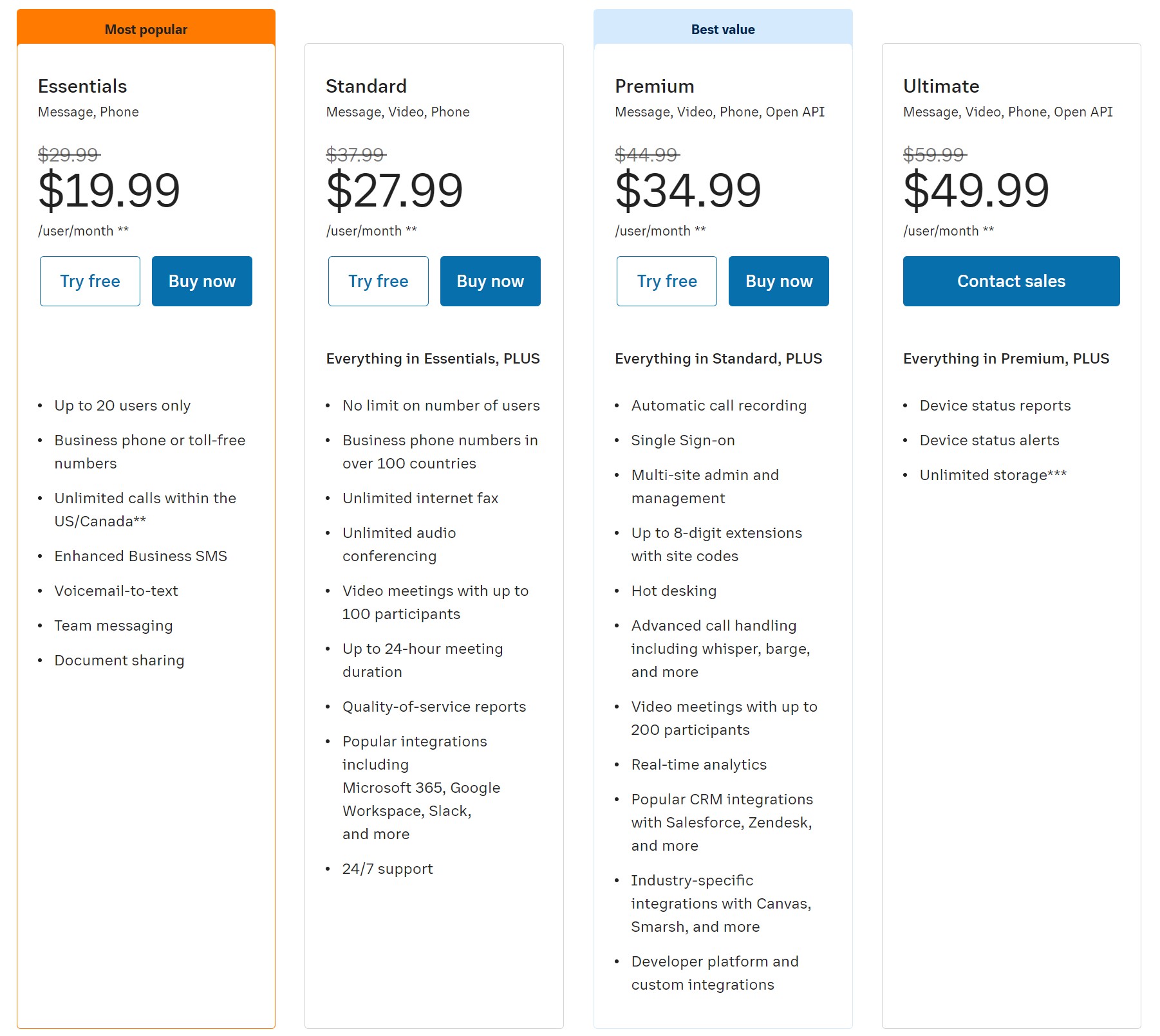 RingCentral MVP Pros and Cons
The below pros and cons provide insight into the overall RingCentral user experience.
| | |
| --- | --- |
| RingCentral Pros | RingCentral Cons |
| Excellent audio and video quality | Lower meeting participant capacity than competitors |
| Superior in-meeting team collaboration features like task management, remote control, and co-annotation | Inconsistency in design between mobile and desktop apps gets confusing |
| Dedicated customer success managers, 24/7 support, and excellent free training videos | Lengthy and complex setup process often takes a full month |
Check out our post on all available RingCentral plans and pricing to learn more.
Microsoft Teams is a web conferencing and team collaboration platform best for teams using video conferencing platforms as their primary means of internal communication.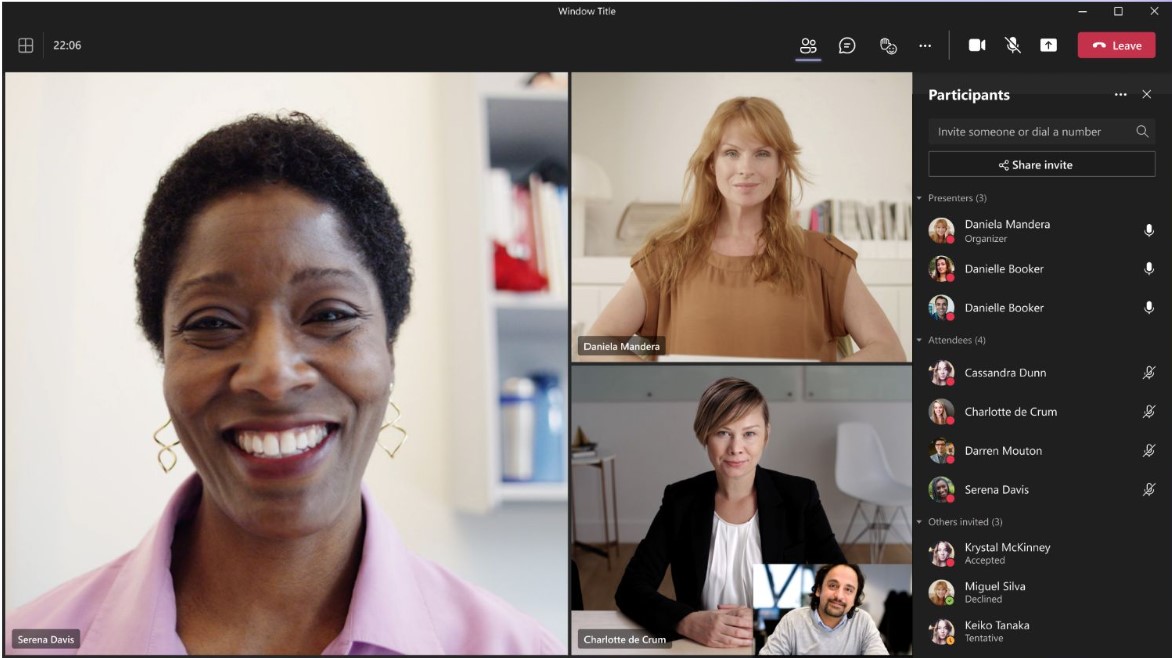 Teams is designed to seamlessly work alongside other popular Microsoft Office tools like PowerPoint, OneDrive, Sharepoint, and Outlook.
Video meeting features like participant lists, sharable meeting recordings, and unlimited team chat/file sharing are standard.
Since anyone can access a Teams meeting without creating an account, it's the ideal platform for communicating with anyone outside of your network.
Besides hosting and attending live meetings, users can instantly transition from chat messaging to video, and make/receive audio group and individual audio calls within the same dashboard.
As seen in the image below, the team chat tool is accessible within Microsoft Word documents, as are real-time word counts and user edits tracking. This makes the editing process much more seamless than competitor tools that require constant back-and-forth commenting.
Recently, Teams added live meeting translation and AI-powered captions/transcription, uniting international teams and clients.
Teams has also completely re-designed its whiteboarding tool to add 41 premade templates including brainstorming sessions, problem-solving meetings, project planning, design, and team workshops.
In addition to templates, the Teams whiteboard tool offers 12 sticky note colors, note grids for better sticky note organization, the ability to insert images, shapes, and reactions into notes/templates, and even automatic hand-drawn image straightening/shaping.
Teams users can also enjoy the ever-evolving Loop feature, which ensures cross-device live synching within Loop Components, (tables, tasks) Loop Pages, and Loop Workspaces.
The goal of Loop is to let team members see changes as they happen not just in files, but in project and task information, status report updates, and even within mini breakout rooms.
Loop is a continually developing feature in Teams, so functionality can only go up from here.
Other Teams features include:
Screen sharing
Custom backgrounds
Scheduled and one-click meetings
Hosting online events for up to 10,000 people
Mic auto-adjust feature
File sharing and editing
Searchable chat messaging
Over 650 app and service integrations
Teams has seen its greatest success in the healthcare and education industries, though it also works well for any fully remote workforce.
Read our hands-on review of Microsoft Teams for more information.
Microsoft Teams Pricing
Microsoft Teams offers four plans, including one free version, with paid versions ranging in price from $4.00/user per month to $12.50/user per month. Note that the free version only allows for up to 100 participants to meet for a maximum of 60 minutes.
The below image outlines the available Microsoft Teams pricing and plans, which are available only as annual subscriptions that renew automatically.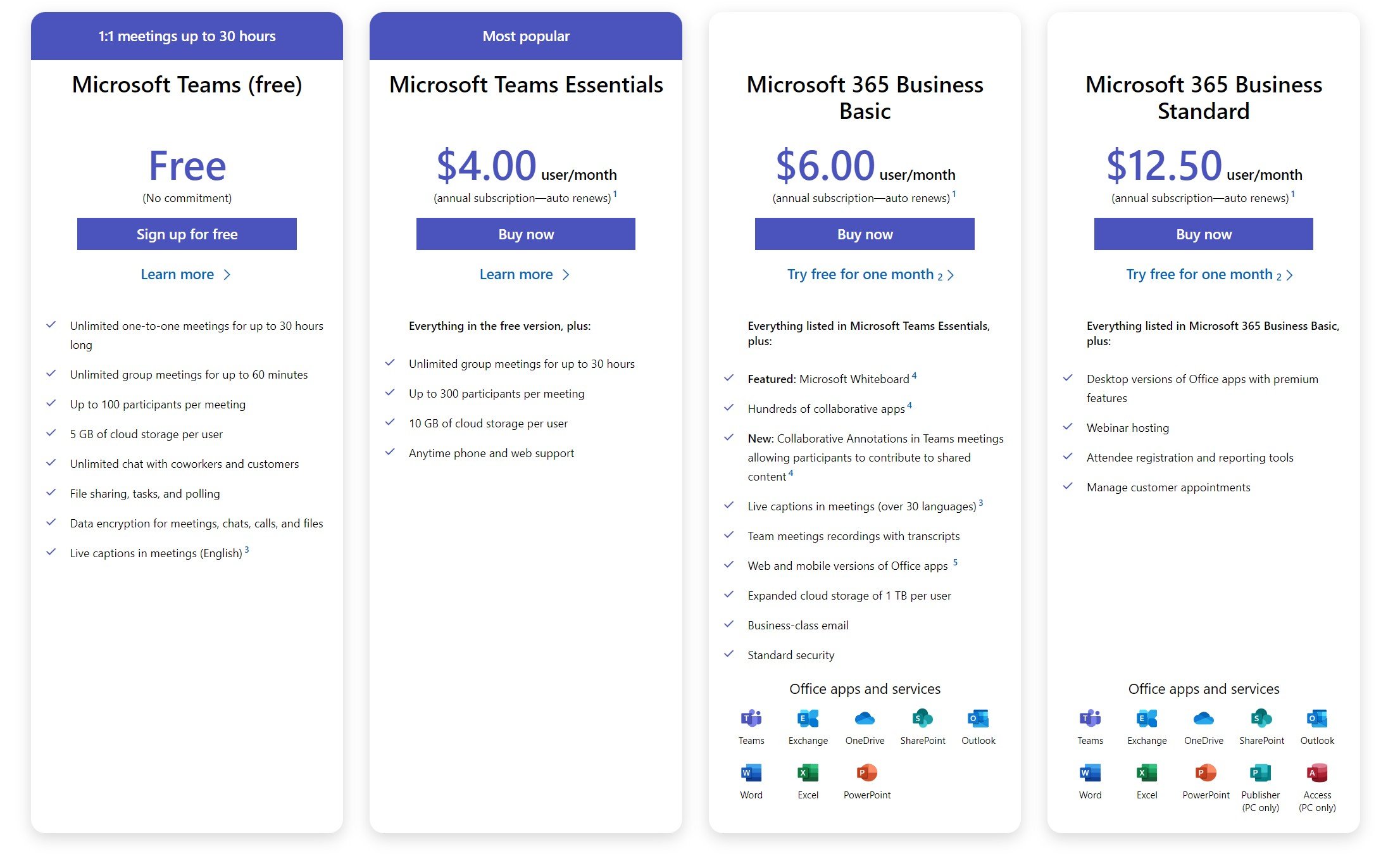 Microsoft Teams Pros and Cons
The pros and cons table below outlines the average Microsoft Teams user experience.
| | |
| --- | --- |
| Microsoft Teams Pros  | Microsoft Teams Cons |
| Unites all Microsoft 365 tools into a single interface | Users unfamiliar with Microsoft Office apps face a high learning curve |
| A high number of third-party application/service integrations | Alerts and notifications features need improvement, current users complain of missed notifications |
| Unique "Together Mode" uses AI to bring all users into a live virtual auditorium that includes real-time reactions, chat bubbles, and more | Some security protocols, like advanced ransomware and phishing protection, require a paid add-on |
Cisco Webex is one of the most well-known Zoom alternatives, offering both standalone video meeting and phone system tools as well as an integrated calling, messaging, and meeting Webex App.
Webex first stood out from the competition thanks to its free plan, which can host 100 participants per meeting for a maximum of 50 minutes.
Now, it's become one of the most popular video communication tools for its features, not just its freebies.
Webex offers excellent audio quality thanks to features like speech enhancement background noise removal, mute synching, and automatic volume adjustment.
Users can completely customize their video meeting view/interface to make sure they don't miss key information or overlook important participants. Meeting participants can lock specific user streams in place, lock all thumbnails, choose if participant names are displayed, or use Stage view to see only the active speaker and any content a user is currently sharing.  Grid, Stack, Side-by-Side, Equal, and Focus views are also available.
A fun new feature is Gesture Recognition, which uses AI to "translate" your real-time, on-screen gestures into emojis like clapping hands, thumbs up, or thumbs down. It also alerts meeting attendees when a user physically raises their hands, indicating someone has a question in the video interface.
Though this feature might sound frivolous at first, it goes a long way towards increasing participant engagement and maintaining focus.
Another top feature is the AI Webex Assistant, which can be programmed to pick up on certain "trigger" words during a meeting to create automatic notes, action items, and summaries that can be sent to participants after the meeting ends. The Assistant also automatically transcribes meetings in real-time and can be activated by voice commands.
Recently, Webex made major team collaboration updates that make communication between hybrid team members better than ever.
Users create Webex "Spaces" accessible before, during, and after meetings. These spaces let users securely share and organize files in searchable storage space, update and monitor tasks, and even use two-way whiteboarding tools.
As seen below, collaboration updates also include dynamic live polling and in-meeting Q&A sessions thanks to a partnership with Slido. Polling options include multiple choice, free answers, and ranking. Live pop quizzes and keyword visualization clouds are also available.
Integrations with tools like SharePoint and OneDrive allow users to co-author and co-edit files across multiple third-party apps directly within the Webex interface.
To ensure users don't forget upcoming meetings, WebEx sends out automatic reminders, including an in-portal reminder 15 minutes before the meeting start time.
Additional Webex features include:
Desktop and mobile screen sharing
iPhone and Android mobile apps
Unlimited chat messaging, hand raising, polling
Meeting recording and recording storage
Breakout sessions
Alternate hosts
Attendee profile/People Insights
End-to-end encryption
Notes
Meeting locks and password-protected rooms
Virtual backgrounds
Online support
Whiteboarding
To learn more about available features and pricing, read our complete guide to Cisco WebEx.
Cisco Webex Pricing
Cisco Webex offers one free plan and four paid plans, including a free 30-day trial.
Its free plan is one of the most robust available, allowing up to 100 users to meet for up to 50 minutes. The free plan also includes screen sharing, interactive whiteboarding, in-meeting chat, virtual backgrounds, and breakout rooms.
Paid plans are available on a monthly or annual basis, with the latter providing a 10% savings. The below image outlines available Webex pricing and plans. We've also included an image showing optional paid add-on features.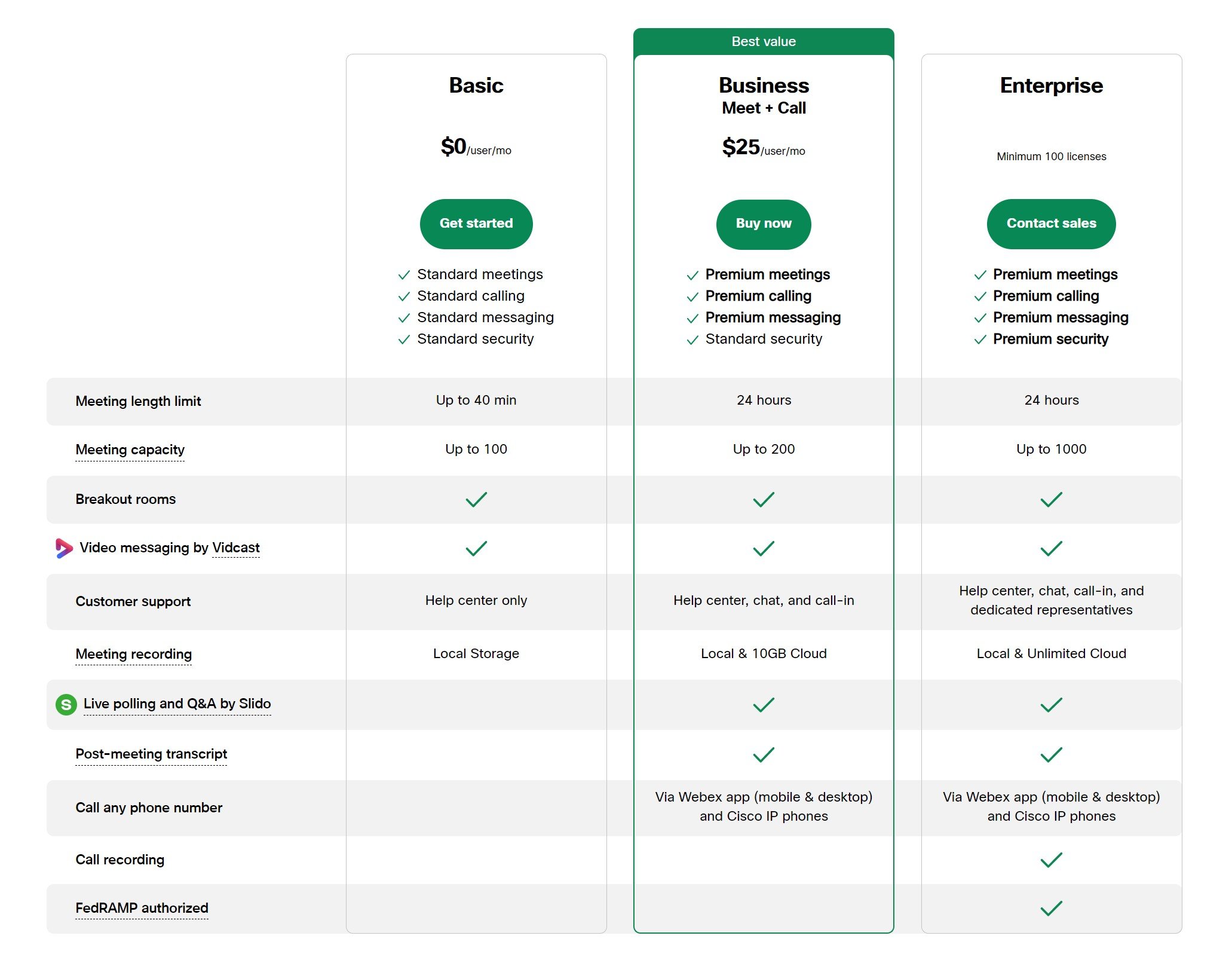 Cisco Webex Pros and Cons
The below table describes the overall Webex user experience.
| | |
| --- | --- |
| Webex Pros | Webex Cons |
| One of the best video calling free plans on the market today, packed with features some paid plans don't even offer | The sheer volume of available Webex features means a higher learning curve, and dedicated support reps are available only on the highest pricing tier |
| Advanced team collaboration and co-editing features like in-meeting file transfer, live Q&A/polling, and interactive whiteboarding | Users need more control over automatic recording deletions, which happens once every 5 days |
| Ability to stream meetings on Facebook Live | Unable to share whiteboards, videos, or other files during a Facebook live stream |
Google Meet, an upgraded take on one of the earliest forms of video communication, Google Hangouts Meet, is a beginner-friendly video calling tool for businesses that only need occasional video communication and prioritize ease of use.
Up to 250 internal and external participants can meet for a maximum of 24 hours.
Users can join a Google Meet session in several ways: via a shareable link, by clicking the "New Meeting" button on the Google Meet homepage, by entering an existing meeting code, or by scheduling an upcoming meeting directly in Google Calendar. Meetings can be joined directly at start time or while in progress.
Though primarily used on desktop computers, Google Meet can also be accessed via the Android and iOS mobile apps. Users will need to create a free Google account in order to join or host a meeting.
Google Meet offers basic team collaboration features within its Activities in-meeting chat tab. Hosts can create breakout sessions, polls, and start live Q&A sessions.
One of the best Google Meet features is its whiteboard tool, called a Jamboard.
Users can choose different whiteboard backgrounds, upload images to the board, add text, create and pin sticky notes, insert pre-drawn shapes, and draw/write with the pen tool. Each Jamboard can be saved and shared.
Additional Google Meet features include:
In-meeting chat messaging
Noise cancellation
Outlook integration
Live closed captioning
Screen sharing and pass presenter tool
Custom background images
Two-step authentication
Unlimited Google Drive storage
File sharing via Google Doc/Drive link
Google Meet Pricing
Google Meet is free to use for up to 100 participants to meet for a maximum of one hour. The free plan also includes screen sharing, live closed captions, in-meeting chat, and two-step verification.
Businesses that upgrade to the Workspace Individual plan will have access to key Google Workspace tools like Google Docs, Google Drive, Gmail, and more within the Google Meet interface. Enterprise-level companies can upgrade to the highest tier.
Google Workspace editions of Meet come with a 14-day free trial.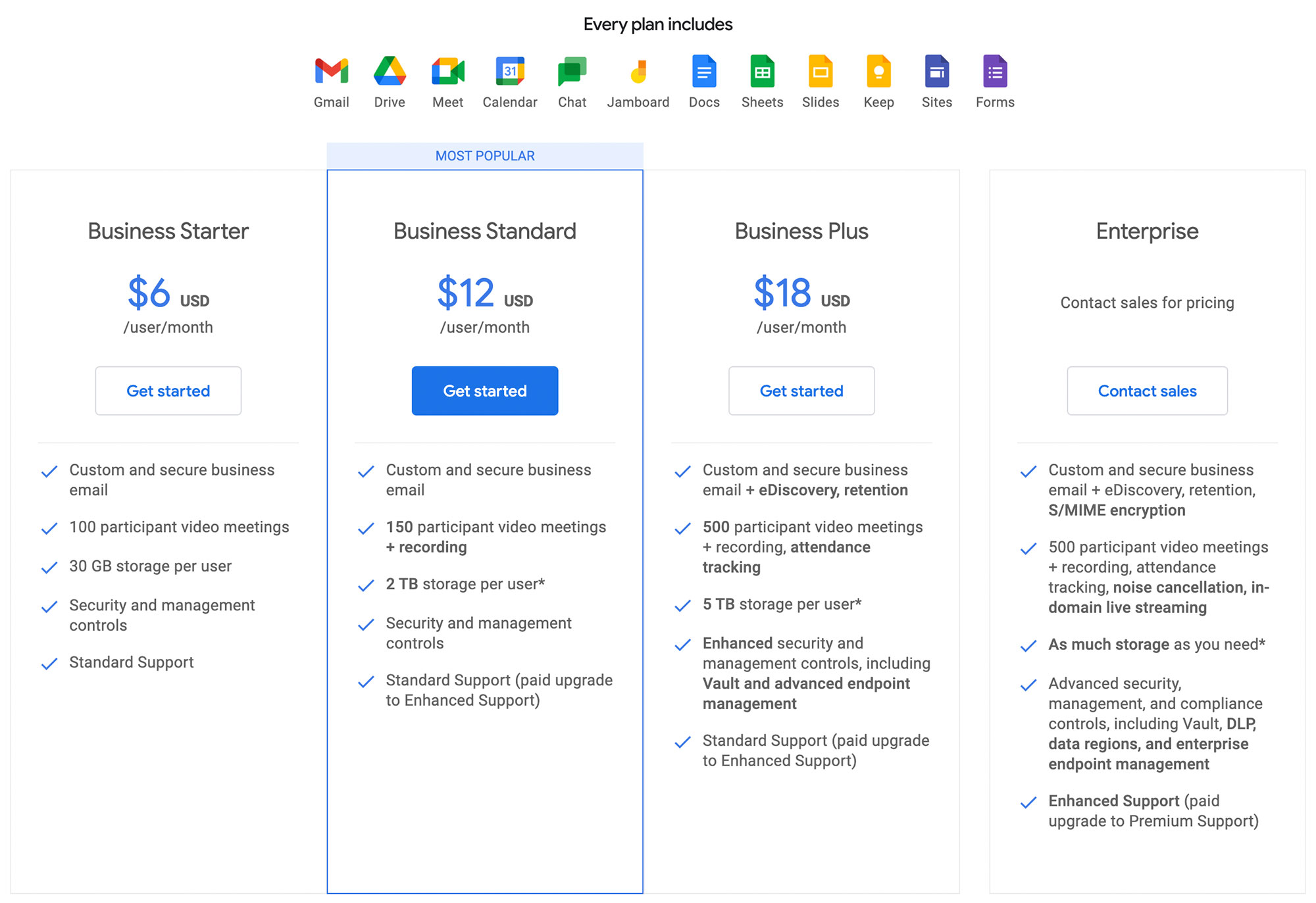 Google Meet Pros and Cons
The below table outlines the overall Google Meet user experience.
| | |
| --- | --- |
| Google Meet Pros | Google Meet Cons |
| Familiar and easy-to-use interface | Lack of integrations and advanced features when compared to other tools |
| Integrates perfectly with other popular Google Workspace tools like Gmail, Docs, Drive, Sheets, etc. | Users can't share Docs directly in the meeting live chat, they can only share Google Doc links |
| Searchable data, alerts for suspicious activity, and data loss prevention provide a high level of security | Google Workspace users cannot disable meeting chat on video calls |
8×8 Meet is a standalone no-download video meeting app that offers unlimited meetings for up to 500 active participants on desktop and mobile devices.
Though 8×8 offers video conferencing as a part of its X Series business communication bundles, in this post we'll focus exclusively on 8×8 Meet as a Zoom alternative.
Each user has a personal meeting room and personal workspace for more consistent conferences, generally used for pre-scheduled meetings. Instant meetings via the "Meet Now" feature are usually created in temporary spaces with random meeting room IDs/URLs are used for extra privacy.
Meetings can also be scheduled or joined via email invitation, link sharing, Outlook or Google Calendar integrations, outbound phone calls, or via dial-in access from over 50 countries. Audio-only conferencing is also available.
Users can also brand and customize their meeting spaces and backgrounds, replicating the face-to-face experience even more.
One of the most exciting features is 8×8 Meet's set of advanced meeting analytics.
Designated team leaders have access to live and historical meeting analytics like:
Number of daily, weekly, monthly meetings
Number of ongoing current meetings
Live meeting statistics highlight how much each participant has spoken
Average and total meeting participants
Average and total meeting durations
Number of meetings under five minutes or under 30 minutes
The number of failed meetings and reason for failure (media source, dropped conferences, meeting churn, etc.)
Post-meeting participant feedback
In-meeting collaboration is another thing 8×8 Meet gets right. In addition to standard in-meeting group and one-on-one chat messaging, persistent chat rooms are available for anytime, always-on conversation.
Each user can access chat history, view participant lists, and even merge team chats if greater collaboration is needed.
To increase focus, users can mute all chat notifications from 30 minutes to 4 hours, or until they elect to turn the chat feature back on. Users can also create custom personal chat notifications for even fewer distractions.
A final neat chat message feature is the silent mention, seen in the image below.
While public user tagging is also available, silent mentions let users tag team members who don't have access to the current chat room. They won't receive a notification, but colleagues know who is being discussed.
Additional features and functionality include:
Meeting recording and transcription
Live stream meetings to YouTube
iOS and Android mobile apps
Real-time closed captions (English only)
End-to-end encryption
Meeting lobby room
Virtual hand raising and polling
Google Workspace, Slack, and Microsoft Office integrations/syncing
File sharing and in-message custom formatting
Team chat messaging
Single or multi-party screen sharing and remote desktop control
Google Chrome extension
Live stream meetings on social media
Meeting analytics
Whiteboard tool
Read our detailed review of 8×8 vs. RingCentral to see how these top two providers compare to one another.
8×8 Meet Pricing
Figuring out the available 8×8 pricing options was a major challenge, even after speaking with 8×8 live chat support.
This is probably because, as we discovered, the once-popular 8×8 Meet Free Plan has been discontinued. Now, to continue to access the 8×8 Meet standalone tool, all users must switch to the paid plan for $9.99/user per month. (As of this writing, 8×8 is offering a special pricing option of $12.00/user/year for the 8×8 Pro app.)
Though the first month of service is free, users have to commit to at least one paid month to get it — so it's not really a "free trial" as advertised. See the image below for clarification.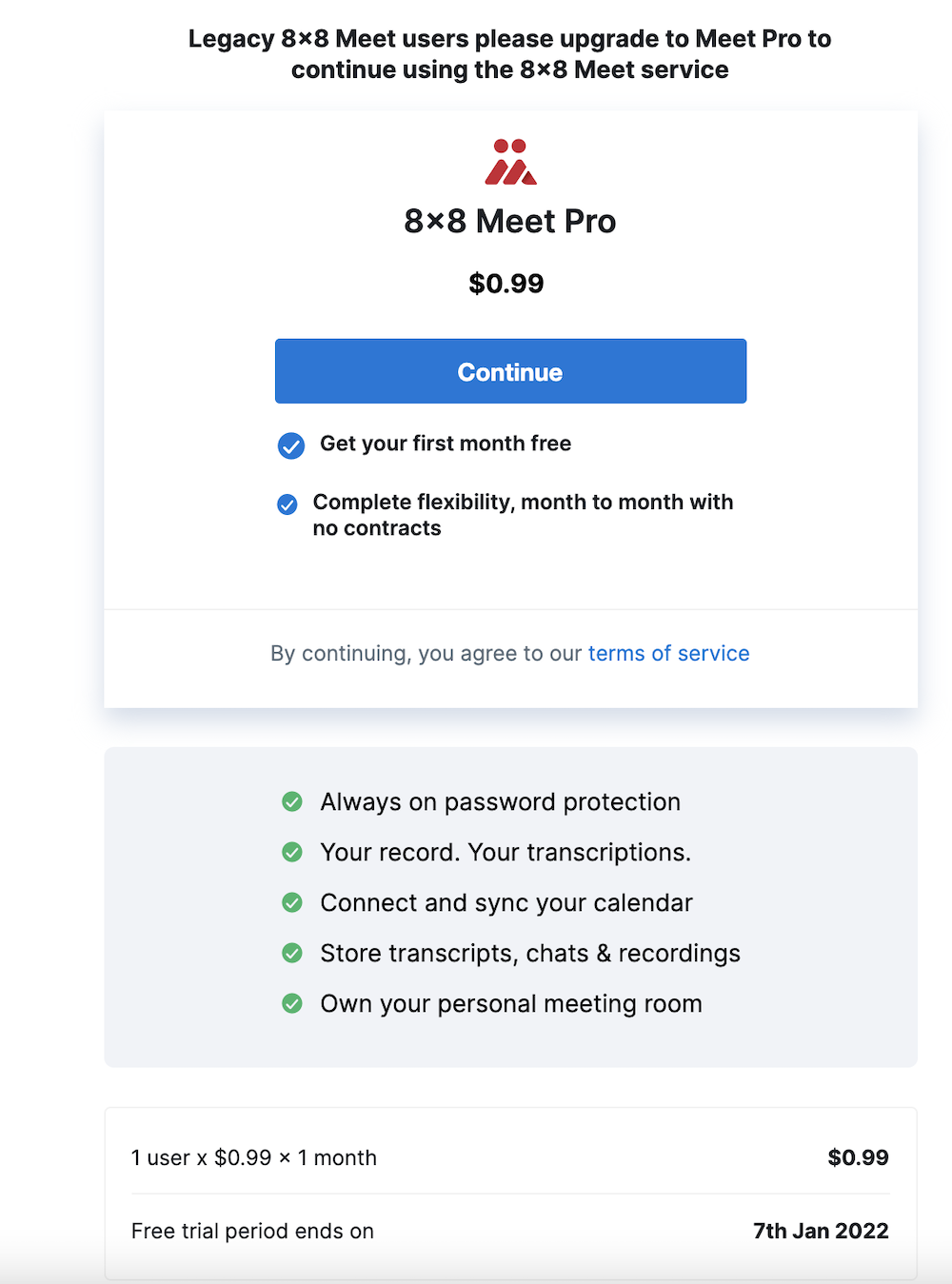 To add to the confusion, there is technically a new "free version" of 8×8 Meet, available within the Jitsi Meet platform.
In reality, 8×8 Meet's free plan essentially redirects users to Jitsi Meet, which is a free third-party video calling tool. While Jitsi Meet is an excellent video calling app, the features it offers are not up to par with the former 8×8 Free Version.
The below image outlines the differences between 8×8's Jitsi-powered "free plan" and the 8×8 Meet Pro Plan.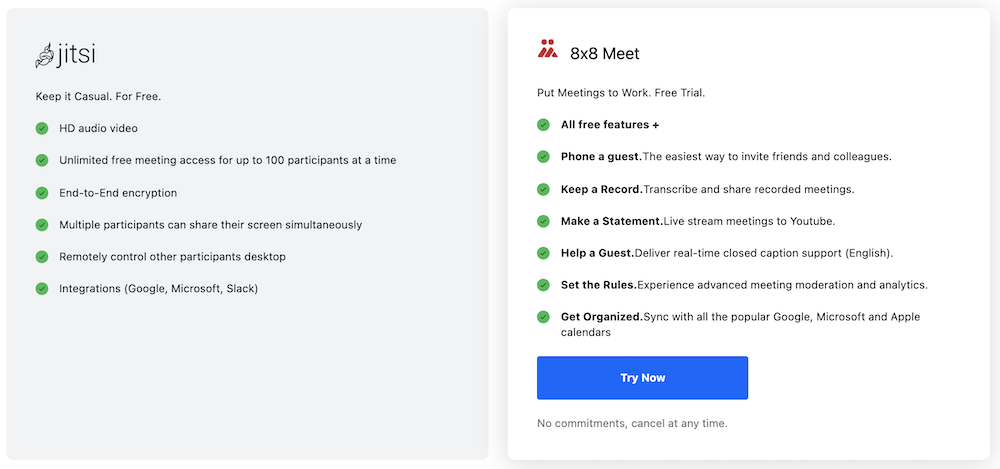 8×8 Meet Pros and Cons
The below table covers commonalities within the 8×8 user experience.
| | |
| --- | --- |
| 8×8 Meet Pros | 8×8 Meet Cons |
|  Free video calls with 8×8 and Jitsi Meet partnership | 8×8 recently discontinued their 8×8 Meet free version, which was more robust than the Jitsi-based free app |
| Advanced in-meeting analytics | Poor 8×8 website organization makes finding support and information about 8×8 Meet challenging and frustrating |
|  Screen sharing includes in-meeting video sharing |  Consistent issues with screen sharing (frozen screens, lag, etc.) |
Dialpad Meetings (formerly UberConference) is a business communication tool offering video conferencing as a standalone app or as a part of the Dialpad all-in-one app. Here, we'll focus on the standalone video calling app, Dialpad Meetings, as it's the most relevant Zoom alternative.
Dialpad offers an exceptionally high video quality, in large part because it automatically adjusts user video resolution according to available bandwidth. In addition to providing a clerer image, this feature also means fewer frozen screens. The tool also automatically adjusts background noise.
Though specifically designed for hybrid workspaces, any business that wants more organized and efficient video conferences will enjoy Dialpad Meetings. However, it's best for small businessses with shorter meetings only, as it only allows for up to 100 participants to meet for a maximum of 5 hours.
Post-Meeting Summaries are availble thanks to Vi, Dialpad's voice intelligence tool.
Vi automatically records and transcribes meetings  (both real-time and recording transcription options are available.) Vi uses AI and speech recognition to automatically pick up on words and phrases that denoate action items, highlight key moments, assess the average of positive and negative sentiments, and even make recommendations.
After the meeting ends, all this information is available in post-call summary, and users can also manually search transripts.
Vi also picks up on things like dates, addresses, competitor mentions, currency, key questions, times mentioned, email addresses and — believe it or not — even curse words.
In addition to meeting summaries, Dialpad Meetings includes the Meeting Timer, which displays a real-time countdown of the time left in the meeting to all participants, ensuring all stay on task.
Hosts can even opt to have the meeting automatically end once the countdown clock reaches zero. Hosts can pause meetings at any time so the Time Management clock isn't running if someone has to suddenly step away. All meeting particiapnts get a "five minutes remaining in meeting" notification, as well.
Additional Dialpad Meetings features include:
In-meeting chat messaging
Screen sharing and file sharing
Host meeting controls (mute, meeting lock, remove participant, etc.)
Audio-only conferencing
Unlimited meeting recording and transcripts
iOS and Android mobile apps
Salesforce, Microsoft 365, Google Workspace, Twitter, LinkedIn, HubSpot, EverNote, and more integrations
24/7 multilingual phone and chat support for paid users, in addition to community forum and online knowledge base
Dial-in and Call Me meeting access
Custom pre-meeting/hold music
Dialpad Meetings Pricing
Dialpad Meetings offers one free plan and one paid plan for $15.00/user per month when paid annually or $20.00/user per month when paid monthly.
A free 14-day trial is available.
The below image outlines the free plan and paid plan for Dialpad Meetings.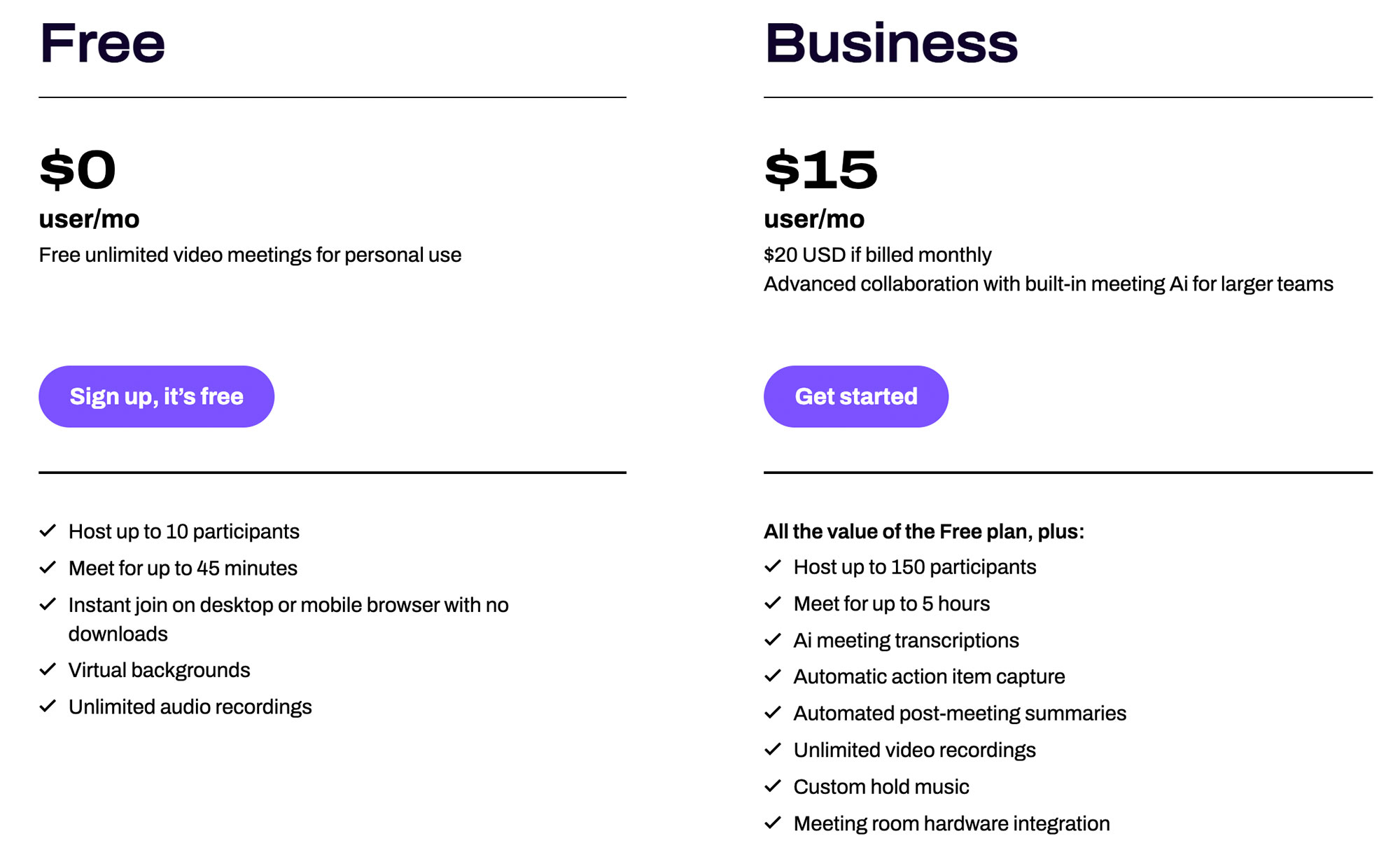 Dialpad Meetings Pros and Cons
The below table outlines common Dialpad Meeting pros and cons.
| | |
| --- | --- |
| Dialpad Meetings Pros | Dialpad Meetings Cons |
| Excellent free version that includes unlimited call recording | Only two available plans, not as scalable as other video calling tools |
| Features like in-meeting Time Management countdown and meeting agendas improve meeting efficiency | Maximum meeting duration of 5 hours/ meeting |
| High number of available third-party integrations, including social media platforms | Maximum of 100 meeting participants |
GoTo Meeting by LogMeIn is an HD video communication platform that can host up to 3,000 participants. Recently, GoTo acquired the popular video calling tool Join.Me.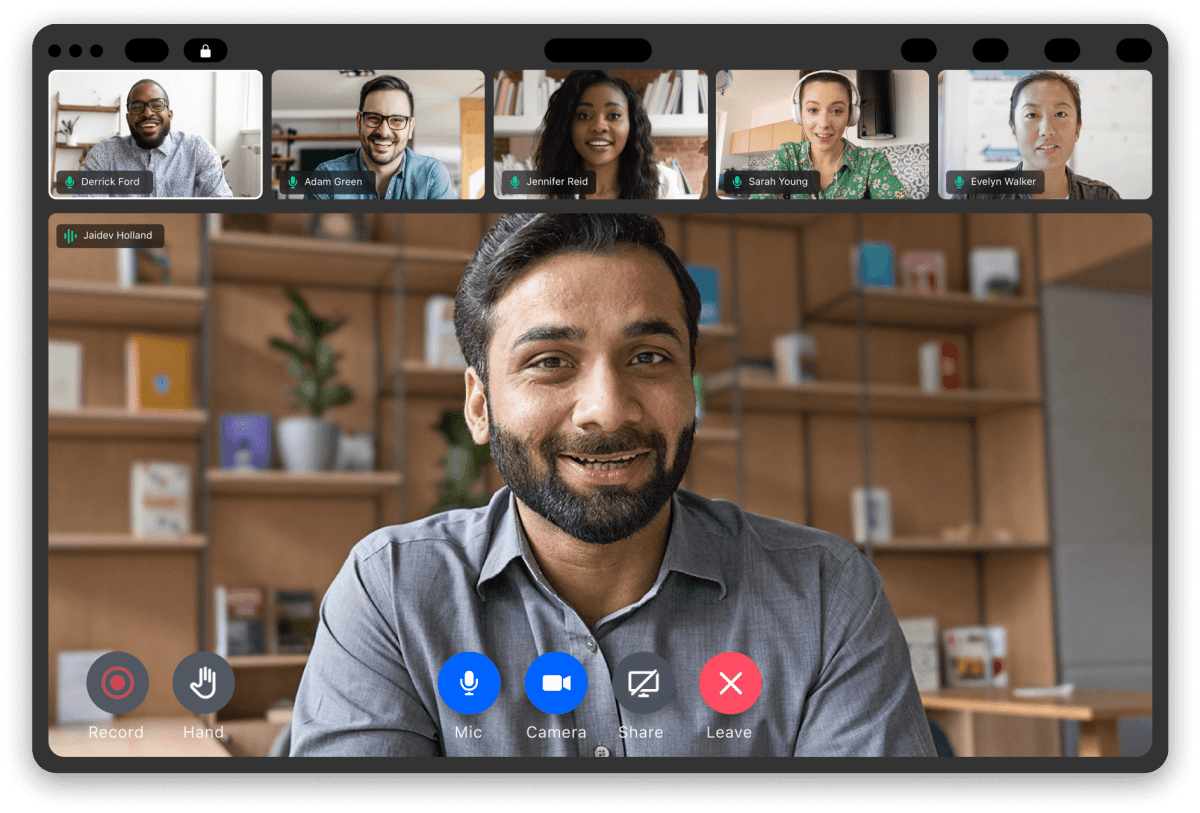 It relies heavily on AI, meaning it's ideal for hybrid or fully remote teams that need to automate as many business processes as they can.
GoTo Meeting's high meeting capacities and presentation tools like Slide to PDF (which lets admins collect all presented meeting slides into a single, sharable PDF) make it an ideal tool for larger scale business/sales presentations or team member training.
The Smart Notes/Smart Assistant tools automate the note-taking process durimng meetings, allowing team members to focus instead of worrying about writing everything down.
The Smart tools automatically create meeting transcripts made up of in-meeting audio, video, and messages. After the meeting, both recordings and transcripts can be shared and searched via keyword.
Users can also "bookmark" key meeting moments to return to later, designating them as meeting highlights, action item, or notes. All notes can be viewed, shared, and edited later, and manual in-meeting note taking is available. Notes are also time-stamped for better organization.
GoTo Meeting also has an excellent whiteboard and drawing tools to ensure attendees remember key information, streamline the brainstorming process, and help hosts better communicate their ideas.
Drawing tools can be accessed by anyone in the meeting (if the host chooses to grant drawing tool access to all) and used in whiteboards or on uploaded files. Drawing features include:
Highlighter
Laser pointer
Spotlight icon
Pen
Multiple pen/text colors
Additional GoTo Meeting features include:
Screen sharing with remote screen control
Always-on chat messaging
Personal meeting rooms and breakout rooms
Unlimited meeting recording and transcription
Siri Voice commands
Alerts for suspicious login/account activity
Commuter mode with color-coded audio/mute buttons and automatic screen sharing disabling
Virtual hand raising
Meeting co-organizers
SSL Encryption and HIPAA Compliance
Slack, Office 365, Google Workspace, Salesforce, and other integrations
Conference Room hardware add-on
GoTo Meeting Pricing
GoTo Meeting offers three paid plans payable on a monthly and annual business, with the latter saving customers 10-14%.
A free 14-day trial is available, as is a free plan for up to 3 users to meet for 40 minutes. The free version also includes screen sharing and in-meeting chat.
Toll-free numbers are available as add-ons for $5.00/organizer per month or with a pay-as-you-go option. Dial-Out and Call Me access is also a paid add-on. Users can also add on GoToWebinar for an additional $20.00/month.
The below image outlines available GoTo Meeting pricing and plans.

GoTo Meeting Pros and Cons
The below table outlines the overall GoTo Meeting user experience.
| | |
| --- | --- |
| GoTo Meeting Pros | GoTo Meeting Cons |
| AI-powered features like Smart Assistant and Smart Notes | The free version only allows for a maximum of 3 participants to meet for 40 minutes, with fewer features than other free video calling tool plans |
| All plans include 24/7 live chat and phone support, SSO, and Meeting diagnostic reports | Users complain of frequent cross-talk and dropped video calls, overall audio needs improvement |
| Strong security features like HIPAA and risk-based authentication | Limited third-party integrations compared to other providers |
BlueJeans by Verizon is a video conferencing solution for up to 200 participants designed for the digital workplace. Like other providers on this list, BlueJeans does not provide phone service as a part of its video calling tool, though audio-only conferencing is available.
BlueJeans has partnered with Dolby Voice to provide an unparalled  audio quality, with features like noise suppression, spatial audio profiling, and automatic sound level adjustments to center the active speaker voice. It also offers virtual backgrounds, including custom images, for fewer distractions and greater user privacy.
Its new Enhanced Gallery View lets users see up to 25 simultaenous video streams, and automatically resizes each stream to best fit the user's screen whenever a new participant is shown.
The most recent 5 speakers are always displted at the top of the screen. Attendees can set personalized meeeting layout preferences, or hosts can pre-select a set meeting layout, as seen below.
Another standout BlueJeans feature is the Smart Meetings tool, designed to help simplify project and account management, employee training sessions, and longer meetings.
Smart Meeting uses Artitificial Intelligence and user input to tag meeting highlights, key action actions, and essential user chant messages and comments. These highlights are automatically transcripted and includes a screen caputre, making them even easier to organize and prioritze.
Smart Meeting then creates a to-do task list based on these highlights and sends follow-up reminders and notifications to monitor progress until completion. Team-wide meeting note-taking is also available.
The tool also creates sharable Smart Meeting highlight reels, which admins can set to be sent out over Slack automatically and with a user notification. Users can now prioritize which meetings to attend and save time by watching just a few minutes of meetings instead of hours.
Additional BlueJeans features include:
Personal Meeting ID
Integrations with Slack, Teams, Google Calendar, Microsoft365, Salesforce, Zoho, etc.
On-demand or automatic meeting recordings (video, audio, meeting content, Smart Highlights all saved) with recording pause
Unlimited meeting lengths
Interactive Video Tiles let hosts spotlight, pin, mute, or direct message specific participants
Local time of each participant displayed
Active speaker and gallery views
One-click and scheduled meetings
Breakout sessions
Remote screen control and screen sharing
Live closed-captioning/meeting transcription
Safe driving mode for mobile apps
For more information, read our complete BlueJeans video conferencing review.
BlueJeans Pricing
BlueJeans offers four paid plans payable on a monthly and annual basis (with the former offering a 20% savings.) A free 14-day trial is available.
The below image outlines available BlueJeans pricing and plans paid on an annual basis, the most popular option.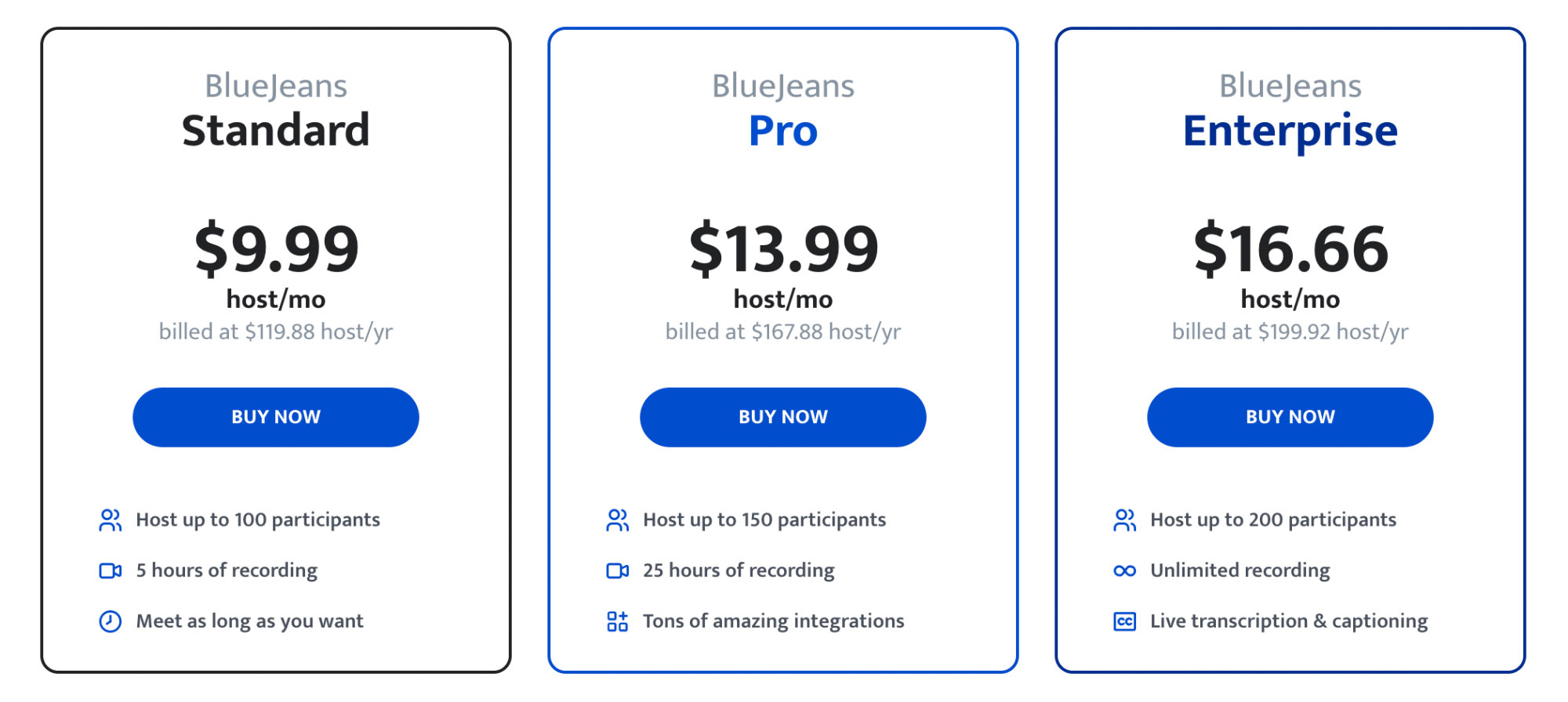 BlueJeans Pros and Cons
The below table outlines what to expect as a BlueJeans user.
| | |
| --- | --- |
| BlueJeans Pros | BlueJeans Cons |
| High-level third-party app integrations | Users mention consistent video lag |
| 25-person gallery view, video stream pinning, custom personalized video interface | Incompatible with Windows touchscreen devices |
| Excellent security standards including encrypted video, two-factor participant authentication, and failed login notifications | Unlimited recording options only available to Enterprise plan users, and still costs $16.66/host per month |
Lifesize is a no-download cloud video meeting and team chat solution for up to 10,000 guests (including 500 participants) to host/attend unlimited meetings.
It has a 4K high-definition screen sharing resolution, numerous virtual background display options including background blur, and built-in microphone and speaker testing for maximum audio/video quality.
Note that while Lifesize offers audio-only video calling, it does not include traditional VoIP phone communication in its Meeting Solutions. In order to get access to virtual telephony (and other key features) users would need to upgrade to the Lifesize Cloud Contact Center.
The upside is Lifesize offers a refreshingly (and increasingly uncommon) uncluttered and intuitiuve interface, as seen in the below image.
Users can quickly access a list of frequent and missed calls, recordings, favorite users, and even instantly start a video call.
Lifesize is unique in that it has a major focus on interopibility with numerous other video calling tools for seamless communication regardless of device or platform. Both its hardware (cameras) and software are desigend to work with popular apps like Teams, Zoom, Webex, GoTo Meeting, BlueJeans, and more.
Additional features include:
Whiteboard tool with shapes, laser pointer, pen, and text
Branding meeting dashboards/backgrounds
Encrypted meetings
Meeting recording
Realt-time meeting analytics
Instant or scheduled call
Favorite contact list
Message and contact search bar
Presenter mode
User presence
Mac and Android mobile app
Unlimited audio conferencing
Given its guest capacity, Lifesize is an excellent fit for large companies that frequently host webinars or that have a high number of meeting attendees.
Since it connects with most video equipment, it will also work well for companies that have conference rooms they use explicitly for video broadcasts and online conferences.
Lifesize Pricing
Lifesize's pricing, unfortunately, leaves much to be desired.
Though there are three separate plans (two that offer free 30-day trials), pricing for all tiers begins at $14.95/user per month.
What separates the two set-priced plans is the number of minimum users required — which takes an enormous jump from 10 t0 50 when scaling up. This means businesses needing more than 10 users jump from paying about $150.00/month to  $750.00/month (the cost of 5o users) even if they only need 15 users.
For most, this is a huge and unjustifiable price gauge — one that's only compounded by the list of "add-on" features, most of which are standard on other platforms.
The flip side here is that Lifesize provides a completely customizable plan, giving SMBs total control over the number of users and features they need for a quote-based price. This, for the vast majority of Lifesize users, offers significant cost savings and greater control when compared to available bundled plans.
The image below outlines the three Lifesize pricing models, along with a list of the available add-on features.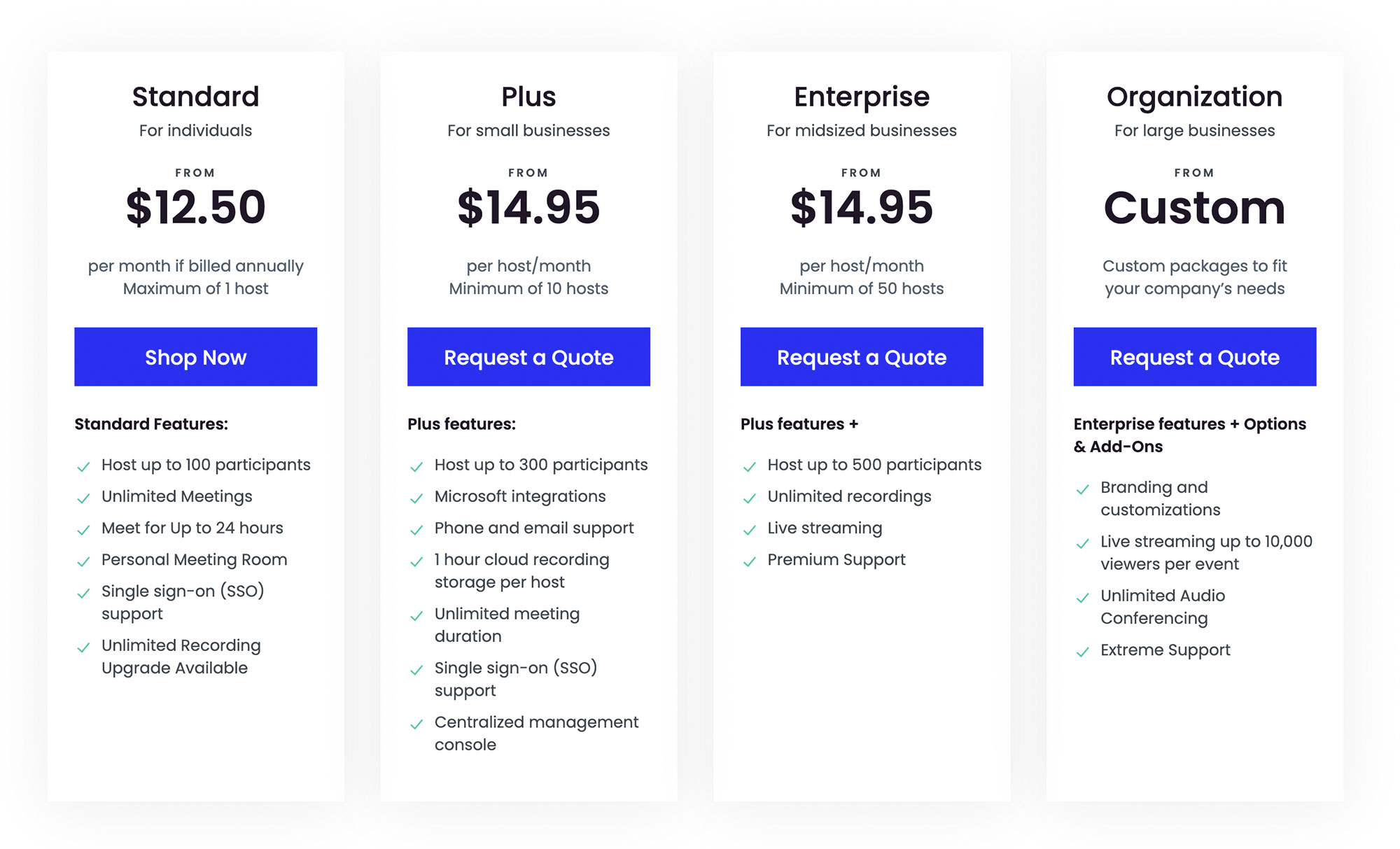 Lifesize Pros and Cons
The below table outlines the best and worst parts of the Lifesize user experience.
| | |
| --- | --- |
| Lifesize Pros | Lifesize Cons |
| High meeting capacity of 300 participants on the cheapest plan,webinar capabilities for up to 10,000 attendees | Key features like unlimited meeting recording, live meeting analytics, and unlimited audio conferencing are available only as paid add-ons |
| Simple, intuitive interface | 24/7 support not available on all plans |
| High level of customization, ability to build a video meeting tool from the ground up | Confusing pricing model means small businesses end up paying far too much for features and users they don't need |
What Is The Best Zoom Alternative for Video Calling?
It's always tough to declare a firm "winner" when it comes to business communication tools, but if we had to pick the top three, we'd go with the below options.
Best Free Zoom Alternative Plan: Cisco WebEx
WebEx's free plan lets up to 100 participants meet for 50 minutes and includes features like screen sharing, meeting notes, chat messaging, interactive whiteboard, HIPAA/BAA compliance, meeting locks, and meeting recording.
Best Paid Zoom Alternative: RingCentral Video
Though RingCentral doesn't have a free plan, the robust features of its paid video conferencing, messaging, and phone platform make it well worth it. The streamlined solution and tools like industry-specific integrations, real-time analytics, and unlimited recording storage make it an ideal solution for a variety of companies — especially SMBs looking to expand.
Best Overall Zoom Alternative: Microsoft Teams 
Microsoft Teams has it all: secure file sharing and co-authoring, video meetings for up to 10,000 people, and a downloadable participant list before the meeting even starts, you're sure to love this solution. With features this good, it's no wonder that Teams was chosen as the official replacement for Skype for Business.
Why Look for Alternatives to Zoom?
When the Coronavirus began in 2020, workplaces simply did not have the time to properly research and compare video calling tools.
Instead, they focused on dealing with the unexpected immediate transition to remote work.
So, most just did what every other company seemed to be doing: they signed up for Zoom and tried to make it work.
While many small businesses did see success with Zoom, a few glaring issues arose for others that caused them to seek out other options.
Zoombombing — where trolls sneak their way into public and even password-protected Zoom meetings to post inappropriate or off-topic messages — derailed meetings and damaged business reputations. This led to lawsuits against Zoom, as well as the discovery of additional Zoom data privacy concerns.
Some businesses have now banned employees from using Zoom at all as a result of these issues.
Additionally, though Zoom provides many in-meeting collaboration tools, today's businesses often need more than what it has to offer.
Though additional team collaboration capabilities are possible with third-party integration, many companies crave native features.
Other common reasons for seeking Zoom alternatives include:
Inability to integrate with preferred third-party software and CRM systems
Wanting a browser-based, not application-based, solution
Insufficient free plan but lack of ideal paid plan
Poor video quality/frustration with video lagging
Concerns over Zoom sending user data to Facebook
Lack of ideal customer support channels/availability
Learn More About Alternatives to Zoom
Want to learn more about some of the alternatives to Zoom we've mentioned in this piece?
Our interactive table of popular web conferencing software provides more detailed information on available pricing and plans, user experience, and tips on what to look for when evaluating specific providers.
Though Zoom's lead within the video conferencing app space likely won't change drastically anytime soon, the alternatives presented here can help you to find tools with features that will allow your team to communicate more seamlessly — and get ahead of your competitors as a result.
Zoom Alternatives FAQs
Below, we've provided answers to some frequently asked questions about web conferencing.
Video calling software can be purchased in monthly or annual installments (generally, you'll see about a 10-15% cost savings with the annual price.) 
Many platforms include a free version and/or a free trial of paid versions lasting anywhere from 7 days to a month.
The exact amount you pay will depend on the vendor, number of users/seats, and features. Generally speaking, video conferencing tools cost an average of between $28.00-$58.00/user per month.
Aside from a desktop/laptop computer or mobile phone, any additional equipment for your video conferencing system is mostly optional (though you may find you need to upgrade your Internet connection for a higher, more consistent video quality.) 

Common video meeting equipment includes: 
Speakers
Microphones
Compatible desk phones 
Touch-screen displays 
This post on popular conference room hardware provides additional input. 
Basic security standards and features to look for in web conferencing solutions include:

End-to-end encryption
Password-protected meetings 
Meeting locks
Meeting waiting rooms
Two-factor authentication
SSL
HIPAA Compliance 
Ability to mute/unmute, kick attendees out of meetings, or permanently block users 
Webinars are generally less collaborative in nature than video meetings, and often include one speaker or a few panelists presenting a lecture/findings to attendees. There may be a Q&A session or polls in the webinar, but generally, attendees are there to mainly listen and learn, not directly participate. 

Webinars also allow for a higher number of attendees, include registration templates/forms, and even have virtual practice rooms. Webinars may include in-session promotions/offers and can accept online payments from attendees. 
Lastly, virtual meetings are mainly geared towards either small businesses or internal office communication. Webinars are usually used in nationwide, enterprise-level meetings and include a higher amount of external attendees than online meetings do.