Modern companies rely on their cloud-based phone system for more than just calling.
Video meetings, calendars, team chat, file co-editing, SMS, and call center monitoring tools are just some of the features that teams have come to expect from their business VoIP providers.
Cisco's Webex and Zoom are two leaders in providing VoIP and unified communications combined in one solution.
This article will place Webex and Zoom One head to head, comparing the applications' features, pricing, pros, and cons.
Jump to ↓
Webex vs Zoom: Overview
The main difference between Webex and Zoom One is that Webex emphasizes chat features, while Zoom One includes a larger toolbox of meeting collaboration tools and call queueing in regular plans.
Cisco Webex »

Zoom »

Pricing
3 plans from free to over $22.50 monthly per user
5 plans from free to over $25 monthly per user
Communication Channels

Phone
SMS
Team chat
Video conferencing

Phone
SMS
Team chat
Video conferencing

Key Features

Whiteboards
File sharing and collaborative editing
AI-generated meeting summaries
Live meeting transcription

Whiteboards
File sharing and collaborative editing
In-app meeting scheduling and calendars
Live meeting audio translation

Integrations
Hundreds of apps, including:

Twitter
Salesforce
ServiceNow
Zendesk
GitHub

Over 2000 apps (mostly for Meetings) including:

Google Workspace
HubSpot
Slack
Zendesk
Microsoft Teams

Meeting Basics
Up to 1000 users and 24 hours
Up to 1000 users and 30 hours
Best For
Teams planning to emphasize chat for collaboration, with other core channels still available
Teams looking for  call center functionality alongside highly collaborative video
What is Webex?
Webex is Cisco's business communications app that unifies VoIP calling, SMS, collaborative team messaging, and large-capacity video conferences. All channels, controls, and calendaring are organized in an intuitive interface that makes it easy for agents to manage activity across channels.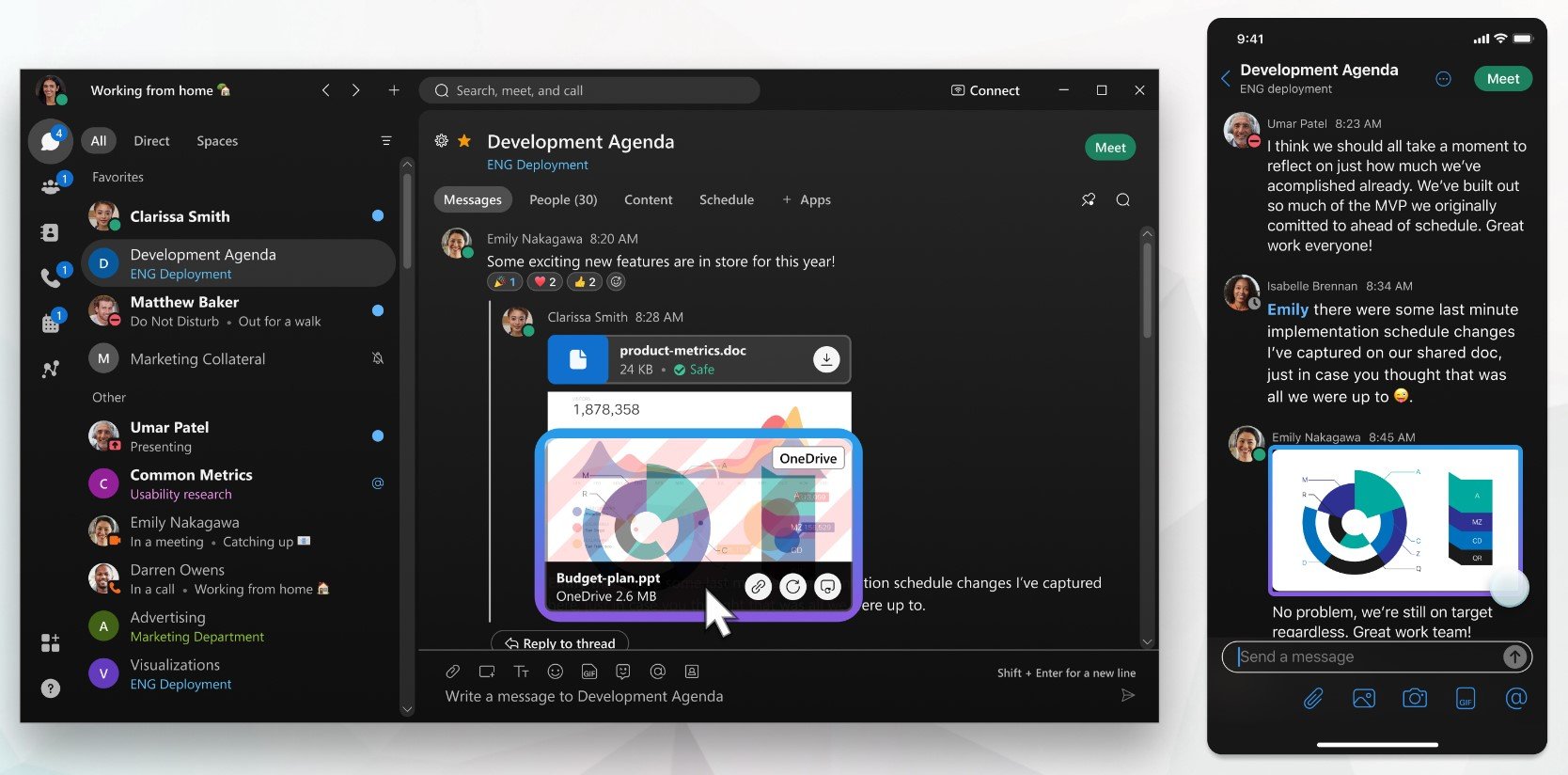 Accessible via browser, desktop, and mobile, the Webex app serves a variety of use cases for Enterprise-level and small businesses.
What is Zoom One?
Zoom One is the provider's most all-inclusive collaboration software. It unifies a VoIP business phone system, SMS text messaging, team chat, and a video-conferencing solution, enabling frictionless transfer between channels. The app offers analytics, collaborative video conferencing tools, voicemail, dynamic call management, easy-to-use admin setup options, and intelligent call routing.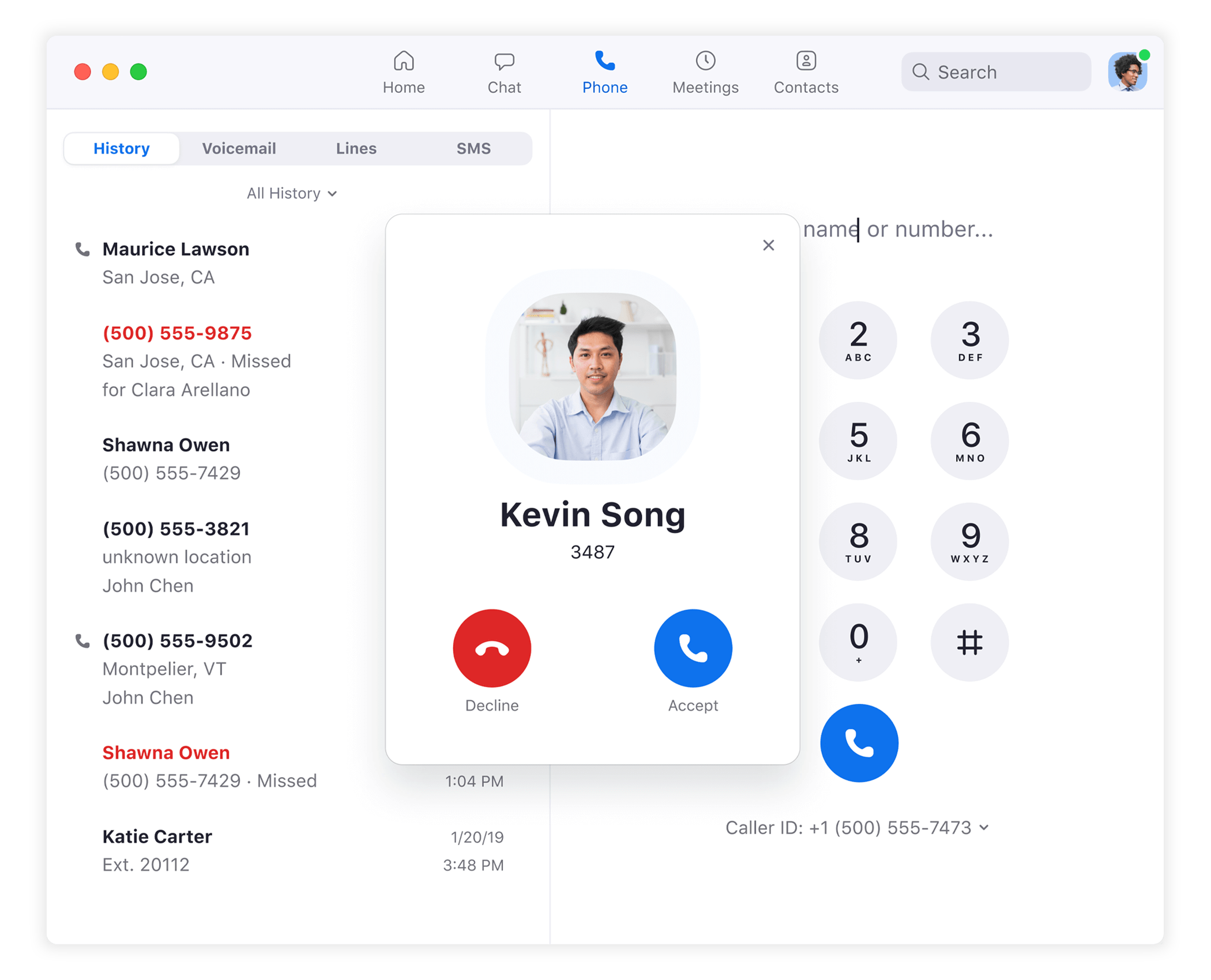 The Zoom One app is available on browser, desktop, and mobile, with a free version available.
Webex vs Zoom: Feature Comparison
Here, we've compared key features within Webex vs Zoom.
Webex Voice Calling
Webex's cloud-based VoIP phone system includes a virtual phone number for each user, plus purchase options for local, toll-free, and vanity phone numbers around the globe. Create unlimited extensions and share a contact list among the whole company.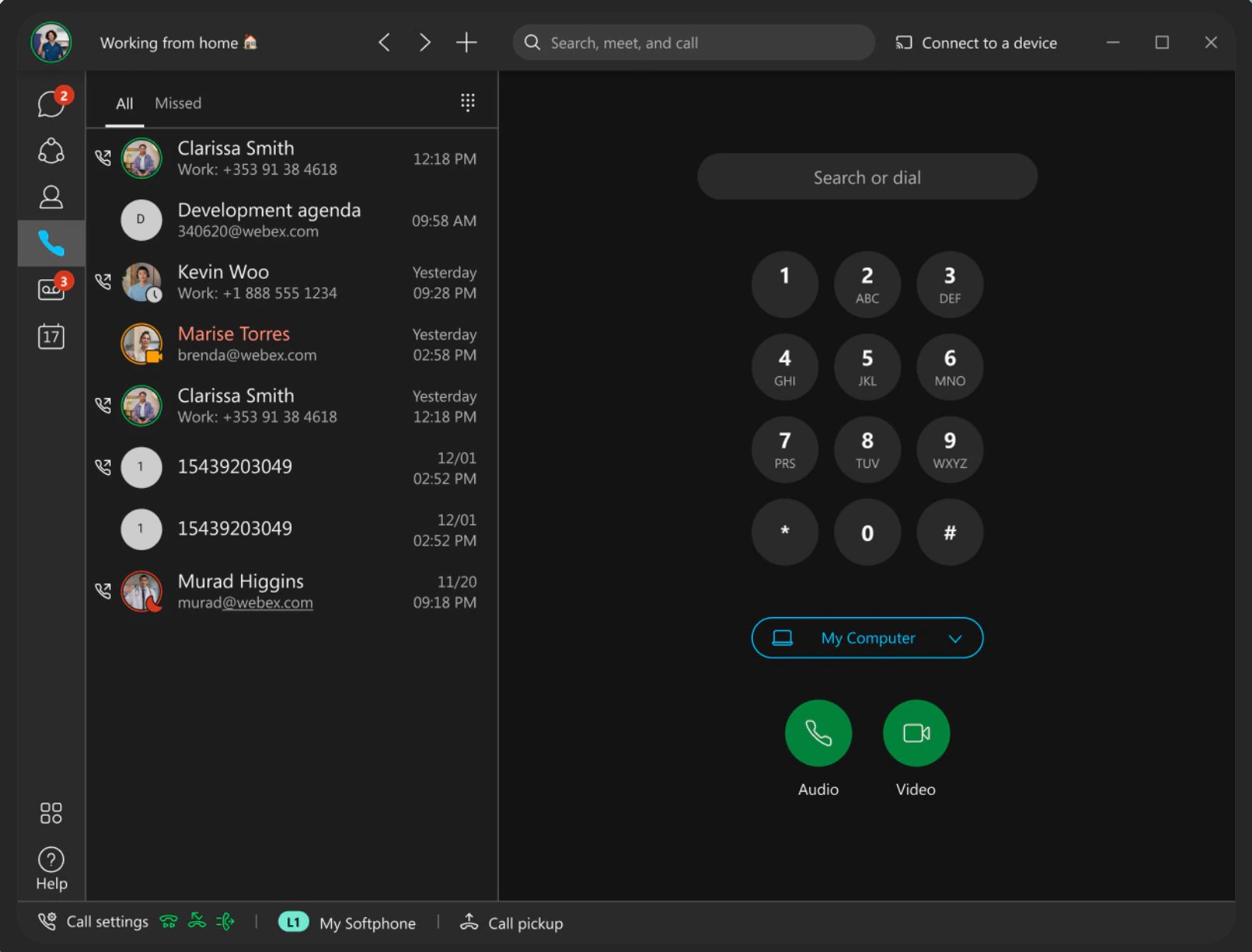 Webex calling supports unlimited calls to VoIP or landline numbers domestically, or international calls billed per minute. The free Webex plan allows users to make unlimited calls to other Webex users. While on call, users can flip the conversation between devices.
Note that call queueing–a critical feature for call centers handling large volumes–only comes with Webex's Enterprise plan.
Webex Phone System Features:
Call management features: Call forwarding to other users and voicemail, call hold, call waiting, call transfer, call merge, and do not disturb.
Call park and retrieve: Park a call in a communal parking lot, where other agents can retrieve it
Visual voicemail: A virtual, searchable menu that logs all voicemails, with voicemail transcription.
Elevate call to meeting: During a live call, send participants a notification inviting them to instantly join a video call.
Monitor, whisper, barge, takeover: A supervisor can listen in on an agent's call, offer private guidance, join the conversation, or take it over entirely.
Custom auto attendant: Customize a customer self-service phone routing menu based on business and holiday schedules. Input custom greeting messages, design menus, and route to any internal user or voicemail.
Call recording
Voicemail-to-email
6-way conference calling
Automatic background noise removal 
Zoom Phone
Zoom Phone, Zoom's virtual phone system, is offered as a standalone product or as part of Zoom One's Business Plus plan.
The telephony system offers pay-by-the-minute or unlimited calling within the US and Canada, plus metered international calling to over 45 countries. Zoom offers toll-free, local, and vanity numbers, number porting, and even the option to keep your current PSTN landline provider.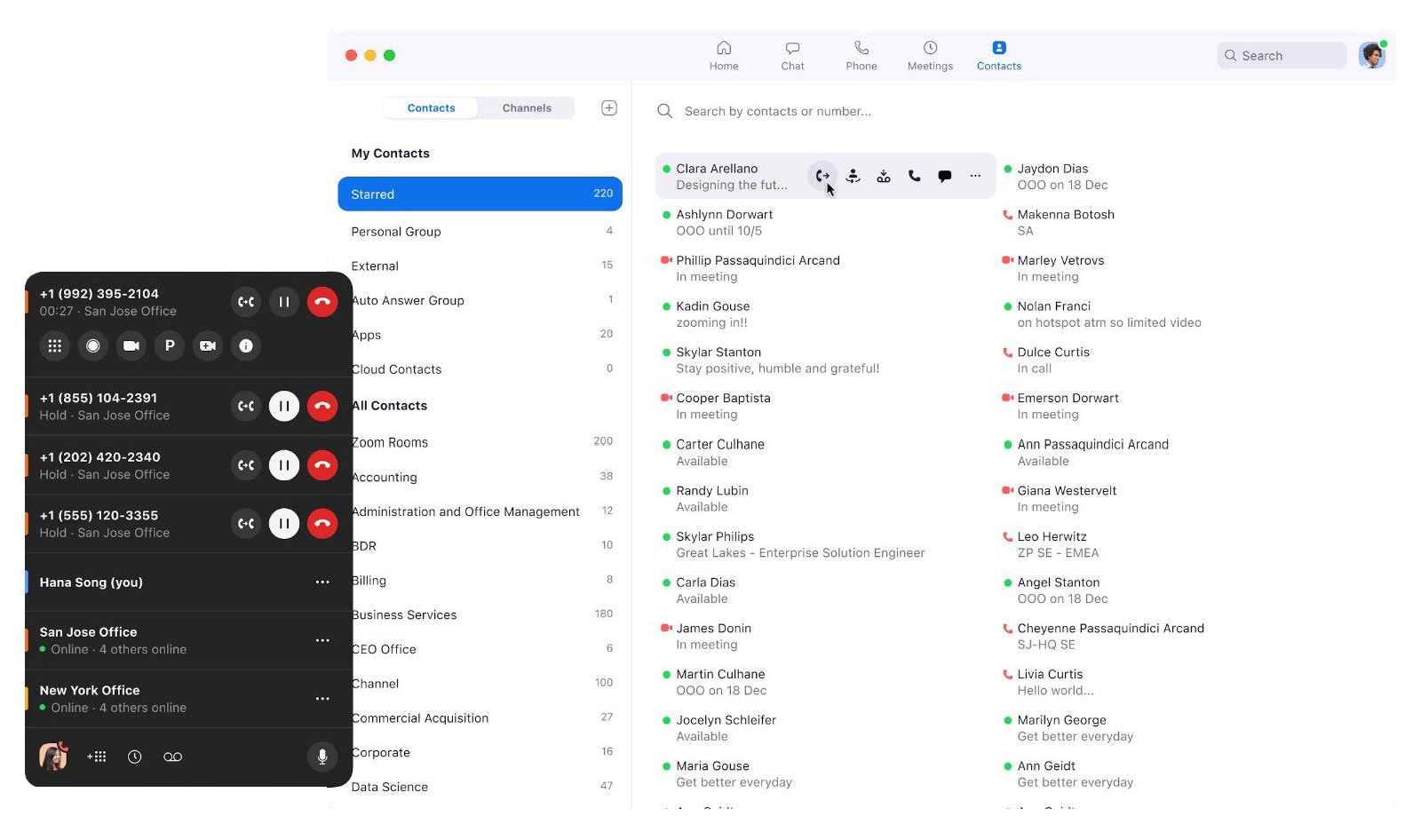 Zoom Phone integrates seamlessly alongside Zoom's other communication channels. Users can make HD-voice calls on any device with softphone functionality. Call queueing and multi-level IVR functionality make it a more capable call center software than Webex.
Zoom Phone Features:
Automatic call distribution (ACD) groups with call queueing: Group agents together to share inbound call answering. When all agents are busy, customers wait in queues for the right agent.
Visual voicemail with voicemail transcription
Unlimited multi-level IVRs
Barge/monitor/whisper/takeover
3-way ad hoc conference calls
Call recording
Holiday and business hours routing
Call handoff between devices
Call parking
Webex Messaging
Within the user-friendly Messaging tab, navigate between 1:1 chat conversations and collaborative chats called Spaces. The All tab allows users to combine 1:1 and group chats into one display, with favorite contacts and recent spaces available for easy access.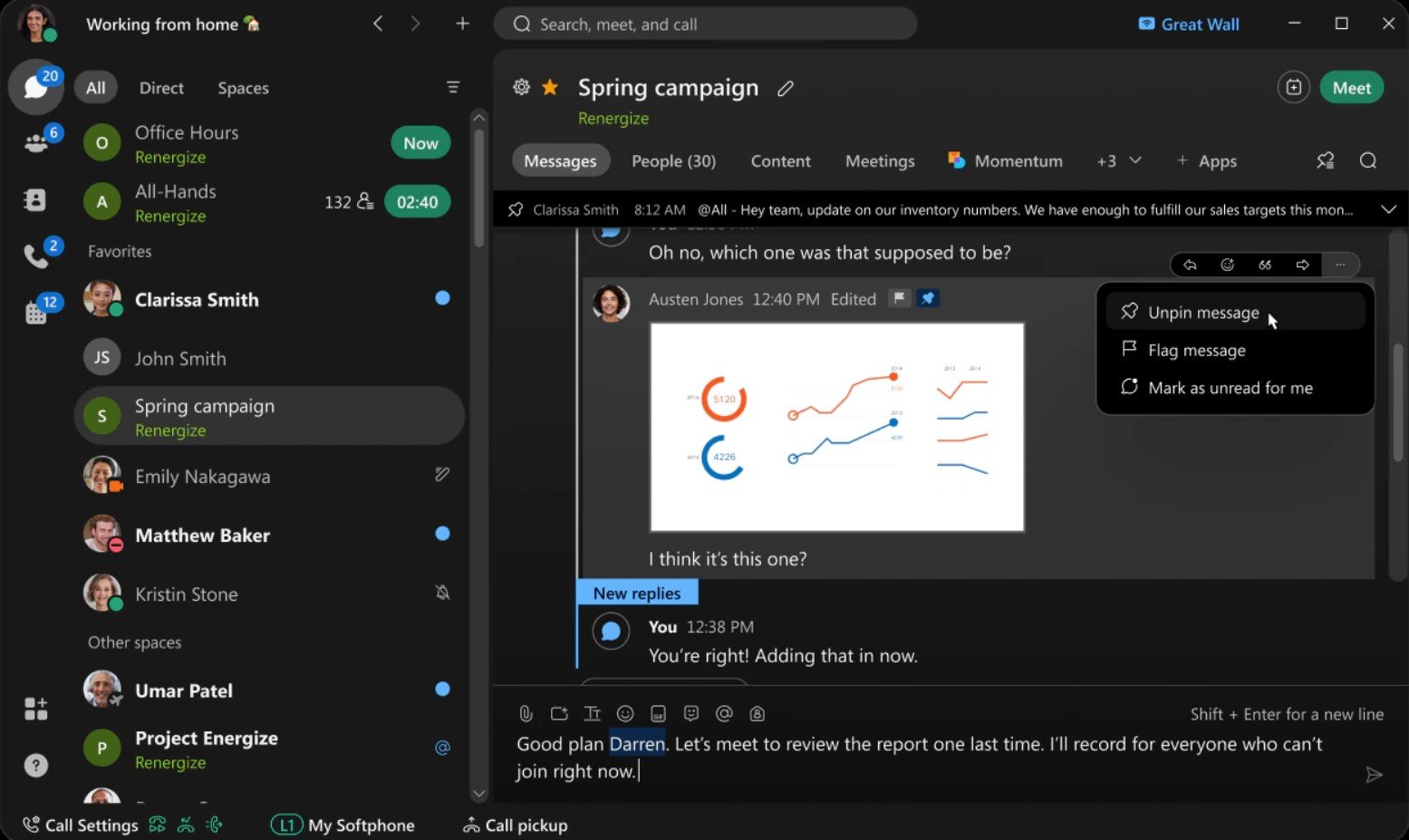 Agents can add internal or external users by email address and edit, forward, flag, pin messages, or mark messages as unread.
Webex 1:1 Messaging and Spaces Features:
Document sharing and co-editing: Simultaneous users can share and edit files in Microsoft Word, PowerPoint, Excel, and OneNote.
Video playback: Shared videos are automatically formatted for easy playback, and switching between small-screen and full-screen viewing.
Meeting scheduling: Users can create, customize, and host video meetings, invite participants, and schedule online meetings right within spaces.
Rich communication tools: Share files, react with emojis, adjust font size, share screens, send gifs, tag teammates, share contacts, and send images. All files and content are pooled in the Content tab for access and searching.
One-click escalation to video: The Meet button allows users to jump into an impromptu meeting at any time.
AI-generated meeting summaries: When a video meeting is organized within a space, meeting insights–with recording, transcript, and summary–are posted in the space afterward.
Whiteboarding: Users can share and collaborate on whiteboards in chats and channels.
Zoom One Messaging
In Zoom's Team Chat tab, users can create 1:1 and group conversations, called Channels. Within channels, users can start and contribute to chat threads, manage or view availability status, collaborate on files, and much more.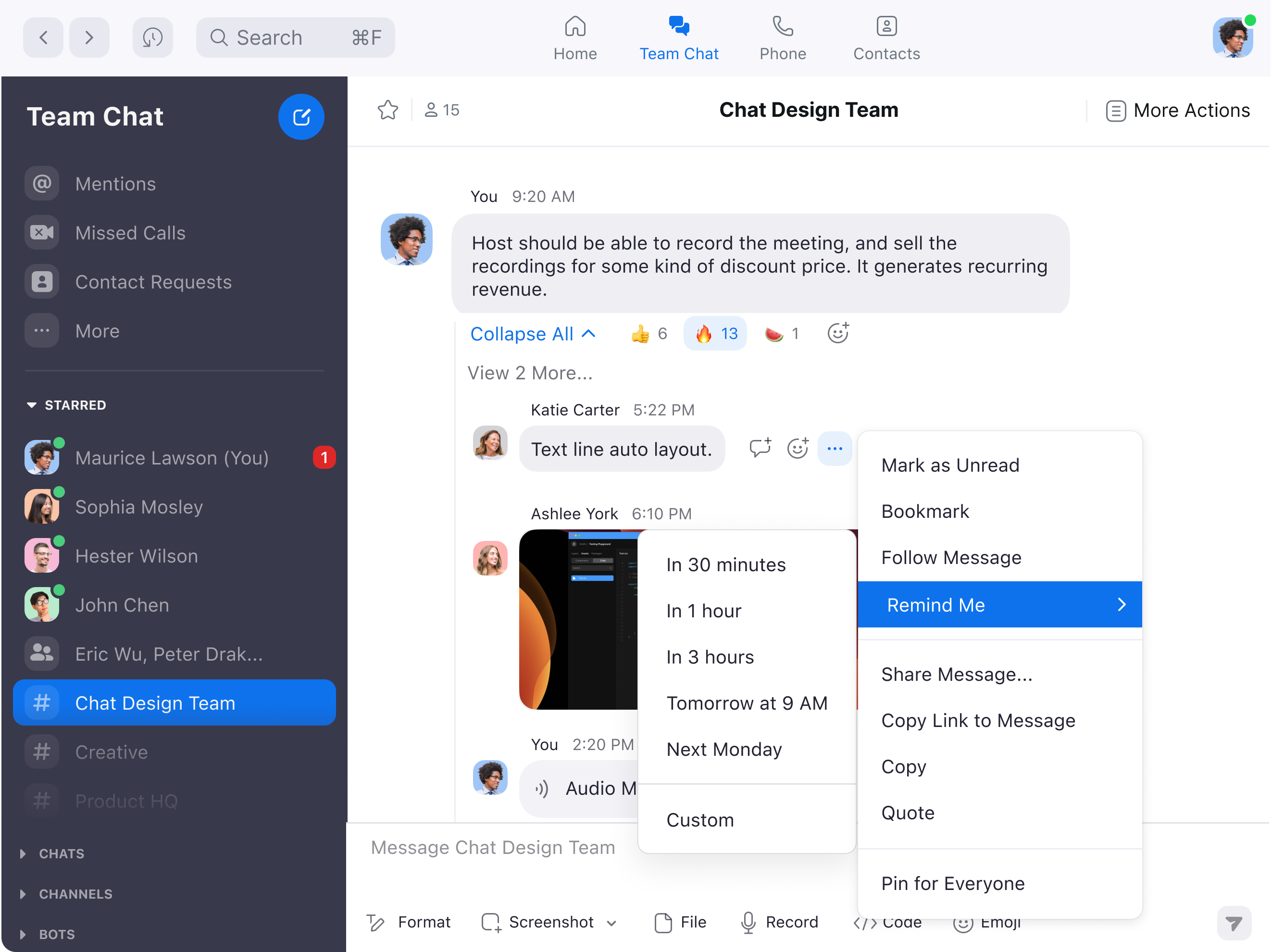 Zoom Messaging Features
Search: Search all messages, chats, and files by keyword or user.
File sharing and collaboration: Create and edit documents–like Word, Excel, PowerPoint, and OneNote files–right within a chat. Create folders to store and organize documents relevant to each channel's projects.
Interoperability: Using Zoom's Mio app, connect with third-party chat apps like Microsoft Teams, Webex, and Slack. Create one fluid conversation between apps or invite users directly from another app.
Workflow and app integration: Use Zoom's API and marketplace technology partners to integrate apps and workflow functionality directly into chats and channels. For example, integrate Jira for ticket management or Salesforce for CRM management.
Whiteboarding
One-click escalation to video
Webex Video Conferencing
Webex HD-video meetings last 40 minutes for 100 users on the free plan, and up to 24 hours for 1000 users on the Enterprise plan. All plans include recording, live captions, and more collaboration features than most alternatives.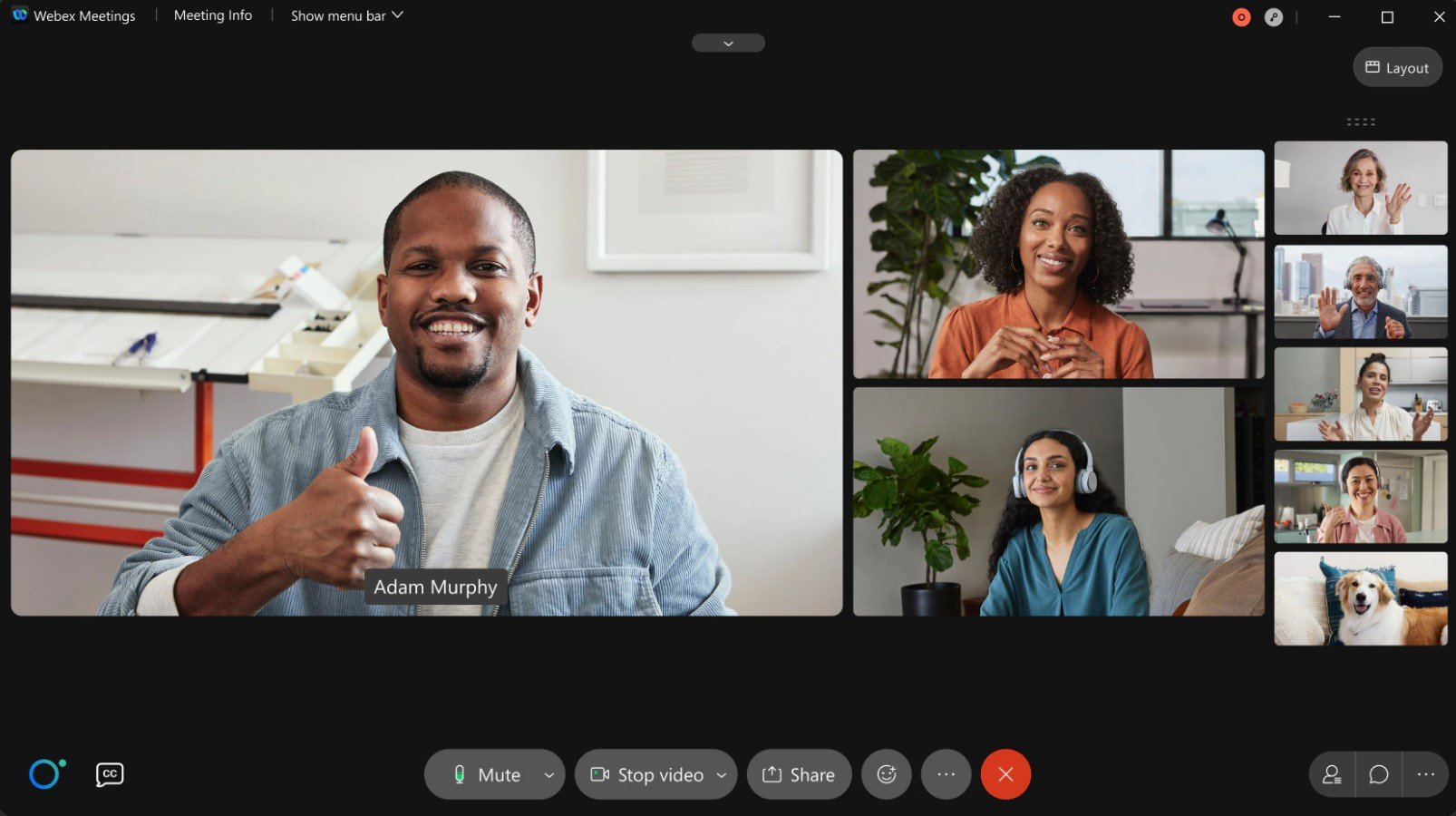 Translate meeting transcript into 4 languages, utilize waiting rooms, appoint other hosts, and retain full control over participants' options–including blocking and muting participants.
Users can schedule meetings within spaces or within third-party apps: Google Calendar, Microsoft Outlook, or Microsoft Office 365.
Webex Meetings Features:
Live streaming: Stream meetings to apps like YouTube and Facebook Live.
Automatic content-sharing optimization: Webex automatically optimizes the quality, audio, and frame rate of screen-shared content and images.
Custom layouts: Zoom in or out on the participant grid view, changing the number of onscreen panels.
Customize stage view: Drag and drop participants onto a personal stage to display selected users.
Webex Assistant: An AI-support tool that gathers recordings, transcripts, action items, and highlights from meetings. All this is displayed in the meeting's space and calendar tab, where any user can access and share it.
Screen sharing: On desktop or mobile, with one-click pause and resume.
Active speaker view: Locks the speaker into view.
Fullscreen video: Displays a 4-participant grid with maximum detail.
Interactive whiteboarding
Background noise cancel
Chat
Hand-raising
Live polls
Breakout rooms
Virtual backgrounds
Hand-gesture recognition
Live file transfer
Zoom One Video Conferencing
Zoom Meetings, Zoom's popular video-conferencing platform, comes with every Zoom One plan, supporting up to 1000 users for 30 hours.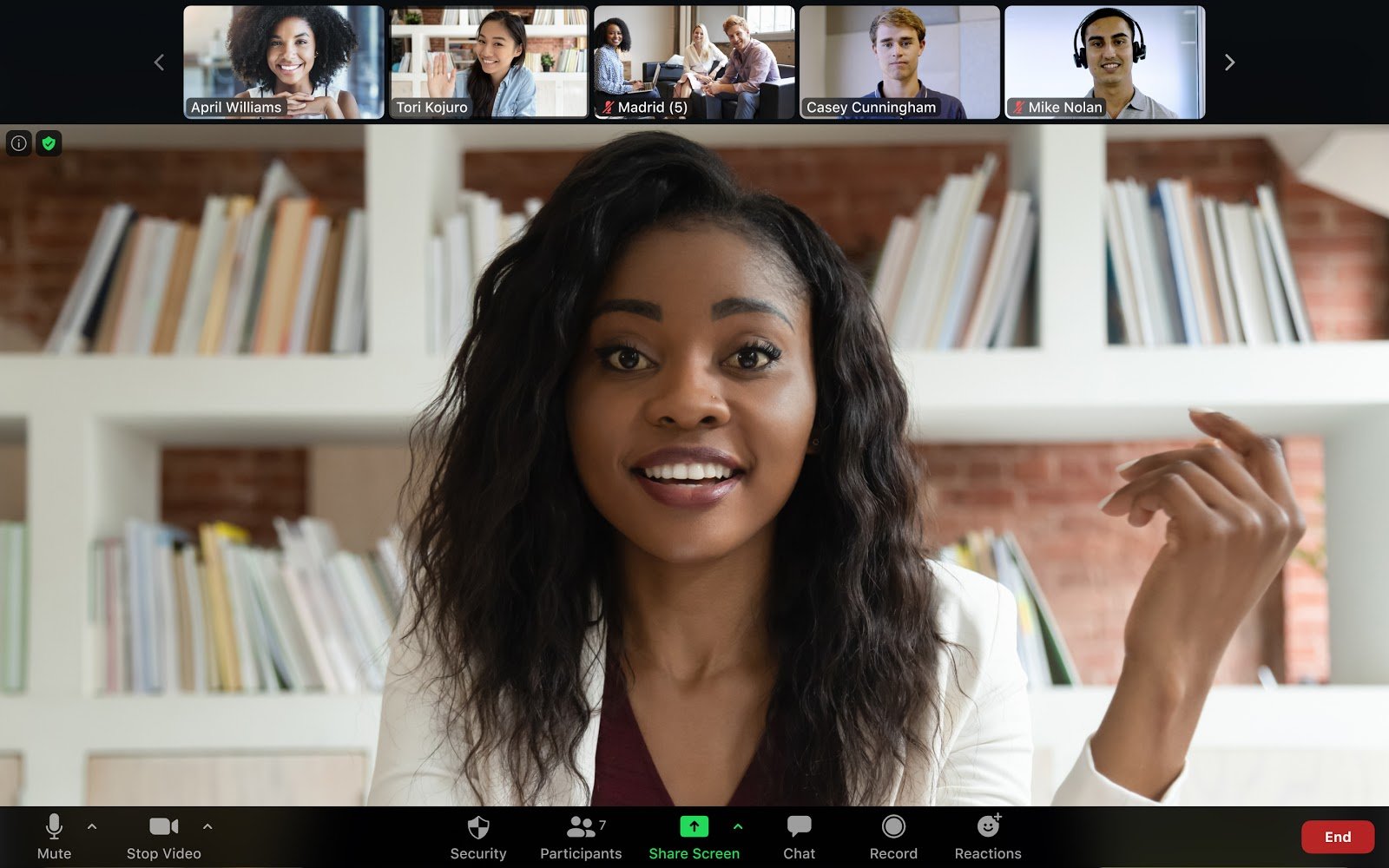 Schedule, customize, and invite users to an unlimited number of meetings right within the Zoom app. Virtual meetings are easy to join from any device, including telephone dial-in, requiring no download.
With Zoom's learning tools integration (LTI), educational administrators and teachers can add meetings to course activity and invite students to join Zoom video directly from learning management systems like Canvas or Moodle. Managed domains mean that administrators can batch-add all users sharing a school or company domain.
Zoom Meetings Collaboration Features:
Live transcription and automated captions: Transcripts are saved and accessible afterward.
Live streaming: To YouTube, Facebook Live, Twitch, and custom live streaming services.
Screen sharing from any device: With full video and audio transmission, which automatically optimizes shared content volume on participant devices.
Virtual backgrounds: Including the option to use slides.
In-meeting chat: Share text, files, images, screen captures, snippets of code, voice messages, GIFs, and emojis.
Host controls: Assign a co-host, start and stop closed captions, start live streaming, mute participants, pin participants, invite on stage, start breakout rooms, record meetings, initiate a poll, and more.
Personal Meeting ID: Each user can create their own personal meeting rooms, for quick invites and anytime private conferencing.
Multi-share: Multiple participants can share screens at once.
Calendar linking: Sync scheduled Zoom meetings with third-party calendar apps, like Gmail and Outlook.
Filters: Masks and video manipulation for engagement.
Whiteboarding: Collaborative whiteboards include markers, highlighters, text, geometric shapes, and more.
Co-annotation: Use multicolored markers and highlighters to draw over shared content, like files and images.
Waiting room: Send users to a virtual waiting room when they first join a meeting. Hosts are notified when users join a waiting room, can message waiting room participants, and choose when to let them into the meeting.
Language interpretations: AI automatically transcribes and translates meetings into multiple languages. Meeting participants can select an audio channel and hear the meeting in their selected language.
Breakout rooms
Advanced background noise suppression
Advanced lighting adjustments
Adjustable appearance touch-up
Meeting recording
Polling
The Zoom Enterprise plan supports Webinars, which include additional features for registration and attendee networking. While Zoom One does not include Zoom Rooms for hybrid conference environments, it does offer an add-on conference room connector.
Webex Analytics
View real-time and historical KPIs about channel usage, quality, and call center performance. All Webex reports and analytics are viewable over custom daily, weekly, and monthly time frames. Displays include statistics, trend changes, and comparative graphs.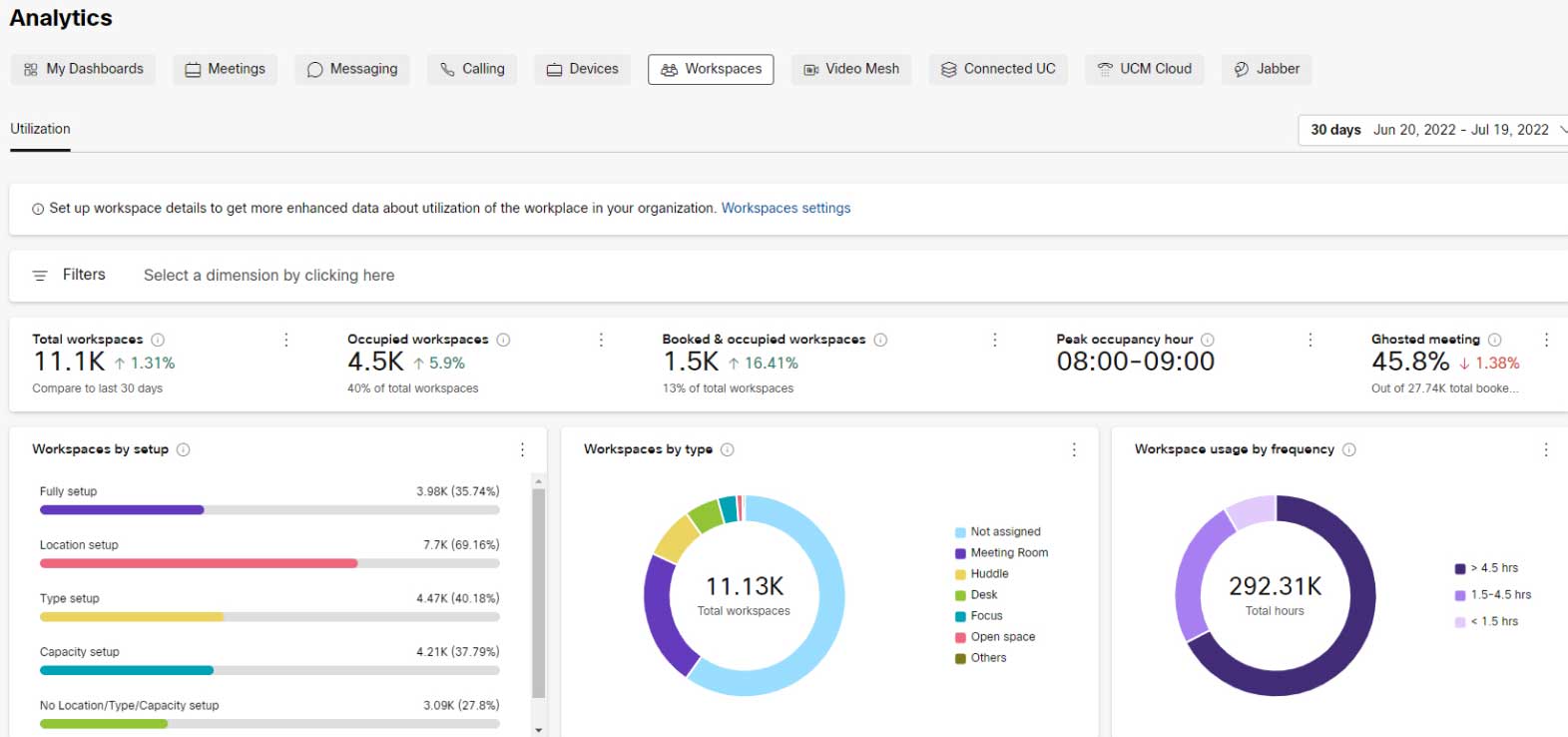 Multichannel Reports and Insights:
Meetings: Details about Meetings users, total number of meetings, meeting quality, average and total meeting minutes, feature usage within meetings, video quality, and more.
Messaging: KPIs including highest daily active users, average daily users, total messages sent, number of active spaces, files shared, and more.
Call queue stats: Total number of answered calls, abandoned calls, percentage of abandoned calls, average wait time, average and total talk time, audio quality, and more.
Zoom One Analytics
Zoom Analytics dashboards feature graphs and statistics about usage and performance across communication channels. Monitor call center activity, agent usage, adoption trends, and service quality.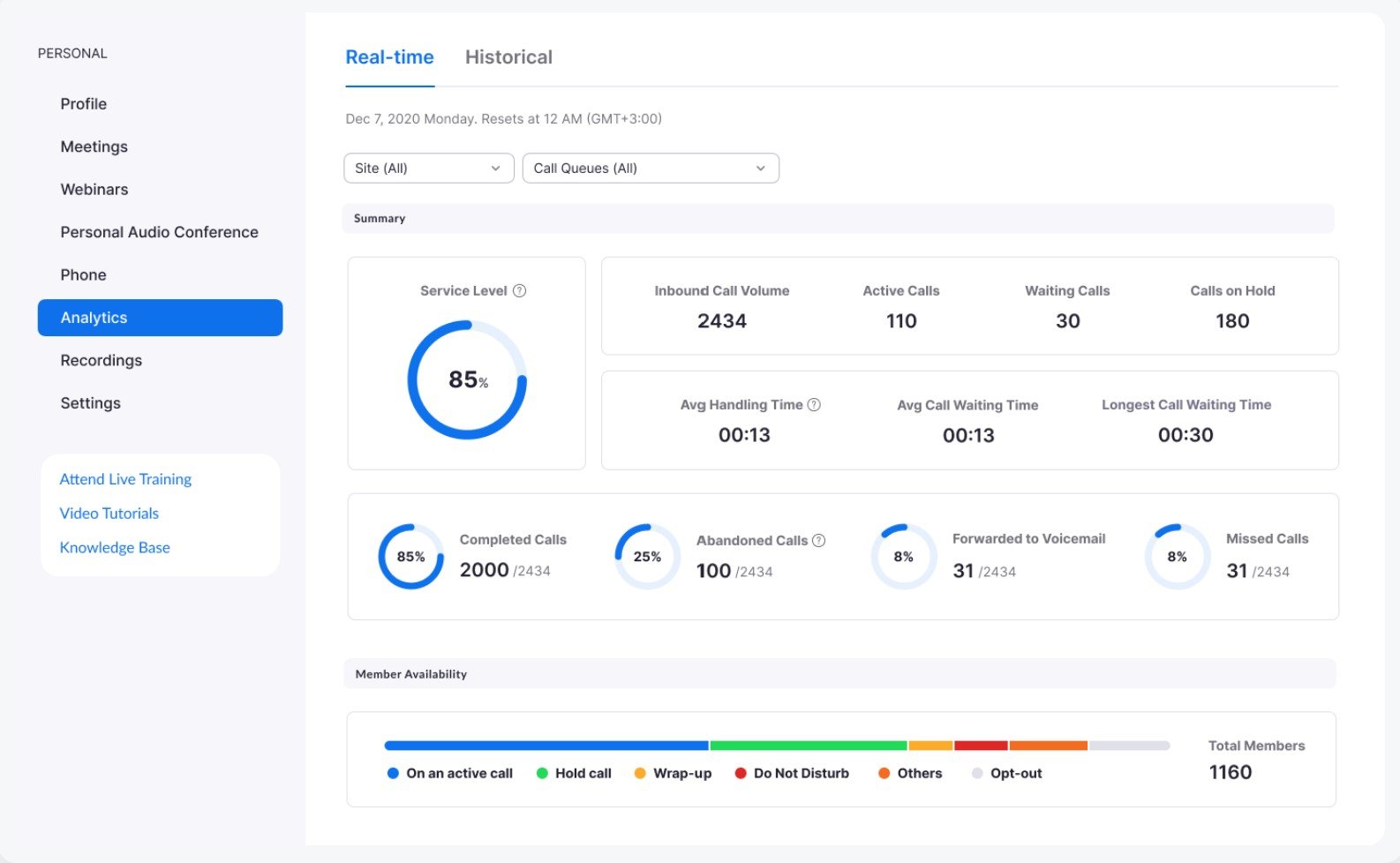 Zoom One Reporting Dashboards:
Meetings dashboard: Meeting and webinar quality score, historical meeting reports including time and users, audio and screen sharing quality for all users, and meeting usage sorted by meetings, minutes, participant information, or department.
Phone dashboard: Quality of service for all calls and devices, real-time usage reports including inbound call volume and total talk time, and location tracking.
Chat dashboard: Top 10 locations of chat participants, top 10 most active users within the company, team and user chat reports, and chat usage.
The Call Queue Real-Time Analytics dashboard, available in the Power Pack add-on, displays live service level score, inbound calls, average handle time, average wait time, the wait status of each queue, and more.
Webex vs Zoom: Plans and Pricing
Webex offers a free plan, a Suite plan, and an Enterprise plan with a 100-license minimum. The Free plan includes 40-minute video meetings with 100-participant capacity, unlimited calling to other Webex users, and unlimited chat. The Business plan supports 200 meeting participants and 24-hour meetings, unlimited calling in the US and Canada, and most phone system features. The Enterprise plan supports 1000-participant meetings and adds call queues, call recording, and call barging.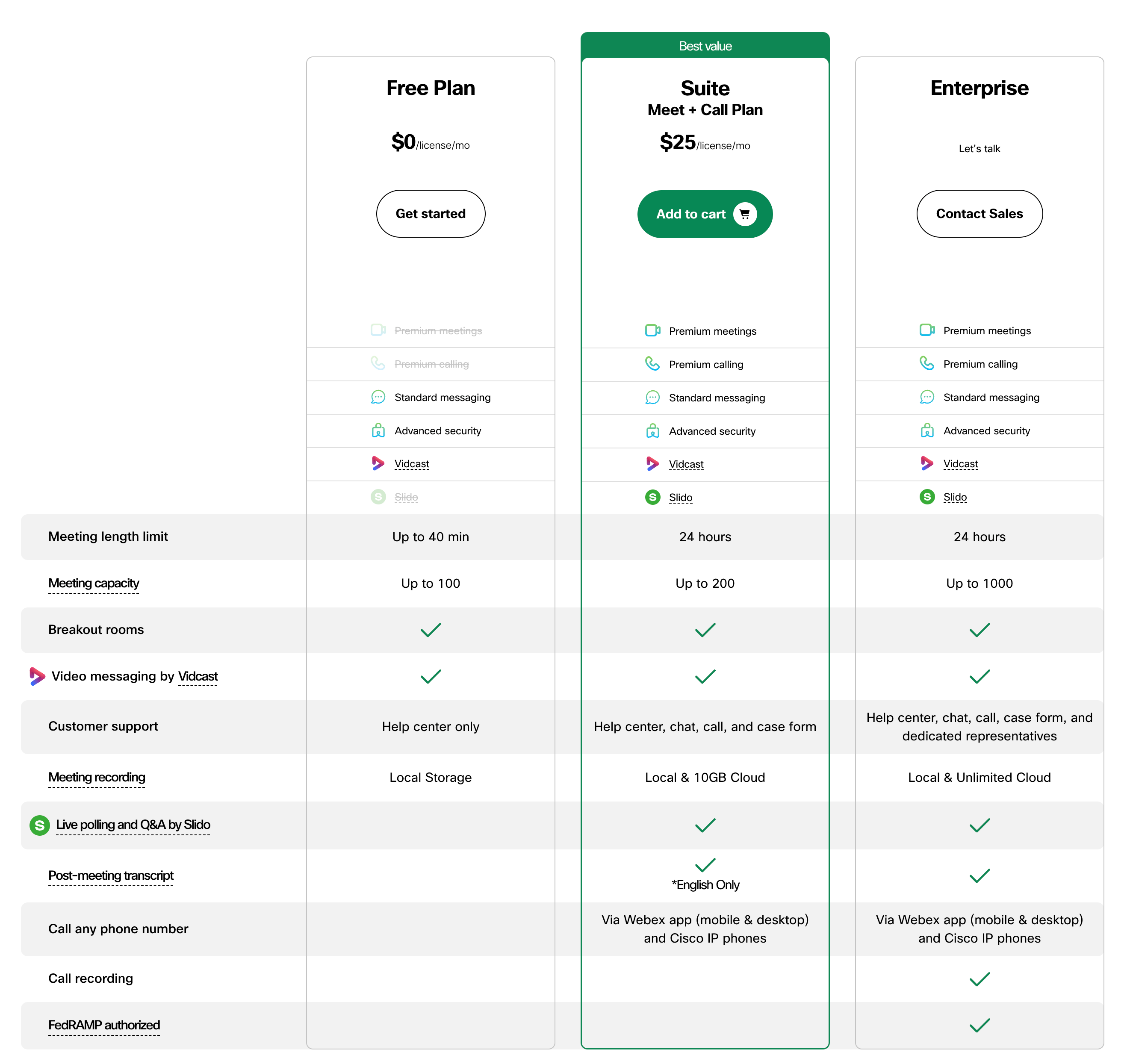 Zoom One offers 5 plans, including a free version. The free Basic plan includes team chat and 100-participant meetings with a 40-minute time limit, plus collaborative video features like whiteboards and breakout rooms. The Pro plan expands the video time limit to 30 hours plus live captions. The Business plan expands video meetings to 300 participants. The Business Plus plan adds VoIP calling with Zoom Phone. The Enterprise plan expands meeting capacity up to  1000 users.
Webex vs Zoom: Pros and Cons
Webex's easy-to-use interface and auto-generated meeting reports improve user experience. However, some users report that shared meeting links don't always work for recipients.
| | |
| --- | --- |
| Webex Pros | Webex Cons |
| Interface ease of use | Shared personal meeting-room links don't always work |
| Supports large meeting sizes | Can be difficult to add new users |
| Automatic meeting summaries and highlights | No option to save in-meeting chats |
Zoom outmatches its competitors in regard to the breadth of video-collaboration features–tools like live translation and filters make meetings engaging for everyone. However, the number of collaboration features may be overwhelming to new users and risk wasting unused capabilities.
| | |
| --- | --- |
| Zoom One Pros | Zoom One Cons |
| Extensive collaboration features in video meetings | No phone system included with the lower-tier plans |
| High-quality audio in calls and video meetings | Consumes a lot of battery power |
| Document collaboration within team chat | Some new users get confused by all the meetings features |
Webex vs Zoom FAQs
Below, we've answered some of the popular FAQs.