Our Verdict: Zoom is best for remote/blended teams of any size needing a secure video calling solution with in-meeting collaboration tools like screen sharing, breakout rooms, and the unique ability to share videos with audio. Microsoft Teams is best for global businesses familiar with the Microsoft365 interface needing an AI-enhanced video calling and collaboration platform with unlimited whiteboards, live captioning in 30+ languages, and instant messaging.
We recommend Zoom if you need:
A highly scalable communications platform that lets users scale from a free video calling app to an omnichannel contact center with compatible hardware
A platform specifically designed for telehealth or online education with HIPAA compliance, real-time mass emergency alerts, medical device integration, and interactive whiteboarding/collaboration tools for students
Conversation Intelligence and AI analytics to boost revenue and CSAT rates, optimize available employees, and identify workflow and customer journey bottlenecks
We recommend Microsoft Teams if you need:
A platform designed to work with other Microsoft products (Microsoft 365, OneDrive, Word, Excel) and enables direct, real-time coworker collaboration in the Teams interface
Improve employee engagement via personal interactive avatars, customized virtual scenes, animated GIFs, stickers, and 1800+ emojis
An affordable and reliable communication solution with plans from $4/user/month that include high-level security, data encryption, and a 99.9% uptime guarantee
Zoom vs Teams: Summary
| | |
| --- | --- |
| Category | Winner |
| Price and value | Microsoft Teams: Teams is more affordable than Zoom with 3 pricing plans ranging from $4-$12.50 per user/month with comparable video and team collaboration features |
| Free version | Microsoft Teams: The Teams Free Plan offers a 60-minute meeting duration, longer than the Zoom Free Plan's 40-minute meeting time limit |
| Security Features | Draw: Zoom and Teams both offer advanced security features like data encryption, SOC2 and HITRUST compliance, and a 99.999% uptime. |
| Whiteboard | Microsoft Teams: Teams offers unlimited whiteboards on all paid plans and has a higher simultaneous user cap than Zoom |
| Collaboration tools | Draw: Teams and Zoom both offer many engagement tools including an interactive avatar feature |
| Scheduling and setup | Zoom: While Teams offer more customization options, Zoom is more user friendly and easier to set up. |
| Audio and video quality | Draw: Teams and Zoom both offer high quality HD video and audio with similar display options |
| Integrations | Zoom: Zoom offers over 1,000 integrations compared to Teams' 250 |
What is Zoom?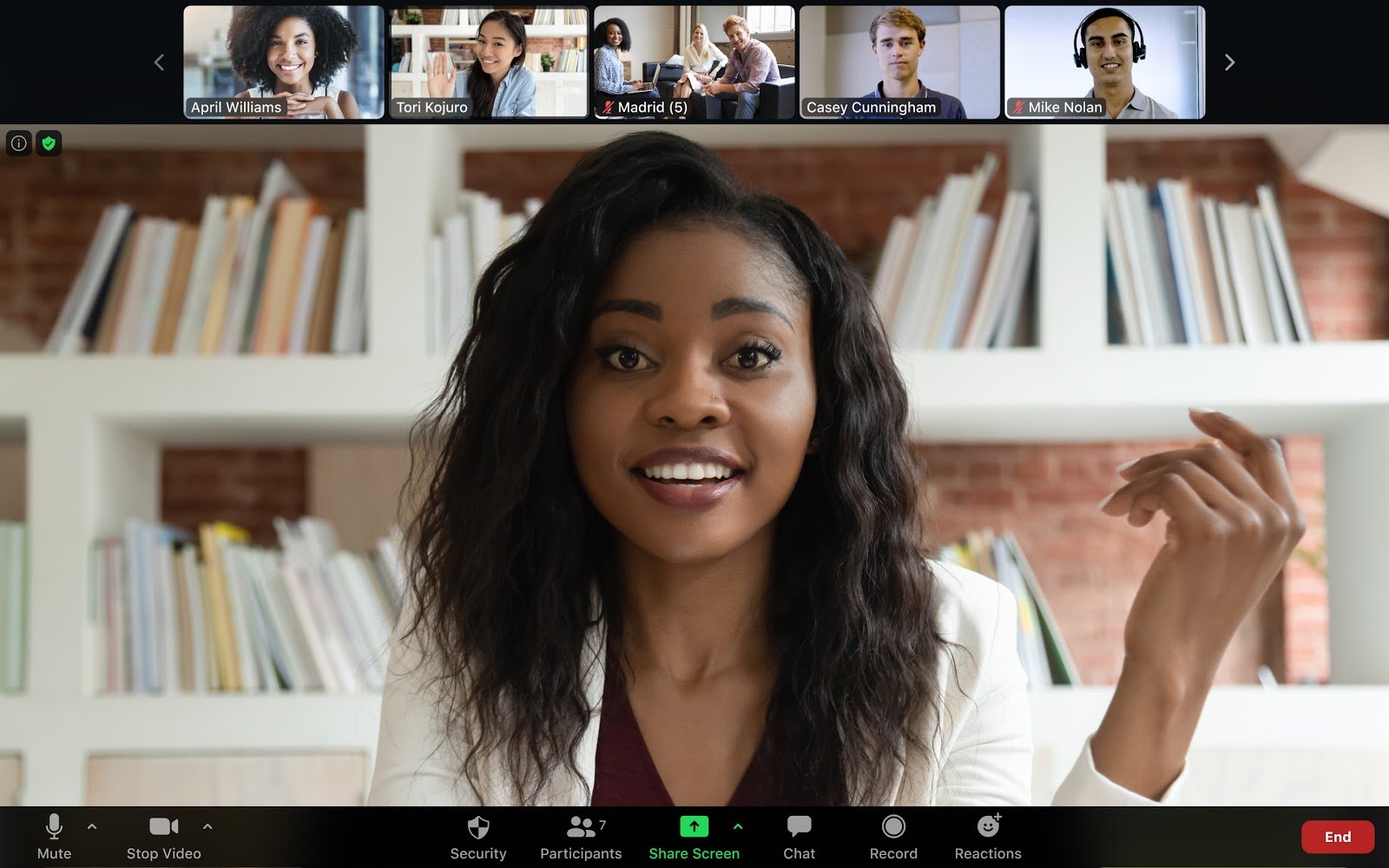 Zoom is a top-tier business video conferencing tool offering in-meeting collaboration tools like whiteboards, breakout rooms, polls and quizzes, screen sharing, and participant chat. Some Zoom plans also include Zoom Phone, the platform's VoIP phone service, and webinar capabilities for larger online events.
What is Microsoft Teams?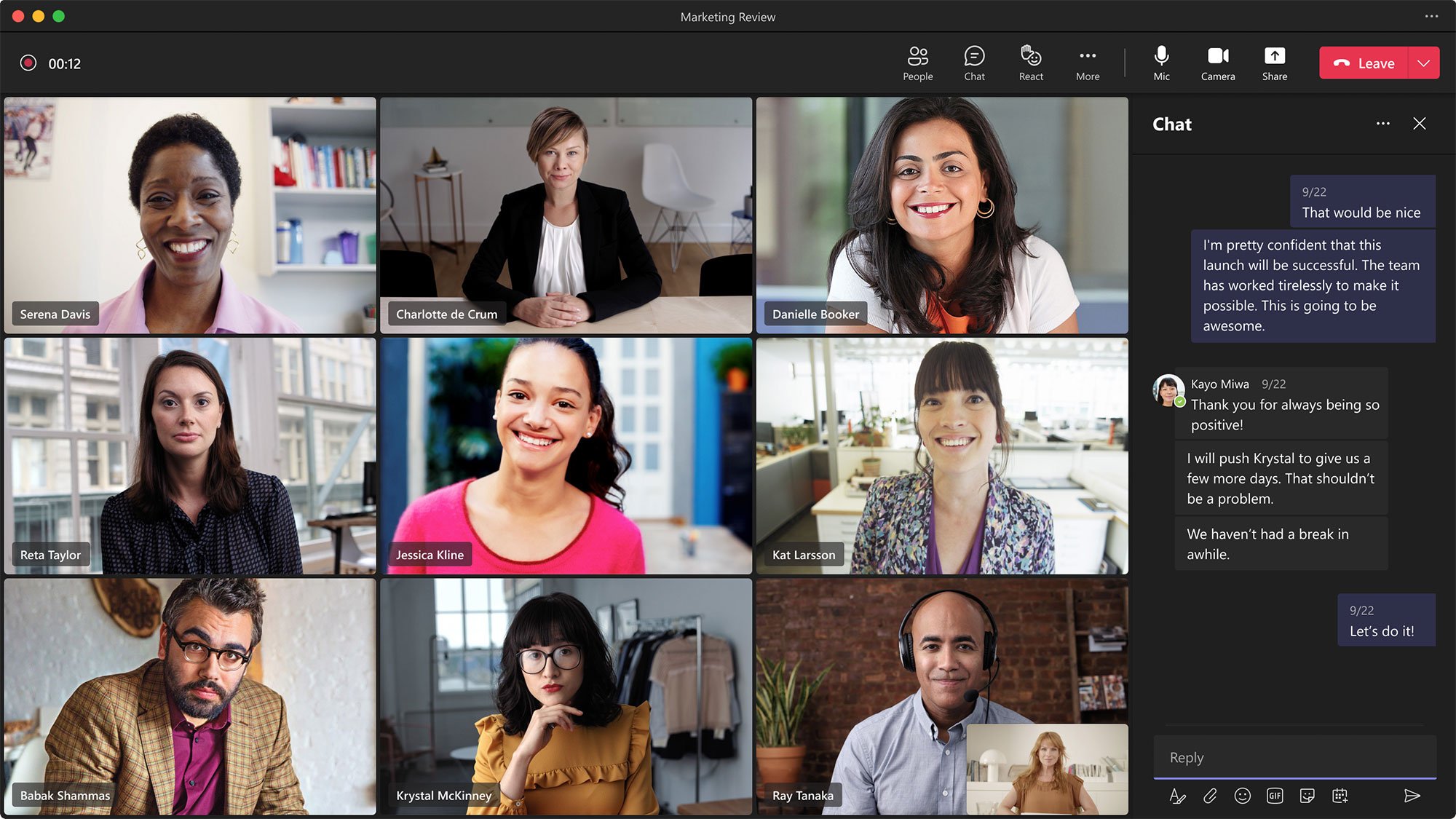 Microsoft Teams is a unified communications and collaboration platform that streamlines virtual telephony, online meeting tools, collaboration, and team chat under a single-pane-of-glass.
Teams is designed to integrate seamlessly with other Microsoft products like Outlook and Office 365. The feature-rich but surprisingly user-friendly platform offers live captioning, meeting recording, and real-time participant reactions.
Zoom vs. Teams: Feature Comparison
Below is a head-to-head comparison of Microsoft Teams vs Zoom features based on the following categories:
Video Conferencing
Summary: Zoom provides users with enterprise-grade HD video and audio conferencing, a high participant cap of 1,000, and advanced in-meeting features like simultaneous screen sharing. Microsoft Teams' video conferencing platform limits participants to 300, but includes several AI-powered features including live captions in 30 languages.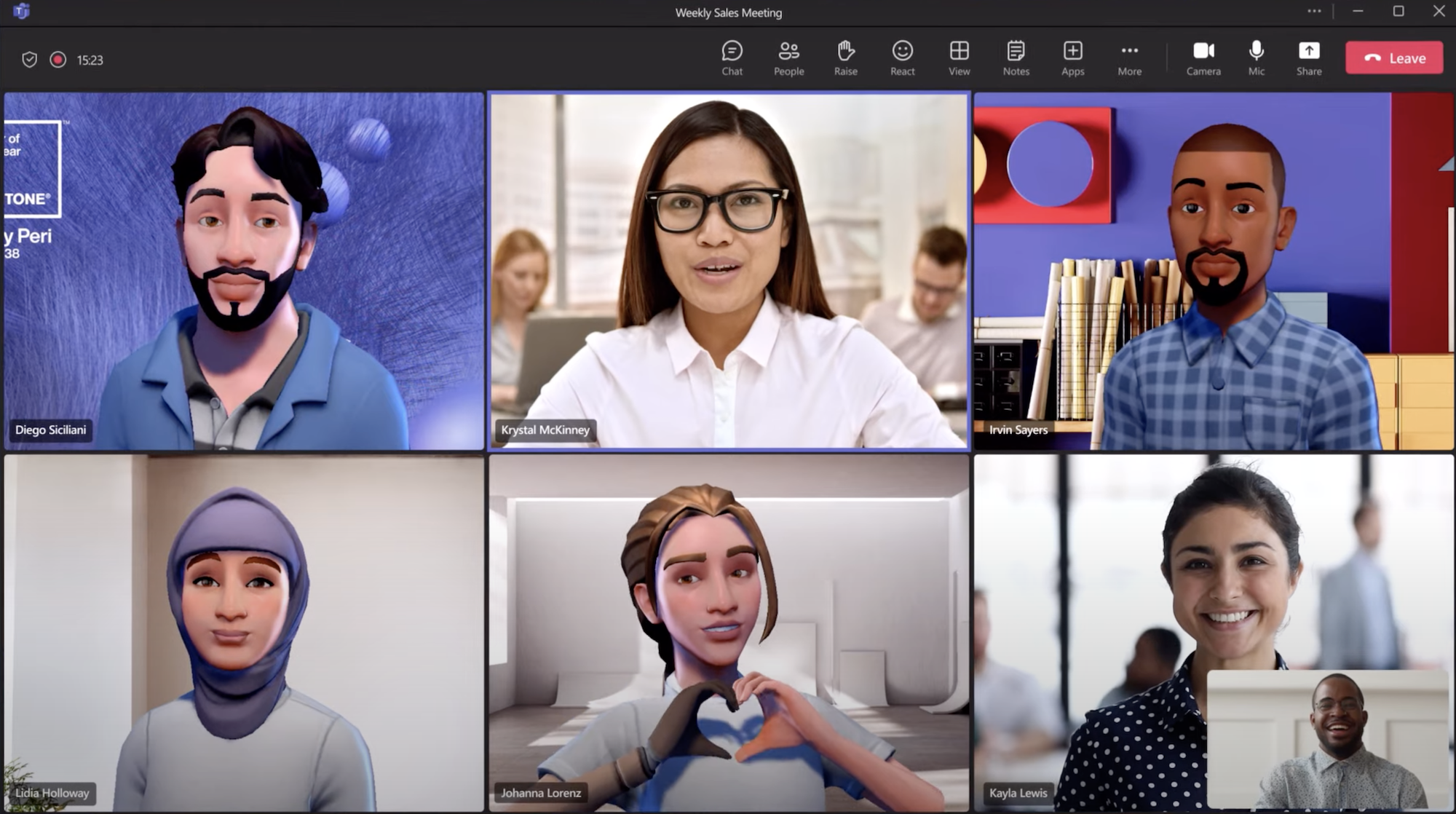 Shared Features
Zoom and Microsoft Teams both offer:
Unlimited Video Meetings: Both Zoom and Teams offer unlimited HD Video meetings with a maximum meeting duration of 30 hours for all paid plans
Breakout Rooms: Both Zoom and Teams allow users to create up to 50 in-meeting breakout rooms with participants assigned to rooms randomly or manually. Admins can name breakout rooms, set time limits and share announcements with room members
Host Controls: Both providers include host control features like meeting lock, waiting room, participant removal, etc. for increased security
Webinar Capabilities: Both Teams and Zoom include webinar hosting functionality for up to 1,000 attendees in premium plans. Webinars include multiple roles (host, cohost, panelist, attendee) plus registration tools and analytics
AI Features: Zoom and Teams both include several AI-powered features like AI-generated meeting summaries, noise cancellation, and video enhancements (touch ups, brightness filters)
Meeting recording and transcription: Both Teams and Zoom offer manual/automatic meeting recording with recording announcements, AI audio transcription, and plan-specific cloud storage
Meeting Engagement Tools: Both providers include in-meeting chat, polling, Q & A, emojis, custom avatars, shared virtual scenes, custom virtual backgrounds, and third-party integrations
Differences
Participant caps: Zoom allows companies to host up to 1,000 meeting participants while Teams caps meeting participants at 300
Screen Sharing/Remote Screen Control: Zoom allows simultaneous screen sharing, Teams offers only single screen sharing. Both providers offer remote screen control
Live closed captioning: Both Zoom and Teams provide live closed captioning, but Teams can translate 30 languages compared to Zoom's 21
Co-Hosts: Zoom allows users to appoint a co-host with access to meeting host controls, but cohosots cannot appoint additional cohosts or end meetings. Teams lets users appoint a meeting co-organizer that can end the meeting for all and change participant roles, but cannot manage the meeting's recording
Waiting room: Zoom's waiting room must be enabled or disabled for all participants, while Teams allows for hosts to decide who can bypass the waiting room.
Team Chat
Summary: Microsoft Teams includes robust collaboration features like 1:1 and group chat, emojis, and task management. Zoom users can create dedicated, meeting-based chat groups ideal for reminders and post-meeting discussions.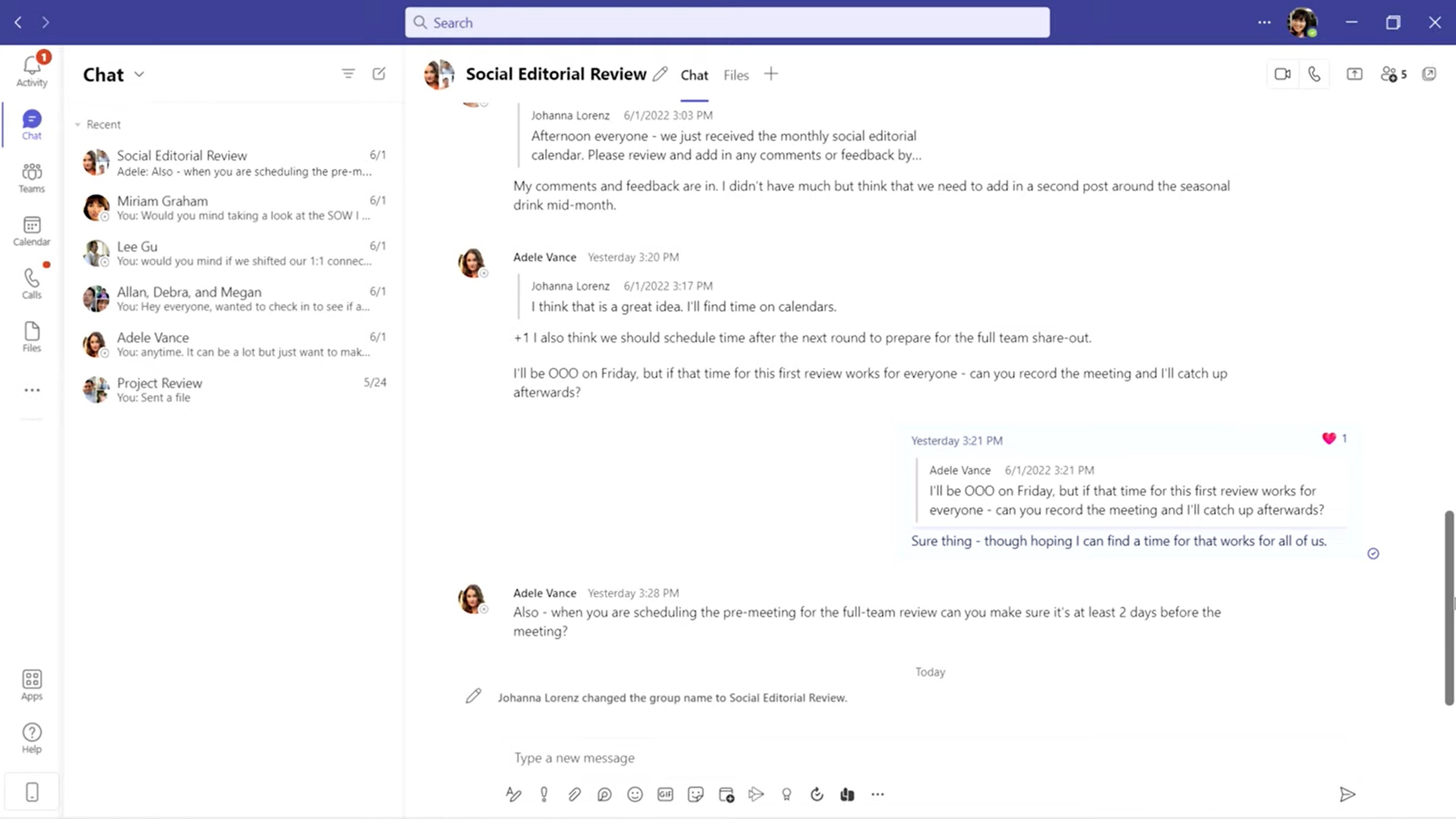 Shared Features
Zoom and Teams both offer:
Persistent and in-meeting chat: Zoom and Teams users can access team chat during and outside of video meetings
Channels/groups: Both platforms allow users to create messaging channels/groups where they can send messages, files, images, or start an instant meeting with channel members
Public/private chats: Teams and Zoom offer public and private chat messaging
File Sharing: Both providers allow users to send screenshots, files, animated gifs or code snippets through team chat
Add external guests: Zoom and Teams both allow for external guests to be invited to a team chat or private channel (Teams invitees must create a free Teams account)
Searchable chat logs: Teams and Zoom allow users to search chats, channels, messages and contacts by keywords with filters (date, user, type, etc.)
Co-editing a file: In Microsoft Teams or Zoom, users can share a and simultaneously edit  documents, with all changes synced across devices/file versioning
Differences
File storage: Zoom includes 5GB, 10GB, or unlimited cloud storage depending on which pricing plan is purchased while Teams includes up to 1TB storage per organization plus 10 GB/license
Send video and audio clips: Teams allows users to send a video or audio clip that is up to one minute long on team chat, while Zoom users can send a video clip of up to three minutes in length and an audio clip of up to one minute in length
Integrations
Summary: Zoom has one of the largest app ecosystems with 1000+ total integrations including 50 in-meeting app integrations. Teams has 250+ integrations, but is designed to within the Microsoft product universe
Shared Features
CRM app integrations: Both providers integrate with popular CRM and messaging tools like Salesforce and Hubspot.
Help Desk integrations: Teams and Zoom both integrate with Helpdesk and ticketing applications such as HappyFox and ServiceNow.
Marketing integrations: Both platforms offer popular marketing integrations such as Zoho, Freshdesk, and Jira.
Live stream SDK: Software development kits (SDKs) enable live video stream embedding in custom domains, apps, and websites
Calendar integrations: Calendar apps integration with Google Calendar, Outlook Calendar, etc.
Differences
App offerings: Teams offers 250+ integrated apps and services, Zoom offers over 1,000 integrations.
Live-meeting integrations: Zoom offers 50 live in-meeting integrations, including engaging polling/games apps like Kahoot and Mentimeter. As of this writing, Teams does not offer any in-meeting app access as of this writing
AI integrations: Microsoft Teams has recently added several AI integrations including an integration with Viva Connections which allows users to create targeted campaigns, get suggested personalized messages and adjust messages for tone and length
Whiteboards
Summary: All Zoom and Teams plans include in-meeting and persistent whiteboard. both include whiteboard functionality in all plans. Zoom whiteboards supports up to 100 simultaneous users, while Teams includes unlimited whiteboarding for up to 300 simultaneous users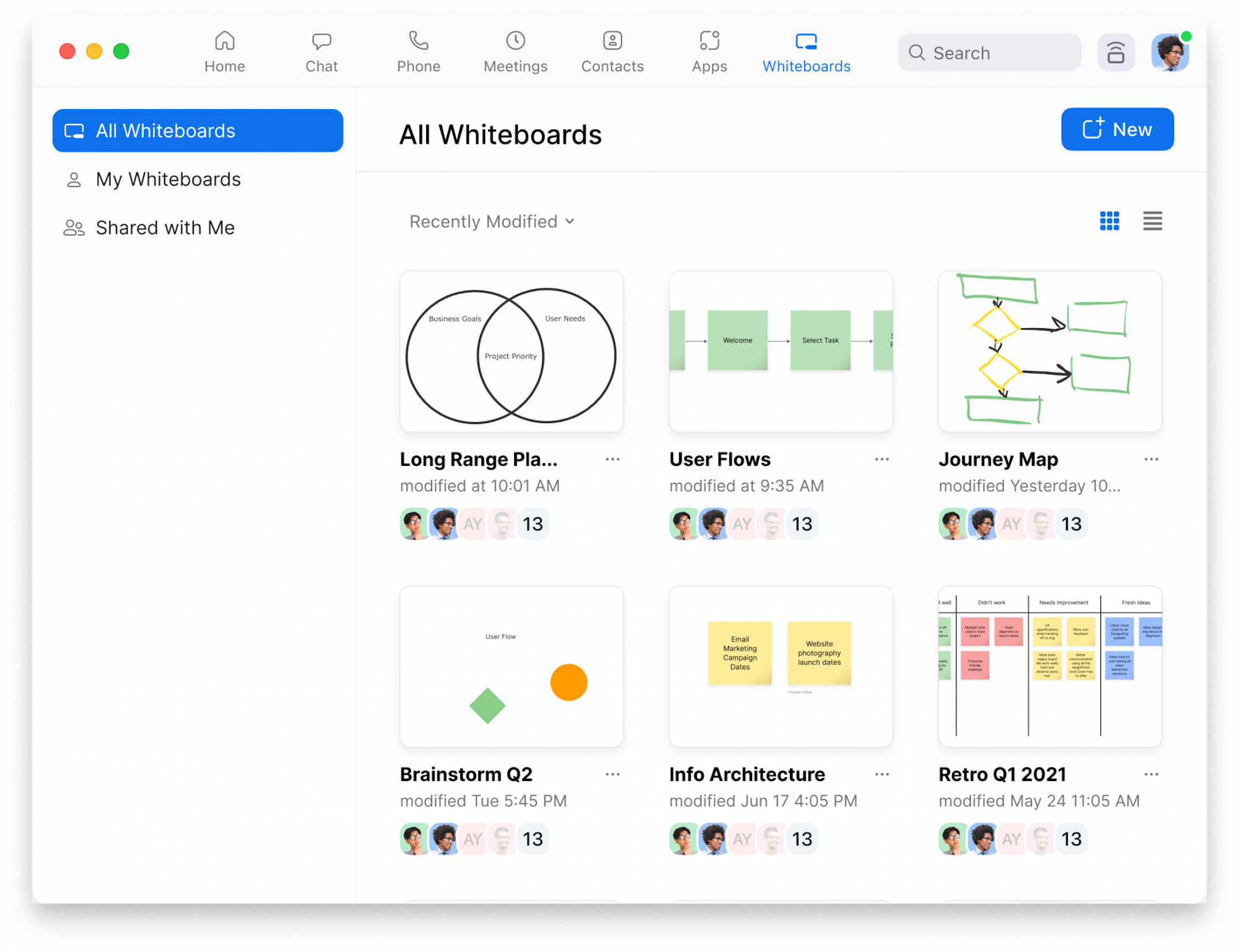 Shared Features
Type: Zoom and Teams include a "type" tool for text boxes and font customization
Images: Teams and Zoom whiteboard users can insert, move, and resize images
Sticky notes: Zoom and Teams users can add/move sticky notes to whiteboards
Drawing and highlighting: Both providers include digital drawing tools like pens, colorful markets, and highlighters
Templates: Zoom and Teams offers pre-designed whiteboard templates (brainstorming, action items, etc.).
Asynchronous usage: Teams and Zoom users can edit whiteboards asynchronously outside of a live meeting
Differences
Participant limits: Zoom allows for up to 100 simultaneous whiteboard participants while Teams allows for up to 300 simultaneous whiteboard participants.
Whiteboard limits: Zoom limits the number of whiteboards to three on Free and Pro Plans (all other plans have unlimited whiteboards) while Teams includes unlimited whiteboards for all users.
Reporting and Analytics
Summary: In Microsoft Teams, users can view usage patterns, team activity, current active users, posts, and replies for teams and channels they are a part of. Zoom's analytics dashboard monitors meeting, webinar, and screen sharing quality alongside other KPIs.  Zoom users also have the option to purchase the Power Pack add-on which tracks call queue data in real-time
Shared Features
Meeting quality: Both providers allow admins to drill down meeting, audio, video, and screen share quality, plus see modalities used and any health issues
Usage analytics: Zoom and Teams supervisors can view usage data by meetings, minutes, participants, groups, participant information, audio type, or department
Voice KPIs: Both platforms have access to reporting on key usage metrics for telephony (inbound/outbound calls, completed, answered, missed calls, etc.)
Webinar analytics: Both providers enable users to track webinar history including total number of attendees
Attendance tracking: Hosts of both platforms can view meeting attendance reports (see who attended each meeting and how long they stayed)
Differences
Availability: Zoom includes an analytics dashboard with all plans while Teams only includes usage reporting/analytics in its Business Basic Plan and above.
Make user data anonymous: Teams allows global administrators to hide identifiable information like display/group names, email, and ID on reports
Team chat reporting: Zoom reports on team chat usage and sent message types (text only, files, images, code snippets, GIFs, audio, video, etc.)
Virtual appointments usage: Microsoft Teams includes a virtual appointments feature with metrics like the number of bookings and average appointment duration
Conversation intelligence: Zoom AI-powered conversation intelligence tool lets users track words, expressions, and customer sentiment. It also offers proactive alerts, engagement scores, and forecasting trends
Customer Support and Security
Summary: Microsoft Teams is built on the Microsoft 365 and Office 365 hyper-scale, enterprise-grade cloud and includes two factor authentication, single sign on, and data encryption. Customer service is offered by chat, email, and call back only.
Shared Features
Uptime: Both Zoom and Teams offer a 99.999% uptime guarantee
Customer self service: Both platforms have an extensive knowledge base  and 24/7 user community forums
Security certifications: Both providers are compliant with security standards like SOC 2 TYPE 2, HIPAA & HITRUST, GDPR, ISO 27001, etc.
Authentication: Both Zoom and Teams offer a range of authentication methods like two factor authentication, Oauth (SAML), and password-based authentication for individual accounts
Differences
Support Channels/Hours: Teams offers 24/7 chat support with a Microsoft 365 subscription, but does not offer live phone support. Zoom offers 24/7 live chat support with Business, Business Plus and Enterprise plans
Paid add-on support options: Zoom offers three premium support plans that include live phone and chat support, while Teams does not offer premium support options.
End to end encryption: Zoom offers end-to-end encrypted video meetings, while Teams only offers E2EE on 1:1 calls (all other communication is TLS encrypted)
Scalability
Both Zoom and Teams can be scaled by integrating additional native products into the platform. Below is a summary of other products offered by Zoom and Teams:
Zoom Products:
Zoom Webinar: Zoom Webinar allows users to host webinars with over 100 panelists and over 500 attendees with advanced features such as session branding, video previews and customizable pre and post email reminders
Zoom Rooms: Zoom Rooms enables users to create an integrated physical conference room for audio conferencing, wireless screen sharing, and video conferencing remote and in-person participants. It supports up to 3 displays, 10 room controllers, and unlimited cameras
Zoom Contact Center: Zoom Contact Center is an affordable CCaaS solution that combines voice, SMS and video capabilities with webchat, routing profiles, and contact center analytics.
Zoom Phone: Zoom Phone is a business VoIP solution offering a U.S. or Canadian phone numbers, SMS/MMS texting, unlimited inbound calling, and unlimited or metered outbound calling
Zoom One: Zoom One is a UCaaS platform that combines video meetings with whiteboard, team chat, VoIP service, cloud storage, and more
Microsoft Products:
Microsoft 365: Microsoft 365 is a flagship product and a suite of Microsoft apps that includes web, desktop and mobile versions of Teams, OneDrive, Word, Excel, PowerPoint, and more
Microsoft Co-pilot: Microsoft Co-pilot works alongside other Microsoft 365 apps (especially Word, Excel, and Outlook) to provide AI-powered suggestions and assistance in real-time
Microsoft Outlook: Microsoft Outlook is an email and calendaring tool with intelligent search, availability sharing, and task management
Microsoft PowerPoint: Microsoft PowerPoint is a slide presentation software that enables users to design slides from scratch or templates with the ability to add 3D objects, embedded animations, and more using voice commands, touch, and converted handwritten notes
Mobile App
Summary: The Microsoft Teams mobile app has nearly all the features of the desktop app including video meetings and team chat. Teams users can also create new teams right from their mobile device. The Zoom mobile app includes team chat, video meeting, and whiteboard functionality.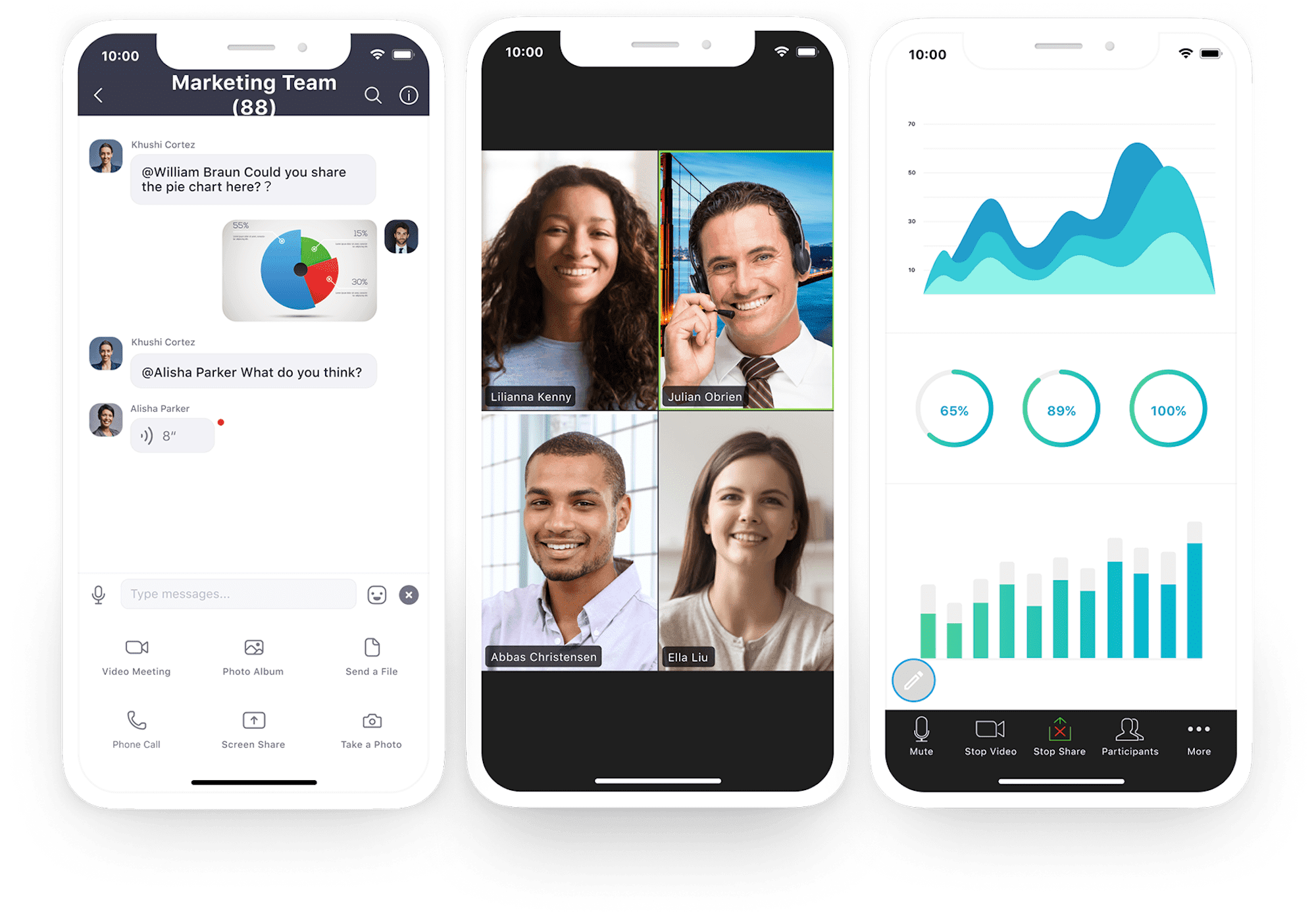 Shared Features
Join a video meeting: Both Zoom and Teams let users join meetings via mobile device and use call flip to switch between devices on active calls. Teams users joining larger conferences are muted
Threaded conversations: Both platforms allow users to join team chat channels, send messages, share files, upload photos, etc.
Dark Mode: Teams and Zoom offer dark mode to lessen eye strain
One-to-one chat: Both platforms allow users to start a one on one mobile text conversation with a coworker, while Teams includes rich text options(bold, italics, hyperlinks, etc.)
Escalating to video or audio call: Zoom and Teams users can escalate a chat to a video or phone call from the mobile app
Live captions: Teams and Zoom users can turn on live transcription via mobile app
Virtual backgrounds: Both platforms offer mobile virtual backgrounds
Differences
Create a team: Microsoft Teams users can create a new team, add members, and pin teams directly from the mobile app.
Screen sharing: Both platforms include mobile screen sharing, but Teams lets users pause screen sharing on mobile devices while Zoom does not.
Polling: Teams allows users to launch polling from the mobile app, Zoom does not
Whiteboard: Zoom users can access whiteboards from the mobile app, Teams whiteboards are only accessible on the desktop app
Zoom vs Teams: Pricing and Plans
Summary: Microsoft Teams has more affordable pricing than Zoom, but Zoom has better security, more video meeting features, and a higher participant limit. Zoom also offers flexible add-ons like increased meeting participant limit, translated captions, and audio conferencing. The Microsoft Teams free plan has a longer meeting duration and more features than Zoom's free app.
Zoom Pricing
Free Plan: Users can host unlimited meetings with up to 100 participants for up to 40 minutes. Features include team chat and whiteboard.
Pro Plan ($149.90 per year per user): Meeting duration limit increases to 30 hours. Additional features include AI companion and 5GB of cloud storage per user for recordings.
Business Plan ($199.90 per year per user): Participant limit increased to 300. Additional features include SSO, managed domains and branding.
Business Plus Plan ($250 per year per user): Adds on unlimited regional calling, domestic SMS/MMS and automatic call distribution. Cloud recording storage increased to 10 GB per user.
Enterprise Plan: Users can Host meetings of up to 1000 attendees. Includes unlimited cloud storage. Adds on call queues and IVR, metered outbound calling, and webinar capabilities.
Teams Pricing
Free Plan: Users can host meetings of up to 100 participants for up to 60 minutes. Features include breakout rooms and file sharing.
Essentials Plan ($4 per month per user): Participant limit is 300 and duration limit is 30 hours. Additional features include webinar functionality and live captions (English only).
Business Basics Plan ($6 per month per user): File storage is increased to 1 TB per organization plus 10 GB per license. Adds on Additional Microsoft 365 services, including SharePoint in Microsoft 365. Adds on reporting and analytics, 99.9% uptime guarantee, and enforced multifactor authentication.
Business Standard Plan ($12.50 per month per user): Adds on Desktop versions of Outlook, Word, Excel, PowerPoint, Access, and Publisher. Adds on default Outlook calendar view.
Zoom vs Teams: Pros and Cons
Zoom Pros:
Participant cap: High participant limit (1,000), compared with competitors.
Security: Highly secure with end to end encryption, host controls, SSO, etc.
User experience: Ubiquitous, easy, and intuitive platform
Zoom Cons:
Lack of phone features: VoIP phone system  capabilities are only included in premium plans and lack advanced features
Storage: Cloud storage is limited with the exception of the Enterprise Plan
Analytics: Basic reporting and analytics only, no live reporting
Microsoft Teams Pros:
Secure: Highly secure and reliable platform with data encryption and uptime guarantee
Ease of use: Intuitive platform that works seamlessly with other Microsoft products
Long time limit: 60 minute meeting duration in the free version is high compared to competitors
Microsoft Teams Cons:
Lack of integrations: Does not integrate well with non-Microsoft apps
Permissions and roles: Difficult to change permission settings, everyone on a team has access to all files
Lack of customization: Cannot move channels or replicate teams which reduces flexibility of the platform
Alternatives to Zoom and Teams
Provider
Pricing
Main Features
Best For
Dialpad Meetings
$0-$15 per user per month

AI meeting transcription
Automated post meeting summaries
Automated action item capture
Custom hold music

SMBs and remote teams that need built-in AI
GoTo Meeting
$12-$16+ per organizer per month

Screen sharing
One-click meetings
In-Meeting chat
Mobile App

Large businesses that need to host regular meetings with over 100 participants
RingCentral
$20-$35 per user per month

AI meeting insights and live transcription
Whiteboard
Breakout rooms
Video recording
HIPAA compliant

Large companies and healthcare organizations
Slack
$7.25-$12.50+ per user per month

Screen sharing
Audio and video clips
Workflow automation

Remote global teams and freelancers
Cisco Webex
$0-$25+ per user per month

Whiteboard
1:1 and team messaging
Video messaging
meeting co-hosts
Live reactions with hand gesture recognition

Enterprises that need a robust video conferencing and webinar platform