Whether your workforce is in-house, hybrid, or fully remote, video conferencing platforms offer major benefits to small businesses.
According to studies on the state of video conferencing, these benefits include an $11,000 annual cost savings per team member, increased employee satisfaction, and a 50% increase in productivity levels.
However, it's choosing the right video conferencing software for your team, business model, and overall workflow that ensures your company experiences these advantages.
Zoom and Google Meet are two of the most popular web conferencing tools on the market today, but choosing between them can be a tough decision.
In this post, we'll provide a detailed head-to-head comparison of Google Meet vs Zoom, touching on available features, user experience, pricing and plans, and more.
Table of Contents
An Overview of Google Meet vs Zoom
Google Meet
Zoom
Free Plan
Google Meet Free Plan includes:

Up to 100 meeting participants
Maximum Group meeting length of 1 hour
No time limit on 1:1 meetings
15 GB/user of Google Drive desktop storage
In-meeting chat messaging
Whiteboard (Google Jamboard)
Screen sharing (whole screen, window, browser tab)
Live closed captioning
Two-Step Authentication

Zoom Meetings Basic Free Plan includes:

100 participant limit
40-minute group meeting limit
No 1:1 meeting time limit
Group/private chat messaging
Local recording
Breakout rooms
Screen sharing, co-annotation, remote control
Whiteboarding
Meeting filters, virtual backgrounds, spotlight and pin participants
Waiting Room, TLS, and AES-256 Encryption

Paid Plans
Two paid plans:

Google Workspace Individual for $9.99/user per month
Google Workspace Essentials for quote-based pricing
Both paid plans upgrade Google Meet users to the Google Workspace (bundled access to Google Meet, Google Docs, Google Calendar, Gmail, etc. plus advanced Meet features)

Zoom Meetings (standalone video calling): 3 paid plans from $14.99-$19.99+/user per month

Zoom Meetings add-ons:

Cloud storage from $40.00/month
Large Meetings from $50.00/month
Audio Conferencing from $100.00/month
Premier Support and Premier Developer Support (pricing unlisted)

Meeting Basics

Maximum of 250 participants– 24-hour meeting length maximum
Up to 25 meeting cohosts
Up to 49 simultaneous screen streams

Maximum of 1,000 meeting participants with an add-on (500 without add-on)– 30-hour meeting length maximum
Unlimited number of meeting co-hosts
Up to 49 simultaneous screen streams

Top Features

Google Jamboard (whiteboard)-Integrations with other Google Workspace tools

User Experience

Best Part:

Needs Improvement:

In-meeting file collaboration features

Best Part:

Needs Improvement:

Security and Privacy, especially regarding user trust

Best For
Small teams of under 20 that need easy-to-use, more basic video calling for face-to-face communication as opposed to extensive real-time collaboration
Small-to-medium-sized teams that need the flexibility of a robust mobile app and an excellent free tool with scalable, advanced features
What Is Google Meet?
Google Meet (formerly Google Hangouts) is a browser-based, no-download video meeting application for up to 250 users to host an unlimited amount of meetings that can each last up to 24 hours.
A Google Meet video call
Google Meet is one of the most popular Google Workspace tools. Google Workspace is a bundled suite of business communication and collaboration tools like Gmail, Google Calendar, Google Drive, Google Sheets, and Google Slides.
Users can opt to purchase the complete Google Workspace suite, or use the completely free version of Google Meet.
Google Meet is available to both internal and external users, which makes collaborating outside of your organization much easier. To create or attend a Google Meet video call, all anyone has to do is create a Google account using a personal or work email address.
Users can meet on desktop computers, laptops, smartphones, tablets, and, most recently, the Google Nest Hub.
Google Meet is compatible with numerous web browsers and Operating Systems, including:
Apple macOS and Microsoft Windows
Chrome OS
Android and Apple iOS devices
Google Chrome, Mozilla Firefox, Apple Safari, Microsoft Edge
Note: Because this post compares Google Meet vs Zoom, we'll focus mostly on Google Meet as a standalone app (though free versions of other Workspace tools, like Google Drive, are also available to Google Meet free plan users.)
What Is Zoom?
Zoom is a cloud-based video calling platform with a corresponding downloadable desktop/mobile application. Up to 1,000 users can join or host an unlimited number of meetings of up to 30 hours per session.
A Zoom meeting in progress
Anyone can join a Zoom meeting without having to create their own Zoom account, but users can't schedule a meeting, act as a host, or invite other users without downloading the Zoom app by providing their email addresses.
Zoom is accessible by desktop and laptop computer, Apple iOS or Android smartphone, tablet, and even Blackberry devices.
Zoom-compatible operating systems and web browsers include:
MacOSX and Windows 7, 8.1, and 10
Mint
Ubuntu
Mint
iOS Apple and Android devices
Internet Explorer, Firefox, Chrome, Safari, Linux
Note: Similar to Google Meet, Zoom offers other communication channels and tools in addition to web conferencing like Zoom Phone, Zoom Events and Webinars, and Zoom United. Because this post focuses primarily on comparing video calling tools, we'll focus solely on Zoom Meetings.
Google Meet vs Zoom: Pricing and Plans
This section explores available plans and pricing associated with Google Meet and Zoom.
Google Meet Pricing
Google Meet offers one free plan available to anyone with a Google Account.
The free plan lets up to 100 participants meet for up to 1 hour. Closed captions, whiteboard, screen sharing, chat messaging, and two-step verification are all available in the free version.
Google Meet also offers two paid plans, the purchase of which will automatically upgrade the user to a Google Workspace account. This means that paid users will be able to access more advanced Google Meet features as well as better features for other Google Workspace tools.
Google Meet offers a 14-day free trial.
The Google Workspace Individual paid plan is $9.99/user per month, while the Google Workspace Enterprise Plan is quote-based. Note that the Google Workplace Individual paid plan increased from $7.99 to $9.99/user per month in January 2022.
The below image provides more detailed information about Google Meet pricing and plans.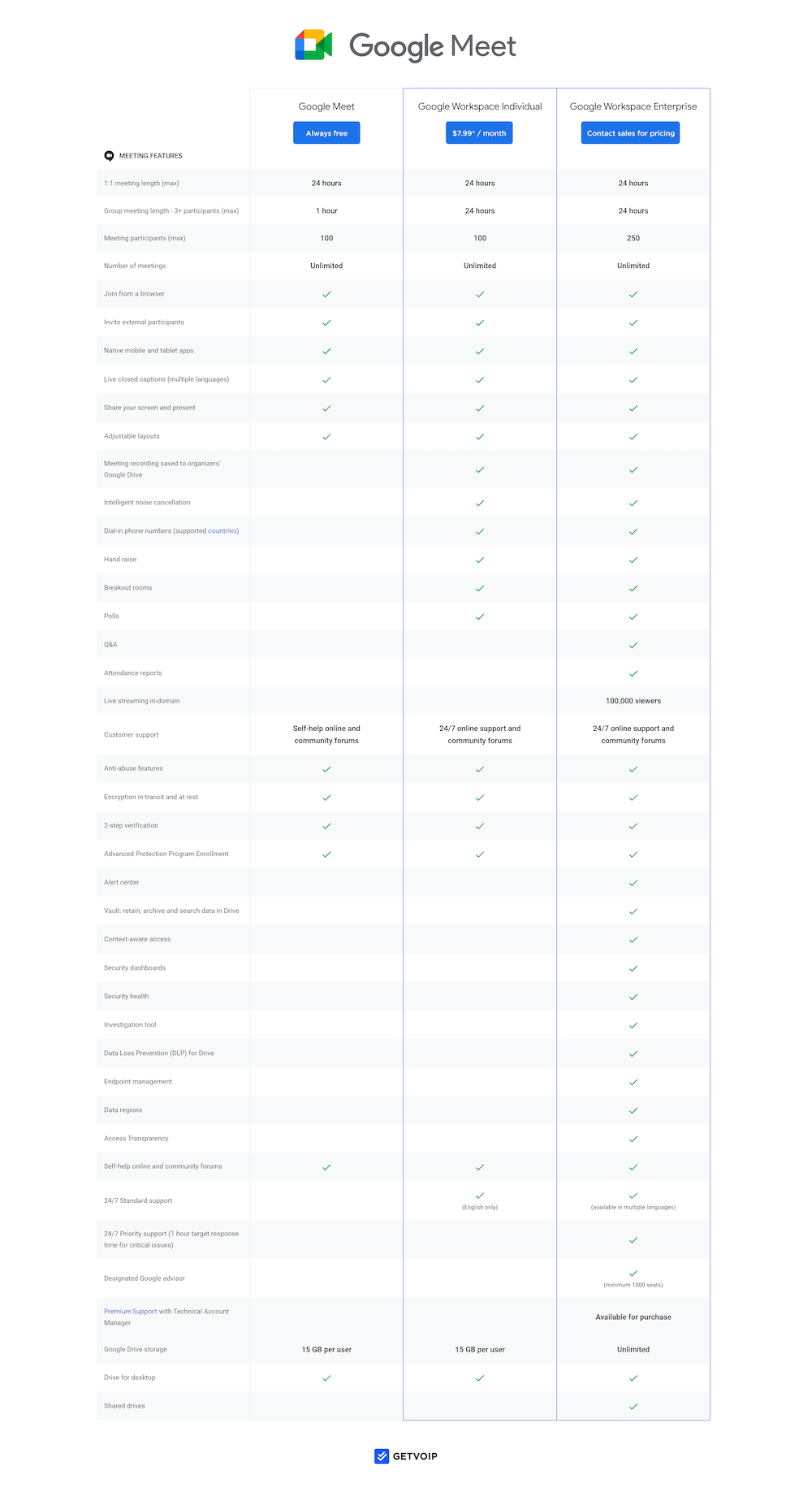 Zoom Pricing
Zoom Meetings offers a free Basic plan to anyone who signs up for an account.
The Basic plan lets up between 3-100 participants meet for a maximum of 40 minutes and allows one-on-one meetings to last up to 30 hours (all users can have as many monthly meetings as they like.) The free Zoom plan also includes breakout rooms, screen sharing, chat messaging, local recording, whiteboarding, and even remote screen control.
Zoom Meetings offers three paid plans: the Pro plan for $14.99/month per license, the Business plan for $19.99/month per license, and the Enterprise plan for $19.99/month per license. A free trial for any Zoom paid plan is not available, as the provider sees the free version as a trial in itself.
The below image provides more detailed information about Zoom Meetings pricing and plans.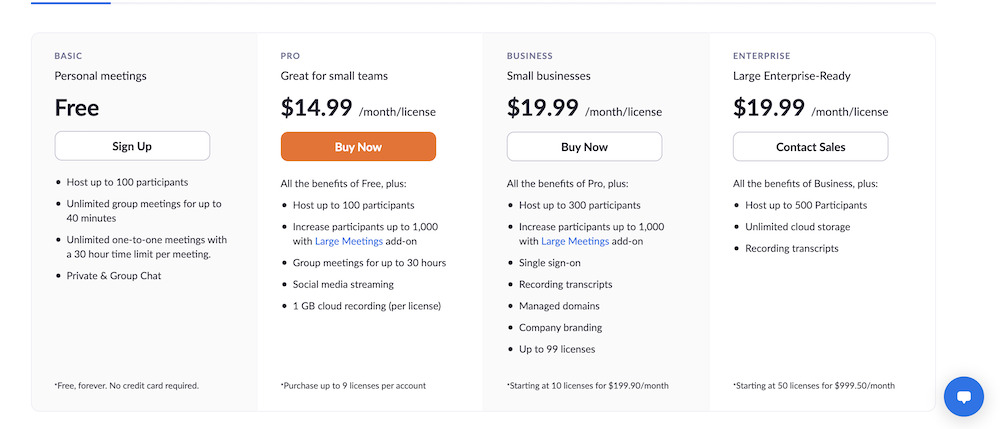 Google Meet vs Zoom: Available Features
Below is a head-to-head comparison of Zoom vs Google Meet video conferencing features, with a clear winner declared for each feature.
Meeting Access
Google Meet
Google Meet lets users instantly start a video call or schedule one for later in a variety of ways.
To start a meeting, users can go directly to meet.google.com and click the "New Meeting" button. Users can then choose to:
Create a meeting for later
Start an instant meeting
Schedule a meeting in Google Calendar
The below images show how to start an instant meeting and add participants.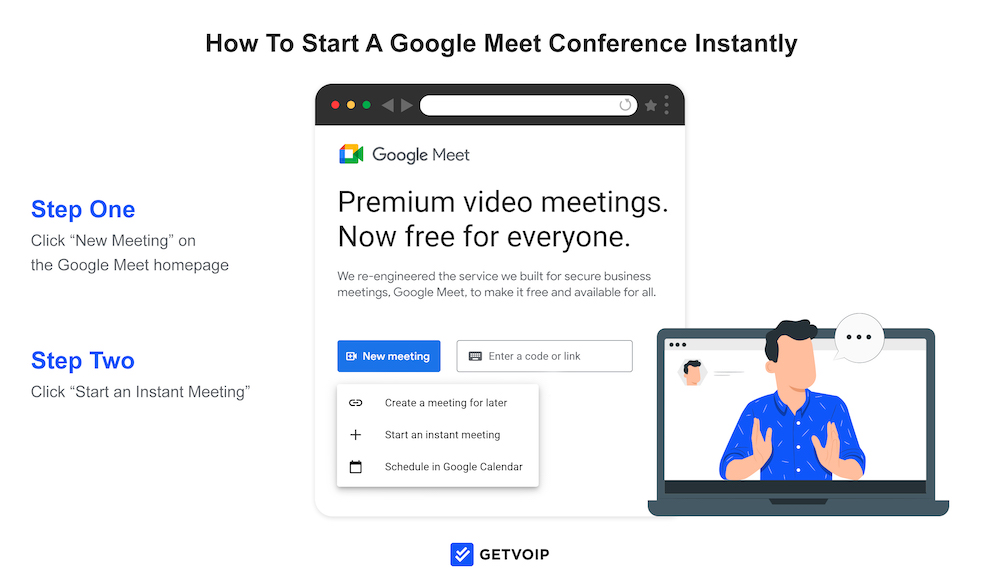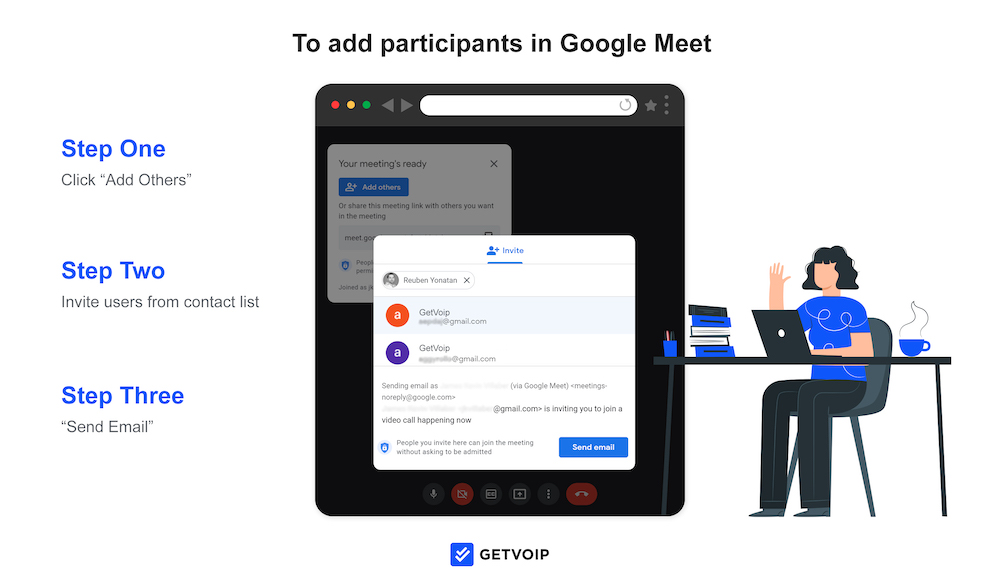 You can also create a shareable meeting link for a future meeting to send to participants later. You will need to manually share the link via email, in Google Chat, or by any other method you prefer.
The final way to schedule a Google Meet session is to select the "Schedule in Google Calendar" option. Click that, and you're automatically directed to the Google Calendar app. As seen in the image below, you can give the meeting a title, description, time, notifications, set to public or private, and add participants. Hosts can even color-code the meeting.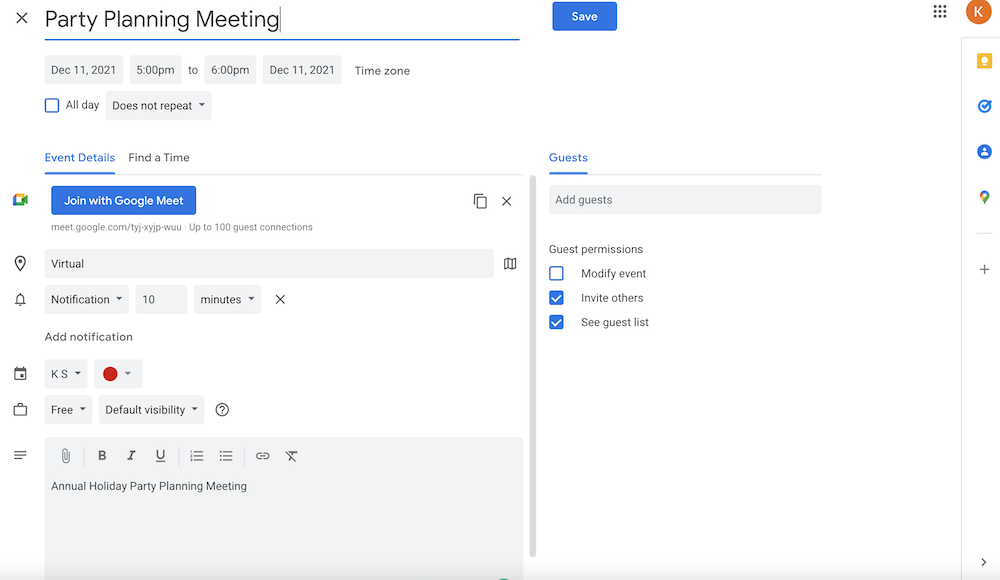 There are just as many ways to join an existing Google Meeting.
First, users can join by clicking the shareable meeting link you were sent via email, texting, or another way. Users can even just copy-paste the link or meeting code into the Google Meet homepage.
Participants that received a Google Calendar invite can join directly from the event invitation page, and Gmail users can also join the meeting from their inbox.
Dial-in access or even access via third-party tools like WebEx is also available (third-party app users have limited in-meeting capabilities.)
Users can join from desktop and mobile devices.
Zoom
Meeting hosts can schedule meetings on the Zoom website or within the Zoom app.
Hosts have a Personal Meeting ID that "reserves" a virtual web conferencing room for them at all times, or they can generate a random URL.
Hosts can invite attendees by manually copying and pasting their meeting link into an email, text, or chat message. They can also invite participants by Google, Outlook, or Yahoo calendar invitation, adding contacts from these third-party tools. Hosts can also share the invitation to their stored Zoom contacts.
Zoom users can host up to 2 simultaneous meetings and appoint an unlimited number of co-hosts.
Both instant meetings and scheduled meetings are available in Zoom, and users can set recurring meetings if needed. Meeting reminders are available.
The below image shows customizable meeting scheduling templates in Zoom, allowing users to add meeting descriptions, set meeting date/time, send out automatic calendar invites, and more. Users also have the option to create meeting templates for future use.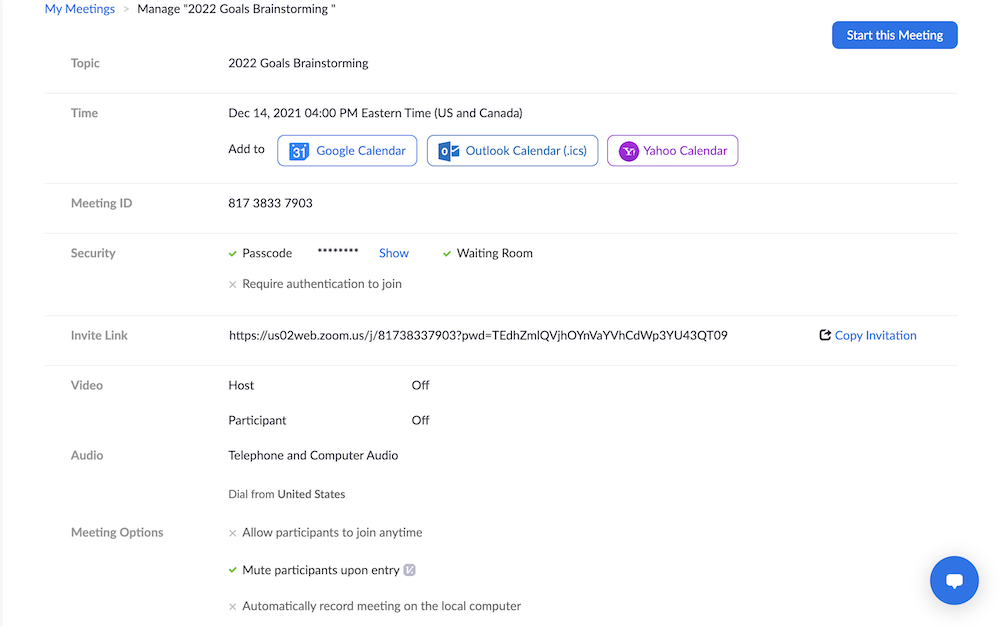 Anyone with a Zoom account (including the free plan) can join a meeting directly on the Zoom website by clicking "Join A Meeting" at the top of the Zoom website home page.
They then type in the meeting ID or the link name they've been sent by the host. From there, Zoom automatically redirects attendees to the Zoom desktop app (if on a computer) and prompts them to enter the meeting password if needed.
If the host has not enabled the waiting room, the user is then sent into the meeting (hosts can elect whether or not participants are let into the session before the host.)
Users can also join meetings via shareable meeting links, the mobile Zoom app, directly within the Zoom chat tool, or by phone.
Meeting Access Winner: Zoom
Zoom offers more detailed meeting scheduling options, especially when it comes to host controls before a meeting. It also integrates with numerous calendar tools outside of Google Workspace, lets users save meeting templates, and allows users to host simultaneous meetings.
That said, it's more intuitive to schedule a Google Meet conference than a Zoom one, so companies prioritizing ease of use may not see Zoom as the winner.
Meeting Layouts and Filters
Google Meet
Google Meet offers several virtual background options for hosts and participants to offer users privacy, lessen distractions, and add a little personality.
Backgrounds can be chosen before or during a video call.
Virtual background options in Google Meet include:
Complete or slight background blur
Custom uploaded background image
Pre-set/pre-uploaded backgrounds (fireworks, illustrations, beach with swaying palm trees, etc.)
The interface for selecting your virtual background in Google Meet
Google Meet also offers in-meeting visual effects called "Styles" and "Filters."
These options provide lighting adjustments and allow users to add fun filters or effects to their faces like dinosaurs or twinkling stars – certainly not for high-profile board meetings, but a great way to add a little lightness to that Monday 9:00 AM team meeting.
Meet also lets users "pin" a chosen user to their screens to ensure they are visible at all times – a major help for remote learning or training seminars.
There are four available video layouts in Google Meet:
Auto view (displays up to 9 simultaneous video streams)
Tiled view (up to 49 streams in gallery format)
Spotlight view (active speaker fills full screen)
Sidebar view: (active speaker is main image, others shown in thumbnails)
Zoom
There are a variety of Zoom virtual backgrounds, still filters, effects, and even moving filters. Users can opt to change their backgrounds and filters every meeting, or apply their preferred "looks" to all future meetings.
Zoom users can choose from preset background images, fully or partially blur backgrounds, or upload custom images. Zoom video filters let users turn themselves into pigs, add a pair of sunglasses, or put on a COVID mask. There is even a green screen sensor.
In addition to filters, Zoom gives users the option to "touch up" their appearance, automatically applying more flattering filters and changing the lighting to help attendees look their best. There's also an option to automatically or manually adjust video streams for low light.
In February of 2021, Zoom added a new Studio Effects feature, allowing users to re-color and re-style their eyebrows, lips, and facial hair.
In terms of meeting layouts, Zoom offers:
Gallery view (up to 49 simultaneous screens)
Spotlight view (makes pre-selected speaker main video stream for all attendees)
Active Speaker view (allows individual users to choose the active speaker view)
User pinning
Rearrange participant streams
Floating thumbnail view
Meeting Layouts and Filters Winner: Zoom
Zoom and Google Meet both offer pre-made and customizable background images and a  variety of video layouts.
However, Zoom takes the lead here because of its new Studio Effects feature, available automated lighting and appearance adjustments, and the additional view options it provides.
Audio and Video Quality
Google Meet
Meet has excellent audio quality and noise canceling features, but users often complain of a lower video quality.
This is likely because Meet only supports up to 702p HD video streams, while the standard is 1080p.
The good news is that Meet does everything it can to identify and fix these issues when they happen.
Meet lets users test and adjust their audio levels and video before or during a meeting. Users can change their audio source, adjust video resolutions, change the lighting manually or automatically, and more.
One of the best features of Google Meet is its ability to automatically detect audio and visual issues like screen lag and echo. When this happens, users will get an in-meeting notification with possible solutions, or Meet will try to automatically fix the issue.
Another bonus is "Meet Saver Mode," which is a data saver and call quality improvement tool. When enabled, the mode automatically conserves battery power, restricts data usage, and decreases CPU power needs.
This saves a huge number of headaches and cuts way down on choppy or frozen calls that are either dropped or forced to end early due to poor audio/video quality.
Note that audio-only video calling is available through Google Meet only by opting not to turn your video stream on during a call or to disable video streams for participants as a host. There is not a standalone audio calling solution in Google Meet as of this writing.
Zoom
Zoom Meetings offers a high level of audio and video management, though unfortunately, the quality of both has a reputation for its inconsistency.
Zoom users can test audio before and during a meeting, select their preferred speakers and microphones, and switch to phone audio at any time. Zoom even automatically adjusts audio settings and provides different levels of background noise suppression based on participant surroundings. Automatic and advanced echo cancellation is also available.
Audio-only conference is possible within the Zoom Meetings interface.
Zoom video quality is automatically set to 720p video quality, the same as Google Meet. However, paid users can upgrade to 1080p video quality. These users will need to manually turn on HD video, which uses more bandwidth but does offer a higher video quality. As with Meet, Zoom lets users select their preferred camera source.
To ensure that both audio and video settings are perfect before the session begins, users have the option to attend their own "test meeting." This also makes it easy to adjust in-meetings dashboards before the meeting.
Audio and Video Winner: Google Meet
Google Meet is the winner here, thanks to its automatic audio and video adjustment tools in the Meet Saver mode.
Meet users also report fewer issues than Zoom users regarding dropped audio, frozen screens, and lag time.
Whiteboarding
Google Meet
The Google Meet whiteboard, called the Jamboard, is easily Google Meet's most advanced and exciting feature – especially given that it is available as a part of the free plan.
Though Meet users can co-edit in real-time with Google Workspace apps like Docs, the Jamboard takes team collaboration to the next level. Up to 50 simultaneous users can edit a board on desktop and mobile devices.
Users can create a new Jamboard in a meeting (via a link automatically shared in the chat) or access a saved one. Hosts can individually grant Jamboard access or opt to include a link in the Google Calendar meeting description that automatically grants access to anyone in the host's organization.
Our favorite Jamboard feature is the ability to search Google Images directly within the whiteboard app, as shown in the image below. Users can also access images by URL, Google Drive, desktop upload, Google Photos, or by taking a photo with their built-in camera.

Google also offers corresponding Jamboard hardware for those needing a mobile "big screen" digital whiteboard.
Jamboard lets users create multiple "slides" of the same whiteboard file, set board backgrounds and frames, and undo/redo edits in real-time.
Additional Google Jamboard features include:
Color-coded sticky notes
Pre-made shape templates
Text boxes
Freehand pens, highlighters, laser pointers (multiple colors available)
Drawing tools
Freehand eraser
A sample Google Jamboard showcasing available features like image upload, freehand drawing, and sticky notes
Jamboards boost meeting engagement, allow for collaborative in-meeting note-taking that users can share and refer back to, and streamline team-wide brainstorming sessions.
Online educators/tutors, architects, and designers of all kinds will get the most out of this feature.
Zoom
Zoom Whiteboard has recently undergone a major upgrade as Zoom repositions itself as more of a collaborative tool than simply a web conferencing app.
Users can access new or saved whiteboards at any time, not just during a meeting. Additionally, users can now share whiteboards with each other over email or in a Zoom chat. In meetings, whiteboards can be shared directly or made visible to attendees via screen sharing.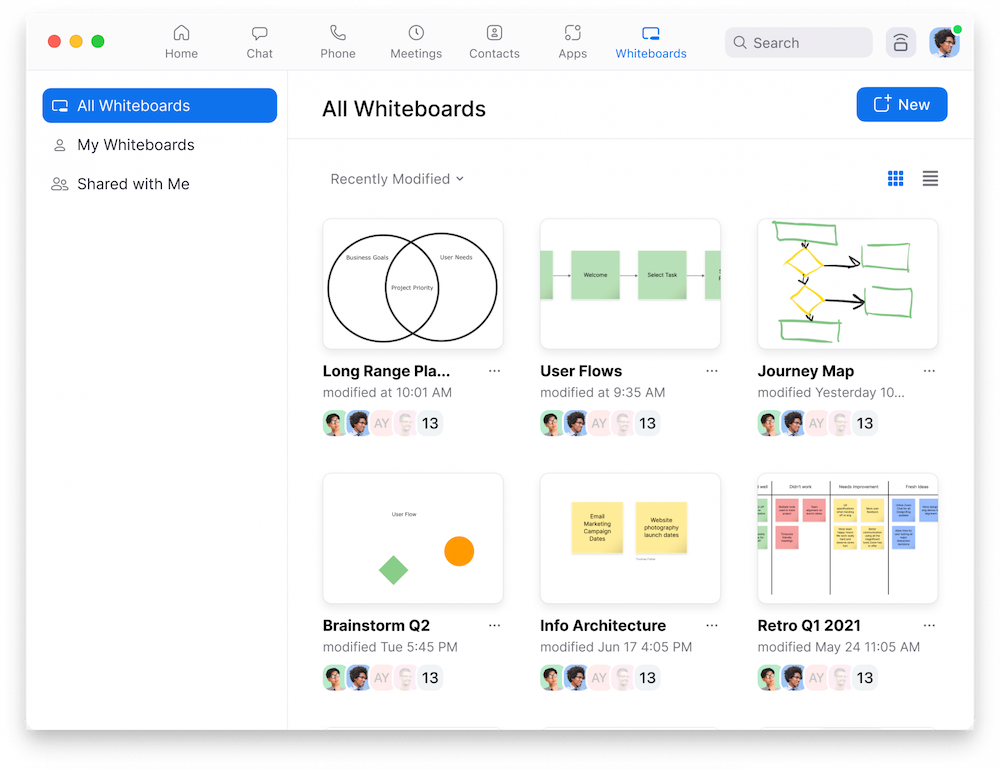 Whiteboard owners can grant other users permission to edit/add to the whiteboard, with their name beside their virtual stylus on the board to keep everything straight.
An especially neat feature is the ability to leave and respond to comments on whiteboards, just as you would when co-editing a document. Version control and whiteboard update history is stored and accessible so users can review and revert back to different versions if needed.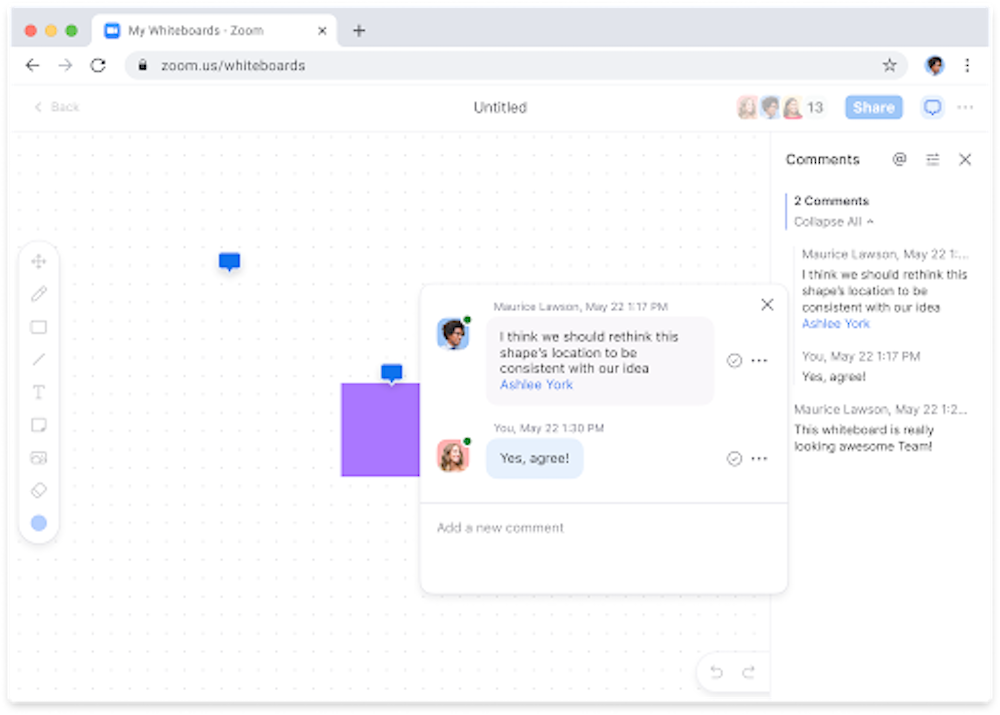 At some point in 2022, Zoom will join forces with Facebook to create a virtual reality (VR) meeting room called a Workroom. This future update will allow users to write/draw on a virtual whiteboard altogether, just as they would in a "real-life" meeting.
Zoom whiteboard annotation tools include:
Text and drawing tools with multiple colors/fonts
Stamping pre-set icons like stars, arrows, checkmarks, etc.
Mouse spotlight (shows editors' "pens" in real-time)
Clear or save the entire whiteboard
Eraser, undo and redo buttons
Whiteboard backgrounds
Select, move, and resize any annotation
Whiteboarding Winner: Google Meet
Though Zoom has some interesting features (like whiteboarding with VR) coming in 2022, as it stands now, Google Meet Jamboards are tough to beat – especially given that users can search for and upload images from Google directly within the whiteboard interface.
Additional In-Meeting Collaboration Tools
Google Meet
Google Meet offers frustratingly basic in-meeting chat messaging.
The glaring issue here is that Meet does not allow users to send private (one-on-one) or smaller group chats in meetings. This means everyone can see everyone else's messages in the chat, leading to clogged chat logs and lack of attention if a user needs to send a text to another attendee with a private question
Additionally, attendees can only see chat messages that have been sent after they joined the meeting, so many may miss important information. The only way users can access these messages is through the saved chat log (if meeting recording is enabled.) All chats automatically disappear after the end of each meeting.
File uploading in the chat also isn't offered, so users will need to all simultaneously access them in Google Docs, Sheets, Drive, etc. to view them during a meeting. Files can be viewed, but not co-edited, via screen "presenting" (sharing.) Remote screen control is not offered as of this writing.
The abysmal lack of functionalities in Google Meet chat is puzzling, especially given how well-crafted other, seemingly less essential, team collaboration features are.
For example, Meet offers real-time meeting closed captioning, virtual hand raising, a Q&A feature, and in-meeting polling (as seen below.)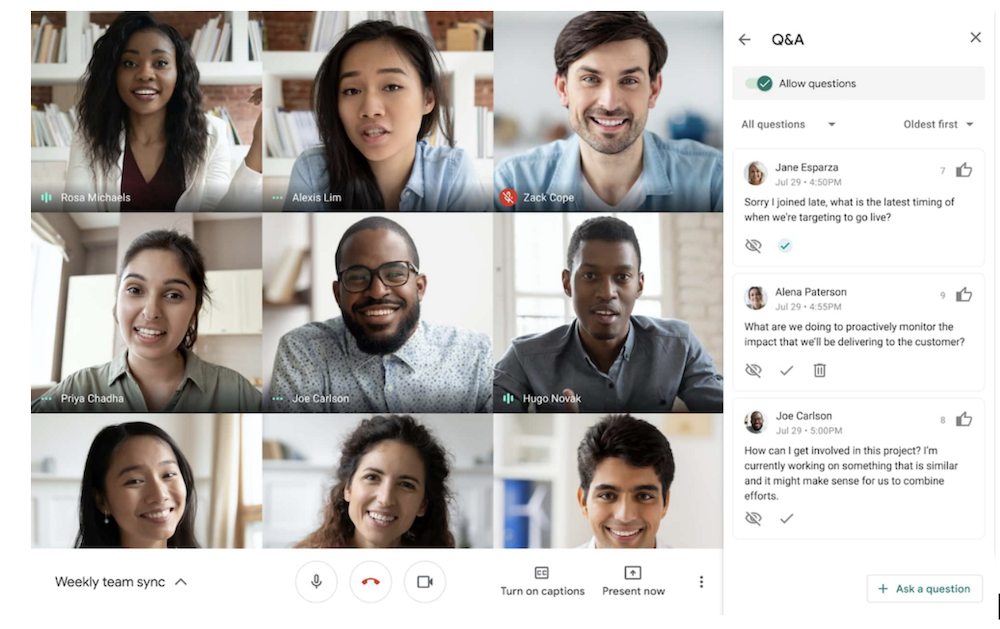 Hosts can create up to 100 breakout rooms per video meeting, ideal for smaller discussions regarding projects, ideas, or specific departments. Hosts can randomize or manually set breakout room participants, end breakout sessions, and send participants back to the main video meeting session afterwards.
Though it could be argued that by adding so many collaboration features, Google Meet aims to reduce the need for in-meeting chat, the inability to upload files directly and send PMs will no doubt automatically take Meet out of the running for some users.
Zoom
Zoom offers far more robust chat options than Google Meet.
First off, Zoom users can upload files in chat messaging directly from their desktops or via apps like Google Drive and Dropbox. Users can chat privately with a specific user, group of users, or with all the attendees. All chats can be saved and shared in a TXT file. Both desktop and mobile users always have access to chat.
In addition to in-meeting chat, users can also create Channels, which are available at any time.  As all members of a channel can share files, images, and more in the chat and instantly start a channel video call with all members automatically invited. Each channel can be set to private or public, and users can create channel titles and descriptions.
Zoom chat also includes user presence, so team members know who is online or away from their desks.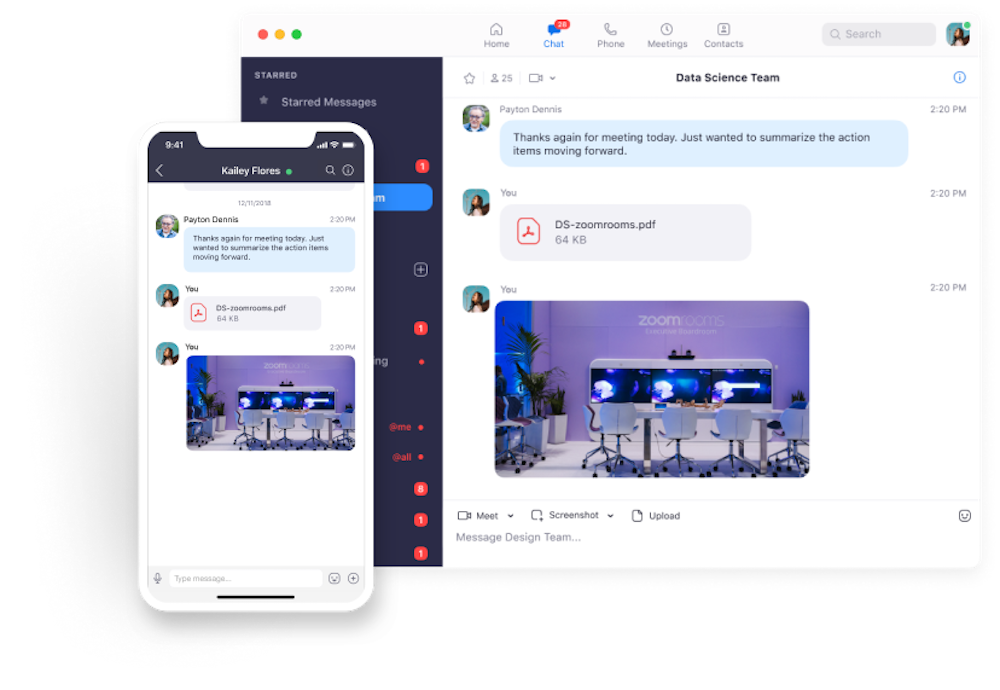 Zoom also offers superior file sharing, allowing users to upload a variety of file formats like:
Code snippets
Local files or files from third-party integrations
Videos
Audio messages
GIPHY GIFs
PNG, JPG, and screen shot images
Text only
Users can co-annotate any file once screen sharing and remote control are enabled. Zoom screen sharing is available for desktop and mobile users, who can opt to share their entire screens, a single app, a whiteboard, or even a selected portion of their screens. Users can continue to use the chat when screen sharing.
When sharing screens, users can place their video streams directly in front of the shared content, as seen in the image below, to keep everyone focused.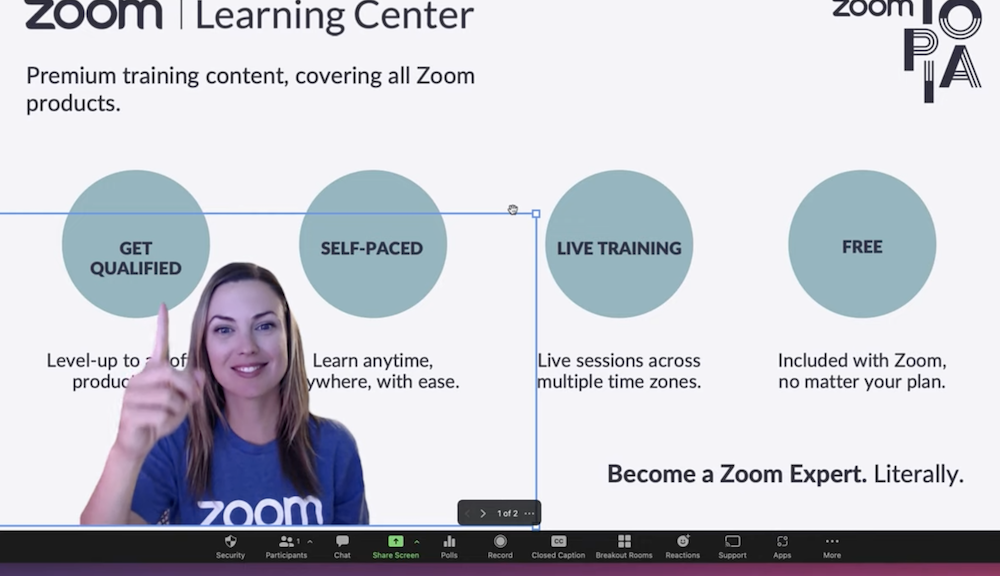 Other collaboration options include in-meeting reactions, which let meeting participants react with emojis in real-time to what's being said onscreen.
Virtual hand raising, multiple choice polling  and live closed captioning are also available. Hosts can create up to 50 breakout sessions per meeting, and groups can be randomly assigned or pre-assigned.
Additional In-Meeting Collaboration Tools Winner: Zoom
Zoom takes the win here thanks to its advanced chat feature and in-meeting file co-annotation options, whereas Google Meet offers only the most basic chat functionality.
However, as of this writing, Google Meet offers more polling and Q&A options than Zoom.
Meeting Recording and Transcription
Google Meet
Google Meet offers virtual conference recording for meeting organizers and anyone in their organization (workspace.) All participants will be notified when the meeting is being recorded and when the recording stops.
Google Meet records audio, video, in-meeting chat messages, and shared screens. Video captions will not be recorded.
Note, however, that recording a meeting is only possible on a desktop device, so organizers planning to record the meeting should not join via smartphone.
Recordings and transcriptions are automatically stored in the organizer's "Meet Recordings" Google Drive folder. Depending on their plan, users have access to 15GB/user or Unlimited storage. Note that hosts can stop, start, and pause recordings during a meeting.
After the recording is done, they can be shared with other participants and anyone else the host chooses. Downloadable recordings are shared by emailing the recording link, or via automated upload in the corresponding Google Calendar meeting event page.
Participants are automatically granted recording access, but this can be turned off.
Zoom
Zoom offers cloud and local meeting recording and storage for video calls, shared screens, and chat logs.
Zoom participants are notified when a recording is in process, and hosts can choose between automatic or on-demand recording options.
Hosts can also manage who has access to meeting recordings, set recording passcodes, share recordings with meeting participants or others, and even require user authentication before a user is granted access to a recording.
Zoom also allows users to search and manage recording transcripts via keyword or date and time of meeting. Transcripts of meetings can be edited, shared, and even added to the video recording as closed captions. Hosts can decide if they want the recording to automatically delete after a set number of days or if they need continuous access to it.
Other Zoom call recording and transcription capabilities include:
Ability to record active speaker screens, gallery views, audio only, or video only
Add timestamps to meeting recordings
Pause, stop, restart recordings
Show attendee names in recordings
Save meeting poll results and panelists chats
Set meeting recording highlights
Recording storage capacity automatically allows for up to 1GB/licensed user, but more can be purchased as an add-on.
Meeting Recording and Transcription Winner: Zoom
Zoom offers far less free recording storage than Google Meet does, but it more than makes up for it in available features like recording highlights, recording access user authentication/passwords, and the ability to edit recordings.
Meeting Analytics
Google Meet
Google Meet offers basic analytics that are more focused on providing details about overall meeting quality than participant activity.
This isn't unexpected given Google's commitment to user privacy (including refusing to track participant attention and automatically deleting chat logs after each meeting unless otherwise indicated.)
However, it does offer a basic audit log tool that tracks:
Meeting date, time, duration
User sign-in activity
Meeting attendees (internal/external)
Internal attendee email address, device ID, country/IP address
Livestream viewers, user meeting endpoint
Quality events like jitter, network congestion, bandwidth usage, etc.
Zoom
Zoom offers basic meeting analytics for both user activity and overall meeting quality via its reporting dashboard, as seen below.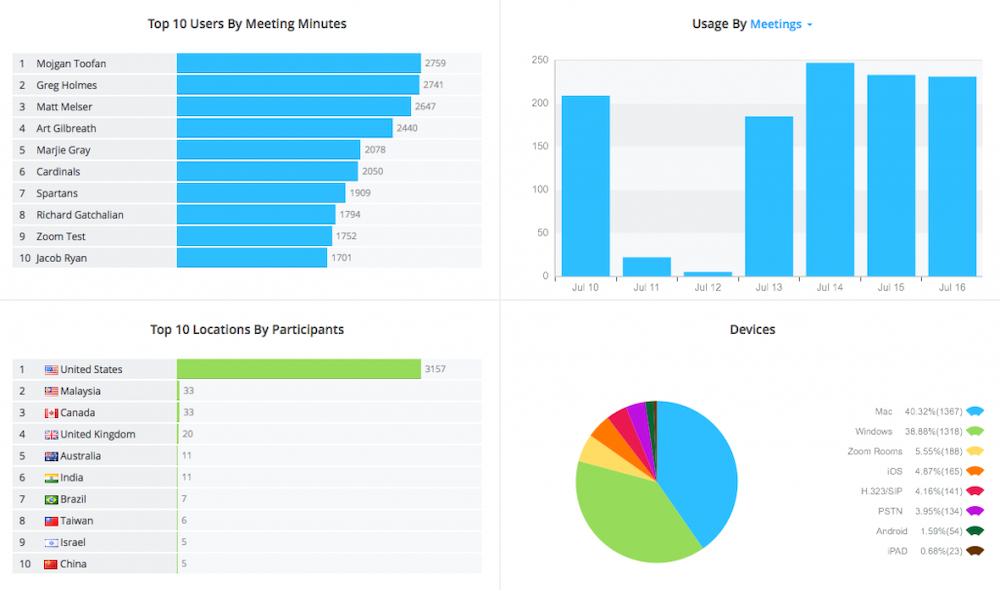 As the image makes clear, Zoom analytics are available in a variety of formats, including pie charts and graphs in addition to lists.
These updates are available both in meetings (live) and after meetings have ended (historical.)
These analytics provide information on:
Device usage
Participant locations
Top users by meeting minutes, messages, number of meetings attended, by department, and by group
Number of meetings a user hosted per set time period
Meeting registration reports
Poll reports
Meeting start time, Meeting ID, and meeting duration
Real-time meeting quality monitoring (latency, jitter, etc.)
Meeting attendee list
Meeting Analytics Winner: Draw
The truth is that both Zoom and Google Meet offer relatively lackluster analytics, especially when compared to competitors.
Integrations
Google Meet
Integrations with third-party software is another place where Google Meet falls short.
As of this writing, Meet does not have an API and is not compatible with the majority of popular business communication and collaboration software. This is most likely to encourage users to upgrade to the paid versions of Google Workspace and operate exclusively within the Google universe.
While it's not uncommon for advanced integrations to require a paid video calling tool plan, it's frustrating that Meet doesn't even offer basic free integrations with key apps like Slack or Asana.
The good news here is that other Google Apps, like Google Calendar, Google Drive, Gmail, and Google Drive integrate with nearly every business software imaginable. Tools like Zapier can assist with Meet connections.
Zoom
Recently, Zoom has completely upgraded their approach to integration with the launch of Zoom Apps.
Zoom Apps allow users to access their favorite third-party tools directly in the Zoom Meeting interface, as seen in the image below.
Zoom users take a break from the daily grind to enjoy a game of in-app poker
As of this writing, more than 50 apps are available directly in meetings and can be shared with other attendees. Users can open multiple Zoom Apps at once, and admins can pre-approve which apps team members can add.
All integrated third party applications and APIs (listed in the Zoom App Marketplace) are also available before and after meetings in the Zoom Meetings user dashboard. Popular integrations include:
Asana
Google Workspace
HubSpot
Salesforce
Slack
Zapier
Microsoft 365
Dropbox
Miro
Integrations Winner: Zoom
Zoom is the obvious winner here, not only because it offers extensive third-party integrations, but also for its continued development of Zoom in-meeting Apps.
Google Meet vs Zoom: Security and Support
Google Meet
Google Meet has overall strong VoIP security and encryption when compared to Zoom.
Here, we examine Google Meet host controls, user privacy policy, and additional security measures.
Host Controls in Google Meet
Meeting hosts controls prevent bad actors from derailing the video conference, and let the host manage what each participant can and cannot do during a meeting.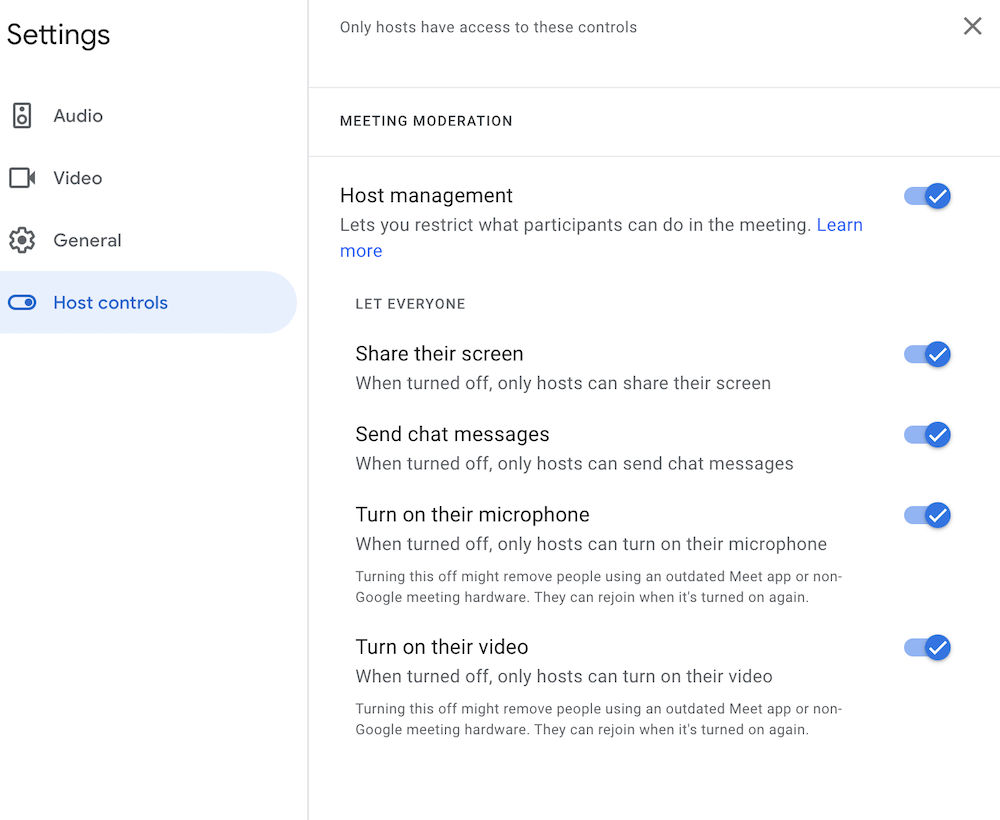 These host controls, which can be turned on or off at any time, include:
Set meeting passcode/PIN
Ability to appoint up to 25 meeting co-hosts
Mute all/mute individual user
Approve/deny external meeting participants
Add/remove meeting attendees
Enable/disable screen sharing, chat messaging, and video
End meeting for all participants
User Privacy In Google Meet
Google Meet takes user privacy just as seriously.
Only the main host (even if co-hosts are appointed) has access to meeting analytics like poll results or attendance records, but can opt to share them with cohosts if desired.
Google Meet does not use any attention-tracking features, does not sell customer data to third parties, and will not store meeting audio, video, or chat unless the recording feature is enabled. Admins can set their own recording retention policies.
Overall Security in Google Meet
Google Meet uses automated network and access monitoring, as well as machine learning, to identify suspicious activity and notifies customers of a possible incident.
Two-step verification, SSO, audit logs, and other anti-abuse features guard against security threats. Users can instantly report abuse directly to Google, which also conducts regular penetration testing and internal code reviews.
Most importantly, Google Meet has numerous third-party security certifications and key security standards.
These include:
End-to-end encryption
HIPAA, GDPR, and SOC3, compliance
ISO/IEC 27018 compliance
Meets DTLS and SRTP standards
Users dealing with especially sensitive or at-risk information may want to enroll in Google's Advanced Protection Plan, which offers a high level of threat analysis, responds to current cyber attack trends, and protects against phishing attacks.
To ensure a high uptime of at least 99.9%, Google Meet has points of presence in 200 countries with 3,000+ ISPs.
Google Meet Customer Support
Unfortunately, Google Meet's customer support is lacking when compared to its high security standards.
Free users only have access to community support forums and the online, self-help support knowledge base. While this isn't necessarily uncommon, it is a bit unexpected that one of the largest companies in the world can't offer even automated support chatbots to free users.
Workspace Individual users (the second-tier Meet plan) receive 24/7 Standard Support support (in English only) in addition to the free plan support features.
Workspace Enterprise users get 24/7 Standard Support (usually a paid support add-on) in addition to 24/7 Priority Support, meaning response in four hours or less. Enterprise users also have access to a Designated Google Advisor – that is, as long as they meet the minimum purchase requirement of 100 seats.
The Standard Support that all paid Google Meet users receive included in the plan does have some upgraded features, like multi-channel support and billing and the Active Assist API.
However, free users would have to purchase the Standard Support Plan for an additional $29.00/month plus 3% net spend – more than the cost of the $9.99/month paid plan.
Though paid Enhanced and Premium Support plan are available – for an additional $500.00/month + 3% net spend and up – these are not even available for purchase to anyone except Workspace Enterprise users. Enhanced and Premium support packages are not included in the Enterprise plan, and still available only as a paid add-on.
The Google Customer Care Support package pricing and plans are shown in the image below.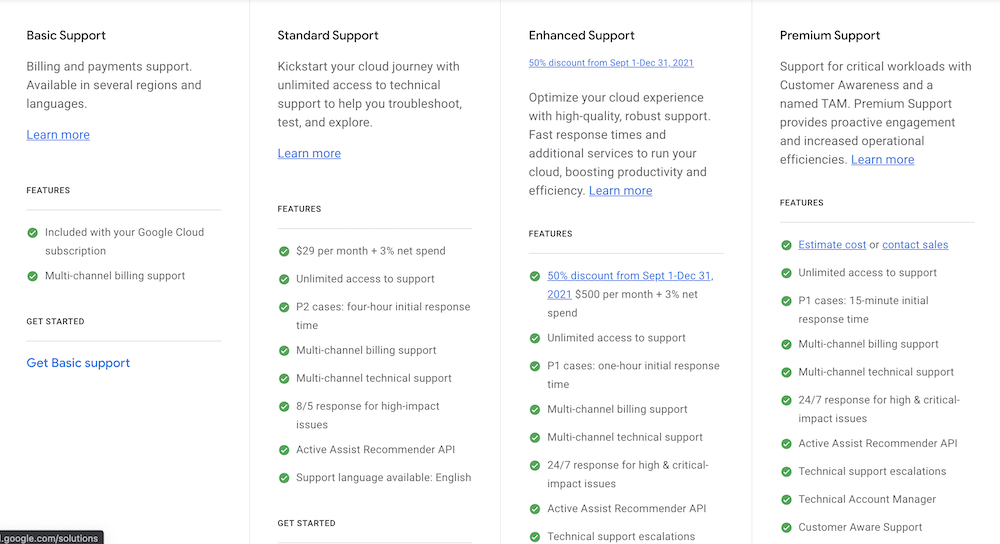 Zoom Meetings
Zoom doesn't exactly have the best reputation when it comes to security and user privacy thanks to highly publicized Zoombombings and reports of Zoom selling user data.
That said, it's clear Zoom is trying to correct these issues, and security has improved as a result of past issues.
Host Controls in Zoom
Zoom in-meeting host controls are an excellent way to guard against Zoombombing and other security issues.
Zoom has meeting waiting rooms with two-way chat, which allow meetings hosts to deny or approve admittance to meetings. Zoom also lets users add an unlimited number of meeting co-hosts, making managing meeting security even easier.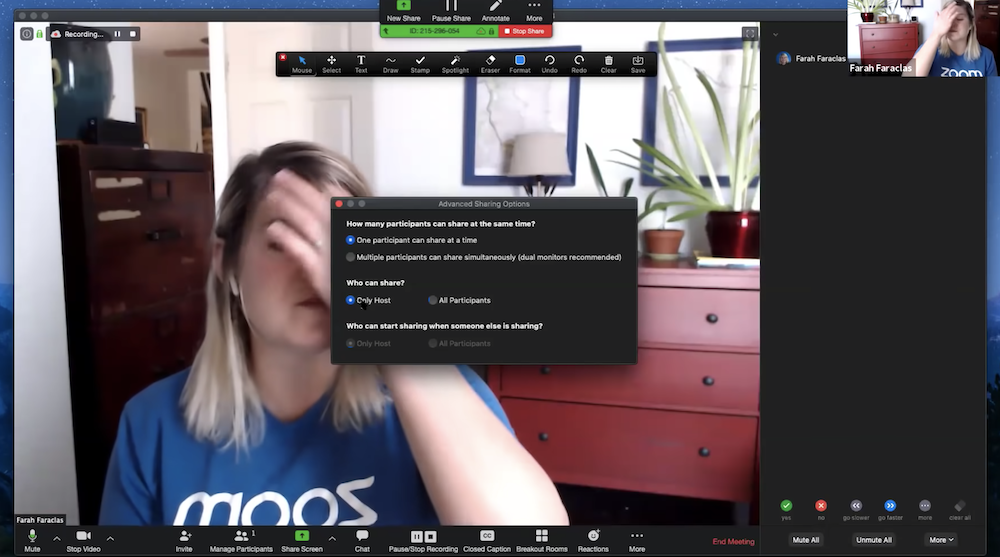 Host control abilities include:
Manage participant access to video, audio, and screen control
Turn on/off meeting recording, closed captions/transcription
End meeting for all
Receive real-time attendance updates and send instant reminders to no-shows
Set meeting passcodes
Control what participants can post/share and edit
Lock meetings
Add/remove meeting participants
Create, edit, launch polls
Create breakout rooms
Stream meeting on social media
User Privacy In Zoom
Zoom has an online Trust Center that provides access to an array of user privacy documentation and files, but what it's missing is a transparent explanation of what Zoom does and does not do with user data.
Unfortunately, when we tried to access Zoom's online transparency report (after searching through a long list of documents) we were redirected to an error page – which doesn't bode well for Zoom.
That said, Zoom allegedly does provide some user activity to advertisers – but not in-meeting data or video, only activity on the Zoom website.
In terms of other users, Zoom hosts and employees do not have access to private messages or detailed information about external participants. They do have access to internal users' IP address, device, and other standard analytic data.
In response to a myriad of complaints and even a class action lawsuit, Zoom removed its infamous attendee attention tracking feature in April of 2020.
Overall Security in Zoom
As with user privacy, Zoom is starting inside of a hole it has to dig itself out of when it comes to overall security.
Zoom now offers end-to-end, 265-bit AES encryption and TLS. Two-step verification, audit logs with security notifications for suspicious activity, and tier-1 network carrier reliability with redundancy are also included.
Additional Zoom certifications and security protocols include:
HIPAA, SOC 2 Type 2, and GDPR compliance
Password-protected meeting recordings
FEDRAMP, CSA STAR, and FERPA certification
Zoom Customer Support
Zoom offers 24/7 live website chat support with a real person for all plans (even the free version) which is refreshing.
The downside is that in order to connect with a live agent (as opposed to just searching through the online support knowledge base on your own) Zoom asks for your email address – and we learned firsthand that Zoom won't connect you to the agent until you provide it.
Once we were connected to a live agent, they asked for our name, email address, and telephone number – which felt excessive for what was essentially a "yes or no" question. Especially given Zoom's history of playing fast and loose with user data, for many, this is a red flag.
Live chat support – as it so often does – felt more like getting a soft sales pitch than getting a simple answer about whether or not Zoom Meetings offered a Free Trial.
Images from our live chat with Zoom are shown below.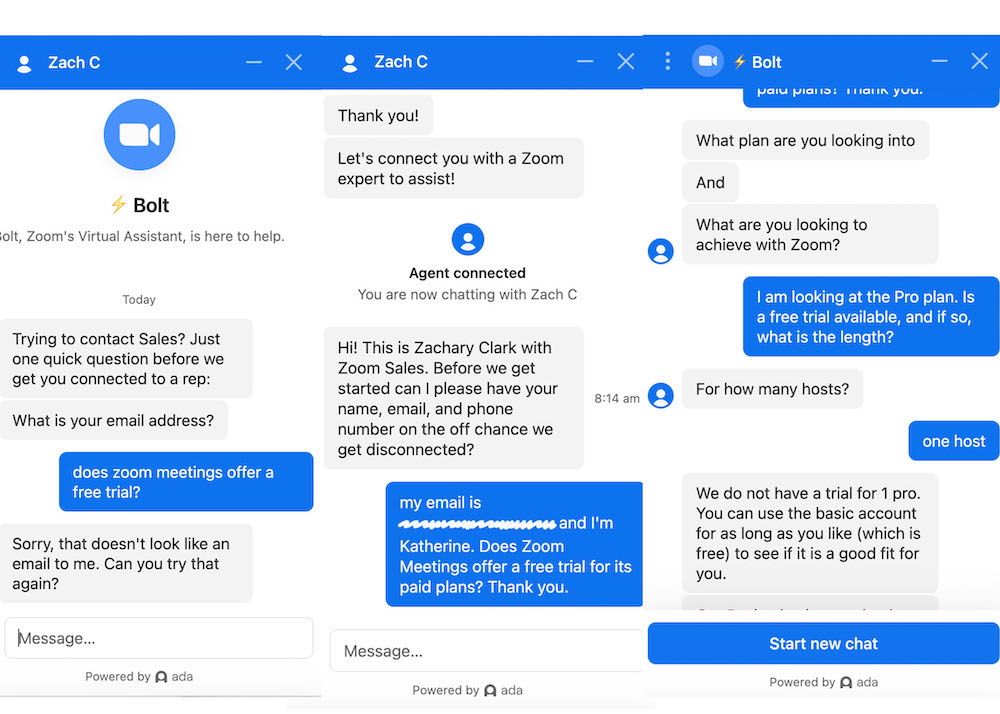 The contact information mining aside, Zoom does offer accessible, quality support on several channels, including social media.
The Zoom Community knowledge base is well-organized and frequently updated, and all paid users can create a support ticket request at any time. Zoom clearly categorizes support priority levels according to the specific incident, giving users a better idea of average response time (that information is available here.)
The downside is that phone support is only available for the two most expensive Zoom Meetings plans, and any form of priority support for users or developers must be purchased as a separate add-on. Priority Support customers have a guaranteed response time of between 1-4 hours, depending on the issue, and a maximum service restoration wait of 8 hours.
The below images outline the available Developer and Tech Support Premier Plans, but pricing is unlisted for the latter.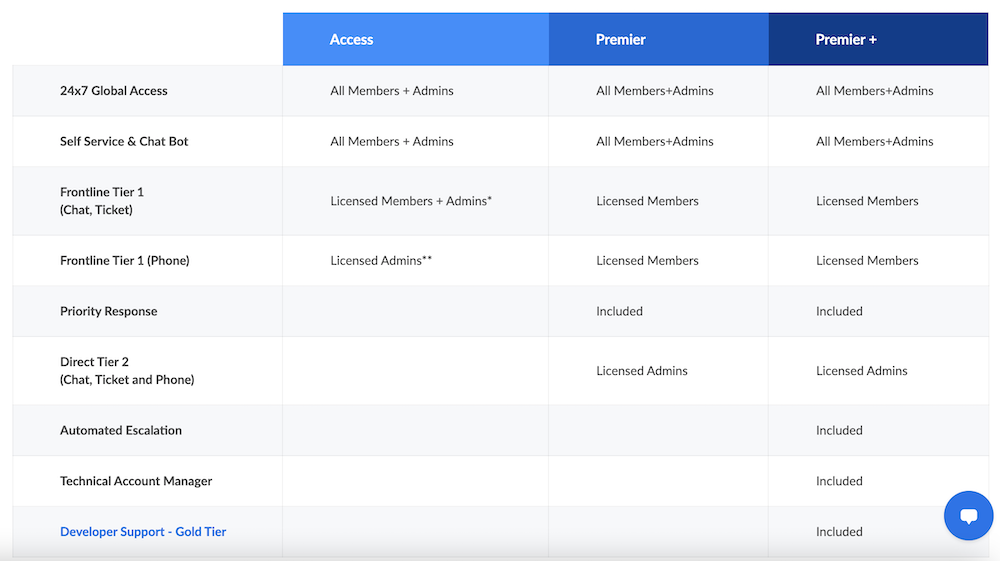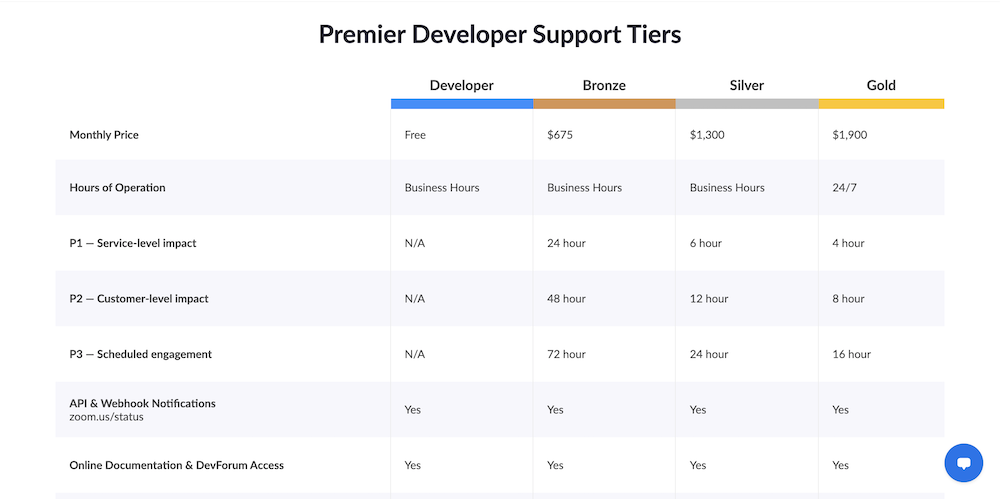 Security and Support Winner: Zoom
The reality is that both Google and Zoom have had several past issues with user trust and overall data security – so users of either tool should expect to encounter future "surprises" regarding privacy.
As of this writing, however, Zoom is making a clear attempt to make things right, listening and acting on user concerns by, for example, removing the meeting attention tracking feature.
Zoom also offers a higher level of support to free users, and it's nice to be able to connect with a "real person" with their 24/7 chat. They also have more extensive paid security plans than Google Meet.
Both platforms still have a ways to go when it comes to user privacy and security, but Zoom seems to be making more of an effort than Google Meet is when it comes to transparency.
Google Meet vs Zoom: User Experience
Google Meet
Google Meet has an overall positive user experience, due in large part to its refreshingly uncrowded and intuitive interface.
The straightforward Google Meet menu options shown here can be minimized during a call for an even cleaner interface
Unlike other web conferencing tools with an overwhelming amount of features that necessitate employee training and have a high learning curve, the familiarity of Google Meet makes it easy to use.
However, this simplicity does mean users will get more basic features than they do with Zoom and other popular video calling platforms.
Below, we've outlined the top 5 Google Meet pros and cons based on our hands-on experience and feedback from current users.
| | |
| --- | --- |
| Google Meet Pros | Google Meet Cons |
| Ease of Use | Lacks more advanced features of Zoom and other video conferencing tools |
| Any paid plan provides access to the Google Workspace tool suite (Google Docs, Google Calendar, Google Sheets, Gmail, Google Drive) and includes advanced features for each tool | Can be a challenge for non-Google users to transition the majority of their business applications to the Google Workspace |
| Dynamic whiteboard tool (Google Jamboard) with sticky notes, pre-made shapes, ability to pull images directly from Google Image search, etc.) | As of this writing, Google Docs can be shared in meeting only via sending a doc link in the chat, and in-meeting file co-editing is not available |
| Live closed captioning feature in multiple languages | Lack of user support on the free plan, free users must rely almost entirely on the self-help community forum and online knowledge base |
| Strong security features like two-factor authentication, end-to-end encryption, Advanced Protection Program, live security alerts, searchable account data, and data loss prevention | Few third-party integrations are available within Google Meet, even though other Workspace apps like Google Calendar and Google Drive have high third-party tool interoperability |
Zoom
Zoom has a positive user experience as well, but anyone who used the tool during the height of the pandemic knows it's certainly not perfect.
Its best features are its robust free plan and excellent mobile application, while features like security measures and the overall expense of the product may make potential users reconsider.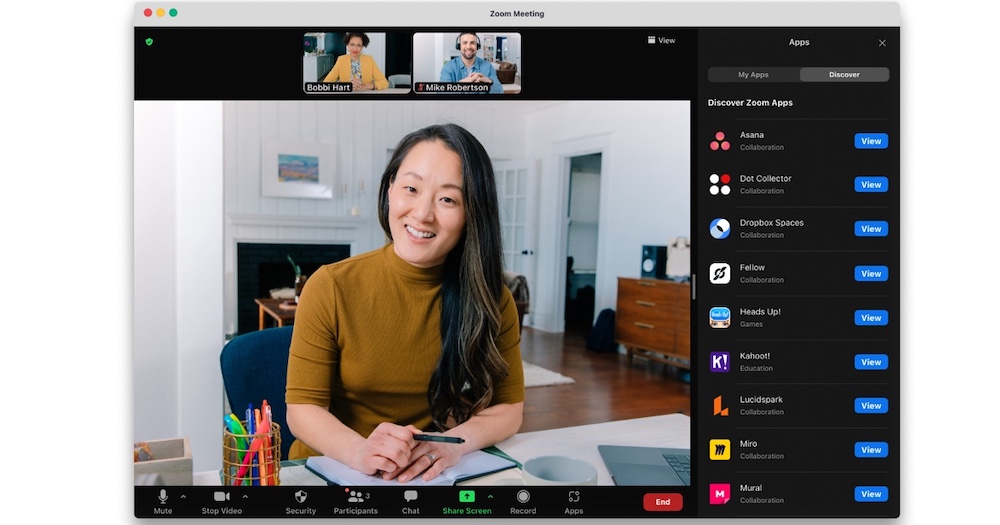 Below, we've outlined the top 5 Zoom Meetings pros and cons based on our hands-on experience and feedback from current users.
| | |
| --- | --- |
| Zoom Meetings Pros | Zoom Meetings Cons |
| Robust free plan that, even though meetings are capped at 40 minutes, offers a high participant capacity, advanced collaboration tools, and host/participant management options | Lack of free trials for paid plans means users aren't always able to accurately determine which plan they should purchase and if a paid upgrade is truly worth it |
| New in-meeting Zoom Apps make accessing third-party business software and tools easier than ever while on a call. More and more tools are becoming available in-meeting, and Zoom has a high number of integrations outside of meetings | Issues with audio and video quality are common, and Zoom seems more focused on adding new filters and special effects as a distraction instead of working to fix the real problem |
| Excellent user training, especially free on-demand and live webinars. Online user and developer support communities are thriving, support knowledge base is frequently updated, and live chat is available 24/7 to everyone | Serious concerns about Zoom user privacy and a lack of transparency persist even after privacy updates and improvements, causing many businesses to forbid team members from using Zoom at all |
| Dynamic chat messaging available in and out of meetings, including auto-saves, group and private messaging, and file sharing | Users required to download an app to access Zoom, no fully browser-based option |
| Detailed and customizable analytics on team usage, meeting activity and quality, and more – including real-time meeting monitoring | Zoom can get expensive quickly, especially considering the cost of key add-ons like audio conferencing, additional cloud storage, and advanced support |
Who Should Use Google Meet?
The below table outlines the kinds of businesses that should use Google Meet, as well as those that will be better served by another tool.
| | |
| --- | --- |
| Google Meet Is Best For | Google Meet Is Not Right For |
| Newer or smaller (under 25 employees) businesses looking for a free video calling tool that's easy-to-use | Large-scale companies with complex and high volume meetings that, while perhaps now especially frequent, require lots of preparation, in-meeting file sharing, and post-meeting analysis |
| Businesses that frequently conduct ad hoc meetings that are more conversation-based than a formal presentation or detailed team collaboration session | Businesses that need more advanced in-meeting capabilities like private chat messaging, remote screen control, live co-editing |
| Any business currently operating within the Google Workspace or that primarily relies on free Google business tools like Docs, Slides, Sheets, Drive, etc. | Businesses that need video calling platforms that integrate with their existing communication and collaboration software (Salfesforce, Asana, Slack, Monday.com, etc.) |
Google Meet is especially popular within:
The Education sector for remote classroom teaching or tutoring
One-on-one Service Professionals (therapists, personal trainers, etc.)
Healthcare Professionals for virtual doctor appointments
IT Professionals for daily internal check-ins, providing employee software training/seminars
Who Should Use Zoom?
The below table outlines the kinds of businesses that should use Zoom, as well as those that will be better served by another tool.
| | |
| --- | --- |
| Zoom Is Best For | Zoom Is Not Right For |
| Businesses that need not just a free video conferencing tool, but also free access to other in-meeting tools like file co-editing, advanced meeting chat, whiteboarding, screen sharing, and recording | Businesses that prioritize a clean, non-distracting meeting interface that encourages attendee attention as opposed to in-meeting discussion and collaboration |
| Teams that host video meetings several times a week, both internally and externally. These teams want the option to add on a business phone system or upgrade to a webinar tool in the future to add more to the meeting and business communication experience | Businesses with needs that outgrow the free plan but are on a tight budget, as add-ons and higher tiers are more expensive than other providers |
| Teams that currently use many business communication/collaboration tools, CRM systems, etc. they want to integrate into their video calling tool during, before, and after meetings | Businesses that handle highly sensitive data or work in industries with strict compliance policies/regulations |
Zoom is especially popular within:
The Education sector for online learning (high school and collegiate level)
Healthcare for virtual doctor's appointments, care coordination, and healthcare administration (vendor relationships, crisis management, and practitioner education)
The Financial sector for remote loan applications, virtual financial counseling, compliance meetings
The Government sector for remote Town Halls or other political meetings, video parole/court hearings, real-time emergency response coordination
Video Conferencing Alternatives To Google Meet And Zoom
Still can't decide between Google Meet vs Zoom?
That might be because another provider, like the ones listed in the table below, is a better fit.
| | | | | | |
| --- | --- | --- | --- | --- | --- |
| | RingCentral | Cisco Webex | Microsoft Teams | GoToMeeting | BlueJeans |
| Pricing and Plans | 4 paid plans from $19.99-$49.99/user per month | 1 free plan, 3 paid plans from $15.00-$25.00/host per month | 1 free plan, 3 paid plans from $5.00-$12.00/user per month | 3 paid plans from $12.00-$16.00/organizer per month | 4 paid plans from $9.99-$16.66/host per month |
| Top Features | In-meeting task management and Meeting Summary tool | Meeting Assistant and Gesture Recognition | Loop collaboration tool and whiteboard templates | Drawing Tools and Smart Assistant | HD Dolby Voice audio, Smart Meeting |
| Best For | Small teams of under 10 that collaborate several times daily | SMBs prioritizing a robust free video conferencing tool | Businesses already working within the Microsoft 365 universe | Mobile workforces needing a high meeting participant capacity | SMBs that host a high volume of meetings and need to condense/share meeting content |
Interested in learning more about the alternatives listed here?
Our ongoing series of provider head-to-head comparison articles, like this one on Zoom vs. Webex, is a great place to discover how the video calling tools mentioned here stack up against other popular platforms. Additional alternatives can also be found on our Zoom alternatives blog post.
For an overview of top web conferencing software, check out our interactive video calling provider table.