Video conferencing platforms like Google Meet and Zoom unite remote and blended teams, improve collaboration with clients and external vendors, and cut down on endless in-house staff meetings.
While Zoom and Google Meet have long been some of the top web conferencing tools in the business communications space, which is right for your business?
This head-to-head Google Meet vs Zoom comparison of features, pricing and plans, user experience, and more will help choose the best fit.
Get a custom quote from top
video conferencing providers
An Overview of Google Meet vs Zoom
Here's a quick overview of Google Meet vs Zoom.
Google Meet

Zoom

Offers Free Plan
Yes
Yes
Key Free Plan Features
In-meeting chat, Google Jamboard, screen sharing, live closed captioning, meeting host controls, Two-Factor Authentication
In-meeting chat, whiteboarding, screen sharing with remote screen control/co-annotation, local meeting recording, meeting waiting room, end-to-end encryption
Free Plan Meeting Time Limit
Unlimited 1:1 meetings, group meetings up to 1 hour
Unlimited 1:1 meetings, group meetings up to 1 hour
Free Plan Meeting Participant Limit
100
100
Paid Pricing and Plans
– Google Workspace Individual: $9.99/user/month

– Quote-based Workspace Essentials

– Pro Plan: $14.99/user/month

– Business Plan: $19.99/user/month

– Business Plus Plan: $25.00/user/month

– Quote-Based Enterprise Plan

Meeting Time Limits With Paid Plans
24 hours
30 hours
Participant Limits With Paid Plans
– 500 participants

– 25 meeting co-hosts

– 49 simultaneous screens

– 500 participants (1,000 with paid add-on)

– Unlimited meeting cohosts

– 49 simultaneous screens

User Experience Pros
Overall ease of use
Robust in-meeting collaboration and co-annotation features
User Experience Cons
Lack of in-meeting team collaboration tools
Consistent meeting quality issues
Best For
Small teams of under 20 needing basic, familiar video calling for face-to-face communication, not collaboration
SMBs needing a highly scalable video calling tool with a strong mobile app
Google Meet vs Zoom: Pricing and Plans
This section explores available plans and pricing associated with Google Meet and Zoom.
Google Meet Pricing
All Google account holders can download the Google Meet free plan, which lets up to 100 participants meet for 1-hour max. Closed captions, whiteboards, screen sharing, chat messaging, and two-step verification are all available in the free version.
Google Meet's four paid plans automatically upgrade users to a Google Workspace account, which includes advanced Meet features and more Workspace tools (Google Docs, Sheets, etc.)
The below table provides details on Google Meet pricing and plans.
Business Starter
Business Standard
Business Standard
Enterprise
Pricing 
$6.00/user/month
$12.00/user/month
$18.00/user/month
Quote-based, contact sales
Maximum Video Participants
100
150
500
500
Video Recording and Storage
– Meeting recording

– 30GB of storage/user

– Meeting recording

– Attendance tracking

– 2TB of storage/user

– Meeting recording

– Attendance tracking

– 5TB of storage/user

– Meeting recording

– Attendance tracking

– Noise cancellation

– In-domain live streaming

– Unlimited storage

Customer Service and Support 
Standard Support
Standard Support, paid upgrade to Enhanced Support
Standard Support, paid upgrade to Enhanced Support
Enhanced Support, paid upgrade to Premium Support
Zoom Pricing
Zoom One offers a free Basic Plan to account holders that lets up to 100 participants host and join an unlimited number of meetings of up to 40 minutes each. Free Zoom users can also access local recording, breakout rooms, screen sharing and remote screen control, chat, and whiteboarding.
Paid Zoom One pricing and plans–including those offering Zoom Phone–are outlined in the table below.
Pro Plan
Business Plan
Business Plus Plan
Enterprise Plan
Pricing
$14.99/user/month
$19.00/user/month
$25.00/user/month
Quote-based, contact sales
Maximum Meeting Length 
30 hours
30 hours
30 hours
30 hours
Maximum Meeting Participants
100
300
300
500 (1,000 with paid add-on)
Meeting Recording and Storage
– Local recording

– 5GB/license cloud storage

– Local recording

– 5GB/license cloud storage

– Recording Transcription

– Local recording

– 5GB/license cloud storage

– Recording Transcription

– Unlimited local and cloud recording and storage

– Recording Transcription

In- Meeting Features
– Screen sharing/co-annotation

– Toll-based meeting dial-in

– Public and private channels for in-meeting chat

– 3 Zoom Whiteboards

All prior features, plus:

– Unlimited Whiteboards

– Language Interpretations

– Managed Domains

– Branding

– Admin portal for advanced user management

All prior features, plus:

– Translated live captions

All prior features, plus:

– Executive Business Reviews

– Webinar 500

Admin Features and Account Security 
– Meeting Waiting Rooms

– Basic meeting host controls

– TLS and AES 256-bit encryption

All prior features, plus:

– Admin Portal

– Real-time reports and quality dashboards

– SSO

All prior features, plus:

– FEDRamp Compliance

– Enterprise APIs/security

All prior features, enhanced security features  available
Customer Support
Ticket and live chat support
All prior features, plus:

– Phone support

All prior features, plus:

– 24/7 Global Customer Care

All prior features, premier support packages available
Google Meet vs Zoom: Feature Comparison
Below is a head-to-head comparison of Zoom vs Google Meet video conferencing features, with a clear winner declared for each functionality.
Google Meet Meeting Access
Google Meet lets users start an ad hoc instant video call or schedule an upcoming meeting in Google Calendar. Both instant and scheduled meetings can be accessed via a shareable meeting link.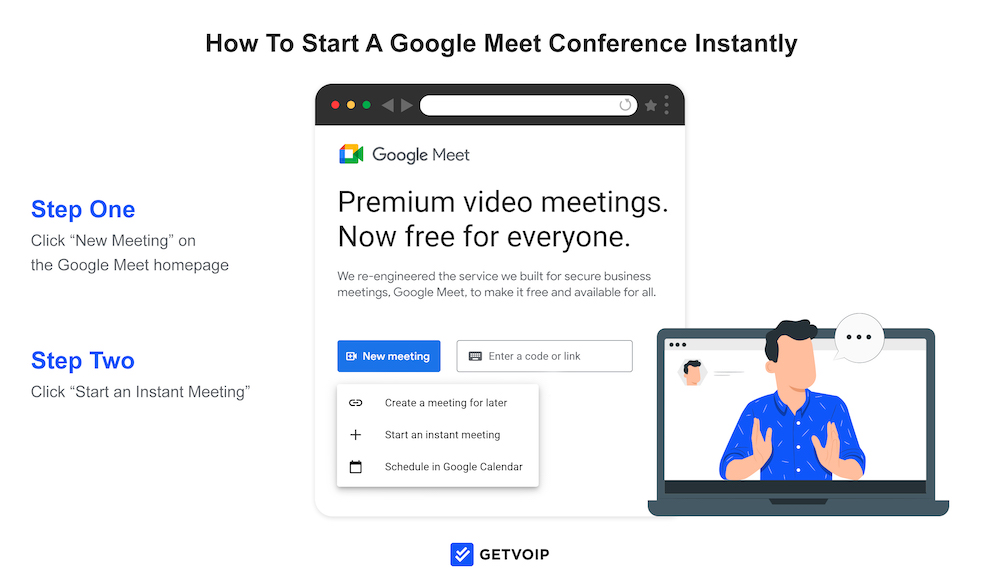 To join a Google Meeting on desktop or mobile, users click the shareable link, join via Gmail/other emails, or click on the Google Calendar event page. Dial-in access, including via third-party tools like WebEx, is also available.
Zoom Meeting Access
Anyone with a Zoom account (including free plan users) can host, schedule, or join a meeting directly on the Zoom website, within the Zoom App for desktop and mobile users, by phone, or via shareable meeting links.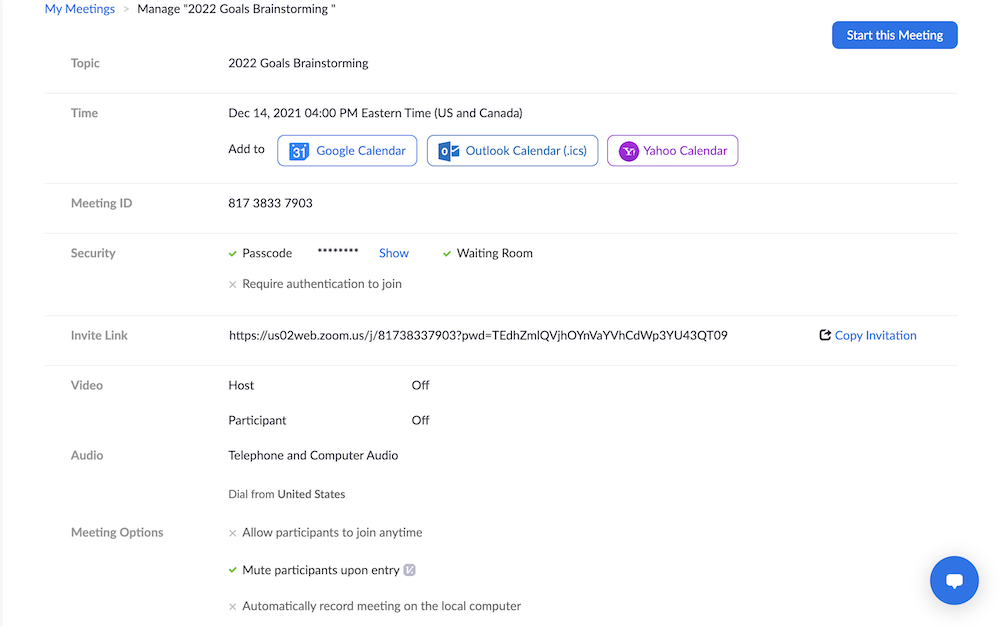 Hosts have a Personal Meeting ID that "reserves" a virtual web conferencing room for them at all times, or they can generate a random URL.
Instant, recurring, simultaneous, and scheduled meetings–along with meeting reminders and meeting templates–are also available.
Winner: Zoom
Zoom offers more detailed meeting scheduling options and integrates with numerous third-party tools.
Google Meet Audio and Video Quality
Meet has excellent audio quality and noise canceling features, but users cite a consistently low video quality–likely because Meet supports only up to 702p HD video streams, while the standard is 1080p.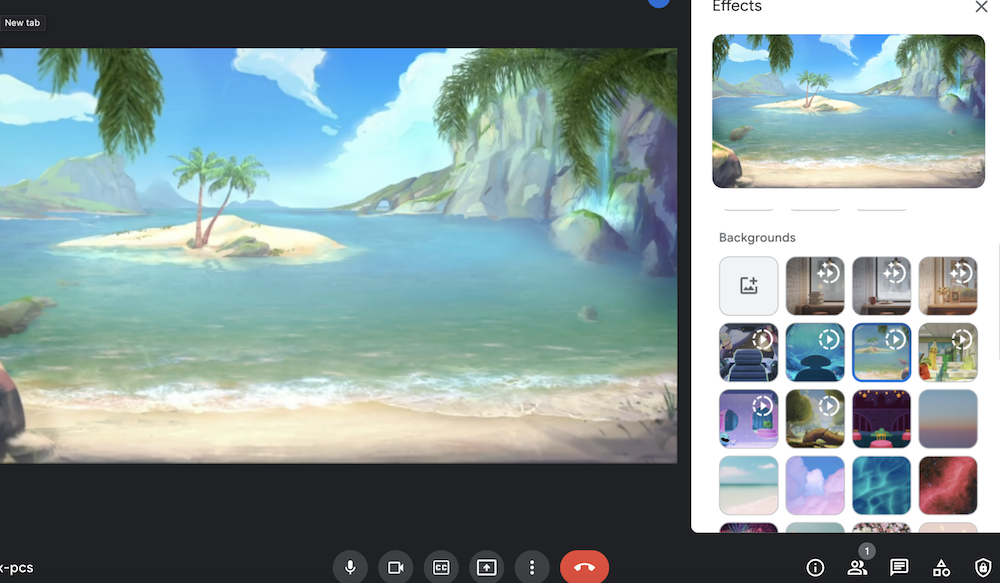 Users can test and automatically or manually adjust audio and lighting levels, audio source, and video quality before or during meetings. Custom backgrounds and filters are available.
Google Meet doesn't offer a standalone audio conference call solution, but users can turn off video streams.
Zoom Audio and Video Quality
Zoom Meetings has HD audio and video management, though the quality of both is also cited as inconsistent.
Users can test audio before and during a meeting, select speakers and microphones, switch to phone audio, or enable automatic audio adjustments and background noise suppression.
Audio-only conference is possible within the interface, and Zoom Meeting backgrounds and filters are available.
Zoom video quality is automatically set to 720p (the same as Google Meet) and paid users can upgrade to1080p video quality.
Winner: Google Meet
Google Meet is the winner here, as Meet users report fewer issues than Zoom users regarding dropped audio, frozen screens, and lag time.
Google Meet Whiteboarding
The Google Meet online whiteboard, (Jamboard) is easily Google Meet's most exciting feature – and it's included with the free plan.

Though Google users can co-edit in real-time with apps like Google Docs, the Google Jamboard takes team collaboration to the next level, allowing up to 50 simultaneous desktop and mobile board editors.
Jamboard users can:
Search Google Images within the whiteboard
Upload images via URL, Google Drive, desktop, or Google Photos
Take/upload photos
Add/edit color-coded sticky notes, text boxes, shape templates
Access drawing tools like freehand pens, highlighters, erasers, laser pointers
Zoom Whiteboarding
Zoom Whiteboard users can access new or saved whiteboards in or outside of meetings, and share them via email or Zoom chat.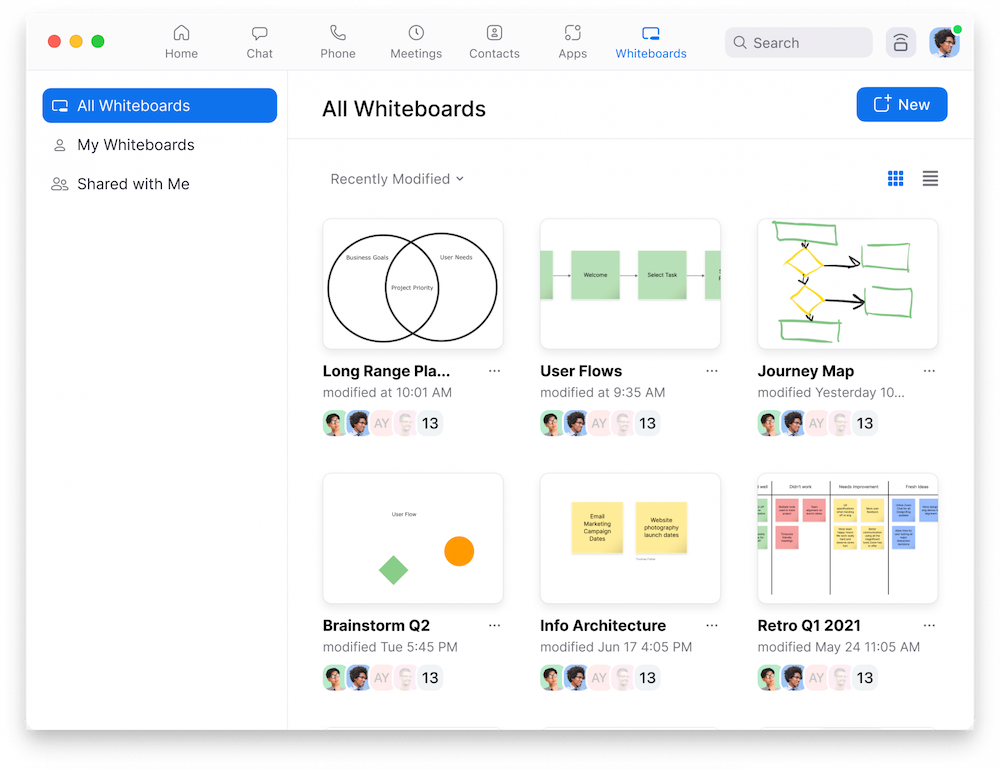 Additional Zoom Whiteboard features include:
Leave/respond to comments
Whiteboard version control
Multicolor text/drawing tools
Pre-set icon stamps
Mouse (real-time editor pen) spotlight
Clear or save whiteboards
Eraser, undo, redo
Whiteboard backgrounds
Winner: Google Meet
Though Zoom has some interesting upcoming features (like VR whiteboarding) Google's Jamboard is tough to beat.
Google Meet Additional In-Meeting Collaboration Tools
Google Meet offers frustratingly basic in-meeting chat messaging, lacking private or small group channel creation, in-chat file uploads (though users can review individual Google Docs), and a way to view prior chat messages.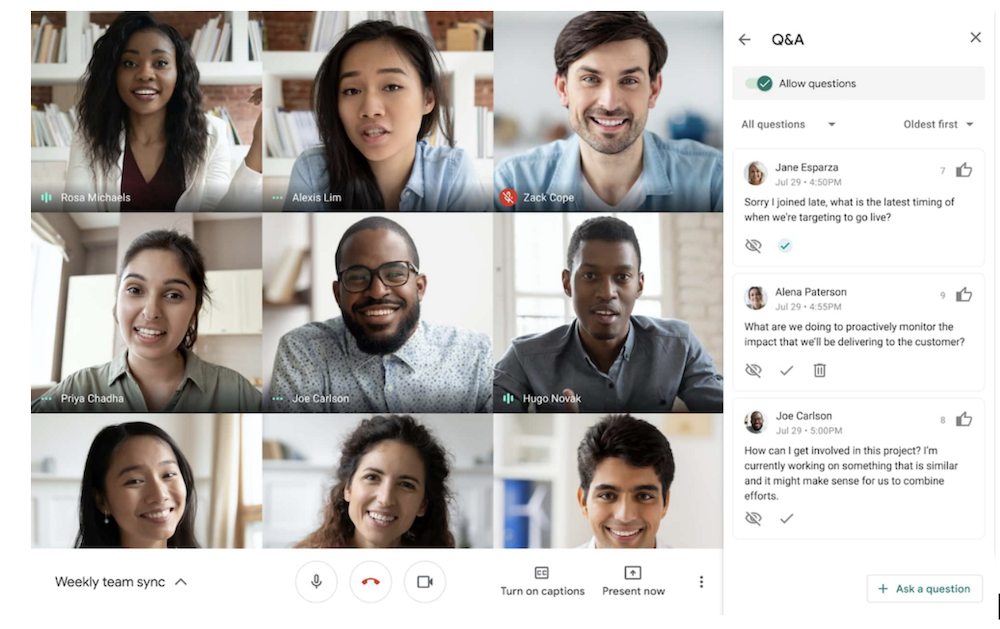 Hosts can create up to 100 randomized or pre-set breakout rooms per meeting for smaller discussions, and participants can use the Q&A tool to ask and upvote questions.
Zoom Additional In-Meeting Collaboration Tools
Zoom offers far more robust chat and team collaboration options than Google Meet.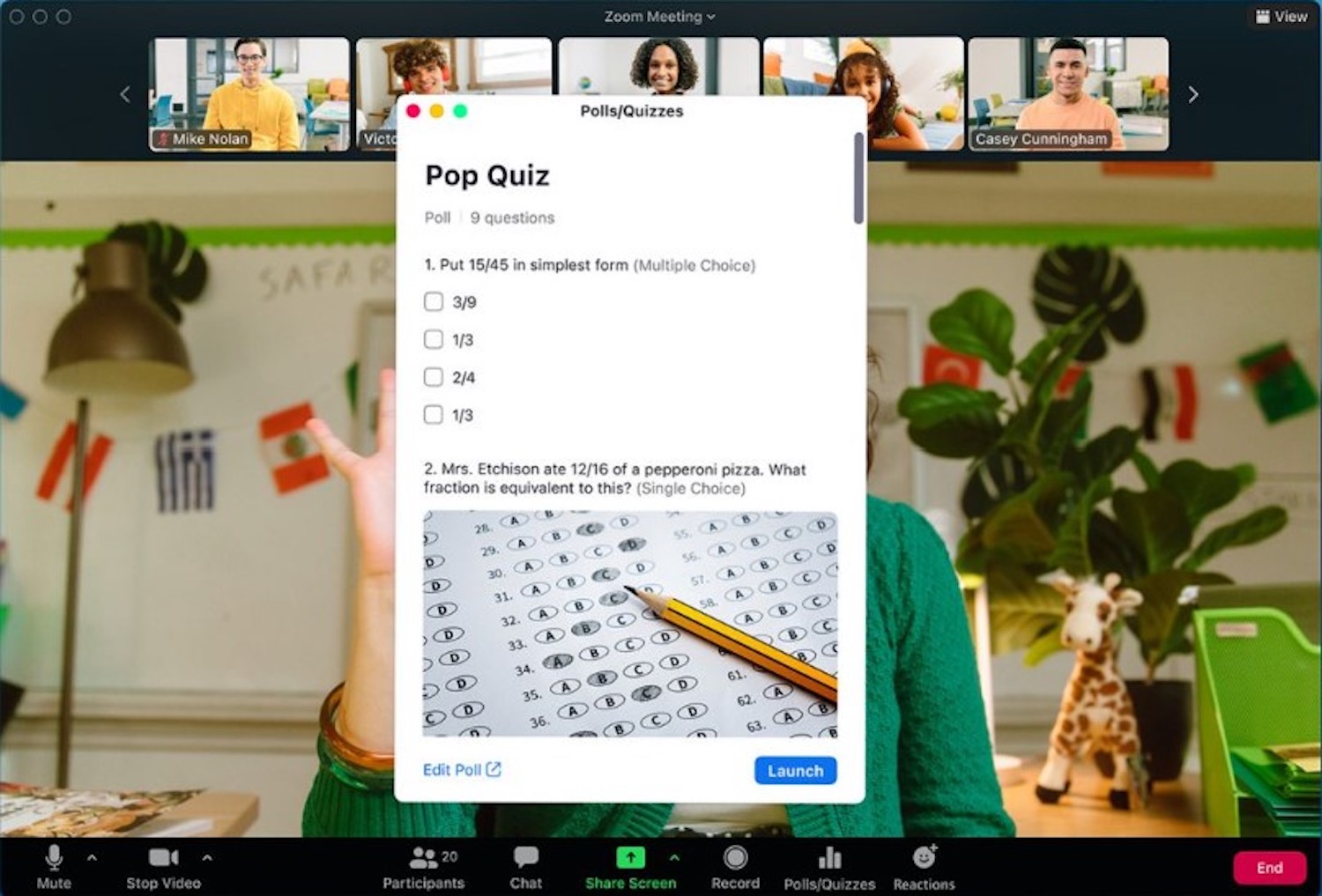 They include:
In-chat file sharing and file co-annotation
Private and public chats
Chats can be saved and shared post meetings
Channel creation with titles and descriptions
One-click video calling
Screen sharing (entire screen, single app, browser)
Remote screen control
Virtual hand raising
Up to 50 random or pre-assigned breakout rooms
Polling
Live closed captioning
Real-time user presence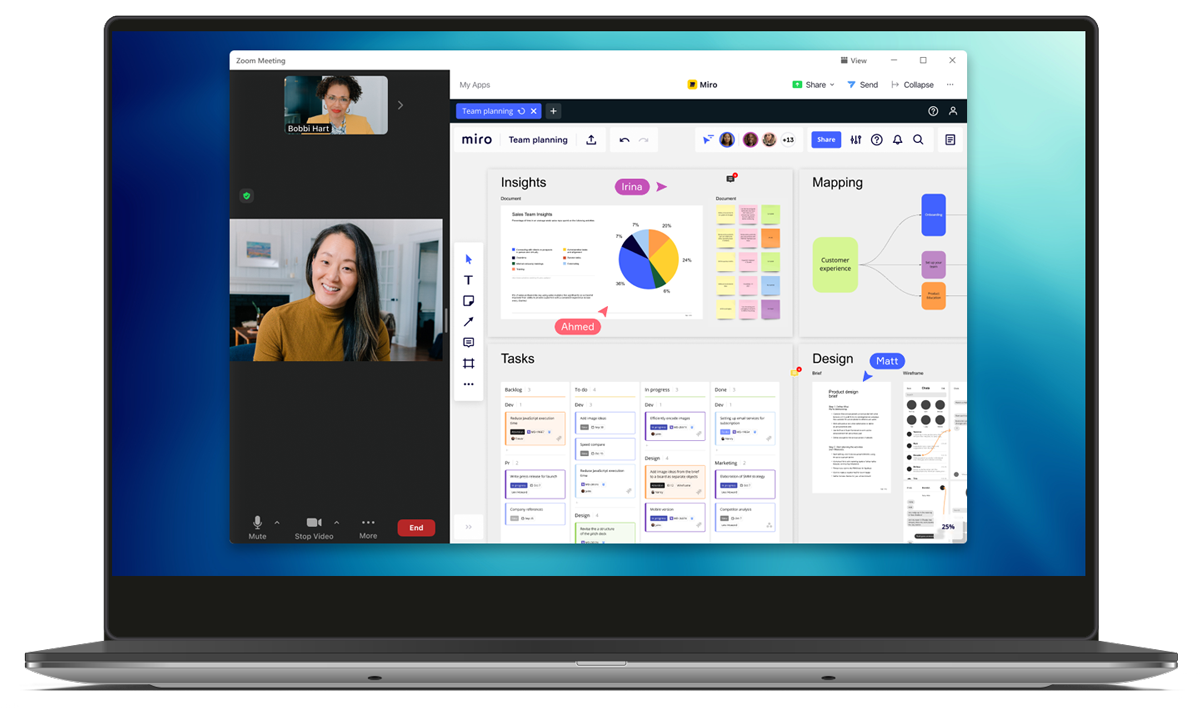 Winner: Zoom
Zoom takes the win here thanks to its advanced chat features and in-meeting file co-annotation.
Google Meet Meeting Recording and Transcription
Google Meet offers virtual conference audio, video, shared screens, and in-meeting chat recording on desktop devices only.
Recordings and transcriptions are automatically stored in Google Drive and shared with online meeting participants.
Zoom Meeting Recording and Transcription
Zoom offers on-demand or automatic meeting recording for video calls, including screen sharing and chat logs.
Local and cloud recording storage is available, and hosts can share and password-protect recordings. Recording transcripts are searchable via keyword, meeting date and time, and can be edited, shared, or saved as closed captions. Records/transcriptions can be automatically deleted or kept.
Winner: Zoom
Zoom wins with recording features like highlights, recording access control, and recording editing.
Google Meet Analytics
Google Meet offers basic analytics providing details about overall meeting quality, not  participant activity, including:
Meeting date, time, duration, attendees
User sign-in activity
Internal attendee email/IP address country
Livestream viewers
Quality events like network congestion, jitter and latency, bandwidth usage, etc.
Zoom Analytics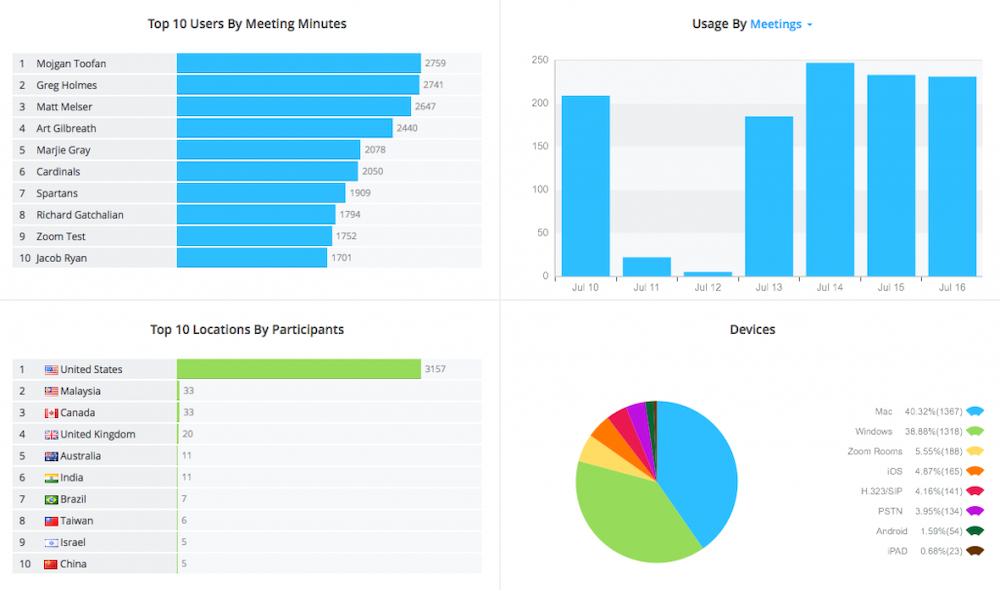 Zoom's reporting dashboard offers basic meeting analytics for user activity and meeting quality like:
Device usage
Participant locations
Top users by meeting minutes, messages, department, etc.
Meeting registration
Meeting start time, Meeting ID, and meeting duration
Real-time meeting quality monitoring (latency, jitter, etc.)
Meeting attendee list
Winner: Draw
Both Google Meet and Zoom offer lackluster analytics when compared to competitors.
Google Meet Integrations
Integrations with third-party software is another place where Google Meet falls short.
As of this writing, there are no Meet APIs, and little compatibility with popular third-party tools–likely to force users to upgrade to a paid Google Worskaspce account.
Meet doesn't even offer free integrations with key apps like Slack or Asana.
However, Google Apps like Google Calendar, Google Drive, Gmail, and Google Drive integrate with nearly every business software imaginable. Tools like Zapier can assist with some Meet connections.
Zoom Integrations
Zoom Apps lets users access more than 50  third-party tools directly in the Zoom Meeting interface.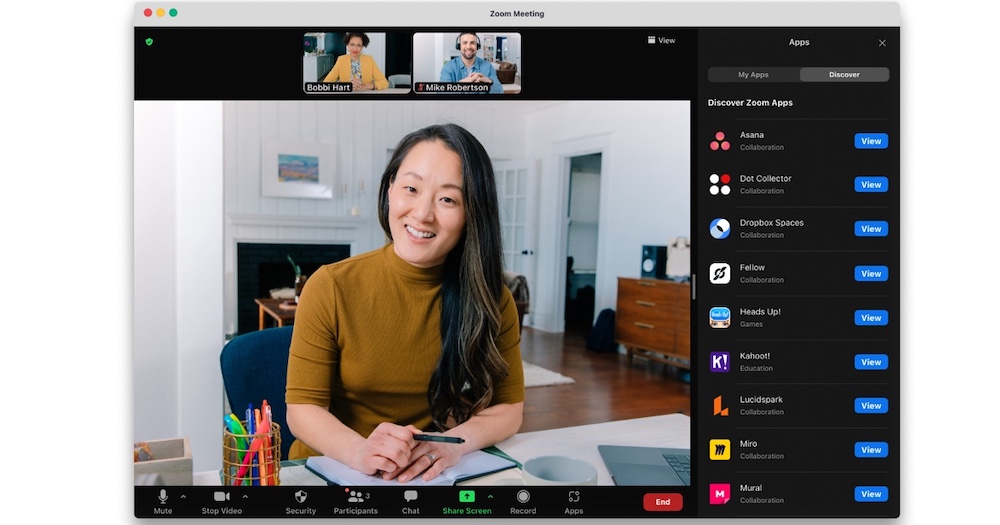 Users can open multiple Zoom Apps at once, and admins can pre-approve apps. All integrated third-party applications and APIs are also available before and after meetings in the Zoom Meetings user dashboard.
Popular integrations include:
Asana
Google Workspace
HubSpot
Salesforce
Slack
Zapier
Microsoft 365
Dropbox
Miro
Winner: Zoom
Zoom is the obvious winner here.
Google Meet vs Zoom: Security and Support
Google Meet
Google Meet has overall strong host control and security features like:
Add, remove, mute meeting participants
Enable/disable screen sharing, chat messaging, and video
End meeting for all participants
Suspicious activity alerts powered by machine learning
2FA, E2EE, and SSO
Audit logs
HIPAA, GDPR, ISO/IEC 27018, SOC3 compliance
Meeting analytics accessible to host only (still shareable)
Custom retention policies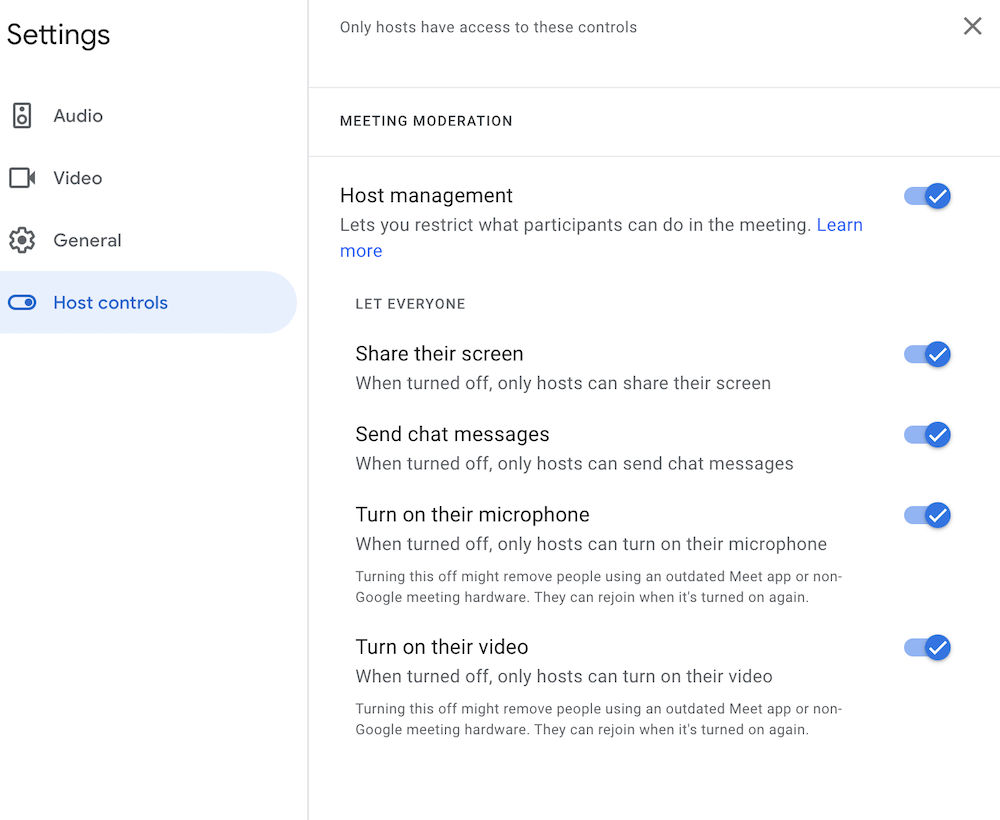 Google's added Advanced Protection Plan offers a high level of threat analysis, responds to current cyber attack trends, and protects against phishing attacks.
Google Meet's customer support is lacking when compared to its high security standards.
Free users only have access to community support forums and the online, self-help support knowledge base.
Workspace Individual users receive 24/7 Standard Support support, while Enterprise users get 24/7 Priority Support to guarantee a response in 4 hours or less. Enterprise users with 100 seats or more also have a Designated Google Advisor.
Google Customer Care Support package pricing and plans are shown below.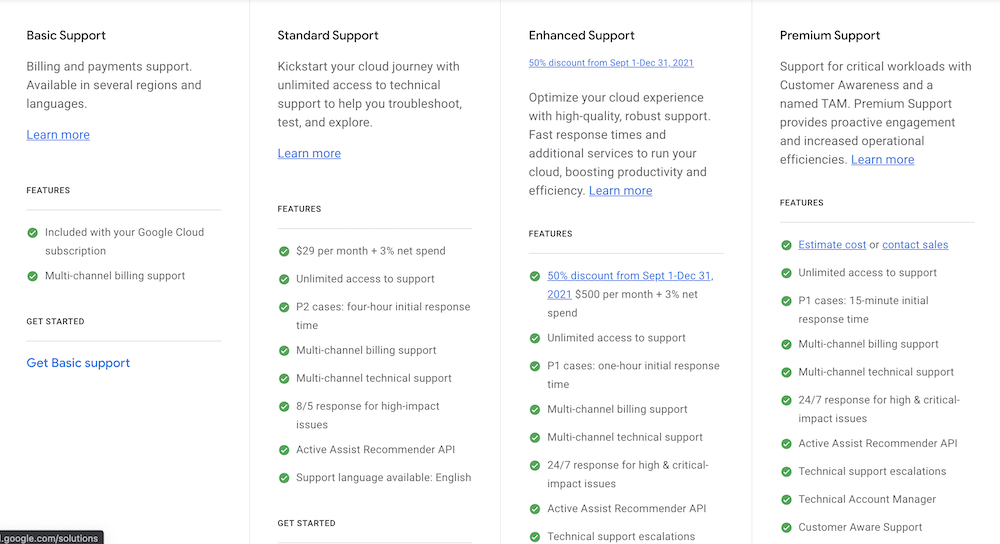 Zoom Meetings
Zoom doesn't have the best reputation for security and user privacy thanks to frequent Zoombombings and reports of Zoom selling user data.
Zoom in-meeting host controls and security steps include:
Waiting rooms, meeting passwords, meeting lock
Approve/reject/remove/mute participants
Unlimited meeting co-hosts
Control participant video, audio, and screen control
End meeting for all
Real-time attendance updates
Instant no-show reminders
Breakout rooms
Stream meetings on social media
While Zoom's Trust Center provides user privacy documentation and files, it lacks a transparent explanation of Zoom's data sharing and retention policies. However, Zoom has removed its infamous attendee attention tracking feature.
Additional Zoom certifications and security protocols include:
Real-time security alerts
E2EE
Audit logs
2FA
SOC 2 Type 2, HIPAA, GDPR compliance
Password-protected meeting recordings
FEDRAMP, CSA STAR, and FERPA certification
Zoom offers 24/7 live website chat support with a real person for all plans, and offers omnichannel support even on social media.
The Zoom Community knowledge base is well-organized, and all paid users can create a support ticket request any time–but phone support is only available for the two most expensive plans.
The below images outline the available Developer and Tech Support Premier Plans, but pricing is unlisted for the latter.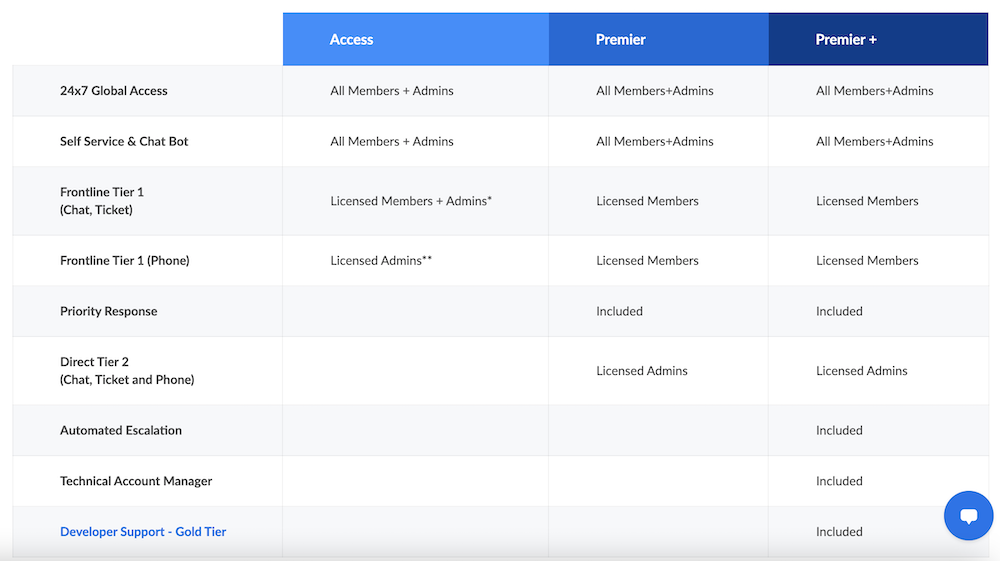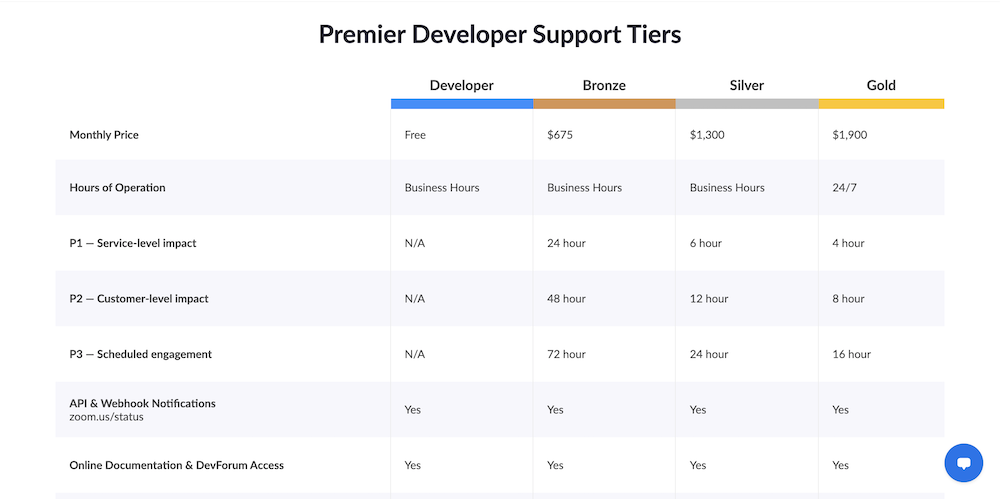 Winner: Zoom
Both Google Meet and Zoom have had several past issues with user trust and overall data security –but Zoom has listened to and acted on user concerns.
Google Meet vs Zoom: User Experience
| | |
| --- | --- |
| Google Meet Pros | Google Meet Cons |
| Intuitive, high ease of use | Lacks advanced collaboration features like  in-meeting file co-editing |
| All paid plans grant users access to Google Workspace suite | A challenge for non-Google users |
| Dynamic whiteboard tool (Google Jamboard) | Lack of customer support on the free plan |
| Strong security features like live security alerts and data loss prevention | Few third-party integrations |
| | |
| --- | --- |
| Zoom Pros | Zoom Cons |
| Robust free plan with excellent collaboration tools | Serious concerns about Zoom user privacy and a lack of transparency |
| High level of third-party integrations | Constant audio/video quality problems |
| Strong mobile app ideal for remote/blended teams | Add-ons can get expensive quickly |
| Always-on chat messaging with auto-save, group/private messaging, file sharing | Zoom users required to download app to access Zoom |
Who Should Use Google Meet?
| | |
| --- | --- |
| Google Meet Is Right For | Google Meet Is Not Right For |
| New or small businesses (under 25 employees) needing a user-friendly free video calling app | Enterprise-level companies with frequent high-volume meetings requiring advanced in-meeting collaboration and presentations |
| Teams hosting ad hoc, face-to-face, often casual meetings | Teams needing extensive third-party business software integrations |
| Businesses already operating in the Google Workspace universe | Businesses needing advanced meeting and attendee analytics |
Who Should Use Zoom?
| | |
| --- | --- |
| Zoom Is Right For | Zoom Is Not Right For |
| Teams hosting numerous weekly video meetings designed for participant collaboration | Businesses with needs that outgrow the Zoom free plan but are on a tight budget |
| Teams needing access to a business phone system | Businesses needing a clean meeting interface to prioritize attention, not collaboration |
| Teams needing to integrate third-party tools to access before, during, and after video meetings | Businesses handling sensitive data within heavy compliance industries |
Video Conferencing Alternatives To Google Meet And Zoom
Still can't decide between Google Meet vs Zoom?
Another video conferencing software, like the below Meet and Zoom alternatives, may be a better fit.
| | | | |
| --- | --- | --- | --- |
|  Provider | Pricing and Plans | Top Features | Best For |
| RingCentral | 4 paid plans from $19.99-$49.99/user per month | In-meeting task management and Meeting Summary tool | Small teams of under 10 that collaborate several times daily |
| Cisco Webex | 1 free plan, 3 paid plans from $15.00-$25.00/host per month | Meeting Assistant and Gesture Recognition | SMBs prioritizing a robust free video conferencing tool |
| Microsoft Teams | 1 free plan, 3 paid plans from $5.00-$12.00/user per month | Loop collaboration tool and whiteboard templates | Businesses already working within the Microsoft 365 universe |
| GoToMeeting | 3 paid plans from $12.00-$16.00/organizer per month | Drawing Tools and Smart Assistant | Mobile workforces needing a high meeting participant capacity |
| BlueJeans | 4 paid plans from $9.99-$16.66/host per month | Mobile workforces needing a high meeting participant capacity |  SMBs that host a high volume of meetings and need to condense/share meeting content |