Because of participant limits, enterprise-level businesses need better video meetings. Solutions like Google Hangouts and Skype won't always meet demands for meeting capacity. We once asked, "will video conferencing become the norm?" and, with spikes in usage happening around the world, the need for HD conferencing is at an all-time high.
Zoom and GoTo Meeting, which can host thousands of real-time meeting attendees, are reliable options for larger businesses. Both of these web conferencing providers deliver clear video and have competitive features making them top competitors.  In our guide, we'll show you who wins in the Zoom vs GoTo Meeting provider battle.
Compare top providers for
video calling
Zoom vs GoTo Meeting At A Glance
Zoom »

GoTo Meeting »

Pricing
$0-$25 per user/month
$9.60-$12.80 per user/month
Number of Participants
up to 1,000
up to 250
Meeting Duration Limits per Plan
30 hours
No Meeting Limitss
Cloud Recording
Yes, Pro Plan and Above
Yes, Business Plan and Above
Security Features
Security Socket Layer Encryption
AES 256 Bits Encryption
Password Protected MeetingsOptional E2EE encryption
Security Socket Layer Encryption
AES 256 Bits Encryption
Risk-Based Authentication
Compliance
FERPA, HIPAA, PIPEDA, and PHIPA Compliant
HIPAA Compliant
Best For:
SMBs, educators, and remote teams
large organizations and those in the healthcare industry
What is Zoom Video Conferencing?
Zoom is a cloud-based video conferencing platform that offers video and audio calling, collaboration, and chat across mobile devices, desktops, telephones, and room systems.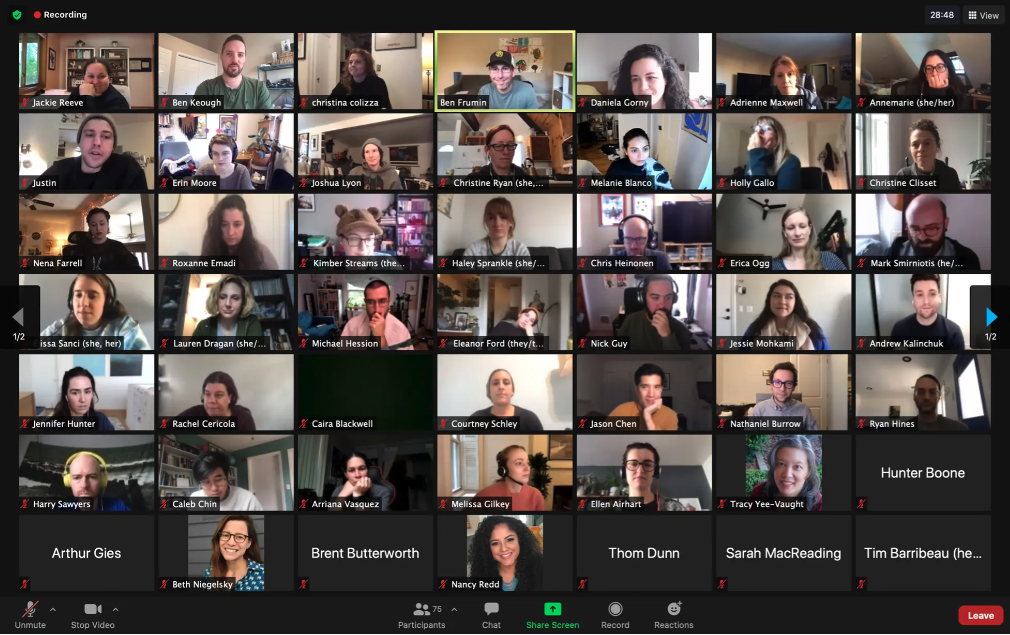 For small businesses and home use, the Zoom Basic plan is free to use, as long as the conference is shorter than 40 minutes. This plan also allows for an unlimited number of concurrent meetings, and each free video conference can host up to 100 attendees.
While the free plan is competitive, it's not adequate for enterprise-grade users. While Basic allows for group collaboration, it lacks admin features that would allow for finer-tuned meeting controls. Want to disable or enable features like encryption, recording, chat, or notifications? You'll need one of the three higher tier Zoom plans for this. Recently, we compared Zoom vs WebEx to show Zoom had fewer glitches than the Cisco WebEx conferencing.
Zoom is also very straightforward when it comes to pricing. Unlike other providers, they publish the pricing for all of their plans. This makes it much easier for businesses and teams to budget.  Upgrading beyond Zoom Basic allows for more attendees compared to other web conferencing software. For example, the Enterprise Plan allows for up to 500 participants in a single meeting.
All pay plans greatly increase the maximum meeting duration to 30 hours. For Business and Enterprise users, video conferences can be branded with the company logo. The Enterprise plan provides a dedicated customer success manager and tacks on unlimited cloud storage for recordings and files. Upgrading to Enterprise Plus allows an extra 500 attendees to meetings.
Zoom's customer support is also very competitive, and Zoom Business Plan users have a dedicated phone support agent for issues.
What is GoTo Meeting Video Conferencing?
GoTo Meeting is another popular tool for video conferencing which offers useful features for enterprise-level clients like screen sharing, HD video, and SSL encryption for security.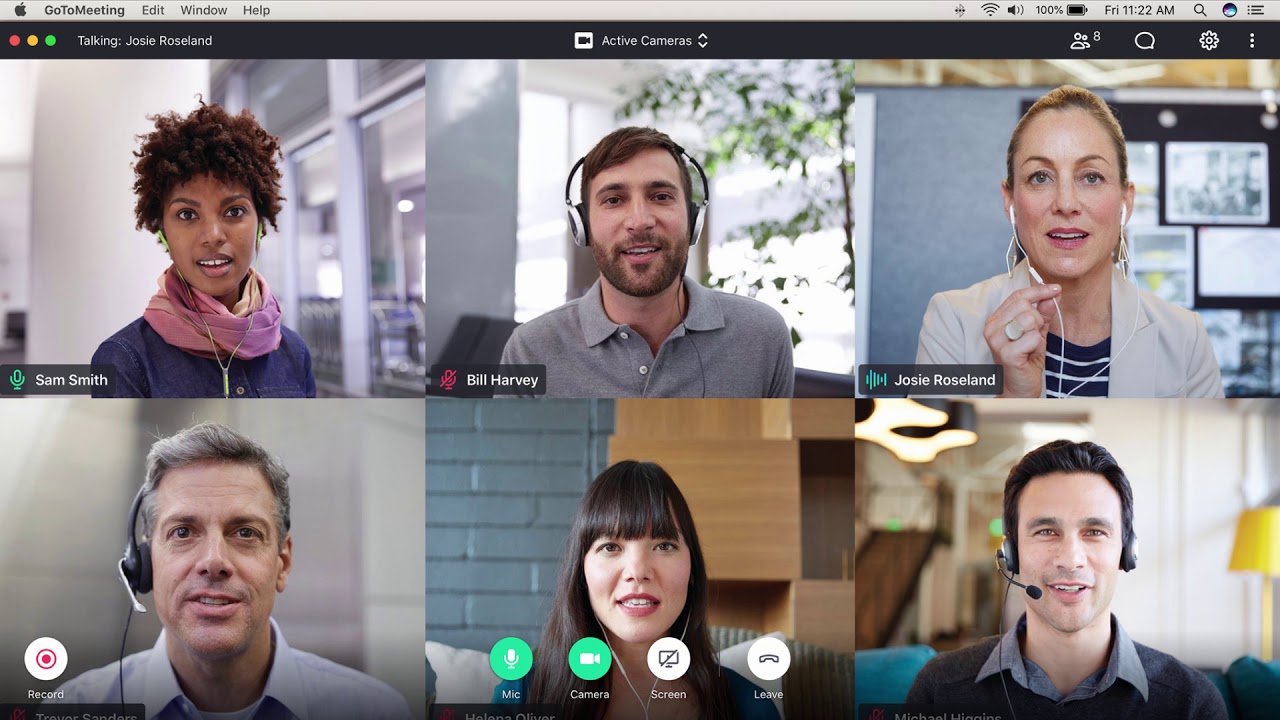 GoTo Meeting pricing has tiers for businesses ranging from SMBs to Enterprises. While GoTo Meeting only mentions Professional, Business, and Enterprise on their site, like Zoom, they also have a freemium offering. This is called GoTo Meeting Free, and like Zoom, it has 40-minute limits on meeting duration.
Any enterprise-level client is going to need more than is available in the Free plan. All pay plans include unlimited meetings, screen sharing, HD video, and there are no meeting time limits. Business and above plans include useful features like automatic transcription of recorded meetings, note-taking, and unlimited cloud recording. Like Zoom, GoTo Meeting has SSL encryption on all plans, so there's an extra layer of security for your private meeting information.
The API of GoTo Meeting doesn't have editable features like some Zoom plans. There are still several integrations with CRM software like Salesforce and workflow and scheduling solutions like Slack, Office 365, and Google Calendars. Integrations with other LogMeIn products, like GoToWebinar and Jive, offer a strong ecosystem of software to use for webinars and video meetings.
Zoom vs GoTo Meeting Plans and Pricing
Zoom One Pricing
Zoom's video conferencing product, Zoom One offers 5 bundled feature pricing plans outlined below:
Basic Plan (Free): Host meetings with up to 100 participants for up to 40 minutes in length. Features include whiteboard, team chat and calendar.
Pro Plan ($15.99 per month/user): Host meetings with up to 100 participants for up to 30 hours duration. Features include co-hosts, polling, and streaming.
Business Plan ($19.99 per month/user): Host meetings with up to 300 participants for up to 30 hours duration. Features include recording transcripts, branding, and language interpretation.
Business Plus Plan ($25 per month/user): Host meetings with up to 300 participants for up to 30 hours duration. Features include translated captions and unlimited outbound calling with business voip features.
Enterprise Plan: Host meetings with up to 1,000 participants for up to 30 hours duration. Features include executive business reviews and webinar 500.
GoTo Meeting Pricing
GoTo Meeting offers three feature bundled plans outlined below:
Professional Plan ($9.60 per organizer/month): Host unlimited meetings with up to 150 participants with no time limits. Features include screen sharing, hand raising, and breakout rooms.
Business Plan ($12.80 per organizer/month): Host unlimited meetings with up to 250 participants with no time limits. Features include unlimited cloud recording, meeting lock, and note taking.
Enterprise Plan: Host unlimited meetings with up to 250 participants with no time limits. Features include InRoom link, customer success manager, onboarding, and training.
Zoom vs GoTo Meeting Feature Comparison
To be competitive in enterprise environments, video conferencing needs competitive features. Enterprise clients simply cannot do without high-quality audio and video, call recording, screen shareability, easy meeting scheduling, and mobile support. Let's take a look at how each provider compares when it comes to essential features.
Call Recording
Both Zoom and GoTo Meeting have options for local recording. This type of recording will automatically save the recording data on your local machine. On all plans, local recording is available and doesn't have capacity limits, so recording longer meets is easy. On Zoom and GoTo Meeting, you won't be able to record meetings locally if you are using the Android or iOS smartphone app. For this and easy shareability with colleagues, you'll need cloud call recording.
Cloud recording allows you to store your recorded meetings on the cloud, which makes it easy to send to all of the meeting attendees via a link. Unlike competitor BlueJeans video conferencing, both GoTo Meeting and Zoom will record video and audio as well as any chats that happened during the conference. Call recording software is also an area in which both providers differ. Here's a look at Zoom's cloud recording capacities from their page:
| | |
| --- | --- |
| Plan Type | Free Account Capacity |
| Pro Plan | 1 GB/Pro User |
| Business Plan | 1 GB/Pro User |
| Education | 0.5 GB/Pro User |
| Zoom Rooms | 1 GB/Pro User |
To extend these capacity limits, the provider has add-on options:
| | | |
| --- | --- | --- |
| Plan | Storage | Additional 1 GB |
| $40 per month | 100 GB | $1.5/GB |
| $100 per month | 500 GB | $0.5/GB |
| $500 per month | 3 TB | $0.1/GB |
As you can see, if you need storage, with Zoom you're going to have to pay extra. Businesses that work with protected health information (PHI) have to warehouse their data, which includes recordings that discuss patient information. This becomes pretty expensive quickly in fields that work with this data.
On the other hand, GoTo Meeting has unlimited cloud recording for both Business and Enterprise Plans. For industries required to archive recordings of video conferences and calls, GoTo Meeting offers the ability to search through and share recorded conferences.
HD Video Conferencing
The power of video conferencing is in its ability to mimic face-to-face interactions, and for this to work correctly, the best video performance is critical. Both Zoom and GoTo Meeting have a 1080p video, which is only affected by your internet strength.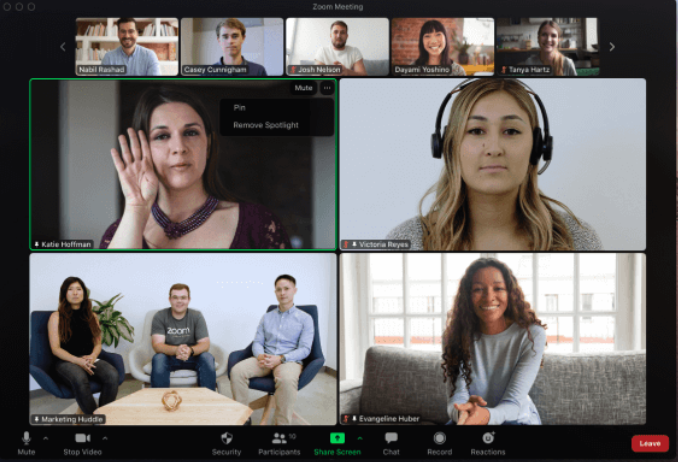 Also, both of these have some fine-tuning user management options that help you adjust the quality of the video. Both of these permit the presenter to enable distinct views during the presentation for highlighting the presenter or presenting the attendees in a grid-like gallery. Zoom is the better option when it comes to the gallery view since it allows for 49 simultaneous webcams compared to Zoom's 25.
For direct HD video fine-tuning, Zoom has a dedicated settings section that permits you to change up the aspect ratio and select the webcam. In addition to this, Zoom has a unique feature for video output; it's "Touch up my appearance" setting will soften the presenter's features during the call. This is useful in office environments where the lighting is harsh or when a presenter is working from home.
GoTo Meeting's fine-tuning settings are also detailed. While there's no image softening, settings like video brightness, contrast, hue, saturation, sharpness, and gamma are all adjustable via sliders. There are settings for white balance and backlight levels. One very useful setting is powerline frequency, which allows you to help reduce flicker on monitors with low refresh rates.
Overall, the 49-screen gallery display and image softening features of Zoom are great, but the fine-tuning of the display on GoTo Meeting is a better video conferencing tool for managing the look and feel of your online meetings.
Screen Sharing
Screen sharing is critical because it provides presenters with the ability to give demonstrations of software or show their progress on projects. That's why even free web conferencing apps offer screen sharing. The screen-sharing experience is comprehensive in both Zoom and GoTo Meeting, and each has the prerequisite features that are available with other video conferencing solutions. These include: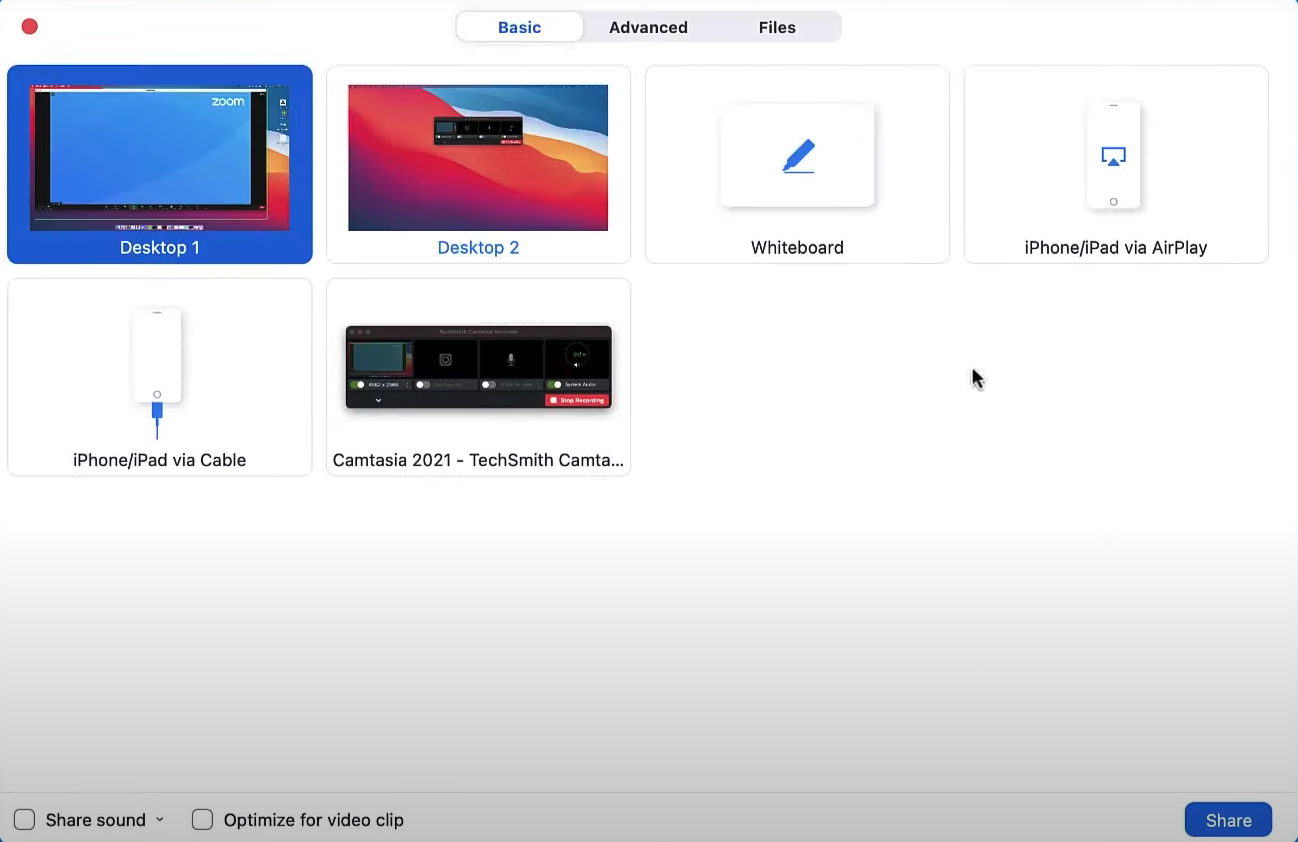 Mouse and keyboard sharing
The ability to pass the screen to selected participants
Application-level sharing rather than just full-screen sharing
Web-browser screen sharing in Chrome
Sharing for Mac or Windows desktop and mobile VoIP apps
Drawing tools for whiteboards
Both Zoom and GoTo Meeting also offer features that aren't as standard. These include allowing all participants to control what's happening on the shared screen or for the host to allow all participants to share their screens sequentially.
When it comes to screen sharing, Zoom pulls slightly ahead since it just has a few more options than GoTo Meeting. For example, Zoom allows even dual monitor users to share their screens with the attendees or they can just share a portion of the screen, which is a little more nuanced than just application-level sharing.
GoTo Meeting also lets you tweak your dual display settings — giving users the option to use two screens to display shared content and the meeting if they have multiple monitors.
Scheduling Meetings
Both options have a relatively straightforward method of creating meetings.  With GoTo Meeting, you schedule the meeting, set whether it is recurring or not, and choose the date and time that the meeting will take place.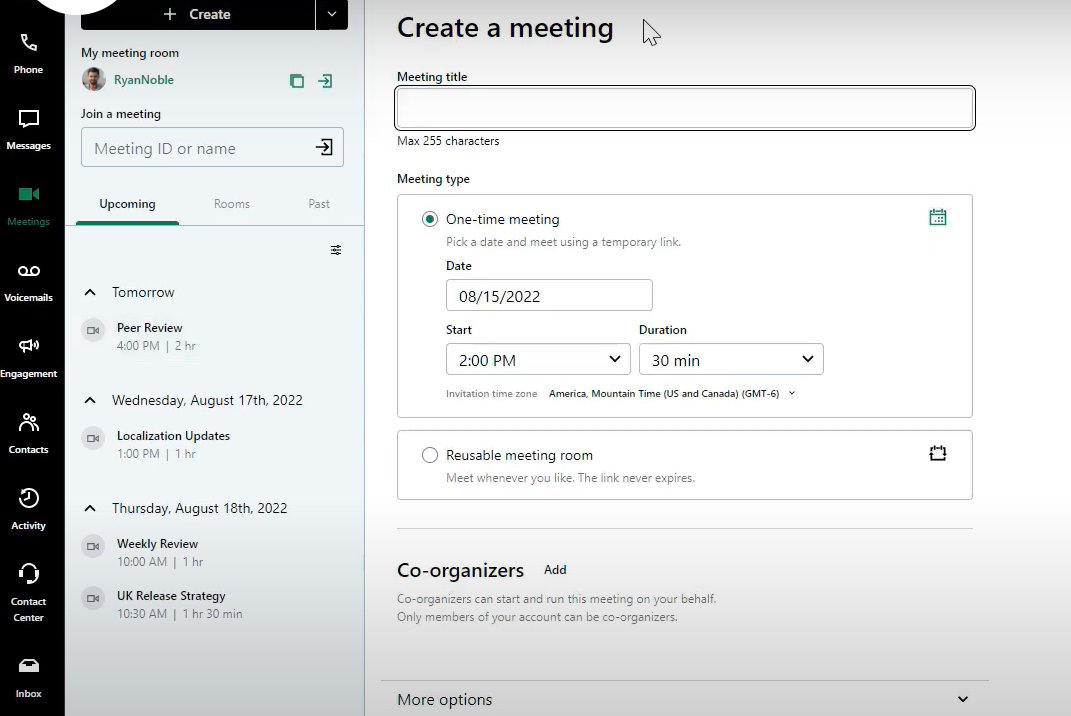 You will be able to set your audio preferences and set scheduled meetings to show up on Outlook or your Google Calendar. Zoom has the same process for setting up and scheduling the meeting, but there are a few more preferences that are adjustable in the settings. You'll be able to send the scheduled meetings to your Outlook, Google, or Yahoo Calendar.
Zoom has all of the features that you will need and it allows you to share to more calendar solutions than GoTo Meeting. There is more ability to customize the meeting itself with Zoom, and you can enable a password to be used during the meeting. The UI is also more streamlined and easy to use with Zoom.
Compatibility
Both platforms are compatible with Windows, Mac, iOS, and Android so the majority of users won't have an issue using either software on their device of choice.
Zoom does, however, go the extra mile when it comes to compatibility. They offer an ARM client which could be useful if you plan to use the new MacBook Pro with its M1 processor or other ARM laptops that release in the future.
Zoom also has a Firefox extension in addition to its Chrome extension. GoTo Meeting, in contrast, only has an extension for Chrome and outright doesn't function on Firefox.
Use Cases
Each of the features covered above is critical, and even though we deemed winners, this isn't to say that the other provider isn't competitive. There are still differences between GoTo Meeting and Zoom, so which one works better in specific industries? Here's how each stacks up against the other in the education, healthcare, and legal fields.
Educators
It's noteworthy that both GoTo Meeting and Zoom were in the corner of educators during the COVID-19 pandemic. Zoom removed meeting duration limits for Zoom Basic for educators, and GoTo Meeting created Emergency Work Kits for educators that included GoTo Connect so that distance learning was easier.
Both of these solutions are very competitive in education. For example, Zoom has integrations with learning tools like Moodle, Desire2Learn, and Blackboard. Zoom is also very secure — Federal Education Rights and Privacy Act (FERPA) compliance can be enabled on the platform, so student information and records are protected. Zoom protects data in-transit and at-rest using the 256-bit Advanced Encryption Standard (AES-256) and Secure Sockets Layer (SSL) encryption.
GoTo Meeting has excellent transcription capabilities thanks to natural language processing, so students will have comprehensive and accurate notes. Students can even be assigned personalized URLs from their professors so that they can attend class meetups. Like Zoom, GoTo Meeting has SSL encryption. This encrypts information both in-transit to other locations and at-rest on devices so that it protects important student data.
GoTo Meeting's default unlimited cloud recording storage also stands out for educators; there's no need to purchase extra storage options. Notes are transcribed and recordings made available for students.
FERPA compliance tips the scales for educators, and integration with online teaching tools help Zoom win this round.
Healthcare Professionals
HIPAA compliance is mandatory if you're going to be working with patient medical data in any capacity. Both Zoom and GoTo Meeting are compliant with this federal act, so businesses in the healthcare industry will find useful options on both platforms.
Zoom has its telehealth-oriented plan, called Zoom for Telehealth, that is not only HIPAA-compliant, but is also compliant with the Personal Information Protection and Electronic Document Act (PIPEDA) and the Personal Health Information and Protection Act (PHIPA).
Both of these are the Canadian analogs of HIPAA, and GoTo Meeting isn't compliant with these acts. Zoom for Health is outside of the standard enterprise-level packages, but it has some useful healthcare features like high-quality HD video, even when the bandwidth of the internet is stretched in hospitals.
Both GoTo Meeting and Zoom have multiple screen sharing settings for doctor collaboration, but integration is just better with Zoom. For example, Zoom integrates directly with Epic, which is one of the most popular workflow solutions in the telehealth industry. Additionally, this version of Zoom also has medical device integrations for tools like stethoscopes and exam cameras.
GoTo Meeting also has several tools for telehealth, but it doesn't have an additional plan for healthcare providers. Still, it is HIPAA compliant across all of its plans, and its unlimited cloud storage ensures that patient health information as discussed in meetings is warehoused for further use.
Law Offices
Video conferencing has become critical in law because it allows lawyers from across the country to meet digitally without the need to fly in. Features like gallery view enable a Slack alternative for team collaboration with multiple lawyers having a visible presence during meetings, and screen sharing allows for the display of legal documents and presentations. Video conferencing is also utilized often for the delivery of remote depositions and virtual mediation.
Both solutions also provide conference room integration. These are called Zoom Rooms and GoToRoom, and each has a quick installation for those law offices needing to get set up quickly. GoTo Room, like BlueJeans, has integration with Dolby Voice for clearer audio quality.
Recording is also critical for lawyers, so the presence of both local and cloud-based recording on both platforms is useful. Still, since GoTo Meeting allows users access to unlimited cloud storage without extra fees, it edges out Zoom.
Who is the Best Overall?
The features and pricing that GoTo Meeting offers are very conducive to large businesses or those that want to scale up in the near future. In addition, the large integration gallery further increases the solution's flexibility.
That being said, Zoom's emphasis on the end-user experience and seamless meeting flows are universally helpful to companies of all sizes that are looking for a video conferencing platform.
Its advanced reporting and industry-leading security features also make it a force to be reckoned with. In the end, you can't really go wrong with either option so it comes down to which one best suits your specific needs.
Which Provider Should You Choose?
If you need an enterprise-grade solution for video conferencing, then both of these providers stand out as two of the best in the industry. For businesses that need to host meetings of over 1,000, both providers offer a webinar solution. GoTo Webinar allows for up to 3,000 attendees, while Zoom's webinar platform can allow for over 10,000 attendees. GoTo Webinar is significantly more affordable in both its video conferencing and webinar solutions than Zoom but it is more limited in features. 
While Zoom for Healthcare is a web conferencing solution for hospitals and other healthcare institutions, it comes with a $200 per month price tag. All levels of GoTo Meeting are HIPAA compliant, which means that with proper policies, patient data will be protected. The unlimited cloud recording also is very useful for a wide variety of industries that need to warehouse their data for compliance or liability protection.
Reliable video conferencing is just one facet of business communication that your company will need to embrace. Our interactive enterprise VoIP comparison table covers all major providers offering unified communications.