Top business communications providers like RingCentral and Microsoft Teams offer advanced features that streamline workflows, increase employee productivity, and sync conversations across multiple channels.
Choosing between RingCentral vs Microsoft Teams depends on whether your business needs a complete virtual phone system or a platform highlighting chat messaging and video conferencing.
In this head-to-head comparison of RingCentral vs Microsoft Teams, we'll review each platform's features, pricing, pros, cons, and use cases.
Jump to ↓
RingCentral vs Microsoft Teams at a Glance
The main difference between RingCentral and Microsoft Teams is that RingCentral emphasizes a phone system, while Microsoft Teams emphasizes a business communications platform with chat and video.
RingCentral MVP's phone system includes real-time analytics, routing features, and team chat messaging. The RingCentral MVP Essentials plan excludes video, offering you the option to purchase only VoIP calling and chat. Teams wanting a full UCaaS solution can still get large-capacity collaborative video in RingCentral's higher-tier plans.
Microsoft Teams offers a business communications platform that includes dynamic video and chat features, but no phone system. Teams users can purchase voice calling capabilities via separate Teams Phones plans only if desired.
This way, Teams users avoid paying for a phone system they don't need, but still have access to advanced collaboration features.
RingCentral »
Microsoft Teams »
Pricing
4 plans from $19.99 to $49.99 monthly per user
4 collaboration plans from free to $12.50 monthly per user, and 3 phone plans from $8 to $57 monthly
Key Features

AI-generated meeting summaries
Breakout rooms
Real-time queue analytics
Auto attendants

Document coauthoring
Live AI speech coaching
Dynamic message formatting options

Available Communication Channels

Team chat
SMS
Video
Phone (separate plans)

Integrations
Cloud communications APIs and over 200 integrated apps, including:

Salesforce
Slack
HubSpot
Zendesk
Microsoft Teams

Teams functionality APIs and over 700 integrated apps, including:

Asana
Workday
Salesforce
Zendesk
RingCentral

Customer Support Options

Community forum
Knowledge base
24/7 customer support via phone, email, or chat

Community forum
Knowledge base
24/7 web and phone support

Best For
Teams prioritizing a phone system, especially those with large call volumes
Teams prioritizing chat and video for collaboration
What is RingCentral?
RingCentral MVP is a unified communications solution offering team messaging, VoIP telephony, SMS text messaging, and video meetings for up to 200 participants. Analytics, auto attendants, IVR, team collaboration tools, and advanced voicemail features are also available.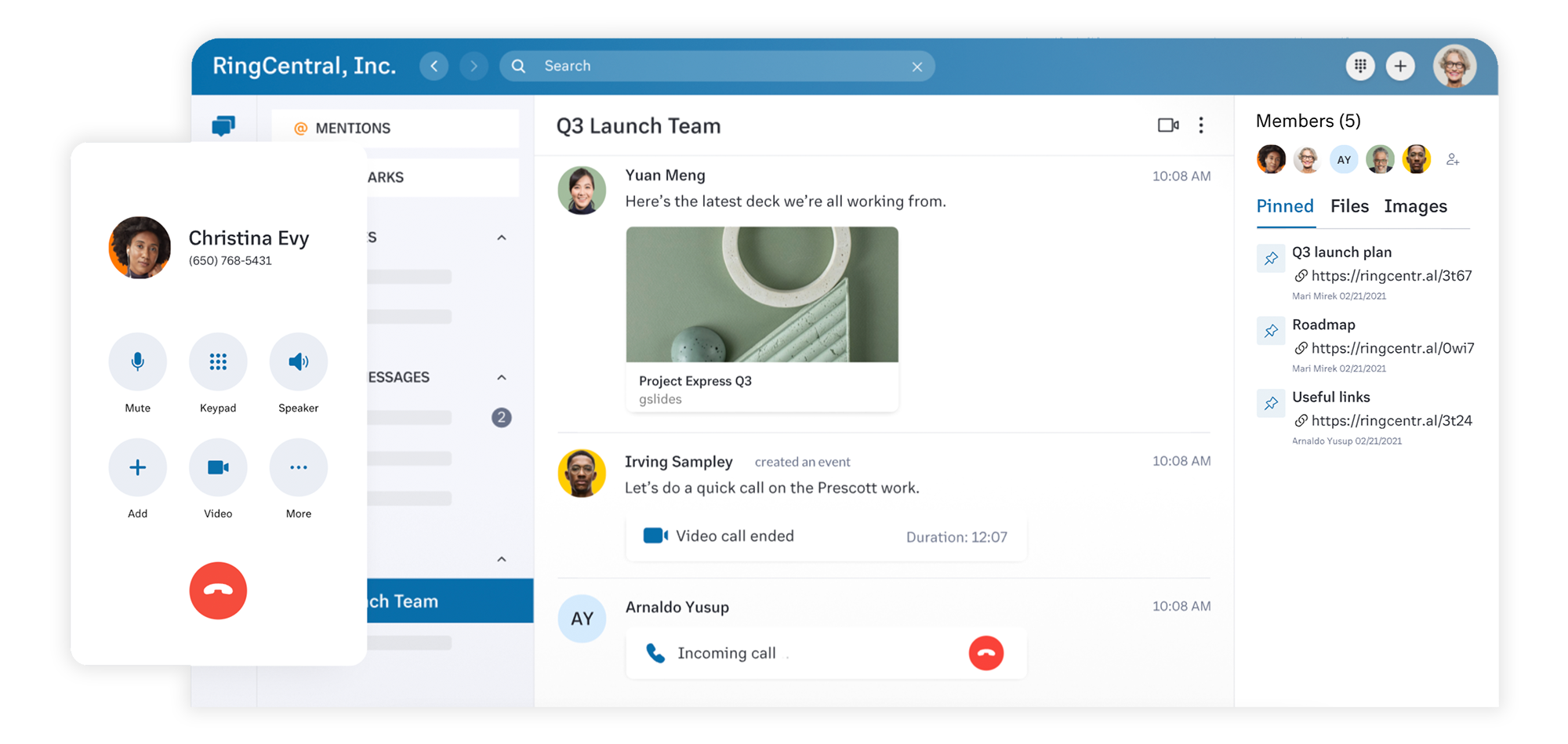 The RingCentral MVP app is accessible on desktop, browser, or mobile devices like iPhone and Android–allowing for a flexible business phone system.
What is Microsoft Teams?
Microsoft Teams is a cloud-based business communication platform for video meetings, team chat, and document collaboration. The Teams App is accessible via web browser as well as desktop and mobile devices. Top features include a built-in calendar for meeting scheduling, AI-enhanced video calling, and a wide variety of message-formatting options.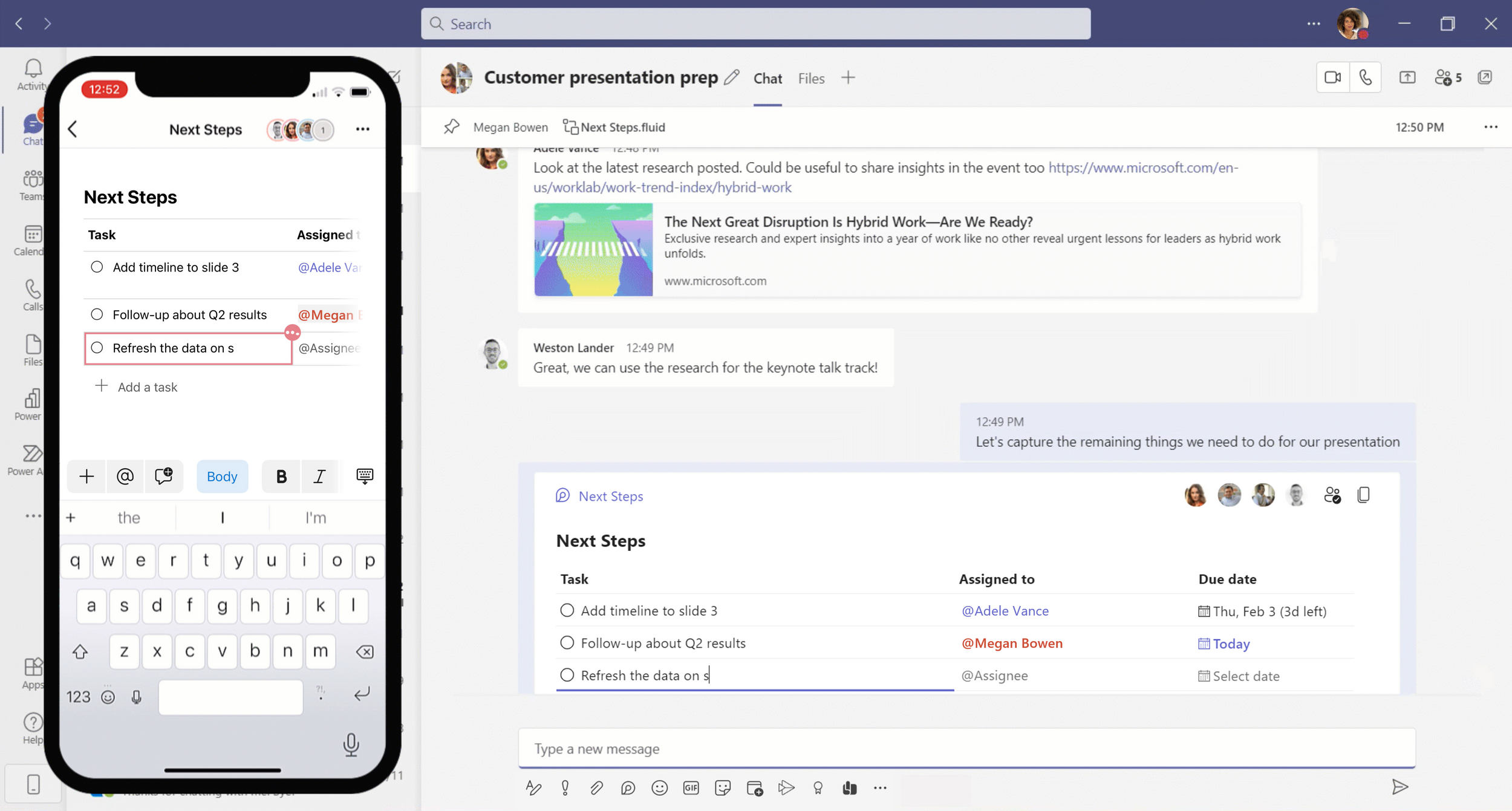 Teams Phone, a VoIP phone system with routing and queues, comes in separate pricing plans but integrates seamlessly with the rest of the Microsoft Teams app.
RingCentral vs Microsoft Teams: Pricing Overview
RingCentral MVP has 4 pricing plans. The Essentials Plan excludes video but offers team chat and VoIP calling. The Standard plan adds video, global number purchasing, and routing features. The Premium plan adds RingCentral APIs and contact-center features like real-time analytics and CRM integrations. The Ultimate plan, for Enterprise companies, provides unlimited storage.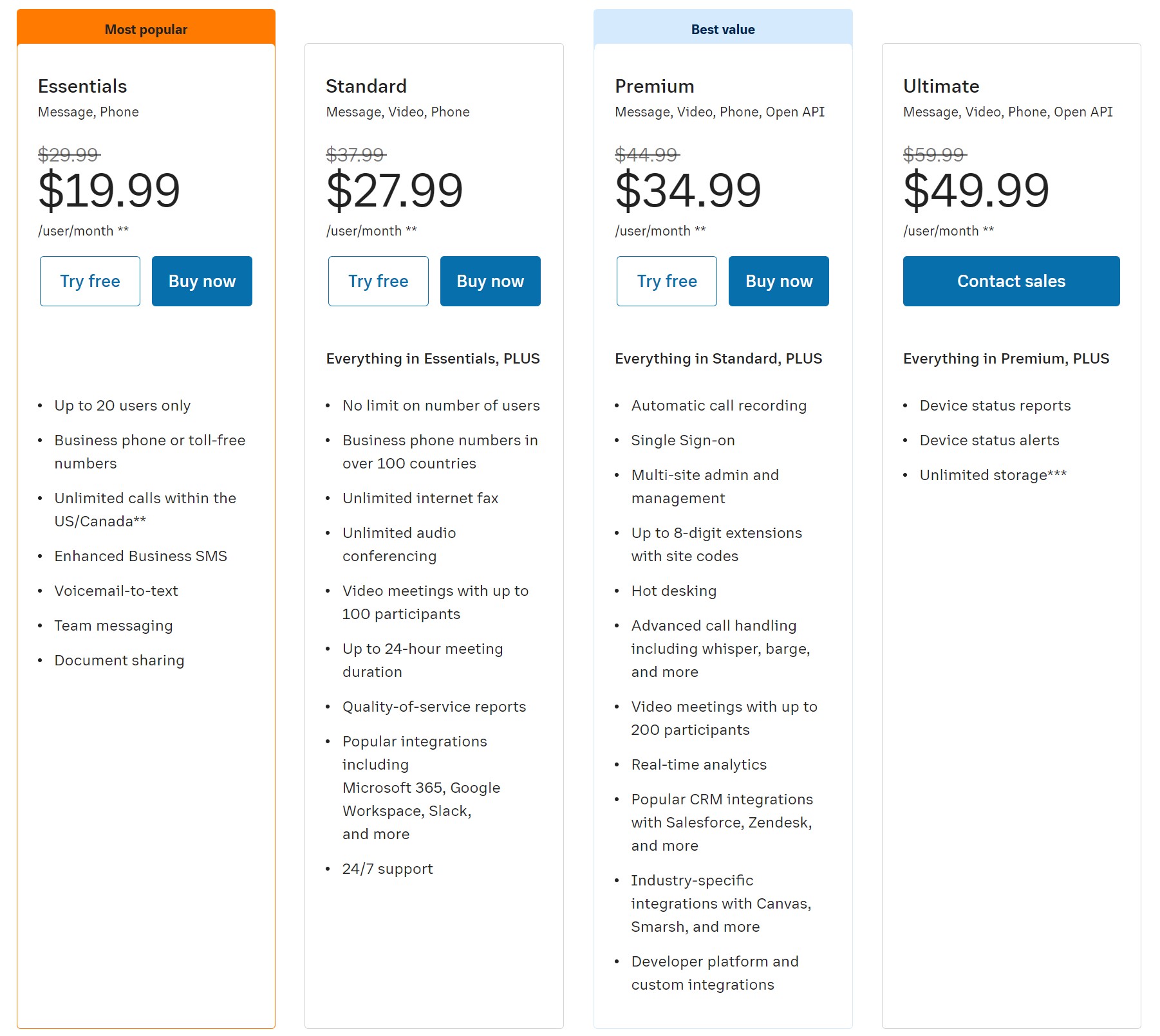 The Microsoft Teams free plan supports chat, 60-minute video meetings, and file sharing. The Essentials plan expands meetings to 300 participants and the time limit to 30 hours. The Business Basic plan adds video collaboration features and Microsoft 365 app integrations like Word and Excel. The Business Standard plan adds webinar capabilities.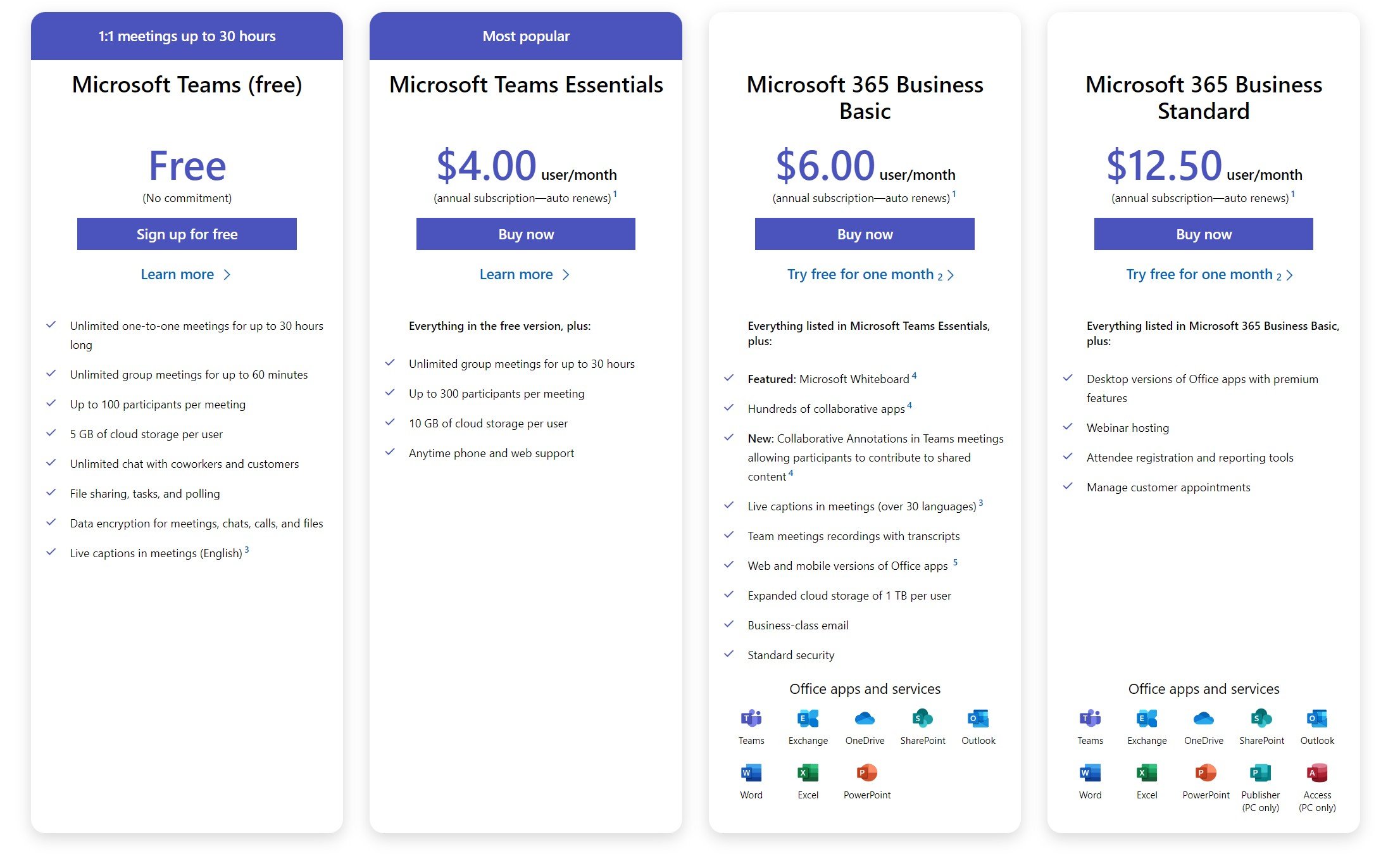 The Teams Phone Standard plan, where you use your own operator to support calling, includes routing features. Adding a calling plan enables unlimited inbound calls, plus pay-per-minute calling or a preset number of domestic calling minutes.
RingCentral vs Microsoft Teams: Feature Comparison
Below, we've compared key features for RingCentral vs Microsoft Teams.
RingCentral Phone System
RingCentral's virtual phone system includes routing, queueing, and voicemail features. Get set up in minutes with local, toll-free, and vanity business phone numbers around the world, or port in pre-existing numbers. All RingCentral plans include unlimited HD voice calls within the US and Canada.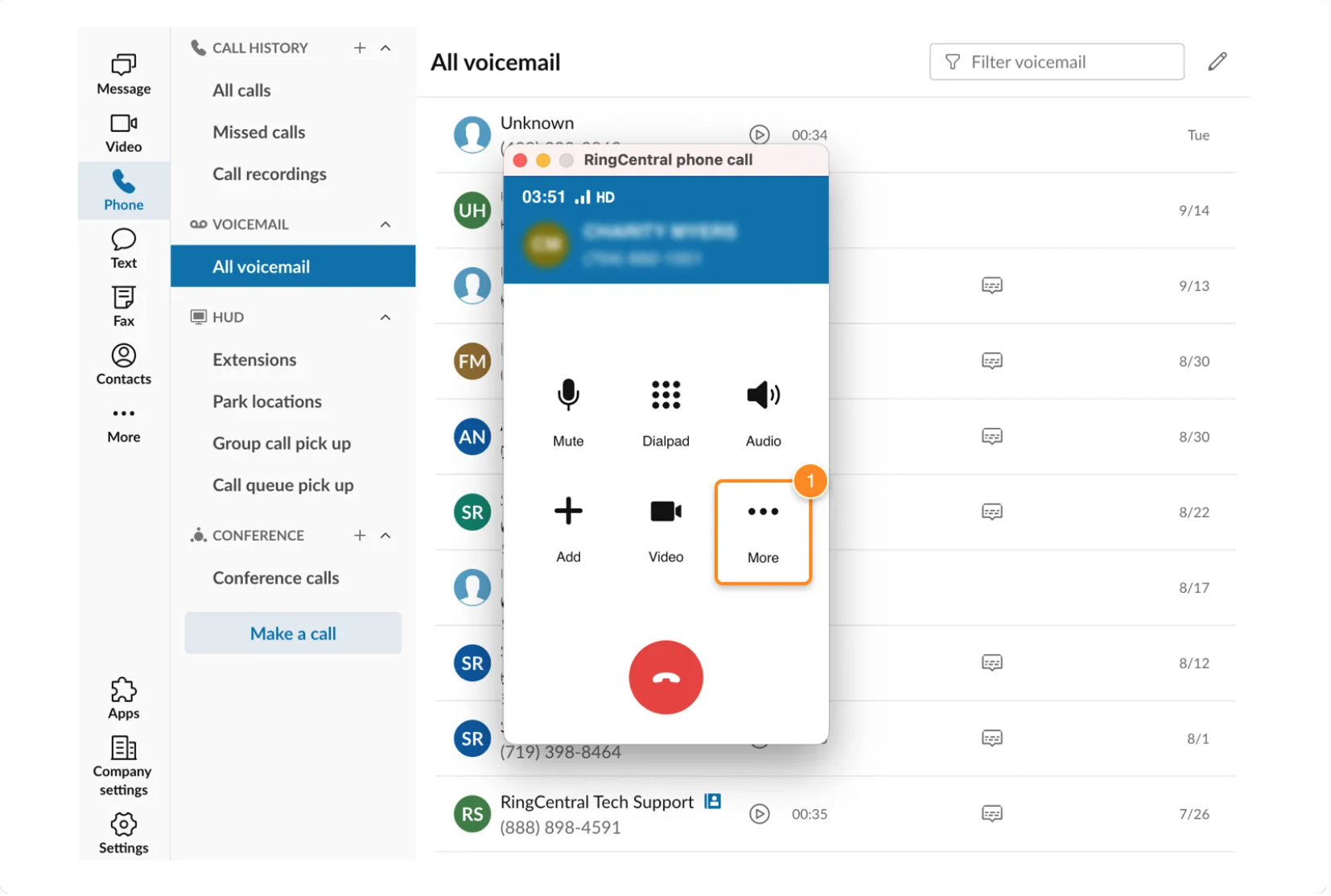 The RingCentral network provides full calling service in over 45 countries, with inbound call reception in over 105 countries.
Use the RingCentral app to make calls from any device, or flip between devices on call. Administrators can manage queue settings, customize call handling, and retain a live view of call center activity with real-time analytics.
RingCentral Phone System Features:
Multi-level auto attendant: A self-service phone menu that routes customers to the correct user. Customize menu options and submenus, using typed announcements or recorded audio files.
Visual voicemail: A searchable voicemail log with voicemail transcriptions.
Voicemail-to-text and voicemail-to-email
Advanced call handling: Administrators can monitor calls, whisper privately to an agent, barge into the call, or take it over entirely.
Unlimited conference calls: With 1000 attendees per conference.
Call management features: In addition to call flip, agents can utilize call forwarding, transfer, screening, and call park
Call queues: Group agents together to share particular types of inbound calls. Queues can support up to 25 simultaneous customers on hold.
Ring groups: Instead of placing customers on hold like a queue, ring groups allow you to customize ring order and time. Ring styles include round robin, simultaneous ring, or custom sequential order.
Call recording
Unlimited internet fax
Microsoft Teams Phone System
Microsoft Teams Phone is a cloud-based phone system with basic routing features, plus flexible provider and network options.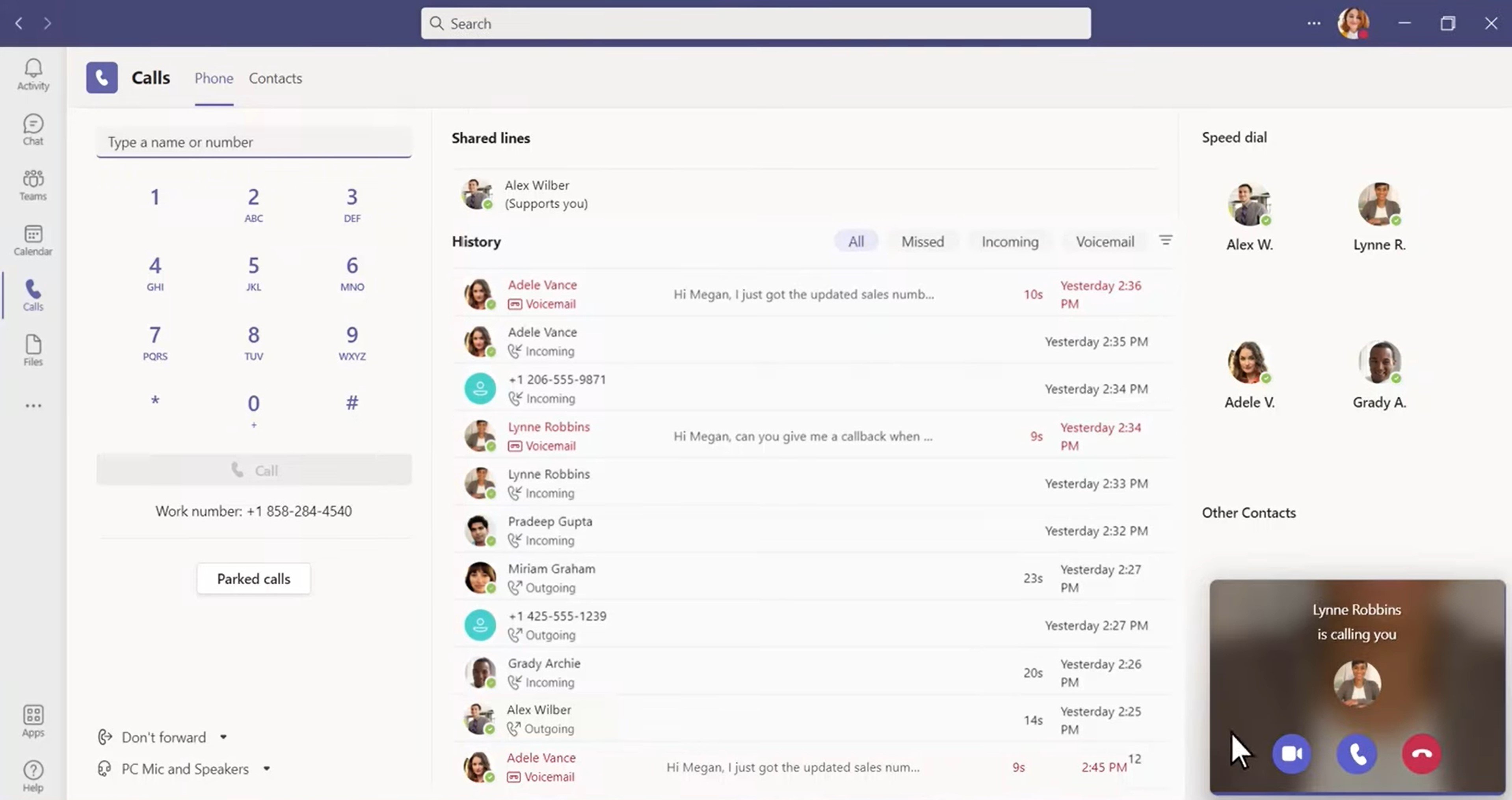 With Microsoft's Operator Connect feature, integrate your own operator with the Teams Phone app. This option allows you to take advantage of Teams Phone routing and voicemail features, with VoIP and PSTN calling that utilizes your on-premise PBX system. Or, integrate the mobile provider you already use, adding mobile identities and phone numbers to Teams.
Alternatively, companies can use Microsoft as a VoIP provider, to purchase business numbers around the globe–including toll-free and vanity numbers. Customize a routing system and call nearly any number around the world. Teams Phone offers a pay-per-minute plan or a domestic plan with preset monthly minutes and unlimited inbound calls.
Microsoft Teams Phone Features:
App interface: The Calls tab displays a dial pad, call log, contact list, and parked calls section
Call management: Merge, hold, park, and transfer live calls with one click
Device transfer: Flip calls between devices instantly
Voicemail: Visual voicemail inbox with playback and transcription
Call recording and transcription: Live transcription with playback options afterward
Live call health: Agents can view call audio quality and performance in real-time, within the call window
Call logs: Searchable records of call details including time of day, duration, caller, and recipient
Call queues
RingCentral Team Messaging
Use the RingCentral MVP app to chat, participate in group channels and threads, share files, manage tasks, create events, and collaborate on shared documents.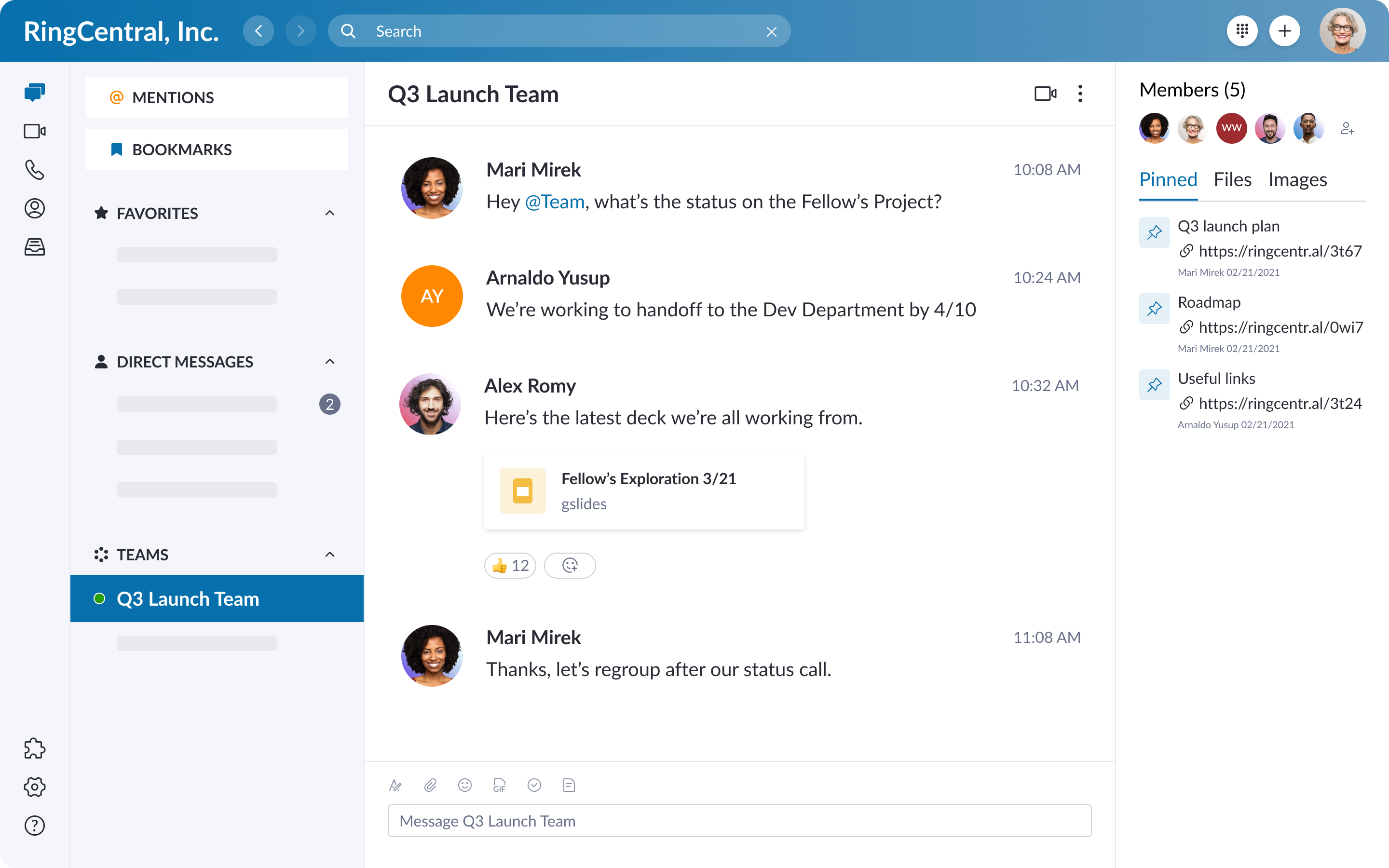 Create 1:1 chats, group chats, and add external members by email. Within a chat, start side threads, share gifs, react with emojis, and customize font. Connect hundreds of apps–including DocuSign, DropBox, and Google Workspace–to share dynamic files accessible directly from the chat thread.
Stay organized by bookmarking, pinning, or creating folders for files and messages. Use the search bar to filter conversation history by keyword, participant, or file.
Use one-click buttons to jump into an ad hoc team huddle, schedule a video meeting directly within chat, start an audio call, or share your screen. Create color-coded, interactive task lists to keep team members updated.
Microsoft Teams Messaging
Microsoft Teams chat offers rich text-formatting and sharing options.
Create 1:1 and group chats with one click, adding new users simply by typing their names. All conversations are organized on the left-hand menu.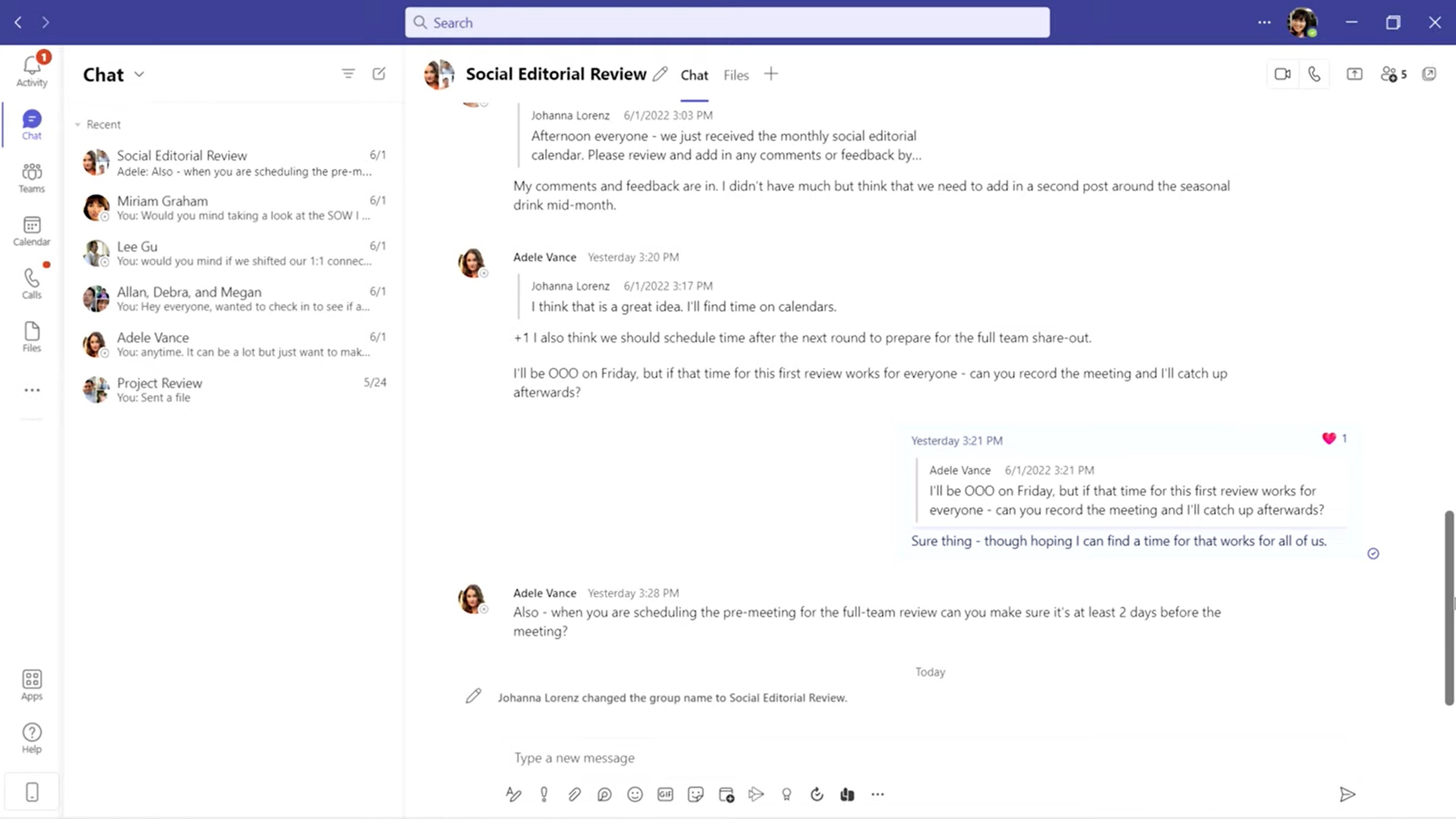 Send files, emojis, gifs, stickers, calendar invites, and collaborate on tools like whiteboards. Translate, share, bookmark, and save messages with one click. Mute or pin conversations, customize notification settings, and manage read receipts.
Search a conversation's shared files and save them to your personal OneDrive. In your OneDrive app, sort files into Shared with You and Shared by You.
Other Microsoft Teams Chat Features:
Message formatting: Custom font and size, bolding, highlighters, and inserted links
Visual planning tools: Within chat, create an interactive table, checklist, bulleted or numbered list, or task list
Video clips: Quickly record, trim, and send video clips for a personal touch
Chat with self: Ideal for notes and storing message drafts
Schedule send: Schedule messages, calendar invites, and announcements
Threads: Create message threads that don't derail the larger conversation
One-click escalation to video or audio call
File Sharing and Collaboration in Microsoft Teams Chat
Use Teams to store, share, and co-edit documents through channels, chat, or video meetings. With Microsoft SharePoint and OneNote embedded into Teams, share documents from Microsoft 365 apps like Word, Excel, and PowerPoint.
Manage file access and co-author a document with dozens of teammates at once, while chatting or participating in a video meeting on the side. All documents remain organized in OneNote and your Files tab.
RingCentral Video Conferencing
Create and host HD video meetings with up to 200 participants and no time limit. Join from any device or directly from a call or chat–no download required.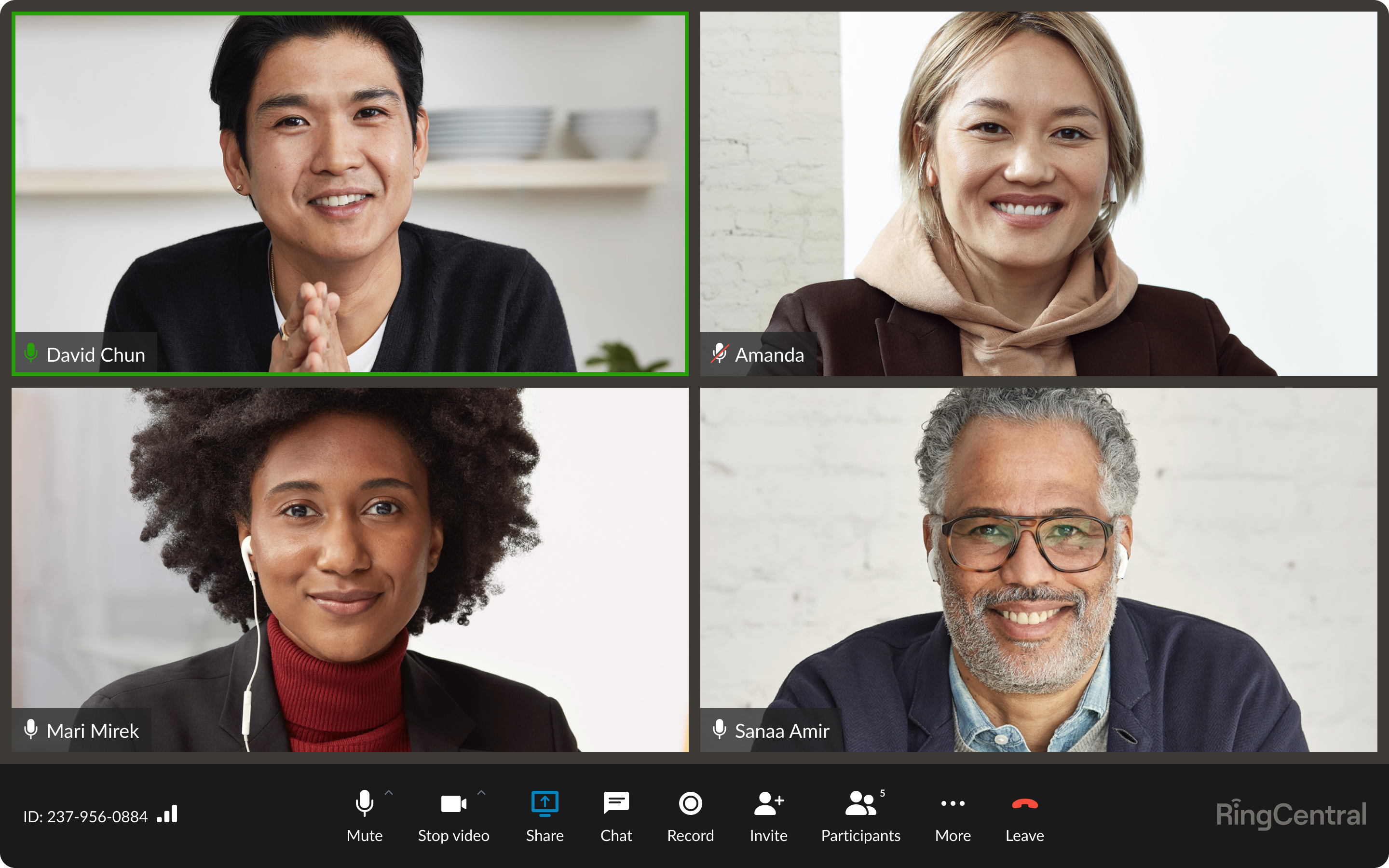 Create recurring meetings, set meeting details, invite participants, and schedule meetings in integrated calendar apps like Outlook or Google. Each new meeting generates a password and invite link.
RingCentral Video Meetings Features:
Advanced meeting insights: AI-generated meeting recaps including summaries, highlights, topics discussed, keywords, and transcripts. Insights are accessible in the Videos tab and relevant team-chat channels.
Live transcription: Captions include speaker identification to know who said what, even within large groups
Integrated camera: The presenter can integrate their video within the presented content, choosing where they'd like to appear
Auto-follow: The camera follows the presenter's movements
Breakout rooms: Split participants into smaller groups for brainstorming and collaboration
AI-powered background noise reduction
Participant emoji reactions
Digital collaborative whiteboard
Microsoft Teams Video Conferencing
Schedule and join HD-video meetings within the Microsoft Teams desktop and mobile app interface. Meetings support up to 300 internal or external participants, and the Business Standard plan supports webinars with up to 1000 attendees. Meetings and virtual events have a 30-hour time limit. In-meeting chat, on-demand or automatic meeting recording, custom backgrounds, and virtual hand-raising are also available.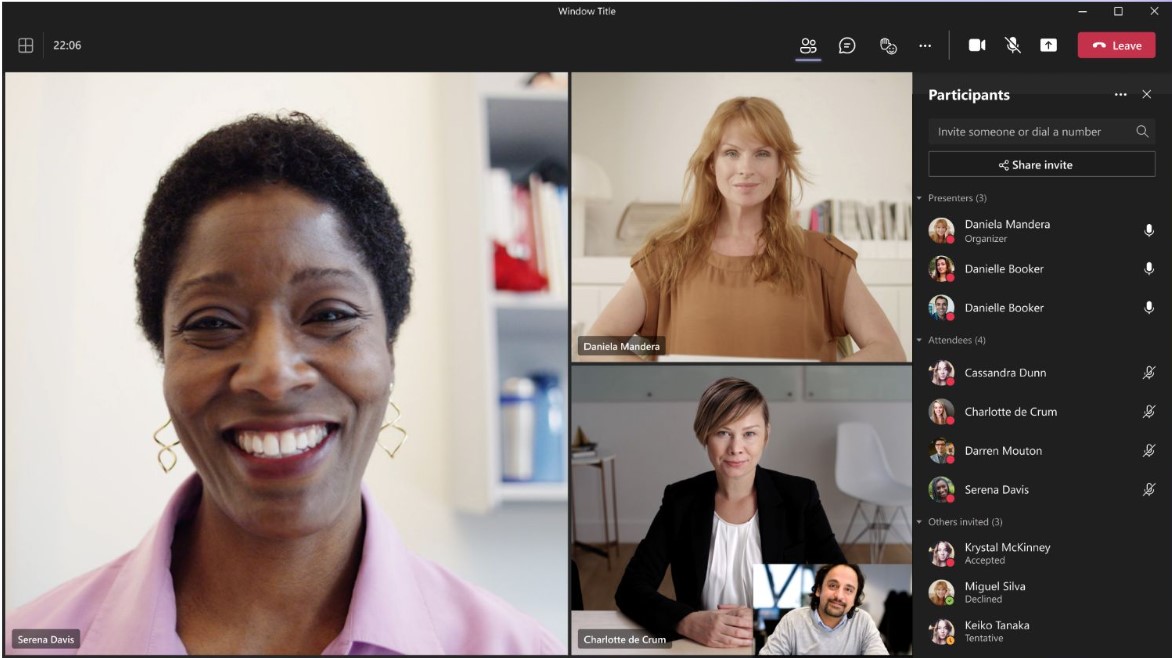 In the Teams Calendar tab, customize meeting details including title, date, schedule, and location. Share the meeting on any team channel and attach an agenda, notes, or task list. Users can join meetings directly from channels, chats, or shareable link.
Top Microsoft Teams Video Meetings Features:
Together mode: An immersive digital background that displays all participants in a shared virtual setting and lets hosts assign attendee seats
Live presentations: Each viewer's device has its own interactive slide deck with multi-lingual live subtitles, "pinch to zoom," and slide scrolling. One-click audience feedback and post-meeting surveys are also available.
Meeting recap: Summaries are accessible in teams channels or the Videos tab and include the audio recording, transcript, and any collaborative in-meeting files like notes, whiteboards, documents, etc.
Live captions: Including translation into 40 languages
Speaker coach: Real-time AI speaker assistance and performance feedback, including speaker pacing, audience check-in reminders, etc.
Live collaboration: Like in chat, video teams can co-author web-based documents in programs like Word, Excel, and PowerPoint
Screen sharing: Hosts can assign co-presenters to manage slide transitions. If enabled, audience members can scroll forward and backward through the slide deck.
Collaborative annotation: Multiple team members can collaborate on screen-shared content or whiteboards with text, sticky notes, reactions, and digital ink
RingCentral Reporting and Analytics
RingCentral real-time and historical analytics include KPIs monitoring agent performance, channel usage, and quality of service. Use pre-built report templates, design your own, automate reporting intervals, and instantly send reports to select users.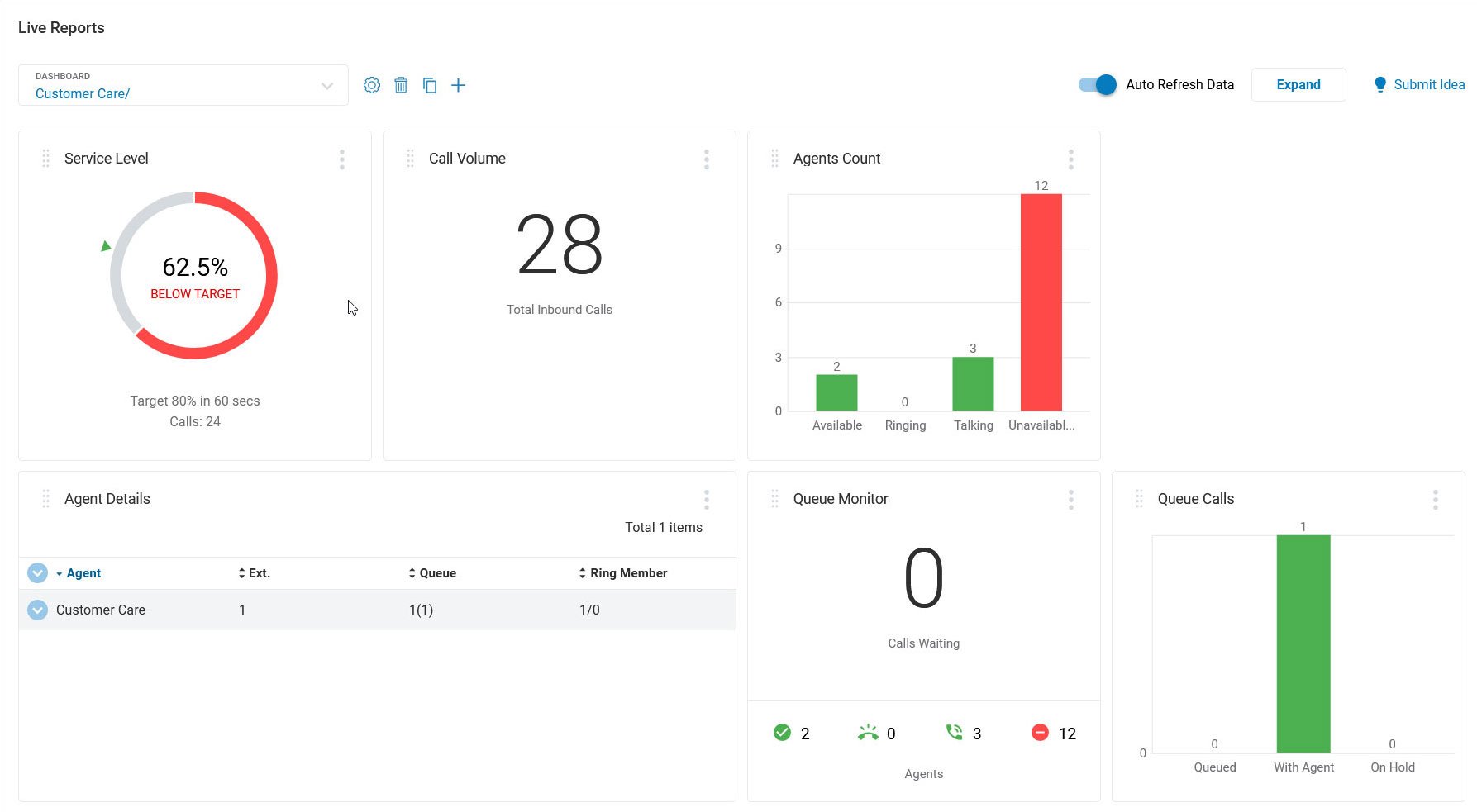 RingCentral Live and Historical Reports:
Real-time queue dashboards: A bird's-eye-view of call volume, active vs available agents, service level rating, number of customers on hold, abandoned vs answered calls, etc.
Agent performance: Calls answered, calls missed, inbound and outbound call volume, average talk time, hold time, and handle time
Performance summaries: A grid view comparing general call statistics for agents and locations
Quality of service reports: Overall quality score of calls and meetings, quality scores of individual devices, and trends in quality vs volume
Adoption trends: Total messages sent, video meetings hosted, inbound and outbound calls made, and company employees actively using each channel
Microsoft Teams Reporting and Analytics
Microsoft Teams offers historical reports and insights about channel usage and user activity.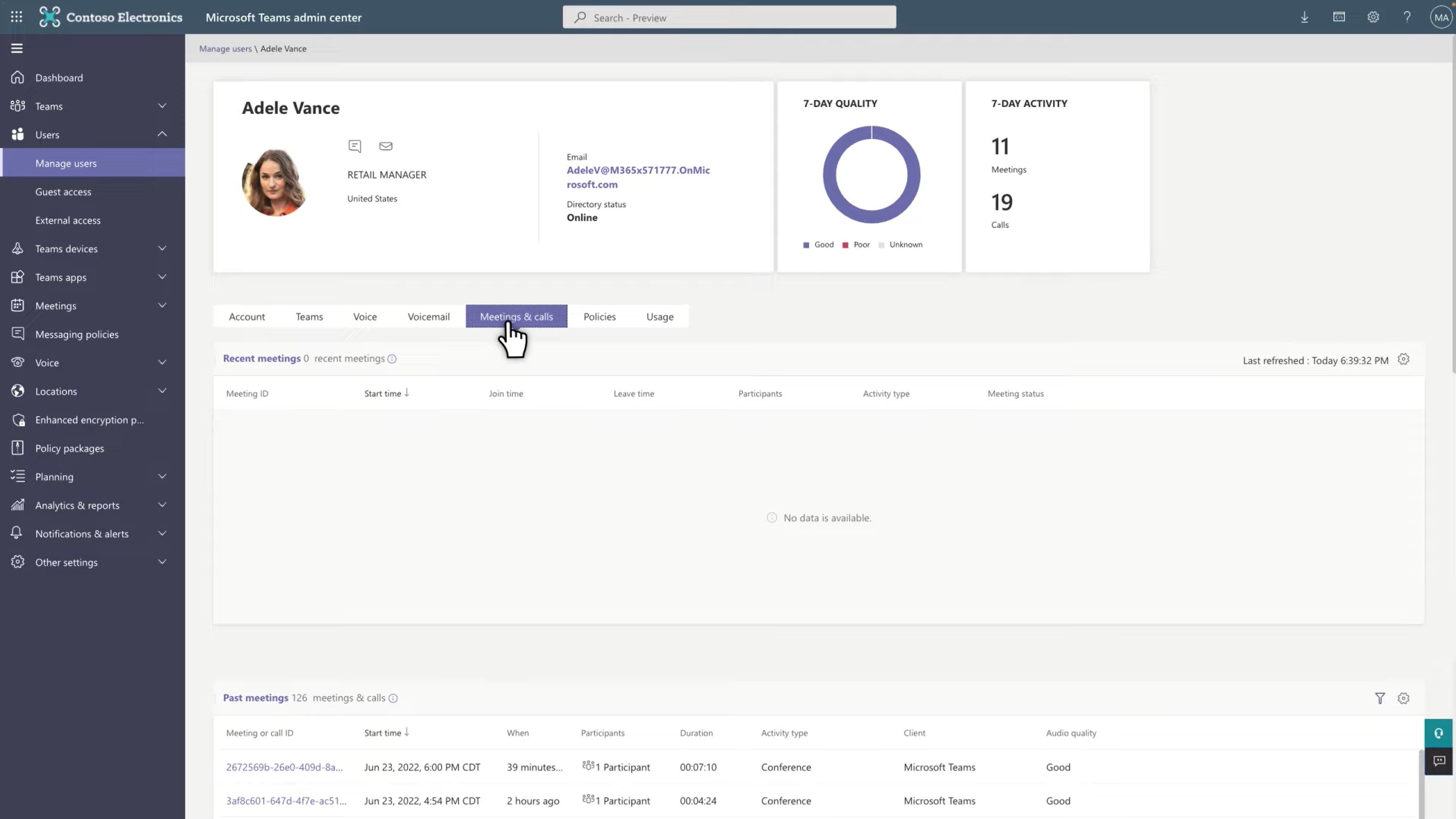 Microsoft Teams Reports:
Teams usage report: Measures the total number of active users, active users within each channel and team, the number of active channels, and the number of messages sent
User activity report: Measures the total number of active internal users and the following for each user–number of messages sent, calls made, meetings participated, and last activity date
Device usage report: Measures how many users access the Teams app from each type of device
Live event reports: For each event–total views, start time, organizer, presenter, and more
RingCentral Pros & Cons
| | |
| --- | --- |
| RingCentral Pros | RingCentral Cons |
| Real-time queue reports | No video in the Essentials plan |
| No time limit on video meetings | Plans are on the pricier side |
| Hundreds of integrated apps | Essentials plan is capped at 20 users |
Microsoft Teams Pros & Cons
| | |
| --- | --- |
| Microsoft Teams Pros | Microsoft Teams Cons |
| Built-in file collaboration | Phone system and collaboration on separate pricing plans |
| Live speaker coaching in meetings | Minimal analytics |
| Dynamic message formatting options | The abundance of integrated Microsoft apps can be confusing |
Which Phone System Should You Choose?
The best phone system for your company depends on your size, budget, and communication goals.
If your team's main priorities are phone services like VoIP calling and routing, but you still want additional communication tools like chat and video, RingCentral's multichannel pricing plans make a good option. For small teams who don't require video, the Essentials plan works well.
Alternatively, if you want a collaboration platform with only video and chat, Microsoft Teams beats all competitors. Teams already using multiple Microsoft 365 apps–like Word, PowerPoint, and Excel–will appreciate Microsoft's web-based coauthoring with those tools. Those with low call volumes should look to Teams Phone for pay-as-you-go options. If based outside the US or Canada, Teams Phone domestic options will fit your needs.