Five9 and RingCentral are two of the most well-known omnichannel contact center platforms on the market today.
Five9 is recognized as one of the first companies to offer cloud-based contact center solutions and has remained at the top of the field since its inception in 2001. This is thanks in large part to Five9's early adoptions of now-standard contact center features like Interactive Voice Response (IVR), CRM integration, and predictive dialing.
RingCentral, established in 1999, is just as quick to pinpoint business communication trends and highlight them in their best-known product, RingCentral MVP. RingCentral survived the dot-com bubble, established itself as one of the top Zoom alternatives during the 2020 pandemic, and partnered with fellow communications giant Mitel in November 2021.
With both companies having such a strong track record, choosing between them often comes down to the details.
Today, we'll review Five9 vs RingCentral pricing, features, integrations, hardware compatibility, and customer support experience to help you find the right solution for your business.
Five9 vs RingCentral: Overview
The below table offers a quick comparison of Five9 vs RingCentral.
| | | |
| --- | --- | --- |
| | Five9 | RingCentral |
| Monthly Pricing | 4 Paid Plans from $149.00-$229.00/month | Custom quotes |
| Top Features | Mobile-compatible visual IVR, screen pop infoboxes, and 120 reporting templates | Extensive analytics, customer purchase history, and 30 + digital channels |
| Integrations | ServiceNow, Salesforce, Zendesk, Freshdesk, Microsoft Dynamics, Oracle, and NetSuite | ServiceNow, Salesforce, Zendesk, Microsoft Dynamics, Oracle, NetSuite, and more |
| Compatible Hardware | Jabra, Poly, Plantronics, | ALE, Avaya, Cisco, Mitel, Polycom, Unify, and Yealink |
| Customer Support | 24/7 support on all plans | Unspecified, 24/7 support is only available on the Standard plan or higher for MVP customers |
| Best For | Companies looking for transparent pricing and multiplatform, omnichannel features | Businesses looking for an upgraded and contact center-specific version of RingCentral MVP |
Five9 vs RingCentral: Feature Comparison
To start things off, we put the feature sets of Five9 and RingCentral up against each other in a head-to-head comparison, including screenshots. We'll compare inbound and outbound calling features, omnichannel capabilities, analytics and reporting, and available integrations of both providers.
Five9 Inbound Calling Features
Five9's inbound call center software solutions are packed with helpful features that increase first call resolution rates and help agents easily access the information they need.
The platform's Engagement Workflow leverages information provided by the customer via IVA or IVR, CRM data, and previous customer communications across channels to intelligently route the call to the best available agent.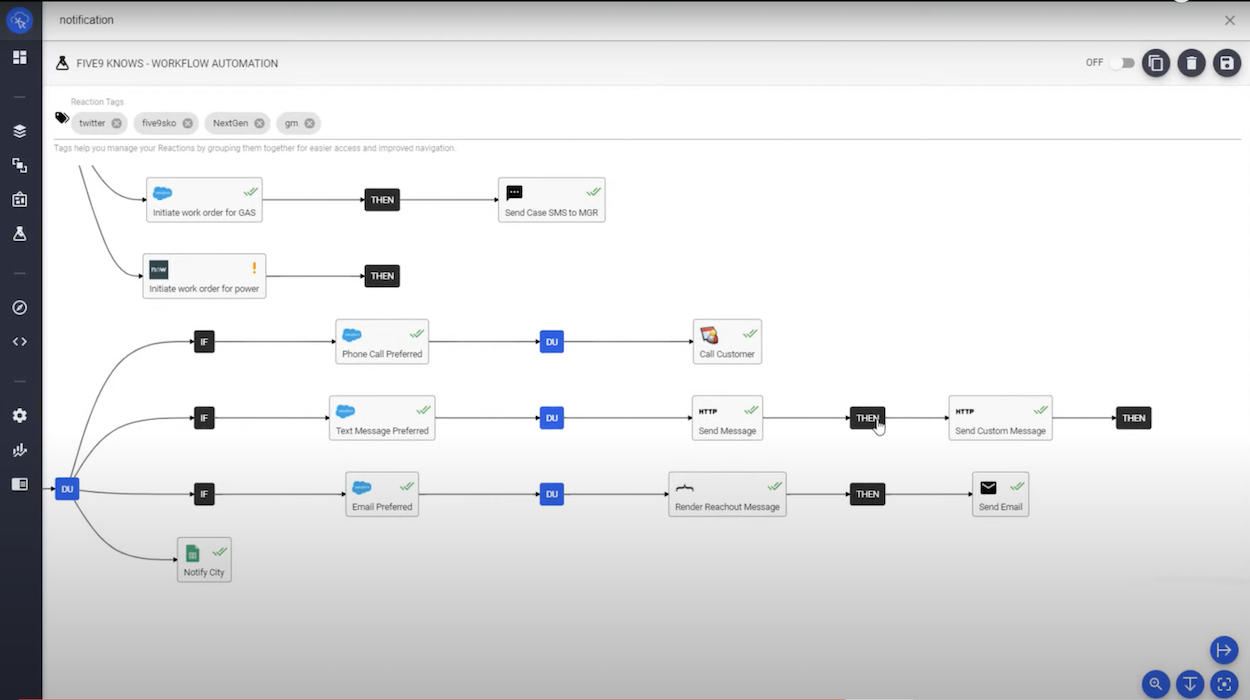 Once that agent connects to a caller, Five9's automated screen pop feature instantly displays more detailed customer information on-screen. This prevents agents and callers from having to repeat themselves, increasing CSAT scores and customer experience as a result.
Five9 even streamlines the inbound call process before customers dial your VoIP business phone number. With the drag-and-drop script designer and live agent assistance, ensuring agents are ready for every interaction is simple.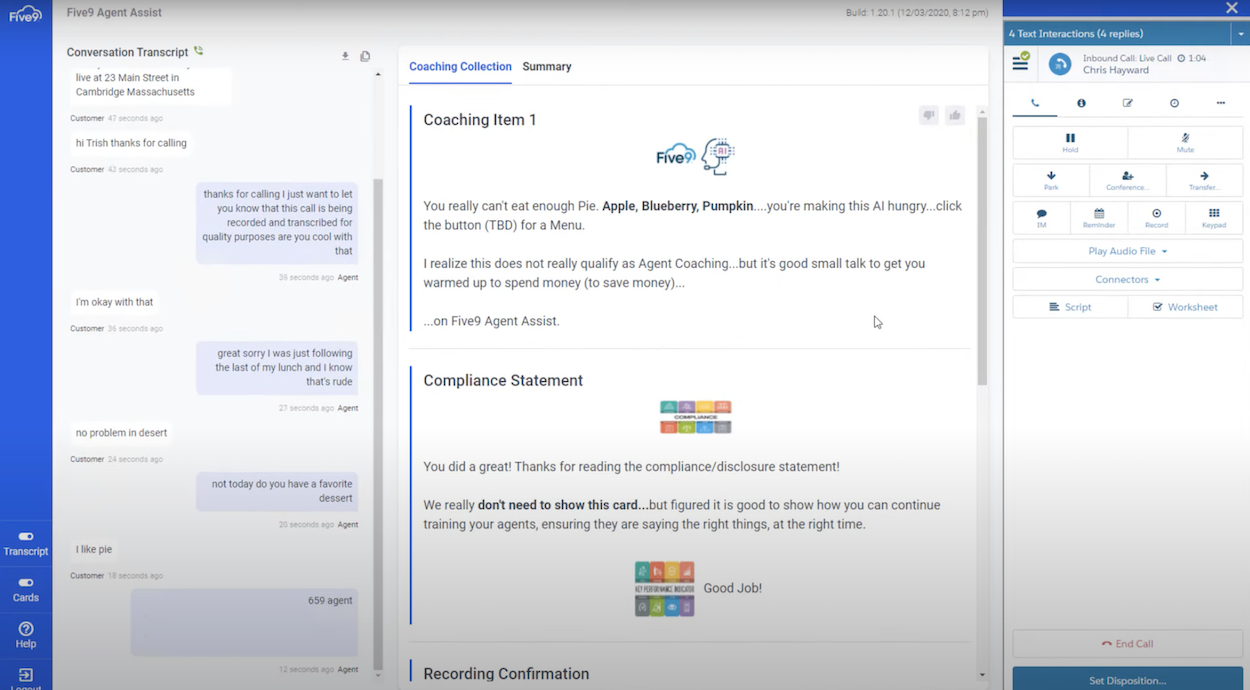 Five9's agent assist features leverage a combination of AI, machine learning, and natural language processing technology to provide agents with up-to-date, real-time intelligence to provide a higher level of customer service.
With key information and suggested actions readily available, agents can focus entirely on customers instead of figuring out what to do next or looking up account data mid-call.
RingCentral Inbound Calling Features
RingCentral's inbound calling features are equally impressive.
Call recording functionality helps managers provide targeted feedback to optimize future performance, while speech analysis automatically highlights trends or key topics. Caller ID, virtual voicemail, and customer callback provide additional convenience for agents and customers.
One feature that caught our eye was RingCentral's Dual Listening feature. If a customer is speaking to a new agent or a specific ticket is taking up too much time, admins can trigger dual listening.
This provides admins or managers with the complete interaction history for better context and lets them leave comments that are only visible to the individual agent. Managers can take control of the call via call barging, and respond to the customer on behalf of the agent they're currently speaking to.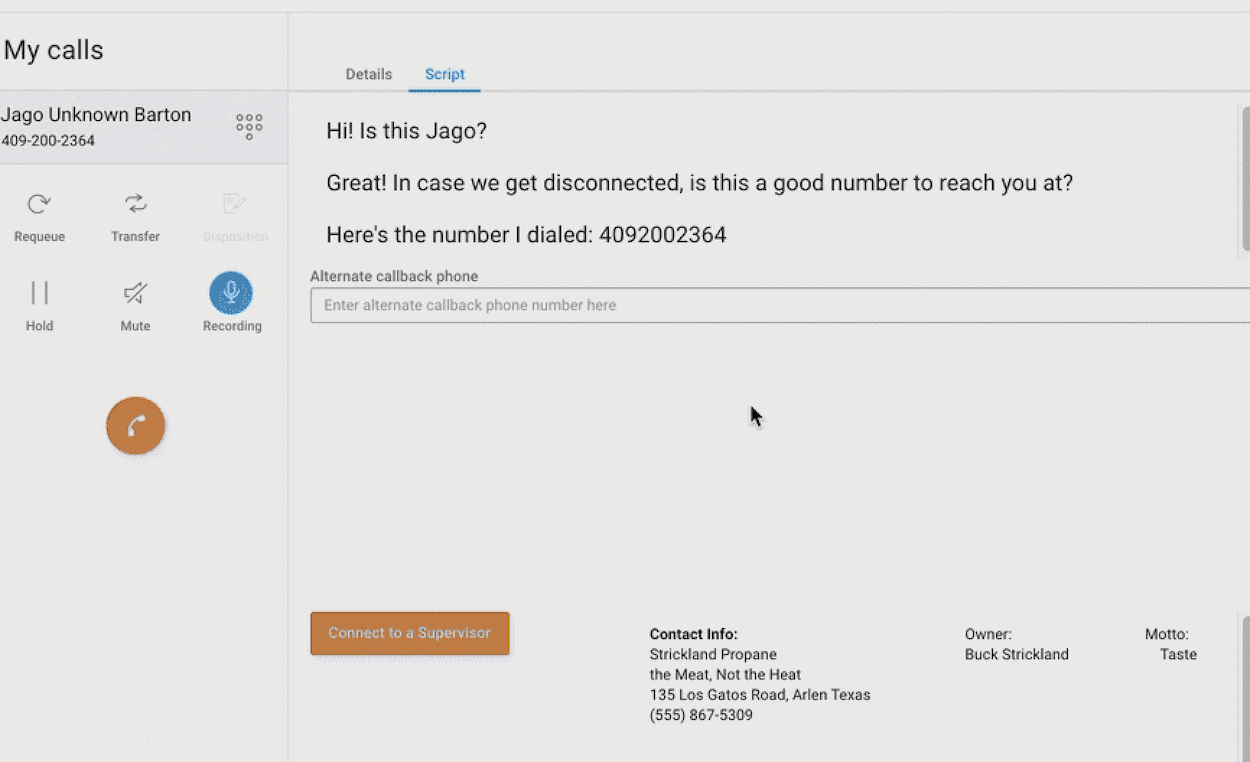 RingCentral also offers agent call notes, which lets reps take notes during the call directly within the business phone system interface, in the call disposition section post-call, or even in a call script. Supervisors can also access these agent notes and contact history with a few clicks.
Winner: Both companies have been in the voice communications space for over 20 years, so the inbound calling feature comparison comes to a predictable tie.
Five9 Outbound Calling Features
When it comes to outbound calling, Five9 has four auto dialer options:
Progressive dialer. This type of autodialer will use a variable calls-to-agent ratio which will adjust the number of calls that need to be dialed as more representatives become available.
Preview dialer. This lets your sales representatives look at the customer's information before they dial so they can prepare the right script or plan the best approach.
Predictive dialer. Five9 will calculate the number of calls to dial using the average connect rate of your contact center and the historical data for that specific agent.
Power dialer. This is the simplest option since it will continuously dial based on the target calls-to-agent ratio for your contact center.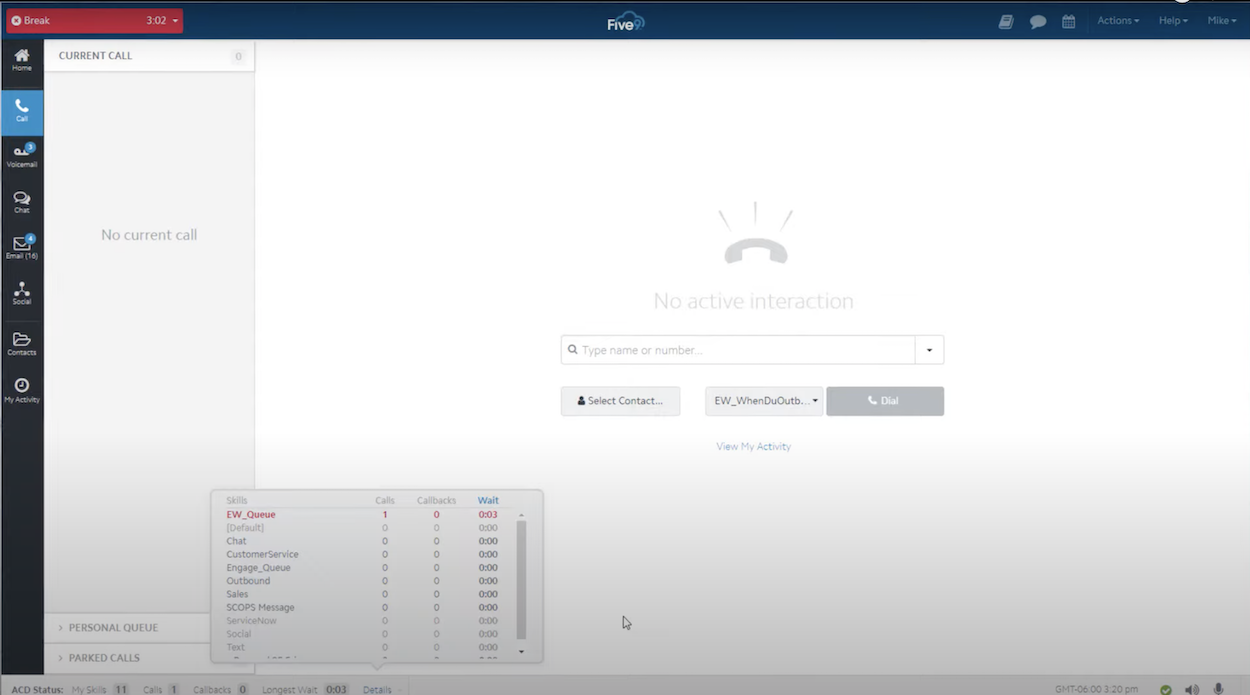 To keep the automated dialing pace manageable, admins can enable Five9's TCPA manual touch mode, which lets agents take breaks after calls and reassume auto-dialing only when ready.
RingCentral Outbound Calling Features
RingCentral's outbound calling features consist of progressive, predictive, and preview dialers to increase agent productivity and reduce the fatigue of manual dialing.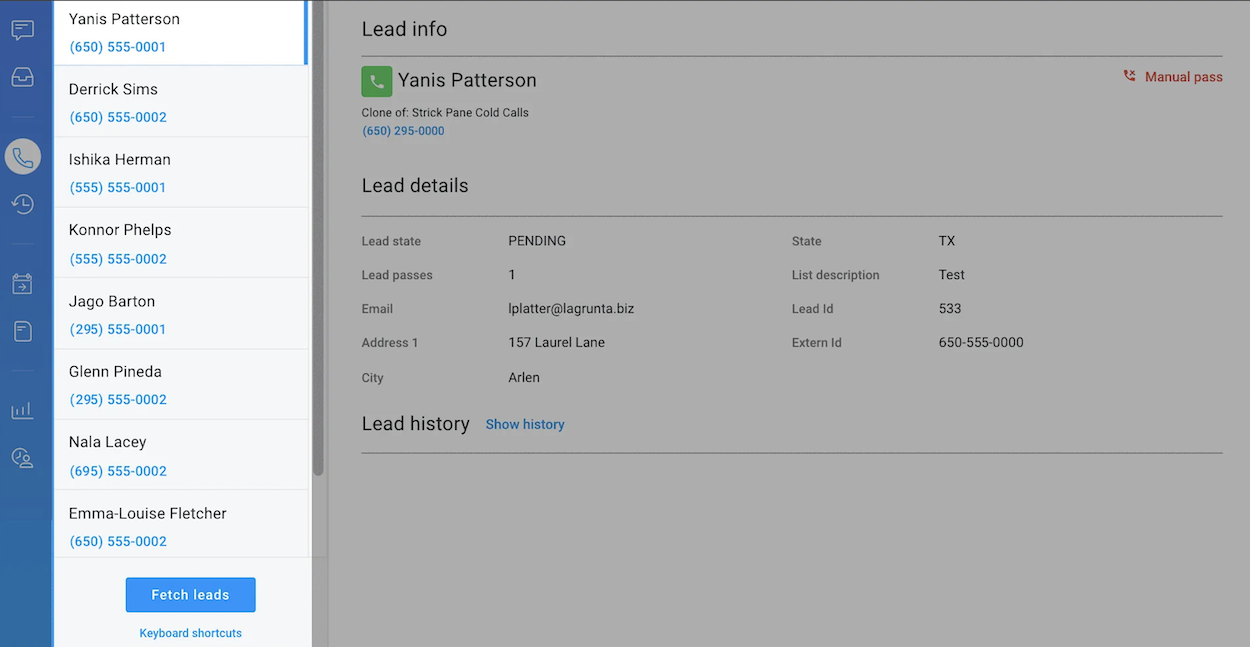 Intelligent call suppression is another standout RingCentral feature.
Through intelligent call suppression, RingCentral's outbound dialers make real-time adjustments to the dialing list whenever a target customer action occurs. This could include a customer completing payment or submitting a do-not-call request.
In addition to a higher ROI thanks to improved list penetration, small businesses can also expect to see lower call abandonment rates.
Last but certainly not least are RingCentral's Agent Filtering capabilities.
With Agent Filtering, admins can reserve prospects or customers for specific agents – perfect for high-value deals you only want your top closers talking to.
Setting up agent filtering is as simple as uploading your lead list, enabling the feature in the general configuration settings page, and ticking the "Preview Dial Lead Search" box.
Winner: Both platforms put up a good fight, but RingCentral edges out a win here thanks to its intelligent call suppression feature and agent filtering capabilities.
Five9 Omnichannel Features
Five9 has quite a few handy omnichannel features to help you expand your presence to new channels without sacrificing support quality. Most importantly, its omnichannel routing ensures that every customer is routed to the best agent for the job.
The platform reaches across all channels including voice, live chats, video conferencing, social media messaging, SMS, and self-service channels like IVR or IVA. Five9's visual IVR also makes the mobile experience feel more app-like and intuitive.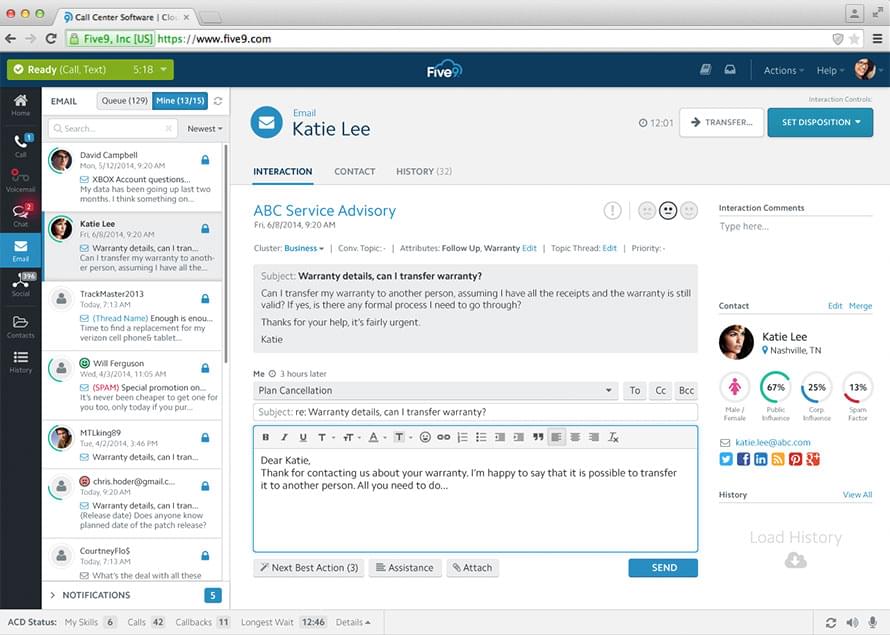 RingCentral Omnichannel Features
RingCentral Engage's omnichannel routing helps you optimize agent workflow, resolve tickets faster through skill-based routing, and match high-value customers to top representatives.
The omnichannel algorithm factors in agent capacity and availability, as well as any admin-set custom routing strategies like language-based, channel-based, or skill-based call routing to cut down on AHT (average handle time).
Agents can also view recent customer purchases and see any previous agent interactions, allowing for personalization and preventing the customer from repeating themselves.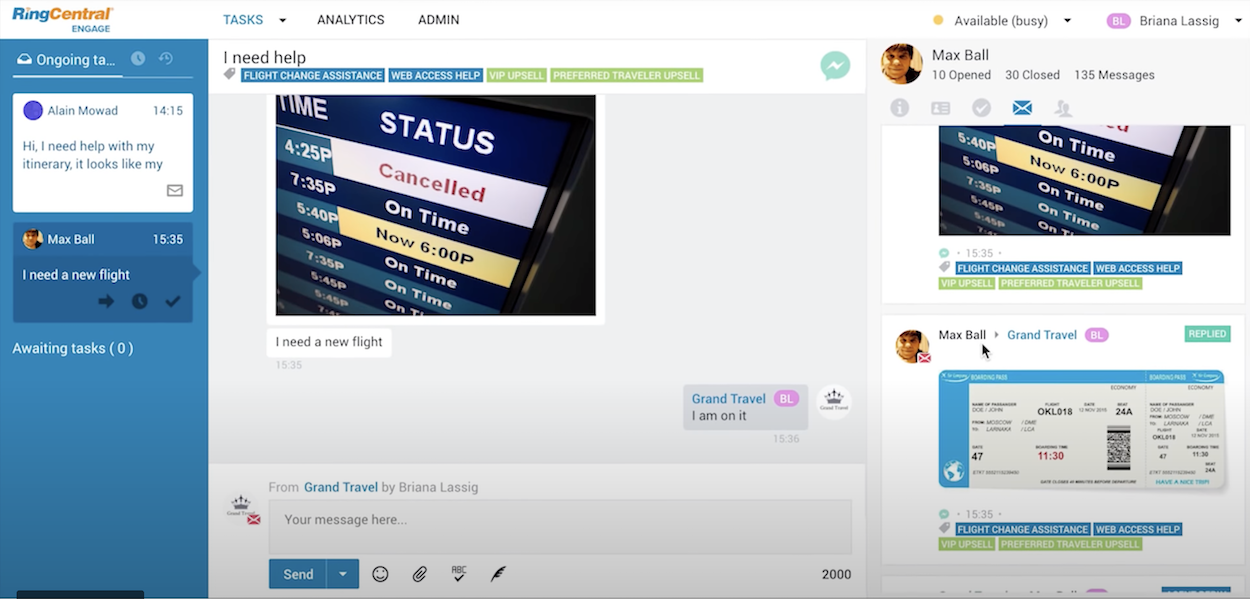 Winner: Each platform has a unique but equally-impressive feature set, leading the omnichannel category to a tie.
Analytics and Reporting
When it comes to contact center analytics, there are usually four main goals that most companies strive for:
Improve call quality: Stable connections, faster average handle times, shorter queues, and higher customer satisfaction are the most common contact center customer success goals
Optimize agent performance: Tracking metrics is a key part of optimizing agent performance and ensuring the support provided is in line with business standards
Target audiences: Achieving a deeper understanding of target demographics is an invaluable byproduct of analyzing your contact center KPIs, allowing for additional insight into customer age, location, shopping patterns, interests, and more
Customer sentiment: Customer sentiment gives insight into customer emotions when interacting with your product or service – for example, do they feel positively or negatively about your brand, or just neutral?
Five9 makes the reporting process easy with more than 120 pre-made templates or customized analytic parameters.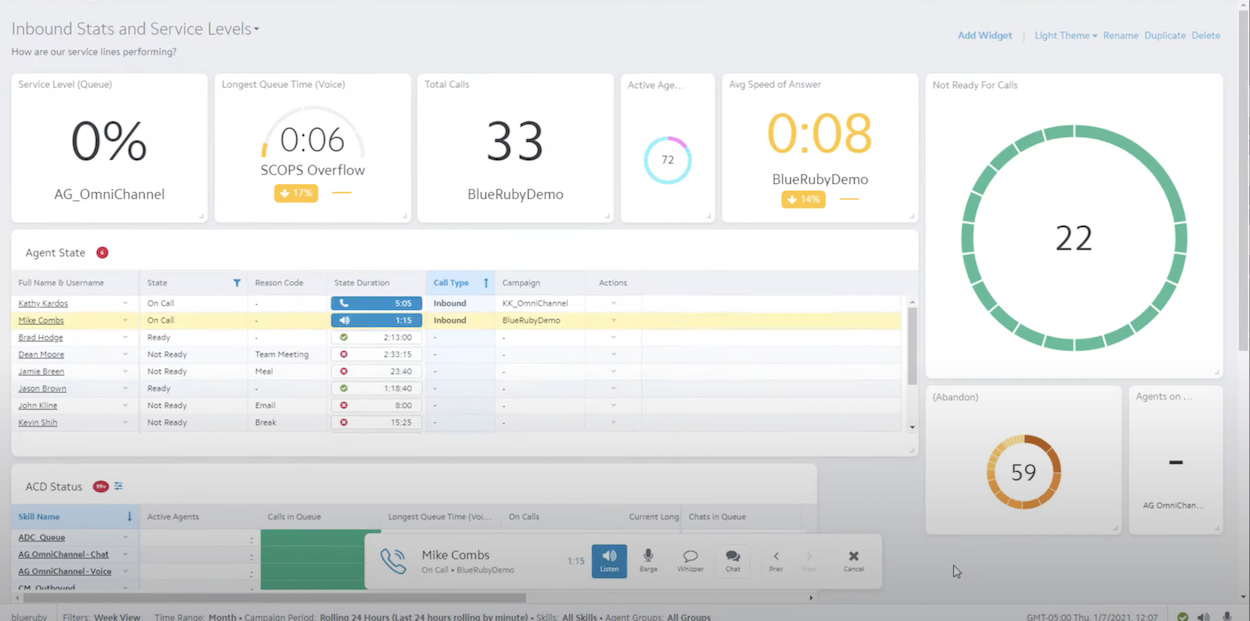 Real-time reporting is available directly in the admin dashboard, offering data visualization and additional analytic layouts.
Five9's interaction analytics gathers insight directly from customer conversations.
These interaction analytics are based on all conversations carried out via virtual telephony, email, or chat-based channels. Through Five9's AI-powered natural language processing, all conversations also receive an automated interaction score to let agents track their own improvement and help managers identify top talent. Five9 transcribes all call recordings while simultaneously analyzing sentiment, emotion, and acoustic queues.
If you plan on expanding into international markets or already have a presence overseas, Five9's analytics suite supports 28 different languages and can analyze multi-lingual interactions.
Finally, Five9's root-cause analysis automatically identifies interaction topics, creates trend reports for recurring issues, and shows word cloud infographics to highlight common phrases.
RingCentral has always been impressive on the analytics front but it's important to realize that the reporting capabilities between RingCentral MVP and RingCentral Contact Center have a few notable differences.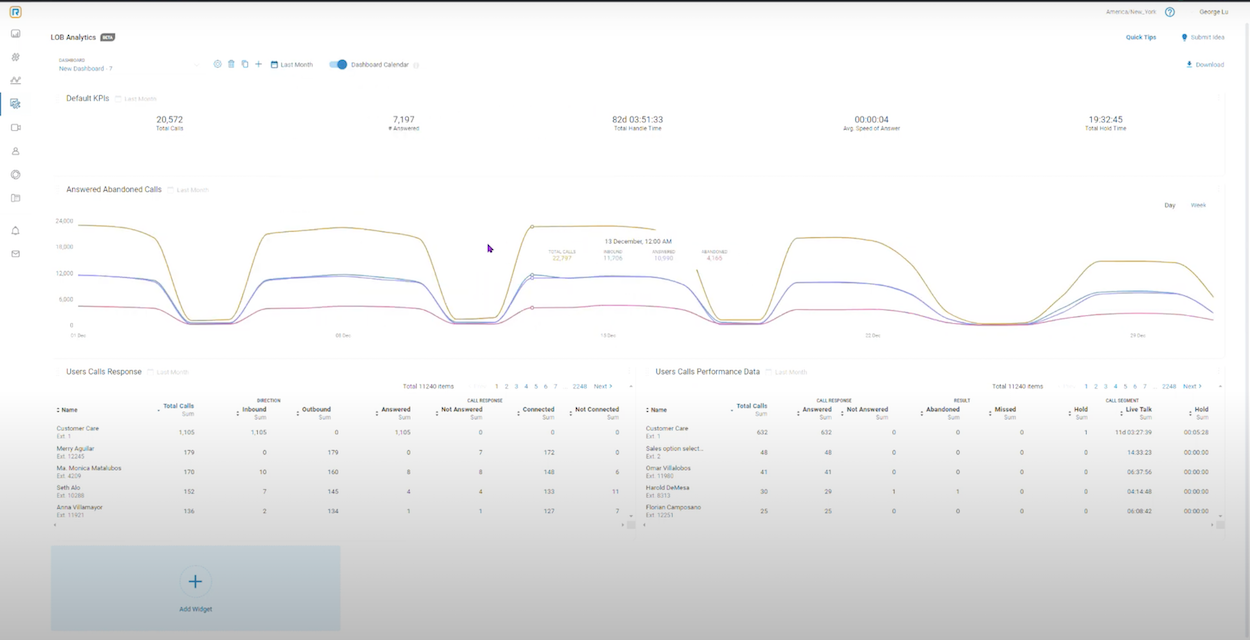 You'll still be able to track the usual KPIs you'd see in MVP such as:
Average handling time (AHT): The average length of time between the agent taking the call and the customer disconnecting
Average time in queue: How long customers wait in the call queue before they speak to an agent
Call hold time: How much time callers spend on hold
First-call resolution (FCR): The ratio of tickets that are resolved without needing a follow-up call
Call abandonment rates: The percentage of callers who hang up before they connect to an agent
Escalation rate: The number of calls sent past an agent and up to a manager or supervisor according to the escalation matrix
Customer satisfaction (CSAT): The CSAT metric measures the overall satisfaction level during and after a call with your agents
RingCentral's contact center analytics go far beyond those KPIs, though.
You can use speech analytics to analyze call recordings, text analytics to evaluate agent efficiency via email/chat, and even desktop analytics to track agent dashboard activity.
This helps admins identify workflow bottlenecks and which tasks to automate. Self-service analytics show how chatbots, IVR menus, call routing, and other self-service elements impact agent workload.
Additionally, predictive analytics look at historical data and past performance to predict imminent problems or anticipate high-volume periods to prepare for. This makes workload management and preventative maintenance much easier.
The next notable analytics feature on the RingCentral platform is color gauges. In essence, certain statistics will be either red, orange, or green to represent how an agent is performing against the median — helpful for data visualization.
There are also two AI reports to choose from: sentiment analysis and AI filtering.
The former leverages RingCentral's native artificial intelligence engine to study message sentiment, comparing the number of negative, neutral, and positive messages.
Lastly, RingCentral's contact center software can also track omnichannel or interaction analytics. This will aggregate all your data from every digital channel and provide key insights like which channels your customers prefer — invaluable when studying the customer journey.
Winner: RingCentral has more granular analytics getting it the win, but Five9 trails close behind with their large gallery of pre-made reports.
Five9 Integrations
Five9's integrations center around popular CRM solutions like Salesforce, ServiceNow, Oracle, Zendesk, Freshdesk, Microsoft Dynamics, and NetSuite.
Other integrations include SpiceCSM, Kustomer, and Authority Software.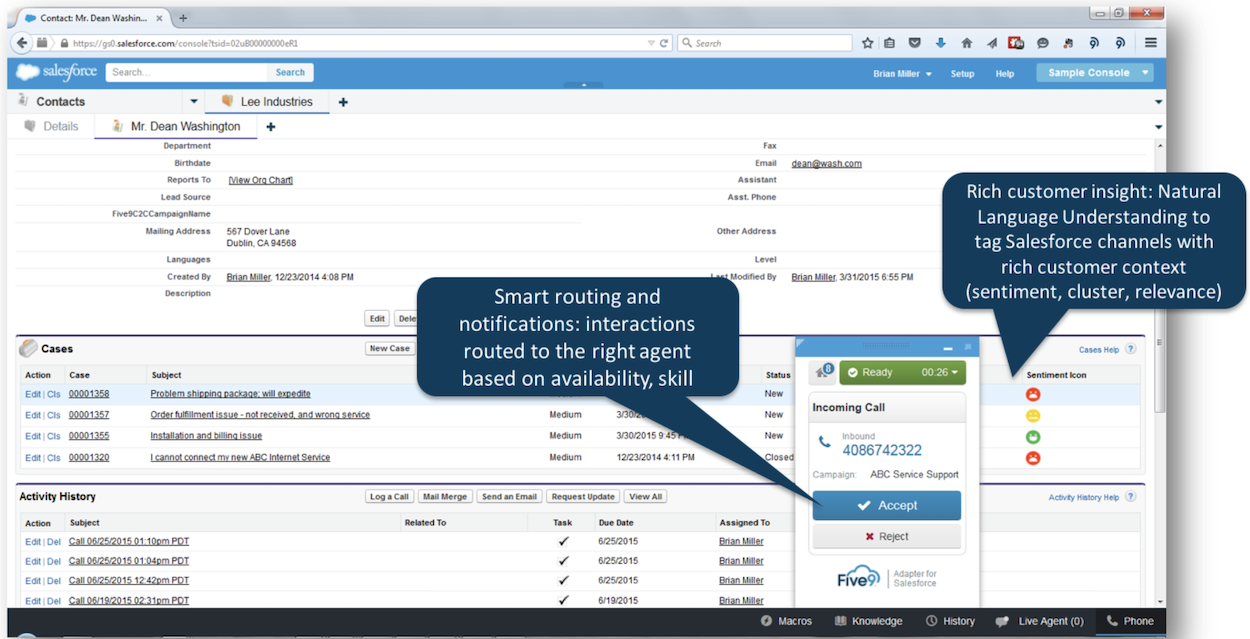 RingCentral Integrations
RingCentral's App Gallery has over 300 tools to choose from, making it one of the most comprehensive catalogs in the business communication space.
RingCentral integrations include the usual suspects like Google Workspace, Microsoft Teams, Slack, Asana, MailChimp, Evernote, Google Drive, Dropbox, OneDrive, and Box.
Other RingCentral integrations include CalendarHero, Harvest, and Alexa. We also want to highlight the Clerk app for RingCentral, since it lets you send and receive SMS/MMS messages in Slack.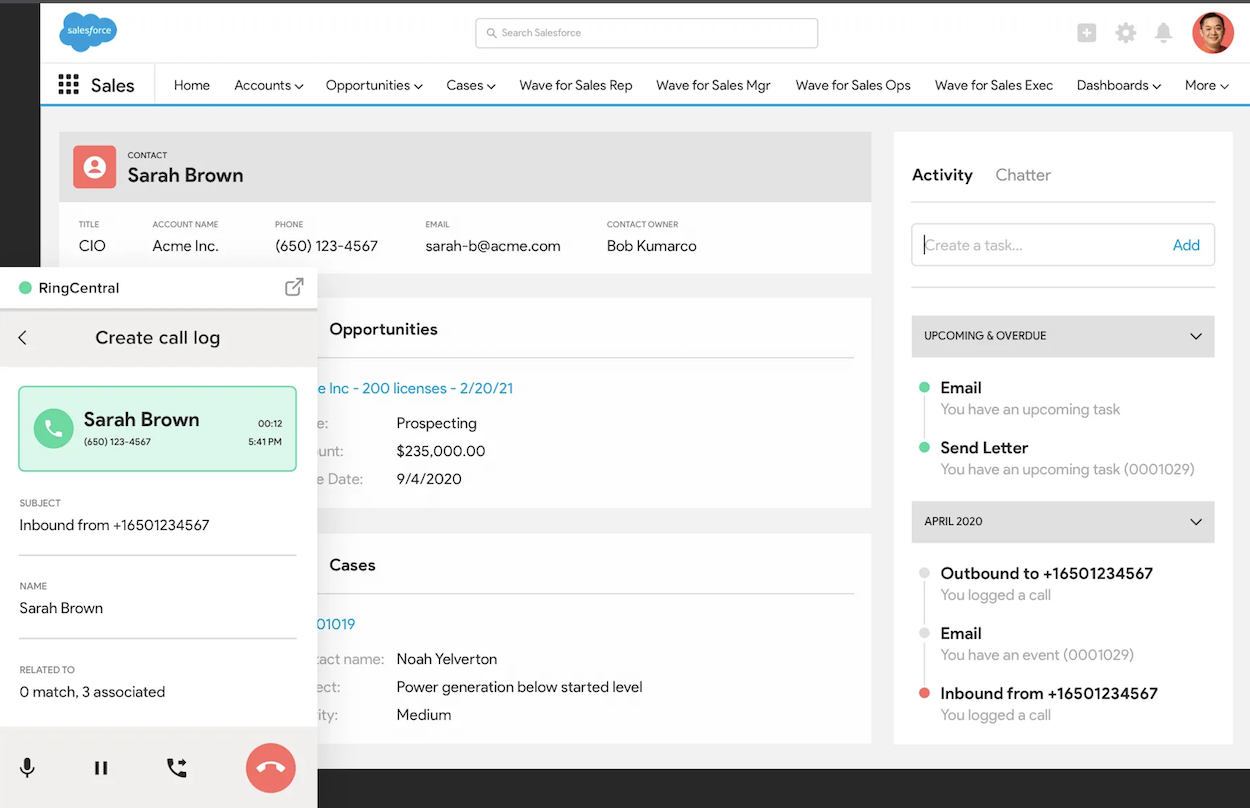 On the CRM front, RingCentral has integrations with HubSpot, Salesforce, ServiceNow, Zoho, Microsoft Dynamics, Cloze, Flex, Marketo, Bullhorn, MagicTime, SalesNexus, SugarCRM, and a few others. Plus, users can integrate Zapier to link RingCentral to over 500 pre-integrated apps (API and SDKs are also available.)
Winner: RingCentral gets its most decisive win of the comparison since it's far ahead of Five9 (and most competitors) when it comes to integrations.
Five9 vs RingCentral: Comparing Pricing and Plans
Below, we'll compare Five9 vs RingCentral pricing and plans.
Five9 Pricing
Five9 has a total of five paid plans, but the Core, Premium, and Optimum tiers are the most popular.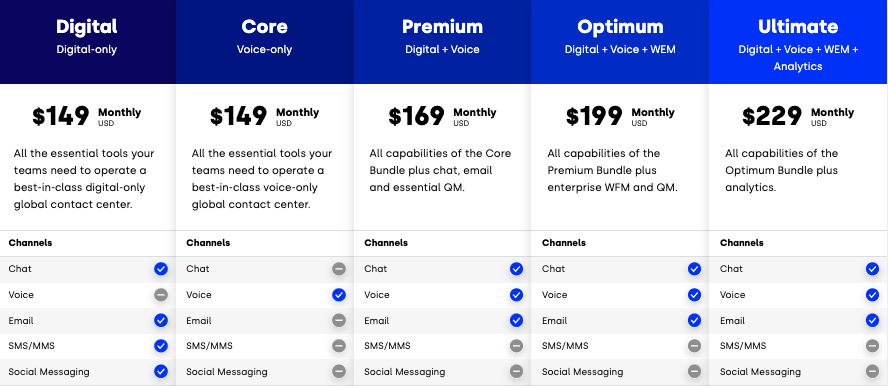 If you're just looking for the essential Five9 functions, then the aptly-named Core tier will be enough for your team.
The Core Plan includes blended inbound/outbound, agent desktop plus, geo-redundancy, call recording, and Five9's trademark softphone.
Businesses that value omnichannel communication should opt for the Premium tier, which has the Core features plus additional channels like live chat and email. It also includes some workforce optimization tools –, though you'll need to upgrade further for complete WFO features.
The Optimum plan, increases the capabilities of your workforce optimization suite, but doesn't offer much else. This makes it less appealing, given that the next tier only costs an additional $30 per month.
Beyond the three plans pictured above, Five9 also has an Ultimate tier that costs $229/month.
Perks include an algorithm that automatically identifies and automates repetitive tasks, proactive notifications, and interaction analytics (plus all the features from the previous three plans.)
RingCentral Pricing
Much like MVP, RingCentral Contact Center has four tiers: Essentials, Standard, Premium, and Ultimate.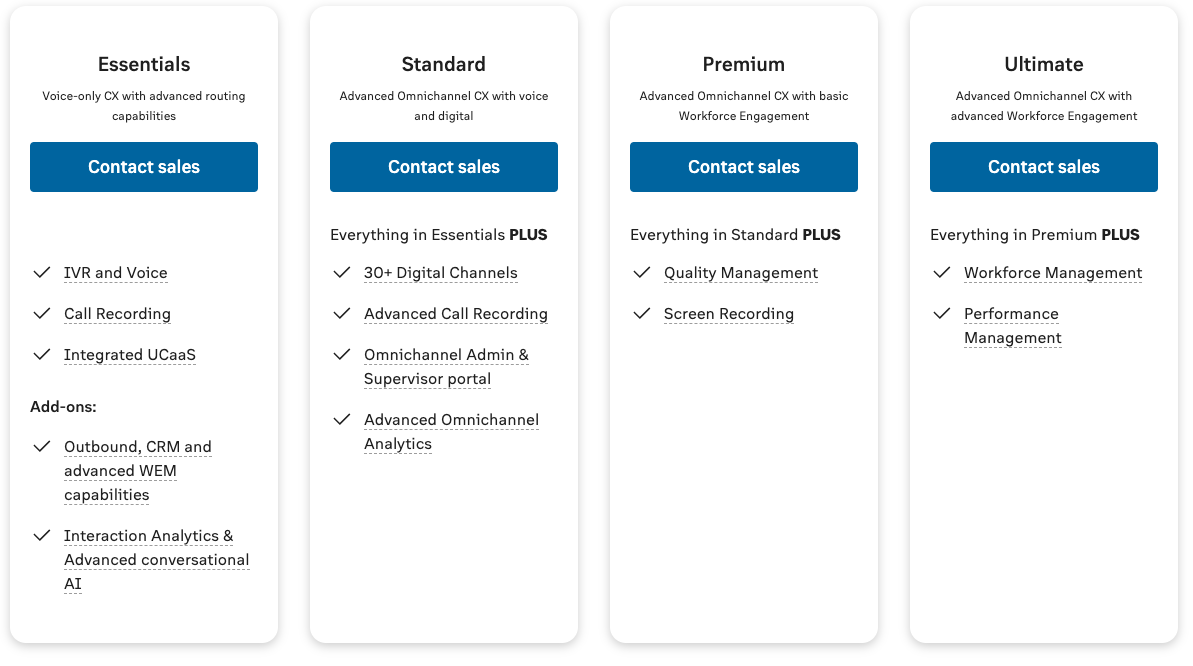 Unfortunately, there are no fixed prices listed on the website and you'll have to contact the sales team for a quote.
In terms of features, unlocking digital channels with the Standard plan is worthwhile – as long as the price is reasonable.
Five9 vs RingCentral Pros & Cons
Five9 has a lot of features that help justify its price tag. However, there are a few benefits unique to the platform that stood out for us (as well as a couple of cons.)
Five9 Pros
Report Templates:Five9's 120+ report templates simplify the analytics process, allowing admins to extract insights without having to create reports manually.
Manual Touch Mode: many companies are hesitant to use autodialers, fearing agent burnout or a drop in call quality. That's not an issue with Five9's manual touch mode, as no automatic dialing occurs without agent consent.
Campaign Management:Five9's campaign management features make it a lot easier to track every stage of the sales process and identify inefficiencies in outbound calling efforts. Couple that with one of Five9's CRM integrations, and you'll have a robust acquisitions tool stack.
Five9 Cons
While Five9 offers a comprehensive platform filled with reliable features, its customer support team isn't quite as speedy as RingCentral's representatives.
RingCentral Pros
RingCentral App Gallery:with over 500 integrations to choose from, RingCentral makes it easy to use your existing third-party tools within contact center workflows.
Diverse Analytics: alongside the usual KPIs like AHT, FCR, CSAT, and more, RingCentral's contact center solution dives deep into speech, text, and desktop analytics to provide a holistic view of agent performance.
Intuitive UI:anyone who has used RingCentral MVP — whether on iOS/Android mobile devices or desktop computers — already knows the user interface is extremely easy to use. The same is true for their contact center platform.
RingCentral Cons
The most significant drawback of RingCentral's contact center solution is the lack of transparent pricing, making it hard to compare to alternatives without first getting a custom quote.
Which Provider Is Best for Your Business?
It's obvious that both Five9 and RingCentral have many merits, including a plethora of features and user-friendly interfaces.
That said, they also operate in two distinct pricing brackets – meaning your company's software budget plays a role when deciding between Five9 vs RingCentral.
Aside from financial considerations, Five9 and RingCentral also have unique feature sets aimed at different audiences. If you're a remote team that wants to unify your collaboration tool stack through third-party integrations, then RingCentral is a highly attractive option.
On the other hand, smaller teams who want to track analytics without manually picking out data benefit from Five9's wide range of report templates. It may not be as granular as RingCentral's KPI coverage, but the time savings will absolutely add up.
Ultimately, you can't go wrong with either one of these platforms as long as you consider the unique benefits of each option to determine which one aligns with your goals, budget, and growth velocity of your business.