Effective call center management increases employee engagement and customer retention, lowers operating costs, and makes the most out of your investment in call center software.
But with customer and employee expectations constantly in flux, maintaining an effective call center management strategy is a challenge–and accurate, actionable advice can be hard to find.
Let this guide to call center management best practices serve as your roadmap to success.
Compare call center software
from top providers
What is Call Center Management?
Call center management is the ongoing process of developing, implementing, monitoring, and refining strategies for optimal day-to-day call center operations. Creating a successful call center management strategy is a collaborative effort between customers, agents, managers, supervisors, executives, and company directors.
The most important components of call center management are:
Customer Service and Support: Live and self-service phone support, additional digital channels, proactive engagement/reminders, customer surveys/feedback
The Agent Experience: Onboarding/training, performance evaluations, real-time coaching, team collaboration tools
Business Processes: Manual vs automated processes, virtual agents and call flow design, workflow automation
Workforce Management: Performance monitoring and optimization, agent scheduling and staffing adherence monitoring, real-time notifications
Business Software: Call and contact center software, UCaaS tools, business VoIP phone systems, third-party integrations.
Analytics+Reporting: Real-time/historical customized KPI monitoring
How Does A Call Center Work?
A call center works by providing a central platform for managing inbound and outbound calling, call center administration, and agent activity.
Call centers can be remote, cloud-based, on-premise, inbound, outbound, or blended (other call center types are also available.)
The goal of a call center is to provide customers/leads with the information they need as quickly as possible by connecting them to a live agent or pricing them with self-service options like an IVR system.
Call Center Management Best Practices
The most effective call center management best practices are:
Define Call Center Roles
The first step in effectively managing a call center is to define call center roles and responsibilities.
The three most important call center roles are:
Call Center Manager
A top-level position, the call center manager is responsible for defining customer needs and call center employee responsibilities.
Call center manager responsibilities include: 
Setting performance standards/goals for supervisors/agents
Developing/refining strategies to implement these goals
Choosing the KPIs/analytics to monitor/measure call center performance
Identifying opportunities to increase sales revenue/customer satisfaction
Hiring call center agents/supervisors and creating employee training materials
Selecting call center software (and other relevant business software)
Designing/editing call flow paths and other call management strategies
Required call center manager skills are:
Flexibility to make data-driven decisions, often in real-time, based on analytics and feedback
Superior communication skills to identify and explain key concepts to higher-ups
A keen understanding of the company branding and customer base
Delegation and task management
Call Center Supervisor
Call center supervisors are responsible for implementing the strategies developed by call center managers by training, monitoring, and assisting call center team members with customer interactions. Supervisors are in near-constant communication with both employees and managers, often relaying information between them.
Call center supervisor responsibilities are:
Conducting quality management and altering call center managers of areas needing improvement
Employee training and onboarding
Agent monitoring and performance evaluations, including in-call coaching and call recording/transcript reviews
Administrative task management like agent scheduling
Summarizing call center activity and sharing briefs with management
Required call center supervisor skills are:
Technical understanding of call center software (hard skills)
Workforce management and scheduling
Soft skills (communication, active listening, problem-solving, etc.)
Ability to provide detailed feedback to employees and managers
Call Center Agent 
Call center agents make the first impression on many customers by providing live customer service and support. These frontline representatives follow the instructions and carry out the visions developed by call center supervisors and managers.
Call center agent responsibilities include:
Providing live customer assistance or technical support
Making outbound sales/marketing calls
Managing appointments, providing shipping updates, collecting customer data, bill payment, etc.
Collecting customer survey responses and managing customer complaints
Discerning when to transfer calls or initiate the call center escalation matrix
Communicating/collaborating with other agents/supervisors
Required call center agent skills include:
Communication, empathy, problem-solving, conflict management
Strong knowledge of product/services
Ability to prioritize calls and stay calm under pressure
Customer relationship development
Review Employee Training Materials 
Consistently review employee training materials to ensure they're up-to-date, in line with customer expectations, and most importantly, consistent across communication channels, applications, and internal knowledge bases.
Keep expectations and objectives clear and ensure agents have a clear understanding of how success is measured.
Effective employee training, onboarding, and performance monitoring strategies include:
Agent shadowing and peer learning
Anonymous employee surveys
Routine training and continuing education webinars
Call recording, call monitoring, call whisper, and real-time in-call coaching
Training materials from software providers (custom onboarding, on-demand/scheduled training webinars, user tutorials, etc.)
Agent scoring and performance evaluations
Updating internal documentation/training materials like agent call scripts, what-if scenarios, product/service guides, pricing, internal wikis, the agent onboarding process, escalation matrix strategies, etc.
Optimize Workforce Management
Workforce Management (WFM) and Workforce Optimization (WFO) tools optimize all available agents and streamline the agent scheduling process thanks to features like:
Trend forecasting
Suggested agent schedules and automatic agent scheduling with shift bidding, adherence monitoring, and automated PTO management
Live agent performance wallboards
Agent performance gamification with incentives, prizes, etc.
Budget analysis
Automatic agent coaching module assignment and agent scoring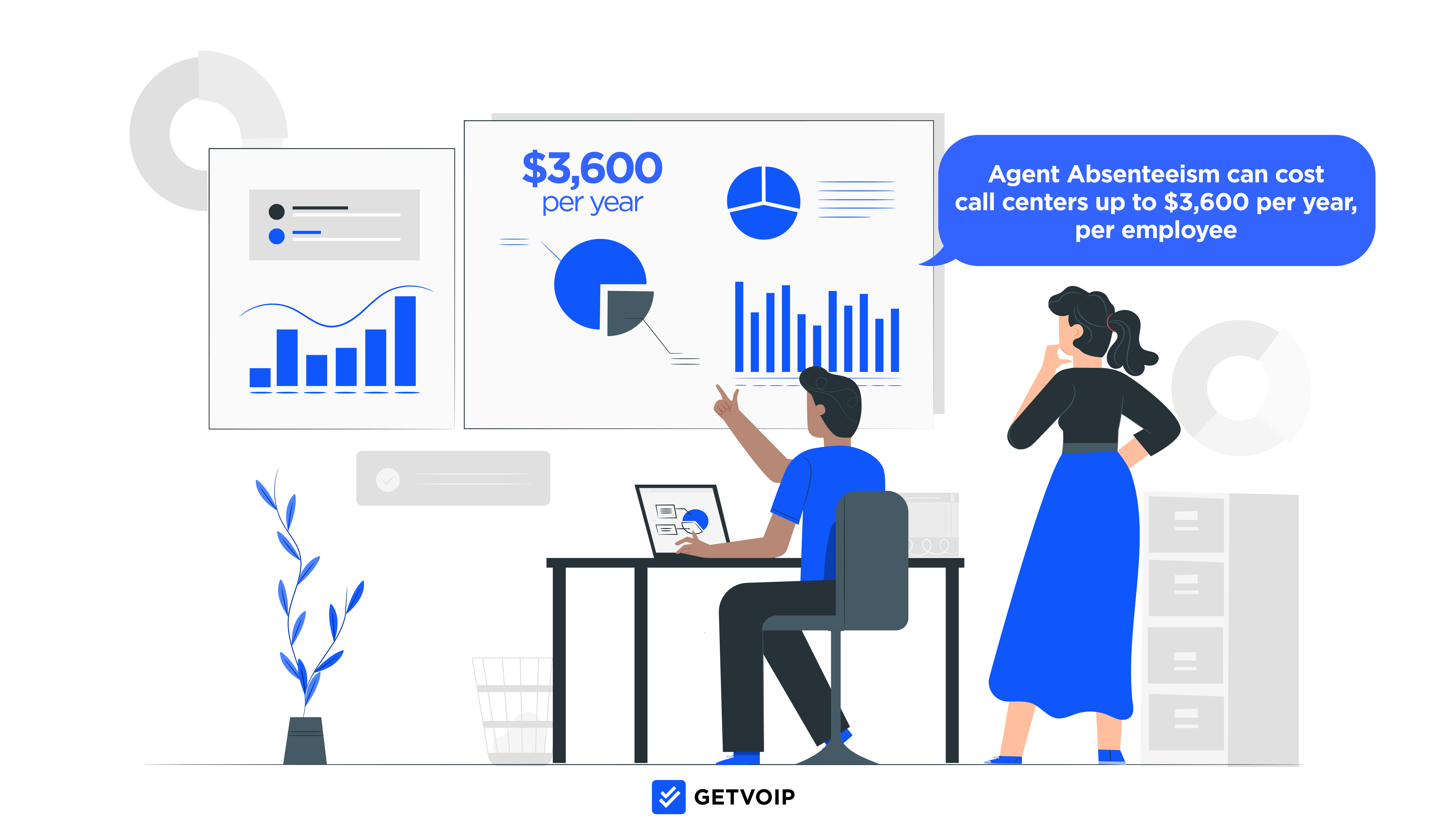 Leverage Automation and AI
Leveraging automation and AI call center software features prevents agent burnout, streamlines the customer journey, provides 24/7 customer self-service, and speeds up sales and customer service resolution processes.
Essential call center business process automation and AI-powered features include:
Interactive Voice Response (IVR)
IVR systems use pre-recorded call menu prompts to automatically guide callers through pre-configured and customizable call flow paths, often entirely eliminating the need for customers to speak to a live agent.
IVR is an excellent alternative to a live receptionist, and relies on DTMF touch tone responses or Speech Recognition/Natural Language Processing to immediately connect callers to the ideal live agent or automated action–without long wait times.
Call management options within call flow paths include call forwarding, a variety of call routing strategies, ring groups, automatic call transfer, call queuing, custom business hours, and more.
IVR is ideal for bill payments, customer data collection, appointment management, and basic customer service. Not only does IVR free up live agents and ensure customers are connected to the best available agent, it also prevents agent burnout, decreases call center employee turnover rates, and improves your bottom line.
Automated Customer Callbacks 
Instead of waiting on hold for an available agent, automated callbacks let customers receive a call back from a live agent at a date/time of their choosing.
Agent Assist
Live in-call Agent Assist using Natural Language processing to provide automated, real-time suggestions to agents based on internal information stored in company wikis. This eliminates the need for agents to manually search for support information, keeps average handle time low, and improves the customer experience.
Auto Dialers
Outbound auto dialers improve lead list penetration and lead management processes by automatically dialing the next phone number and eliminating manual dialing (while remaining TCPA compliant.)
Auto dialer features include a variety of dialing modes, call scripting, after-call work, customer disposition timers, voicemail drops, and automated follow-ups.
CRM Call Pops
Call center software integrates with third-party CRM platforms (or uses native CRM features) to automatically display relevant customer data on agent screens when they receive an inbound call from a customer.  when receiving an inbound call.
Call pops display agent notes, customer interaction history and contact information, account value, customer satisfaction rating, order history, and more.
Boost Employee Engagement With Collaboration Tools
Creating opportunities for team collaboration is an essential part of effective call and contact center management. Collaboration tools allow for agents to connect in real-time, across time zones–especially important for remote and blended teams.
Video meetings, team chat, whiteboards, screen sharing, and file co-editing increase employee engagement, streamline task management, and help ensure work is evenly distributed. Frequent team meetings reduce agent absenteeism, provide opportunities for employee recognition, and help boost team productivity.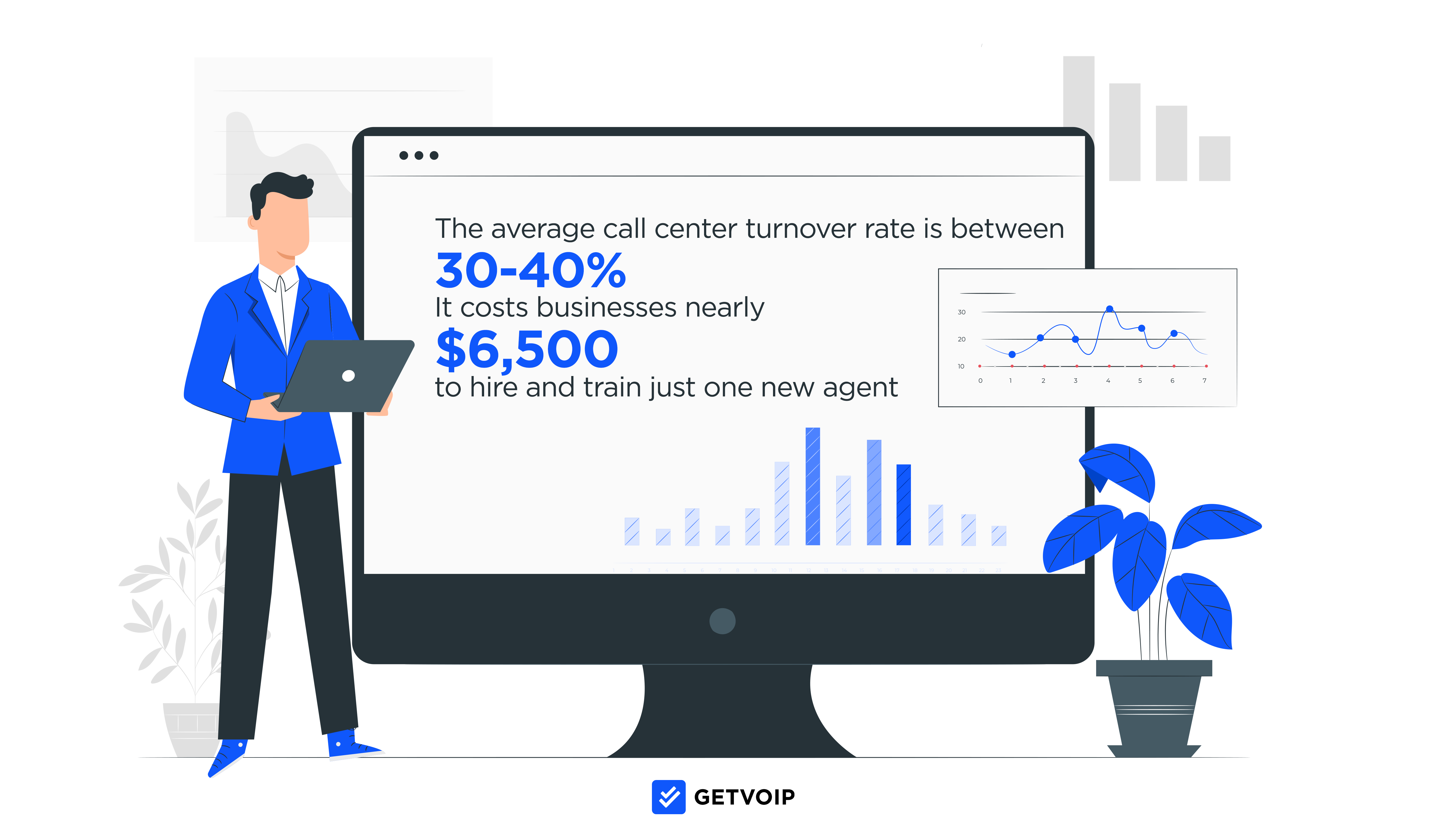 Anticipate Common Call Center Problems
The best way to avoid common call center problems is to proactively prepare for them.
Routinely check for call quality issues like:
Jitter/Latency: Run speed tests and check for adequate bandwidth
Dropped Phone Calls/Choppy Audio: Run SaaS updates, review QoS settings
Echoing: Ensure hardware is compatible and up-to-date, especially if team members are using personal devices and smartphones
Monitor Essential Call Center Metrics
The most important call center KPIs to monitor are:
First Call Resolution Rate (FCR)
FCR measures the percentage of customer calls completely resolved during the first interaction between a customer and a live agent and/or a customer and an IVR system (no follow-ups required.)
Industry Standard: 70-75%
Formula: FCR=(Total Resolved Cases ÷ Total Number of Cases) x 100
Net Promoter Score (NPS) 
NPS measures the answer to one question: "How likely are you to recommend our services/products/business to someone you know?" Users respond with a ranking from 0 (least likely to recommend) to 10 (most likely to recommend.) Each number response is scored as a Promoter (9-10), Passive"(7-8) or Detractor (1-6).
Industry Standard: 20% and up
Formula: NPS=% of Promoters – % of Detractors 
Customer Satisfaction Rate (CSAT) 
CSAT measures the answer to the question, "On a scale of 1 (lowest) to 5 (highest) how satisfied are you with the service you received today?"
Industry Standard: 15%=average, 25%=good
Formula: CSAT=(# of Positive Scores ➗ # of Total Scores) x 100
Call Abandonment Rate
Call Abandonment Rate measures the  percentage of incoming customer calls that are ended before a conversation begins (before a caller interacts with IVR or an agent.)
Industry Standard: 5-8% (Anything over 10% is cause for concern)
Formula: CAR=(# of Abandoned Calls➗Total Inbound Calls) x 100
Cost Per Call (CPC)
CPC measures the average cost of each call, indicating overall agent efficiency, productivity, and operational costs.
Industry Standard: Varies based on average revenue and products/services offered
Formula: CPC = Total Calls per Month or Year ÷ (Operating costs + Average Agent Salary)
Collect Customer Feedback
Though call center analytics provide hard data about agent performance and activity, they can't tell the whole story.
To better understand customer journey roadblocks, customer satisfaction levels, and to identify areas for improvement, automate post-call voice or email customer surveys. You can also embed customer surveys on your website, or share them via email or social media.
Include a combination of yes/no, multiple choice, rankings-based (scale of 1-10), and open-ended survey questions.
AI analytics tools can create word clouds of common survey response topics, evaluate customer sentiment and satisfaction level, provide real-time survey responses, and create filterable survey result reports.
Common causes for low customer satisfaction include:
Lack of follow-up and/or personalized customer service
Lengthy IVR menus or automated-only customer support with no option to reach a live agent
Having to repeat their issue to multiple agents/connecting to an unqualified agent
Lack of customer self-service options (IVR/IVAs, chatbots, online knowledge base, etc.)
Long hold times/inability to schedule an automated customer callback
Integrate Third-Party Tools
Switching between multiple business applications throughout the workday–and especially while on a live call–is frustrating to agents and customers. Save time and eliminate app switching by integrating your preferred third-party software into your call center platform.
Integration gives agents access to advanced features like real-time CRM CTI screen pops, automated outbound call center dialers, team chat messaging, on-demand web conferencing, and much more without having to disconnect a caller or put them on hold.
Also use APIs, which allow developers to create custom applications and functionalities to meet your call center's unique needs.
Integrations and APIs increase first call resolution rates, lower call handle times, and provide a seamless, efficient support experience.
Re-evaluate Your Call Center Software
In addition to putting the above steps into practice, maintain effective call center management by routinely re-evaluating your call center software.
Key features to look for in a call center platform include:
Scalable pricing with tiered plans and add-ons
Real-time and historical analytics with pre-made and customizable reports
CRM software integration
Interactive Voice Response (IVR) and Automatic Call Distributor (ACD)
Multiple call routing options (skills-based, time-based, round-robin, list-based, etc.)
Automation and AI
Team collaboration tools and web conferencing
Call queuing and automated callbacks
Call monitoring and quality monitoring (quality assurance)
Outbound auto dialer modes (progressive, predictive, power, etc.)
Workforce Optimization and Management
Agent scripting and internal wikis
Especially for businesses in a growth phase or teams with difficulty managing a high daily call volume (a sudden increase in the daily number of calls) scalable omnichannel contact center software may be a better solution than a standard VoIP phone system.
How to Effectively Manage A Call Center: Dos and Don'ts 
The below table outlines the top do's and don'ts of effective call center management.
The Problem
What To Do
What Not To Do
Poor Agent Scheduling and Employee Absenteeism 
– Use workforce optimization tools like suggested agent scheduling

– Use forecasting tools to predict busy seasons

– Create detailed internal wikis so agents from other departments can provide basic assistance during peak call times

– Implement intelligent and skills-based routing

– Fail to plan for peak call times in advance

– Overlook agent burnout

– Fail to clearly state employee expectations and PTO/scheduling policies

– Over-rely on temporary workers that don't have in-depth product/service knowledge

Unmanageable Call Volumes
– Hire geographical diverse agents across time zones

– Provide estimated wait times

– Purchase additional business phone numbers

– Use workflow automation tools like IVR and ring groups

– Encourage customers to leave voicemail messages or send an email and wait for a response

– Hire additional agents (even if it's not in your budget)

– Place callers on long holds until an agent is available

Long Customer Wait Times
– Consider adding digital communication channels  (website chat, social media messaging, SMS)

– Enable automated customer callbacks

– Review and update current call routing and call path strategies

– Review real-time call queue analytics to identify peak call times

– Encourage support agents to rush through calls

– Over-rely on automated customer self-service with IVR/IVAs

– Overlook forwarding calls to additional ring groups or remote agent devices like smartphones

Poor Call Quality
– Enable Quality of Service monitoring

– Invest in new hardware, especially if the provider offers native VoIP phones

– Choose providers with features like background noise suppression

– Inadvertently use incompatible or outdated hardware

– Forget to routinely update software and perform hardware maintenance

– Run speed tests and check available bandwidth

Low Customer Satisfaction
– Send out customer surveys with coupon codes/discounts as incentives

– Review agent soft skills like empathy and active listening

– Use automated Agent Assist to ensure agents provide fast and accurate customer service

– Monitor CSAT and NPS scores

– Blame customers and agents

– Ignore the issue

– Fail to recognize agents for quality work

– Encourage agents to push back against criticism