Computer Telephony Integration (CTI) streamlines multiple business applications within one interface and enables essential call center software features like in-call CRM screen pops and call management.
But what is Computer Telephony Integration, what benefits does it offer, and which providers have it?
Compare call center software from
top providers
Jump to ↓
What is Computer Telephony Integration (CTI)?
Computer Telephony Integration (CTI) is a technology that links and facilitates interactions between computers and phone systems.
In call centers, computer telephony integration lets call center agents make and receive voice calls directly within the desktop computer interface, eliminating the need for a physical desk phone.
In addition to enabling in-app or browser-based voice calls, CTI allows users to access integrated applications like Customer Relationship Management (CRM) systems, team collaboration tools, helpdesk software, and video conferencing platforms from desktop computers and compatible mobile devices.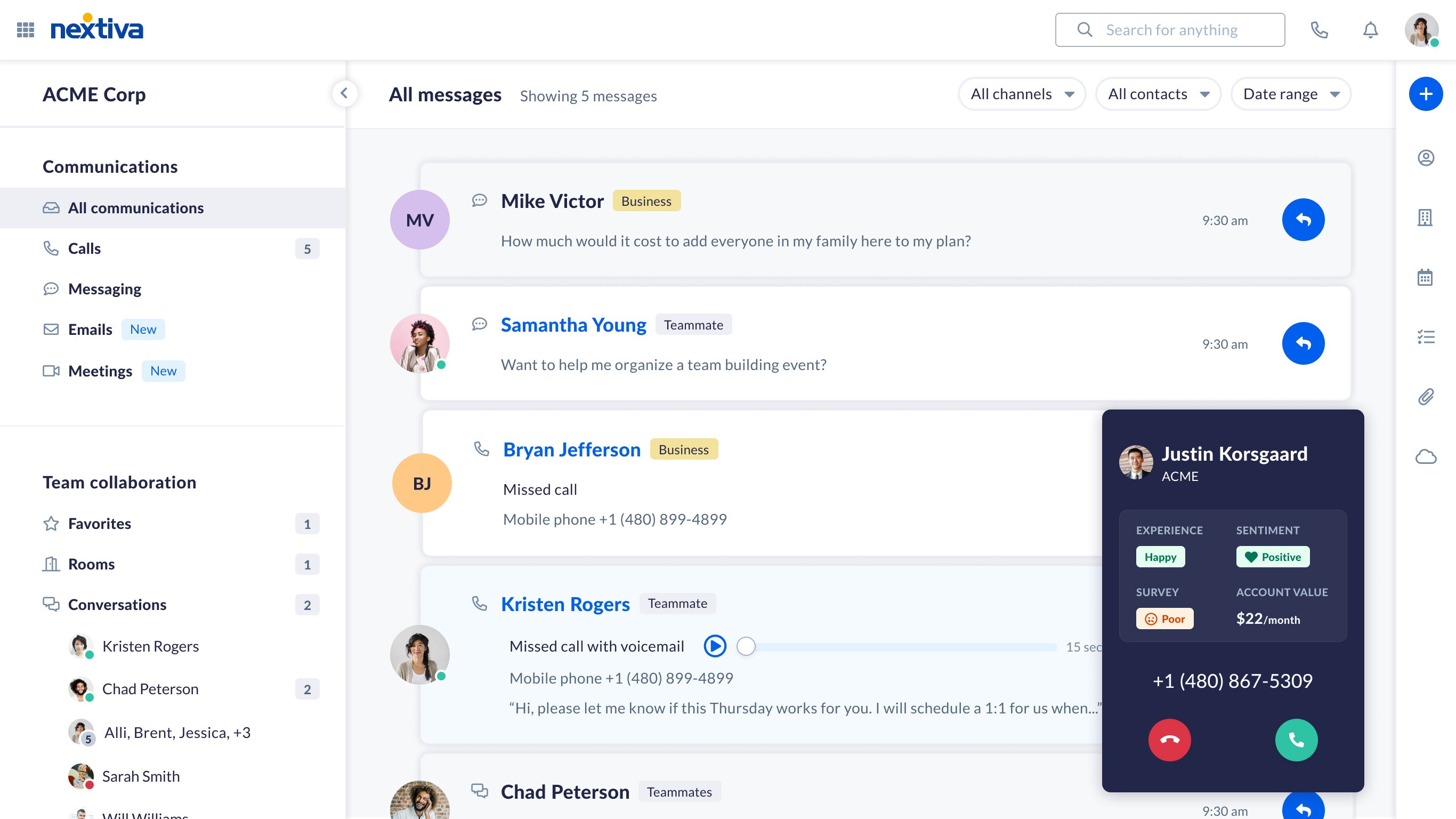 CTI automates and improves routine business processes, prevents constant app switching, and provides instant access to the data and functionalities that improve customer and agent experience.
All call handling and management features–including integrated third-party applications–are streamlined into one unified interface accessible on agent/admin computer screens.
CTI enables desktop access to call center software features and integrated third-party platform capabilities like:  
Softphone voice calling and click-to-call
In-conversation CRM screen pops
Interactive Voice Response (IVR) and Automatic Call Distributor (ACD)
Workflow automation
Outbound auto dialers
In-conversation Agent Assistance
Call recording and transcription
Analytics and reporting
Omnichannel communication across voice, SMS, chat and social media messaging, etc.
How Computer Telephony Integration Works
CTI works by leveraging VoIP technology to connect external business applications to office phone systems.
Unlike a CRM system or contact center platform, CTI is not a standalone business software. Rather, CTI is a feature included with most SaaS solutions.
Because VoIP facilitates voice calls over the Internet instead of the wired landline network, users can access their phone system in any location and on any device with a working Internet connection. VoIP and cloud PBX make CTI capabilities available across smartphones, desktop computers, laptops, and tablets.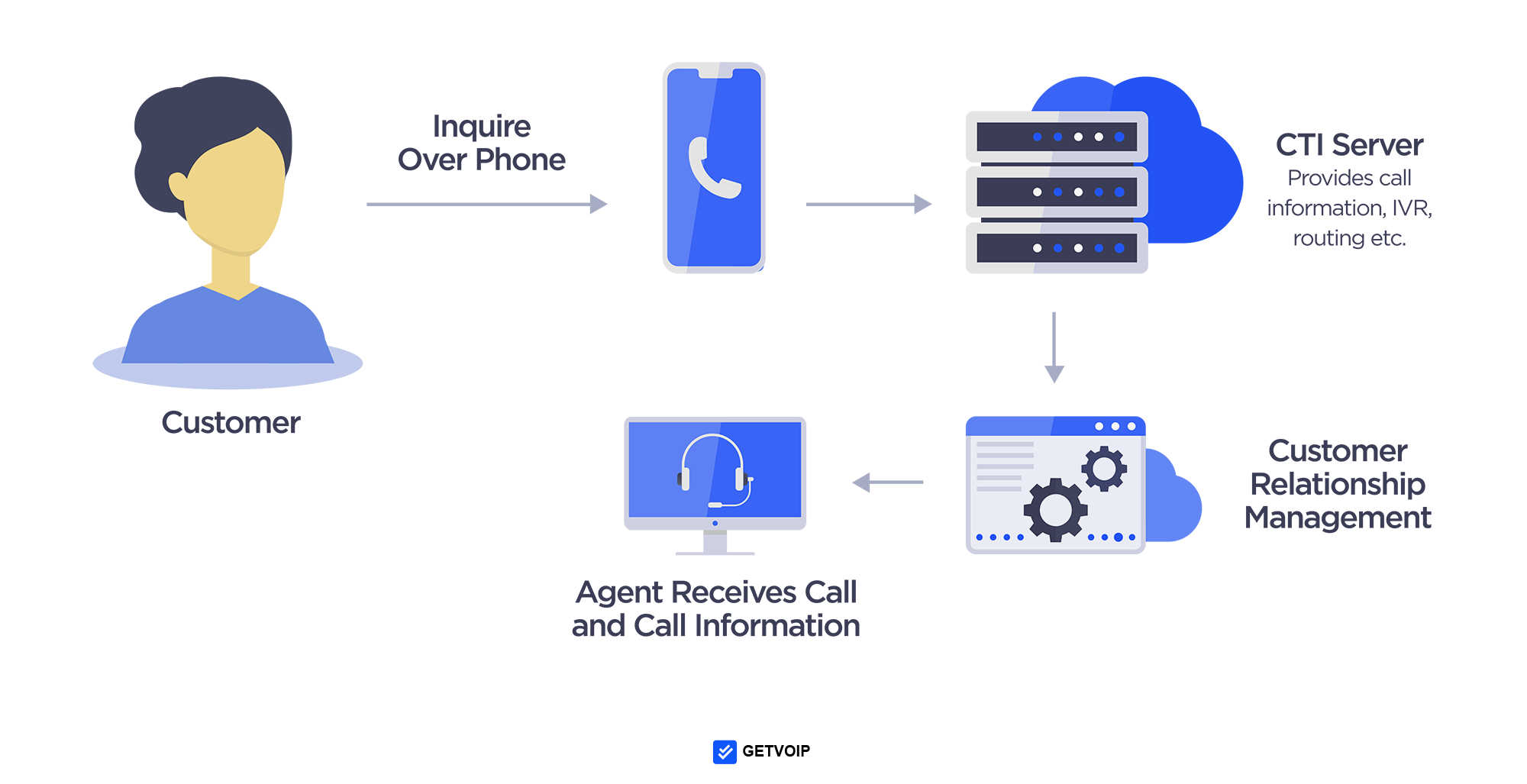 VoIP, not CTI, makes and receives voice calls. The CTI server automatically collects data from integrated applications and sends it to agents, providing faster resolutions and quality customer service.
CTI is responsible for:
Following the call routing, call flow, and other call handling rules programmed into call center software
Identifying relevant information, like caller CRM data, stored in third-party integrated platforms, then displaying that information on the agent's screen
Giving users access to capabilities only available via third-party integrations to their CCaaS platform (like video calling, team chat messaging, or project management tools)
The Benefits of Computer Telephony Integration
CTI benefits extend to small businesses and enterprise corporations alike by streamlining applications into one interface, optimizing workflows and available agents, and increasing customer satisfaction.
The top benefits of CTI include:
More Personalized Customer Service
CRM integrations provide immediate, in-conversation access to customer information and account history, allowing agents to proactively address common customer issues and reference order numbers without callers providing them.
CRM systems also contain notes on prior interactions to avoid repetition and ensure agents provide new and relevant support and sales suggestions.
Personalized support increases customer retention rates, customer satisfaction scores, and the likelihood of successful cross-selling and up-selling.
Increased Agent Productivity
Automatic CTI screen pops eliminate constant app switching, improving team productivity levels and speeding up the support resolution process as a result.
All essential customer data is streamlined and displayed in one unified location (the agent desktop), so reps don't lose time to manual searching.
CTI also collects and displays IVR caller input and key details (like order or account numbers) on agent screens before connecting them to the caller. This way, team members can fully understand the support issue, access relevant forms and data, and prepare to provide the best possible customer service.
If the agent knows they aren't the best person to assist the caller, they can use the warm transfer feature to send the call–and the relevant IVR data–to a more qualified team member.
Additional in-call agent assist features, powered by Conversational AI and Natural Language Understanding, use CTI to provide canned responses, agent scripts, or next-step suggestions from internal knowledge base and help desk integrations.
A Better Customer Experience
CTI improves the overall customer experience in numerous ways:
Advanced call routing and call forwarding strategies give customers a greater chance of connecting to a live agent when needed– increasing first call resolution rates.
IVR enables 24/7 self-service, lowering the overall call volume and preventing agents from getting overburdened (and rushing through support interactions as a result.) As most customers prefer self-service to live support, CTI technology helps businesses meet customer expectations.
Features like automated customer callbacks let customers choose when they'd like to receive a call back from an agent instead of having to wait on hold.
Optimized call flows and call control features cut down on call wait times, adjust call queues and agent assignments to meet current call volume, and connect customers to the right agent every time.
More Connected Remote Teams
CTI software provides the level of flexibility and mobility necessary to empower today's remote or blended workforce.
Team members can make outgoing calls and receive incoming calls on the go from both desktop computer systems and mobile devices, and all call center activity automatically syncs across channels and agent dashboards.
This ensures all agents are working with the same–and most up-to-date–information and lets team members communicate and collaborate in real time. CTI and VoIP features work hand-in-hand to prevent communication silos, identify workflow roadblocks, and keep project schedules on track.
Key CTI Features and Functionalities
The most essential Computer Telephony Integration features are:
Integrations with third-party business software
Screen pops
Automatic dialer modes
IVR and auto attendants
Call routing
Call monitoring and analytics
Integrations With Third-Party Business Software
CTI integrates with CRM platforms like Salesforce, video calling tools like Zoom, task management apps like Asana, and team collaboration software like Slack and Microsoft Teams.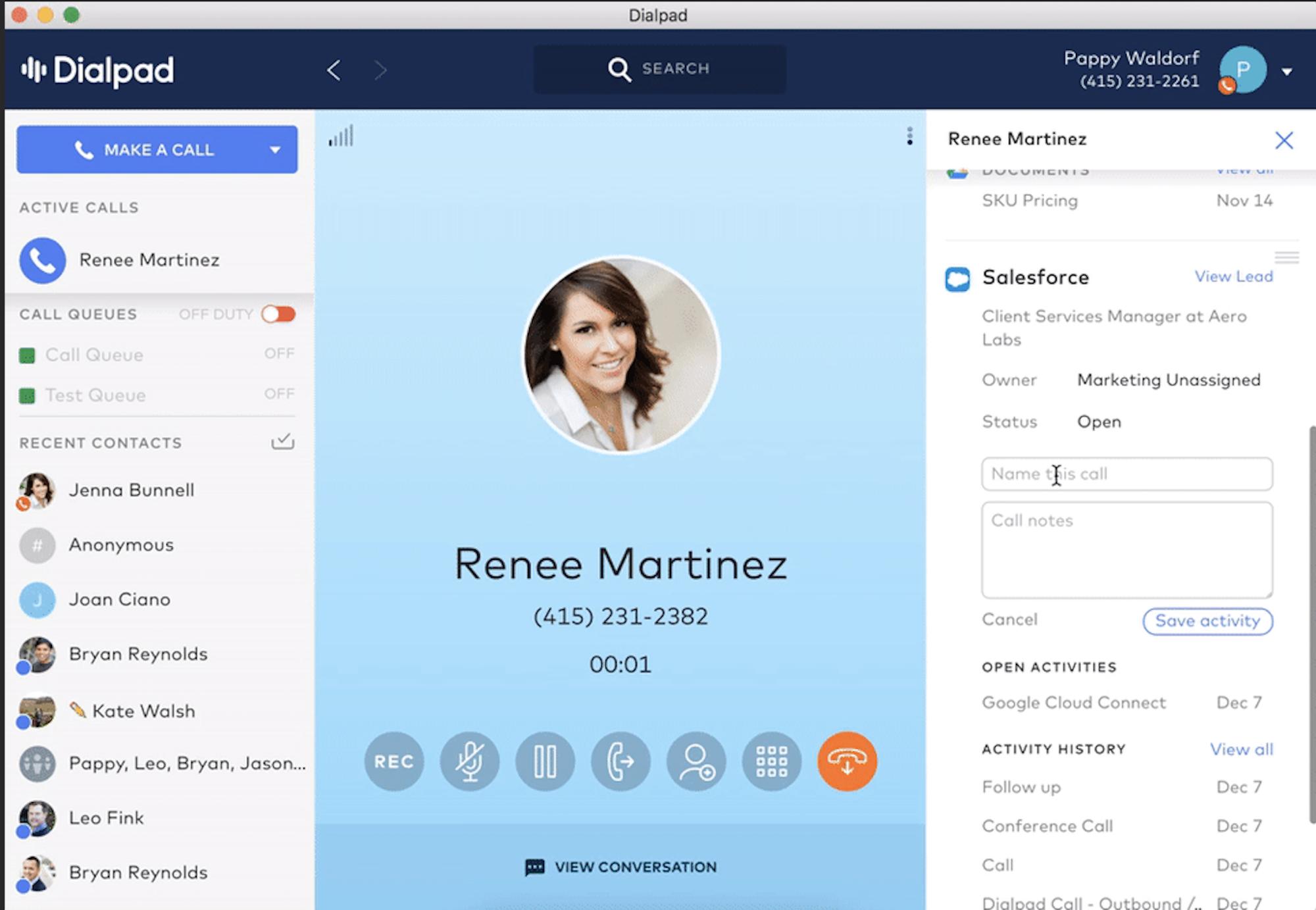 These integrations combine all third-party tools into a single platform, providing instant access to additional communication channels, customer account history, sales activity, workforce optimization tools, and much more.
When choosing providers, ensure they offer built-in integrations with your preferred business software for CTI CRM screen pops and other capabilities. This is especially important for service providers, which use industry-specific apps that are less popular than more well-known SaaS solutions.
If you plan on adding custom features via APIs, review the overall state of the developer community to see what it's possible to build.
Screen Pops
Screen pops, the most important CTI system feature, identify relevant CRM, knowledge base, and interaction data stored natively or in an integrated application. During or before a call, this data is automatically displayed within the agent interface as a CTI screen pop, eliminating the need for agents to switch between applications and tabs to locate essential information.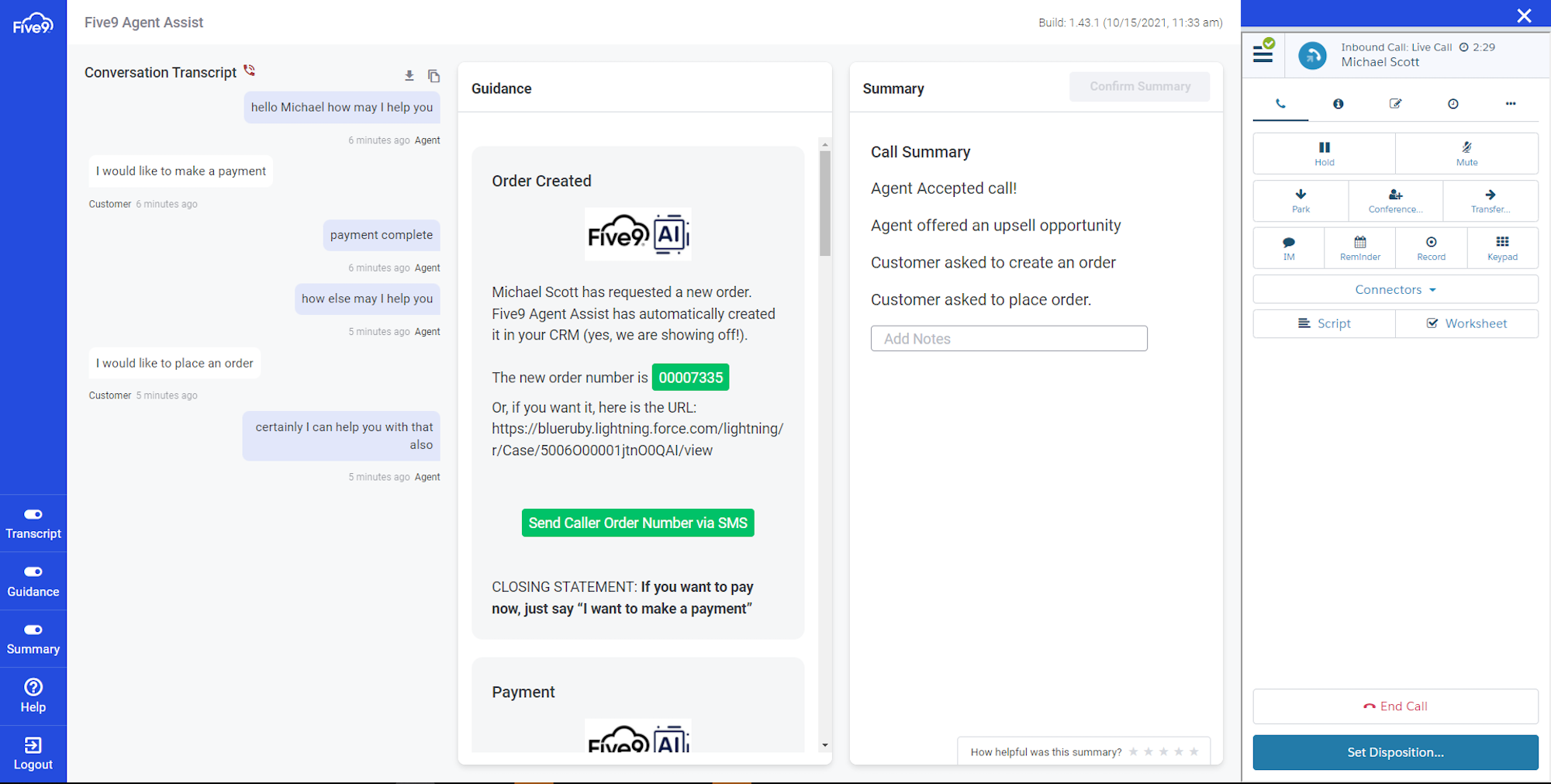 For example, when a customer named John Smith calls your business, CTI recognizes his name and phone number from Caller ID and instantly searches your CRM system (or in-app notes/data) and pulls up John Smith's recent transaction history, interaction notes, account number and order information, etc.
In addition to CRM data, CTI screen pops can also display agent call scripts, canned responses, and next-best-action recommendations via AI Agent Assist.
Auto Dialer Modes
Automated dialers (auto dialers) speed up lead list penetration and improve the sales call process by offering a variety of automatic outbound dialing modes.
Auto dialers eliminate manual dialing, automate TCPA compliance, filter out disconnected, busy, or no-answer phone numbers, and scrub lead lists. With auto dialing, agents are only connected to live leads that have answered their phone and are ready to talk to a representative.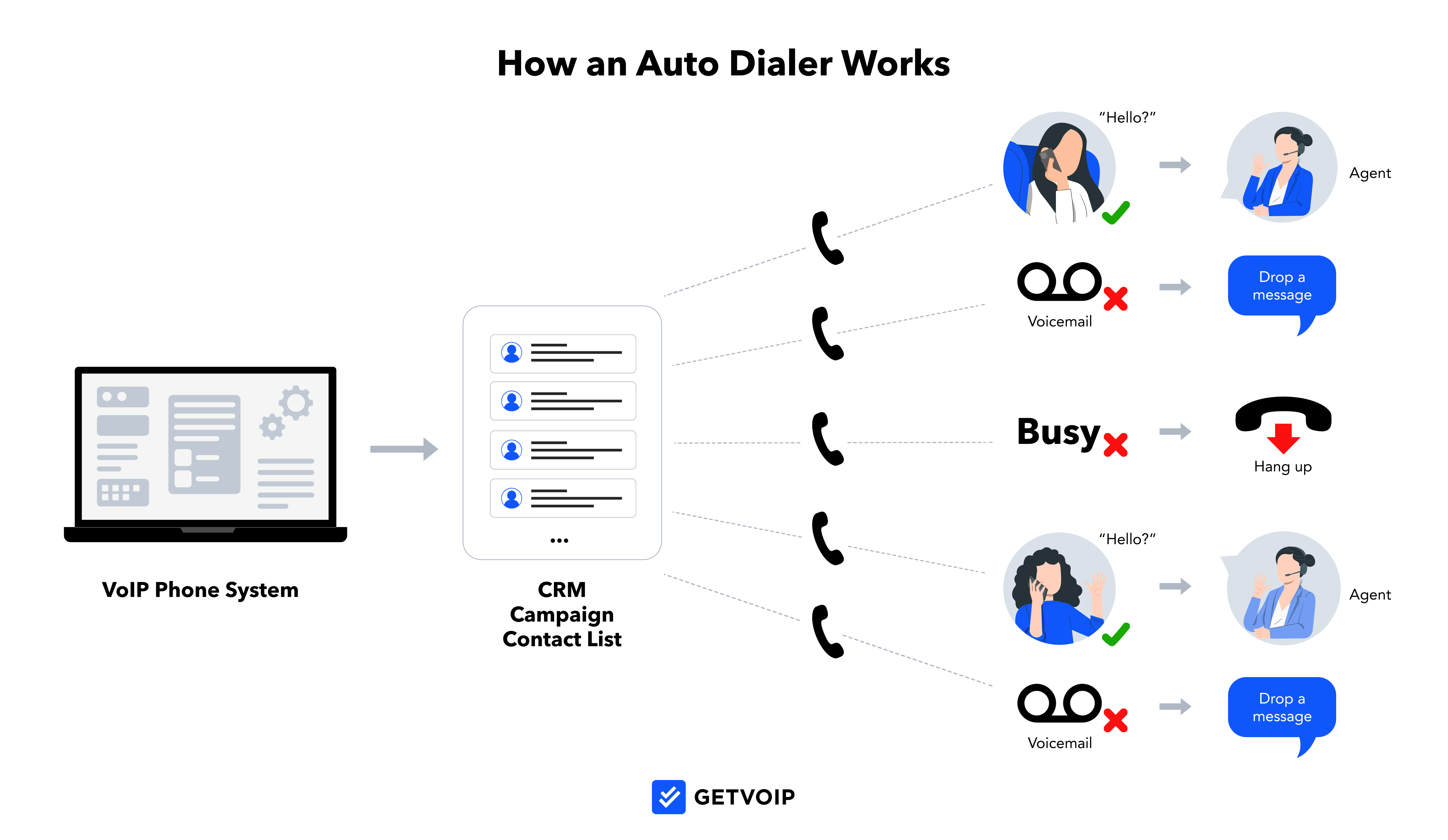 Managers can upload lead lists directly from CRM software and spreadsheets or create them in the campaign management interface. CTI screen pops to give agents in-call access to sales scripts, customer and account history, canned responses, and internal knowledge base data.
The main auto dialer modes are:
Predictive Dialer: Uses a pacing algorithm to estimate when to automatically place the next call according to current call volume, call lengths, etc., then places the next call while the agent finishes up the prior one. Agents may or may not be able to manually adjust the dialing speed themselves
Progressive Dialer: Uses CTI screen pops to display CRM data and call scripts on agent screens, counting down for a preset amount of time before automatically placing the next call
Preview Dialer: Like progressive mode, preview dialers display CRM data and call scripts via CTI screen pop before automatically dialing the next name on the lead list–but in preview mode, agents indicate when they're ready to initiate the call by pressing a button (no countdown/time limit on call prep)
Power Dialer: Automatically dials the next name on the call list immediately after the agent finishes the prior call, eliminating built-in After Call Work time
Interactive Voice Response (IVR) 
IVR (Interactive Voice Response) is a customer self-service feature that automatically plays a pre-recorded call menu or greeting whenever someone calls your business phone number.
Customers direct their own calls by speaking their response into the IVR menu or entering in corresponding numbers via phone keypad. The IVR auto attendant then forwards callers to ring groups, departments, individual agents, extensions, voice mailboxes, or call queues according to preset call paths, rules, or routing strategies.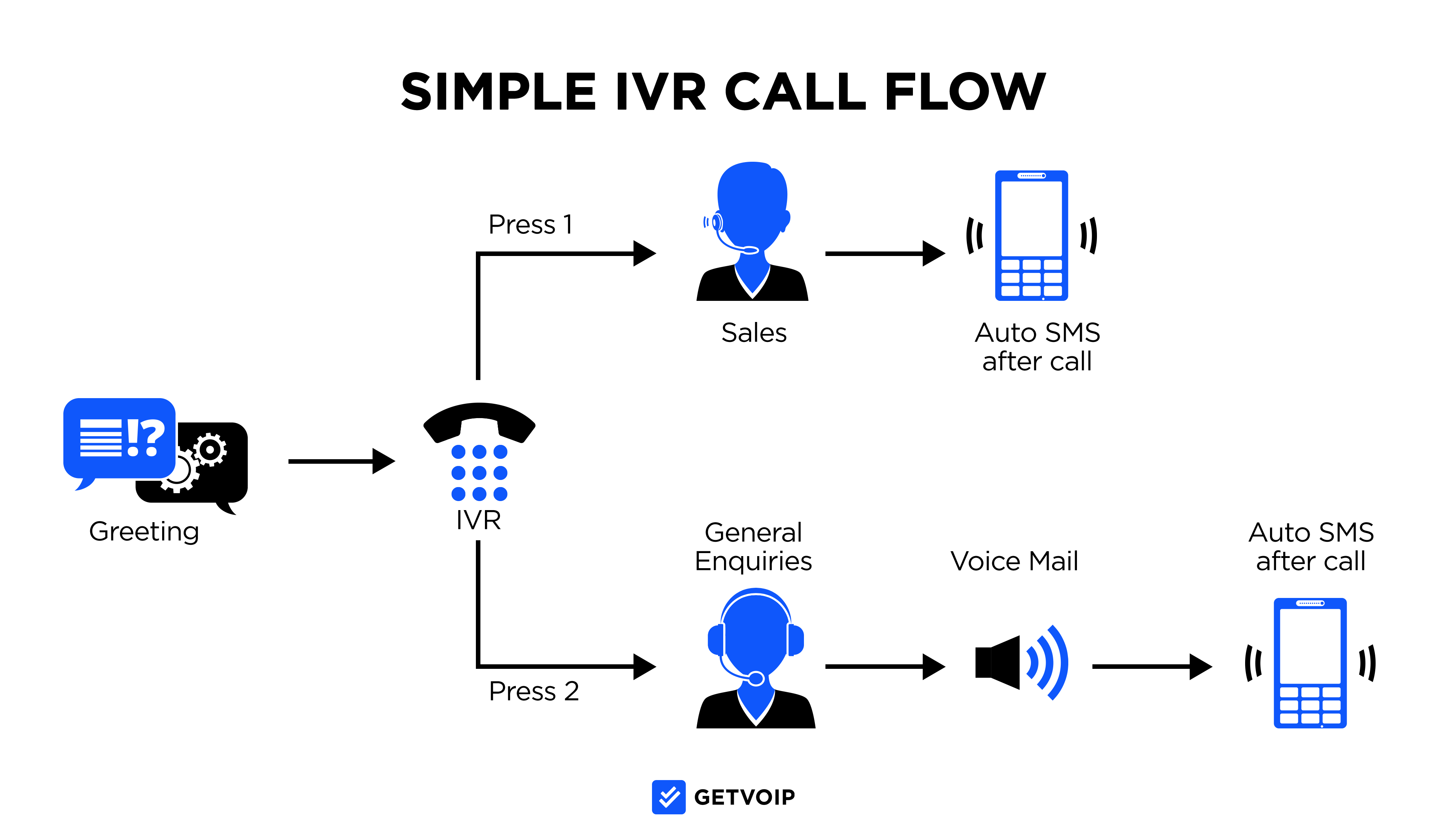 IVR systems also collect essential caller information like contact details, account numbers, or the reason for the call. If the caller needs to be transferred to a live agent, the IVR system displays all the collected information on the agent's screen–so the caller doesn't have to repeat themselves.
Some IVR systems may be able to automate entire customer interactions like bill payment, account balance updates, appointment scheduling, or order tracking.
IVR provides 24/7 customer service and keeps agents free to assist with high-level customer needs.
Users can design call flow and assign routing strategies via a drag-and-drop call path designer. IVR call paths can also be edited in real-time to adjust to sudden changes in call volume, agent schedules, or changes in business hours or rules.
Call Routing
Effective call paths and routing strategies eliminate long hold times, evenly distribute workloads among available agents, and increase first call resolution rates.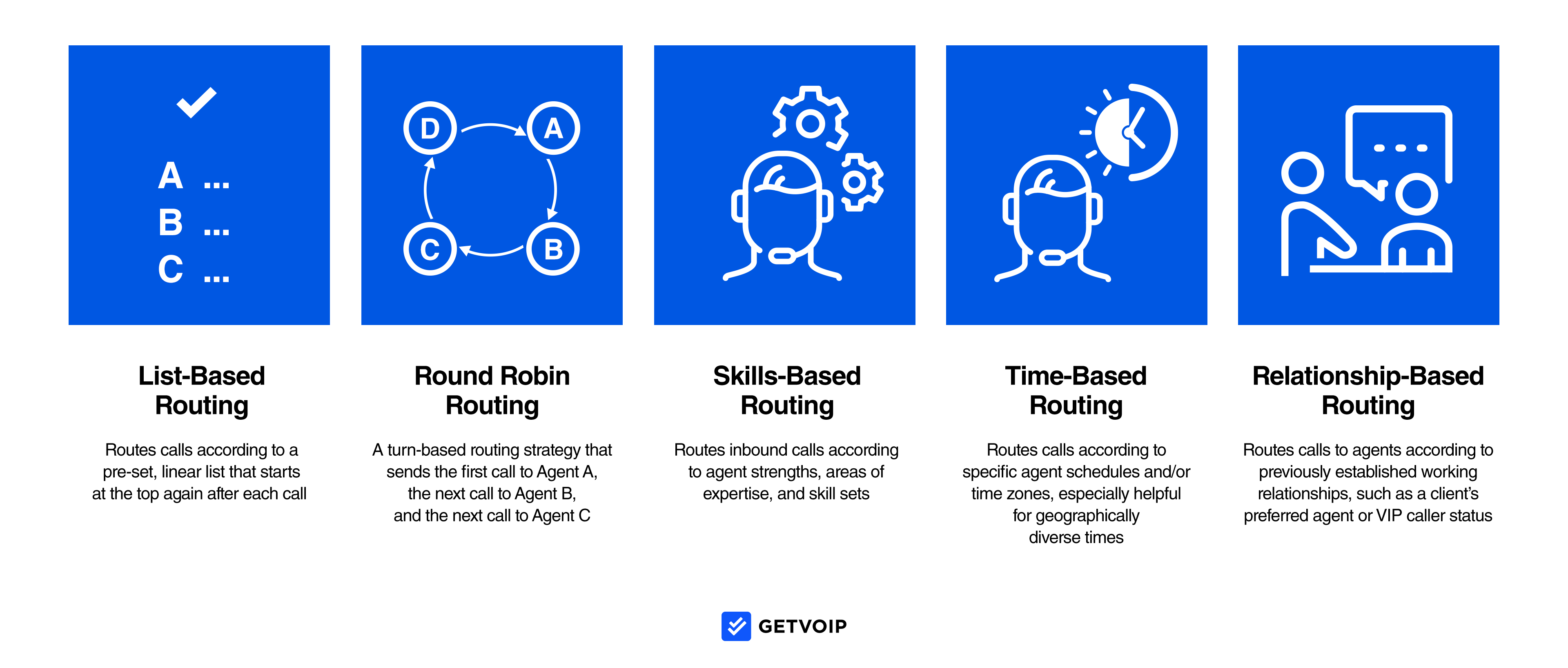 Most importantly, call paths ensure customers only speak to agents with the specific training and skills to help with their unique issue–eliminating the common customer frustration of speaking to unqualified agents.
Popular strategies to route calls include:
Skills-based routing
List-based routing
Relationship-based (VIP) routing
Round Robin routing
Time-based routing
Most Idle routing
Intelligent call routing
Language-based routing
Schedule-based routing
Call Monitoring and Analytics 
Computer Telephony Integrations enable real-time call monitoring and opportunities for in-conversation agent coaching by automatically alerting managers when key call center metrics drop below SLA standards.
Managers and supervisors can then instantly join the call to listen in, offer guidance via call whisper, or use call barge to take over the interaction for complete phone control. Many providers also allow managers to initiate in-call coaching via chat messaging with agents, making it easier to share canned responses or knowledge base articles.
Additionally, CTI collects data regarding agent performance, support quality, customer requests, and call volume in real-time to provide managers with a 360-degree overview of current call center activity.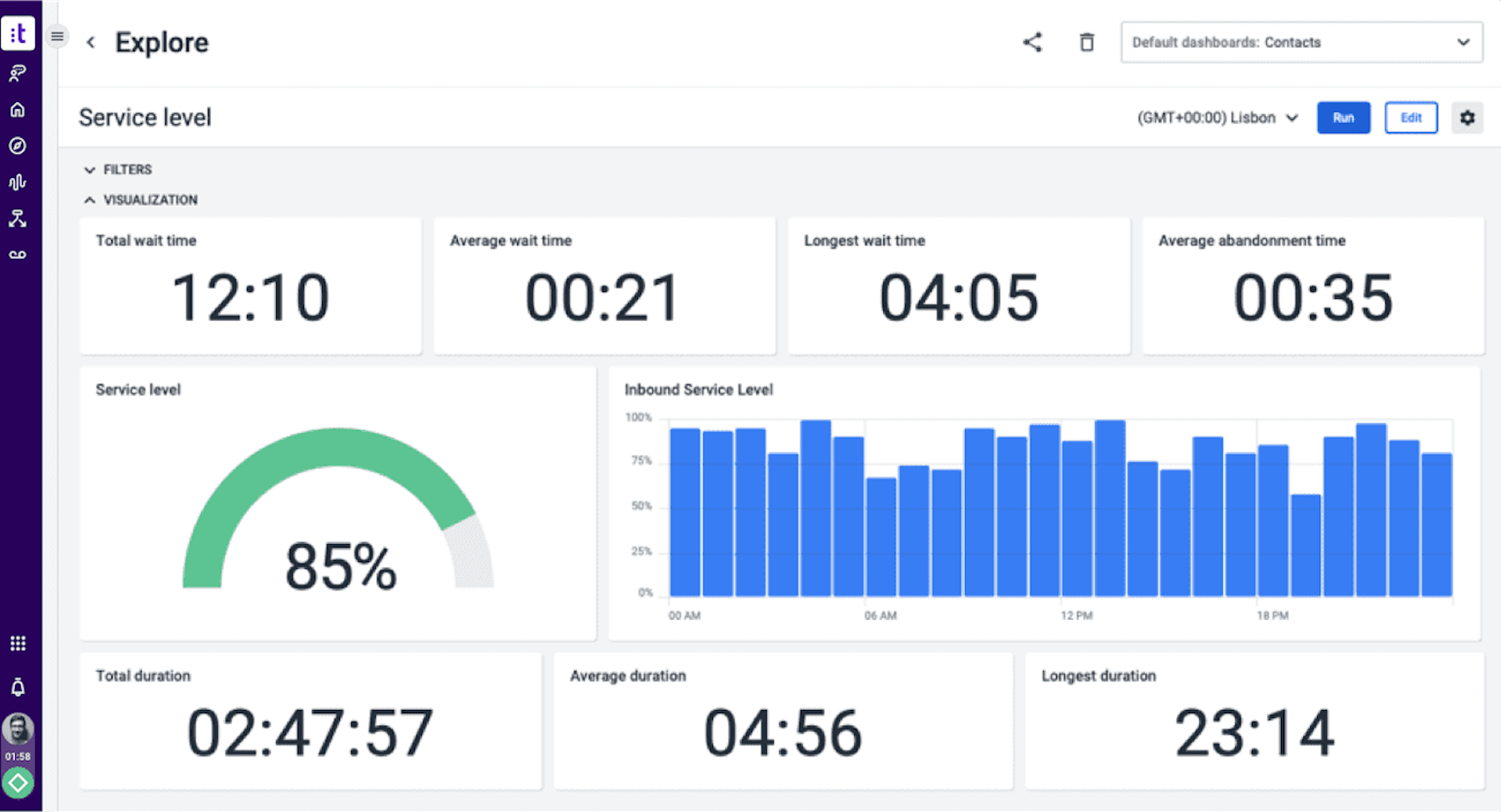 Real-time analytics allow admins to instantly adjust call flow paths, routing strategies, and call queues to better handle calls and meet customer needs.
Historical analytics identify trends in agent and customer activity, forecast and optimize agent schedules, highlight gaps in employee training, and offer insight into the customer journey and customer experience.
Popular call center analytics include: 
Call history and call logging
Percentage of calls missed, transferred, sent to voicemail, etc.
Average hold time and call queue lengths
Average Handle Time (AHT)
First Call Resolution Rates (FCR)
Call Abandonment Rate (Customer hang up rate)
CSAT and NPS Scores
Average call length and talk time
Agent presence (status) monitoring
Omnichannel analytics
Speech and text analytics (Customer sentiment and intent, popular support topics, etc.)
Customer feedback and survey data
The Top 5 Computer Telephony Integration Providers
Below, we'll outline the top CCaaS and business telephone system providers offering advanced CTI features.
Provider
Pricing
Top Features
Key Third-Party Integrations
Best For
RingCentral

MVP: 3 paid plans from $20-$35/user/month
Contact Center: 4 quote-based plans

RingCentral Video
Team Messaging App
IVR customer self-service
Outbound auto dialer

Salesforce, Zendesk, Microsoft Teams, G Suite, Outlook,, HubSpot, Dropbox, Slack, Asana
Teams looking for an easy-to-use, all-in-one UCaaS and business phone solution
NICE CXone
4 scalable quote-based plans

Agent Assist Hub
30+communication channels
Workforce Optimization
Smart Self-Service

Salesforce, Microsoft Teams, Zoom, Zendesk, GoToConnect, RingCentral, Zendesk, Oracle, Sugar CRM, ServiceNow
Enterprise-level contact centers with a high omnichannel contact volume
Genesys
5 paid plans from $75-$155+/month

Predictive Routing
Outbound Auto Dialer
Performance Gamification
AI Speech and Text Analytics

Salesforce, Adobe, Okta, Zendesk, Freshdesk, Oracle, Zoho CRM, Zappix, Feedback, Zoom
Remote call centers that need to automate outbound calls and require high-level third-party integrations
Aircall
3 paid plans from $30-$70+/user/month

Custom Call Routing
Live Activity Feed
Outbound Power Dialer
After Call Work

HubSpot, Salesforce, Zapier, Slack, Microsoft Teams, Monday.com, Zoho CRM, Zendesk, Heymarket, Intercom
Small businesses and startups needing a basic plan and an affordable call center platform
Nextiva

Business Communications: 4 plans from $18.95-$32.95+/user/month

Contact Center: 4 quote-based plans

Multi-level auto attendant
99.999% uptime with 24/7 customer support
Intelligent Routing
Workflow Automation Suite

Zoho, Salesfroce, HubSpot, Oracle, Zendesk, Microsoft Dynamics, Five9, Sugar CRM, NetSuite
Remote/blended teams needing an all-in-one business communication tool with advanced analytics and automation
What To Look For In A CTI Provider
While available third-party integrations are the most important aspect when choosing a CTI provider or virtual call center software, there are other key factors to consider:
Security Standards and Network Reliability: 99.99% minimum guaranteed uptime, network redundancy, end-to-end encryption, PCI, GDPR, and HIPAA compliance, regular risk assessment and penetration testing, automated backups, etc.
Customer Support: Installation and onboarding assistance, available support hours and communication channels (phone, live chat, email, etc.), priority support options, etc.
Scalable Pricing and Plans: Monthly and annual payment options, available a la carte individual add-ons, features included with each bundled pricing tier, overall value for money
Ease of Use: Intuitive interface, customizable agent dashboard, shared inbox, push notifications, personalized user training, on-demand tutorials/webinars, etc.
Available Features: Included call routing strategies, multi-level IVR, available communication channels, AI-powered speech analytics, workforce optimization and workforce management, quality monitoring, native team chat and CRM tools, etc.
Computer Telephony Integration FAQs
Below, we've answered the top CTI FAQs.