Though your business may not be ready for a full fledge small business phone system, you're concerned that giving out your personal cell phone number to business contacts makes your company look less established than it is.
You want a business-only telephone number, but you either don't need or can't afford the expense of toll-free or vanity numbers or advanced virtual telephony tools loaded with features you won't use.
The solution?
Using free business phone numbers.
Compare VoIP Number Providers Starting at
$10/mo
This way, you'll get all the benefits of an advanced office phone system without all the equipment, complex setting process, and added costs.
But what can — and can't — you expect from platforms offering free VoIP numbers?
Read on to find out.
What Are Free VoIP Phone Numbers?
Free VoIP phone numbers provide users with an additional phone number that is separate from their office, home, or personal cell phone numbers, powered by voice over IP software.
Free virtual VoIP phone numbers save you the hassle of a complex sign-up process with a paid VoIP system and prevent you from the time-consuming process of having to add another landline.
Free VoIP phone numbers will only include limited basic VoIP features, such as:
Incoming and outgoing calls within the United States
Text messaging over WiFi
Voicemail
Call forwarding
Call blocking
Caller ID
Because these VoIP numbers let callers make and receive calls and texts over an Internet connection as opposed to via the PSTN network, calls within the United States (and usually, Canada) will be free. International calling will be charged according to location/carrier rates.
Free VoIP numbers offer local presence, but do not provide free 1-800 commercial/toll-free numbers.
The Pros and Cons of Free VoIP Phone Service
Of course, the biggest benefit to free VoIP phone service is that, well, it's free.
That being said, when you shop by price for any kind of business communication tool or phone service, the features, quality of service, and customer support may leave much to be desired.
However, for small businesses, startups, and small teams of under 5, free VoIP numbers may provide everything they need at the moment. In general, these numbers are best seen as either temporary business phone solutions or purely alternative numbers to personal phone lines or main business lines.
The below table outlines the main pros and cons of free VoIP numbers.
| | |
| --- | --- |
| Pros | Cons |
| Alternative to giving out your personal phone number | Can only choose local phone number prefixes, not toll-free or vanity numbers |
| Unlimited calling in the United States over wireless networks | Limited features of free plans often require upgrades to paid solutions |
| Simple and familiar features mean a clean and user-friendly interface | Freemium plans can bombard users with ads and upgrade offers |
| Helps your newer business to appear more established via its own phone number | Some free number plans may not be compatible with your mobile devices |
Top Free VoIP Phone Number Providers
Below, we've evaluated the features and functionalities of the top free business VoIP number providers.
In order to make the list, the providers had to meet the following criteria:
Offer at least one completely free plan, in addition to at least one paid offer
Offer unlimited WiFi calling
Offer at least one additional communication channel (video calling, text messaging, etc.)
Offer call forwarding
Allow users to communicate on either multiple devices or multiple carrier networks
The free VoIP phone service providers are:
Google Voice
Google Voice is easily the most well-known free business phone number provider, offering free calls within the United States.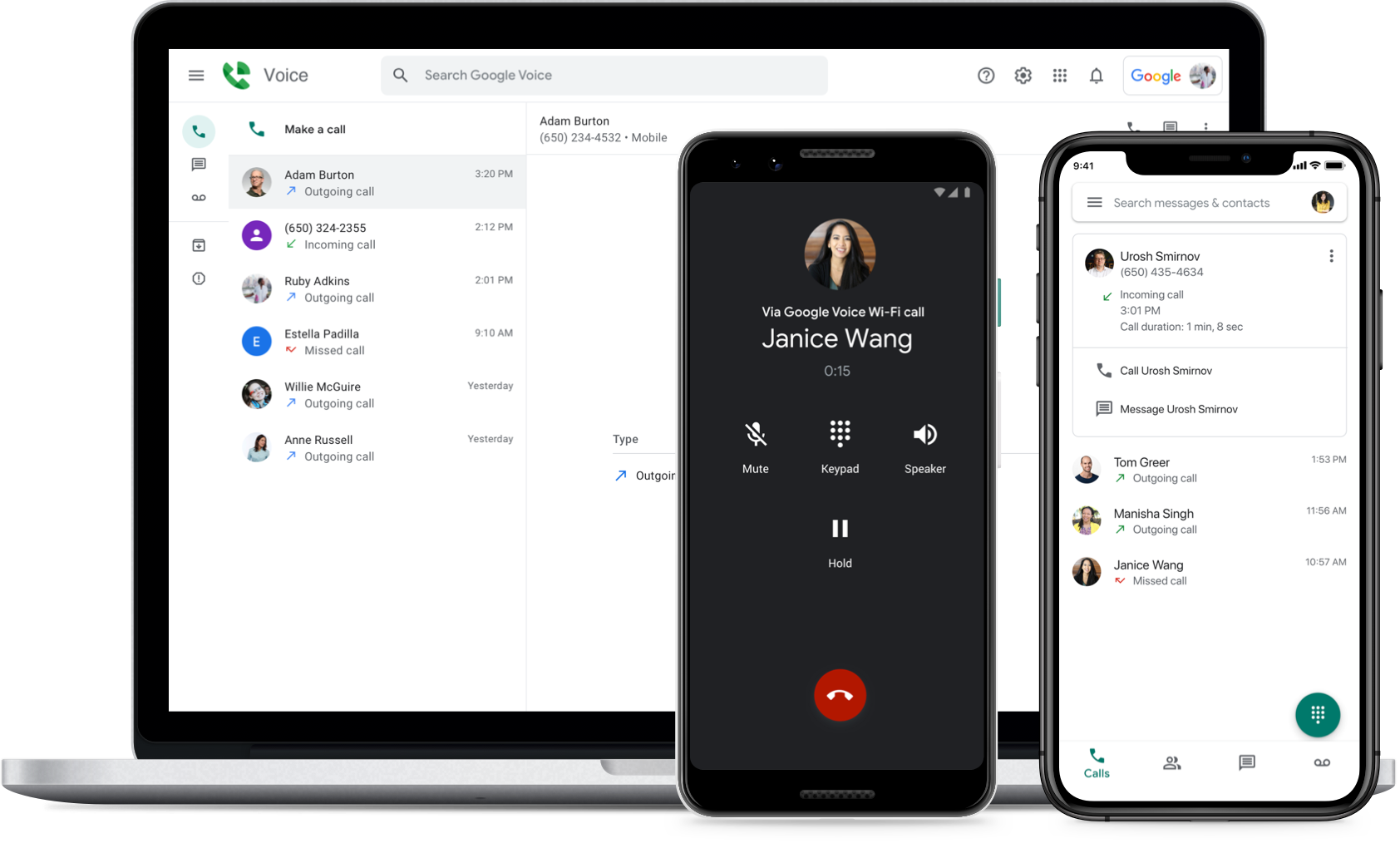 The cloud-based solution allows users to make/receive calls on their Google number from smartphones and web browsers, meaning it's a portable system.
In addition to phone calls, Google Voice users can also send/receive SMS text messages, set up voicemail, and forward calls to multiple devices so that every number rings simultaneously. This means when someone calls your Google Voice number, linked numbers like your personal Android or Apple cell phone, your home phone, or your office phone will all receive the call at the same time.
With Google Voice users can select free VoIP numbers with local area codes, but it doesn't offer free vanity or toll-free phone numbers. Note that Voice also doesn't allow for free international calls or texting unless you're connected to a Wi-Fi network (international credits can be purchased on the Voice website.)
One of the top features of Google Voice is its free voicemail transcription. This is especially useful for those who receive a high number of incoming calls each day, and need to be able to prioritize callbacks.
In order to create a Google Voice number, you must have a Gmail or Google account.
Google Voice's free plan offers additional features like:
Call blocking and spam filtering
Searchable calls and text messages
Free audio conferencing with up to 4 people
Voicemail-to-email
Do Not Disturb
Google Voice also offers paid business telephone number plans, ranging in price from $10.00/user per month to $30.00/user per month.
Best For: Google Voice is best for sole proprietorships or local small businesses that want to avoid having to handle business phone calls on their personal phone lines. Voice users don't need extensive VoIP phone features, relying mainly on basics like voicemail and texting to communicate with other team members and clients.
FreedomPop
FreedomPop is a free VoIP phone number provider that allows users to keep their existing phone numbers or select a new one.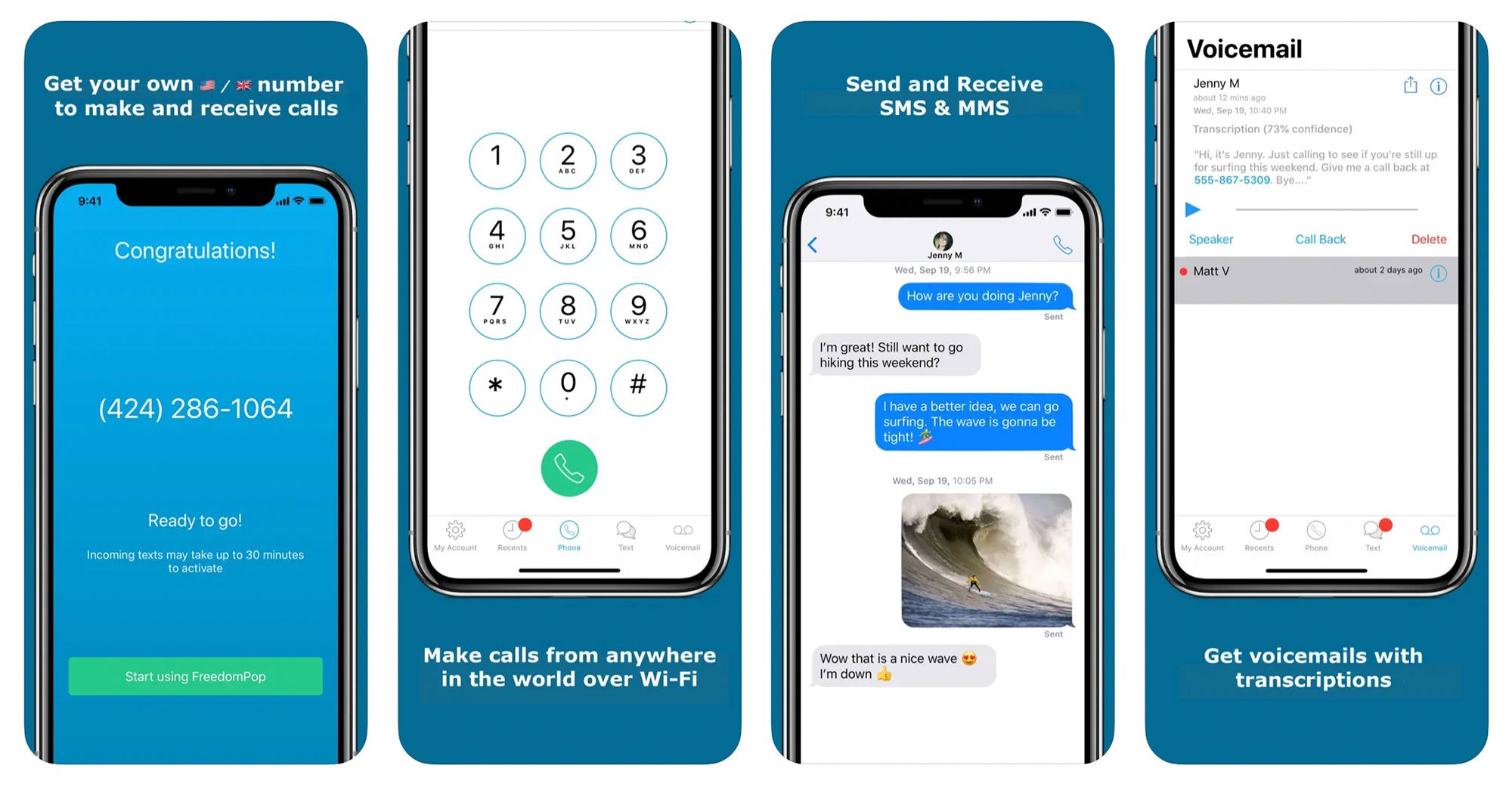 Its free plan offers unlimited free WiFi calling and 25MB of 4G LTE data per month, so it's ideal for SMBs that use WiFi as opposed to cellular data to make calls/access the Internet. The free version also includes 10 free text messages sent over cellular data networks, and free unlimited texting over WiFi.
FreedomPop is unique in that users must order a preloaded SIM kit from FreedomPop, which costs $10.00 and can be inserted into almost any phone. Once the SIM card arrives, users can activate their FreedomPop accounts online.
As of this writing, voicemails are not included with the FreedomPop free plan, and cost $2.49/user per month to access.
FreedomPop has paid voice bundle plans from $15.00/user per month to $35.00/user per month. It also allows users to purchase Apple iPhones on their website.
Best For: FreedomPop is best for small or new businesses that want to be able to keep their existing phone number on a free virtual phone platform. Teams that plan to use their business phone number for streaming or general Internet browsing should avoid FreedomPop, as 25MB of data translates to only about an hour per month. Companies or sole proprietors that will benefit from FreedomPop are those that don't plan to do much texting or talking on their FreedomPop number, but still want to be able to provide an alternate business phone number to those that ask.
2ndLine
2ndLine is a VoIP number provider offering free calling and texting within the United States and Canada.

Unfortunately, as of this writing, 2ndLine is available only to Android users, not iPhone users.  This means that for many, 2ndLine is automatically ruled out.
But if you are an Android user, you'll benefit from included free features like free local phone numbers, free MMS and SMS text messaging and the ability to send emojis, stickers, GIFs, and caller ID.
2ndLine's free plan also lets you create and add text signatures, set up call forwarding, and create customizable backgrounds and ringtones for individual contacts and groups. It even offers free voicemail transcription, quick pre-set text responses, and Google SmartLock and Passcode for added security.
But with all of these features offered for free, there is one major catch: near-constant, often-overwhelming "freemium" ads. If you can stand to see endless streams of ads in your text message threads and your overall calling interface, then you'll benefit from the robust free features — but be warned, they do come at a price.
An ad-free experience is available from $4.99/user per month to $69.99/year.
Best For: 2ndLine is best for Android users that need free VoIP numbers that they rarely access, but will provide to specific contacts/leads that they likely won't have a long-term business relationship with (and if they do, they'll provide them with another phone number to contact them on.) It's also a good option for small business owners and employees that aren't sure which paid business phone number features they need yet, and want to be able to add them one-at-a-time on a highly scalable basis.
TextNow
TextNow is a free texting and calling and mobile app offering nationwide hybrid WiFi and cellular service powered by ads.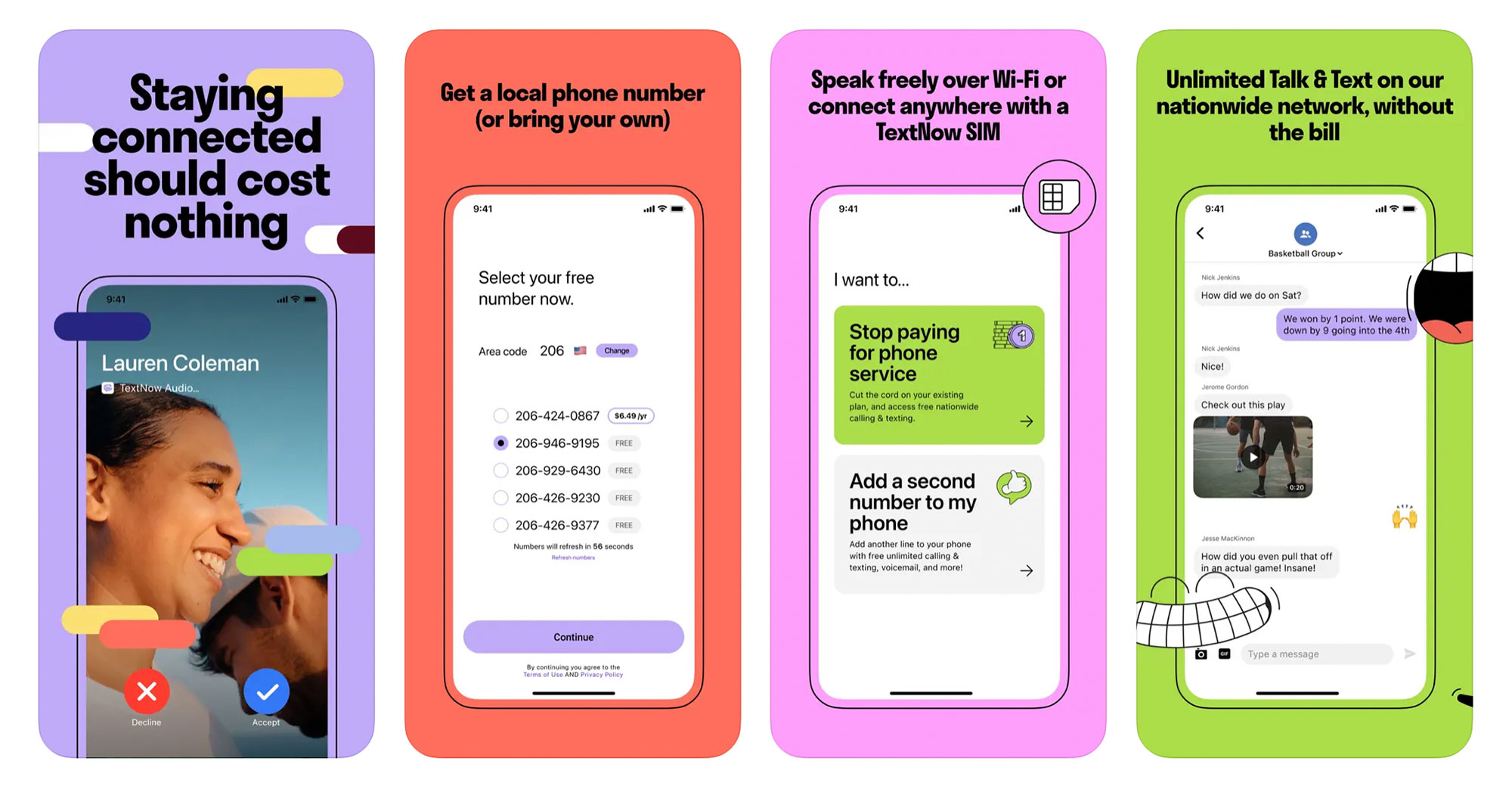 Users can make/receive free calls over their WiFi networks or use TextNow over the Nationwide Sprint Network for unlimited talk and text.
Like 2ndLine, (which is powered by TextNow) TextNow also requires users to purchase a SIM card for $9.99 to activate their TextNow phone numbers. Also, like 2ndLine, expect to encounter a good number of ads when using TextNow — which can be a turn-off for some users.
Users can access their TextNow number on Apple iOS iPhone and Android smartphones, desktop computer softphone apps, or tablets.
Features of the free plan include:
MMS/photo sharing
Voice messaging (record/send voice messages in lieu of texts)
Emojis
Voicemail
Local presence area code
Number blocking/unblocking
Caller ID
Three-way conference calls
Group text messaging
Conversation exporting (Android only)
An ad-free experience can be purchased for $9.99/month, and it also includes voicemail transcription and unlimited photo and video history. Users can also add 2GB of high-speed data and data hotspotting — along with an ad-free experience — for $19.99/user per month.
Best For: TextNow is best for small business owners/employees that have an existing mobile phone they are no longer using that they'd like to use exclusively for handling calls and texts to/from their business phone number with TextNow. It's also ideal for SMBs that have a higher call volume than other businesses exploring free phone numbers usually do, as well as those needing three-way calling and group texting.
Should You Use a Free VoIP Number?
Though free VoIP phone numbers have their advantages, their limited features mean that as your business grows, you may need to upgrade to a paid business phone solution.
Compare VoIP Number Providers Starting at
$10/mo
Paid PBX and business VoIP providers plans offer advanced features like auto-attendants, advanced call routing, automatic dialing, CRM integration, and Interactive Voice Response (IVR.) Plus, there are plenty of VoIP providers offering low-cost, scalable pricing and plans.