8×8 provides cloud-based Voice over Internet Protocol (VoIP) services to more than 1 million businesses in 160 countries. With reliable service and low monthly costs, 8×8 gives customers unlimited calling in the United States and Canada, video conferencing, team messaging, and file sharing.
Still, the platform isn't a fit for everyone, especially SMBs needing more consistent support availability or teams unfamiliar with API Integrations.
In this article, we take a close look at the best 8×8 alternatives, their pricing and plans, user experience, and the features that make each solution unique.
The Best 8×8 Alternatives
Nextiva offers a robust cloud-based VoIP service perfect for fully remote or blended medium-to-large-scale teams looking for a Unified Communications solution appropriate for both sales and support agents.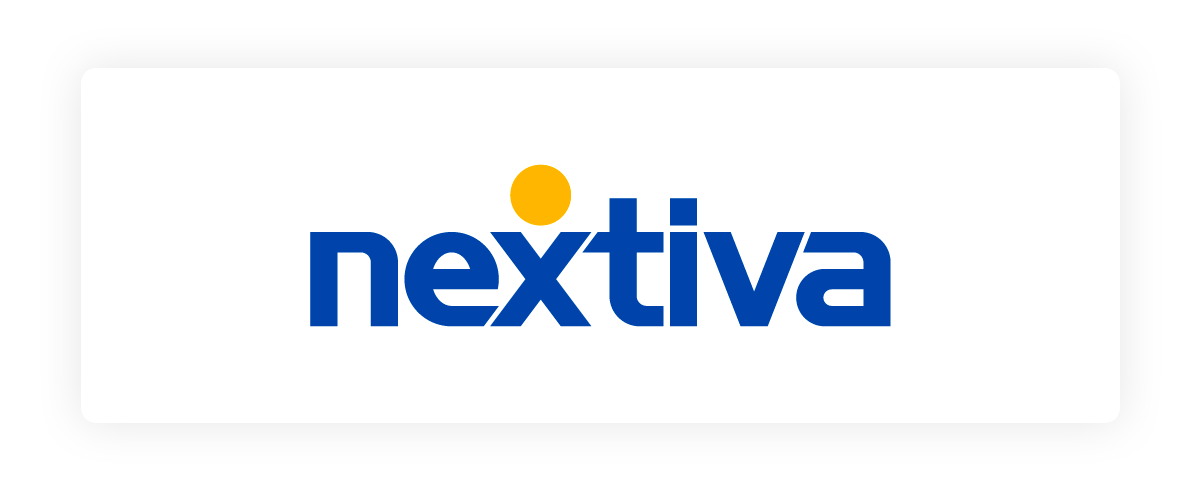 Though Nextiva offers high overall quality and a range of capabilities, the price may scare off some smaller companies.
Another downside is that Nextiva does not offer unlimited video conference calls at its lowest tier, forcing customers to upgrade their plans to a more expensive option or rely on an outside provider.
Still, Nextiva excels thanks to its messaging, customer engagement, CRM, and collaboration features, unlimited calling within the US, and unlimited Internet fax (something 8×8 offers only on its higher-tiered plans.)
Nextiva Features
Unified Communications: Provides a comprehensive unified communications suite including VoIP, video, and chat. Along with desktop communications, Nextiva offers a well-reviewed mobile application that lets users take their conversations with them.
Call Pop: Nextiva CallPop provides deeper insights on your screen after you accept a call, including information such as past interactions, responses to survey, and more, in real-time. CallPop is included with all plans under the company's Business Phone Service.
Additional Features:
TLS/SRTP encryption
Unlimited calling
Voice and video calling
SMS/MMS
Call routing
Advanced voicemail
Nextiva Pricing
The below image shows current Nextiva pricing and plans.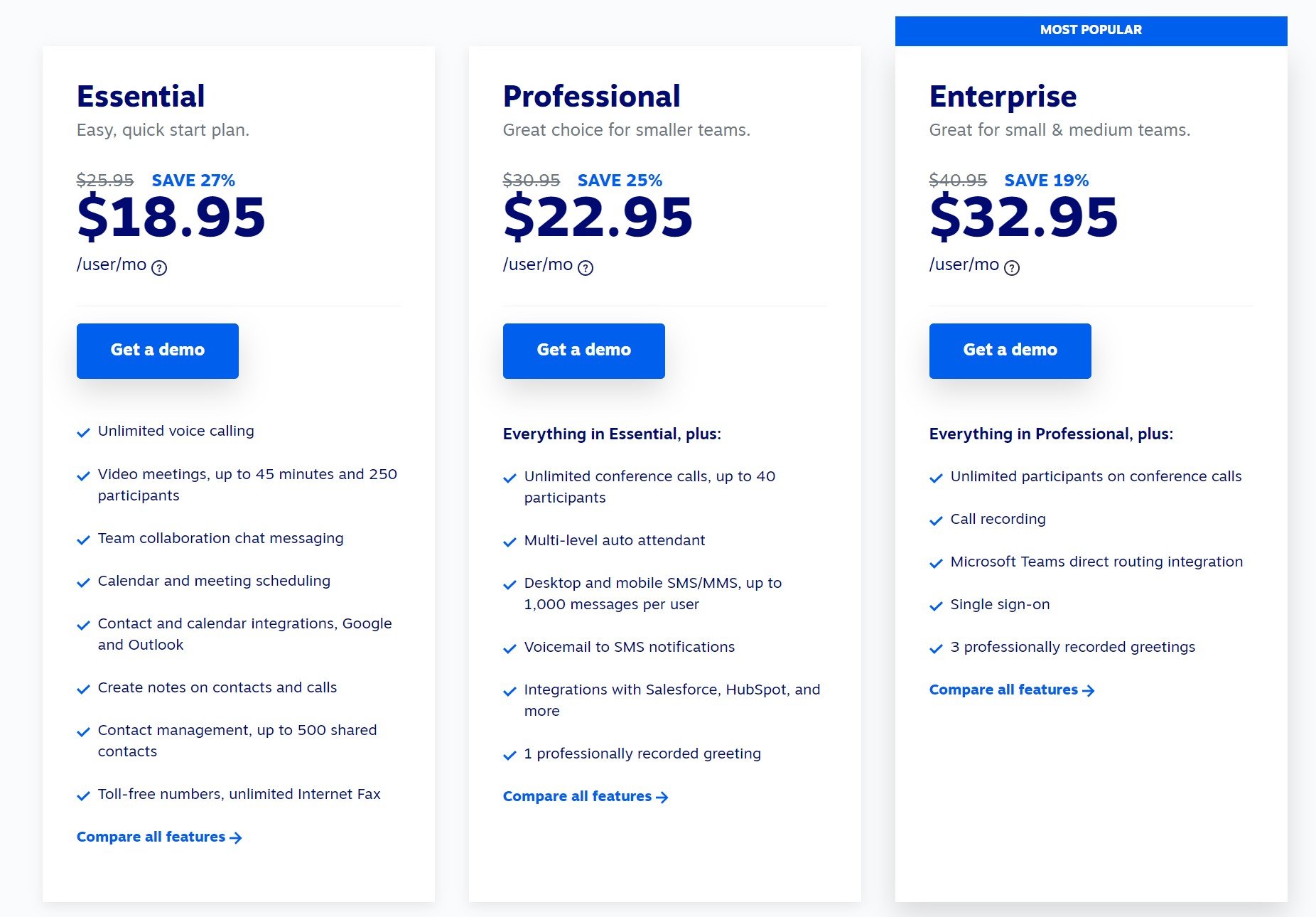 Our complete breakdown of Nextiva pricing and plans can be found here.
| | |
| --- | --- |
| Nextiva Pros | Nextiva Cons |
| Offers 24/7 support | Base plans cost more than competitors |
| Integrates easily with existing hardware | Some common features like SMS are not available with base offerings |
| Works seamlessly with existing customer management and customer relationship platforms | Requires at least a three-year commitment to get the best prices |
Dialpad is a UCaaS solution offering customers unlimited scalability on a platform designed for mobile workforces.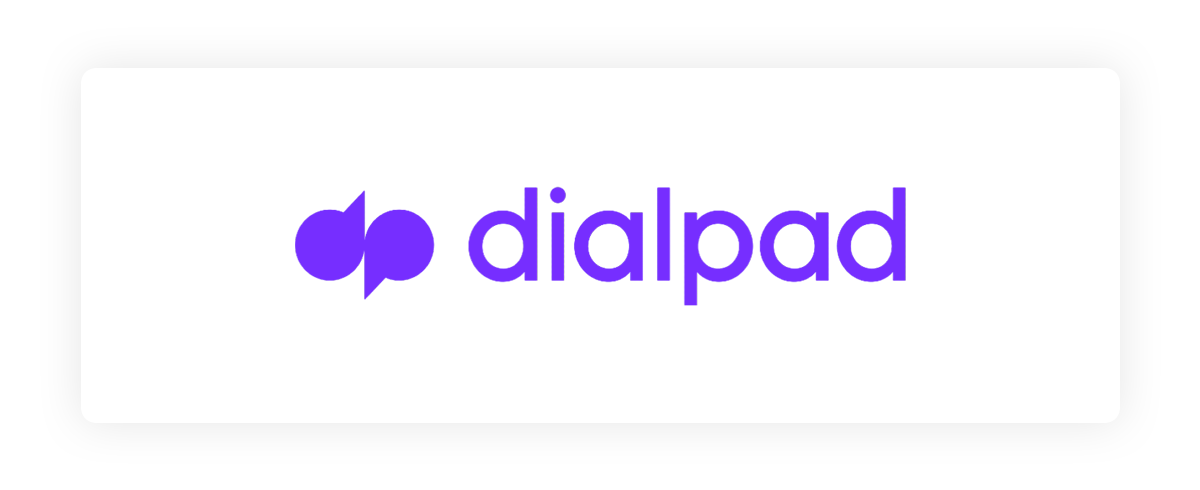 Dialpad provides virtual business phone numbers for offices, departments, and teams, regardless of where they operate. The platform is also known for its straightforward, user-friendly interface that unites voice calling, AI-powered analytics, team chat messaging, and video meetings via Dialpad Meet.
More than 7,000 customers trust Dialpad including brands such as Uber, HubSpot, Motorola, WeWork and Splunk.
Check out our detailed breakdown of Dialpad pricing and plans for more information.
Dialpad Features
Strong Integrations: Integration with HubSpot, Intercom, Microsoft Teams, Salesforce HighVelocity Sales, Slack, and Zendesk, among others. Dialpad offers an open API and Zapier integration as well to sync any platforms it currently does not support.
No Hardware Needed: Dialpad integrates with a wide range of devices from smartphones, laptops, and tablets. Users only need to download and install the Dialpad app to get started. The company aims for speed as well, making it easy for customers to sign up in less than 15 minutes.
Call Confidence: Dialpad runs on the Google Cloud Platform. The service is always on and provides a consistent connection. Dialpad also lets users route incoming calls through custom configurations. This ensures customers reach the right person every time.
Additional Features:
Call transcription
Device switching
Company directory
Toll-free numbers
Do not disturb
Dialpad Pricing
The image below outlines current Dialpad pricing and plans.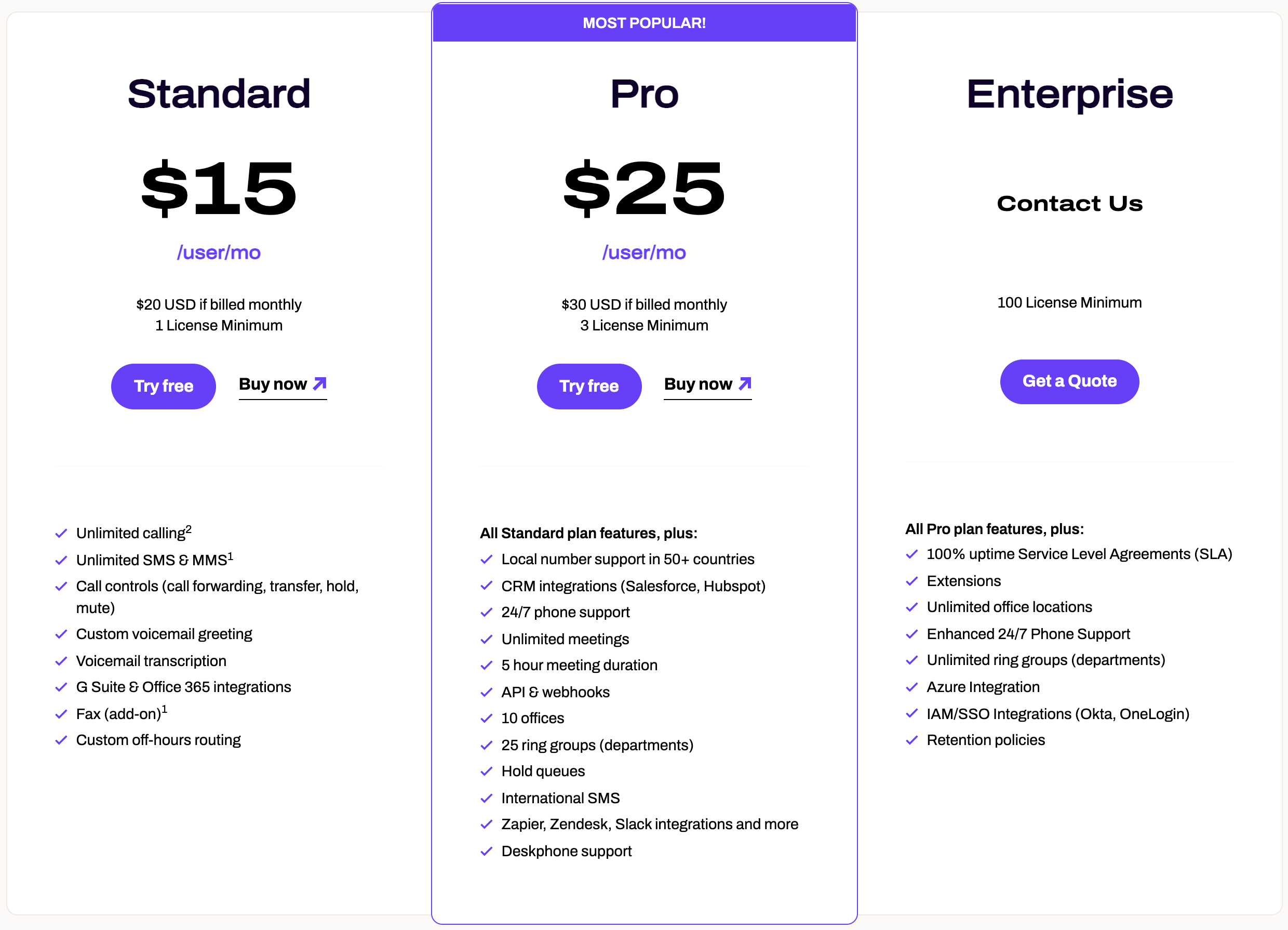 Dialpad offers three plans with the Standard and Pro options make strong choices for smaller businesses. The Standard plan only requires a single license while the Pro plan requires just three. These are strong options for startups and emerging companies. However, Dialpad can quickly scale up as well with its Enterprise plan offering diverse features for larger firms.
| | |
| --- | --- |
| Dialpad Pros | Dialpad Cons |
| Voice Intelligence feature uses artificial intelligence to highlight actionable call content | Product aimed at small and medium-sized businesses without strong options for enterprise users |
| Well-reviewed call center and customer service | Limited ability create customized reports |
| Syncs easily with popular platforms such as Google and Microsoft | |
One of the most well-known business VoIP providers, RingCentral has established itself as a leader in the market. Its MVP (Message, Video, Phone) application provides a robust, redundant, and reliable platform that has numerous features.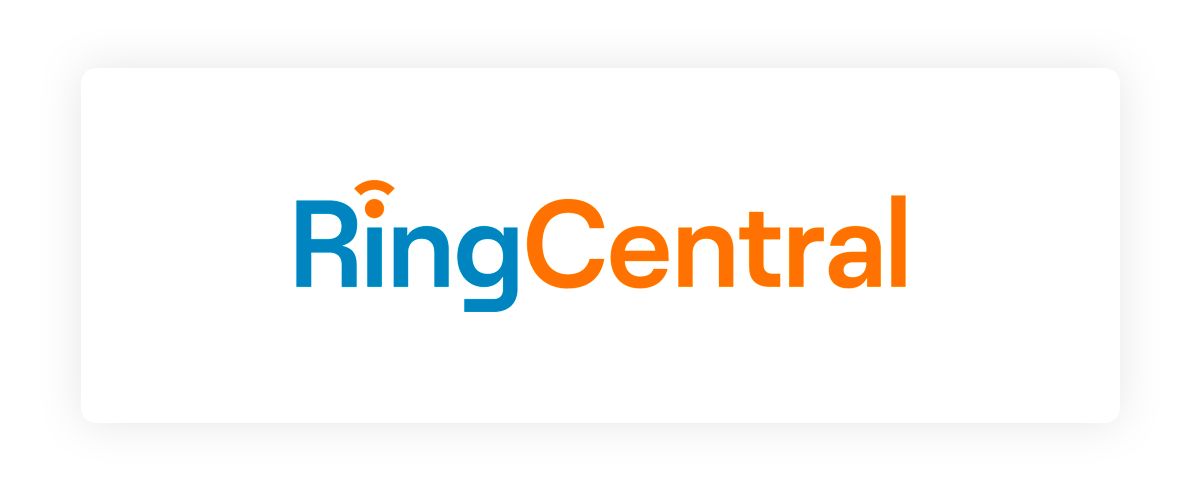 For more than a decade, RingCentral has offered small and medium-sized businesses phone features previously available only to the largest and richest companies.
RingCentral has consistently been named as a Gartner Magic Quadrant Leader in the unified communications space and is trusted by more than 400,000 companies.
Check out our breakdown of RingCentral pricing and plans to learn more.
RingCentral MVP Features
Live Transcription: A feature introduced just last year, Live Transcription uses artificial intelligence to transcribe calls and meetings during the call. This is perfect for people who are late to a meeting and want to quickly catch up with disrupting the conversation.
Team Huddle: Tired of setting up meeting after meeting? Team Huddle is an always-on video feature that allows team members to join quickly as needed. It's a great platform for quick group conversations, office hours and live Q&As with company leadership.
Breakout Rooms: Similar to Team Huddle, Breakout Rooms allow for team members to divide off into private conversations without setting up a new meeting invite. This is great for large company meetings or when a small group of employees need to have a side conversation.
Additional Features:
Unlimited 1:1 meetings
Whiteboarding
Annotation
Private and team messaging
RingCentral Pricing
The below image outlines current RingCentral MVP pricing and plans for 2-20 users.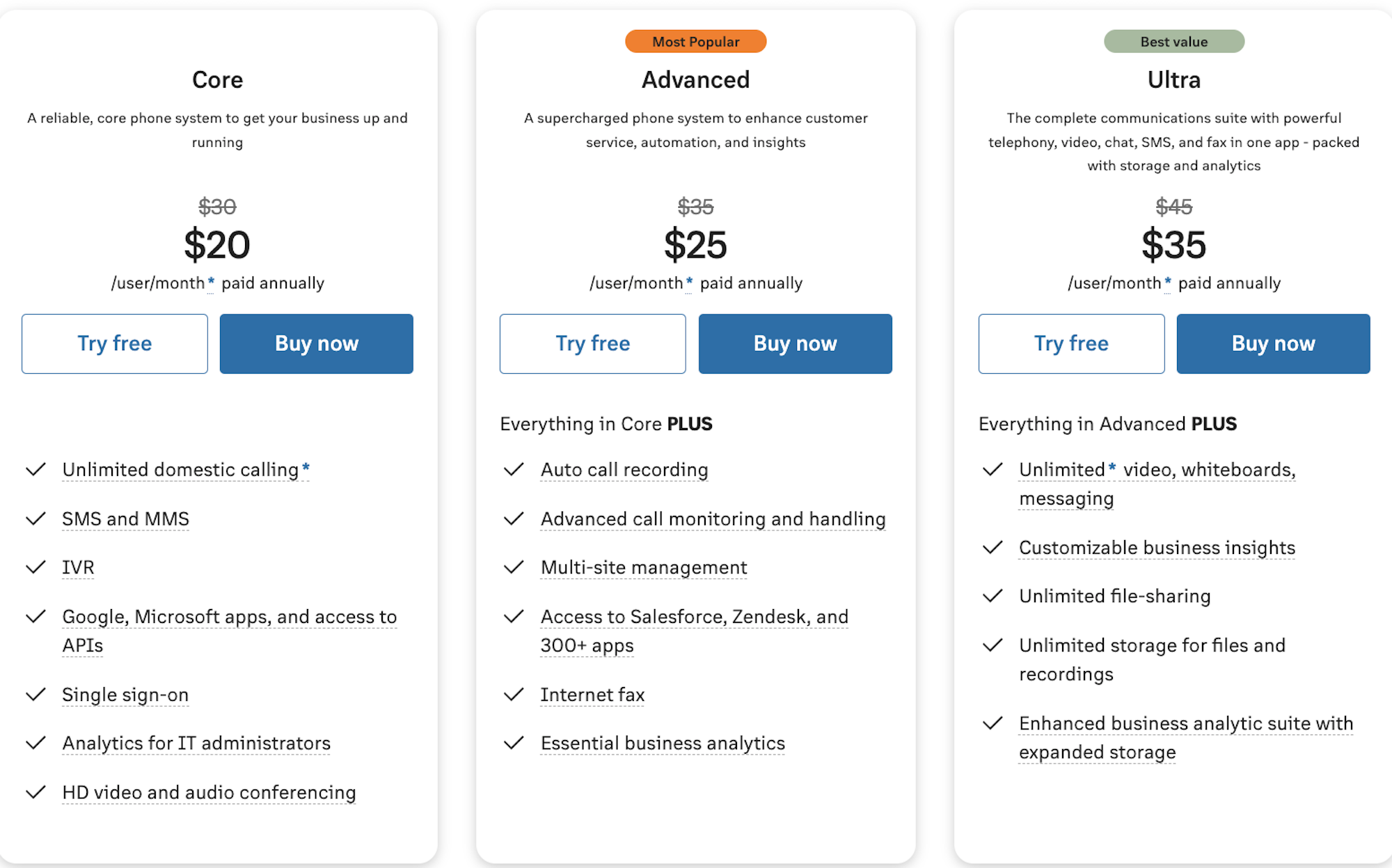 RingCentral MVP offers 3 plans intended for different-sized businesses. RingCentral also offers several paid add-ons that include:
Additional Toll-Free or Local Number for $4.99 per number per month
Vanity phone numbers for a one-time fee of $30
Additional International numbers for $5.99 per number per month
High volume SMS for $0.007 per message
RingCentral Rooms License for $49 per user per month or $468 for the full year
| | |
| --- | --- |
| RingCentral Pros | RingCentral Cons |
| Infrastructure throughout the US, Europe and Asia | Core plan has limited analytics |
| Deep feature set for VoIP, Video, and collaboration | Limited ability to create customized reports |
| Multiple optional applications for customization | Each user's text allowance is capped |
Vonage offers a cloud-based phone system that saves customers an average of 36% off their business communications bill.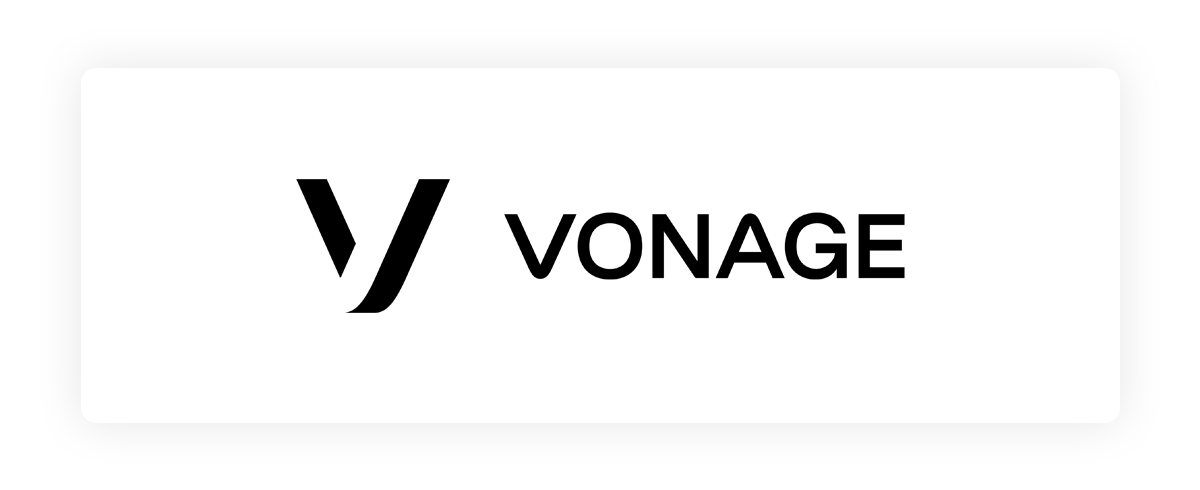 However, this cost savings doesn't mean the system is stripped down. Vonage offers more than 50 calling features aimed at providing robust communications options with intuitive technology. Vonage includes a wealth of integrations with popular tools such as Salesforce, MicroSoft Dynamics, G Suite, Zendesk and Zoho. It's a great choice for businesses of all sizes.
Check out our Vonage review for more information.
Vonage Business Features
Vonage Business Cloud: The company's mobile app can be downloaded from either the Google Play or Apple stores. It's simple to set up and easy to use. It includes capabilities such as call ID, individual hold music, call flip and a visual inbox to see messages transcribed on your screen.
Visual Voicemail: Vonage's Visual Voicemail offering provides information on each call such as ID information, time of receipt and the data, along with the audio message. This makes managing voicemail much easier as it reduces the time needed to retrieve and review messages.
Call Flip: Mentioned as part of the Vonage app, Call Flip provides an invaluable service for workers on the move. If a user is on a call on their desktop, but needs to physically move, the call can be forwarded to their mobile instantly without being disconnected. The reverse is also true, so users can pick up a call while on the move, then switch it to their desk to take notes and look up information on the spot.
Additional Features:
Call Hold
Caller ID
Multiple Devices on One Extension
Click-To-Call Me
Spam Shield
Vonage Pricing
The below images outlines available Vonage Business pricing and plans, which are available from 1-1,000 users.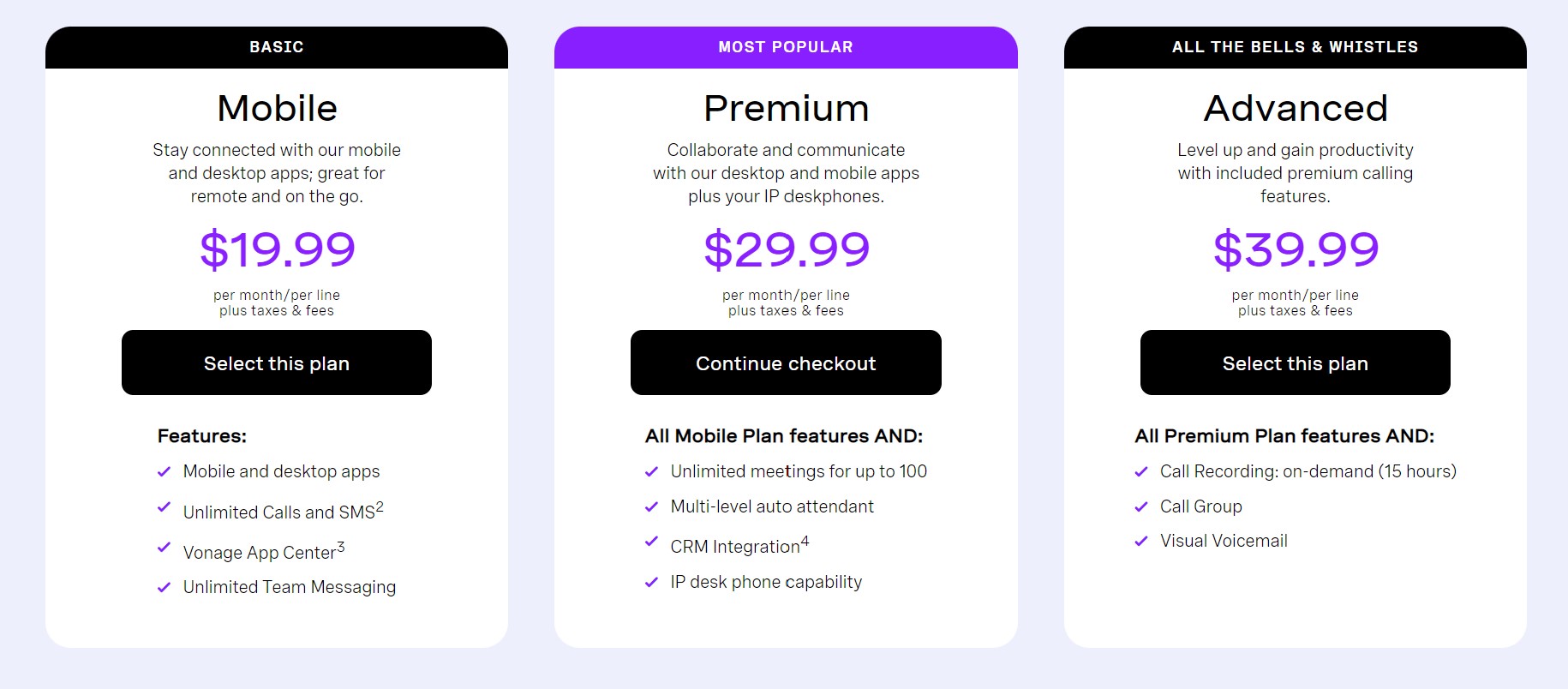 Note that Taxes and fees are not included in the published pricing. and there is a 14-day trial that is available for businesses to try the phone service before committing.
| | |
| --- | --- |
| Vonage Business Pros | Vonage Business Cons |
| Even basic plan includes unlimited calling and SMS | Many of the most popular features are only available in paid plans |
| Company offers CMS integration starting with its premium plan | Toll free numbers cost extra |
| True 24/7 support | |
Known for helping small businesses, Grasshopper has positioned itself for one-person businesses or people who want a separate line for their side hustle.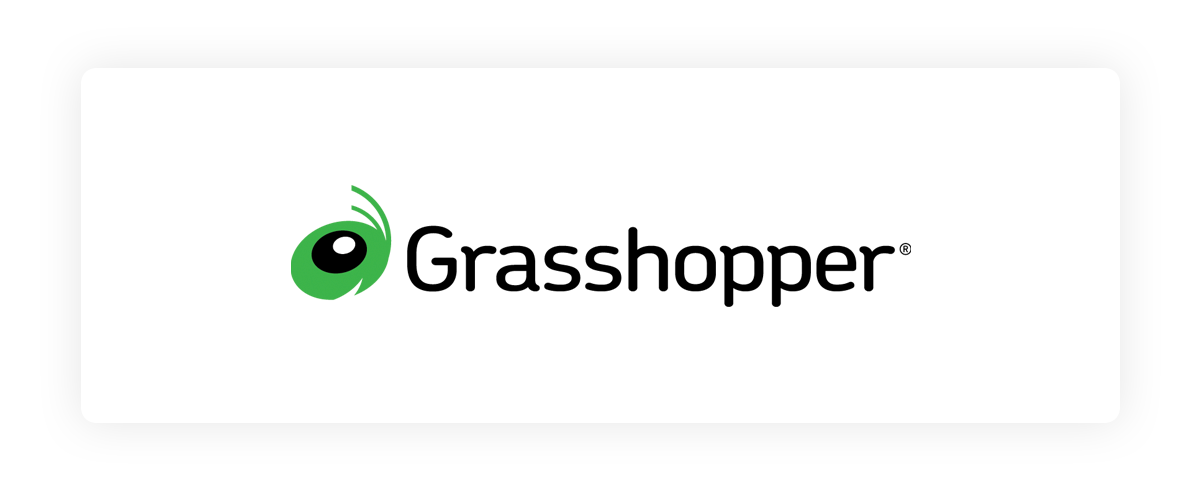 That's not to say Grasshopper's solution lacks traditional bells and whistles. The company offers a full virtual phone system with features like voicemail transcription, call forwarding, texting and mobile and desktop application access.
Check out our Grasshopper review for more information.
Grasshopper Features
Individual Lines: Users can make calls from a smartphone or computer they already use, creating a separate line to distinguish between business and personal calls.
Ruby Receptionist: This tool is Grasshopper's US-based receptionist service, which helps small businesses look more professional and impress clients. Receptionists can greet callers with a personalized message based on your instructions.
Incoming Call Control: Screen callers, block calls and set up custom schedules that align with business hours. This ensures you only answer important calls along with creating boundaries for when your business operations.
Additional Features:
Voicemail transcription
Simultaneous call handing
Business texting
Virtual fax
Call transfers
Grasshopper Pricing
The below image outlines current Grasshopper pricing and plans.

Grasshopper charges users $28 per month for its Solo plan. That includes one number and three extensions. All Grasshopper plans include mobile and desktop apps, business phone numbers, business texting, call forward, VoIP and WiFi calling, virtual fax, voicemail, extensions, instant response and more.
| | |
| --- | --- |
| Grasshopper Pros | Grasshopper Cons |
| Built for the unique needs of small businesses | No email or video call capability |
| Charges a flat monthly fee regardless of the number of users | 7-day free trial is shorter than the industry norm |
| Extensions can be added at no extra charge | Does not scale to businesses that have more than just a handful of employees |
Trusted by companies like Salesforce, Comcast, Avon and 3M, GoToConnect combines its own all-in-one cloud phone system.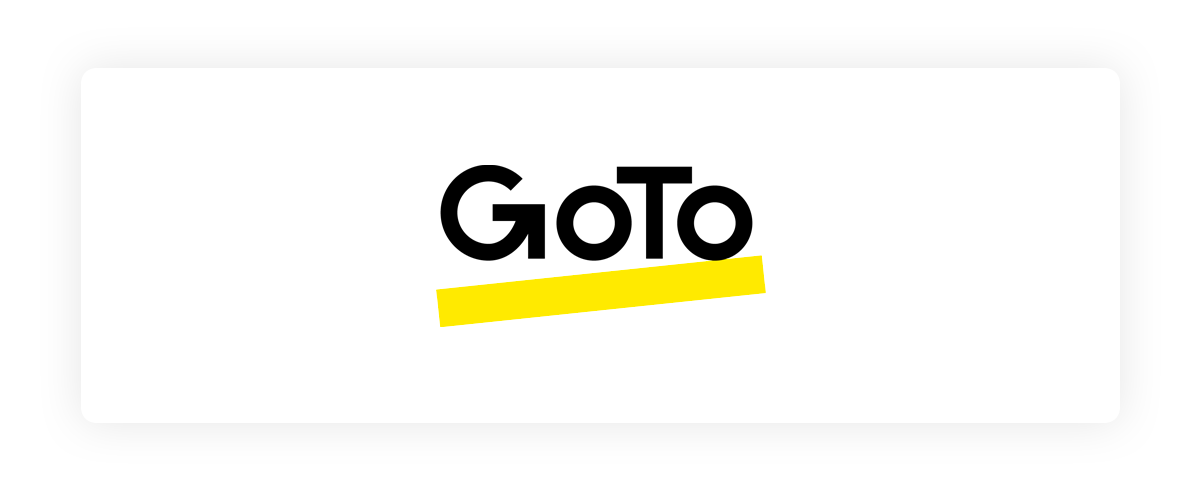 GoToConnect boasts 10 million active users and more than 1 billion customer interactions each day. With more than 15 years in the VoIP market, GoToConnect has established itself as a reliable provider. The company guarantees 99.999% uptime and also offers 24/7 support.
Check out our GoToConnect review for more information.
GoToConnect Features
Integrations: GoToConnect's marketplace offers 57 integrations with popular tools along with multiple UCC custom integrations. Integrations include well-used products like Salesforce, Microsoft Teams, G Suite, Zoho and Zendesk.
Compatibility: GoToConnect provides compatible with more than 180 desk phone models thanks to a cloud-based phone system that can lower costs.
App Service: The company's mobile app is available on both iOS and Android. It offers HD audio, texting and more without draining the phone's battery.
Additional Features:
Call forwarding
Call routing
Virtual voicemail
Custom messages and greetings
Hot desking
Auto attendants
GoToConnect Pricing
The below image outlines current GoToConnect Pricing and Plans.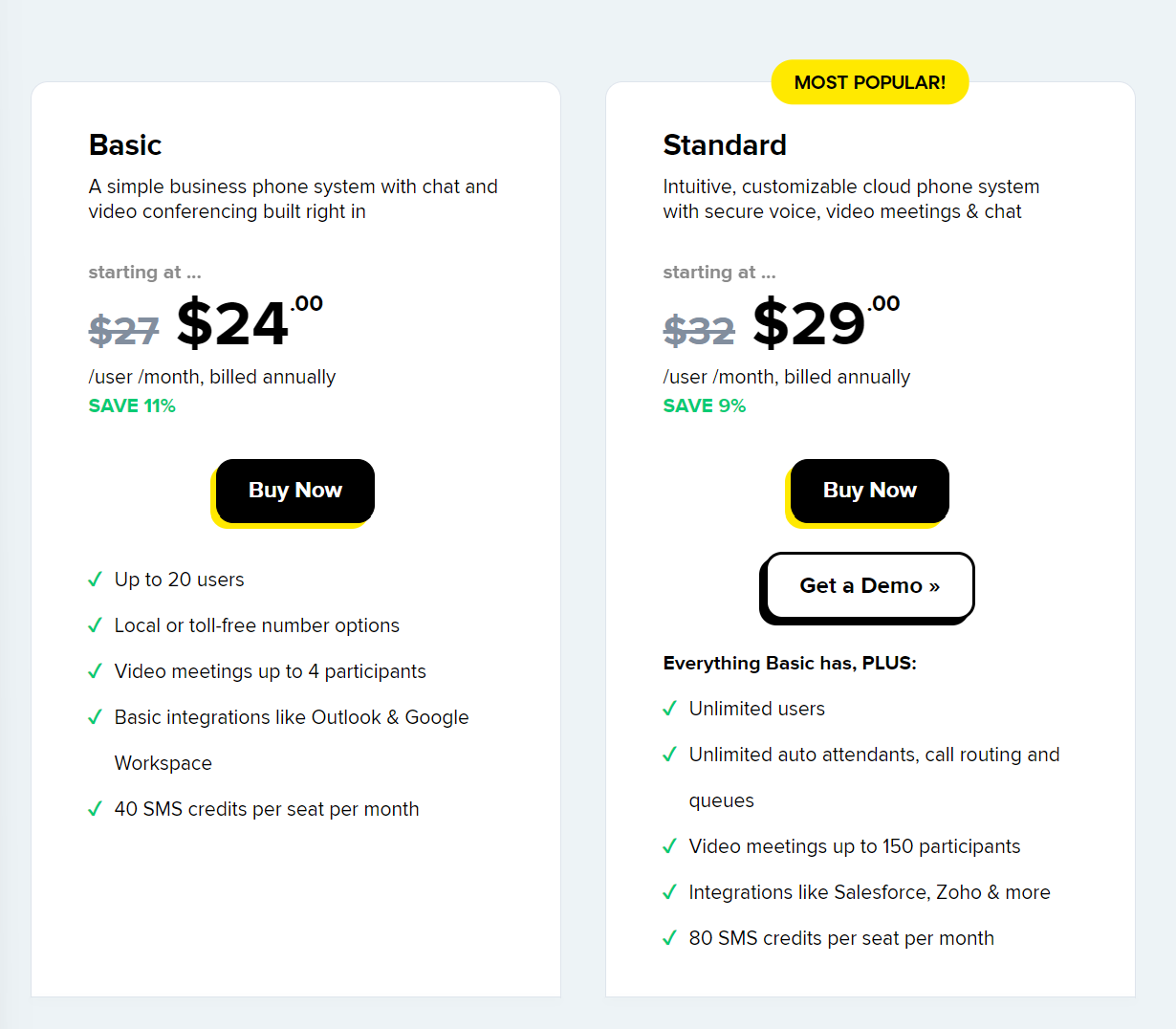 GoToConnect's basic plan is perfect for businesses that want a simple phone system with chat and video-conferencing built-in. The Standard Plan features more customizable solutions while Premium is aimed at heavier users support call centers.
| | |
| --- | --- |
| GoToConnect Pros | GoToConnect Cons |
| Cloud-based phone system eliminates the need for hardware | Basic plan only allows for 40-minute video conferences with a cap of 4 users |
| Has several options for international calls | Limited usage of key routing features on Basic plan |
| Features several bundle options based on user needs |  Fewer integrations than many competitors |
Avaya offers reliable unified communications systems for organizations that seek an all-in-one option and want an easy set up.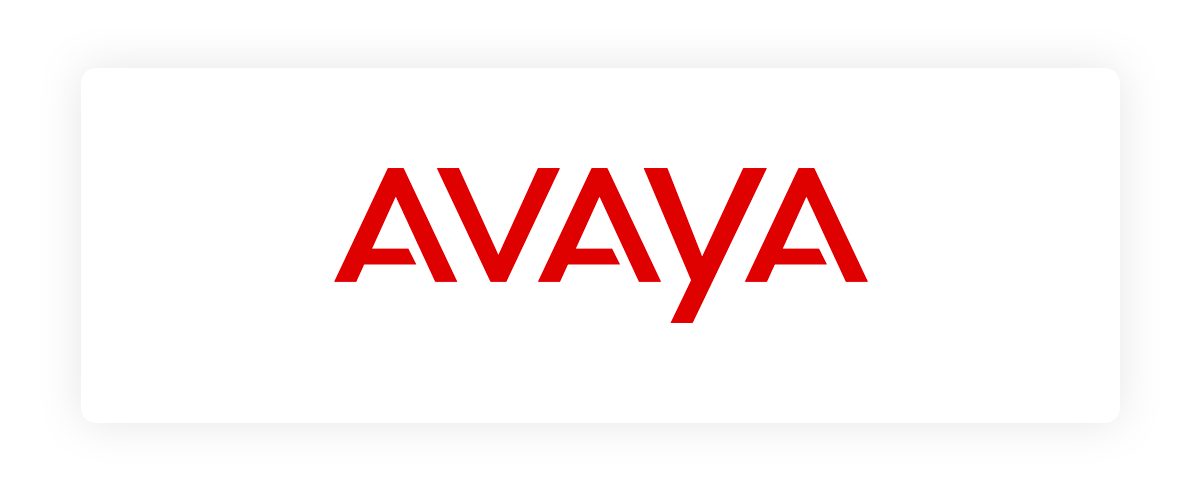 As part of the company's unified communications platform, Avaya offers comprehensive phone and calling features for any size of business. The system allows users to scale up to a staggering 250,000 users and offers 99.999% uptime. Avaya offers a highly customizable platform that allows users to respond to changes on the fly.
Check out our Avaya review for more information.
Avaya Features
Robust Calling and Messaging: Avaya offers inbound and outbound local SMS and MMS messaging, along with a toll-free option. The company also offers messaging through WhatsApp, making it a convenient solution for users of all types.
Virtual Numbers: Avaya offers local and toll-free virtual numbers with no provisioning required to ensure businesses have numbers the local customers feel comfortable using.
Avaya Cloud Virtual Agent: The company's AI-enabled auto attendant system offers smart call routing to ensure inbound calls always reach the correct person or department.
Additional Features:
Local and toll-free virtual phone number with no provisioning required
Auto transcription of calls
One-click Google Contact Center integration
SIP integration
Automatic speech recognition as well as text-to-speech
Call recording and transcription
Audio conferencing
Avaya Pricing
The below image outlines available Avaya pricing and plans.
Additional local or toll-free 800 numbers cost an extra $4.99 per month. The company can provide vanity numbers for a one-time fee of $30.
| | |
| --- | --- |
| Avaya Pros | Avaya Cons |
| Cloud-based system makes it easy to scale | Limited third party integrations |
| Great history of avoiding downtime | Lacks solid virtual assistant functionality |
| Offers customers more than 700 features | |
Ooma started as a residential VoIP provider and has now evolved into a cloud-based business phone system serving over 1 million customers.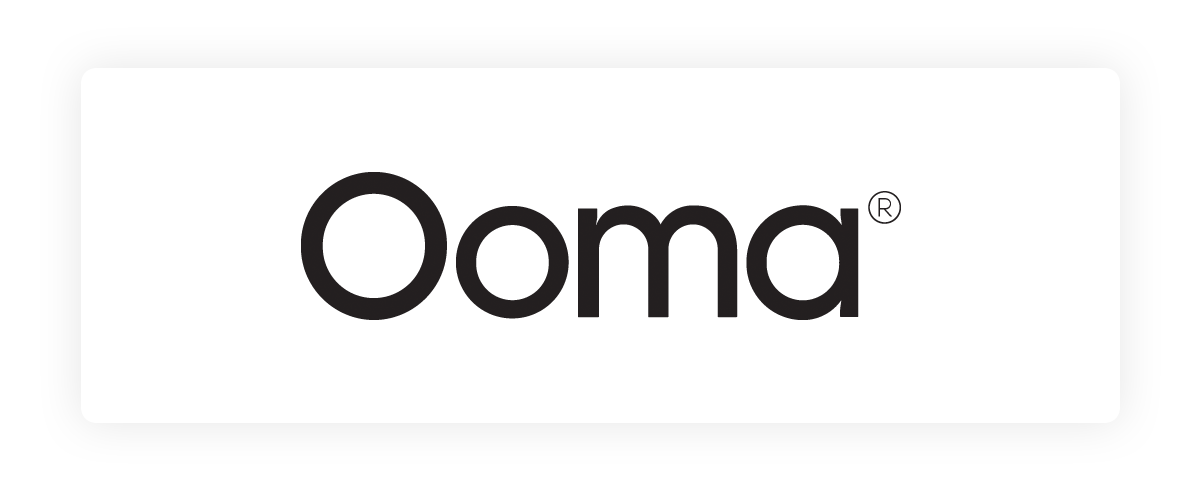 Ooma positions itself for small businesses, offering affordable solutions filled with features including HD audio, virtual receptionists, video conferencing, online faxing and a mobile app.
Check out our Ooma review for more information.
Ooma Features
Multi-Ring: An underrated tool, this service rings all of a person's phone lines at once to ensure a call is answered. This includes a desk phone, mobile, desktop or any other external devices.
Virtual Receptionist: Once considered a feature available only to large-scale companies,Ooma provides callers with a menu to help them find the right person or department to speak with. The virtual assistant can be customized based on an organization's preferences, helping improve the overall customer experience.
Call Park: Excellent for companies that manage a large volume of inbound calls, call park allows a receptionist to "park" a call on an open line until someone can attend to them. The person answering the parked call can answer that line from any phone.
Additional Features:
Ring groups
Hold music
Transfer music
Extension dialing
Voicemail
Call transfer
Call logs
Ooma Pricing
The below image reflects current Ooma pricing and plans.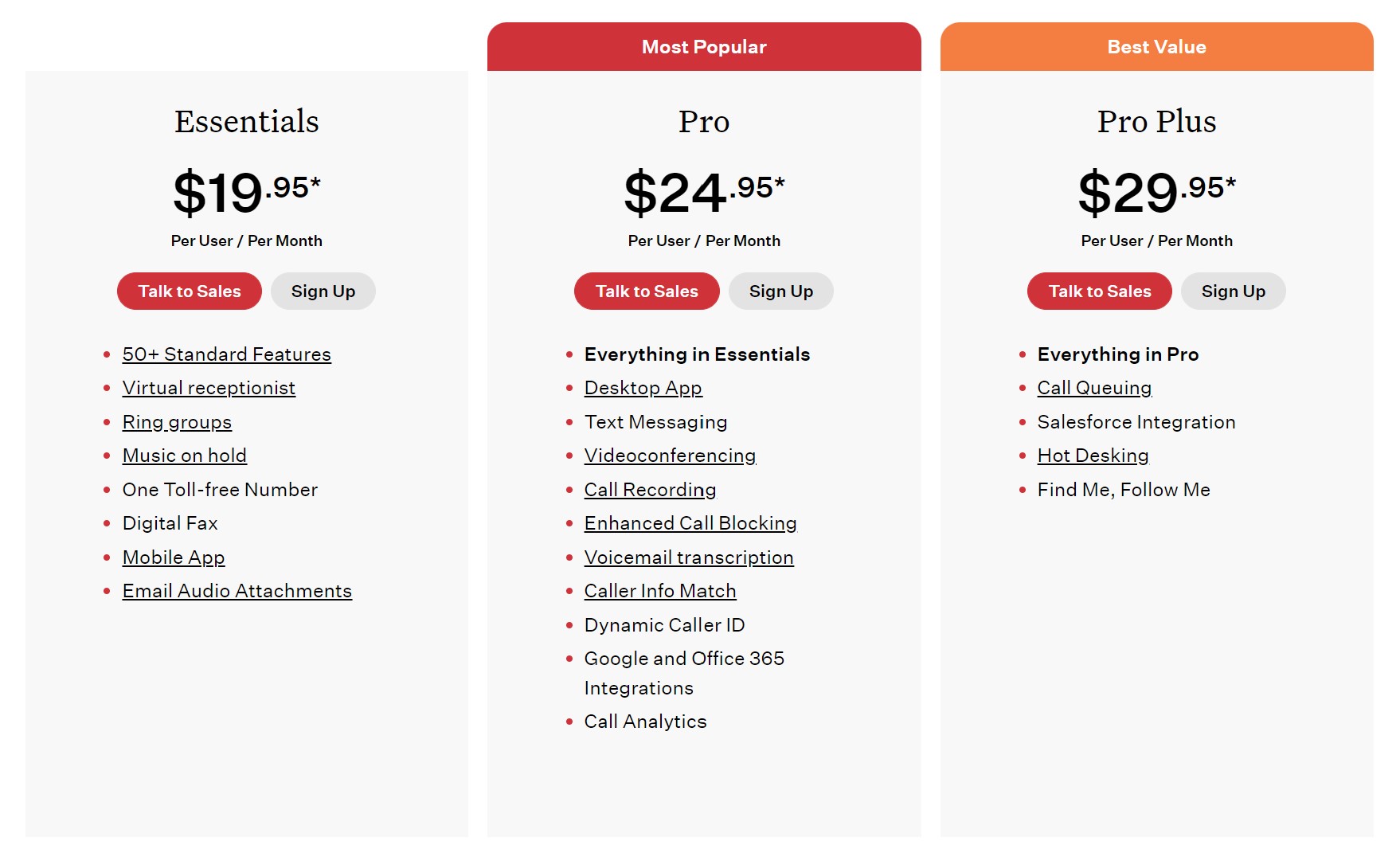 Note that there will be pricing variations based on how many licenses a business purchases.
| | |
| --- | --- |
| Ooma Pros | Ooma Cons |
| 24/7 support for business customers | Toll free numbers cost extra |
| Cloud-based system works with any type of phone | Video conferencing and desktop app only available with more expensive plans |
| Basic plan offers SMS and online faxing service | |
Previously known as ShoreTel Connect, Mitel's MiCloud Connect provides VoIP service to more than 70 million customers across 100 countries.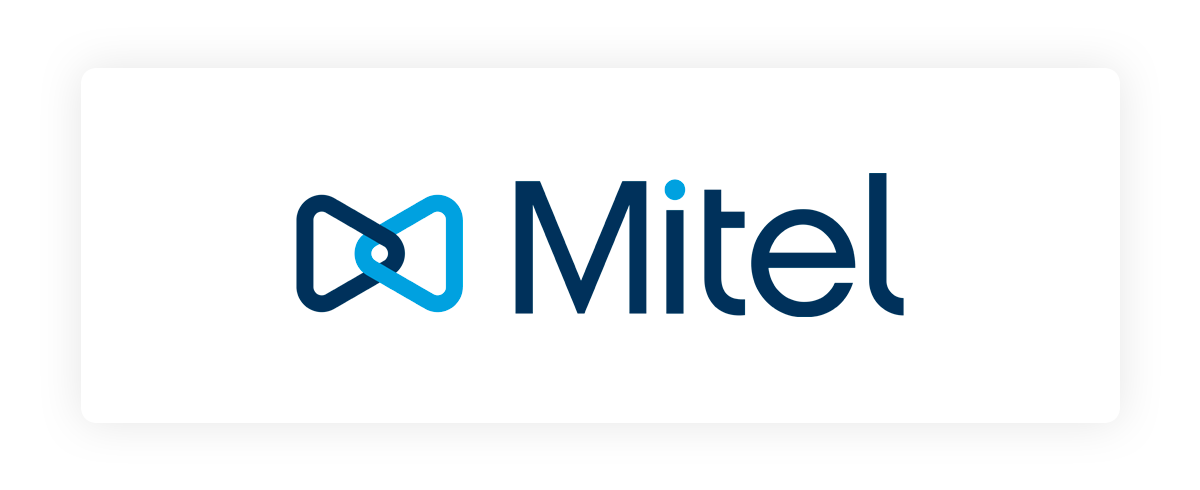 The company offers a full suite of UcaaS services that leverage Google Cloud to deliver reliability and security. Communication channels include team chat message, video calling for up to 100 participants, voice calling, and SMS.
Its simple onboarding process makes it quick and easy for customers to get started.
Check out our Mitel review for more information.
Mitel Features
Sync with Exchange: Mitel works closely with Microsoft and its solutions pair well with the company's solutions. Users can authenticate their Mitel account and authenticate with Microsoft Active Director for Single Sign-On and Outlook integration.
Mobile App: Mitel's mobile app is available for PC, Mac, iOS and Android so it works with all common systems that users run.
Additional Features:
Multiple inbound and outbound lines
Call routing
Voicemail
Call transfer
Directory dialing
Intercom
Group paging
Extension assignment
Ring-tone personalization
Mitel Pricing
As of this writing, Mitel doesn't openly advertise their pricing and you'll need to contact their sales for a custom quote.
| | |
| --- | --- |
| Mitel Pros | Mitel Cons |
| Integrates with Jobscience, Salesforce, ACT!, Microsoft CRM, Zendesk and Saleslogix | Costs more than other similar plans |
| Seen as plug-and-play | |
Which 8×8 Alternative Is Right for You?
When picking a VoIP provider, businesses need to look closely at their specific needs. How many licenses will they need to purchase? How do they intend to use their VoIP system? How much are they willing to spend? Answering these questions and many like it can help an organization decide on the best solution for their needs, and find the best 8×8 alternative if it doesn't fit your current needs.
The VoIP market is flooded with different providers with their own pros and cons, so the choice is up to you. For additional information, check out our head-to-head reviews of some of the providers listed here, or visit our enterprise VoIP comparison page to see customer reviews and more.