8×8 provides cloud-based Voice over Internet Protocol (VoIP) services to more than 1 million businesses in 160 countries. With reliable service and low monthly costs, 8×8 gives customers unlimited calling in the United States and Canada, video conferencing, team messaging, and file sharing.
Still, the platform isn't a fit for everyone, especially SMBs needing more consistent support availability or teams unfamiliar with API Integrations.
In this article, we take a close look at the best 8×8 alternatives, their pricing and plans, user experience, and the features that make each solution unique.
Reasons to Look For 8×8 Alternatives
The 8×8 XCaaS Unified Communications system offers excellent small business phone system features, like:
Unlimited global calling in 48 countries, unlimited faxing
Custom auto attendants and ring groups
Browser-based video conferencing with in-meeting collaboration tools
Sameroom cross-platform team chat
Interactive analytics
Essential third-party app integrations (GSuite, Salesforce, Microsoft 365, Okta, NetSuite, Skype for Business, Zendesk
Still, 8×8 UCaaS has its drawbacks, which include: 
Only 2 available unified communications plans, lacks scalability of competitors
Quote-based pricing makes it hard to estimate the platform's overall value
Skills-based routing only available via more expensive 8×8 Contact Center software
UCaaS users must pay an add-on fee or upgrade to a Contact Center plan to access 200+ advanced integrations
The Best 8×8 Alternatives
Based on our research, the best alternatives to 8×8 are:
Nextiva
What makes Nextiva a good 8×8 alternative:
Nextiva offers IVR and multi-level auto attendants with highly customizable call flow design tools, custom greetings, business hour and round robin routing, ring groups with sequential/simultaneous ringing, call forwarding, and additional call management features that far outperform 8×8's bare-bones virtual receptionist
Nextiva allows for unlimited audio conference call participants, compared to 8×8's 100-participant maximum
Nextiva gives users one free toll-free number, between 1,500-12,500 bundled monthly toll-free minutes, and up to 2,000 texts/user/month (8×8 provides limited information about toll-free minute/SMS costs)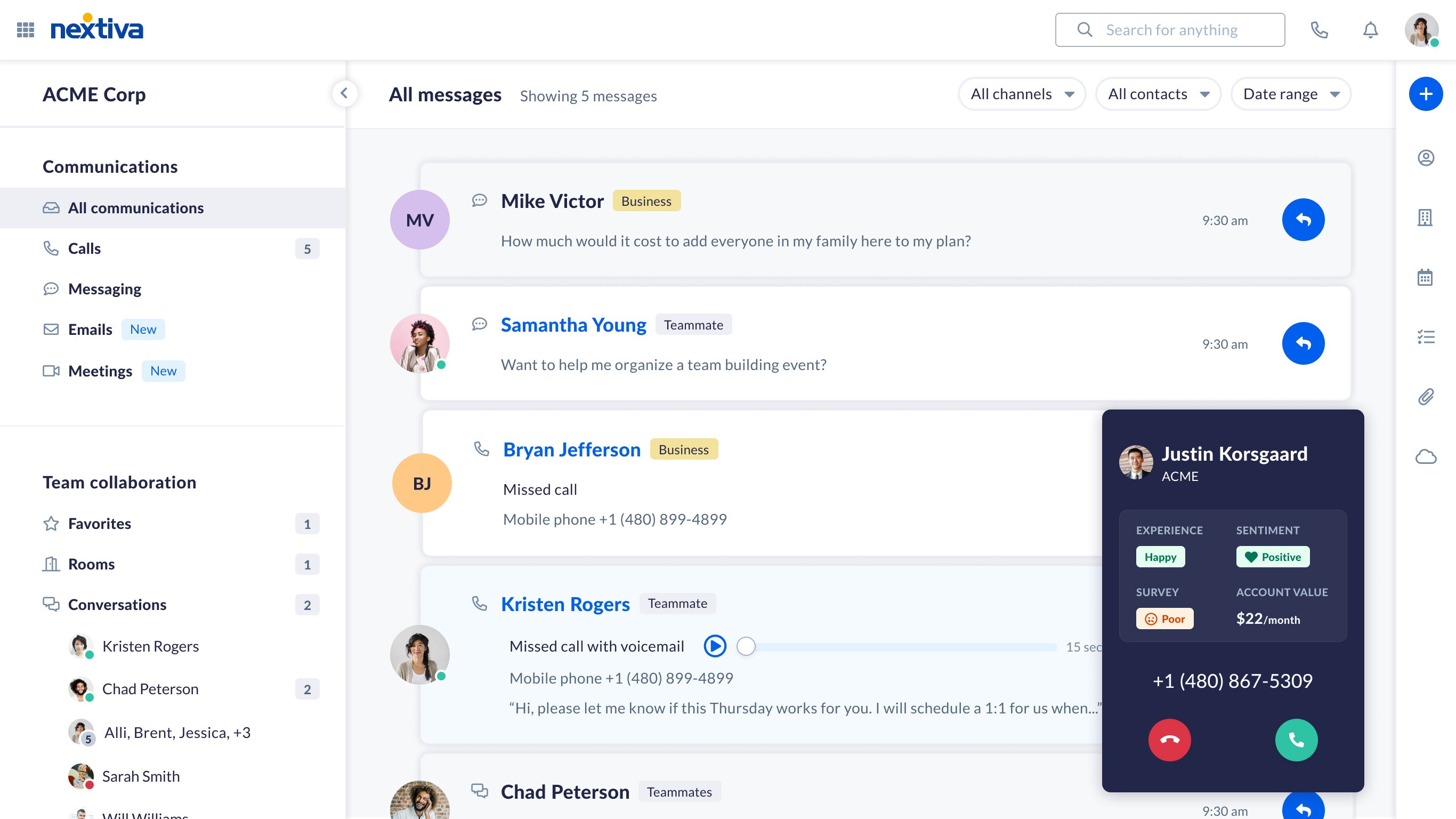 Nextiva Business Communication is a small business UCaaS and voice calling platform with native team chat, SMS, video calling and collaboration tools, extensive CRM integrations, unlimited virtual faxing, and celebrated 24/7 customer support via phone, live chat, and email.
Like Nextiva prioritizes giving users an intuitive business phone system with basic features and a low learning curve Also like 8×8, Nextiva's features are designed to improve real-time interactions between customers and live agents, not completely automate the customer support process. Unlike 8×8, Nextiva only offers international calling at per-minute rates–and requires users to contact support to set up international calling.
Nextiva Business Communication Pricing
Nexitva offers 3 paid plans with scalable pricing by number of users: the Essential Plan for $18.95/user/month, the Professional Plan for $22.95/user/month, and the Enterprise Plan for $32.95/user/month.
Key Features
CRM CTI Screen Pops: Integrates with third-party CRM tools to automatically display customer CRM data on agent's screen when an inbound call comes in, allowing the agent to better prepare for the call by reviewing agent notes, CRM data, purchase/account history, account value, etc.
Call Recording: Automatic and on-demand call recording, pause/resume recording, plays recording announcements, cloud call recording storage for up to 6 months
Call Management: HD voice, call history/call log reports, voicemail-to-email, shared line appearance, hold music, call groups, call flip
Where Nextiva Falls Short 
In comparing 8×8 vs Nextiva, Nextiva falls short regarding:
Lack of transparency regarding which features are and aren't included on each Business Communication Plan–made worse by outdated customer support/knowledge base data
Like 8×8, Nextiva's video conferencing/collaboration tools leave much to be desired, limiting video calls to 45 minutes across plans and providing little information about file sharing/co-editing, whiteboarding/breakout room, and other essential video calling features
 Though Nextiva offers extensive third-party CRM integrations, few are available on the most affordable Essential Plan–a stark contrast to 8×8
Dialpad
What makes Dialpad a good 8×8 alternative:
All Dialpad users get Advanced Ai capabilities like automated post-call action items, call summaries, and call purpose analysis
All Dialpad plans include real-time call transcription and voicemail transcription (only 8×8 Contact Center users can access call transcriptions, though they can't access voicemail transcriptions)
Dialpad offers unlimited ring groups and up to 50 callers/call queue (8×8 limits call queues to 20 and ring groups to 32 members/group)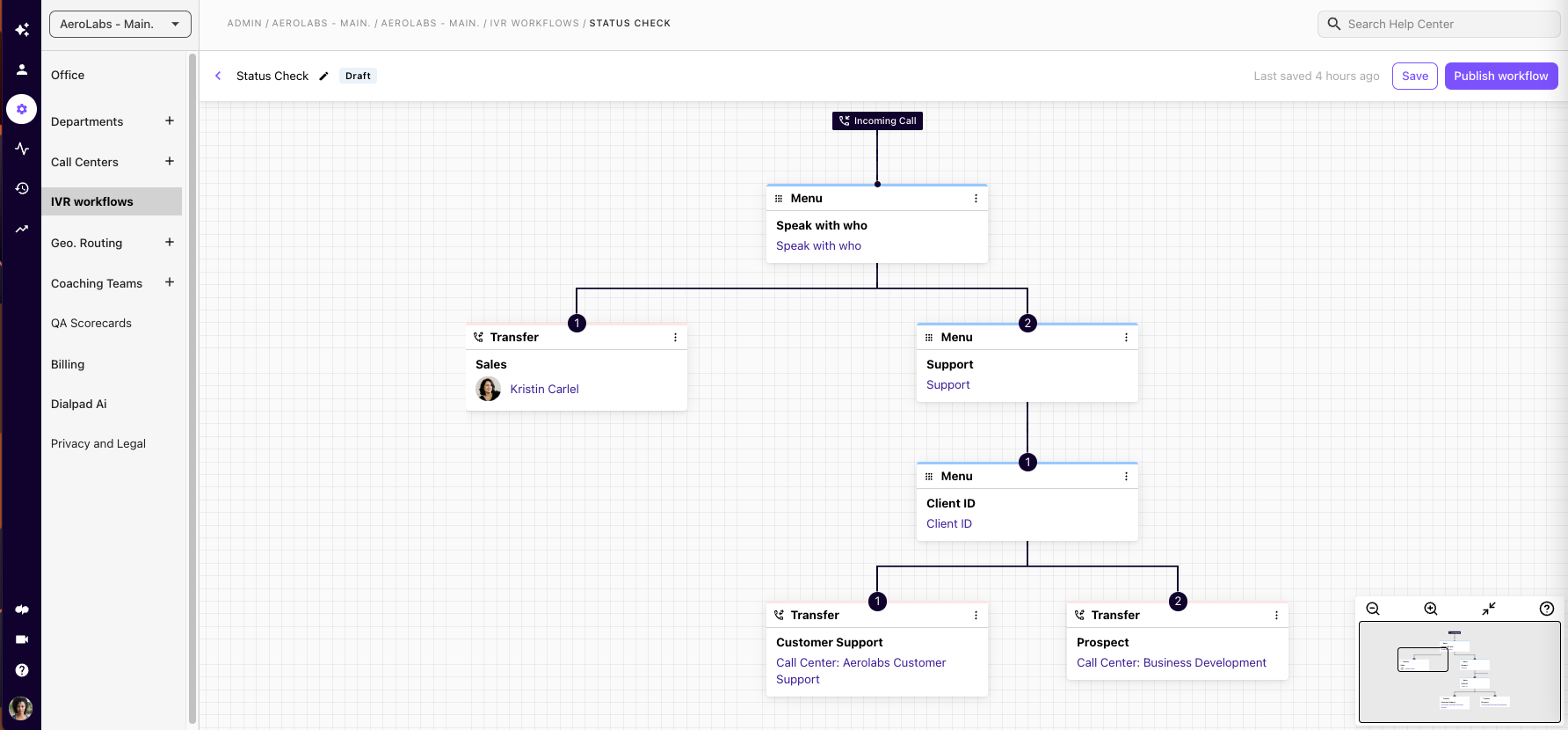 Dialpad is an AI-powered unified communications platform leveraging Natural Language Understanding and machine learning to automate time-consuming business processes, improve the customer experience, and optimize available call center agents.
Like 8×8, Dialpad offers unlimited domestic voice calling, SMS, team messaging, video conferencing, and third-party integrations. Unlike 8×8, Dialpad provides transparent pricing, 100% uptime for Enterprise users, and a custom AI Sales add-on for blended call centers that doesn't require users to upgrade to Dialpad Contact Center.
Dialpad Business Communications Pricing 
Dialad Business Communications offers a 14-day free trial and 3 paid plans: the Standard Plan for $15/user/month, the Pro Plan for $25/user/month, and the Enterprise Plan with custom pricing.
Add-ons include additional toll-free/international phone numbers from $15/numeric/month and additional local phone numbers from $5/number/month.
Key Dialpad Features
Dialpad Ai Sales: 3 scalable plans, all include agent coaching, in-queue callbacks, call monitoring/barge/whisper, and optional voicemail drop, power dialer, live agent assist, CSAT analytics, and agent performance scoring
Dialpad Call Purpose Analytics: Ai determines the reason for the call then adds the call tag purpose for historical/real-time view and filtering (25 call purpose types include cancellation, callback, account management, feedback, product inquiry, shipping, purchase, etc.)
Dialpad Ai Meetings: Meet with 10 users for up to 5 hours, unlimited audio/video recording, desktop/mobile screen sharing (Apple iOS and Android) whiteboard with Miro integration, waiting room/meeting lock (Paid Ai Meetings plan includes automated post-meeting summaries, live meeting transcription, meeting co-hosts)
Where Dialpad Falls Short
In comparing 8×8 vs Dialpad, Dialpad falls short regarding:
While 8×8 video calls allow for up to 100 participants, all Dialpad plans limit video conferencing participants to 10 (or requires users to upgrade to Dialpad Meetings Business plan (additional $15/month, up to 150 participants)
Like 8×8, Dialpad offers limited pre-built third-party integrations (though Dialpad APIs are available)
Though 8×8 offers unlimited voice calling in 48 countries and international toll-free phone numbers, Dialpad only offers toll-free numbers and unlimited calling in the US/Canada
RingCentral 
What makes RingCentral a good 8×8 alternative: 
RingCentral offers more advanced call flow management than 8×8, including custom call handling templates and up to 250 IVR sub-menus per account
RingCentral offers over 300 integrations and custom APIs, far more than 8×8
 All RingCentral MVP plans include desktop/mobile visual voicemail with voicemail transcription and voicemail to email (8×8 is unclear about which plans include visual voicemail)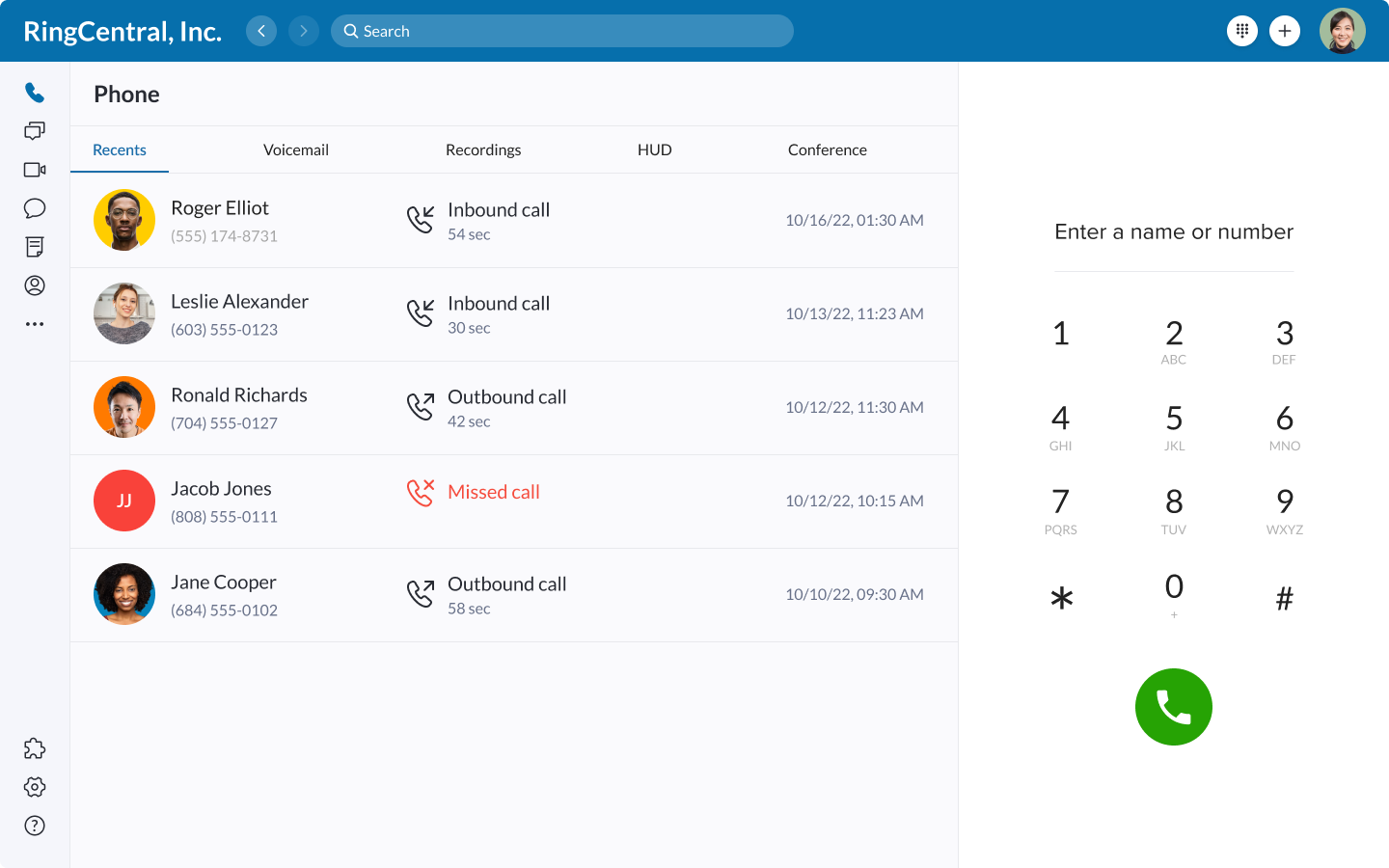 RingCentral MVP is a cloud phone and UCaaS platform with end-to-end call encryption, 100-10,000 bundled monthly toll-free minutes, unlimited US/Canada calling, AI video conferencing, and compatible hardware like desk phones for rent/purchase.
Like 8×8, all RingCentral plans include a 99.999% uptime, SSO, and 24/7 customer support. Unlike 8×8, RingCentral offers much more advanced team collaboration features like task management, in-chat note taking, whiteboard, and audio conferencing for up to 1,000 participants.
RingCentral MVP Pricing
RingCentral MVP offers a 14-day free trial and 3 paid plans: the Core Plan for $20/user/month, the Advanced Plan for $25/user/month, and the Ultra Plan for $35/user/month. Add-ons include High-Volume SMS from $.0085/message, additional vanity numbers for a $30 one-time fee, RingCentral Webinar for $40/user/month, and additional international phone numbers for $5.99/user/month.
Key RingCentral Features
Unified Inbox: Streamlines all cloud PBX business communication across SMS text, voice calling, and eFax channels into an intuitive unified inbox to eliminate app switching (also includes text message previews,  communication filtering by contact/channel, 1-click access to call recordings, and custom navigation bars)
RingCentral Video: AI meeting summaries with automatically generated keywords/topics/chapters/ highlight reels, plus one-click video calling, screen/app sharing, unlimited cloud recordings, 200 maximum participants,
Business Analytics: Essential/Pro options include historical and live call queue reports, agent status/activity monitoring, customizable KPIs, wallboards, SLA tracking, etc.
Enhanced Business SMS: 25-200 texts/user/month, includes direct/group SMS/MMS, international SMS, attachment/file sharing, and texting on desktop/mobile with instant synching
Where RingCentral Falls Short
When comparing RingCentral vs 8×8, RingCentral falls short regarding:
RingCentral does not include unlimited virtual faxing on all MVP plans (all 8×8 X Series plans come with unlimited internet faxing)
RingCentral MVP does not offer call transcription for live phone calls or call recordings (though MVP does include live video meeting transcription)
Like 8×8, RingCentral MVP offers limited call queue and ring group maximums, only allowing up to 25 callers/queue and up to 25 members/ring group
Vonage Business Communications
What makes Vonage a good 8×8 alternative:
Highly scalable business phone/UCaaS solutions with the ability to add individual features a la carte or scale up to a higher-tiered plan for bundled feature additions
Superior mobile app/plan ideal for on-the-go sales and support teams with mobile third-party integrations, video calling, visual voicemail, SMS, and call flip feature for seamless in-call device switching
Custom call tagging feature/call tag filter for phone numbers, extensions, ring groups, and call queues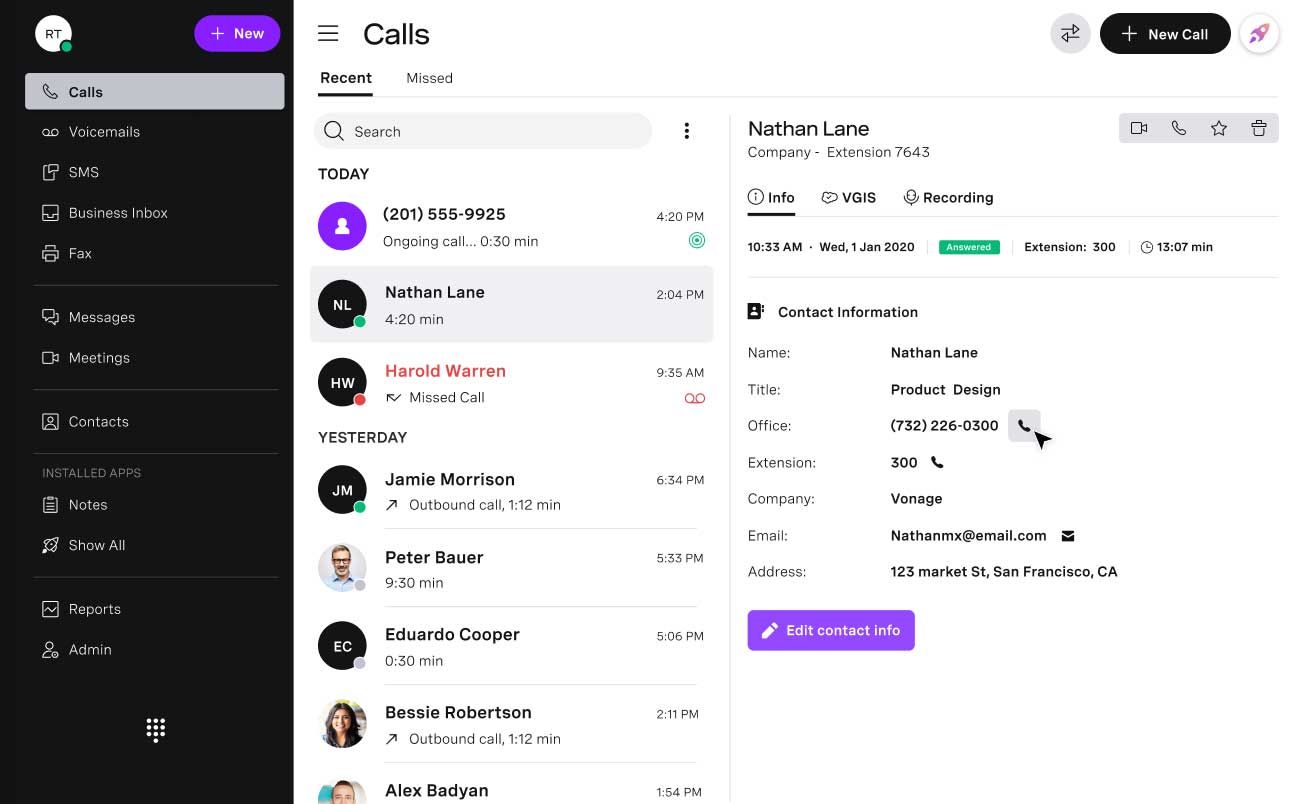 Vonage Business Communications is a cloud communications solution with 50 standard VoIP features including unlimited domestic voice calling, video meetings for up to 200 participants, business SMS and MMS, and team chat messaging.
Like 8×8, Vonage offers limited third-party integrations, making it ideal for teams looking to rely on one provider with robust features. Vonage, like 8×8, also has a 99.999% uptime and provides 24/7 customer support. Unlike 8×8, Vonage only offers international phone numbers and international calls as paid add-ons.
Vonage Business Communications Pricing
Vonage offers three paid plans: the Mobile Plan for $13.99/line/month, the Premium Plan  for $20.999/line/month, and the Advanced plan for $27.99/line/month. All plans do not include taxes and fees, and all plans require a 1-year minimum contract.
Vonage also offers add-on features like AI Virtual Assistant (quote-based), cross-channel customer texting via Business Inbox ($9.99/month), online faxing ($14.99/month), virtual voicemail ($4.99/month), and on-demand call recording ($4.99/month).
Vonage Key Features
Vonage Meetings: Desktop/mobile video calling, on-demand/scheduled meetings for up to 200 participants, custom thumbnails, active speaker view, waiting room, "Be Right Back" signal, active/inactive attendees, Watch Together/Roundtable modes boost attendee engagement
Call Announce: Warm call transfer feature that plays relevant call tags to the agent before they're connected to the customer, so agents don't need to look up key information and can choose to accept the call, forward it to voicemail or an additional agent, etc. (Call Announce also differentiates between work/personal calls for inbound calls to personal devices)
Smart Numbers: API business phone numbers with custom routing strategies, automatic speech recognition in 120+ languages, voicebots/conversational AI for completely automated interactions
Where Vonage Falls Short
When comparing Vonage vs 8×8, Vonage falls short regarding:
While VBC add-ons allow for high-level customization, essential features like call queues, call recording, conference bridge, and online faxing are add-on advanced features not included in bundled Vonage plans–making Vonage much more expensive than other providers
Unlike 8×8, which is HIPAA/GDPR/CSA/CPNI/FISMA/PCI/ISO 27001 compliant, Vonage offers little information about its security standards
All 8×8 plans include on-demand call recording, call recording storage (1-10GB) SSO, and ring groups–but Vonage only includes these features in their most expensive plan for $27.99/user/month, and limits call recording storage to 15 hours/month
Vonage limits video conferencing participants to 200, compared to 8×8's 500-participant maximum
GoTo Connect
What makes GoTo Connect a good 8×8 alternative:
Scalable add-ons from GoTo Contact Center allow for advanced functionality without the need to upgrade to a complete contact center platform
Customer Engagement add-on gives users access to outbound SMS, website chat, and social media messaging
Custom drag-and-drop Dial Plan Editor with built-in call analytics and automatic call rejection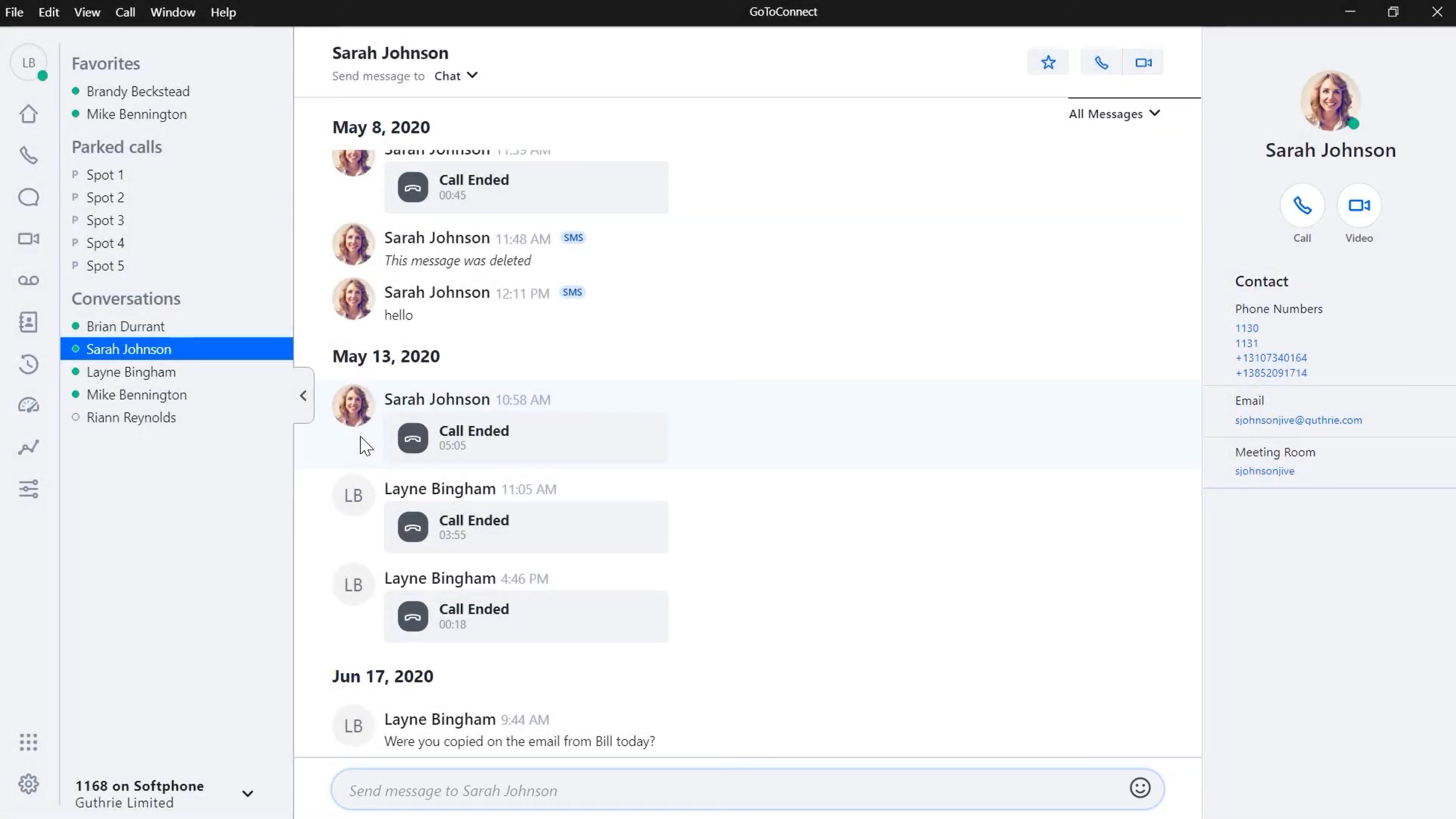 GoTo Connect is a small business phone system with advanced call routing/call flow configuration tools, video calling functionality with unlimited meeting duration, 24/7 support, SMS, and AI-powered automation.
Like 8×8, GoTo Connect only provides quote-based pricing and offers excellent international calling options, with calling to over 50 countries included for free in the Standard Plan. Unlike 8×8, GoTo Connect offers unlimited auto attendants, unlimited custom dial plans, and unlimited call queues/ring groups.
GoTo Connect Pricing
GoTo Connect offers two quote-based plans, a Customer Engagement add-on (quote-based), and a GoTo Contact Center add-on (quote-based).
GoTo Connect Key Features
GoTo Meeting Video Calling: Up to 250 meeting participants, unlimited meeting duration, 50 simultaneous webcams, Meeting Smartnotes for automated meeting summaries, Miro Whiteboard integration
Smart Call Routing: Similar to Find Me/Follow Me, automatically routes inbound phone calls to internal/external phone numbers and extensions in a preconfigured list to increase FCR
Instant Response: Designed to prevent lead loss, the Instant Response feature automatically sends a pre-configured, follow-up text message to missed calls from first-time callers
Where GoTo Connect Falls Short
In comparing GoTo Connect vs 8×8, GoTo Connect falls short regarding:
Like 8×8, GoTo Connect offers limited integrations compared to competitors, seemingly to encourage users to purchase products exclusively within the GoTo universe (GoTo Webinar, GoTo Contact Center, etc.)
GoTo Connect's Basic Plan only allows for 1 ring group, 1 call queue, 1 dial plan, and 1 recorded auto attendant call greeting–meaning most companies (aside from new businesses/solopreneurs) won't have their business needs met
GoTo Connect limits essential features like voicemail to email, call recording, call hold time reports, real-time analytics, and hot desking to its more expensive Standard Plan
Quote-based pricing makes it difficult to know the GoTo Connect's value
Which 8×8 Alternative Should You Choose? 
Choose GoTo Connect if: You need a basic, user-friendly phone service provider with native video conferencing and scalable contact center features
Choose RingCentral if: You need a completely unified communications solution with offering advanced SMS texting
Choose Vonage if: You want a customizable VoIP service with a robust mobile app for remote/on-the-go teams
Choose Nextiva if: You need high-level native CRM tools and advanced audio conferencing functionality
Choose Dialpad if: You need to automate the majority of customer support interactions and want to leverage AI to improve business processes/avoid hiring additional employees
Additional 8×8 alternatives include VoIP service providers and UCaaS platforms Zoom One, Mitel, Zoho Voice, Ooma Office, and contact centers like NICE InContact and Genesys.