8×8 provides cloud-based Voice over Internet Protocol (VoIP) services to more than 1 million businesses in 160 countries around the world. With reliable service and low monthly costs, 8×8 provides customers with unlimited calling in the United States and Canada, video conferencing, team messaging and file sharing.
Why 8×8?
Customers largely choose 8×8 because of its history of service and affordable price. The company charges $12 per user for its express package, making it one of the best low-cost options on the market. This option is available for companies with less than 10 users and is compliant with various privacy standards including HIPAA and GDPR.
8×8 has proven value to small businesses looking for an affordable option along with larger businesses that make a large number of international calls.
However, 8×8 may not be ideal for companies that want enterprise-level solutions and functionality. The service also caps its video conferences to 100 participants, which may cause problems for larger organizations. The company also only offers 24/7 customer support for members of its higher-paying tiers, something that may be problematic for small businesses paralyzed during a service outage. That said, let's take a look at popular 8×8 alternatives and why they might be a better choice for your business.
The List of Best 8×8 Alternatives
This platform offers a business phone service that easily integrates with other customer and contact management systems to make for an easy experience. Like most providers, Nextiva offers a range of plans that can scale up based on customer needs to include features like call analytics, automated voicemail transcription, and customer service ticketing.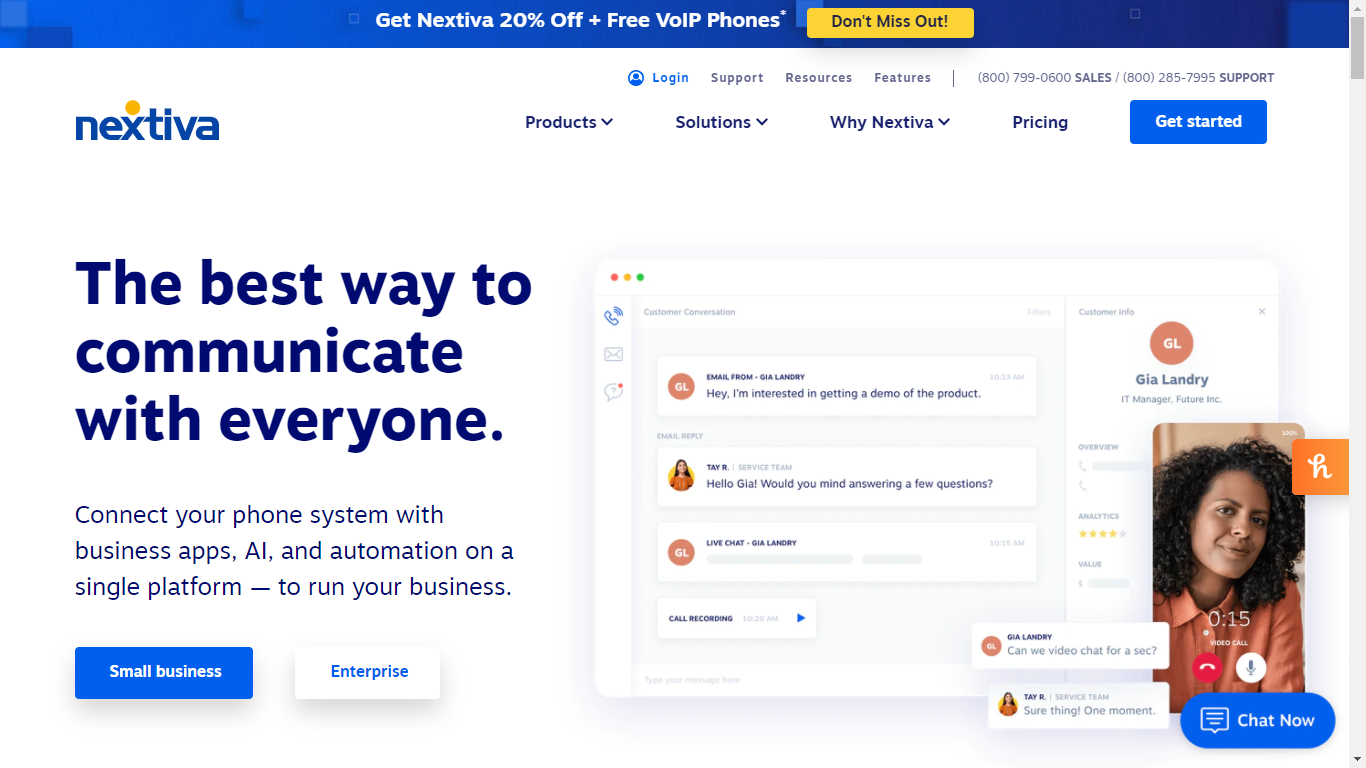 Features
Call forwarding
Customizable hold music
Call management
Call log reports
Certain number of free toll-free minutes each month
Pricing
Essential plan costs $18.95 per user for businesses that bill annually. The price is slightly higher for those that go month-to-month. The same is true with prices going up to $32.95 per user for the Enterprise offering and $57.95 for the Ultimate plan.
| | |
| --- | --- |
| Pros | Cons |
| Offers 24/7 support | Base plans costs more than competitors |
| Integrates easily with existing hardware | Some common features like SMS are not available with base offerings |
| Works seamlessly with existing customer management and customer relationship platforms | Requires at least a three-year commitment to get best prices |
Dialpad offers customers an innovative software platform that aims to be hardware agnostic. The technology is great for small and medium-sized businesses with workflows that prioritize softphones.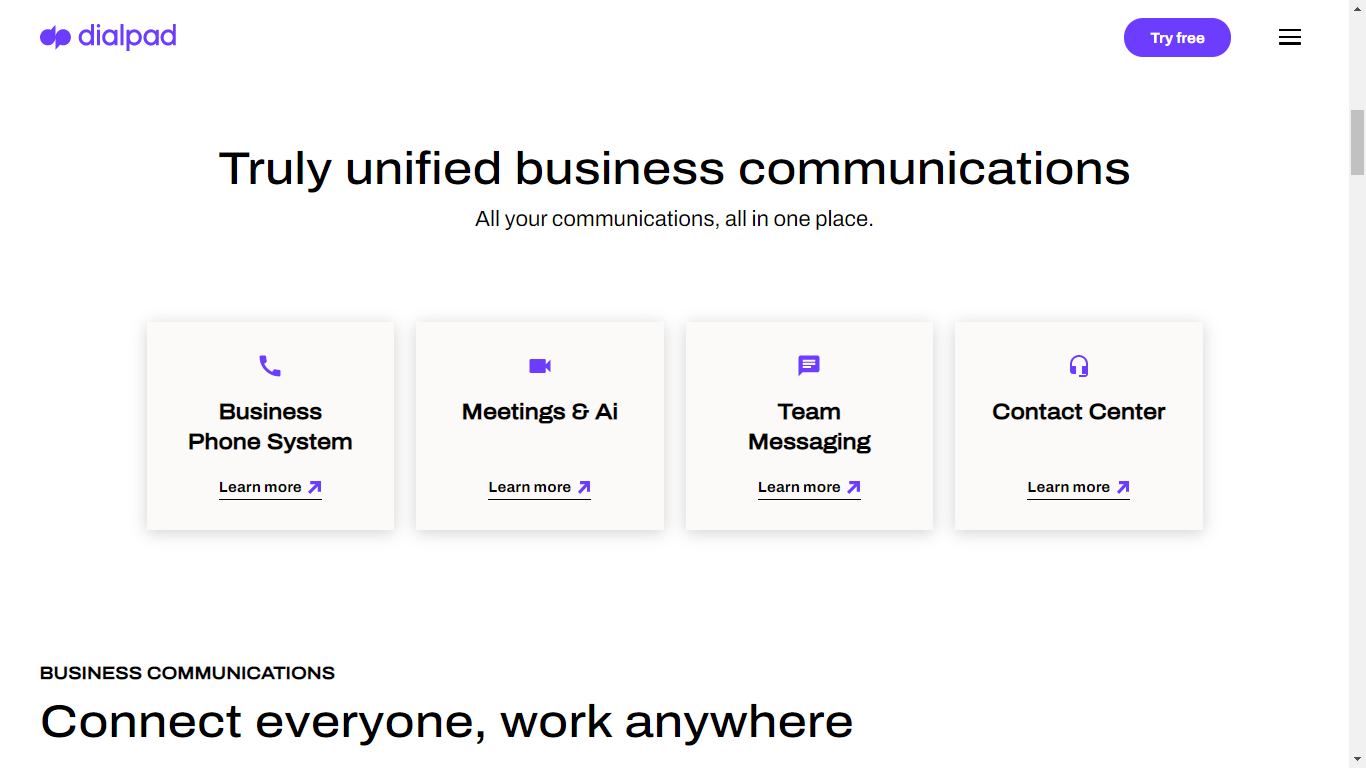 Features
Integration with HubSpot, Intercom, Microsoft Teams, Salesforce High Velocity Sales, Slack and Zendesk, among others.
Large app marketplace includes additional tools and integrations.
Artificial intelligence focus to improve efficiency and ease of use
Pricing
Dialpad offers tiered plans that start with the standard plan at $15 per user per month if billed annually and $20 per user per month if billed monthly. The company's Pro plan costs $25 per month if billed annually. There is also an enterprise plan without an advertised price. That plan requires organizations to purchase at least 100 monthly licenses.
| | |
| --- | --- |
| Pros | Cons |
| Voice Intelligence feature uses artificial intelligence to highlight actionable call content | Product aimed at small and medium-sized businesses without strong options for enterprise users |
| Well-reviewed call center and customer service | Limited ability create customized reports |
| Syncs easily with popular platforms such as Google and Microsoft | |
One of the most well-known business VoIP providers, RingCentral has established itself as a leader in the market. It has received a 3.8 rating among our readers with 70% saying they would recommend it. The company provides a robust, redundant, and reliable platform that has numerous features. For more than a decade, RingCentral has offered small and medium-sized businesses phone features that were previously only available to the largest and richest companies.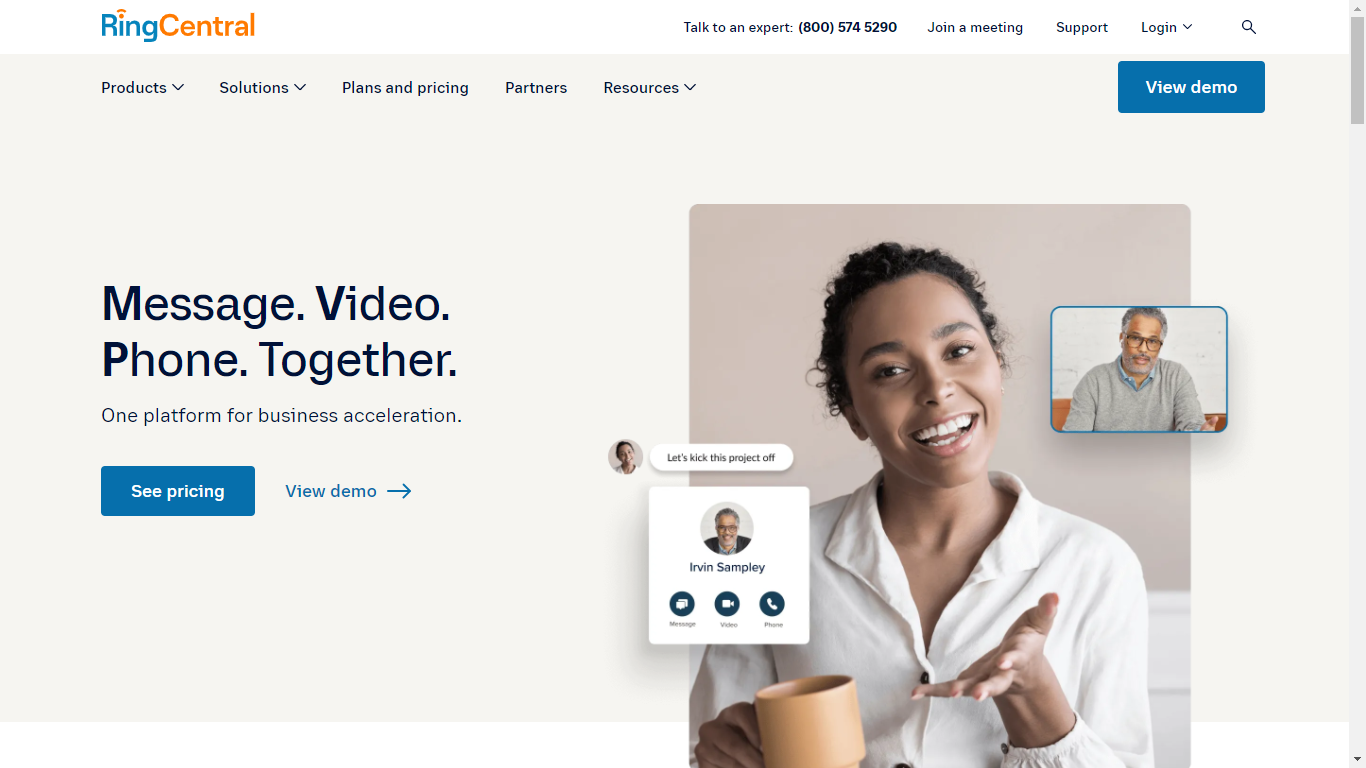 Features
RingCentral has more than 50 VoIP features. They include:
Unlimited 1:1 meetings
White boarding
Annotation
Private and team messaging
Pricing
RingCentral offers four plans: Essentials, Standard, Premium and Ultimate. These range in cost from $19.99 per user per month to $49.99 per user per month.
| | |
| --- | --- |
| Pros | Cons |
| Infrastructure throughout the US, Europe and Asia | Newer collaboration features still under development |
| Deep feature set for VoIP and collaboration | Limited ability create customized reports |
| Multiple optional applications for customization | Workflow could be more intuitive |
Vonage has established itself as a strong option for large businesses, but the expensiveness of its product may be too much for small and mid-sized companies on a tighter budget.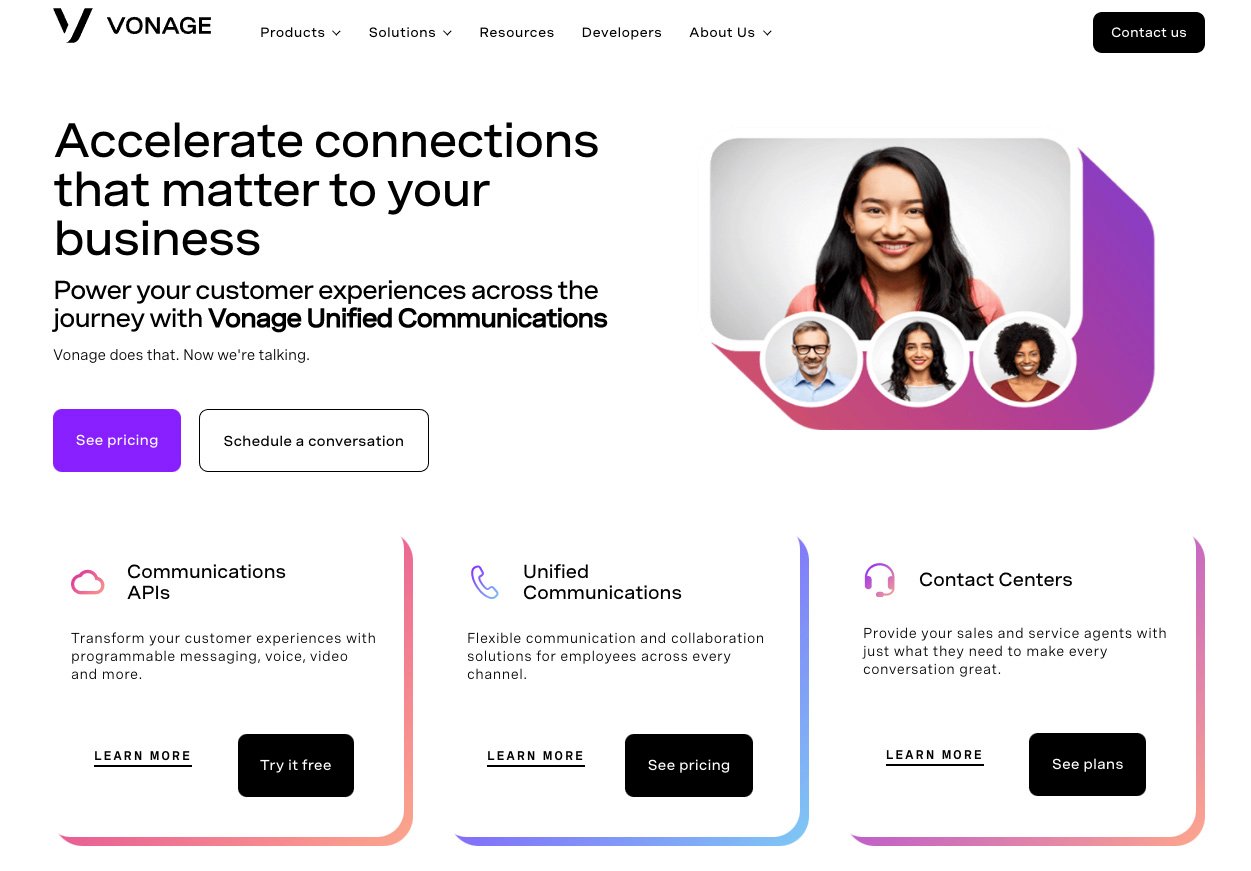 Features
Vonage includes a good number of features, although some remain limited to only upper-level plans. Some of the most popular ones include:
Call Hold
Caller ID
Multiple Devices on One Extension
HD Voice
Call Logs
Click-To-Call Me
Spam Shield
Vonage Visual Voicemail
Pricing
Mobile Plan
Premium Plan
Advanced Plan
1 – 4 lines, $19.99 per line

5 – 19 lines, $17.99 per line

20+ lines, $14.99 per line

1 – 4 lines, $29.99 per line

5 – 19 lines, $27.99 per line

20+ lines, $24.99 per line

1 – 4 lines, $39.99 per line

5 – 19 lines, $37.99 per line

20+ lines, $34.99 per line
| | |
| --- | --- |
| Pros | Cons |
| Even basic plan includes unlimited calling and SMS | Many of the most popular features are only available in paid plans |
| Company offers CMS integration starting with its premium plan | Toll free numbers cost extra |
| True 24/7 support | |
Known for helping small businesses, Grasshopper has positioned itself for one-person businesses or people who want a separate line for their side hustle.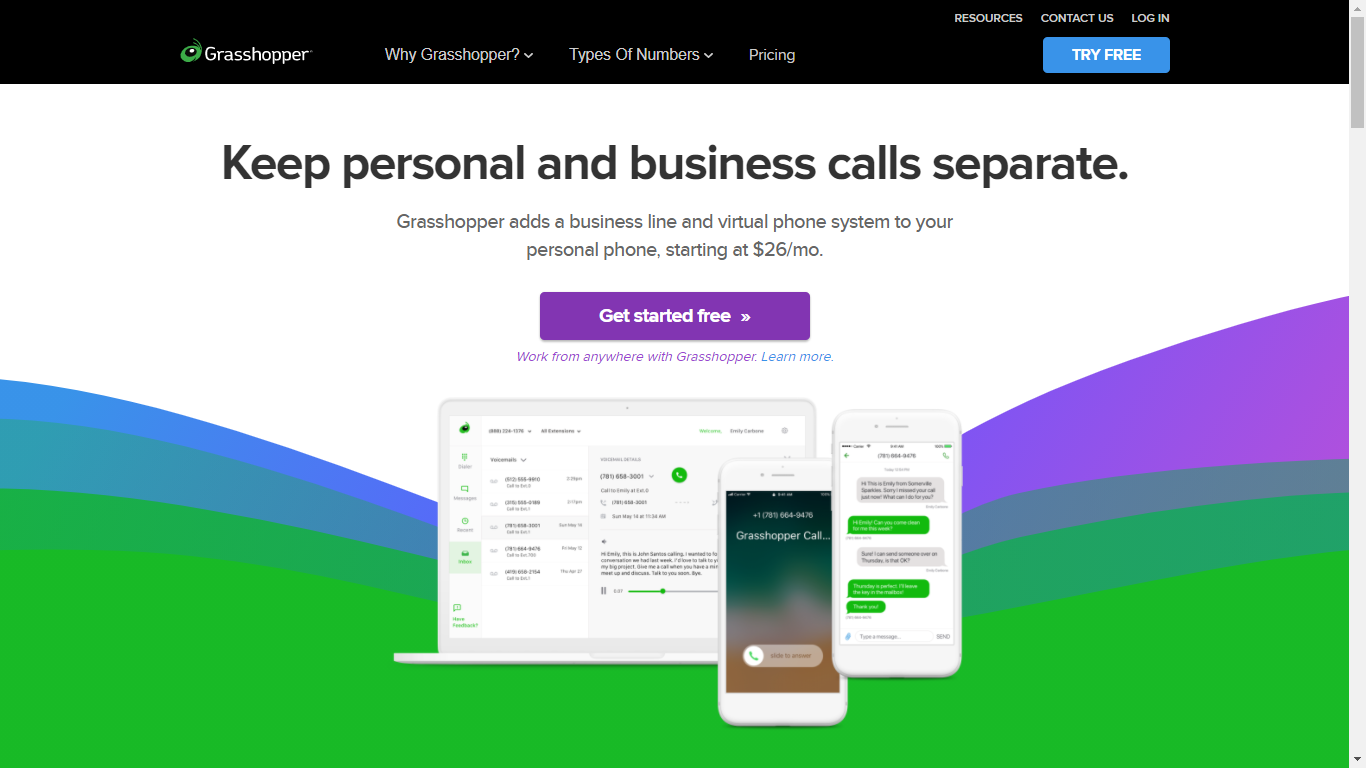 Features
Users can make calls from a smartphone or computer they already use, creating a separate line to distinguish between business and personal calls.
Automatic greeting that customers here upon calling.
Call forwarding to multiple lines so users do not miss a call.
Virtual receptionist
Pricing
Grasshopper charges users $29 per month for its Solo plan, a number that drops to $26 per month when purchased annually. That includes one number and three extensions. Additional numbers, extensions and features come with additional plans at $49 and $89 per month.
| | |
| --- | --- |
| Pros | Cons |
| Built for the unique needs of small businesses | No email or video call capability |
| Charges a flat monthly fee regardless of the number of users | 7-day free trial is shorter than the industry norm |
| Extensions can be added at no extra charge | Does not scale to businesses that have more than just a handful of employees |
GoToConnect combines its own all-in-one phone system and meeting system with some of the tools created under the old Jive phone service. Customers of all sizes use GoToConnect on a daily basis as the company boasts 10 million active users and more than 1 billion customer interactions each day.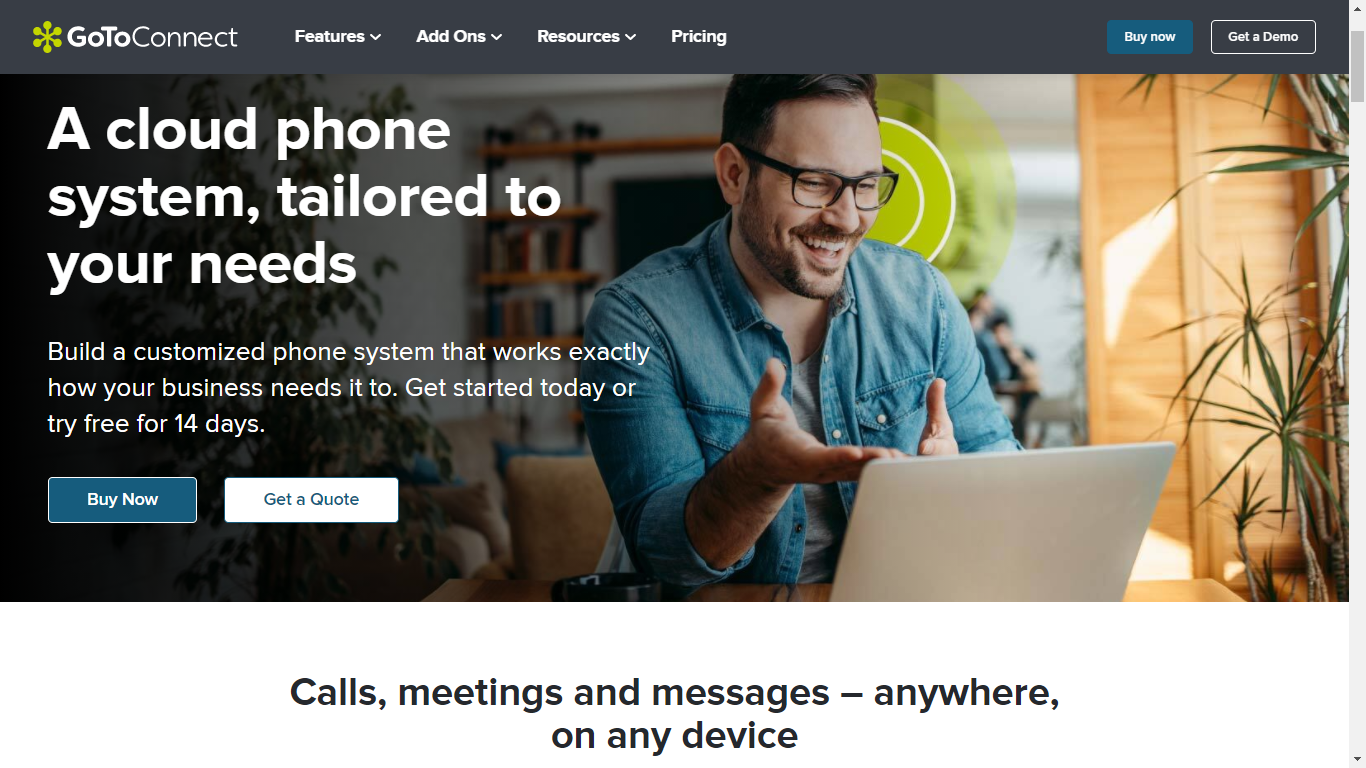 Features
GoToConnect offers a standard set of features similar to other enterprise calling platforms. These include automated answering, prompts, extension dialing and call routing. Voicemail can be accessed from any device. The company's Ring service will call a group of devices when a specific extension is dialed to help employees answer calls with more efficiency.
Pricing
The GoToConnect Basic plan starts at $21 per month per user. The Standard and Premium plans can cost $20 to $30 per user per month, but the company charges less per user based on the number of licenses.
| | |
| --- | --- |
| Pros | Cons |
| Cloud-based phone system eliminates the need for hardware | Basic plan only allows for 40-minute video conferences with a cap of four users |
| Has several options for international calls | Basic plan only offers self support |
| Features several bundle options based on user needs | |
Avaya offers reliable unified communications systems for organizations that seek an all-in-one option and want an easy set up. The platform has a 4.3 out of 5 rating on our website with 89% of reviewers saying they would recommend it.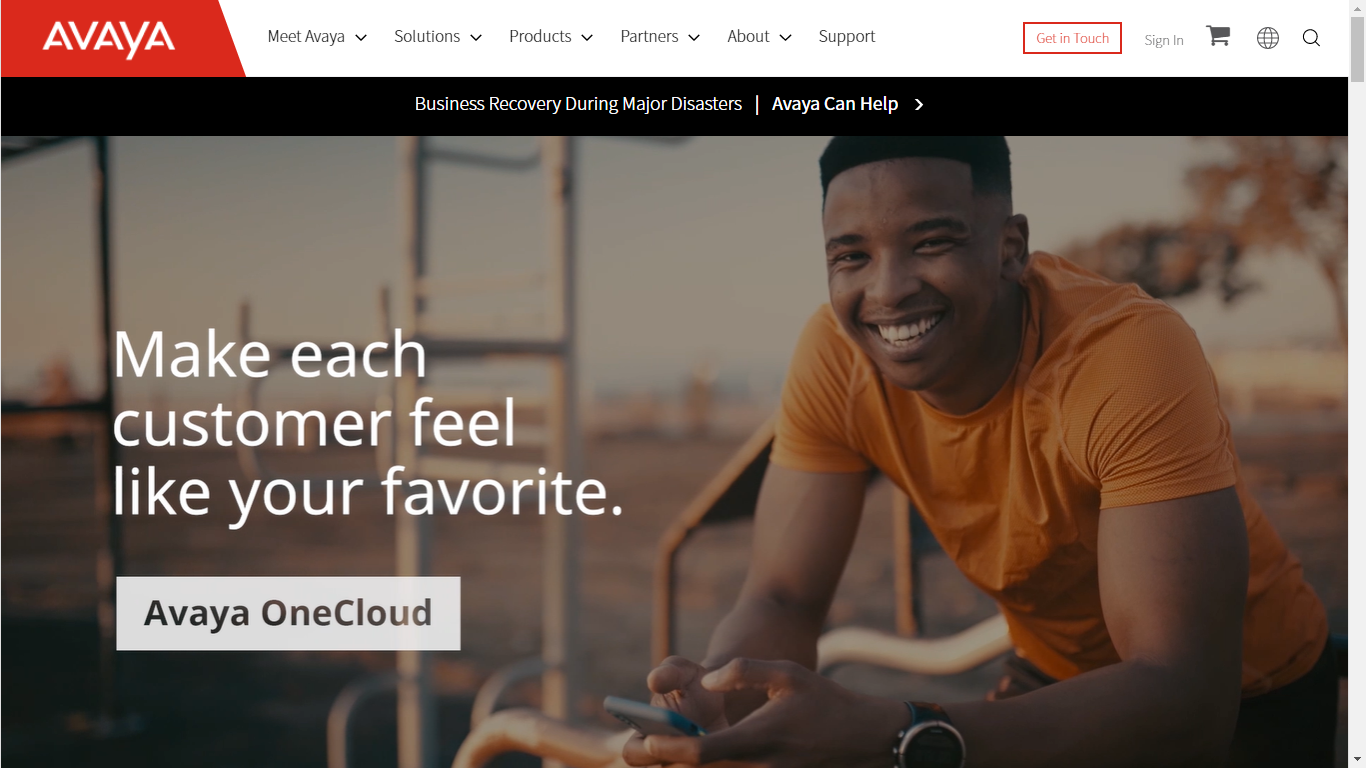 Features
Here's a look at all of the features and highlights of the service:
Local and toll-free dialing for inbound and outbound:
Inbound and outbound local SMS and MMS messaging
Inbound and outbound toll-free SMS and MMS messaging
WhatsApp messaging
Local and toll-free virtual phone number with no provisioning required
Auto transcription of calls
One-click Google Contact Center integration
SIP integration
Automatic speech recognition as well as text-to-speech
Call recording and transcription
Audio conferencing
Avaya Cloud Virtual Agent, which is a AI-enabled auto attendant system for smart call routing
Pricing
Avaya Cloud Office has a flat rate between $19.99 to $59.99 per user per month, depending on the number of users and type of plan you choose. Additional local or toll-free 800 numbers cost an extra $4.99 per month. The company can provide vanity numbers for a one time fee of $30.
| | |
| --- | --- |
| Pros | Cons |
| Cloud-based system makes it easy to scale | Limited third party integrations |
| Great history of avoiding downtime | Lacks solid virtual assistant functionality |
| Offers customers more than 700 features | |
Ooma started as a home phone service provider and found its cloud-based system could help businesses as well. The company now serves more than 1 million business and residential customers.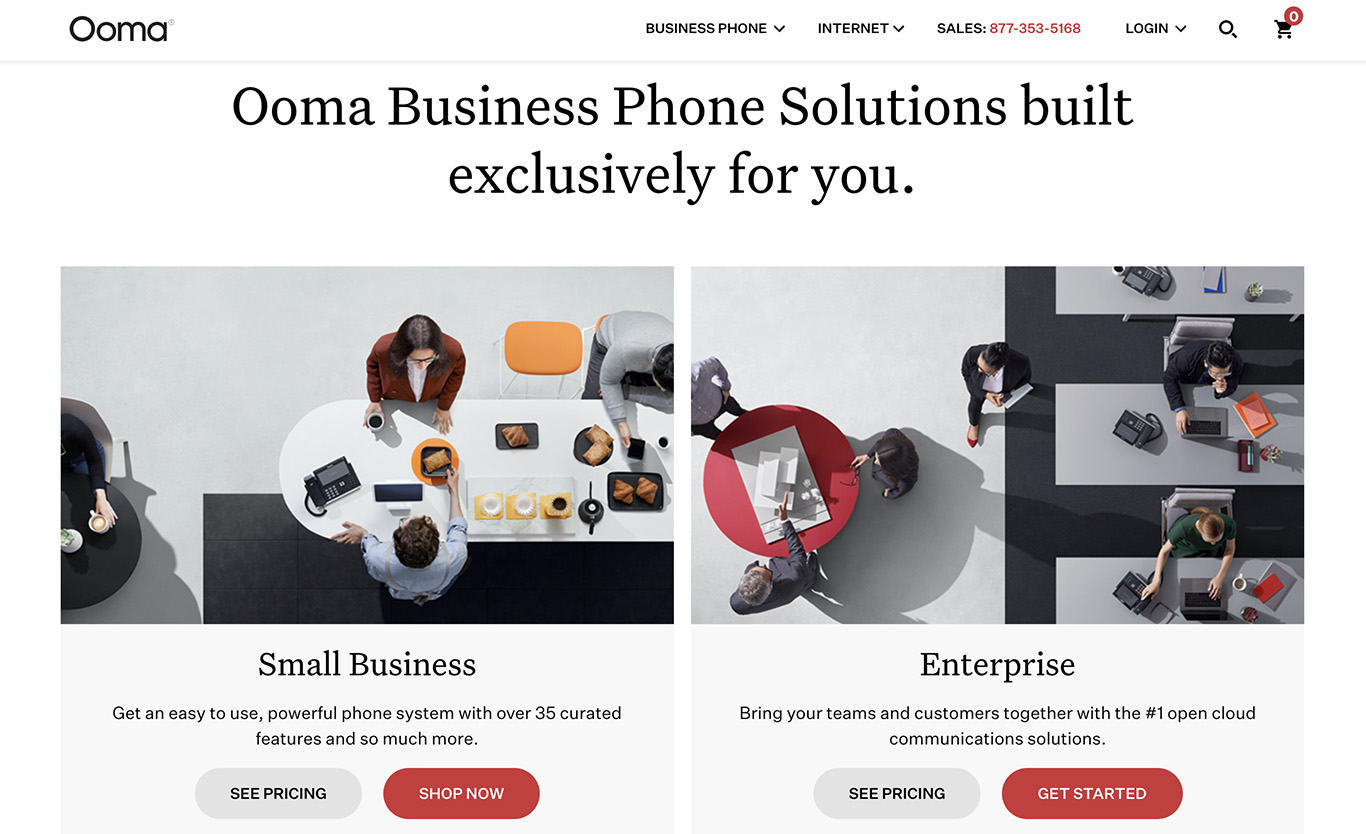 Features
Ooma offers more than 35 features including:
Mobile app
Virtual receptionist
Call park
Ring groups
Hold music
Transfer music
Extension dialing
Voicemail
Call transfer
Call logs
Pricing
Ooma's costs between $19.95 to $27.99 per user per month, with variations based on how many licenses a business purchases.
| | |
| --- | --- |
| Pros | Cons |
| 24/7 support for business customers | Toll free numbers cost extra |
| Cloud-based system works with any type of phone | Video conferencing and desktop app only available with more expensive plans |
| Basic plan offers SMS and online faxing service | |
Previously known as ShoreTel Connect, Mitel provides VoIP service to more than 70 million customers across 100 countries.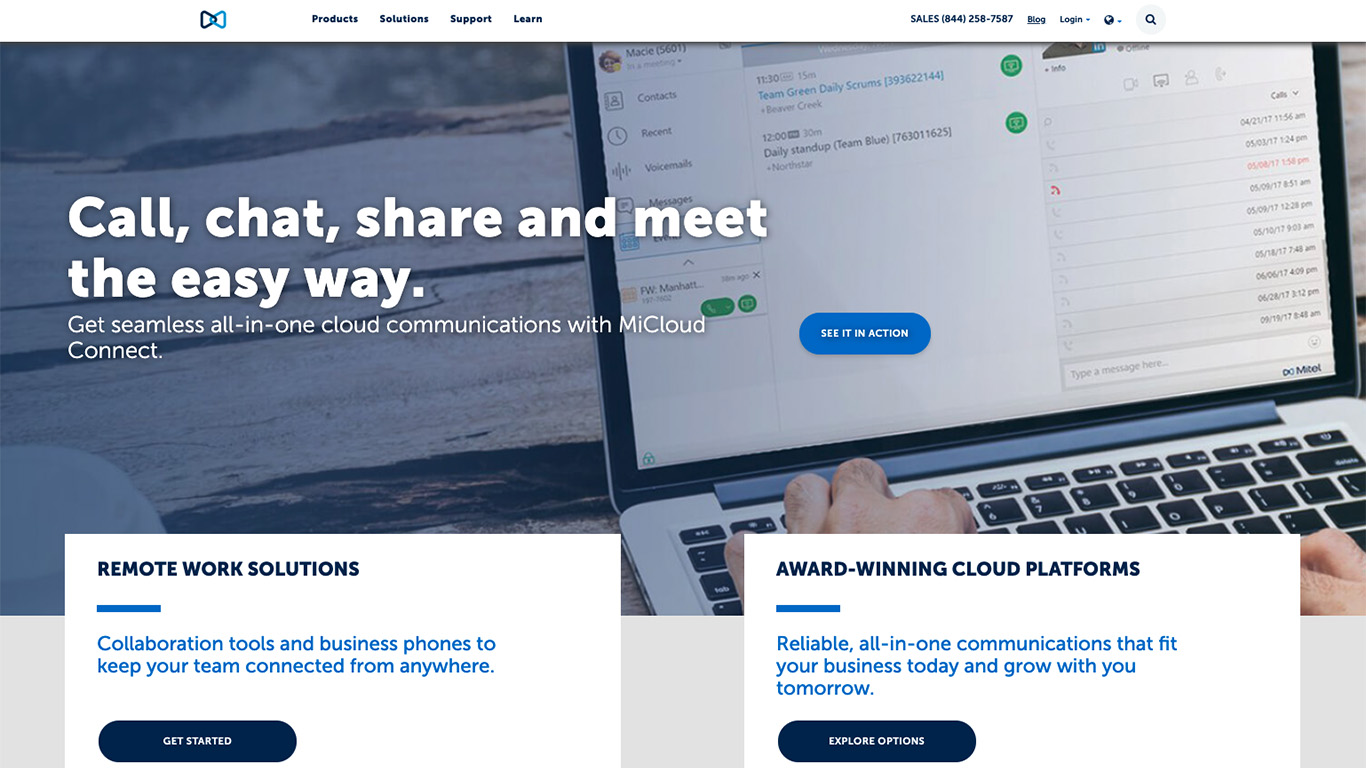 Features
Mitel offers more than 60 features in its basic plan, a number that increases as customers pay for higher tiers. The standard features include:
Multiple inbound and outbound lines
Call routing
Voicemail
Call transfer
Directory dialing
Intercom
Group paging
Extension assignment
Ring-tone personalization
Pricing
The company's Essentials plan cost $20.99 per user per month. Its Premier offering costs $26.59 per user per month while its Elite tier costs $38.49 per user month.
| | |
| --- | --- |
| Pros | Cons |
| Integrates with Jobscience, Salesforce, ACT!, Microsoft CRM, Zendesk and Saleslogix | Costs more than other similar plans |
| Seen as plug-and-play | |
Which 8×8 Alternative is the Best for Your Business?
8×8 has established itself as one of the most popular choices for businesses that want a reliable, consistent, and cost-effective VoIP system. While 8×8 offers an enticing selection of features, it may not be the perfect solution for your business.
When picking a VoIP provider, businesses need to look closely at their specific needs. How many licenses will they need to purchase? How do they intend to use their VoIP system? How much are they willing to spend? Answering these questions and many like it can help an organization decide on the best solution for their needs.
The VoIP market is flooded with different providers with their own pros and cons, so the choice is up to you.