RingCentral and 8×8 are two of the most popular UCaaS platforms on the market, both offering multichannel solutions combining VoIP, SMS, team chat, and video conferencing.
However, each VoIP provider has unique pros, cons, and capabilities.
This article compares RingCentral vs 8×8, outlining their pricing, features, pros, and cons.
Jump to ↓
RingCentral vs 8×8 at a Glance
RingCentral's unified communications platform emphasizes team collaboration through interactive video and chat features, while 8×8's phone system supports a wide international calling area spanning up to 48 countries on higher-tier plans.
 
RingCentral
8×8
Pricing
3 plans from $20 to $35 monthly per user
2 plans at $24 to $44 monthly per user
Key Features

Real-time analytics
File sharing and storage
Team task management
Call center monitoring

Call queues
Interactive video meeting features
AI conversational feedback
Live YouTube streaming

Available Communication Channels

Phone
SMS
Team chat
Video conferencing

Phone
SMS
Team chat
Video conferencing

Integrations
Over 300 integrations, including:

Microsoft Teams
Salesforce
HubSpot
MailChimp
Gong

60 integrations, including:

Microsoft Teams
Salesforce
Zoho
Okta
Slack

Customer Support Options

Knowledge base
24/7 phone and chat support on Standard plan and up

Knowledge base
24/7 phone, email, and webchat support on X4 plan

Best For
Companies seeking a UCaaS platform emphasizing team collaboration
Companies with high international call volumes
What is RingCentral?
RingCentral MVP is a UCaaS platform that combines a VoIP phone system, SMS text messaging, team chat, and video conferencing.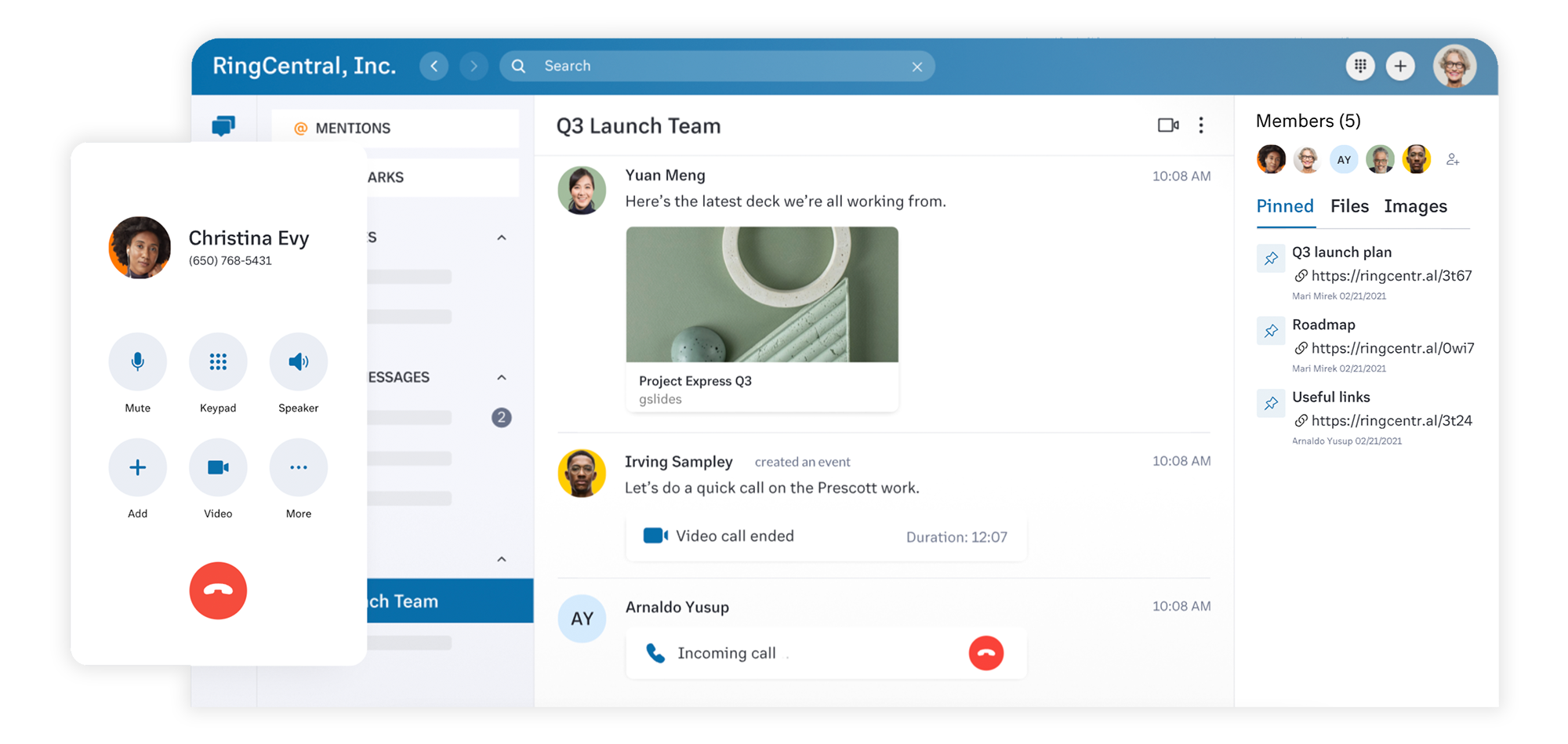 RingCentral offers international phone numbers, customizable routing, call center monitoring, file sharing, video ideation tools, and real-time analytics–available via desktop, browser and mobile app for iOS and Android. The provider also includes integrations with over 300 third-party apps.
What is 8×8?
8×8 is a virtual phone system combining VoIP phone, SMS texting, internal team chat, and video conferencing. With a wide calling area, higher-tier 8×8 plans support unlimited telephony to 48 countries.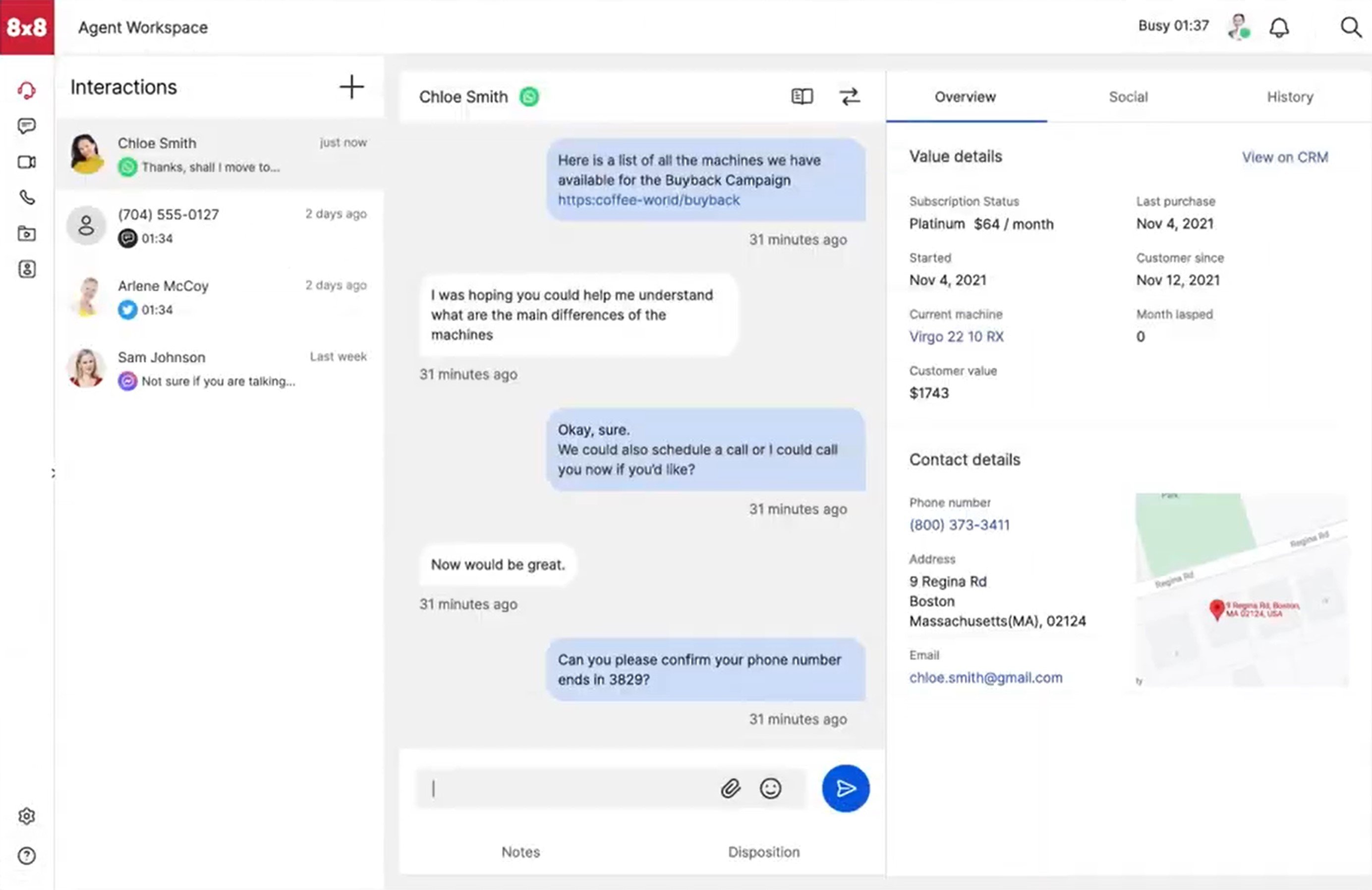 The 8×8 Work app–on desktop, browser, and mobile–features call routing, queueing, video collaboration tools, AI speech feedback, and real-time call activity analytics. 8×8's contact center also supports 60 third-party integrations, including CRM systems like Salesforce.
RingCentral vs 8×8: Pricing Overview
RingCentral offers four pricing plans, each including SMS, team chat, video conferencing, and unlimited calling in the US and Canada.
Essentials plan includes 25 SMS texts per user, collaboration tools, multi-level IVR, call queues, and 100 video-meeting participants
Standard plan supports 100 texts per user, advanced call queueing and rules, automatic call recording, and custom user roles
Premium plan expands video meeting capacity to 200 participants, plus enhanced business analytics, insights, and HD-video quality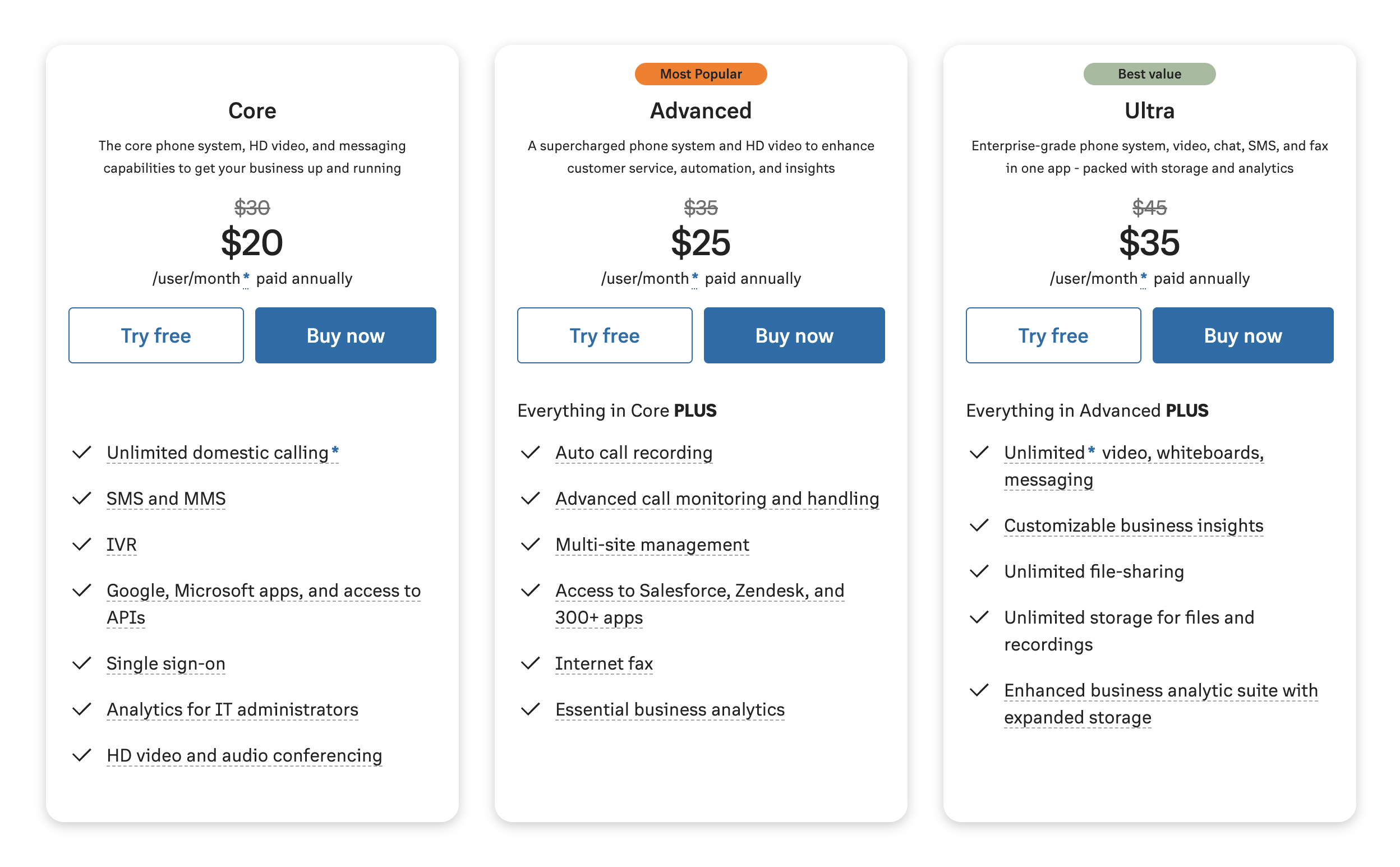 8×8 offers two pricing plans, each with all communication channels: team messaging, video conferencing, SMS, and VoIP.
X2 plan supports unlimited users, with a calling area of 14 countries and a 500-usr video participant capacity–plus adds routing, queueing, and AI conversation support
X4 plan expands the unlimited calling area to 48 countries, adding call center monitoring and 8×8 Frontdesk–a desktop application for receptionists to efficiently handle concurrent calls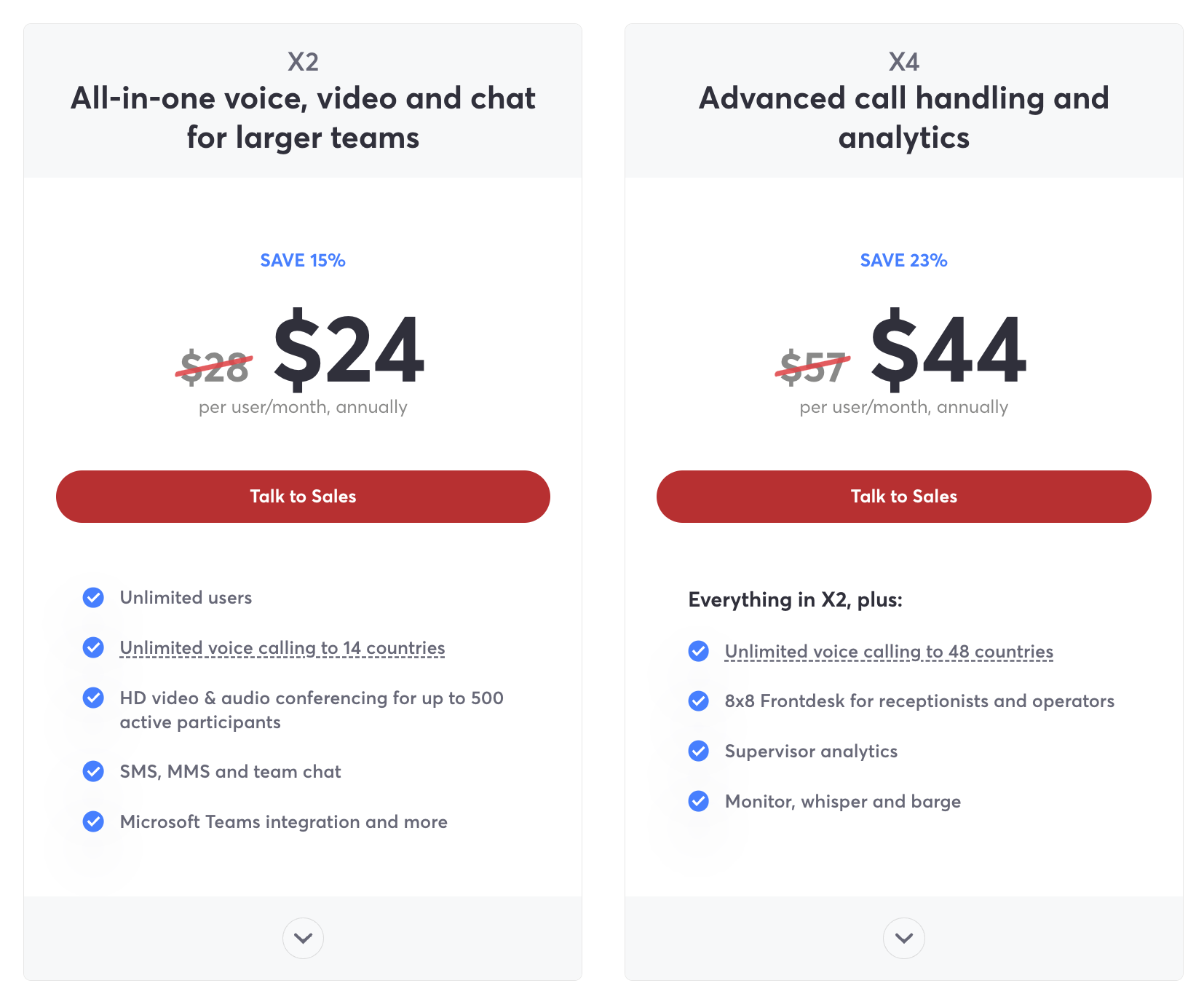 RingCentral vs 8×8: Feature Comparison
Here, we compare key features for RingCentral vs 8×8.
RingCentral Phone System
The RingCentral phone system supports VoIP service around the world, with unlimited calling inside the US and Canada. The provider offers local and toll-free numbers in over 100 countries, for you to establish an international business presence. Additionally, port in the numbers you already use.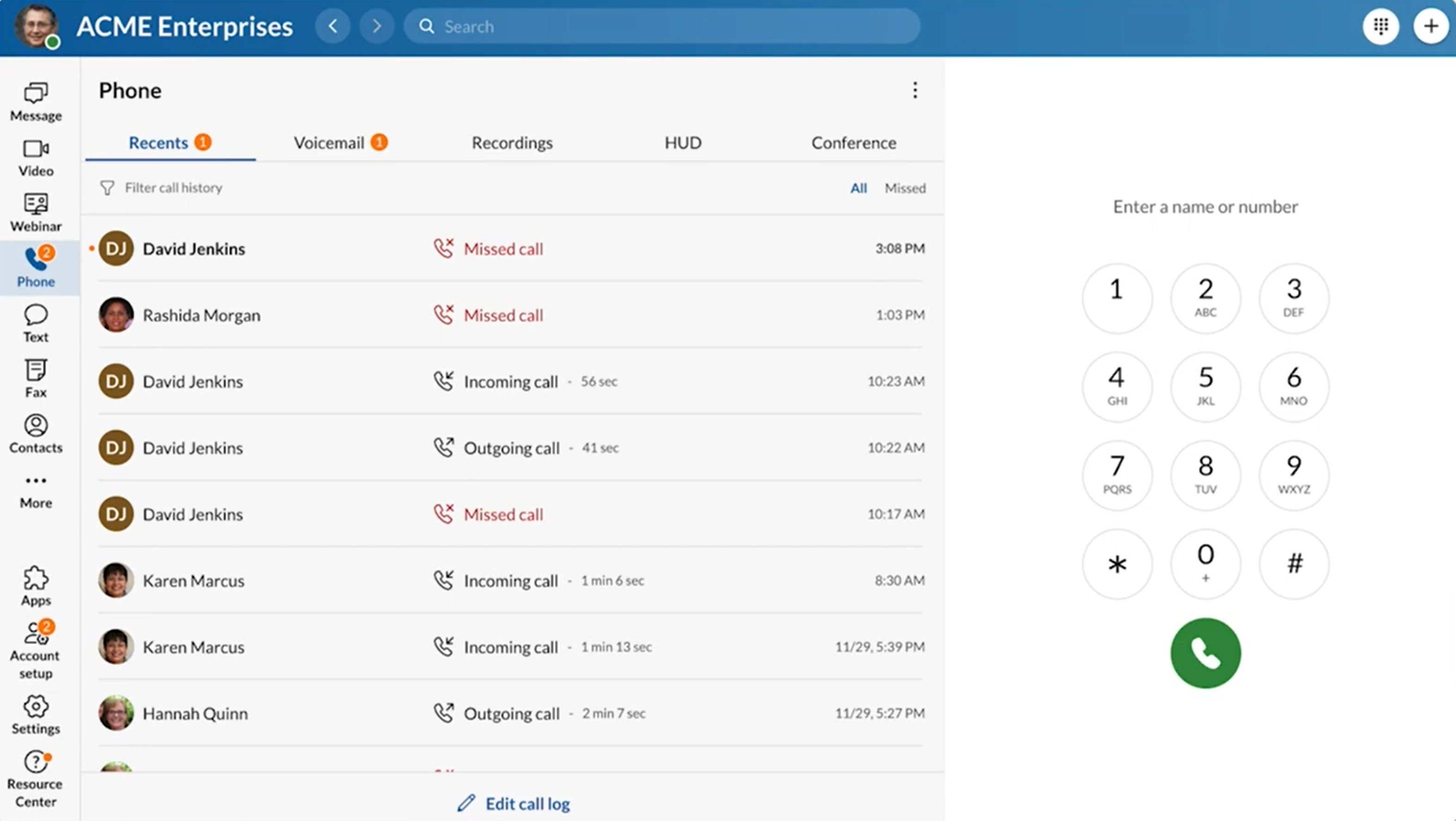 The RingCentral MVP app's Phone tab displays calling features and activity–including call history, voicemail, faxes, and contacts. Users can listen to voicemails, read the transcription, respond to missed calls with one click, use the dialer or contact list, or listen to call recordings. Softphone functionality enables HD-voice calling from any device, even without VoIP hardware, flipping live calls between devices seamlessly.
Users can transfer, mute, and park calls–or switch from phone to video instantly with one click, on any device.
RingCentral Routing and Call Management Features:
Multi-level auto attendant: Create an interactive, self-service routing menu that navigates customers to users, voicemails, announcements, or submenus. Integrate business hours with your IVR menu rules.
Ring groups: Bundle agents together into departments or teams, to share inbound call responsibility
Call queueing: When agents or ring groups are busy, organize up to 25 calls into a waiting queue. Customize call queues with business hour rules and routing style–set sequential distribution or simultaneous distribution.
Call parking: Agents can place a call on hold in a communal "parking lot"– a space where other agents can view the caller and retrieve the call
Call analytics: Real-time queue analytics, activity reports, and call logs
Visual voicemail: A virtual voicemail log with audio playback and voicemail transcription, which users can search by contact or keywords. Forward voicemails with voicemail-to-text and voicemail-to-email.
Call recording: On-demand or automatic recording, stored in the Phone dashboard for review or sharing
Call center monitoring: Supervisors can listen in on agent calls, whisper private guidance to a live agent, barge in to join a call, or take over the call entirely
8×8 Phone System
8×8's cloud PBX business phone system supports an unlimited calling area of up to 48 countries, which outperforms nearly all market competitors. The provider offers toll-free and local DID numbers in area codes across 100 countries, including number porting and batch contact adding.
Popular destinations in 8×8's 14- and 48-country unlimited calling areas:
| | | | |
| --- | --- | --- | --- |
| Australia | Germany | Italy | Ireland |
| Switzerland | Netherlands | France | United Kingdom |
| Spain | Sweden | Canada | United States |
The 8×8 Work app unites a variety of VoIP features–including routing, queueing, AI conversation analysis, call center monitoring, call controls, and analytics. The app's Calls tab organizes a dial pad and contact list with softphone functionality from any device. Organize the call history by All, Missed, Incoming, or Voicemail, listen to voicemails with transcription, and call any user with one click.
8×8's Frontdesk app, included with the X4 plan, offers an interface specialized for customer-facing workers–like receptionists and operators–to handle high concurrent call volumes. It includes a variety of quick action options, a dashboard holding 10 calls at once, and drag-and-drop live-call management tools.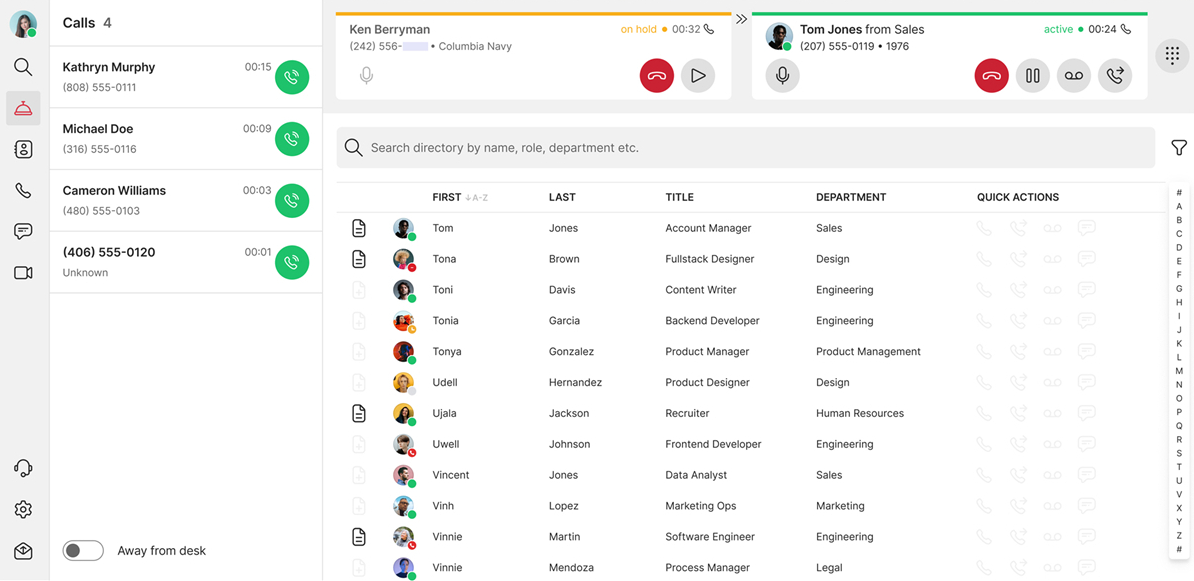 8×8 Phone System Features:
Conversation IQ: A speech analytics solution that transcribes employee and customer conversations, enabling keyword search, topic identification, and real-time speech analysis. After each conversation, supervisors can review transcripts, visualize the conversation's most repeated words and topics, and evaluate agent performance.
Visual voicemail: Voicemails include transcription, audio playback, voicemail-to-email forwarding, and tone-click callback
Call controls: Caller ID, call forwarding, blocking, transfer, do not disturb mode, and 3-way calling
Call monitoring: Supervisor tools to listen, whisper, barge and takeover agent calls when necessary
Role-based access controls: Create custom roles based on users' job functions, using these roles to auto-assign access to resources. Control which users can access resources like call recordings, video meetings, analytics, and more.
Call queues: Organize waiting queues for individuals and ring groups. Queueing includes automatic queue callback–so customers can receive a call back later–and shared queue voicemail boxes
Call parking
Multi-level auto attendant
RingCentral Team Messaging
The RingCentral MVP app supports 1:1 chat and team-messaging channels, organized in the Message tab. New conversation activity pings the user, keeping you up-to-date whenever a message requires attention. Add users via email address, even if they're not part of your organization.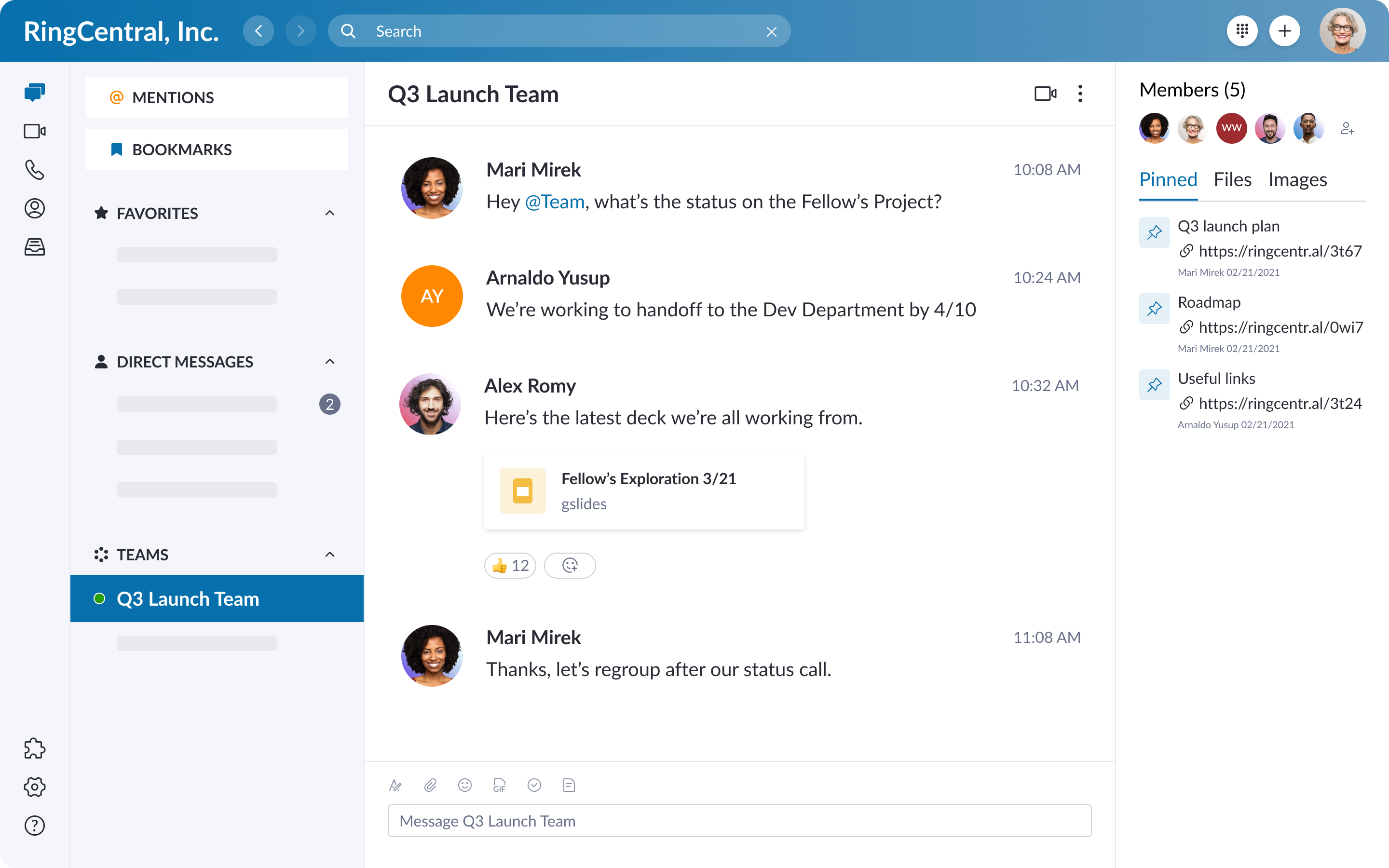 Each messaging conversation log displays a multichannel contact history, including all calls, voicemails, and messages between that group. Users can type a message, share a file, assign a task, send a GIF or emoji, share a calendar invite, call back a teammate, and more. Initiate video meetings or jump into a group call directly from team chat with one click.
RingCentral Team Messaging Features:
Message formatting: Within the text box, customize a message's formatting–use bullets, numbering, bold and italics, tables, fonts, colors, and more
Calendar sharing: Share a calendar event, such as a video meeting with RingCental's built-in video calendar, and invite participants via chat. This embeds a one-click join button in the conversation log and updates all users' respective calendars.
Task management: Create and name tasks, color tag them, set a due date, and assign tasks to teammates, who can mark them "complete" in the chat
File management: Store all kinds of files, create folders to organize them, pin important documents, and share files easily via the chat text box
Live video rooms: All chat conversations generate a button for participants to join an impromptu team huddle
Search: Search conversations by file, user, keyword, or mention to immediately find particular information.
8×8 Team Messaging
8×8 supports 1:1 and team messaging channels, called Rooms, in the Work app's Messaging tab on any device–browser, desktop, or mobile.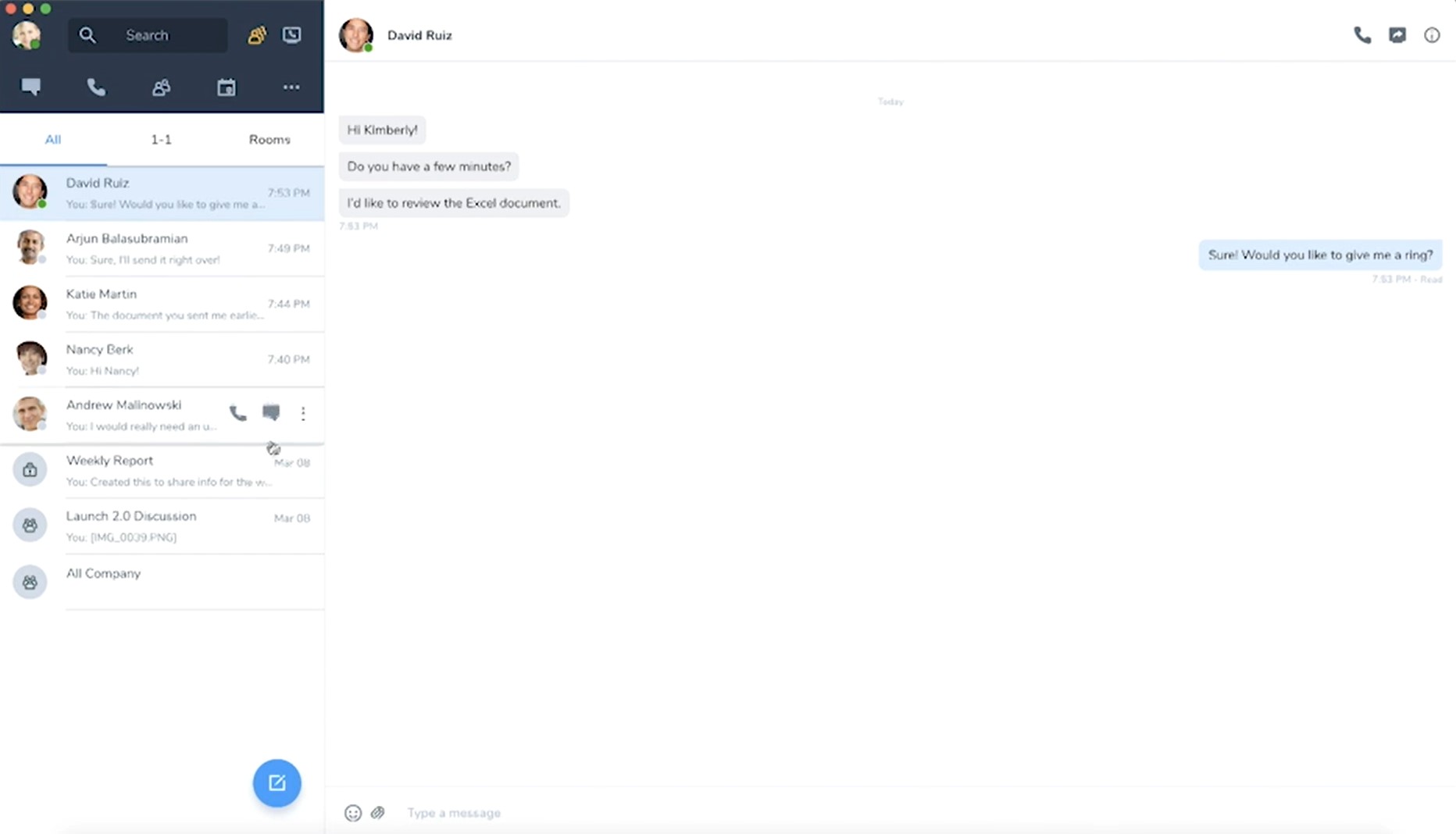 Create public or private rooms and invite users by name or email, and manage all conversations in the left-hand menu. Tag teammates to directly mention them, and control notifications–to receive pings for all new message activity, or only when you're mentioned.
Share emojis, documents, files, and images within the chat text box.
RingCentral Video Conferencing
RingCentral MVP video meetings have no time limit and host up to 200 participants. HD video conferencing leverages AI support for highly collaborative meetings, with features like auto-generated insights, live transcriptions, chat, breakout rooms, and more.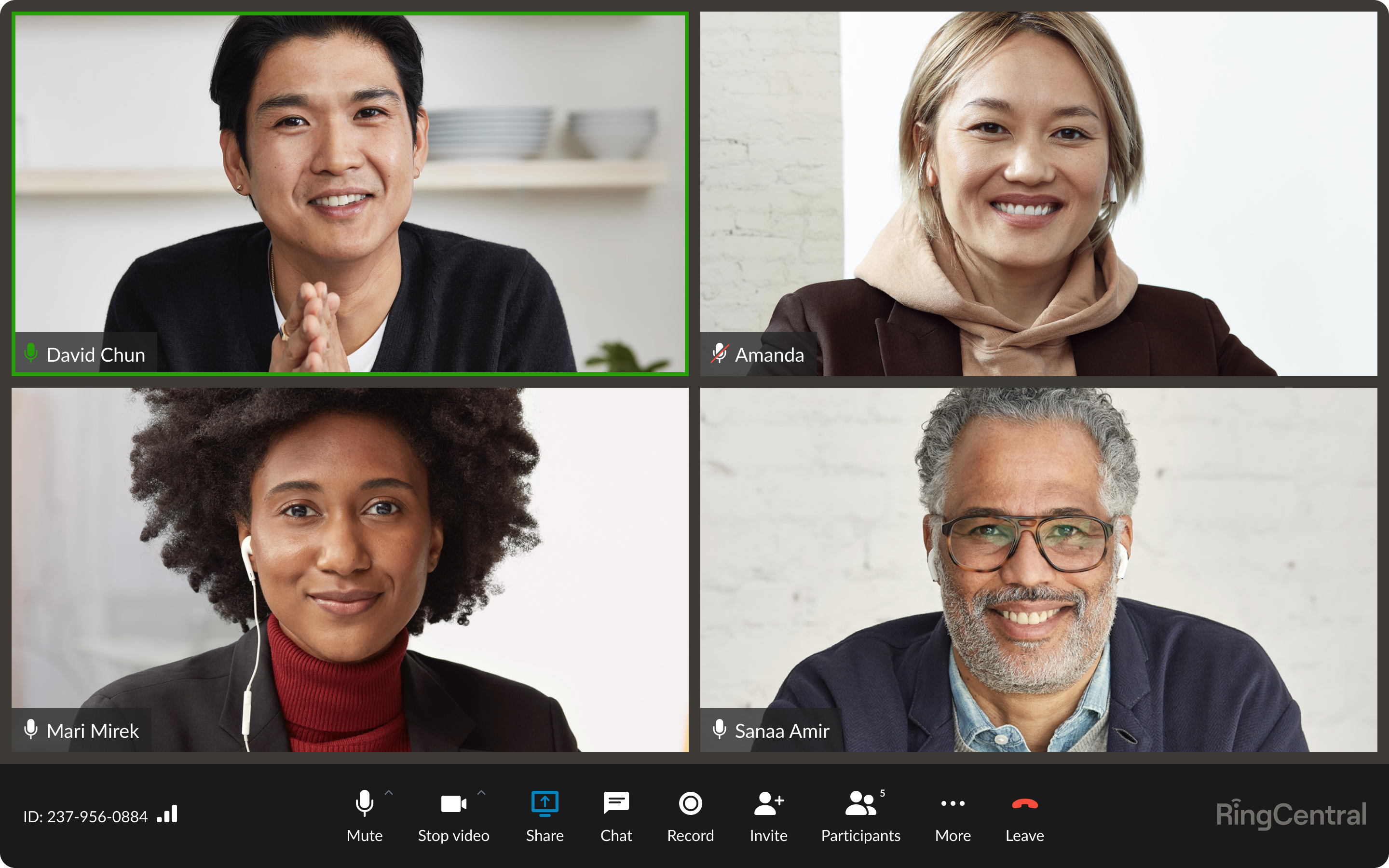 Create and schedule meetings right within the app, inviting internal and external participants with one-click access links. Participants can join from any browser–on any device–with no download. RingCentral video features a built-in calendar app that automatically updates and syncs across participant schedules.
Hop into impromptu video meetings from chat or a phone call, with end-to-end encryption regardless if you're meeting 1:1 with a customer or with hundreds of teammates.
RingCentral Video Meeting Features:
Advanced meeting insights: AI-generated meeting summaries curating main topics, keywords, highlighted reels, and searchable transcripts
Live transcription: Automated captions that identify different speakers, even in crowded group meetings
Background noise filtering: AI automatically reduces unwanted background noise, like keyboard clicking or dogs barking
Whiteboard: An interactive blank canvas where dozens of teammates can collaborate with drawing tools–colors, text with formatting options, drawing, and fill. Save, download, and share whiteboards in team-chat conversations.
Breakout rooms: Split the larger meeting into smaller groups with fewer participants, for increased engagement and a more personal environment
Reactions: Non-text symbols, like raise hand or applause, that participants can use to give quick feedback or commentary
8×8 Video Conferencing
Use 8×8 to create and host collaborative video meetings with up to 500 participants and no time limit.
Accessible via the 8×8 Work app on any device, meetings include interactive features like virtual backgrounds and chat, recording, live multilingual translations, and advanced moderator controls.
The app's Meetings tab provides a hub for users to create meetings and manage all upcoming meetings. All of a user's forthcoming meetings are organized in the left-hand menu, with recent meetings available for viewing. Invitees can join meetings from any device, with no download.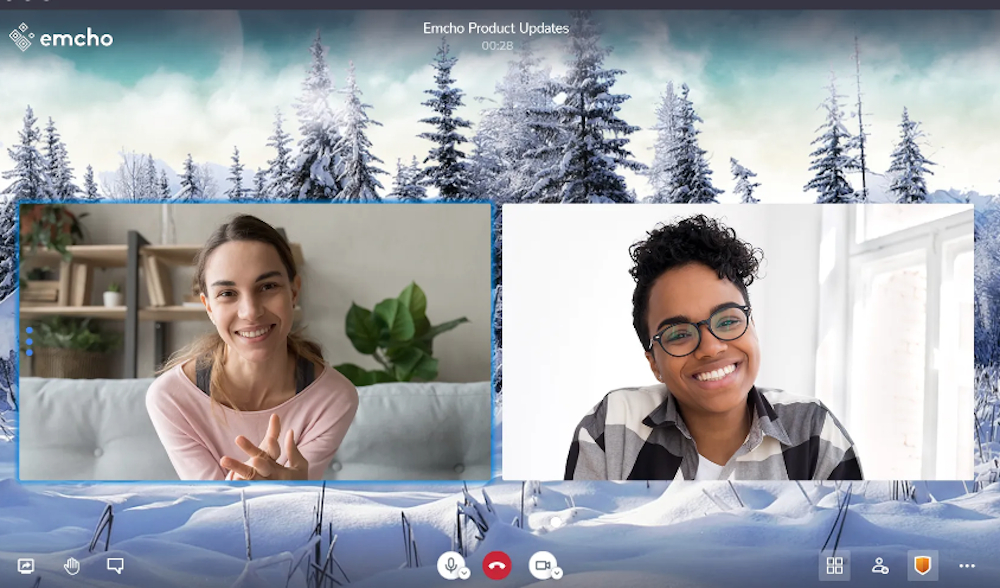 8×8 Video Meeting Features:
Built-in scheduling and calendar integrations: Create and name meetings, set the schedule, invite attendees, add a description, and attach documents. Meetings sync with Google Calendar or Microsoft Teams Calendar.
Screen sharing: Participants can share their screen or application window
Host controls: Mute participants, enable meeting lobby, lock meeting with a passcode, and invite more attendees
Meeting analytics: Users receive detailed analytics for each meeting, including start and end time, meeting links, and participant information
YouTube streaming: Stream meetings live to YouTube, for larger audiences and webinars
Meeting recording
RingCentral Reporting and Analytics
RingCentral MVP offers supervisor reports and analytics displaying key metrics and KPIs for call center activity, usage, adoption, collaboration, and performance.
Customize reports by user, channel, department, and historical or live timeframe–viewing KPIs as statistical data, wallboard, table, or graph.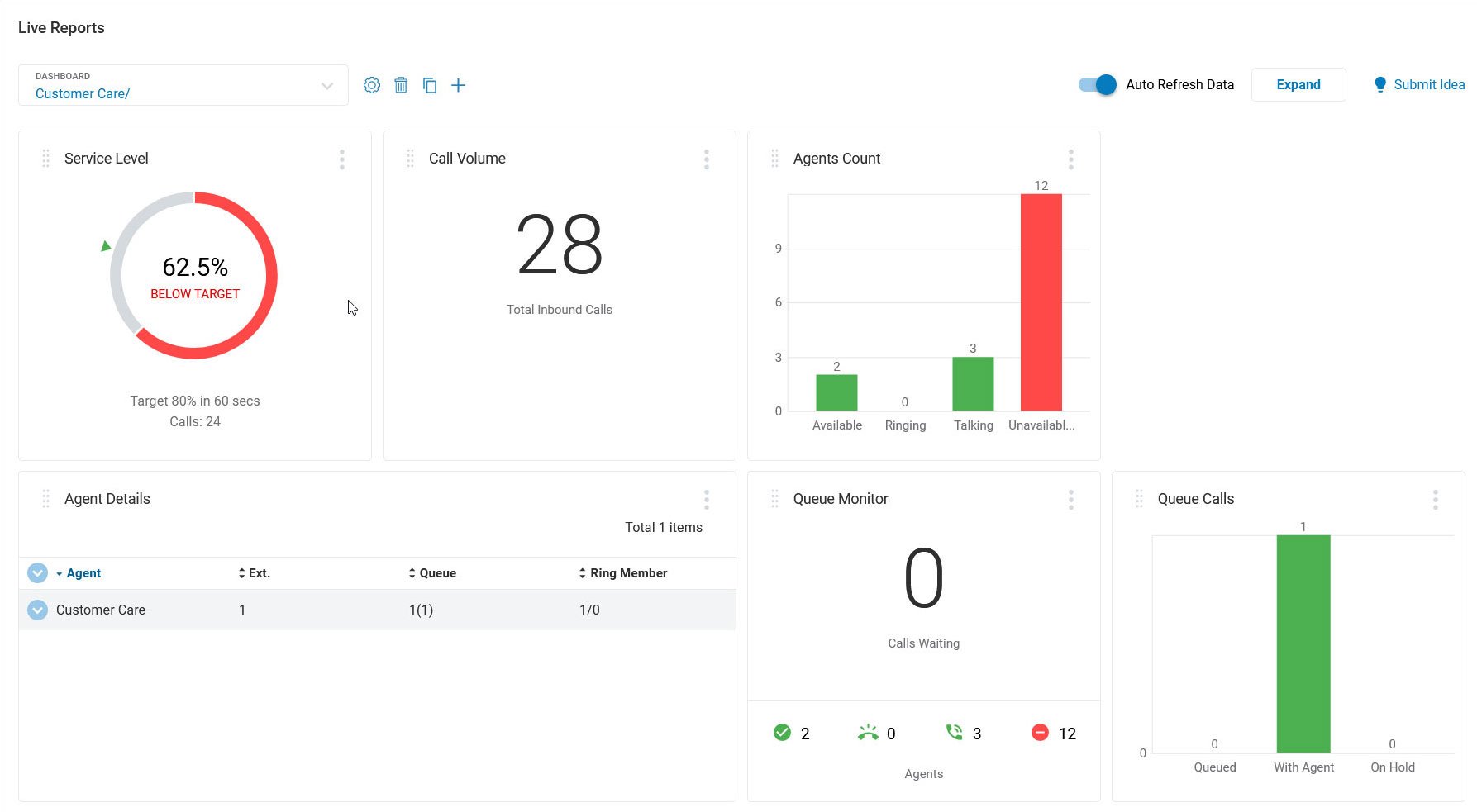 RingCentral Reports and Analytics:
Service quality: Metrics to support IT teams, such as the connection and audio quality of devices and ISP streams, with historical records to help troubleshoot. Video reports display microphone and camera health for each user.
Call center activity: General activity statistics like the number of total calls, inbound and outbound calls, missed calls, calls on hold, calls transferred, and more
Multichannel usage and adoption: Total and average numbers of calls, messages sent and received, and video meetings joined. View channel-usage frequency with a pie-chart percentage breakdown for each user.
Custom reports: Generate your own reports for the metrics you care about, using templates or starting from scratch.
8×8 Reporting and Analytics
8×8 Work offers analytics dashboards displaying usage and performance metrics. Supervisors can sort metrics by department and user, or by custom historical timeframe.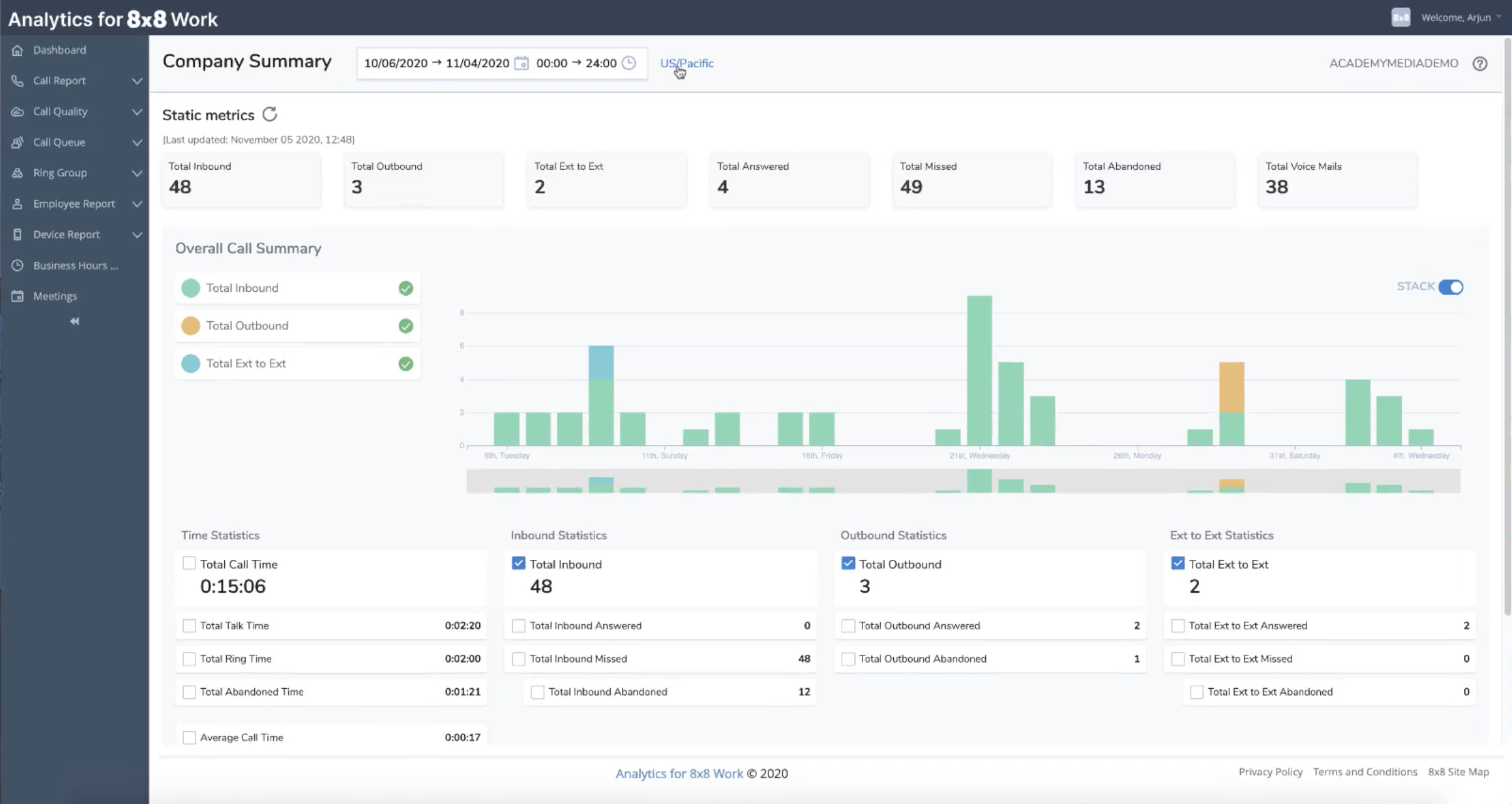 8×8 Reports:
Performance reports: Call audio quality and meeting connection health, for troubleshooting
Call traffic reports: Call activity metrics–including total calls and missed calls, and averages–sortable by the hour, day, and week for supervisors to gauge seasonal, weekly, and daily trends
Agent activity and performance: Calls made and answered, missed calls, calls transferred, messages sent, and video meetings participated. This information can be viewed by the date or averaged and compared over a historical timeframe
RingCentral Pros & Cons
| | |
| --- | --- |
| RingCentral Pros | RingCentral Cons |
| User-friendly app | Unlimited calling area is limited to the US and Canada |
| Wide bank of integrations | No video on the essentials plan |
| Highly collaborative team chat | Some popular integrations–like Salesforce and Zendesk–are reserved for the Premium plan |
8×8 Pros & Cons
| | |
| --- | --- |
| 8×8 Pros | 8×8 Cons |
| Massive unlimited calling area | Lacks some team-chat collaboration features, like task management |
| AI agent support | No whiteboard in video meetings |
| Large video-meeting participant capacity | Express plan is limited to 5 users |
Which Phone System Should You Choose?
The best VoIP phone system for your company depends on your size, budget, collaboration needs, desired features, and calling destinations.
If you're looking for a collaborative platform that doubles as a task management and brainstorming solution, RingCentral meets your business needs–especially if you only make calls within North America.
On the other hand, if you frequently make calls outside of the US, 8×8 offers a highly competitive rate for their unlimited international calling area.