Modern SMBs and large corporations are moving to networked communications because they are more agile and more versatile when it comes time to collaborate and seek out new business. These solutions are usually very low maintenance and they can interlink with other cloud-based tools for a heightened experience.
Cloud hosted PBX systems is a VoIP service providing the services that unified communications equipment would without the need for hardware installation. These systems cost less and have a degree of flexibility that cannot be matched by many other VoIP and traditional communications solutions.
What is Cloud PBX?
Cloud PBX is a Private Branch Exchange telephone exchange system that is entirely built in a cloud based environment to provide server access via an internet connection. As a result, companies that use cloud or hosted PBX systems won't have to have a dedicated server to have internet-based telephony in their offices. Hosted PBX is an excellent way for companies to save money and space because traditional servers for a private branch exchange are expensive and will take up a lot of space.
It's important to note that traditional PBX has gained a reputation for being complicated and clunky, which is why cloud-based systems are gaining popularity. Modern virtual PBX solutions are reliable and provide a stable business phone system via the internet.
How Does Cloud-PBX Work?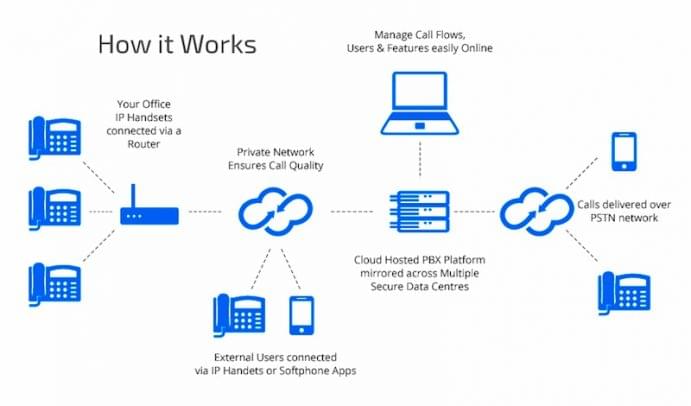 Cloud PBX works by connecting all of your devices to your cloud based phone platform. You need a VoIP system to use your cloud PBX, which is why most VoIP providers include the use of their virtual PBX with a subscription to their services.
PBX systems stand out thanks to the fact that the servers are globally distributed. With this sort of geographical redundancy, disasters cause far less trouble, and when one server location goes down, there are others to support the load. Many providers guarantee 99.999% uptime for their services. Reliability is vital for companies converting from a traditional telephone system to using a cloud based PBX phone system but afraid of outages.
This type of system is also very convenient when unifying the communications of a global enterprise. With a cloud phone system, all offices can use the same communications system, even when they are hundreds of miles apart. Despite this versatility and functionality, hosted PBX systems still maintain all of the conveniences that can be found with standard PBX systems. For example, organizations will be able to use enterprise-quality IP phones, virtual phones, smartphones, and conference phones on hosted PBX services. Cloud-based PBX has some excellent scalability as well.
Here are a few features that are standard for cloud PBX providers:
Call Queuing
As you know from our published piece on call queuing, customers prefer direct attention. Cloud PBX solutions can place incoming phone calls from customers in a queue so that your agents can take the calls with ease.
IVR
Some providers provide IVR functionality, which uses software to guide customers through the system. Cloud-based PBX providers like Dialpad and Nextiva are using AI-based solutions that integrate with their PBX systems to better serve inbound callers.
Conferencing Calling
With software solutions that utilize cloud-based PBX, web conferencing is becoming very easy. Usually, with just the click of a button, you'll be able to add calls so that a more collaborative, team-based environment is created. With software like the Streams platform by PanTerra, you can even change individual calls into full-on video conferences.
In-Call Management
For contact center managers, some oversight may be required for compliance and agent coaching. Some PBX providers provide this functionality, which adds to the versatility of their services. Here are a few features for in-call management:
Call Barging: This allows supervisors to enter the conference bridge while agents are talking to leads. This extra support can help push leads through the funnel to become conversions.
Call Recording: Call recording is great for record-keeping, and it's also useful for those call centers that want to review calls for compliance or training. This can help agents self-coach and work on pitches or helping the agent get better at solving queries from callers.
Call Monitoring: Some virtual PBX solutions also allow for call monitoring, which is used in conjunction with call barging to ensure quality and power conversions. Call monitoring is also a great way for managers and supervisors to verify that agents are performing.
Cloud PBX Benefits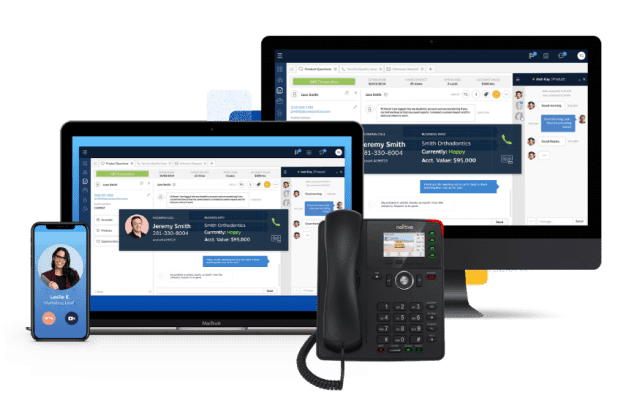 The benefits include the ways it grows with your company.
It's Flexible: With virtual PBX, it's straightforward to add or remove users and integrate existing traditional phone system hardware into a virtual PBX system as needed.
It's Upgradeable: When there are new software updates for your cloud PBX system, these are easy to roll out without the need for a IT administrator to make server changes. This is because the servers are managed by the provider, so if there is going to be an upgrade, the provider will perform the update remotely.
It's Scalable: If you're scaling up with a traditional PBX system, you'll be adding servers and moving equipment. With cloud-based PBX, the heavy lifting and effort are, once again, managed by the provider. The most a business will have to move around is the handset and cables for any new employees that they take on.
Cloud PBX Drawbacks
This isn't to say that Cloud PBX is a perfect solution. It does have a few weaknesses that you should consider before making a purchase:
It Can be Less Secure: For those that need compliant communications systems, it's critical to find a company that has robust security features. While a virtual PBX provider may provide encryption for your calls, when recording data is sent, there may be a reduced level of security. This means that those seeking this form of unified communications have to be very careful about the provider's security practices.
It's Internet-Based: If a company's internet is experiencing issues, then no amount of redundancy is going to prevent the calls from losing quality or being dropped altogether. If a network drop occurs, that will result in missed calls.
9 Reasons to Upgrade
Despite some small disadvantages, cloud PBX is still a great method to ensure that your unified communications experience is comprehensive and versatile. This is an excellent system for companies that need a virtual office experience or for those that want to save on the costs of a hardware solution managed by IT staff.
Let's take a look at 9 reasons to consider upgrading your current system to a virtual phone solution.
1. Quick and Inexpensive Set-up
If you're going to be going with a traditional solution, you can expect a higher cost since you'll be paying for costly hardware installation and upkeep. With a cloud hosted PBX solution, all of the hardware is hosted by the provider, so it's a simple matter of getting headsets aligned with the service.
Many companies, like 3CX and Jive, state that setting up their services only will take a single business day, which means that your team will be up and running very quickly.
With a traditional PBX provider, you'll have to pay for the service as well as the upfront cost of renting and maintaining the hardware and desk phones. With a cloud service, you'll be spending around $15 per month, per user, making it more cost-effective. Cloud PBX can save you up to 60% as compared to traditional on-premise PBX, especially if your provider bundles in international calls.
2. Scalability
Scalability is a significant reason to switch to the cloud. Providers charge their customers for the amount of bandwidth that they use. This is an ideal situation for companies that are in flux because adding users or subtracting users is an easy process that ensures you only pay for what you use.
Costs increase as you scale as a result of a higher number of seats or phone lines, but you'll never end up paying for more than you use.
3. Easy Integrations
Marketing automation and CRM software like Hubspot and Salesforce provide value when it comes to master data management. Since the cloud PBX provides an internet-based communications solution, it's effortless to incorporate data from in-platform dashboards into these third-party solutions.
4. Call Center Features
Unified communications truly shines when your provider delivers extra value, and some extra features like call queuing, IVR, reporting, and in-call management features can deliver a better experience for organizations.
5. Mobile/Device Friendly
These days, salespeople and execs have a tendency to spend a lot of their time on the run, which is why many meetings end up happening with at least a few attendees listening in via their smartphones. As a result, many providers have smartphone apps for both iOS and Android that allow for cloud PBX features, even on smartphones that have private numbers.
Many mobile apps allow attendees to gain access to the full suite of features from their mobile devices. This is a perfect way for in-transit attendees to feel fully prepared, even when they don't have their computers. Since this is internet-based, attendees can also sidestep call charges by using local internet to attend meetings and calls.
This is even usable in non-meeting situations. For example, if a salesperson has a babysitting emergency, they can easily go home, hook up to the internet, and use the PBX software to continue reaching out to leads while keeping an eye on things at home.
6. Unified Communications Capabilities
Providers offer an all-in-one experience that lets PBX users throughout a company's network seamlessly switch from a call to a video conference or even send files while on a voice call.
These desktop apps include full functionality in a single place, which adds convenience and productivity for teams.
7. Uptime and SLA Guarantees
With multiple global servers hosting the communications for various organizations, the incidence of downtime is reduced significantly. This is especially true for those hosted PBX solutions that have redundant network architecture or automatic failover routing. These will ensure that any downtime that happens as a result of hardware failure is immediately corrected at the managed data center.
This is particularly useful when natural disasters or other types of events happen at a server location. The software from the provider will automatically route calls to another server so that users will not experience downtime or notice that there was a problem at all.
8. HIPAA/HITECH Compliance
For some organizations, especially those in healthcare, a higher level of compliance is required so that necessary caller data isn't lost to hardware malfunction or hacks. An increasingly high number of cloud-based companies are providing this compliance to their clients, and these companies must protect data when it is at rest as well as when it's in transit.
Several hosted PBX providers have features that allow administrators specific access control, audit controls, workstation security, and transmission security. Heightened security comes as a standard feature for several providers like 8×8.
9. No Need for Physical Hardware
If you're going to go with standard PBX, then you're going to need to purchase or rent PBX cabinets that hold the server architecture that you'll need to make internet-based calls. With Cloud hosted PBX systems you'd negate the need for this by having the server system be dispersed in several geographic locations (managed by service providers).
Top Five Cloud PBX Providers
Dialpad is a solution that integrates with software like G Suite, Office 365, Salesforce Sales Cloud, and Zendesk. In total, there are 12 integrations, which means a versatile experience for sales teams. It is HIPAA-compliant and has options for multi-factor authentication.
The company offers a 14-day free trial for those on the fence, and they have a robust 24/7 support system for their customers.
Dialpad Overview

Plans
There are three plans for Dialpad. These include the standard plan ($20), Pro plan ($30), and Enterprise. Plans are per user, per month. More on Dialpad pricing and plans here.
Why Pick Dialpad?
Dialpad offers call transcripts, HD calling from any device, and call transfer.
Organizations that Can Best Use Dialpad
Dialpad has quite a few software integrations, even for Salesforce. This makes it the right choice for organizations with high data needs.
RingCentral is a provider that has an all-inclusive offering that provides access to call logs, instant messaging, call recording, conferencing, virtual numbers, and even fax. They also claim that these features are rolled into their service at a fraction of the cost that you would spend getting them from separate providers.
They also have annual payments that can reduce the cost of the service by up to 33 percent, and the service also has free trial options for each of their four plans. The software also has AI integration that can assist sales teams that want to improve performance via intelligent metrics.
RingCentral Overview

Plans
There are four plans for RingCentral: Essentials ($19.99), Standard ($24.99), Premium ($34.99), and Ultimate ($49.00). These plans are priced monthly but charged annually, and they are per user. More on RingCentral Pricing and Plans here.
Why Pick RingCentral
RingCentral has toll-free local numbers for all four of their plans. Also, their support is excellent, and there is a very low incidence of downtime.
Organizations that Can Best Use RingCentral
RingCentral has servers in the US, Europe, and Asia, so for those that need reliability, there's enough redundancy.
These days, it seems hard to avoid business VoIP software from LogMeIn – they have the GoToMeeting suite, and they are also responsible for Join.me. GoToConnect is their PBX solution, and it's beneficial because it features call analytics, queues, desktop integration, and even fax to email.
The platform is also very secure thanks to the Jive Secure feature, which protects data and grants administrators permissioning capabilities. Jive Mobile is a part of the system that brings all of the IP PBX functionality to a single smartphone-based app, and the Jive Desktop app brings all of the functionality like chat and conferencing into one location.
Jive Overview

Plans
Jive presents five tiers for its users. Unlike other companies, their tiers don't work per month, per user:

Tier 1 plan is $29.95 for up to four users
Tier 2 plan 25.95 for up to nine users
Tier 3 plan is 10-24 users for $23.95
Tier 4 is 25-49 users for $21.95
Tier 5 plan can accommodate 50+ users for $19.95

Why Pick Jive Voice
Features like whisper, which allows supervisors or managers to communicate with agents, are included at no extra charge.
Organizations that Can Best Use Jive
Jive has a very useful structure that's great for SMBs that are looking to scale.
One of the draws for Nextiva is its claim that switching to its service will provide a ~60% cost savings for companies that are looking for a unified communications platform. Nextiva offers simple video conferencing, HD voice calling, and apps that work on the major smartphone platforms.
Some of the PBX features that are included with Nextiva are call recording, call routing for your salespeople, free toll-free numbers, IVR, call queuing, and voicemail to email.
Nextiva Overview

Plans
There are just three plans with Nextiva. These include Basic ($20), Pro ($25), and Enterprise ($30). Like some of the others we have featured, this is per month, per user.
Why Pick Nextiva
Nextiva has anonymous call rejection, which is designed to prevent calls from getting through that are spurious.
Organizations that Can Best Use Nextiva
The option to have hardware made available is handy for organizations that are just starting. Everything you need for immediate communications is provided from Nextiva with minimal cost.
The final PBX solution, which is Zoom Phone, is a product that is constantly being updated to remain competitive on the unified communications landscape. Zoom Phone is highly secure, and it also has an administration portal that makes provisioning within an organization simple.
Zoom's PBX solution also has the option for organizations to bring their carrier, which will effectively allow them to keep their PSTN phone service provider. With Zoom Phone, users will also be able to share content and files with ease thanks to Box integration.
Zoom Phone Overview

Plans
Outside of the basic plan, which grants group meetings with a maximum duration of 40 minutes, Zoom also has its Pro plan ($14.99 per month, per host), its Business plan ($19.99 per month, per host), and its Enterprise plan ($14.99 per month, per host).
Why Pick Zoom Phone?
Zoom has always been known for call quality, and with Zoom Phone, you can experience high-quality audio that's also encrypted for security.
Organizations that Can Best Use Dialpad
Zoom can be very useful for organizations that need to monitor call quality, especially those that need a certain level of security. The software has dashboard functionality, so administrators can monitor call quality history.
How to Switch:
Although switching to cloud PBX is an inexpensive process, it'll still require some steps. For example, if you had a previous PBX system, you'll need to cancel your service so that the provider can reclaim their box. This is also required since you'll need to be paid up so that, when it's time to port over your phone numbers to your new cloud-based system, there won't be any billing issues to hinder the process.
If you're switching from a standard phone system, the last thing you want is to set up a system and have a slower internet speed. No matter the quality of the service, if your internet isn't up to par, you will have more artifacts during your calls and they won't be as clear. So, when switching to cloud PBX, audit your internet quality and make changes if need be.
While you'll be dropping the PBX box, this doesn't mean that you won't need some hardware. How many hardware phones will you need versus softphones? This is an important aspect of the switchover process, so consider your business needs first.
Some services, like PanTerra and Nextiva, have rental/leasing options for hardware, so if that could help small businesses get going, consider these. PanTerra, through its Yealink partnership, even allows users to upgrade their hardware rentals yearly, which can help you keep up with developments in the technology.
Finally, determine if you want wireless or wired phones. This will vary based on your office setup – do you have the Ethernet jacks to support hardware phones? If not, there are wireless, Wi-Fi-based phones out there and softphones as well for cloud PBX users.
The Bottom Line
Businesses curious about what Cloud PBX is will be surprised by the number of possibilities not available through traditional telephony or PBX-based business VoIP systems. Your employees can work remotely or even attend conferences from mobile, and there is a robust set of features that augment analytics and calling functionality.
This is a great type of unified communications for those businesses without massive budgets, and the lack of a dedicated PBX box is also excellent for those that want a simplified style of intra-company communications.
The final significant benefit is how it can make a company much more global. Do you have customers in a remote location that have become significant contributors to your profit stream? If so, a virtual PBX makes it very easy to set up local numbers that route directly to your main office so that your agents can assist those customers.
At GetVoIP, we are always publishing material about VoIP solutions for B2B customers, so check out our coverage of the top business VoIP providers for 2020.